Christmas is a festive time of the year. It is the season for fantasy, color and extravagance, but also for the kids, family, to show kindness and affection.
There is no better way to marry the holiday's decorative and expansive nature with the spirit of love and affection than to display your favorite pictures and cards in a festive manner.
This is your opportunity to pull out lost pictures of your loved ones as well as display your favorite cards from over the years, in order to spread the love and cheer and also show your appreciation.
If you want to display some pictures this season and need some inspiration for how to incorporate them into your Christmas scene, then read along to see some great ideas and get your creative juices flowing.
Christmas Photo Wreath

Wreaths are a Christmas must-have, but this one is far from being typical. It is made from several round picture medallions topped by a festive red bow which also serves as its base. via thecraftingchicks.
Turn Your Favorite Family Photos into Swoon-Worthy Block Letters with this DIY Tutorial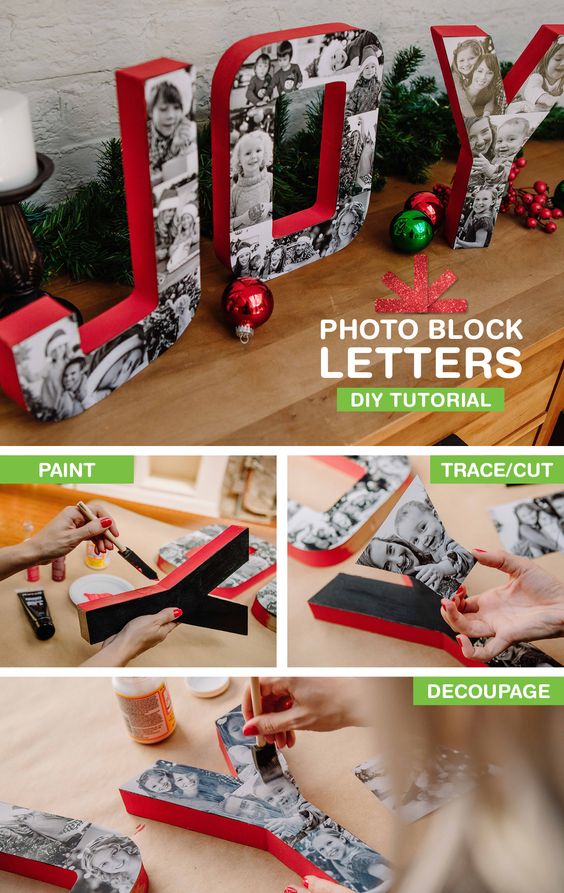 We doubt anything ever brings you more joy than your family. So why not take copies of your favorite pictures and secure them to letter blocks to form some truly festive patterned words? They're bound to be a hit with everybody. via walgreens.
Create a Fabulous Photo Board to Decorate Your Home with this Easy to Follow Tutorial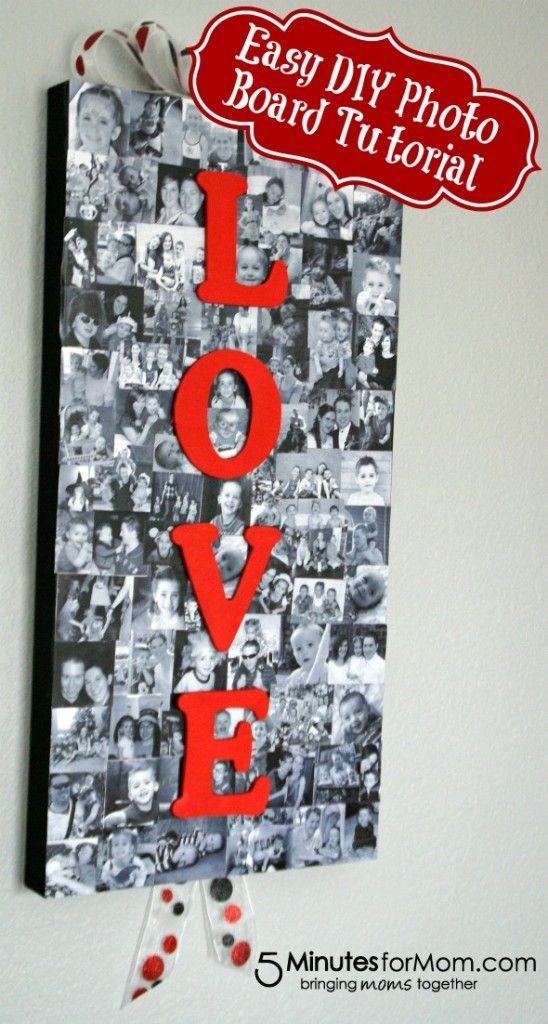 Picture montage boards always look cool, but this one is full of joy and love as the board covered in pictures serves as the background for the bright, festive letters. via 5minutesformom.
DIY Heart Photo Collage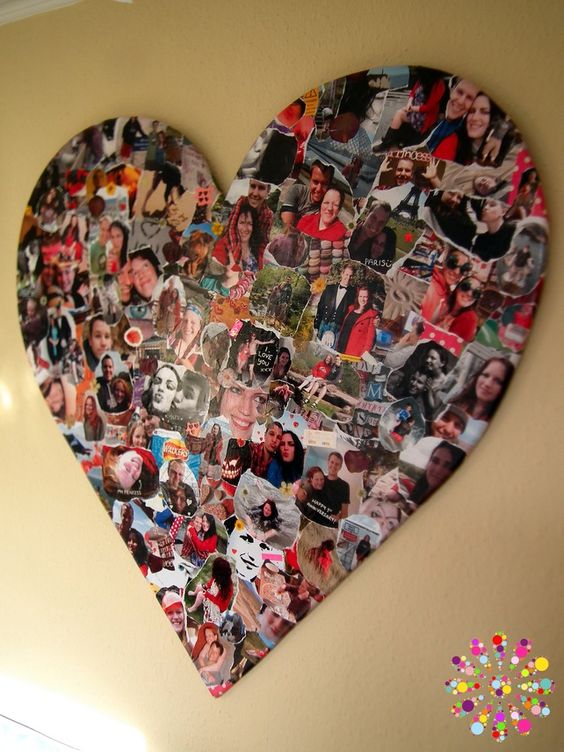 This colorful picture heart is bursting with happiness and affection, and while some arranging skills are needed, it isn't hard to put together. All you need to do is cut a heart shape in cardboard, fill the surface with pictures and hang it where you want to. via folksy.
Get The Photo Inside The Ornament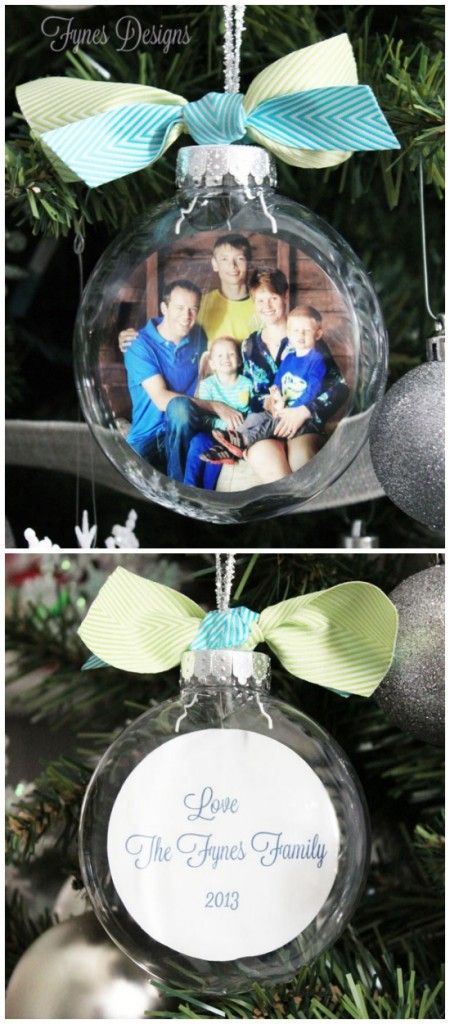 Decorating your Christmas tree with family photo ornaments is definitely an original idea, and while it may not be your easiest option, it's not too hard either. All you need to do is glue the pictures to the inside of transparent ornaments, decorate them and put your tree together. via fynesdesigns.
Make a Washi Tape Tree: A Festive Way to Organize All of Your Holiday Cards

This is the ideal Christmas tree for those who don't want or can't have a real one. All you need is some wall space, washi tape to create the shape, a topper, tinsel to decorate and something to secure your pictures and cards with. Remember to use washi or masking tape though, otherwise you'll be ruining your wall. via thyme-is-honey.
Display Photos on the Staircase as People Come into the Living Room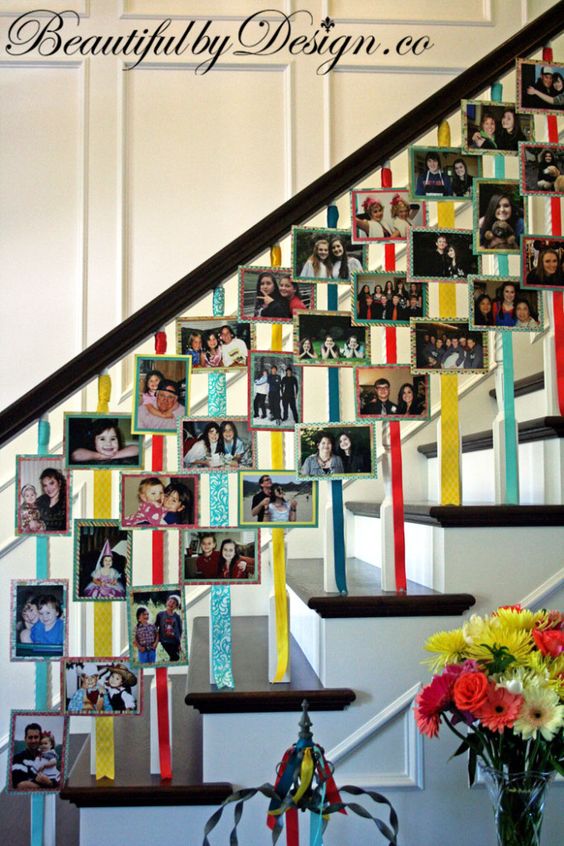 Displaying your pictures along the staircase is a great way to decorate it and make use of the space, as people can admire them from the lower floor. via beautifulbydesign.
Great Photo Block

This wood word block decorated with pictures on top and around is a great display piece but it van also serve as awesome gift this holiday season. via shanty-2-chic.
Pallet Christmas Photo Display

This project uses pallets put together to create a rustic Christmas photo collage, perfect for a shabby chic or countryside inspired decoration. It is also versatile enough that you can easily display it the whole year, not just during the holidays. via thinkingcloset.
DIY Wood Slice Photo Ornament

Here's another way to spice up your tree with picture ornaments. Use wooden coasters as a base for your picture, then add a ribbon for decoration and for hanging and you're done. via viewfromthefridge.
Christmas Card or Photo Display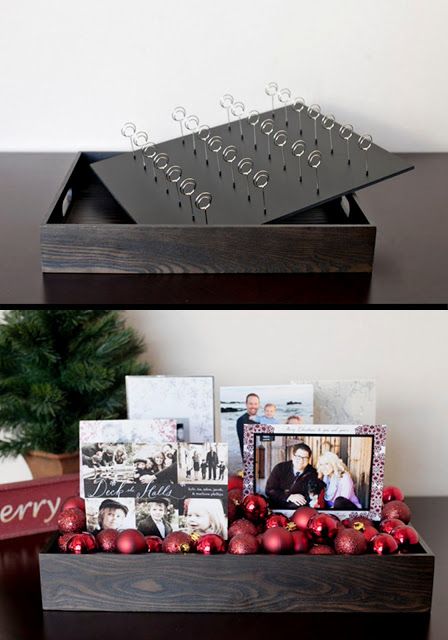 This display idea uses an actual, very elegant card holder, but you can easily customize it and decorate it with beads and small ornaments, especially if you only display a few photos as shown, which also allows them to be more visible. via spottedink.
Framed Christmas Card Display

This cute Christmas card display board is awesome but easy to put together. Take a picture frame, decorate the backing with block letters and a string of fairy lights, and then hang your cards from it using tack or clothespins – that's it. via reasonstoskipthehousework.
$10 DIY Christmas Card Holder for Under an Hour

This wood effect board is another really easy and inexpensive way to display your greeting cards during the holiday season. via shanty-2-chic.
Christmas Cards Displaying in the Foyer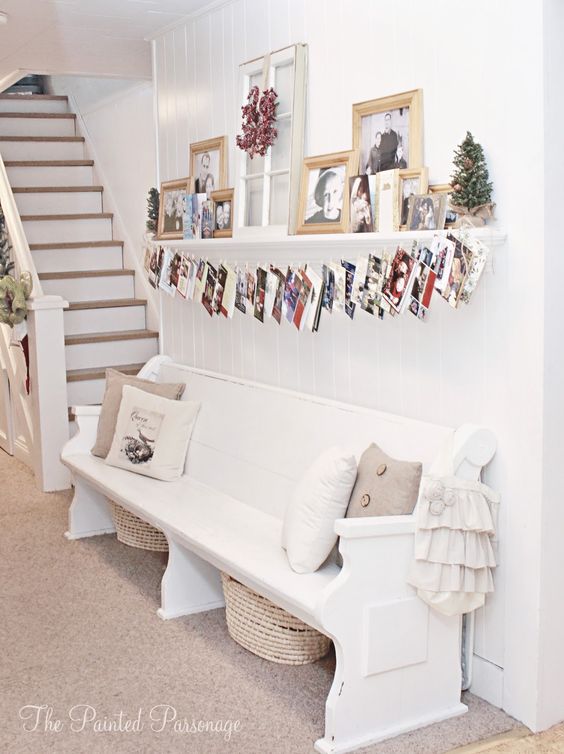 Use a line of twine or something similar to hang your Christmas cards under a shelf in your entryway and spread the cheer. You can also do this with fairy lights or install the project in front of your fireplace for an extra special touch. via thefoglemanfamily.
Rustic Holiday Card Display

Make this rustic Christmas board by taking a wooden frame or board, adding a wreath in the center and then pinning your cards around with metallic or matching pins. via lollyjane.
Attach Ribbon to Kitchen Cabinets and Use Clothespins to Hang Cards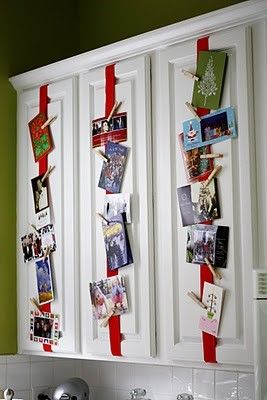 Decorate your cabinets like presents by draping some ribbon and then securing cards or pictures along with clothespins. via melissadark.
DIY Merry Mail Greeting Card Holder
This is quite a fun, original and festive display option for your "merry mail" as the cards cascade down from your board suspended in ribbon. The best part is you only have to make it once, because the clothespins allow you to secure new cards each year. via craftfabulous.
Repurposed Shutter Christmas Card Holder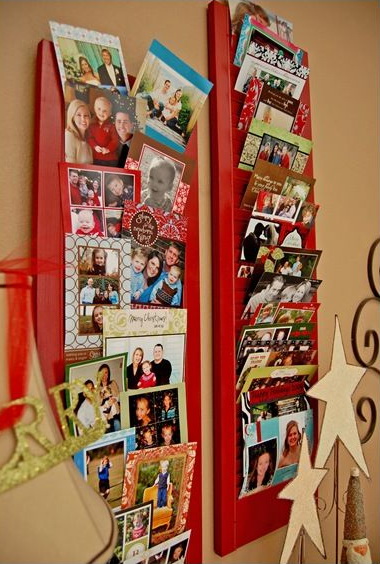 Here's a fantastic way to make a festive card holder using repurposed materials. Paint your shutters a festive, metallic or glittery color, hang them on the wall and then stick your cards in between the slabs to hold and display them. via pearls-handcuffs-happyhour.
Christmas Card Clothespin Wreath Tutorial

Making this red and green clothespin wreath is quite easy, and it's also as easy to secure your cards to it. Simple and cute, don't you think? via craftinessisnotoptional.
DIY Wood Board Card Holder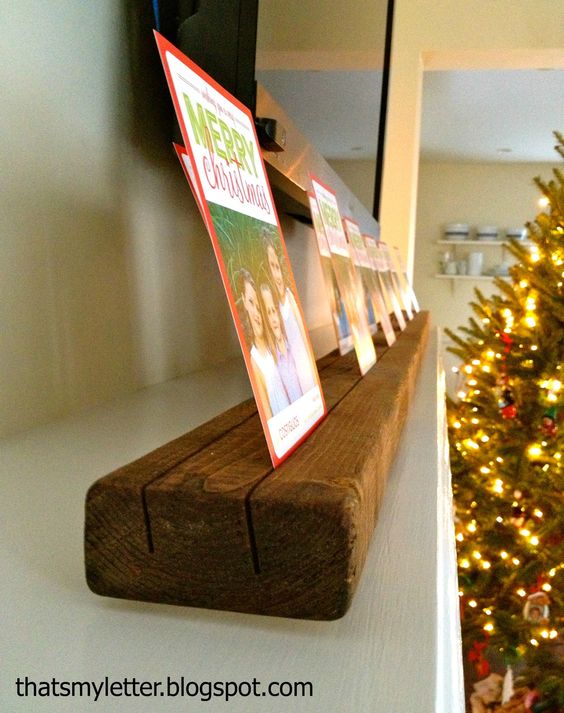 This display holder is also really simple to put together. Get a shelf-like long piece of wood, set it up on top of an actual shelf and finally stick your pictures in the cracks to prop and display them. via thatsmyletter.
Christmas Card Display with Ribbon, Ornaments, and Glue Dots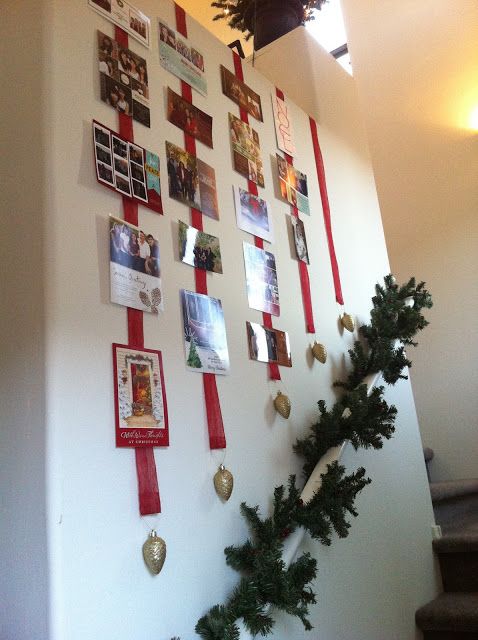 This asymmetric photo display, with cards cascading down long ribbons and ending in gold ornaments, is a fantastic decoration idea for a wall along a staircase, which visitors can admire while ascending to the top floor. via thedesertblossom.
JOY Photo Collage Pictures Behind the Joy Lettering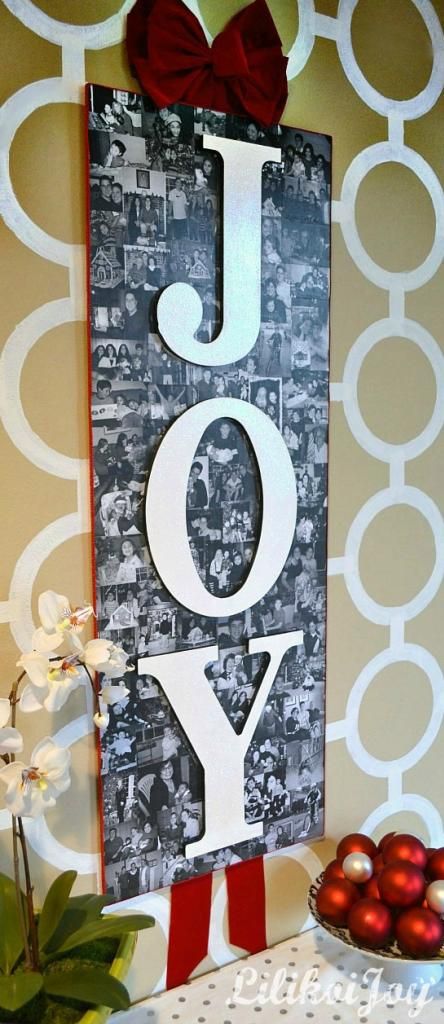 This standing, present shaped, Christmas photo board/montage looks incredibly elegant as the darkened pictures serve as a background for the word joy, displayed in white letters right in the center. via lilikoijoy.