Easter wouldn't be the same without eggs. They've been a part of the holiday's tradition for a long time and they are pretty much universal.
These days, Easter eggs come in all kinds of sizes and materials, from chocolate to plastic, clay to wood. That is especially great because while the tradition is to paint real eggs, some of these materials are much more sustainable and cruelty-free.
This doesn't mean, however that you need to abandon tradition completely. You can buy plain eggs and decorate them with the family and even make your own at home, just like in old times.
That's what this article is all about. We have collected 35 Creative Easter Eggs DIY Ideas and Tutorials to inspire you this Easter.
Rainbow Jello Easter Eggs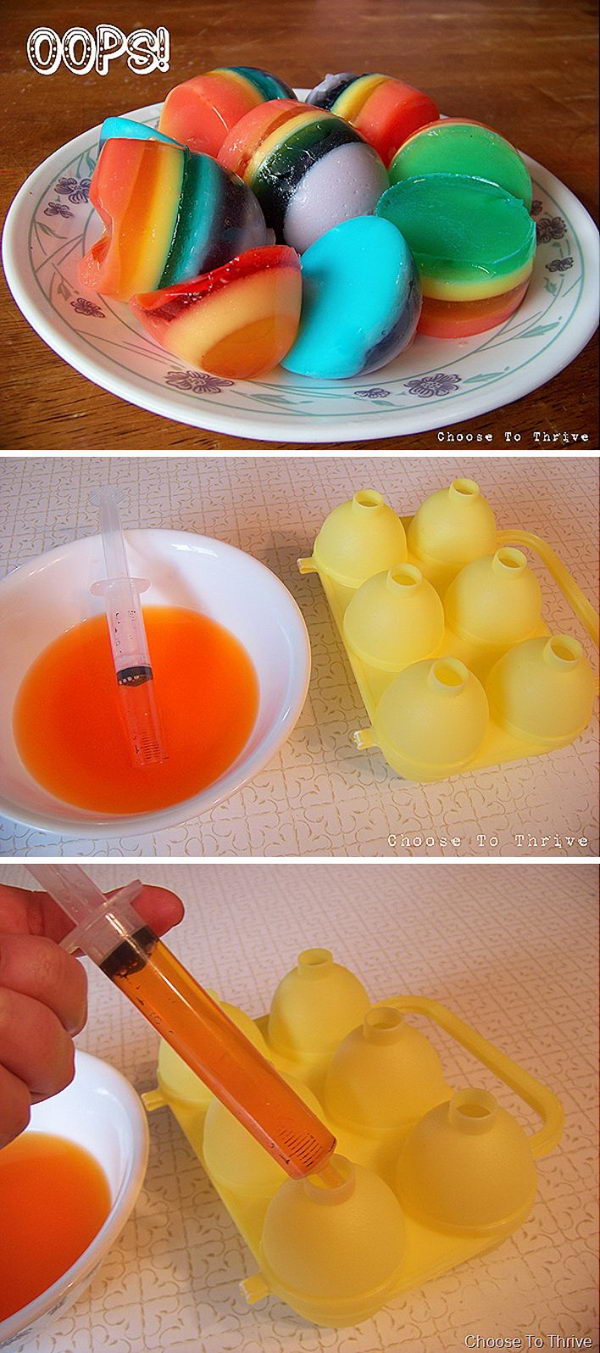 Here's your simple, edible and healthy Easter egg idea. What you need to do is make different Jello flavors and then have then set up in chocolate egg molds. Once you take them off, you will have beautiful, colorful see-through eggs that pretty much everyone can enjoy. via choose-to-thrive.com
Easy crystal eggs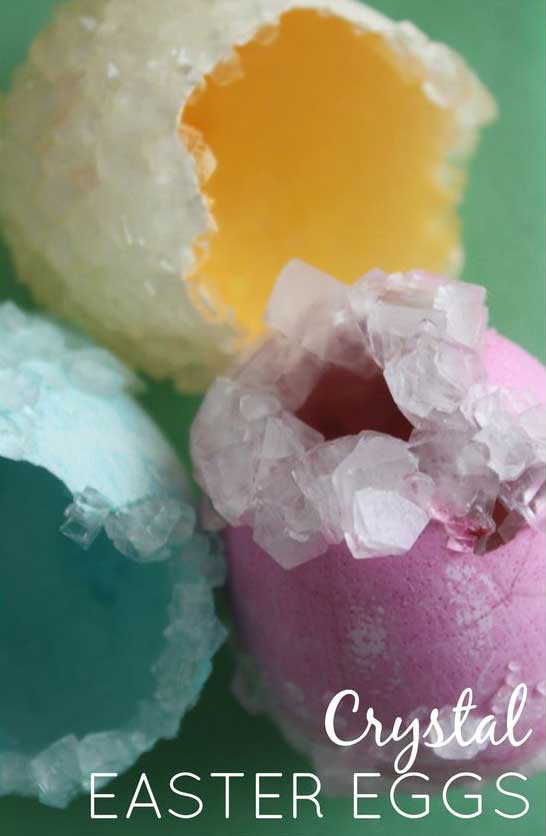 This project gives you a sustainable way to use real eggs for your Easter decoration, as you can do it with full or broken eggshells. You will need to make a mixture similar to slime then heat it up and let it cool down to create the beautiful crystals that create this glitzy decoration. via littlebinsforlittlehands.com
Moss covered Easter eggs

This is definitely something for those crafty folks who really love nature. You will need to cover some plastic eggs with moss, preferably in two different colors to create dimension. You can then wrap some twine around each egg and top it with a button to add detail and finish off this crafty project. via lovegrowswild.com
Unicorn Easter Eggs

Unicorns are all the rage these days so these Easter eggs will definitely be a hit in any event you attend or host. All you need to do is get plain eggs, some flowers and crystals and, of course, golden horns. Draw some features on your eggs, add the decorative elements, placing the horn front and center, and you have the perfect Unicorn Easter egg. via littleinspiration
Paper mache Easter eggs on rusty bed springs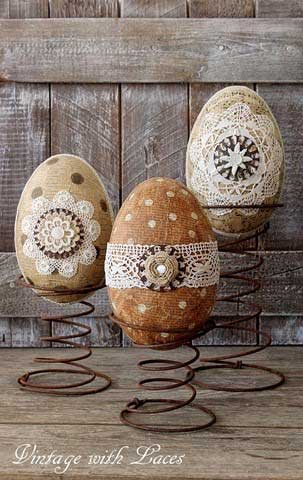 These eggs have a distinctly rustic and vintage look to them, as they have been covered in neutral-toned paper Mache with rosettes and beading accents. They are propped on old bed springs, which really enhance the shabby chic aesthetic. vintagewithlaces.blogspot.com
Galaxy Easter Egg

These eggs may look impressive, but they are actually quite simple to make. All you need to do is paint your eggs black or a very dark navy, then dip them in multicolored or holographic glitter to create the galaxy effect that everyone is sure to love. via dreamalittlebigger
DIY hanging Easter posies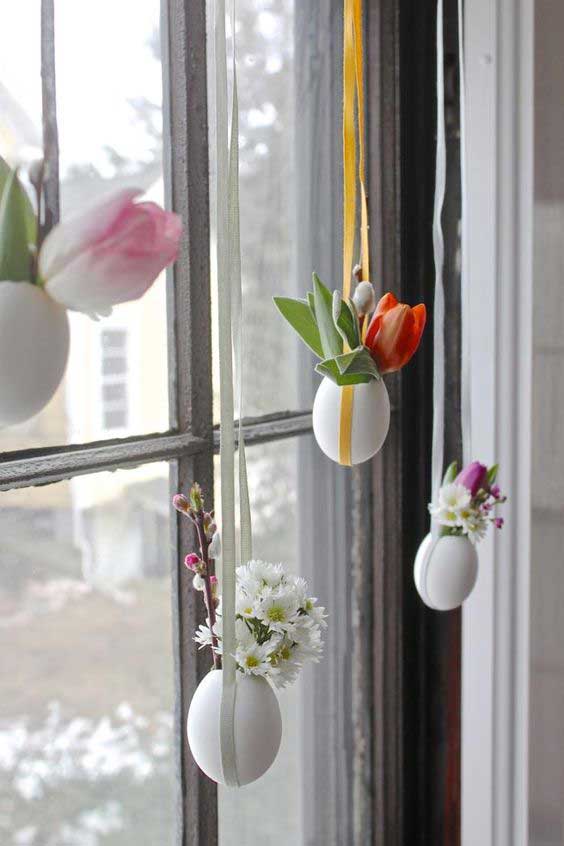 This project is not about decorating an Easter egg, but rather making a full decoration of them. You will need several plain eggs, on top of which you will add a little flower arrangement. Finally, you will secure your little posies to strips of wide, strong and colorful ribbon and hang them up near the windows to embellish them. via pinterest
Newspaper Woven Eggs

These eggs may look traditional, yet they are anything but. They are, in fact woven, but with newspaper scraps instead of yarn, which gives them a light and delicate look, even after you paint them in bright colors, as the woven pattern still comes through. via marrietta.ru
Lovely eggshell embroideries

These eggs are definitely a project for a very classy yet crafty lady, as several kinds of embroidery have been created here. You can opt for painted flowers, crystal patterns or even use yarn and actually create 3D embroidery on your eggs, just like you would on fabric. via sylwiaserwin.pl
DIY Découpage Eggs

These eggs may be trickier to make than they look, as they were created using a decoupage technique. The main thing to do is cut your dainty flowers as perfectly as possible and glue them to your eggs in your chosen pattern. After finishing this delicate process, all you need to do is lock everything in with some varnish or mod podge to make it last and look seamless. Once it all dries, you can display them in golden holders like in the picture. via honestlyyum.com
Polymer Clay Easter Eggs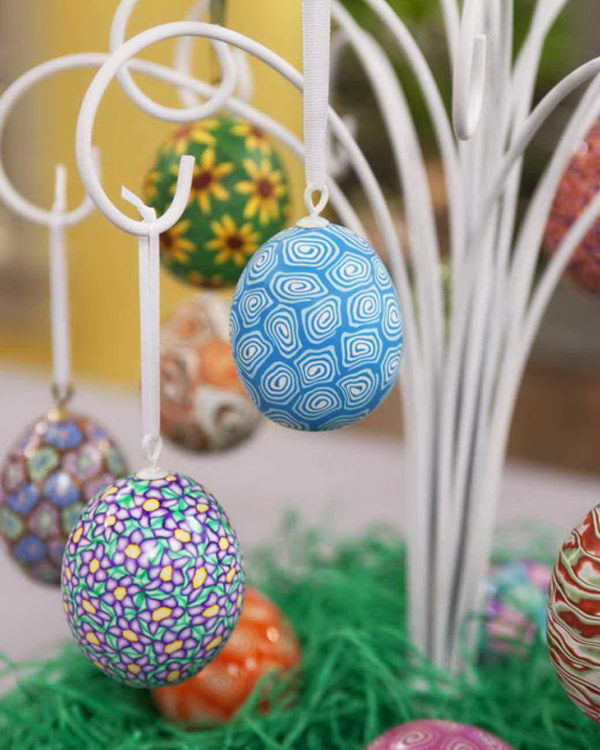 Here's something that is definitely different but not necessarily hard to accomplish. All you need are eggs or shells and polymer clay in at least two different colors. You will cover and decorate your eggs using this clay, which you can mold and cut yourself or using any tools you may have at hand. Once you're done with the decorations and everything has set, you only need to hang them like in the picture or display it your own way. via marthastewart.com
Turn boiled eggs into fun Carrots for Easter

Making these eggs is similar to decorating a cake, as you are actually working with real boiled eggs. To turn them into carrots you will need to dip them into orange food coloring, then add some texture with an edible marker and finish the illusion dish by adding a sprig of aromatic herbs on the top as leaves. via hungryhappenings.com
Spray painted faux easter eggs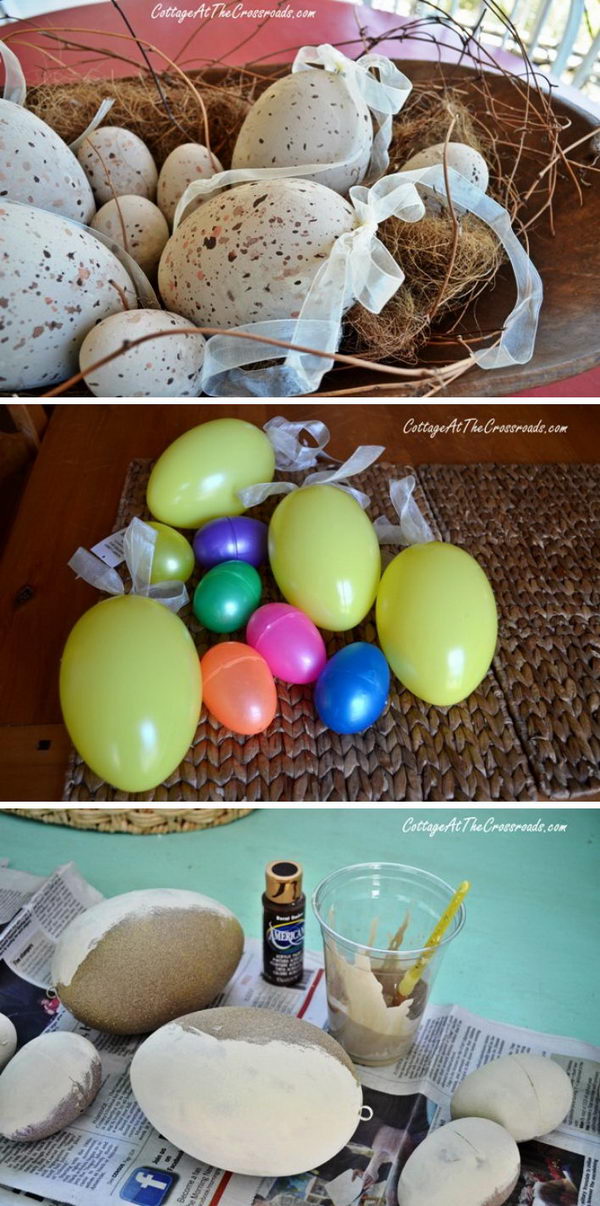 This is another way to create Easter eggs without sacrificing the real thing. All you will do here is spray paint some plastic eggs to give them a realistic color and texture, then decorate them with ribbon bows and display them in a basket among some straw to make it look like a nest. via debbie-debbiedoos.com
Papier mache Easter eggs

These eggs are once again decorated with Papier Mache, but this time in a more modern way. They all feature a polka dot pattern in a different bright color, which gives them a fun aesthetic. You need to remember to set the paper with some varnish or a similar product to make your creations smoother and more durable. via notmartha.org
Use watercolor paint to color eggs

This is pretty much your traditional way of decorating Easter eggs, as they have been painted using watercolors. Each egg features a different color and a freehanded design, which makes them look both very unique and authentic but also sophisticated. via alisaburke.blogspot.com
DIY Easter Egg Planters For Herbs Or Wheat Grass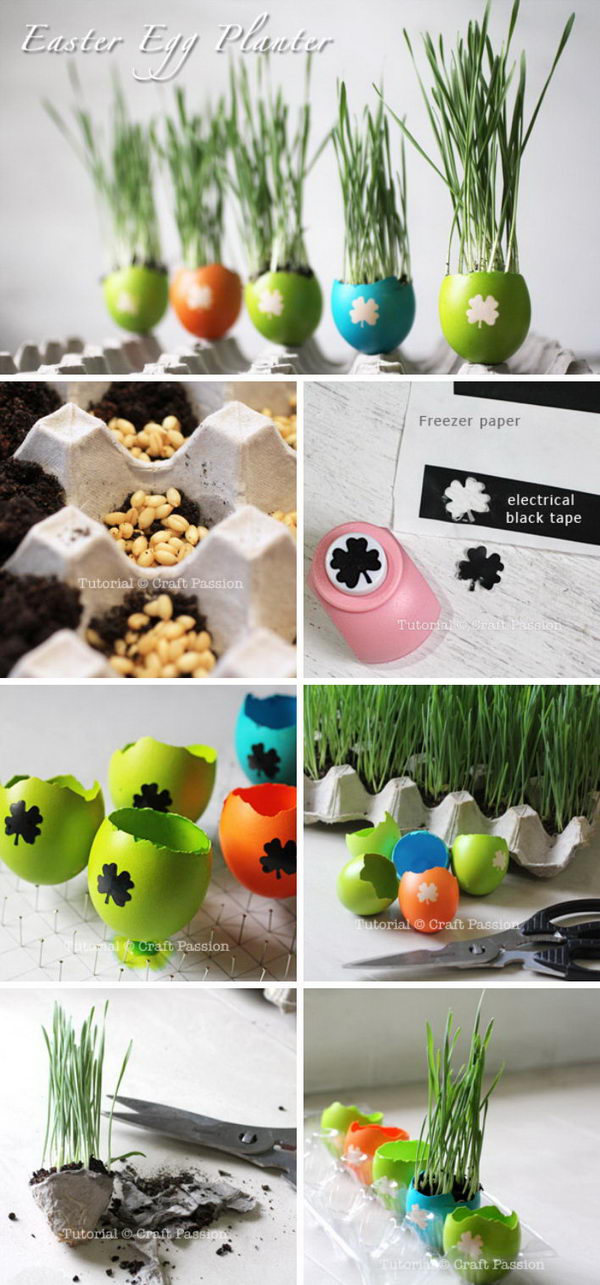 Believe it or not, these planters were made from actual eggshells which have been treated to look this fabulous and be able to hold plants inside. They have also been stamped with shapes like shamrocks for decoration. You can only plant something small like herbs in these little cuties, but they will definitely look awesome in your kitchen. via craftpassion.com
Make Glittery Easter Eggs

Making glittery Easter eggs is actually one of the easiest projects you can take on. All you need to do is get some glue and create the shape you're looking for on your eggs then pour the glitter on top and brush the excess off. Once each shape dries, you can create more until you've covered your egg with the chosen pattern. via apumpkinandaprincess.com
Make Sugar Eggs for Easter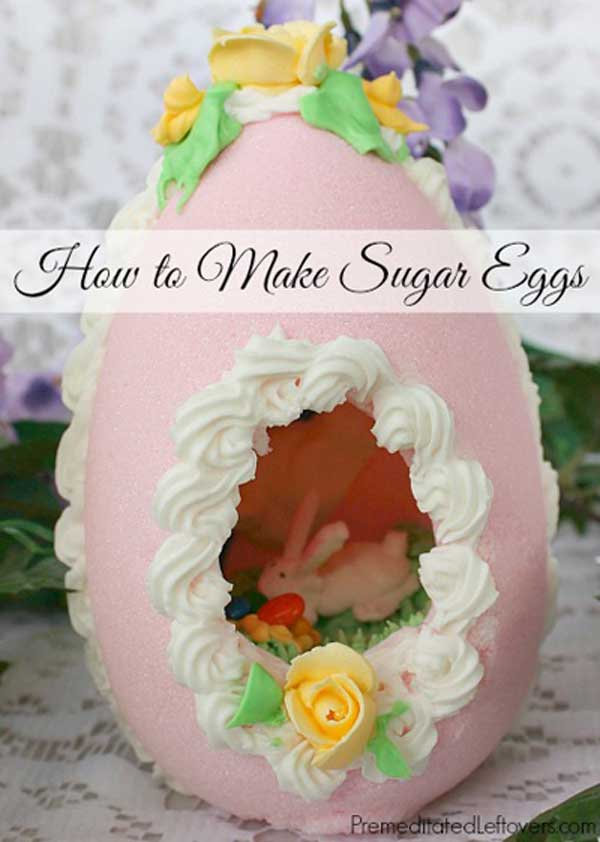 Now this egg is really sweet – literally. It is basically made from sugar and meringues, which were shaped to create these edible decorations. The good news is the ingredients aren't too expensive at all, and the process is much easier than you might imagine, yet you will definitely impress guests with all the details of these colorful and glittering egg houses, from the roses to the little bunny nested inside. via premeditatedleftovers.com
Jell-O Filled Easter Eggs

This is another healthy dessert that you can make for Easter. You will need to use the traditional method to shape these little Jello eggs, but they will definitely surprise guests when you serve them in their little egg holders. via ohhappyday.com
String Easter Eggs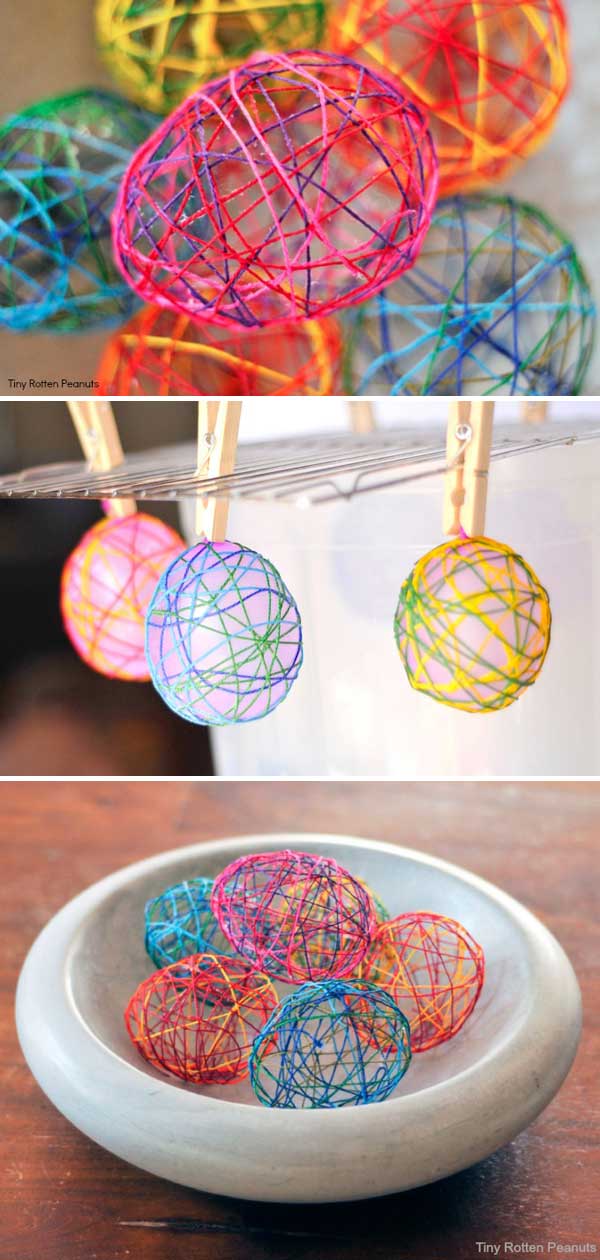 Making string Easter Eggs like these is much easier than you might expect. All you need to do is soak your string in diluted glue to harden, then wrap it around a plastic egg, for instance, to create its shape while the string is still wet. Once it dries, you can cut it out and display it in your preferred manner. via craftwhack.com
Washi Tape Easter Eggs
Here's another way to decorate eggs using a craft material you likely already own. You can use washi tape in many ways, from covering the whole eggs to creating different patterns and shapes. The best part is that washi tape is fully removable and relatively inexpensive, so you don't need to commit to any designs you're not satisfied with. via lovelyindeed.com
Spring Bird Seed Eggs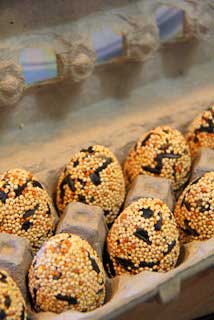 Here's another all-natural way to make your Easter eggs. You can use seeds to create your unique shapes and give your Easter festivities an earthier feel that will set your decoration apart from others'. via tuttifioridesigns.blogspot.com
Chocolate Spray Painting Eggs for Easter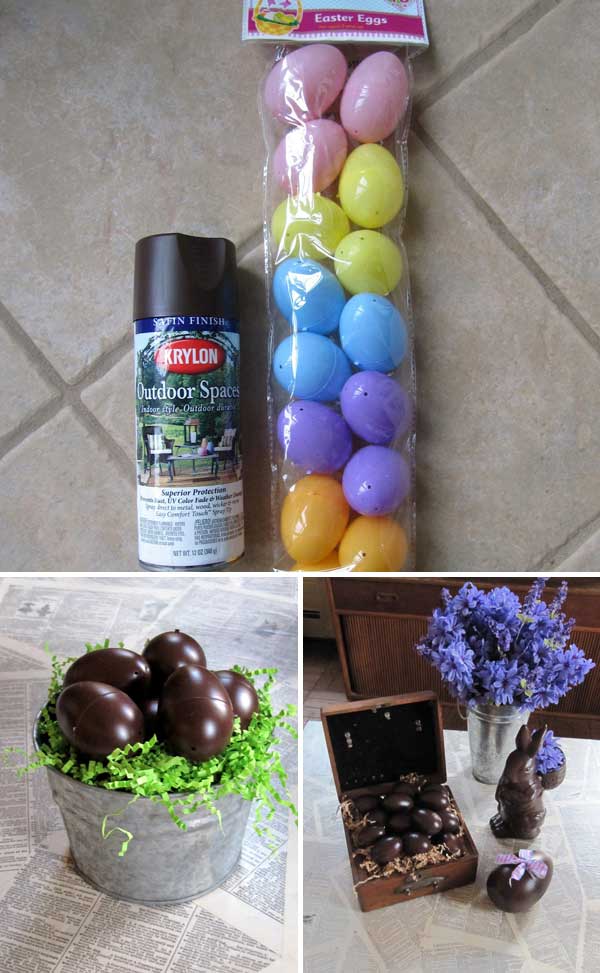 This is the ideal project if you want to prank someone for Easter, especially as it coincides with April Fools Day in 2018. Paint your plastic eggs dark brown then present them in a nest or chocolate box and you will surely have your guests fooled. via sewmanyways.blogspot.com
Easy Silhouette Easter Eggs

This egg decoration is quite unusual, but also beautiful and sophisticated. You can easily recreate it by taking some stencils and black spray paint – it's as easy as that. via rookno17.com
Easter Egg Bath Bombs

These are great for many different purposes, and they are not only easy, but also inexpensive to make. You can recreate these Easter egg bath bombs using household items like baking soda and essential oils, then setting them inside a plastic egg. You can store them inside their shells for safe-keeping, display or put them in a box for gifting. via bitzngiggles.com
Easy Tricks to Blow Out an Egg

If you want to make your Easter eggs the traditional way, you will need to completely empty the shell up without breaking it. One way to do that is to make a small, gentle hole at the top and let it flow out. Another would be to suck the yoke and white using a balloon, bottle or something similar. Once your eggs are empty and clean, they will be completely ready to be decorated. via tinkerlab.com
Drill a Drained Egg and Embroider It

This is what you do when you really want to embroider an egg, and not just glue some string to the surface. You open the back then drill in holes to create your pattern. After that is done, you can sew your beautiful design into the egg using colorful string, just like you would on fabric. via designsponge.com
Glitter Easter eggs

We've already mentioned how easy it is to make glitter Easter eggs – all you need to do is cover them with glue and then pour the glitter over until you can't see any of the original eggshells. For this project you need to drill a hole at either end of the shell beforehand, as you will stack the eggs on a skewer to create your final decoration. via sewandthecity.blogspot.com
Cute Egg Terrarium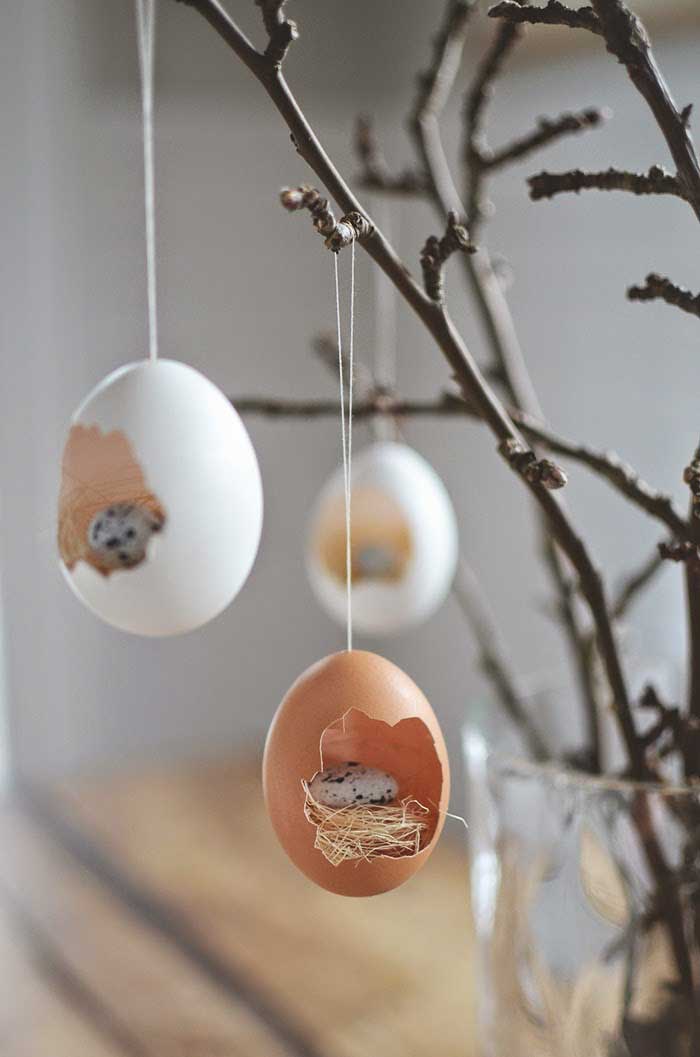 These mini terrariums are incredibly cute and easy enough to make. What you need to do is carve an opening at the front of your egg for the plants to go in and be displayed, then drill a small hole at the top to thread a string through for hanging. All together they make a really nice decoration for the season. poppytalk
Dyed Ninja Turtles Easter Eggs

These eggs are definitely meant for a comics or cartoons fan, as they are little Ninja Turtle heads. All you need to do is paint your eggs fully green, then add a ribbon in the color of each turtle's bandana around it. Get a pair of eyes on top of it and you're done. via apumpkinandaprincess.com
Easter eggs with googly eyes

We may have traded cute turtles for one-eyed creatures, but they are just as cute. What you need to do is open a hole for your eye to peek out of, then dye your eggs using food coloring. Glue your eye to the inside, making sure to leave the cracks in the shell clearly visible and your spookily cute eggs are done. via tallystreasury.com
Make Natural Dyes For Your Eggs

Natural dyes have been around for pretty much as long as mankind, and if you want to go all natural this Easter, making them is the way to go. There are many ways to dye your eggs naturally: you can rub powdered plants or flowers on them, use tea to create a stain and even color them with the juice of some fruits and vegetables such as beets. via oregonlive.com
Sparkly Easter Eggs using sequins

These Easter eggs are gorgeous, and they are perfect for you if you want to host an extra festive and glamorous Easter party. All you need are your eggs and lots of cute sequins, which you can glue onto the surface of the egg or pin like the tutorial suggests. Once your eggs are fully covered, you will definitely have the most glamorous decoration in your neighborhood. via pinterest
DIY Gold Leaf Eggs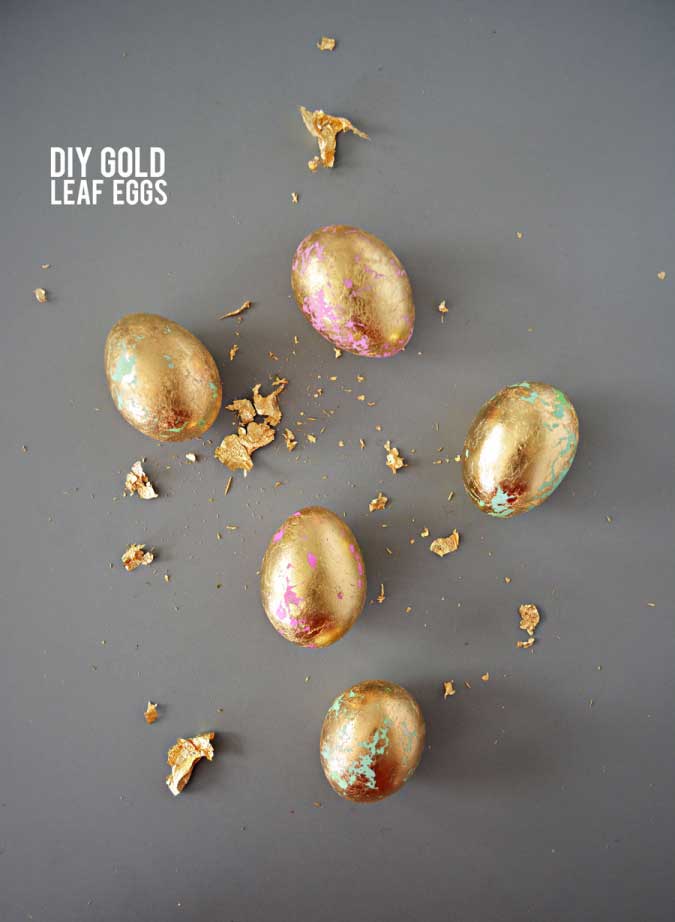 You don't need a golden egg chicken to have Golden Eggs this Easter. All you need is plastic eggs and gold leaf, both of which can be found at the craft store. Paint your egg with glue, then carefully cover it with the gold leaf, making sure to smooth it all out – that's all you need to do if you want Golden Eggs. via littleinspiration.com
Nail Polish Marbled Easter Eggs

You may have seen someone do marble nails before – this project uses the same technique. You will add your nail polish colors to a bowl with water, then take a pin and create your marble patterns. Dip your eggs into the bowl so the marble pattern transfers onto them and you'll have beautiful, bright marbled eggs once the polish fully dries. via henryhappened.com