Snow globes are the perfect representation of the winter and holiday season. They are sparkly, fun, mystical and magical, and they can take you to a scene or another world altogether, as you watch the small globe.
There are a lot of different snow globes out there, from the more traditional, to some which use glitter instead of snow, and those which are part of merchandise collections for famous characters, for instance.
Snow globes can serve many purposes: some people collect them, others play with them and others still will use snow globes quite simply as decorative pieces.
Store-bought snow globes can be quite expensive, but the good news is that you can make your own at home, which is much cheaper. Keep on reading if you want to find out how!
DIY Stemware Snow Globes with Dollar Store Wine Glasses

One easy and cheap way to make your own traditional snow globe with a twist is to use cheap wine glasses, which you will fill with your "snow" and then place over a white base with small winter figurines inside to create the scene.
DIY Mason Jar Snow Globes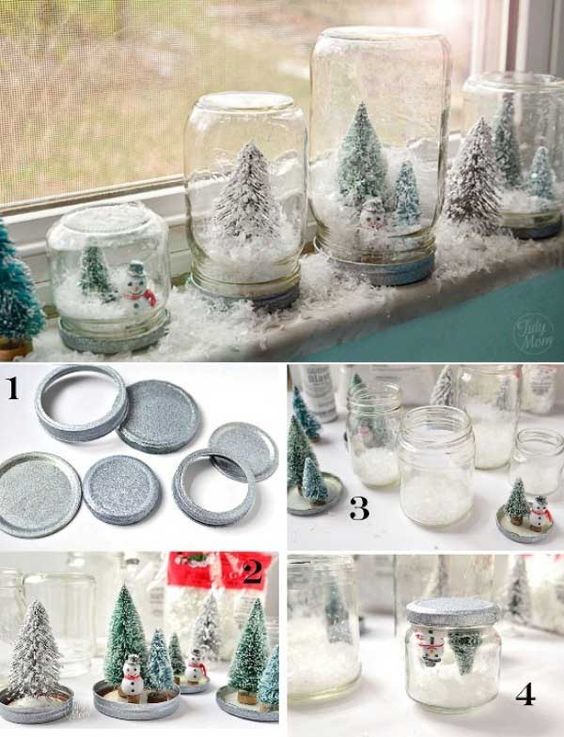 Using a mason jar is probably the easiest route when making snow globes at home. You can't really call them globes, it's true, but they are practically ready to house your fake snow, mini trees and glitter. You can also paint and customize the jar itself to enhance the effect and make it extra magic. via tidymom.
DIY Snow Globe Terrariums

Turn your terrariums into decorative snow globes by "planting" a Christmas scene inside, on top of fake snow. Add some fairy lights to enhance the effect and you'll have a truly magic piece that will leave kids and adults in awe. via pinkpistachio.
Salt Shakers Bottle Brush Trees Snow Globe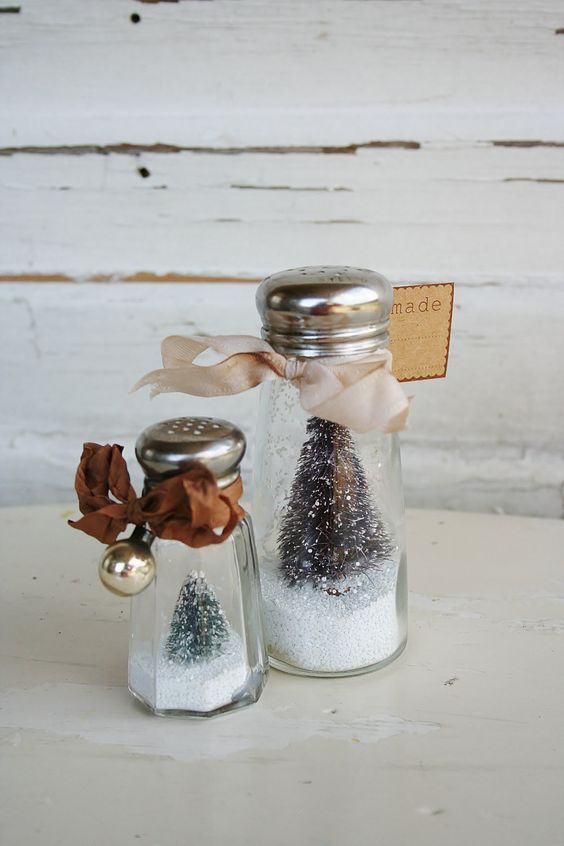 You can create miniature snow globes inside salt shakers following the same methods used for mason jars. Alternatively, you can also use salt as your snow, because the little crystals look just like the real thing. via etsy.
DIY Mini Snow Globe Ornament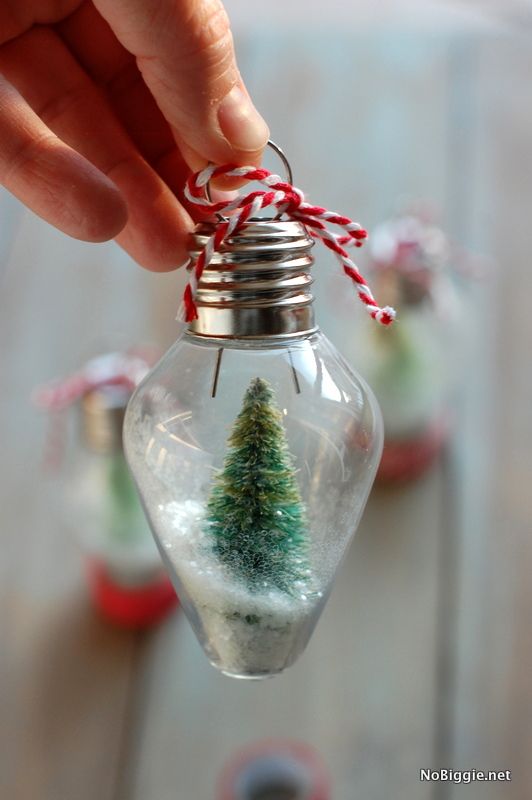 Glass or transparent plastic ornaments are perfect as snow globes, and they look simply magic on the tree. All you need to do is take the top off, fill it with your miniature tree and fake snow, and then put the top back on to finish it. via nobiggie.
Miniature Couple in a Jar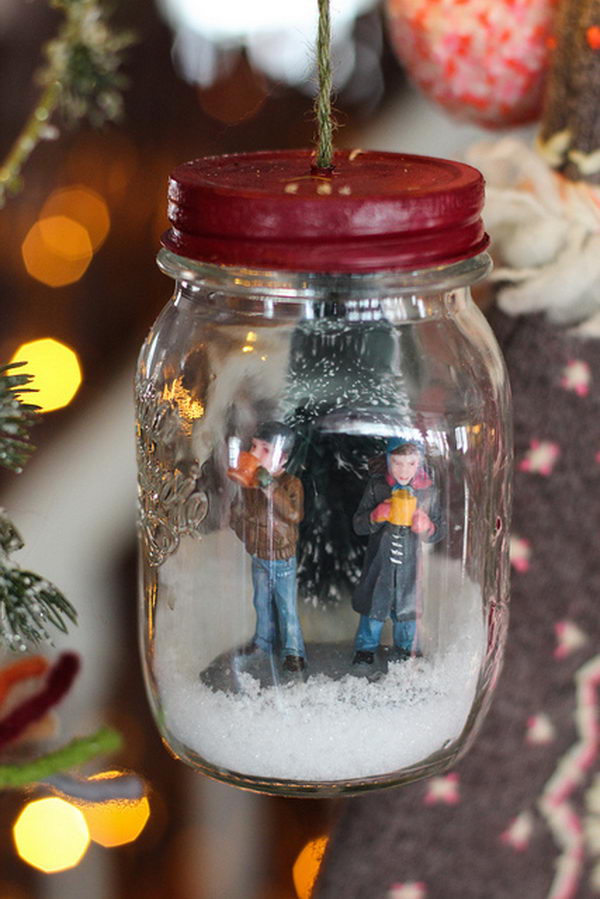 This little jar snow globe is perfect as a gift, as well to celebrate an anniversary, for instance. A little couple made of miniature figures meets in the snow inside, in a moment that you can always remember by looking at the sweet decoration. via cutecottageoverload.
DIY Snow Globe Ornament

This magic little snow globe is so full of detail it could fool anyone into thinking it's expensive. Can you imagine how beautiful a tree would look decorated with only variations of this piece? via darice.
DIY Snow Globe Necklace
This little snow globe charm is the perfect gift for your friends, children and even some relatives. It may seem complicated to find such little pieces, but everything from your mini-tree, to the bottle pendant and even the necklace parts is available at your local crafts store. via the36thavenue.
DIY Disney Frozen Olaf Snow Globe

This is the perfect snow globe for you to make if you have a Frozen fan in your Christmas list and don't want to spend money on official merchandise. Get a miniature Olaf in the center of a globe jar, fill it with fake snow and glitter, and then paint the base/lid in glittery Frozen blue to finish your masterpiece off. via apumpkinandaprincess.
Illuminated Mason Jar Snow Globe

Nothing says "modern snow globe" as well as some light does. This piece is made a lot like the others, except with the addition of a tea light. It looks beautiful under or next to the Christmas tree when all other lights are off. via bitzngiggles.
Wonderland Christmas Snow Globe Ornament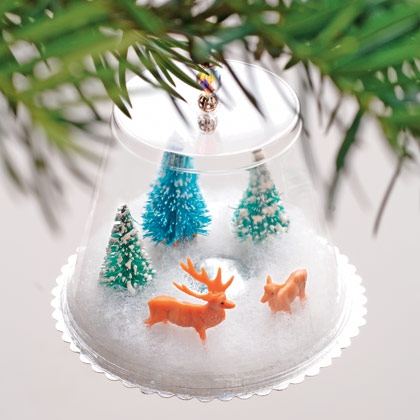 This is yet another ornament snow globe idea you can easily mimic. You can see here that you don't need to use a ball – this kind of project can work beautifully with any ornament format. Little touches like the lace trim add a special appeal to this unique piece. via disney.
Easy to Make Christmas Snow Globe Ornament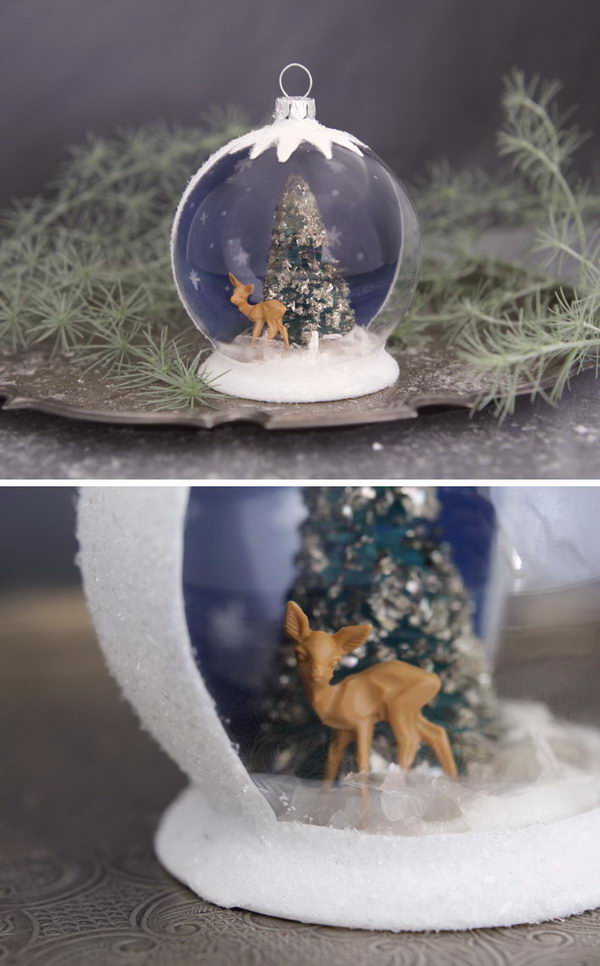 This ornament looks a lot more like a traditional snow globe, but its simple looks can be deceiving. You need to paint your snow globe's base, top and background, then glue a cotton ball and your figures inside and finish with crystals or glitter to achieve a similar piece. via smilemercantile.
Fish Bowl Snowman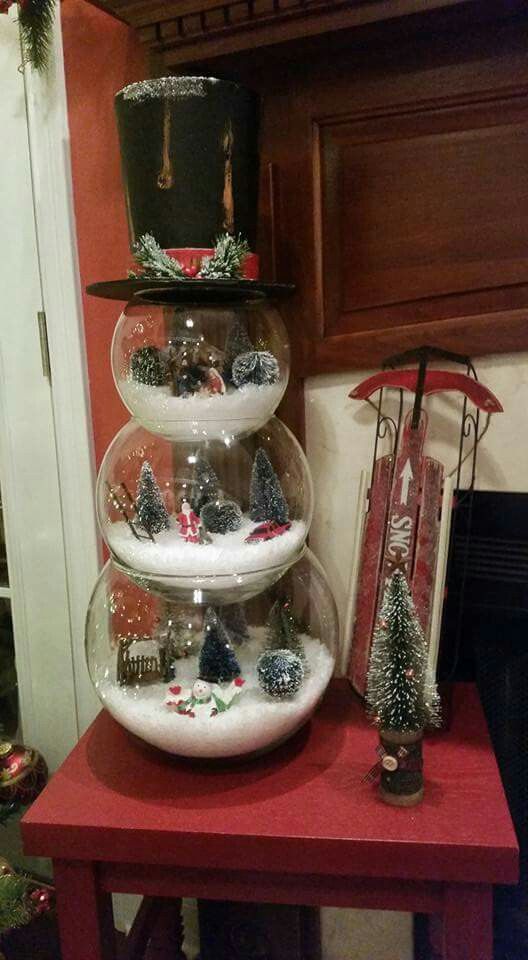 Now this is a truly unique concept. This snowman is made of fishbowl snow globes of different sizes stacked on top of each other. An illusion top hat, which almost blends into the background apart from its decorative band, is placed on top to add the finishing touch.
DIY Stemware Snow Globe Candle Holder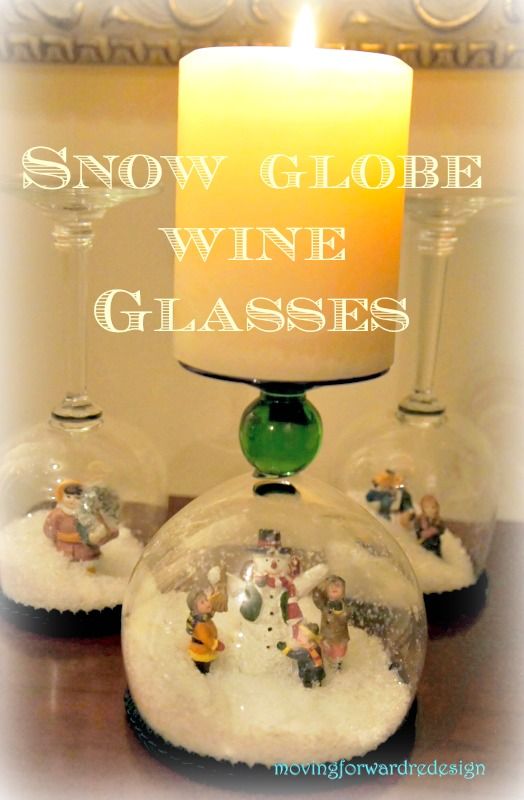 We'd bet you've never seen a candle holder quite like this snow globe one. This is a great use for any mismatched stemware or glasses you have lying around. via hometalk.
DIY Ola Snow Globe

Here's another Olaf-in-a-jar type of snow globe, perfect for older fans of Disney's Frozen. This time, the human-like snowman is encased in a small mason jar with an embroidered lid as a base and has a tree for company. via mollymoocrafts.
DIY Snow Globe Magnets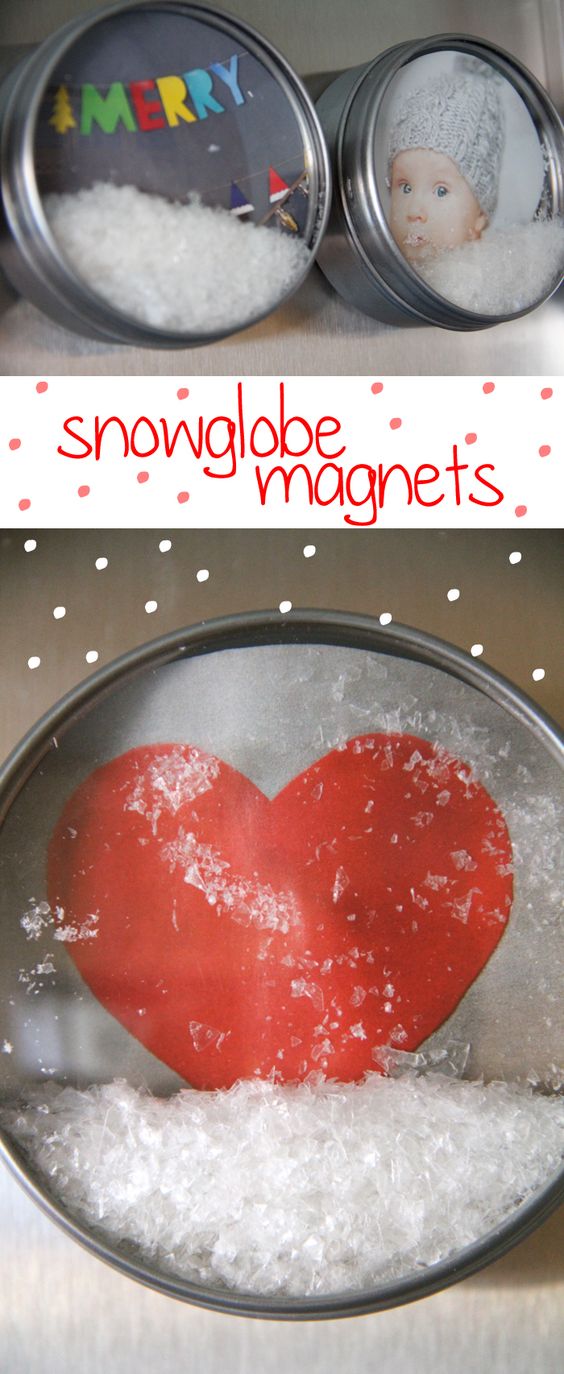 These magnets are a perfectly original Christmas gift for school or the office. They are essentially made from magnetic tins, a picture or drawing, a sponge and fake snow. They are also great as magnetic coasters or decorations. via agirlandaboy.
Vintage Inspired Bell Jar Snow Globe Ornaments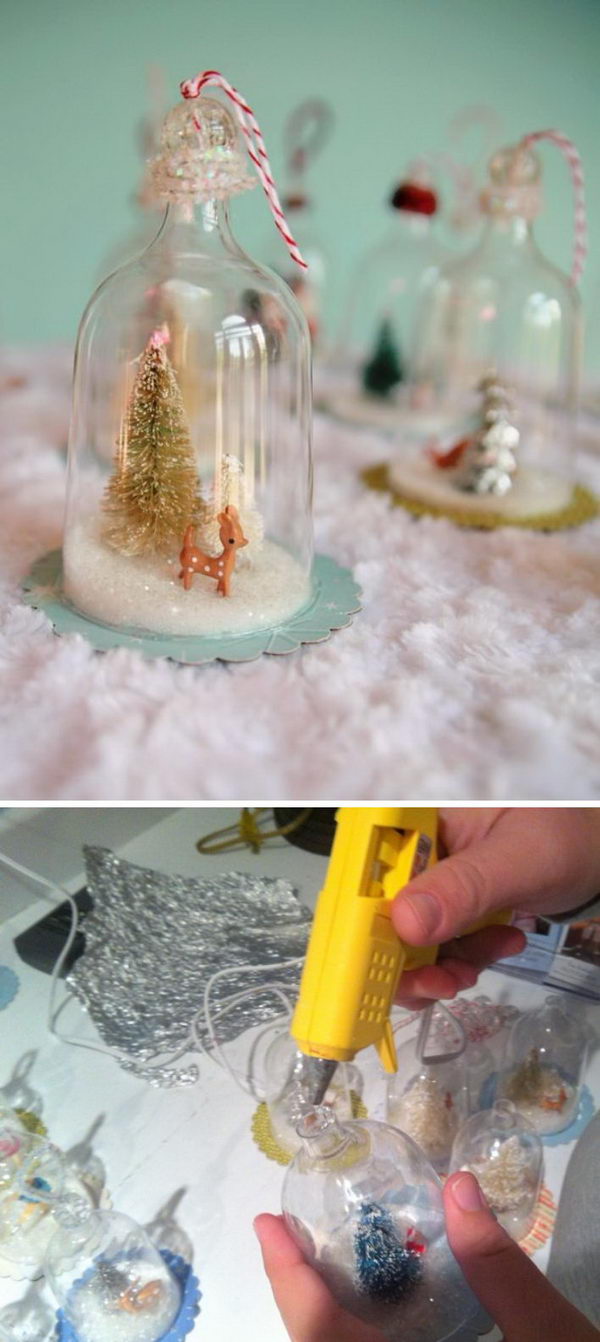 Add some glamour to your Christmas tree with these bell glass jar ornament globes. To give them that vintage touch, paint or cover your figurines in a metallic color before mounting the jar. via mysocalledcraftylife.
DIY Snow-Kissed Forrest Shadow Box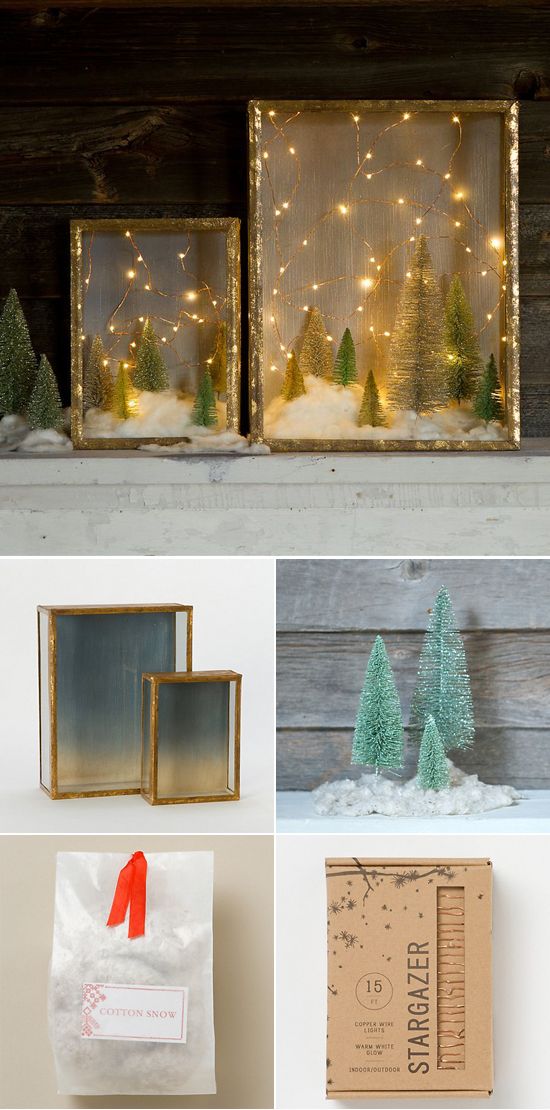 This is obviously not a jar, but rather a wooden decorative box with a glass front, The idea here is to create a snowy scene with a forest in the background and some strategically placed fairy lights making it glow from the front. via popsugar.
DIY Snow Globe Ring

Every woman prefers diamonds, but this snow globe ring can give any precious stone a run for its worth. The beautiful snow globe glass "stone" will catch light and attention with its movement at every hand gesture the wearer makes. via ashleemarie.
Diy Mason Jar Snowglobe

This one uses small white balls suspended on fishing line to simulate the snow over the scene created at the bottom with fake snow and figurines. via classyclutter.