Side tables are a great invention as far as decoration and interior design goes. They are quite versatile, useful, and they can be added to virtually any space, whether it is expansively big or tiny.
Most of us are probably more used to seeing side tables as part of indoor spaces, but that doesn't always have to be the case. In fact, there are many occasions in which a side table could be added in a very practical and useful way to outdoor space.
This article will show you various ways to make, install and use a side table indoors as well as outdoors, which you will definitely want to try for yourself, whether you're a seasoned DIY expert or looking for your first project so you can get your hands dirty.
Please read on to uncover the following Awesome DIY Side Table Ideas for Outdoors and Indoors.
DIY Dollar Tree Mirrored Side Table

You would not believe what this gorgeous side table is by just looking at it. The piece was completely transformed from a plastic storage tower which was completely repainted and covered with mirrors on all surfaces, including the top. It now serves for both storage and decoration, with the elegant table lamp placed on top. via Youtube
DIY Terracotta Pot Side Table

Here's another great example of a gorgeous and unexpected project. To make this table, the owners repainted and then repositioned a clay pot and its base in inverted positions. A wide seam made of twine was added between the two, and the piece is topped with a matching small flower vase. via thriftyandchic
Distressed Wood Outdoor Side Table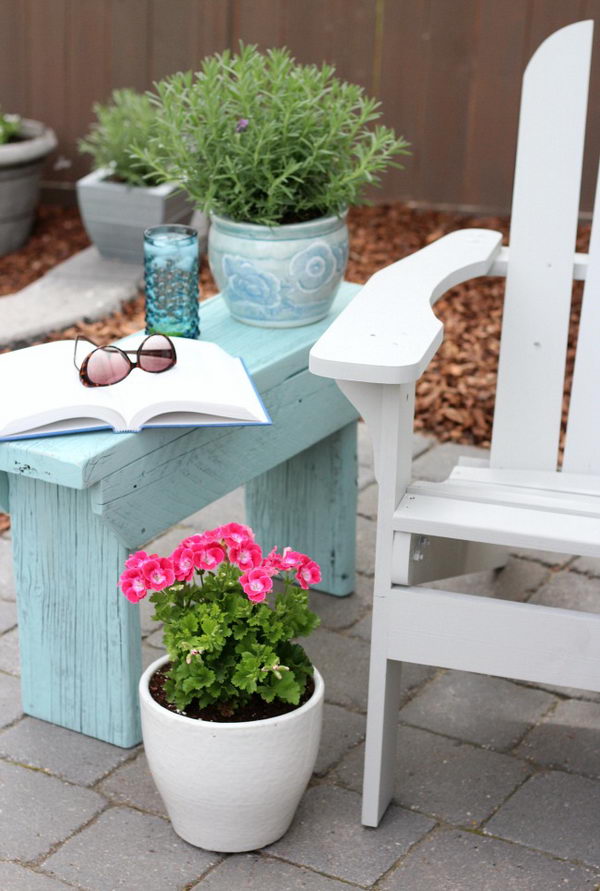 This table is all you could want from an outdoor DIY project.It has a simple structure with two legs, a top and two side support pieces, and it looks distressed to begin with, which means it will wear well. It's a clear win-win deal with this project. via satoridesignforliving
DIY Side Table With Built-In Planter Or Ice Bucket
The lower outdoor table is a little more complex. The table itself is your standard dark wood with four legs and then a pallet-style top, but then a second structure with a deep, bucket-like top was added to its side, which brings additional interest and usefulness to the piece. via thehandymansdaughter
DIY Crate Side Tables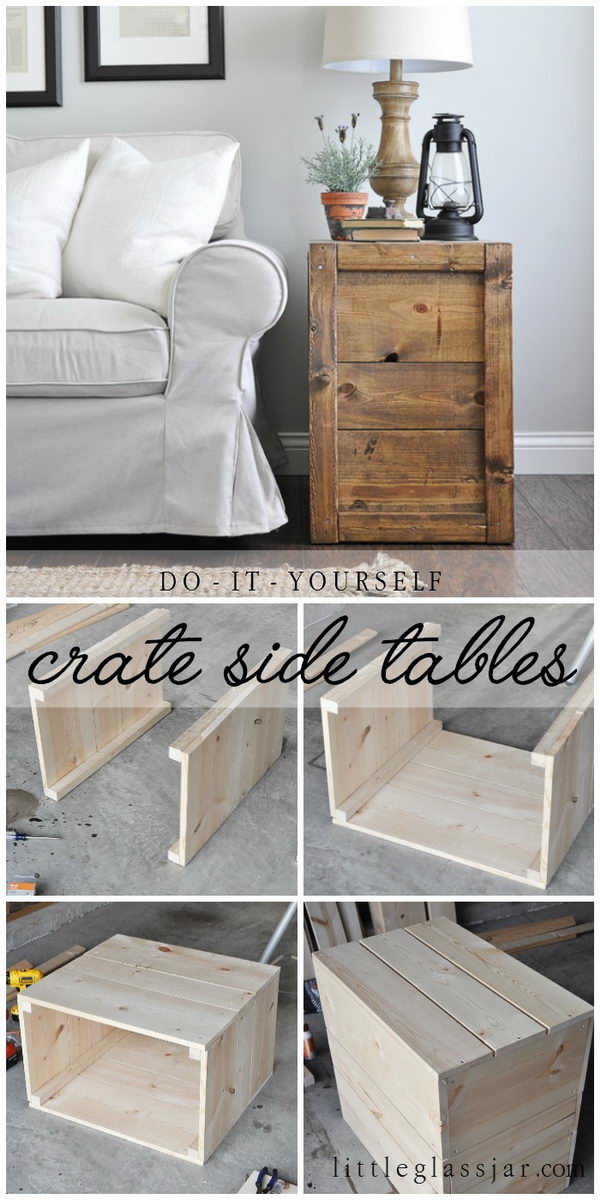 This project is pretty much your perfect rustic side table, as crates were built in a stacked design and then stained to give this indoor side table that perfect countryside aesthetic. via littleglassjar
DIY Wire Basket Side Table

This cute wire basket was spray painted, then turned upside down and given a round wooden top so it could become a gorgeous and decorative outdoor side table. via theshabbycreekcottage
Concrete Table

The round side table planter is really cool because the whole thing was done by hand but it looks seamless and perfect its own textured style, with the flowers bursting from the top. via lowes
Ceramic Planter Side Table With Shells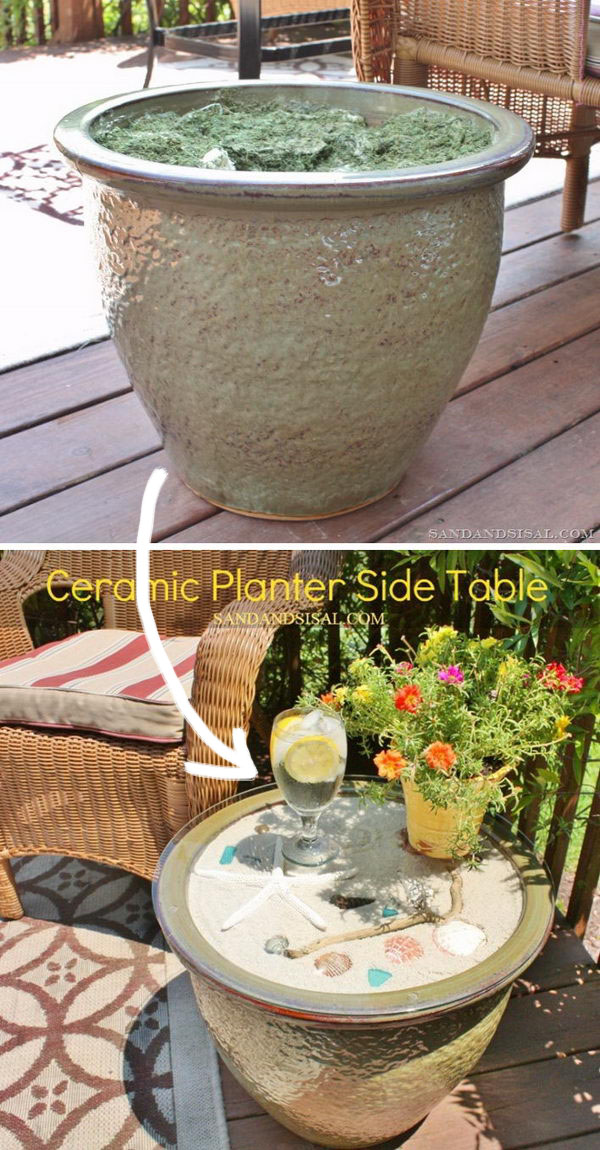 The large antique-looking ceramic planter was given a marbled top decorated with shells and turned into a perfect outdoor side table, where people can leave their drinks during a summer date or party. via sandandsisal
DIY Stool Side Table With A Sea Glass Table Top

Bring some sea breeze into your home with this gorgeous white and blue side table. It was made from a beautiful textured stool, whose top was decorated with pieces of sea glass that make it look stunning. via justjudyblog
Modern Hexagon Side Table

This side table is definitely elegant and complex – as it should, given that it's hexagon-shaped. It features a solid, thick hexagon top and a matching hallow hexagon at the bottom, both of which are white and connected by six wooden legs that are painted in metallic rose gold. via lovecreatecelebrate
IKEA Table Hack- Nautical End Table

The cute rustic side table is truly the result of a hack. All you need to do is take a hollow wooden storage cube and give it matching legs to elevate it, then add a matching top using a wooden square. Paint it all to look seamless and you'll have your table. via thinkingcloset
DIY Morrocan Side Table With Mdf

The Moroccan side table is made from MDF, which is one of the most inexpensive and easiest materials to work with. All you need to do is cut your square for the top and then four identical legs like you see in the image. Put it all together, then paint the piece and it will be ready for use. via storefrontlife
Pottery Barn Inspired Round Bistro Table With Concrete Top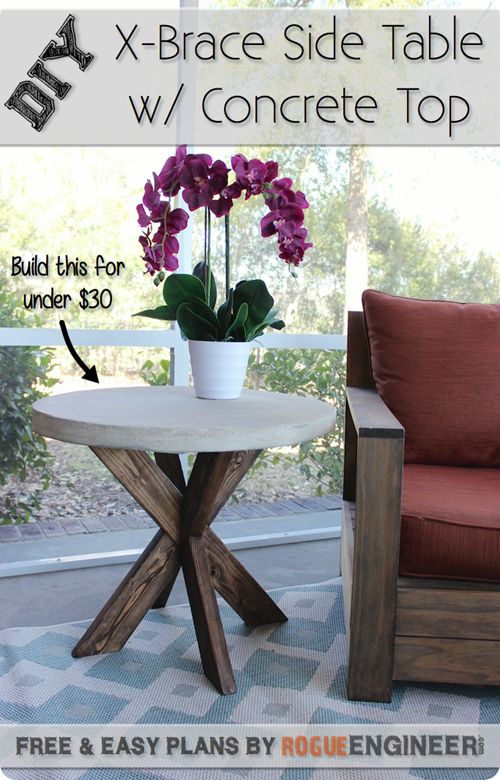 This low side table is made using a double X-brace of reclaimed wood which supports the round solid concrete top. It is a charming piece overall, especially when used outdoors. via rogueengineer
DIY Pedestal Clock End Table

The end table is simply one of the coolest upcycling projects you'll ever see. It combines a simple wooden pedestal leg with a vintage wall clock, which serves as the table top. The end product is simply stunning and ingenious. via ohjuliana
Recycled Slate + Branch Table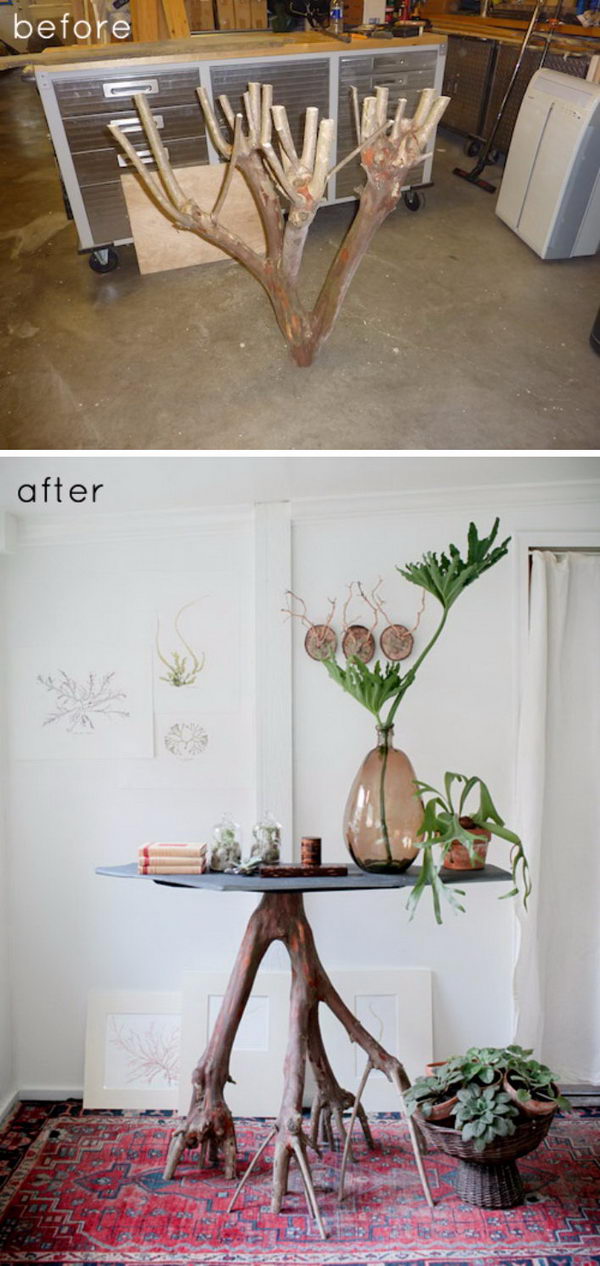 This table is definitely one for nature lovers, as it takes a thick tree branch, perhaps left over from cleaning the yard, and transforms it to become the legs of a charming end table with a slick slate top. via designsponge
DIY Studded Tree Stump Side Table

This one shows you can make use of a tree stump in the coolest way possible. The stump was fully painted white in a way that retained the texture but allowed the color to be opaque. A studded strip or belt was then created near the top to give it that edgy-elegant touch. via abeautifulmess
DIY Log Slice Table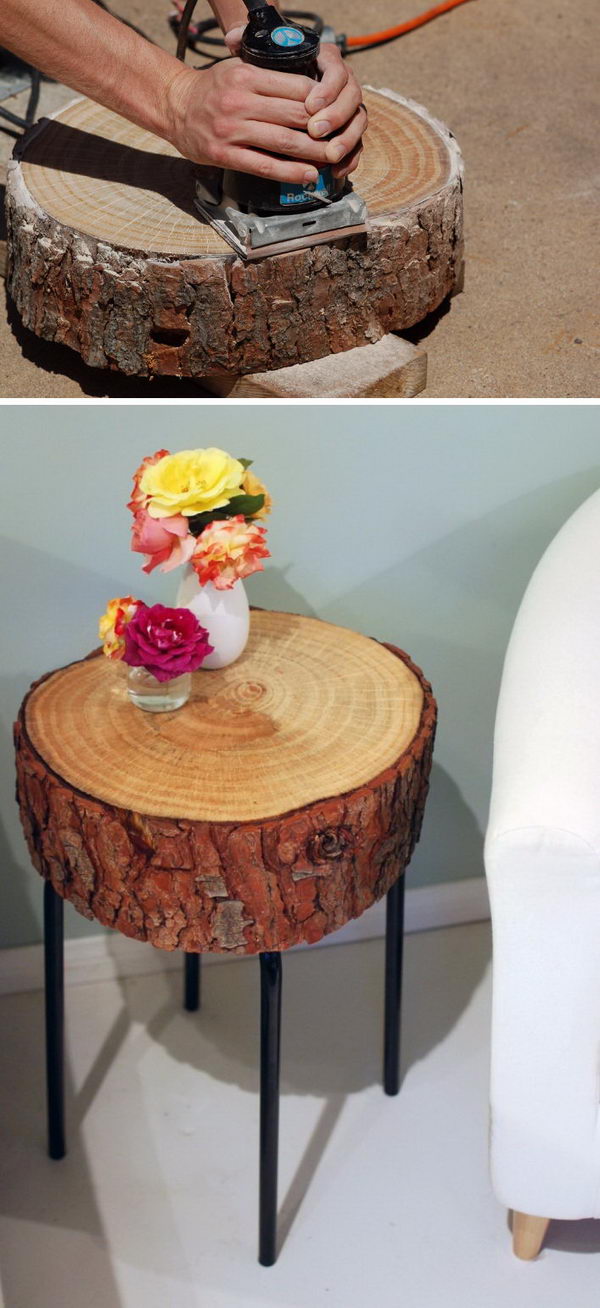 There's a lot of ways to turn a tree into a table and this is just one more charmining idea. A large yet not very wide log was left in its natural state and given some legs in this case to turn it into a rustic side table that should definitely be praised. via seakettle
DIY Thrift Store Side Table With Glitter And Brass Accents

Now it is another of those really surprising projects, as the gorgeous side table you see was once a wicker stool from the thrift store. The bench itself was fully painted white then given a new, smooth top, painted with a mix of shiny green and glitter. The piece was finished with a trim of small gold beads. via rosyscription
DIY Accent Table From A Wire Basket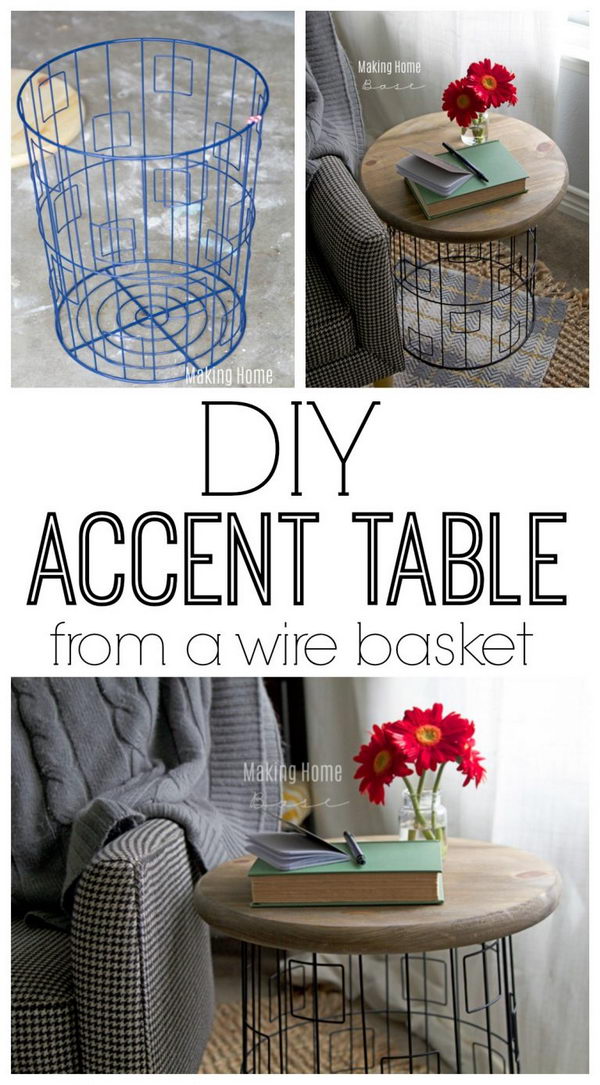 Here's another great example of how baskets can easily be turned into gorgeous side tables. This one was made from a hollow wire basket which was given a little round top, effectively turning it into a table. via makinghomebase
DIY Brass Side Tables

These tables are really elegant, and you'd probably never guess they were home made. They were upcycled from white lace patterned hollow baskets which were painted a dark brass color and given matching tops so that they now serve as end tables in a sophisticated living room. via abeautifulmess
Recycled Old Crate Side Table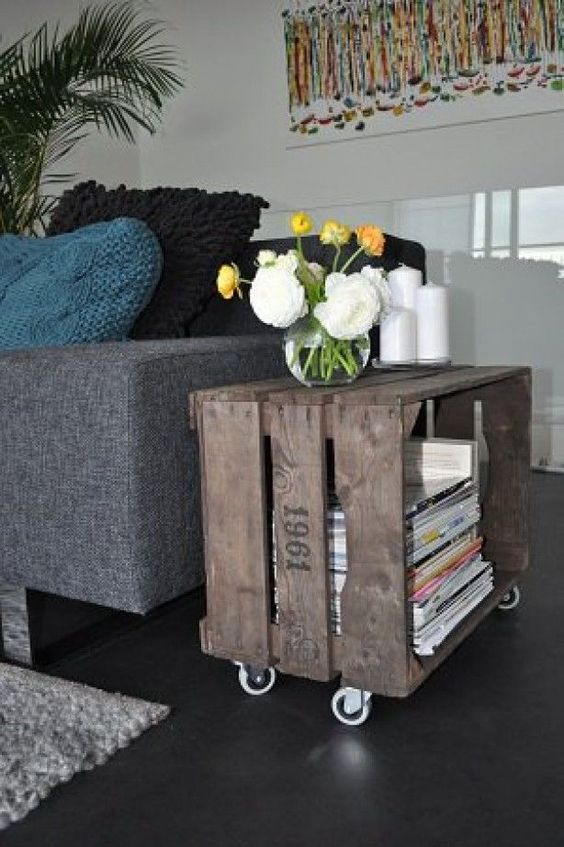 This side table has a cool rustic aesthetic, as the piece was crafted from an old crate. The markings and distress signs make the piece look truly vintage, while the addition of wheels at the bottom make this side table mobile for events. via deveilingkist
DIY Side Table With Lighted Grapevine Balls Inside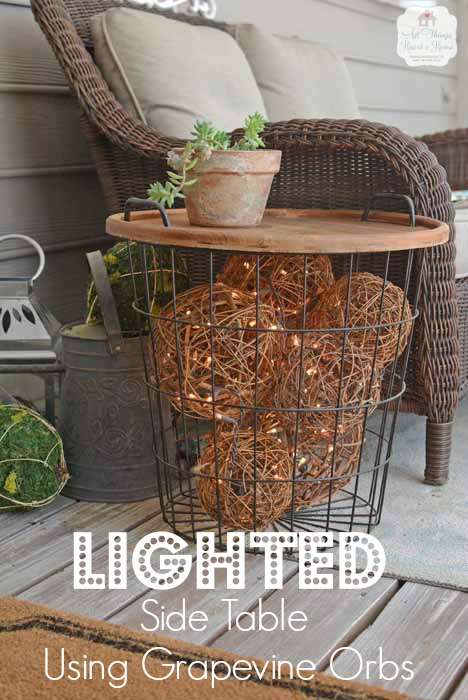 It is another basket turned into a side table with the addition of a table top. What is different is that instead of being left hollow, this one was filled with grapevine balls that will shine a subtle light over more intimate moments. via allthingsheartandhome
Terracotta Pot OUTDOOR SIDE TABLE
This is yet another great example of a large terracotta planter being turned into a gorgeous side table. This one was repainted and turned upside down, then a shallow wicker basket was used as a table top and the bottom trim was decorated with twine or a similar material. via infarrantlycreative
DIY Shutter Side Table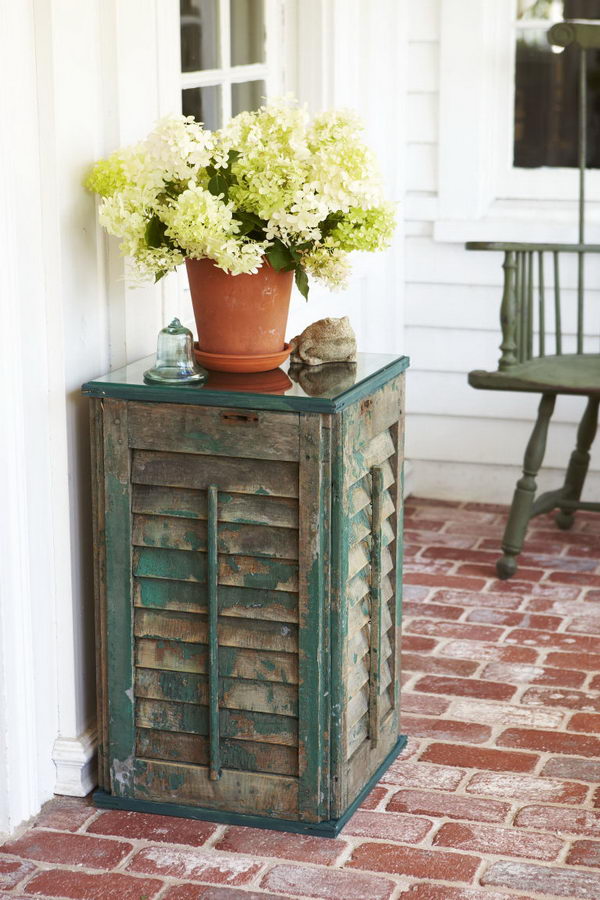 This vintage side table is yet another ingenious project, as the unique look was achieved using repurposed shutters. A smooth dark charcoal top finishes the piece off. via goodhousekeeping
Farmhouse End Table With X Support Legs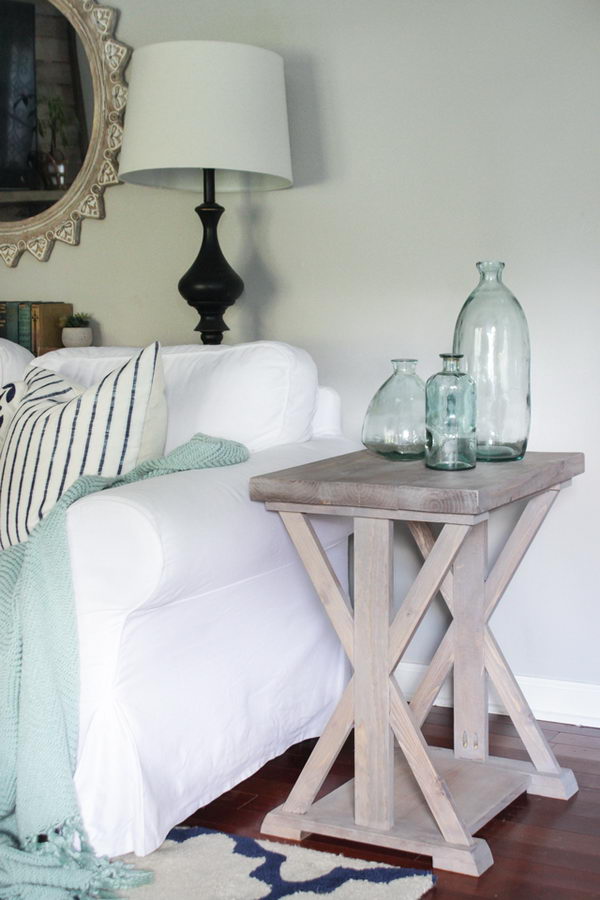 This is a bit of an unusual look for a farmhouse side table, as it appears more stone-like than warm and welcoming. The table itself is supported by X-shaped legs and features a smooth marble-style top. A second, smooth surface can also be seen between the legs at the bottom. via shadesofblueinteriors
DIY Farmhouse Crate Side Table

Now this side table has the true farmhouse look. The piece was crafted from a crate, inside of which was added a shelf for better organization. via handmade-haven
DIY Side Table

This homemade side table causes a good impression while not taking a lot of time or money to make. All the pieces, from the top, to the pedestal center leg and its support can be bought at the store, so all you need to do is choose which ones you like and put everything together. via shanty-2-chic
DIY Geometric Log Side Table

The side table looks very simple and rustic, but it takes work and skill to make. To achieve a similar effect, you'd actually have to carve the shape out of a log, so if you can't do it or have it done, you might want to keep looking for ideas. via ehow
DIY Outdoor Stool Or Side Table From Reclaimed Wood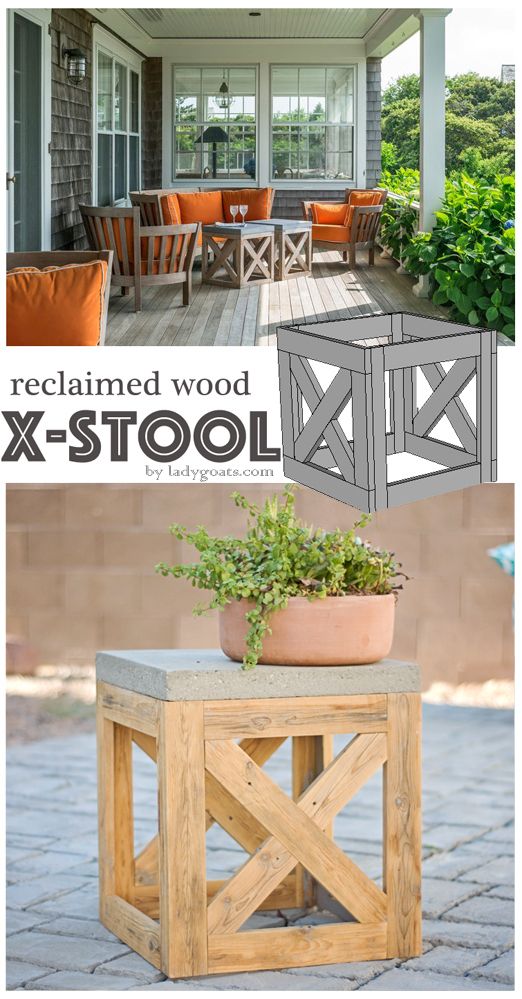 This is a two-in-one project, as the side table could also serve as a bench or stool, if needed. The main structure is made of four identical hollow squares featuring Xs, which were fashioned from reclaimed wood. The top is a square slab of stone, which creates contrast and obviously adds a smooth surface for people and objects to sit on. via ladygoats
DIY Log Side Table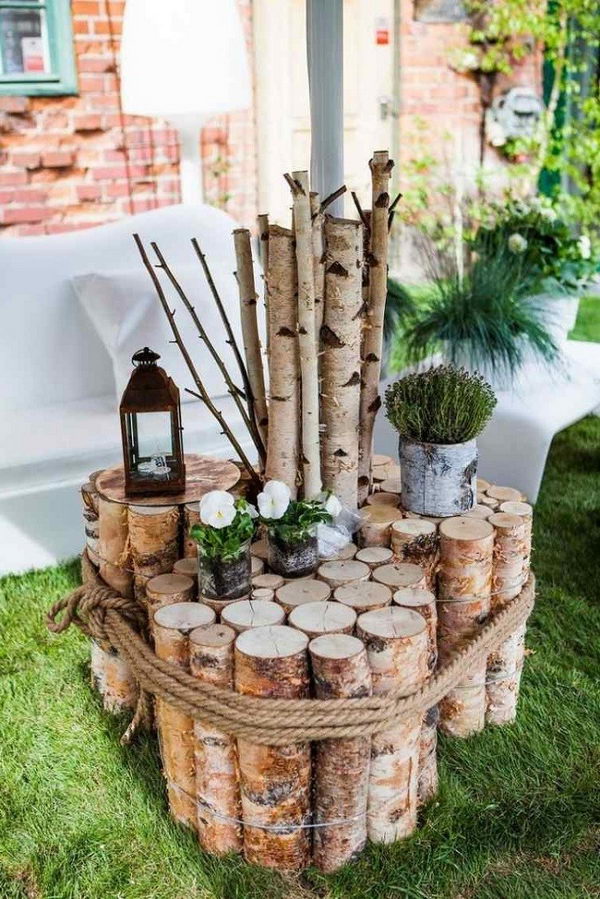 This is definitely a different log side table concept, as it is literally made of some mismatched natural logs tied together with thick rope to create a makeshift table.
Repurposed Vintage Milk Jug Side Tables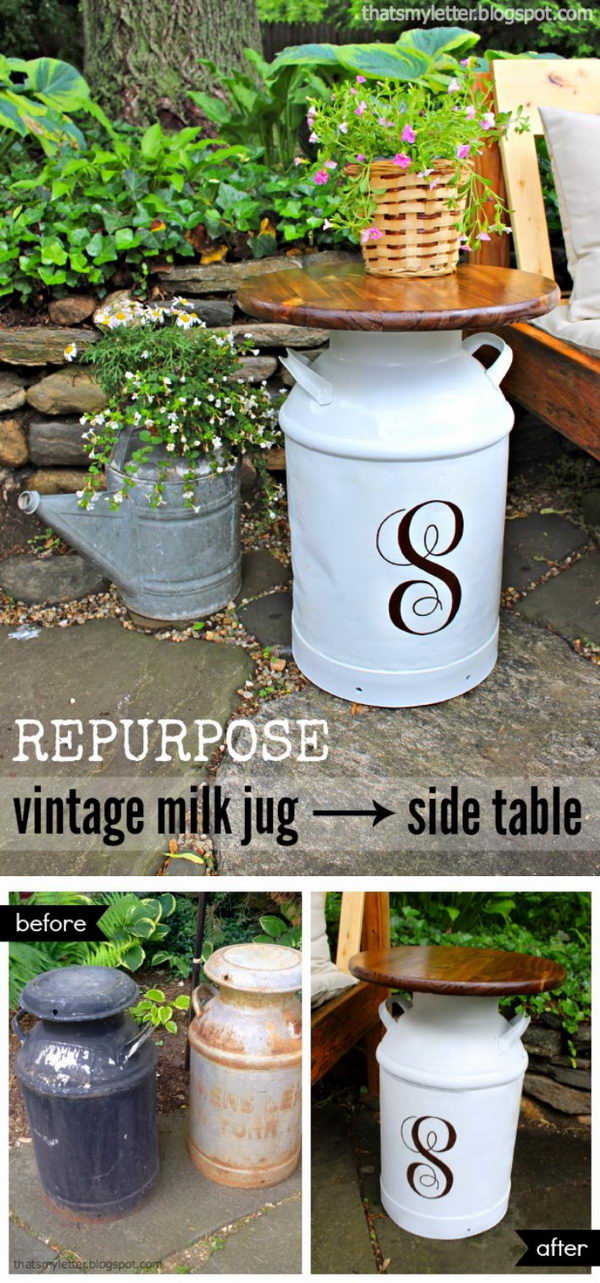 Here's another ingenious shabby chic side table idea. This one uses a big vintage milk jug, whose top was covered with a smooth piece of polished wood so it could serve as a unique table. via prettyhandygirl
DIY Boxwood Milk Paint End Table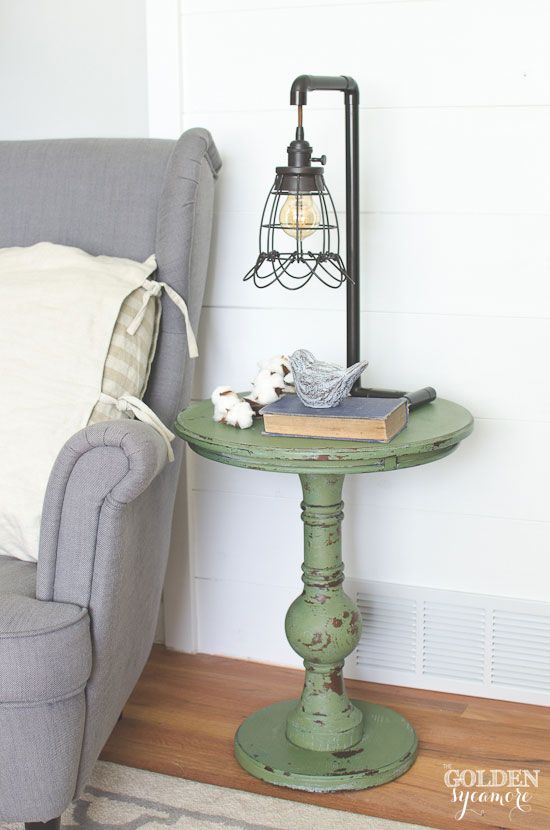 It is another gorgeous shabby chic style pedestal side table. The elegant design is simply beautiful, but it is the textures of the wood and the industrial table lamp on top that really give this table its unique aesthetic. via thegoldensycamore
DIY Industrial Spool Table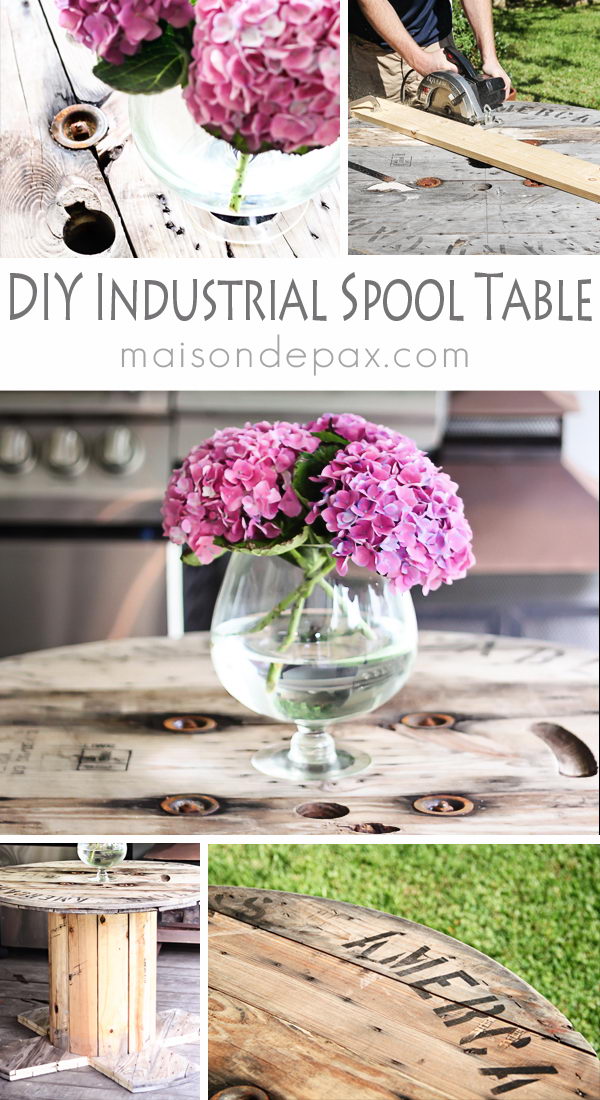 This wooden table is definitely unique, with its mixture of textures and all of the details put into this project, which take it from being a rustic piece to decidedly looking like it belongs in the industrial category. via maisondepax
DIY Milk Can Side Table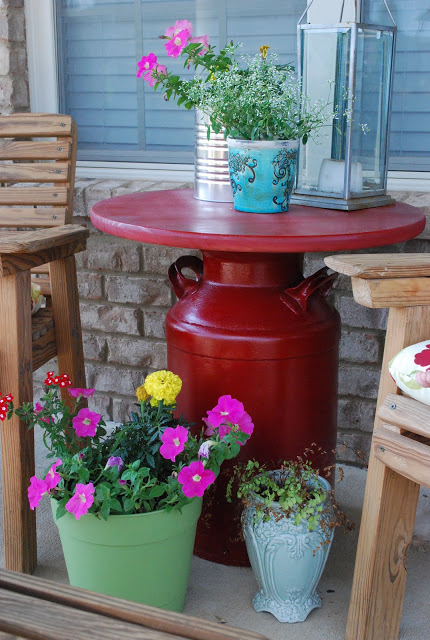 This idea isn't that original in the context of this article, but it looks very different because of the color. The main structure is a large milk can, to which a smooth and matching table top was added. Together, they make a really nice side table. via fussymonkeybiz
Pottery Barn Knockoff Outdoor Side Table

The elegant two-tone outdoor table might cost you a pretty penny at the store, but the good news is that it can easily be replicated for a fraction of the price. The main structure is a hollow cube made with thin strips of wood. A small square pallet can serve as the top. Once the pieces are assembled, all you need to do is paint the final product in the monochrome scheme. via southernrevivals
DIY Mesh & Mirror Side Table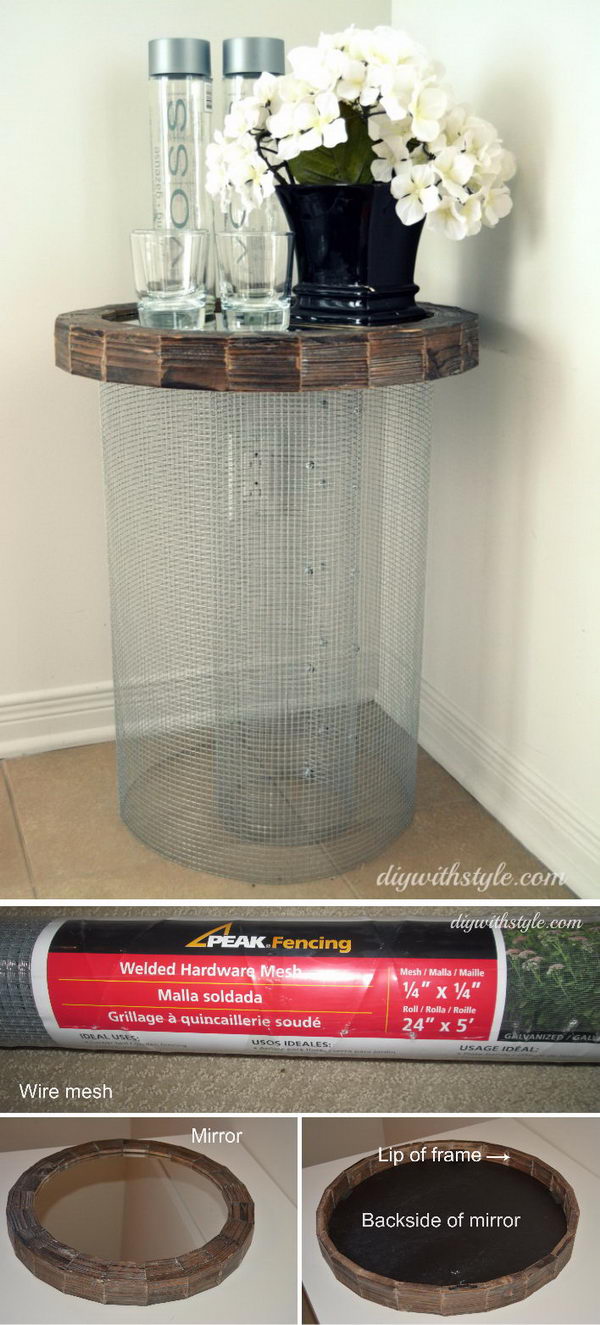 This DIY side table is quite easy to make as it only has two pieces: a mesh rounded basket and a mirror. Add the mirror to the basket as a table top and you're all done. via diywithstyle
DIY Acrylic Side Table
It is another easy and practical project, as it is most basically an acryllic storage unit with legs. All you need to recreate it is a clear acryllic storage unit and some thin wooden legs, which you will install in X-shapes for better support. It's as simple as that. via inmyownstyle
DIY Twisty Table

This narrow side table design is gorgeous, but it takes skill and work to replicate as the wood needs to be bent and placed strategically to create this unique design. via woodshopdiaries
Recycled Wine Barrel Side Table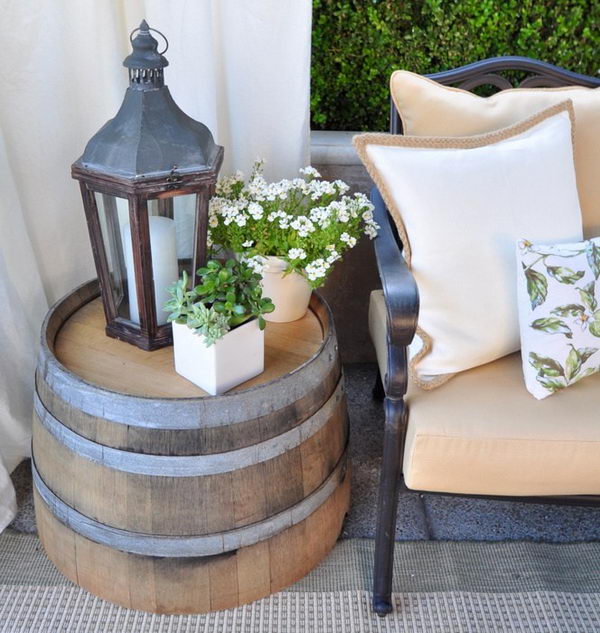 Wine barrels can make great side tables, much like crates and jugs, as this project clearly shows. This one was obviously cleaned up and completely shut, but hasn't lost its essence, even with the additional decorative pieces placed on the outside and on top. via centsationalgirl
DIY Palm Leaf Side Table

This side table was transformed from what looks like an austere bedside table into a fun,tropical piece as it was repainted white with a green palm pattern at the front. Brass accents were also added at the corners and legs. via abeautifulmess
DIY Side Table From A Stool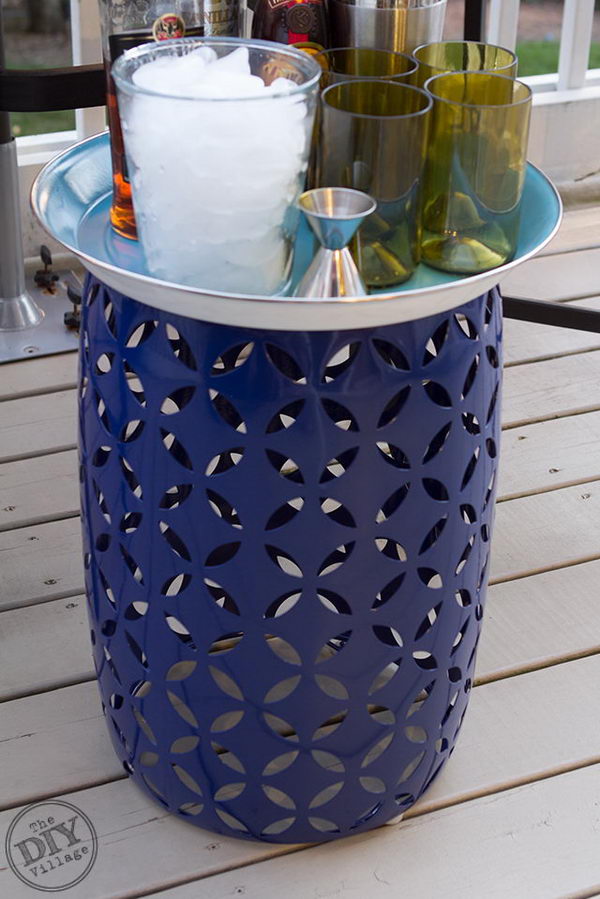 It is yet another great example of how fantastic a stool can look as a side table, if properly adapted for the purpose. The contrasting colors of the actual stool and top looks beautiful and elegant, as does the design altogether. via thediyvillage
DIY Spool Side Table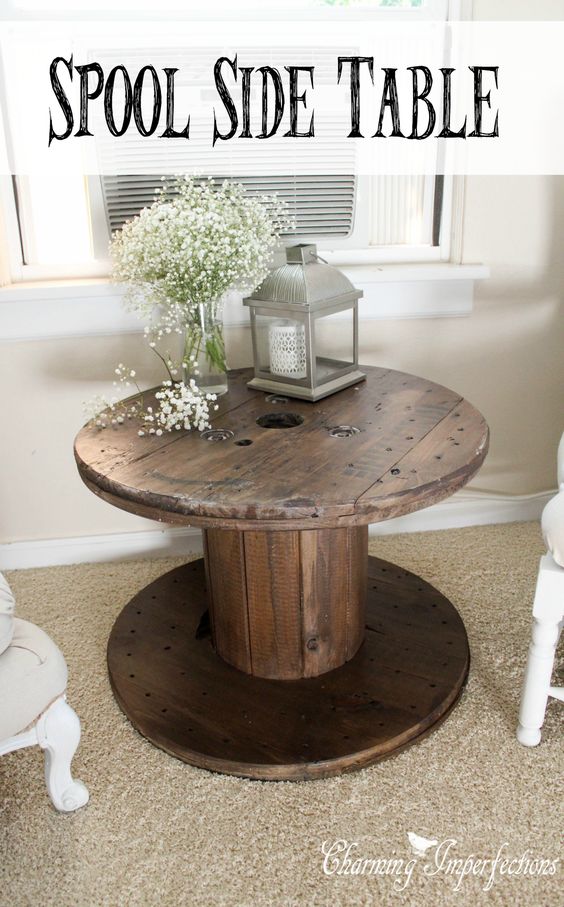 This piece wasn't as changed as it was repurposed. The spool is very functional as a side table, and the wood grain and texture give it a unique character. via charmingimperfections
DIY Recycled Tire Table

It is perhaps one of the most surprising ideas of the whole article,as the table is comprised of two large old tires stacked together and covered in thin rope to hide their true nature and give the piece that rustic aesthetic. A discreet, smooth glass table top was added to the top tire so that this table could actually be used safely. via homemadeinterest