The importance of outdoor lighting is likely often underrated. While it is undeniable that outdoor spaces are more used during the warmer seasons and daytime in general, porches and backyards can still serve as the ideal location for a night event, even in the colder months, and unless you're hosting a candlelit dinner, you definitely need some light.
Adding some light to the outdoors is as much of a creative project as doing so indoors, if not more. You can light up a path to your front or back door, place spotlights on the floors or even light up your furniture and plants.
The best thing about outdoor lighting and the creative process of finding your ideal solution is that you have full control over every detail, from what kinds of lights you're using, to where you're placing them and, perhaps more importantly, your budget.
Lighting up your outdoor spaces isn't a problem to solve – it is an opportunity to make the space your own, as you will see here. Enjoy these Cheap And Easy DIY Lighting Ideas for Outdoor.
DIY Party Cup LED Lights Garland

Creating light in the outdoors is just as easy and cheap as taking some leftover party cups and fixing them with LEDs. The cups actually look like lamps and the string of LEDs is perfect to hang up as a garland, so it doesn't even take much effort to complete this project. via hometalk
DIY Flower Pot Candle Planter

It is no secret that candles and plants go well together, and this project takes advantage of that. It is as simple as placing a second clay pot in the center of the larger planter, weight it down and then place a candle there, so that it lights up the plant and surrounding area. via hearthandvine
Hanging Jam Jar and Tea Light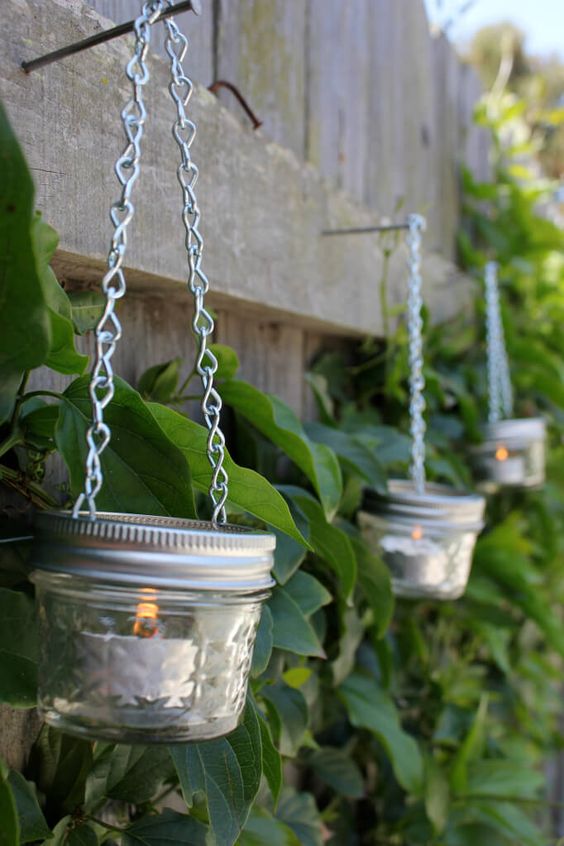 This is a great, relatively eco-friendly way to illuminate your outdoor spaces. You can recycle old jam jars by cleaning them, placing a tea light inside and then hanging each jar from a sturdy rope or chain. It looks beautiful and you don't need to worry about leaving the lights on, so it's perfect for the outdoors. via jennifersmentionables
DIY Rustic Wooden Lanterns

These lamps are a fantastic project for a rustic garden, as they are built using repurposed or distressed wood. The box itself is quite simple in design, so it shouldn't be hard to put together. You can choose to use actual candles, tea lights or even LEDs inside. via 100things2do
Fairy Lights On Fence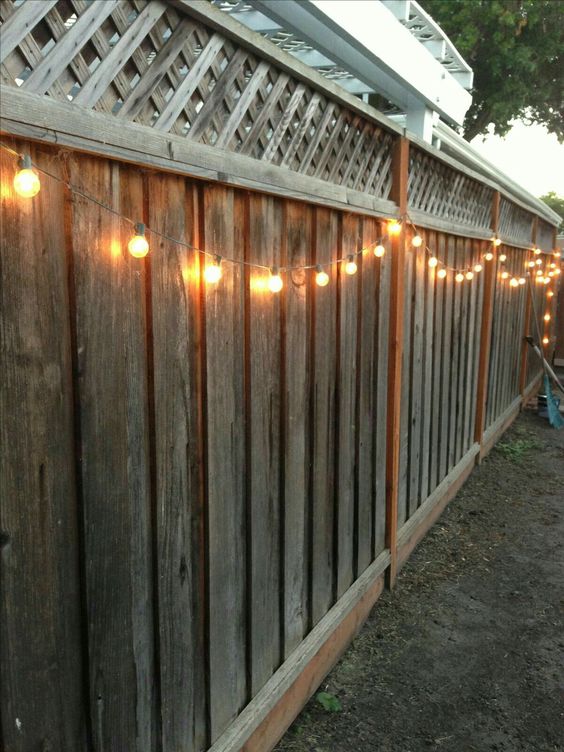 This is one of those projects that literally anyone can accomplish. All you need to do is take your large fairy lights and hang them like garlands on the top of your fence, then set a timer so they turn on at night.
DIY Hose And Lantern Holder From A Wooden Post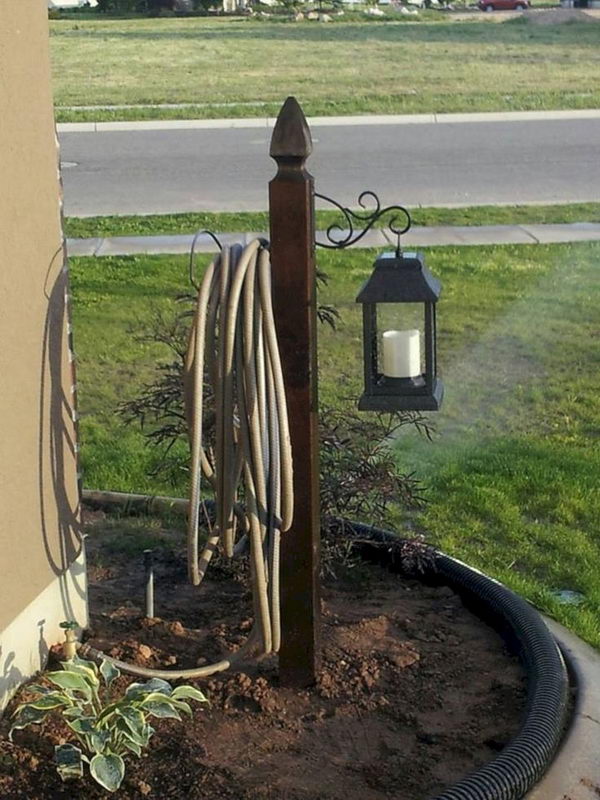 This is one of those two-in-one projects, where you take a post and hang multiple things on it. This one has a cone carved at the top and it holds the hose on one side while also featuring a decorative hook with a vintage-style lantern on the other.
Waterdrop Solar Lights

This project may be complex, but it's also worth the trouble, as you get a beautiful light feature that pretty much maintains itself, thanks to the solar lights. What you need to do is mounting a fake hose over your plants and then add a spill using pipes, watering spheres, glue and, of course, the string of solar lights, so that glowing water seems to fall on your garden at night. via thenavagepatch
DIY Garden Lights Using Wine Bottles With String Lights

This project is simple and effective as all you need to do is take old, clean wine bottles, insert string lights and then secure the bottles on the ground upside down, so that the lights shine in the night like trapped fireflies. via more-organics
DIY Recycled Pallet Light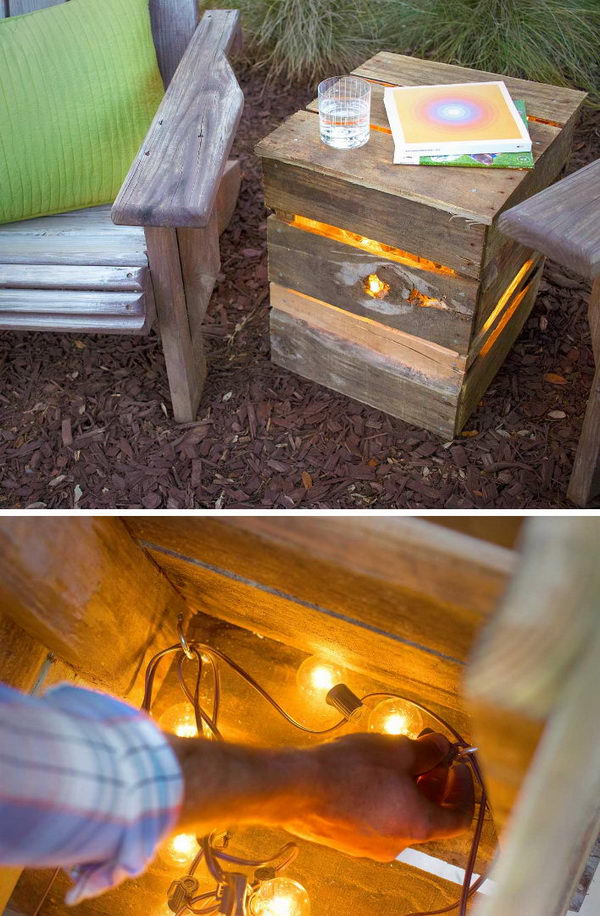 These light boxes are another incredible and accessible recycling project, as they are almost entirely made from used pallets, which you can usually buy cheaply. All you need to do is pull your pallet apart and rebuild it as a box with your lights inside as well as some simple or decorative openings so that it shines in the dark. via fiskars
DIY Dolllar Store Solar Garden Globe Light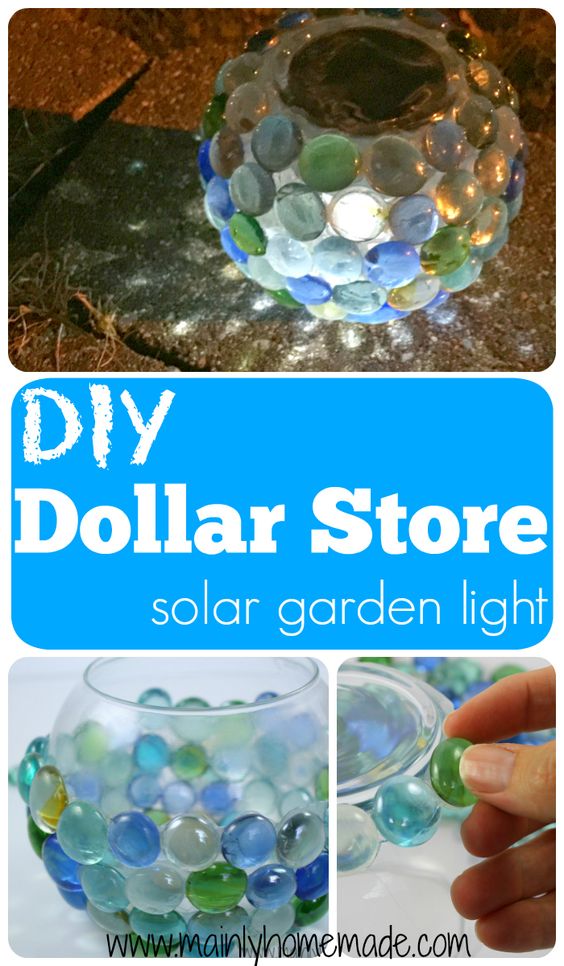 This gorgeous globe light might not cost you $10 to make, but it looks as good as it gets, thanks to the watercolor marbles that turn a round vase into a truly special lantern. Using solar lights is also a fantastic idea as they are eco-friendly and pretty much self-sustained. via mainlyhomemade
Hanging Jar Lanterns

These hanging jar lanterns are another incredible project for your fence or gate, as they are made from rounded mason jars with tea lights on the inside. They hang securely from wire holders, which can you fashion yourself quite easily. via craftynest
Copper Patio Torch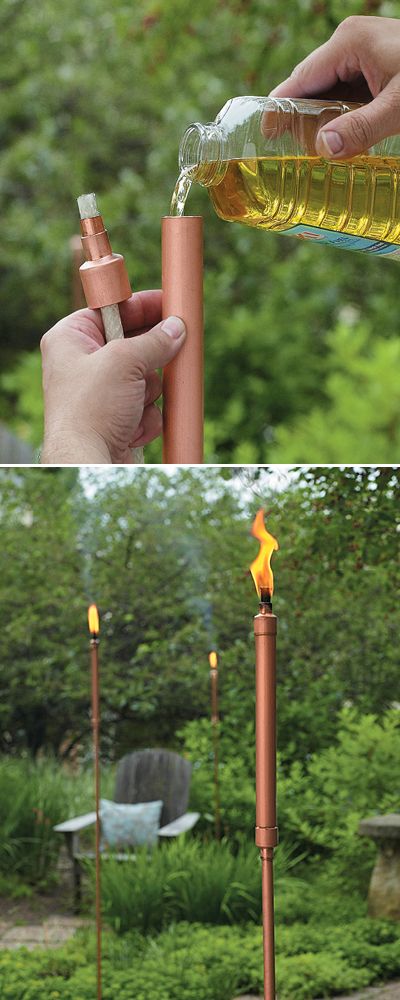 Torches have a real vintage look to them, and they add warmth as well as light, so they are great for parties and outdoor dinners. These ones, which are made from copper pipes, are both sleek looking and safe, so you should definitely consider building your own. via gardengatemagazine
DIY Colorful Solar Lanterns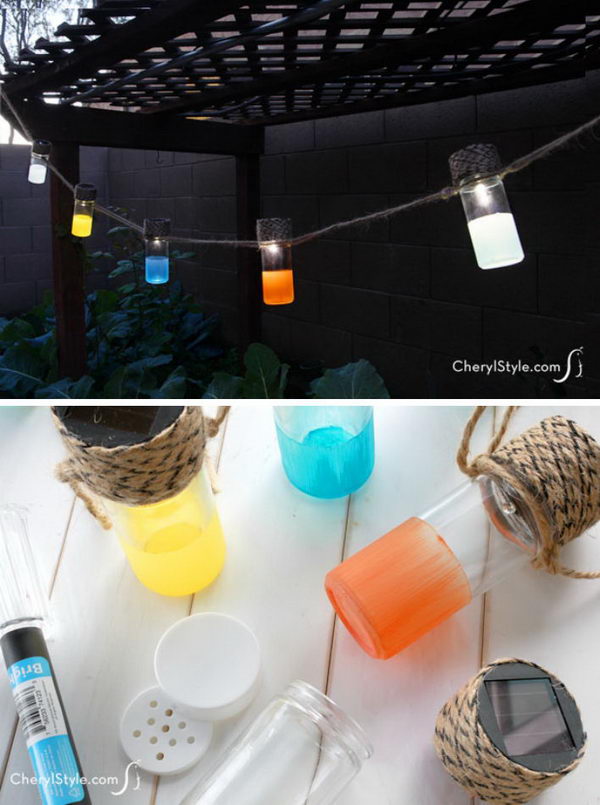 Here's another great lantern garland which will power itself while illuminating your garden with rainbow colors. It is made using painted spice jars that house the solar bulbs and hang from the porch ceiling using some thick and sturdy twine. via everydaydishes
DIY Starry Lights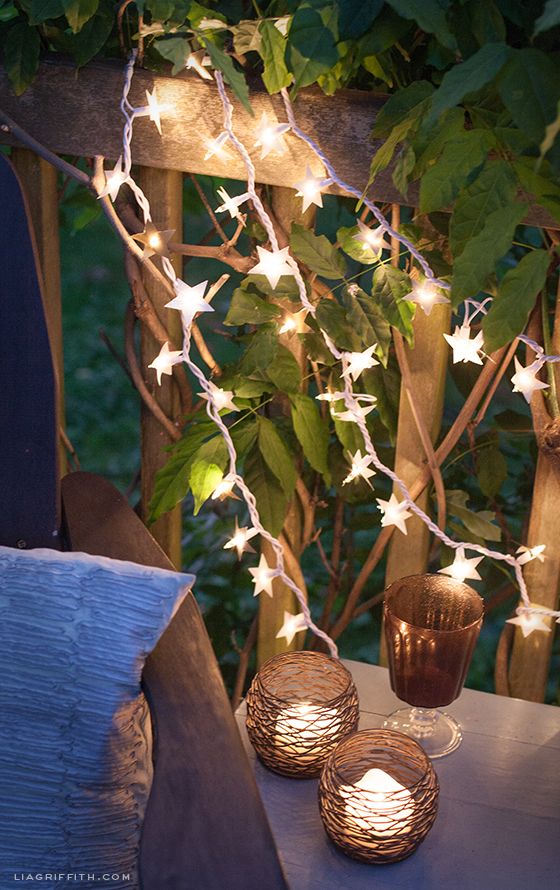 This could be your ordinary set of string lights, except you see stars instead of light bulbs. The stars are just covers made of heavy duty metallic paper or cardstock, which house the bulbs and give them a more glamorous shape. via liagriffith
Grapevine Balls Lights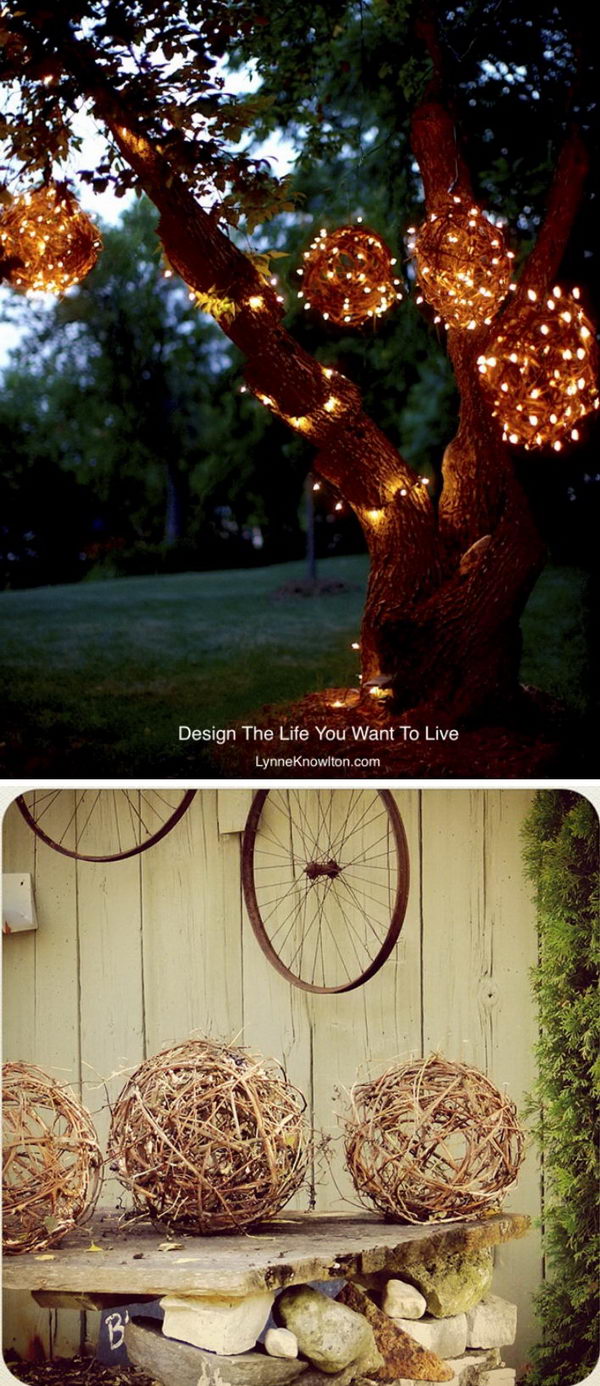 If you'd like to create some simple yet whimsical light spots in your garden, then wrap some grapevine and string lights together and place the finished balls together or scatter them around. via lynneknowlton
Upcycled Tomato Cage Chandelier For Your Garden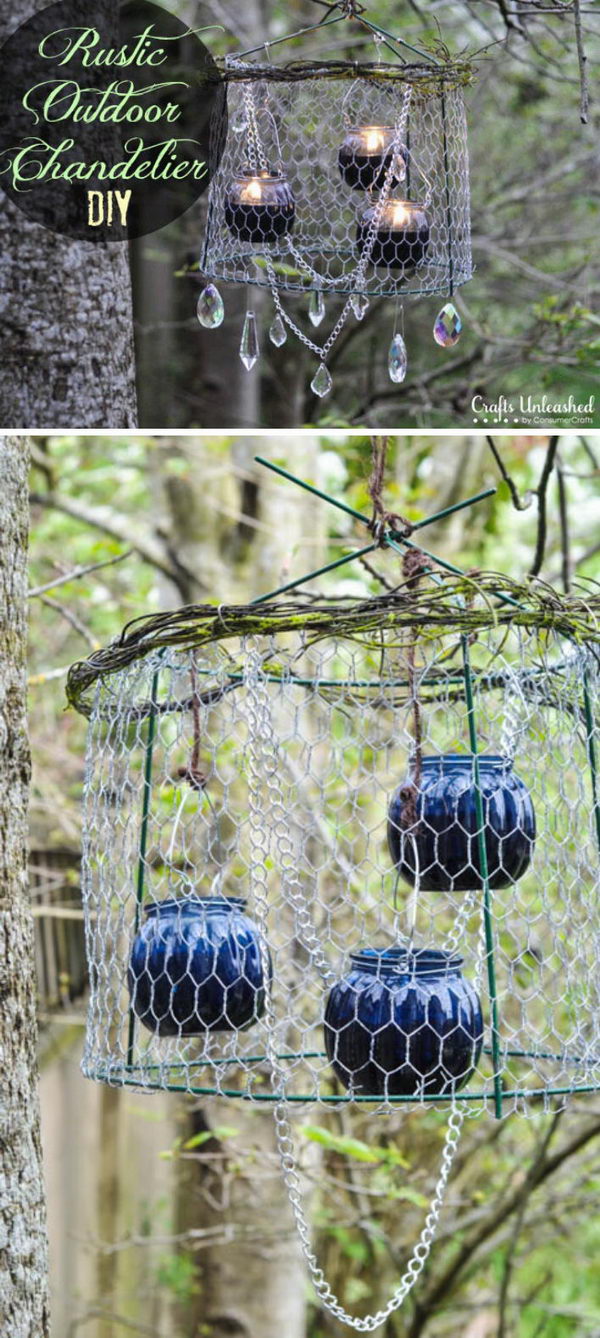 Tomato cages have a great shape for a lamp or chandelier, so all you need to do if you want to complete a project like this is cut and mold yours into shape, then install candles or LED lights inside using wire ring holders and hang your full piece with wire as well. via consumercrafts
Mason Jar Solar Light

These are pretty much as described: solar lights placed inside mason jars which are propped on metallic pedestal poles stuck on the ground. You shouldn't have trouble finding the pieces or completing this particular project. via greenowlcrafts
DIY Outdoor Light Poles

These lights are quite enchanting, so they help create the perfect setting for a romantic dinner or small party. The lights themselves are pre-made, though you surely could replicate this sophisticated style. What makes this project special are the various gravel-filled buckets, whose poles the lights are attached to, defining and illuminating the space. via onekingslane
DIY Glowing Outdoor Orbs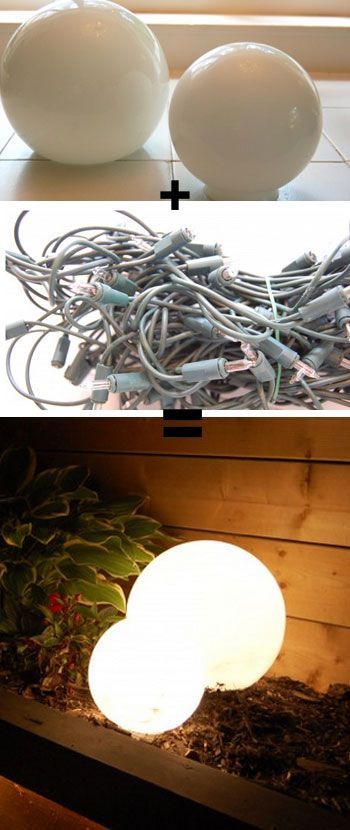 These glowing balls are quite versatile and easy to make, as all you need are plastic or acrylic balls and string lights. You can scatter them, hang them or place them on a wall's edge, as you see in the picture. via theartofdoingstuff
Repurposed Woven Basket Lamp

This lamp isn't too hard to make, as all you need to do is install a light fixture and a bulb inside the woven basket, then hang it upside down using some thick twine or wire – it will look just like the real thing. via theartofdoingstuff
DIY String Light Poles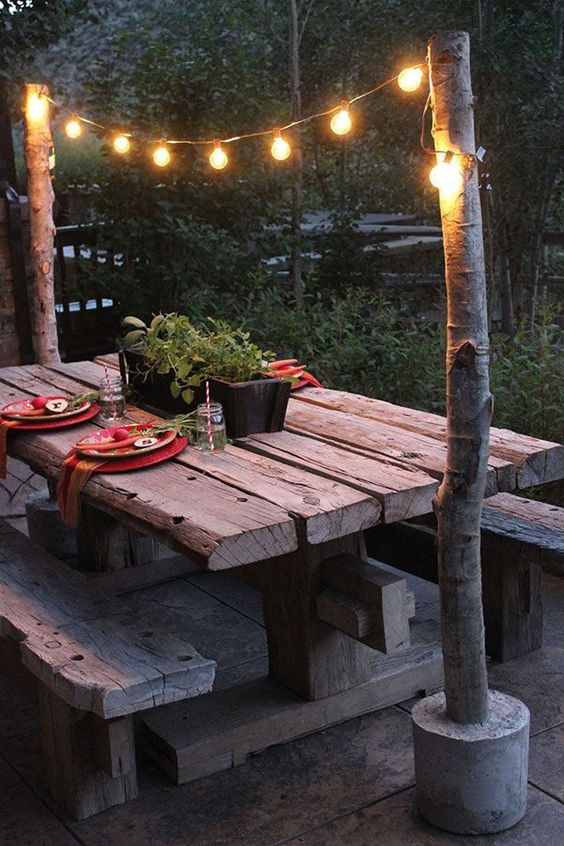 These poles are perfect for a rustic garden, as they are made from thick, untreated tree branches supported by rounded concrete bases. The string lights are wrapped around the tops, much like they would have been around real trees. via jsorelleblog
The Glow Pots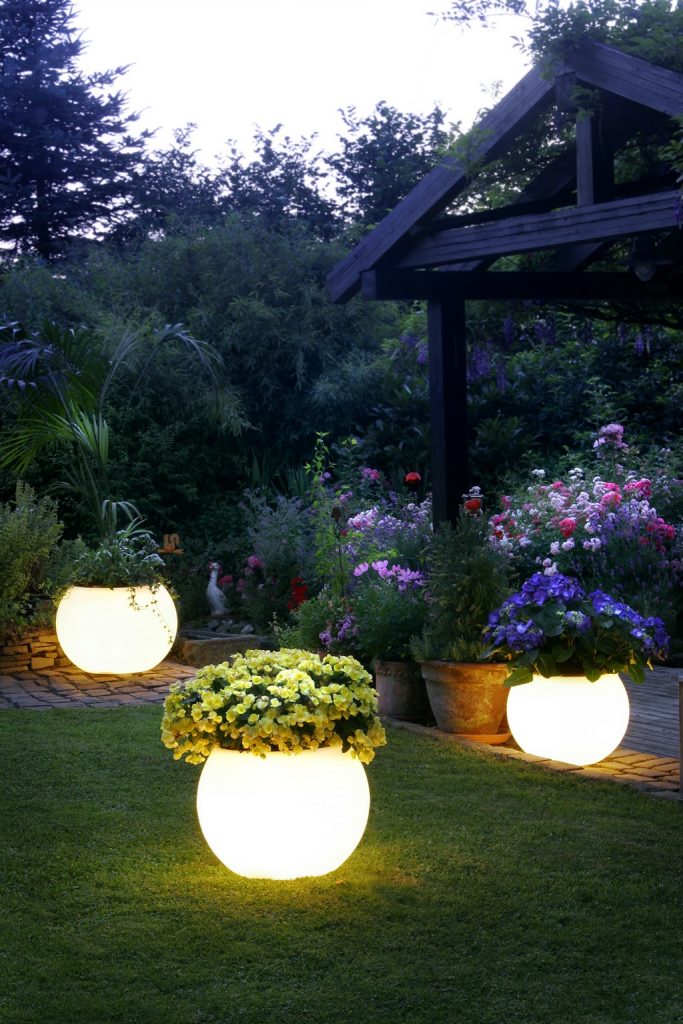 This project is quite ingenious because the pots do glow, but there are no actual lights, power or even fire involved. All you need to do is get some nice flower pots and paint the outside with a healthy coat of glow-in-dark paint to get them shining without hurting the flowers.
DIY Hoop Chandelier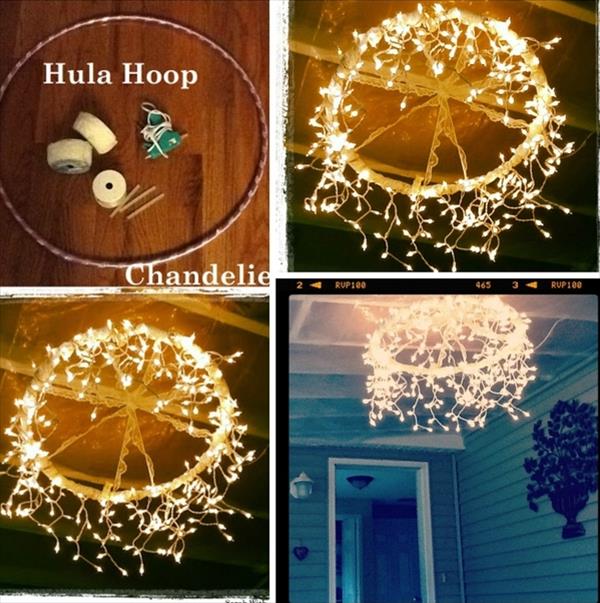 This chandelier is truly magic, but not hard to make. What you need is a large hoop, around which you will wrap some string lights loosely, so that they cascade down naturally. Add some wire or sturdy rope for hanging and it should be ready for use. via sarahontheblog
DIY Cedar Cube Landscape Lights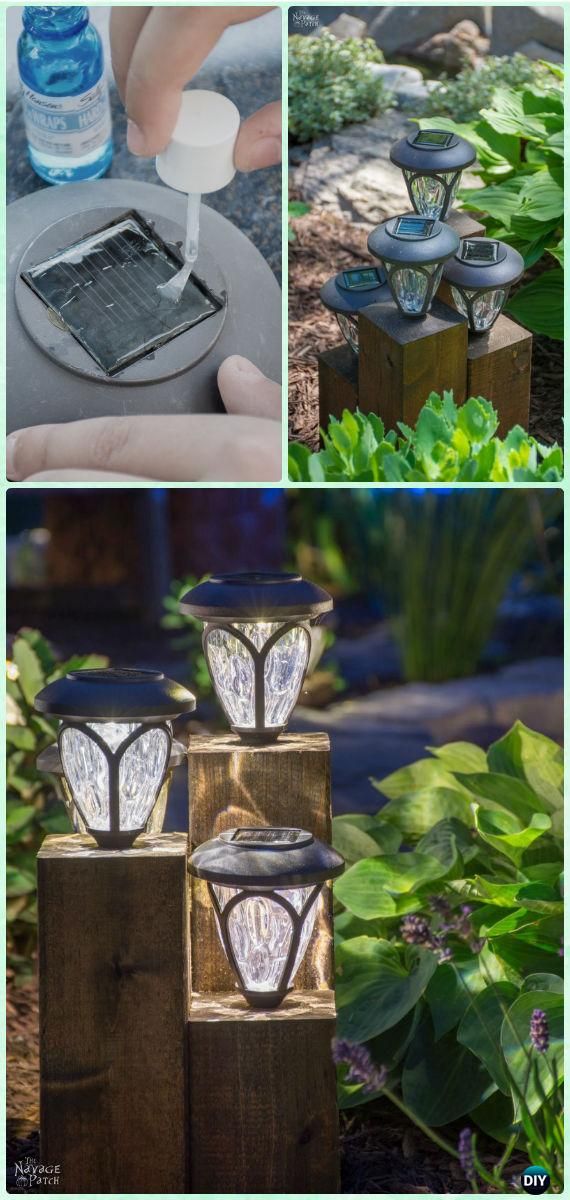 This project is a combination of two things: the Cedar cubes which were made and adapted to serve as the base for the lights and then the vintage-style landscape lanterns, whose pedestals have been hidden inside the cubes, not only mixing the two very different styles but also giving the lanterns a new look. via thenavagepatch
Floating Candles Bucket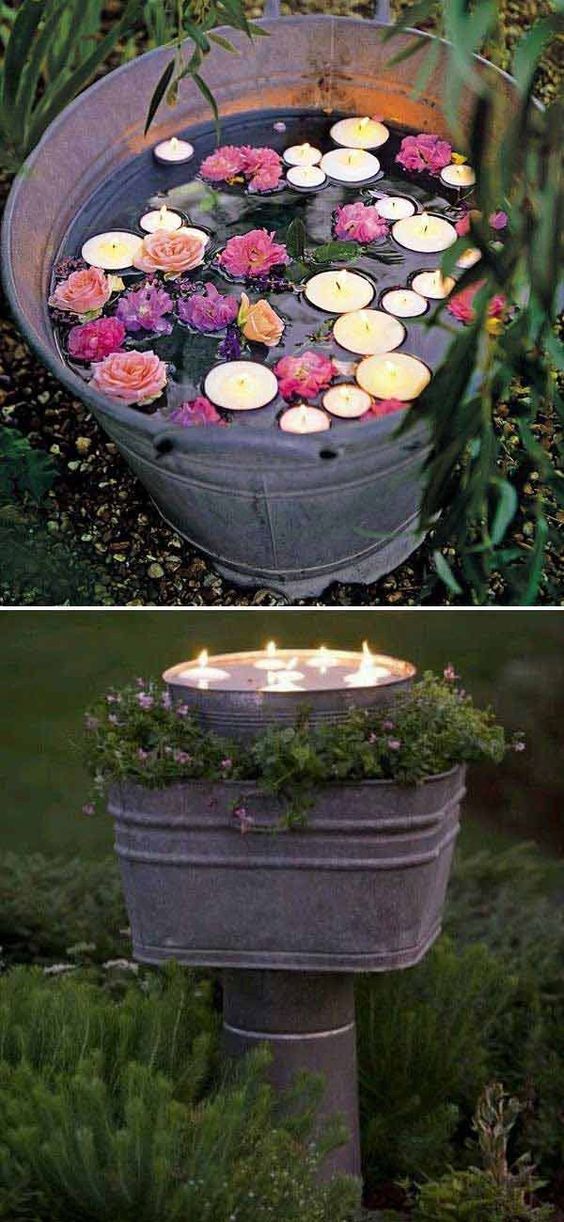 This stone-looking pedestal bucket could be a planter, but the plants are around instead of inside here. The bucket is actually filled with water on which some candles and flowers float, barely breaking the surface. When lit, the candles should create a beautiful and reflective glow.
Watering Can With Fairy Lights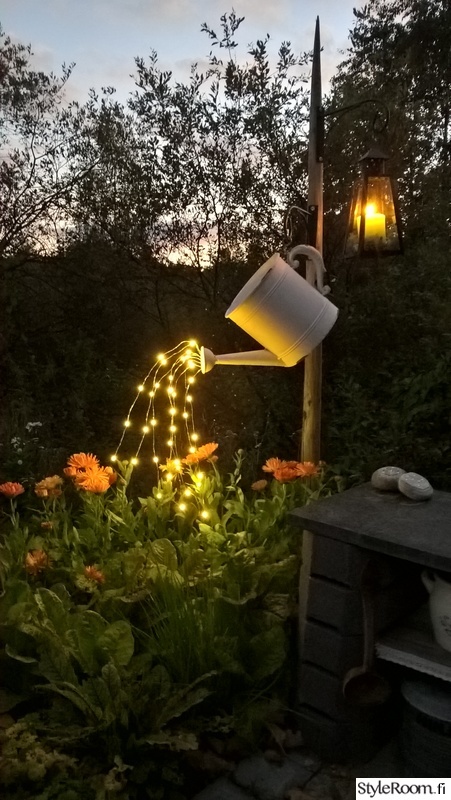 This project is quite cool, as strings of fairy lights were fed through the head of a hung watering can so they look like glowing droplets falling on your garden's plants. via styleroom
DIY Tin Can Lantern

These tin cans are quite cute because they are colorful and different. They have been painted and had drills made in different shapes to feed the lights through, effectively creating a lantern. A strong wire was also added at the top for hanging. via growcreativeblog
DIY Hanging Chandeliers From Wire Baskets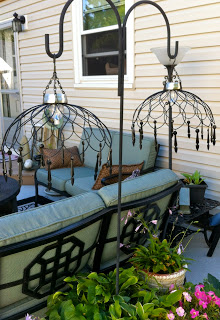 These beautiful chandeliers are nothing more than baskets which have been turned upside down and to which a light fixture was added. A chain triangle was also added at the top to hang it on the decorative hook. via annsgardenpath
DIY Concrete Candle Holder

These concrete candle holders are pretty easy to make. All you need to do is pour cement onto a bowl or tray, placing smaller containers inside to hold the place where your candles will go. Once it's dry, you can take off your casts, decorate with flowers or pebbles and place your candles in. via usefuldiy
Creative Birdcage Light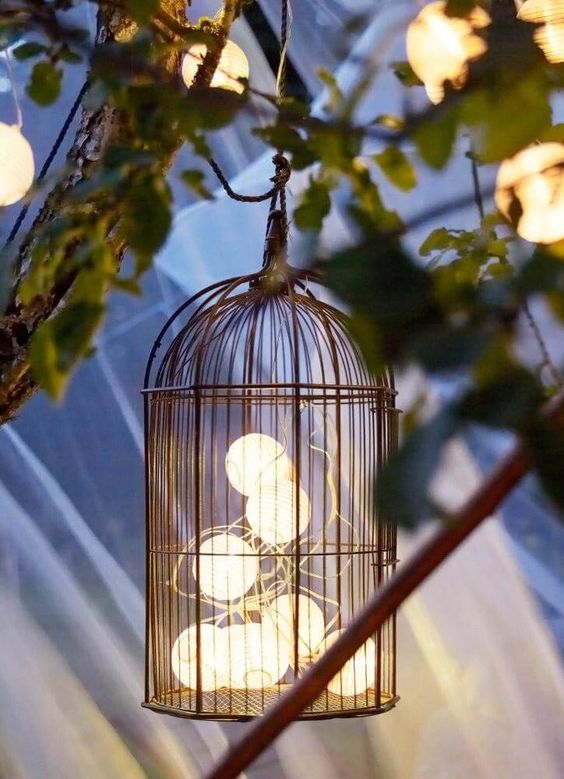 Birdcage chandeliers are quite beautiful and trendy, as they have a vintage aesthetic. This one features some large bulbs which hang from the top at different levels. It was also hung from a tree branch, which seems quite fitting. via laescueladedecoracion
A Planter Of Solar Lights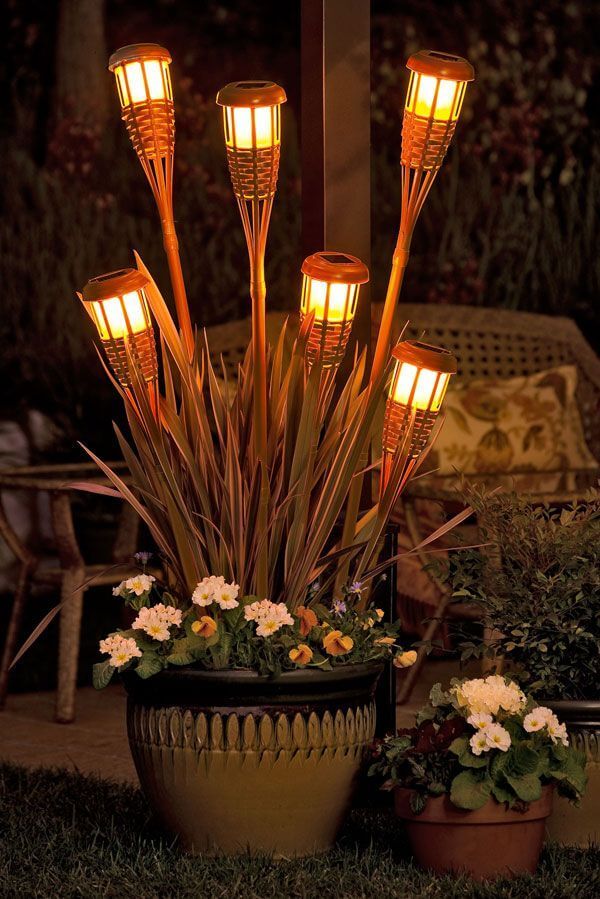 This planter is illuminated by vintage-style landscape lanterns, which are conspicuously "planted" among the rest of its beautiful contents.
DIY Clay Pot Lighthouse

This little cute lighthouse will guide visitors in your outdoor spaces like the real ones guide boats at sea, and it's really not hard to make. Each level is a different sized clay pot which was painted in a nautical color and houses a tea light inside. The doors and windows carved in the pots allow the finished piece to glow in the dark. via ehow
DIY Solar Light Lamp Post with Flower Planter

These flowers will surely be well-lit in the night, as a lamp post featuring vintage style lanterns has been placed in the center of the planter, allowing it to shine in the dark. via lifeonlakeshoredrive
Recycled Solar Light Lamp

This lamp was recycled into something completely different while never losing its function. The top was taken off and replaced, while the pedestal was repainted to fit in among the plants in the outdoor area. via toworkwithmyhands
Fairy in a Jar Lights

This pot takes the concept of "fairy lights" to a new level, as a fairy was stenciled on the side, and the pot actually glows from within. The lights work very well with the flowers spilling from the top by showing their beauty in the dark. via lifeispoppin
DIY Glass Globe Light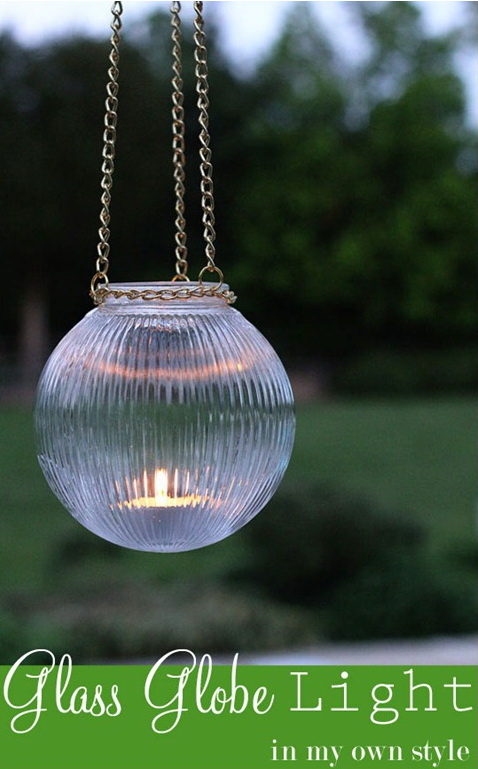 This glass globe is fragile and elegant, and so is the light that shines from within. In contrast, the globe is hung from chains, which ensure it is secure while also giving the piece an edge. via inmyownstyle