The festive season is almost here, and home decoration is on top of your things-to-do list. But, you do not always have to spend a fortune to give your home that pleasing appearance, which you may have been dreaming about for a long time. A little creativity and a visit to the Dollar Store are all that you need for some breathtaking Christmas decors.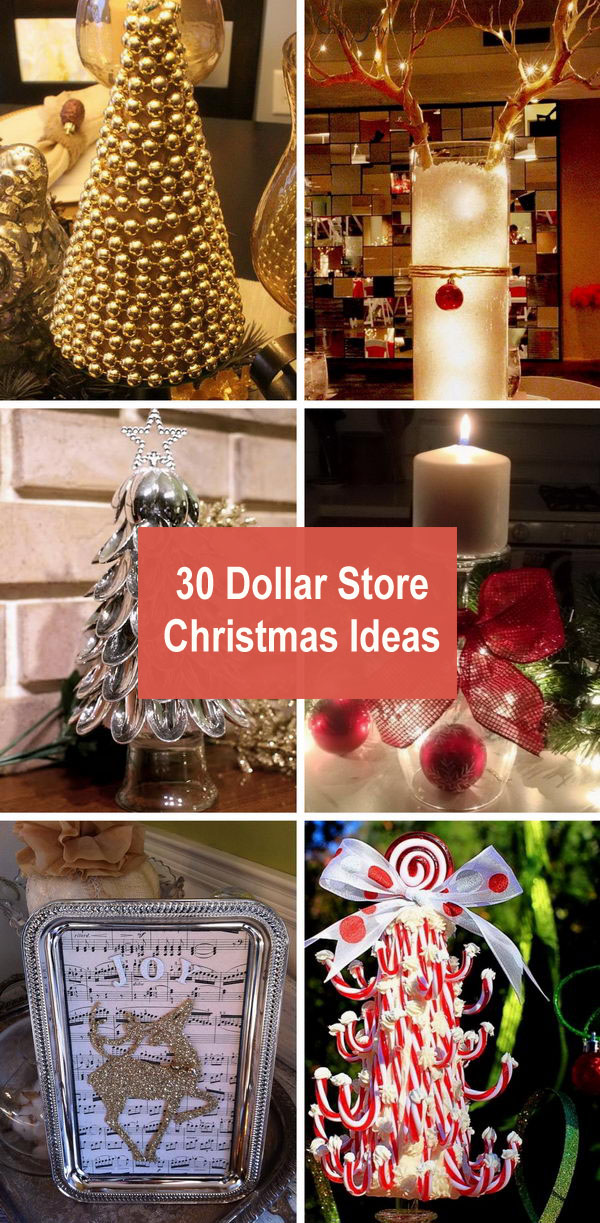 Whether you are planning to breathe some life to your old décor or come up with a new theme, it is still possible to do it without breaking the bank. Here is a collection of some easy Dollar Store Christmas Ideas that should give you some ideas and inspiration for your decorations. They would also help you spare some cash to buy gifts for your loved ones.
DIY Fish Bowl Snowman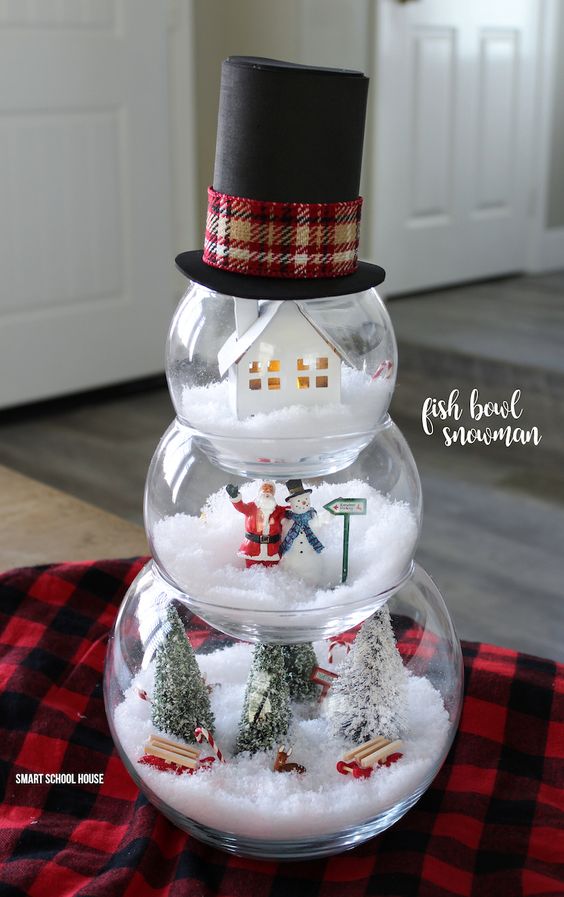 Make a gorgeous and festive Snowy scene in each bowl. If you have a few fish bowls lying around or have a couple of dollars to spare this should be a simple décor for you. It only requires arranging three different size bowls with snow scenes inside to form a snowman.via smartschoolhouse
DIY Plastic Spoons Christmas Tree

Those plastic spoons that you rarely use are what you need for this project. You also need some glue and a little creativity to arrange or transform them into a dazzling Christmas tree. There are endless tree designs that you can form with the spoons if you are inventive enough. via myhusbandhastoomanyhobbies
Dollar Store Framed Reindeer Silhouettes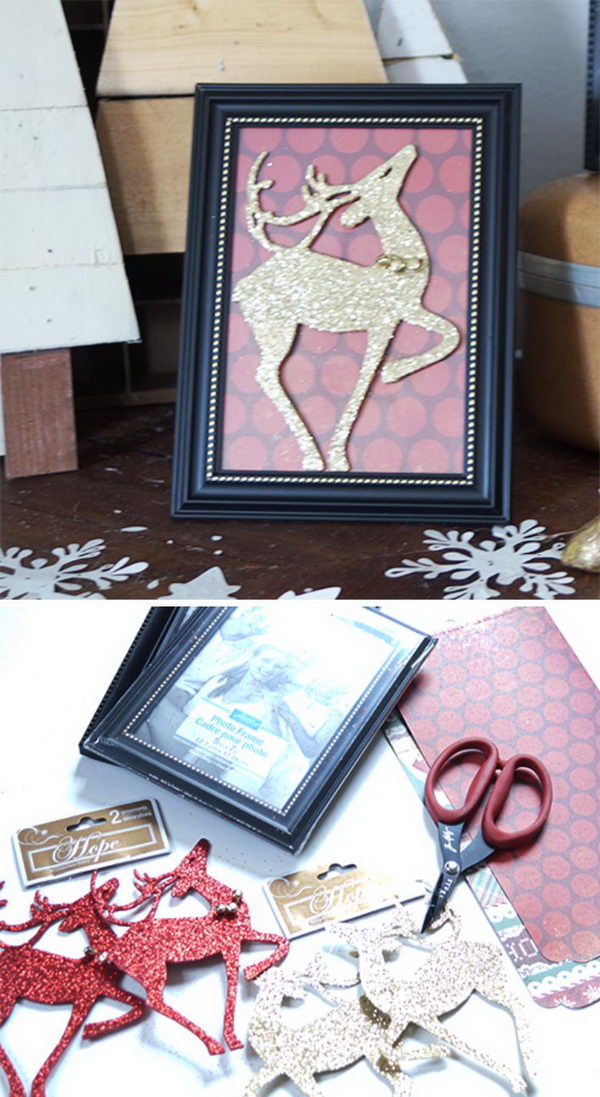 You can get a pair of these sparkly reindeer at the Dollar Store for $1, and a frame is the only other things that you will need for this simple decor. via savedbylovecreations
Dollar Tree Glass Ball Ornament Wreaths

This décor is easier to create than it looks as it only entails running a sturdy wire through different color and size glass balls and finishing off with some ribbons. via tidymom
DIY Giant Christmas Ornaments Made from Kids Play Balls and a Cake Pan from the Dollar Store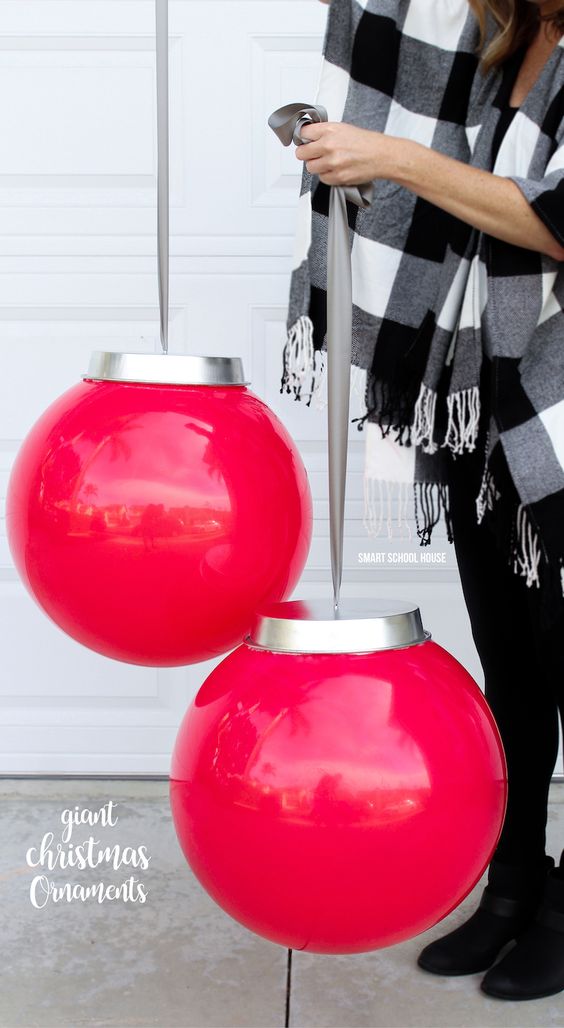 These ornaments will require you to use your kid's giant balls and cake pans which you can get at the Dollar Store. You can also paint the balls to match your home decoration theme. via smartschoolhouse
Plastic Snowflakes from Dollar Tree Hung from Curtain Rod with Fishing Wire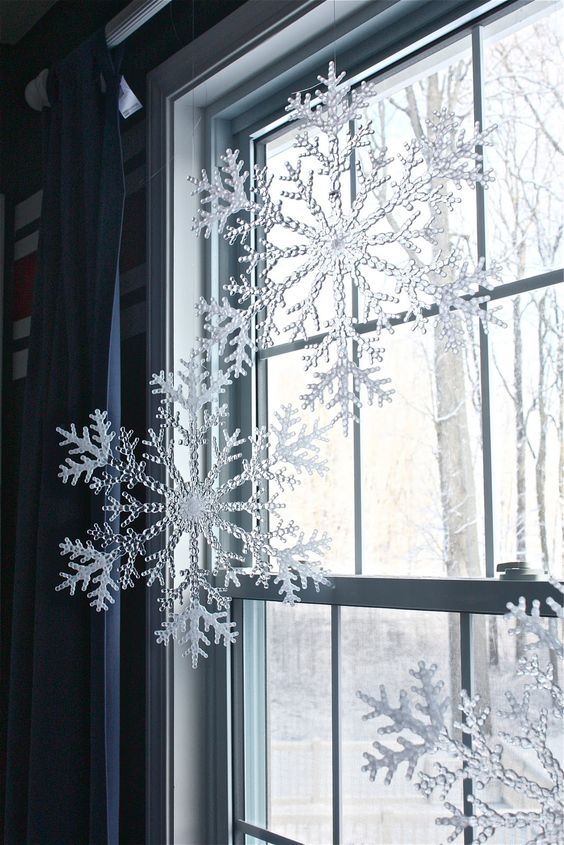 Some ideas like this will not require you to do much as you only need to buy plastic snowflakes and using fishing wire to hang them from the curtain rod. via theyellowcapecod
DIY Snow Globe Ornament from a Dollar Store Plastic Wine Glass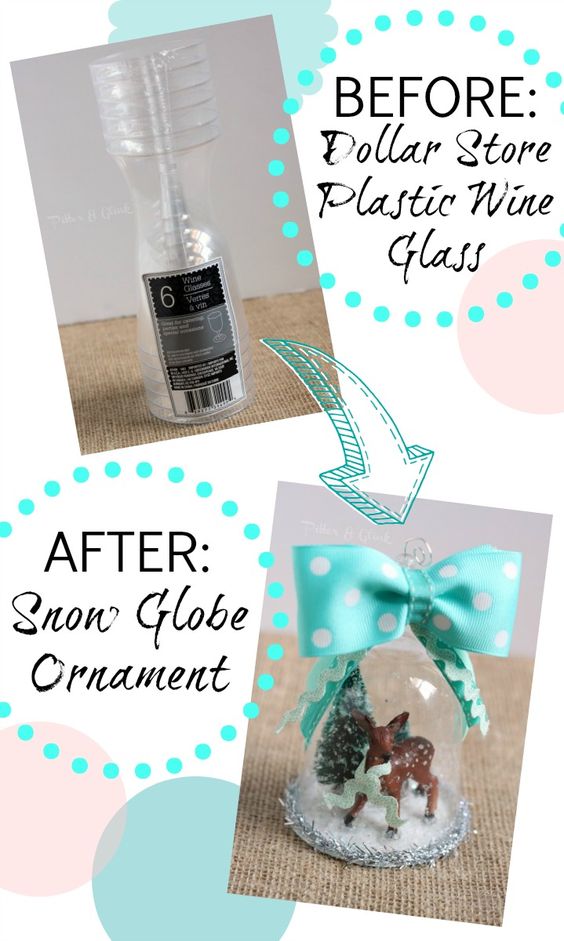 The plastic wine glasses that come in handy when taking wine outdoors is what makes this décor possible. Apart from the glass you also need sugar or fake snow and a small deer for the scene and a ribbon to adorn the ornament at the top. via pitterandglink
North Pole Street Light Made Out of Solar Light From Dollar Store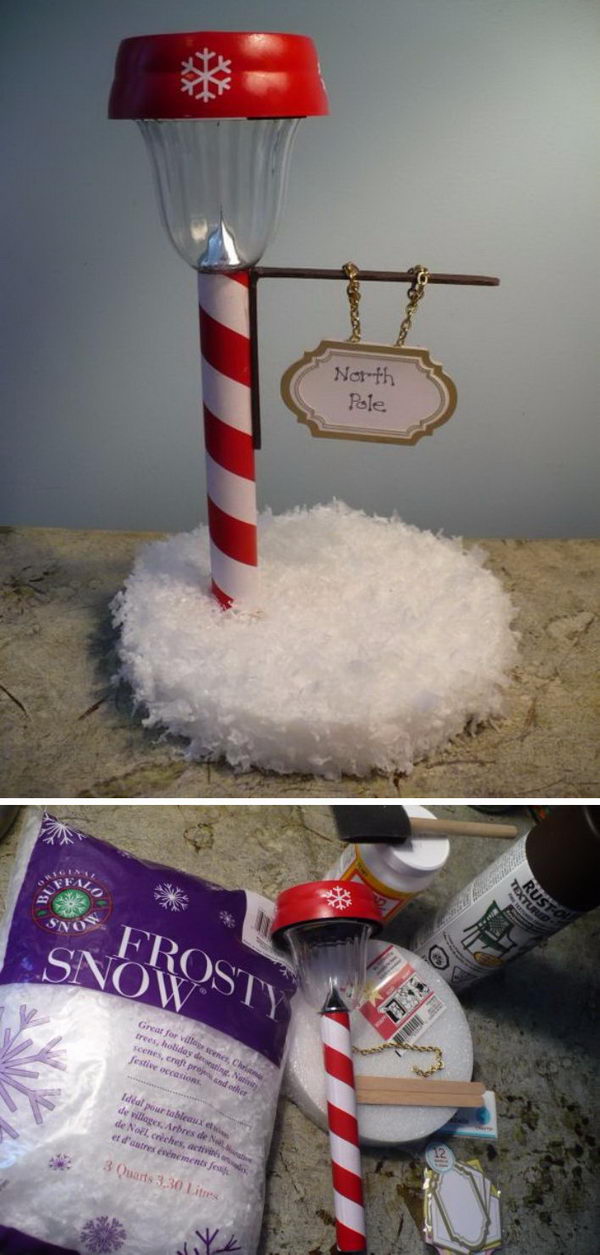 This easy and inexpensive Christmas idea is one of those that will become your favorite. To create it you will need a solar light, some fake snow for the base and a small North Pole sign to hang on the light. via dollarstorecrafts
Dollar Store Snow Village

A Dollar Store snow village will require a little extra investment in both cash and time, but it is worth it as it will become the centerpiece for the other elements in your decoration. You only need to buy those snow villages that can be found in any Dollar Store and enhance them with fake snow. via beauxrevesamore
Upcycled Sparkly Christmas Tree Made with Gold Beads

The chances are that you own everything that you need for this Christmas tree apart from the chain of gold beads, but it is readily available in your local store, and it is also very affordable. via vintagenewsjunkie
DIY Cheap Christmas Centerpieces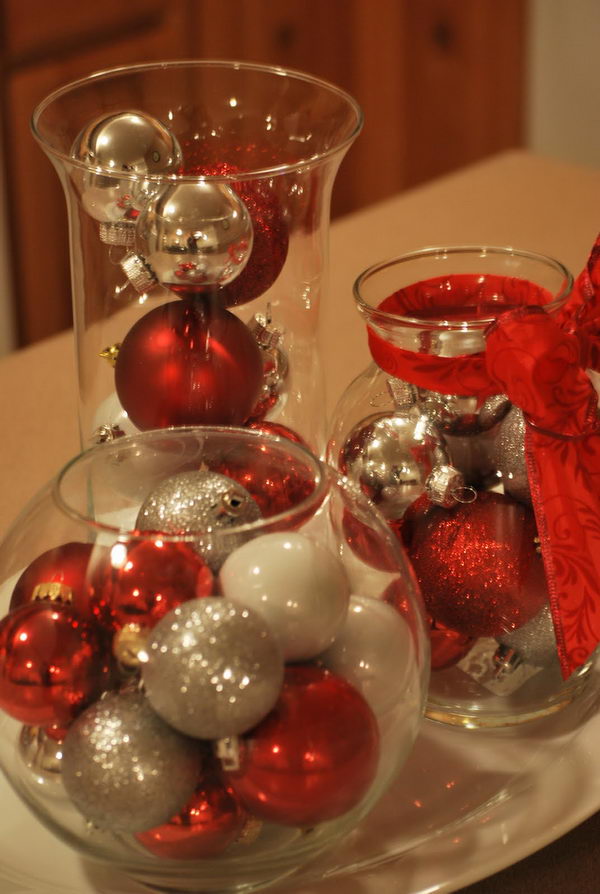 This centerpiece consists of a fish bowl and a couple of glass jars. Fill them with some shiny and colorful glass balls and tie the neck with a ribbon. via frugalwifewealthylife
Snowman Hat Centerpieces Made from Dollar Store Plates and Large Tin Cans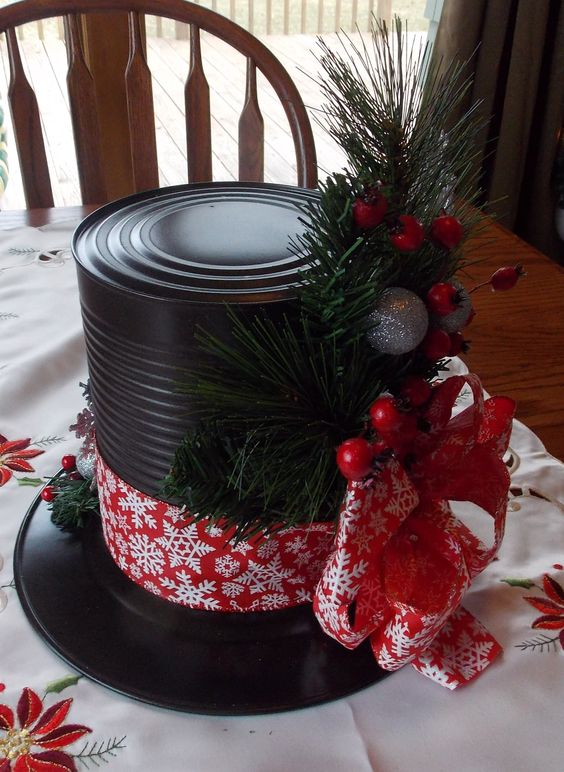 A Dollar Store plate forms the base of this snowman hat. Glue a large tin to it and decorate the hat with a small plastic Christmas tree and ribbon to create a beautiful centerpiece.
Dollar Store Snowflake Door Hanger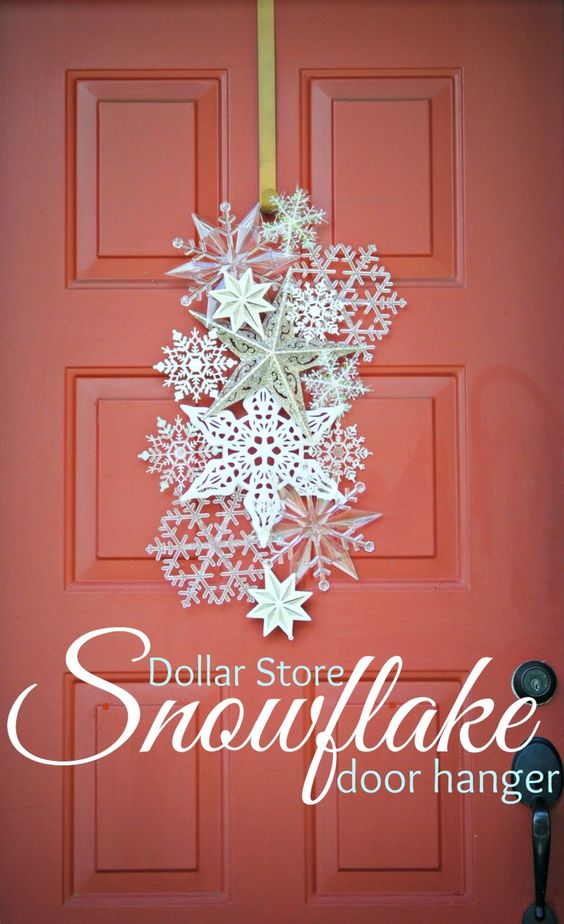 This décor will require you to buy plastic snowflakes in different sizes and shapes and hang them on your main door using a ribbon. via raeofsparkles
DIY Framed Ornament Wreath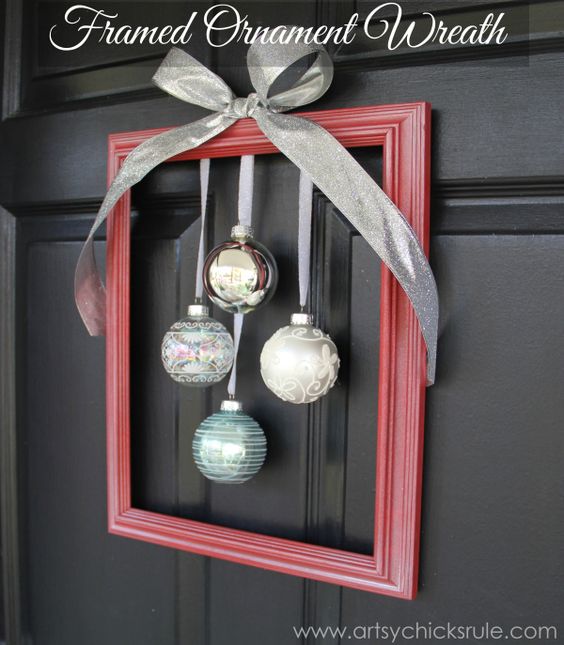 Christmas decoration is not about how much cash you spend but about your creativity. This DIY project will only require you to hang a few ornaments from an old frame and use them as your door wreath. via artsychicksrule
DIY Christmas Wall Art Made With Foam Board at the Dollar Store

This wall art will help give the walls in your living room a Christmas feel, and it does not cost you much. The art entails wrapping foam boards with a colorful fabric. via pensandneedles-by-amy
Dollar Tree DIY Christmas Winter Vases Painted with Snow Tex

You can transform the simple vases that you have into winter jars by painting them with Snow Tex and filling them with pine cones, ornaments or anything shiny that you want. via infarrantlycreative
Dollar Tree DIY Christmas Reindeer Centerpiece

Everything that you need for this DIY project is available at Dollar Tree. This piece requires a large vase full of fake snow and two plastic trees which you should arrange like reindeer antlers. via everydaydishes
Dollar Store DIY Candy Cane Topiary Tree

This sweet and decorative piece is all about organizing some candy canes in an innovative tree-like design on a sturdy glass base and tying the top with a matching ribbon. via pizzazzerie
Dollar Tree Styrofoam Balls Sprayed with Glue then Rolled in Glitter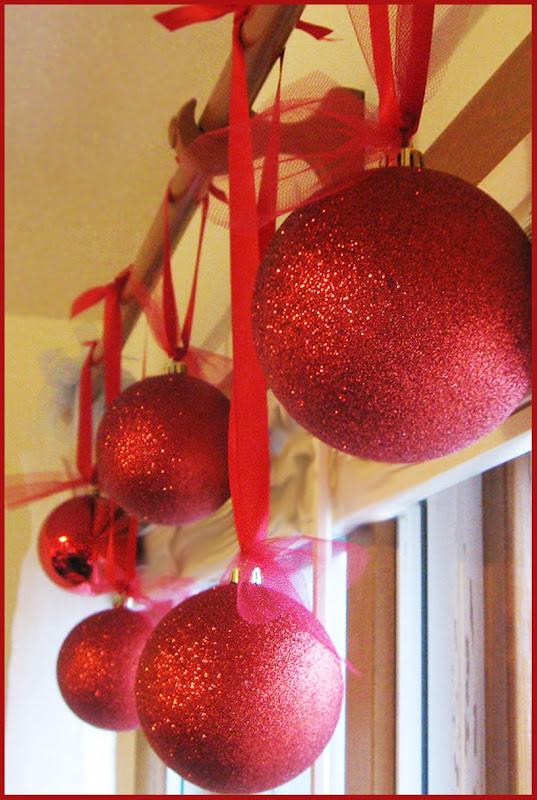 Styrofoam balls are always a must have when doing Christmas decoration. To make yours look this attractive, spray them with glue before covering with glitters. You can then hang them with cute ribbons. via mommity
$1 Christmas Decor

Some pieces like these from the Dollar Store are ready for use as décor, and you only need to determine the right place for them. via astrollthrulife
Big Plastic Ball Ornaments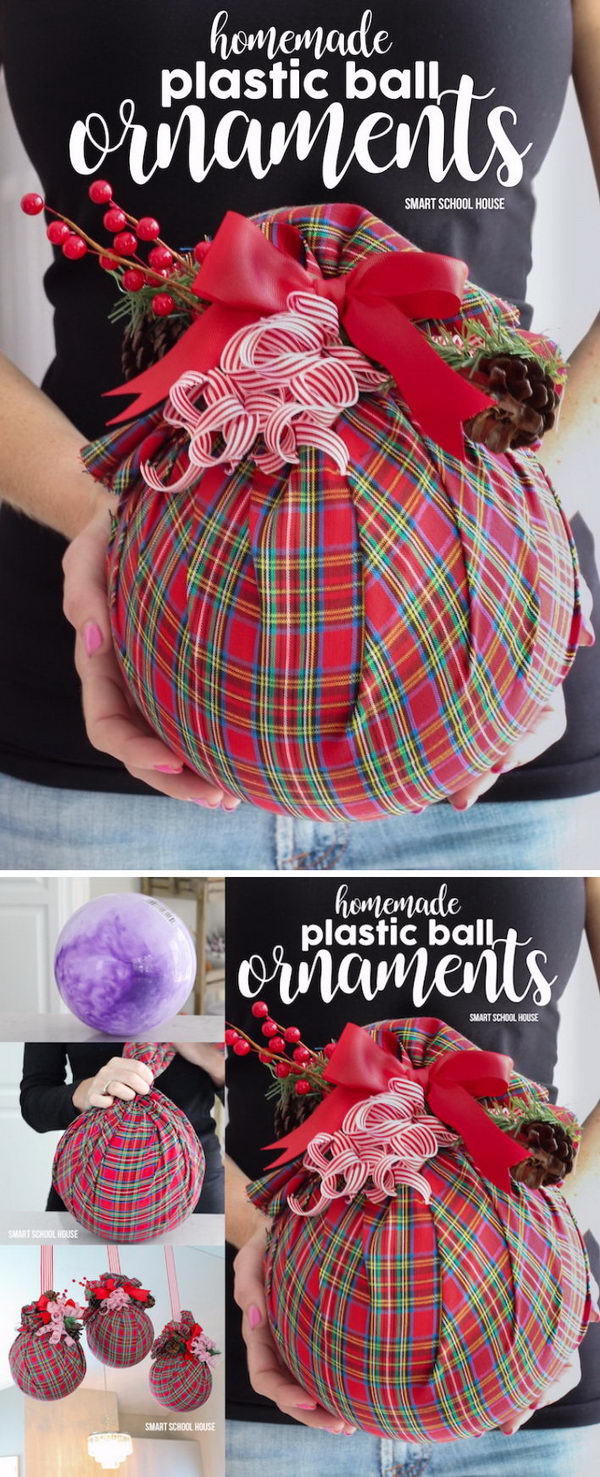 This decorating idea will require you to wrap big plastic balls with fabric and tie the top with decorative ribbons. You can then use ribbons to hang them in the living room. via smartschoolhouse
Epsom Salt Snowman Vase With a Fish Bowl

Here is another vase snowman but this one only entails making the lower part of the snowman. To create it you should cover the jar with glue and spray Epsom salt on it before finishing with a ribbon and two buttons. via rosyscription
Dollar Tree Silver Tray & Reindeer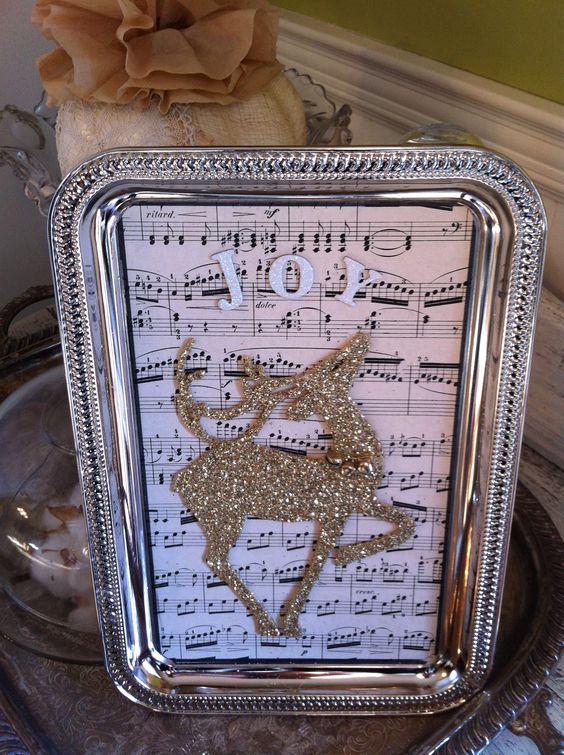 This piece entails sticking the glossy reindeer that you get at the Dollar Store on a silver tray while using paper as the background.
DIY Dollar Tree JOY Plates with a Super Simple Decal and Basic White Plates

This Dollar Tree DIY project is as straightforward as any can get because you only need to spell JOY with white plates and have some blue ones with lovely patterns around them. via onsuttonplace
Miniature Bottle Brush Tree Christmas Decoration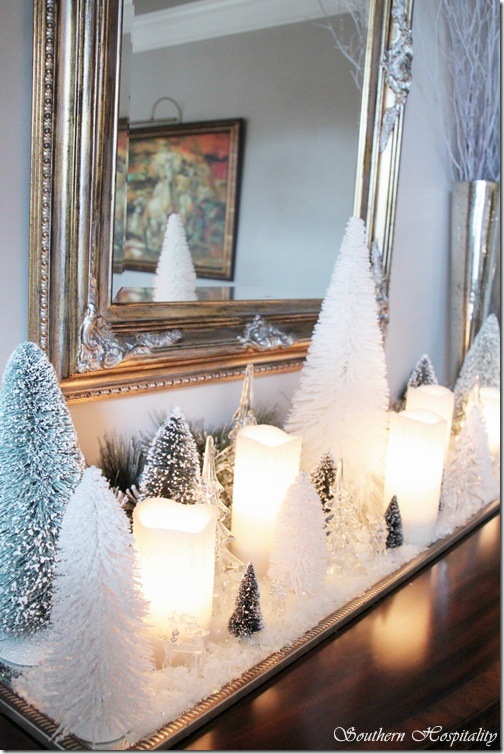 Although this Christmas decoration will cost you more than a dollar, it is still way much cheaper than other types of décor. You can get the tree from the Dollar store, but you will need to use your creativity to arrange them and have some fake snow and lighting to enhance the theme. via southernhospitalityblog
Candy Cane Christmas Wreath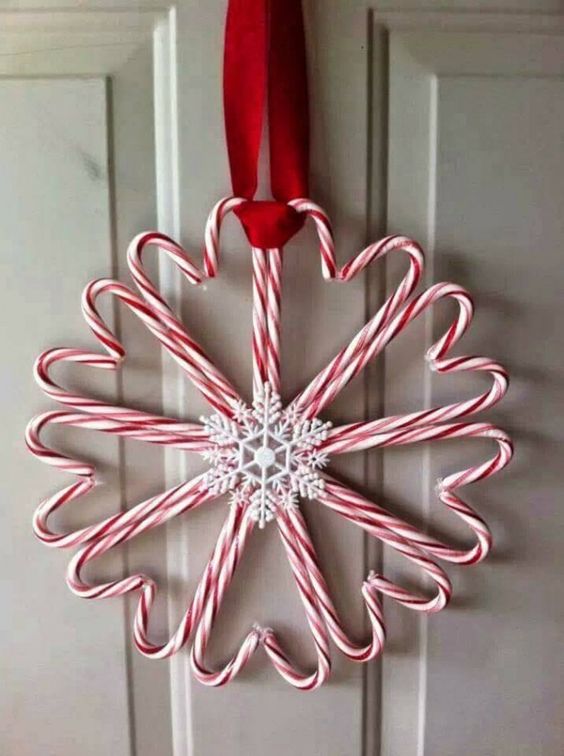 What you use to stick the candy canes that form this piece will depend on whether you intend to eat them later or not. But, you also need a small snowflake at the center of the piece and a ribbon for hanging it. via trendyandwild
Christmas Candle Holder Made with Dollar Store Items

You can get all the items that you need to make this candle holder from the dollar store, but the beautiful color pattern will depend on your creativity when arranging the outside plastic pieces. via couponcloset
Wine Glass Candle Holder

This décor is so easy because it only requires you to invert your large wine glass over some ornaments. What a clever idea for using the flat base of the inverted glass as a candle holder.
DIY Frosty's Vintage Top Hat from A Dollar Tree Christmas Ornament

The only thing that one will need is to figure out how to use this hat because you get it as it is from Dollar Tree. But, you can also tie it with an extra ribbon or ornament to spice it up, and it looks best on the Christmas tree. via foxhollowcottage