Decorating for the holidays is always fun for the whole family. Each decoration or ornament offers memories that even pictures and video can't capture exactly. The only thing that makes holiday decorations even more memorable and fun are if they are handmade by people you love.
Here, we offer some awesome DIY Christmas decorating ideas and tutorials. No matter what your age, DIY experience, or crafting abilities are, you'll find something on the list that will meet your needs and offer memories that will last a lifetime.
Create Snowmen Crafts Using Socks and Buttons

There's something special about snowmen. These adorable winter decorations can be created with just a bit of scrap fabric, buttons, rice grains, and socks. You probably have these things lying around the house anyways, so why not put them to use as an excellent Christmas decoration. Cut the sock in half. Tie the end with a rubber band (it'll end up being the top of the snowman's head). Open the sock, fill it with rice, and then use rubber bands to create a snowman shape. Use scrap fabric to make a scarf, and use buttons as desired. via darkroomanddearly
DIY Drinking Straw Christmas Ornaments

Do you love the star-shaped ornaments that are everywhere at Christmastime? Did you know you can make these decorations with a just a few items? All it takes to create this remarkable decoration is straws, zip ties, and a can of spray paint. To begin, simply grab a handful of plastic straws. Tie the zip tie around the center of the straws and pull it tight. You'll immediately see the shape of the decorations start to form. Cut any remaining zip tie off and position the straws until you're satisfied with how they look. Lastly, grab a can of spray paint and cover the decoration with paint. After it dries, add a string and hang anywhere you like.
Use Burlap to Create a Lighted Garland for Christmas

It's amazing what you can do with some cheap Christmas lights and burlap. With just a little bit of time and energy, you can create a lighted burlap garland that'll make your decorations the envy of your neighbors. To create this garland, grab a box of cheap Christmas lights and a couple of rolls of garland. You can choose any colors you like, but a combination of red and traditional brown are a natural choice. Cut the burlap in even strips about an inch wide. Next, tie the burlap around the wire between lights. The light will shine on the fabric and give it a charming look. via createcraftlove
Pine Cone Christmas Trees

Tiny terracotta pots are easy to get and pinecones might even be laying around your yard. When you put a pine cone in the pot, it instantly begins to look like a Christmas tree. Add a tiny star on top and paint the tree green and you have an easy holiday decoration. via scissorsandspoons
DIY Wood Pallet Snowman Scene Like a Real Window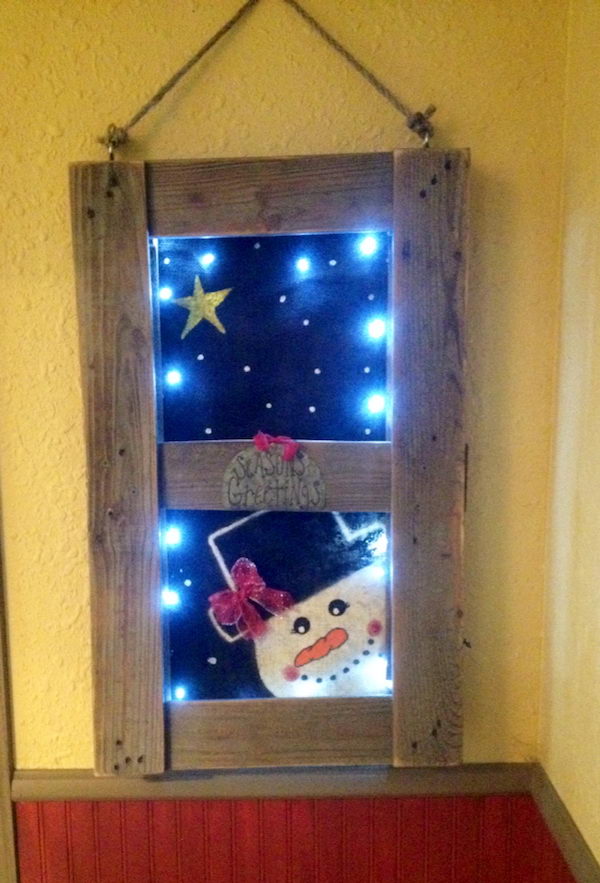 Pallets have gained popularity in the DIY community for years. It's because they are easy to work with and make great decorations. Use a pallet to build a frame. Then choose the fabric that makes it look like a character is peeking through the window. We like the snowman, but during the holiday season, you can find lots of prints with Christmas-inspired decorations.
Pallet Christmas Tree for the Front Porch Decoration

Another great pallet Christmas decoration is a tree for the front porch. Cut a triangle shape out of a pallet and paint the pallet dark green. If it's going to be uncovered outside, you'll need to use lacquer to protect it. Add some Christmas lights and a big red bow to the top, and you're done. Everyone will think you spent a ton on decorations.
Create a Lighted Snowman Wreath Using 2 Grapevine Wreaths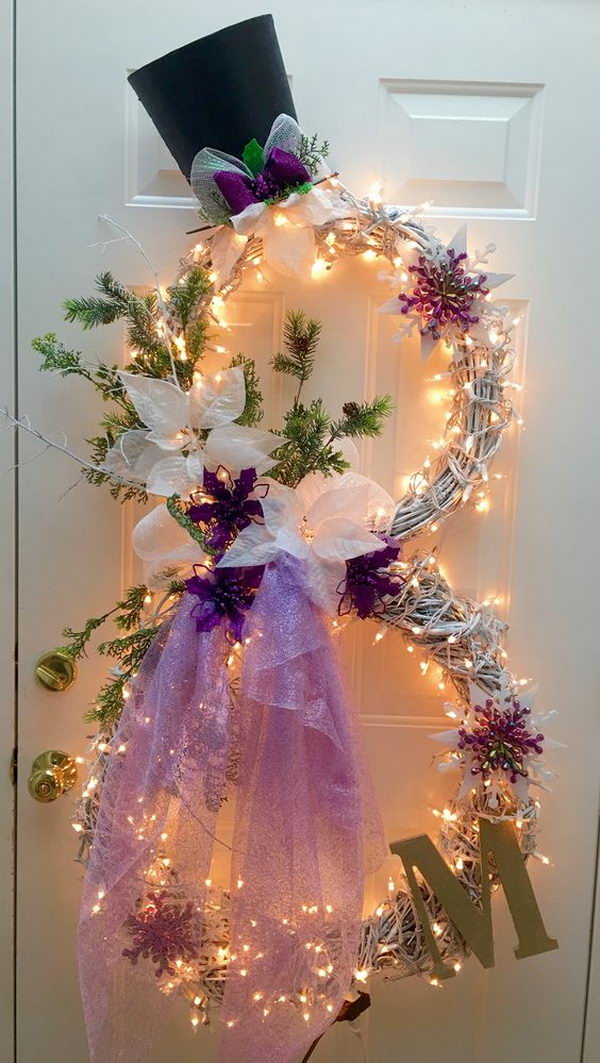 Want to deck your front door out with a snowman wreath? It's easy. Two grapevine wreaths, one a bit smaller than the other, will let you do exactly that. Use white spray paint to cover each wreath. Tie the two wreaths together with zip ties, and add decorations as you desire.
DIY Rustic Christmas Star Decoration With Red Ribbon and Recycled Wood

Grab some recycled wood from the garage and a bit of red ribbon, and you're ready to create a fun and simple Christmas decoration. Nail the wood together as a backboard and use the ribbon to create a star. Add five nails as points of the star and wrap the ribbon around the nails. When you reach the top, tie in a bow and cut excess. via beyondthepicket-fence
Christmas Mason Jar Candles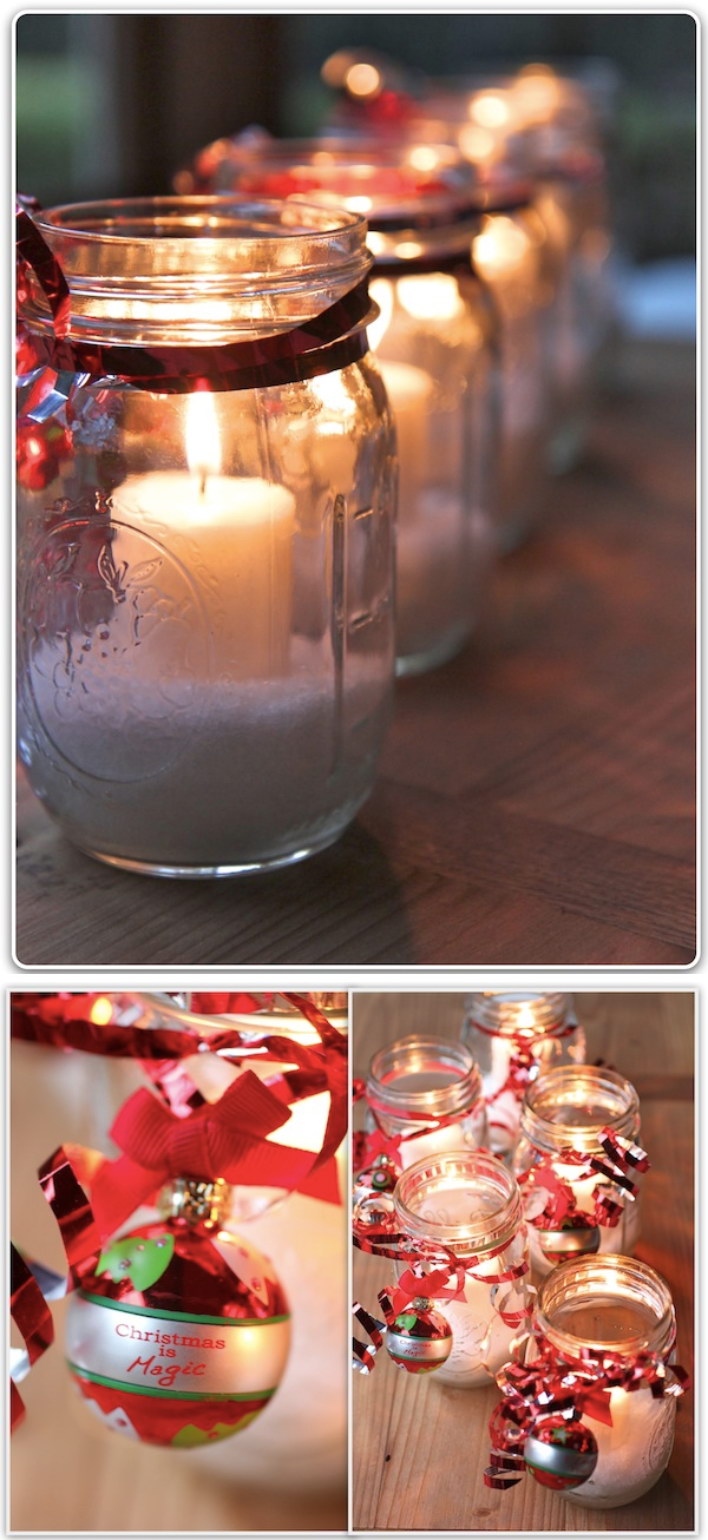 Are you looking for a way to recycle the mason jars in your home? Use them as Christmas decorations. An easy way to do this is to add a bit of colored sand to the entire. Add a tea light candle and finish off the jar with a festive holiday ribbon. If you're feeling fancy, tie an ornament to the top of the jar. via theitaliandishblog
Painted Mason Jar Characters and Figures Luminaries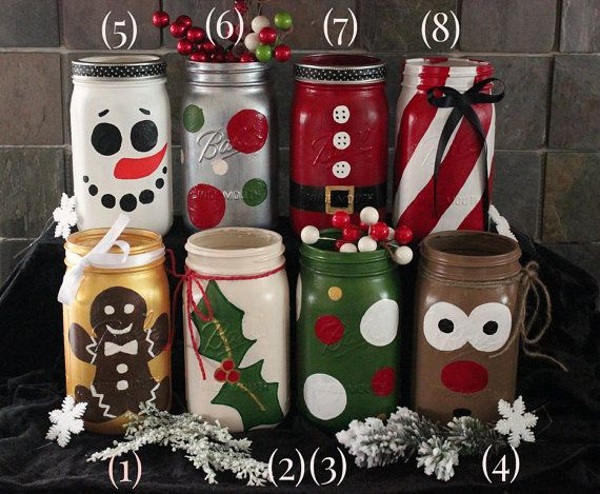 Mason jar luminaries can also be decorated with paint and ribbon to resemble popular Christmas themes. Use brown to paint gingerbread men or simple red and white stripes to resemble candy canes. Ribbon, buttons, or other garnishments can be added to make the jars more festive. via etsy
DIY Glitter Christmas Wine Bottles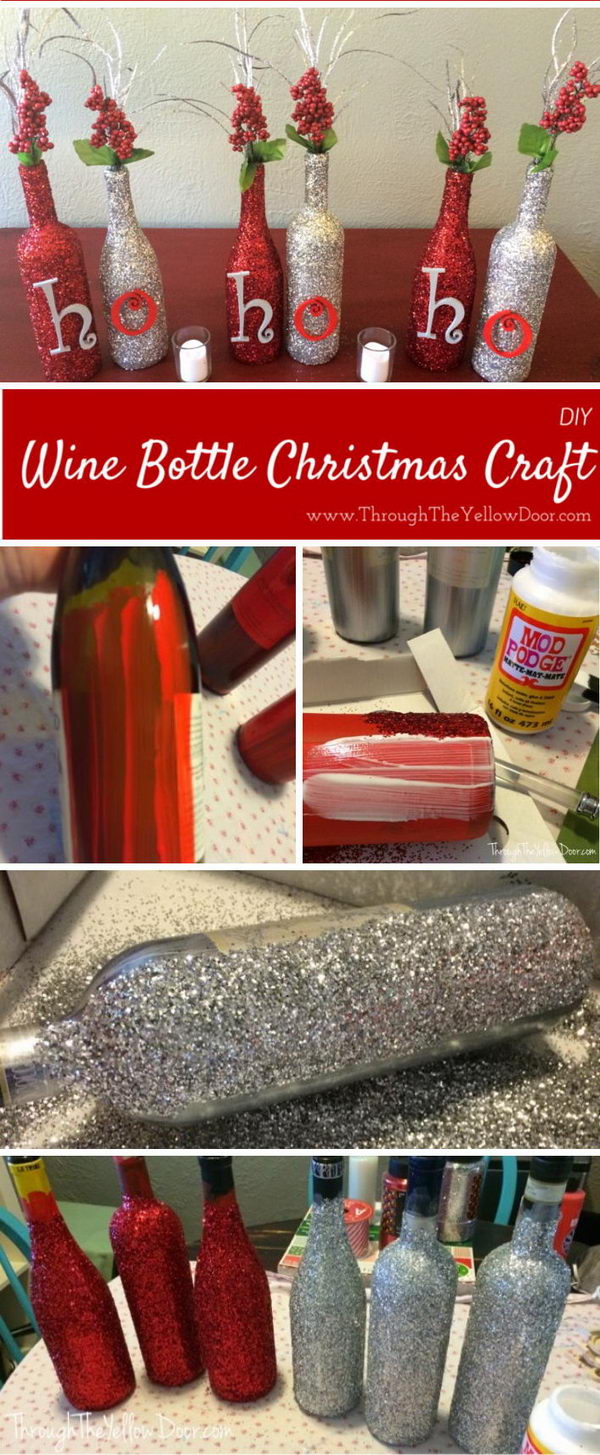 Recycle old wine bottles to be glittery Christmas decorations. With this method, you don't even have to remove the labels. Paint each bottle to give it the same look throughout. Next, cover it with ModPodge. Then, roll it in glitter. Add holly berries or other festive decorations to the bottle for a great centerpiece. via throughtheyellowdoor
Stained Clothespin Snowflake Ornaments

Clothespins are cheap and easy to use in many crafts. A holiday favorite is creating snowflakes out of clothespins. Arrange the clothespins in a snowflake shape and hot glue together. Use a stain to give the wood a darker look. via bystephanielynn
DIY Twine Garden Lanterns

Twine garden lanterns are easy to make and look great. Blow up a regular latex balloon. Use twine that has been soaked in glue and lay it across the balloon. After the twine has dried, carefully pop the balloon. Multiple garden lanterns can be hot glued together, and lights can be strung between the globes. via splashofsomething
Pine Cone Garlands for Christmas Decoration

One of the easiest and cheapest crafts is pinecone garland. It's best to use small garland for this DIY project. Dip the pinecones in white paint to give them a frosted look. Next use red yarn and string pinecones. Make sure to create the garland long enough to cover a particular area. via hgtv
Transform a normal dinner napkin into this cheery Christmas tree for your plate

Impress your holiday guests with napkins that look just like Christmas trees. Choose a green napkin; brown felt, a piece of ribbon, and stars made of construction paper. Fold the napkin, shown in the image, and add the trunk, ribbon, and star decoration. via publix
Reindeer Craft Made Out of Wine Corks

Make use of recycled wine corks to create these little reindeer decorations. You'll need two corks per reindeer. It also uses many twigs as legs and antlers. Use hot glue as needed. Once the reindeer are built and glued together, you can use jingle bells and other decorations.
Easy DIY Burlap Christmas Tree Wall Hanging

Burlap bows are easy to make and are an easy way to brighten up any holiday decorations. Follow the folding instructions in the images and tie with string to set. via thetiptoefairy
Mini Yarn Hats Ornaments

Mini yarn hat ornaments are easy and fast to make. All it takes is cardboard rolls from paper towels or toilet paper, and slice into even sections. Next loop yarn through the cardboard and gather it at the end. Choose how large you want the hat to be and secure with a rubber band. via family-deal
Balloon String Art Snowman

Balloon string art is easy to do. In this project, you'll need two balloons – one slightly larger than the other. Soak the yarn in Mod Podge and then cover the balloons in a layered pattern. When the string is dry, pop the balloon. Gluing the two yarn art balls together will give you the shape of the snowman. Then add details to make your snowman an original. via muyingenioso
Fingerprint Snowmen Ornaments
Fingerprint ornaments are great for grandparents, aunts, uncles, and parents. Cover a child's hand with paint and have them gently squeeze an ornament. After the ornament draws, you can place decorations on the ornament to make the fingers look like snowmen.
Framed Christmas Tree Ornament Wreath

Grab an old frame and paint it white. Use red ribbon or twine to hang the frame on a nail or hook. Assemble small ornaments in a tree pattern and attach it to the top and bottom of the frame. The backing that is included with frames when you purchase is great to attach the ornaments to. via simplicityinthesouth
Pinecone Santa Ornaments

Anything decorated to be Santa is adorable. Using pinecones, glue, and a little sewing allows you to turn an ordinary pinecone into an adorable Santa. Use the ornaments as Christmas presents or to hang on your mantle by the stockings. via gruszkazfartuszka
DIY No-sew Ruffle Ribbon Christmas Tree Cones

All you need to create this Christmas tree decoration is funnels, ribbon, and embellishments for the tree. Stack the funnels to create the tree shape and add ribbon in layers. Scrunch the ribbon a bit as you hot glue it to the funnels, and you'll get an expensive looking decoration for just a few dollars. via fynesdesigns
DIY Easy Garage Door Lighted Christmas Tree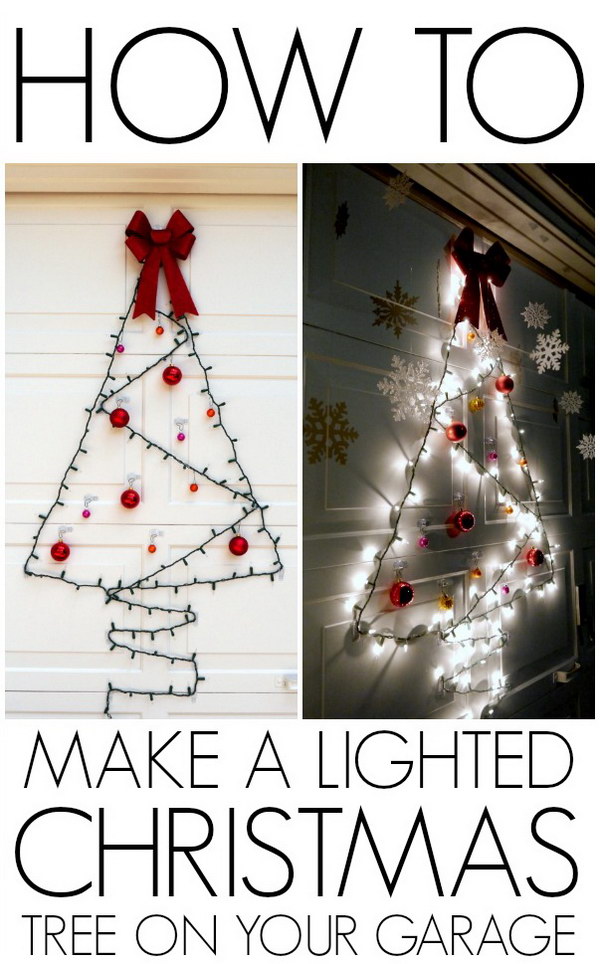 Grab a string of lights and attach it to your garage door in the shape of a Christmas tree. You can use your imagination with this DIY craft and make your tree unique. Add snowflakes and ornaments until you're happy with the results. via creatingreallyawesomefreethings
DIY Snowy Pinecone Candle Jar Luminaries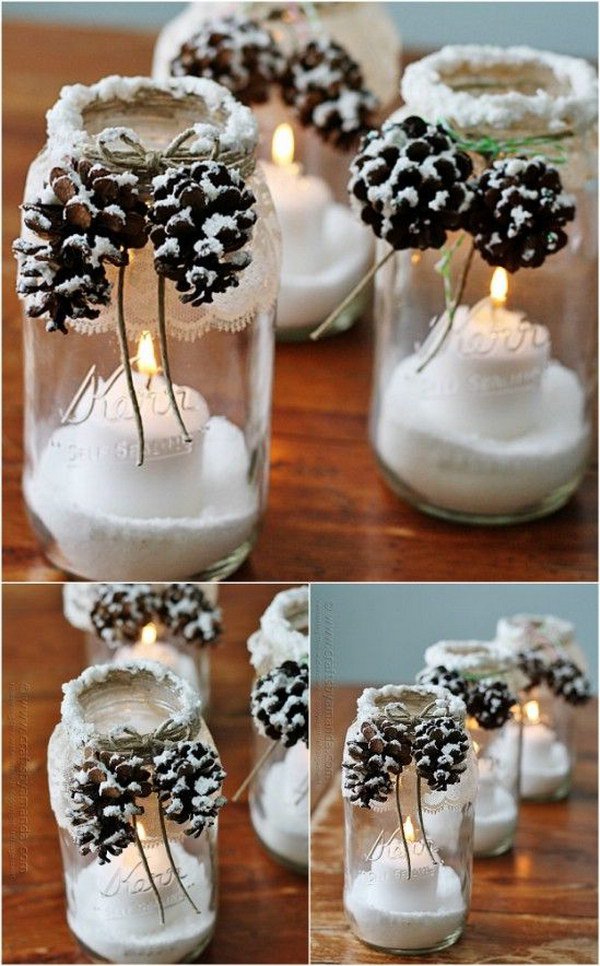 Epsom salt, lace, twine, pinecones, and mason jars you have laying around the house are great items for Christmas decorations. Use the lace at the top of the jar and tie it in front with twine and decorated pinecones. Add Epsom salts to the interior of the jar to create lifelike snow. via craftsbyamanda