Many peoples spend lots of time and resources to make or acquire unique gifts for family and friends. But, accompanying them with the usual generic card is an outdated practice. This coming Christmas you should try something new with your cards, and this is to hand-make them. Handmade cards are unique and personalized because you will make them with that particular person in mind and you can make it in any way that you want.
Cards might be cheap but saving some little cash by making them instead of buying is still worth it. Also, taking the time to make a unique card for those that you love is the most genuine way of showing them what they mean to you. Here is a roundup of some handmade christmas card ideas and you can use to make your own fabulous one.
Paint Chip Christmas Cards

This card design is very simple to create, and you will only need some paint chips (any color that you like) and star stickers. The project will require you to cut the paint chips in Christmas tree shapes, and you can have them in any size that you want. Finish by gluing them on a plain card before decorating with the stars. via youtube
Paper Christmas Tree Made with Mini Tree Punch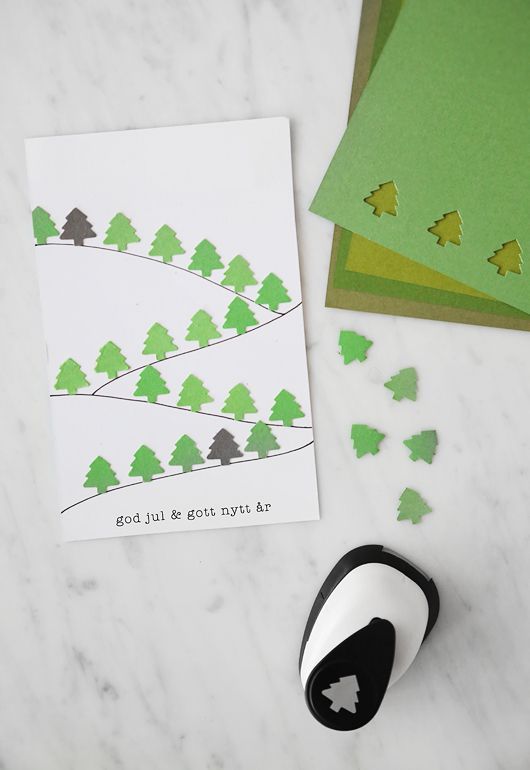 You will hardly see any other Christmas card that is easier to make than this one. It only requires you to cut some small Christmas tree shapes from a bright paper and then stick them on another in a decorative pattern to create the card. via trendenser
DIY Christmas Tree Cards

Some folding will be necessary to create this card, but it is still easy. Once you fold the white papers, you should glue them on the blank card and fold a pink star to put on top of the tree. You can also use any other types and paper colors for this project. via bog-ide
Doily Christmas Tree Cards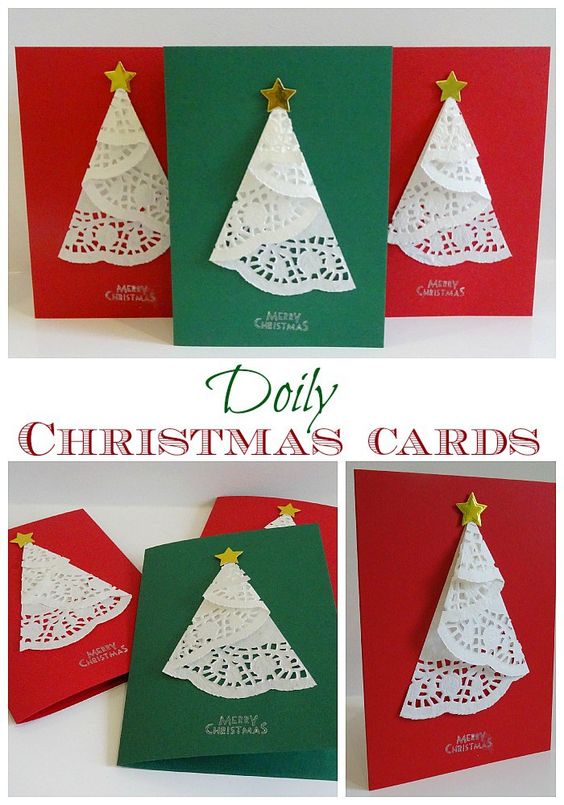 A bright plain card paper, star sticker and a Doily are all you need for this project. It will only take you a couple of minutes to create as you only need to fold the doily into a Christmas tree shape and stick it on the folded card before gluing the star sticker at the top. via letkidsbekids
Singing Reindeer Christmas Card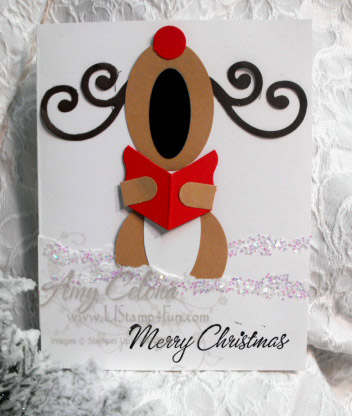 This DIY card will not require any specialized skills to create because it is more straightforward than it looks. The reindeer image on the card will need you to cut circles and ovals in different colors and use them to form the shape of a reindeer holding a book and decorate the card with some glitters. via ustamp4fun
Handmade Clean and Simple Christmas Card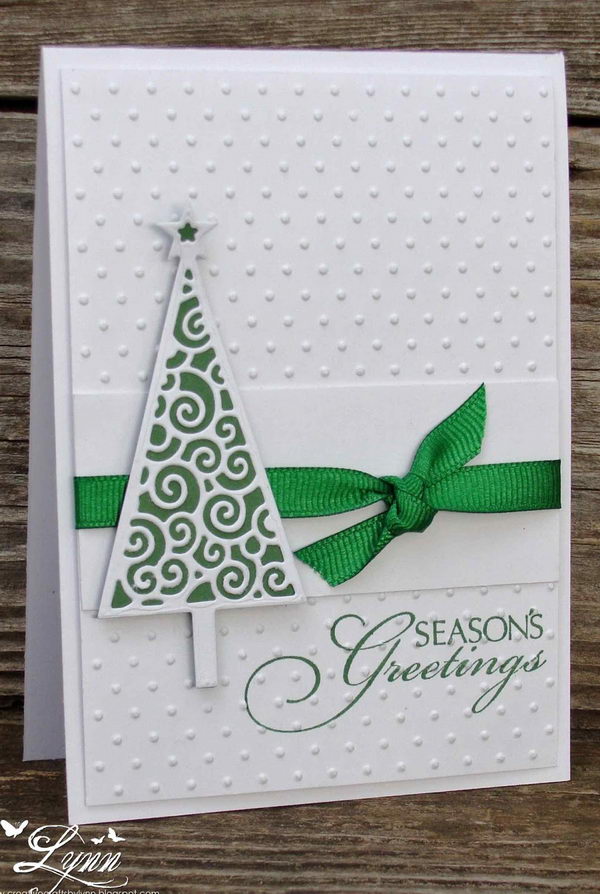 This card will require gluing a green Christmas tree that you can make or cut from an old card on a Swiss dot folder and spice it up by tying a green ribbon below the tree. via creativecraftsbylynn
Christmas Pop Up Tree Card

A little creativity is important if you want to create a unique card like this one. You will need a folded plain card and regular green paper. The next step is to fold the green paper in a fan-like pattern, and then cut it into different size strips. To finish the Christmas card, you should glue the green pieces at the center to create the pop-up design.
Tiny Envelopes Card with Blank Notes and Confetti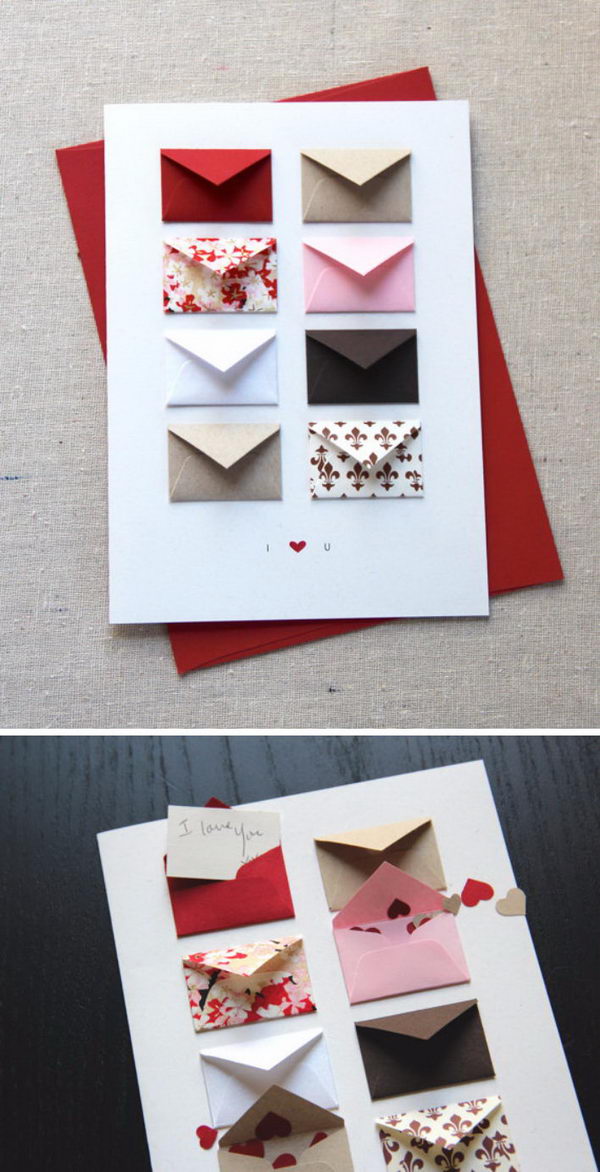 Christmas cards should always be unique and here is one idea that will make sure that yours stand out. It is about sticking some multi-colored and patterned tiny envelopes on a blank card. You should then put some notes on some of them and confetti on the others. via etsy
DIY Christmas Card

A card that also doubles up as an envelope is a unique idea that will impress your loved ones. To create it you should start by cutting your colorful patterned papers into a heart shape and then fold it into a beautiful envelope. via zugalerie
Thumbprint Reindeer Christmas Cards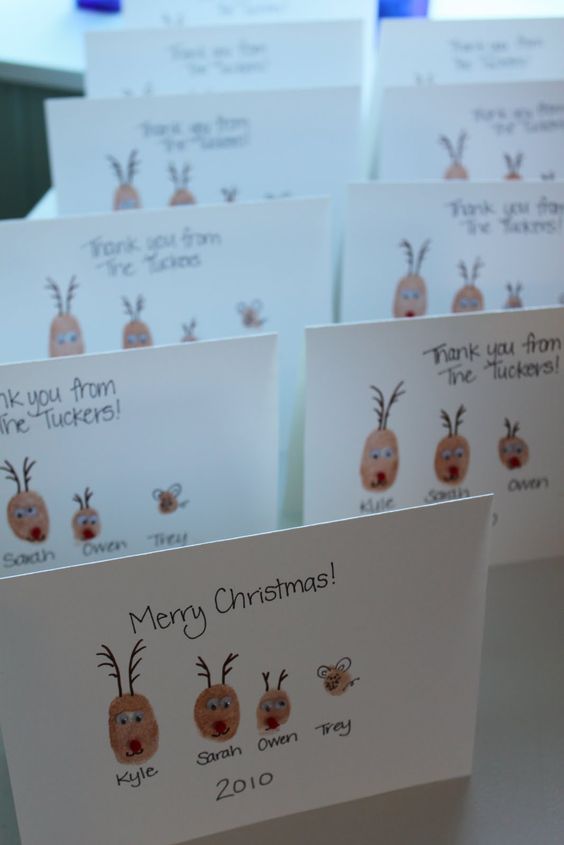 This DIY card project can be perfect to do with your kids as it is very simple but still enjoyable. It involves using your thumbprints to create some cute reindeer heads on a plain card and using a brown marker to form the antlers. You should then name the deer heads according to whose thumbprint forms it. via createstudio
Snowflake Wreath Christmas Card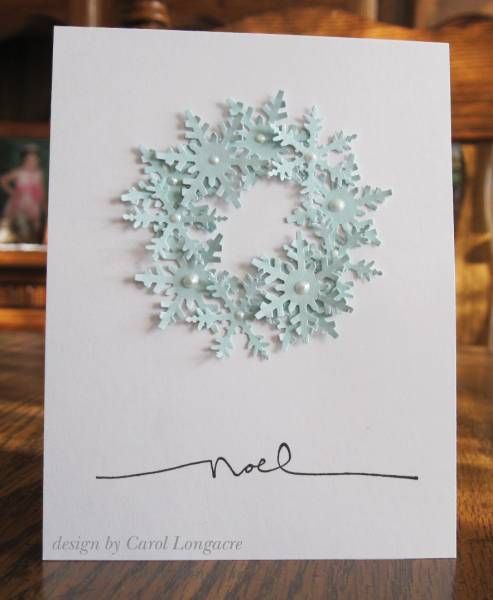 You will only need a plain white card and some plastic or paper snowflakes for this project. You should then arrange and glue the snowflakes on the card to create a beautiful wreath and finishing by signing your name on it. via splitcoaststampers
Fingerprint Christmas Light Card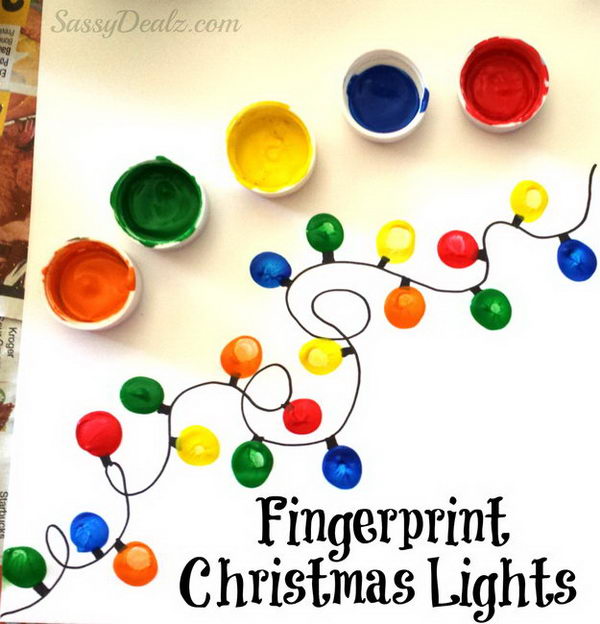 The first step in this project is to draw a black line with some swirls in it and draw some small squares that will form the bottom of your bulbs. You should then have your kids deep their pointer fingers in color paints and push them above the squares to form the beautiful lights. via craftymorning
Ribbon Tree Christmas Cards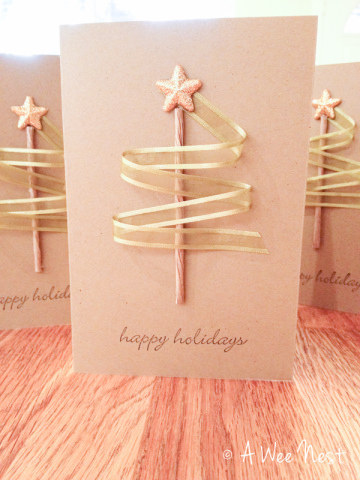 This card is as simple as any can get, but it is a result of a lot of creativity. It requires gluing a small stick or straw to a plain card with a star above it. The last step is to use two ribbons to form a Christmas tree shape starting from the star at the top.
Handmade Christmas Packages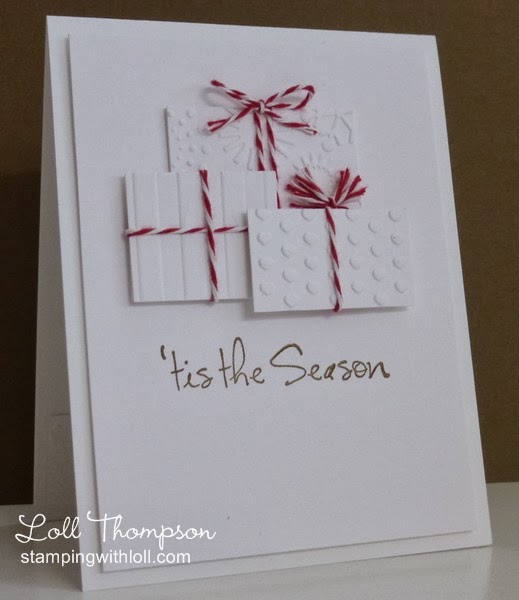 If you have some embossing folders at home here is a simple project that you can do. You should use the folders to create some small packages with varying patterns and tie them with strings before gluing to a blank card and finishing with a simple message below the packets. via stampingwithloll
Gemstones DIY Christmas Card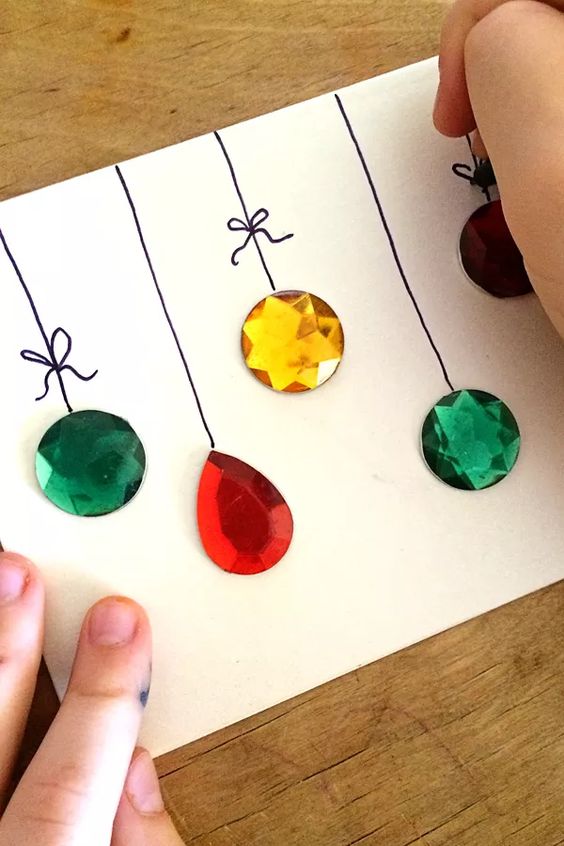 For this project, you will need a cardstock that you should fold in half, fine line marker that is permanent, glue and some oversize gems. To create the card, you should arrange the gemstones in the front part of the card and glue them in place. The other step is to draw a string from the top of the fold to the gemstones and give each a bow. via childhood101
Simple Christmas Card with Stars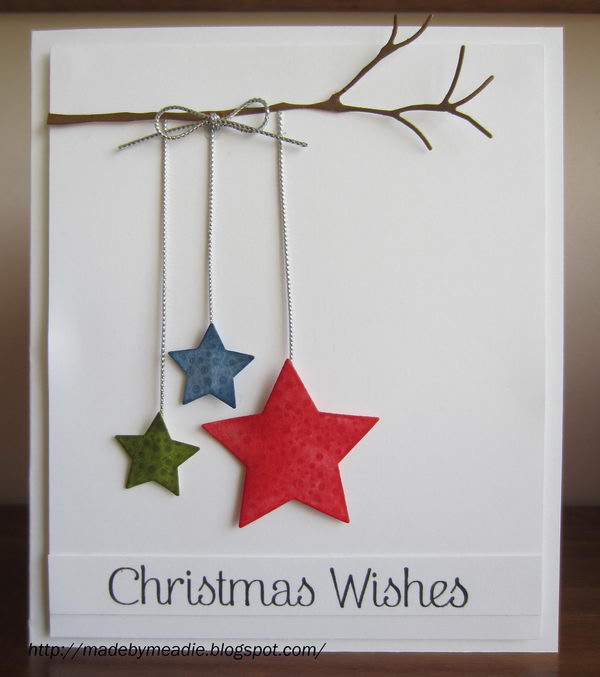 This card might require a little investment as you will need memory boxberries, Spellbinders star dies, and twig dies. Once you have the items, everything else is straightforward, and you can make many other designs apart from this one. via madebymeadie
Santa Hat Card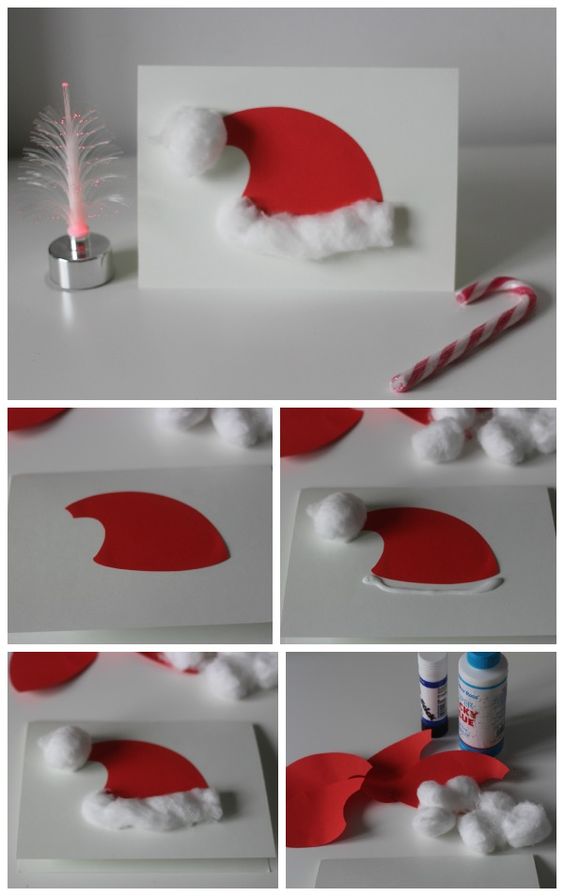 This five-minute craft will require you to use blank cards, red paper, cotton wool balls and a glue stick. The process is easy as you only need to cut the red paper into a hat-like shape and stick it on the blank paper. You should then use the cotton wool to form the top and lower parts of the Santa hat. via muminthemadhouse
Simple Button Homemade Christmas Cards
A folded blank card and some multiple color buttons are the main things that you need for this card. It entails arranging and gluing the buttons on the top part of the card, drawing some fine lines from the fold to the buttons and finishing by giving each a bow.
3 Button Snowman Card

Any person that you give a unique card like this one will keep and remember it for a long time. And, the best thing is that you will not even need to buy anything because you already have all that you need. The card is about sticking three different size white buttons in a plain cardboard box to form a snowman. You can use a black paper to form the hat or take one from a small toy and finish the card by decorating it with a ribbon, some stars and other beautiful patterns around the snowman. via deedeecampbell
Ribbon Christmas Tree Card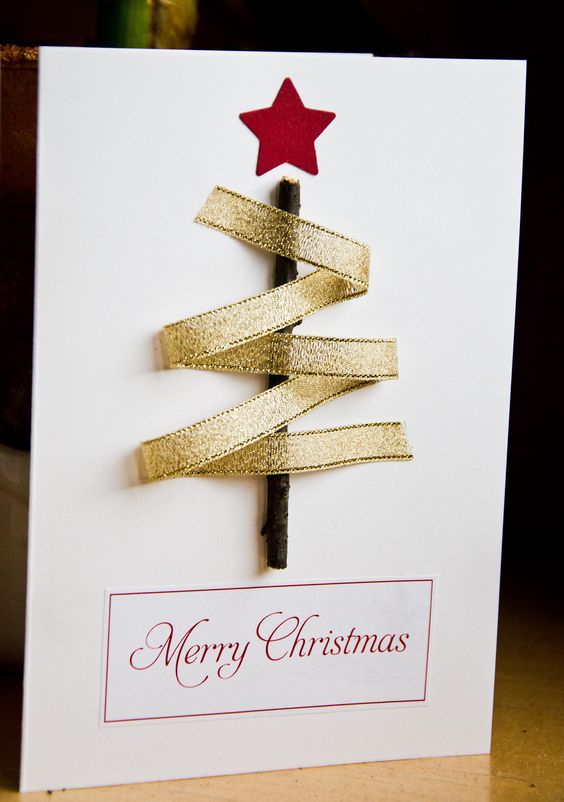 You should be able to finish this card in just a few minutes as it is very easy to make. It requires one to glue a small stick on a plain paper and a red star above it and finishing by placing a shiny ribbon above it to form a Christmas tree.
Christmas Pearl Ornament Card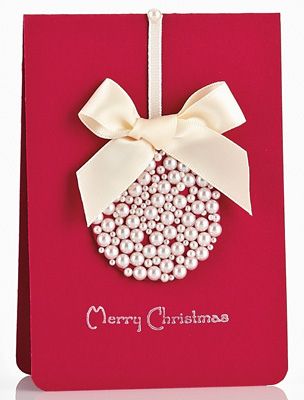 Most people always have some pearls lying around, but if you do not have them, you can buy them cheaply. For this card, you should have a beautiful and folded red card as the background on which you will stick the different size pearls and bow ribbon to create a unique and classy-looking Christmas card.