Concrete is a lot more versatile than you might think. While the word may bring images of pavement or walls to mind, the material can be shaped, decorated and used for a multitude of purposes.
Using concrete in your garden projects can have many advantages. The material is very smooth, safe and resistant. It can stand harsh weather, use, time and heavy weighted objects.
Concrete is also fairly easy to make and patch if something is to happen to your original piece. More than that, it is easily and readily available, not to mention quite affordable.

So whether you have a bag of cement lying around that you don't know what to do with or you simply need to add some beauty and interest to your garden, this article will show you why concrete should be your first choice for outdoor projects. Here are some cool concrete DIY projects to beautify your garden.
DIY Concrete Sphere Water Feature

Spray the inside of your concrete sphere with Rust-Oleum LeakSeal and fill with water for a pretty water feature. via home-dzine.co.za
DIY Concrete Vases

Making these vases is as easy as cutting a water bottle open and then pouring the concrete. You can make a clean, straight edge or alternatively be creative and make the edge uneven for a more interesting look. via handmadecharlotte
Concrete Leaf Stepping Stones

via wonderfuldiy
DIY Concrete Bowling Ball Planter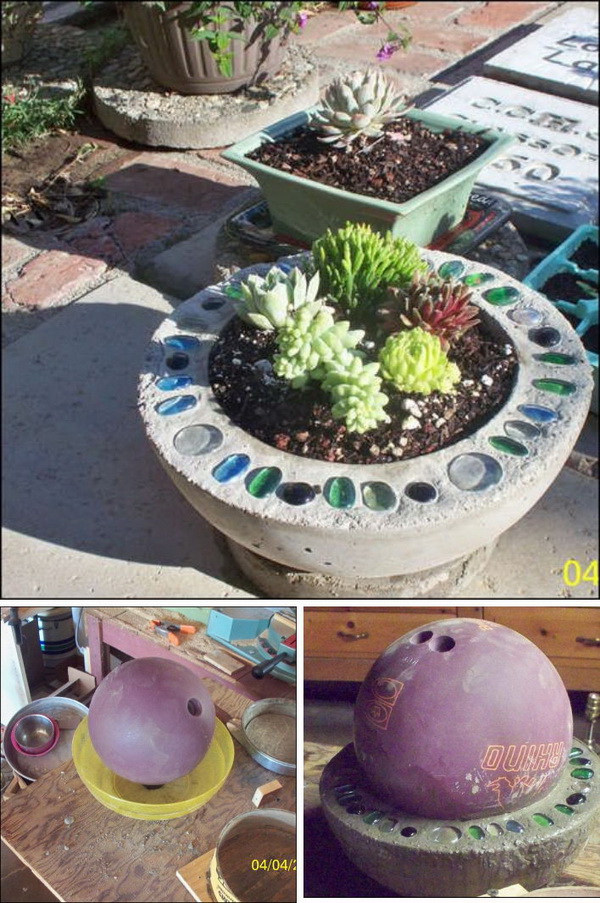 via instructables
Easy to Make Concrete Roses

These small concrete roses are gorgeous and very versatile, as you could paint and use them as decorative pieces in almost any space. Making them is as easy as getting silicone molds and pouring the cement mixture in. You will have beautiful roses to decorate your garden as soon as the mixture dries.
DIY Concrete Candle Holder

via bloglovin
DIY Concrete Leaf Bird Bath

This bird bath certainly makes a beautiful and original project. All you need to do is shape a large dry leaf to your liking and then use it as a cast for your bird bath. Once it is ready, you can place it in the grass for decoration and to welcome the birds. via gardengatemagazine
DIY Concrete Planter

via lowes
DIY Garden Stones

Like most concrete projects we've looked at so far, this one is fairly easy to make. All you need are different pieces of glass, shells, gems or anything else you want to use, pans and concrete. The process is really simple – arrange the decorative pieces to your desired result and then pour the concrete over them. When it dries, your decorative DIY garden stone will be finished. via intimateweddings
DIY Concrete Mushrooms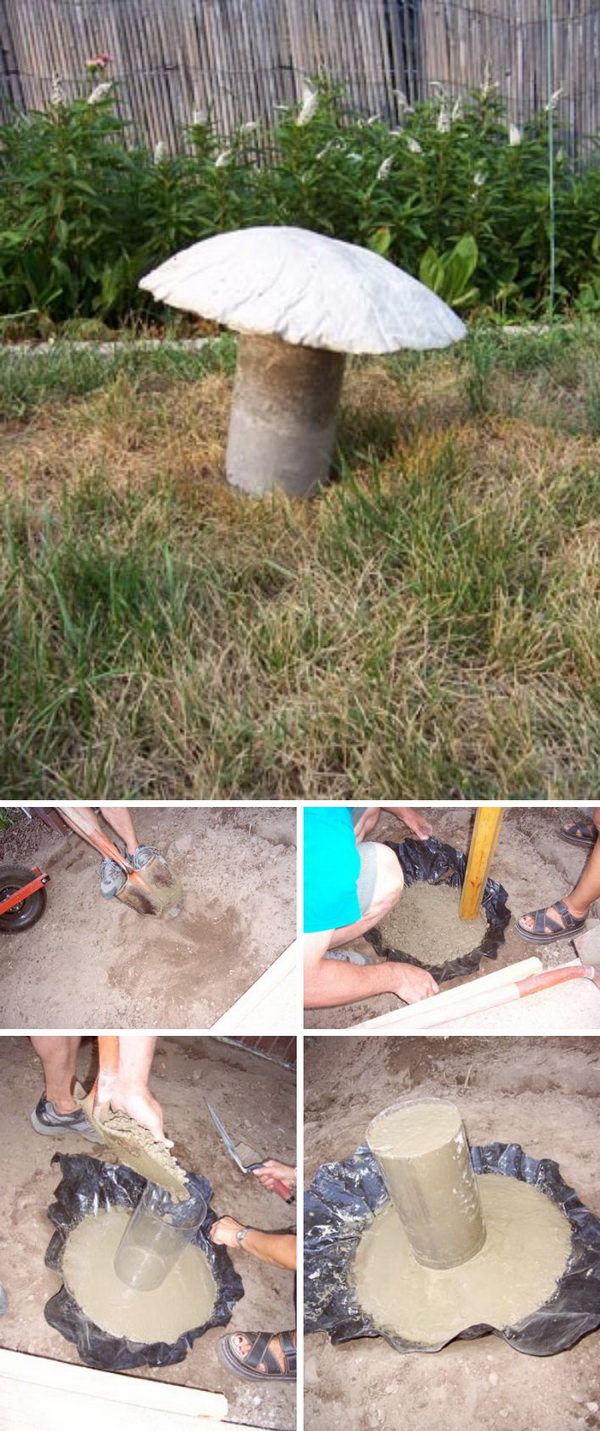 via blog.ljcfyi
Simple and Elegant DIY Concrete Garden Balls

Concrete balls like these are very popular in outdoor decoration, even in public spaces. Making them is really easy though, as all you need to do is cover some old balls of different sizes with concrete and let them dry. via mamaskram
DIY Beautiful Cement Planter from An Old Towel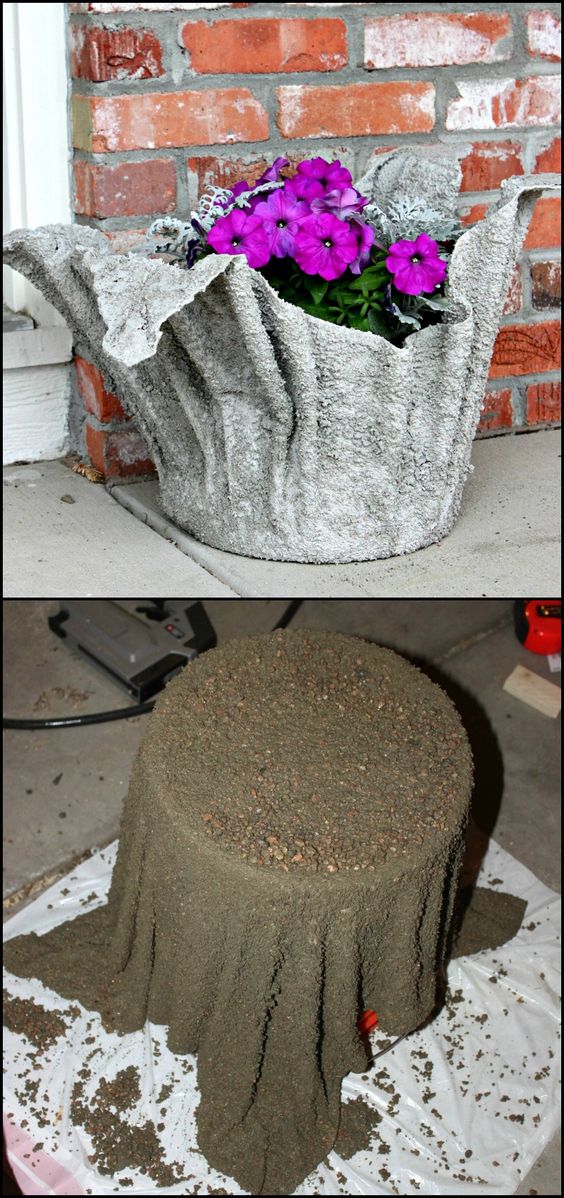 This project is a prime example of what you can do with concrete using supplies you already own. In this case, an old towel served as a cast of sorts to create a beautiful, delicate looking concrete planter. via therusticwillow
Concrete Garden Orbs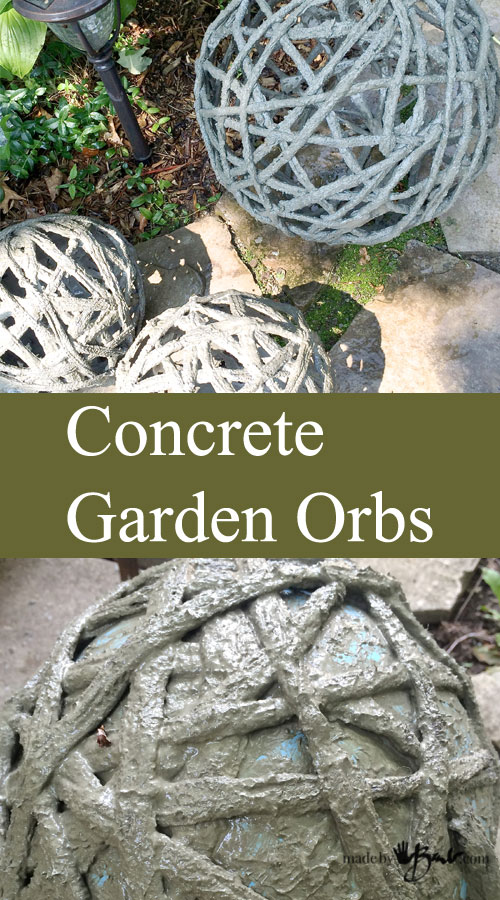 If one project ever looks impressive, this is definitely the one. These cement orbs are made using scraps of material which are covered in cement and then placed over a baloon to create the shape. Not the easiest project to complete, but it is worth the trouble. via madebybarb
DIY Concrete Door Stopper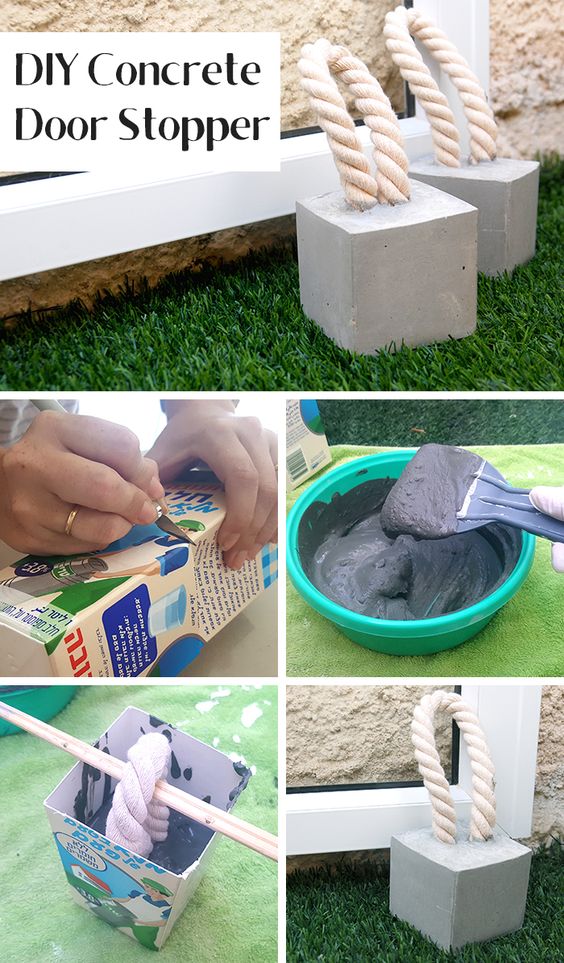 This door stopper is as decorative as it is useful. In this case, an old box was used as the cast, and it worked quite well. via choollydiy
DIY Wood and Concrete Slab Garden Bench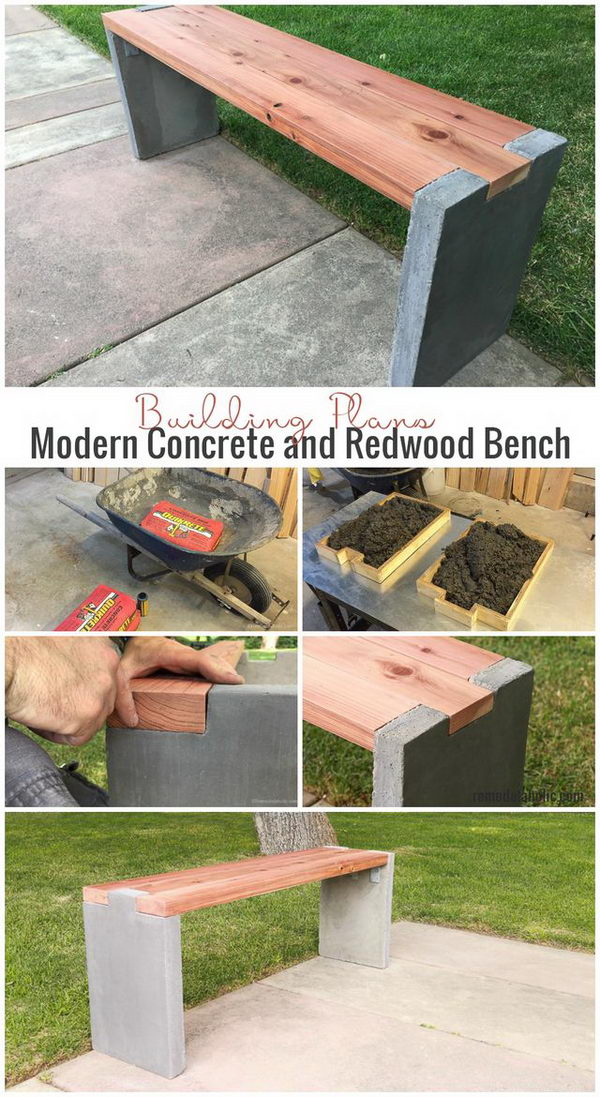 This garden bench has both a rustic and modern charm. All you need to make it are two smooth concrete rectangle slabs and some wood for the seat. Install the two slabs upright parallel to each other and then add the wood in between to finish the modern piece. via remodelaholic
Concrete Hands Planter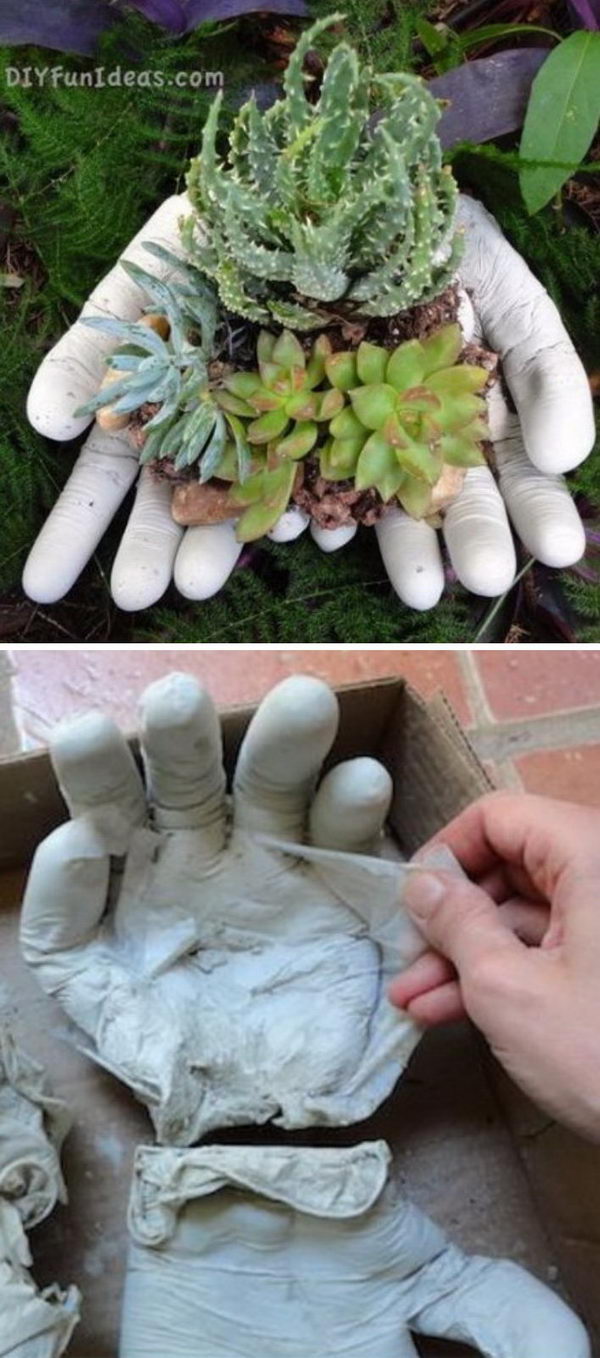 This planter is an ideal project for nature lovers. While the plant can't actually grow on these hands, you can use old gloves and casting concrete to create them and make them look like they are presenting the precious flowers or herbs inside. via diyfunideas
DIY Cement Garden Sculptures as Luminaries, Planters, Decorative Objects

These concrete garden sculptures may look like eggshells, but they aren't fragile at all. You can make them very easily using a bowl as mold, and then use them for a number of things including as luminaries, planters, decorations and holders.
DIY Concrete Ladybug

Creating this cute concrete ladybug is certainly not as difficult as you might think. All you need to do is pour cement into a cast or mold with the shape of the bug, or all the details yourself. You can paint it once it's dry and the project will be finished. via icreativeideas
DIY Cobblestone-Look Concrete Pathway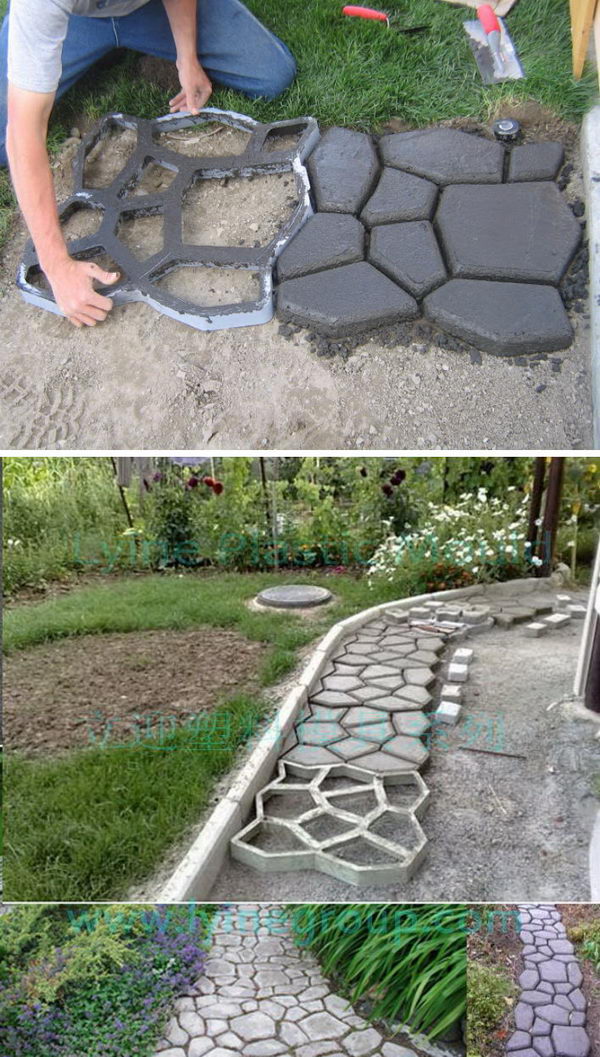 Here's how to make a cobblestone pathway…without using any cobblestones. All you need is a pattern which fits your space and taste. Fill the mold in with poured cement and you will have a beautiful cobblestone-style pathway. via tancamjenksfam
DIY Concrete Candle Holders

These concrete candle holders look very impressive and are once again fairly versatile. They are made using bowls and pots to shape the concrete and create little alcoves for the candles. As you can see, you can make a single or multiple holder, leave it plain or decorated. The finished product will hold your candles safely and beautifully. via usefuldiy
DIY String Light Poles with Concrete Base
String lights are a must-have when it comes to outdoor decoration. These ones are supported by two distressed poles, which were installed on simple, smooth concrete cylinders for safety and added height. via homedepot
DIY Leaf Garden Stepping Stone

To make this marbled, leaf pattern stepping stone you need a round shape, beneath which you will place some branches to form the pattern that appeals to you. After you're satisfied, all you need to do is pour a cement mixture over your design and wait for it to dry.
DIY Decorative Concrete Slab

This intricate decorative concrete slab is made with what looks like an old piece of a gate or window cover, which was used to create the detailed pattern. The finished product can be used in many different ways. via sannaochsania
DIY Concrete Outdoor Fire Bowl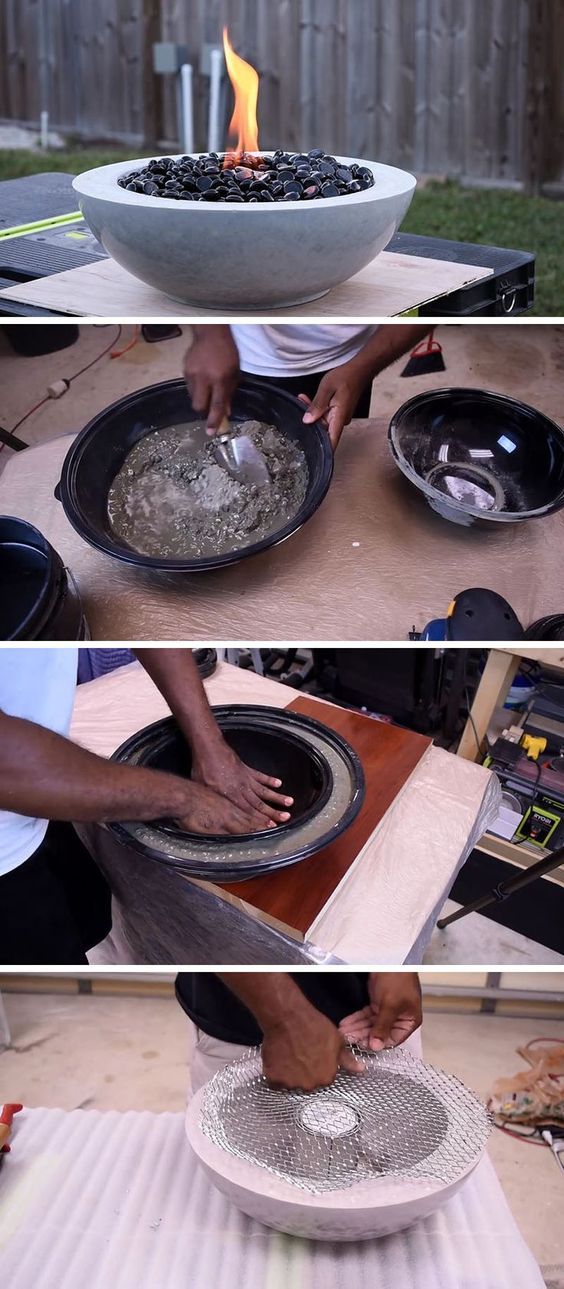 This project is perfect for those who enjoy a good bonfire. The large concrete bowl will give you a beautiful and safe place to start your fires in your backyard so you can enjoy them in summer and winter as well, depending on the location. via Youtube
DIY Cement Lace Using Doilies And Other Crochet Items

via sproutsandstuff
DIY X-Brace Concrete Side Table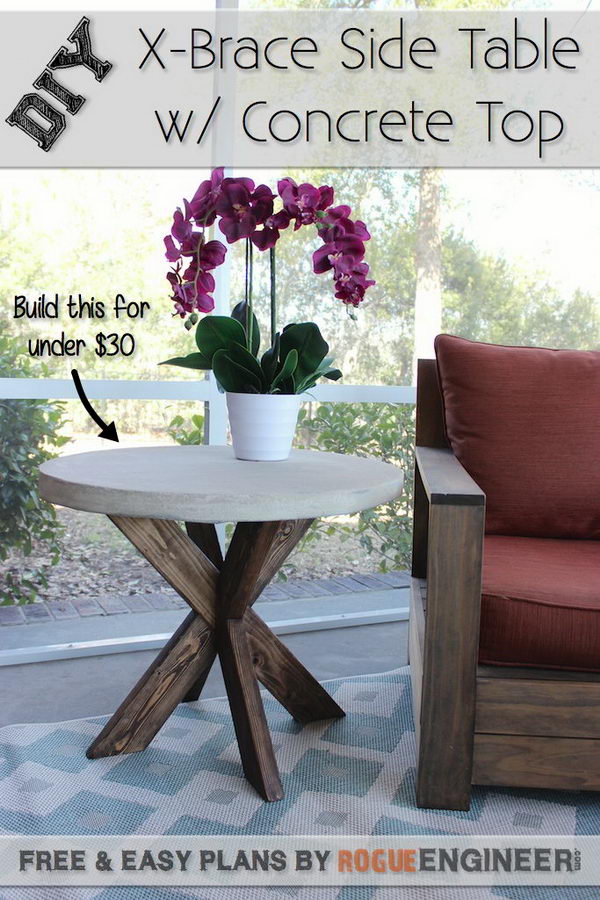 This side table is fairly easy to put together. All there is to it is an X-Brace made of distressed wood and a smooth, round concrete slab that serves as its top. via rogueengineer
DIY Concrete Numbers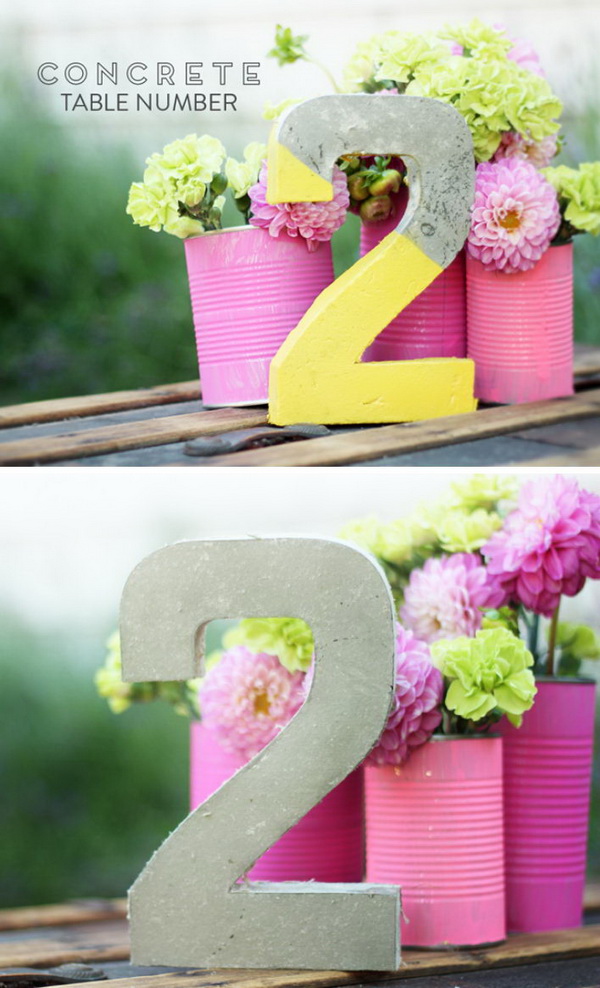 via loveandlavender
DIY Concrete Boots Flower Planter

Using boots as planters is undoubtedly an original idea, especially when the boots are made of concrete. These particular ones have a distressed appeal to them thanks to the uneven texture and the twine bows tied on them. via wwwfurelise
Cement Star Votives

These little star votive candle holders are really fun and sweet. All that is needed to make them is a star mold or cast and a smaller round shape in the size of the candles. Once the cement mixture fully dries on the mold, you should be left with a star containing a perfect slot for your votive candle right in the center. via helloglow
DIY Concrete Wall Candle Holder

via wonderwood