The bed is one of the most important furniture pieces of any house. It is where you lay down to rest, read, watch TV and do a whole lot of other things. Beds are also the main decorative piece of any bedroom. They usually occupy the most space, and so they also draw most of the attention.
The bed sets the tone for the bedroom decoration, which draws inspiration from its headboard. Simple headboards may call for an accent wall, while ornate ones will likely look better in simple settings or vintage-styled rooms.
Every bed comes with a headboard, but if you really want a truly original looking bed, replacing or decorating the headboard is the way to go. Can't see how? Here are lots of DIY Rustic Wood Headboard Ideas we collected for you.
DIY Wood Round Headboard

Made of birch disks of different diameters, the headboard looks fantastically rustic against the white vertical pallet wall and classic furniture of the room. via thewhitebuffalostylingco
DIY Shelf Turned Headboard

This beautiful two-in-one headboard was put together using a scroll shelf which was repainted and secured to a wooden frame in order to complete this gorgeous piece. The best part is that the actual shelf is still usable, which allows you to set some knick knacks above the bed. via robin-happyathome
DIY Rustic Herringbone Headboard

Gorgeous and completely handmade, this colorful rustic herringbone headboard was put together using plywood and cedar boards, which were arranged to create the herringbone pattern and then painted. The finished piece looks beautiful in a colorful rustic bedroom setting. via ispydiy
DIY Headboard From Old Shutters

Repurposing shutters can be really easy, as they lend themselves to a number of projects. These charcoal ones were installed against a wall behind the bed so that they serve as a fairly original headboard. via gingersnapcrafts
DIY Reclaimed Wood Barn Door Headboard With Faux Hardware

This headboard is really fun. The reclaimed barn wood was used to create a distressed faux door at the head of the bed. The door is made of boards in different hues of brown, some of which seem to have leftover paint on them, and is completed with fake hardware as well as a shelf at the top. via funkyjunkinteriors
DIY Stained Pallet Headboard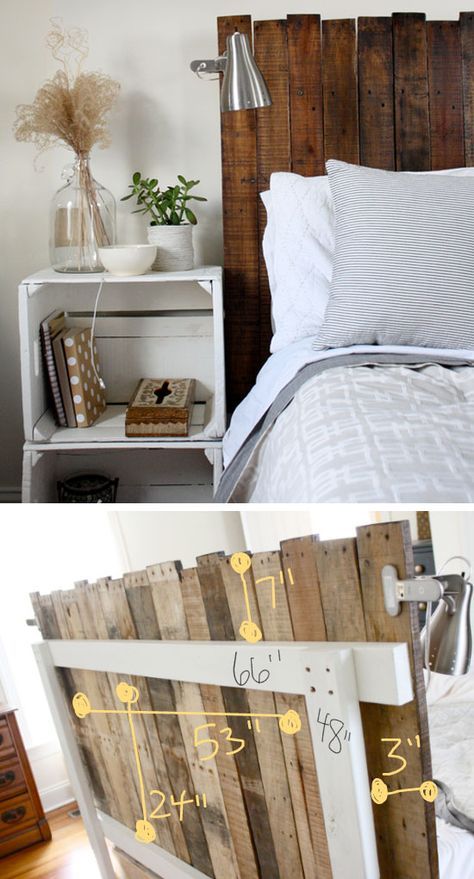 This is more of a traditional headboard, as it is made from stained pallets arranged in a fence-like formation and secured by a back structure. The boards are arranged unevenly in height, which adds a more rustic feel to the overall piece. via ricedesignblog
Salvaged Door Headboard

Here is another repurposing project. The white salvaged door was installed against the bedroom wall, serving as a headboard. They could have restored the piece to make it look cleaner, but instead it was left untouched, showing all its history and character. via averielane
DIY Antique Window Headboard

This bed has four simple windows as its headboard, which looks very clean and original in this setting. The way the windows were installed is also quite unique, as they were hung on the wall like frames, instead of being connected to the actual bed. via lizmarieblog
DIY Herringbone Headboard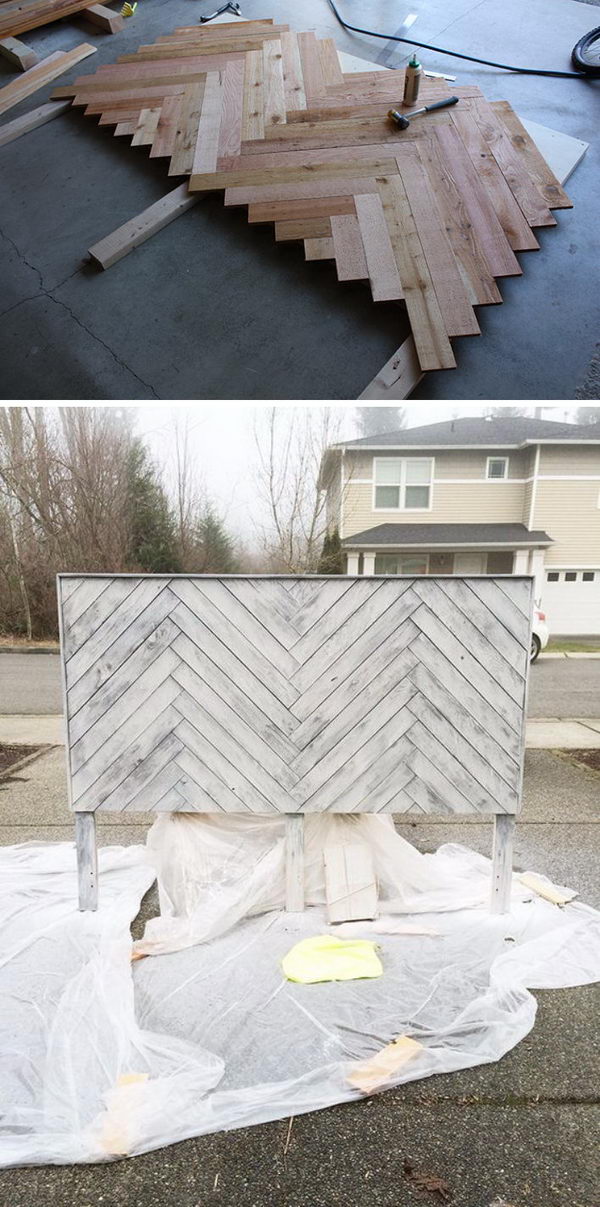 This headboard is constructed out of thin wood boards which were mounted together to create a big, solid herringbone board. The whole piece was white-washed and evened out as a finishing touch. via sewmuchado
DIY Pallet Headboard

The solid pallet headboard is distinctly rustic with all its natural textures showing through. It works perfectly with the surrounding decoration and looks beautiful in every light setting. via thinkingcloset
DIY Rustic Headboard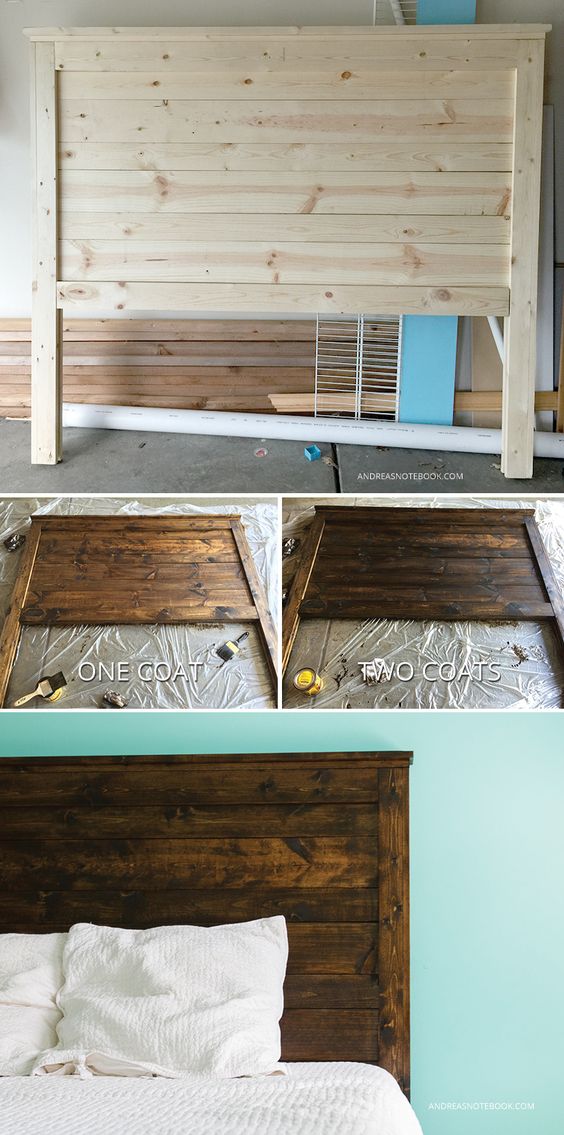 This headboard is similar to the previous one in some ways, yet very different. It is a solid board made from pallet wood, but then it got varnished and dark washed so that the wood looked older and more textured. via andreasnotebook
DIY Reclaimed Wood Headboard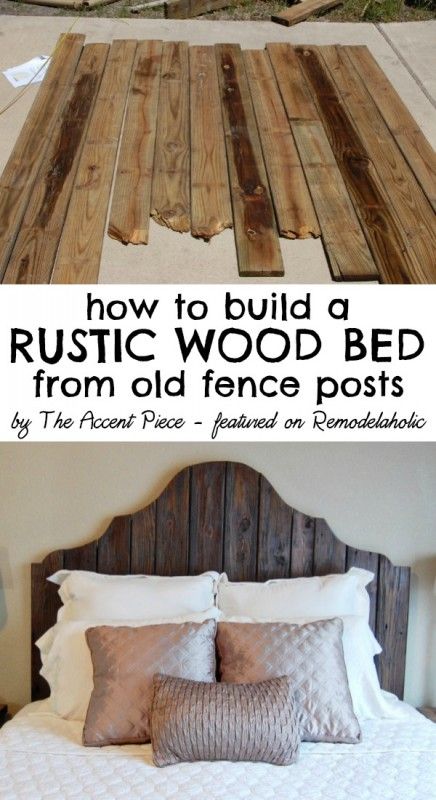 This headboard may be made from reclaimed wood, but it is a fine, vintage-looking piece, as it was fully painted in dark gray and carved at the top. via remodelaholic
Rustic Wooden Headboard With Lights

This headboard is pretty much the picture of a rustic piece with its dark, wide and straight-edged boards. Two overhead spotlights were however installed in the upper boards, making this bed perfect for late night reading. via liveyourgoals
DIY Rustic Wood Headboard With Light

Somewhat similar to the previous one, the project is made from wide, straght boards. However, this one is narrower and spans the entire wall from the low bed to the ceiling. A single spotlight was also installed above the bed. via jennasuedesign
Rustic Wood Chevron Pattern Headboard

This rustic headboard is a little different from others as the thin dark wood pieces were arranged in three different chevrons, all of which converge at the center of the piece. via lowes
Pallet Headboard With Storage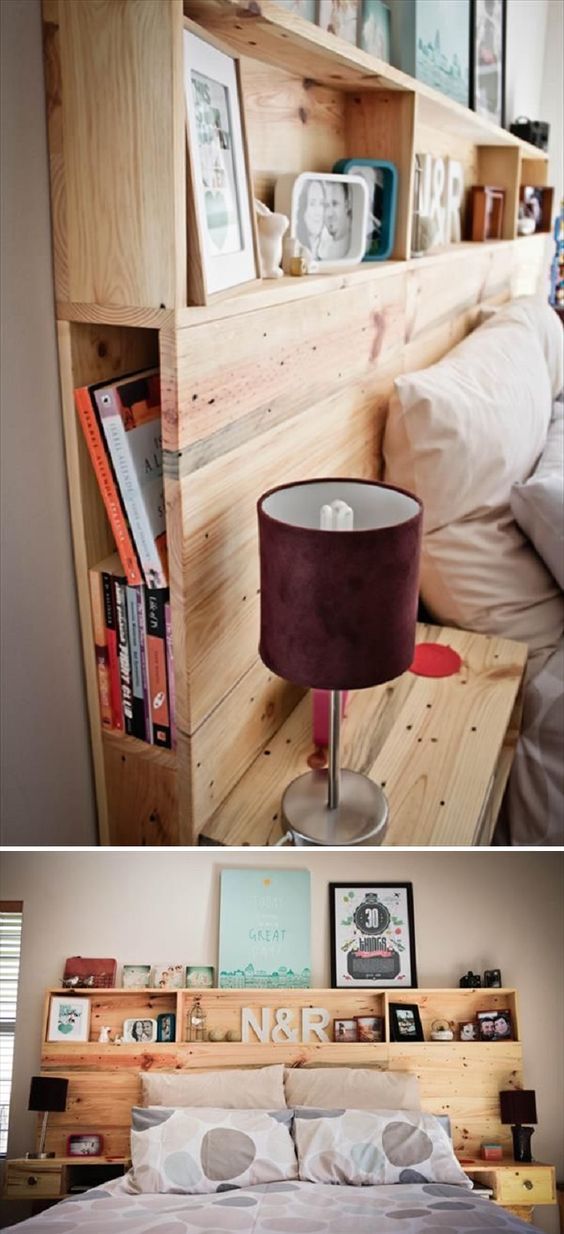 The large, light wood pallet headboard is a great solution for someone who has little space in their room. The piece is connected to the bedside tables, has shelves and even openings at the sides, so that items can be stored inside. via newnist
Fence Headboard

Custom made for a vintage room's king bed, this headboard was made from several wood boards of different sizes, which were intentionally stained to get the vintage vibe. via wellnessandfamily
DIY Barn Door Headboard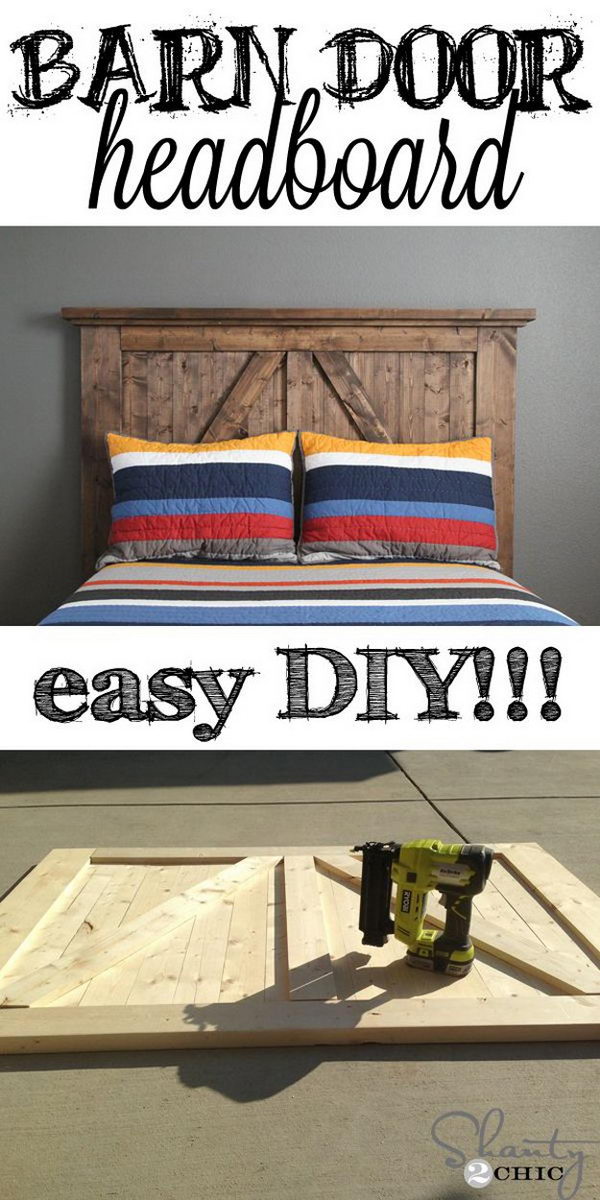 This gorgeous rustic piece is another case of a door turned headboard. In this project, a barn door was slightly restored and reframed so it became a simple yet unique headboard. via shanty-2-chic
Pottery Barn Inspired DIY Barn Door Headboard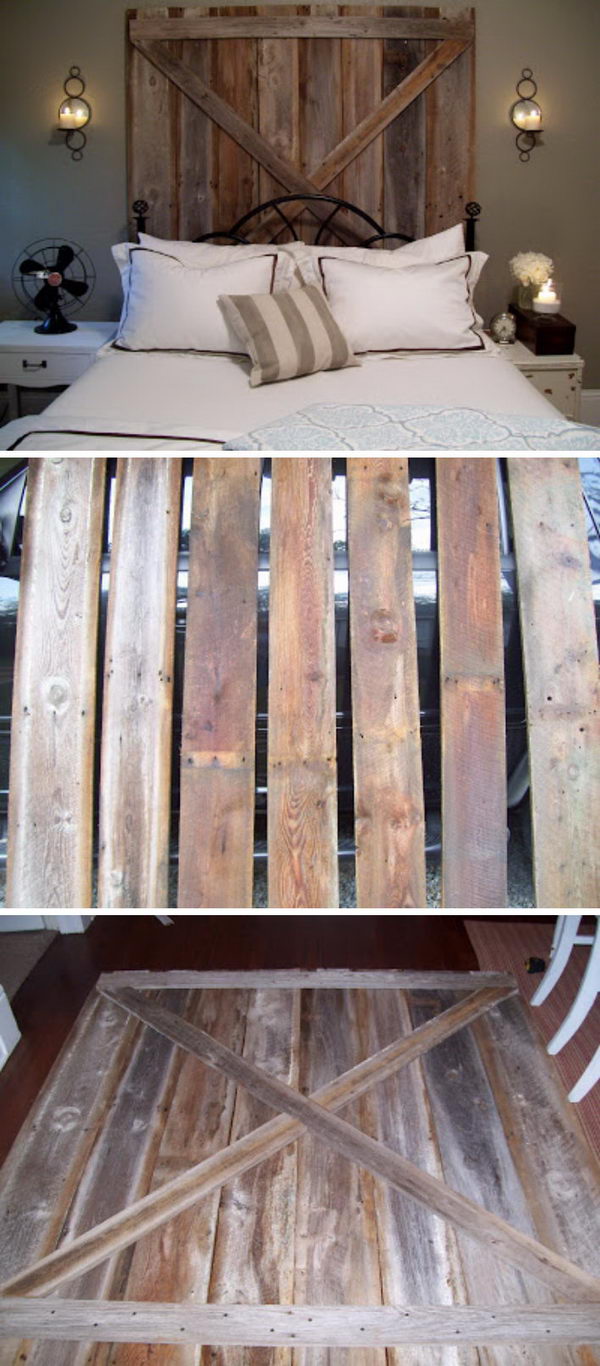 This headboard isn't made from a barn door, but it was instead made to look like one. The main structure was fashioned from boards aligned vertically, which are then crossed diagonally by two longer boards of the same wood. via ourvintagehomelove
Recycled Old Door Headboard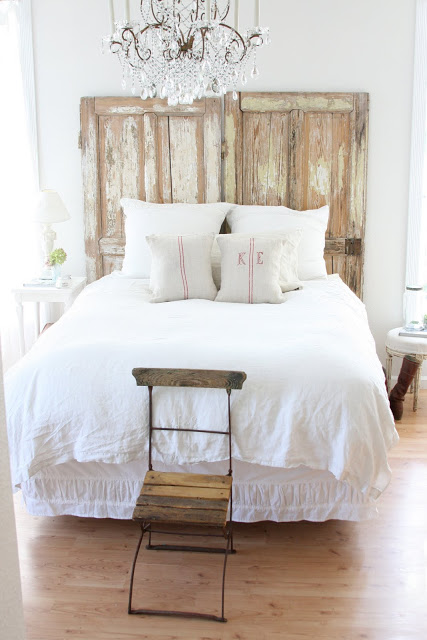 Here is yet another upcycling project, in which two identical light wooden doors were used as a fairly low bed's headboard. The doors look quite distressed, but they work quite nicely with the pristine bed and wall, the large ceiling chandelier and the pátio chair placed at the end. via dreamywhites
DIY Rustic Headboard with Floating Side Table

This headboard is made of rich, dark wood that was varnished to make it shiny and new. It was then decorated with fairy lights and complemented by a matching floating side table suspended from the ceiling. via frugelegance
DIY Fence Turned Headboard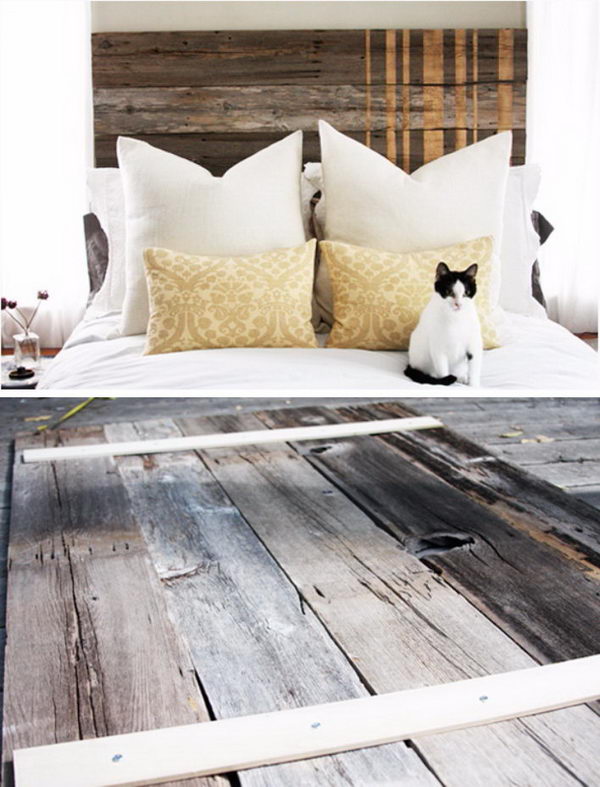 Made from a recycled fence, the headboard looks quite different from others. The texture and staining on the boards give it the distinctively unique look it has. via camillestyles
DIY Reclaimed Wood Look Headboard

This headboard was made using wide boards stained to look like reclaimed wood. It was then decorated with a bunting banner tied with bows at the ends. via akadesign
DIY Rustic Headboard Using Plywood

The original-looking headboard was made from scratch using plywood to create the framed effect. The whole piece was stained before it was installed, and then it was decorated with a rose banner and a sign directly above. via southernbreezecollections
Weather-Beaten Driftwood Headboard

This heavily decorated headboard looks like it has survived the test of time. The uneven boards placed vertically give it a fantastic shape and texture, while the two lamps at the ends provide light in the absense of actual bedside tables. via houzz
Rustic Boho Headboard

This classic rustic headboard is made from distressed light wood boards, which may have been reclaimed. The romantic boho look is enhanced by the rosette banner hanging above. via draumesider
DIY Farmhouse Headboard

There's a distinctive farmhouse look to this headboard, with its darkwood, stained surface and very defined frame. The effect is enhanced by decorations like the banner and the hat with what looks like twigs or horns coming from it. via deeplydistressed
Rustic Raw Wood Headboard

This single headboard is made from natural wood which was pretty much left untouched, showing its colors, markings and textures. A headboard like this is fantastic for a rustic room, but also fits in with romantic and even minimalist decorations. via chic-deco
DIY Old Door Turned Headboard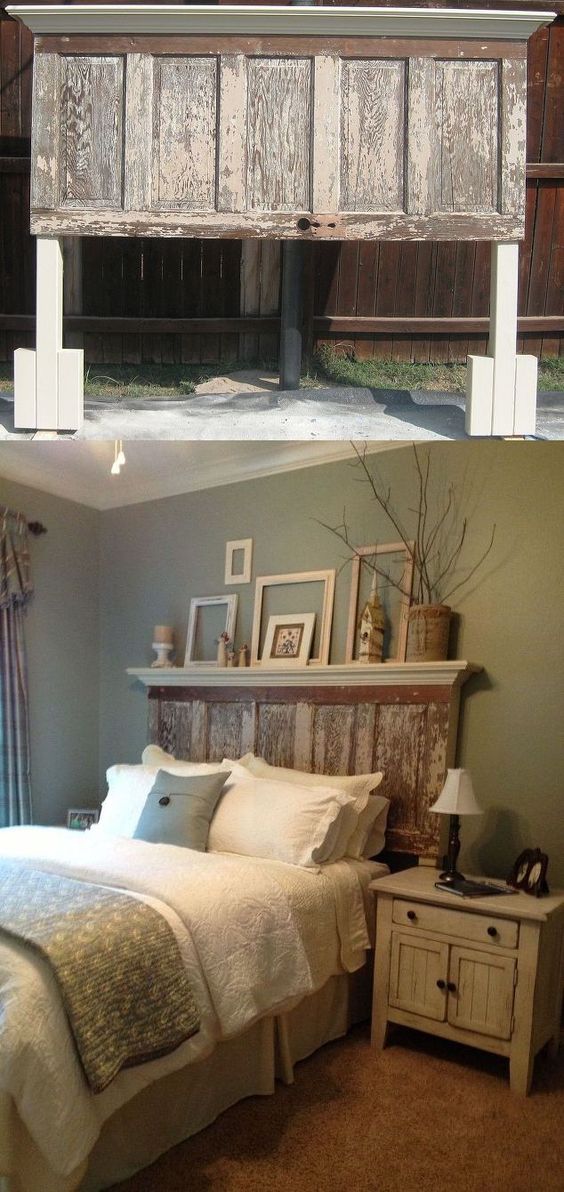 The gorgeously detailed old door gained a pair of legs and was converted into an equally gorgeous headboard. The top serves as a shelf that can be used for decoration as well as function, and the piece looks beautiful with the hollow frames on top and the matching low bedside table. via hometalk
DIY Pallet Headboard To The Ceiling

This somewhat simple headboard has great details, and the stained pallets of different sizes give it a look similar to that of a brick wall. The piece goes all the way to the ceiling, fully occupying the available wall space and creating an accent wall of sorts.
Rustic Wood Pallet Headboard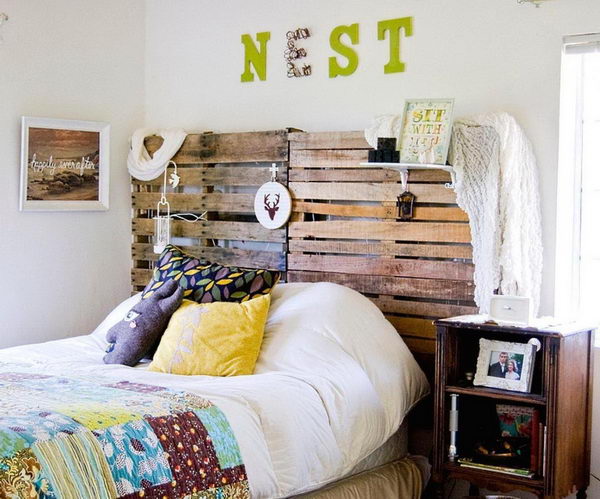 This somewhat uneven pallet headboard is undeniably rustic. The pallets have different colors and textures, and they aren't perfectly stacked. The heavy decorations placed on the board and around it add to the look.
DIY Barn Wood Chevron Headboard

This barn wood headboard is absolutely gorgeous. It is tall and narrow, with a distinct frame, inside of which the boards were stacked diagonally to create the chevron pattern, which is interrupted in the very middle. via hertoolbelt