Teenage girls can sometimes be hard to understand and deal with, as the teenage years are known as being difficult both for the ones going through the changes as well as those around them.
This is, however, also a time for them to develop and express creativity, as well as explore different hobbies and activities to realize who they're going to be as adults.
DIY projects are a great way to relax, explore your creative side and even socialize, as a teenage girl. In fact, these projects are great for girls to make as gifts, decorations and even group projects.
So if you are a teenage girl or someone who lives with one, we strongly encourage you to look at this article, because we have these Awesome DIY Project Ideas For Teenage Girl, which can be done alone, with friends or even as bonding between siblings.
DIY Unicorn Dreamcatcher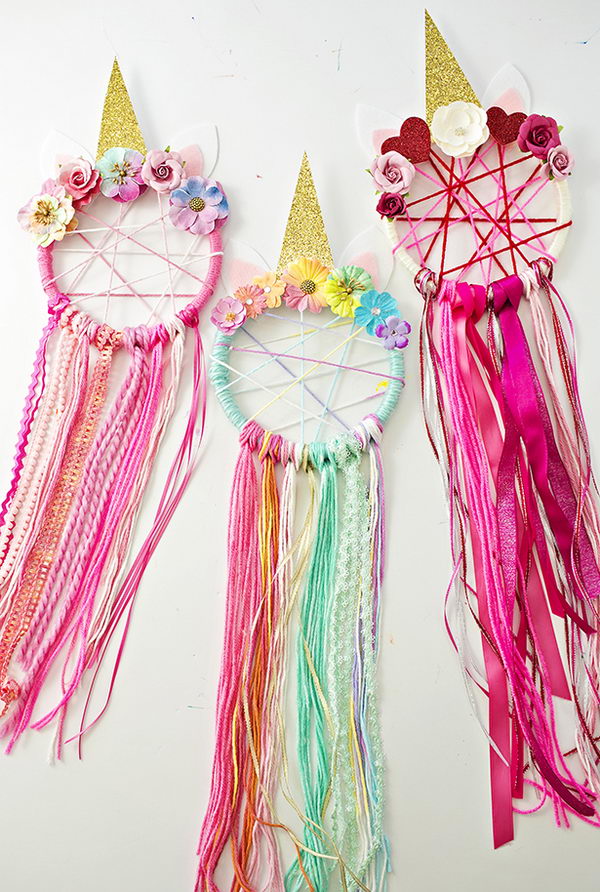 Unicorns are quite fashionable these days, so can you say no to a unicorn-inspired project? Dreamcatchers are a classic, and they are pretty easy to make. You only need a ring of some sort as well as thread or fabric strips for the main structure. Decorate your ring with colorful flowers and add a glittery horn at the top to finish you piece in true unicorn style. via hellowonderful
DIY Graphic Laundry Baskets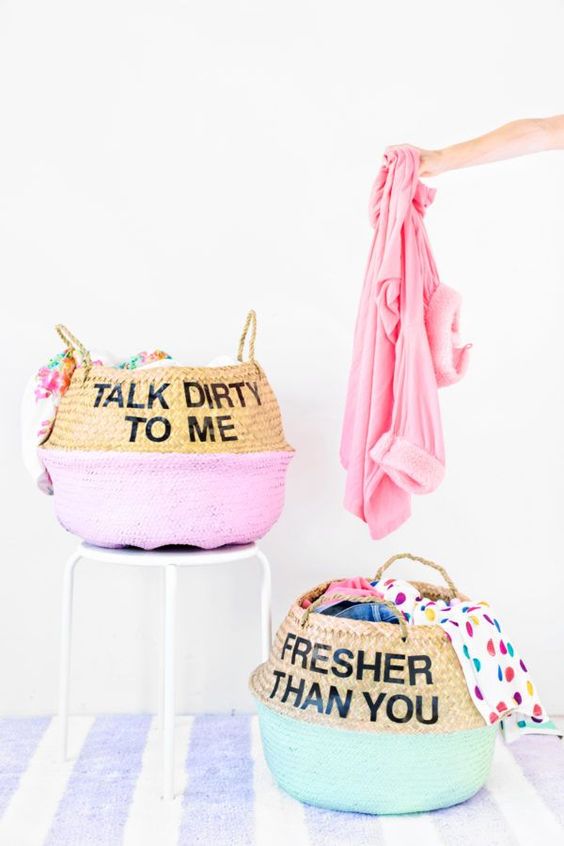 Putting laundry away is always a dreaded chore for teenagers, but a cute laundry basket can add some incentive. These ones were painted in a pastel color at their bottom half, and then a graphic sassy quote was stenciled on top, making it look much cuter than average. via studiodiy
DIY Letters With Flowers
Block and marquee letters are another decorative trend, particularly among teenagers. It is good to know, then, that a 3D flower quote like this is actually easy and affordable to make. All you need are foam letters and pink plastic flowers. Snip the flowers off near the top, then stick them in the letters until the whole surface is completely covered and they'll be ready for use. via designdazzle
DIY String Artwork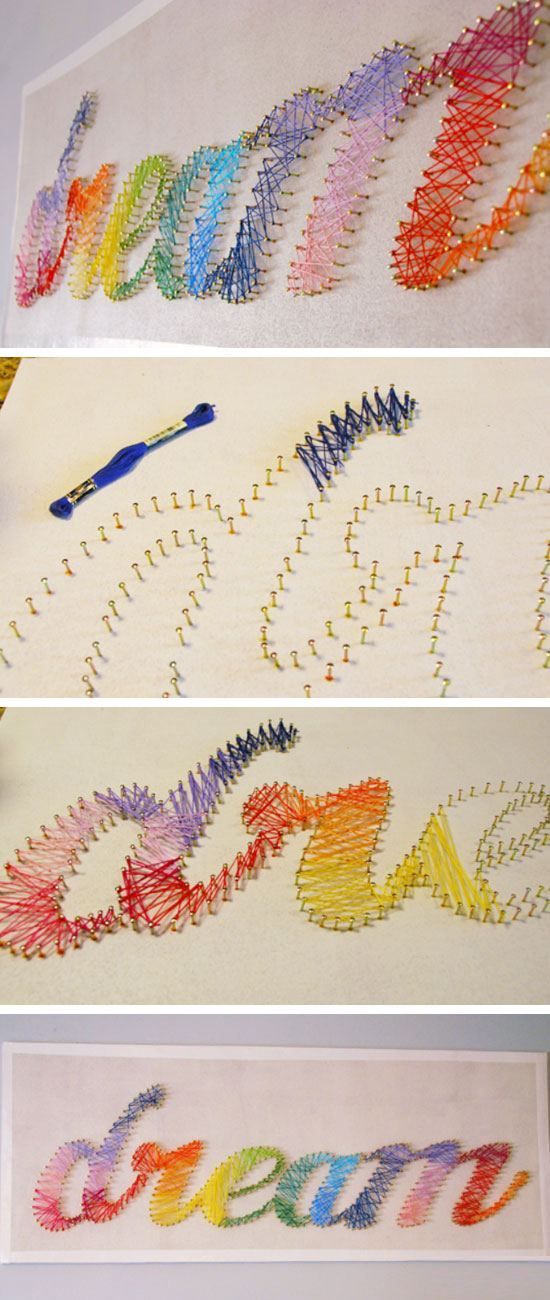 String work is really beautiful and surprisingly easy to make. All you need to do is get a wooden board about the size your design, then outline it inside using nails and a template. After laying the shape down, all you need to do is fill it in by wrapping string around the nails and connecting them. Using different colors to create a rainbow like this will make the piece really beautiful and unique. via honeyandfitz
Polaroid Picture Display

Teenagers have always loved photo walls, and that hasn't changed in the digital era. This one is quite unique because it was made using a combination of fairy lights and clothespins. It gives the wall a whimsical banner style that you certainly don't see every day. via instagramvia simplestylings
DIY Mod Podge Wall Art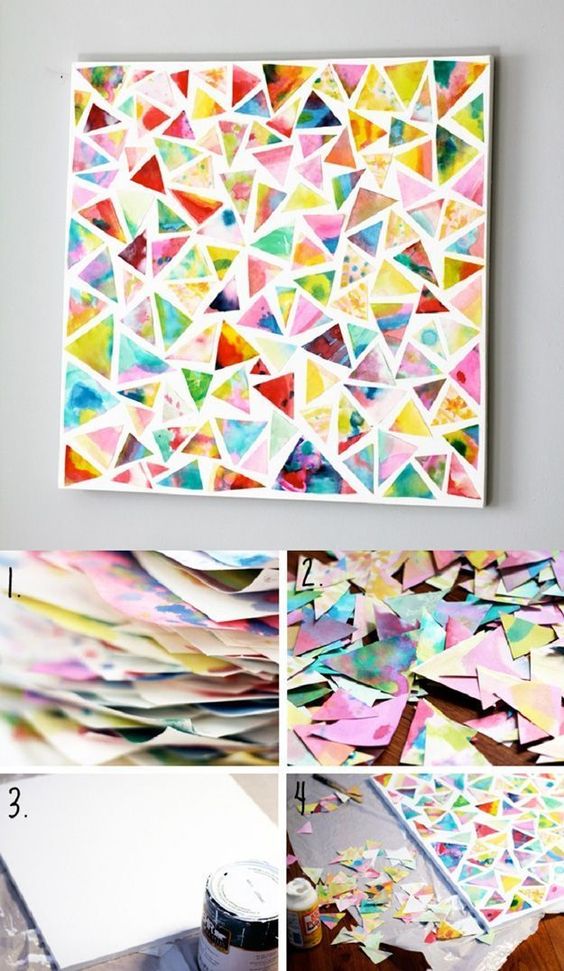 This mosaic wall decoration is quite impressive, but not as hard to make as it looks. All you need is a poster board and some image clippings, which you will cut into different geometric shapes. Fill the poster board with these shapes while leaving a little space in between, then add mod podge for shine and durability before hanging. via katebullen
DIY Yarn Chandelier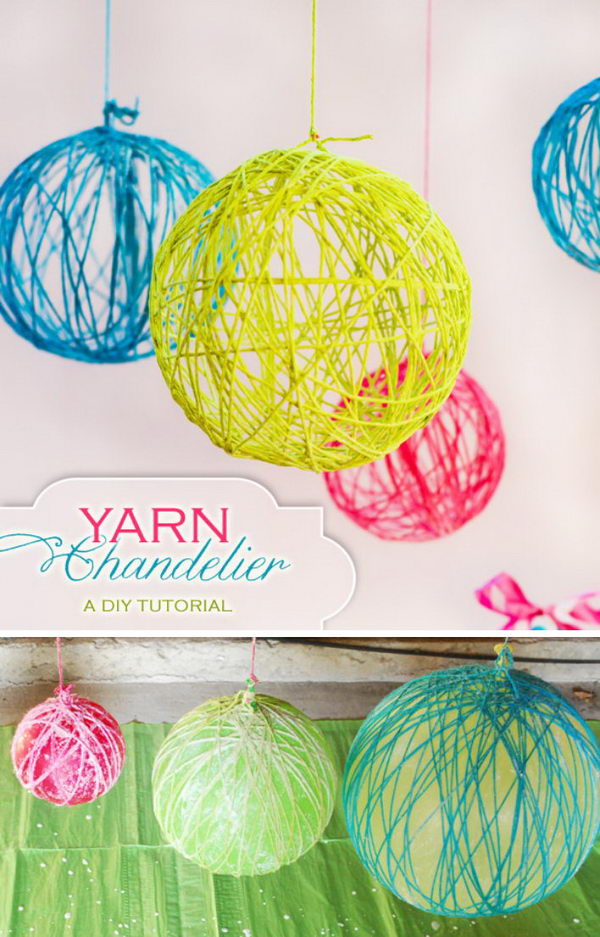 These yarn chandeliers are so easy to make it's not even funny. All you need to do is soak some yarn into a solution of corn starch and glue to harden, and then wrap it around a blown up balloon before it dries. Once it does, you only need to pop the balloon and add something to help hang your chandelier. via hwtm
DIY Fairy Glow Jar

This jar is very easy to make and looks truly magical. You will create some dots or shapes inside your jar using pastel paints, then add some fairy lights. Turn the lights on in the dark so it glows as a gorgeous night light. via Youtube
DIY Pom Pom Pillow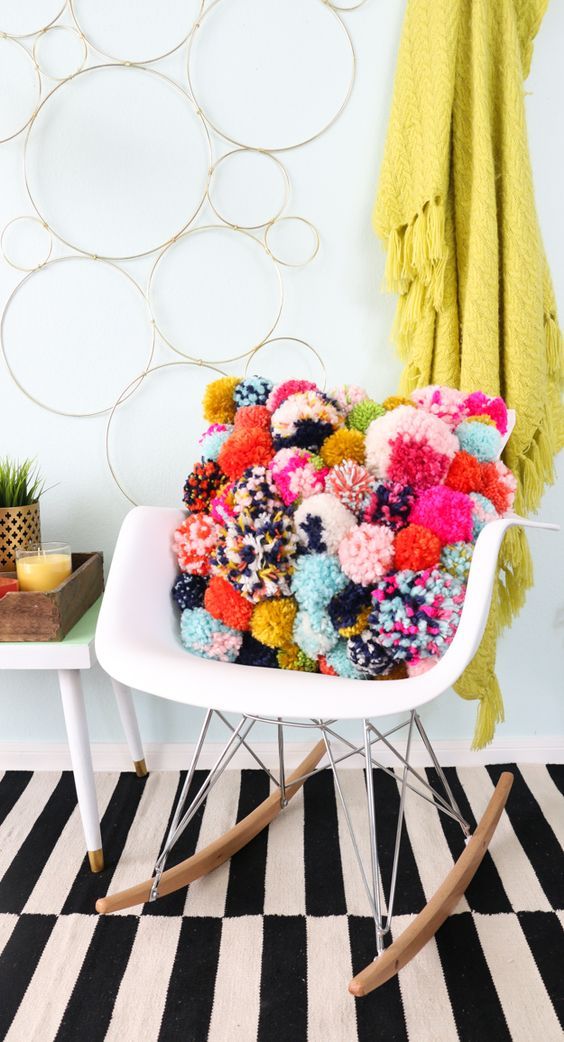 You can have regular pillows decorating your room, or you can have pom pom pillows, which truly stand out. What you need to do is make a ton of different yarn pom poms, then glue them all to your plain pillowcase until you're satisfied. via akailochiclife
DIY Mason Jar Pen Holder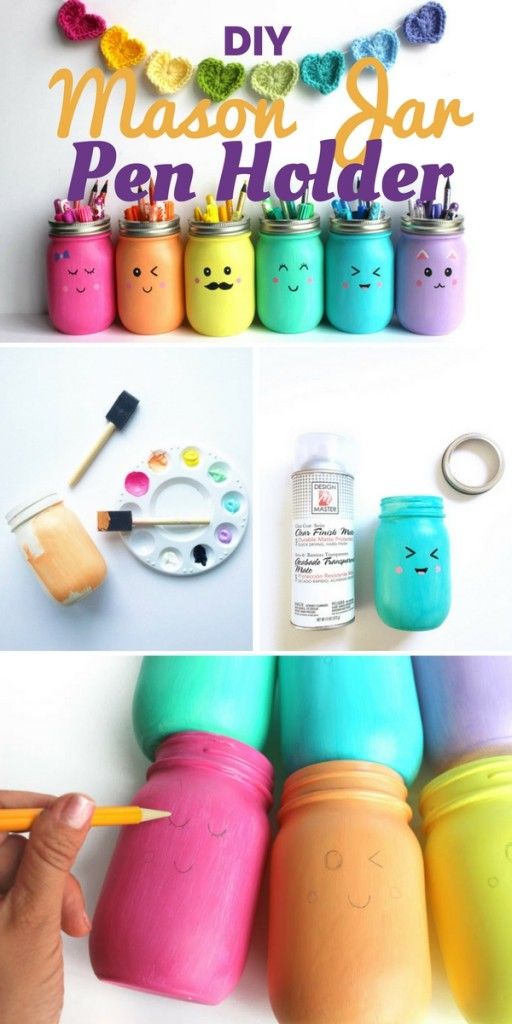 Everyone knows doing homework can be a major drag – but not with these pen holders. All you need to do is collect some mason jars, then paint each a solid color to make a rainbow on your desk. Add a little face or quote if you feel creative and you're homework will never be a chore again. via ooly
DIY Agate Coasters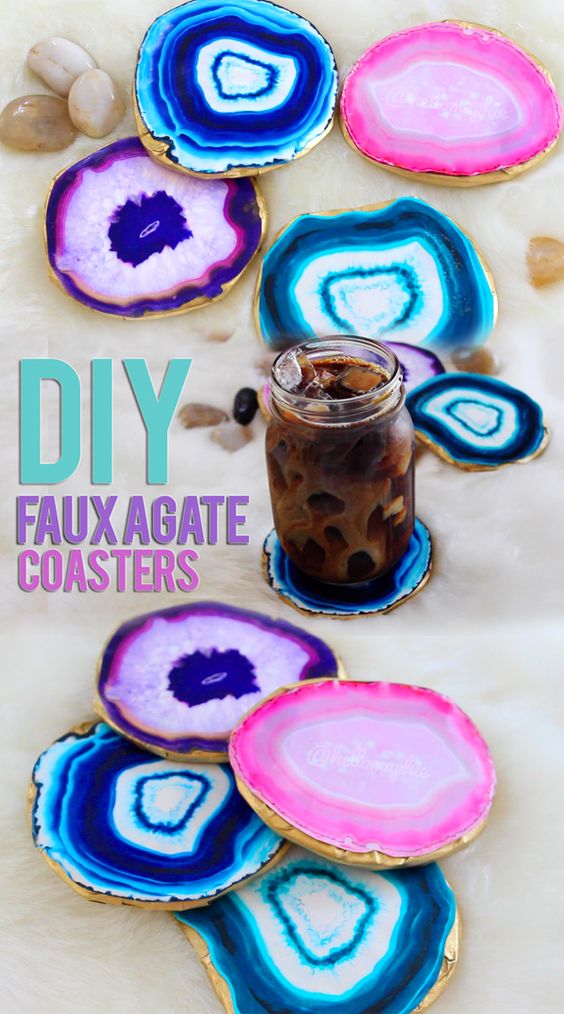 This is a very easy DIY to make if you want some cool coasters to set your drink on while studying or to impress your friends at parties. All you need to do is take some round pieces of cardboard – or wood, if you feel fancy – then paint this spiral print on top to create your "faux agate" which everyone will love. via Youtube
DIY Pink Chalkboard Globe
Are you tired of looking at the world through a globe but actually like it as a decoration? Then turn this globe into your own world by covering the whole surface with pink chalkboard paint then writing your thoughts or notes on it with chalk, so you can erase them whenever you'd like. via alittlecraftinyourday
Shopping Bag Wall Organizer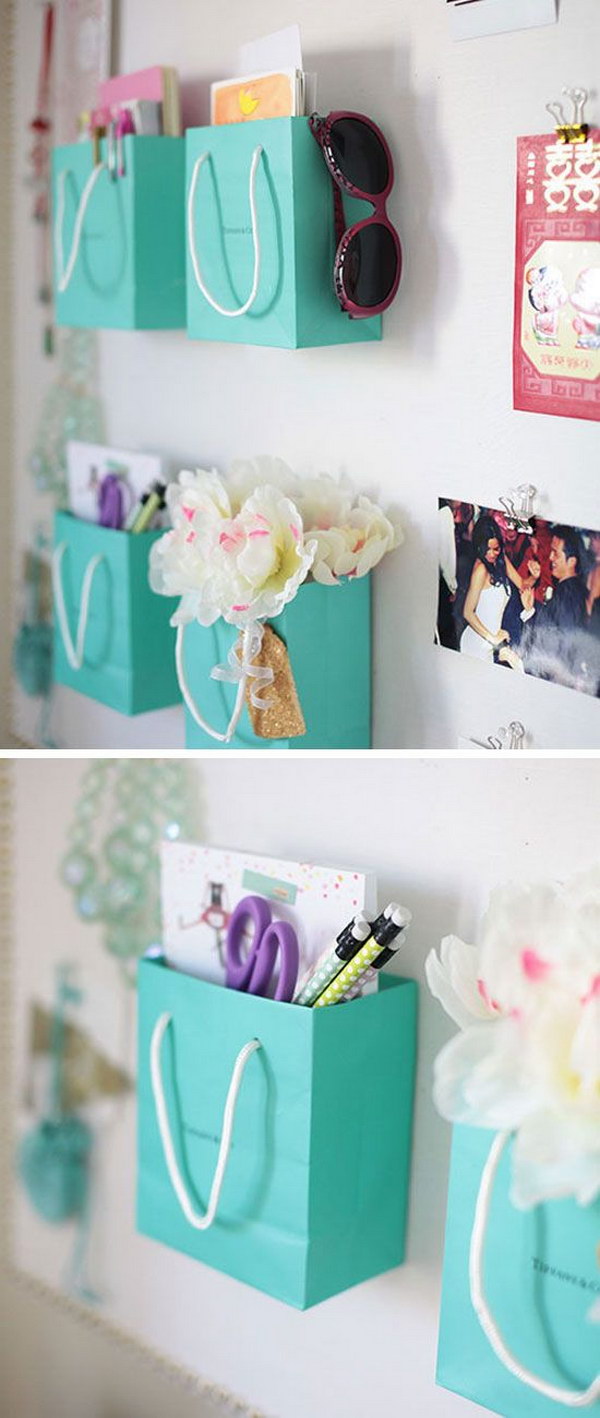 This project is fit for a princess, as it uses Tiffany's bags at wall organizers. You can, of course, use real bags hardened with the solution we've mentioned before or create your own from boxes. They look gorgeous in an Audrey Hepburn themed room. via lezoemusings
DIY Nut Pots Using Nut Shells And Clothespins
This project is for those who enjoy nature and recycling. What you need to do is save your nut shells, then decorate them to use as little pots. Glue in your miniature plants and the clothespins at the bottom to finish your piece. via journeycreativity
DIY Pom Pom Rug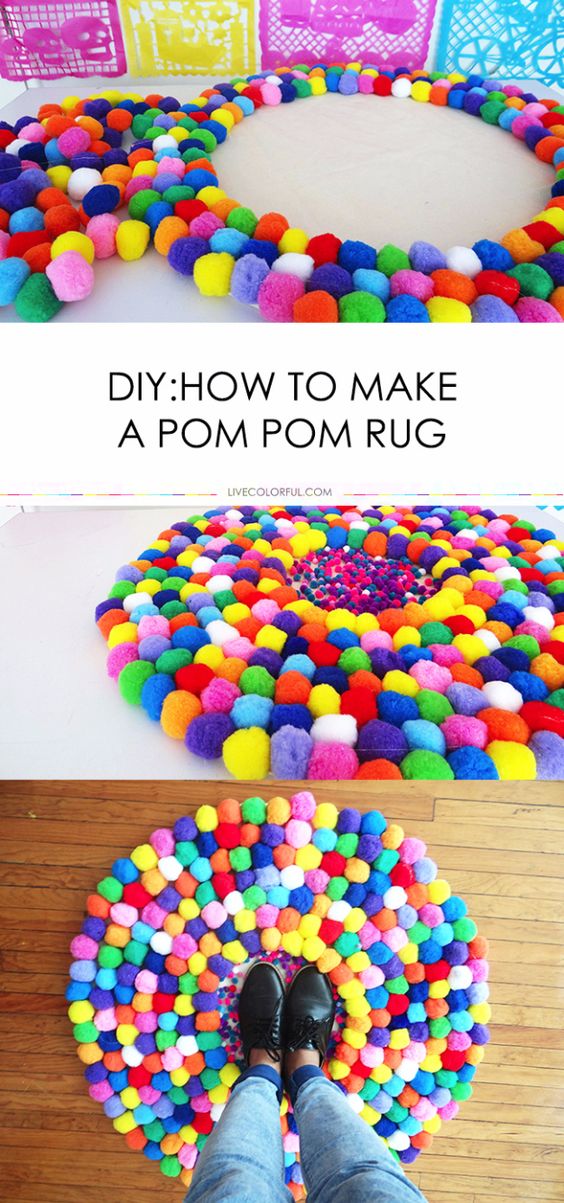 This may seem a little childish, but it is definitely comfortable and will add color to your room. What you need are tons of identical colorful pompoms as well as a thin rug or base to guide you. Cover the whole circle in pompoms repeating your pattern from the outside to the center and you will have a cute and fluffy rug. via livecolorful
DIY Floral And Wire Words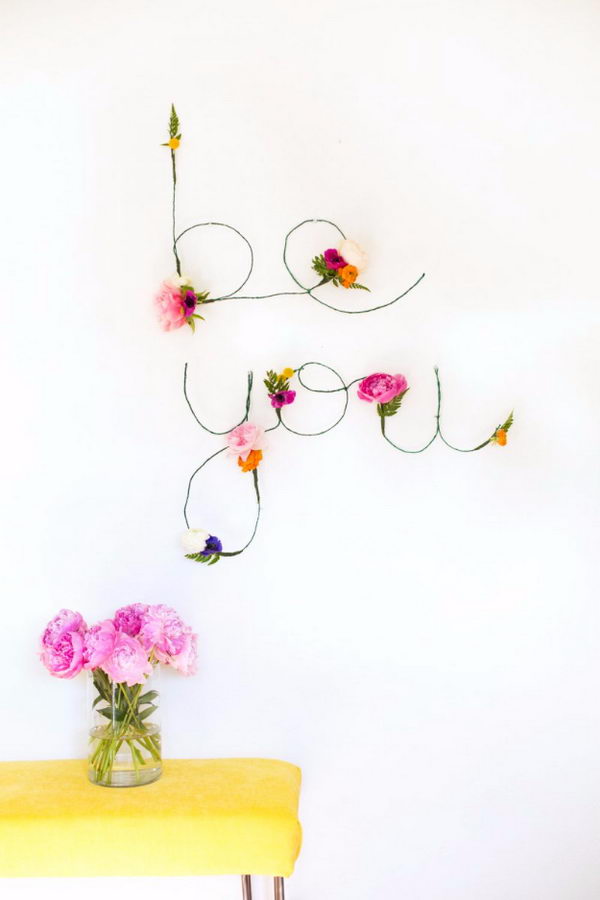 This project looks simple, but it may be tricky to complete. You need to get a long, thick piece of wire which you will mold into your words, probably with the help of a heat source. Glue some flowers at different points to add a romantic and feminine touch to the piece. via lovelyindeed
DIY Ombre Cork Art
Cork art is quite easy to make. All you need is a wood or cardboard base with the outline of your shape. To make it ombre, paint your corks in different shades of your color family and then fill your shape in by gluing them from darkest to lightest. You can do this in a simple board or add a quote, as shown here. via greenweddingshoes
Painted Rock Photo Holders

These painted rock holders are very cute and you can make them in no time. Paint your rock in a pastel color, then create white dots with a brush or tool. Add a wire or string for hanging and they'll be ready to hold your photos. via onelittleproject
DIY Fur Stool From Ikea Stool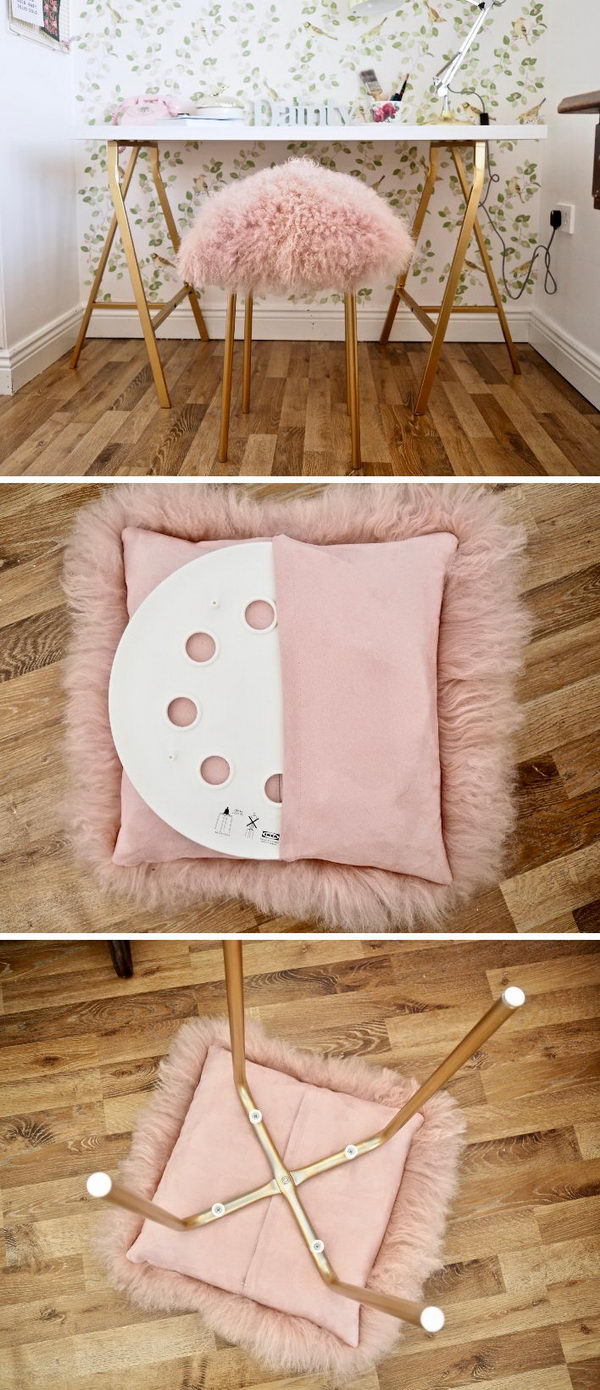 This project is super cool and you can definitely make it on a budget. All you need is a simple stool with a relatively cute and plump pillow top, as well as some fluff of your favorite color. Make a circle of the fluff and glue it to the pillow so that it spreads out to make your fluff stool. via daintydressdiaries
DIY Star Garland Christmas Light

Every girl wants fairy lights in their room nowadays, but you can easily have stars instead. Make some cardboard or wooden stars, then place them around each of your light bulbs. Hang the strings up and you'll have a garland of glowing stars. via monmakesthings
DIY Flower Light Bulb Vases

Here's another great project that mixes recycling and the love of nature. If you have old light bulbs that are intact but don't work, you can take the electrical part out and fill them with colorful flowers instead to create gorgeous decorative vases. via mymodernmet
DIY Dreamcatcher Mobile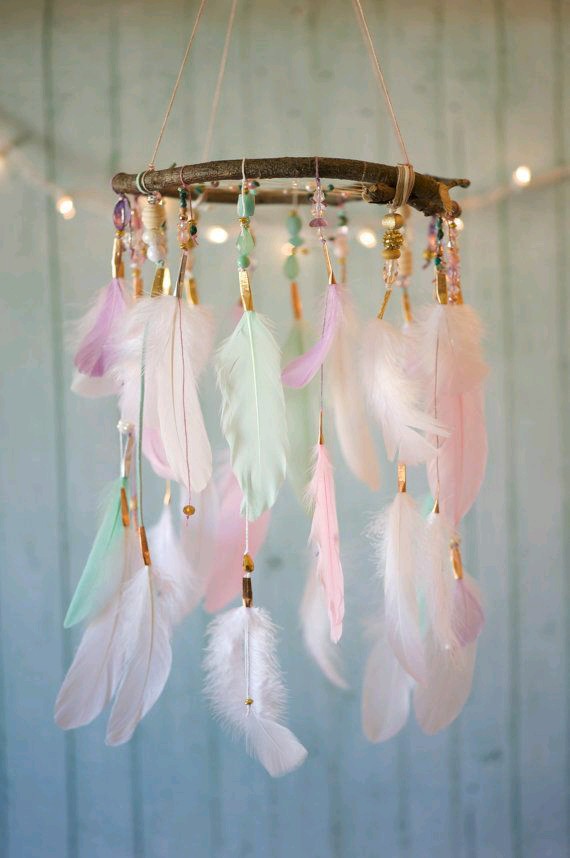 You don't need to be a baby to have a mobile above you. This isn't everyone's taste, but you can definitely make it if you want. All you need is that antique-looking brass ring, some wires, beads and feathers. Mount everything like you would a dreamcatcher and it's ready to use. via Pinterest
DIY Stenciled Succulent Key Hook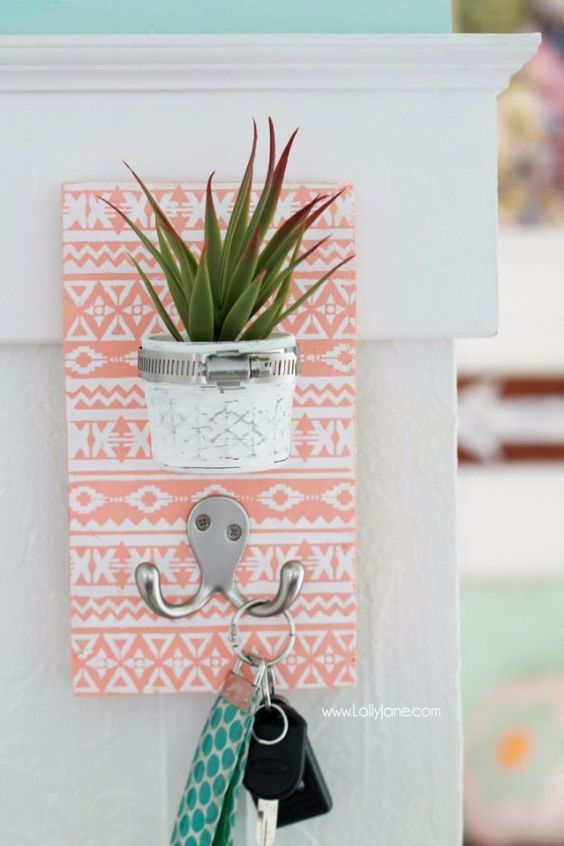 Key hooks don't have to be boring, and here's proof. You can make this one by getting a wood board and stenciling a geometric pattern on it. Add a succulent holder and a hook for the keys to complete the piece so it can be used. via thecraftpatchblog
DIY Ballerina Wall Art
This canvas is absolutely gorgeous! All you need to recreate it is a piece of wood which you will paint a solid color, then stencil a white ballerina silhouette over. Cover the skirt portion with fake roses for a 3D effect and it will be ready for display. via decoart-inc
Plastic Spoon Mirror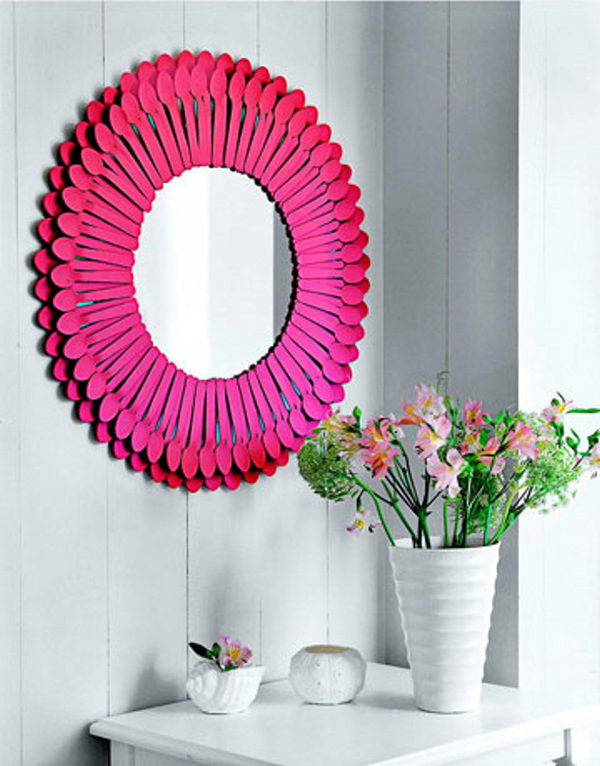 Here's a cute mirror for all the beauty girls out there. All you need is a round mirror and a pack of identical plastic spoons. Glue your spoons around the perimeter of your mirror to create a daisy effect and your friends will definitely be impressed. via countryliving
DIY Floral Vase Wall Hanging

This piece is similar to a dreamcatcher or chandelier, but has flower vases hanging instead. You'll have a larger tree branch hanging from the ceiling, to which you will attach several metal hangers. Your floral arrangement will be supported by the web of wire.
via apairandasparediy
Paper Heart Wall Art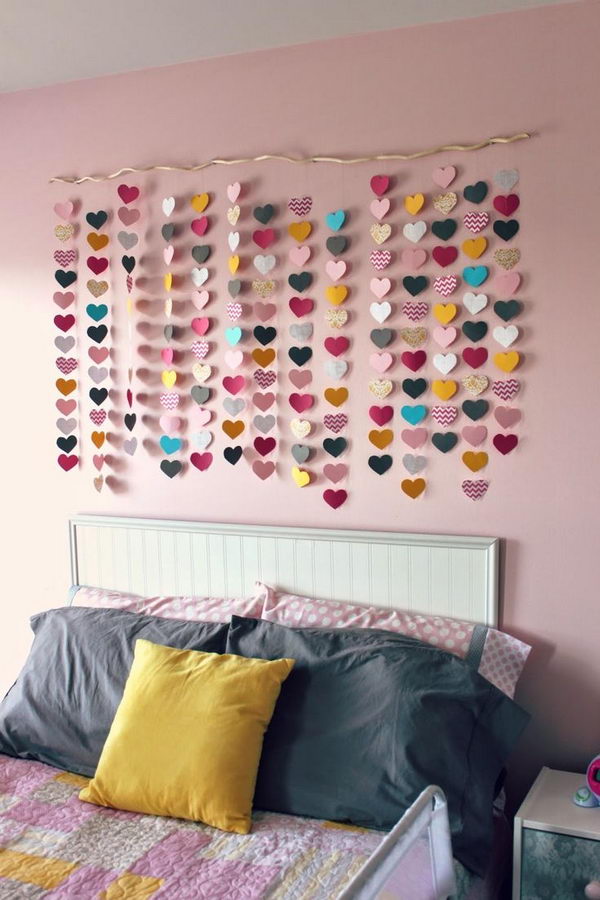 This is exactly what it looks like – a wall decorated with rows of colorful paper hearts in different colors hanging from a glitzy beam. It's easy enough to make and undeniably cute.
Lighted Bed Canopy with a Twist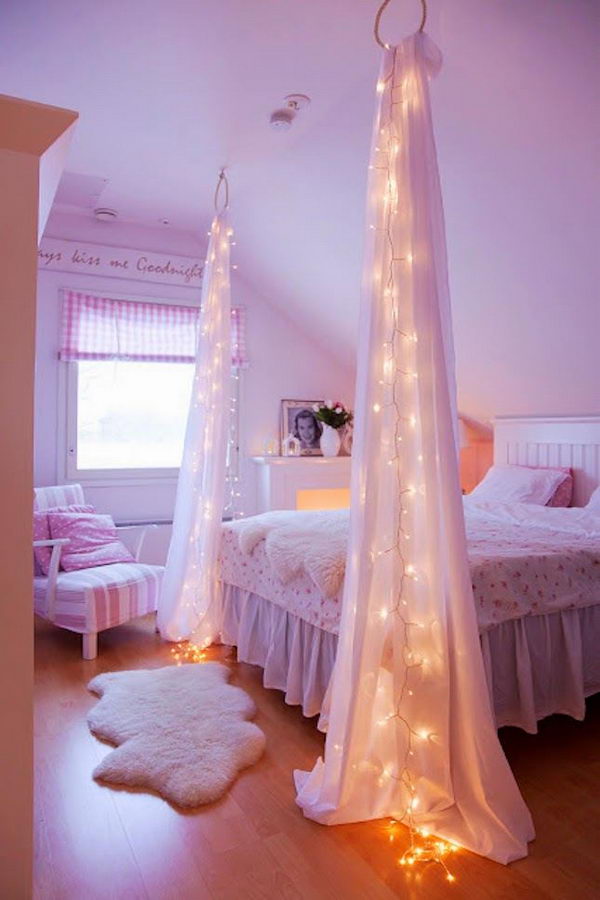 Every princess's bed needs a canopy, but this tulle concoction is extra special as it features fairy lights throughout, which make it shine like a whimsical dream in the dark.