Christians have celebrated Easter holiday for many years. The two typical decoration or symbols used in Easter are the decorated eggs and a bunny. The use of decorated eggs dates back to the 13th century. The eggs symbolize new life brought by the resurrection of Christ.
Several stories explain why the eggs are used. Some mention Mary Magdalene and Mary mother of Jesus both who is mentioned in the bible. As for the bunny, it has no biblical reference, but a rabbit was used in ancient society as a symbol of fertility. So it is also used as a sign of life. The bunny tradition was introduced to America by German immigrants in the 1800s.
As you decorate your home, church or business premises this Easter, below are some unique ideas that will make the place standout;
Easter bunny napkins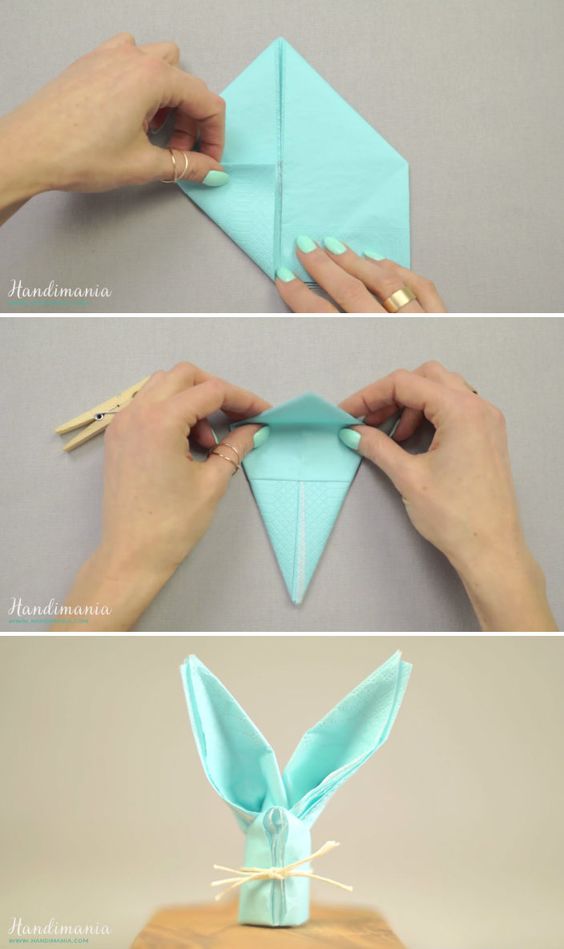 With this, you can enjoy Easter both at home at your favourite restaurant. The napkins are folded with the edges hanging out to form bunny-like ears. The towels can be of different colours to bring in some life and beauty. via handimania
Add glitter to the eggs

You can choose to dye the egg first then add the glitters with some glue. Some people also decide to put the sparkles on a bare eggshell without colouring it first. To spice things up, you can have different coloured glitters. Others glitter the egg halfway and put a matching colour on the other half.
Bunny Menu and invitation cards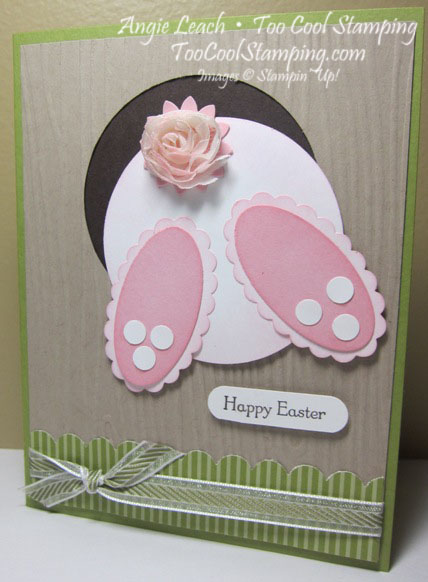 When inviting your neighbours and close friends to your Easter dinner, use bunny shaped invitation cards. Restaurants can also decorate their tables with bunny shaped temporary menus to celebrate with their Christian clientele. via toocoolstamping
Bunny Candy carrier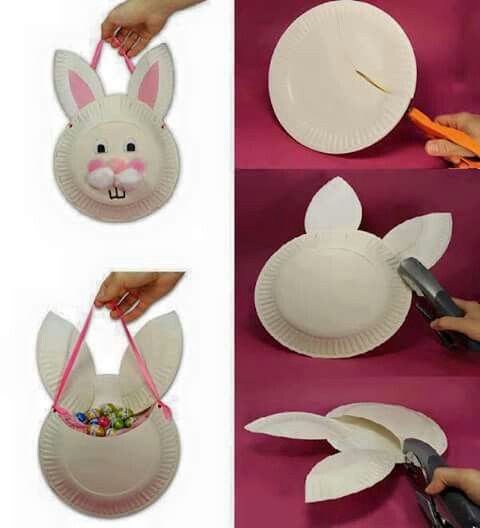 Get your kids in the mood by making them bunny shaped candy carrier. The candy carries can be ceramic with bunny ears stickers attached or you can make them using a piece of cloth and apply some embellishments to display other facial features.
Easter porch decoration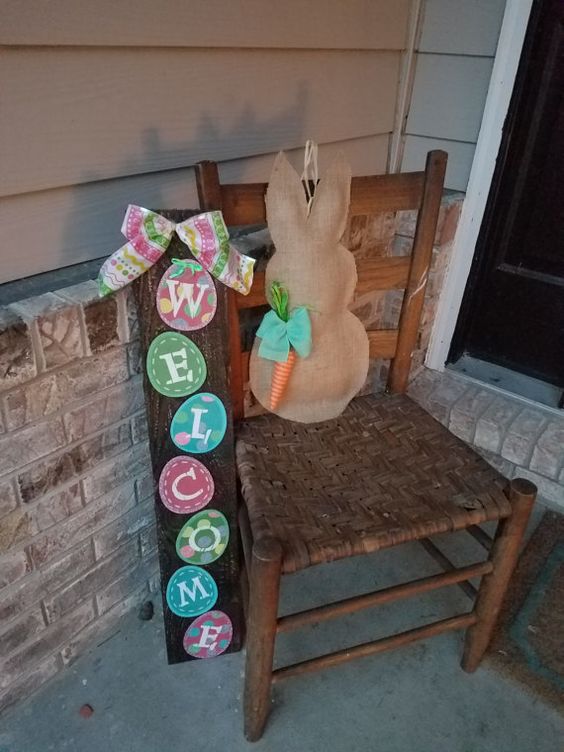 Hang an Easter bunny flag on the wall near the main entrance to your porch. Use bunny shaped pillows or cases with bunny images. Decorate the porch with plant pots filled with colourful wooden eggs. To add some life have some green plants on your pots. via etsy
Bunny Gift wrap

Have a designated table where you will put all the gifts. Use bunny gift wraps to wrap all the gifts and display them on the table. You can so buy bunny shaped gift bag and mix them with the wraps. via craftaholicsanonymous
Eggs on a nest

Make a nest using tree leaves or bark and place some eggs in the nest. Make a nest that is big enough to house a bunny as well. You can choose to use small eggs or big ones. Regardless of the size of the eggs, remember to colour them. via madebybarb
Plant themed wreath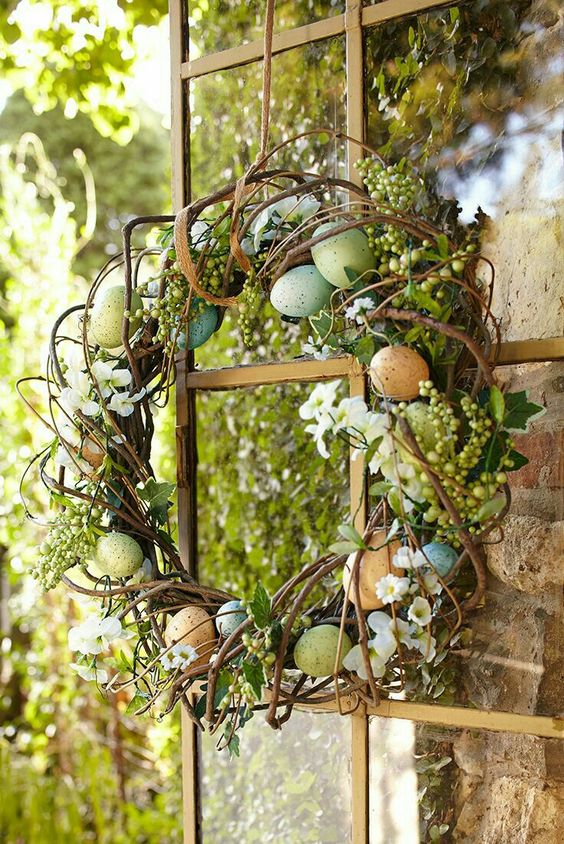 Use succulent plants to make a front door wreath. Combine plants like moss with flowers to have a more appealing look. Some choose to go with flowers only when making the wreath.
Bunny themed Easter banner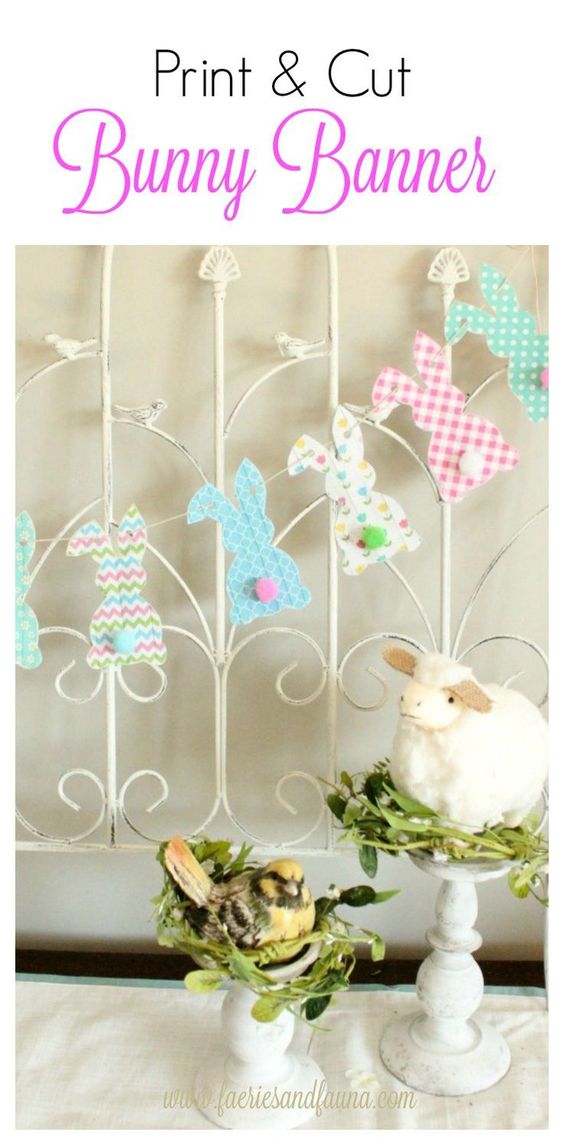 The banner can be used inside your house or in an event outside. Have some banner shaped papers, paint them with different colours. Have each bunny bear one letter of the happy Easter slogan. via faeriesandfauna
Use the eggshells as flower vases

Brake the egg carefully, empty all the content and male the holes slightly bigger. You are now free to place some flowers. Choose flowers that can survive even when the water supply is little. Use the egg tray as the flower vase holding the egg shells and in extension the flowers.
Easter bunny stickers on family photos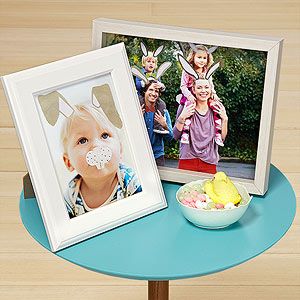 Buy bunny ears and nose stickers and use them to decorate family photos. To make it more fun and exciting, you can buy a different size of ears and put them on pictures according to the age of each family members with the parents having the longest ears.
Add more water to the dye to get different shades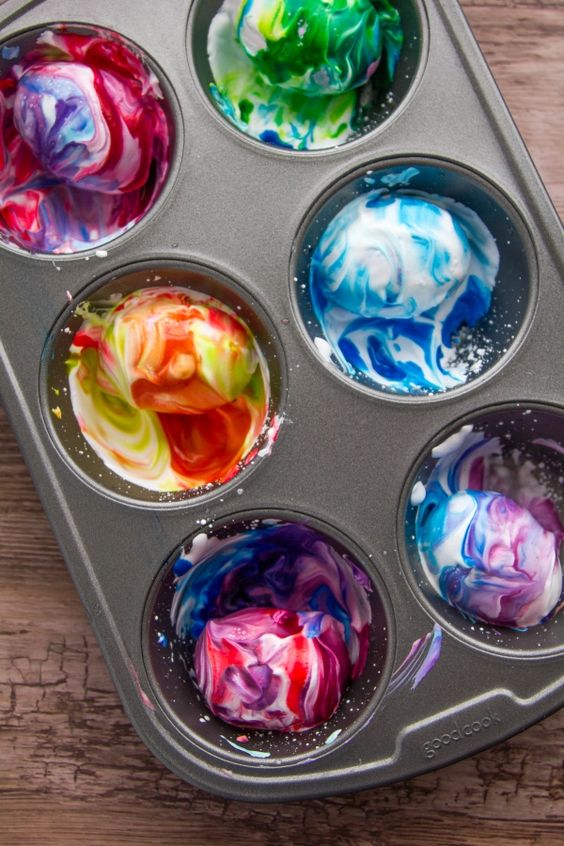 When decorating the eggs, first dip them partly with a concentrated dye. Then dilute the water and dye another section of the egg. Keep doing it until you finish decorating the egg. Each part will have a different shade of the same colour since the dye concentration used is different. Display them on a tray. via coupons
Mustaches on eggs with black tape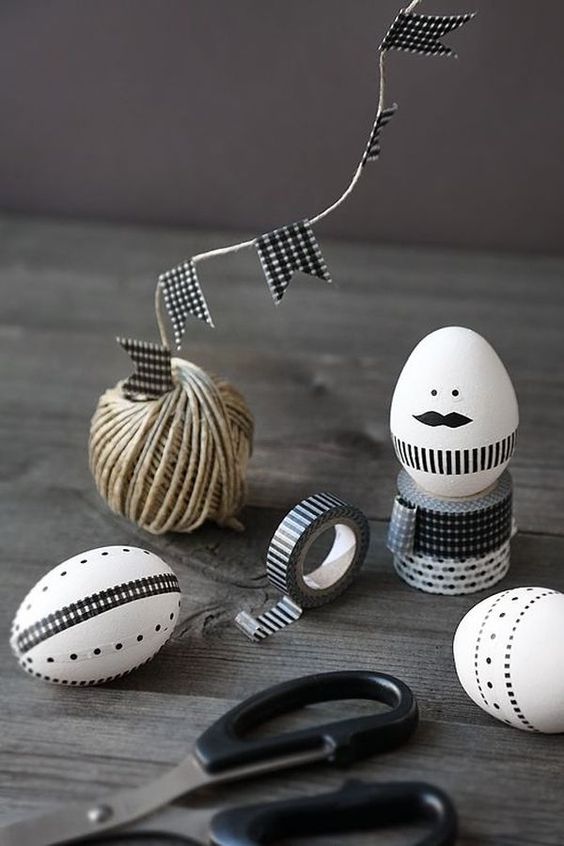 Using the readily available black electric tape, put mustache facial hair on coloured eggs. You are free to use the tape to come up with a differently shaped mustache. via deavita
Easter bunny vase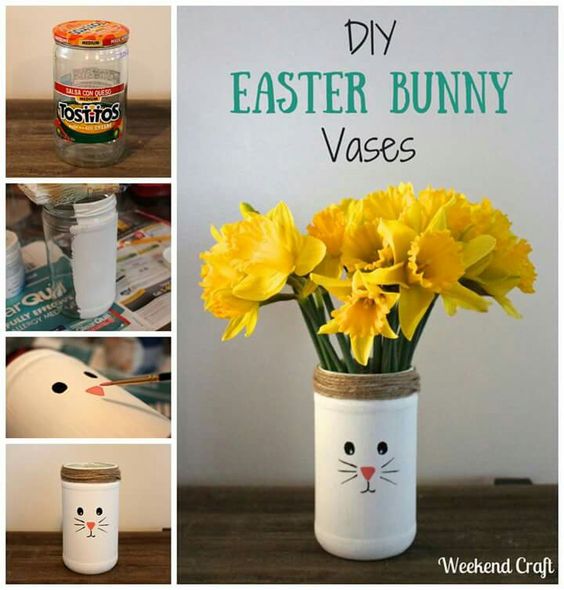 Cut out a ceramic or plastic bunny and put some water and soil inside to plant a flower. You can position the flower outside your house. Many prefer to use the bunny as a flower vase. Pluck or buy some roses and put them in a bunny vase filled with water.
Easter paper rose basket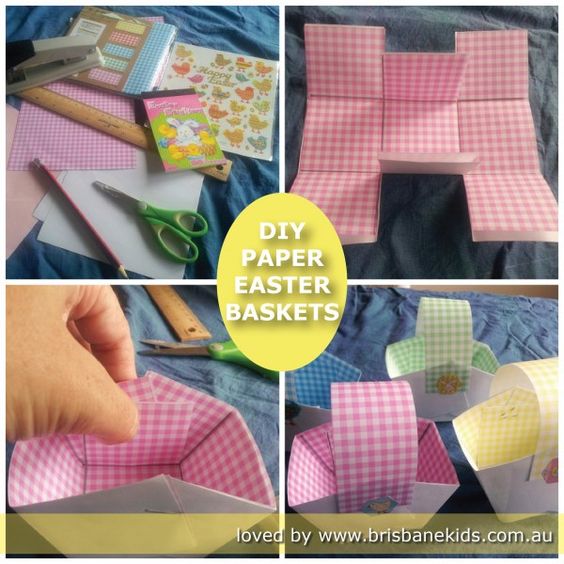 Make a rose flower with pink or red coloured papers which is open to looking like an empty basket. Fill the space with decorated eggs and a small sized bunny and display this art in your house. via brisbanekids
Easter bunny cookies

Have some creative time in your kitchen. When making cookies for your family and friends, shape them into small bunnies and proudly serve your guests. You can also make a bunny or egg-shaped cake and serve it as a desert. via thebearfootbaker
Table top Easter tree

Buy a tree with leafless branches and make your own Easter themed leaves. Use some birds and light eggs to fill up the leaf space. Decorate the eggs before you hang them. You can also use different coloured birds to brighten your tree. via skiptomylou and peanutblossom
Bunny crossing sign

If you have a sign outside your house, be it a crossing sign, a house on sale sign or don't trespass on the grass, it is time to customize it. Use a bunny shaped sign and write the words in bright colours. via confessionsofaserialdiyer
Easter egg or bunny garland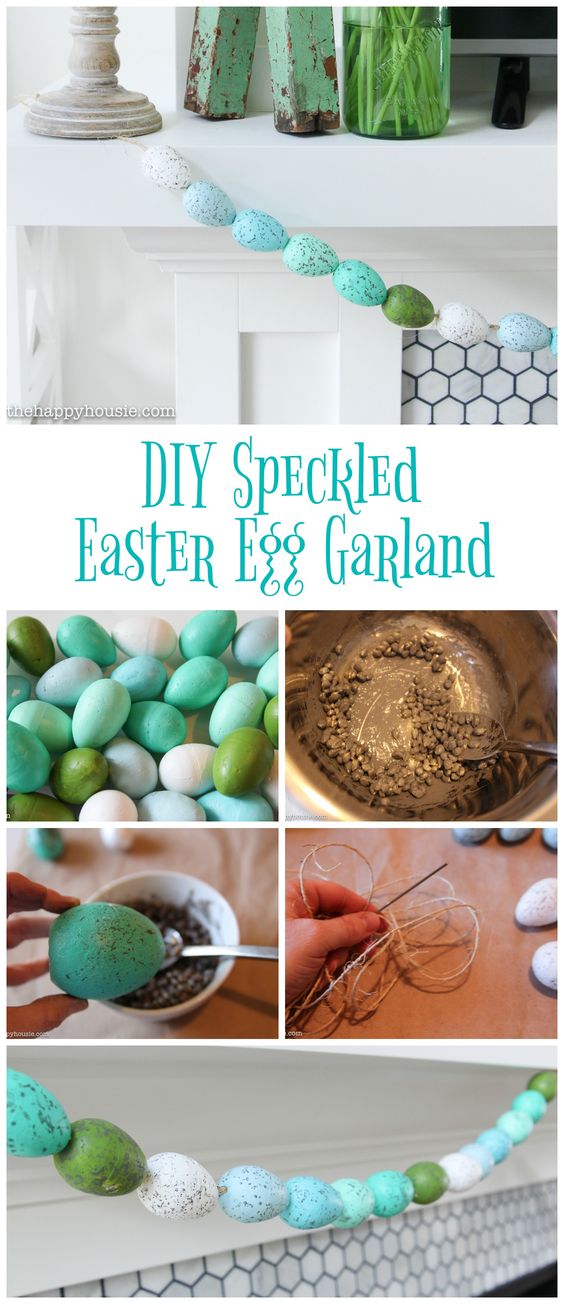 Use plastic or wooden eggshells to make a colourful garland. Decorate your walls with it on your porch, inside the walls of the house or at your staircase. Bunny shaped construction papers make a perfect garland to be put in kid's rooms. via thehappyhousie.porch.com
Bunny themed Decorated Manson jars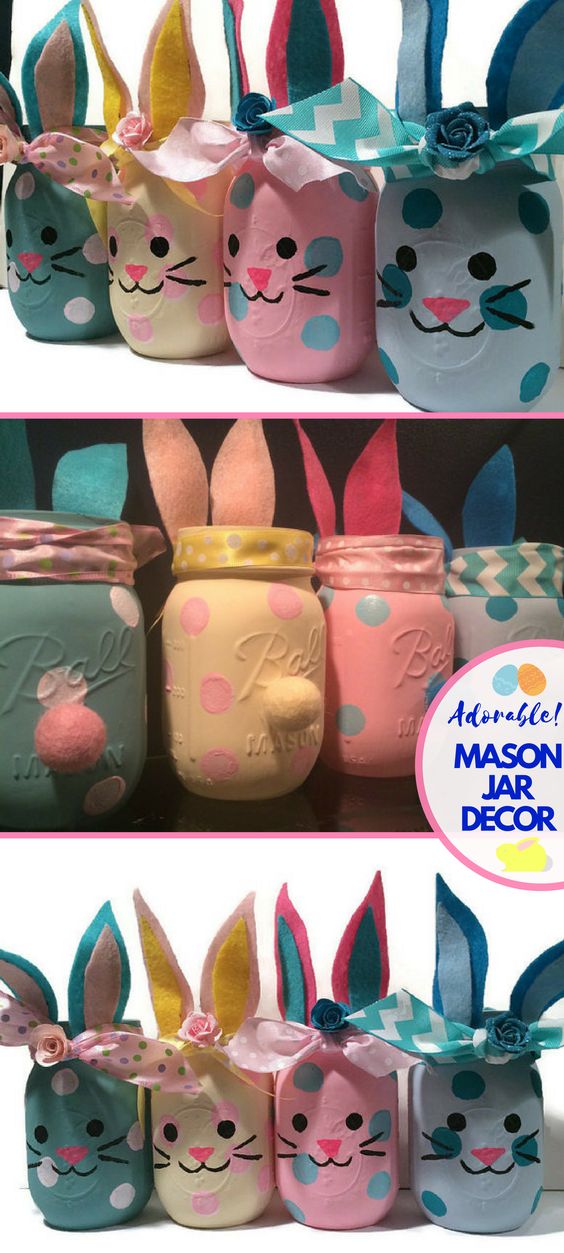 Paint all the Manson candy jars and then draw bunny ears nose and mouth. Inside the jar, put egg-shaped chocolate bars and other candies for the kids. via etsy
Easter egg wreath

To make this wreath, use an iron or branch to make a round frame and place decorated eggs around the frame. You can throw in some green leaves to add some life to the wreath. via wineandglue
Easter bunny gift tag

When sending Easter gifts to your friends and family, use an Easter bunny tag. The same applies to those sending flowers to their loved ones where you can use a bunny shaped card to leave a message. via ohmy-creative
Easter cupcake wrapper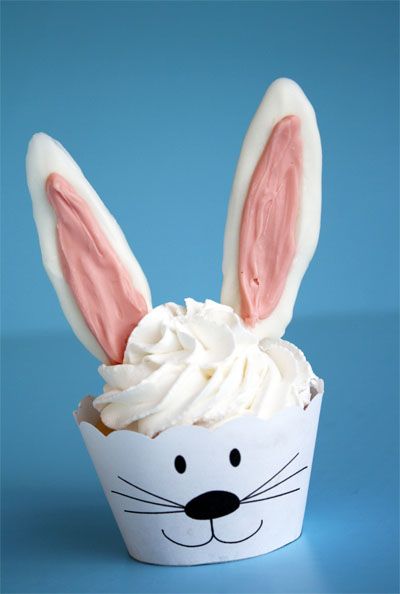 When baking cupcakes at your house or in your restaurant during Easter season, change the design of the wrapper. Use bunny shaped cupcake wrappers instead and have them coloured differently. via skiptomylou
Bunny shaped moss wreath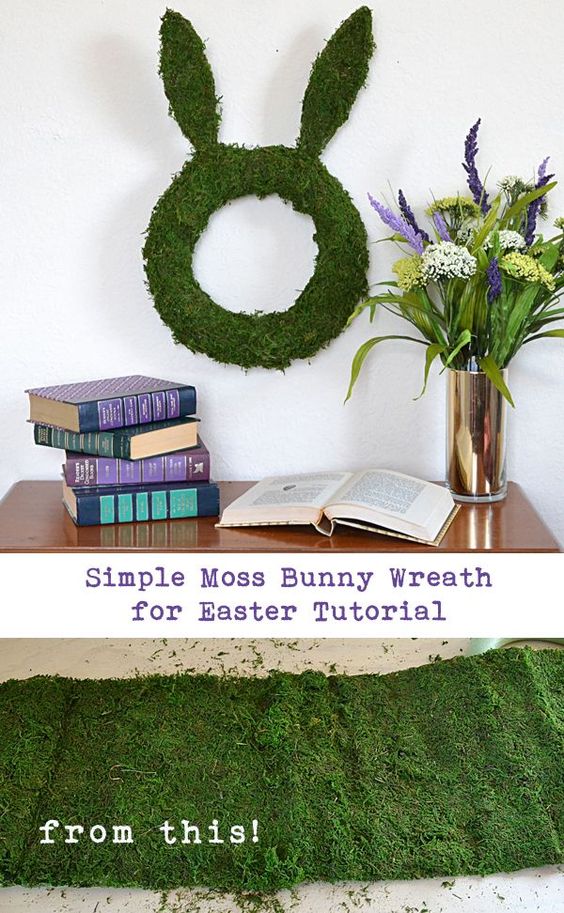 To break from the bunnies and eggs, use a moss made wreath at your front door. Moss is a good plant to use as it is a succulent plant that doesn't need to be watered every few hours. The green colour also matches with the ester theme of life in abundance. via momspark
Easter tattooed eggs

Time to use the temporary tattoos on another exciting thing. Buy plenty of temporary tattoos and decorate your eggs. You can decide to choose tattoos that bring out the Easter theme or just any tattoos that you like. via diycandy
Disney eggs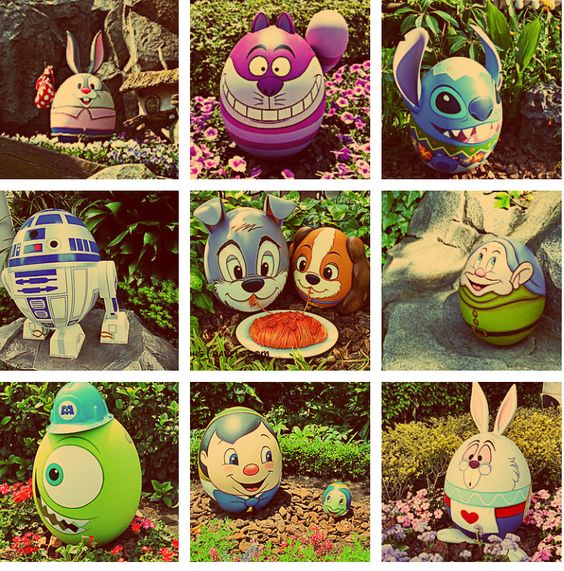 Let the kids participate in Easter by decorating the eggs with their favourite Disney characters and movies. For this, use wooden or plastic egg shells.
Easter centrepiece with tall glass cake pedestals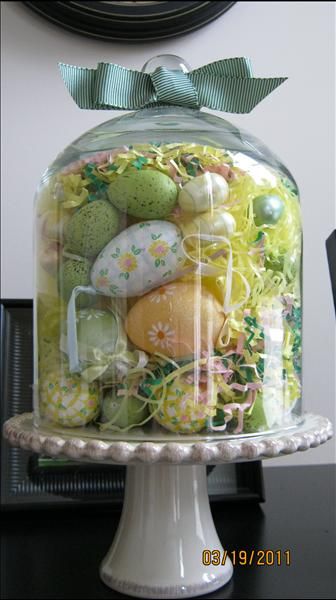 Instead of using your dessert as the centrepiece on your dining table, use your cake stand to display coloured eggs. You can arrange them depending on colours or size of eggs. Add some green leaves or flowers to complement the look. via jennifercooks
Framed paper Easter bunnies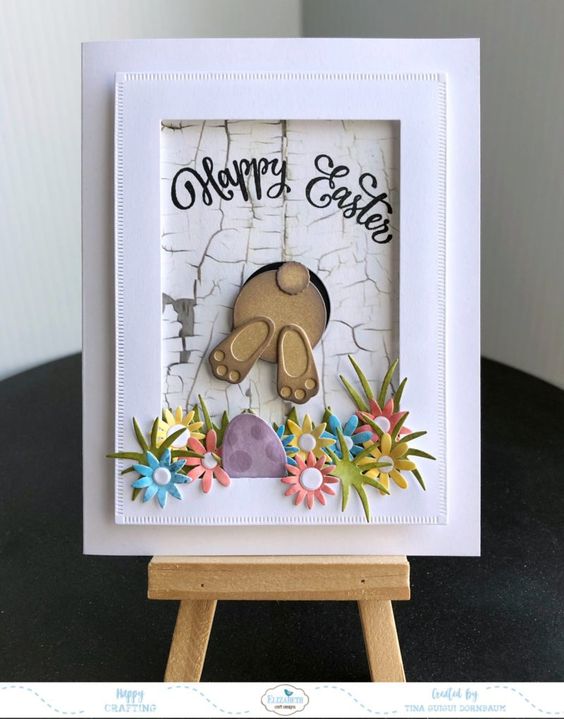 Framed paper bunnies can be drawn by an experienced artist or you can have your family members compete at drawing bunnies and later frame them. Display the final pieces in your house. via elizabethcraftdesigns
Easter bunny eggcups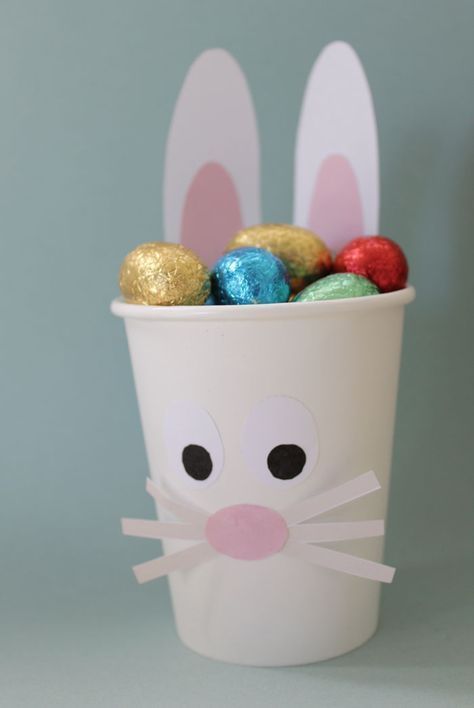 Have some white cups, different coloured napkins and eggs. Wrap the eggs with the napkins to bring out V-shaped edges that resemble bunny ears. If the eggs are big enough, decorate them to have bunny nose and mouth, if not, but the face features on the white cup.
It is evident that you can bring in the Easter mood into your home without investing a lot of money. The above ideas are simple, but they bring the whole family together including kids. The level of creativity is limitless, and you can decorate the eggs with anything as long as you have means of sticking your chosen décor on them.