Pumpkins are popular during the fall season, whether used as a dish or as a decorative piece. Homes are often decorated with various pumpkins this time of the year, especially during Halloween. With a bit of handiwork and creativity, you can transform this autumn harvest fruit into many economical, stylish and functional crafts for our home decor.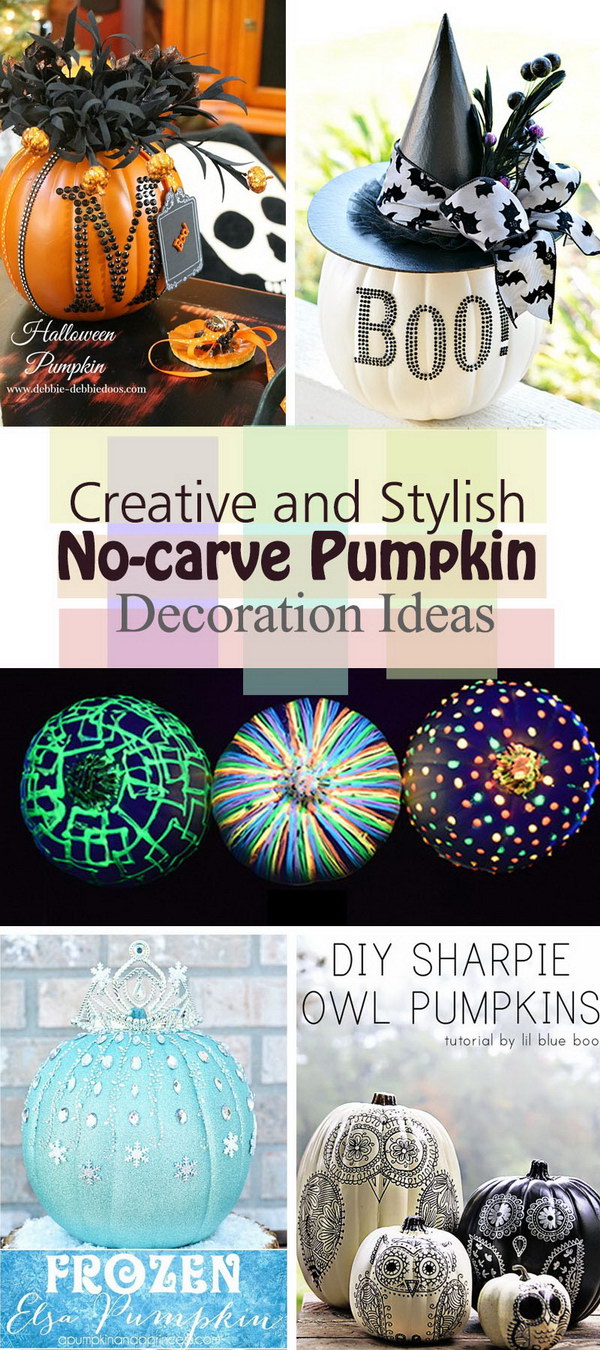 Today we have rounded up some cutest no-carve pumpkin ideas for Halloween decoration, which will surely inspire you much. Take time to browse through these pictures and welcome the warmer hues of fall with your favorite one.
DIY Black & White Glam Pumpkin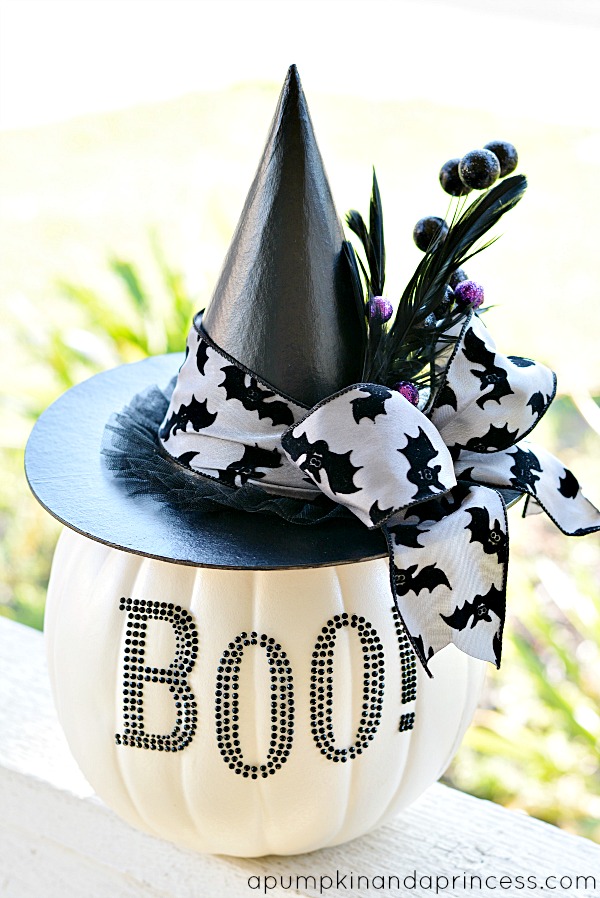 This white faux pumpkin is decorated with rhinestones, a decorative black and white bat ribbon and a paper Mache witch hat. See the directions at A Pumpkin and A Princess.
Melted Crayon Pumpkin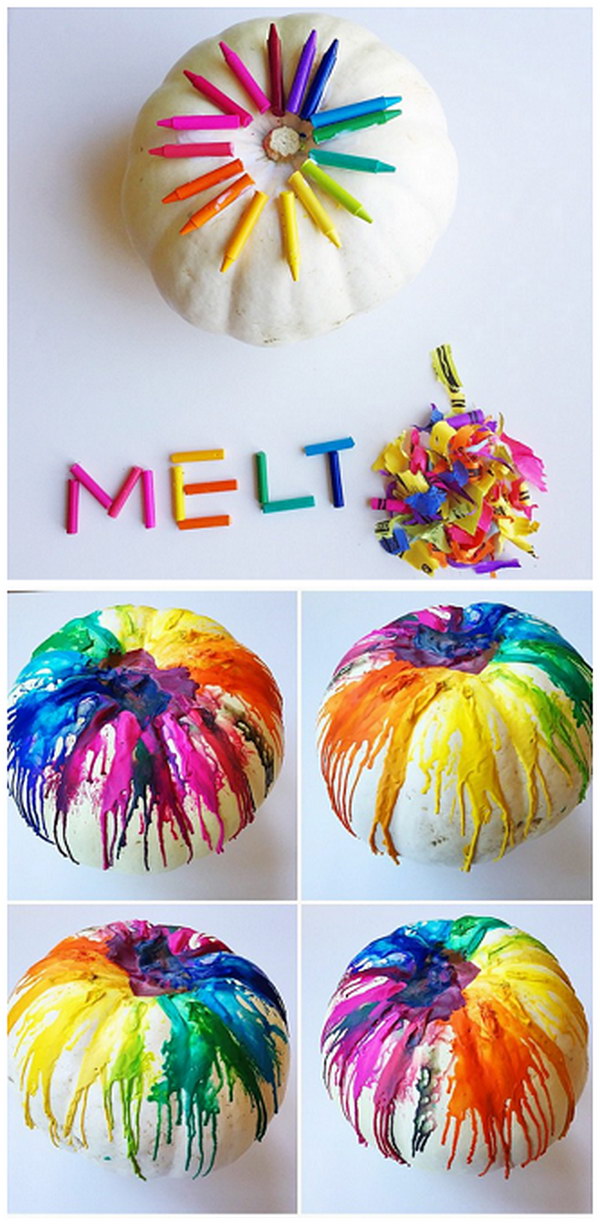 Such a fun and beautiful no carve pumpkin decorating idea for fall and Halloween! Follow the step-by-step tutorial via Crafty Morning.
DIY Two-sided Decorative Pumpkins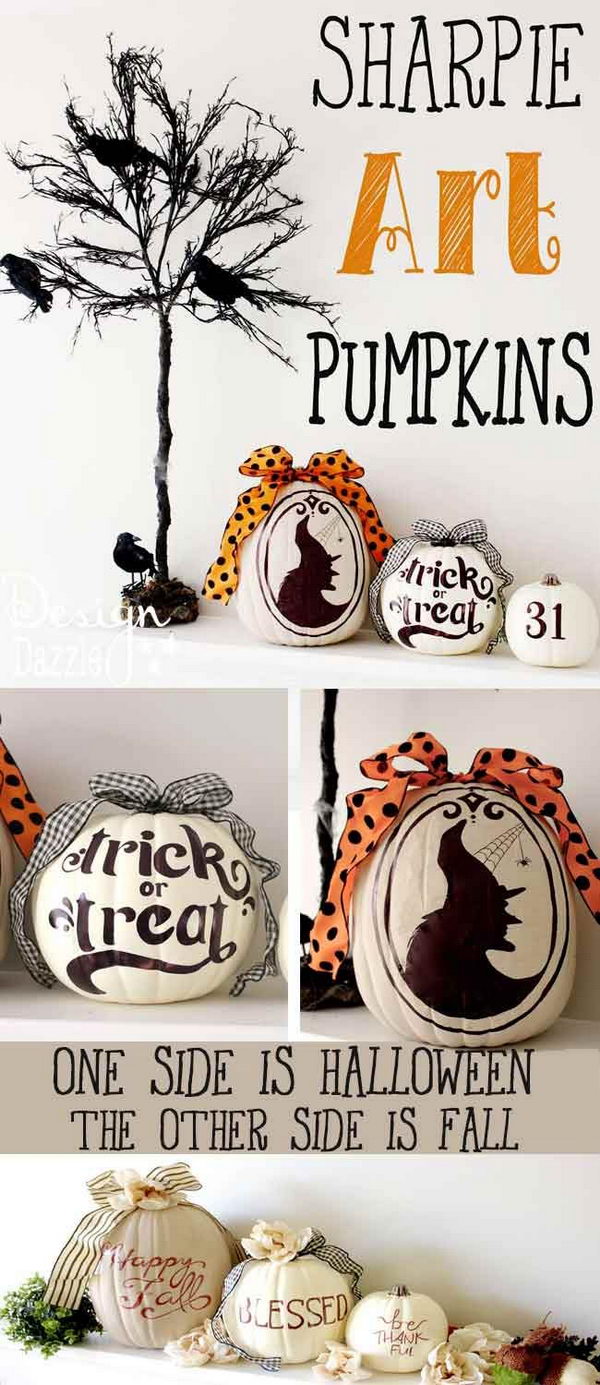 Make these two-sided pumpkins for decoration. One side is for Halloween and one side is for Fall. Tutorial via corporate.
Bubblegum Machine Pumpkin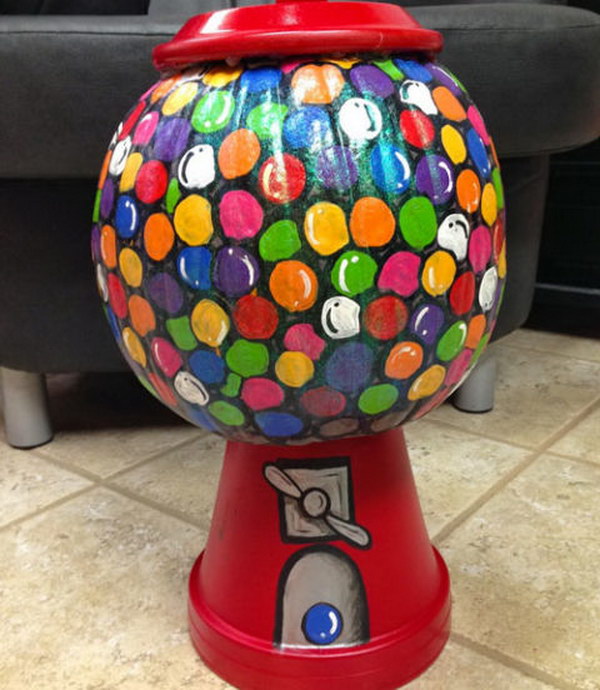 Use the painted terra-cotta flower pot as the base. Paint the pumpkin as the bubblegum style. Love this very much! Want to make one at home? Check out the tutorial via My Life With a Cherry on Top.
Halloween Black Cat Pumpkins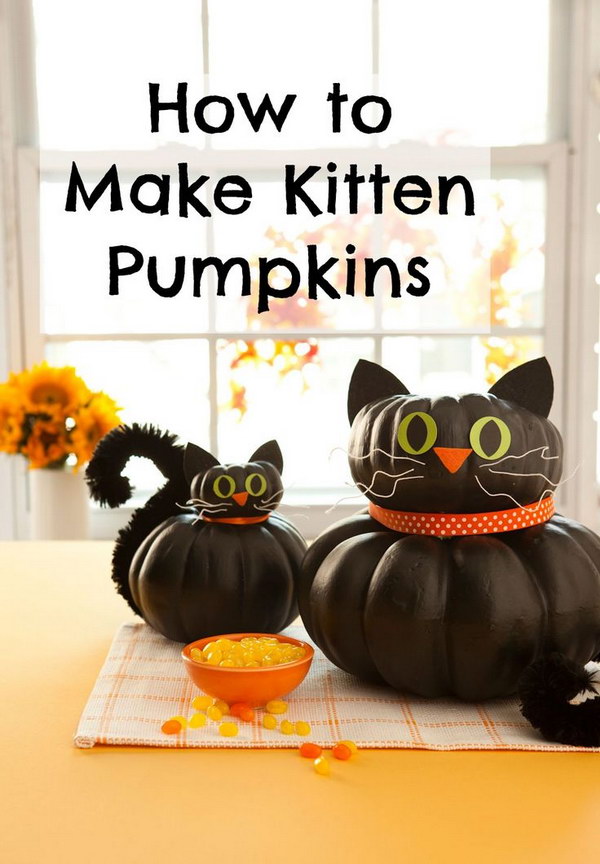 This pair of Halloween black cat pumpkins on a windowsill add more cute decorative touch to your home this fall or Halloween. See the directions via all you.
Cute Hello Kitty Pumpkin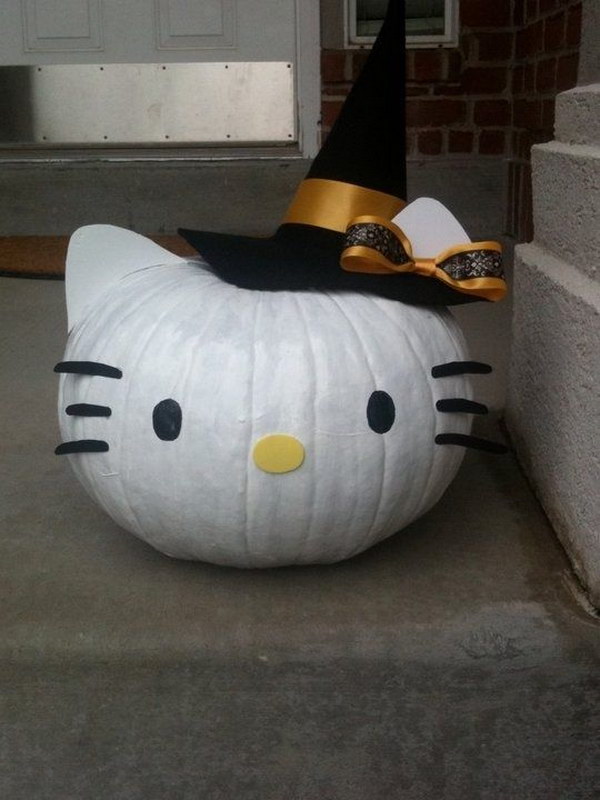 White painted Hello Kitty and a cute witch hat on top. Perfect pumpkin craft for your kids to have fun! source
Bats Flying Across A Pumpkin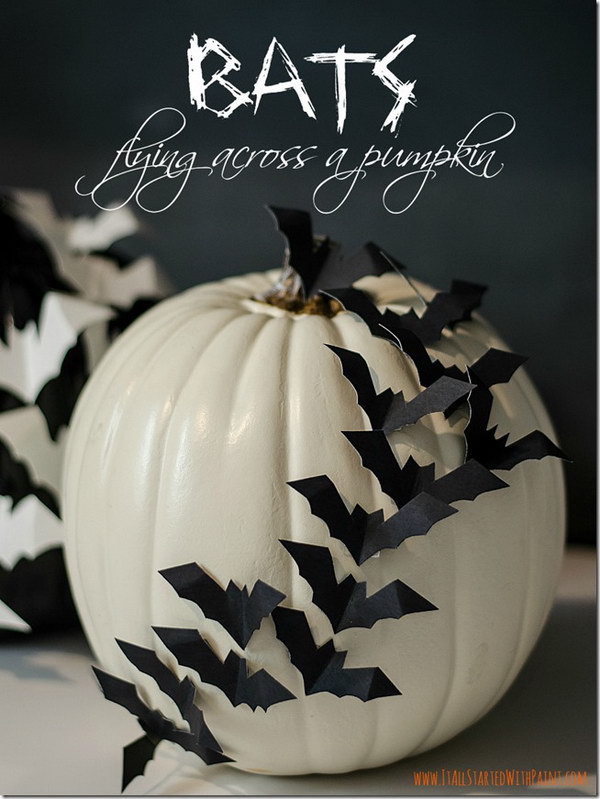 Quick, fun and easy to make! What you need is some paint. Get the directions via It All Started With Paint.
Halloween Monogrammed pumpkin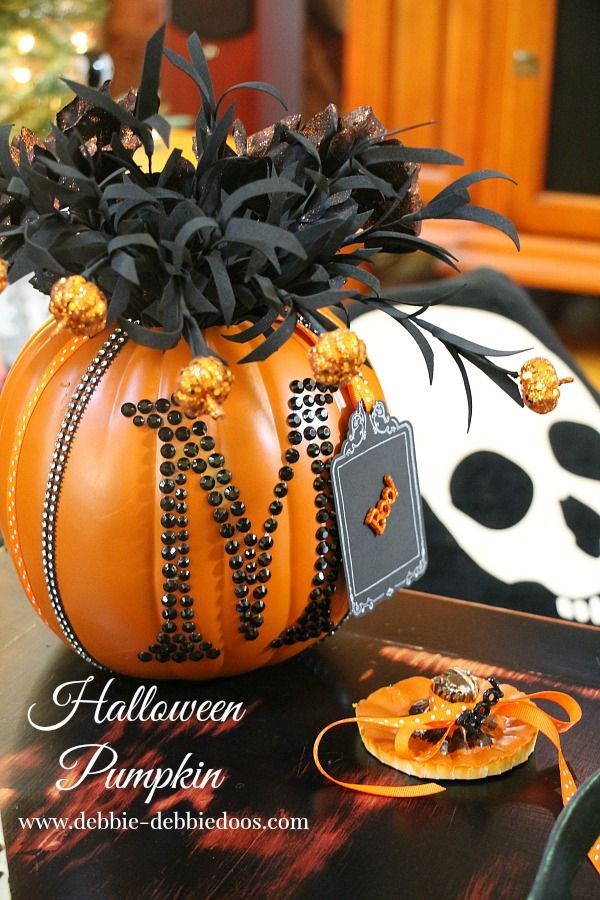 Super chic and personalized pumpkin decoration this fall and Halloween! See the tutorial via Debbie Doos.
Halloween Candy Corn Owl Pumpkin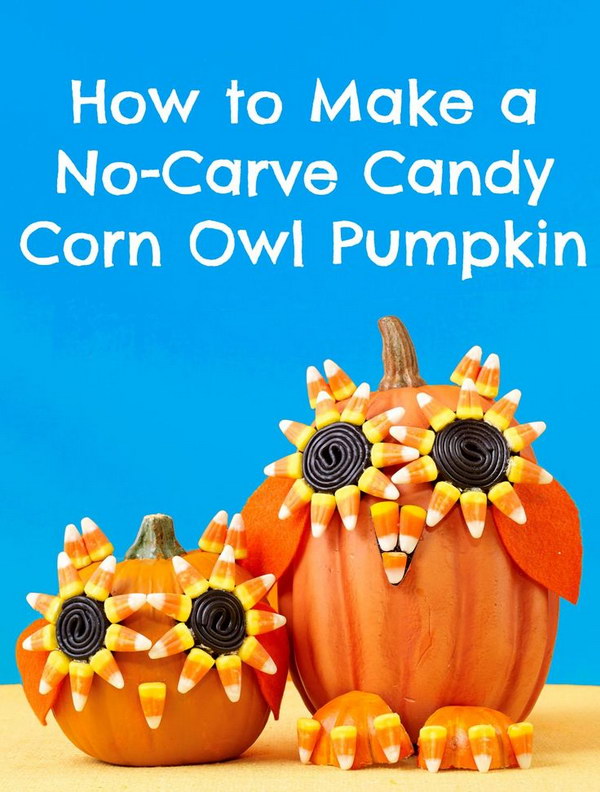 Decorated the no-carve pumpkin with candy corn and licorice for a Halloween owl craft. Get the directions via all you.
Tuxedo Pussycat Halloween Pumpkin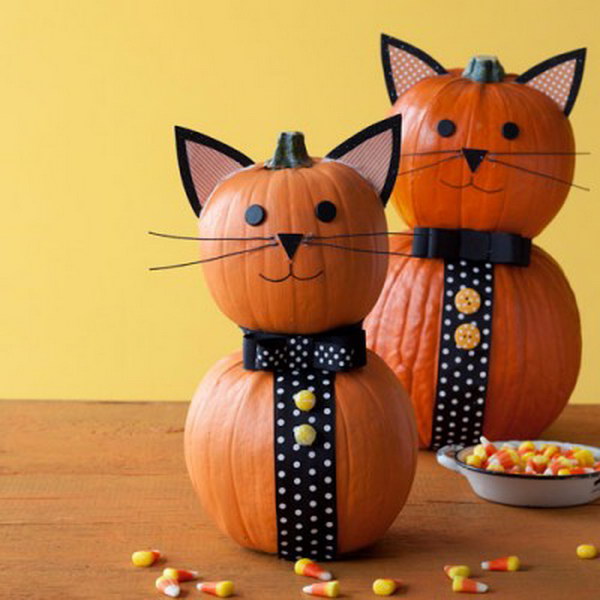 Dress up the pumpkin with a duo of black-tie kittes for your porch decoration this Halloween. It must win a wow! Get the tutorial via all you.
Gold Bling Pumpkin DIY

Super cool and stylish metallic pumpkin in your home! Get started to make one this time with the tutorial from The Swell Designer.
Decoupage Photo Pumpkin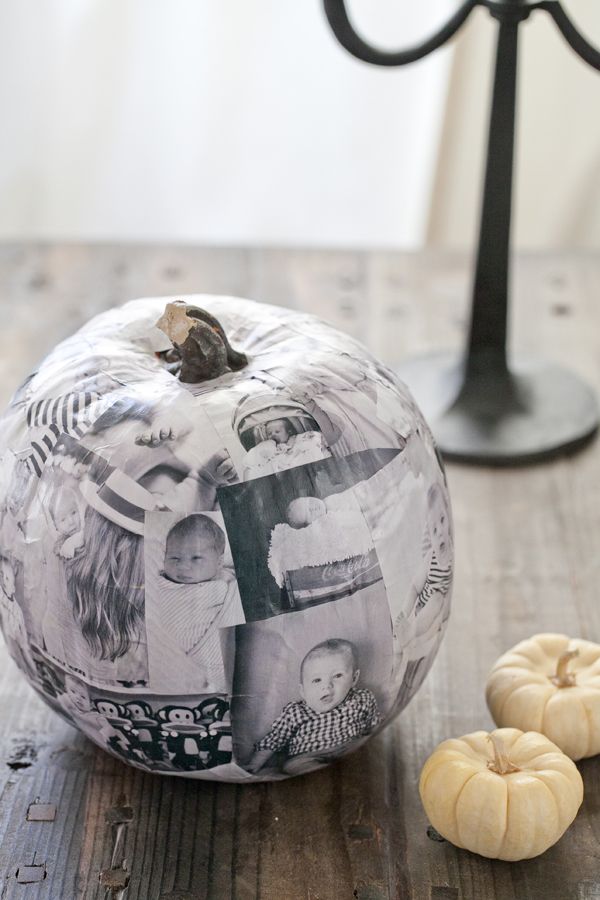 This no-carve pumpkin crafT is made with a faux pumpkin and decoupage glue and can be doubled as delightful home decor. Check out the tutorial via Sugar and Charm.
No Carving Mickey Mouse Pumpkin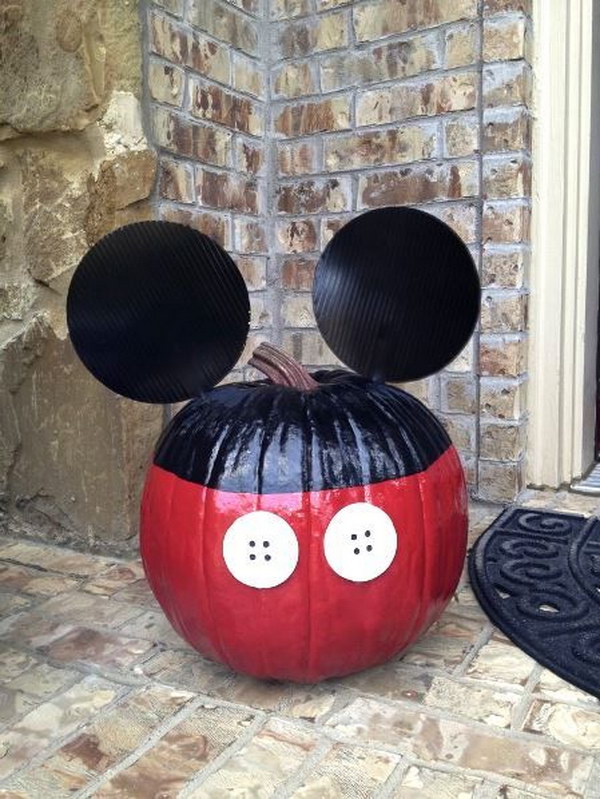 This cute Mickey Mouse pumpkin is perfect for both Mickey Mouse party and Halloween too. source
DIY Glow in the Dark Pumpkins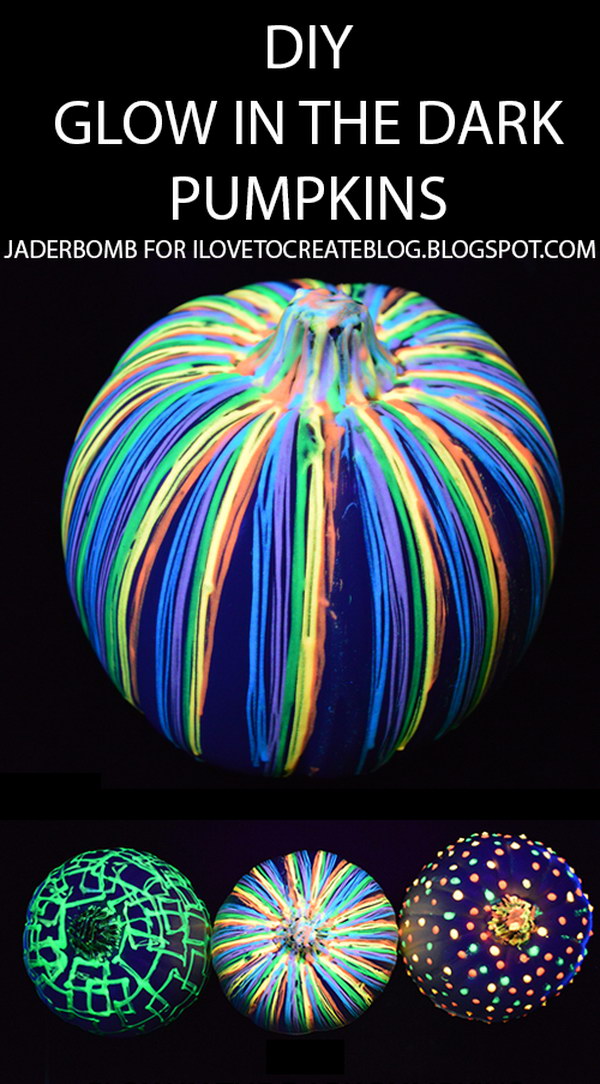 These glow in the dark pumpkins are so cute! They are stylish and super easy to create. Get the tutorial via i Love To Create Blog.
DIY Shappie Owl Pumpkins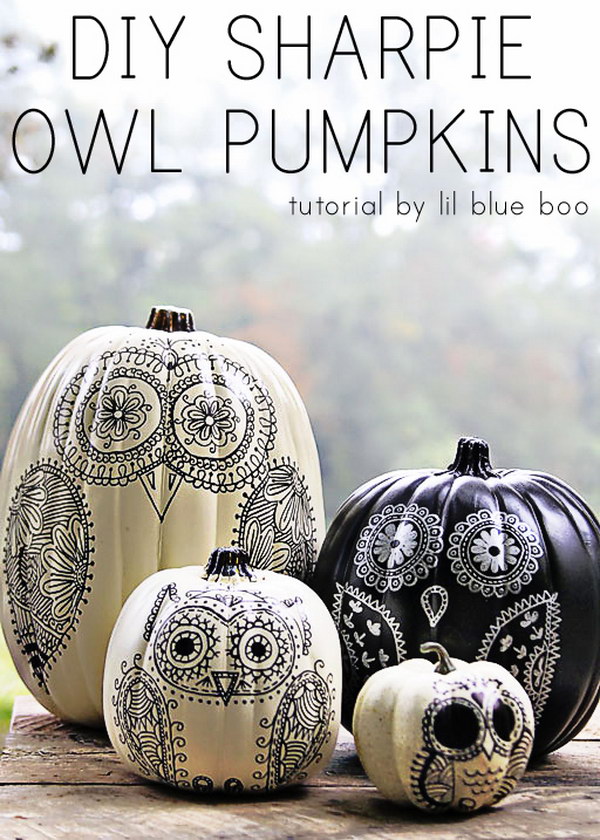 Full of Mexican art! You will love it very much as the Halloween decor piece at home. Tutorial via Lil Blue Boo.
DIY No Carving Frozen Elsa Pumpkin

Oh, my word! This frozen Elsa pumpkin is seriously adorable! And it's much more easy to decorate than you may think. Tutorial via apumpkinandaprincess.
DIY Lace Pumpkin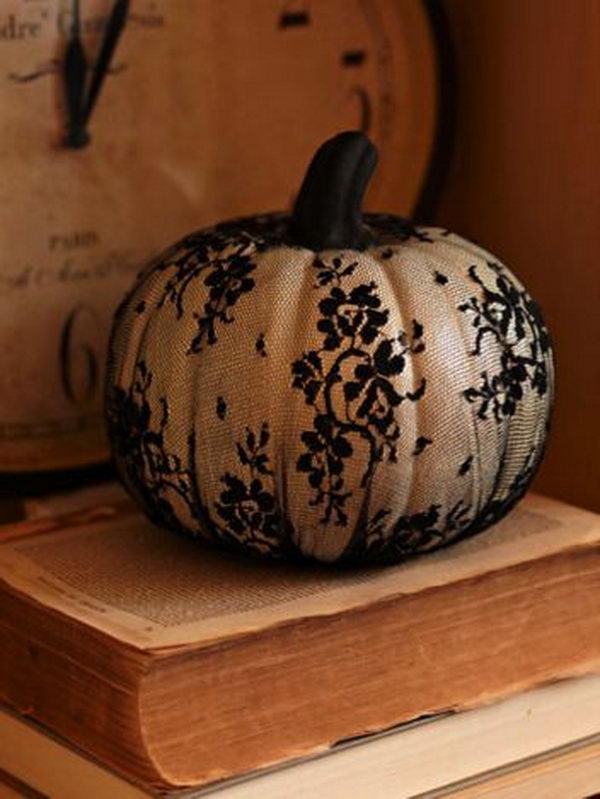 Pull a large lacy stocking over a pumpkin. What an easy and beautiful way to add touches of vintage to your décor! Tutorial via pinterest.
DIY Owl Pumpkin

Make some very cute pumpkin owls using 5" and 9" pumpkin, a little paint, stickers, pipe cleaner, glitter glue and googly eyes! Tutorial via corporate.
DIY Sugar Skull Pumpkin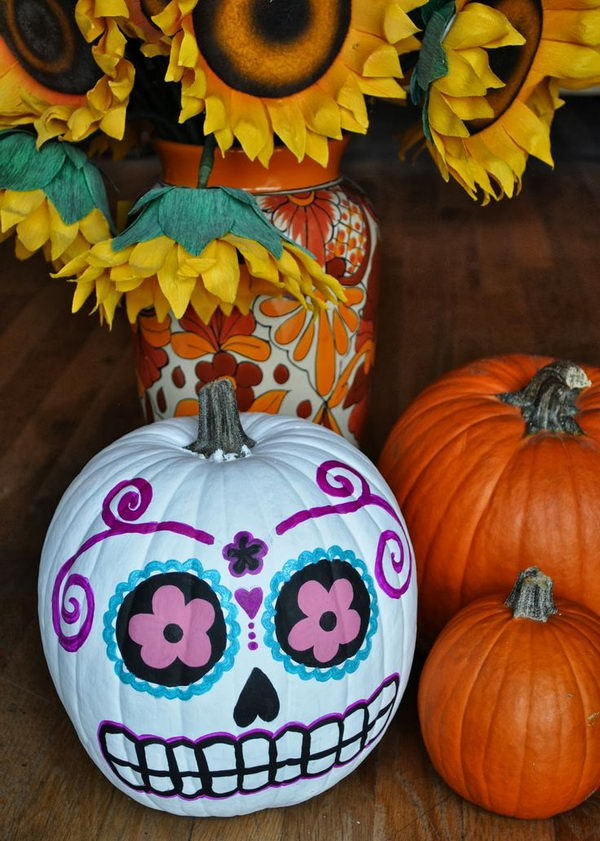 Tutorial via artelexia.
DIY Chic Glam Pumpkin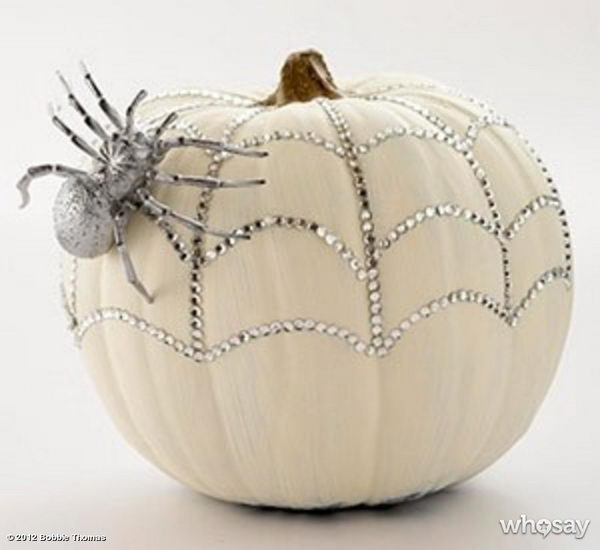 Decorate your pumpkins with rhinestones and spider and make it a beautiful glittery decor for the Dead day. Tutorial via bhg.