The corners of the houses are some of those places that most people ignore or do not know what to do with them. It is a fact that they are just weird places that do not come with an automatic solution like the other parts or sections of a home. But, it is still possible to turn these dead spaces into a DIY design challenge by making some cute shelves. And if you are creative enough the corner shelves might even prove to be one of the most prominent elements in the room regardless of how awkward the edges might appear.

Shelves are also functional and by making them you will be adding some extra space to your home that you can use for anything from books to your kid's toys. Here are some DIY shelves that you can try out to eliminate and beautify those awkward corners in your house.
Easy To Make Corner Shelving System

These shelves are very straightforward, and they are an ideal project for people that do not have a lot of craftsmanship. They entail using some planks of woods to form a few shelves on the corner, and the only other things that you need are brackets, standards, and the drilling tools。 via abeautifulmess
Ikea Lack Shelf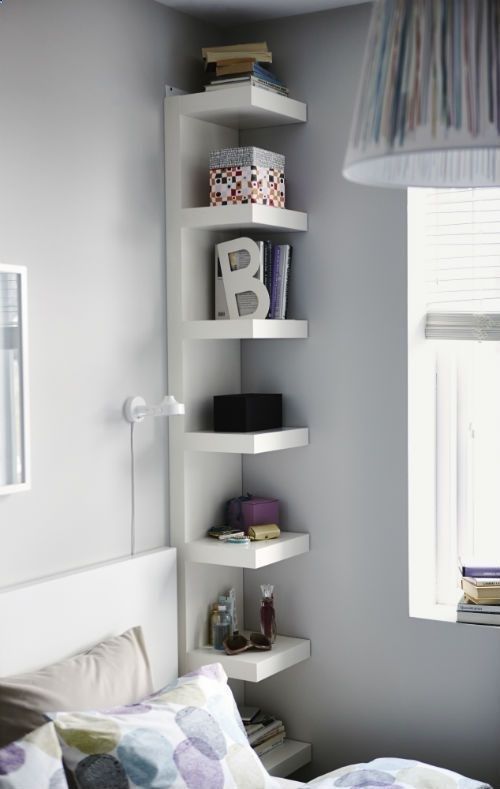 You can get this shelf as it is from a store and just nail it on the wall or you can make it at home. To make it you will need one large plank of wood on which you should nail or screw the small pieces which can be as many as you want to form the shelves. via ikea
Cat Shelves Boxes in the Corner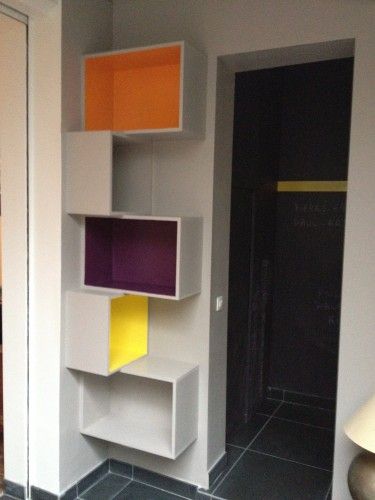 This project is about mounting some medium size cat shelves boxes in your awkward corner. However, the pattern which entails placing them on the two walls in an alternating manner and the bright colors are what makes them look unique.<、p>
Creative Wall-Mounted Shelf Industrial Pipe Racks in the Corner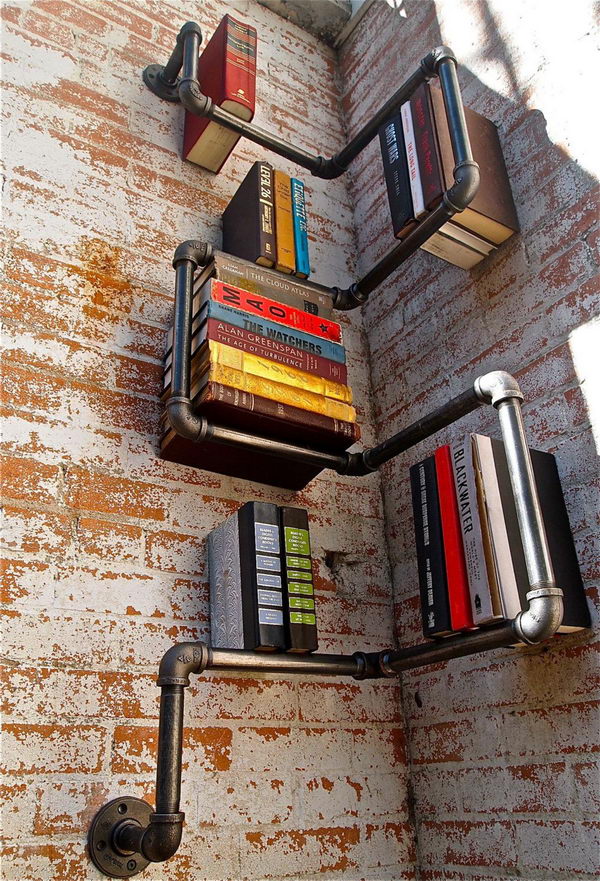 If you have some old industrial pipes lying around this project will give them some new use. It entails mounting them on the wall in an original pattern that leaves just enough space to accommodate books between them and the wall.
Corner Shelving For Small Space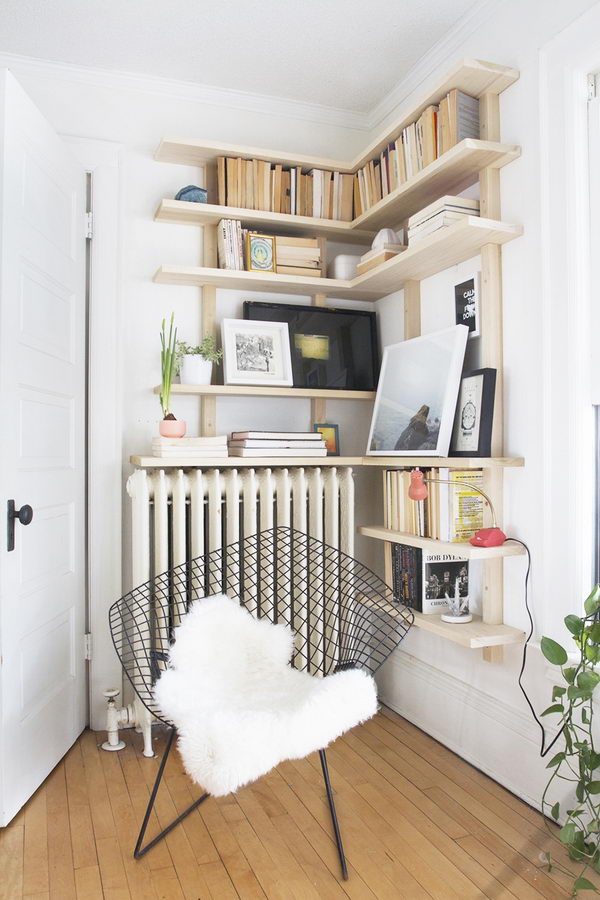 That awkward corner in your small space can be very effective in giving you some extra storage and beautifying your home. A few planks of wood and some small pieces to act as the brackets are all you need to create these beautiful but functional corner shelves.
Small Corner Shelving

As much as you might want to have shelves in your awkward corners, some are just too small for the regular types and so you have to get creative. These shelves that entail nailing each individually to the walls portray an easy way for working with such corners.
DIY Floating Corner Shelves

Floating corner shelves are easy to make, and this is more so if you keep thing straightforward like in this project. Here you should start by nailing pieces of 1 x 1 in the corner and then put the triangular pieces up and below them. You should then finish by installing a face board over the top and bottom pieces. via 4men1lady
DIY Corner Shelves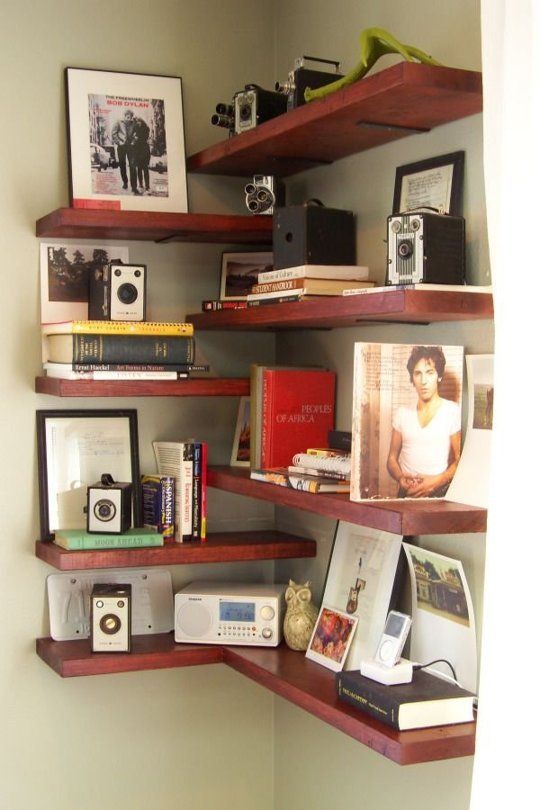 That little and very lonely corner in your living room can do with some cute shelves like these. They are in a hanging style, and you only need to plan your brackets in the two walls in an impressive pattern before installing the untreated pine boards. via ahomewest
Floating Corner Shelves for Small Space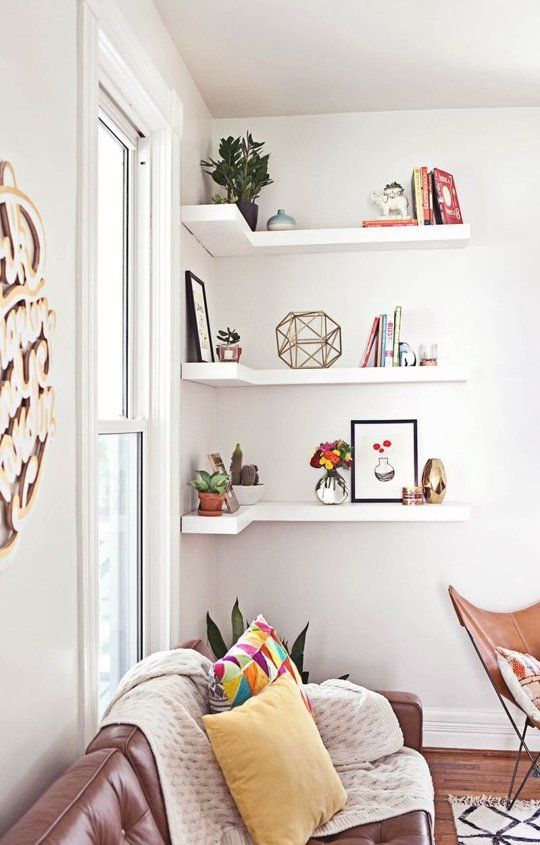 Anyone can do this DIY project because there is nothing complicated about it. The shelves only entail screwing some boards to the walls in an L-shape and painting them to match the theme of your home. via abeautifulmess
DIY Wood Corner Wall Shelf With Drawer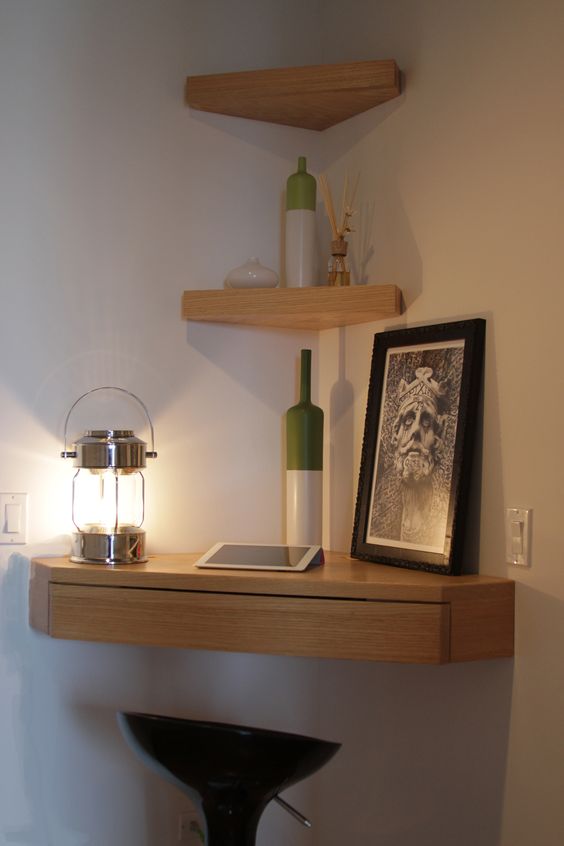 This shelve design will also require you to install some triangular pieces on the corner over a 1 x 1 and a face board. But, the bottom shelf should be bigger than the others, and you should replace the front board with a drawer.
Open Corner Shelving for Kitchen Storage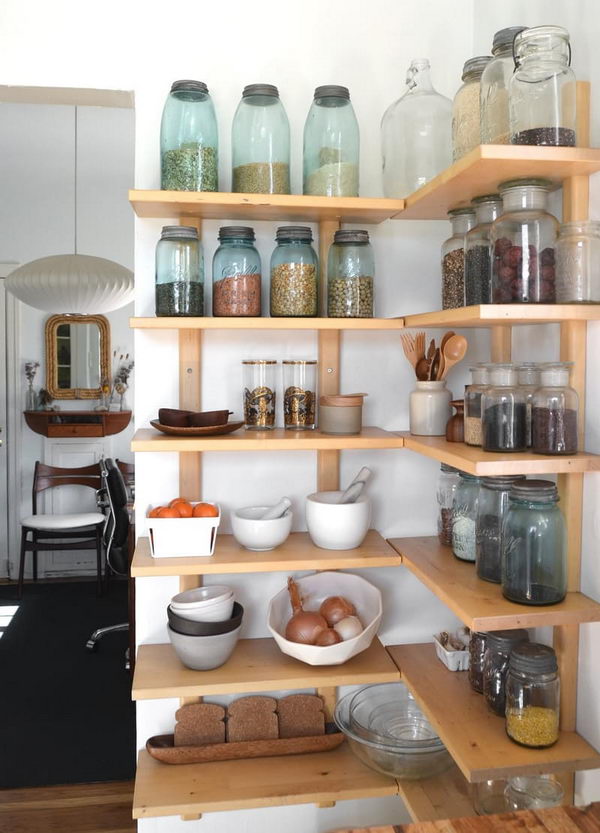 If you do not have the funds to convert your awkward kitchen corners into some fancy cabinets, shelves are the second best alternative. Some like these are cost-effective and easy to make because you only need to nail some planks of woods on the walls with a few small pieces acting as the brackets. via thekitchn
Nursery Corner Bookshelf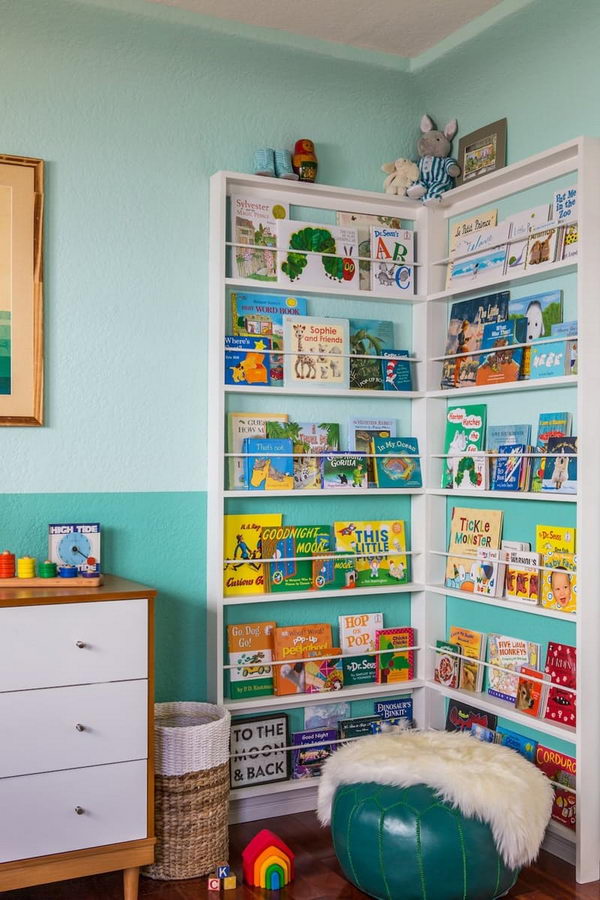 The odds are that you already know what you want in your kid's nursery and how to design it, but corners are probably not in your mind. However, a bookshelf like this one that you can make as a DIY will help take care of them, and you will have a special place to keep all your kid's favorite books. via apartmenttherapy
DIY corner Floating Shelves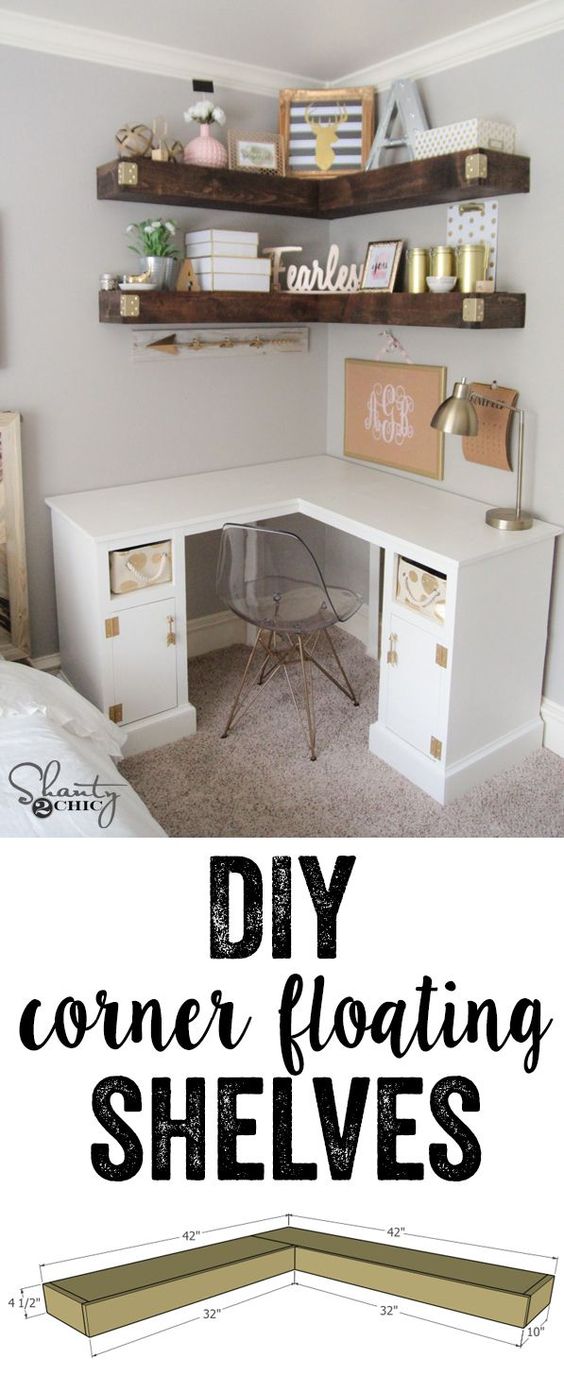 These shelves will require you to build some braces which you should mount on the walls to form the base and frame for the shelf. You should then cover them with plywood and finish by staining the new shelves. via shanty-2-chic
DIY Built in Corner Shelves

The decorative trim is what makes this bookcase stand out, but its massive size also means that you will have plenty of storage space. Although it needs a lot of effort to create, everything else will fall into place once you form the basic skeleton. via copperdotinteriors
Custom Corner Book Shelves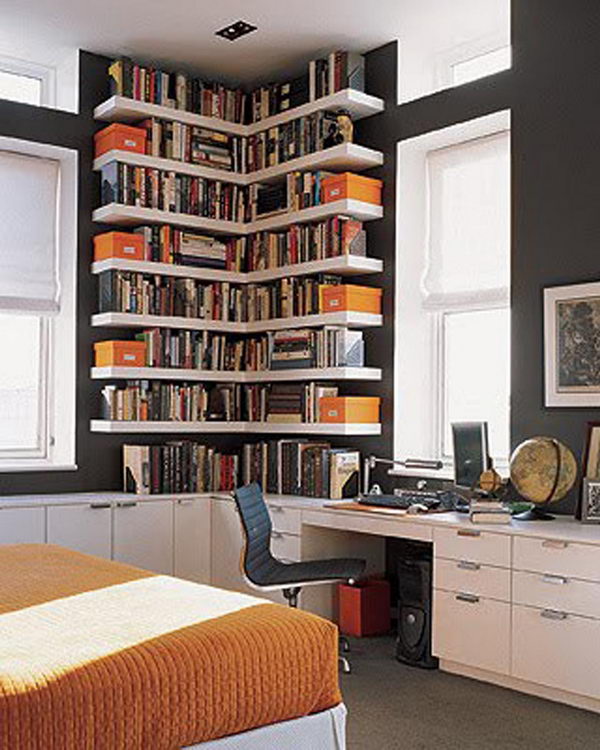 The black wall color and the white shelves create a striking contrast, and it is what makes these shelves look sophisticated. But, they are very easy to make because there is nothing much you need to do except from mounting the solid board on the two walls and painting them white.
Wrap Around Corner Shelf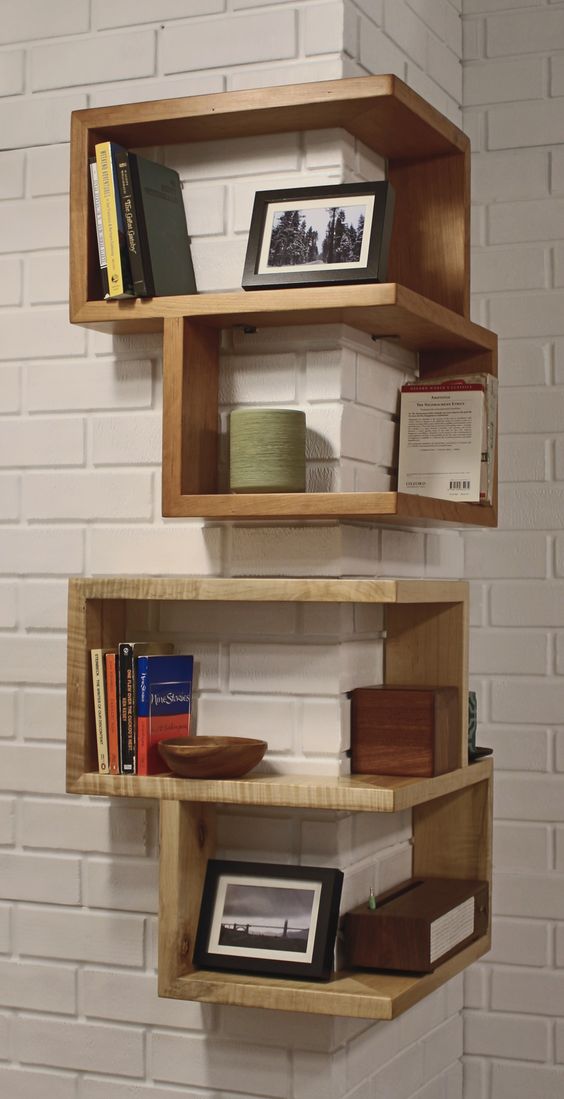 This inventive wrap around design is perfect for dealing with an awkward protruding corner. The project involves creating some 90-degree corner shelves using small planks of wood, but you will also need wood glue to join them on the corners. via modernwow
Corner Shelf for Nursery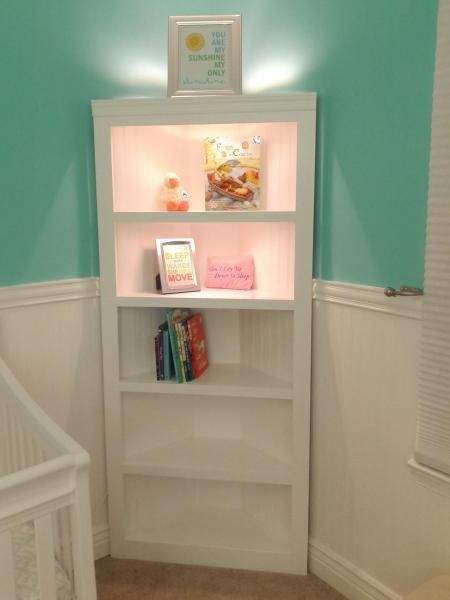 A project like this one should take you about six hours to complete if you have all the materials. It is about making some triangular corner shelves with a solid frame around them and enhancing them with a creative lighting. via ana-white
Shelf can be Hung Positive or Negative Depending on Your Corner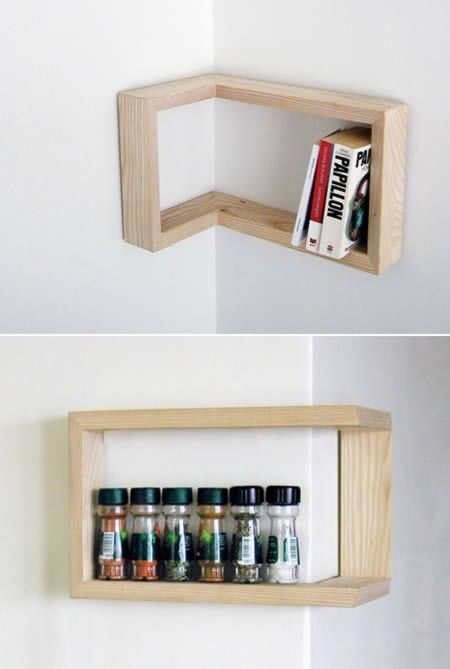 The shape of your awkward corners is what determines the best shelf that you should create for them. This small shelf can work for any corner, and it is easy to make as you only need a few small wood pieces and nails or screws. via decoist
DIY Solid Wood 3D Shelf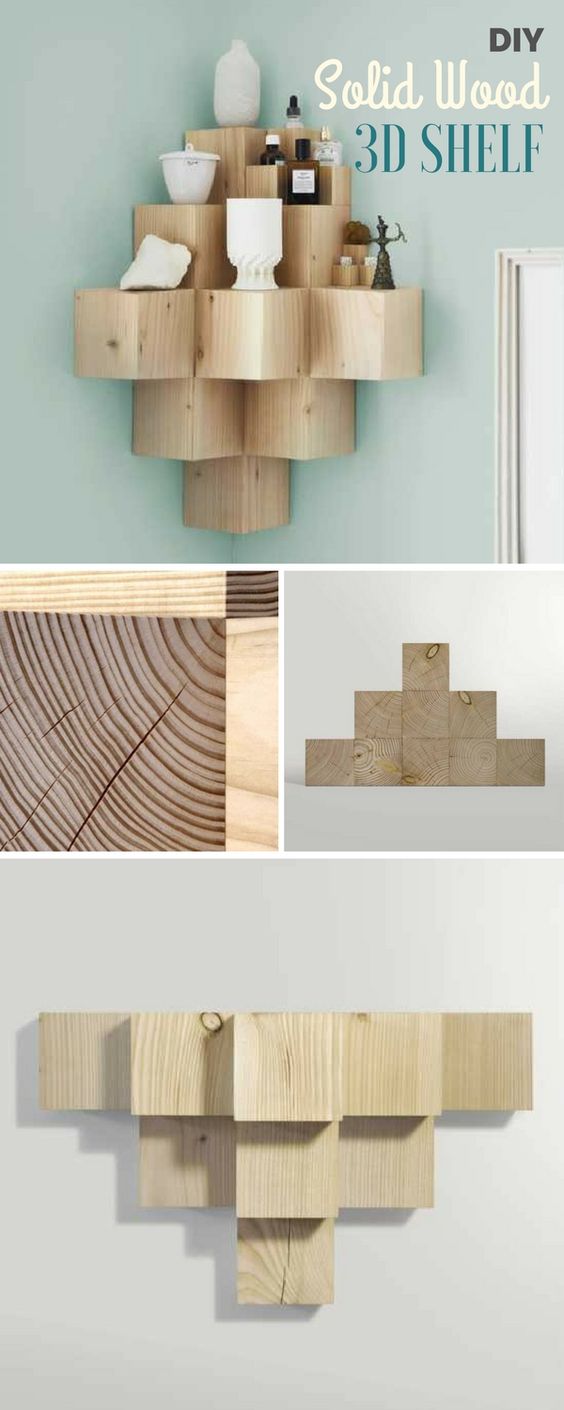 Some thick lumber shelves like these are a perfect DIY project, and you can be confident that they will add some elegance to your rooms. The shelves entail installing some leftover lumber blocks in a creative pattern in your corners. via lushome
Tree Bookshelf in the Corner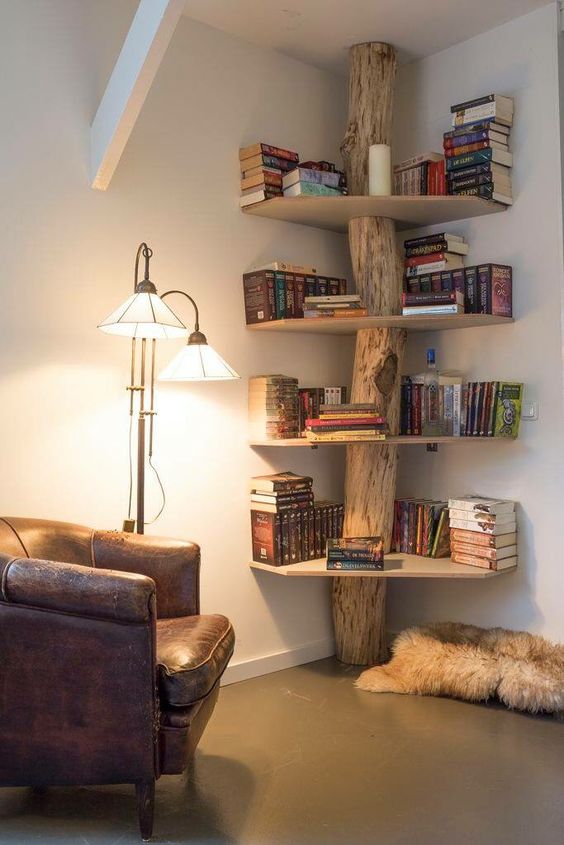 A corner shelf cannot get more inventive than this. The concept is very simple, but it still creates something amazing. It entails using a large log that stretches all the way from the ceiling to the floor as the centerpiece of the shelves. To do this, you need to cut holes in your shelf boards for the tree to pass through.
Corner Shelf Made of Plywood

This DIY project is about installing some 12-inch plywood on the corner walls using some pocket screws. But, you have to get imaginative with the installation pattern as it is what makes the shelves look attractive. via fool4peppers
DIY Corner Shelves for the Kitchen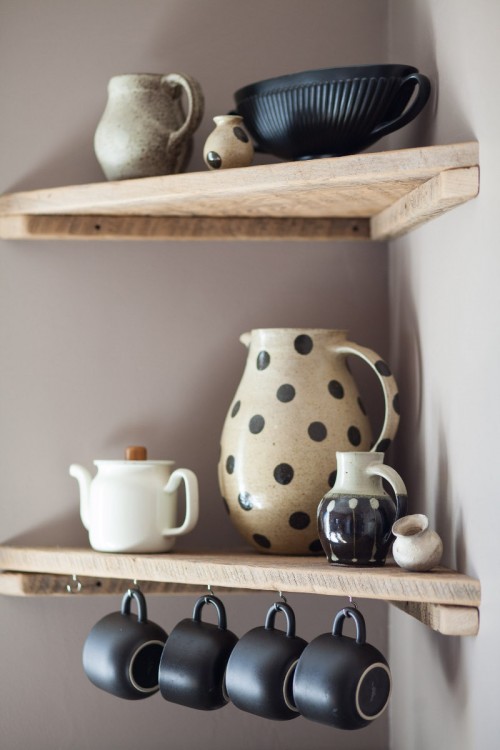 These reclaimed wood shelves will require cutting the lumber into some triangular shapes to fit the shape of the corner and supporting them from below with some small straight pieces. via designsponge
Corner Shelf With Light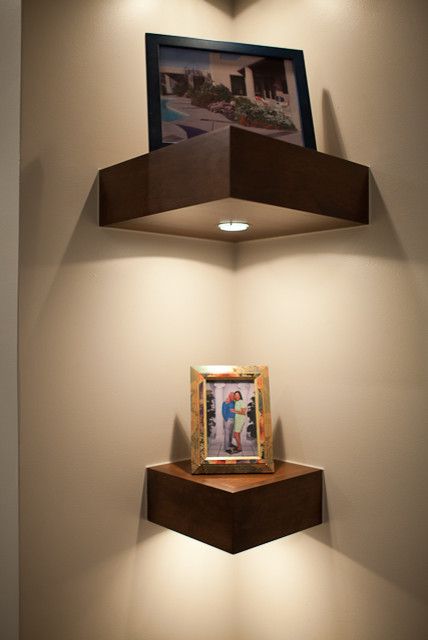 You will need some medium size planks to form the frame for this box corner shelves and use plywood to complete them. However, you also need to stain the boxes and install the beautiful lighting.
DIY Corner Shelf for a Small Bathroom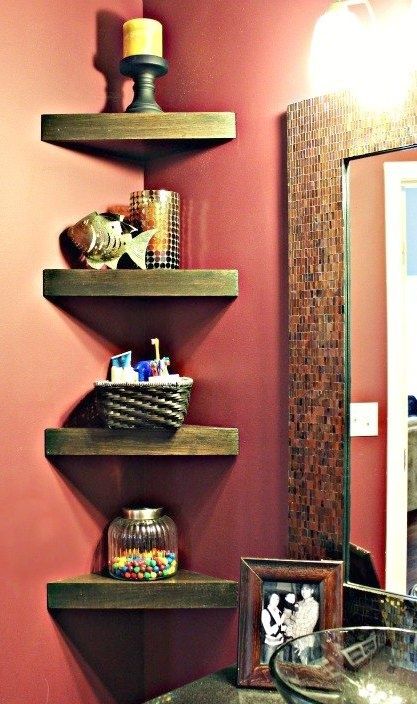 These bathroom shelves will also start with a 1 x 1 nailed or screwed to the wall. The next step is to fit the top and bottom pieces then the face board and finish by staining everything.
Rain Gutter Book Shelves in The Corner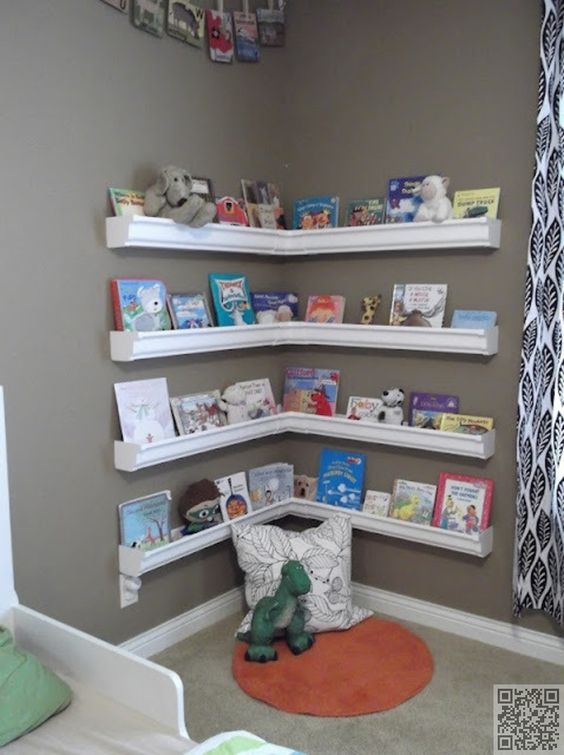 The vinyl gutter can also make some cute and safe bookshelves for your kid's room. You only need to screw them to a corner in a simple pattern and cover the edges to make them safe. Also, do not forget to paint them in an attractive color. via theownerbuildernetwork
DIY Built in Corner Shelving Unit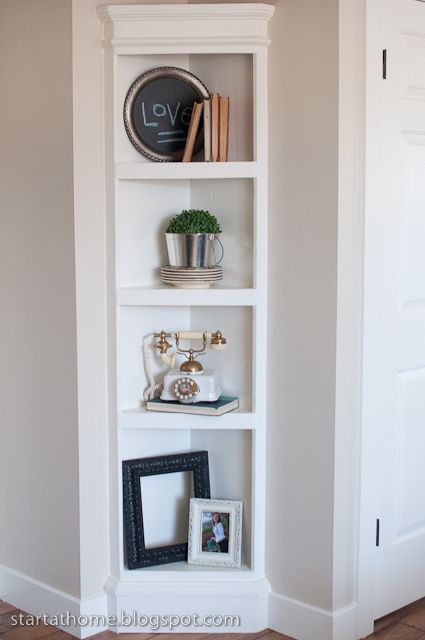 It is amazing how these shelves blend in with the rest of the house and become part of it. And this is not solely due to the color but also thanks to the finishing on the frame which matches the wall. via startathomedecor
DIY Elegant Shelves with Brackets from Hobby Lobby and a Piece of Wood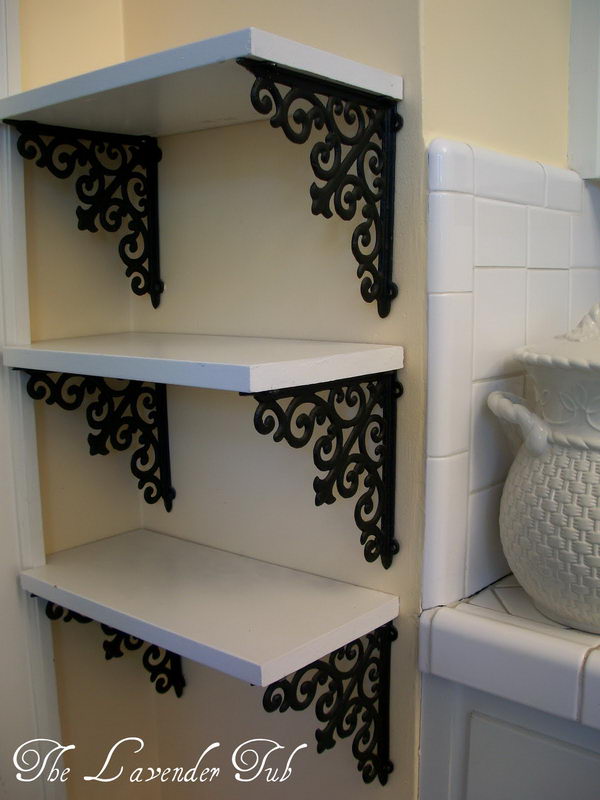 These Hobby Lobby brackets are the highlight and center of attraction for these shelves because the wood is just some ordinary white painted planks. This project proves that some fancy brackets are in some cases all you need for an outstanding DIY corner shelf. via thelavendertub