A personal getaway in the lap of nature is what every woman dreams of. Refurbished backyard sheds are the woman's alternative to man caves. These private spots are tailor-made for reading, relaxing, napping, or practicing hobbies. The best thing about a she shed is that it's easy to build, especially if you are lucky enough to have an abondoned potting shed in your backyard. Whether you are building from scratch or renovating an old outbuilding, these amazing she shed ideas from around the Web are sure to bring personality and purpose to your new personal space and help you make sure that it serves your changing needs over the years.
The Workaholic's Paradise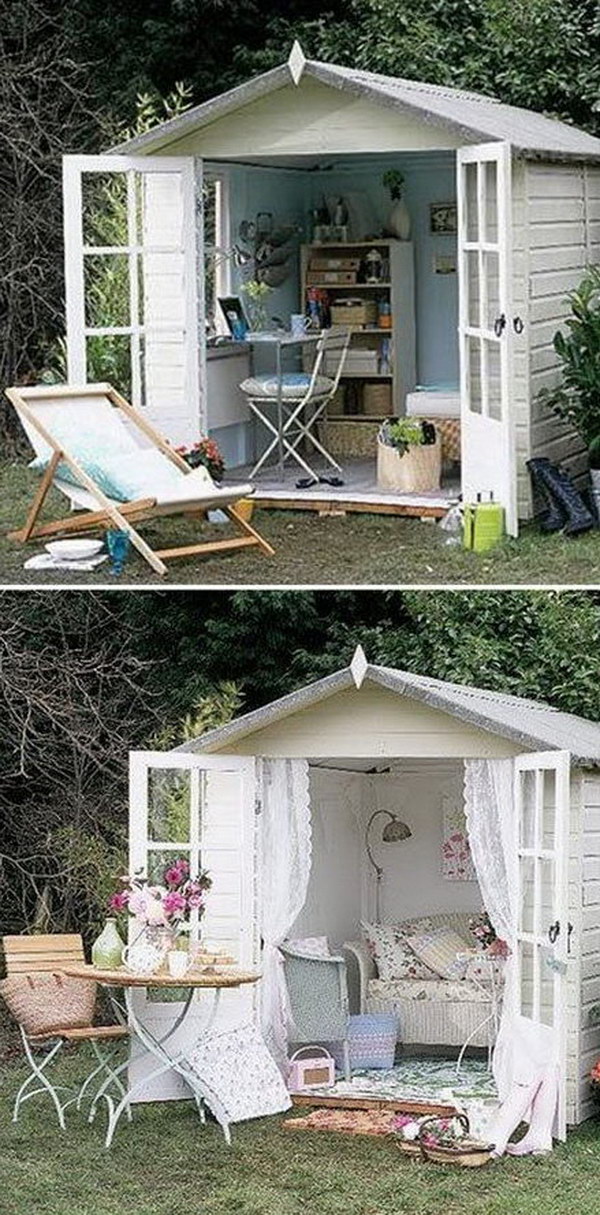 This multipurpose she shed is the perfect trade-off between space and utility. It's tiny enough to give a cozy feel and yet spacious enough to accommodate all your work and leisure needs. Don't be surprised if you end up spending more time here than your home! With a storage shelf, a comfy study chair and a sofa at your disposal, you can expect to de-stress like never before. For those who fancy feminine decor, this she shed can be decked up with lace curtains and soft furnishings. via countryliving.
Fall in the She Shed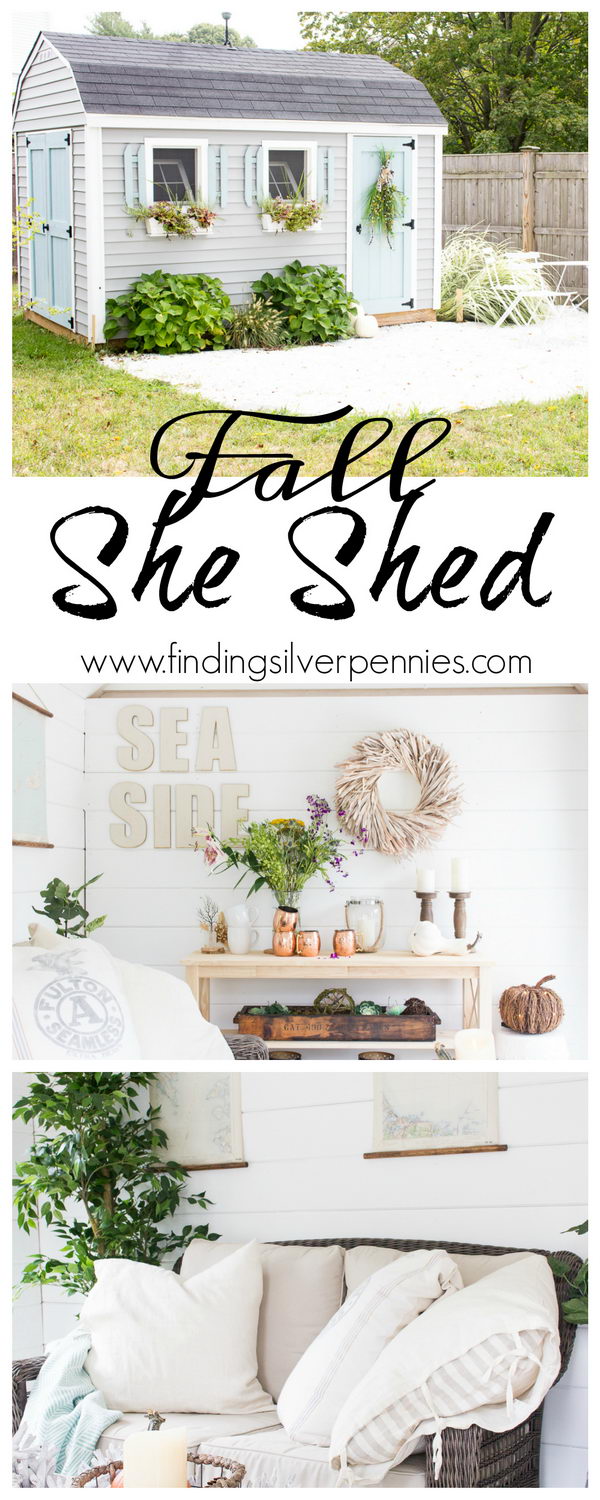 Little Pink Girl's Room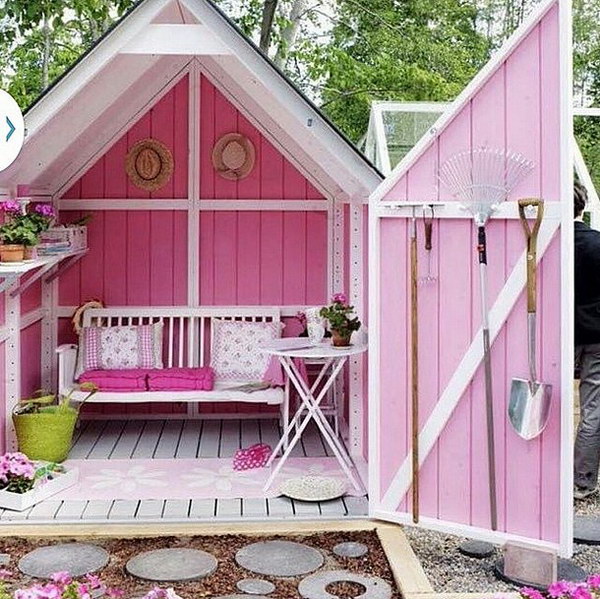 This cute little pink getaway may look tiny, but it gives you just enough space to kick back with a plate of cookies on a sultry summer afternoon. The comfy settee set against a backdrop of onion pink wall entices you to cuddle up with your favorite book, or invite girlfriends over for some hearty chit-chat. And if gardening has been on your to-do list for a long time, you can always hang up your tools on the dainty doors for reminder. via instagram.
Fairytale-Inspired Getaway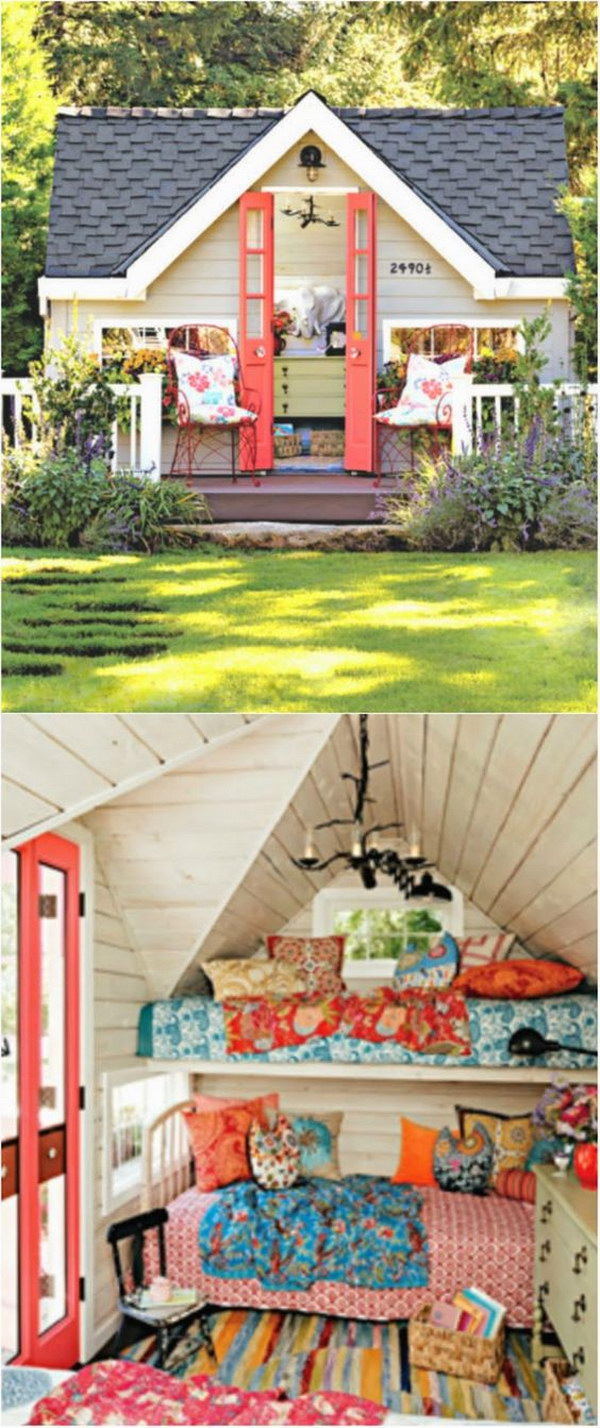 With a minimalistic black roof, fuchsia French doors, and pretty red chairs with floral cushions on the patio, this spacious she shed is reminiscent of the famous gingerbread home in "Hansel and Gretel". The interiors are no less impressive either. The crystalline chandelier and the thoughtful assortment of colorful cushions with matching mattresses on the bunk beds take away all the attention, while the drawers and storage box make the she shed resourceful enough for all kinds of pastime activities.
Quiet Sanctuary in the Backyard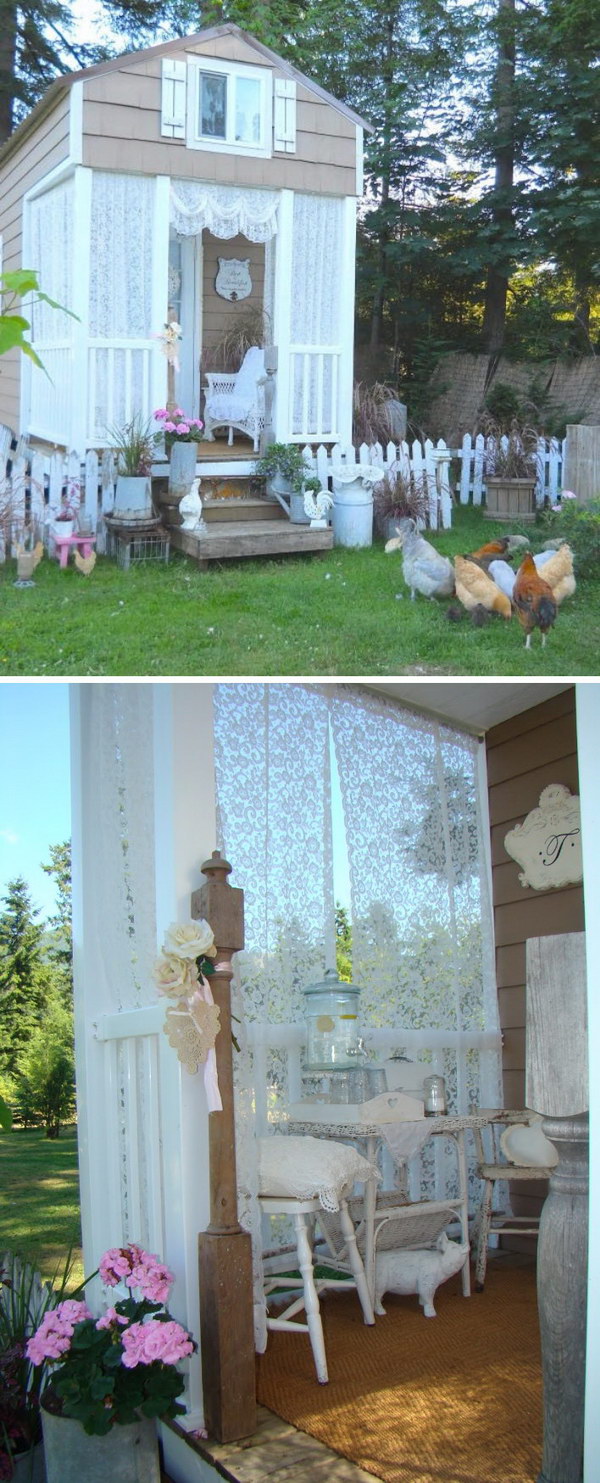 This custom-built home away from home, with its pretty lace curtains, beadboard walls, stark white furnishings and a spacious seating area on the porch, looks appealing to every lady who wishes to escape the rigors of everyday life and just be herself for a change. The flower tubs on the threshold help spread cheer, while the flower bunch tied to the old wooden post is great to invite friends over. via shabbychictinyretreat.
Glamorous Greenhouse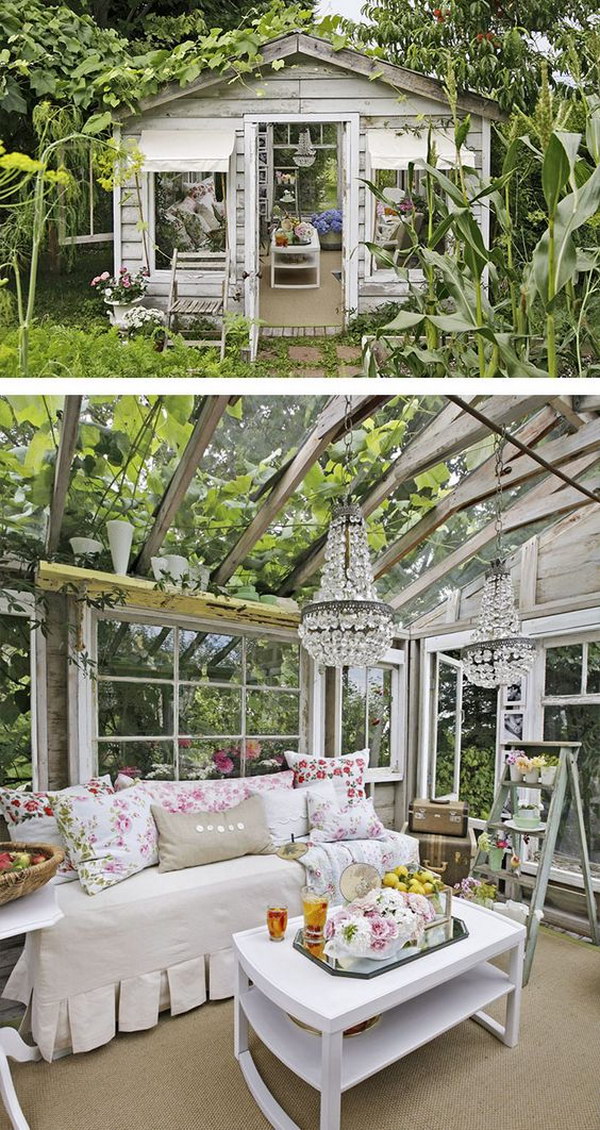 Thanks to the tempered glass roof and surrounding greenery, this she shed may look like an out-and-out greenhouse on the first glance, but if you explore inside, you will find classy crystalline chandeliers, soft white furnishings and floral cushions that entice you to indulge in your hobbies at peace. And if you've a green thumb, then you can always use the vegetable garden sprawled outside. via housebeautiful.
Romantic Victorian Escape

This roughly 15-foot gorgeous Victorian escape, with its vintage doors, pillar carvings, and soft hues is sure to unleash a thousand dreams of the fairy world. Nestled in the lap of nature, this shed exudes a certain shabby chic charm that is a welcome respite from the cookie-cutter homes. Inside, it looks like it has been decorated with "space utility" in mind. The book shelves stashed away in the apex of the roof, the elaborate larder, the comfy sofa and the glass chandelier all seem incredibly inviting, even to the ultimate workaholic. via myshabbystreamsidestudio.
Cute Cottage in The Greens
This tastefully done green gingerbread home is perfect for the woman who is still very child-like. Everything about this she shed is unique- right from the lime green beadboard walls and the bold black door hinges, to the beautiful flower boxes and wooden interiors. A study table for two, the dreamy fairy lights and the blissful view of greenery from the windows make this place perfect to engage in some serious study, or even meditate. via hometalk.
Tiny Pleasure Palace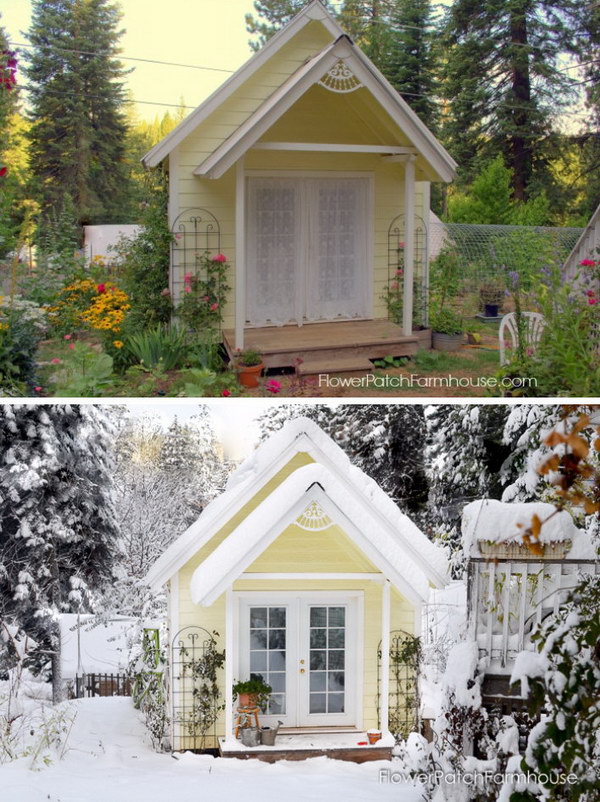 This dainty little she shed looks cozy enough to give you comfort on cold days. The white French doors sit poignantly against a background of lime yellow walls, and the carved posts on the threshold add a wee bit of detail to the otherwise plain exterior. With the doors shut and curtains drawn, you can get all the warmth you want from the harsh snow of December. via flowerpatchfarmhouse.
Ramshackle-Turned-Retreat
This chic little sanctuary nestled in sunlight-drenched space and gorgeous backyard gardens just takes leisure to a whole new level altogether. The tempered glass roof, airy windows and paneled doors make it look spacious enough to host a tea party for three. A cozy seating arrangement on the patio adds to the charm. via countryliving.
The Avid Reader's Retreat

A quiet and soothing spot in the backyard seems like the ultimate paradise for the woman whose idea of relaxation is reading. The colorful rug, the tiny chandelier and a sizable book shelf complement the red interiors, while the padded sofa entices you to sleep a wink or two while reading on a hot sultry weekend. via kloterfarms.
Secret Hideaway for Kids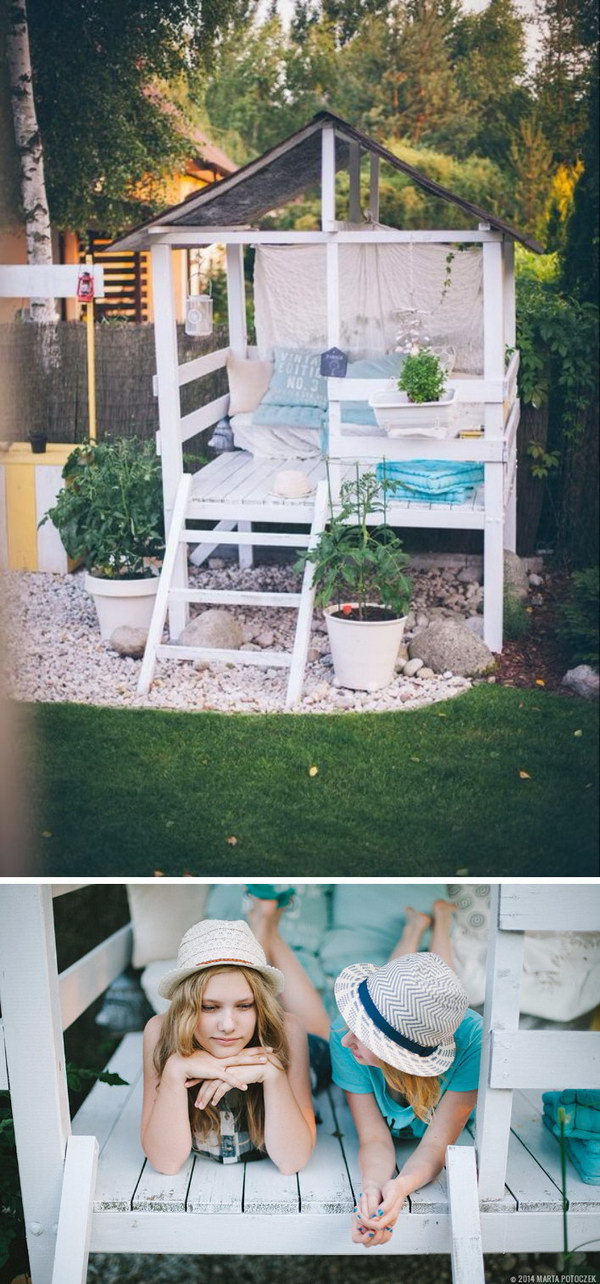 A sturdy yet pretty hideout in the greens is what every teenager desires. This white little garden playhouse is perfect for reading, resting as well as thinking. Small as it is, it's nevertheless comfy with loads of cushions and eiderdowns for company.The gravel paths are fun to trod upon and help to add a very vintage feel to the whole structure. via lazysundaycooking.
A Dreamy Den in The Garden

eplete with a beadboard walls, planked ceiling, sectional sofa and striped furnishings, this elegant little she shed is like a luxurious man cave for girls. The fairly muted color scheme with accents of soothing dusty blues blends well with the green backdrop, while the soft board set with floral pictures add a wee bit of glamour to the simple interiors. via ellaclaireinspired.
The Craftsman's Corner

A creative and cozy she shed is all you need to get your wheels spinning on a dull weekend. The soft gray walls and French windows coupled to dim lighting can get your creative juices flowing within a minute! And the wooden flooring makes the shed comfy even in the cold. With a secluded and artistic place like this, you wouldn't mind burning the night oil even on a Sunday! via homedepot.
A Playhouse for Adults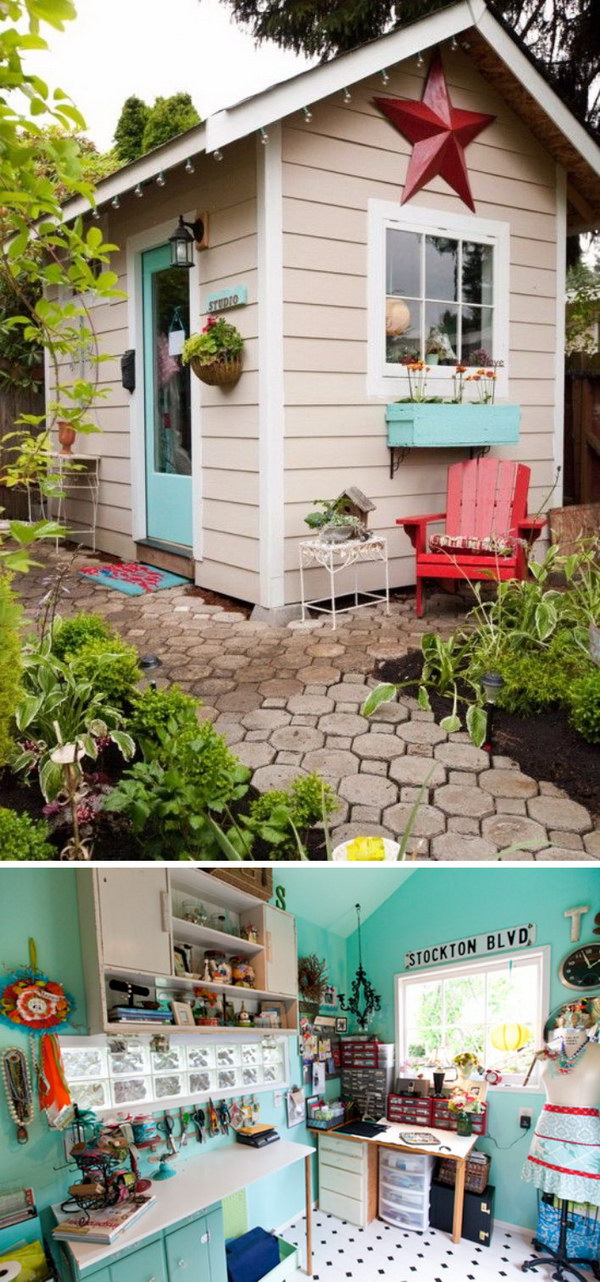 Do you love to pursue creative interests in your pastime? Well then, you will love this purposeful garden shed, that is artsy, interesting and spacious enough to accommodate a bunch of friends over for origamy hours. The cool blue walls and drawers lend a beautiful contrast to the random assortment of craft clutter, while the sizable window makes the space airy and inviting. via papernstitchblog.
Sweet Little Green Potting Shed

Bordered by a random bunch of flower boxes and tubs, this lime green getaway looks like the perfect place to host a small tea party, or simply enjoy the thunderstorm on an evening. The dotted pink tray with all the gardening essentials nestled on the outside gives a cute contrast to the soothing green beadboard walls, while the garden path in the front makes the shed look like a second home. via miasinterior.
Patriotic She Shed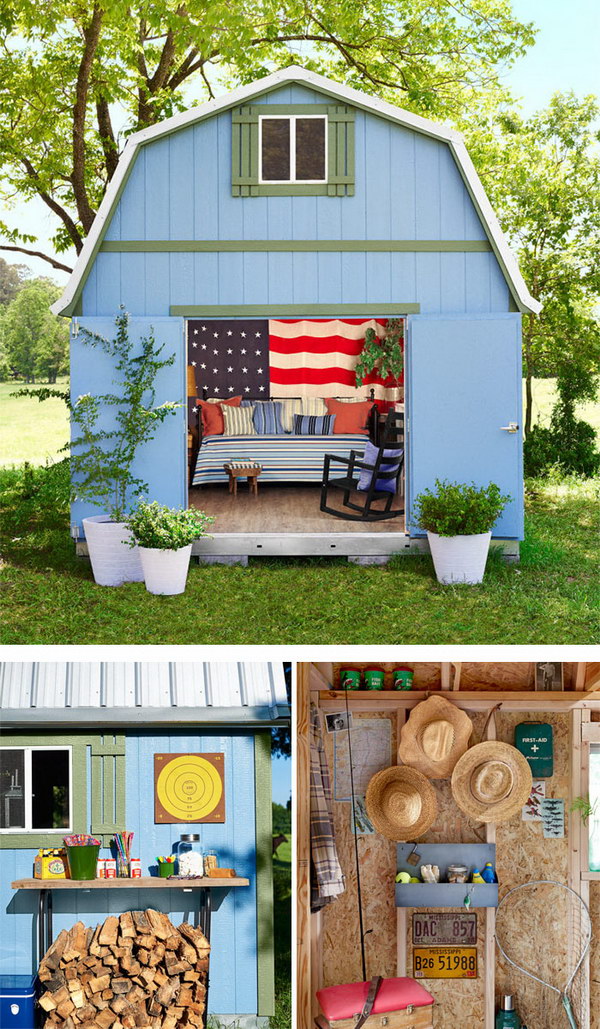 This serene she shed in the backyard seems like it's been custom-built for whiling away the lazy weekend. The sky blue walls help create a tranquil spring vibe, while the firewood rack placed outside seems ideal as a makeshift bar. Inside, the shed has a reading corner and a sleeping loft, set against the striking American flag for a patriotic effect. A couple of sun hats give texture to the room and blend well with the wooden interiors while the vintage finds reinforce the casual vibe. via countryliving.
Stylishly Reinvented Humble Shed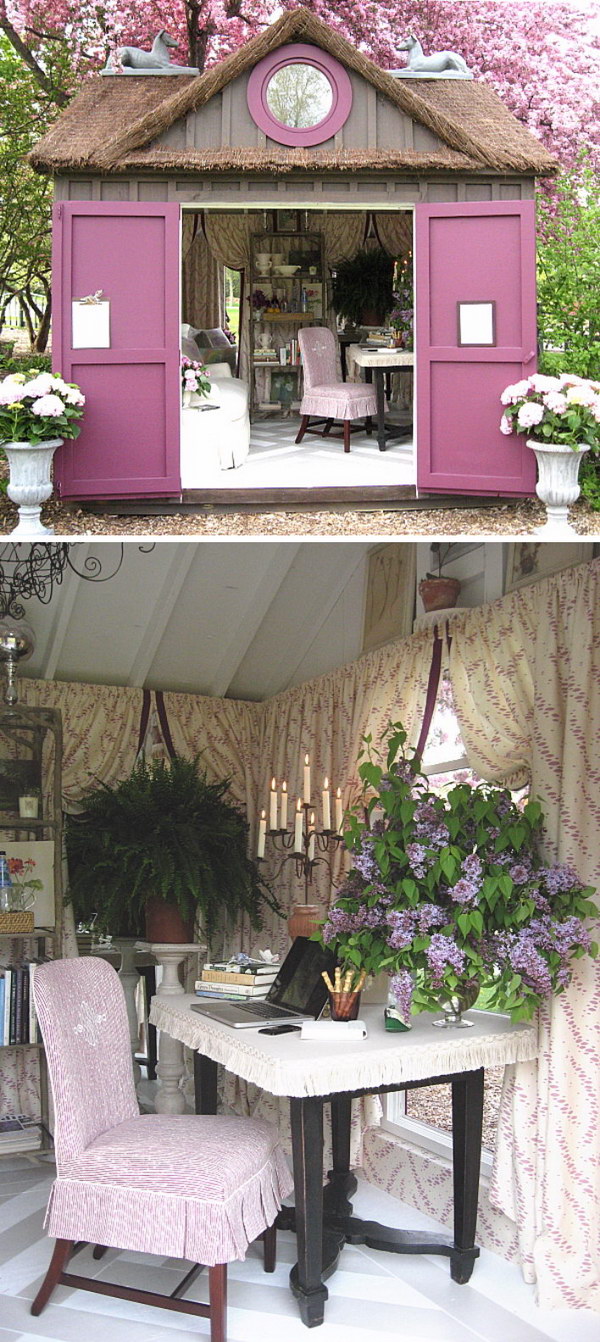 A secluded mauve hideout nestled in the shade of purple bougainvillea flowers seems like the ultimate fantasy of every woman trapped in the rigors of work. This luxurious she shed is equipped with every bit of luxury needed to induce blissful sleep, right from neutral drapes and soft furnishings to fern tubs and flower posies. via thedevinelife.
A Renovated Greenhouse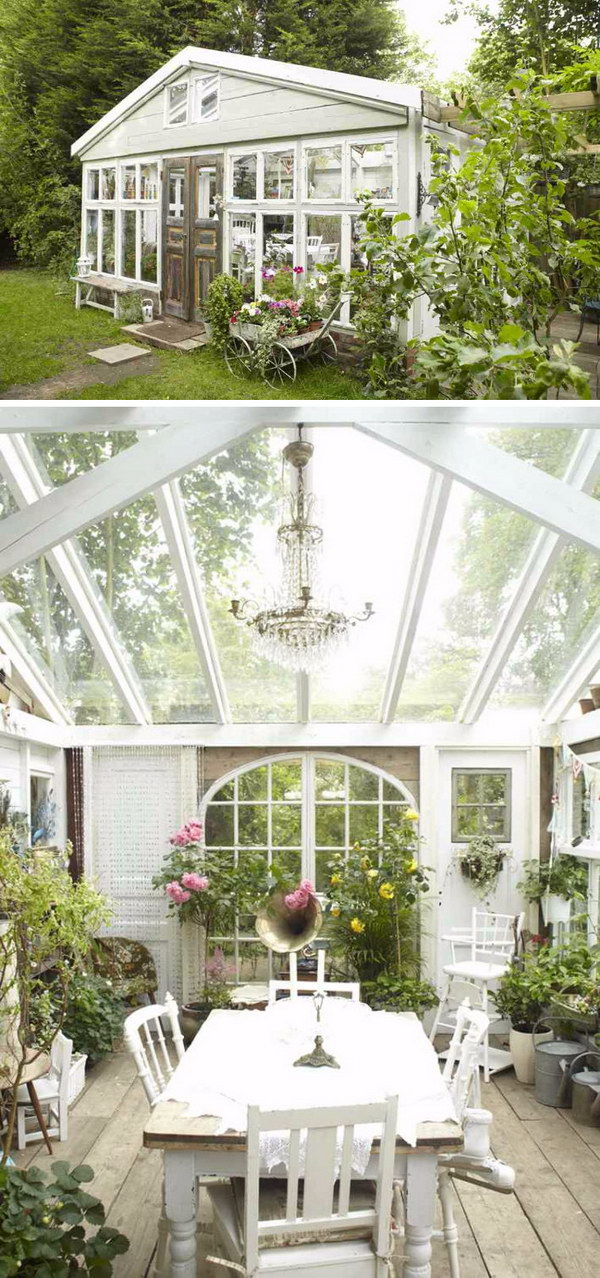 This spacious and airy greenhouse-cum-garden shed is like the ultimate spot to rewind for every nature-lover. The tempered glass ceiling and glass walls lend an airy and light feel to the space, while the white painted furniture set inside creates a catchy contrast with the greenery around. via inspirationsdeco.
Refurbished Potting Shed in White

This white painted potting shed exudes a contemporary look, thanks to the glass doors and airy windows. The flower boxes and floral designs on the curtains lend a feminine touch to this purposeful renovation, while the wooden shelves stacked with potted plants and gardening tools make the shed apt for every woman with a green thumb.
Spring-Inspired Potting Shed

This bright and beautiful potting shed, with all its floral decor and feminine furnishings is reminiscent of springtime. A collection of books, dinner plates and flower pots on the mantle lends a shabby chic-charm, while the chippy paint on the door exudes a vintage feel. via homeiswheretheboatis.
A Turquoise Chic Shed
Sprawled against a stunning background of greenery, this chic little she shed in turquoise looks perfect for the tomboy prefers gardening over napping. Contrary to the exteriors, the interior is pretty detail-oriented, with a pretty sofa set bordered by potted plants and flower tubs. The elaborate flooring adds to the glamour quotient of this gorgeous getaway! countryliving.
A Classy Shed for The Antique-Lover

This poignant she shed in aqua blue color looks soothing to say the least. The tall French windows provide a lot of warmth and air to the space-constrained shed, while an English country-inspired seating arrangement on the patio makes it apt for enjoying breezy evenings in Summer. Inside, the shed is kept mostly clutter-free with a classic furniture or two. via hometalk.
Coastal She Shed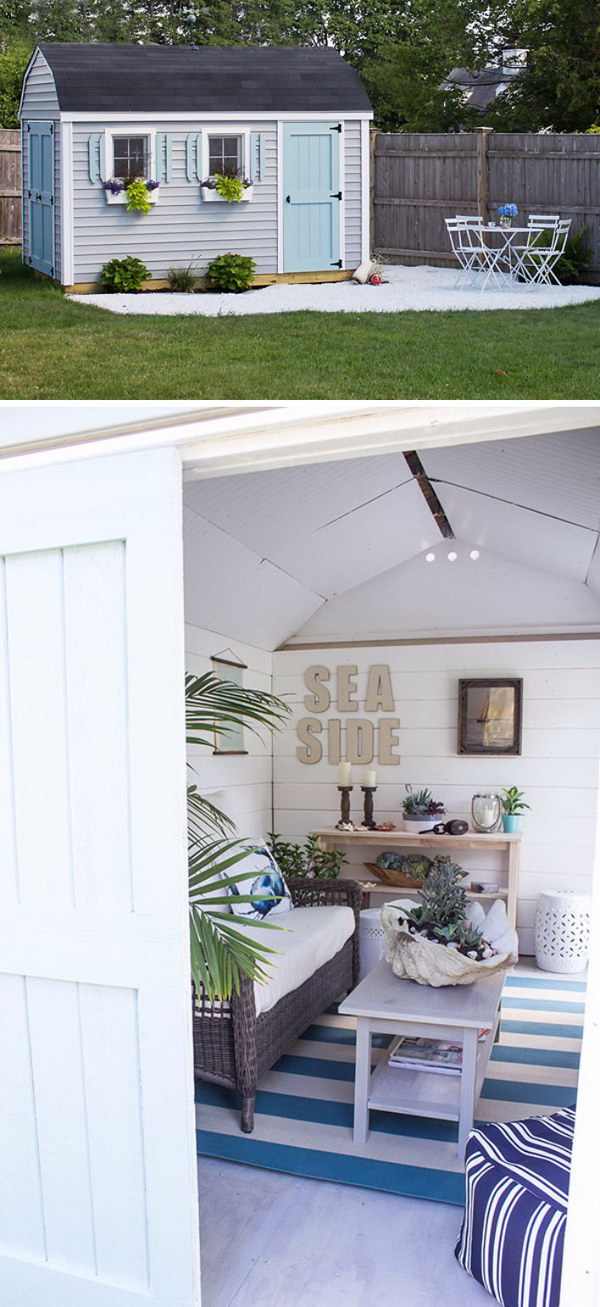 Do you miss the seaside often? Then, you could probably do with a ocean-inspired she shed like this. The beachy blue doors, the cloud-colored roof and the boxes of coastal plants nestled on the windows, are enough to give you some serious vacation goals. Inside, the striped blue flooring complements the dark blue settee well, while the comfy couch in the center looks inviting enough curl up with your favorite novel. homedepot.
A Quaint Craft Shed
A white, unassuming shed tucked away in the garden is every artist's dream. Perched a few inches above the ground, this quaint little she shed seems tailor-made for all kinds of constructive activities that are best done in seclusion. Inside, the baskets of craft supplies, glass vases and cluttered shelves add a lot of color to the otherwise boring white walls. However, it's the maroon floor that grabs the eye for being out-of-the-box and yet, beautiful. hometalk.
Glamorous Greenhouse

Thanks to the tempered glass roof and surrounding greenery, this she shed may look like an out-and-out greenhouse on the first glance, but if you explore inside, you will find classy crystalline chandeliers, soft white furnishings and floral cushions that entice you to indulge in your hobbies at peace. And if you've a green thumb, then you can always use the vegetable garden sprawled outside. source.
A Winter Retreat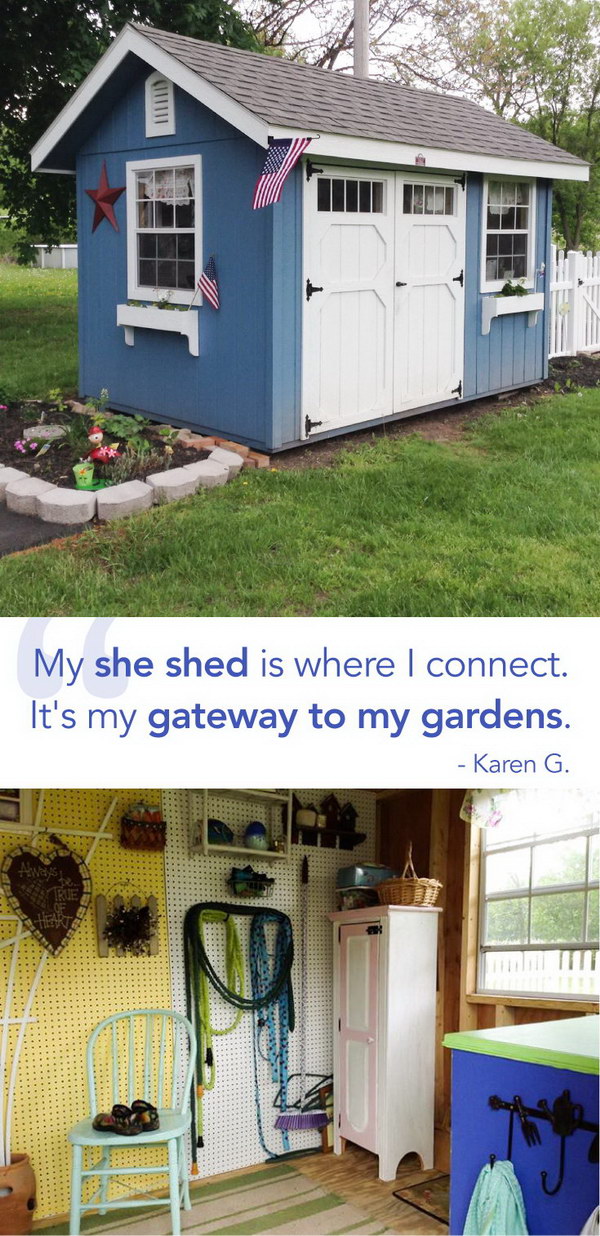 A blue she shed with contrasting white doors and French windows looks apt as a place to rewind when winter comes calling. The large red star and the vintage American flags attached outside add a festive tone to the plain exterior. while the dotted walls inside lend glamor to the dull interior. via woodtex.
A Tool Shed-Turned-Crafts Corner

Who would have thought that a rambled tool shed could look so luxurious and glamorous? Of course, the purple interiors, dotted wallpaper, regal furniture sets and crisp white drawers do contribute to the glamorous look, but it's the careful placement of craft accessories and supplies that makes this shed a haven for every artist out there. via kscraftshack.
Impressive Country-Inspired Getaway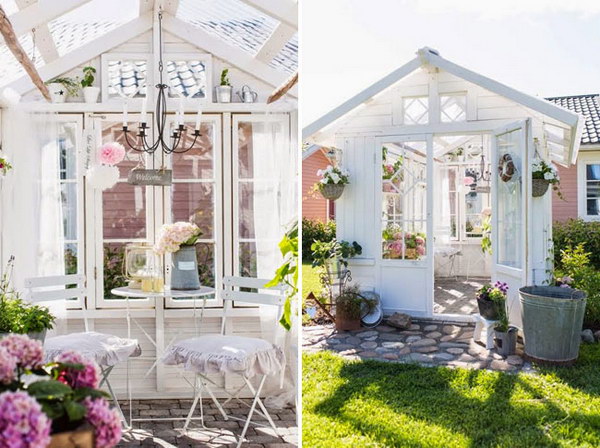 This sunlight-bathed country-inspired she shed has a very urban look, with its elegant white walls, glass roof, tall French doors and a contrasting black chandelier inside. The table and chair set on the porch looks perfect to enjoy a glass of lemonade in a sultry afternoon, and the lush greenery on all sides makes it look like a secluded resort.
A Retro-Style Shed
This retro-style she shed with its rugged interiors, dirty brown exterior and chippy paint carries a rural charm. The porch looks perfect for watching the rain while engaging in romantic chit-chat on an April evening, while the striped blue walls and furniture inside complement the wooden windows well. houseofturquoise.
Colorful Gingerbread Home

Painted in soft, pastel shades of pink, blue and yellow, this floral-inspired gingerbread home seems like a refreshing change from all the dull monotone she sheds abuzz these days. The patch of plants and pink flowers help create a romantic aura, while the acetylene lamps on either side of the shutter lends a dreamy effect. shullfamily.
Shabby Chic She Shed

This detail-oriented she shed in wood and gold stands well on a patch of lush greenery. The interior decor is no less amazing, with an oversized beige butterfly gracing the wall. The baby pink settee, cluttered with cushions has a cozy feel and looks too inviting to resist. via designdazzle.
A Private Art Studio in The Lap of Nature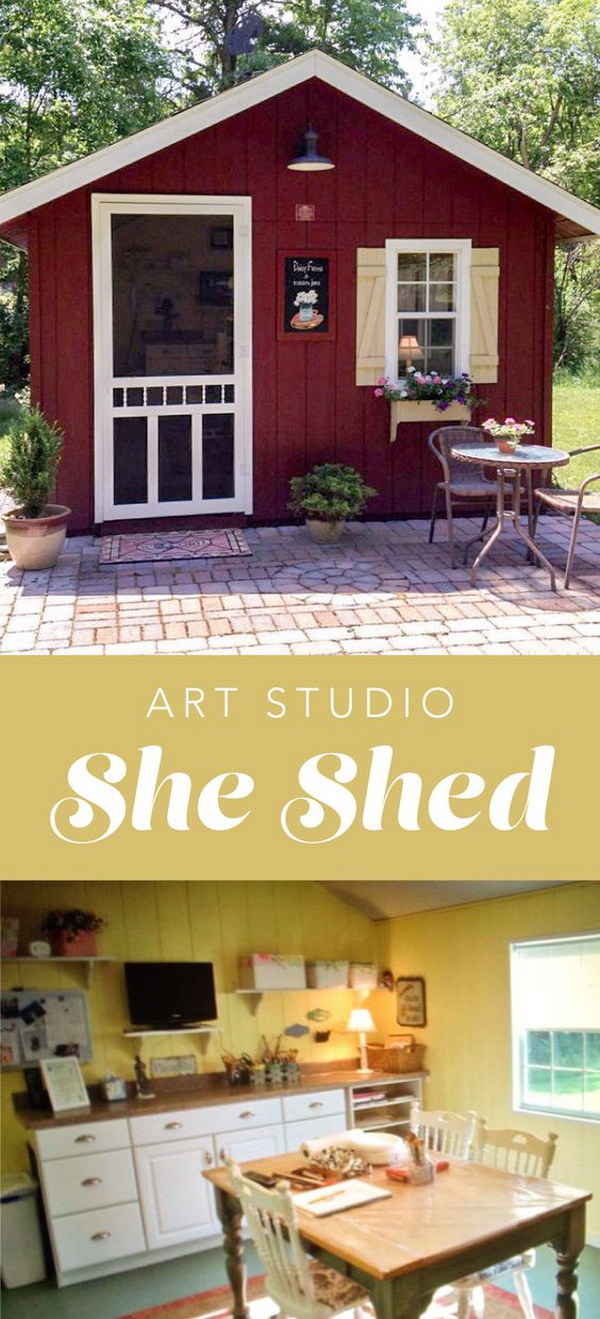 A bright she shed with enough space for work is what every artist needs to churn up creative pieces on a dull, slow weekend. This maroon art studio-cum-she shed looks pretty inspiring, with its beige shutters, flower boxes and the table and chair set on the patio. woodtex.
Stunning Garden Shed Cabin Created with Salvagd Wood

This shabby garden cabin-turned-classy she shed's major USP is the wooden construction that contrasts beautifully with the fairy lights peeking from the French windows. The spacious porch is no less impressive either, and looks like the ideal spot to enjoy a rainy evening in seclusion. via livingvintageco.
Classy Makeover of a Garden Shed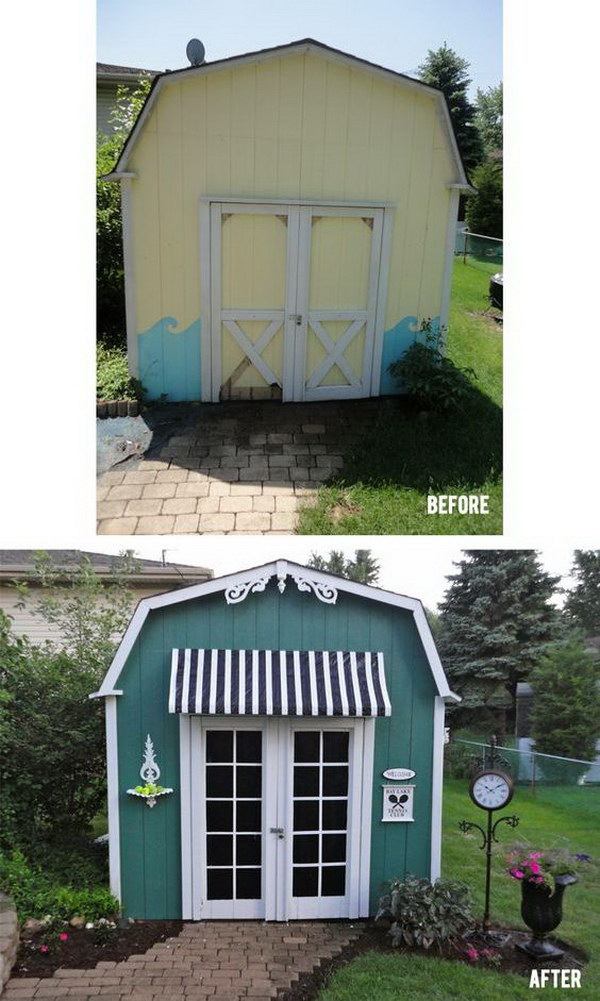 Blue and white paint can do wonders to transform an ordinary garden shed to a classy cottage for weekends. This she shed stands as the proud testimony to this fact. The white shutters, tall French doors and wall accessories add a touch of color and make the shed look aesthetically appealing. generalsplendour.