A drink is rarely just a drink, especially at a party. A drink can be an occasion to make a new friend or business partner, to catch up with someone you don't see very often or even to impress the person you're interested in.
With all of this happening, it is quite natural that people spend a lot of time at drink stations during parties, which means that they will definitely be noticed. For this reason, hosts and hostesses should pride themselves on putting together the best drinks station they can – one that is pleasing to the eye, matches the theme and decoration of the party but is also well organized and easily accessible.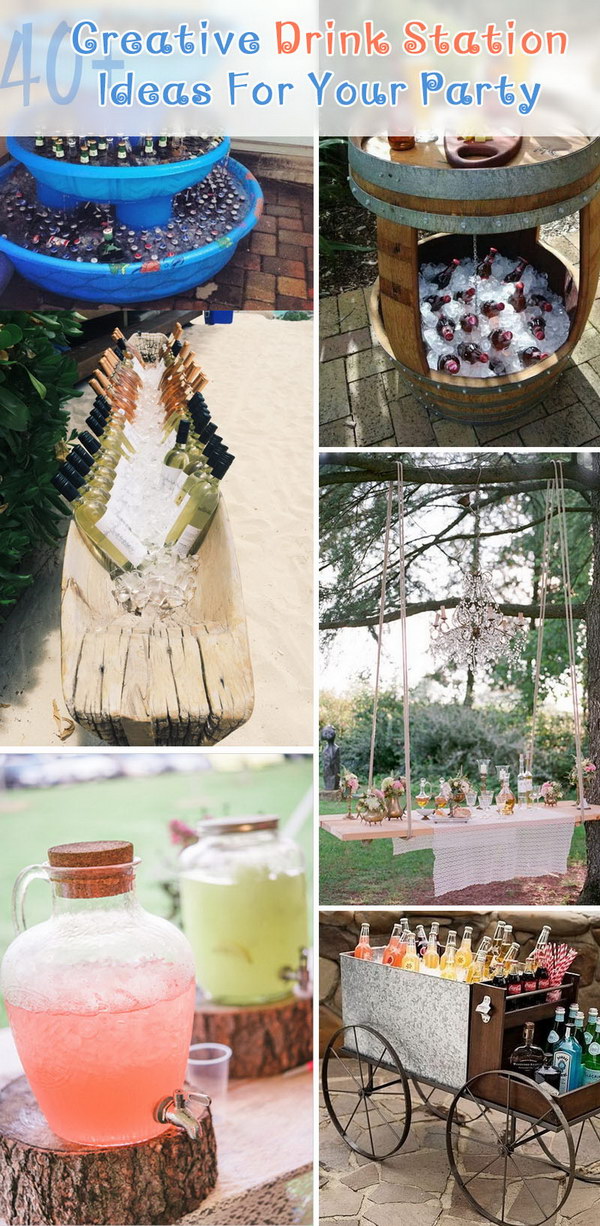 Need inspiration for your next party? Let's have a look at some insanely creative drink station ideas and tutorials then.
Upcycled Beverage Station From Thrift Shop Door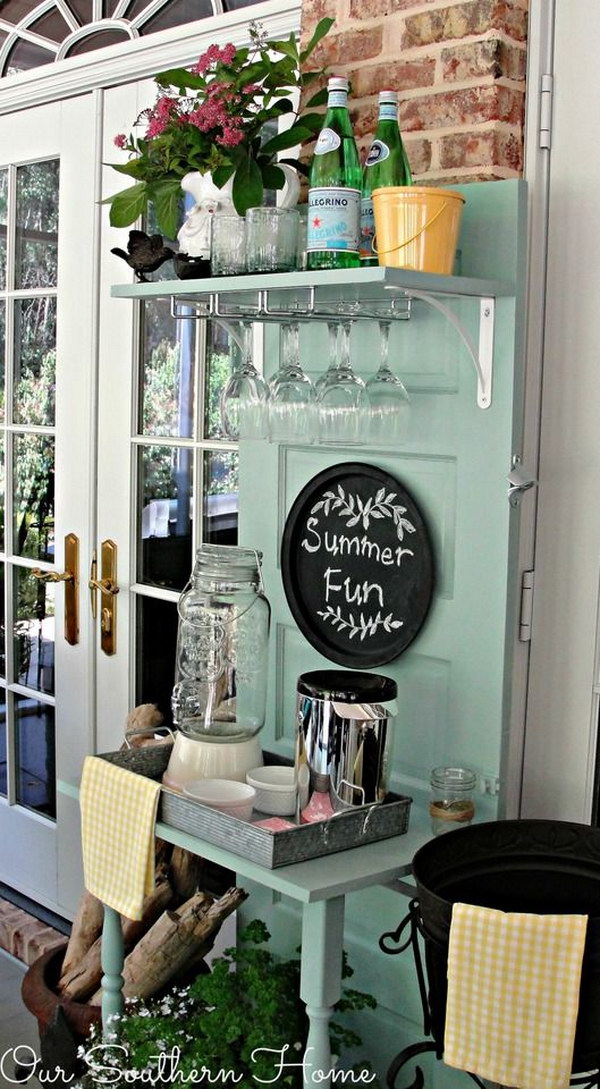 You'd have to agree that it doesn't get much more creative than turning an old door into an outdoors bar/drink station. This pretty, elegant yet simple one was made from an upcycled door and some wooden beams, and then painted blue and decorated to add that festive touch. source.
DIY Outdoor Serving Station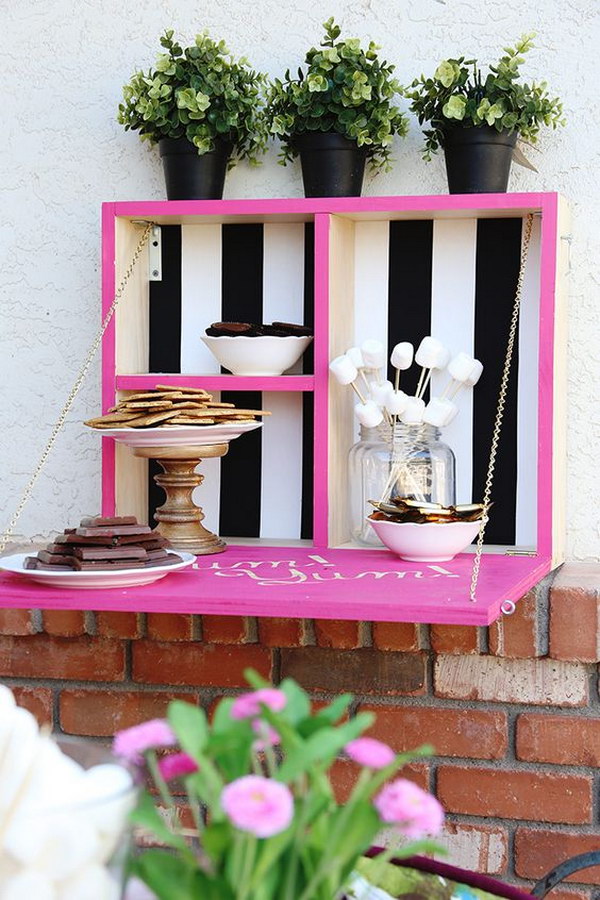 This small outdoors serving station is quite amazing, as it is somewhat small and mounted on the wall, for space-saving, but it also manages to be beautiful and functional. The station is much like an open wall cabinet with different pink dividers and a longer shelf at the bottom for serving. The hot pink also highlights the black and white background, and it adds a finished touch to the project. source.
DIY Wall-Mounted Cedar Fold-Down Bar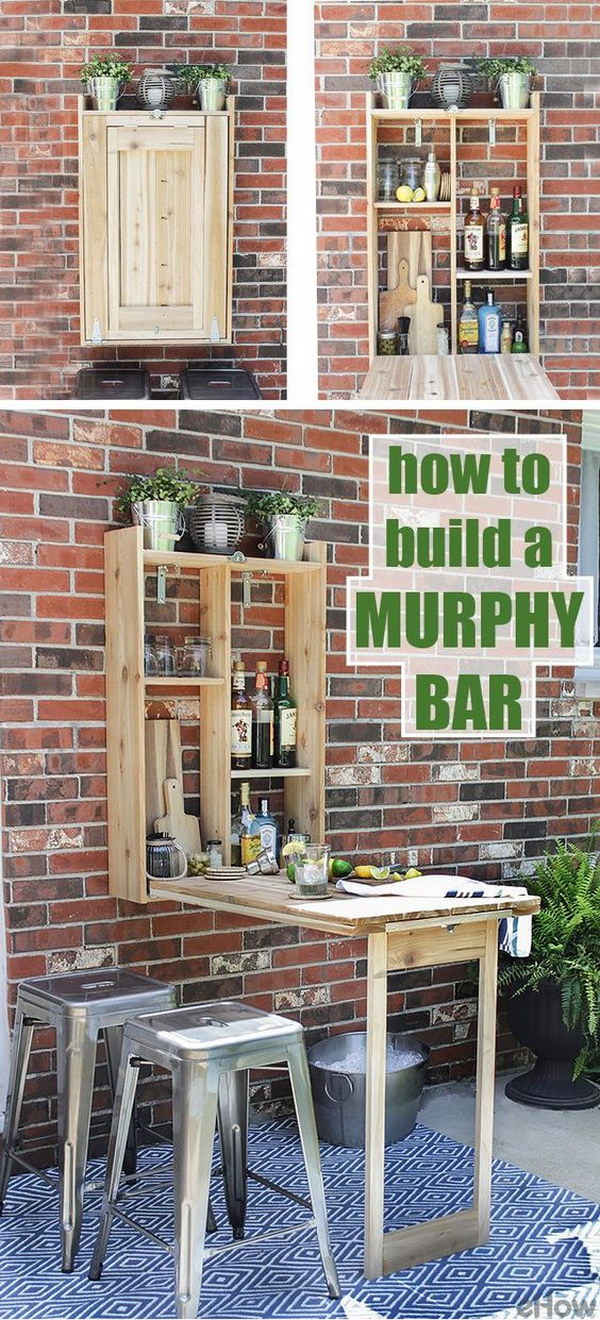 This wooden DIY outdoors bar is pure rustic class. It is incredibly compact and functional, as the bar is built like a wall cabinet that can fold out into a table when needed, which is pure genius. source.
DIY Beverage Station
This is more of a beverage stand than a proper station. It is really cool though, because it was mostly made from plumbing supplies and buckets, which are easily accessible, look great in an industrial way and are awesome for keeping things chilled. A great idea all around. source.
Old Boat Beverage Station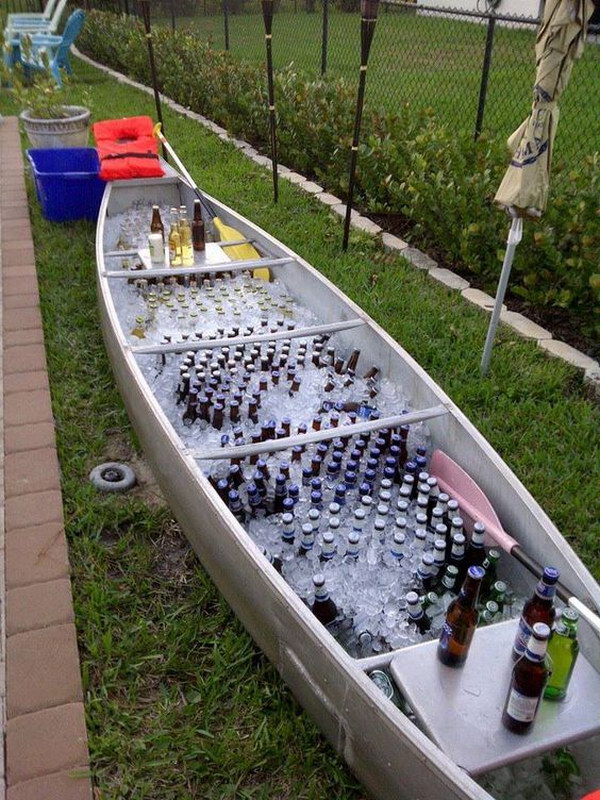 This is a realty cool idea for a nautical themed party, if you have a lot of beverages to serve or, quite frankly, if you happen to have an old boat in your backyard. Boats are usually large and sectioned, which means they are great to use as a cooler, because you can add ice to the bottom of each section and keep your drinks chilled and separate.
Old Ladder Drink Station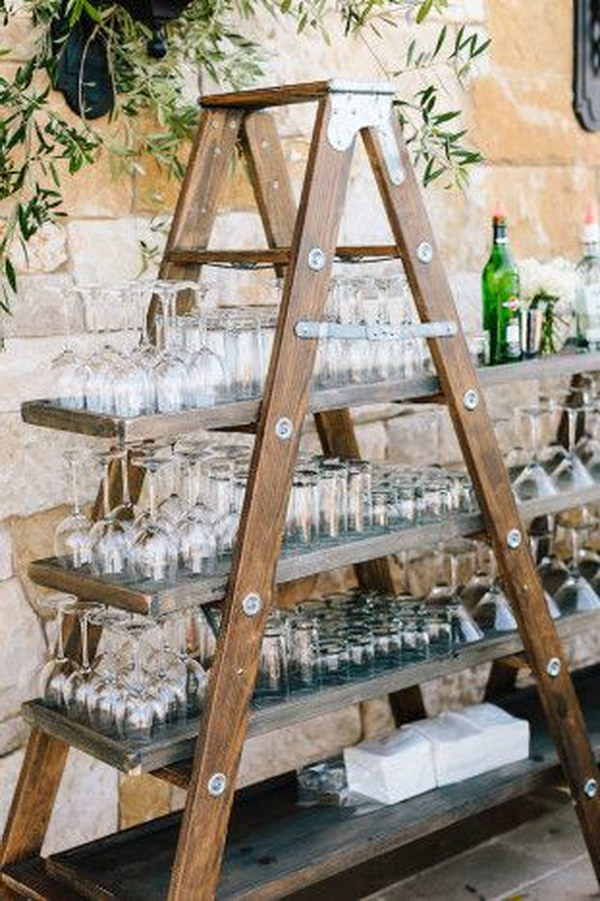 Using a ladder as a drink station is a really cool idea, but not just any ladder will do. You will need a pyramid shaped ladder with steps that go through both sides, like the wooden one you see here. You also need to be careful with the quantities of things you put in, but the end result is undeniably cool-looking. source.
Outdoor Entertaining Drink And Snack Bins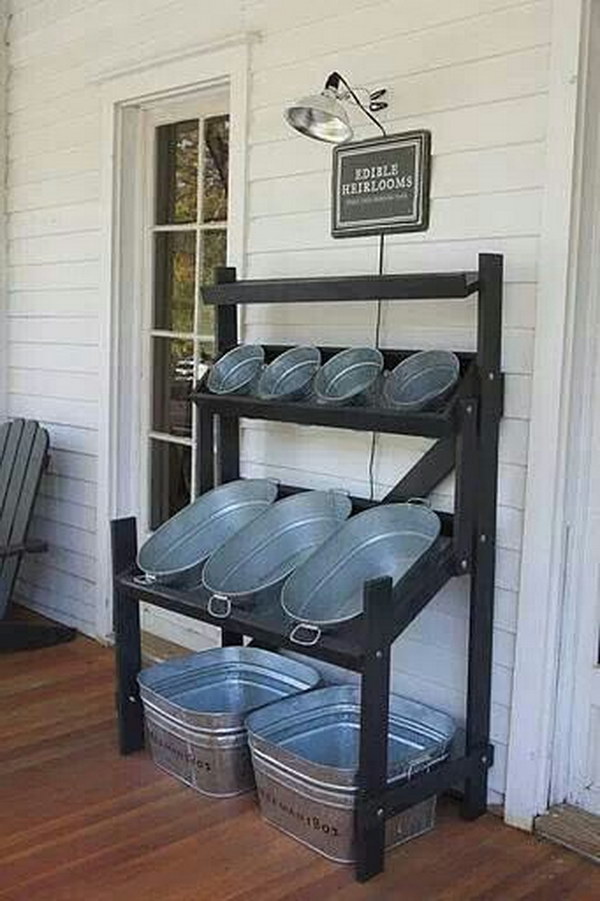 This drink and snack station is both vintage and modern-looking, A dark, likely repurposed stand is used to hold metal bins of various sizes, which are to be filled with drinks and snacks for the party. A sign and metal spotlight lamp complete the setup right on top. source.
Shallow Plywood Box With Cinder Blocks Drink Station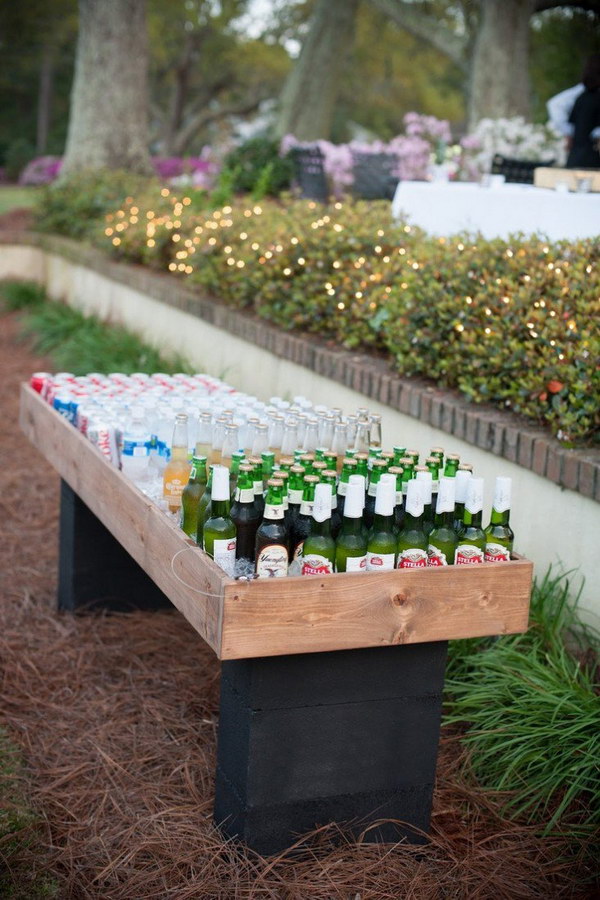 This isn't by far the most impressive station you will see here, but it is quite functional and it works for a more laid back party. The cinder blocks are sturdy enough to support the shallow plywood box which can easily hold all kinds of water, beer and soda bottles and cans. source.
Cute Drink Station Display Idea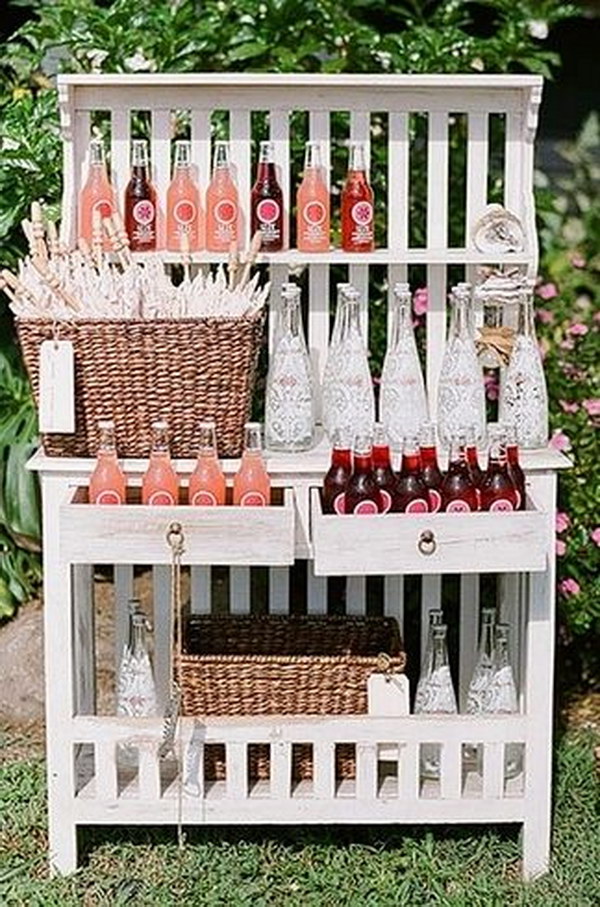 This pink shabby chic drink station displays all the drinks available for the party as well as paperware and accessories beautifully. The wicker baskets only complement and enhance the beautiful setup.
Buckets Drink Station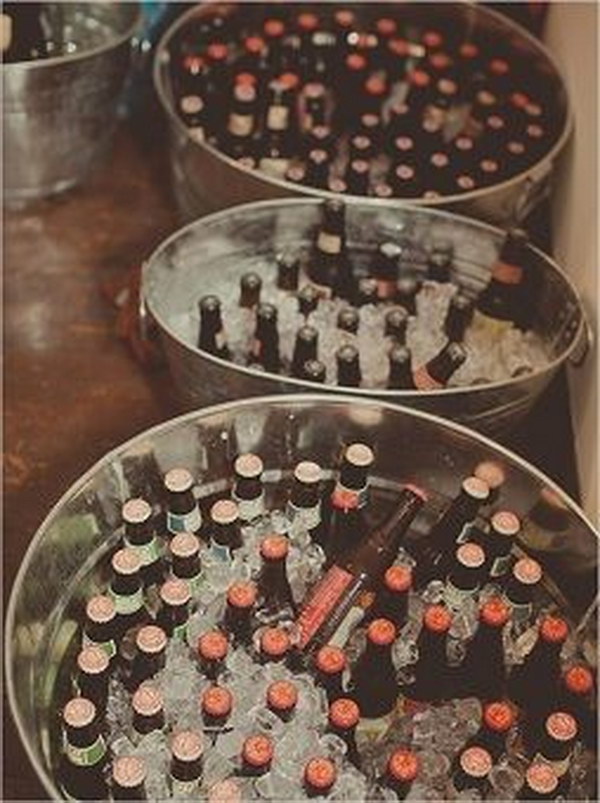 This is the simple, classic way to organize drinks at a party – to take buckets, fill them with ice and stick all of the cans and bottles in each one. It's not the most creative idea, but it certainly works. source.
Old Wheel Barrel Drink Station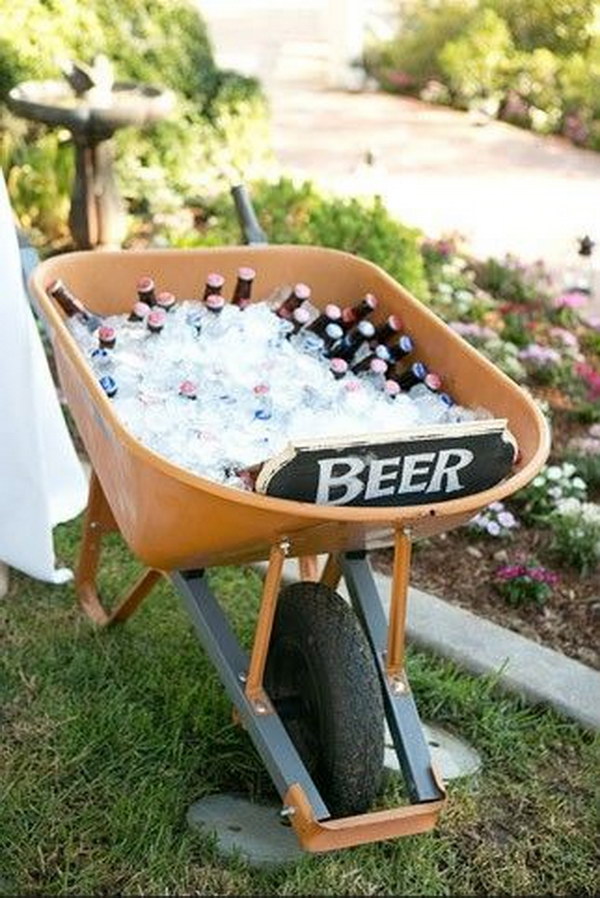 Using a wheel Barrel as a Beer station isn't a new idea either, but it is a really cute, functional one that allows for a lot of customization. It can also be portable, if the wheels still work and you can find a volunteer to take the barrel around during the party.
Kiddie Pool Beer Station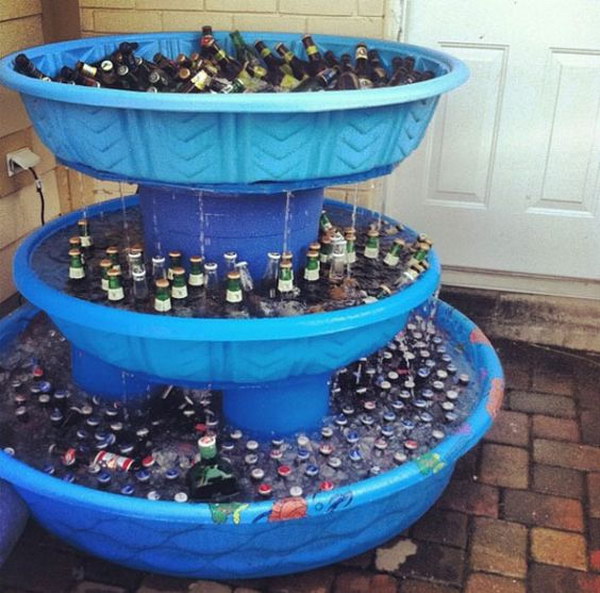 This idea is a little ironic when you realize what it is made of, but the truth is the stacked kiddie pools work very nicely as a beer station and look quite cool too. source.
Rustic Flower Box Drink Station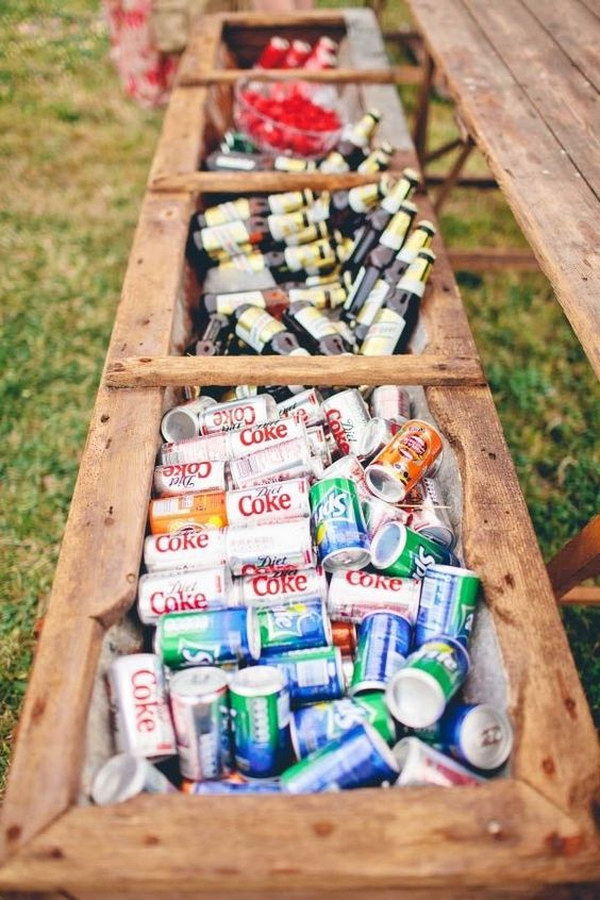 This is quite similar to the boat drink station, in the sense that it is a long, sectioned structure that holds large quantities of bottles or cans. The wooden flower box has a different look though, which makes it much more appropriate for a rustic decoration. source.
Wine Barrel Drink Station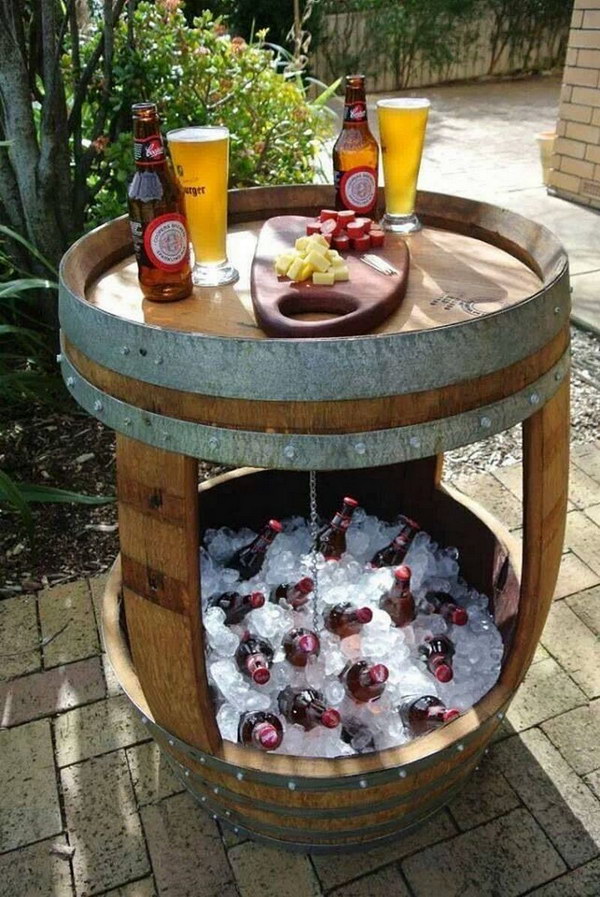 This wine barrel was expertly converted into a decorative, table-style drinks station, the likes of which you could find at high-end decoration shops. The top is used for serving, while the bottom is perfect for storing and chilling your drinks in the shade. source.
Red Wagon Turned Bar Cart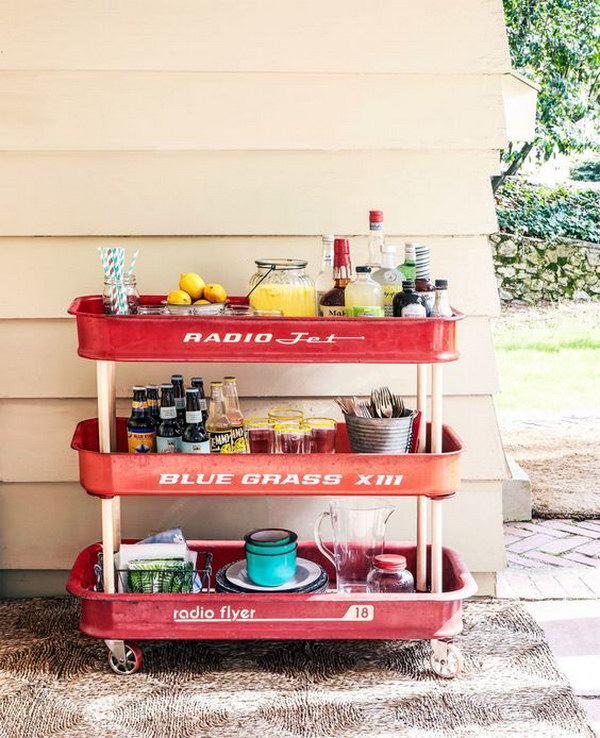 This upcycling project takes inspiration from hotels and movies, as the wagon is used as a Bar Cart. The red wagon wasn't changed at all, but you could always repaint it for a more refined look and use it as a moving bar during parties. source.
Lovely Door Shelf Beverage Station
This open shelf beverage station is perfect for a little girl's birthday party – or any summer party in general – with its bright, sunshine yellow color. The shelves are very neat and organized, as well as filled up with beverages of complementary colors, and the flat tops allow for decorative touches as well as to display snacks and the juice jug, as you can see. source.
Chilling Wine In A Log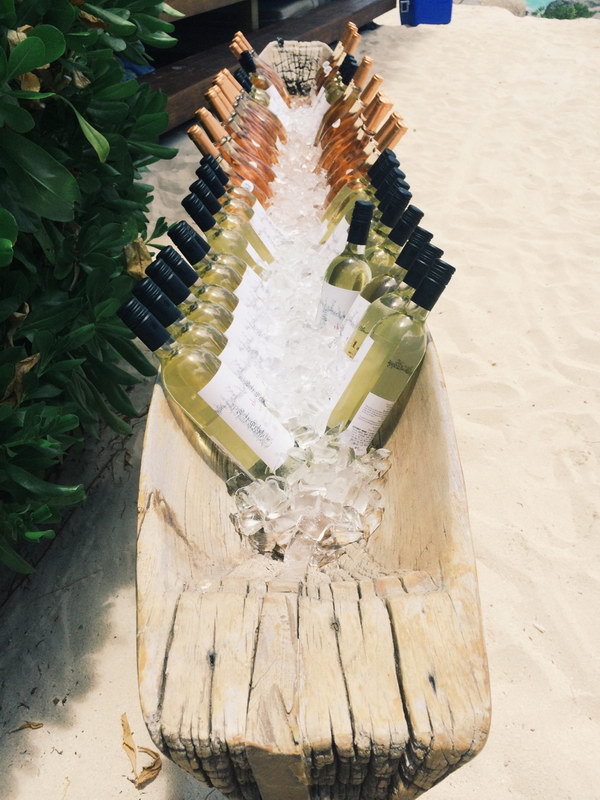 This is quite a cool, rustic way to chill your wine which takes inspiration from simpler times. The idea is to find a long, deep log, fill it with ice and then prop wine bottles along the sides so that are neatly displayed while getting chilled.
Old Chair Drink Station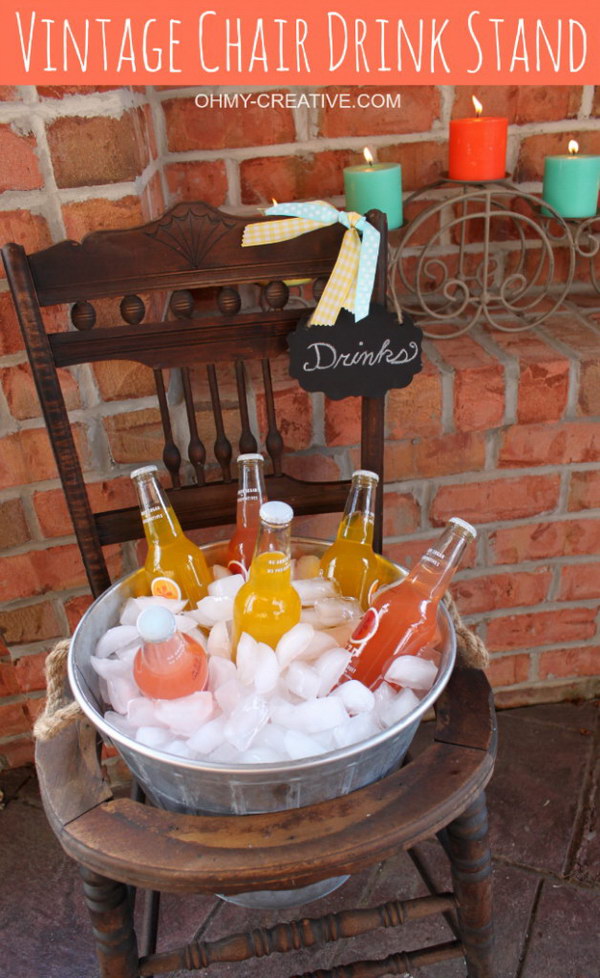 This is another straight-forward project that requires little-to-no-effort at all. What you need to do is fill a shallow bin or bucket with drinks and ice and place it on the seat of an unused chair. Attach a cute ??Drinks' sign to the back of the chair and there you have it. source.
Headboard Drink Stand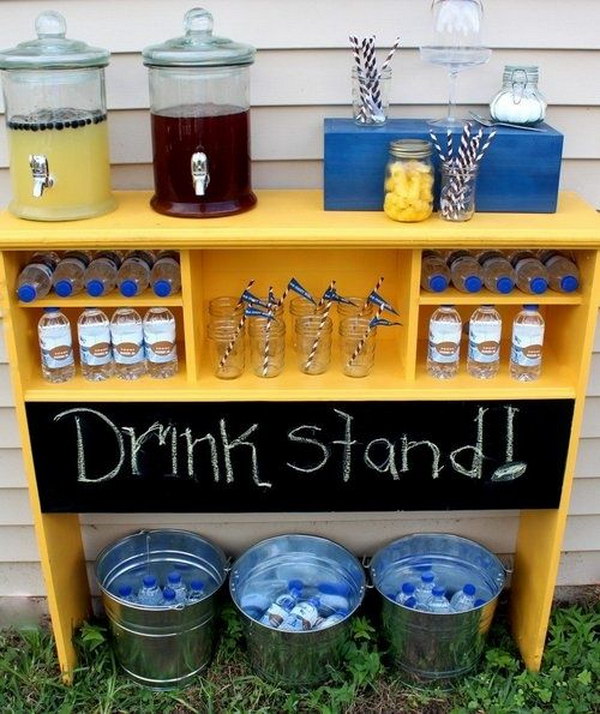 This is an ideal project for you if you have a headboard with shelves that you're not using, You can repaint and decorate it if you want, but aside from needing to be braced or propped, the board is pretty much ready to become a drink stand, as you can place drinks at the top, in the shelving areas and even on the floor, using the gap created by the legs, as you can see here. source.
Sewing Table Drink Station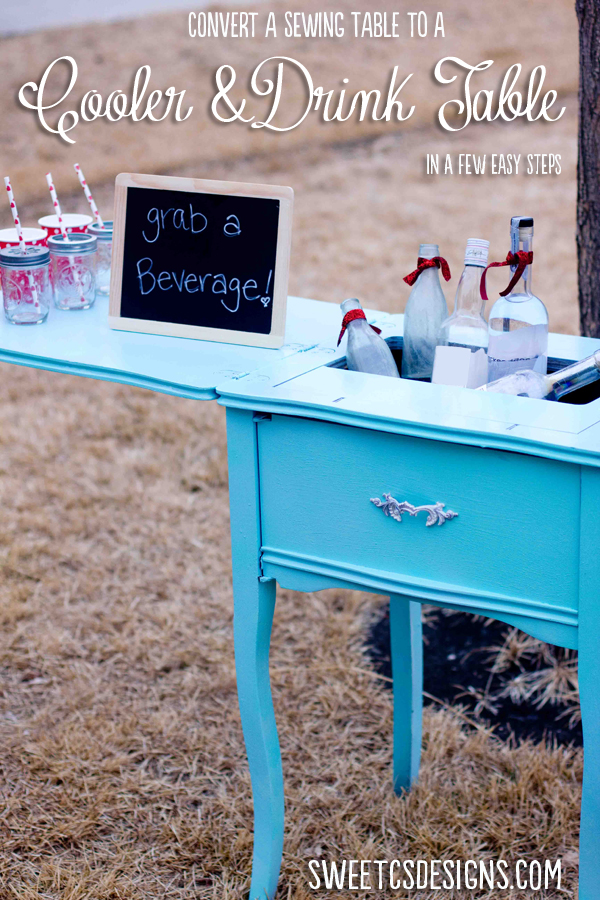 This simple, old sewing table made for a great drinks station after being completely upcycled. The top was extended with a long wooden board and a cooling station was created in the drawer area. A nice coating of bright blue paint finished the beautiful station. source.
Tree Stump Drink Station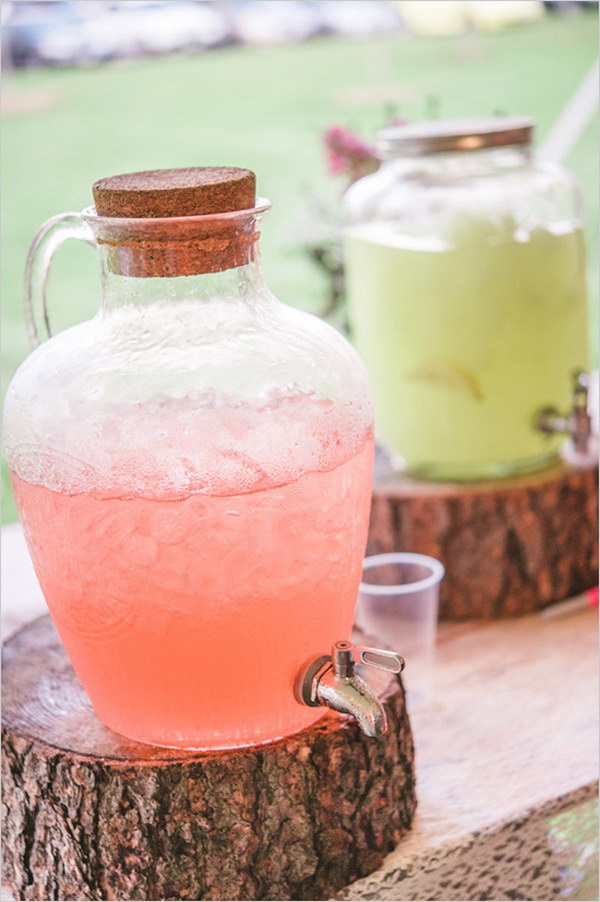 These stump drink stations are a beautiful yet simple way to prop your punch bowls and jugs at a rustic outdoors wedding or party. You can also continue the theme by doing the same for food, flowers and even favors. source.
Vintage Truck Drink Station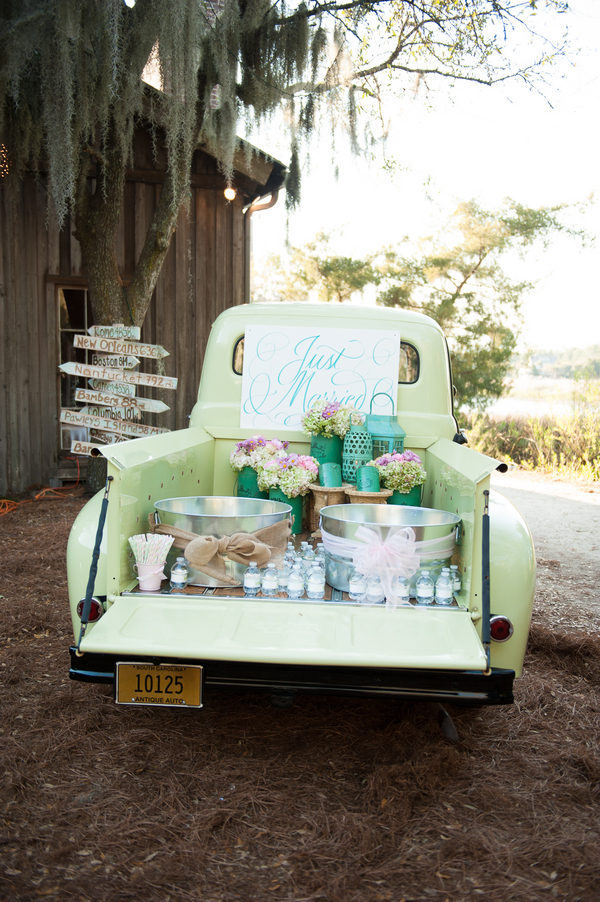 Using a truck's bed as a drink station for an outdoors party is a classic that never goes out of style. This one in particular looks really good because the truck is vintage but well-kept and has a nice, spacious bed. Lots of decorative touches were also added in, from flowers to the seemingly handmade sign taped to the back of the cabin. source.
DIY Tea Trolley Lemonade Stand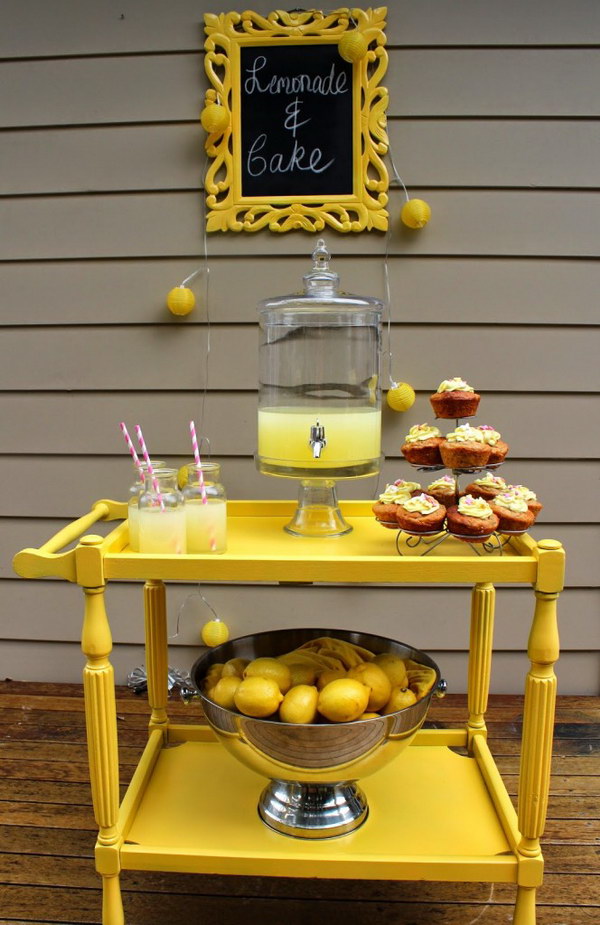 A tea trolley is a drinks station by default. This one was however converted into a lemonade stand by being painted and decorated with bright yellow hues. A matching chalkboard sign was added to the wall above it, and a bowl of lemons was set on the lower shelf. Cake and cupcake stands complete the station. source.
Porta Pallet Drink Station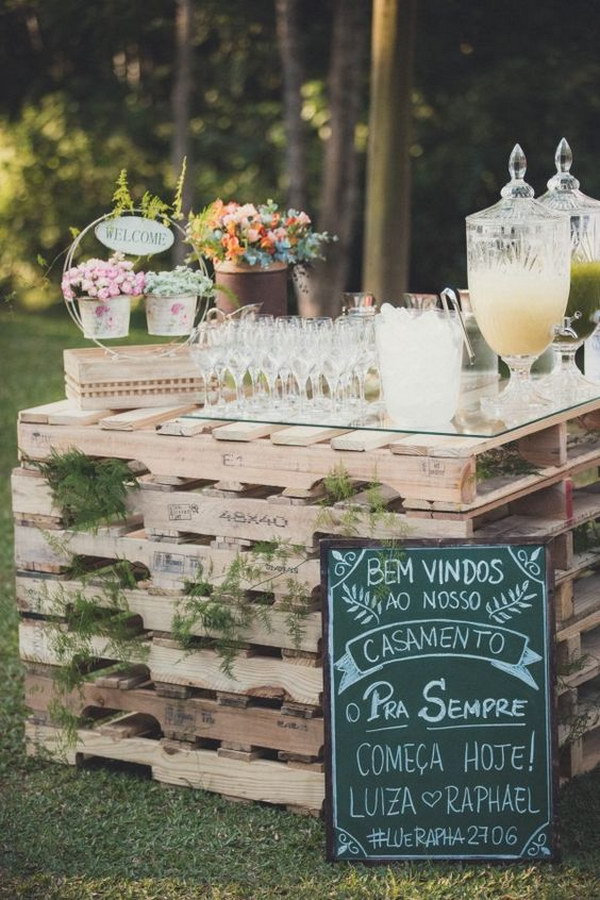 This is another distinctively rustic DIY drinks stand, as it's made from stacked pallets. Some flower pots lined on one of the top edges and a chalkboard menu sign propped on the side add the decorative touches. source.
Wheel Barrow Drink Station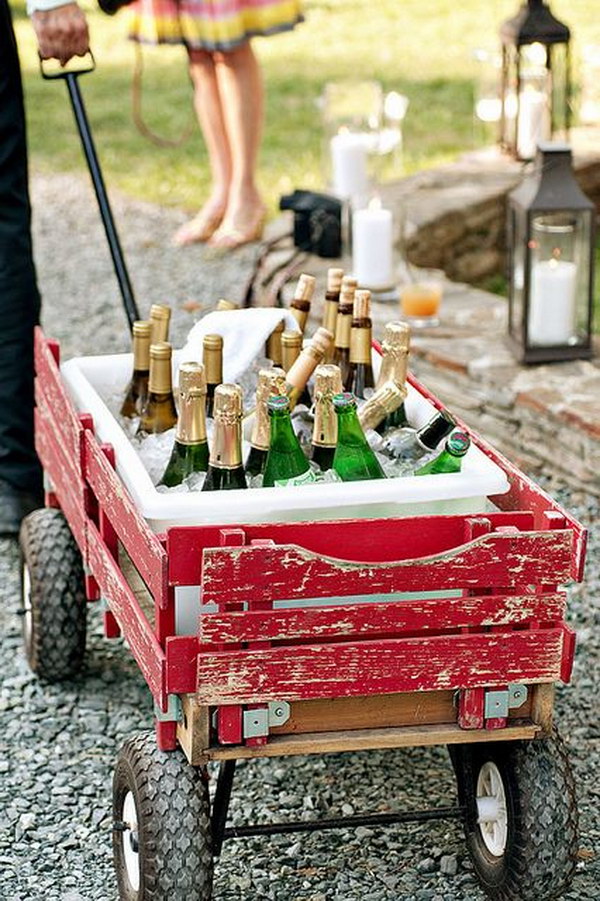 We've already talked about how great wheel barrels work as moving drink stations, but this one is quite different from the other example, with its distressed red paint. In this case, a white tub seems to have been added inside for better organization and stability.
Upcycled Side Table Drink Station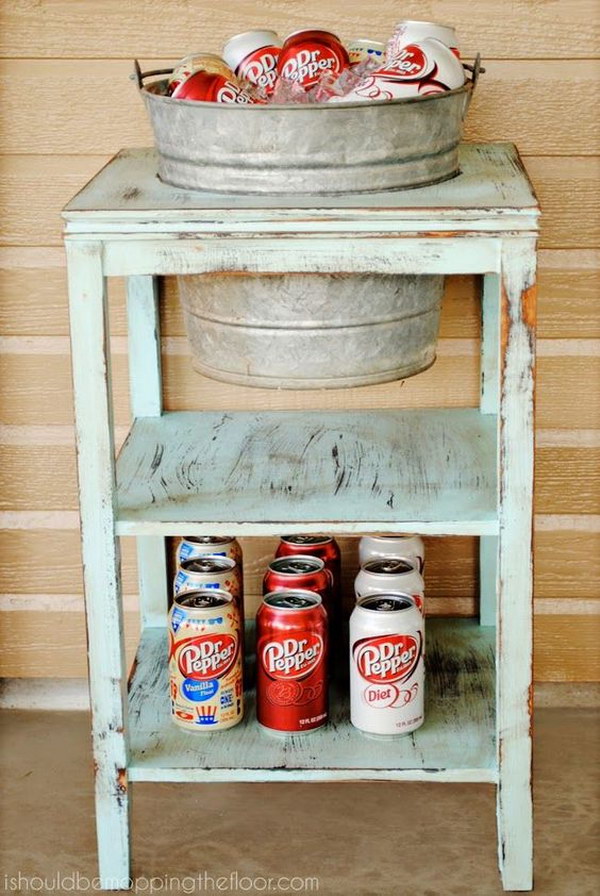 This is once again a project you can't really go wrong with, as side tables naturally lend themselves to being used as drinks stations. This one in particular has a beautiful, shabby chic distressed wood look to it, and it's quite perfect for this function because it has the bucket in the top deck, which makes for a fantastic cooling station. source.
Dresser Turned Drink Station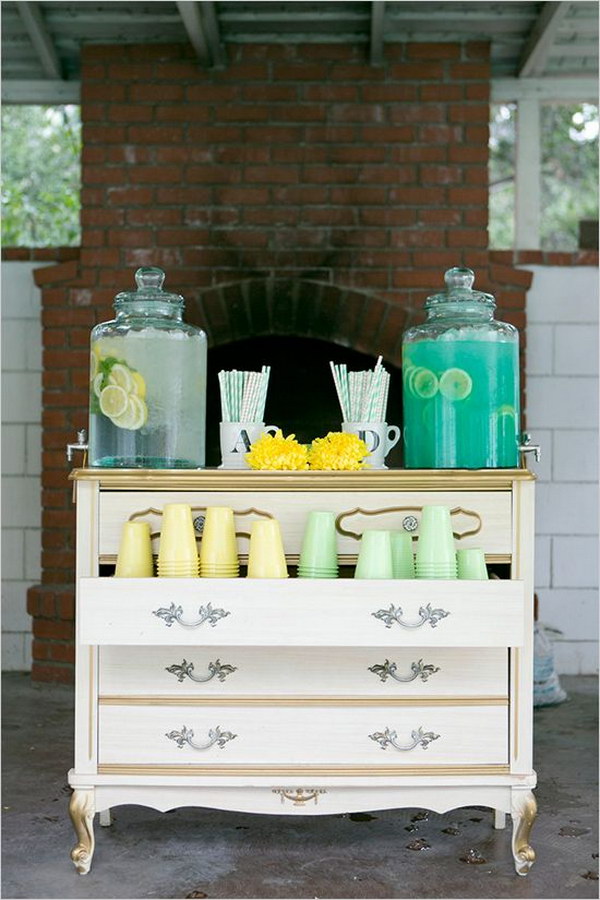 This pastel colored dresser worked beautifully as a drink station in this wedding, as drinks were easily displayed on top as well as in one of the long, yet shallow drawers. You can also use the remaining accessible drawers for paperware and storage. source.
Rolling Cart Coffee Station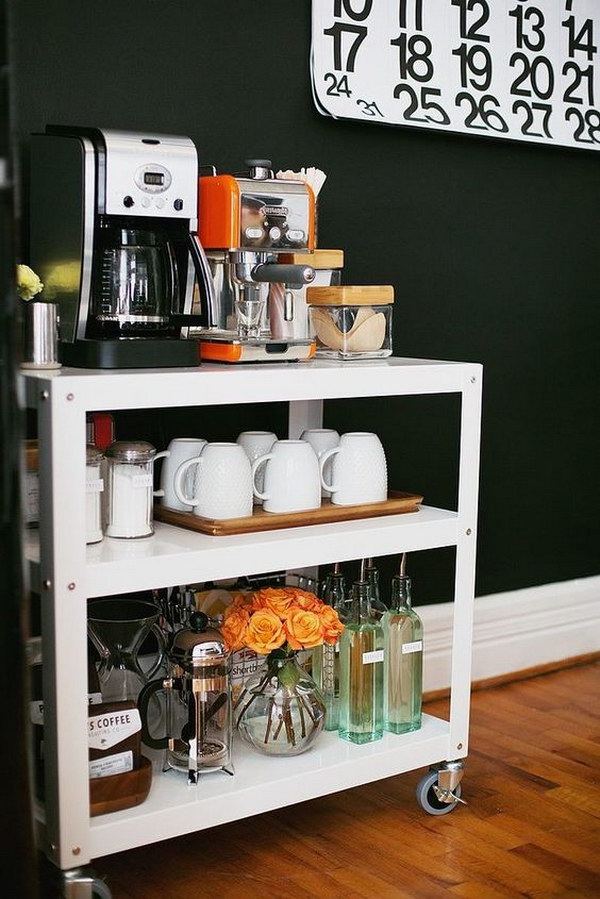 It is quite usual to see coffee carts at hotels, hospitals and such. This one works quite nicely as the espresso machines are on top, the cups and saucers in the next level and the spare ingredients as well as decoration are on the lower deck. source.
Adorable Vintage Table Drink Station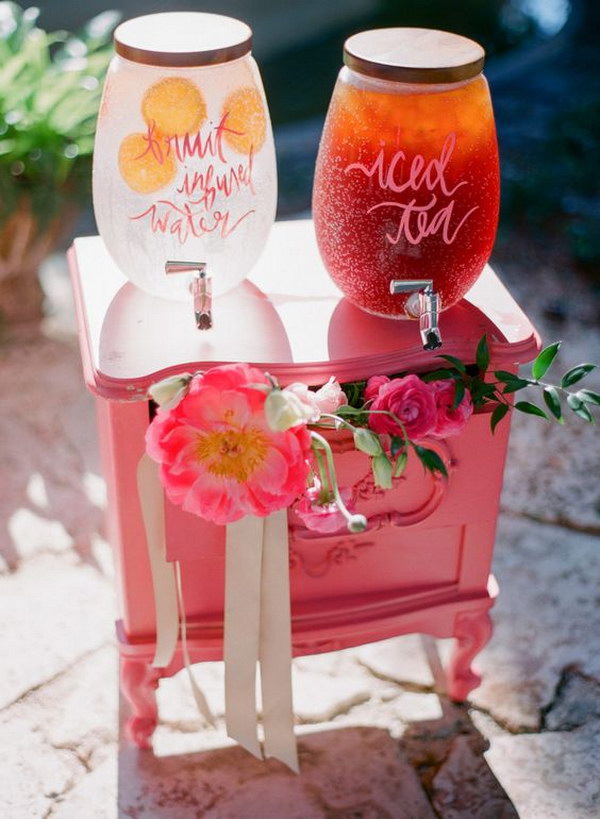 This tiny, vintage table is a really feminine and beautifully decorated drink station with its bright pink color, rose trim and ribbon. source.
Romantic Swing Drink Station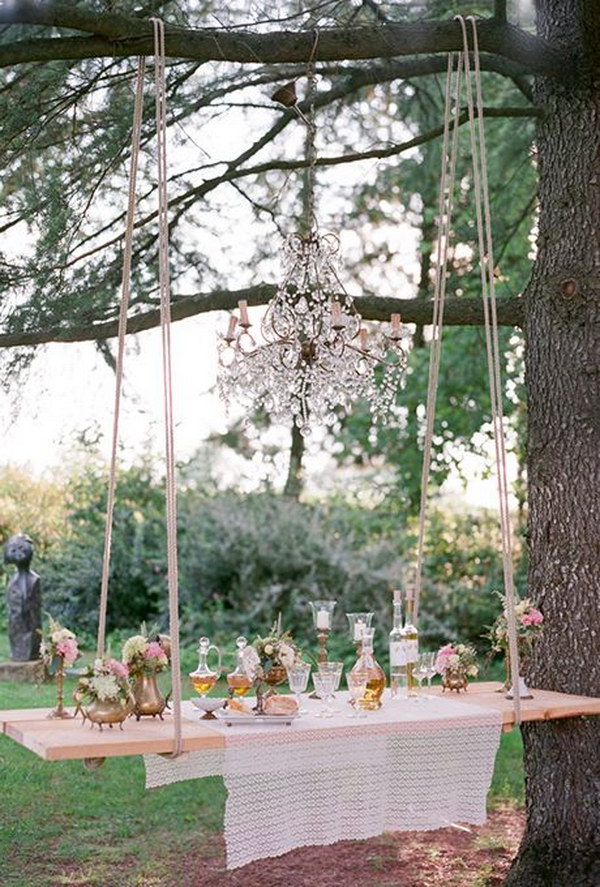 This swing drink station is a really beautiful and unique idea for an outdoor wedding ,as the swing is very decorative in itself. You can add a towel or other decorations, if you'd like, but you need to make sure your swing is wide, balanced and steady in order to avoid accidents. source.
Coffee Table Turned Drink Station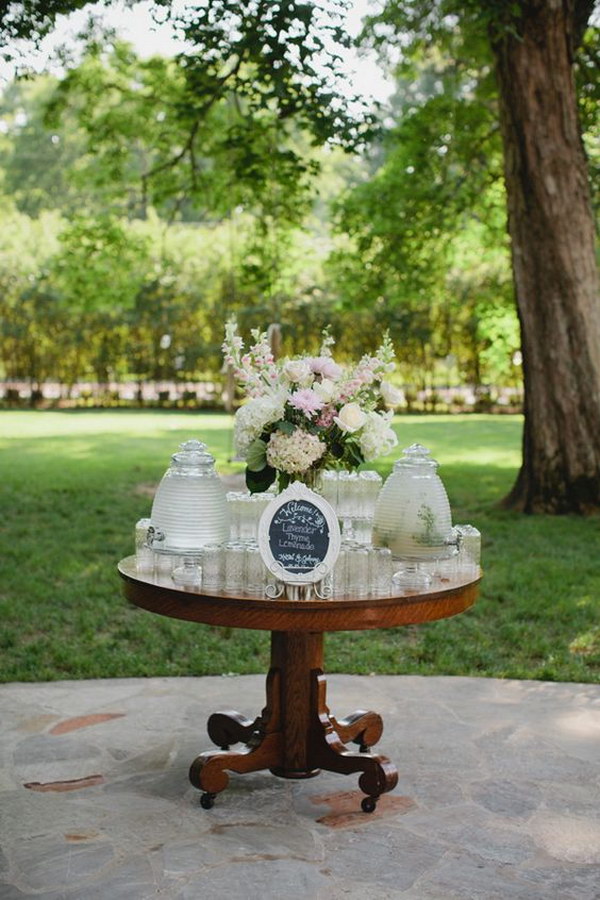 This little, dark wood coffee table works beautifully as a drinks stand. The floral centerpiece is beautiful and the drinks are gorgeously arranged around it. source.
Vintage Vanity Drink Station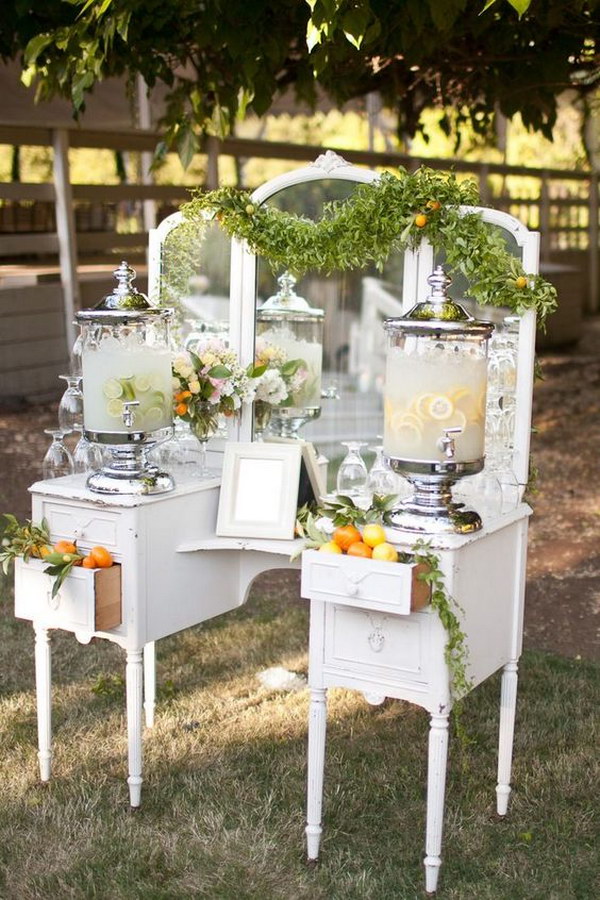 This pink vintage vanity makes for a really creative and unusual drinks station, but it somehow works out nicely, though the floral decorations are a little overwhelming. source.
Refreshment Table Beverage Station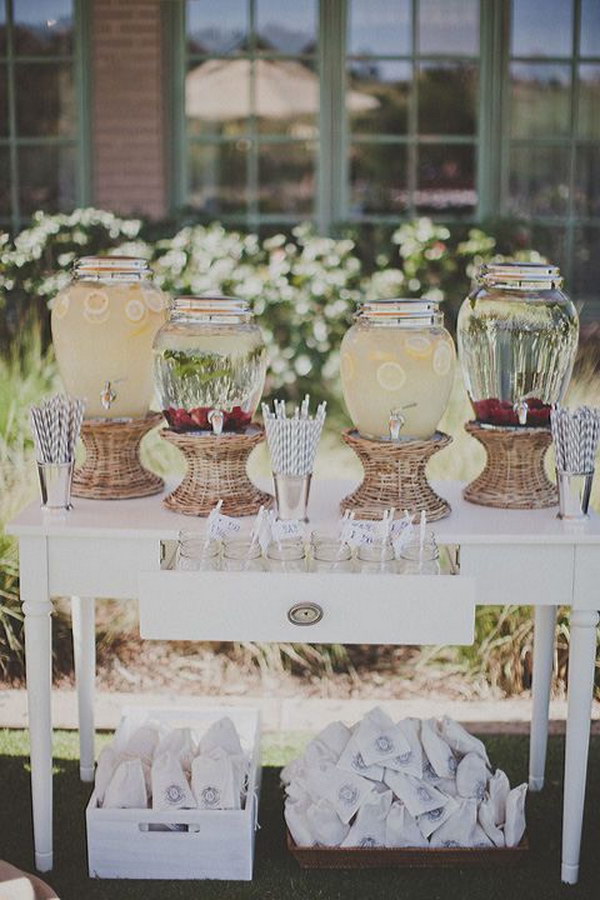 Another romantic drinks station, this one has a really elegant, vintage style, as the refreshment table is fully decorated with flower arrangements and gold china pieces. A pair of matching buckets underneath it offers a more functional approach. source.
Wall Mounted Fold Down Outdoor Bar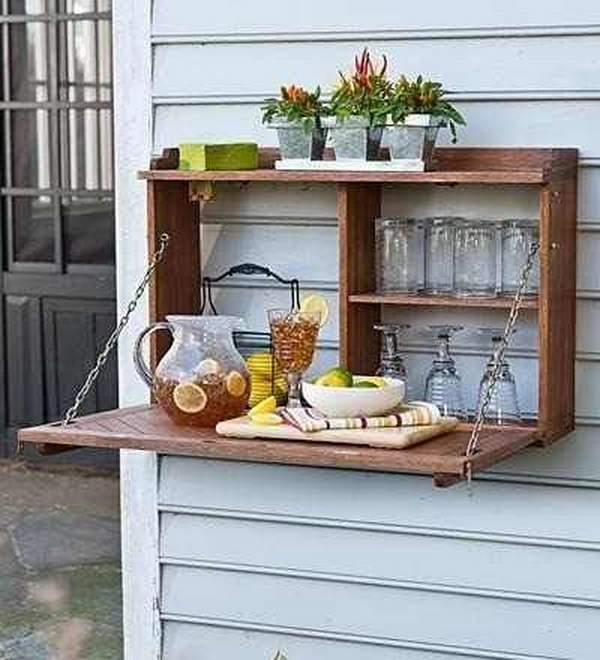 This little genius wooden wall cabinet is a great option for everyday use as well as smaller spaces, as it is mounted on the wall but opens up to form a stand with a small counter for serving and enjoying the drinks. source.
DIY Potting Bench Turned Outdoor Bar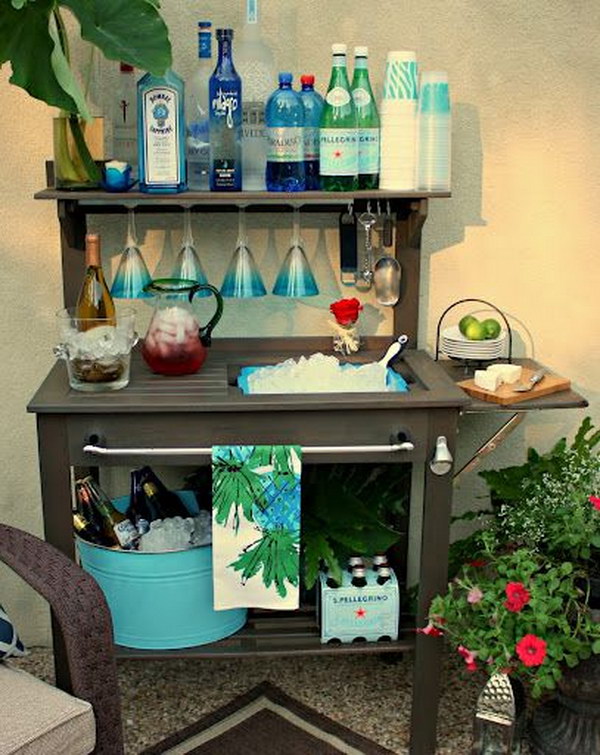 Pottery Barn Bar Cart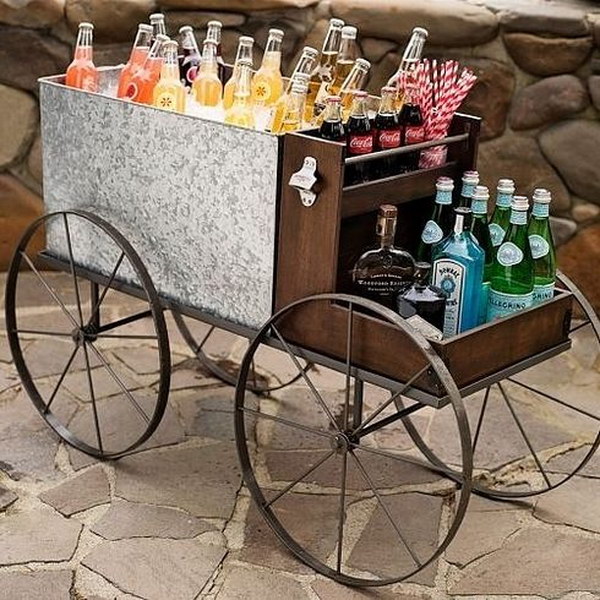 This pottery barn cart has a really beautiful, vintage vibe to it, with its rich dark brown color and large hollow metal wheels. The top works fantastically as a rack or cooling station while the front is great for serving the drinks. The patterned towel on the side is a nice decorative touch as well. source.
Old Farm Equipment Drink Station
Whiskey Barrel Table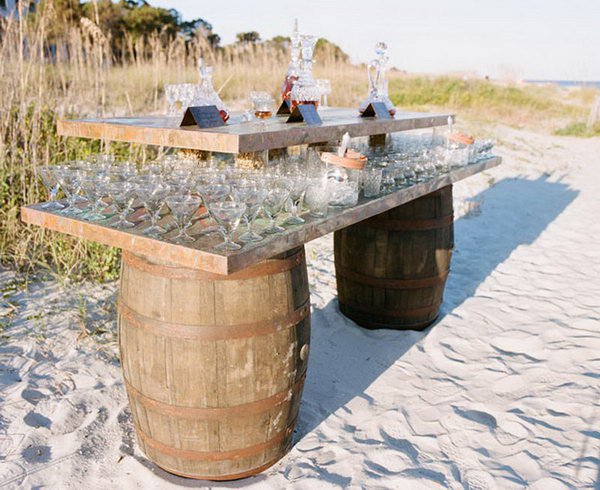 DIY Refrigerator to Ice Chest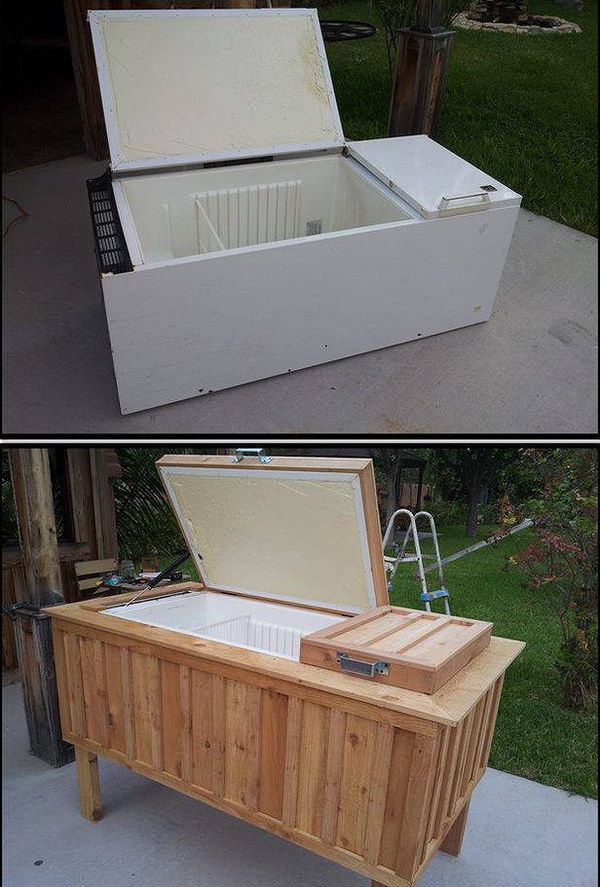 Old Dresser Turned Drink Station

DIY Patio Table with Built-in Beer Cooler