The outdoor areas of your home are just as important as those that are covered by a solid roof. Not only are they seen by you, your neighbors and passersby, but they are also often pathways for guests and even the venue for some events.
Patio floors are thus just as important, if not more, than those inside your home. They need to be as beautiful and appealing to look at, but also functional and resistant so they don't deteriorate easily over time – unless that is the look you want them to have.
So if you are renovating your patio or adding one to your home, you should take this chance to build something that you can be proud of and which will cause a good lasting impression.
That is why we've put these 25 Cool Patio Floor Ideas together for you to draw inspiration from.
Painted Patio Floor Tiles

This geometric tile floor is gorgeous in a very simple way. It only features three colors, mainly the white background, but the mix of lighter and darker blue sections adds life and dimension to the design, which is the same throughout. via oldbrandnew
Wood Slat Patio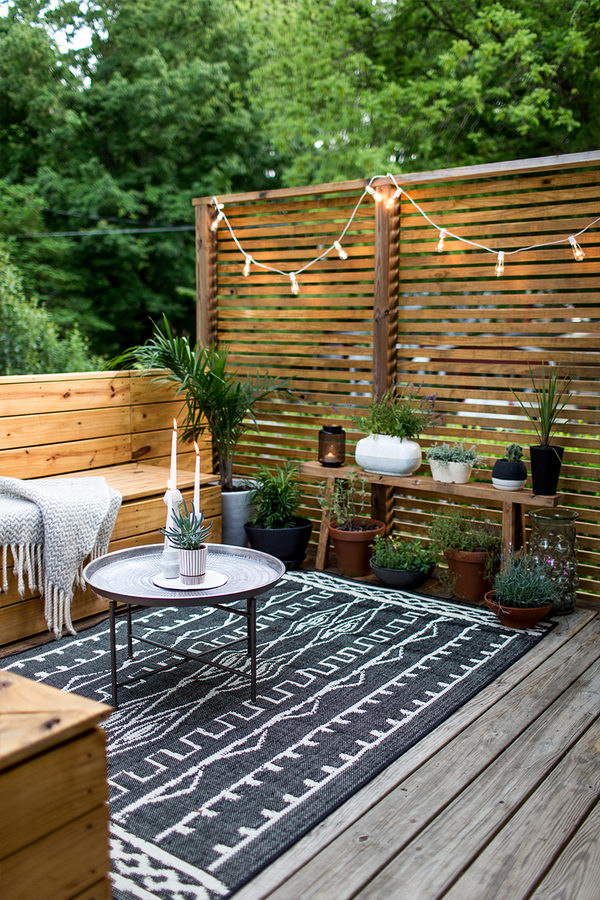 This patio has a deck style, with wood all around, so it makes sense that the floor would be covered by wood as well. The dark slabs are clearly showing in the main area, but they have been covered by a rug in the sitting section. via thefreshexchange
Floating Wood Deck

Speaking of decks, the floor on this one is also covered in long slabs of rich wood, which is a classic look for this space, but it was installed using a floating technique, giving it a modern twist. via rogueengineer
Wood Pallet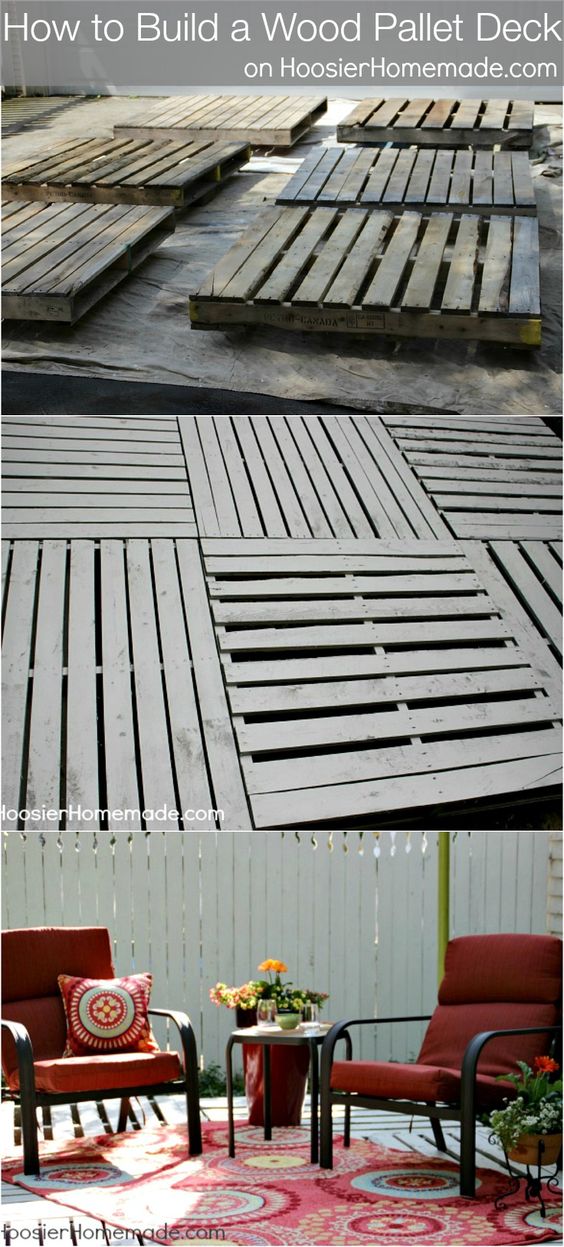 Pallet wood is a fantastic choice for a patio floor, because it is quite accessible, dimensional and occupies more space at once. The way the pallets were laid down here created a great mosaic-like pattern, which is the perfect backdrop for the rug-covered seating area. via hoosierhomemade
Pebble Mosaic Patio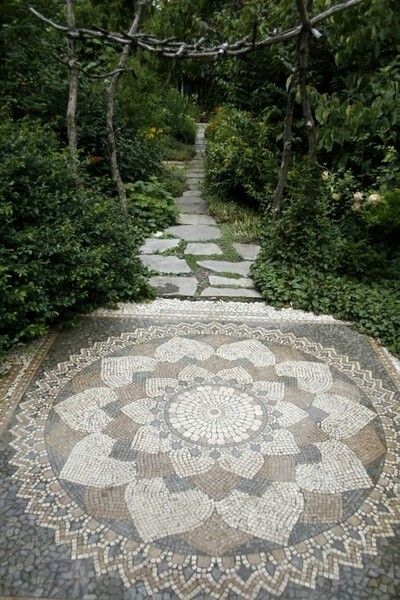 Building the floor using pebbles takes work, but the result is always undoubtedly beautiful. This one stems from the garden pathway into a round clearing, where two different shades of gray create various shapes including hearts, chevron and a circle marking the very center.
Pebble Mosaic Patio
This intricate geometric mosaic is made of black and white pebbles, which make it resemble the renowned Portuguese pathways. The contrast and detail of the design are both stunning. via houzz
DIY Stone Paver Patio

Stone is one of the best materials to use in the outdoors, as it is quite resistant. This patio's floor was created using stone pavers, which are accessible and ready to install, but they were arranged in different directions, which gives the area an interesting and dimensional look, which definitely counts as cool. via simplykierste
Stone Pavers With Pea Gravel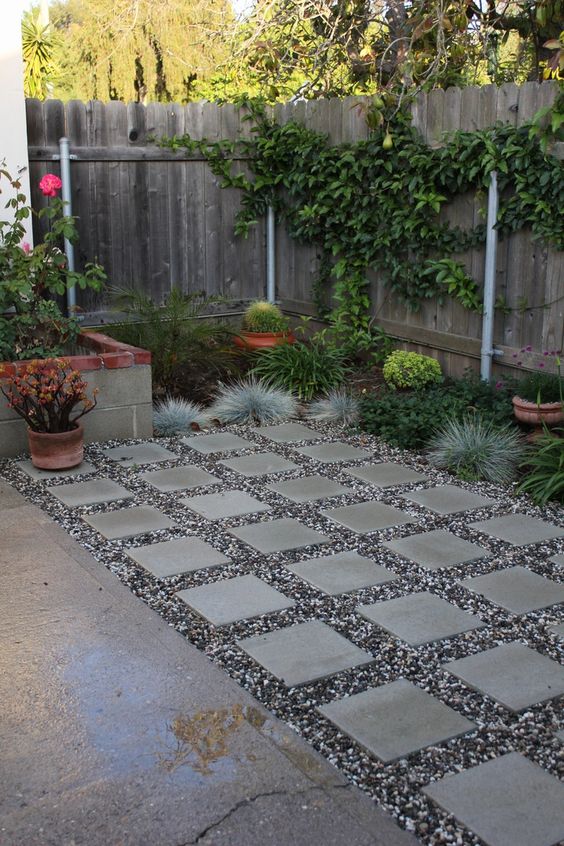 Here's a great twist on what could have been a very traditional patio floor. It mixes square pavers with pea gravel, which you can see in between the squares, adding extra color and texture to the area.
Brick Pavers And Large Stepping-Stones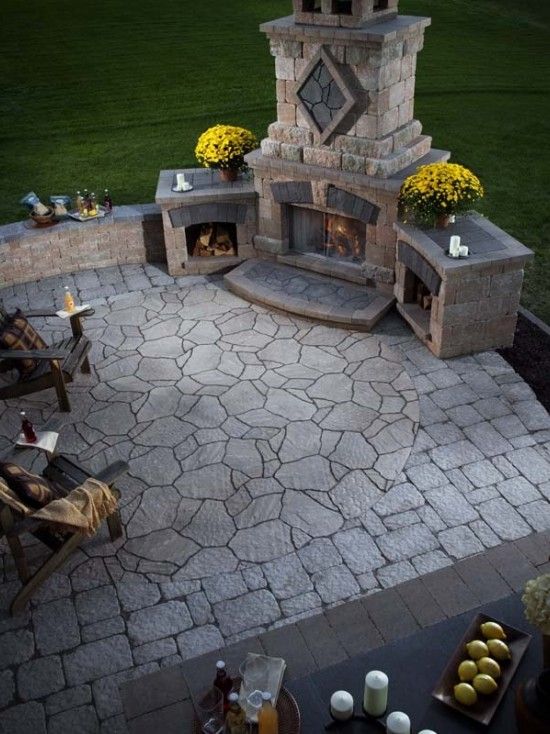 This section of the patio's floor is beautiful in its simplicity, as the edge was done with dark brick pavers, while the inside was covered with irregularly shaped stepping stones, creating a mosaic with only one color.
Stone Dragonfly On Patio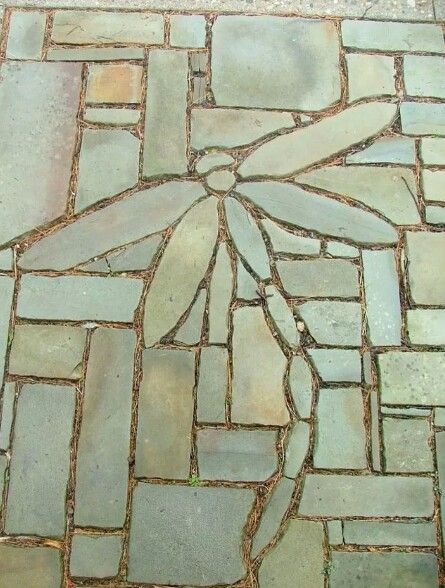 Details can make a big difference in the look of a patio floor, and this is a fantastic example of that. These stones were laid down in a seemingly random pattern, but then some of them were cut and placed in a very specific way, so that they create the outline of a dragonfly.
Mosaic Stone Patio

This could have been a regular stepping stone floor, but the row of raised, round mosaics made of irregularly shaped stones added some detail and gave it a completely different look. via stoneartblog
Classic Look Brick Patio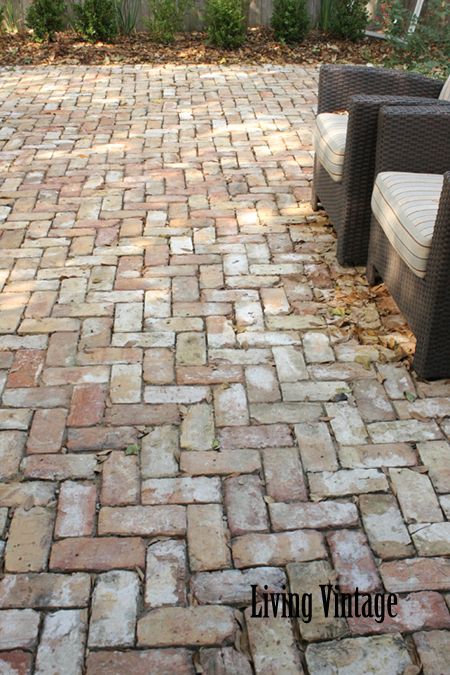 This patio floor is indeed quite classic, as it was completely covered with identical bricks placed in every direction in order to fill the space in completely, leaving minimum gaps In between. via bellissimainteriors
Bricks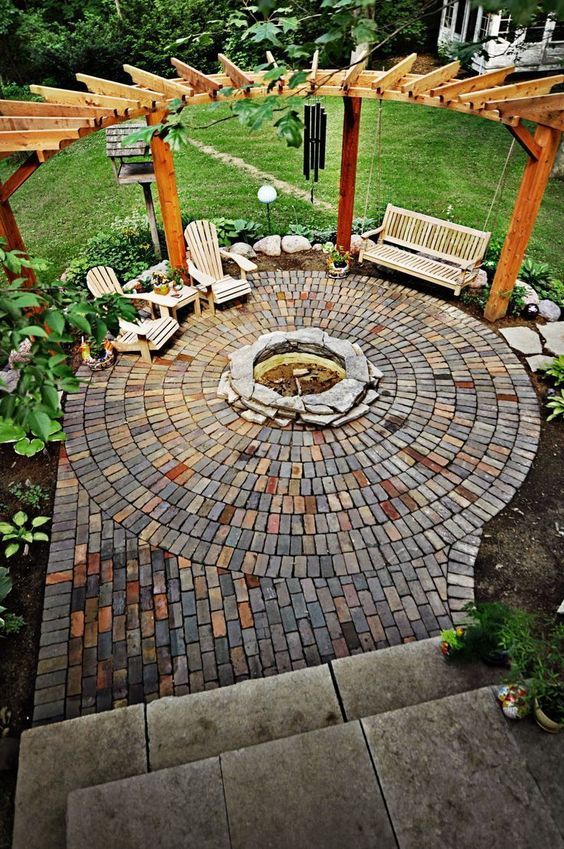 This patio's floor may be made of bricks, but it isn't typical in any way. The bricks are the exact same size, and they are arranged in neat rows, but there are two colors in this mosaic, and the rows actually form concentric circles that converge in the pit built in the center of this patio space.
Circle Brick Paver Patio

This idea is similar to the previous one, yet less elegant. A circle of large, evenly spaced dark brick pavers was created in the middle of the patio, converging in a small pit filled with pebbles, which gives it more of a rustic look. via creativeendeavors4u
DIY Painted Patio Tile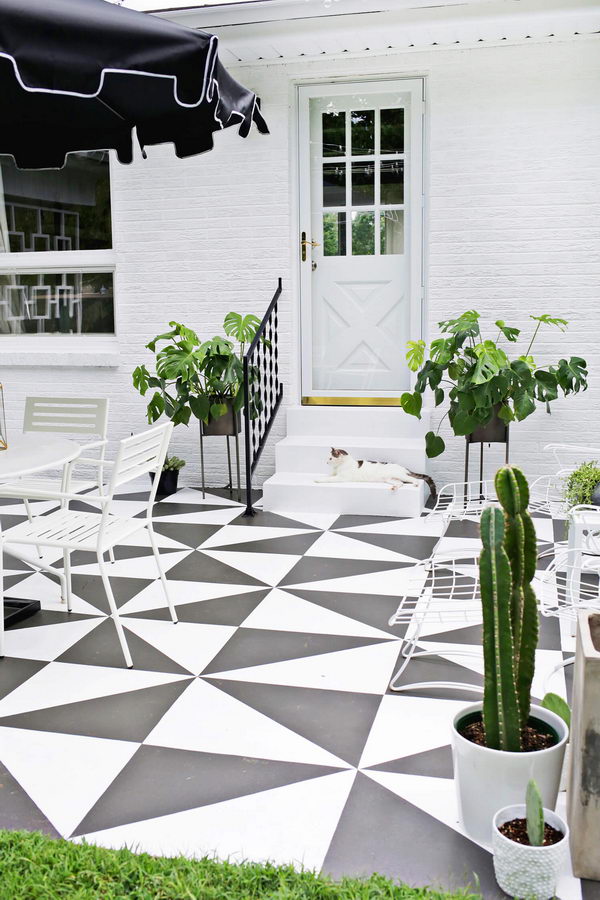 This black and white tile floor would be perfect for the kitchen, but it is a fun choice for the outdoors as well. The contrasting triangles were installed in the most impactful way too, which allows the mosaic to truly shine. via abeautifulmess
Painted Patio Concrete Tile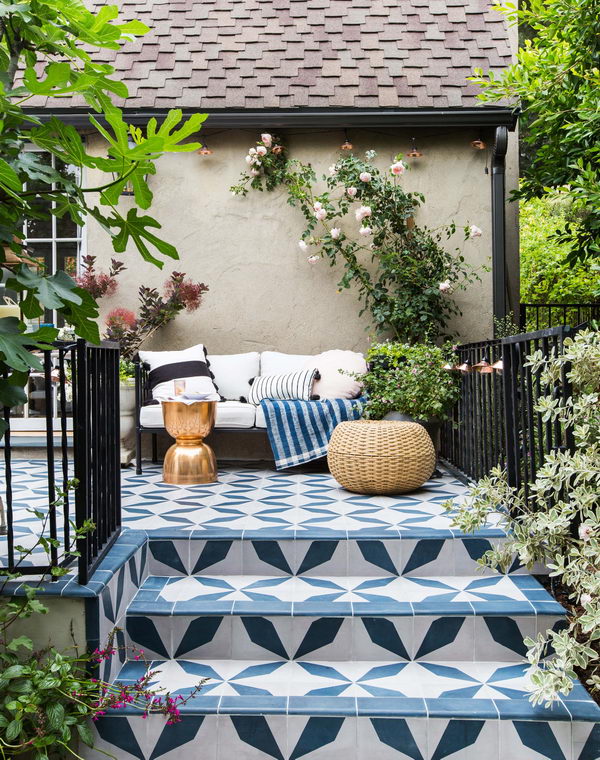 This is a very beautiful and colorful tile, so it looks stunning in outdoor spaces with its mid-century style pattern. The fact that the tiles are made from concrete makes this floor more durable than regular tile would be. via stylebyemilyhenderson
Painted Cement Floor

This durable cement patio floor would have been nice on its own, but it was turned into something gorgeous with a white stenciled pattern that creates a vintage mosaic effect. via cuttingedgestencils
DIY Pea Gravel Patio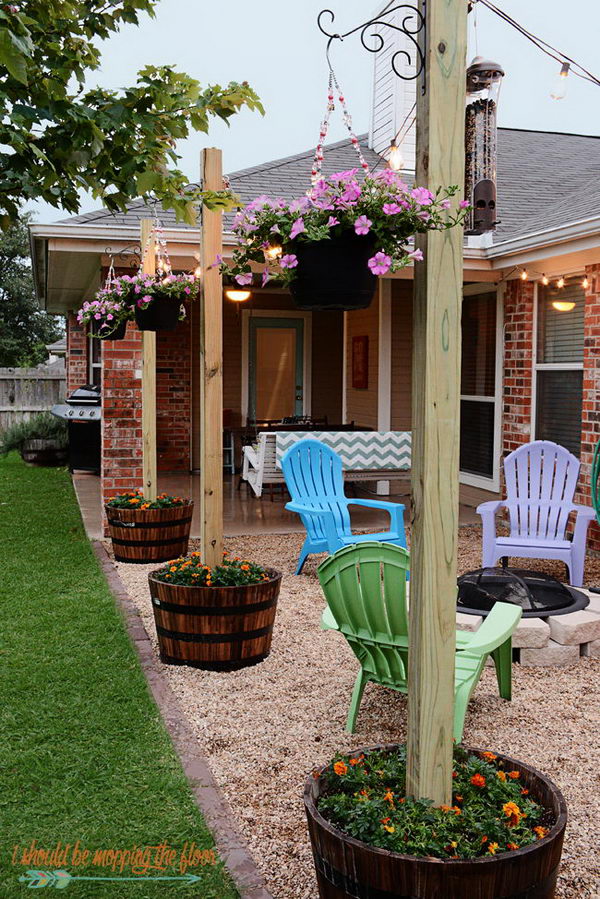 The floor of the seating area of this patio was covered in packed pea gravel, which is a great option for casual spaces like beach or country houses, and goes really well with the grass you can see on the remaining area. via ishouldbemoppingthefloor
DIY Wood Looking Stamped Concrete Patio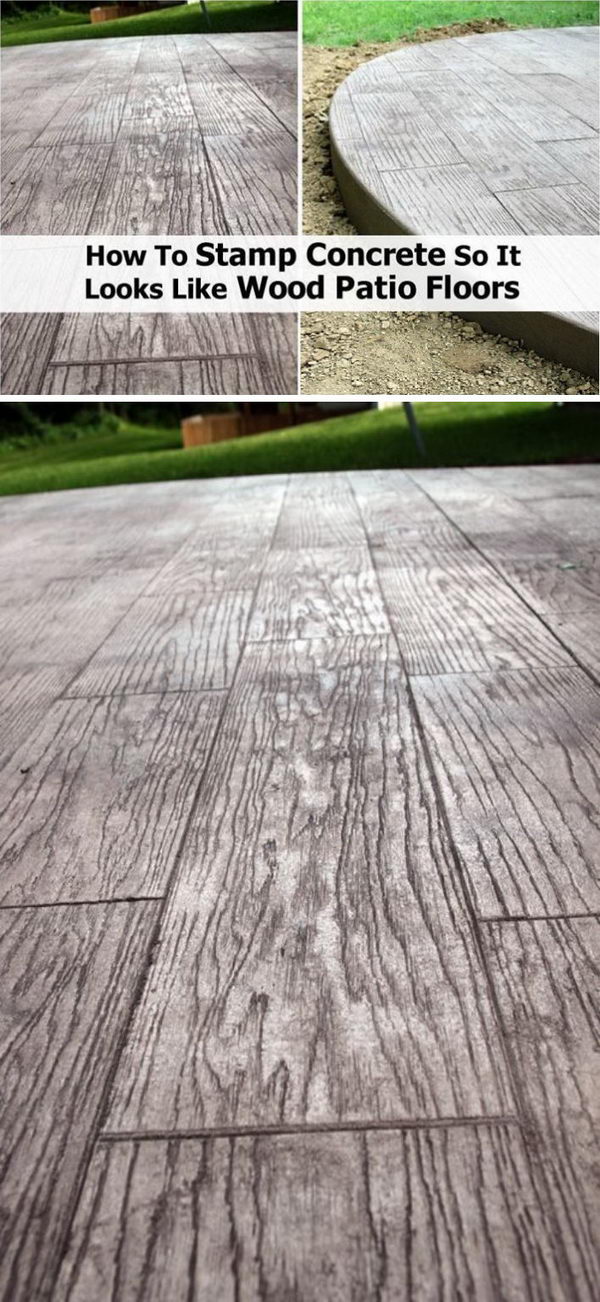 This patio's floor allows you to get the best of both worlds: the textured look of wood and the durability of concrete. What you need to do is make your own slabs and stamp them with a wooden texture before they dry to make your floor look like it's covered in wood when it isn't. via thelilhousethatcould
Stamped Concrete And Aged Brick Patio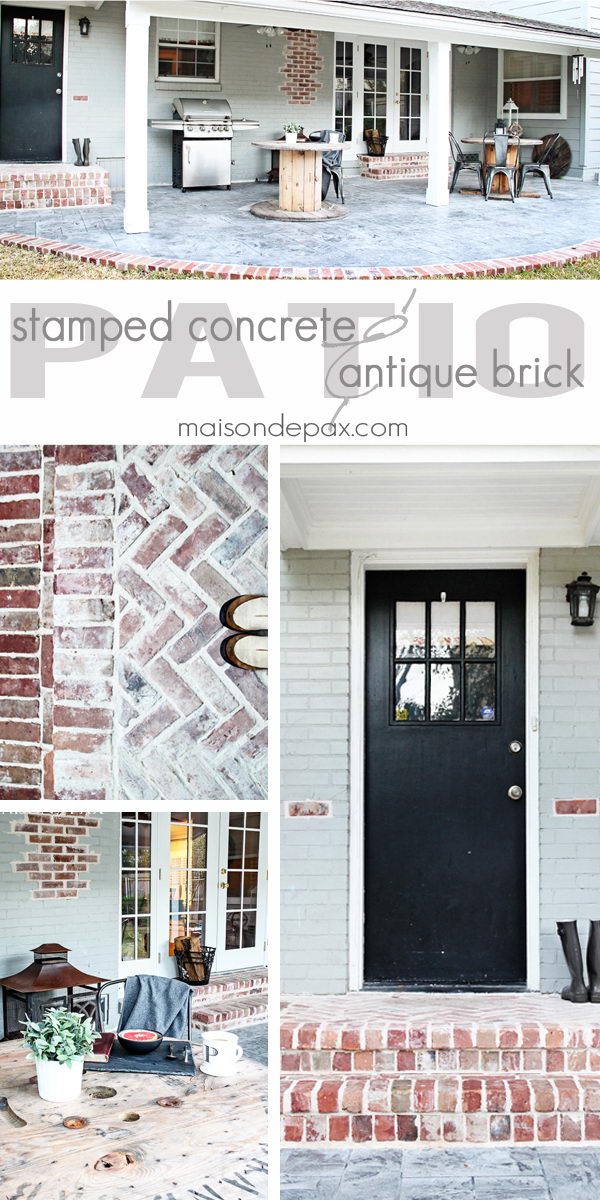 We all know concrete's main advantage is durability, but we must not forget that it can also be molded, shaped, stamped and painted to resemble other materials. This "aging brick" floor is a great example of that because while it may seem made of different distressed bricks, it was in fact created using concrete. via maisondepax
Concrete Slabs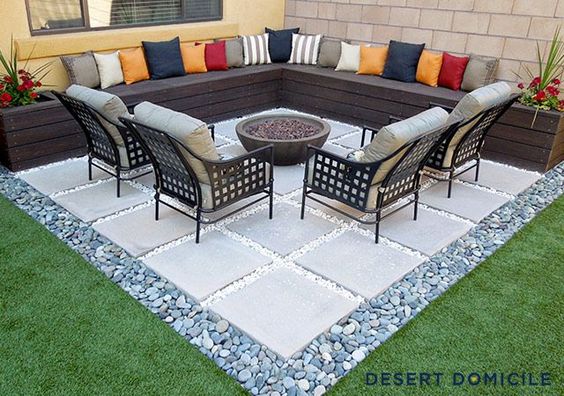 Here's a more traditional way to use concrete. In this case, the squared slabs were installed among some gravel to create the outdoor dining area. A darker, pebbled edge clearly separates the space from the surrounding grass. via desertdomicile
Circular Stone Firepit Patio
This is another example of a dedicated area that was created in the patio using a different material. A circle was built among the grassy expanse of the patio using large stone slabs. A fire pit sits in the middle and some lawn chairs have been placed around the edge for people to enjoy the fire during summer nights. via recapturedcharm
DIY Stone Looking Concrete Patio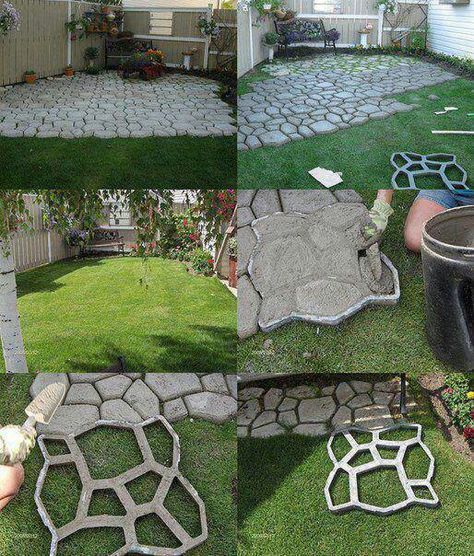 Here is another great illusion that was created using concrete. The stone-looking path was made using cement which was set inside a mold that resembles the pattern in which stone would be laid down – and it definitely looks like the real thing. via onemillionpicture
Decorative Concrete Blocks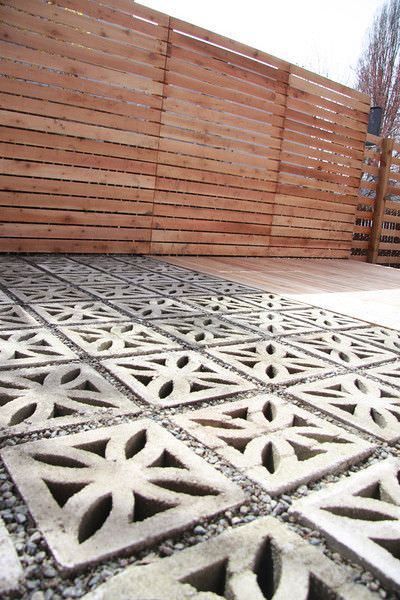 The floor in this patio has a gravel base, which isn't very good-looking or easy to walk on, so it was covered with hollowed out, mid-century style concrete blocks, which add an elegant touch and make a better walking surface while still letting the original floor shine through. via freshdigs
Circle Pavers In Pea Gravel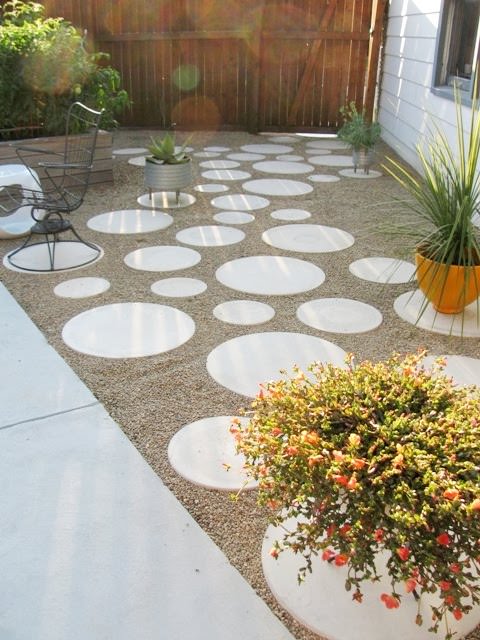 This is another one of those areas that mixes gravel with actual stepping stones to create a decorative and functional look. The round pavers of different sizes were installed among the packed gravel, creating a decorative pattern and a safer surface for people to walk on. via modfrugal