Plants not only make any space more inviting and refreshing, but they are believed to support healthy well-being, too. But if you're tired of clay or ceramic pots, then repurposed wooden pallets are the next big thing.
Becoming more and more popular for their DIY and rustic looks, wooden pallets turned into garden planters are a popular and cost-effective way to bring nature into your home. You can get them for free or purchase them dirt cheap, so you get to have a beautiful piece of garden planter for the cost of only a few nails and some tools.
Get your green thumb and your creative juices going for these DIY Garden Planter Ideas Using Wood Pallets will get you excited and ready to go.
DIY Planter Box from Pallets

Ditch the clay pots for your patio and try this DIY planter box idea to greet your family or guests as they walk up your door. Giving that ultra rustic vibe, these planter boxes made from repurposed wooden boxes will turn any drab doorway into a beautiful facade with a country vibe. Pry the wooden slabs from pallets and make two boxes. Paint them with varnish so they look new, place identical plants inside, and put them on both sides of your door. via instructables.
Pallet Holder with Colourful Tin Can Planters

Bring some color to your windows with this pallet holder with colourful tin can planters. Using a small number of wooden slabs, some painted tin cans, and a bunch of tiny flower plants, place this upcycled work of art beneath your windows for that quirky and pretty addition to your home's exterior. via pillarboxblue.
DIY Pallet Wall Planter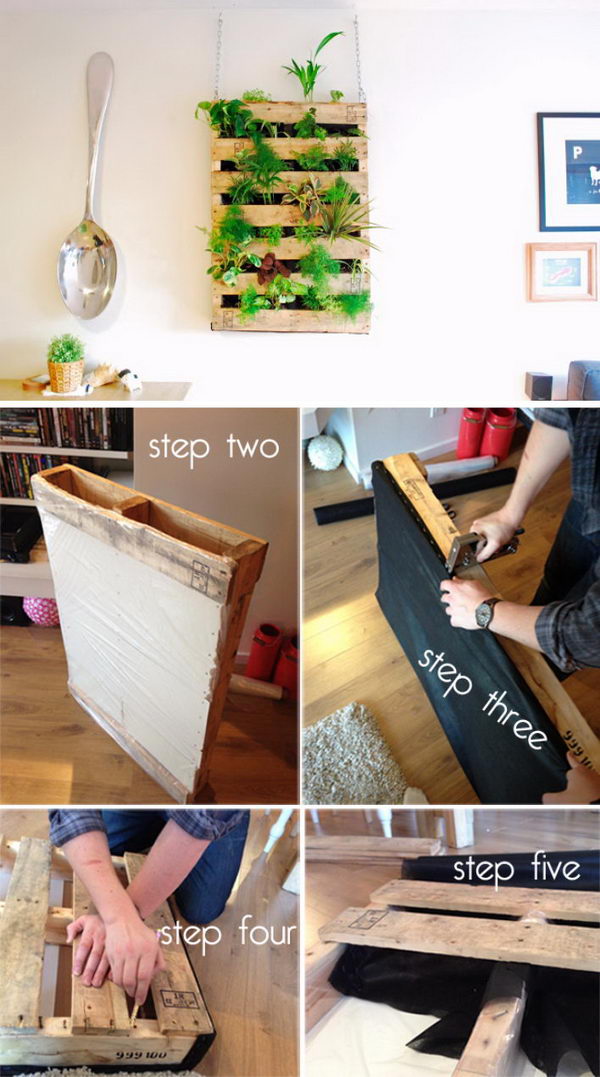 Plants on a wall? Whoever said it can't be done must not have had an imagination. This project is perfect if you want to have plants inside your home even if you live in a tiny house, a condominium, or a studio apartment.Collect a number of plants that can thrive indoors, place them inside this creative and beautiful pallet wall planter, and turn any ordinary room into an urban garden. via beersnbeans.
DIY Rainbow Pallet Planter

If you like working with handy tools and having kids along for the ride, then this is the project for you. Line up some wooden slabs and let kids or your friends paint them in different colors. Once the paint dries up, nail them to create a standing structure, and place worm clamps using an electric drill so they stay in place. Gather your tiny clay pots with sizes enough that the clamps can hold them, and voila, you've got a colorful pallet planter for your yard. via hellocreativefamily.
DIY Pallet Wood Hose Holder with Planter

Hit two birds with one stone with this functional and decorative wooden pallet planter. Make some space for a water hose to be placed inside, cut a hole for the hose to go through, and make a planter on top of the pallet box. via diycandy.
Cascading Flower Pallet Planter Box

If you're growing flowers, this is a fantastic way to create one big ball of flowers that nature can't make. Create a wooden pallet box with stands, cut up some holes, and the plants will naturally grow out of the holes that you made. Pretty soon, these cascading flowers will grow into one big bouquet that will surely become the centerpiece of your garden. via hertoolbelt.
DIY Strawberry Pallet Planter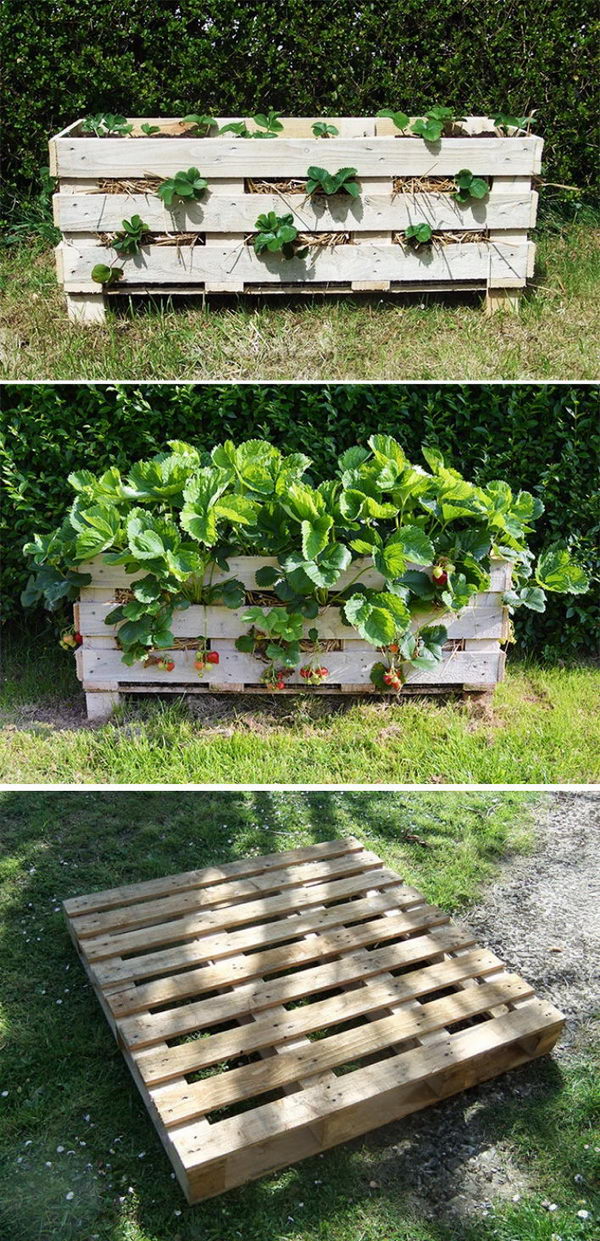 You can grow your very own contained strawberries using repurposed wooden pallets. Start with one box and pretty soon, you'll have your very own supply of fresh strawberries right outside your window. via lovelygreens.
Three Tier Planter Box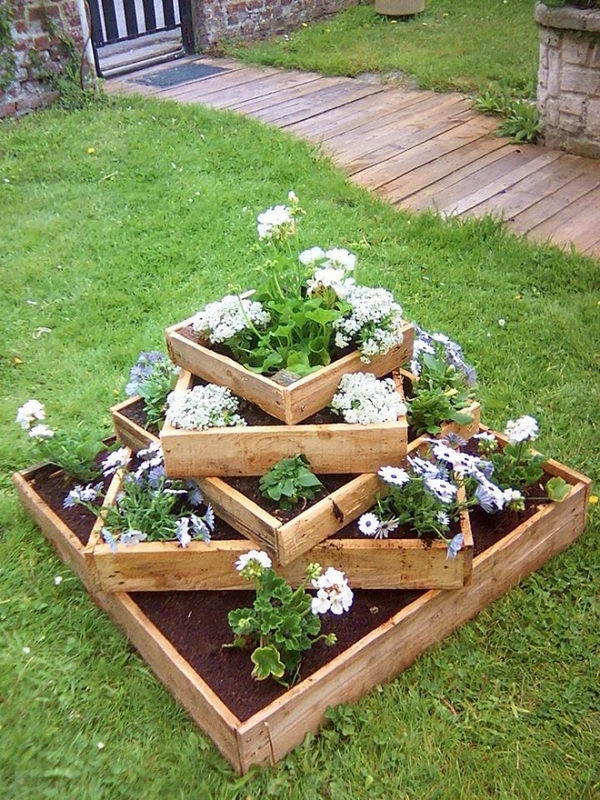 Who knew that plants and wood could be a work of art? Create this beautiful and stunning three-tier planter box and turn any ordinary garden into a landscaped beauty. To make it tasteful, use white flowers or any color as long as all the plants are in the same color. via palletsideas.
Upcycled Pallet Planter

Similar to the rainbow pallet planter, this project involves metal pails instead of clay pots being held by worm clamps. Paint both your wooden slabs and metal pails in one color, and hang the pails in random spots on your pallet planter. Simple yet elegant, this project is perfect to add a rustic feel to any regular yard. via thesoutherncouture.
DIY Wood Pallet Hanging Planter
Hanging planters are just adorable, and you can make one out of repurposed pallets, too. This ingenious hanging planter is simply done but creates a modern yet elegant addition to your garden. via savedbylovecreations.
Triangle Wood Pallet Planters

Square or rectangle pallet boxes aren't the only things that you can make with wooden pallets. You can make triangle boxes, too. Add that touch of quirk to your outdoor space with these triangle wood pallet planters. via lovecreatecelebrate.
DIY Wood Pallet Herb Garden

Create this standing clay pot holder to grow your herbs. Wouldn't it be great to be cooking in your kitchen and all you need to add some flavor and spice to your dishes is found in your garden? Buy potted herbs and create this super easy wooden pallet clay pot holder and turn it into your very own herb garden. via pinkwhen.
DIY Free Standing Pallet Herb Garden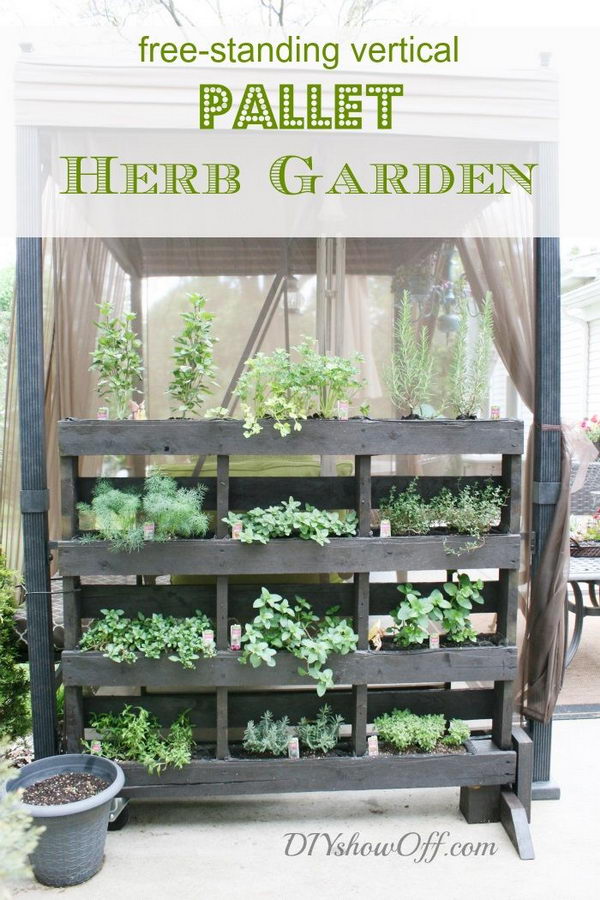 You won't need pots in this pallet herb garden. Create equally-sized small boxes on a vertical wood pallet. Place your herbs inside the boxes and you've got an economical way to grow your plants. via diyshowoff.
DIY Pallet Planter

Is that a picket fence planter? Well it might look like it is, it's actually a planter made of wooden pallets. This project matches any classic or country home, and adds that perfect homey feel to any garden or yard. via themicrogardener.
DIY Pallet Planter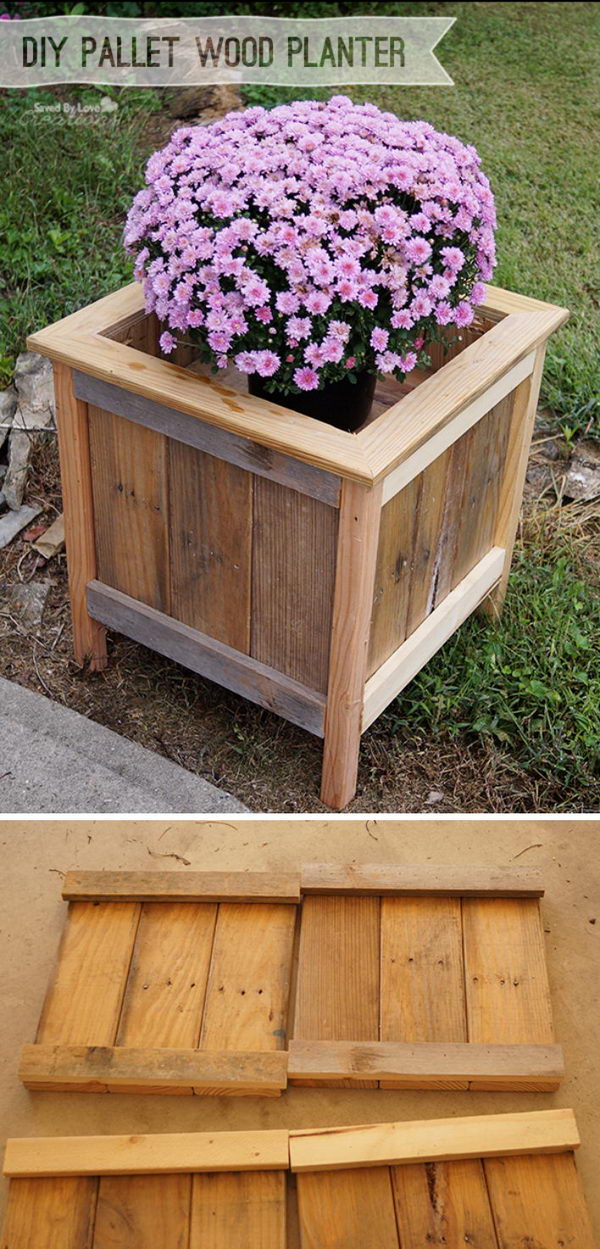 Simple and direct, this pallet box is the perfect structure to hold any pretty plant. Make several and arrange them around your garden for a full DIY project. via savedbylovecreations.
Awesome DIY Pallet Planter Box

A nice idea of DIY planter box made from recycled pallets. And a lovely way to highlight your beautiful porch. via hemmafixbloggen.se.