Christmas is the Greatest Time of The Year, or so says the song. It's the time for peace and love, for bright colors, presents and fancy decorations. In short, it is the time to be merry.
The Fall and Winter months which lead up to Christmas are also a fantastic opportunity to take up crocheting. You may do it because you're bored at home, or maybe so you can create truly affordable and unique gifts. In fact, if you get good fast, you could even go ahead and knit some "ugly Christmas sweaters" just in time for the season.
You may not be accomplished at crochet or knitting yet though, and we totally understand it if you need to ease yourself into the art of crocheting. That is in fact why we put this article together. Feel free to get some inspiration from these free Christmas crochet patterns for beginners.
Crochet Christmas Tree Skirt Pattern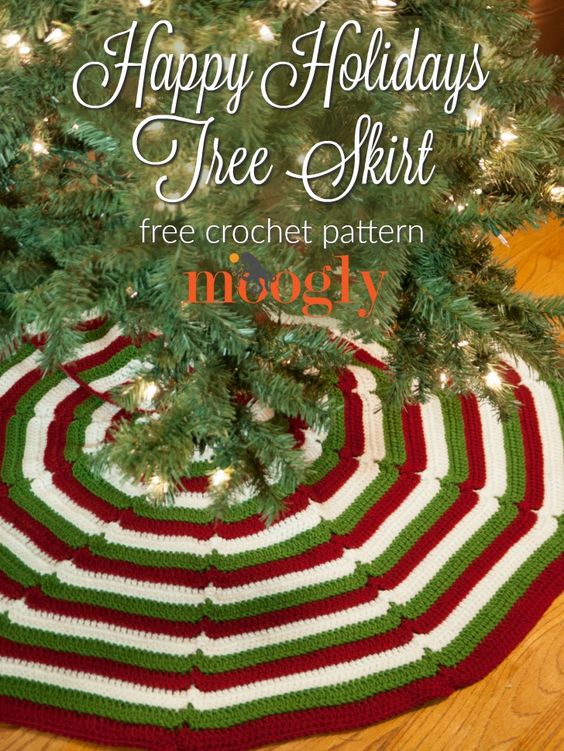 Going the extra mile with this Christmas tree skirt is quite easy, as the pattern is made of simple straight rows of stitches in three alternate colors. Adding this skirt to your tree with give it some extra color and cheer in a simple way. via mooglyblog
Crochet Mini Stockings Ornament Free Pattern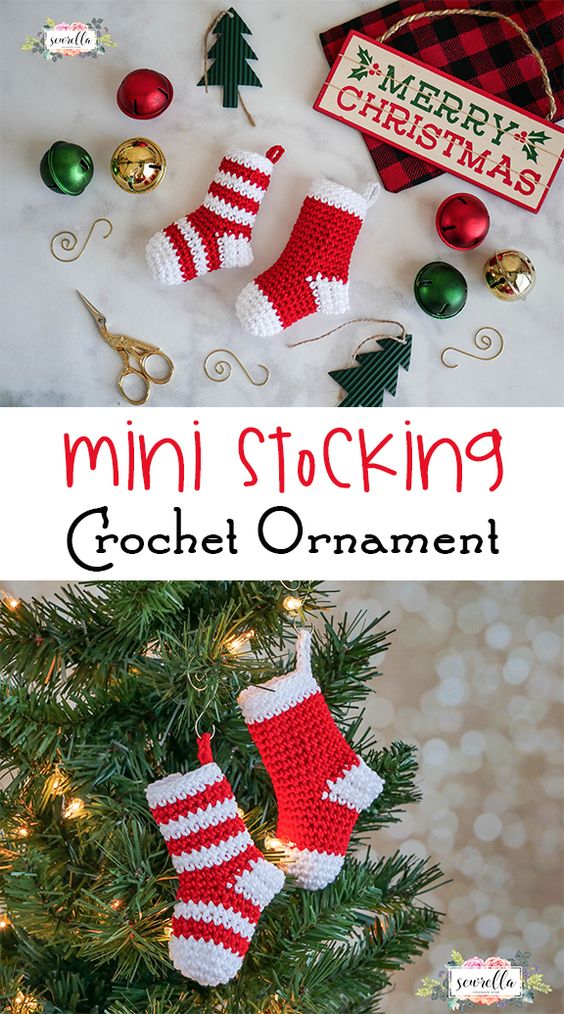 Fuzzy socks are a classic crochet project, but these will go on the tree instead of your feet. These colorful mini stockings are meant to be ornaments, but you can also make them in real size to hang on the fireplace. via sewrella
Christmas Wreath Ornament Crochet Pattern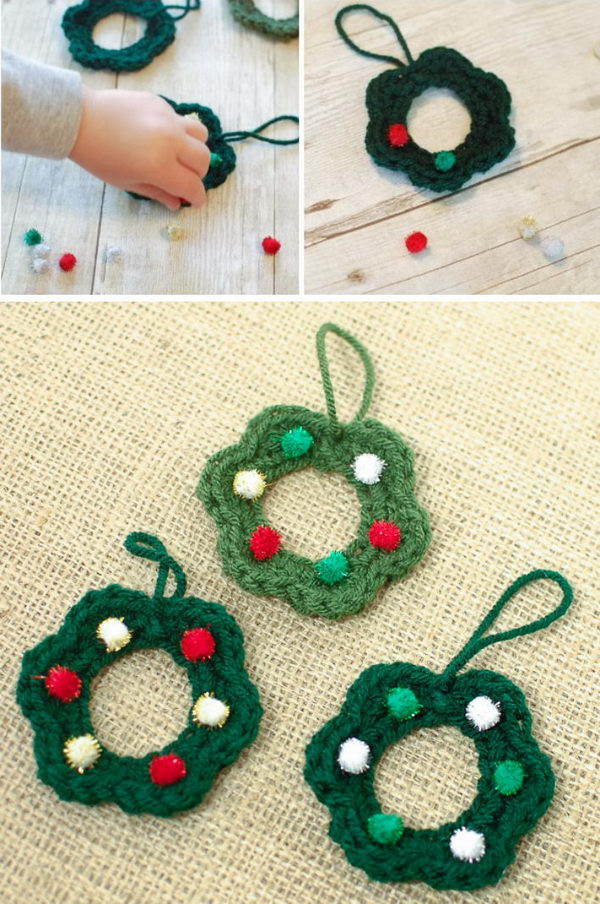 These little wreaths are a different kind of ornament. They are made from simple, flower-like dark green crochet circles with a loop of yarn at the top for hanging, and then they are decorated with tiny yarn balls. via petalstopicots
Cozy Mitten Garland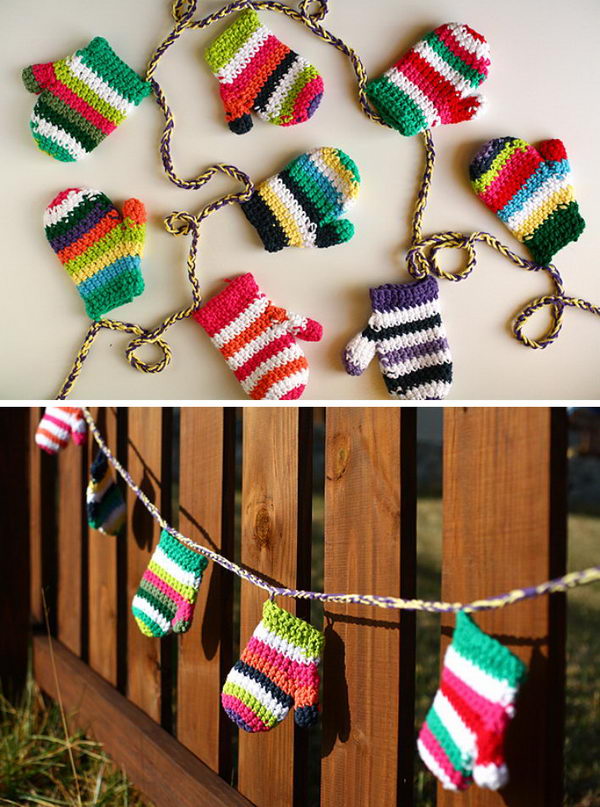 Mittens are another classic winter crochet project, but these are for hanging instead of wearing. While the pattern is the same for all of them, each mitten has different alternate colors. At the end, they are all hung by a multicolored rope of yarn. via caughtonawhim
Crochet Star Ornament Pattern

These ornaments are made from a literal open crochet star pattern, used to create small crochet star ornaments. A red ribbon was threaded through the top so that the ornaments can hang from tree branches. via 1dogwoof
Crochet Snowflakes Coasters For Christmas Table Decor
These coasters are a fantastic way to protect and decorate your Christmas table while effectively impressing your guests. It is a mixed project, as only the actual snowflakes are crochet, and the base is in fact made of felt. via katrinshine
Crochet Christmas Light Decorations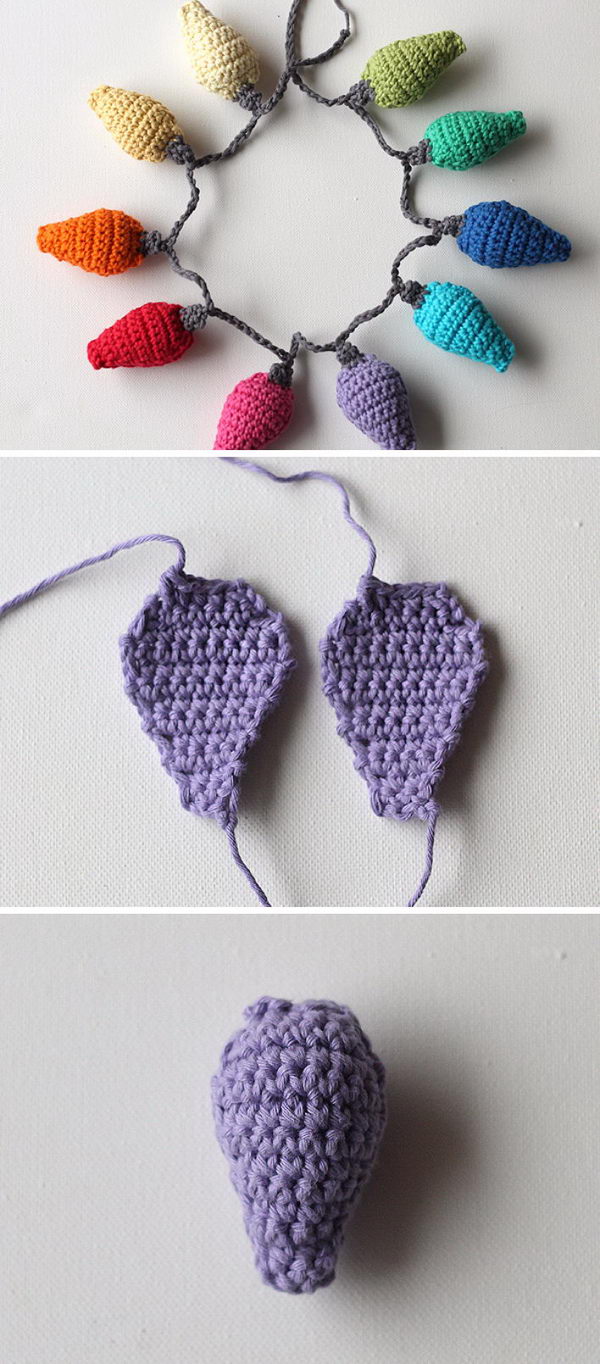 Decorate your tree or house in a truly unique way with this colorful string of fake lights. All you need to do is crochet your "bulbs" in two halves, then join them and stuff them. Add them all to a long string and your decoration is ready. via tutsplus
Crocheted Snowflake Table Runner Free Pattern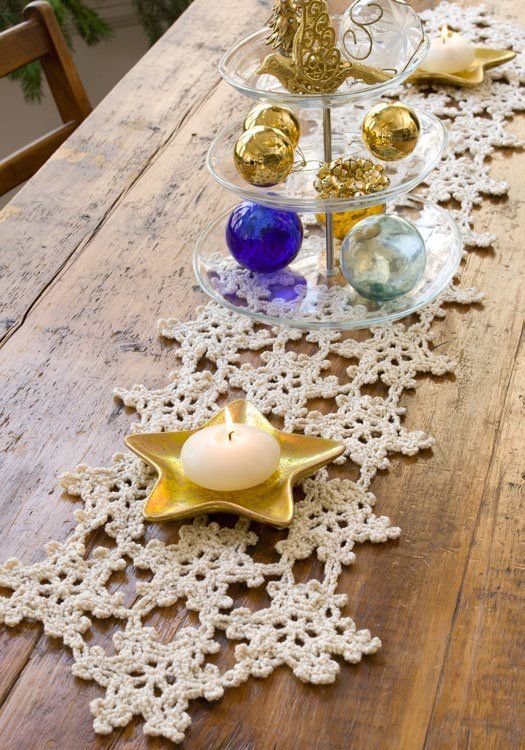 Table runners are one of the most popular uses of crochet, and this narrow, long piece is a fantastic example of that. It is made from rows of open knitted snowflakes joined at their edges, much like we've already seen in this article, which create a full piece. via favecrafts
Cork Pine Tree Crochet Patterns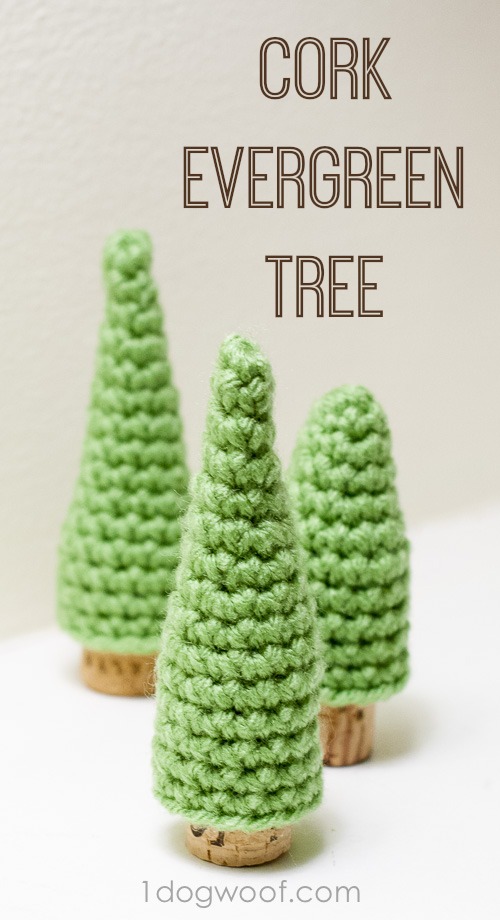 Here's a very sweet project, where green knitted cones were made to cover corks. Together, they make the shape of an adorable natural pine tree. via 1dogwoof
Crochet Christmas Tree With Buttons

This adorable little cartoon-ish Christmas tree is made from several rows of green yarn which were knitted to make a cone, then decorated with buttons as ornaments and a shiny star at the top. via popsdemilk
Crochet Santa Claus Mason Jar Cosy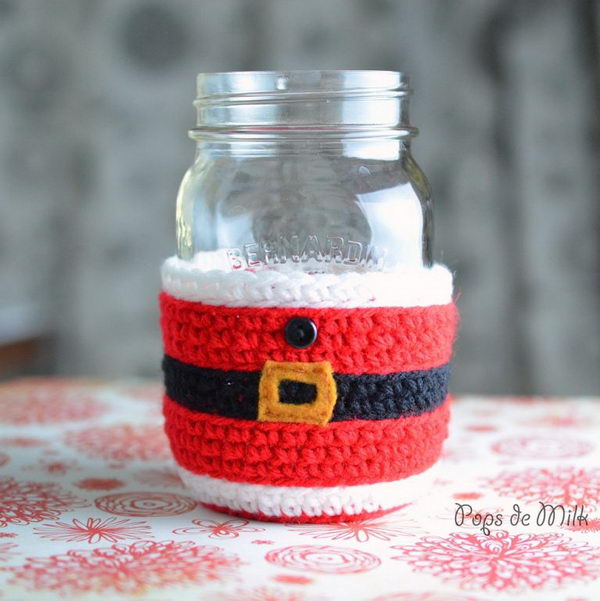 A half sleeve or cozy like this is just the way to go if you want to decorate any mason jars or bottles for the holiday season. This one is made of neat, closed stitches, with a red main body, black row in the middle for Santa's belt and white edges. A button was also added for decoration. via popsdemilk
Crochet Ribbon Christmas Tree Pattern

Christmas tree ornaments like these are actually really simple to make, as they are only long rows of stitches which are folded in the tree shape and decorated with colorful yarn balls threaded through the string that joins everything together and makes the loop to hang the piece off of. via poppyandbliss
Crochet Christmas Trees
This project is for fans of an elegant white Christmas, as the trees are created with cones which are covered by ruffled knitted skirts and decorated with little balls and charms. via tuttiguardanolenuvole
Crochet Christmas Baubles With Free Pattern

Why use plastic or tin Christmas baubles when you can make truly unique ones at home? This project may not be ideal for absolute beginners, but the patterns will teach you how to make more than one unique Christmas bauble. via helloyellowyarn
Crochet Christmas Tree And Rudolph The Reindeer With Free Patterns

Rudolph is just about everyone's favorite reindeer, and an essential fixture at Christmas time. This is how you can knit him – or a Christmas tree – into a towel or mat for the holiday season. via makeanddocrew
Chester the Christmas Cat With Free Pattern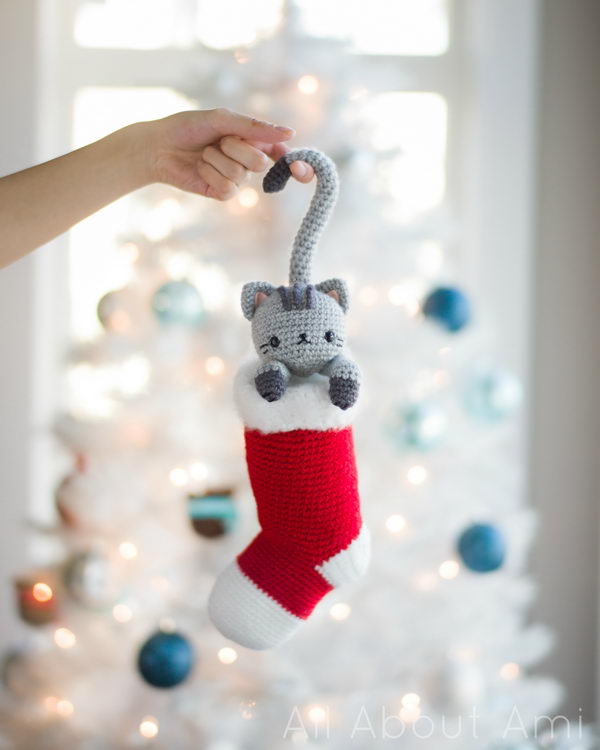 While certainly not as popular as dear Rudolph, Chester the cat is an adorable friend for the holiday time. This pattern will teach you how to turn it into a cute, little decorative stocking for the kids. via allaboutami
Crochet Stocking With Free Pattern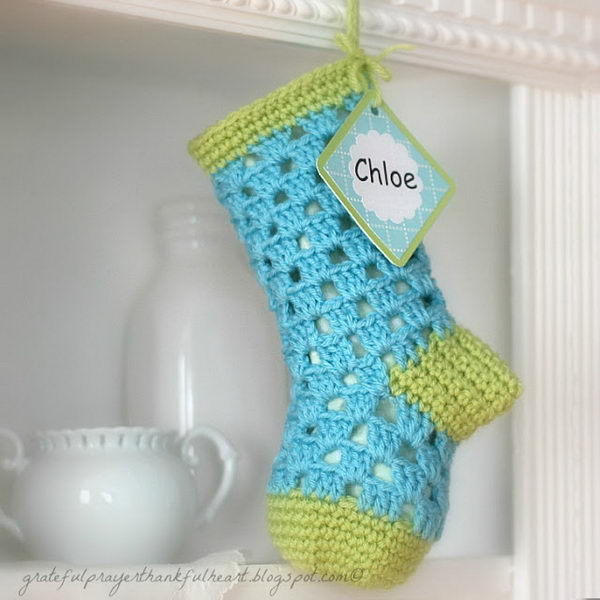 Now this is really the stocking pattern every crochet beginner has been waiting for. The colors are definitely unusual, and there are diferent kinds of stitching involved, but the luxury of having a unique, homemade stocking definitely makes up for everything. via gratefulprayerthankfulheart
Crochet Christmas Star Granny Garland With Free Pattern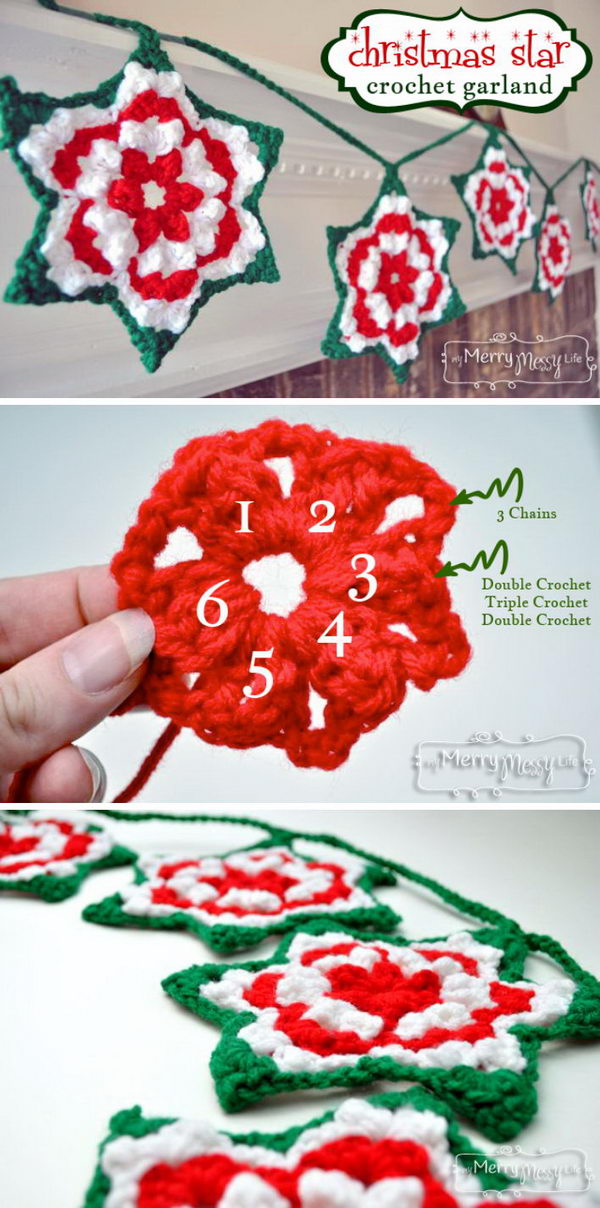 This is another project that uses a star pattern. Here it is used to make each of the tricolored parts which are arranged together along a line to create the actual garland. via mymerrymessylife
Crochet Rudolph The Reindeer Hat Free Pattern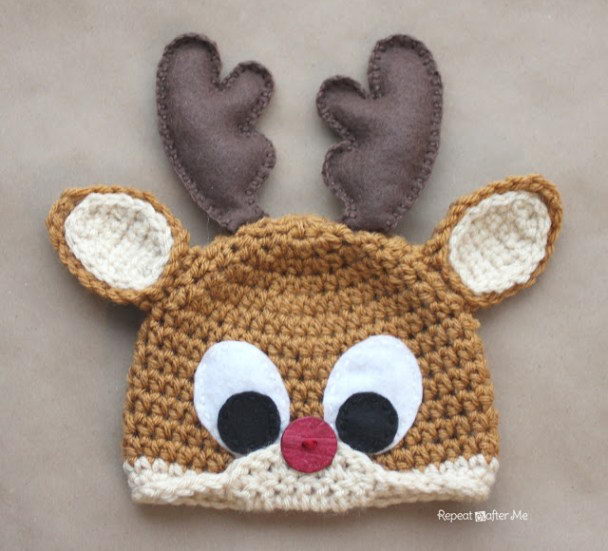 Here is everyone's favorite reindeer again, this time in a crochet hat. The hat, which would look adorable om both children and hipster teens has a two-colored knit base, a button nose and felt features such as antlers. via repeatcrafterme
Crochet Candy Cane Video Tutorial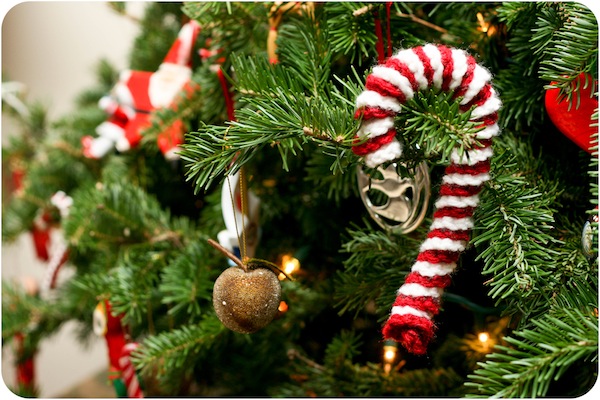 These candy cane ornaments look almost good enough to eat with their vibrant red and white stripes. Making one shouldn't be too hard, as all you need to do is crochet around a cane shaped stick or wire until it is fully covered. via blogalacart
Crochet Vintage Granny Square Christmas Tree Free Pattern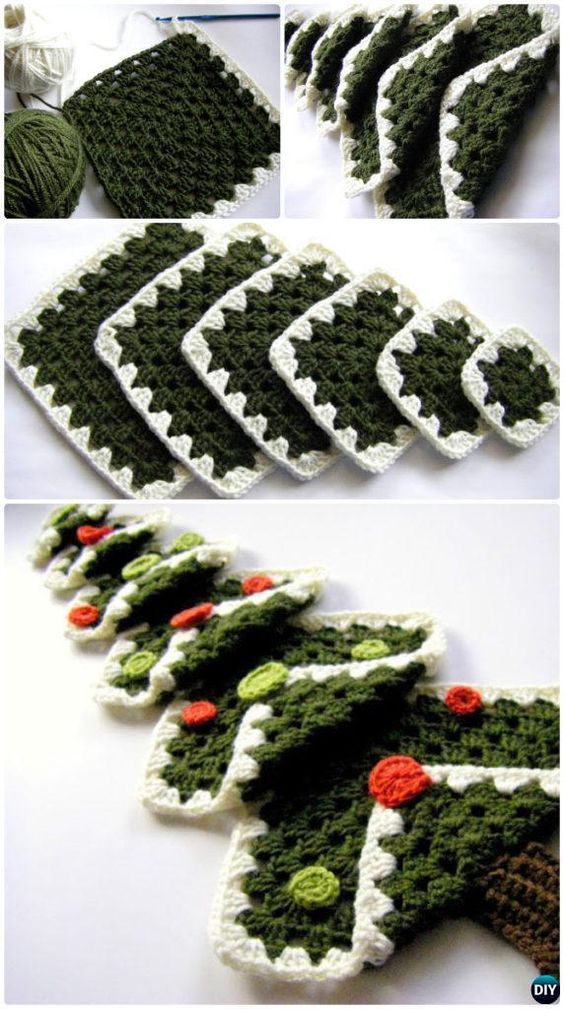 This gorgeous Christmas tree is made of layered granny squares of dark moss green and white folded and decorated with buttons, so it shouldn't be difficult to replicate. via sewritzytitzy
Easy Granny Christmas Tree Free Pattern

This is one of the easiest ornaments to replicate, as it is just a little cute tree with a star at the top edge, all of which is done in one piece. via twinstitches
Christmas Crochet Snowman Amigurumi Video Tutorial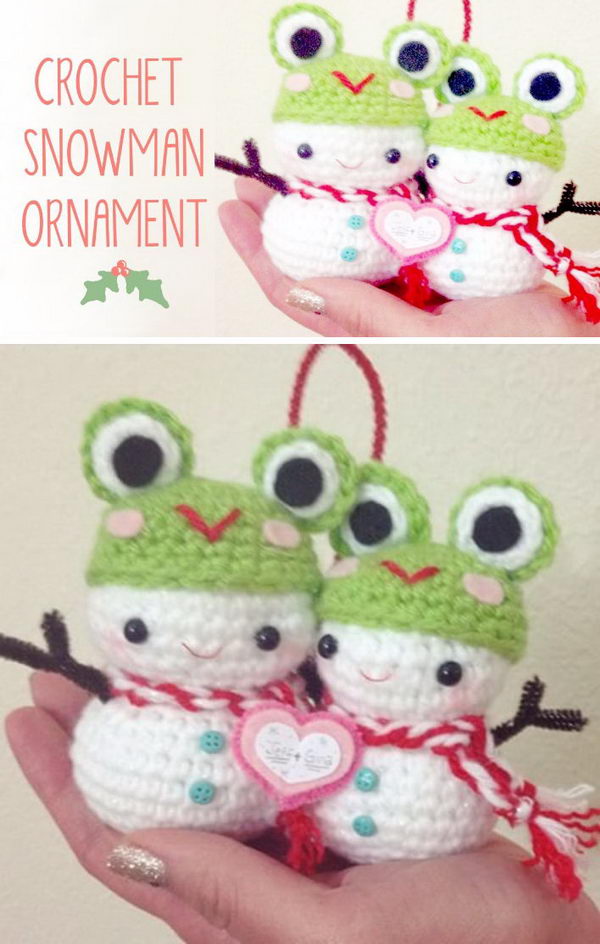 These little snowman creatures will undoubtedly take some time and work to bring to life, but the kids will love them both as decorations and presents. The cute faces, pastel colors and rich textures are sure to make them a hit. via Youtube
Crochet Gingerbread Man Free Pattern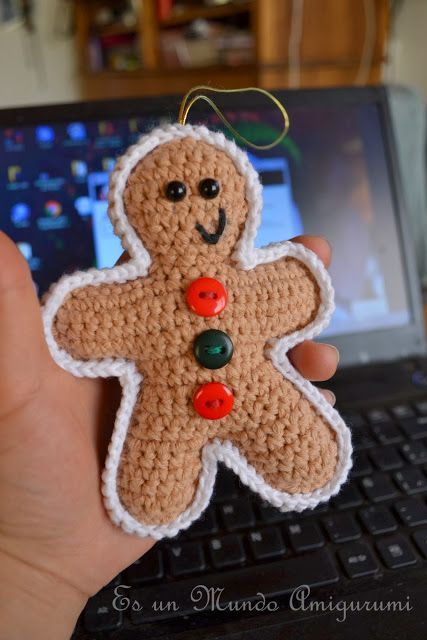 Making this little gingerbread man is much like baking one. You will need to crochet the base and outline using your pattern, then stitch in the features and finally decorate with beads or buttons to make it come alive, so to speak. via dailycrochet
Crochet Amigurumi Rudolph Christmas Free Pattern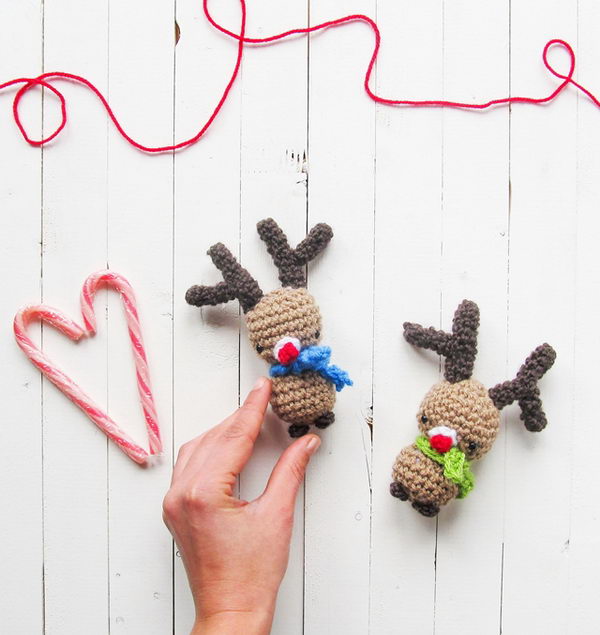 Now this little Rudolph is a fully crochet reindeer, from his body, to his feet, his antlers to the mistletoe or tree attached to His nose. Like other amigurumi, it is not the easiest to put together, but it is really adorable. via littlethingsblogged
Crochet Snowflake Mitten Holiday Ornament Free Pattern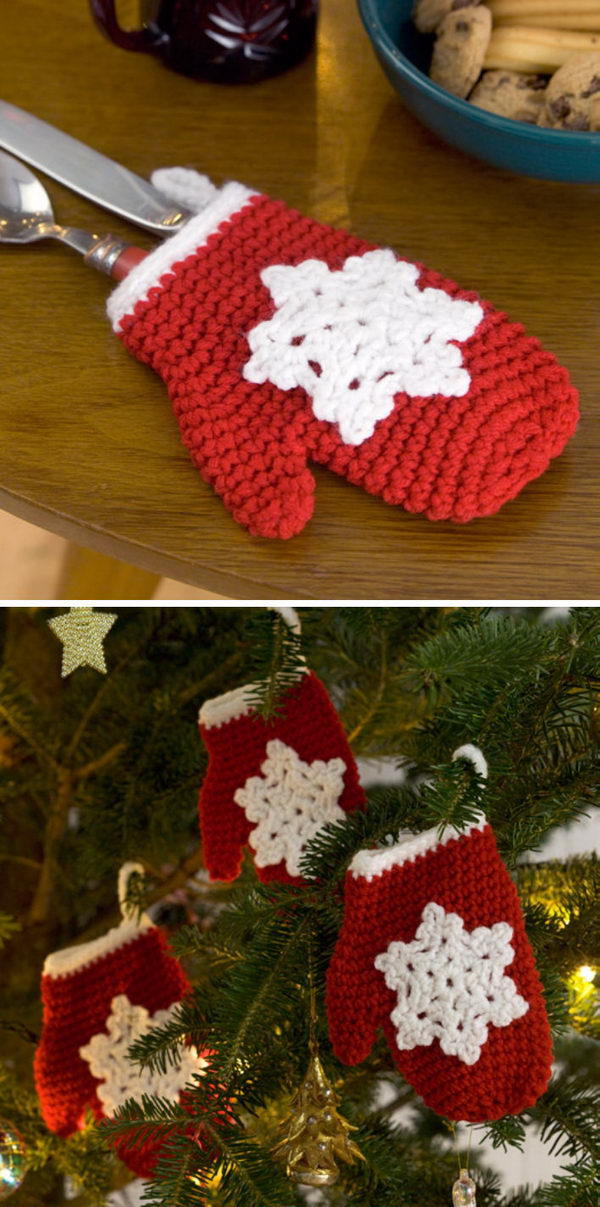 Our final suggestion is another mitten that is not meant to be worn. It has multiple uses though, as you can see, because you can hang it but it can also serve as a silverware holder. via favecrafts