Ever dreamed of having a micro garden? Then fairy gardens would be great for you.
Fairy gardens might be inspired by mythical, magical and tiny creatures, but you obviously don't have to believe in fairytales to build one. All you need is creative imagination, small items that you can easily find in your house or the dollar store, patience and attention to details.
Fairy gardens are quite basically micro gardens, so you can easily build your own with little space and a creative mind. Check out these awesome DIY fairy garden ideas & tutorials. Create a perfect place to invite your tiny friends to lay their magic dust or just add a different touch to your gardening projects right now!
Upcycled Tire Fairy Garden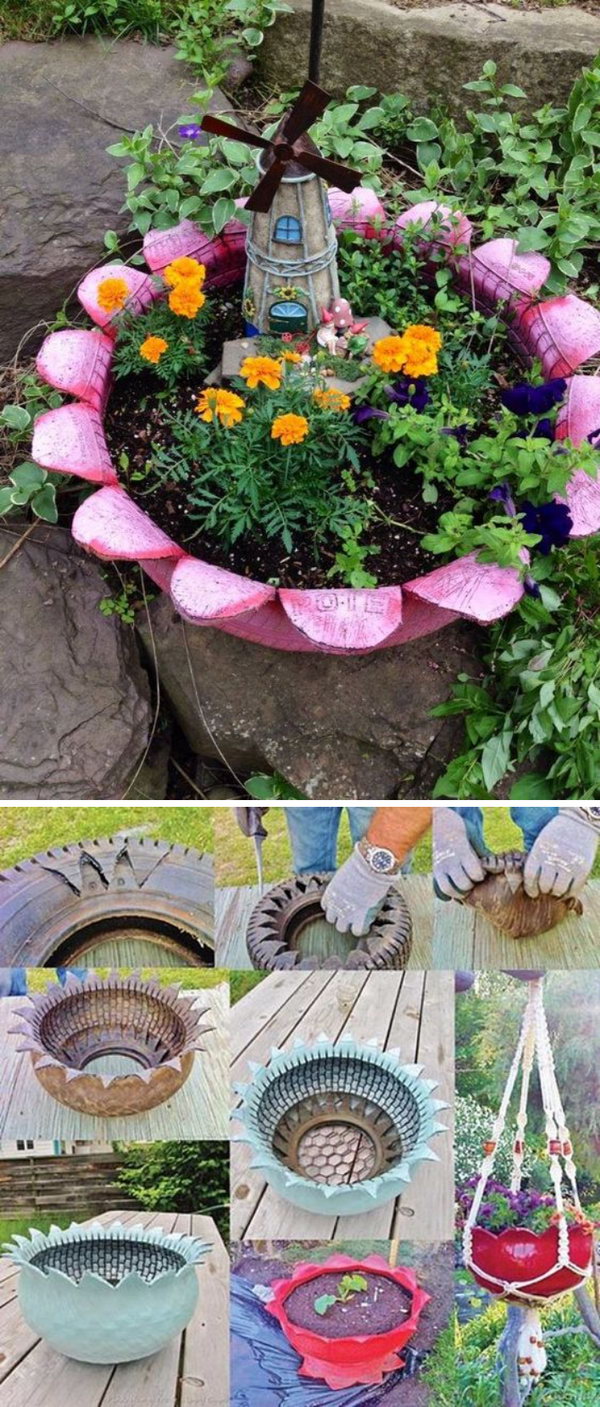 This fairy garden is really beautiful with its bright, colorful flowers. The rustic windmill in the middle is gorgeous and unique, as are the petals around the rim, which make the garden look like it was planted at the center of a flower.
DIY Flower Pot Miniature Fairy Garden

This stacked flower pot fairy garden is very impressive, both because it manages to have a lot of the garden aspect – the top tier almost looks like a miniature tree – as well the decorative one. The ladder in the second tier is really cute, while the pipe-like structure off to the side is really unique. via bystephanielynn
DIY Teacup Fairy Garden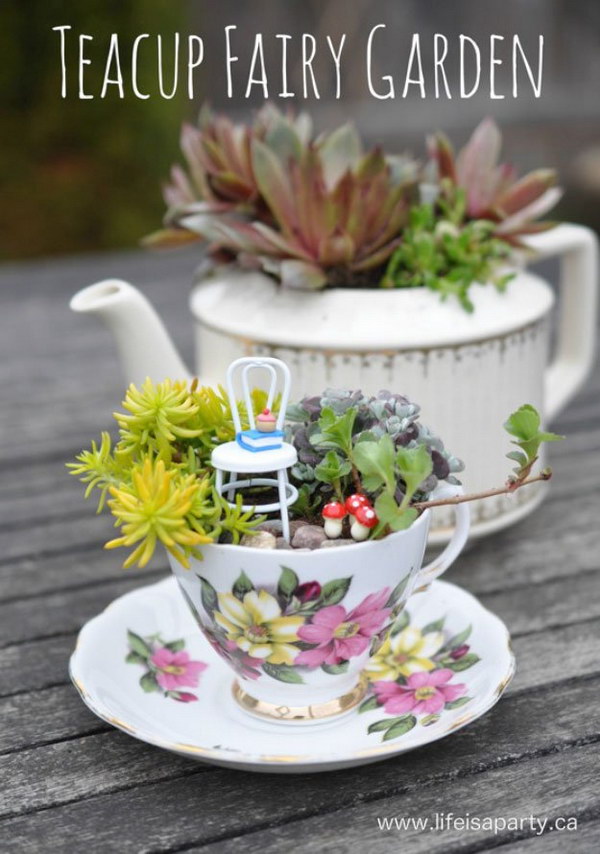 You can build a tiny world in a big teacup or in this case plant a really small garden. The China cup is a great setting with its watercolor painting and unique shape, and the little doll chair on top adds the ultimate whimsical touch. via lifeisaparty
Potted Fairy Garden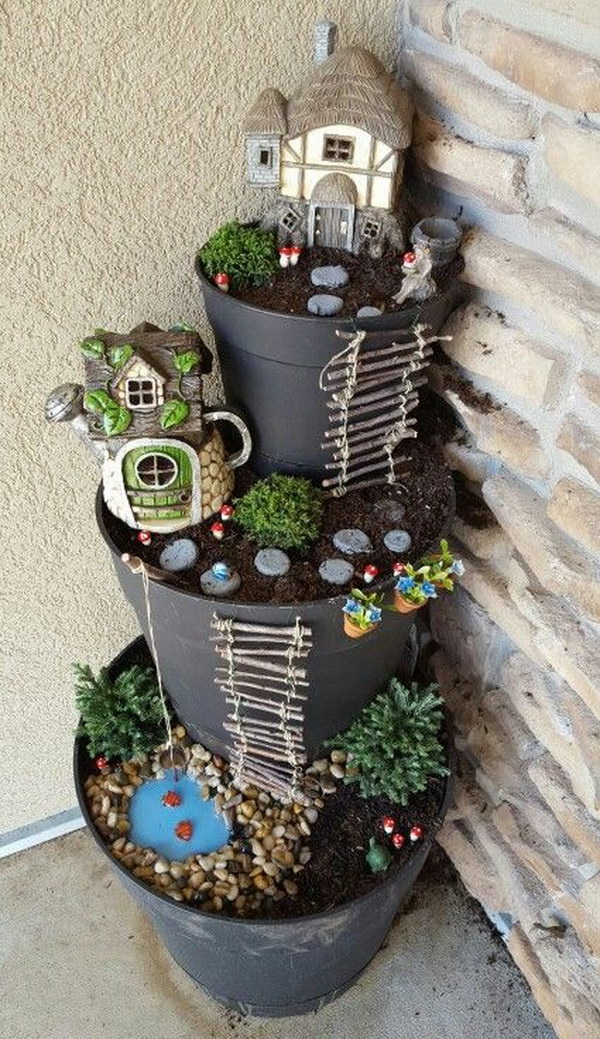 The stacked, potted garden is a great craft. In fact, the tower garden actually looks more like a fairy town with its little huts, ladders going up the side and even a little fake pond in the lower level.
DIY Terracotta Fairy House Planter

This actually isn't a fairy garden at all, but rather a terracotta planter which was decorated with painted pebbles and straw to look like the front door of a little house. It looks really sweet and magical though. via consumercrafts
DIY Planter Box Fairy Garden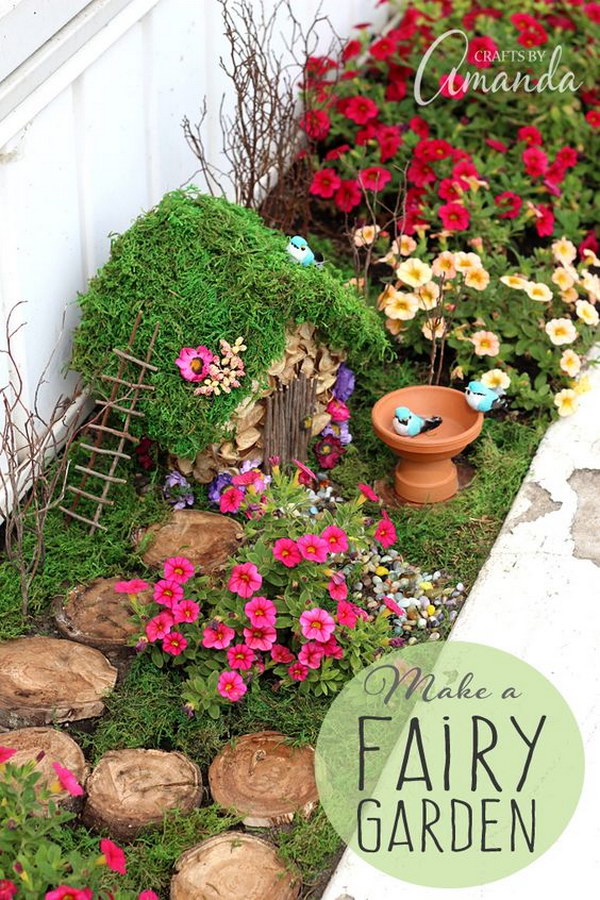 This DIY Fairy garden isn't quite as miniature size as some others we've looked at. It could almost look like a colorful, yet regular garden. When you look at little details like the twig ladder off to the side, the magic really comes to life here. via craftsbyamanda
DIY Pinecone Decorated Fairy House

The colorful, pointy shaped and extremely detailed pinecone house is 100% reminiscent of fairy and gnome movies with its detailed, textured roof, rose embellished archway door and pastel colors. It is the perfect centerpiece for a fairy garden. via source
DIY Fairy Garden With A Soda Bottle Fairy Garden House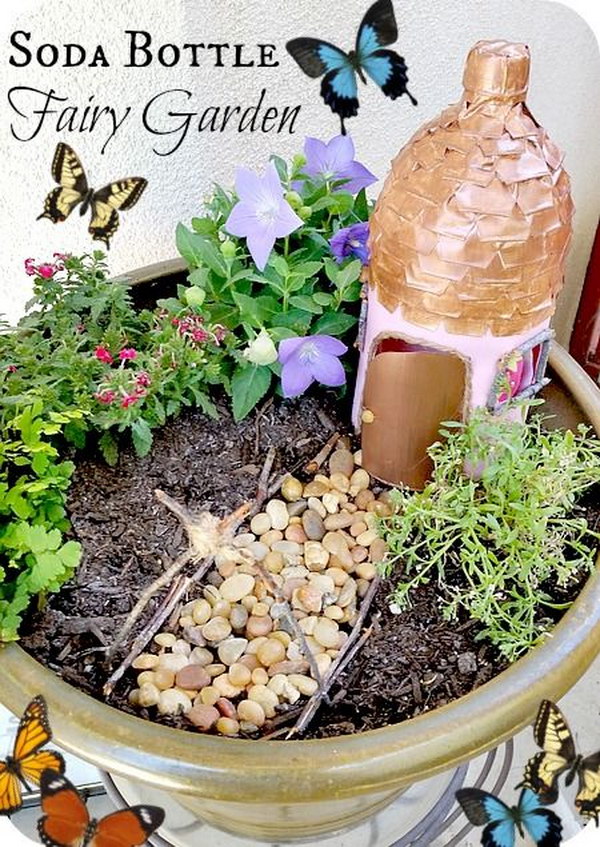 This foiled soda bottle house is a great idea to create the fairy garden with the beautiful flowers and the pebble base. via mypinterventures
Vintage Green Glass Fairy Garden

It doesn't get any more whimsical than The Wizard of Oz, so it makes all good sense to create a miniature of the Emerald City as your fairy garden, if you're a fan. The little creation full of detail was made using green glassware and beautiful, multicolored pebble road.
DIY Fairy Garden Installed in a Larger and Shallower Clay Pot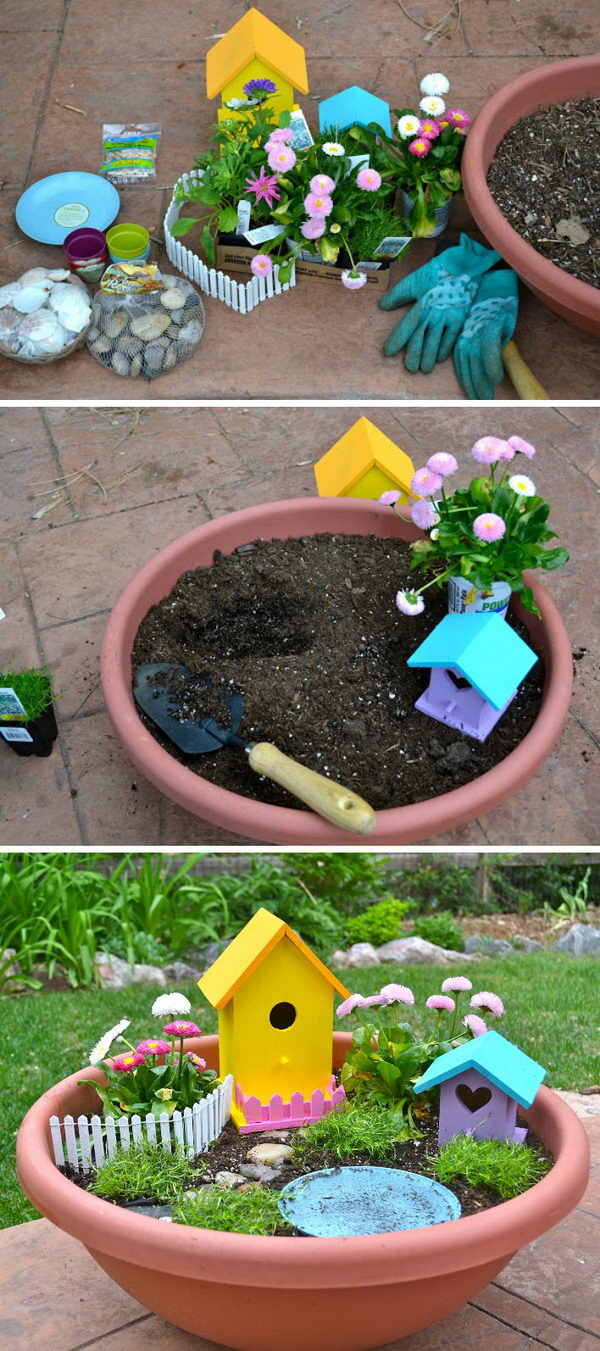 This little DIY project installed in a larger and shallower clay pot is more of a little garden than most others, but also has that whimsical, handmade charm because of the simple, brightly colored houses and improvised pond. via source
Wax Flower Plant Fairy Garden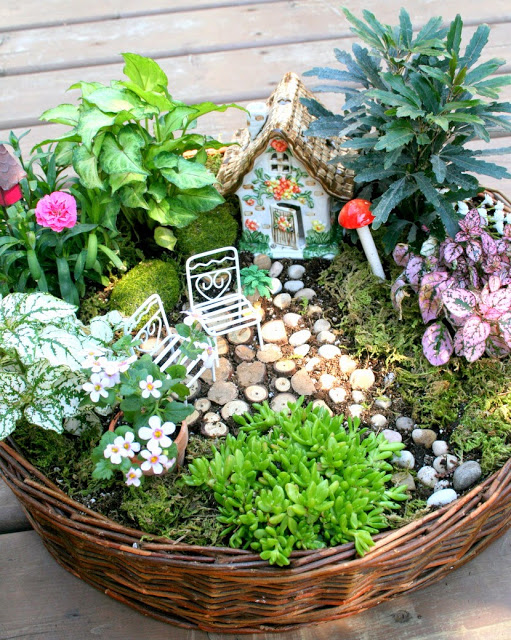 via echoesoflaughter
DIY Fairy Garden in a Birdbath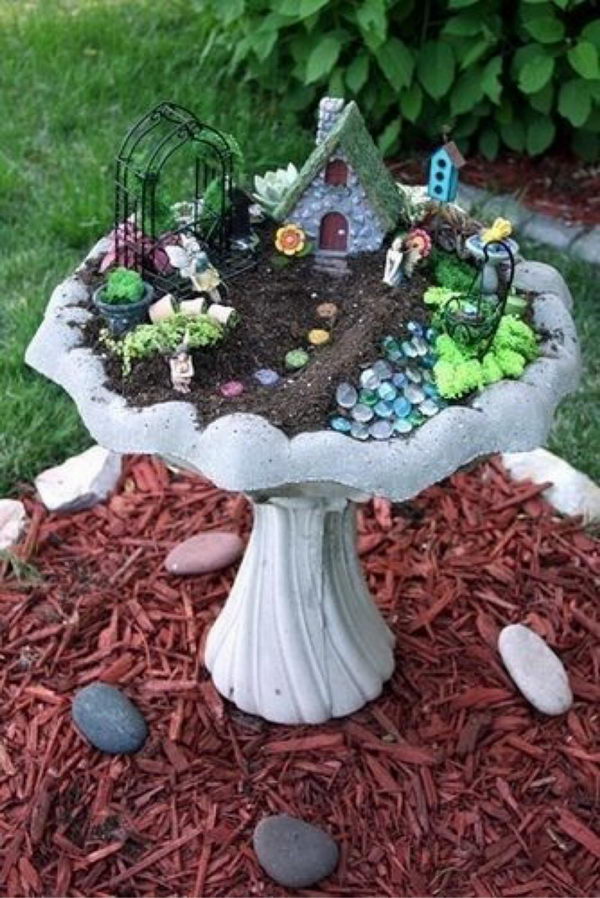 This birdbath makes for a beautiful fairy garden setting. As for the garden itself, the rustic house is clearly the main piece, but the little colorful pebble trail is also a really cute touch. via curlycraftymom
Fairy Garden in a Lantern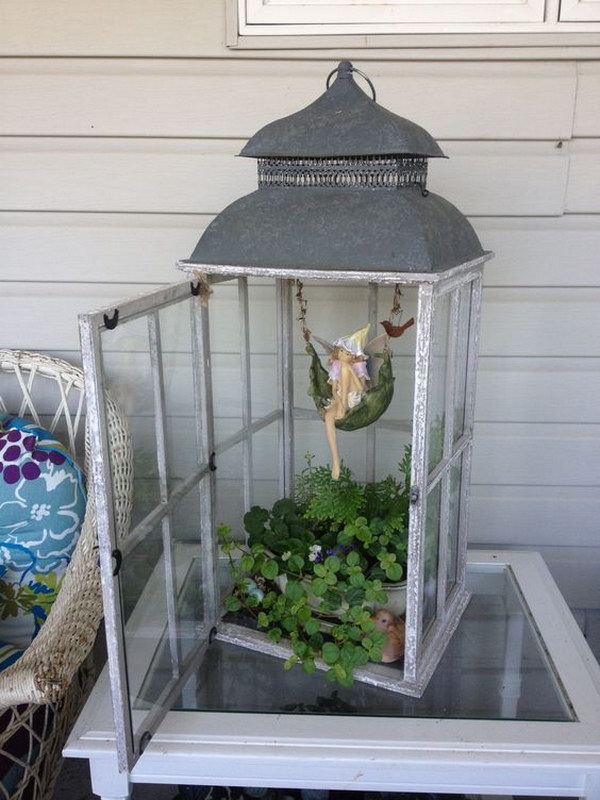 The lantern fairy garden is a really cute idea. The garden itself is quite simple, but the lantern setting is really unique, as is the little fairy suspended inside the lamp above the garden. via pinterest
DIY Fairy Garden inside a Small Grapevine Sphere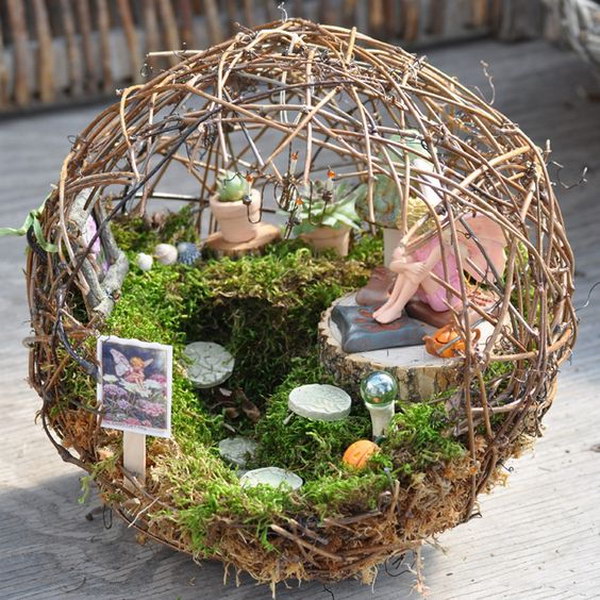 This little fairy garden almost looks like a scene from a snow globe, when set up inside the grapevine sphere as it is. The sphere itself is really beautiful and delicate, and it blends in quite nicely with the garden's base. The decorations inside are quite neutral, but they stand out beautifully. via miniature-gardening
DIY Fairy House in a Wood Crate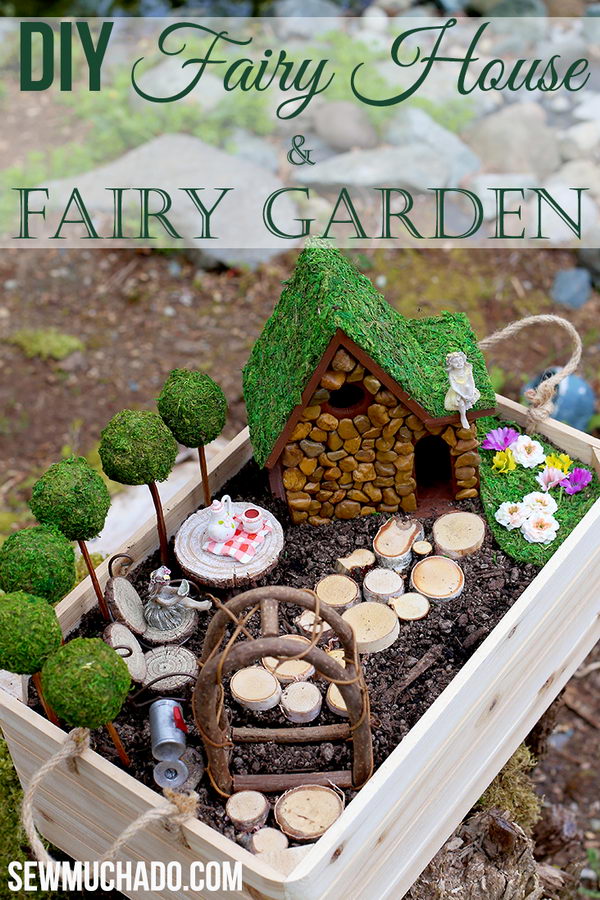 via sewmuchado
Tree Stump Fairy Garden
via source
DIY Fairy Garden in a Rustic Wooden Tiered Tray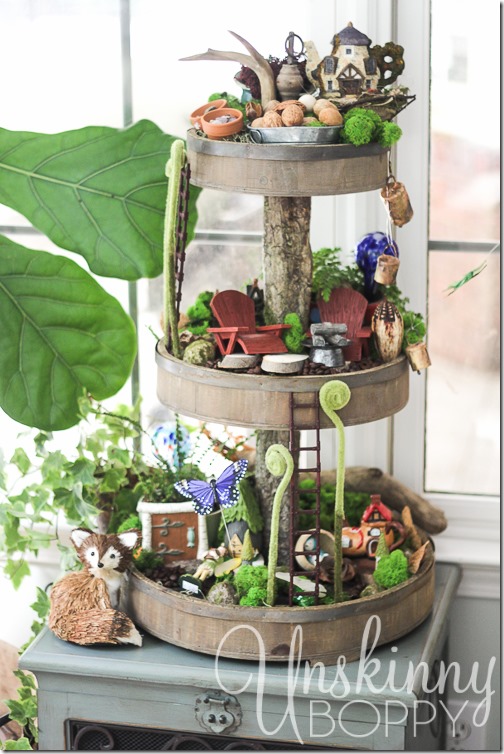 via unskinnyboppy
DIY Fairy Garden with Magical Lights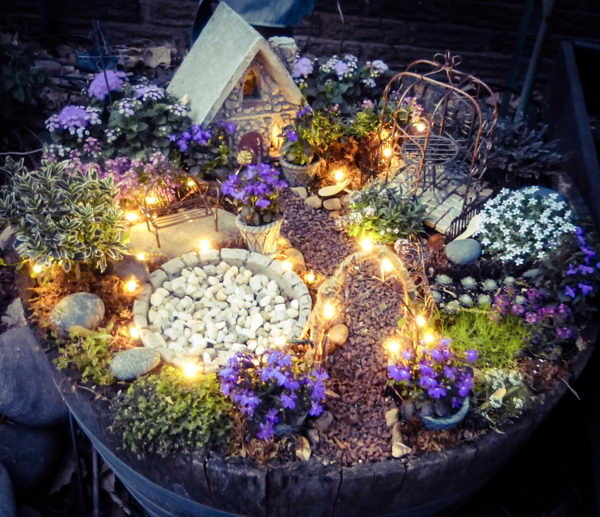 DIY Solar Powered Fairy House

Miniature Fairy Garden Filled with Magic
via blossomtown
DIY Fairy Garden Nook for Tea Time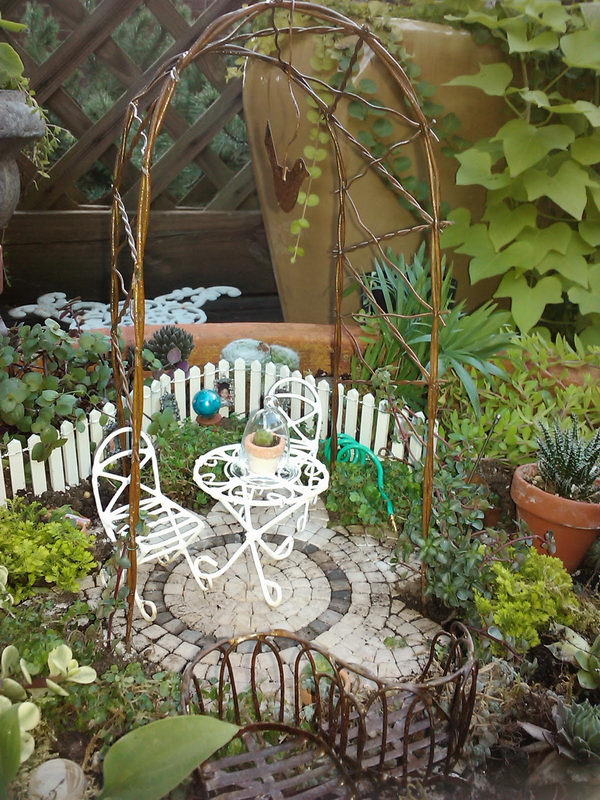 via source
Fairy's Lakeside Cottage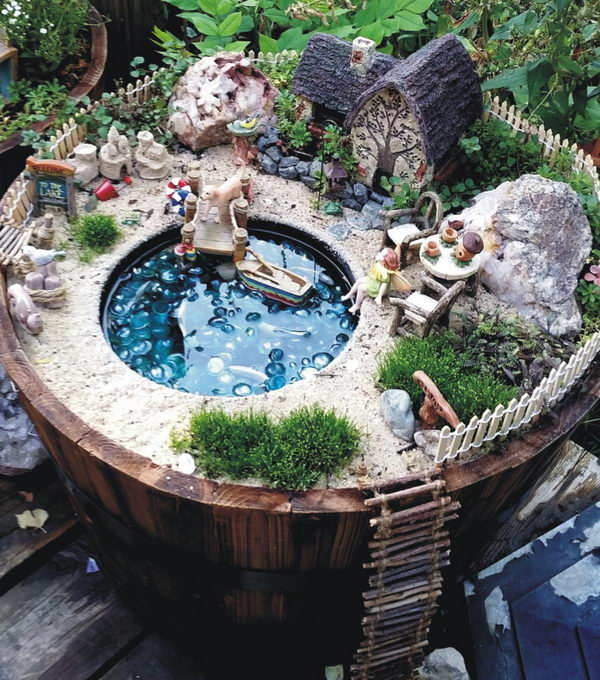 via enchantingwhims
DIY Fairy Garden & Salt Dough Fairy Garden Accessories

via mommymoment
DIY Fairy Garden From An Old Wheelbarrow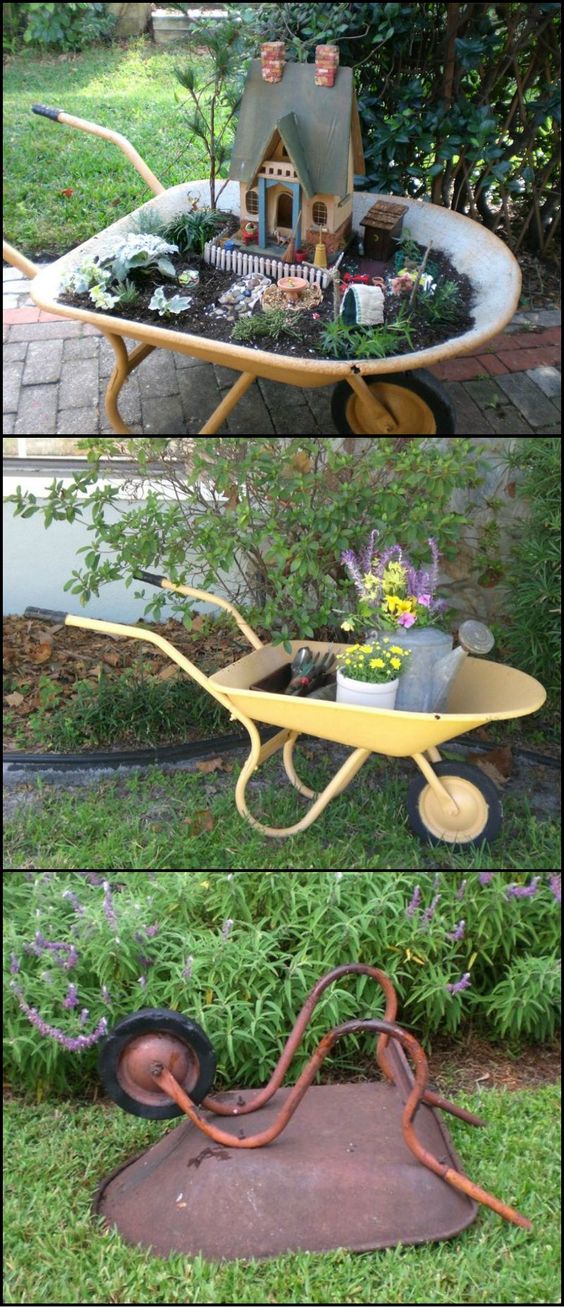 This is another great example of a beautiful, portable miniature garden. The wheel barrow is a great, spacious setting, and the rustic, small village is amazing with its tall house and white picket fence, among several other details. via source
Fairy Garden with DIY Stone House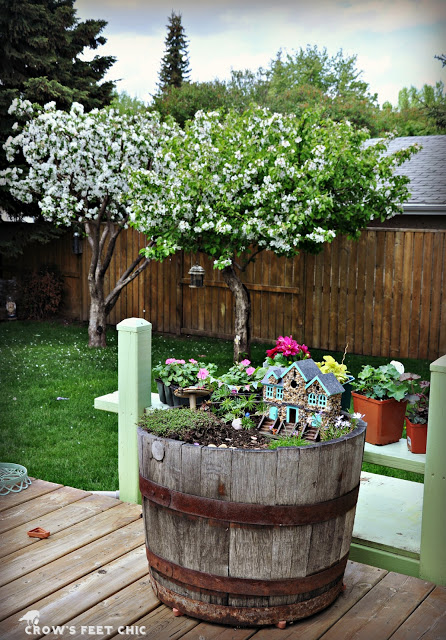 via source
DIY Epic Fairy Garden
This little window display is a really cute and practical way to set up a fairy garden. The garden itself is really beautiful and colorful but the coolest touch is the little cone roof installed right on top. via unskinnyboppy
DIY Mason Jar Fairy House
Acorn Lantern with a Painted Log Walkway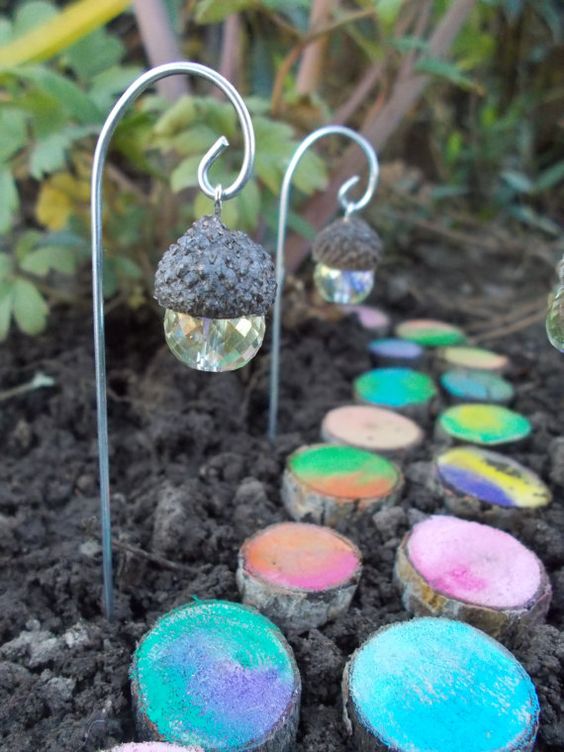 via etsy
DIY Miniature Fairy Garden Bed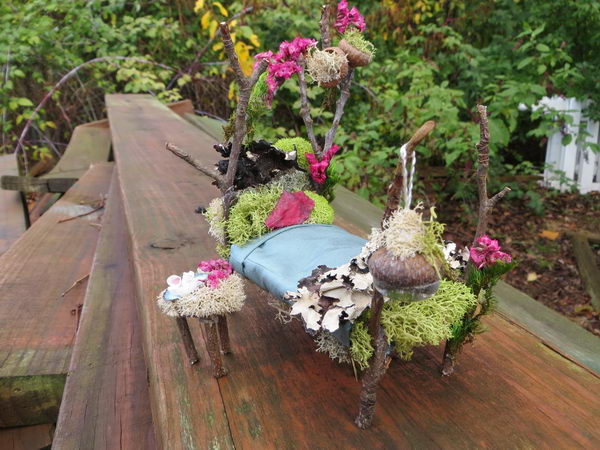 via Youtube
DIY Fairy Garden with Blue Glass Stones for a River

via thejuise
DIY Fairy Garden in a Bucket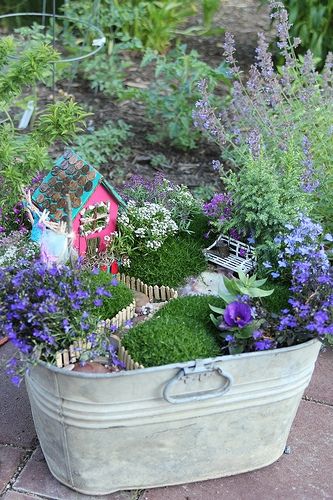 A bucket might not seem like a very magical location for a fairy garden, but this one proves that it is what's inside that matters. The lilac blooms are truly beautiful and the little red house is absolutely precious. via theburghbaby
DIY Fairy Garden Pergola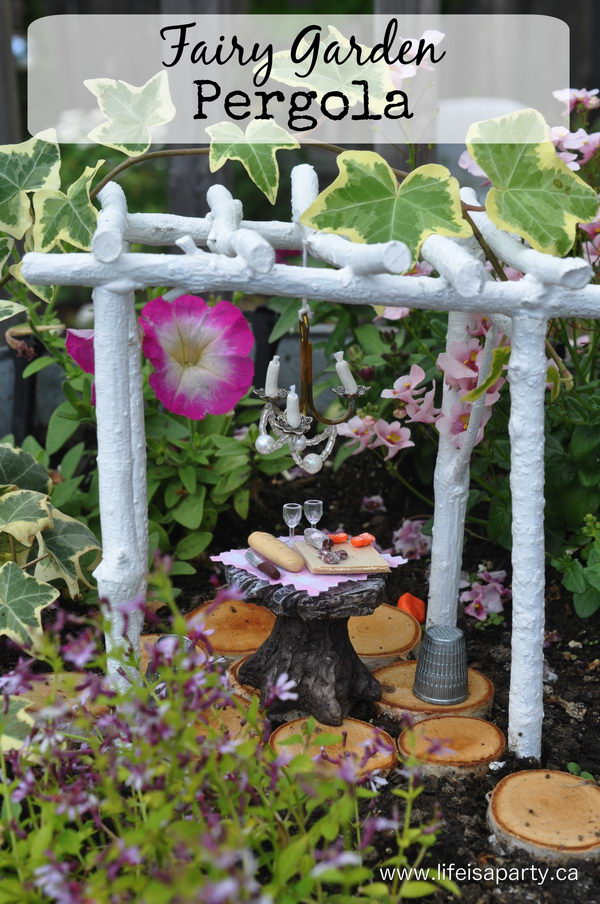 via lifeisaparty
DIY Fairy Garden Sphere on the Miniature Fairy Garden

DIY Fairy Garden Wreath

via createcraftlove
Bird Bath Fairy Garden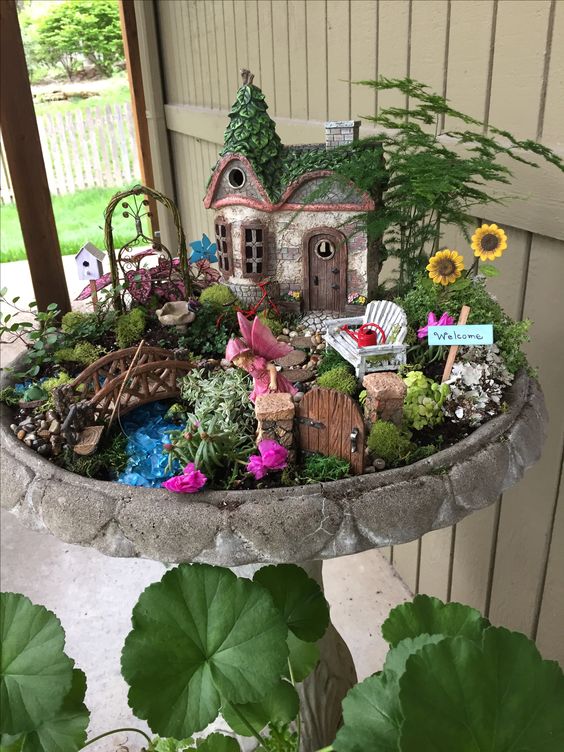 Colored Pebble Fairy Garden in a White Ceramic Pot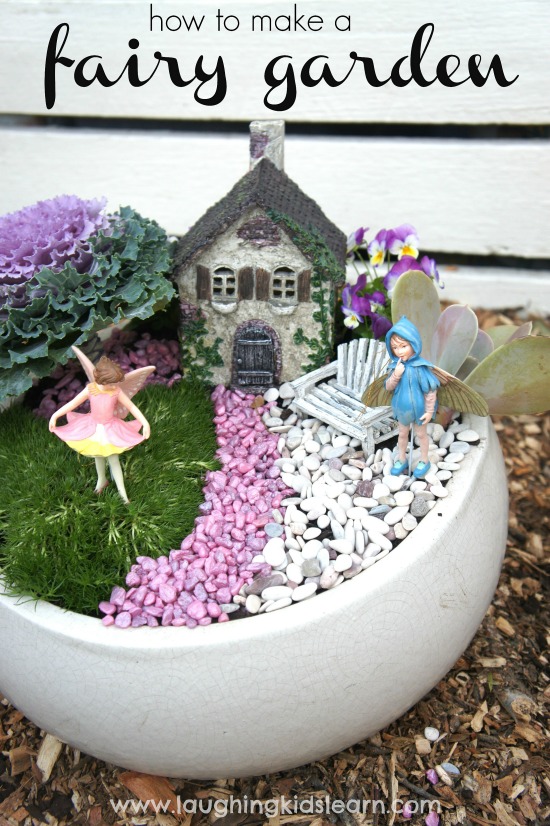 A solid, big white ceramic pot is the perfect setting for this miniature garden with its rustic little house, lounging chairs and pebbled patio area. The fairies clearly love it, as you can see. via laughingkidslearn
DIY Fairy Garden with a Gorgeous Tree House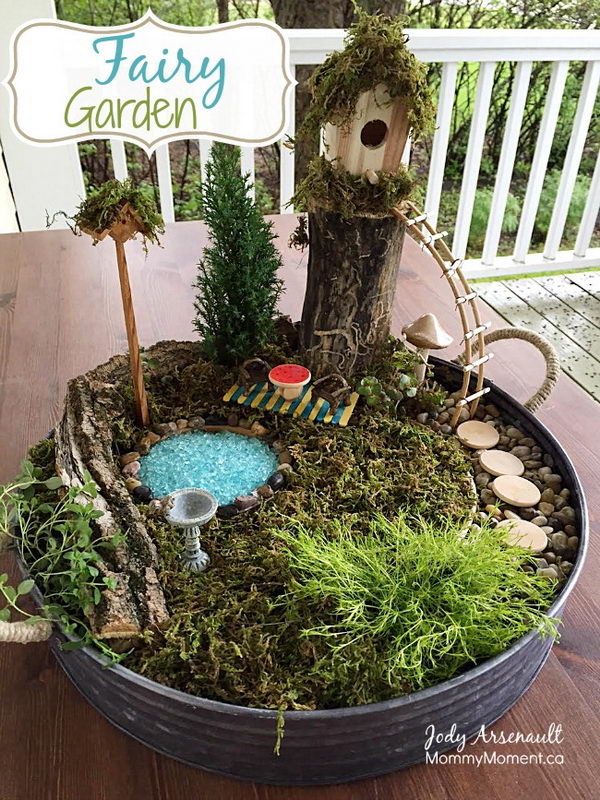 This is really cute because of how well it was blended in with the plants. The miniature palm and pine trees are really precious, as is the small sparkling pond. The tree house is a nice little touch as well. via mommymoment
DIY Fairy Garden Table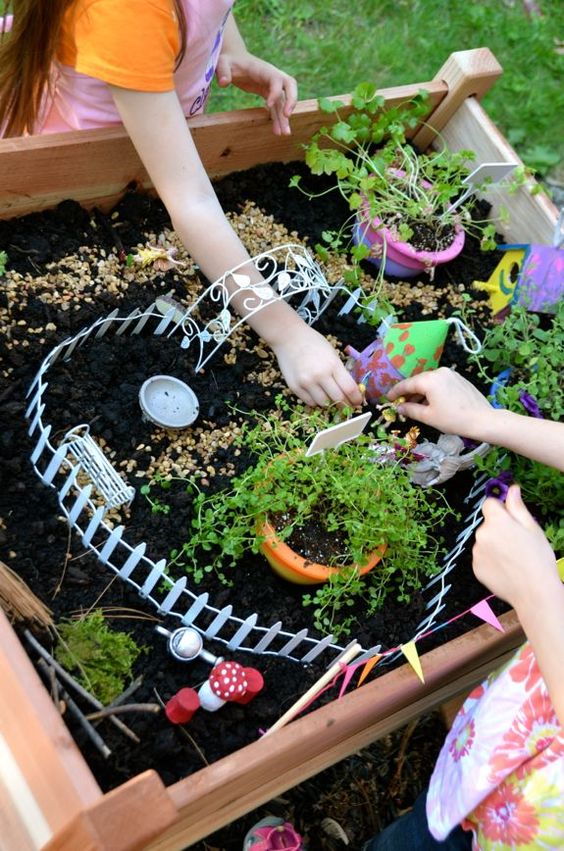 This open cream table is the perfect home for a small fairy garden village, complete with the quintessential white picket fence and little arch entryway with a welcome sign. via innerchildfun
DIY Hot Glue Waterfall for Fairy Garden

Fairy Garden Waterfall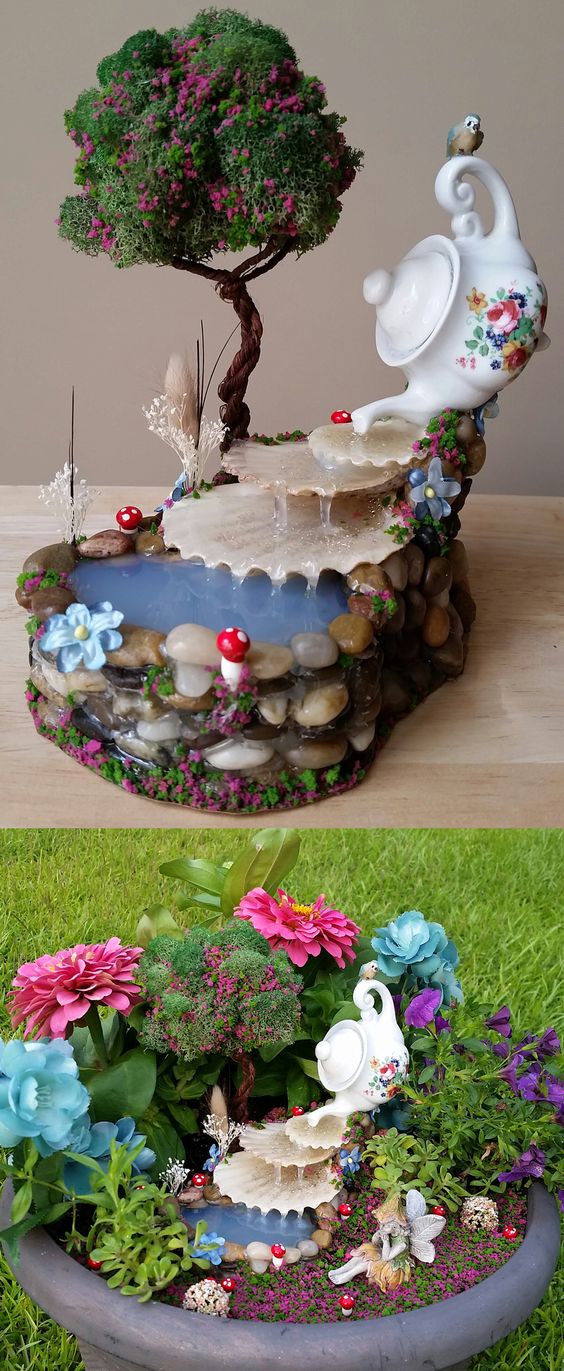 via facebook
DIY Fairy Garden with Cute Fairy Tutu Washing Line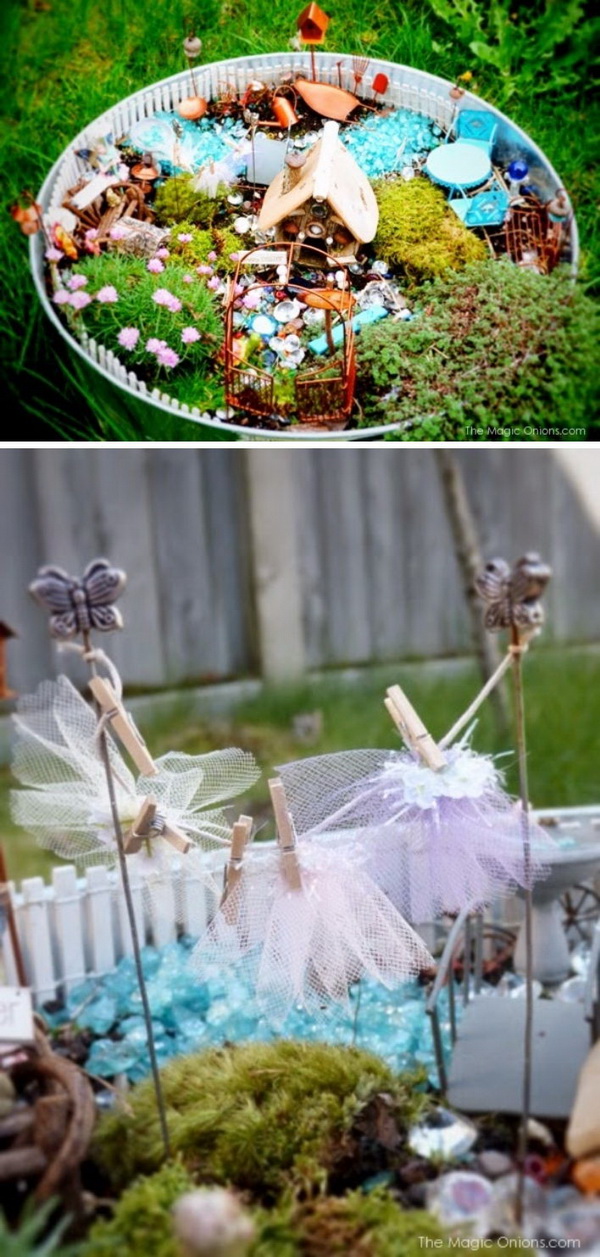 via themagiconions
DIY Fairy Garden in a Tree Stump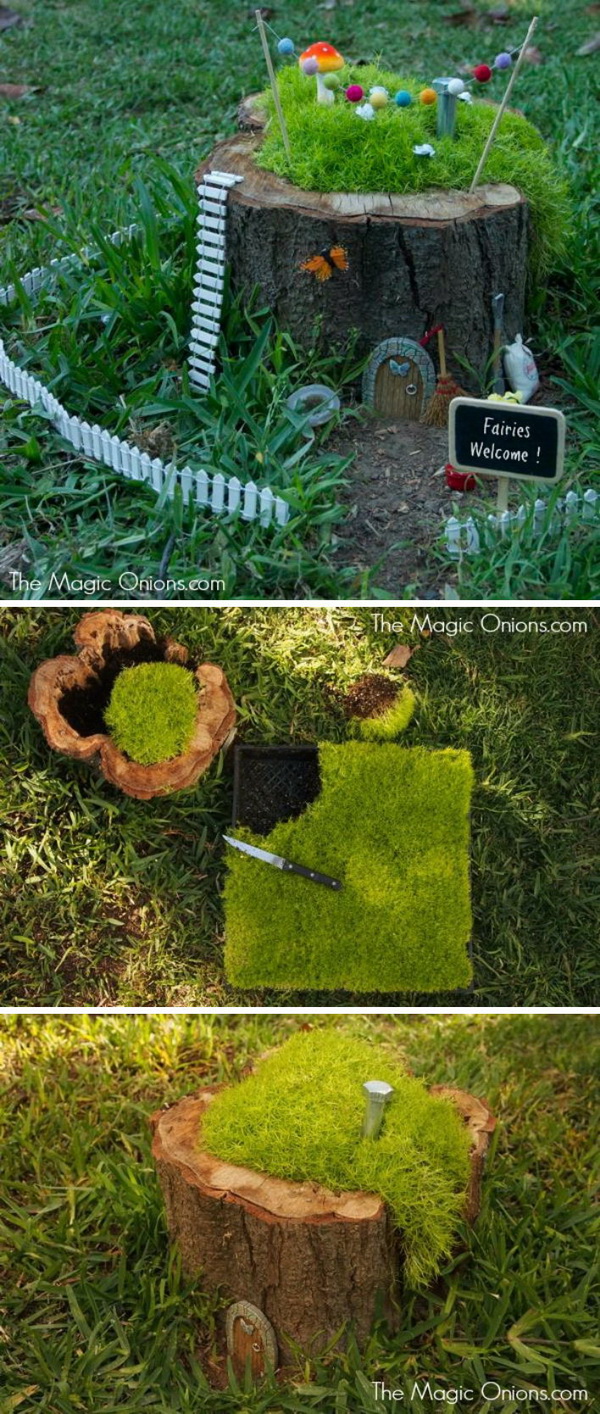 via themagiconions