Flower pots are highly underrated pieces. Most of us only think of them as functional pieces, meant for planting or keeping our plants in, and which don't need to look good. They are clearly outshined by the plants themselves or hidden by a shelf or holder.
In fact, flower pots can be quite beautiful as they are, because they have a quaint, highly recognizable charm that shouldn't be ignored. However, some people are actually able to think outside the box and make flower pots into really beautiful flower holders or decorative pieces. That is what we are going to be looking at today – the most beautiful and creative flower pot creations to be found on the web.
DIY Nail Polish Marbled Flower Pot With Saucer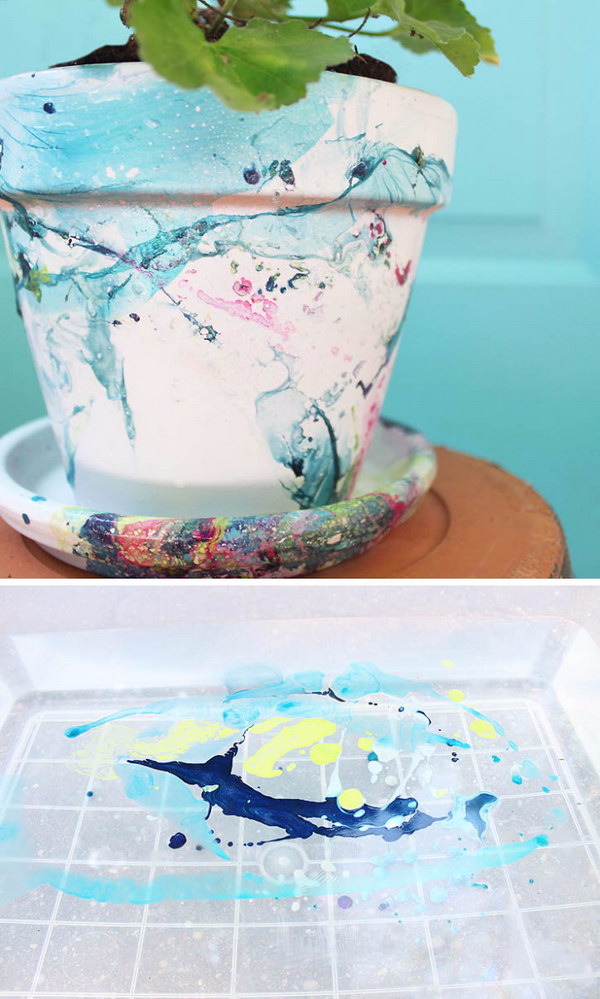 via gina-michele.
DIY Chalk Painted Flower Pots With Saucer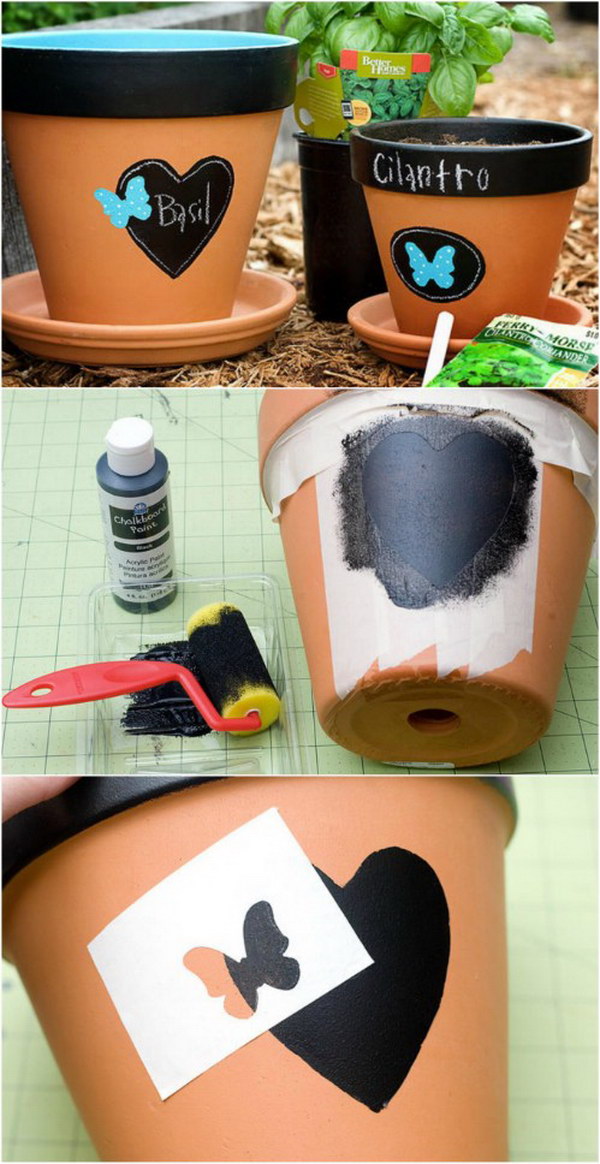 This is another take on the terracotta and chalkboard idea. The black of the trim and decorations gives a beautiful contrast against the natural terracotta, and the stenciled light blue butterflies add a cute touch. fiskars.
Sharpie Dot Flower Pot

via diycandy
Refinishing Old Flower Pots With Homemade Chalk Paint

via thenavagepatch
Cover A Bucket With River Rocks As A Flower Pot

DIY Hanging Flower Pots

via iheartnaptime
DIY Chalkboard Herb Pots
DIY Rustic Succulent Pots

These classic terracotta pots have been washed with a trendy, fresh cornflower blue color and then decorated with twine. They are sweet and cute, just like the succulents planted inside. via pinkwhen.
DIY Garden Planter and Birds Bath

via homestoriesatoz.
DIY Fairy House Flower Pots

This flower pot is a bit more of an elaborate design which takes a little time and patience to put together. The fairy door is created using garden materials like pebbles and such though, so at least they are easy to find. via consumercrafts.
DIY Polka-Dotted Tiered Planters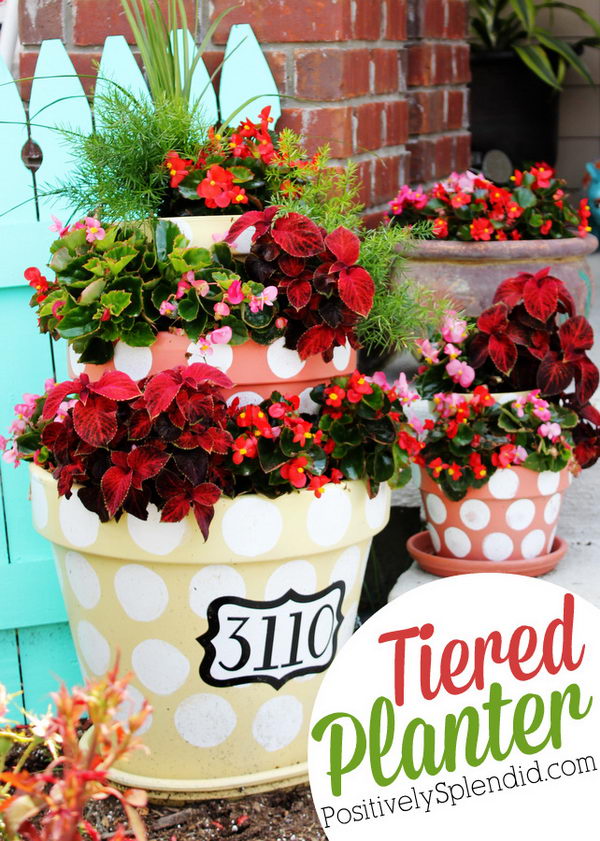 via positivelysplendid.
DIY Herringbone Flower Pots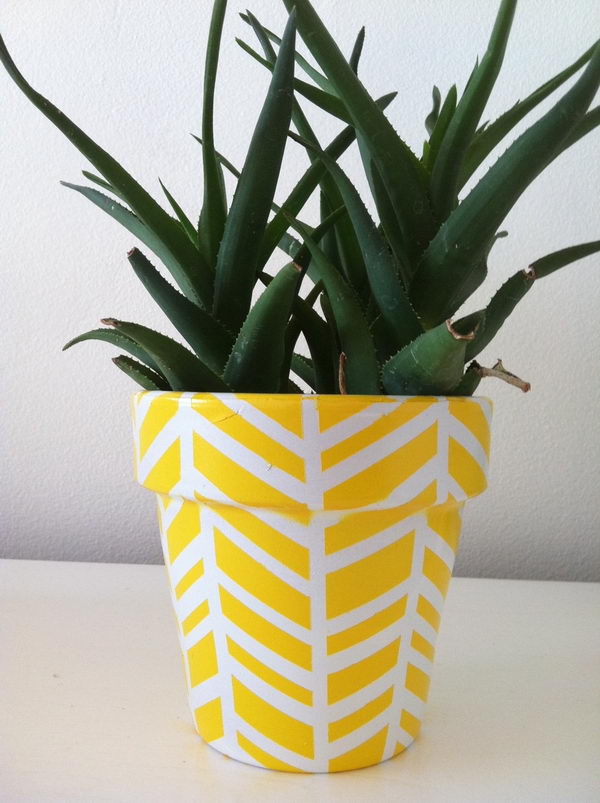 via sparklelivingblog.
DIY Fabric Covered Flower Pots

Another easy way to decorate and beautify flower pots is to cover them with solid or patterned fabric, which makes them look completely different. In this case, the bold and graphic floral pattern adds a pop of life and color which terracotta pots don't have naturally. via shelterness.
DIY Rope-Wrapped Flower Pots

These pots have been completely wrapped in rope to create a unique, rustic look. You can use a few layers of a different color to add a pop and some interest, like in the pictures, as they will be even cuter that way. via housebyhoff.
Spray Painted Metallic Flower Pots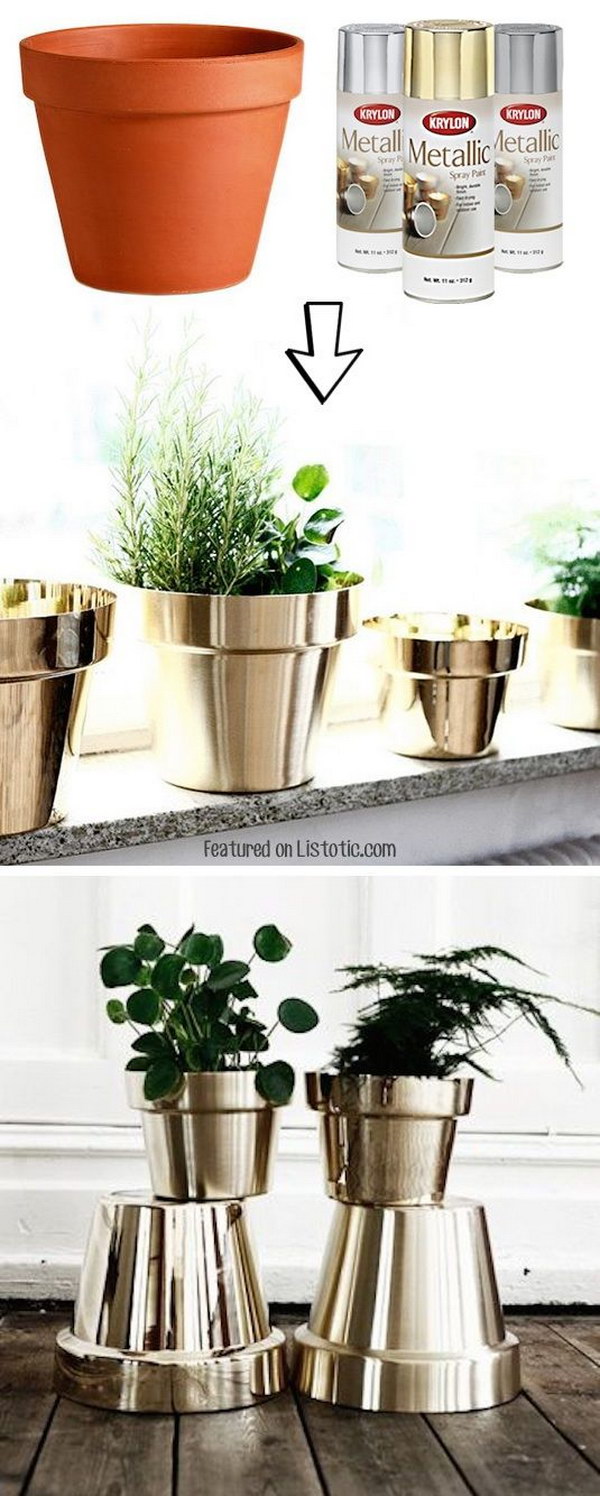 Everything looks better and more expensive in mirrored, metallic colors – that is also the case with flower pots. To get your gold, silver, bronze or any other color metallic pot, all you need to do is find some metallic spray paints and be prepared to make a shiny mess around you. Via artilleriet.
DIY Stars & Stripes Flower Pot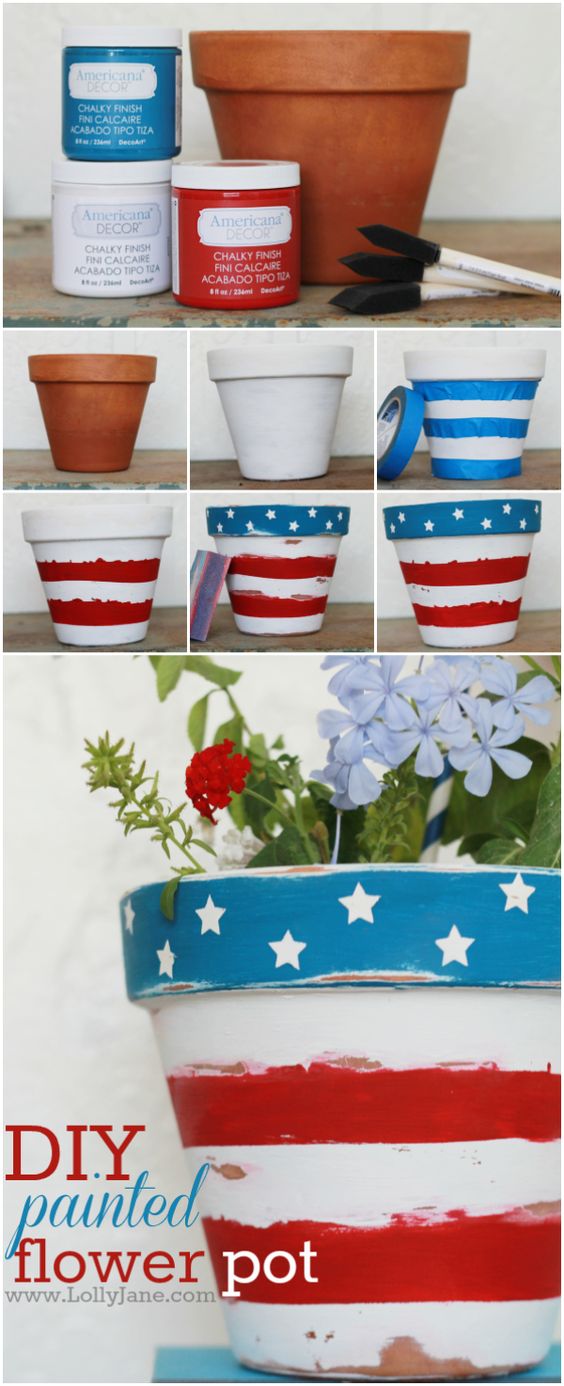 There's no better way to celebrate the Fourth of July than with Patriotic Stars and Stripes flower pots. You will need to stencil in the stars, it's true, but otherwise it is really nice to make and it will look super cute and fun in the garden. via happyhealthyhip.
DIY Chalkboard Terra Cotta Pots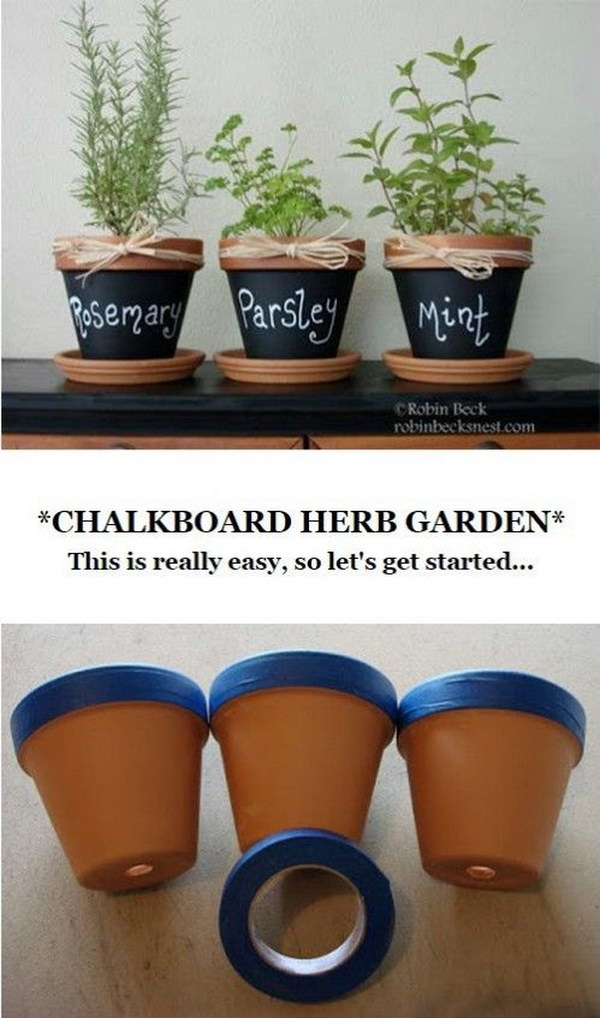 These chalkboard pots look really cute, with the plant name written in white and the rim painted. via robinbecksnest.
Rainbow Painted Flower Pots

These rainbow splattered plant pots will definitely brighten up your garden and your day. They are fun because of their bright colors and abstract designs, which are definitely unexpected but also easy to make. via kcedventures.
Geometric Painted Terracotta Pots

The geometric shapes painted on these pots in complementary colors are really cute and chic; you can use stencils, do them freehand or make them using a ruler and masking tape, like in this tutorial. You can also choose different, more contrasting colors to make a bigger statement with your geometric pots. via homedepot.
DIY Watermelon Flower Pots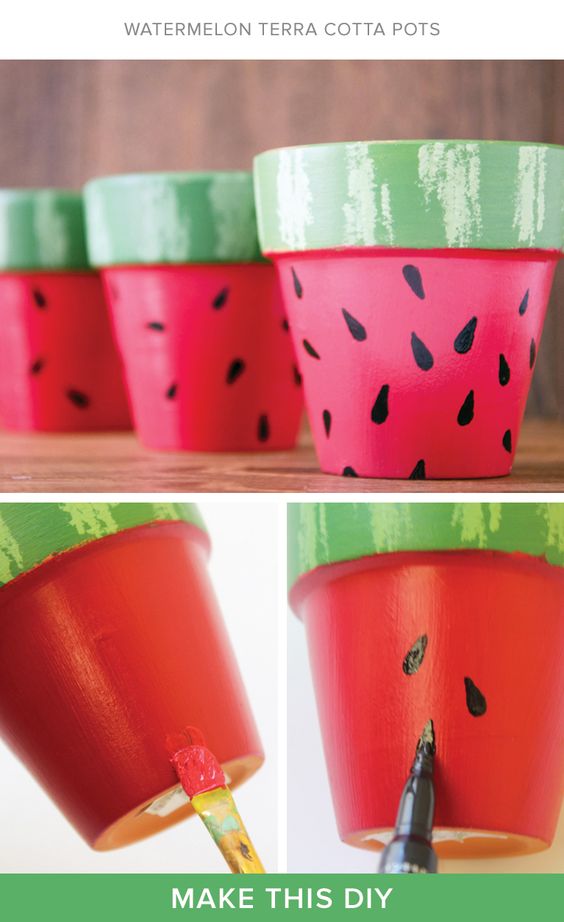 Watermelon prints are trendy and, perhaps surprisingly, they make really cute flower pot designs. To do this, you need to paint your pot a shiny bright pink or red and then cover the rim with green paint. You can use a thinner brush and black paint to create the seeds or opt for a permanent marker, which gives the same effect. via darbysmart.
DIY Cute Succulent Pineapple Planter

Have you ever noticed that succulents look a lot like the top of a pineapple? The person behind this DIY project clearly did. What you need to do is paint your pot a bright yellow or orange and add some texture to make it resemble the outer shell. Then you plant and arrange your succulents carefully and you'll have a trendy succulent pineapple. via linesacross.
DIY Stenciled Flower Pots

Stenciling is the greatest DIY technique for those who have little time, are low on ideas or have a hard time painting anything freehanded. In this case, the stencil was used to create a white pattern on the terracotta pots, but there are endless stencils and colors you can use. via diycandy.
Thumbprint Flower Pots

These pots are really bright and summery with their rainbow colored edges, but the thumbprint shapes also add a cute, original detail. via upstateramblings.
Mod Podge Photo Flower Pots

Mod Podge is great for DIY projects because it helps things adhere to surfaces. In this case, it was used to glue some pictures around a white terracotta pot, as well as a rainbow tartan trim, which makes it not only look cute but also really fun and original. via modpodgerocksblog.
DIY Wood Sticks Flower Pot Tutorial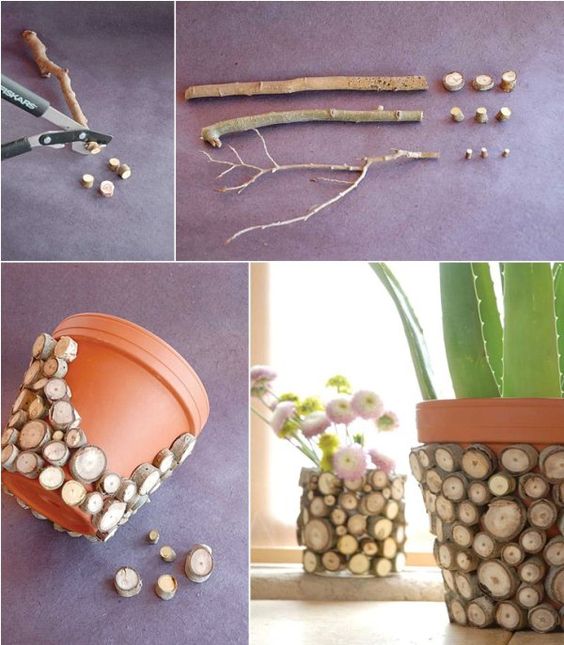 via xenianova.
DIY Song Lyric Flower Pot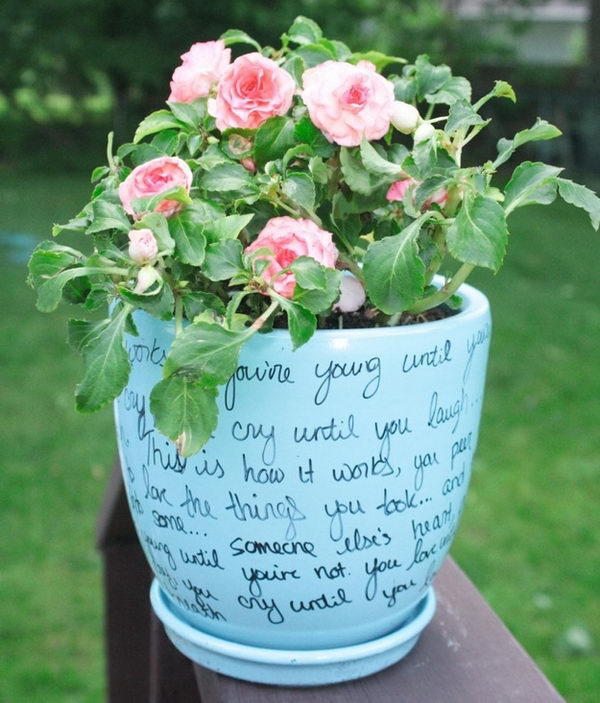 This is an idea specifically meant for music lovers. What you need to do is paint your pot a solid color or, better yet, find one with a smooth surface, and write the lyrics to your favorite song using a permanent pen. Alternatively, if you're not into music, you can also always write a saying or poem using the same method.
Nautical Seashell Decorated Flower Pots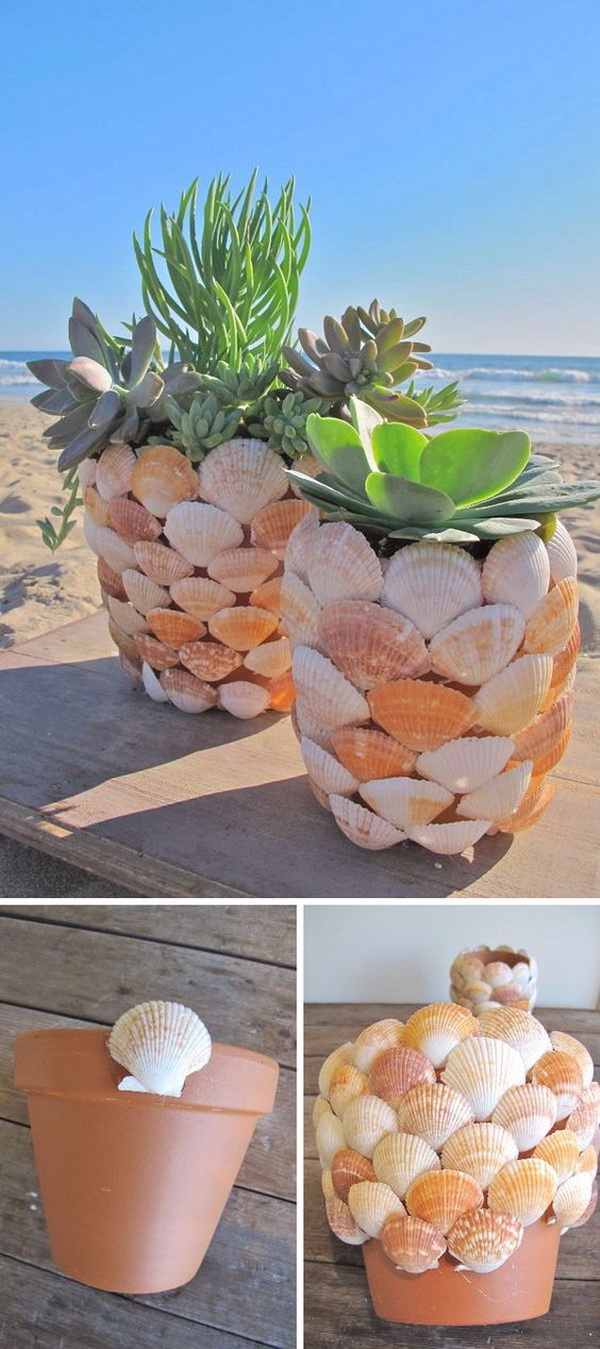 These flower pots have a seaside, tropical feel thanks to the various colored shells used to decorate them. They are really easy to make too: all you need to do is gather a few seashells and glue them to cover the outside surface of your flower pots. Via billabong.
DIY Decoupaged Terra Cotta Pots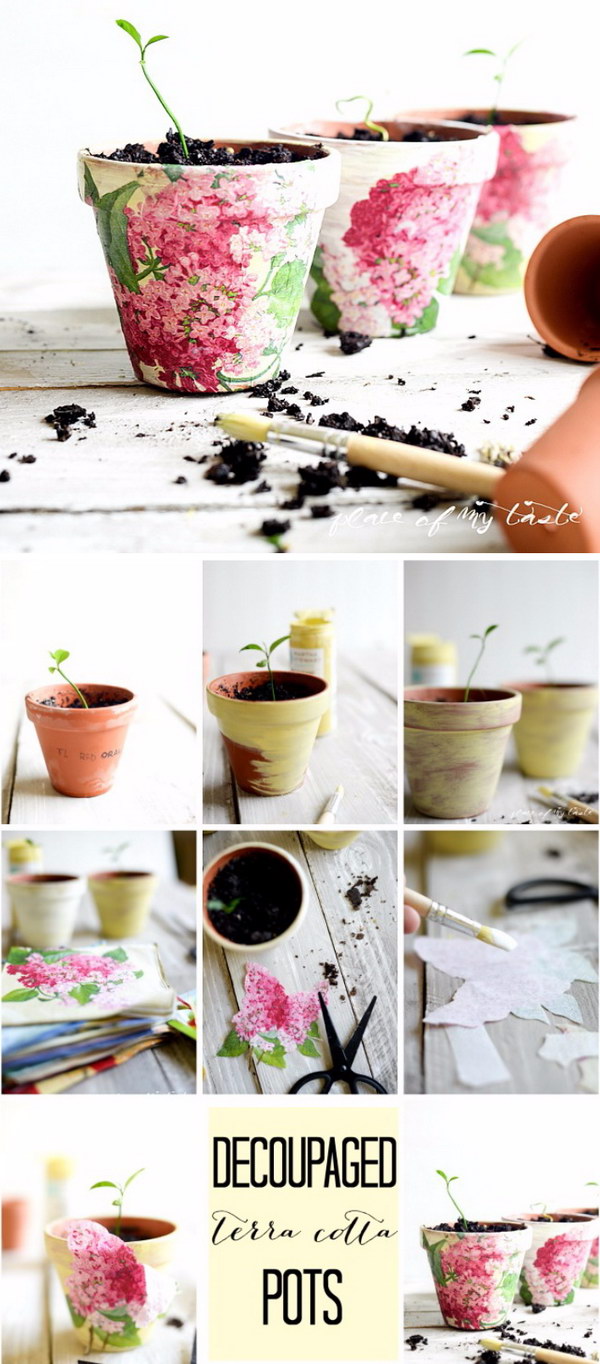 These decoupage pots are definitely beautiful and elegant with their patterned exterior. They look beautiful in any setting, but they are an especially good choice if you want to use flower pots for indoor decoration. via placeofmytaste.
DIY Gold Leaf Terracotta Pots

These pots are so beautiful. What you need to do is paint your pots white and then add your shapes or trims using metallic or foil paper to achieve this chic look. via the36thavenue.
DIY Mosaic Flower Pots Using Recycled China

You have China vases and now also China pots. These beautiful mosaic pots are a great excuse to save the pieces from broken China vases and sets. Pieced together, these China pieces make beautiful patterns that will make you forget you're looking at ordinary terracotta pots. via bhg.
DIY Jeweled Terra Cotta Pot

This is certainly a flower pot you won't see everywhere or even every day. The different colored jewels are an extravagant touch, but they also add a 3D dimension and lots of color to the pots. via lushlittlelandscapes.
Rustic White Washed Terra Cotta Pots

These traditional terra cotta flower pots were painted with a thin, only semi-opaque coating of white paint to get this unique, off-white look that goes well with almost everything and lets their original color shine through a little. via tidbits-cami.
DIY Gold Foil Lettering On Flower Pots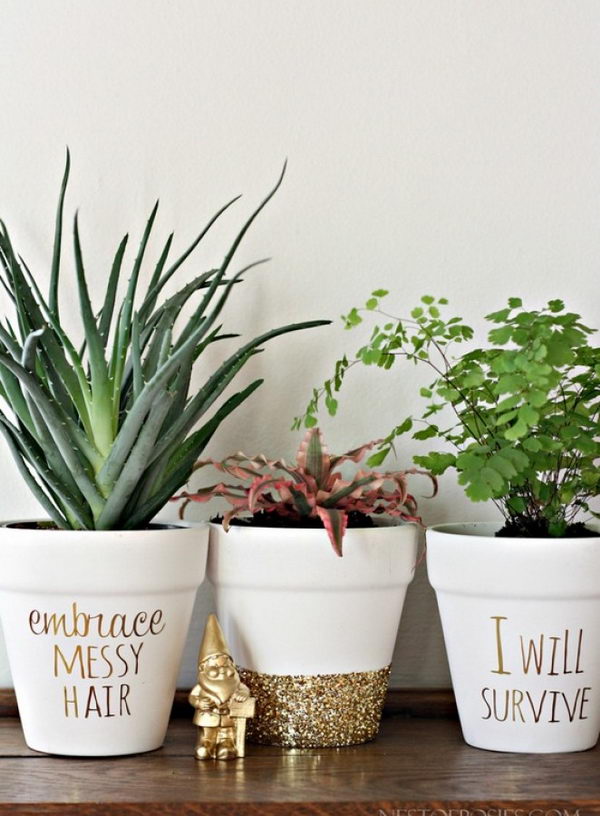 via nestofposies-blog.
DIY Lace Flower Pots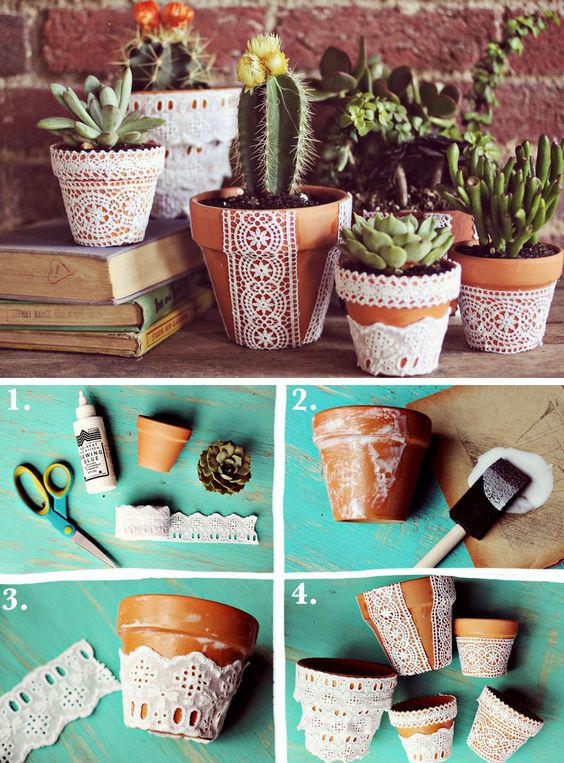 via abeautifulmess.
DIY Chalkboard Pots With Folkart Stencils And Paint

These are also chalkboard pots of sorts, but they use the chalkboard idea as a detail rather than the whole concept. Stencils were also used to create the beautiful chalkboard shapes in this case. via triedandtrueblog.
DIY Gold and White Herringbone Flower Pots

These white and gold clay pots are anything but basic. What you need to do is paint the pots white and the trim gold. Then, you can easily create the herringbone shape freehand using a large metallic permanent marker that matches your trim for a cohesive and elegant look. via thehappyhousie.
DIY Chevron Pots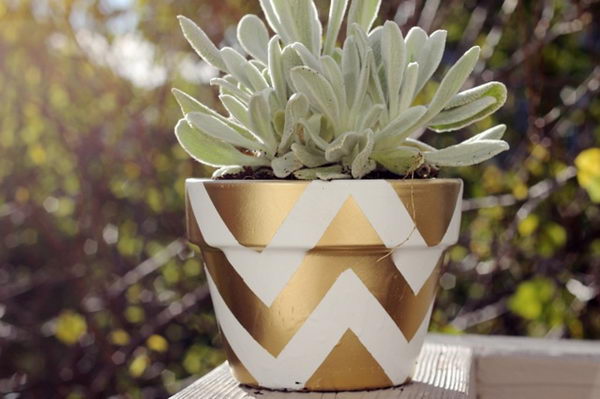 This white and gold chevron flower pot is elegant and trendy, and it isn't that difficult to make. Like with the other geometric shapes, what you need to do is get a stencil or create a template using masking tape and then spray paint the uncovered area. It also looks gorgeous in other color combinations like black and gold or white and silver. via fleurdeselsf.
DIY Shabby Chic Flower Pot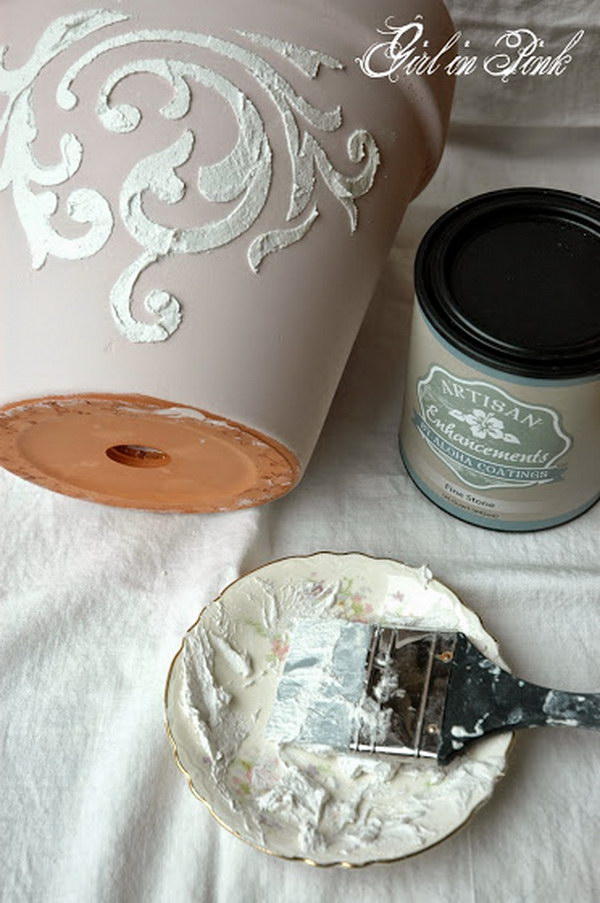 via onegirlinpink.