Entryways are often underrated and underused spaces. Though they are the first space you see when you walk into the house and the last before you leave, a lot of people don't spend much time, money or energy to decorate their front space.
Entryways are more than just doorways. Some are big and spacious, leading to long hallways and staircases, others are small and narrow, but all of them have great potential to be fulfilled.
If you want to make good use of your entryway by adding storage or simply turn it into a beautiful space, these inspiring projects will definitely be a big help, as they show that you can do great things with entryways, even if you have limited space, funds or resources.
Entryway Bench Made From Old Headboard

via jenandjercook
DIY Farmhouse Entryway Bench and Whitewashed Board Wall With Coats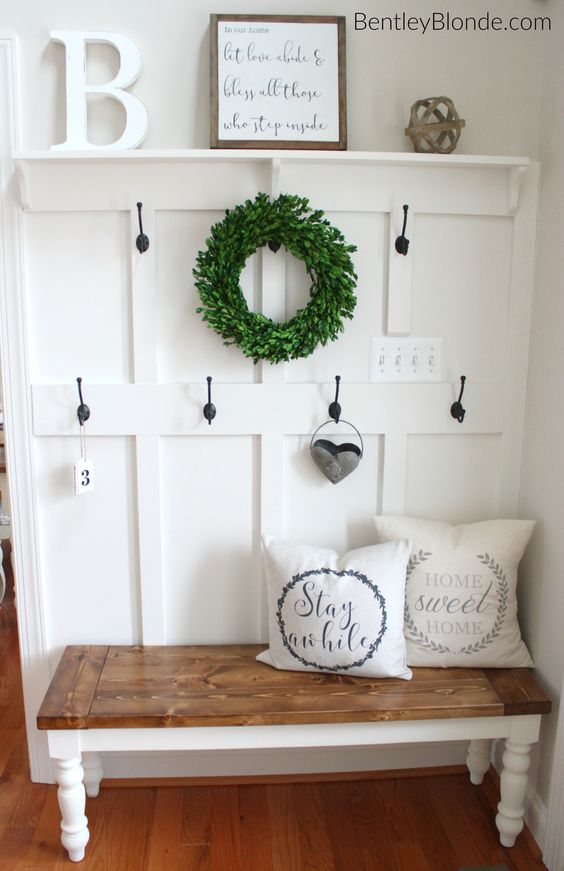 via bentleyblonde
DIY Entryway Bench With Shoe Storage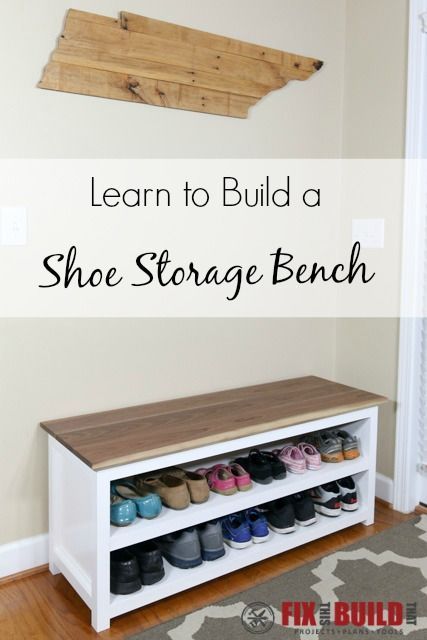 via fixthisbuildthat
DIY Backpack Wall

This backpack wall is a really cute idea for a family space. A structure with hooks and chalkboards was added to the wall beneath a large picture of the children, so that they have a specific place for each of their backpacks. The second chalkboard was installed on the adjacent wall for fun decoration. via imbatmom.
Entryway Bench And Coat Rack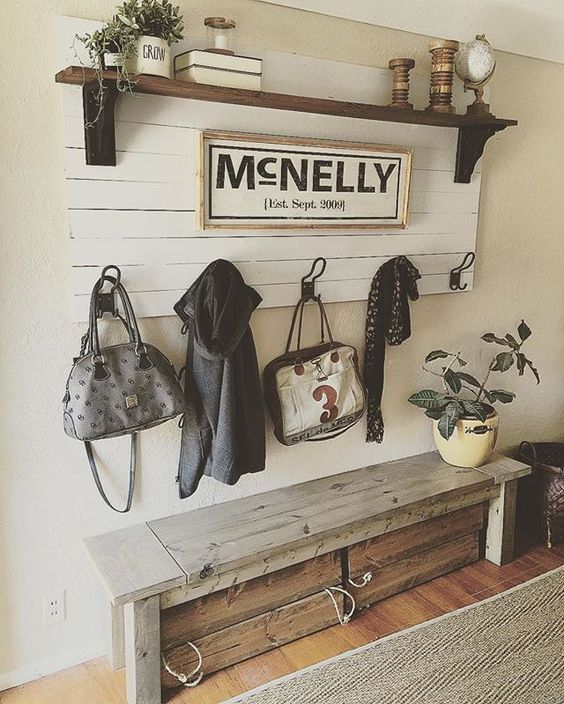 via instagram
Old Coffee Table Turned Entryway Bench

This mudroom makeover is beautiful with its black and white color scheme and numbered coat rack. The coffee table is split in half and repurposed as a long bench, which fit perfectly in the entryway. via 320sycamoreblog.
Entryway Bench Shelf With Hooks And Cubbies
via thatsmyletter
DIY X-Brace Entryway Console Table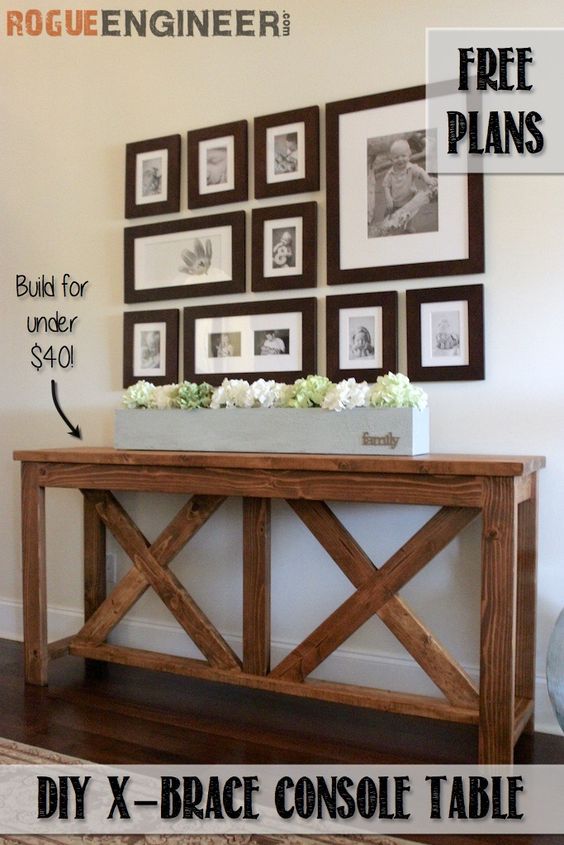 via rogueengineer
Beautiful Pallet Console Table for Not So Wide Entry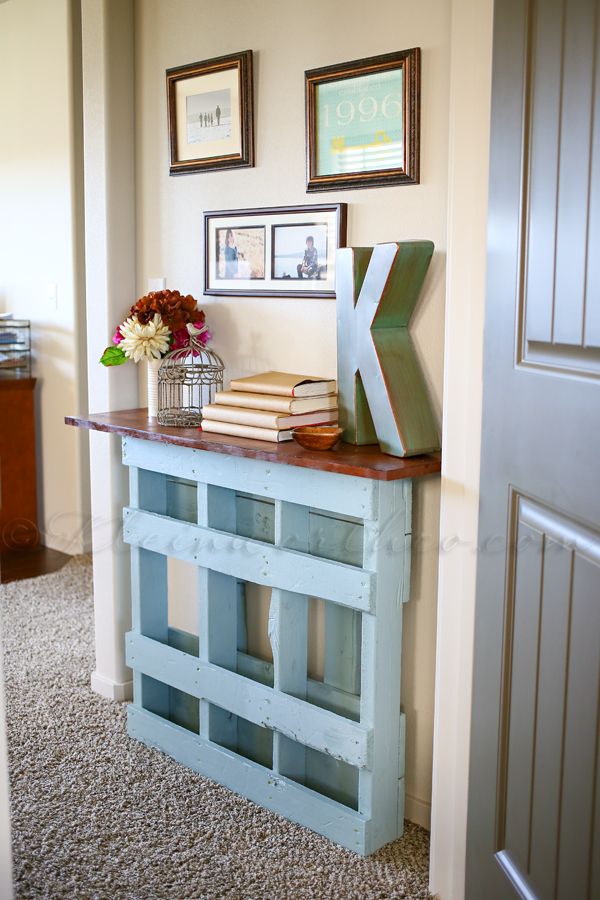 This pallet entryway console is great for this space because it offers a lot of functionality without getting in the way. The matching decorations on top also make great use of the storage space. via kleinworthco.
Tiny Entryway Gets an Easy, Functional Makeover

This small entryway space was really bare and wasted. A little open structure with a shelf and hooks on the side wall provides a unique way of adding storage and decoration to this corner. Via downrightsimple .
Black and White Horizontal Stripe Painting

This entryway looks much different, though only the wall around the door has really changed. The horizontal stripe painting is a great base for a nautical theme, accented by the decorations on top, including a wooden wheel. via sincerelysarad.
Brighten the Entryway with Painting

This entryway was obviously boring, but a new paint job really lifted it up. The blue and white scheme works really well here and adds style to the space. via chatfieldcourt.
Make a Huge Transformation with DIY Wainscoting and New Paint

This entryway got such a makeover that only the ceiling, floor and the door itself look the same. Using wainscoting on the walls was a great idea, as they look new and sophisticated. Plenty of white functional furniture and rustic decorative details complete the renovated look. source.
DIY Entryway Makeover with Painted Floor

Floors can sometimes make all the difference, and this painted floor certainly looks lighter and more polished than before. source.
DIY Entryway Table Using Corbels/Architectural Salvage

This makeover was great with the arched window-like mirror, the flower pots and lamps. It also has a simple, rustic charm, as every part of the piece is made from natural colored wood. via homebyally.
Big Reveal: Blue Entryway Makeover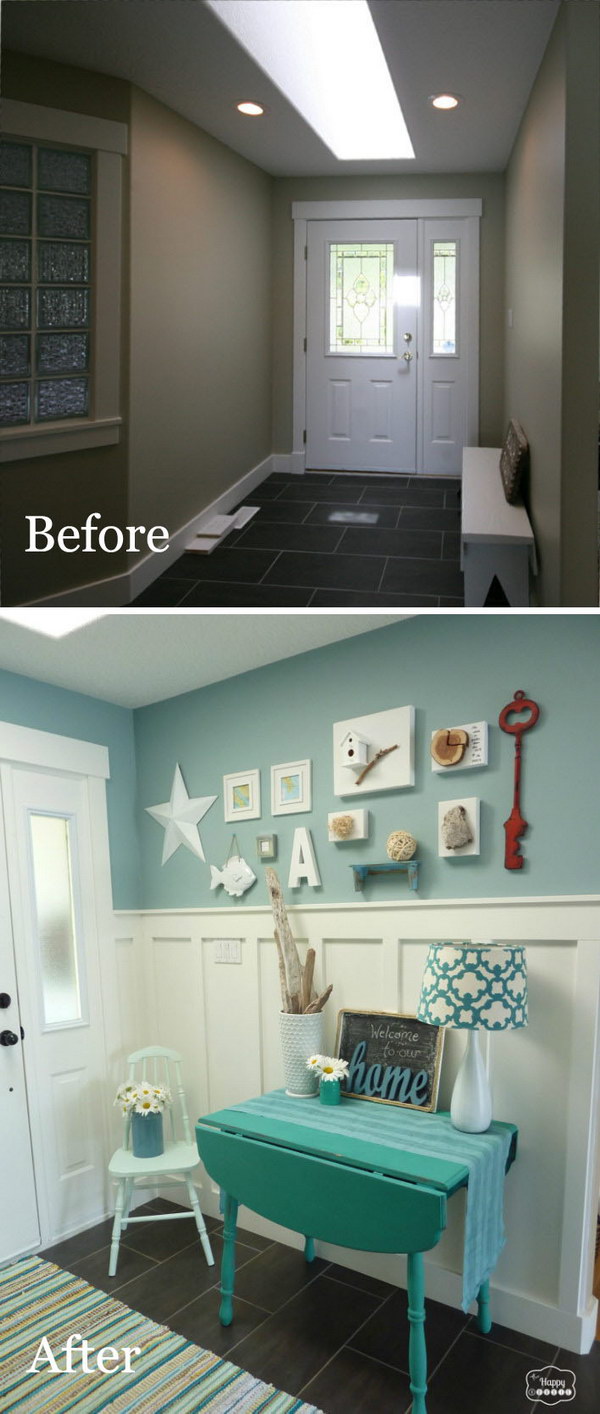 Light blue really suits this space, as it provides a light, summery feel to the area. The console and end table manage to be functional as well. The blue and white color scheme is simply stunning. source.
From Balustrade to IKEA Built-In Storage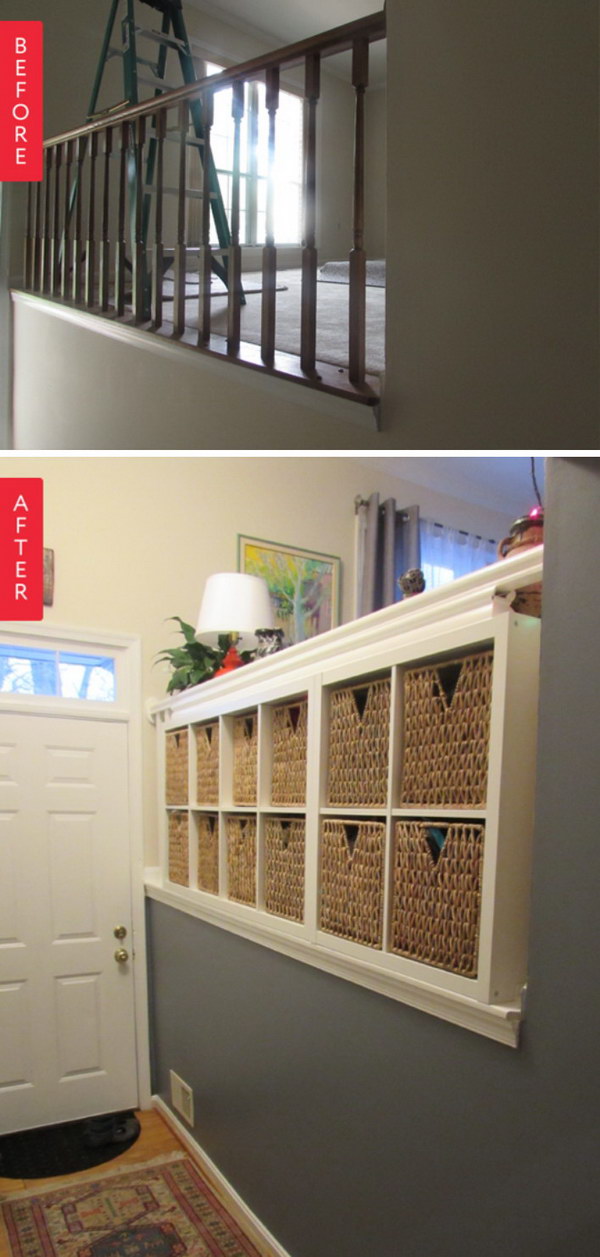 This entryway balustrade divider did the house no favors. It was a genius idea to turn it into a storage unit to complement the tiny existing closet. It occupies the same space, but is a lot more useful and looks much better too. via apartmenttherapy.
DIY Functional Wood Entry Wall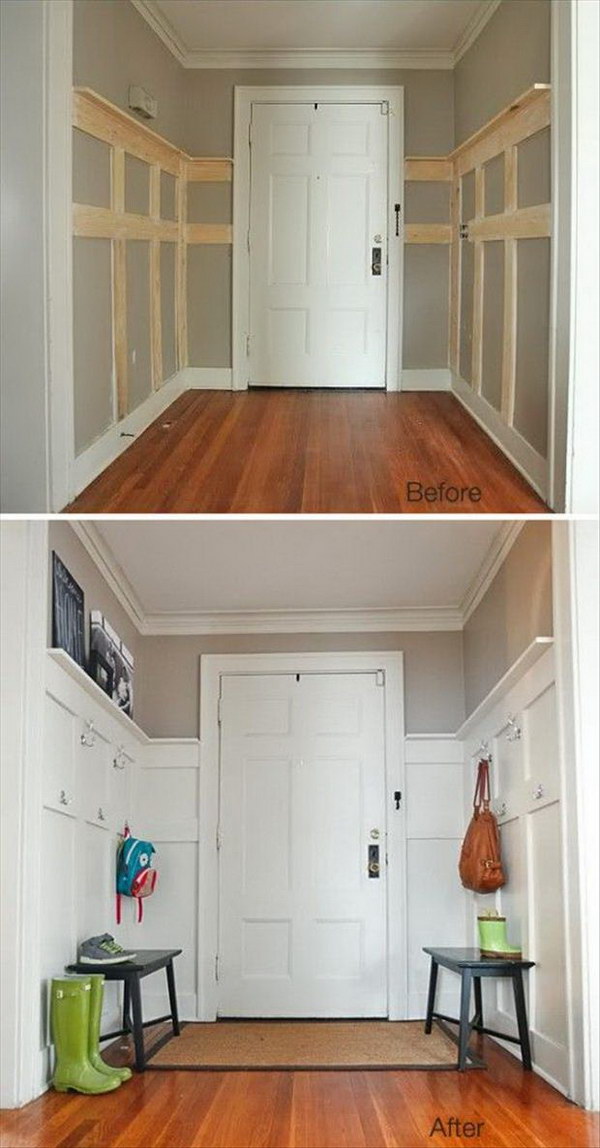 The entryway wall got a complete functional makeover. As a white wooden grid structure with hooks was built all around to hold coats and backpacks. This DIY project is not only a great example of creative thinking and space usage, but it also added an extra dimension to the space. via thenatos.
Farmhouse Entryway Makeover

This little entryway got a decorative, almost shabby chic makeover with a functional twist. The wooden shelf is great for setting keys and necessities, and the adorned mirror will come in handy for doing last minute checkups before leaving the house. The umbrella bin matches the door and adds extra functionality here. via jennasuedesign.
Blank Entryway Gets a Bright, Easy Makeover

This entryway was obviously very basic and functional originally. The makeover brought in a black and white main color scheme with bright walls, a coat rack and several decorative pieces such as frames and throw pillows on top of the bench. via lifeonvirginiastreet.
Fun, Functional Makeover: From Awkward Hallway To Amazing Mudroom

This hallway was somewhat organized, but really unappealing. After the makeover the coat closet lose its doors to open up the space. The door got a black and white painting. The open wall became a giant calendar of chalkboards, meant to organize the daily tasks in a creative, fun and decorative way. via ourfifthhouse.
DIY Entryway Closet

This entryway closet was originally tiny and cramped. The DIY makeover opened up the space. The doors were taken out, various sections were built in and wooden drawers were added at the bottom for a much more appealing and functional approach. via thehouseofsmiths.
Small Entryway with Upholstered Bench, Antique Pendant Light and Round Window Design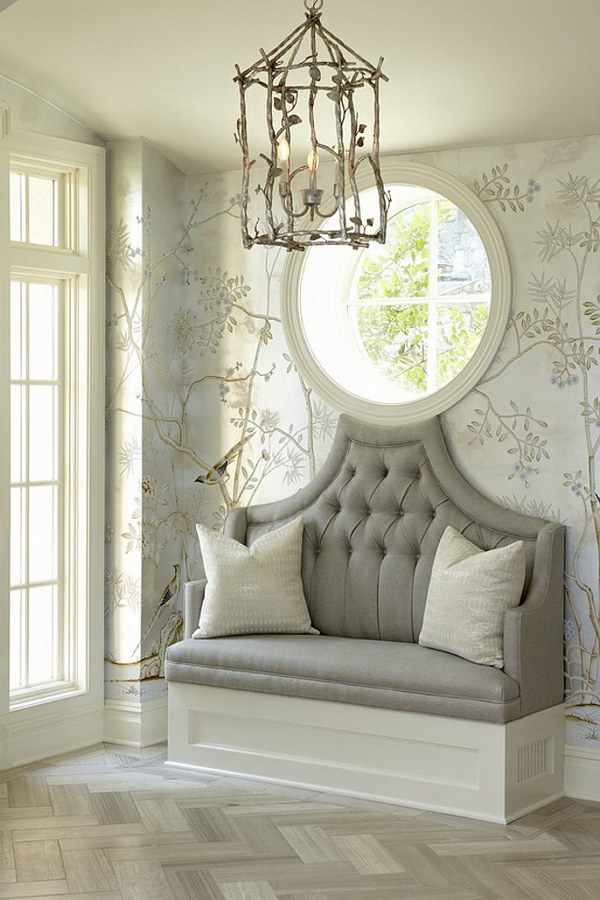 This entryway corner has all the luxuries of a vintage bedroom. The upholstered bench is great for guests to sit on under the light of the unusual round window and a cage-like, simple pendant light. via homebunch.
IKEA Norden Sideboard Makeover: A Distressed Console Adds A Rustic Vibe

This IKEA Norden Sideboard makeover adds a rustic style to your entryway with details of wicker baskets and an oval vintage mirror. via lollyjane.
Enhance an Entryway with Board & Batten and Painting

This entryway went through a complete makeover. The new color scheme is much classier and the wainscoting panels done to the walls and pained inside door make it look clean and elegant. via theinspiredroom.
Budget-Friendly Solutions: New Paint Color and an IKEA Bench

This little mudroom got a complete makeover, inspired by a repurposed white bench from IKEA. Matching decorative and storage pieces were added and the wall was painted from blue to a more neutral tone in order to complete the classic look. source.
Clever and Creative Solutions for a Tight Back Porch Entryway
The floating shelf with hooks was a great, creative solution to this back porch entryway. The bench at the bottom also works really nicely, as it features some storage but doesn't get in the way. source.
Awesome Black and White Entryway Makeover

This rustic, slightly messy entryway was lacking charm and organization. The black and white decoration, centered on the newly painted door, gives the room a much cleaner and more elegant vibe. All of the details such as the black basket on the corner and the open black chandelier hanging from the ceiling are chic and edgy. via akadesign.
A Neat Way to Make a Foyer with the White Wood Work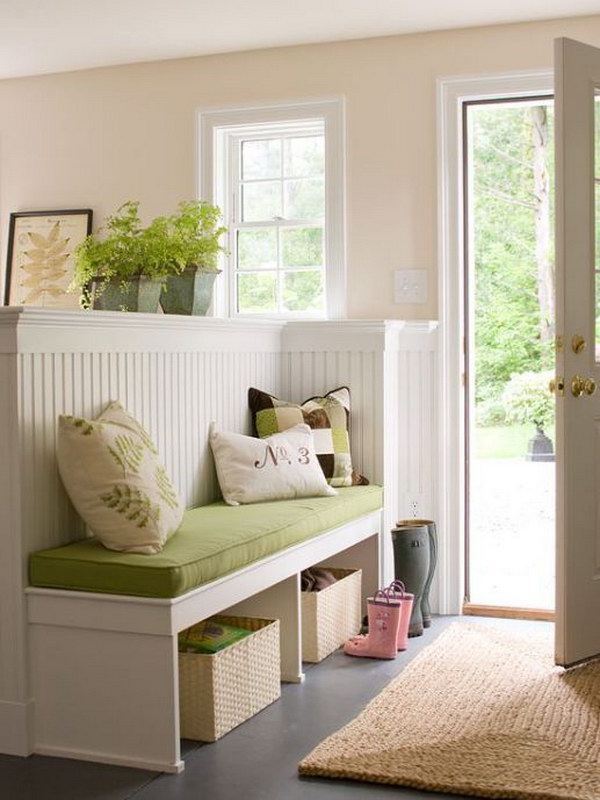 Beautiful wood foyer in white, rustic planters on the bench's padded top, wicker baskets and rug. All of this works perfectly together. via bhg.
Entryway Foyer Makeover: Paint The Inside Of Your Front Door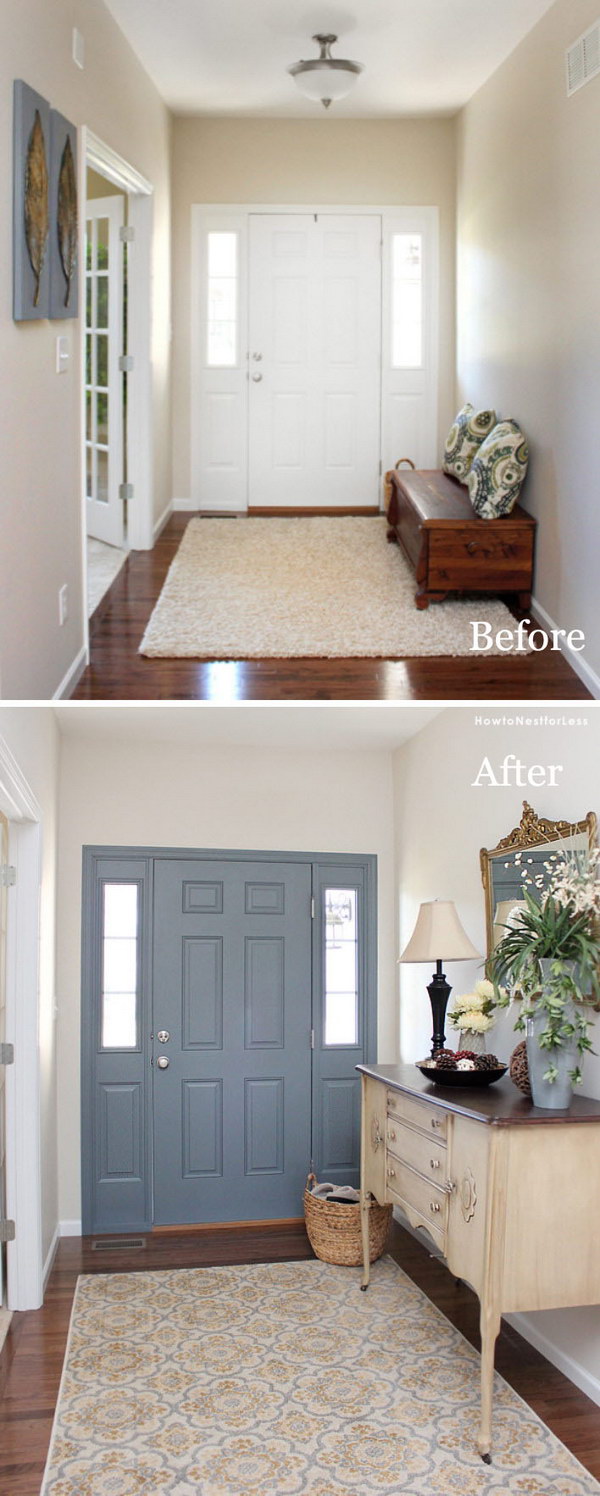 This foyer area got a complete makeover. The inside of the door was painted a beautiful pewter color, which looks really nice against the soft hues of the room. A vintage-style console was added to make better use of the space too. via howtonestforless.
Rustic Chic Entryway Reveal

This entryway makeover brought in light colors and a more simplistic approach that got rid of the clutter. Several wood, straw, floral and lace accents add a rustic chic style to the area. via homeremediesrx.
DIY Plank Wall and Repainted Door

This makeover is relatively simple, but effective. Covering the side wall with planks makes it look newer and cleaner, and the painted inside door adds a little contrast and match the mirror's frame. via littlehouseoffour.
DIY Entryway Gallery Wall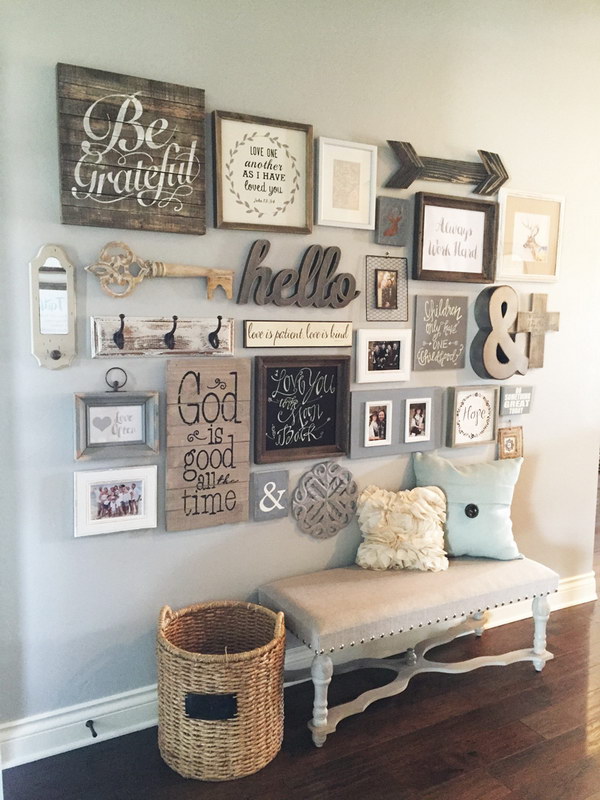 This wall is so full of decorations. Thanks to the shared color scheme, they all match really well together. via lillianhopedesigns.
DIY Entryway Bench and Intresting Mirror Displaying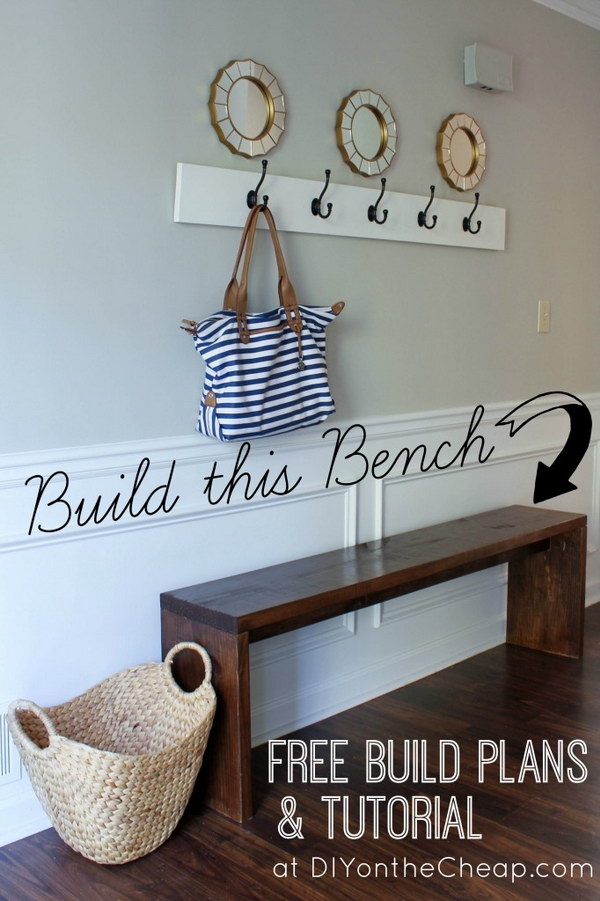 Simple yet creative, this DIY entryway is something to be proud of. The bench is quite basic, but works nicely, and the mirror displays above the hangers are a really original touch. via erinspain.
Adding Graphic Wallpaper Brings Dimension to a Small Entryway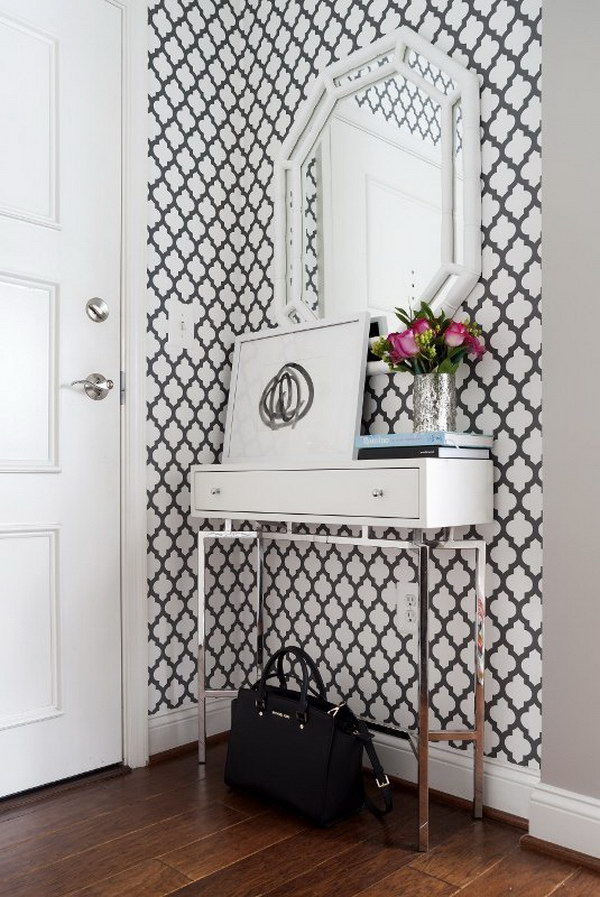 The graphic wallpaper is a great and dimensional background. It really enhances this space and provides a base for the white entryway console and big mirror. source.
Dreamy Color Scheme

This entryway makeover is all about adding color and creating storage spaces. Every chosen piece comes in a different pastel color and works perfectly together, from the large lilac cabinet, to the white wainscoting and other details. via simplyseleta.
Mudroom Entryway Makeover with a DIY Bench

This mudroom looks really beautiful and practical after the makeover. The bench is really cool and dimensional, and the little black touches like the bins and throw pillow provide some contrast too. via beinghomedecor.
Narrow Entryway Makeover with an IKEA Shoe Cabinet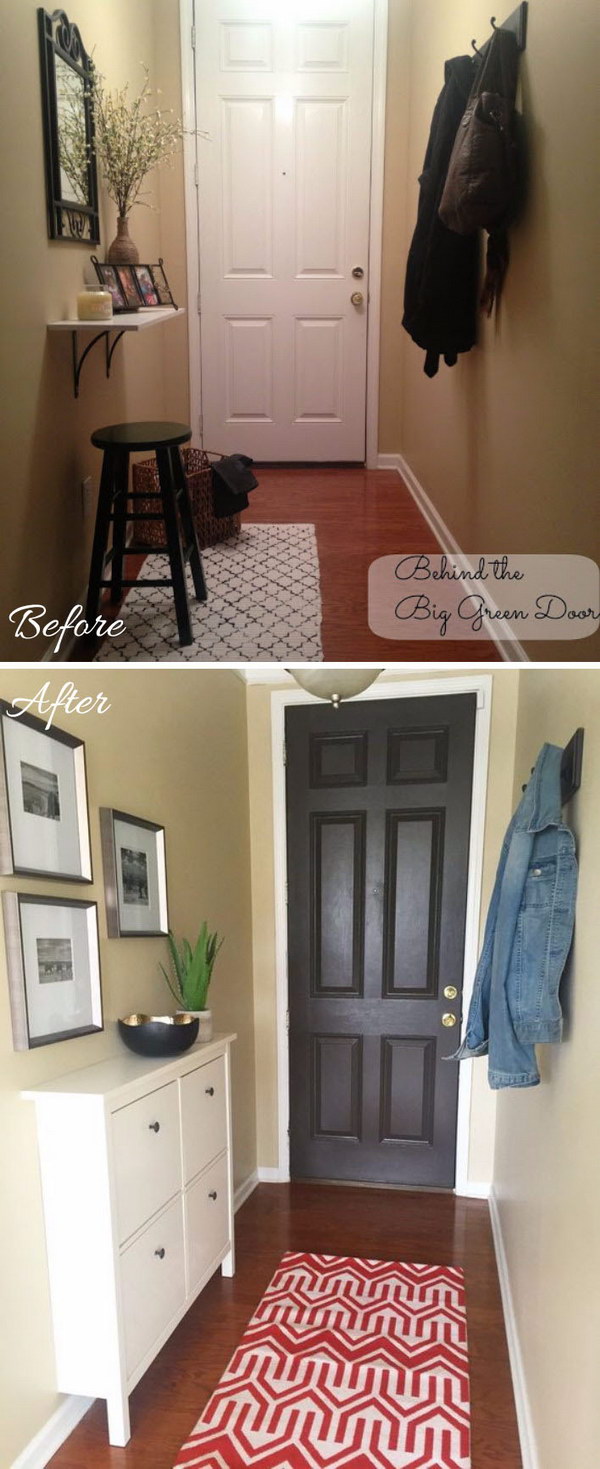 This makeover proves that you can actually do great things with tiny spaces. The IKEA shoe cabinet doesn't take much more space than the floating shelf did, and it is much more useful. The picture frames matching the dark bowl and the painted inside door are a great touch to the room. via behindthebiggreendoor.