Have you ever found yourself in need to put something down while sitting on your sofa but with no available surface within reach? Perhaps you'd like to eat while watching TV, or maybe you want to make a toast while cuddling on the couch with a loved one. It may just happen that you need to set the popcorn down during a movie or maybe you just want to keep something like the remote control or your smartphone nearby.
It is because of situations like these that some couches come with their own side tables nowadays – because sometimes the coffee table is just too far out of reach. But sofa tables aren't just meant for practical uses. You can also take advantage and place some flowers or any other decorative elements, like family pictures by the couch.
Whether you want to use it for practical or decorative purposes, here you will find many ways to make or repurpose a sofa table. Read on to find the following Stylish DIY Sofa Table Ideas.
DIY Sofa Table Using Ikea Parts

Your couch didn't come with its own table? That should be no problem, as you can fix your own easily, quickly and inexpensively using Ikea parts. All you need is a shelf and decorative legs in the correct height. After assembling your table, you can even make it completely your own if you paint it to match your decoration. via thehomesihavemade
DIY Industrial Sofa Back Table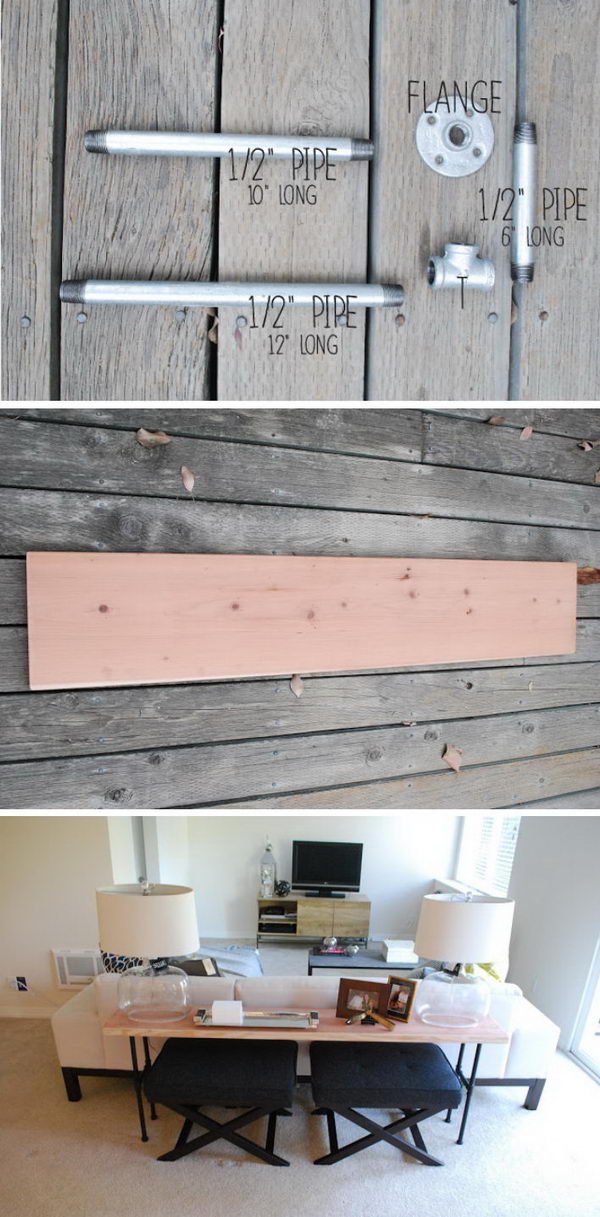 This full size table is a little different from others, as its size allows you to work or eat right at the back of your couch. In this particular case, it seems to serve as a work area, since two low, cushy benches were added underneath and electronics are placed on top along with decorative elements. via brassjones
Easy DIY Behind The Couch Table

This narrow, dark wooden table is the perfect example of what we've already mentioned. It has been placed in between the actual couch and the white wall, and it serves as a place to keep drinks during a night with friends and family, all while preventing the couch from actually touching the wall. via effierow
DIY Console Table With Scroll Legs

This DIY, light wooden console table has a vintage rustic vibe. The top and bottom are smooth, while the scroll legs and the darkened edges add character to the piece. A second shelf was built in between the top and bottom for added storage. via hertoolbelt
Easy DIY Table That Slides Under The Edge Of The Couch
This little DIY sofa table is quite an ingenious project because it slides from under the couch and back in as needed. The exposed structure adds an industrial touch to it, which contrasts with the smooth wood on top. via laptopstolullabies
Milk Painted Industrial Farmhouse Console Table

This console table certainly has all the charm of the farmhouse style, with its ornate legs and contrasting colors. The concrete on top is very sturdy and will be able to stand a lot of weight in spite of the piece's delicate appearance, as you can tell from this picture. via gardenhillcountry
$25 DIY Sofa Table Tutorial
"Sandwich" a very narrow table between the sofa and the wall, so you can set frames, candles, plants or lamps on it for decoration and function. via alwaysneverdone
$30 DIY Sofa or Console Table
This table, which is set at the sofa back's level, is more of a floating style option. Again, space is quite limited, but you can easily use the console to have your essentials handy when you sit down. via jennasuedesign
This DIY Sofa Table Behind Built-In Outlets Allows You Plug In Your Electronics Easily

This little DIY wooden table behind the sofa, which is very easy and accessible for everyone to make, is all about functionality. Its strategic placement, coupled with the outlets on the wall, allows you to charge your electronic gadgets while keeping them handy during rest hours. via source
DIY Coffee Table

This sofa table is yet another example of the beautiful and useful things that can be installed in smaller spaces. The woodgrain color amd texture looks really good against the cooler gray tones of the overall decoration and the unit is great as an office style storage space. via source
DIY Console Table With Extra Storage Both Inside And On The End

This repurposed storage unit turned sofa console is actually a genius project, as you can prop and store things on top of it, inside and at the ends of the sofa. via cathygreeninteriors
Stylish and Simple DIY Sofa Table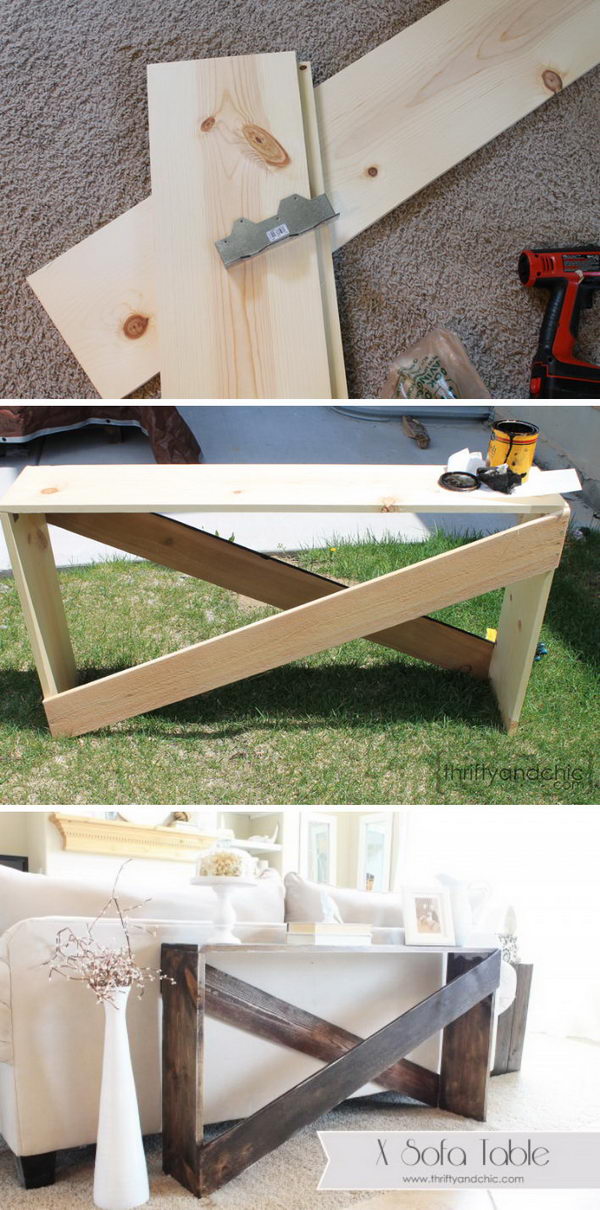 This stylish wooden sofa table is very simple to assemble, in spite of its impressive looks. The whole structure is made of wooden beams, arranged for style and stability and then painted a sophisticated dark color. It was installed at the back of the couch for practicality, as it often happens. via remodelaholic
DIY Salvage Sofa Table

The idea of making this beautiful sofa table from salvaged wood boards was fantastic because it has a very unique look and it is also more eco-friendly than other options. The ornate legs that were chosen add contrast and a touch of sophistication to the piece. via adiamondinthestuff
DIY Reclaimed French Country Sofa Table

This project appears to have been put together using only light, reclaimed wood. The top and low shelf are made from smooth boards while the legs have an ornate, vintage appearance. All of the pieces showcase a beautiful woodgrain texture, which gives the table a countryside charm. via picklee
DIY X Sofa Back Table

This is very much your typical wooden sofa table. The top is made from smooth boards, while the sides are arranged in an X-shape with three beams. A long beam connects both sides of the table, which was painted an off-white color, for added stability. via 100things2do
DIY Hairpin Leg Console Table

This high console table has a very thick and sturdy distressed dark wooden top installed at the same level as the back of the couch. Several hairpin legs were used along the long table to give it a unique look while ensuring it is safe to use as well. via superette
DIY Rustic Console Table

This distressed light wooden table has all the charm of a rustic, DIY piece. The frame is very sturdy, as wooden beams were placed at the sides and the middle to support the top and two shelves. The exposed nails and wicker baskets used for organization complete the look. via shadesofblueinteriors
DIY Reclaimed Barn Wood Hairpin Leg Console Table
Reclaimed wood is always a great option for every DIY project because it is affordable and has a very unique look. This console table shows that, as the dark slabs used work fantastically with the hairpin legs to create a table you certainly don't see every day. via sustainmycrafthabit
DIY X-brace Console Table

This DIY table could look like many other polished wood pieces you might find in stores, but there is one simple detail that makes it different. The X braces connecting the legs give it that slightly different, almost rustic look while also providing some additional support to the top. via rogueengineer
Double X Console Table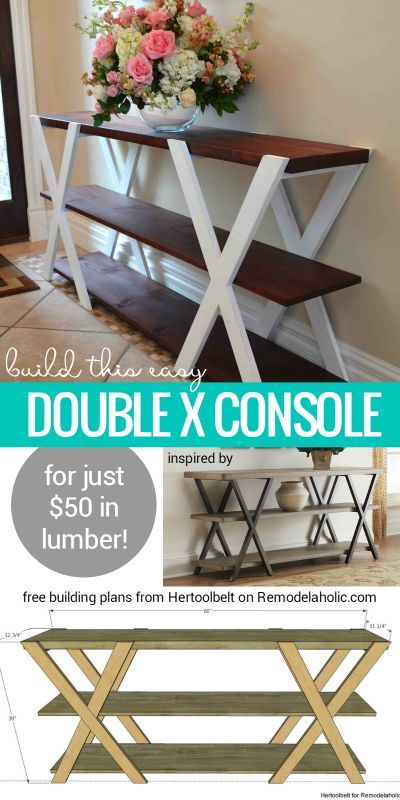 This console table has a truly unique look, thanks to its unusual structure. The three long, smooth wood shelves are supported by two big Xs at the front and back edges, which were painted white for a more striking look, instead of having the usual legs at the corners and middle. via remodelaholic
Easy DIY sofa Table

This sofa table could hardly be any easier to assemble. The owner took a simple wooden frame and added wood beams of various sizes to create sections for storage. The project was finished with a coat of dark paint and wicker baskets in the lower section. via removeandreplace
DIY Bench to Sofa Table

Turning a bench into a sofa table is in fact a good idea. The top was combined with different pieces and scraps of wood in this case, and then it was painted smoothly and installed at the back of the sofa for storage. via tommyandellie
Gray Sofa Table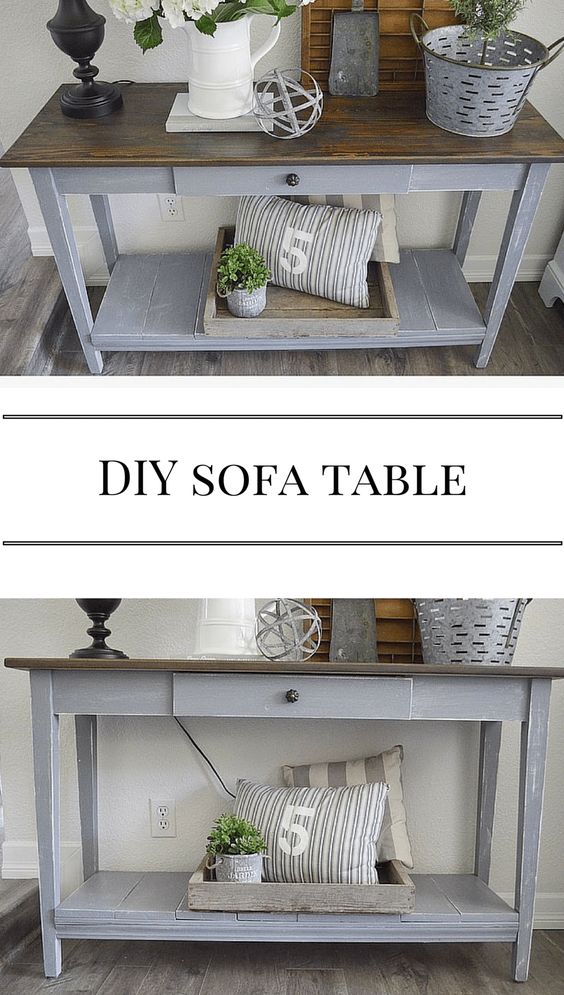 This is a great example of an incredible and unusual sofa table. It combines a simple gray frame with a smooth dark wood top, and while it doesn't provide as much storage as some others, it works very nicely for its purpose. via farmfreshhomestead
DIY Wood Console Table
This is another fantastic example of a very unusual table, because it looks like one smooth structure and it doesn't have any shelves apart from the actual top. The white color provides a gorgeous contrast against the back of the dark contrast. via saffronavenue
DIY Fretwork Console Table

This table is simply gorgeous, thanks to its intricate fretwork frame. The white structure doesn't provide any contrast against the wall, but matches the color scheme of the room. The smooth wooden top works very nicely with the matching floor. via jenwoodhouse
Easiest DIY Reclaimed Wood Sofa Table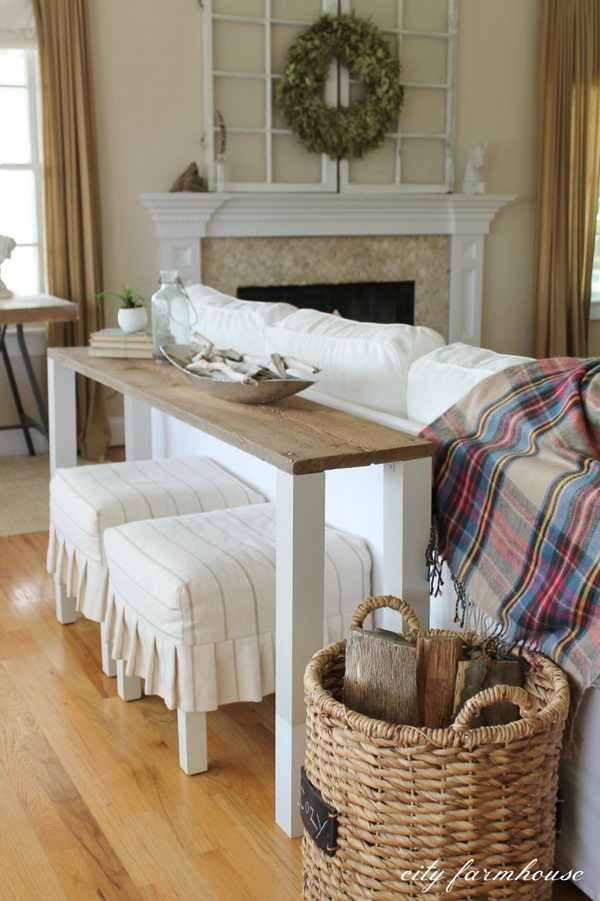 This sofa table is basically as simple as they come – only a smooth top and four legs at the corners. The contrasting colors match the decoration of the room at large and the two vanity style benches give the piece a look that is both somewhat vintage and rustic. via cityfarmhouse
Modern Grey Console Table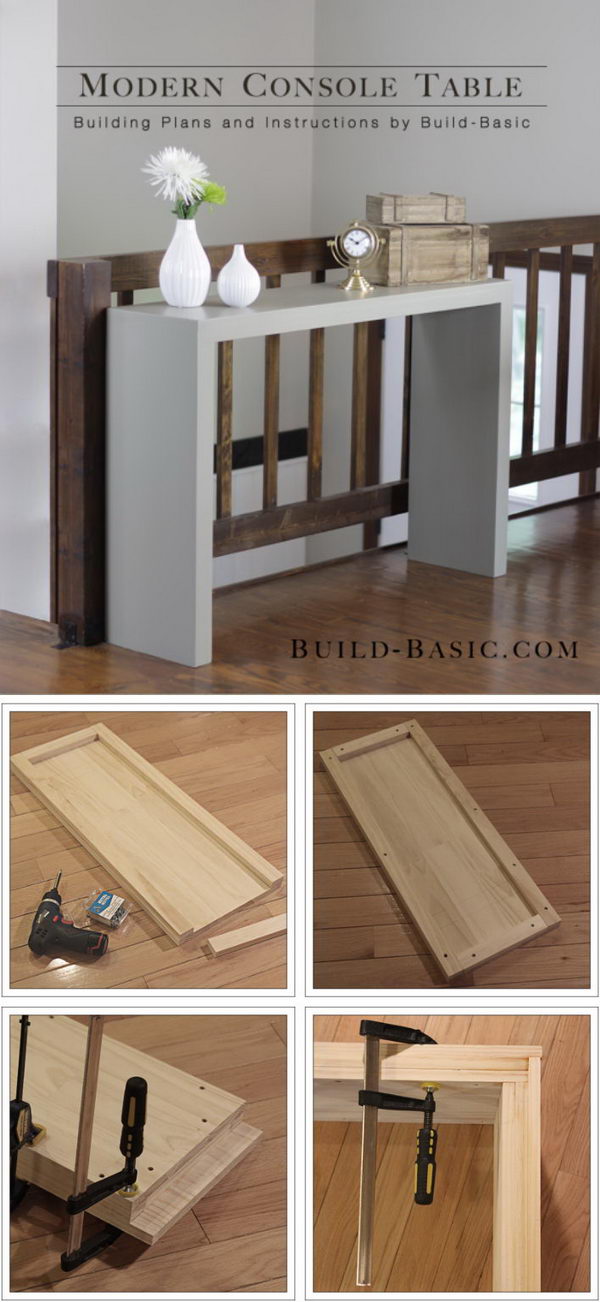 via build-basic
Easy DIY Reclaimed Wood Console Table

via bloglovin