Pathways are highly underrated. Some people may not pay much attention to them, but they do play a big part in some of the most iconic movie and book scenes as well as your own life.
Garden pathways are the ideal place for afternoon and night strolls, for serious conversations and love declarations. They are great for children to play in and for adults to sit on contemplating the day. Sometimes they even lead to secret corners of the garden or back around to the front of the house.

To sum up, pathways simply shouldn't be overlooked. They should be smooth and safe to travel on, but also beautiful and representative of the house's decorative style. They should fit right in among the garden flowers or along the front yard.
It's time to build or renew your own pathway, so we've put together a collection of these Creative Pathway & Walkway Ideas for Your Garden Designs.
DIY Faux Stone Walkway with Concrete

Stone pathways are certainly the most traditional and what you would most likely expect to see. In this project, a layer of concrete was placed at the bottom for stability and then covered with stones of various sizes to create an asymmetrical pattern. A small space was left in between the stones, letting the ground underneath peek through. via budget101
DIY Brick Pathway

Brick pathways are also quite traditional, but this one is more like a work of art, especially for a DIY project. The pathway is outlined by light square stones and then filled in with natural colored bricks, creating a beautiful contrast. The paths converge in a square right in the middle, in front of the wooden bench, which gives the project an extra special look. via home-dzine
How to Lay a Brick Path

This brick pathway is much simpler than the one we just looked at. The bricks are all natural colored and placed vertically as well as horizontally to fill in the space and create a smooth surface for people to walk on. via thisoldhouse
Make Your Own Brick Pathway For Under $50

The beautiful brick path was put together using homemade chips that came from bashing imperfect bricks. This made it much cheaper than filling the whole path with bricks or buying the chips. The design, which is lined with stone pavers and decorated with diamond shapes, is also very practical for pet owners. via martysmusings
DIY Wood and Stone Pathway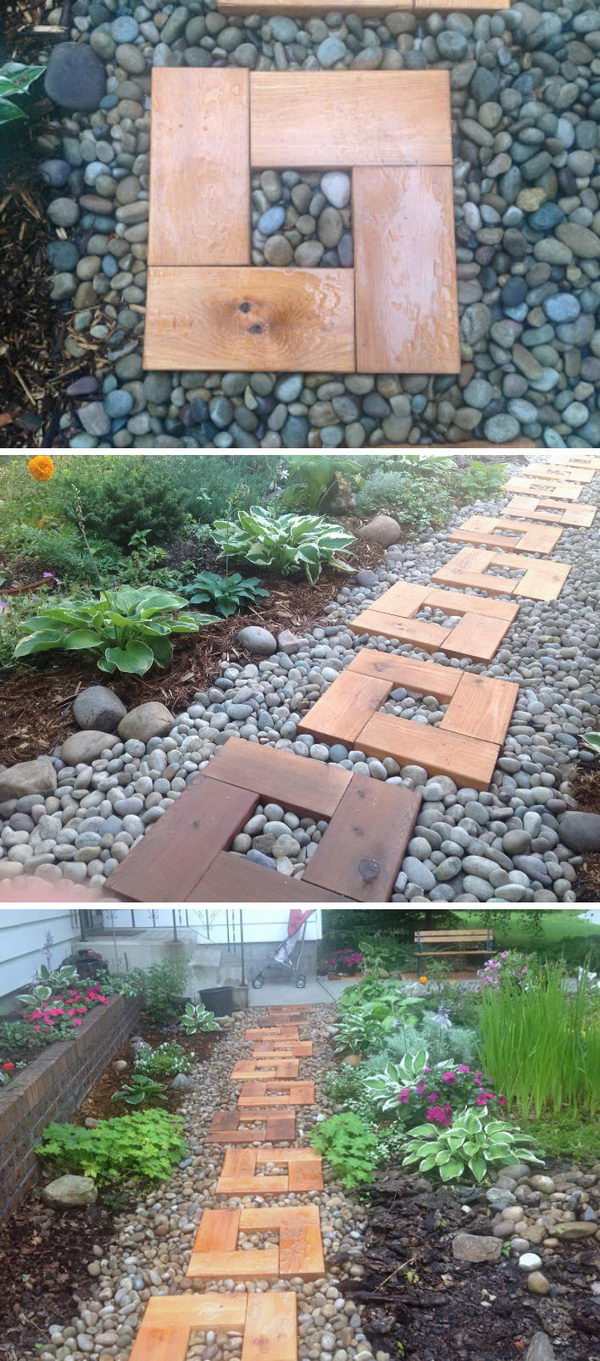 This path has more of an organic look to it, as it is filled with stones of different colors and sizes but doesn't have a distinct edge. Hollow squares of smooth wood placed on alternate sides along the middle decorate the path and offer a smooth place to walk on. via source
DIY Barefoot Sensory Pathway

This is a very unique pathway project, as each section is meant to have a different texture, so as to provoke distinct sensations to those walking on it barefoot. Wood, stones, grass, chips and pavers are some of the materials used in this wraparound path. via playathometeacher
DIY Pathway With Lace Like Stepping Stones

This pathway is simply gorgeous, and it is the result of a full DIY project. A lace doily was used to help create a beautiful pattern on stepping stones, which were then arranged in squares to create the actual path. The light color used on the lace pattern creates a great contrast against the dark greens of the garden while the square shapes stand out on the open floor. via source
DIY Natural Log Pathway

This path is quite obviously made using logs placed on top of a base. The placement of the logs is actually a simple task in this case, but there was a lot of prep work involved. The logs had to be cut to size for this project and sealed for durability, but they were left untouched otherwise. via sewwoodsy
Pallet Wood Walkway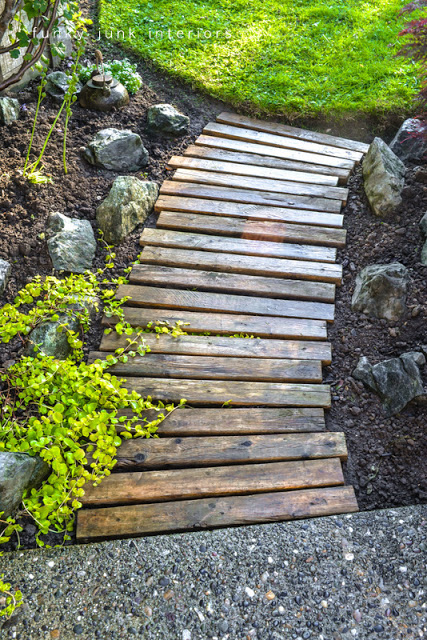 This pathway is very reminiscent of a beachside walkway, as uneven slabs of pallet wood were placed next to each other to create a path people can walk on safely. via funkyjunkinteriors
DIY Concrete Stepping Stone Squares Pathway With Lava Rocks

This pathway has a very usual yet distinctive look. It was shaped among the grass using some lava stones and chips. Rectangular concrete slabs create the contrasting walkway that gives the path its distinctive look. via source
DIY Leaves Imprint Concrete Stepping Stone for Pathways

This would be a giant concrete walkway if not for the beautiful leaf imprints created on the stepping stones, which add some charm and lightness to the project. via source
DIY Poured Cement Walkway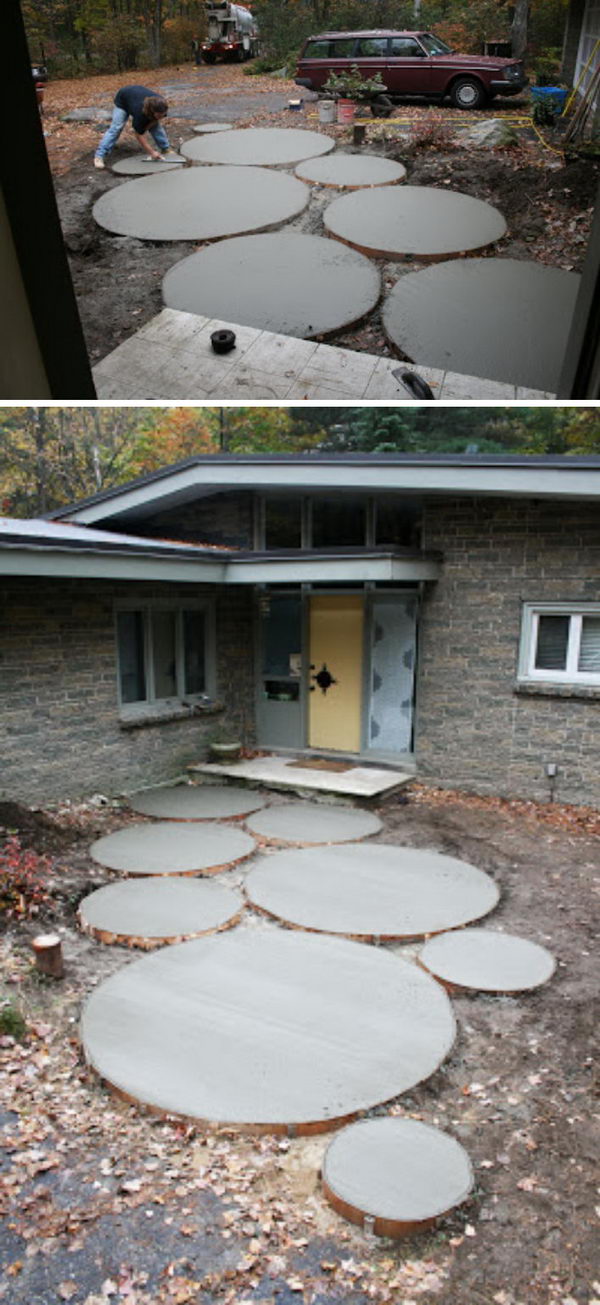 This pathway is undeniably beautiful and unique. Unevenly sized circles of poured concrete decorate the pathway over the gravel, also serving as stepping stones for those that use this walkway. via source
DIY Solar Powered Walkway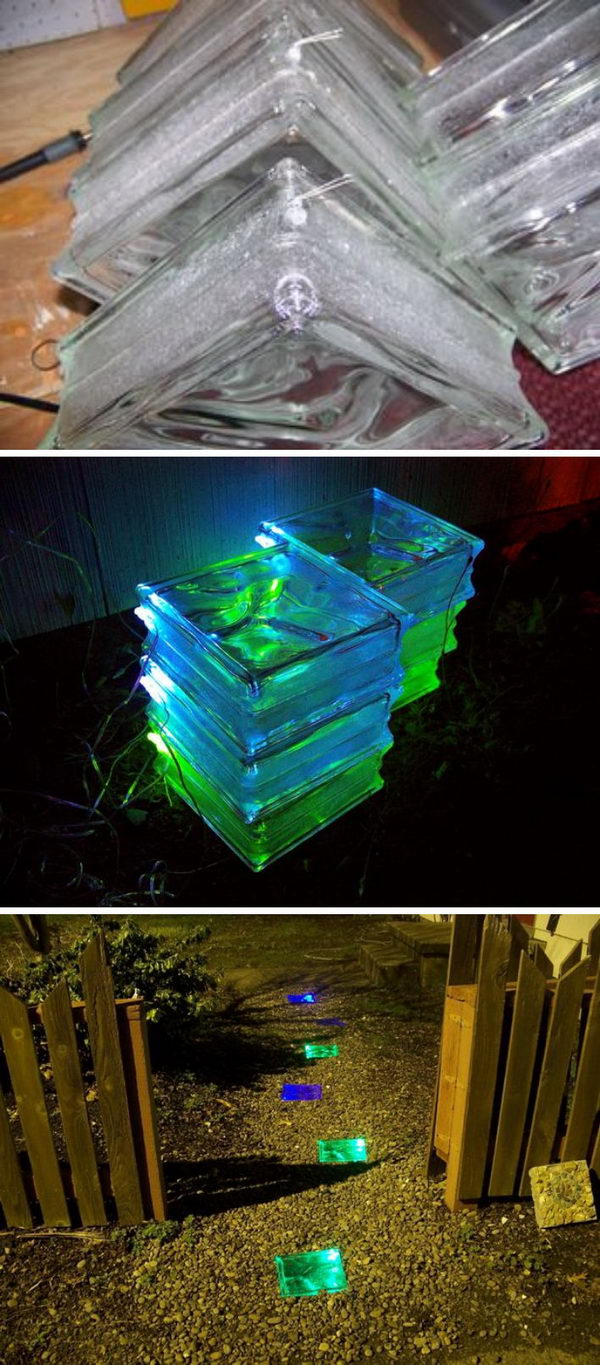 Here's how to literally light up the way! This light up path was put together using solar powered LEDs of different colors, also known as Sun Jars, which were then placed sporadically in a line along the path to create a beautiful, lighted pathway at night. via instructables
Herringbone Rutsic Reclaimed Brick Pathway
This project is a great idea because reusing the bricks is eco-friendly, efficient and inexpensive, not to mention the reclaimed bricks add character to the finished product. They were arranged so that they intersect each other diagonally among the plants to create a beautiful, narrow herringbone pathway. via hometalk
The Curving Stepping Stone Pathway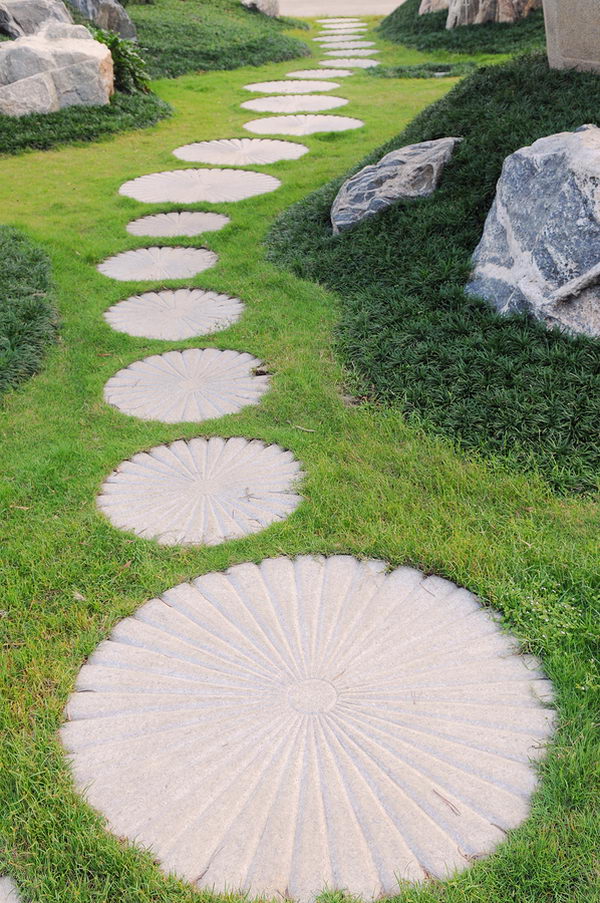 This pathway has a somewhat whimsical vibe to it, as light gray, round stepping stones curve along the grass. The stones themselves are also quite beautiful, as they are lightly veined outwards, creating an image reminiscent of sun rays. via depositphotos
Concrete Hexagon Paving Stones Walkway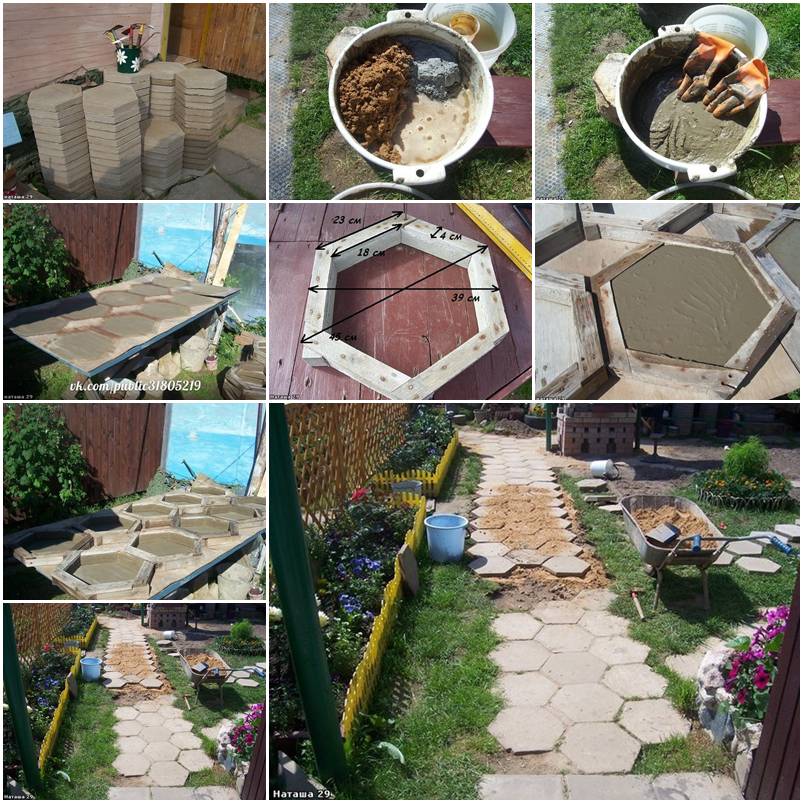 Gravel Pathway with Large River Rock Edge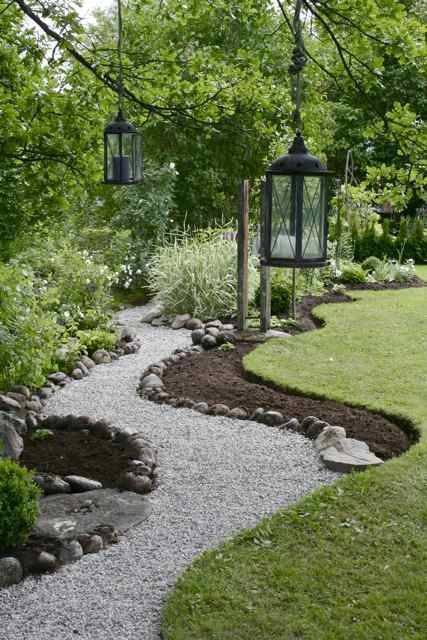 This Pathway is quite simple but manages to encompass a really special riverside charm. The path itself is filled with packed gravel while the edge is lined with stones of different sizes and colors that give it that stunning look. via thisoldhouse
DIY Pebble Mosaic Stepping Stones Pathway

The pebble mosaic in these stepping stones gives them a look similar to tapestry which is stunningly unique. They are arranged at an angle among the foliage to create the gorgeous pathway that you see here. via source
Pallet Garden Pathway
This isn't the first pallet pathway we look at, but it's definitely much more detailed. The pallets are arranged in opposite directions along the curved pathway, with clusters of stones placed at the corners to add detail and character to the project. via lonny
Butterfly Stepping Sones Pathyway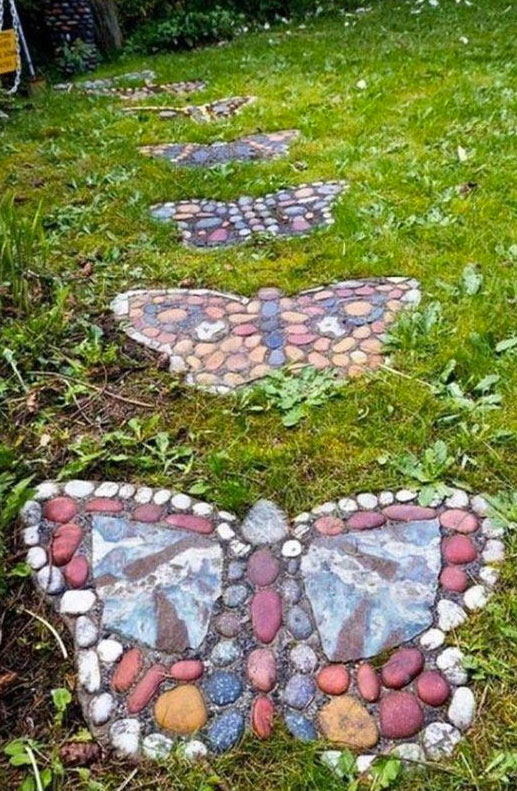 It doesn't get much more whimsical or creative than this project. Pebbles of different colors and sizes form butterflies in the grass, which serve as this particular pathway's unique stepping stones. via theownerbuildernetwork
Recycled Wood Slice Garden Pathway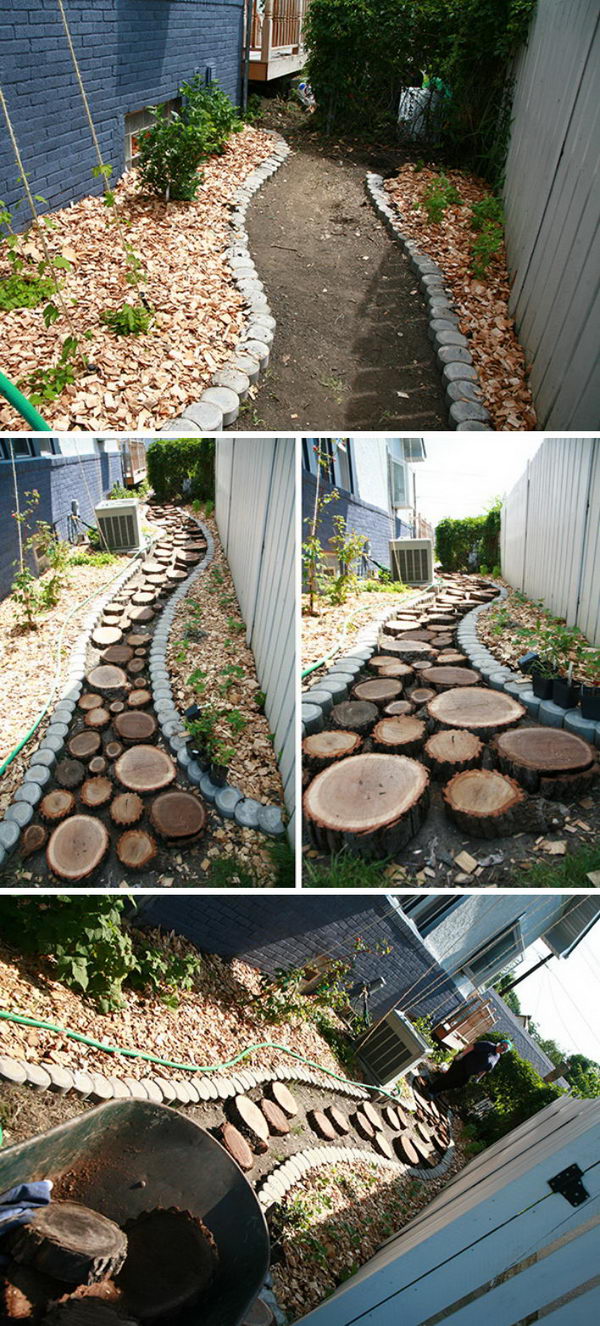 This beautiful curving pathway has logs of different sizes placed atop the packed ground as stepping stones. Its edges are lined with the customary pavers for safety and practicality. via celebrationgeneration
Bluestone Flagging Stepping Stone Pathway
Pretty Brick Pathway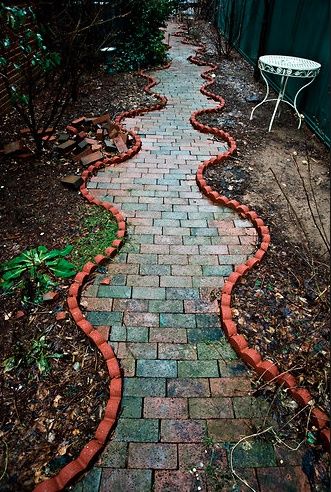 Garden Pathway Made of Rocks and the Stepping Stone Made from a Leaf Mold
Artful Mosaic Garden Pathway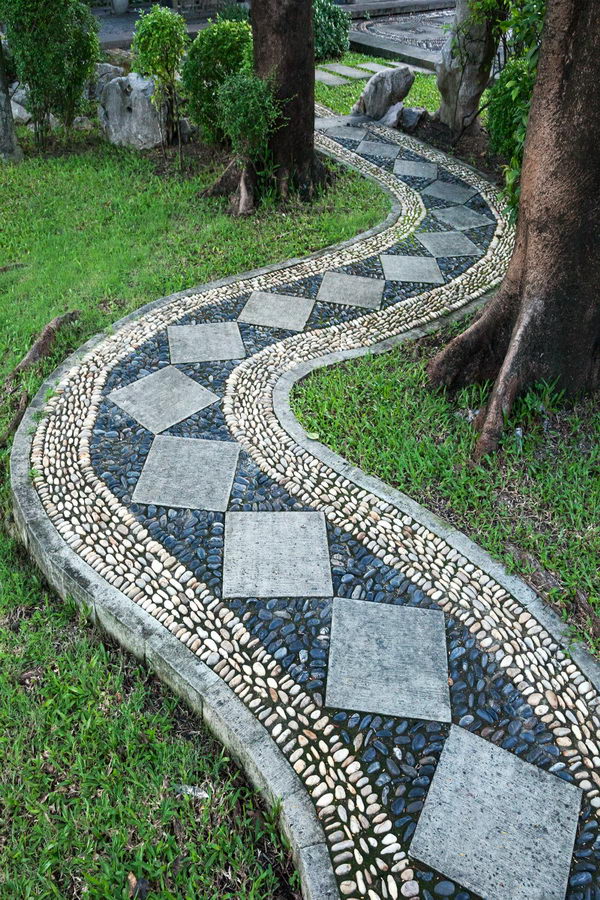 Garden Pathway Made from Wine Bottles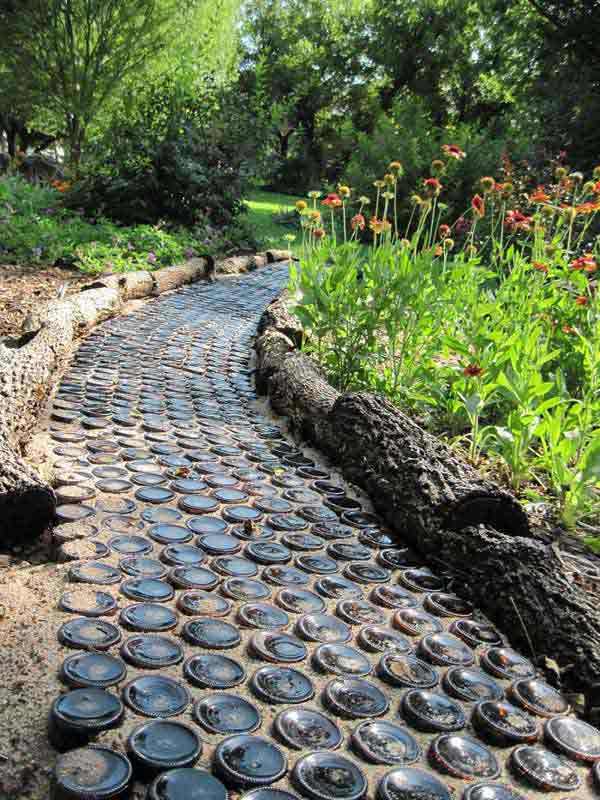 Checkerboard Pathway by Using Square Patio Stones and Then Plant the Earth in Between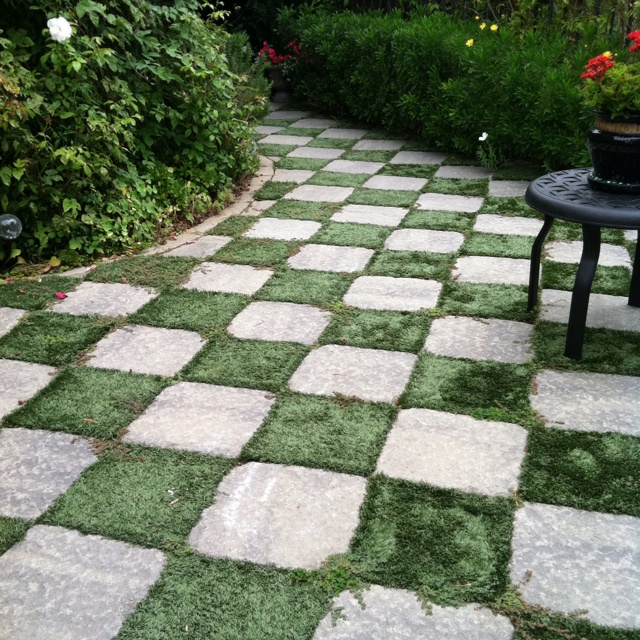 Brick Paver Pathway with Rocks Edged in Gravel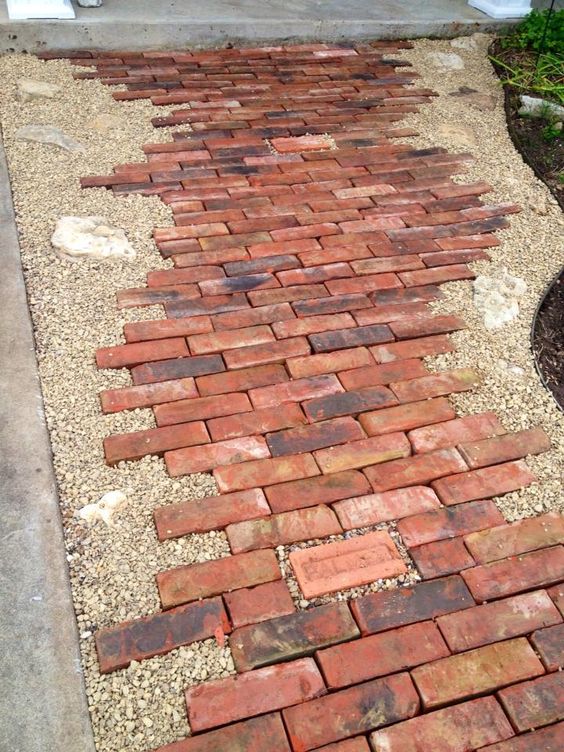 A Simple Pathway with Cement Block Tiles Bordered by White Pebbles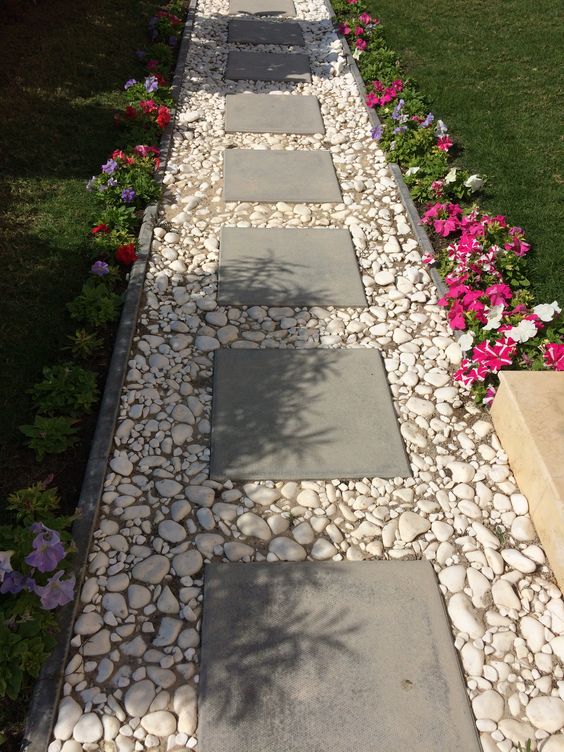 Steps Going Up Walkway into California Garden with Succulent Groundcover Mix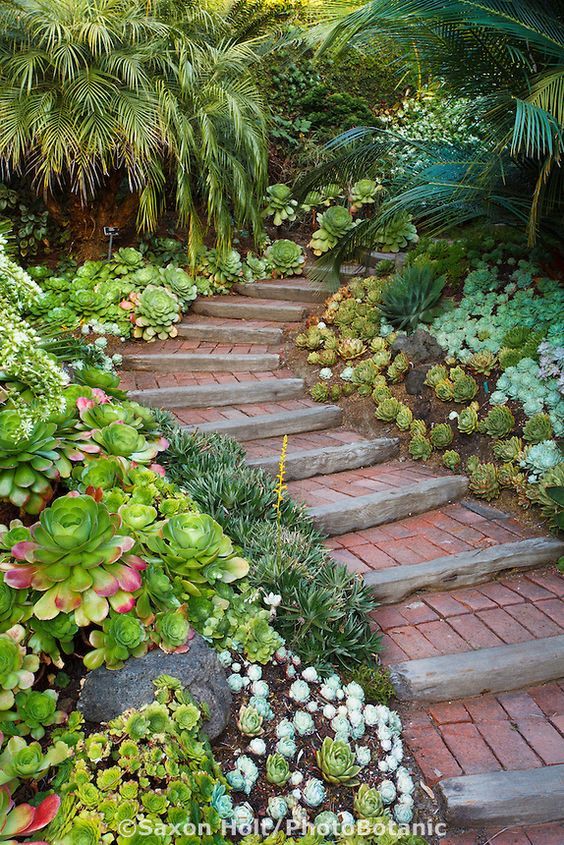 Pebble Pathway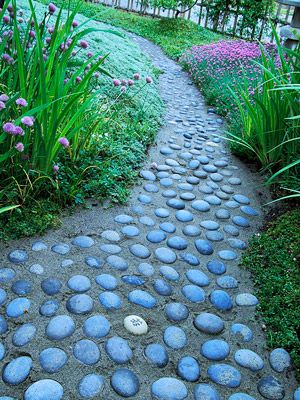 Stone Brick Pathway in White Stones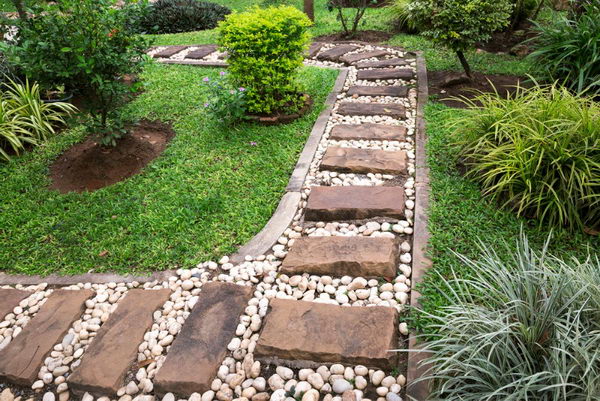 Brick Pathway with Pebble Mosaic for a Beautiful Look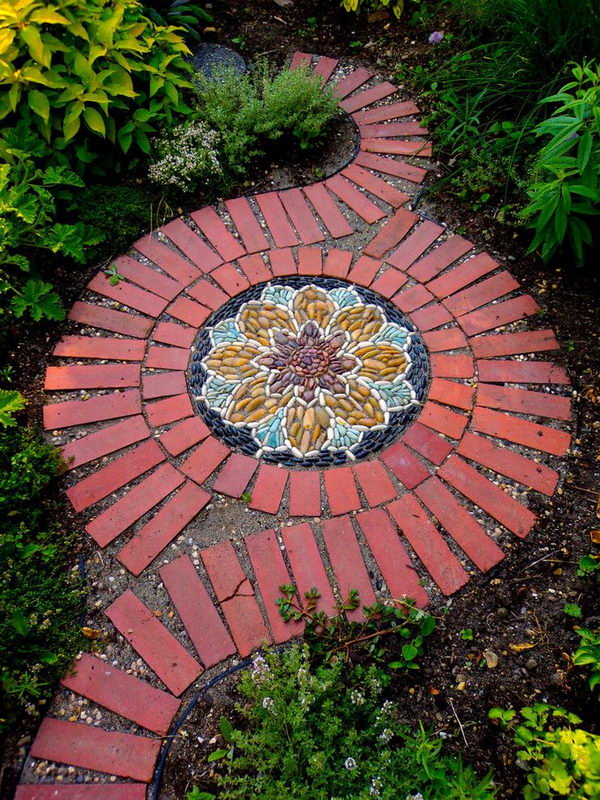 Circular Concrete Stepping Stones Laid On A Darker Gray Set Of Gravel for Pathway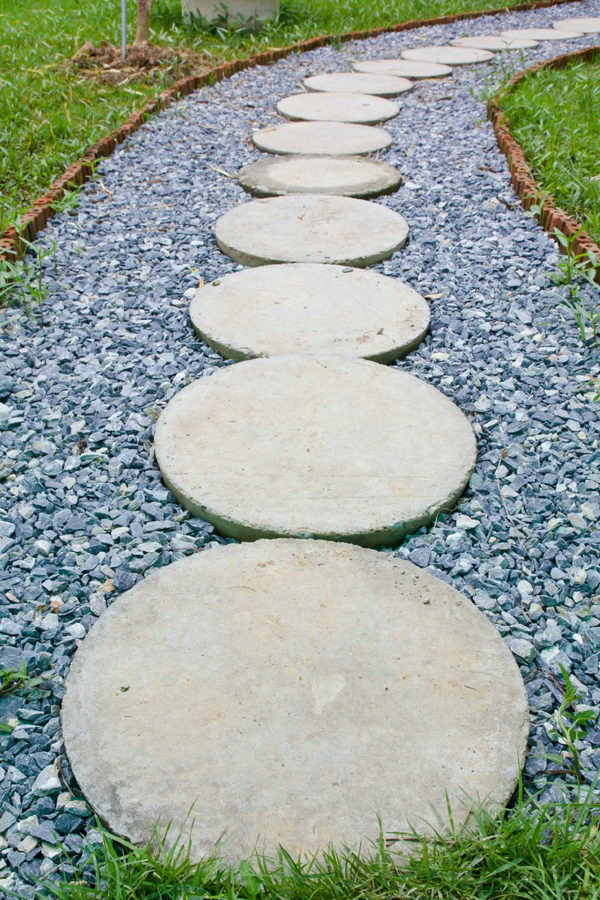 Cobblestone Mosaic Waves Pathway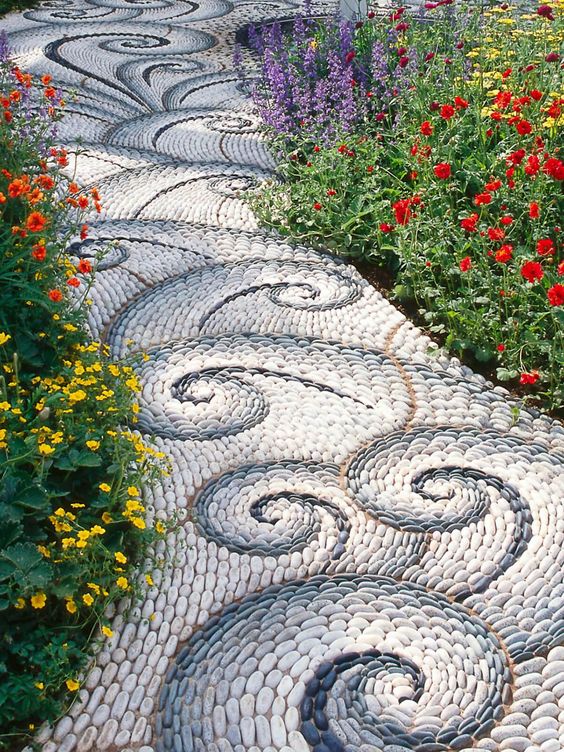 Decorative Brick Path Across Lawn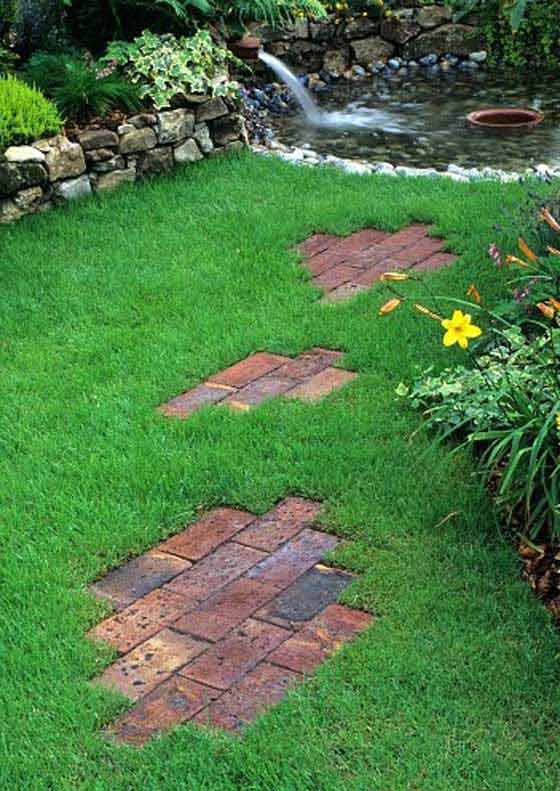 Stepping Stone Pathway Across Lawn