It's Turkey Season, everybody! Well, maybe not just yet, but that's a good thing, especially for those of you who have not planned for the festivities yet.
Thanksgiving is one of many Fall and Winter holidays, but it's arguably the most important for Americans and Canadians – even if they celebrate it on different days.
Thanksgiving it's not just about eating stuffed turkey and pie. It's about enjoying Fall, spending quality family time and being thankful for what you have.
You can incorporate all of these themes to a cozy and cohesive home decoration that will be classy, fun and welcoming for everyone. And that is what we hope you take from this article.
Get ready for Turkey Season now with these DIY Fall Thanksgiving Decorations.
DIY Thanksgiving Turkey Tulle Wreath

You can't have Turkey Season without an actual Turkey, right? This one is a colorful wreath made of tulle scraps and an adorable turkey head. Hang it on the doo rand your house should be ready to welcome guests on Thanksgiving. via busycreatingmemories
Reversible Fall and Christmas Wood Slice Decoration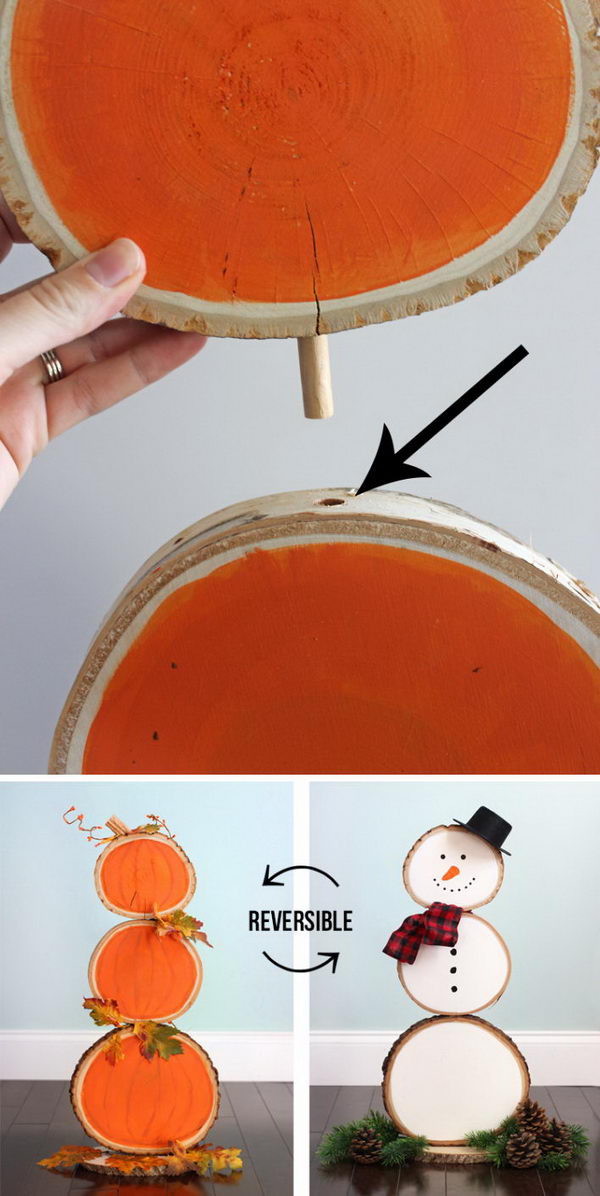 This decoration is perfect for those who like to get the most out of everything. All you need to do is take three round slices of wood and stick them together with the larger one as the base. Paint and decorate one side as pumpkins to celebrate Fall, and the other as a snowman for Chirstmas and Winter, so all you have to do is the display the side that goes with each season. via thecraftpatchblog
DIY Hobby Lobby Fall Wreath

This wreath of sorts is quite easy and inexpensive to make. All you need is an olive bucket, fall colored small pompoms with long stems and a foam ball. Stick the foam to the bucket, then push the stems through and hang the door decoration to finish the product. via thecraftpatchblog
Pumpkin Tree Stump Welcome Sign

This sign is also very easy to make. You need quite a large yet thin tree stump, which you will fully paint in orange and then add writing and detailing to in white. Glue a small branch with real or fake leaves on top and it's ready to use. via viewfromthefridge
Framed Fall Decoration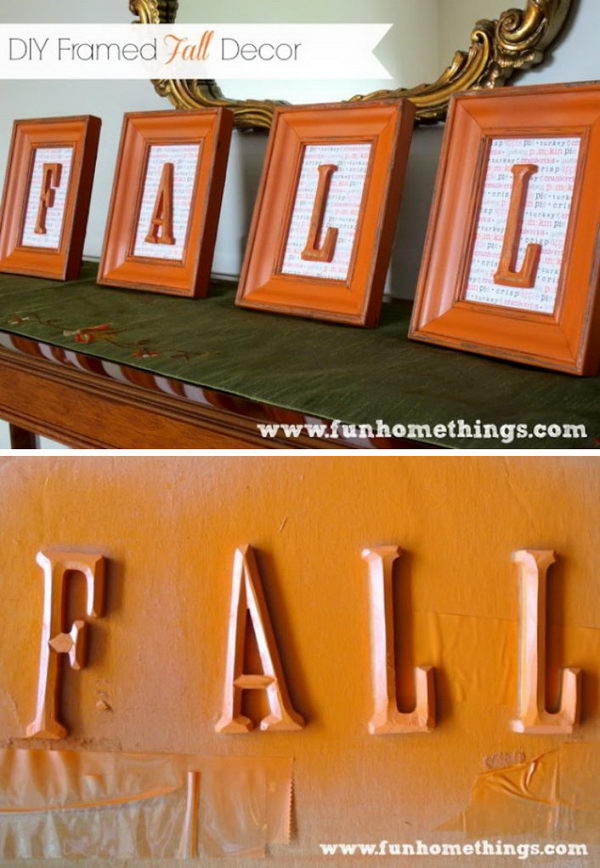 This is actually a very classy and versatile decoration, as the main element are the 3D letters that spell the word "Fall". You can paint them and stick them on the wall, or frame them in wooden frames with a white background like you see in the picture, to create a cozy, farmhouse feel. via funhomethings
Thanksgiving Banner

This black and white banner makes a huge impact, but there's not much to it. It is made from black ribbons which are tied in bows at the sides. White flags spelling the words "Give Thanks" were added throughout using clothespins and a matching flower garland was hung onto the furniture below. via thetomkatstudio
Wood Slice Owl Ornament Centerpiece

This project is really cool, whether you use it as a center piece or something else. You need several small wood slices which you will carve and decorate as owl ornaments using household items like buttons and yarn. Then you will get a large real or fake tree branch on a stand and hang the owls to complete the piece. via frugalfun4boys
DIY Fall Mug Table Decor

We won't lie – this project is really quite easy to complete. All you need are monogram mugs and fall flowers. Use the mugs as planters or vases for your flowers to achieve a similar look to this. via silhouetteamerica
DIY Barn Wood Sign Using Hobby Lobby Meterials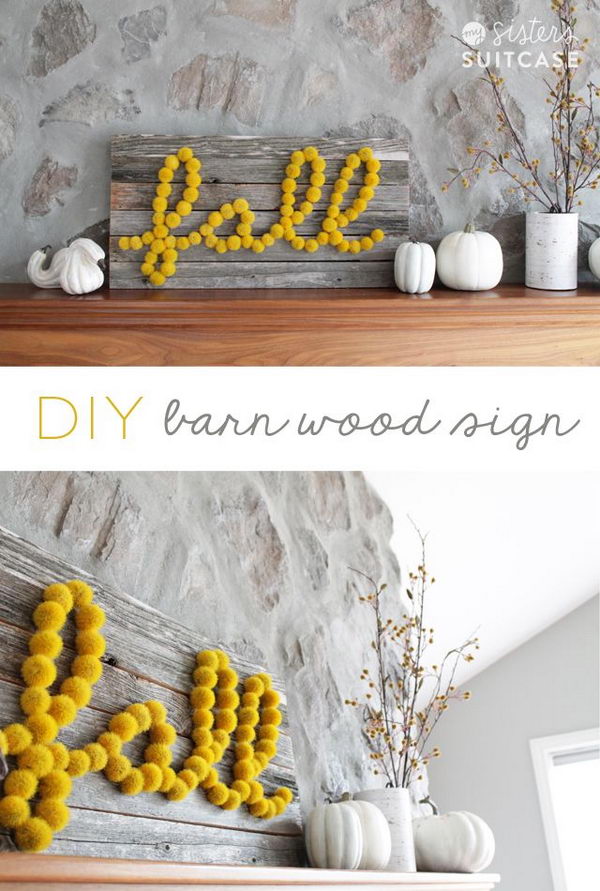 Now this shelf decoration has a lot of pieces. You have white pumpkins and vases, a fall plant and then the word "fall" right in the middle, spelled using yellow pompoms. via sisterssuitcaseblog
DIY Fall Leaf Fairy Lights

Fall decorations are easy to put together, and this is another good example of that. You need a set of fairy lights and either dried out fallen leaves or fake ones. Attach the leaves to the string near the lights and hang everything up garland-style to make your piece. via wallflowerkitchen
DIY Pumpkin Stenciled Sign

To make this sign you will need a wood pallet which you will paint a smooth, off-white color. Then you will stencil a pumpkin on using orange and green paint and add the words "give thanks" at the bottom. After it all dries, it can be placed anywhere you'd like for decoration. via cuttingedgestencils
DIY Fall Mason Jar Centerpiece

This is quite a strange project. Here, some mason jars were painted white and decorated with string, whose ends were left hanging to the side as tassels. The center piece is completed by the Fall plants displayed on the jars and the orange fur or yarn balls placed between them. via ohmy-creative
Glowing Mason Jar Wall Sconces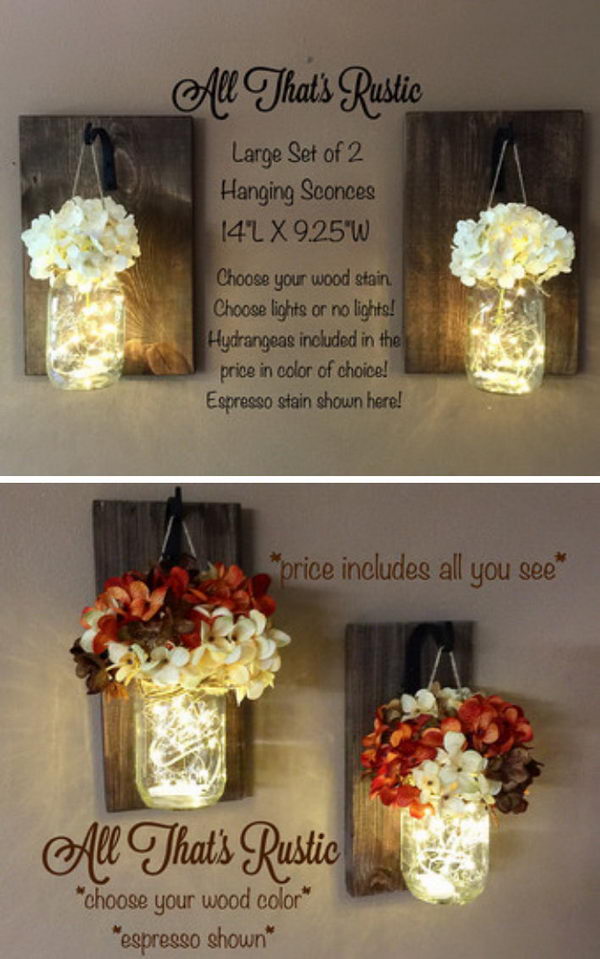 This a bit of a complex piece. You need to get some lights inside a mason jar, in which you will be displaying a bunch of flowers. Then you need to add a thick strong rope so you can hang the jars on the wall using plastic boards painted to look like wood. The good news is after you put that all together, the piece is done. via etsy
Acorn String Lights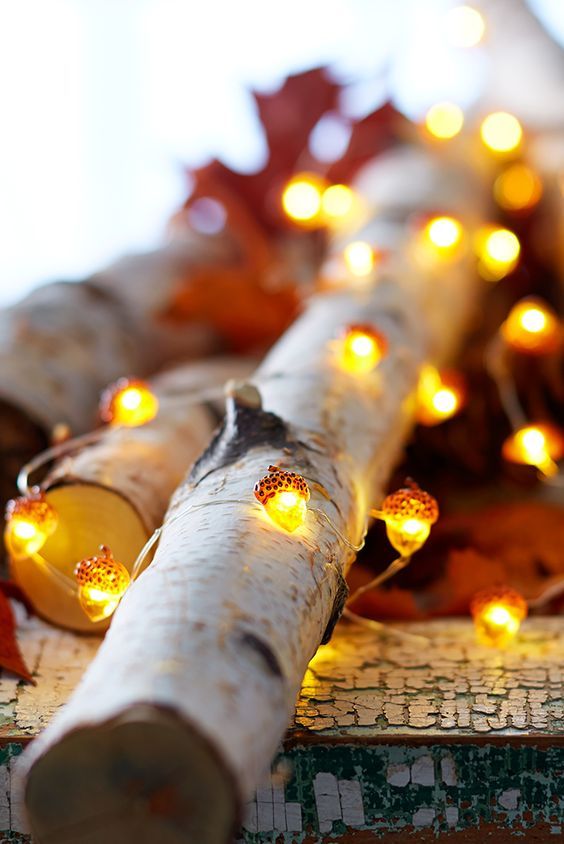 Ever dreamed of having an acorn made of string lights? Here it is. This is in fact just as easy as wrapping string lights around an acorn or in the shape of one, so you can definitely bring that dream to life.
Fall Pinecone Porch Light Hanger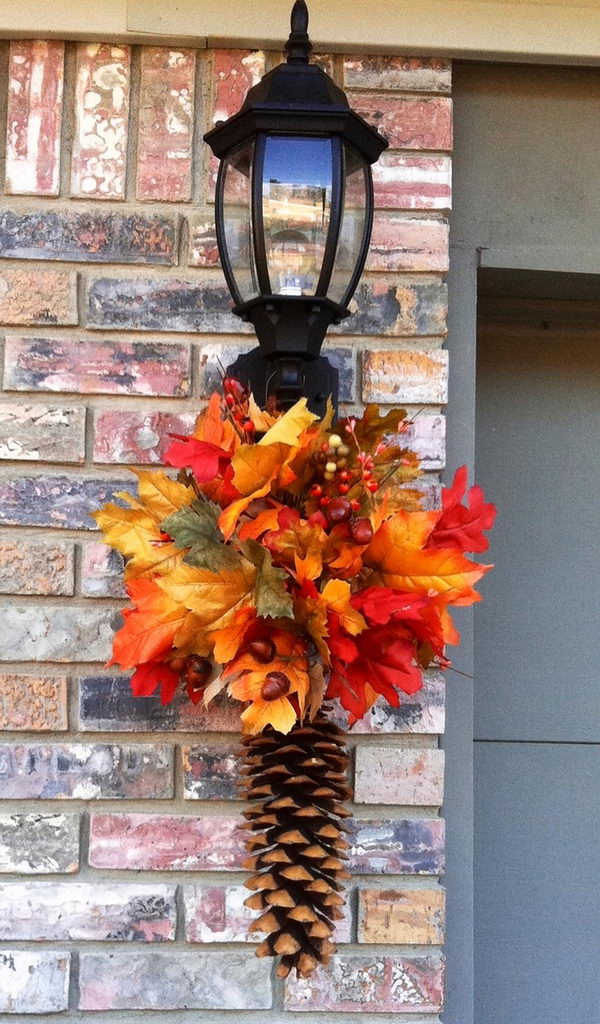 Take a dried or fake pinecone, add a literal bunch of Fall flowers on top and then hang everything at the bottom of a porch light – that's just how easy this project is to make.
DIY Felted Acorns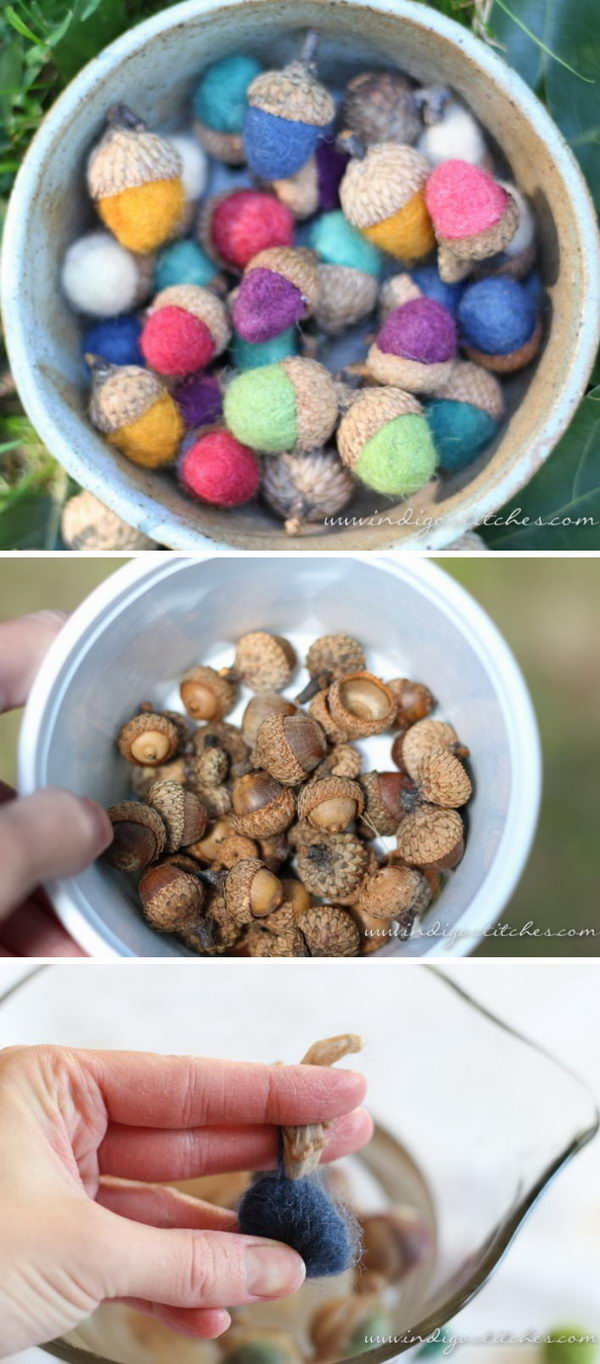 Everyone loves acorns, and everyone also loves colorful, fluffy things in the cold, so this project is just perfect. Paint your dried acorns in bright colors, then add a little felt and you'll have an absolutely irresistible Fall decoration in your hands. via indigostitches
DIY Gold Mason Jar Lid Pumpkin

This is an easy yet messy project to complete. You need to paint three mason jar lids gold and cover them in glitter. Then you will have to join them together in a shape that resembles a pumpkin and add a golden stick as the stem to finish your glitzy piece. via domesticallyblissful
DIY Fall Floral And Pumpkin Wreath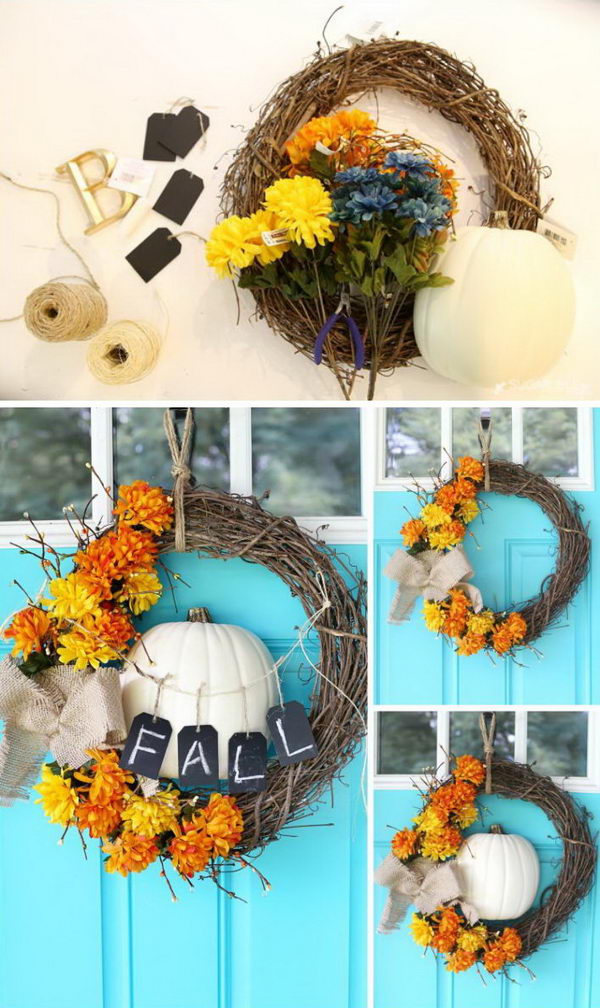 This Fall wreath has a lot of detail to it. About half is covered in colorful flowers, while the rest is left bare. A white pumpkin rests in the middle and the word "Fall" itself is spelled in chalkboard style across the inner bottom edge. via sugarbeecrafts
Concrete Pumpkin Planter

Now this is very original and somewhat Halloween themed, in a subtle way. Make a concrete planter using a Jack'O'Lantern candy basket as a mold so ypu can display your plants in true Fall style when it hardens. via homemadeginger
DIY Fall Inspired Decor with Nuts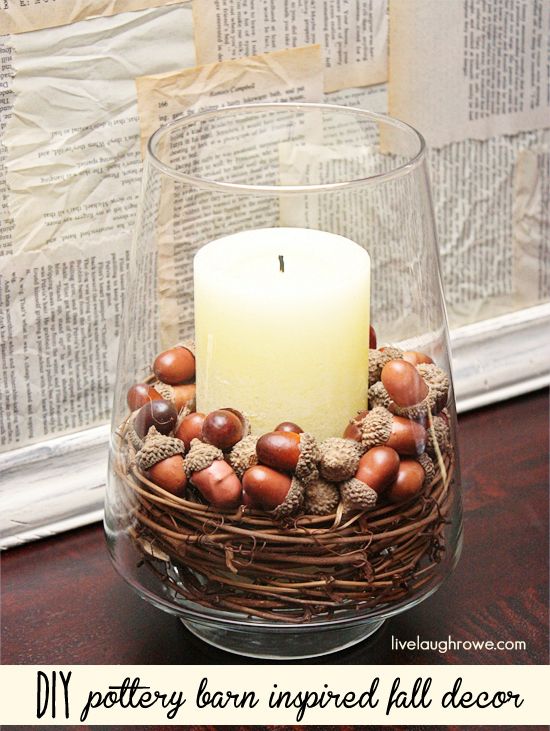 This decor piece, which is essentially a candle holder, is made using a glass container with a little nest at the base, which supports the candle and the nuts that surround it to add that extra cozy feel. via livelaughrowe
DIY Painted Pinecones Garland

This garland is really cute and not too difficult to make. Take some clusters of pinecones, paint them up in fall colors and then string them up to make a garland. Add a couple of ribbons at the ends and it's ready to spruce up your home for Fall. via dazzlewhilefrazzled
Dollar Store Leaf Pillow Cover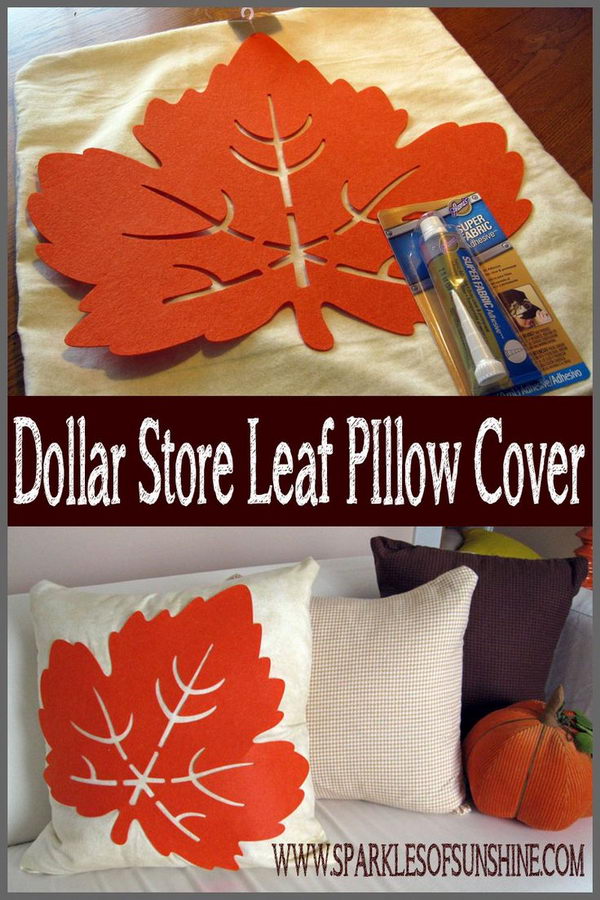 Making a festive Fall pillow has never been this easy. Take a pillow cover and a fabric or felt leaf, then join the two together with glue or stitches. Stick your pillow in and place it on the couch to add that extra fall comfort. via sparklesofsunshine
Painted Mason Jars Lanterns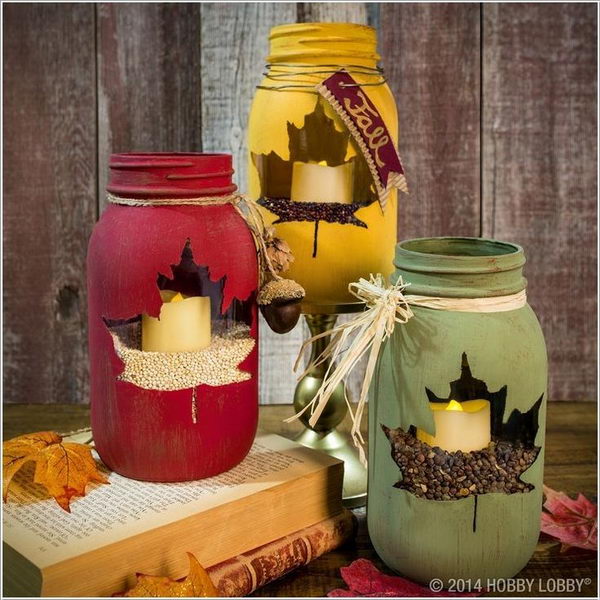 These mason jar lanterns look absolutely gorgeous. To nake them, you need to take tall mason jars and paint them – lids included – in a color that is almost fully opaque. Then you need to add a light inside and a picture at the front, either with a sticker, a stencil or by hand, if you feel comfortable with that. via sugarbeecrafts
DIY Decoration With Fall Mums In Olive Buckets

This project takes almost literally no work to make. Large olive buckets need very little modifications to be used as planters, so that's what was done here. They work perfectly with the Fall mums, displaying them on either side of the door. via onsuttonplace
DIY Wood Box Fall Centerpiece

This long centerpiece is somewhat simple but gorgeous. You need to find a long get slim box, stain it to look like dark, distressed wood and then add candles, little pumpkins and fall greenery to the inside as decoration. via theidearoom
Faux Dahlias In A Pinecone-Filled Vase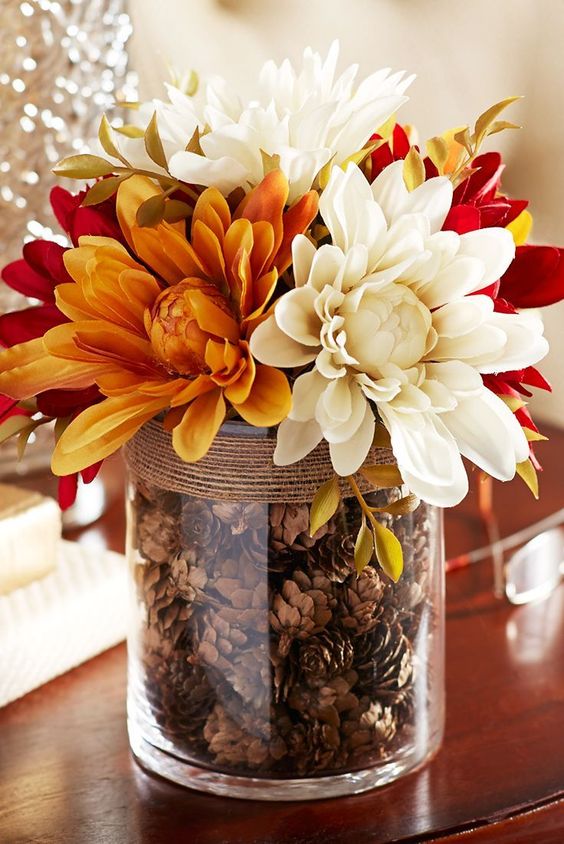 This glass vase looks gorgeous with all the pinecones inside, but they obviously couldn't sustain real flowers, so the arrangement was finished using atunning, eye-catching fake Dahlias. via shelterness
Rustic Fall Mantel Setup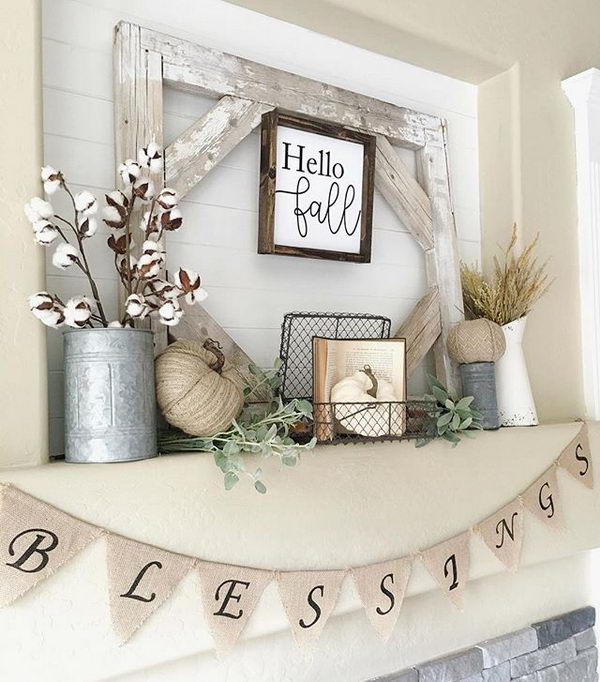 This mantel is truly ready for fall, as you have a banner for Thanksgiving, plenty of Fall greenery, wood and hay accents on display and even a "Hello Fall!" frame on the wall. via pinterest
DIY Paper Leaf Wreath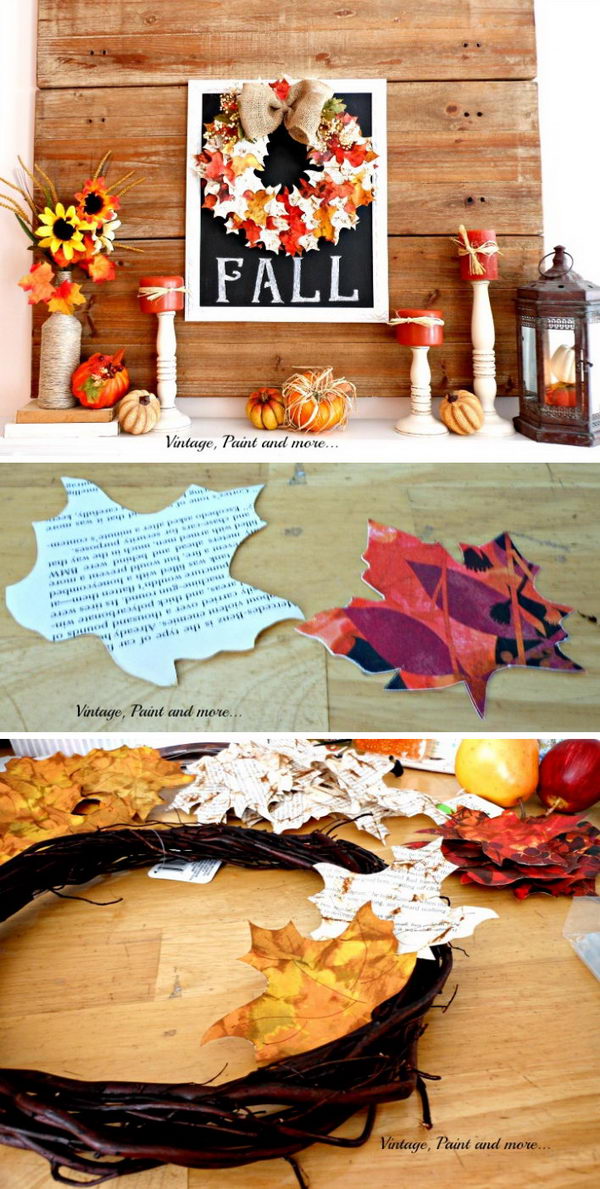 This is quite an easy project that can be done by everyone, even kids. You need to find a fall leaf pattern and then cut the shape out of different materials. Once you have all of you leaves, what you need to do is glue them to a wreath base and then hang it up. via vintagepaintandmore
Fall Leaf Garland And Flower Pots With Corn Stalks Decorated Front Porch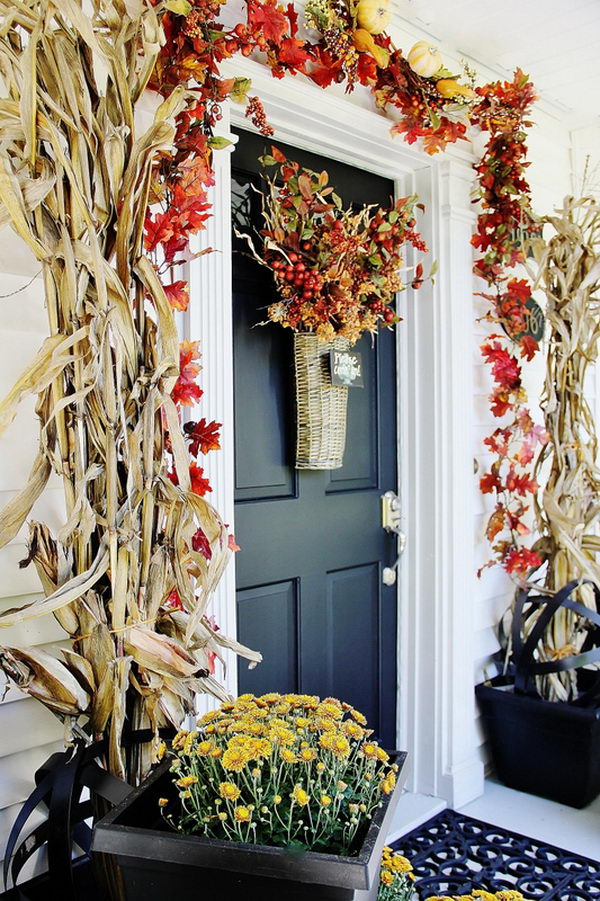 This porch is pure fall spirit. It has a wreath made of tons of leaves completely framing the door, corn stalks in pots on either sides and even a small flower arrangement hanging on the door. This level of commitment is very hard to beat. via thistlewoodfarms
Mums Hanging Basket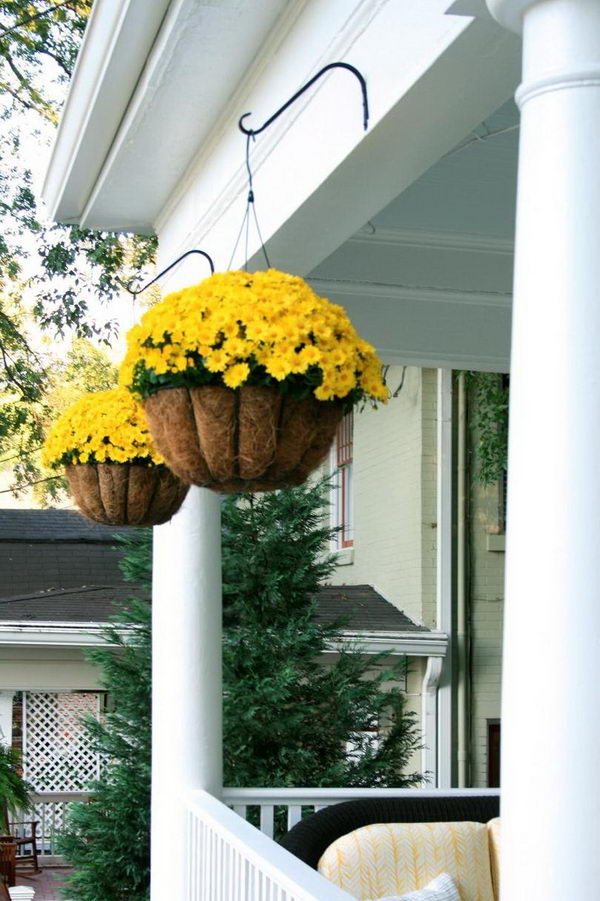 These decorations are really cute, simple and add a great pop of color to your space. They are just bunches of mums planted on baskets and hung up from the walls or the ceiling, so there's definitely nothing too complex to be done.
Lighted Wagon Wheels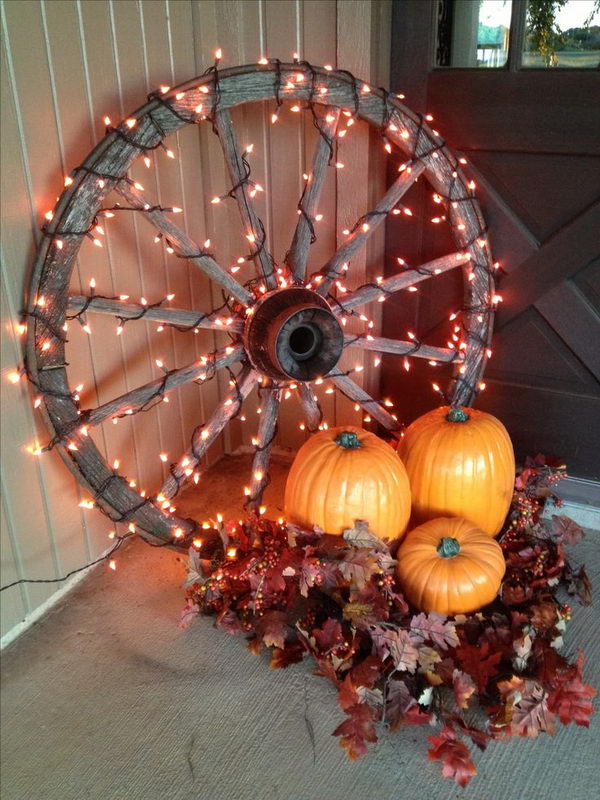 Now this is really original and adorable. This wheel was outfitted with string lights across its axis and then placed behind some Fall fruit and greenery, iluminating them.
Faux Leaves And Branches Fall Centerpiece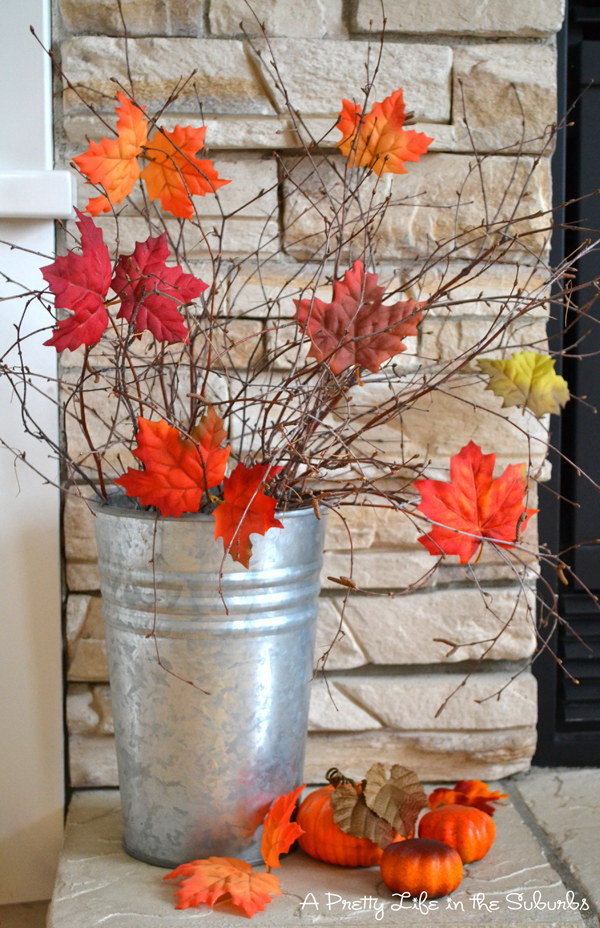 A bucket, a thin branch and some fake, vibrant Fall leaves – that's all you need to make this mini Fall tree centerpiece. via aprettylifeinthesuburbs
DIY Heart Leaf Mason Jar Lanterns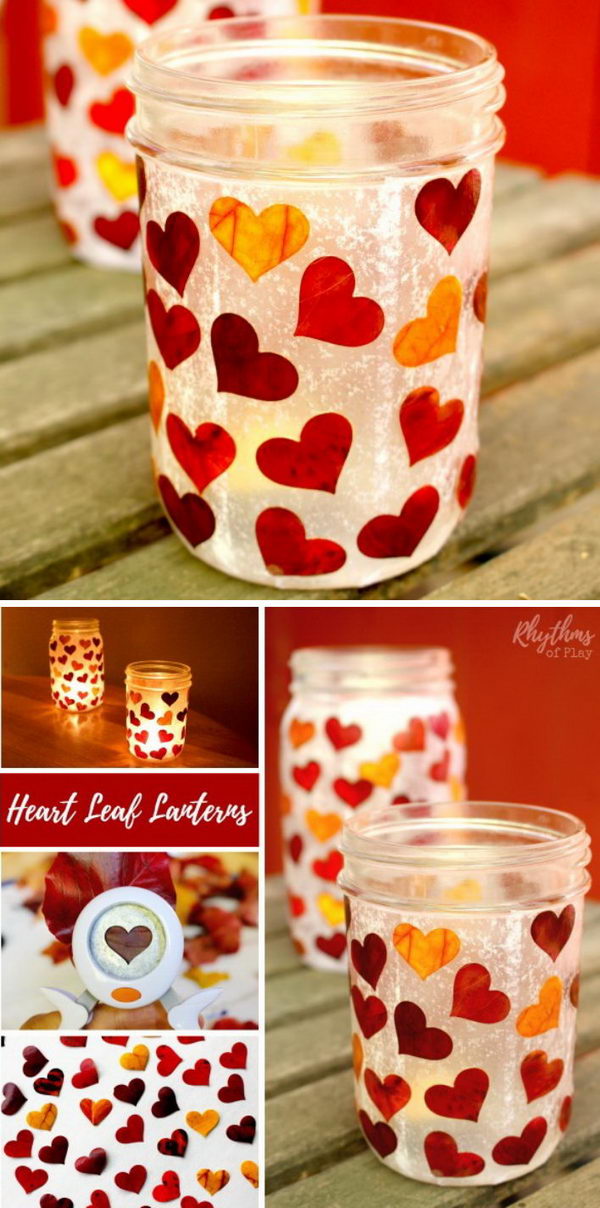 These lantern jars are pure fall cuteness. The inside was blanked out using tissue paper and Mod Podge while the outside was decorated with hearts cut from Fall leaves of different colors. Add a tea light inside once it's all dried up and you'll have adorable Fall lanterns to display in your home. via rhythmsofplay