Cutlery Is a very large category of utensilis used both for prepping and eating food. While silverware is often gorgeous and treasured, butcher knives are made for utility rather than beauty.
Cutlery needs to be stored both carefully as well as adequately for a number of reasons. Silverware, for instance, has a tendency to tarnish. Sharp knives, on the other hand, should never be left with their blades exposed, or else they could hurt someone.
There are many ways to store cutlery, so it's quite hard to be truly original and come up with something you have never seen before. It is possible though, and that is what this article is here to prove to you.
Scroll through our gallery of Creative Cutlery Storage Solutions if you want to store your utensils in a truly unique way.
DIY Silverware Caddy Using Painted Cans

This caddy is quite easy to make and can be achieved by upcycling several pieces. You will use cans as holders for your silverware, and they will be nailed to a wooden board, which could potentially be reclaimed. You can add a belt for hanging and labels to identify each holder as finishing touches. via lilyardor
Double Layer Drawer Organization

If you want to store all of your cutlery together and make the most of a deep drawer, then this is the way to go. Buy or build two shallow wooden organizers in the size of your drawer, then stack them inside, keeping the most used silverware on top and the rest on the bottom layer. via remodelandolacasa
DIY Tin Can Silverware Caddy

This caddy is really cool and not too complex to make. The silverware is organized in cans by category and stored in a repainted tray which has each category labeled at the front in chalkbpard style. via pastelsandmacarons
Chalky Finish Tin Can Silverware Holders

These silverware holders were made from cans which were painted a chalky matte gray finish. They are stored in a sort of crate made of little pallet wood for a nice, farmhouse kitchen style. via architectureofamom
Wood Pallet Silverware Holder

This silverware organizer has a truly rustic feel, as each individual holder is a box made of pallet wood with all its natural markings. All of the boxes are displayed on the wall along a board of matching wood. via instructables
DIY Painted Cans Cutlery Holder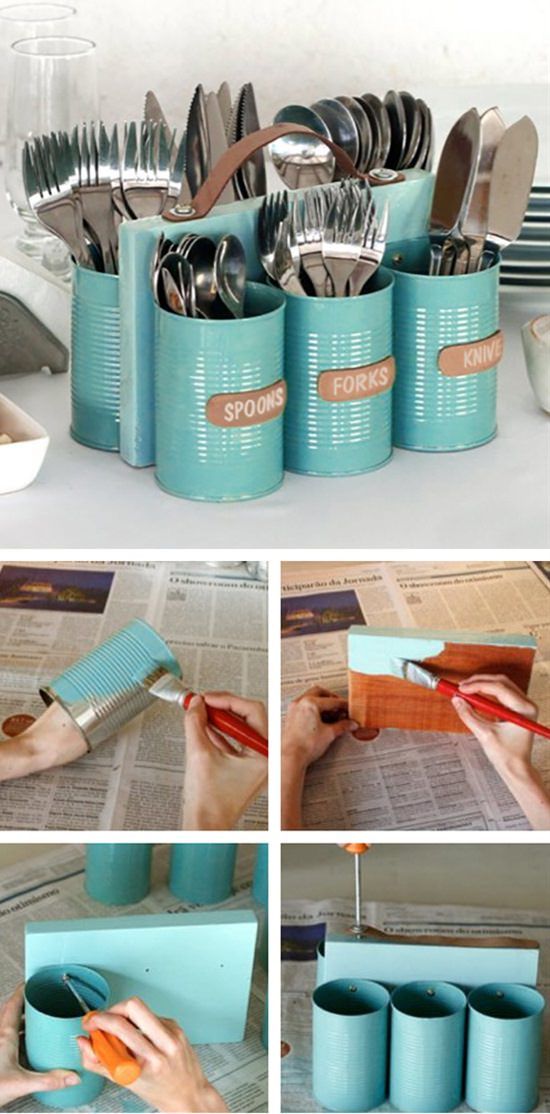 This holder set is once again made of reused cans which were painted in a pastel color and labeled in a somewhat rustic style, so each utensil can be found easily. via home-dzine
DIY Silverware Holder Using Mason Jar And Wood

These are quite different from what we've seen so far. They are mason jars instead of cans and they have been painted solid white for this project. Each holder is secured to a piece of dark wood using a metal ring which makes it quite secure. The matching flower vase right above and the "Eat" illustration are nice decorative touches. via tarynwhiteaker
Glass Mason Jar 3 Sectional Flatware Caddy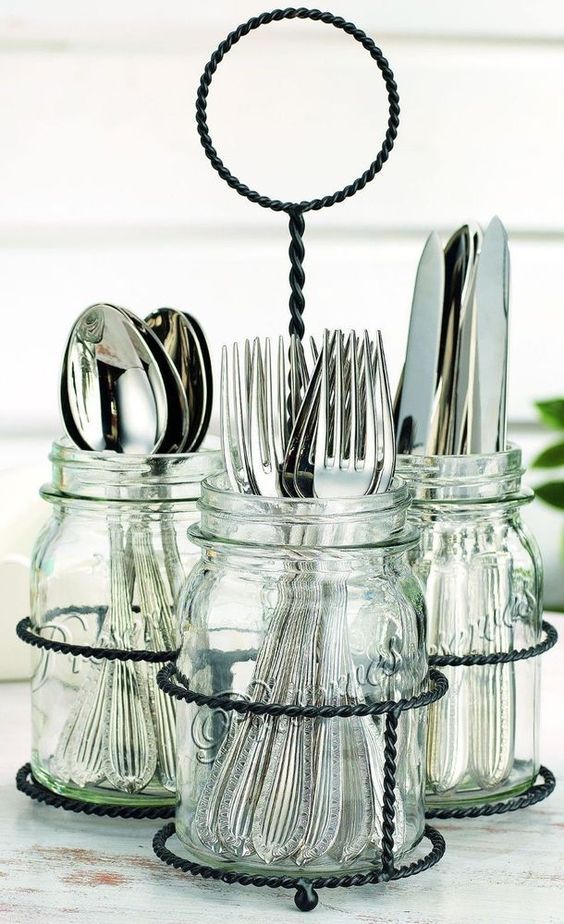 Using this holder, which was likely meant for something else entirely, as a silverware caddy was a genius idea. Each of the compartments holds a mason jar, which helps separate spoons, forks and knives. via Ebay
Mason Jar Utensil Caddy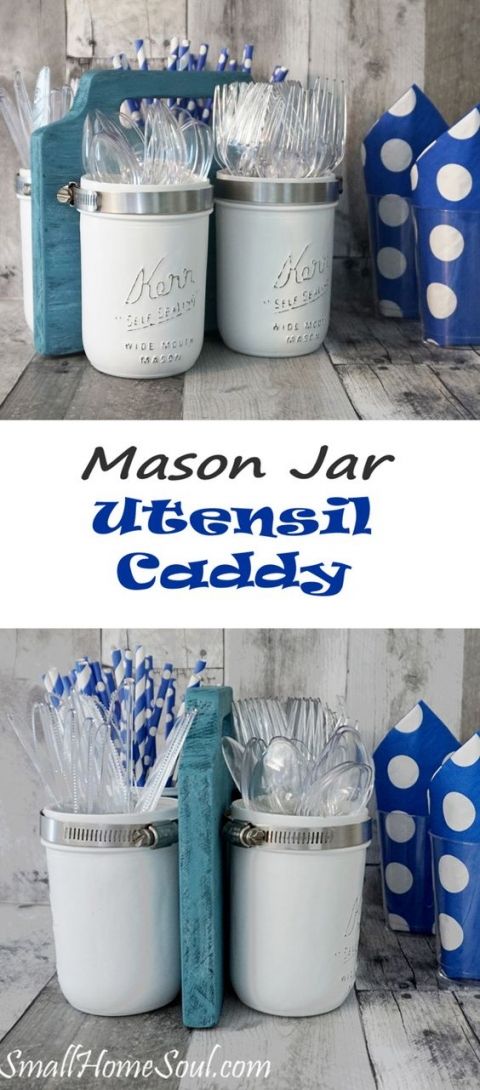 This caddy looks really cool, and it was completely custom made. The board in the middle was cut, shaped and painted to have the textured look you see in the picture and a handle so it can be moved easily. Then two hose clamps were added to each side and filled with painted mason jars that hold and organize the kitchen utensils. via smallhomesoul
Radiator Screen And PVC Pipes Silverware Holder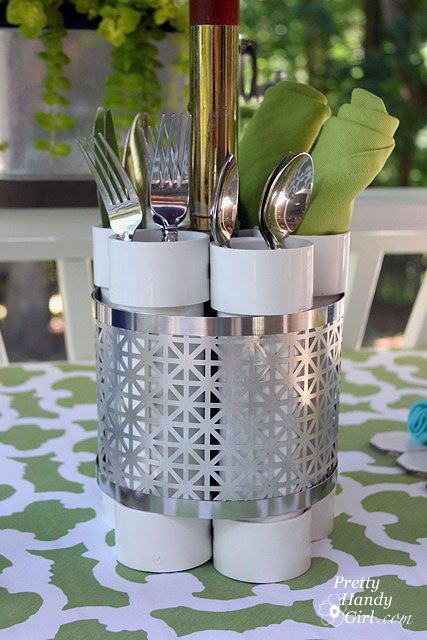 These PVC utensil holders are gorgeous and you'd probably never guess what they were made from: PVC for the actual holders and a radiator screen for the stunning metallic outer piece. Everyone who sees them will want some! via prettyhandygirl
Milk Bottle Holder Turned Silverware Holder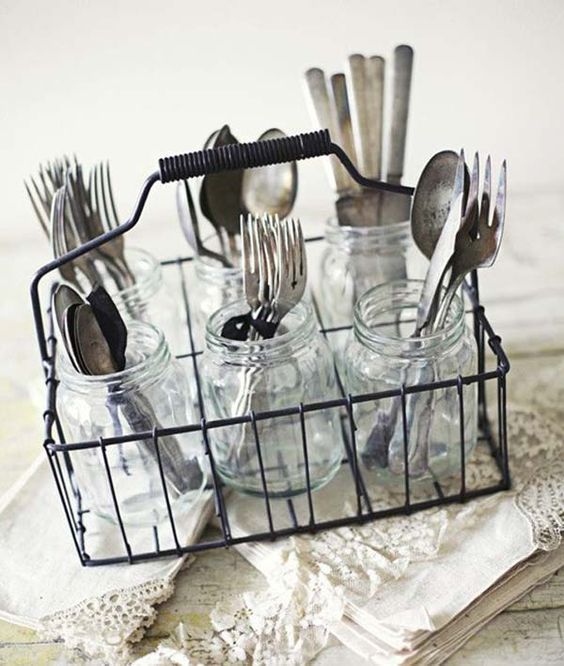 This wire basket was originally meant to hold milk bottles, but a very ingenious mind found some appropriately sized mason jars and converted the piece into a simple and functional silverware holder. via happymundane
Clever Hidden Utensil Caddies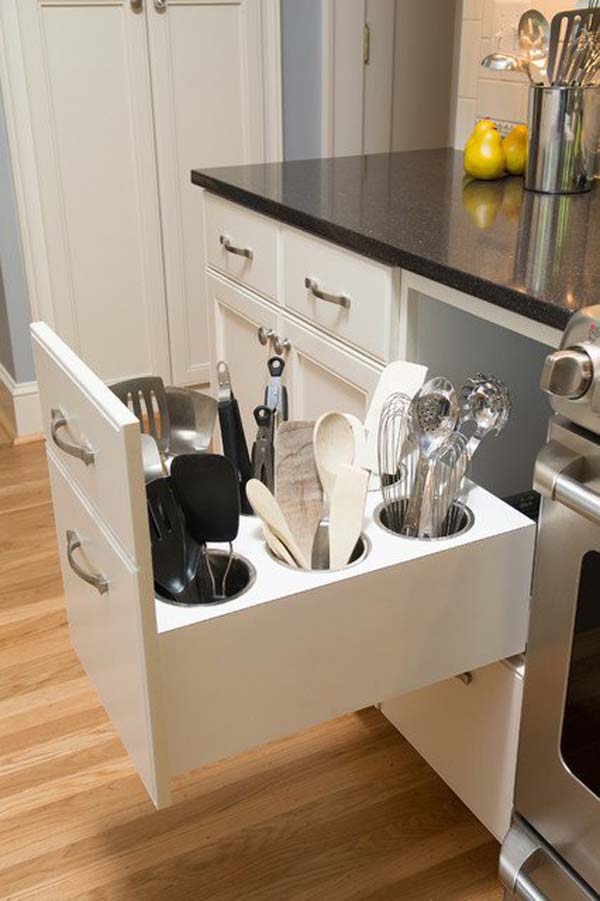 This idea is quite cool. The drawers of this cabinet were converted into a tall box with circle openings to serve as silverware holders, but the illusion of having two drawers instead of only a deep one was kept at the front using two conjoined fake drawers with matching pulls. via work-in-wood
Fold-Up Bin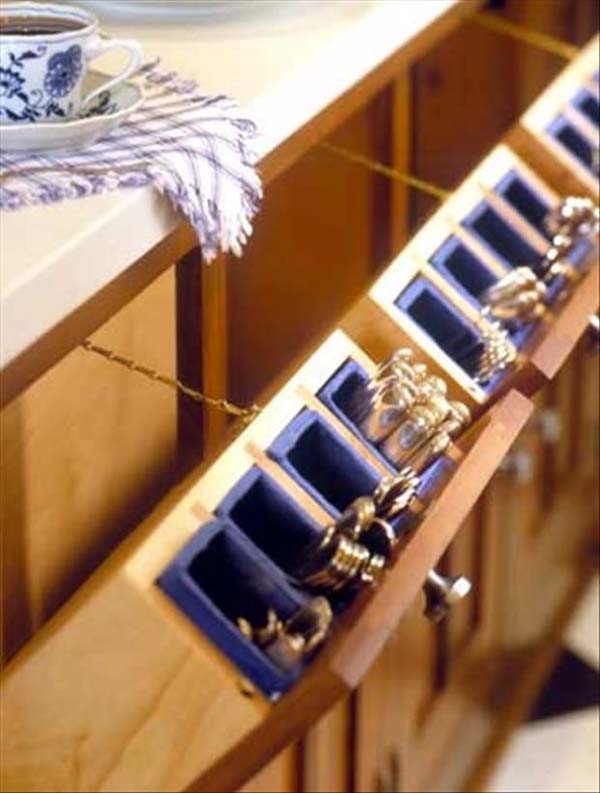 This is the ideal project for those that have little space and lots of cutlery to store. The bin keeps all the silverware stored and organized in a compact way, while also being easy to fold out so that everything is accessible when needed.
IKEA's Fintorp Basket Utensil Storage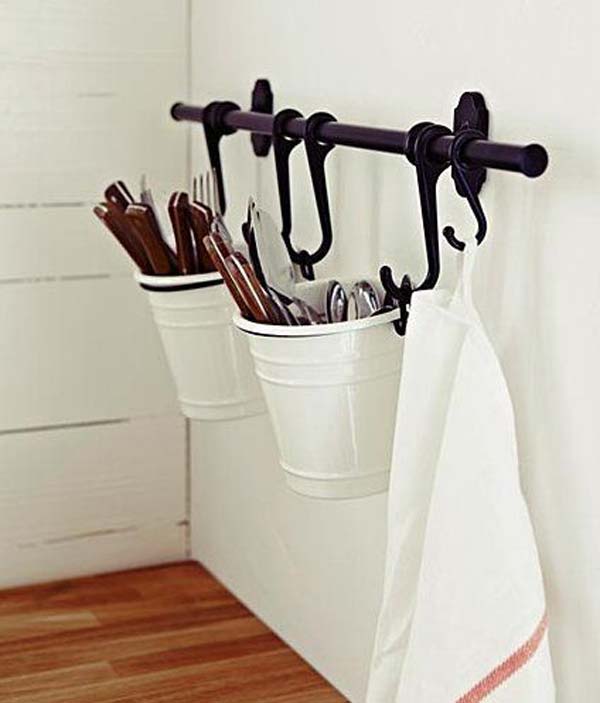 This idea is quite original, as it uses a rack, from which the genius behind it hung some Ikea baskets which hold their silverware, as well as a matching dish towel. via Amazon
Dollar Store Bins Cutlery Drawer Organization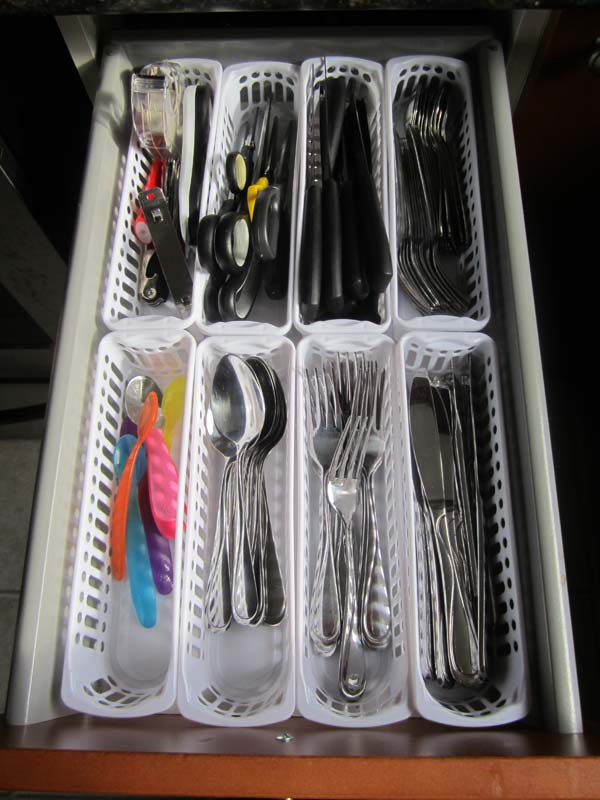 This is more of an organization than storage idea. Here, long slim plastic bins were used to separate the silverware pieces by type inside their respective drawer. via theelmlife
DIY Mason Jar Crate
This is something we've seen before, yet a little different. This stained wood crate holds several mason jars, which in turn hold silverware. To add some color to the set up, the owner also inserted some flowers among the cutlery storage. via shanty-2-chic
DIY Gold Painted Silverware Mason Jars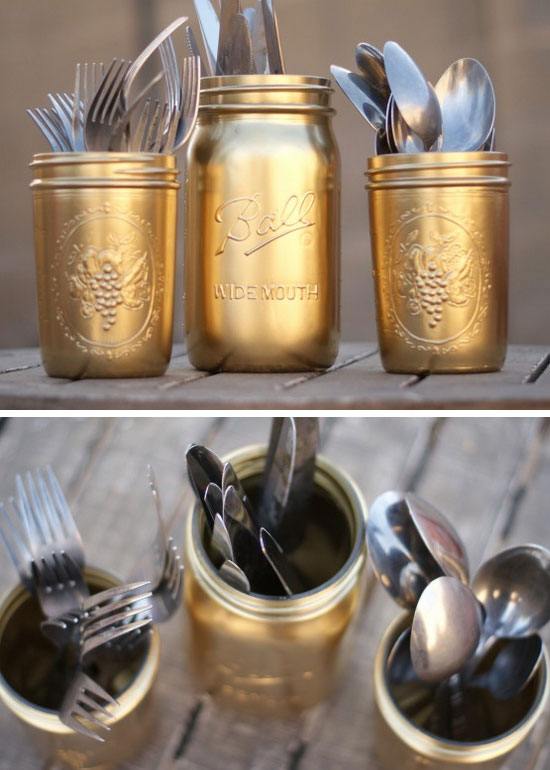 These definitely aren't your average mason jar silverware holders. They were painted a fully opaque, luxurious yellow gold and they have 3D etchings, probably from the original contents of the jar, which add to the effect. Might not be ideal for those who don't like mixing metals, but the silverware sure looks cooler inside of these. via cleverpinkpirate
Jeans Pockets Turned Into Silverware Storage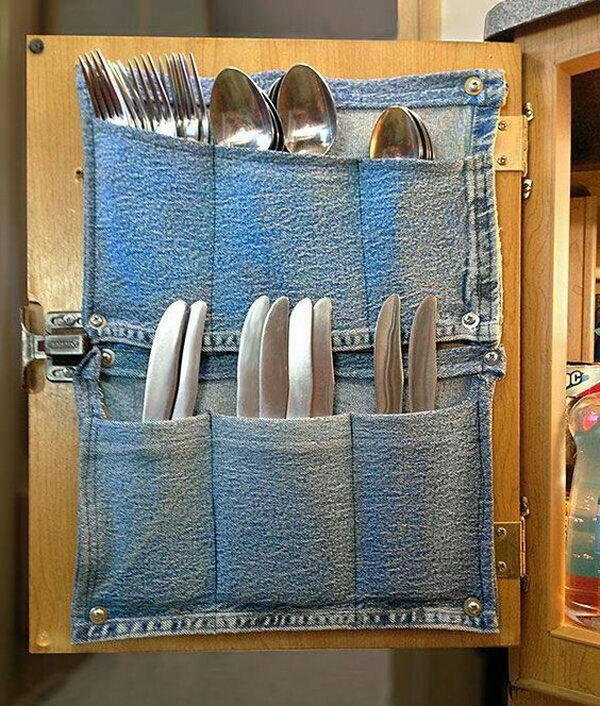 Now this is what we call a brilliant idea. These jeans pockets were turned into little fabric pouches that help organize and separate the kitchen utensils in their drawer in a very modern way.
Hanging Kitchen Utensil Holders Using Mason Jars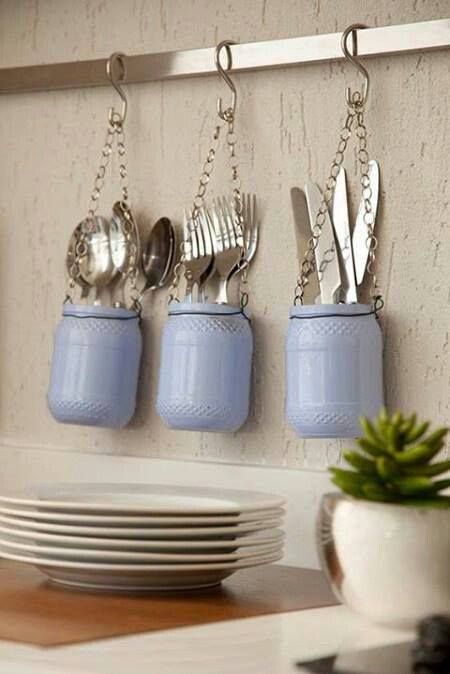 These mason jars were painted a pastel blue color and hung on the wall using chains, so they serve as some of the coolest silverware holders out there, as the metal adds an industrial vibe to an otherwise traditional project.
Deep Kitchen Silverware Drawer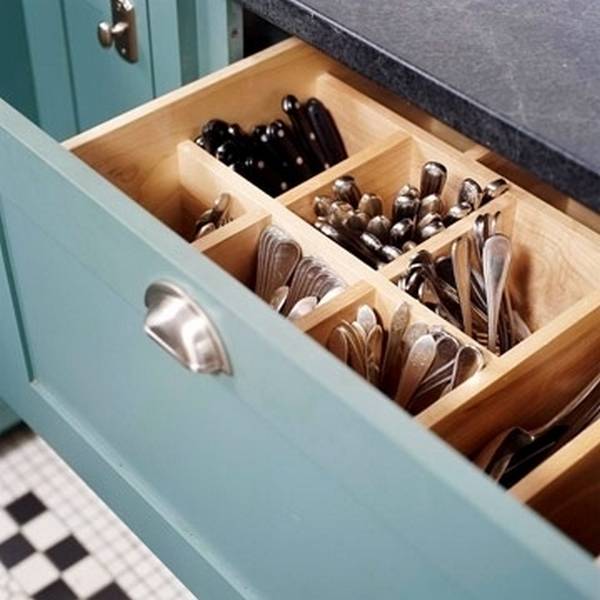 What's so different about this silverware drawer is that it is much deeper than usual and the sections are made of identical woodem squares, where all the pieces are stored in a standing position.
Silverware Holder From Aluminum Cans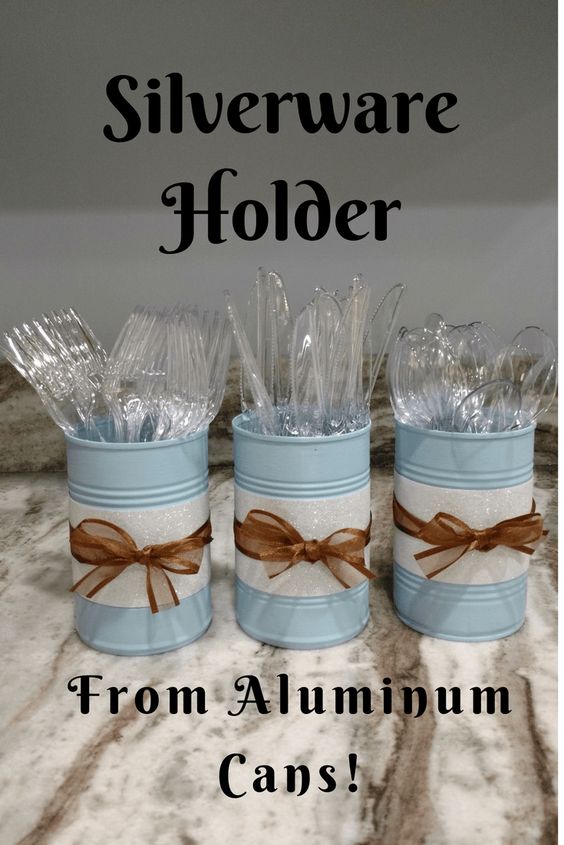 This is a sweet example of how to turn cans into silverware holders, as they were painted a pastel blue color, then decorated with scrapbooking tape and tied off with a bow at the middle. via myneisslife
Triple Buckets With Handle For Utensils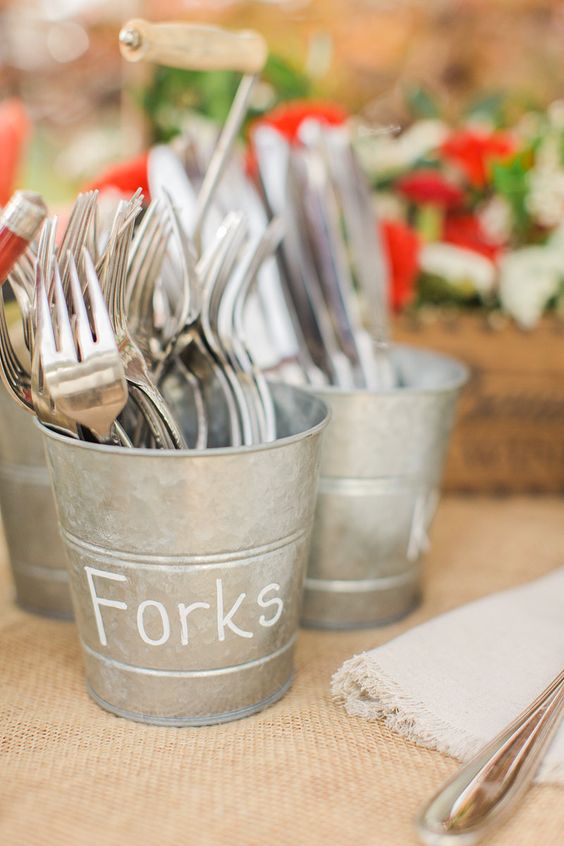 It is probably the simplest project you will see here. All you need to do is find some aluminum buckets, sanitize them and put your silverware inside, standing upright. If you prefer, however, you can always customize the buckets for a less obvious look. via save-on-crafts
Built-In Silverware Drawer With Drawer Separators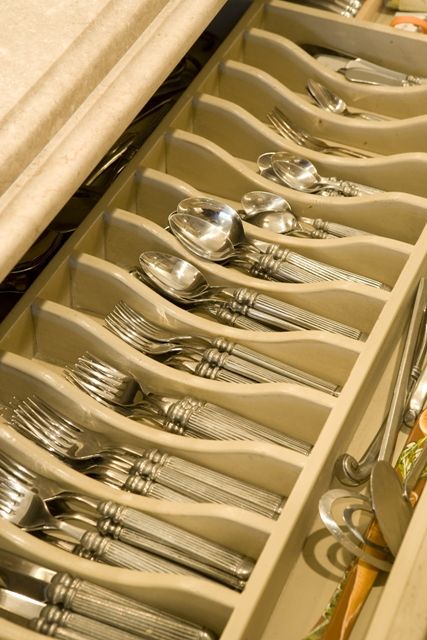 This is your traditional embedded silverware drawer, except for the dividers, which have a smooth, wavy edge. They are probably custom made, but you may be able to find or make your own too.
Creative DIY Cutlery Drawers With Angled Drawer Dividers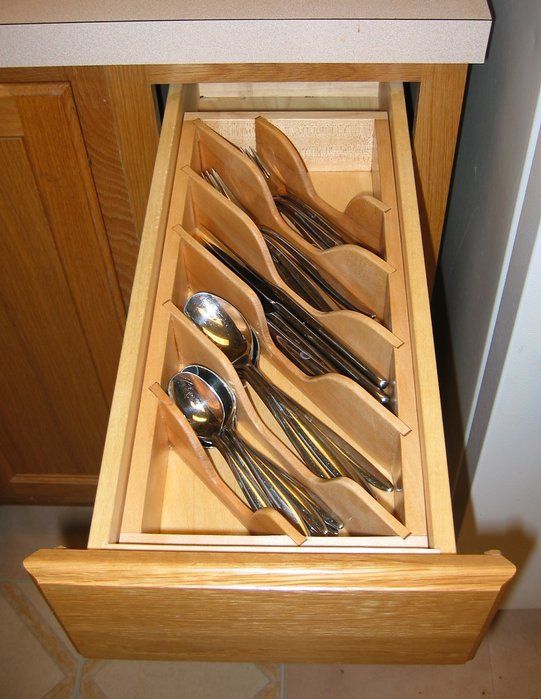 This example is very similar to the previous one, except for the fact that the dividers are mounted diagonally, which makes this organization style look even more original. via adrianmakes
Mason Jar Storage Caddy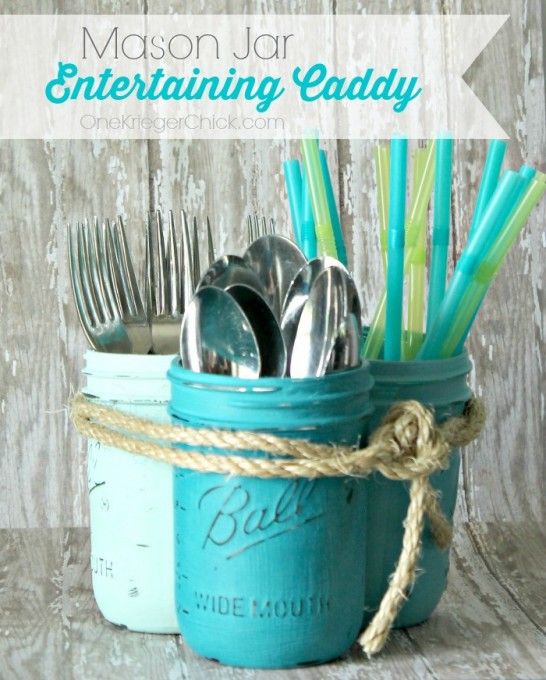 This colorful caddy is made of mason jars painted in different colors and held together by a thick rope, which almost makes it look nautical. via onekriegerchick
Chalkboard & Jute Silverware Holders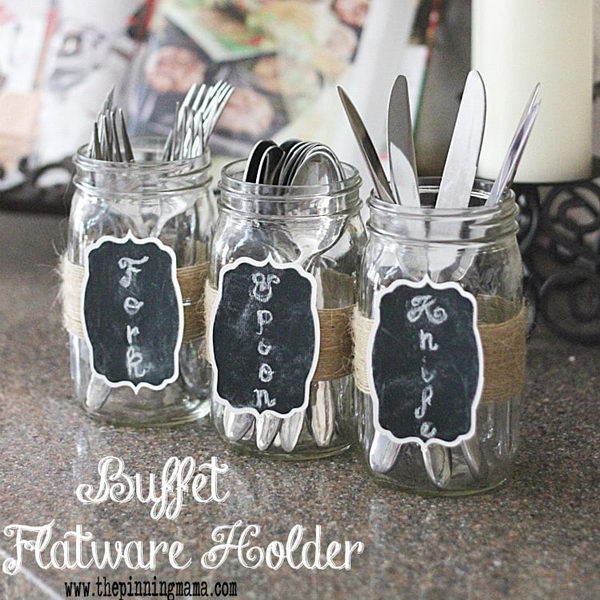 These holders are pretty much plain mason jars, except for the jute wrapped around the middle and the vintage style chalkboard labels at the front. via thepinningmama
Ceramic Flower Pots Silverware Holder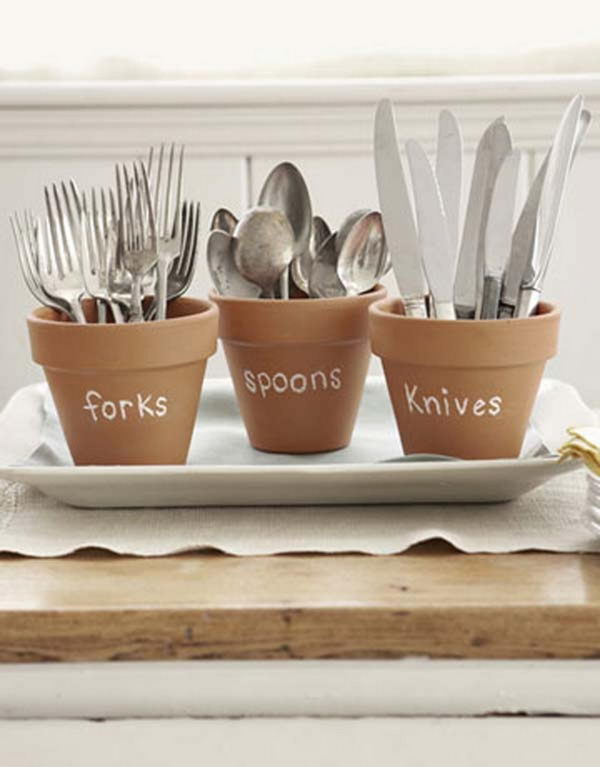 If you can use buckets to hold silverware, you can certainly do the same with ceramic pots. These look like they are brand new, and they have been labeled at the front using white letters painted in a fun font. via julieblanner