Wind chimes are a simple way to add charm and interest to your outdoor space. The sights and sounds of a wind chime dancing in the breeze can truly take your porch or garden to the next level. Handmade wind chimes allow your creative spirit to take flight and add a personal touch to your living space.

Check out these these DIY wind chime projects. Many of them call for everyday objects you already have in your home or could easily find in a thrift store or antique shop. Try your hand at these clever ideas to create a beautiful wind chime that is uniquely yours.
DIY Mason Jar Wind Chimes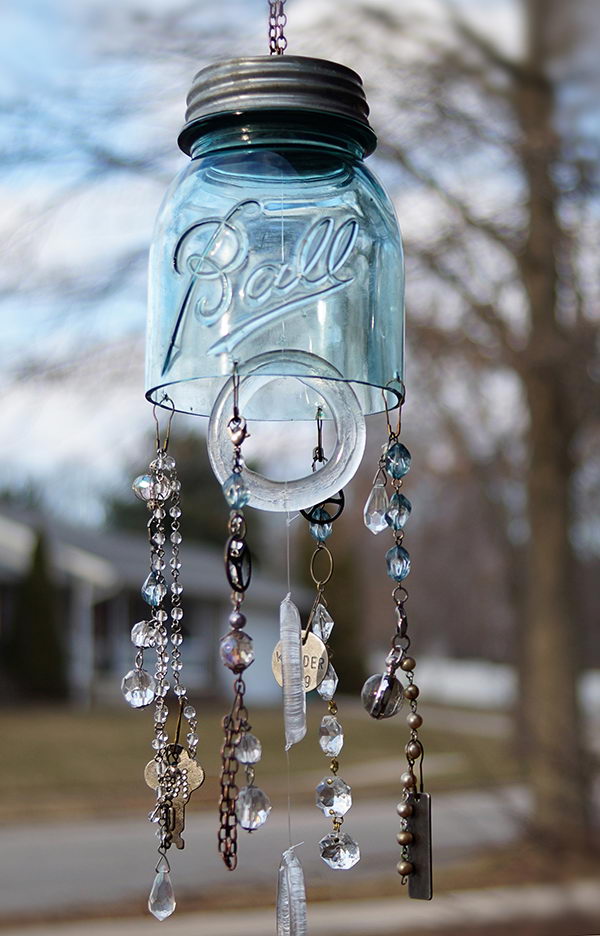 Everyone has a spare Mason jar or two just waiting for the perfect craft. This is it! Carefully cut your jar down the middle and attach beads, charms, and chains to create this feminine, chic wind chime. via savedbylovecreations
DIY Wind Chime from a Kitchen Colander, Some Silverware, Beads and Shells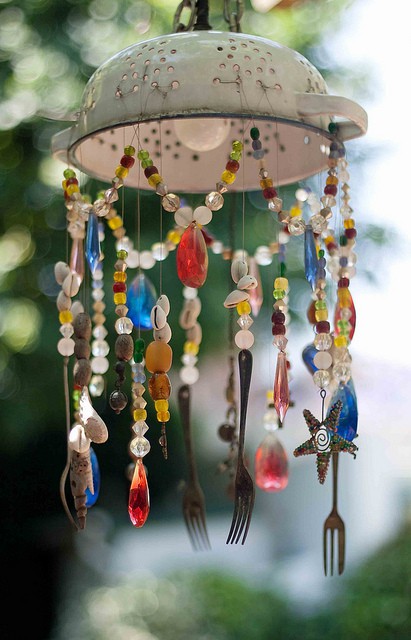 A kitchen colander makes the perfect base for this imaginative wind chime that calls for everything from seashells to kitchen forks. String a hodgepodge of objects from the colander – beads, shells, pendants, forks, and more – to form a one-of-a-kind creation you'll be proud to show off. via wallacegardens
DIY Wind Chime Made with Dried Branch and Clay Pendants or Pieces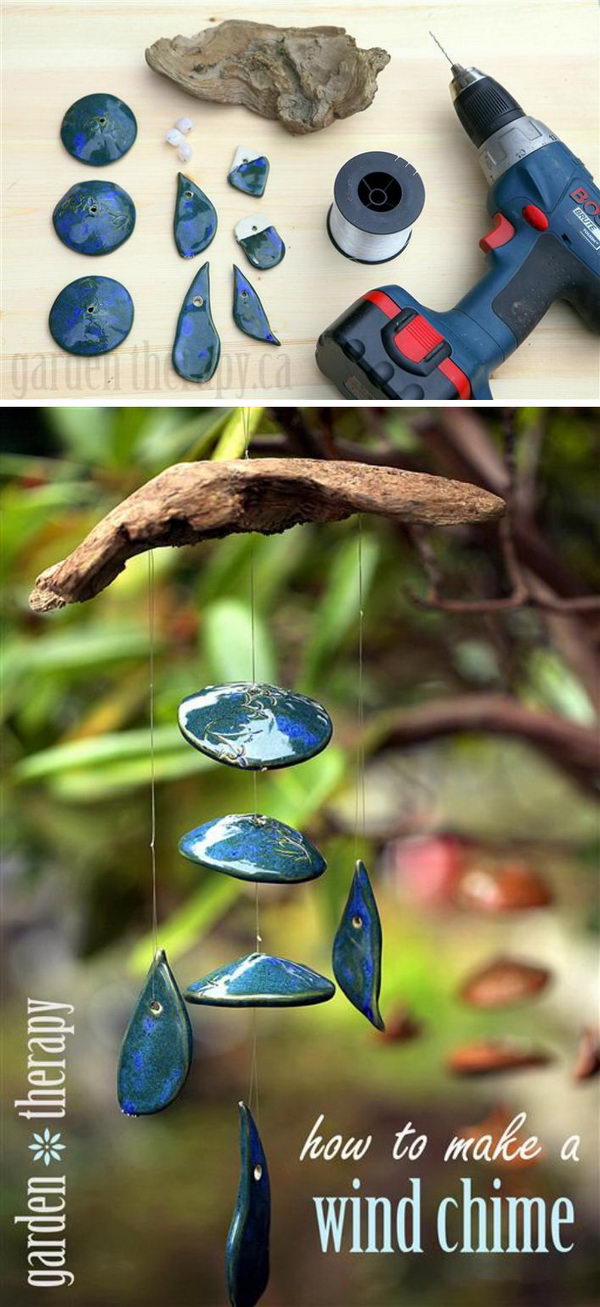 This earthy, sophisticated wind chime invites a sense of peace and tranquility into your garden. Collect pendants or even create your own from modeling clay to make up the elegant strands. You'll feel like you've truly created a piece of art when you hang this piece outside your home. via gardentherapy
DIY Driftwood Wind Chime
This driftwood wind chime is a great way to add a personal touch to your yard. String charms, pendants, beads, and more to put your personality on display for all who have the privilege of visiting your outdoor oasis. via robindudleyhowes
DIY Terracotta Flower Pot Wind Chime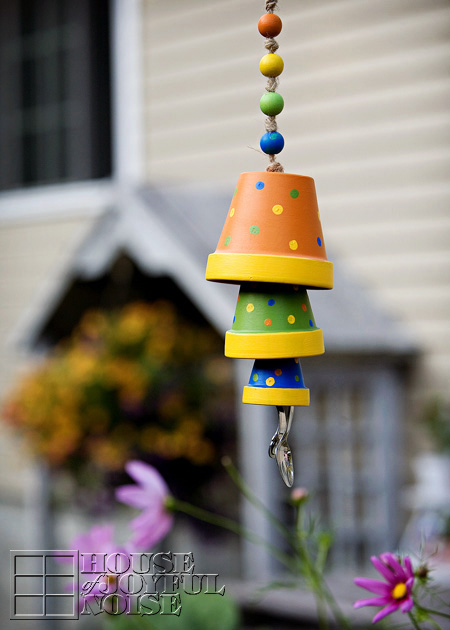 Add a splash of color to your garden with this easy but fun flowerpot wind chime. Three (or more!) stacked terracotta pots with a quirky paint job will brighten up your day anytime you gaze outside. Another great project for the kids to lend a hand! via houseofjoyfulnoise
DIY Rustic Beaded Wind Chime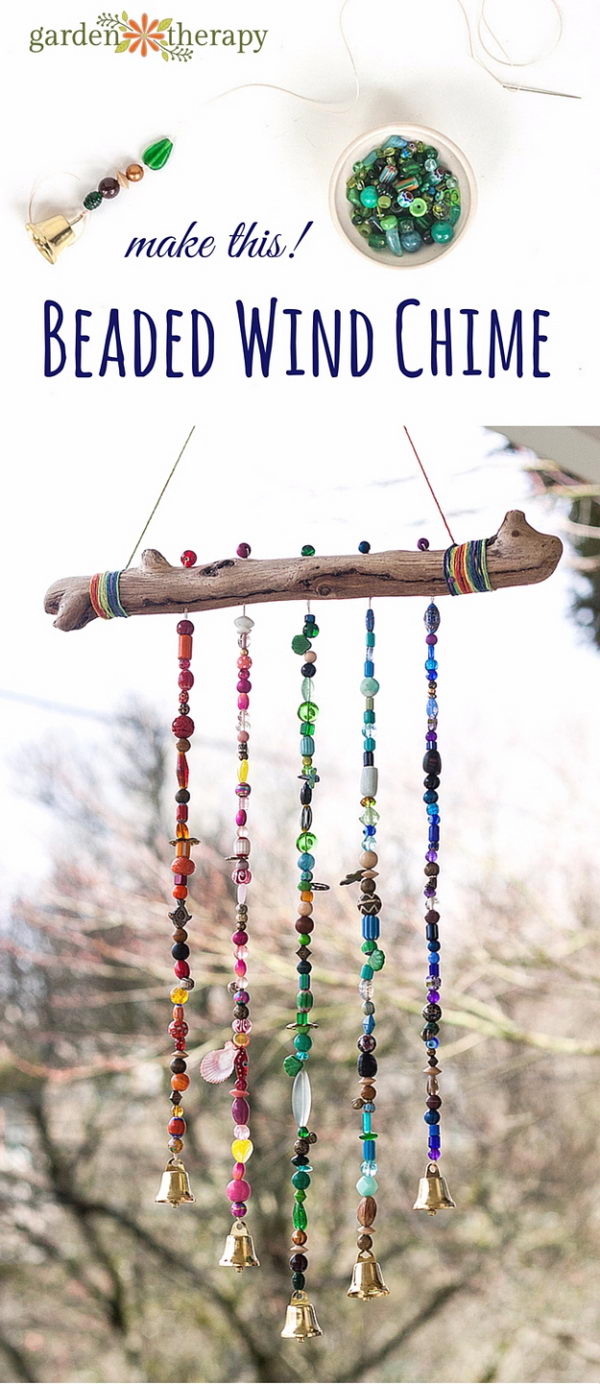 via gardentherapy
DIY Old Key and Faux Pearl Wind Chimes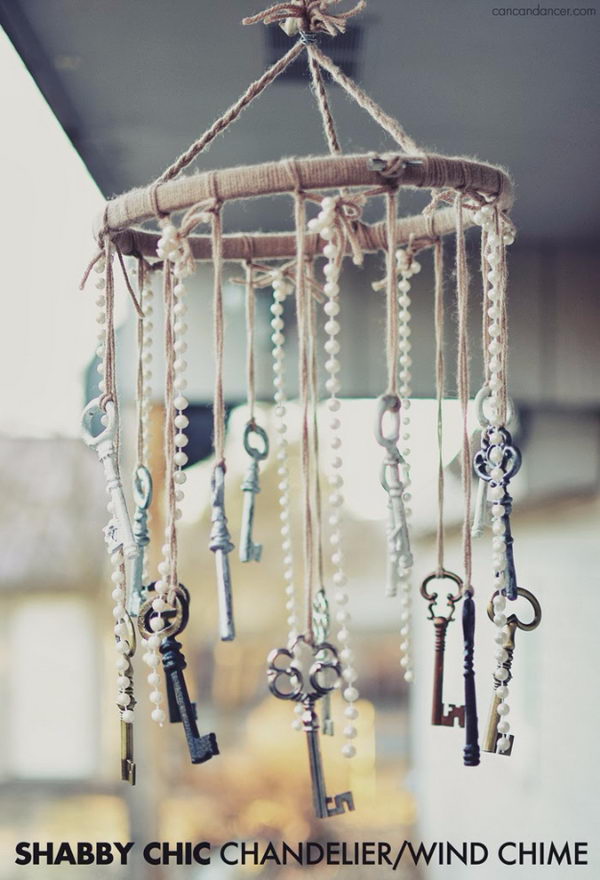 Looking to create a romantic, bohemian vibe? Round up some classic skeleton keys and faux pearl strands for this shabby chic chandelier/wind chime. String it all together with twine and you've got yourself a simple, stylish piece sure to dress up any entry. via cancandancer
DIY Sea Glass Wind Chime

Does your soul long for the sand and sun? Bring the beach right to your front porch with a gorgeous handmade sea glass wind chime. The sea glass will catch the sunshine, creating an irresistible light display for all who have the pleasure of witnessing it. via thecraftyblogstalker
DIY Paint Stick Wind Chime

At first glance, you'd never know this clever wind chime was made up of paint sticks! Give them a face-lift with wood stain and polka dots before arranging them around an embroidery hoop. Order traditional chimes from the web or just use treasures you find in your home. via craftyourcraft
DIY Seashore Wind Chimes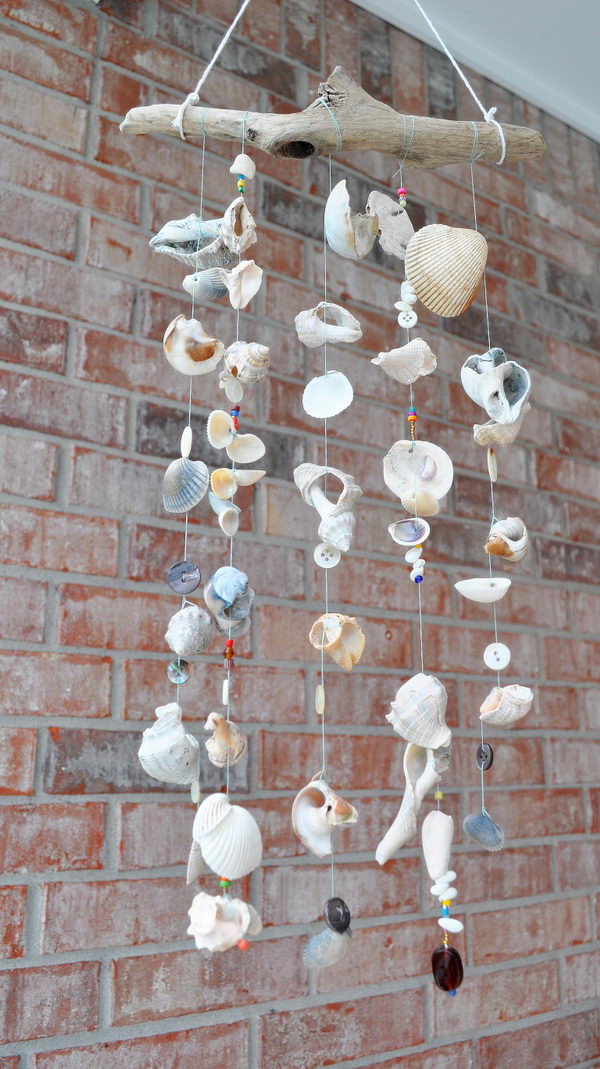 Unearth those bags of collected shells from vacations long gone and bring them to life with a simple, beautiful wind chime. You'll swear you can hear the roar of the ocean when you look into your seashell wind chime. Made of wood, thread, buttons, beads, and shells, you can create this piece for pennies. via poindextr
DIY Wind Chimes from Cans, Beads, and Silver-Plate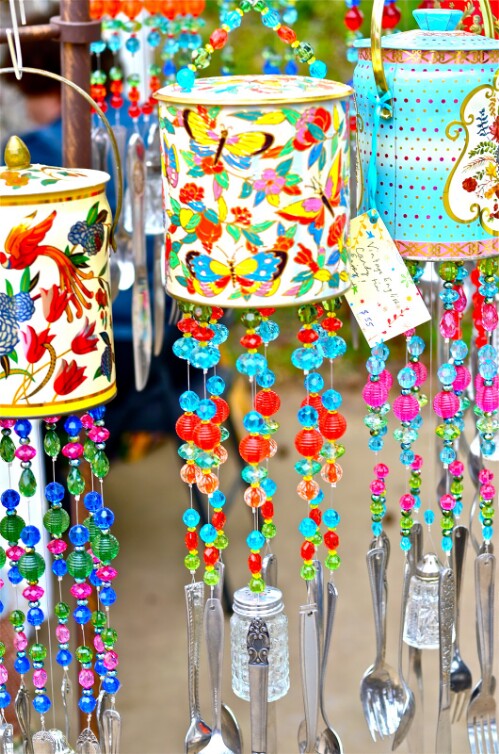 We can almost hear the melody singing into the wind from these fun DIY wind chimes. Gorgeous antique cans, colorful beads, and old silverware capture the essence of summertime beauty. You could even paint the cans yourself to put your own signature on this project. via happymrsc
DIY Sun Catcher and Wind Chimes
Brightly colored beads and pendants make for a fun, brilliant sun catcher. Though it may be quieter than some of the others on this list, this project is nearly unmatched in its beauty and simplicity. via stayathomelife
DIY Watering Can Wind Chime That Pours Crystals

It doesn't get much more creative than this! An old watering can and a few strands of crystals transforms your outdoor space into a magical oasis. Best of all, this effortless craft has a big "wow factor"! via craftsbyamanda
DIY Upcycled Teapot Wind Chimes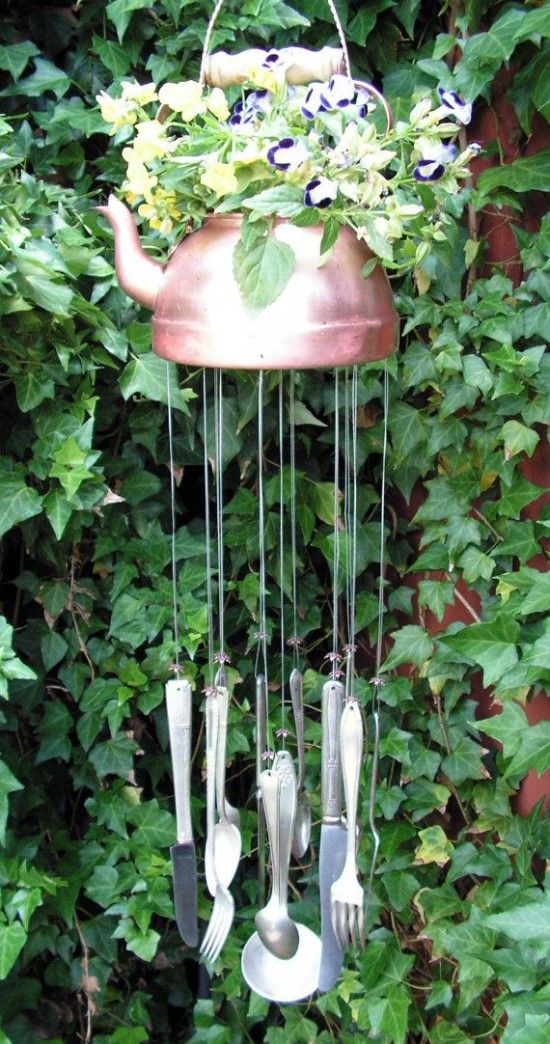 Make this planter-wind chime hybrid for a unique twist on traditional outdoor décor. Plant flowers in the top of an unused teapot, and then attach flatware using fishing line. You've got yourself a whimsical kitchen-inspired wind chime that will "cook up" envy from any garden onlookers.
Antique Key Wind Chimes

Keys, lace, and Mason jars – can it get any more charming? This cutesy wind chime comes together in a few simple steps and uses skeleton keys in place of chimes. For an extra dash of enchantment, place a tea light inside the Mason jar and watch it glow in the evening hours. via domesticallyblissful
DIY Bottle Cap Wind Chime

Colorful bottle caps get new life in this crafty wind chime project. Create strands using the caps and jump rings, and then put it all together with a coffee can as the base. You can make these as short or long as you desire – it all depends on your supplies at hand! via ephemeralalchemy
DIY Recycled Glass Bottle Wind Chimes

Recycled glass containers, floral wire, and a pipe clamp all come together to make this effortlessly sweet wind chime. To take this project up a notch, add fresh flowers to each of the jars for a fun pop of color. via anikasdiylife
Repurposed Junk Owl Wind Chime

This reclaimed "junk" wind chime is a real hoot! A metal grater makes up the base of the owl, but you can get creative and use any pieces you find that fit. The possibilities here are truly endless! via thriftyrebelvintage
Jellyfish Clay Pot Wind Chime

Grab the kids and create this whimsical jellyfish chime as a family! Go wild with glitter paint, sparkling beads, and googly eyes to give this piece a personality all its own. For good measure, add some seashells and ocean life to give him some friends to "hang" with. via thekeeperofthecheerios
DIY Wind Chimes Made Out Of Vintage Kitchen Goodies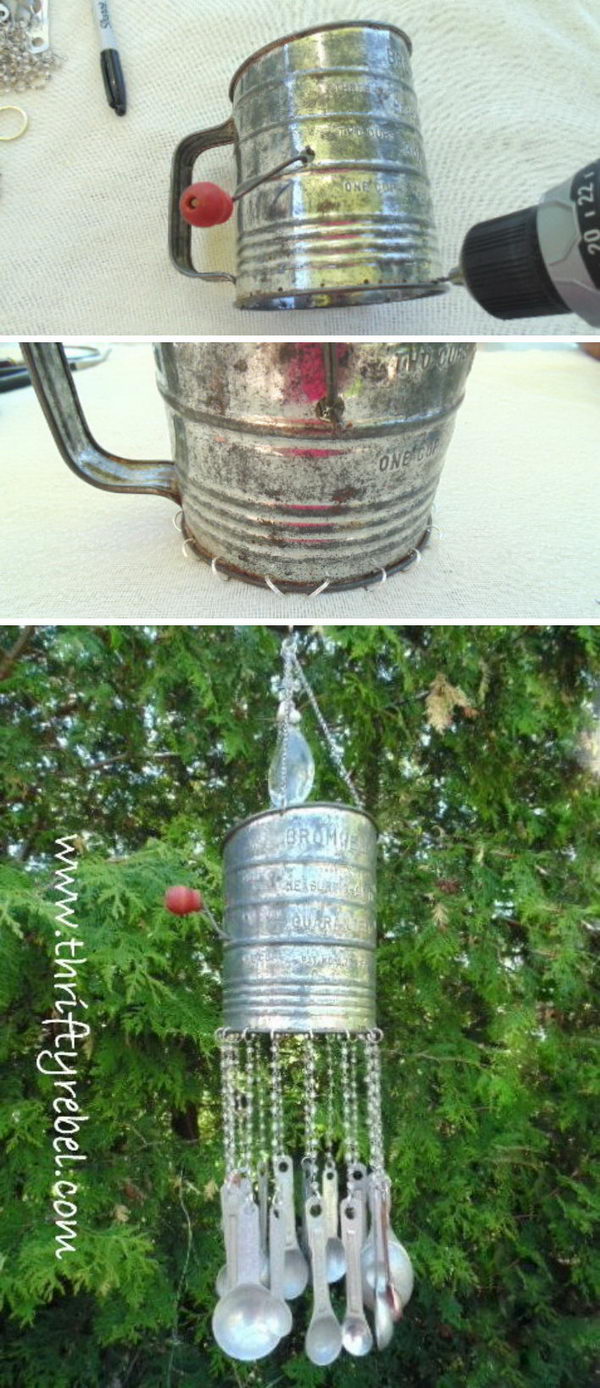 Hit the antique shop for some classic kitchen goodies to make this vintage-inspired wind chime. Old-school metal measuring spoons will jingle in the wind as they dangle below a retro flour sifter. via thriftyrebelvintage
DIY Wind Chime from Upcycled Keys and Other Assorted Junk Items

This upcycled wind chime is giving us serious steampunk vibes! Choose trinkets with a brassy tone for an aged, vintage look. Scour a flea market for fun finds or just gather unused items from your own home. You never know what you might come up with! via rebeccasower
DIY Key Wind Chime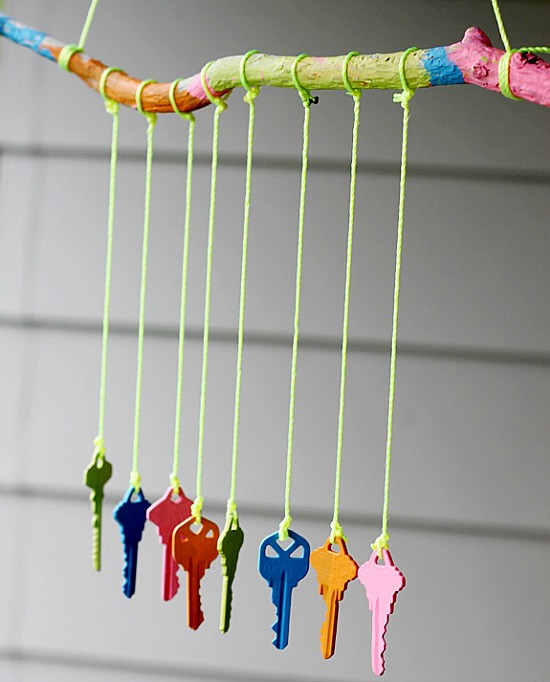 via innerchildfun
DIY Wind Chime Made of Empty Green Glass Bottles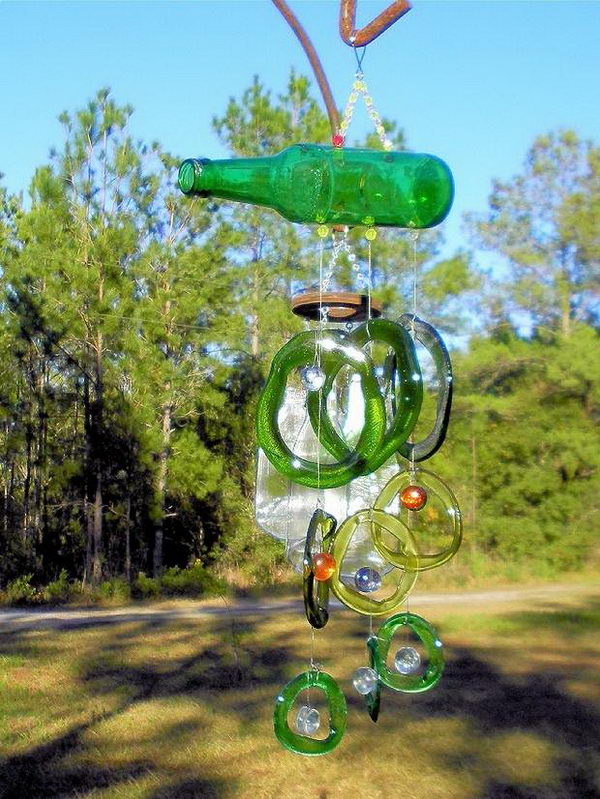 DIY Strainer Planter Wind Chime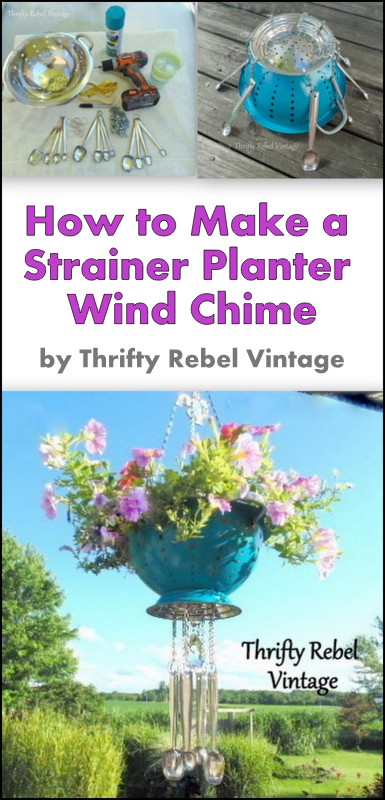 DIY Colorful Seashell Wind Chime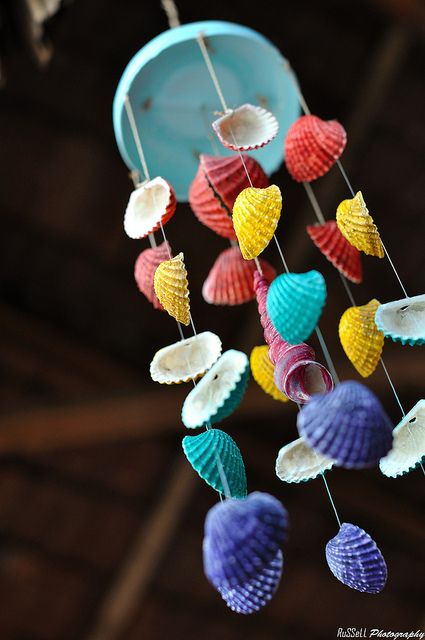 via indulgy
Recycled Spoons Wind Chimes

Coiled Copper Wind Chimes

via thenavagepatch
DIY Rainbow Wine Bottle Wind Chimes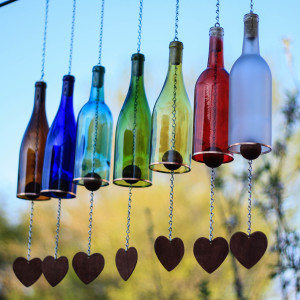 DIY Steampunk Wind Chime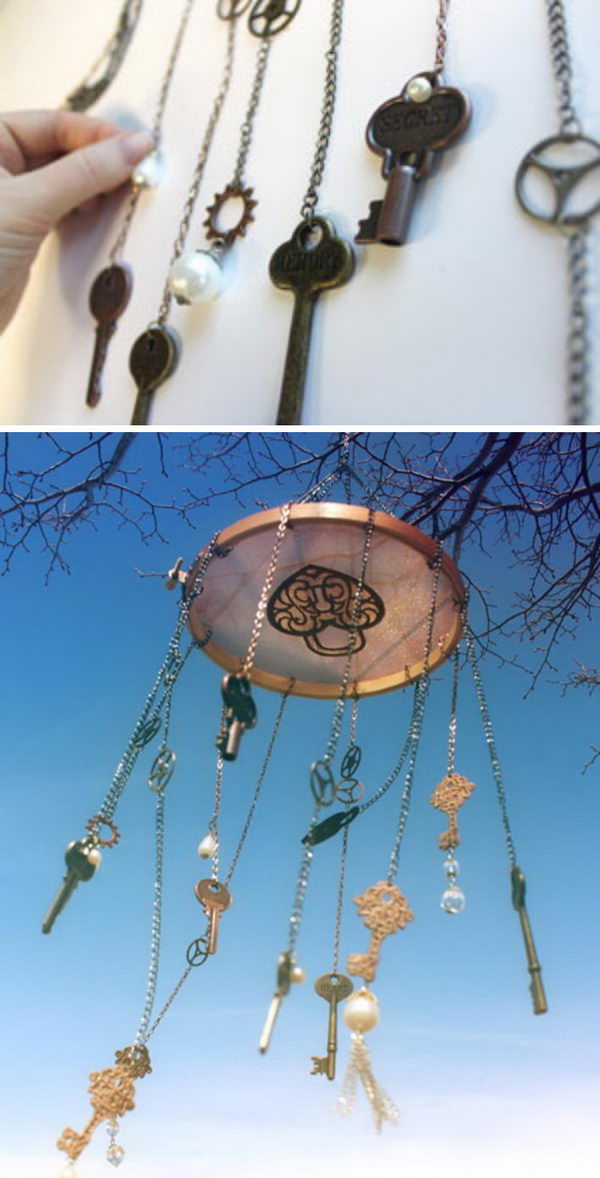 via urbanthreads
Key Wind Chimes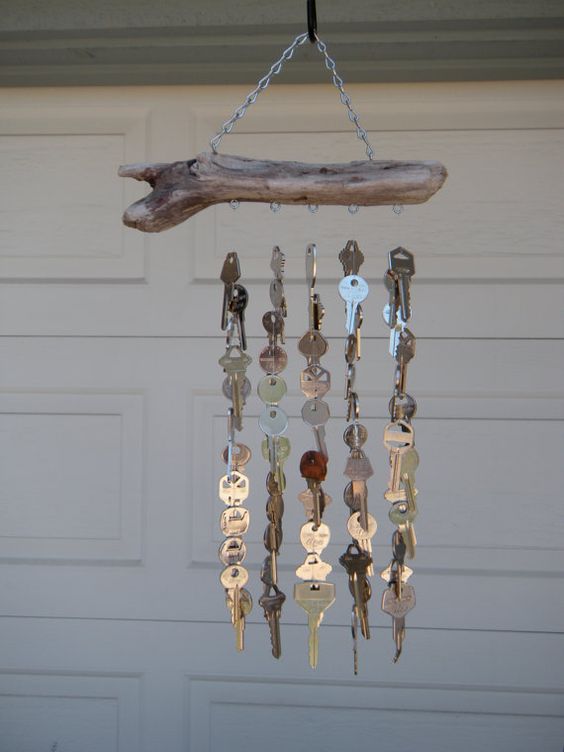 via etsy
Rustic Horseshoe Wind Chimes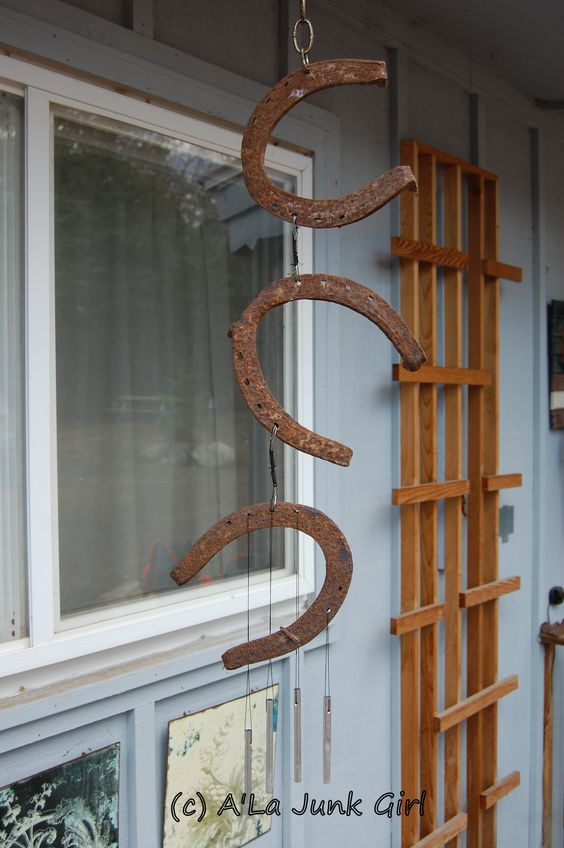 Wine Bottle Green Garden Bell Style Wind Chime

via etsy
Clay Pot Wind Chimes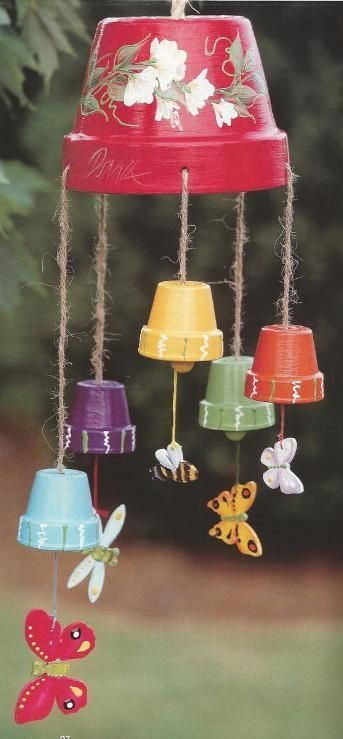 Rainbow Button Wind Chime

via craftsbyamanda
Vintage Silverware Wind Chimes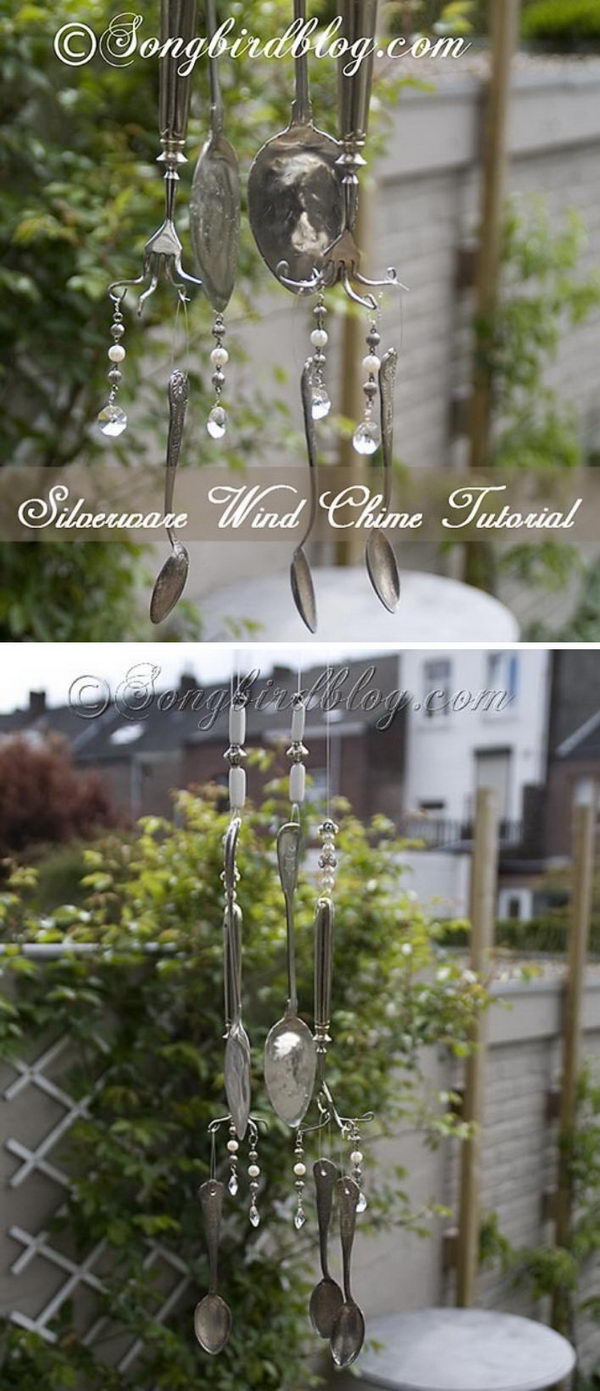 via songbirdblog
Recycled Tin Can Wind Chimes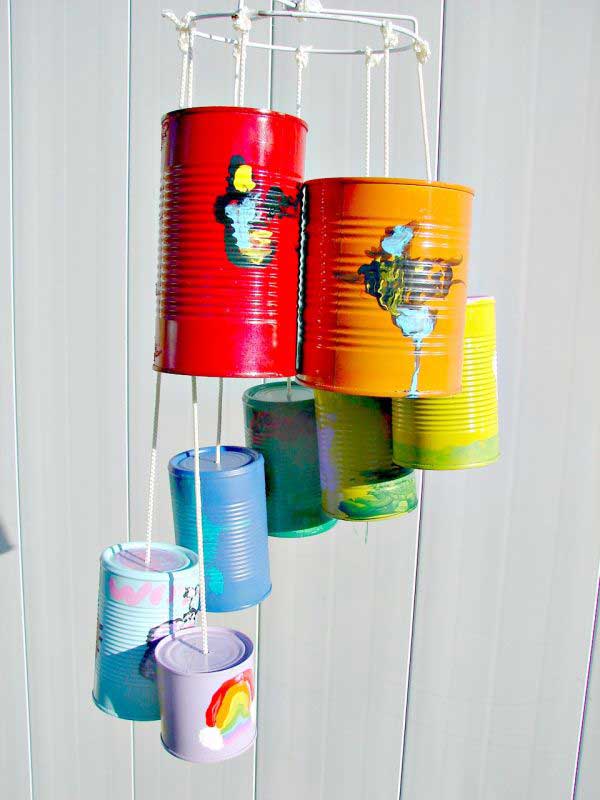 via designdazzle
Green Mason Jar and Recycled Wine Bottle Wind Chimes
DIY Fairy Wind Chimes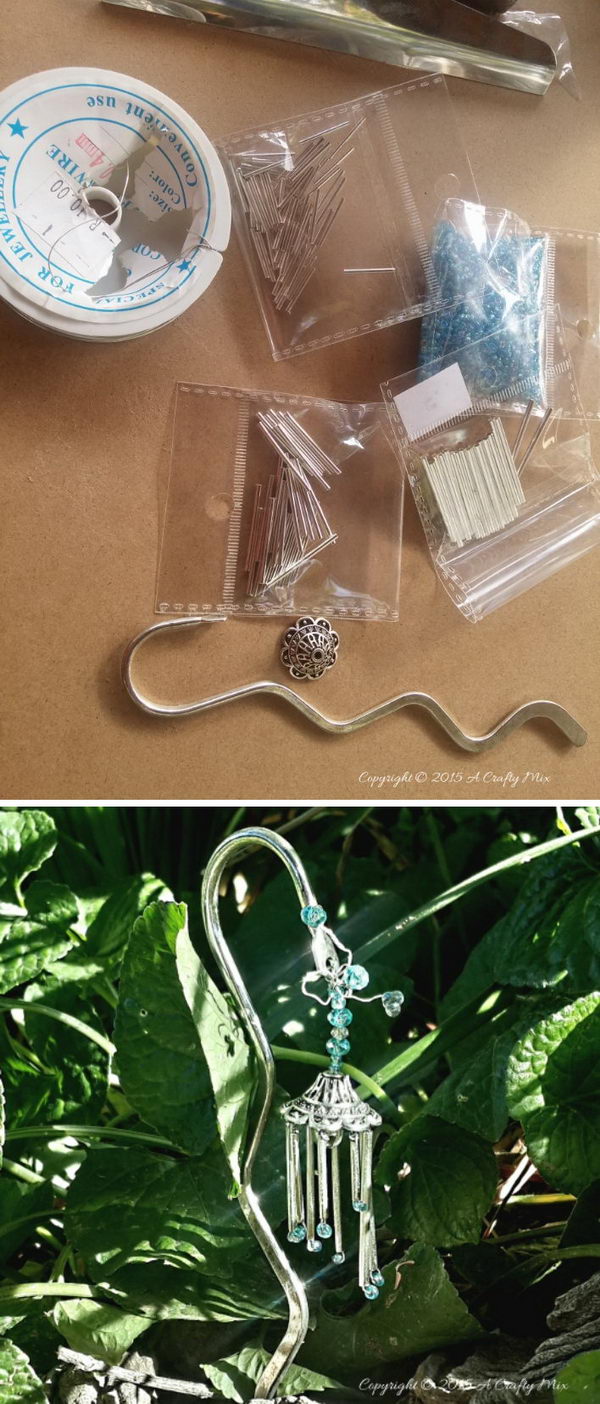 via acraftymix
Wind Chime Made With Mason Jar Lid Rings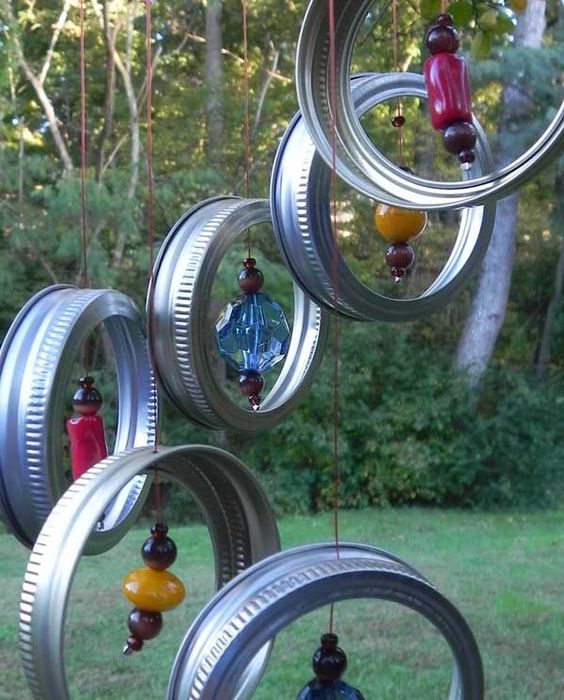 DIY Driftwood Wind Chimes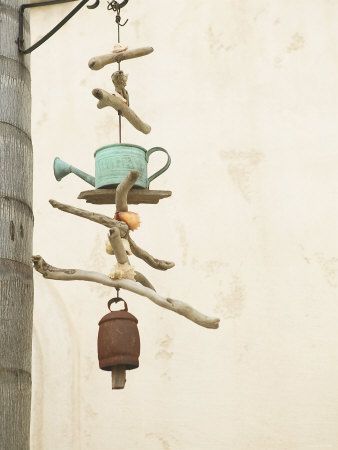 Horse Shoe Beaded Wind Chime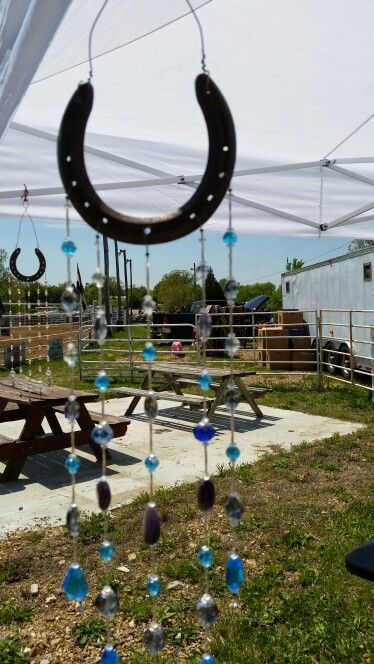 via pinterest
Teapot and Glass Beads Wind Chimes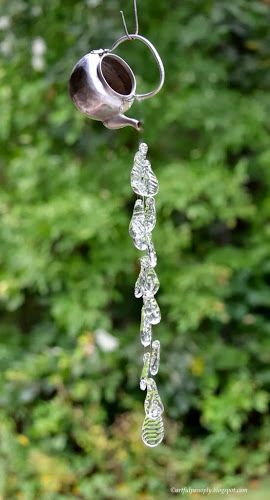 via artfulpanoply