We all have those awkward corner spaces in our homes that we're just not sure what to do with. They're too small to shove a piece of furniture into, but too large to leave empty. Aside from that dilemma, there are also those rooms where we just wish we had a little extra storage or seating or display space.
Well, guess what? There are tons of ways to make use of those corners that you probably never even thought of. That's right — we came across several clever ways to turn that weird space into awesomeness, and we can't wait to share them with you!

If you've got one of those corners (and unless your house is round, you do), take a look at these genius little hacks to make better use of it:
Declutter your room with this DIY laundry basket organizer

Okay, this is AH-mazing and much easier to build than it looks. The laundry room is one of those spaces where you never seem to have quite enough storage, so using one of your empty corners to add a sliding laundry basket system is genius.
To build this, you'll need some MDF board, 2x4s and 2x6s and some basic tools. You'll also need six Sterilite laundry baskets, usually available at Wal-Mart and some chalkboard tags if you wish to make it look like the project pictured.
For this project, they made "sliders" for the baskets to rest on instead of shelves, saving a little money and time.
via makeit-loveit
Use the door entry area to create a kid friendly area for coats, backpacks and shoes

Now, how about that little corner area by the back entryway or mudroom? Awkward, right? The kids usually dump their coats and backpacks there anyway, so why not make it adorable? At Downright Simple, they used beadboard paneling, pine boards, coat hooks and some decorative wood pieces to create a functional little space that looks incredible. via source
Add DIY shelves in a closet corner for additional storage and organization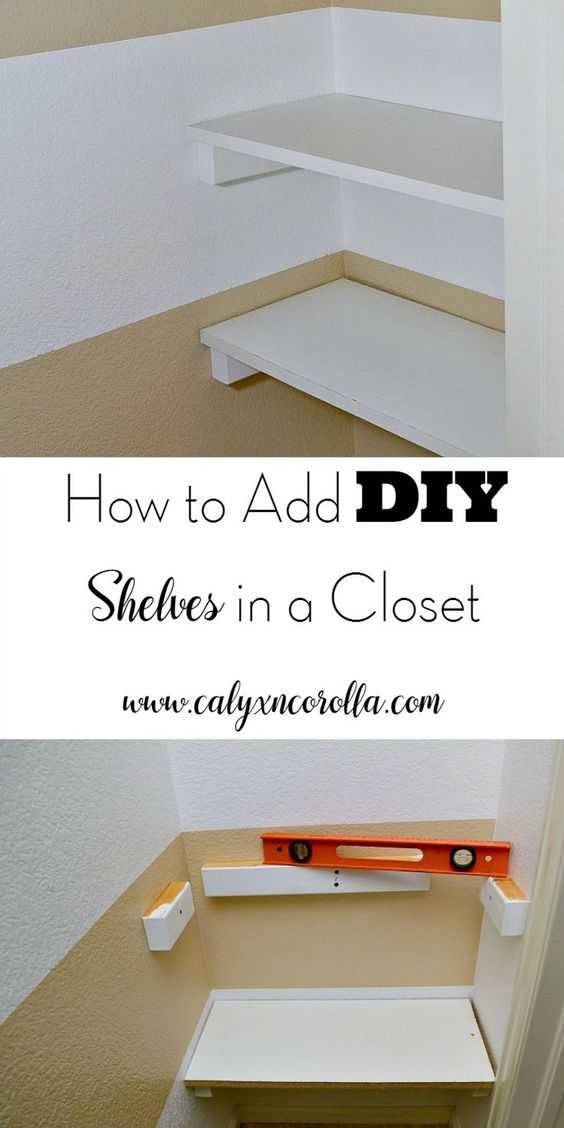 Oh, the closet — the tightest space in the house. It would be great if every room had a walk-in closet, but not many of us are that lucky. So, for the rooms with basic little closets, this project is a fantastic way to add a little extra storage where you didn't know you had it.
Calyx & Corolla had the brilliant idea to add shelving to the sides of those tiny spaces and it creates a practical organized storage area for shoes or boxes or whatever you need to stack.
via calyxncorolla
Add DIY space-saver bookshelf behind the door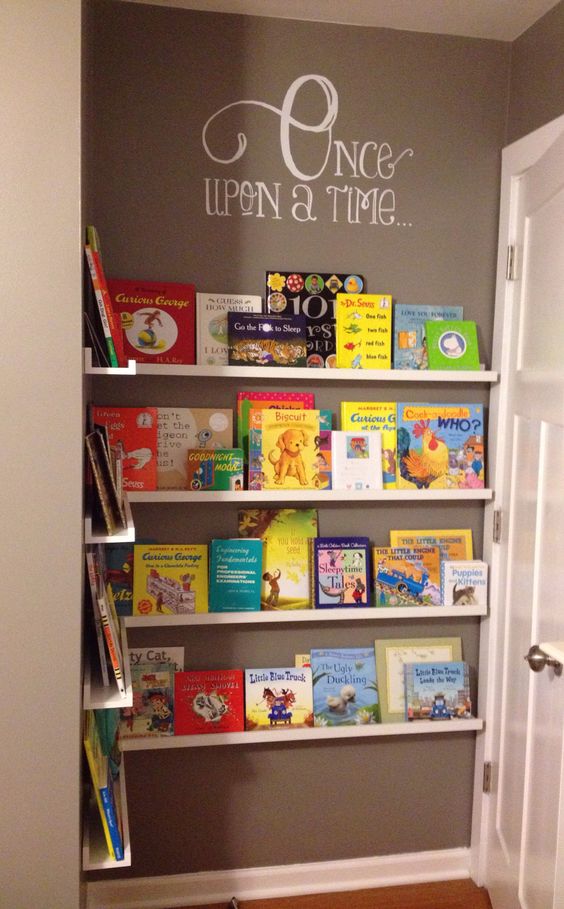 This clever hack is just the cutest way to use a corner we've ever seen, especially for the kids' room.
You will just need to install some cheap floating photo ledges like the ones you can buy here in different sizes. In this photo, they also used a cute vinyl wall decal to finish it off, but you can use whatever decorative piece you'd like to coordinate with your decor.
via source
Turn your old barn door into a rustic shelf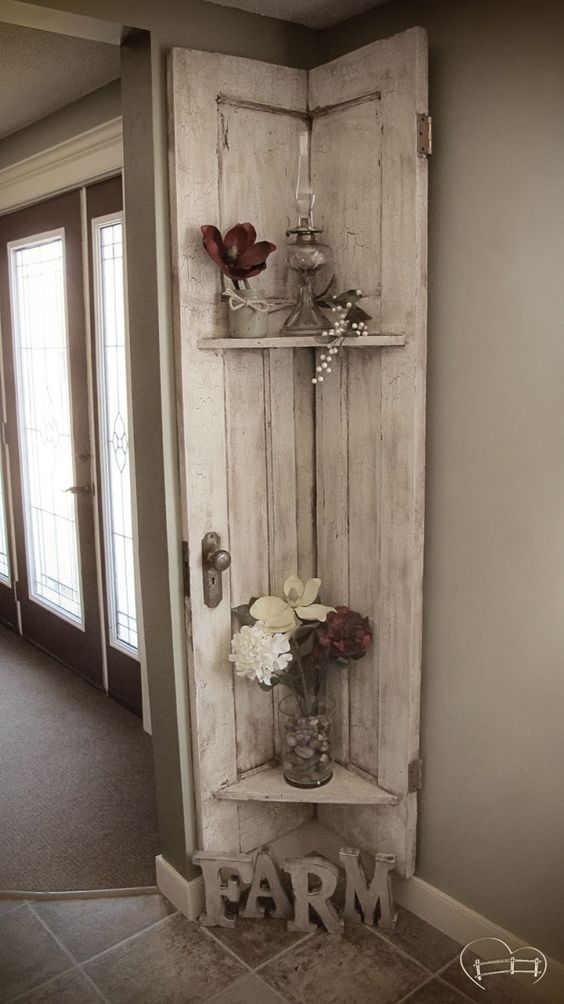 The folks over at Country Chic Paints came up with this rustic chic shelf project using an old door. This door was cut in half and attached to make it a corner unit. They also cut two small corner pieces out of some scrap wood to make some shelves.
Once it was all attached, they used a crackle medium and layers of paint to achieve an aged dirty old barn look. With a few well-placed decorative items, this shelf is perfect for adding a rustic chic accent to any room.
via countrychicpaint
Create a backpack wall using the corner space between kitchen and family room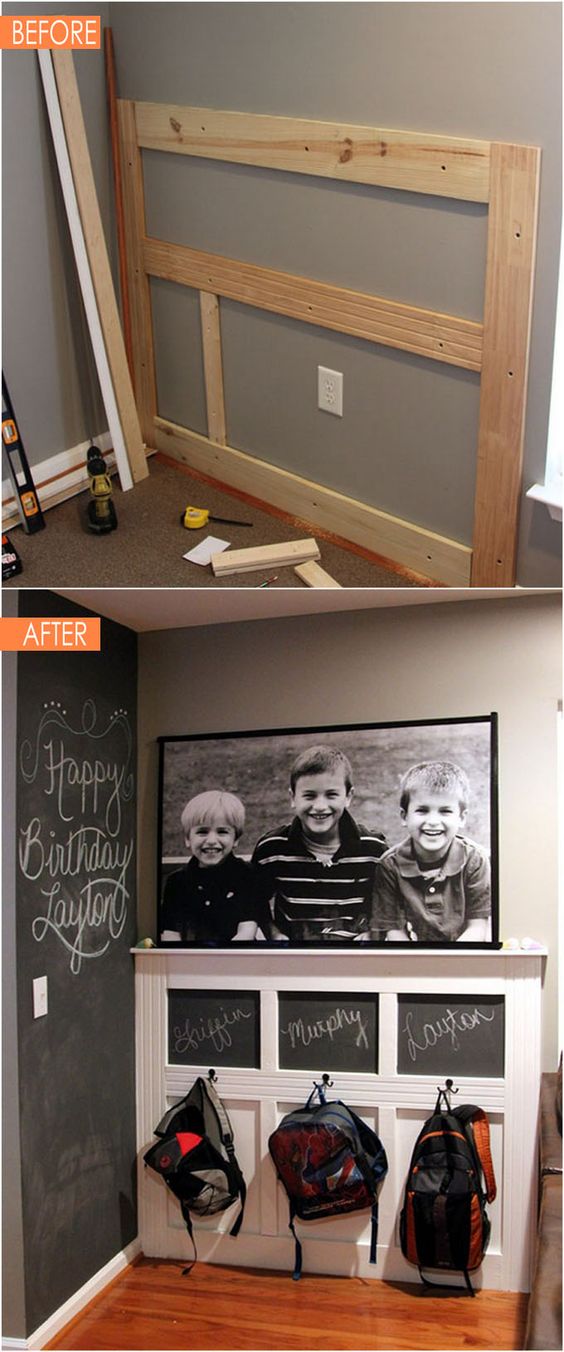 Batmom uses that little wasted corner space between the kitchen and family room to construct a cool backpack and jacket wall. She used some simple 1×6 wood pieces to make sort of a wainscoting look, but what really makes her project stand out is the chalkboard wall and squares she painted on with chalkboard paint. We love that she drew her three kids' names onto the squares with chalk, but the sky's the limit with the chalk art you can do to make it your own! via imbatmom
Place a little console table with storage behind your couch so you have more room

The repurposed storage unit turned sofa console is actually a genius project, as you can prop and store things on top of it, inside and at the ends of the sofa. via cathygreeninteriors
This DIY sofa table has a built-in outlet which allows you plug in your electronics easily

This little DIY wooden table behind the sofa, which is very easy and accessible for everyone to make, is all about functionality. Its strategic placement, coupled with the outlets on the wall, allows you to charge your electronic gadgets while keeping them handy during rest hours. via source
Use floating corner shelves to create more storage in an awkward small corner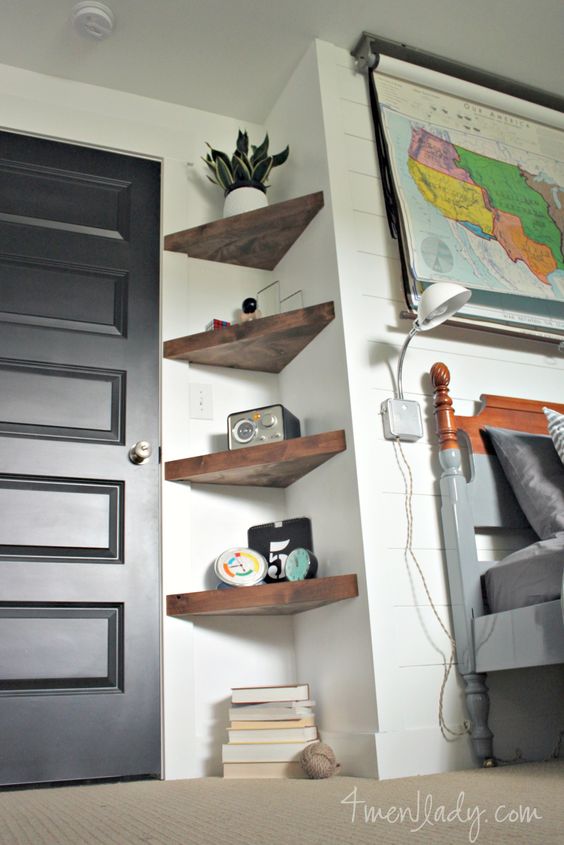 This one's so simple, you'll wonder why you never thought of it yourself. At 4 Men, 1 Lady, Michelle built some simple floating corner shelves using these instructions to create a simple functional space to store a few more of her boys' things and add a cute decorative touch to an otherwise useless area.
This project can be used for literally any room in your house. Think cookbooks and antique kitchenware for the kitchen. Or towels and small framed photos for the bathroom. The possibilities are endless!
via 4men1lady
Make use of wasted space above the door with a shelf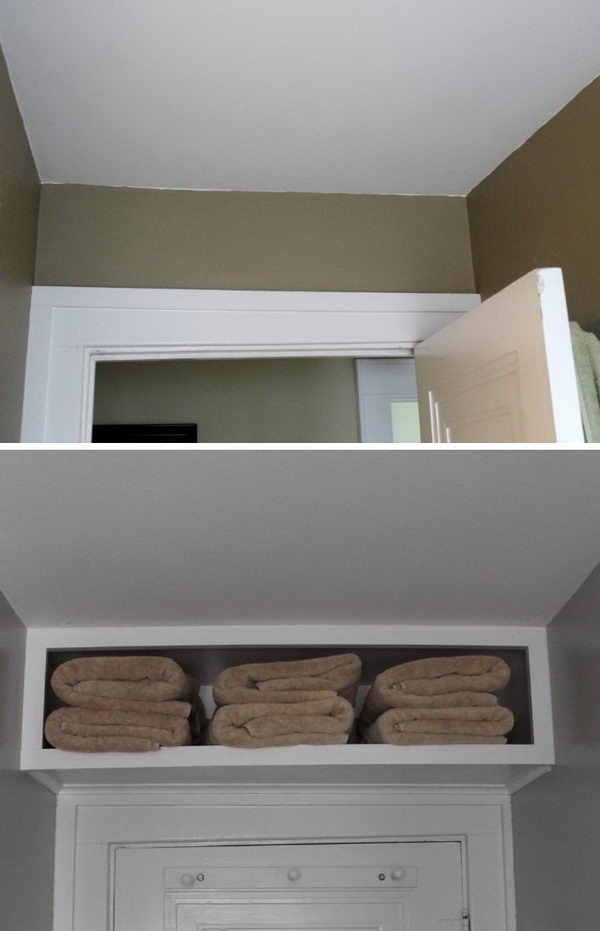 A small room is always bigger than it seems – there will always be corners and nooks that can hold storage. Take this storage idea, for example. Who knew an empty and overlooked nook can be used as a chic towel shelf? via the2seasons
Add built-in bookcases around th door using Ikea shelves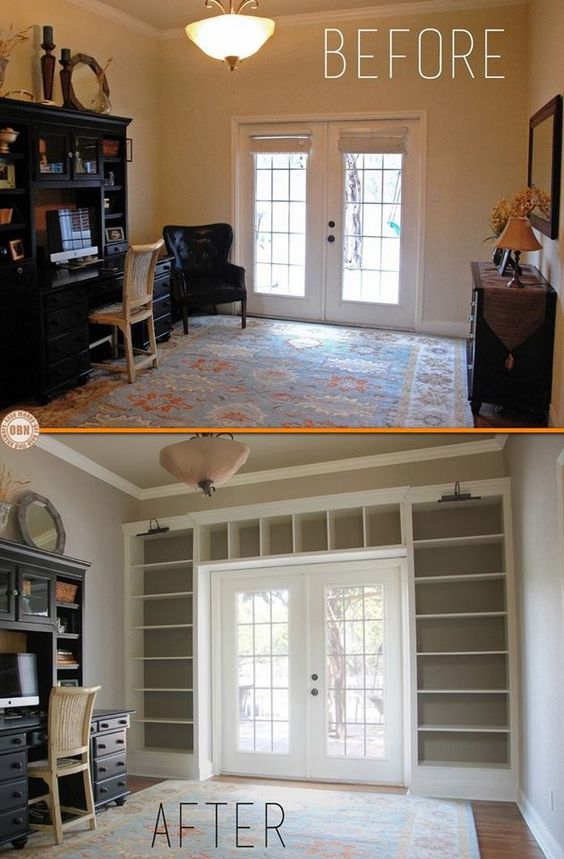 At The Accent Piece, these homeowners used a little creative license with some simple IKEA shelving units and some paint. They attached the units to the wall around the door to make them appear to be built-ins and the results are absolutely breathtaking! Take a look at the full tutorial via theaccentpiece
Turn bread bins into corner storage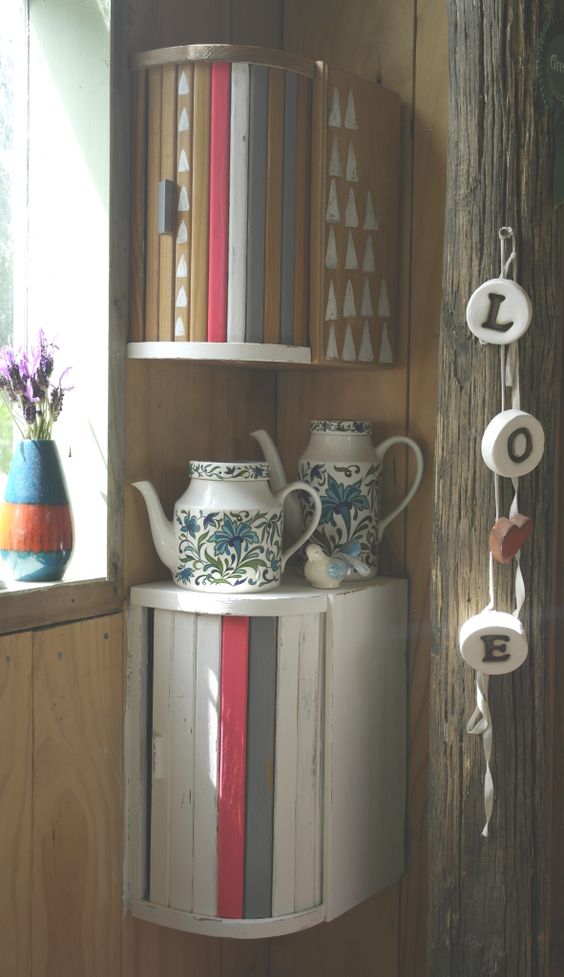 This little shelving hack is one of the most clever things we've seen. Lucy over at Lulastic and the Hippyshake (coolest blog name ever), screwed a couple of roll-top bread boxes into the wall in an empty corner and voila! Instant shelving and enclosed storage!
She also gave hers a little bit of an Aztec chic look with some paint, but you can leave your plain or add designs that match your decor.
via lulastic
Make use of the entryway space and build your family command center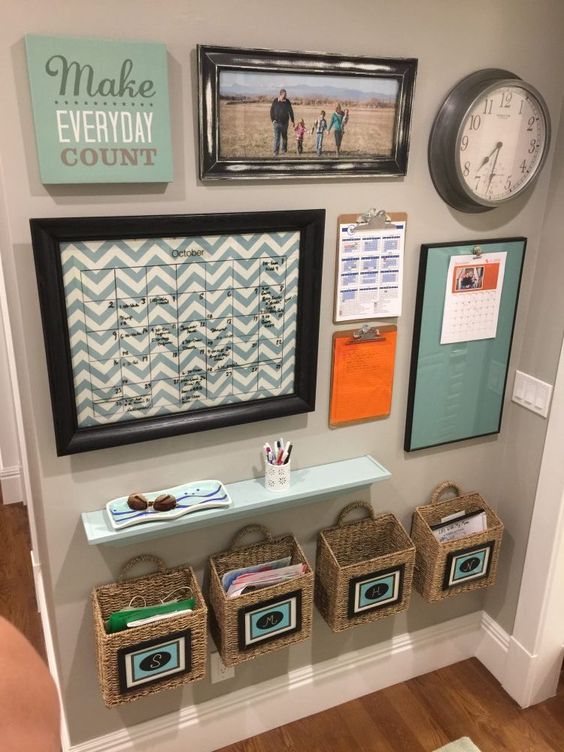 Use your imagination to create a functional command center as pictured here. You can literally add almost anything you'd like – calendars, mail baskets, photos, whatever you need. Grouping objects can be extremely appealing when done the right way.
Corner Christmas Tree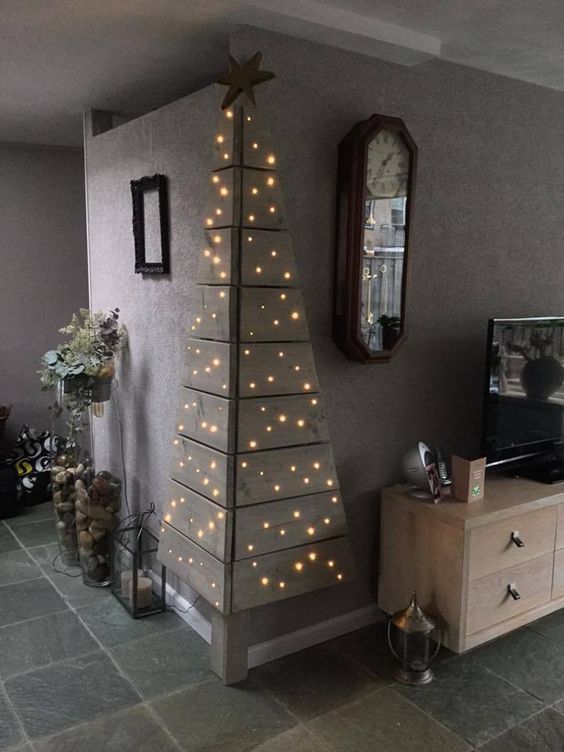 This design uses the outer corner space rather than the inner to create a festive and simple display. You'll simply need to measure an cut 5-10 (depending on the size you want your "tree") 1x6s into a triangle shaped pattern. For this tree, they drilled holes in random places on the board and added LED lights to the back before attaching to the wall.
Your tree can be topped with a rustic star or any decor you wish. With or without a regular Christmas tree, this project is a cool addition to any room.
DIY Corner Shelves

Another creative way to add shelves to the corner, Fool4Peppers uses 12″ square pieces of wood to craft shelving with a modern flare. View the instructional video here. via fool4peppers
DIY Bench With Built-in Table for Displaying Decor in The Corner of The Porch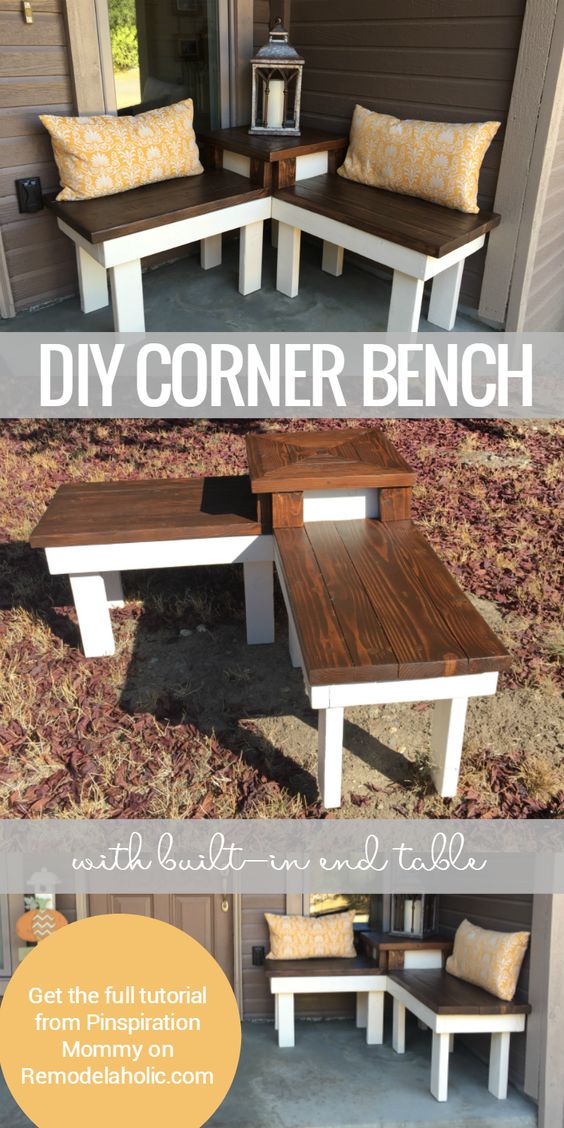 Remodelaholic teaches us here how to build an awesome corner bench for seating and display that's perfect by the front door or back patio. via remodelaholic
Build a makeup vanity to fit in the corner of your bedroom
Home with Lo uses some plywood and a Michael's knockoff IKEA drawer unit to create this clever corner vanity that will fit into any room.
She simply used the shelf as a base and cut a piece of plywood into a rounded corner shape to top it. She also painted the entire unit the same color to make it look like a single piece and displayed her own decorative mirror and floating shelves to coordinate.
via homewithlo
Style a corner gallery wall
A gallery wall is one of the simplest ways to really make that useless corner space stand out and display some forgotten artwork. In this tutorial at A Beautiful Mess, she walks you step-by-step through how to create a gallery wall with multiple pieces that looks uniform instead of thrown together. She uses cutouts of paper taped to the wall to design the space before hanging anything to make sure everything is placed where she wants it. Genius! via abeautifulmess
A DIY version of a $900 corner lamp

So, apparently there'a a $900 version of this cool corner lamp that looks a whole lot like this cheap version they made over at Instructables. For this project, you will need some plywood and some basic supplies you can easily find at your local home improvement store. via instructables
Style your awkward corner with a floor to ceiling built-in closet
Kristi at Addicted 2 Decorating came up with this project idea for her small condo bedroom. She built them from scratch for around $340 and used some corbels and crown molding to give them a more finished, built-in look. Placed on both sides of the bed, this look is tailored and cozy. via addicted2decorating
Easy way to make corner shelving from bifold shutter door

Need another corner shelving idea? This one made out of old shutters and scrap wood could not be easier to construct. They even used free paint stir sticks to support the shelving! via beckwithstreasures
Galvanized Bucket Storage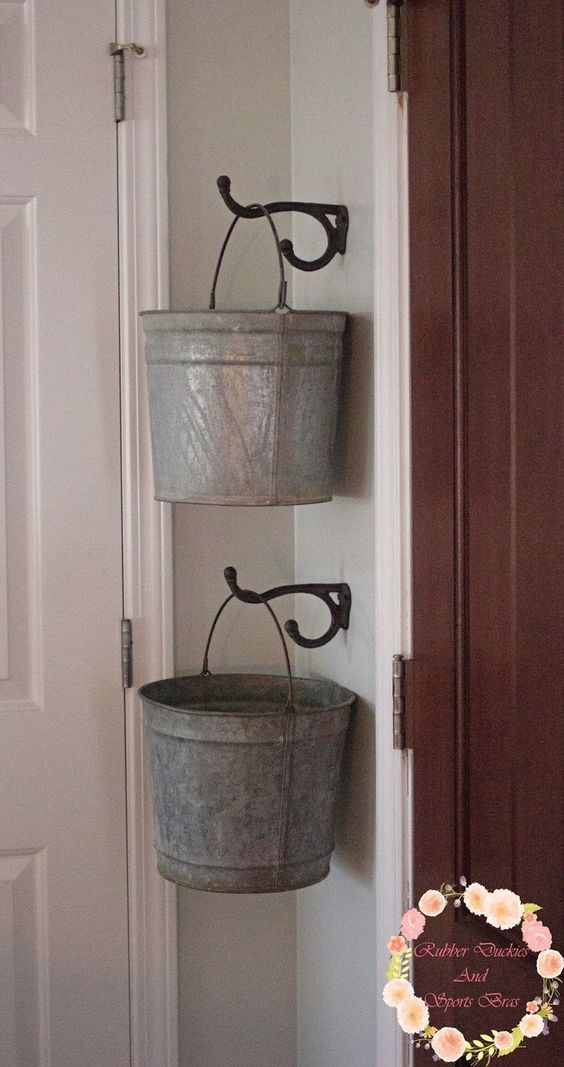 Farmhouse Chic is in and this corner storage idea will add a a little taste of it to any room in the house. Simply pick up some cute coat hooks from the hardware store and attach them to the corner wall to hang your galvanized buckets from. Cheap and chic!
That's a Wrap! There may be a lot of unused space in your home, but nothing is more frustrating than trying to decorate an utilize a corner. With a few of these clever DIY projects, you'll soon be wishing you had more corners!