Crafting with children is essential for their development. These activities stimulate creativity and allow children to express their individuality while also helping to develop fine motor skills working with small materials and precise details.
As children see that ordinary materials like cardboard, yarn, and toilet paper rolls can turn into art projects, their minds open to other possibilities. Plus, crafting around holidays helps children feel connected to their culture and begins the establishment of traditions. They also pride themselves in having a finished product to display or give to relatives or friends.
Valentine's Day is a popular crafting holiday, and there are many projects that allow children to express their creativity.
Salt Dough Glitter Handprint Ornaments

These salt dough decorations are a fun craft for children that results in a timeless keepsake featuring their own handprints. Children can help mix up the salt dough and then decorate with paint or glitter. These make a great Valentine's gift for grandparents. via lifeisalullaby.
Cheerios Hanging Bird Feeder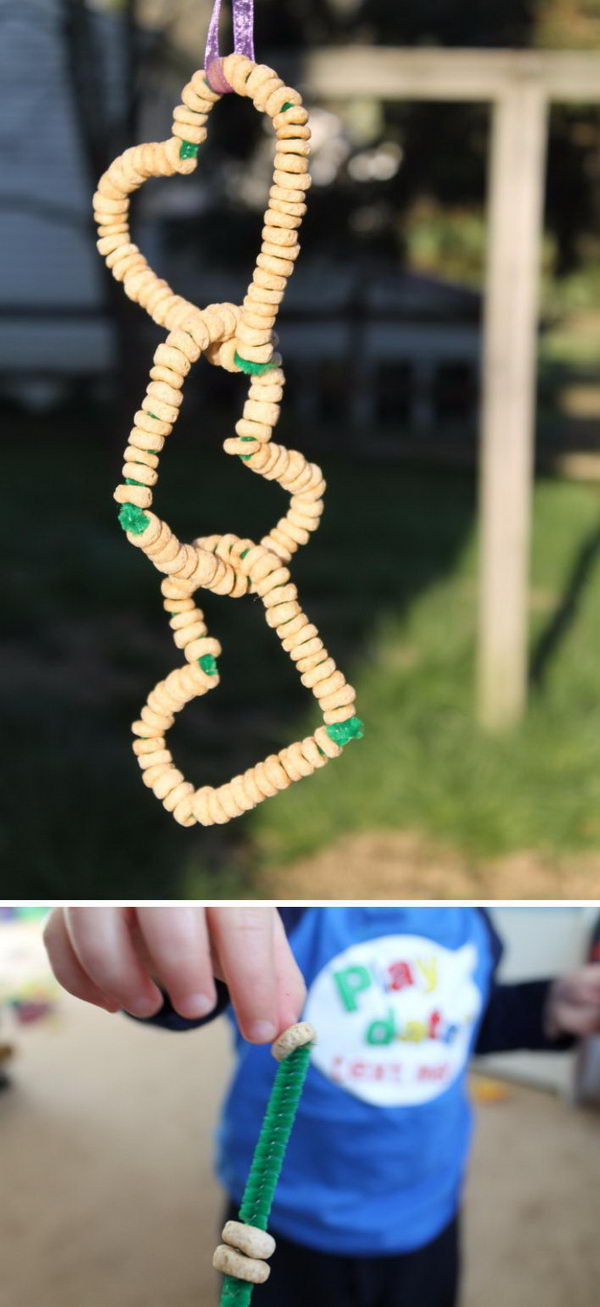 This is a relatively straightforward craft only requiring Cheerios, pipe cleaners and ribbon, but it can provide hours of entertainment as children can watch as the birds eat. Making these in very early spring builds anticipation as they wait for the first birds to come. via 366daysofpinterest.
Easy Valentine's Day Cards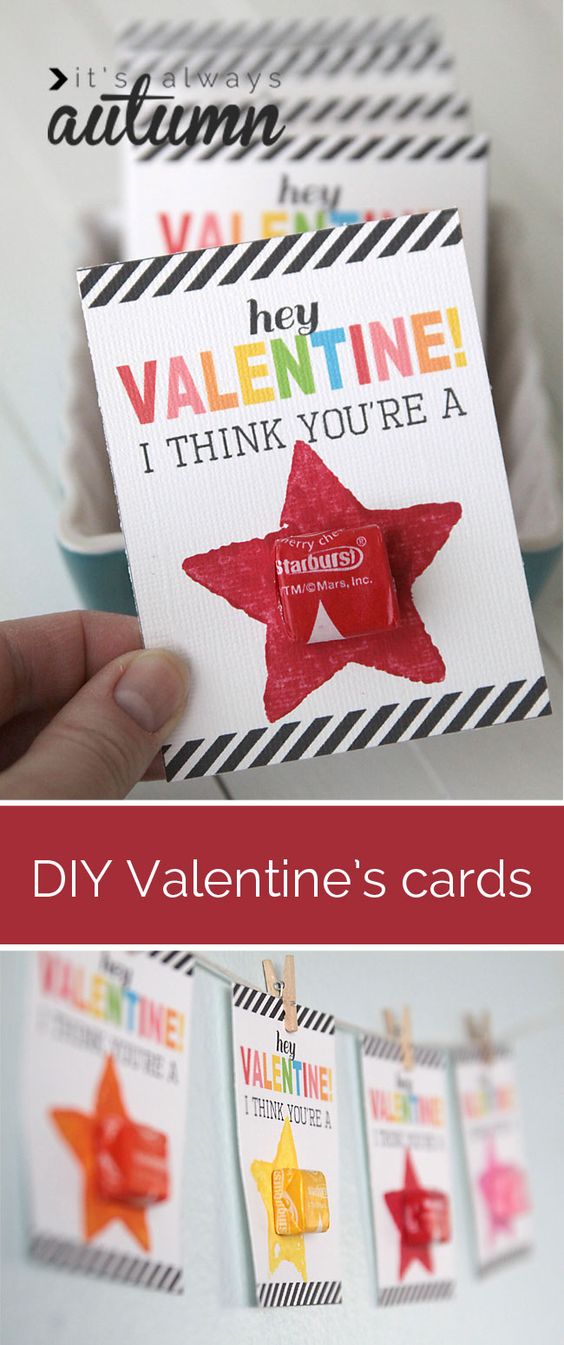 These Valentine's cards are the perfect combination of children making their own and buying pre-made cards. The potato stamps and printed template allow children some creativity without the stress of designing the entire card, and Starburst candies are a delicious addition. via itsalwaysautumn.
Kids Valentines Day Card Free Printable

Most children love puns, so these Valentine's favors will win some smiles. Making these is a quick process requiring few supplies, and giving pencils is a great way to add some variety on the holiday. via shewearsmanyhats.
Melted Bead Valentine's DAY Wind Chimes
These wind chimes are a colorful springtime addition to any porch or deck. Young children can fill the heart molds with beads of their choice and watch as they melt and form solids hearts. Actually assembling the chimes, though, is a job primarily for parents or older children. via notimeforflashcards.
Valentine's Heart Paper Chain

Making paper heart chains is the perfect activity for children excited about Valentine's Day. With a little planning, removing one link each day, the chain helps children count down the days until their holiday party. With the proper card stock paper, these are easy to make and require nothing more than a stapler and colored paper. via teachwithme.
Puzzle Heart Valentine's Day Craft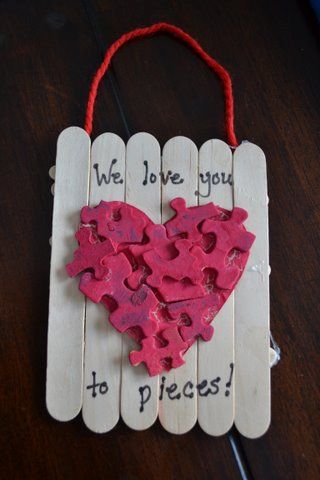 This craft takes a few steps but is worth the time resulting in a unique gift for children to give their grandparents or other important people. Plus, it is a good use for those puzzles that are missing pieces.
Paper Plate Valentine Bag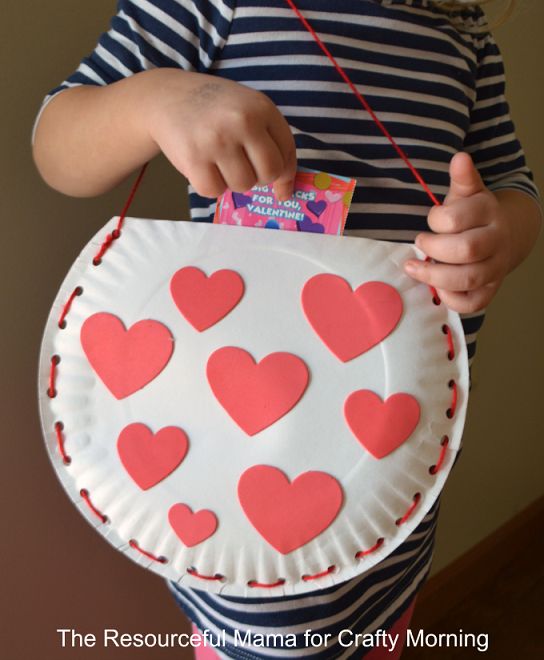 This is a favorite with both parents and children. Requiring only a few paper plates, yarn and red paper, they can quickly create a bag to store Valentine's Day cards. After sewing the bag with yarn, children can then spend time decorating their bag. via craftymorning.
DIY Heart Shaped Borax Crystals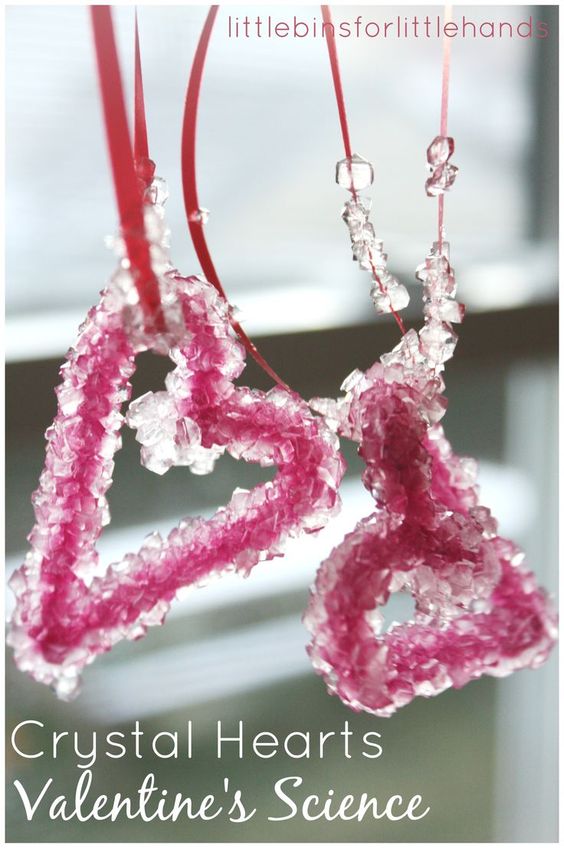 These crystal hearts amaze children as the children can watch the crystals form seemingly out of nothing. Younger kids can help bend the pipe cleaners into heart shapes, but parents need to perform the next steps involving boiling water and mixing with borax. Leaving the jar sit overnight provides a nice surprise for the next morning. via littlebinsforlittlehands.
Heart Tissue craft

Tissue paper wreathes are popular around Christmas time, and this Valentine's Day spin-off is a festive hanging decoration. With a heart-shaped template and squares of different shades of pink and red tissue paper, children can do most of this craft on their own. via sweetandsimpleliving.
Toilet Roll Love Bugs

These toilet paper roll love bugs allow children to use their creativity to decorate their creatures after they make the basic shape. This is mostly a hands-off project for parents after providing materials like googly eyes, pipe cleaners, glitter and cotton balls. via redtedart.
Valentine's Day Pom Pom Monsters

Children enjoy playing with these pom pom creatures, but this craft is too advanced for younger kids, especially as it requires using a hot glue gun. They might enjoy watching parents make them and help decide on colors and placement of the googly eyes. via practicallyfunctional.
Sticky Pom Pom Hearts Garland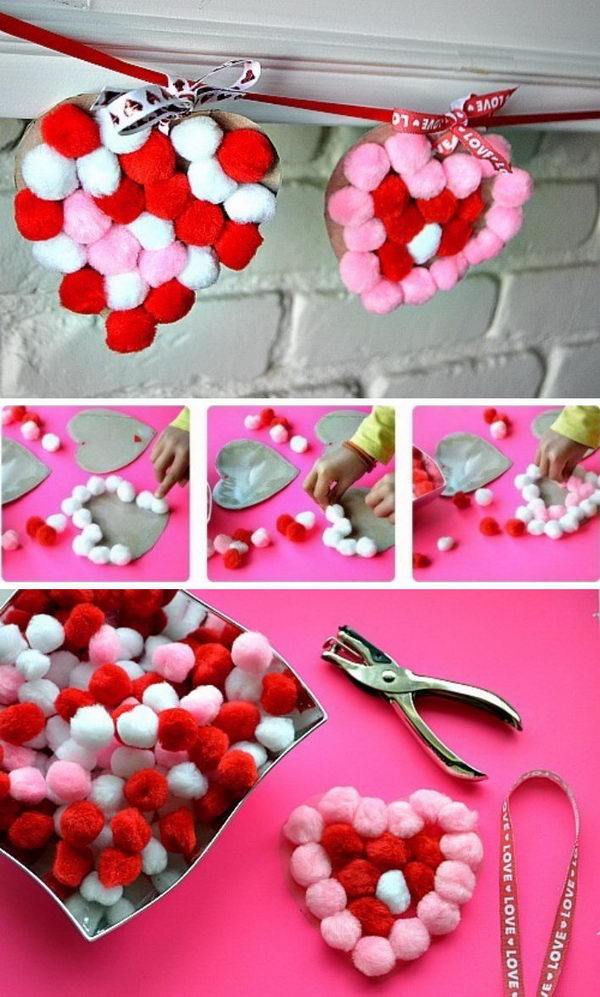 These Valentine's Day decorations are a great craft for younger children, especially because they require no glue. After parents cut the contact paper into heart shapes, children can complete this craft alone by placing the pom poms on the paper to create their own unique pattern. via kidsplaybox.
Framed Button Heart

Either buying buttons specifically for this craft or using leftover buttons around the house, this Valentine's decoration can be framed and brought out for years to come. This craft does not require much skill to create a perfect product as children simply glue the buttons in a heart shape. via carrieelle.
DIY Yarn Wrapped Hearts

Yarn makes all holidays more festive, and Valentine's Day is no different. This easy craft basically just involves wrapping yarn around a cardboard heart, but children can add their own flair choosing different colors of yarn and varying the size of the heart. via easypeasyandfun.