Spray paint is a great invention. It sure has drawbacks like the smell, the fact that aerosols aren't great for the environment and all that, but it also has great advantages that make it popular, especially among DIY fanatics.
Spray paint is easy to use, and while it can be messy, it saves you from getting your hands dirty – for the most part – and doesn't require you to have as much skill as a brush or paint roll would.
There's a lot that you can do with spray paint. It works on most surfaces, and while it may not be great for precision work, you can cover big areas easily and quickly, which means that you can do small, but most of all, big projects in no time at all. Also, you can easily control the opacity of the paint, which means you can achieve great gradients and fade effects, especially on glass surfaces.
The beauty of spray paint is just that – you can transform everything – from a plain piece to a restored one – overnight with just a can of paint. Need inspiration? We have a few projects and tutorials to help you. Just remember to do them outside, because this paint is as toxic as any other, if not more.
Spray Paint Thrift Store Dishes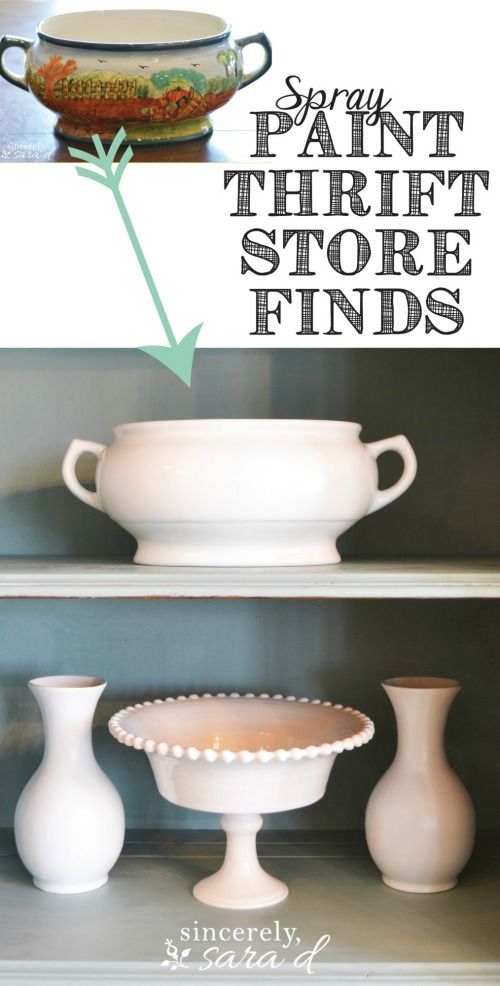 via sincerelysarad
Spray Paint Fall Centerpiece With Dollar Store Pumpkins

via hip2save
Transform An Old Glass Container Into A Beautiful Piece Using Gold Spray Paint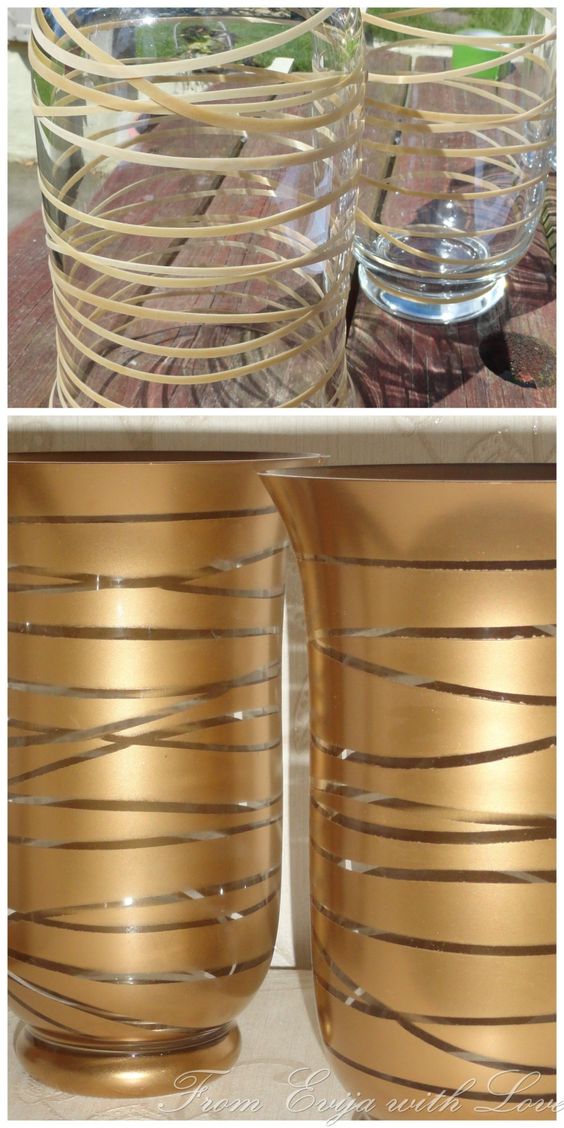 DIY Coastal Decor Using Sea Glass Spray Paint

via sadieseasongoods
DIY Anthro Inspired Gold Pencil Holder

Make a fantastic gold desk organizer for a very low price. The Anthro knock off looks even better than the originals!. Get the tutorial via viewfromthefridge.
DIY Dollar Store Fall Pumpkin Centerpiece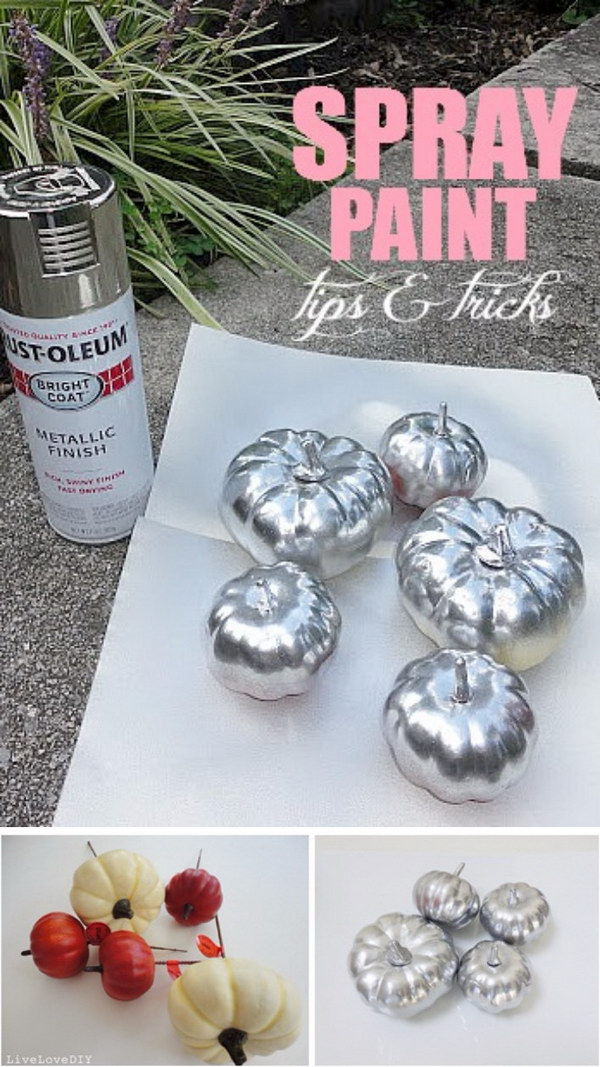 Get plastic pumpkins at the dollar store, spray painted them silver! These are great for holiday decoration. Get the tutorial via livelovediy
Spray Painted Pinecone Centerpiece

Get the DIY tutorial via tatertotsandjello
Plastic Storage Drawers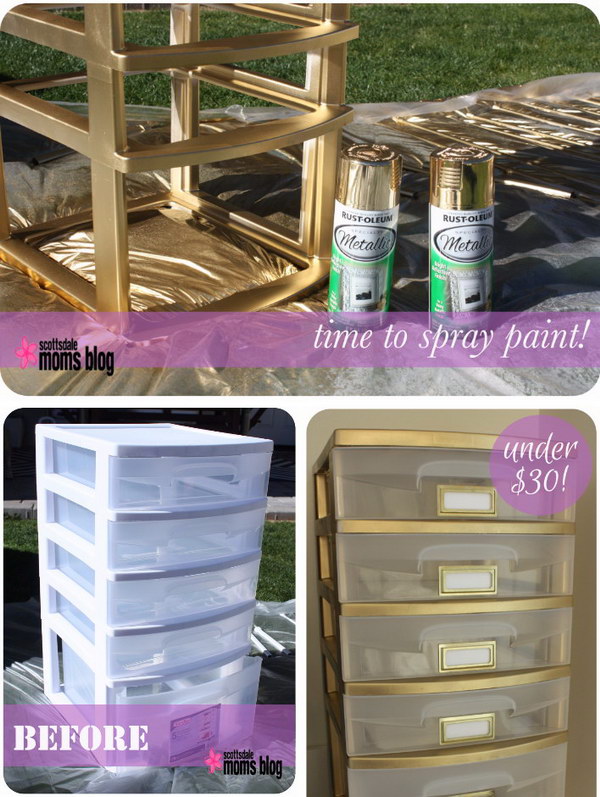 Give the plain plastic dollar store drawers an inexpensive look with the gold spray paint. DIY instructions via citymomsblog
Thrift Store Lamp Makeover with Gold Spray Paint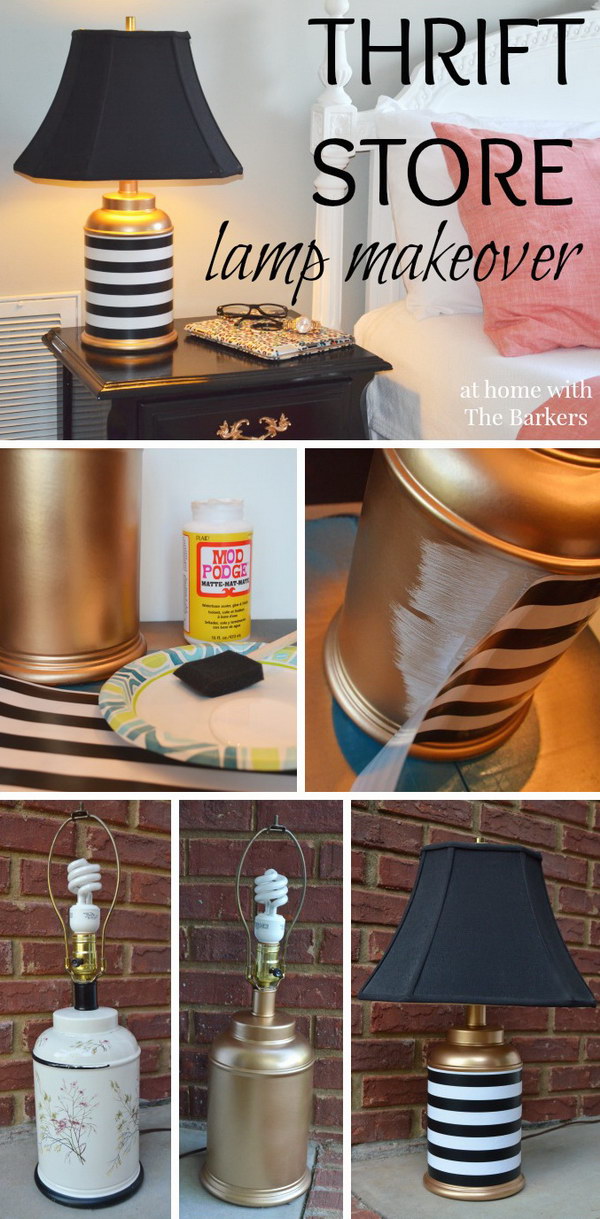 Just use some gold and spray paint and design, you will have this stylish and new lamp for your bedroom. Easy and quick to do in several minutes! Check out the DIY tutorial via athomewiththebarkers
Modernize Outdated Faucets with Spray Paint

Remodel your bathroom faucet by spray painting. Easy and quick to make in minutes! DIY steps via bonfiresandwine.
DIY Thrift Store Glass Vase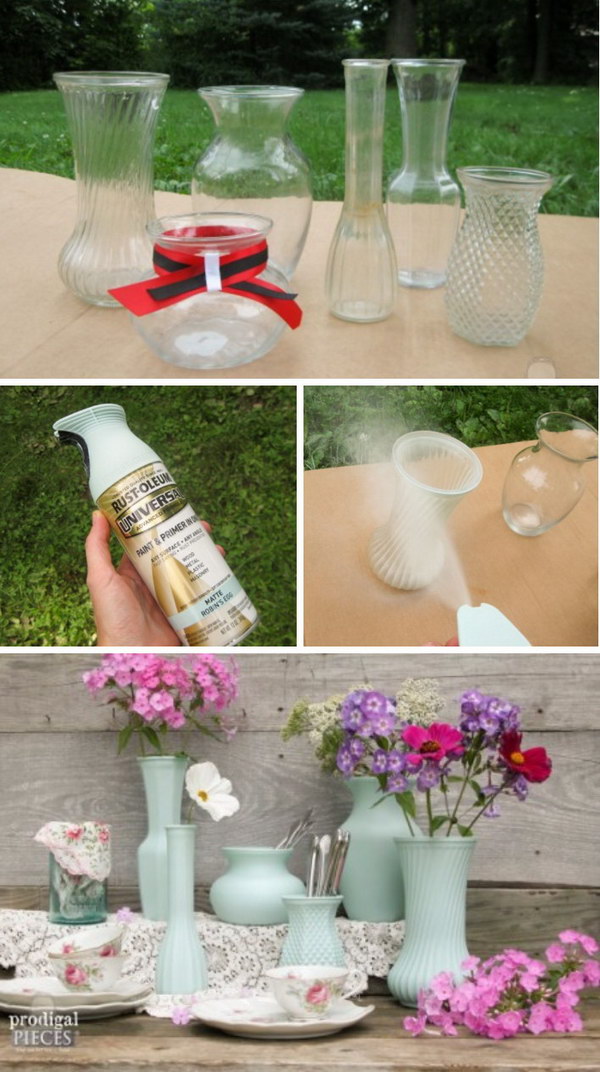 Make the plain glass vase unique with some spray paints. They are perfect for party decor! See DIY instructions via prodigalpieces
Silver Spray Painted Wicker Basket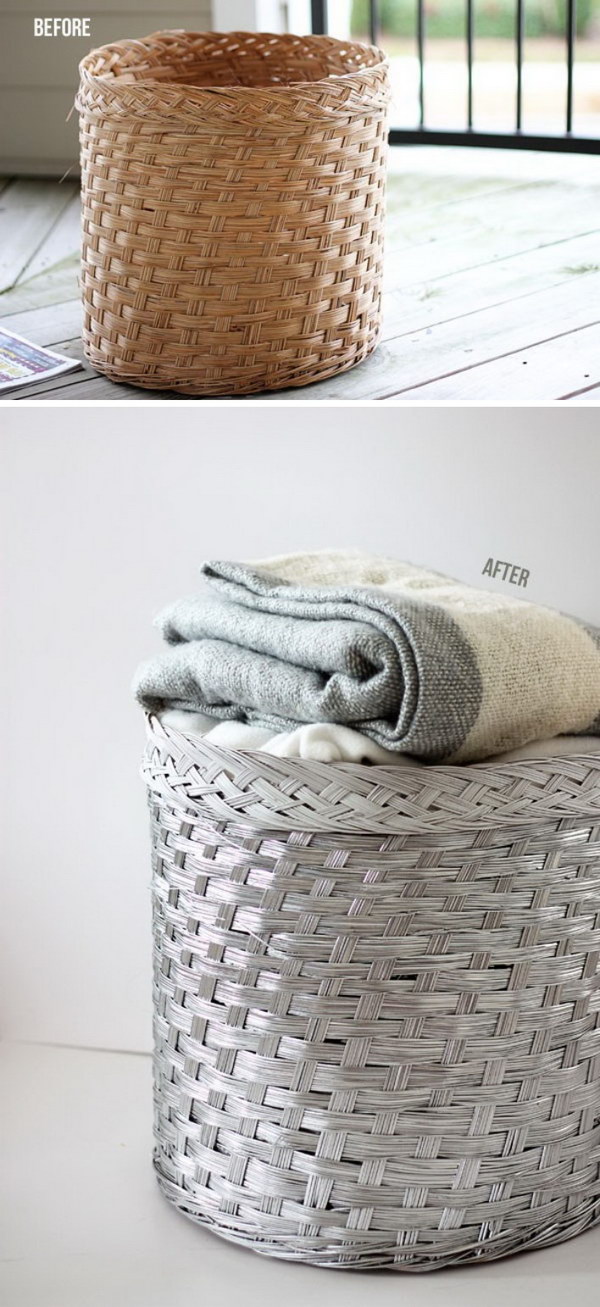 Make the plain wicker basket a little of different and custom with metal spray paint. DIY instructions via twodelighted
The Vintage Fan Restoration with Spray Paint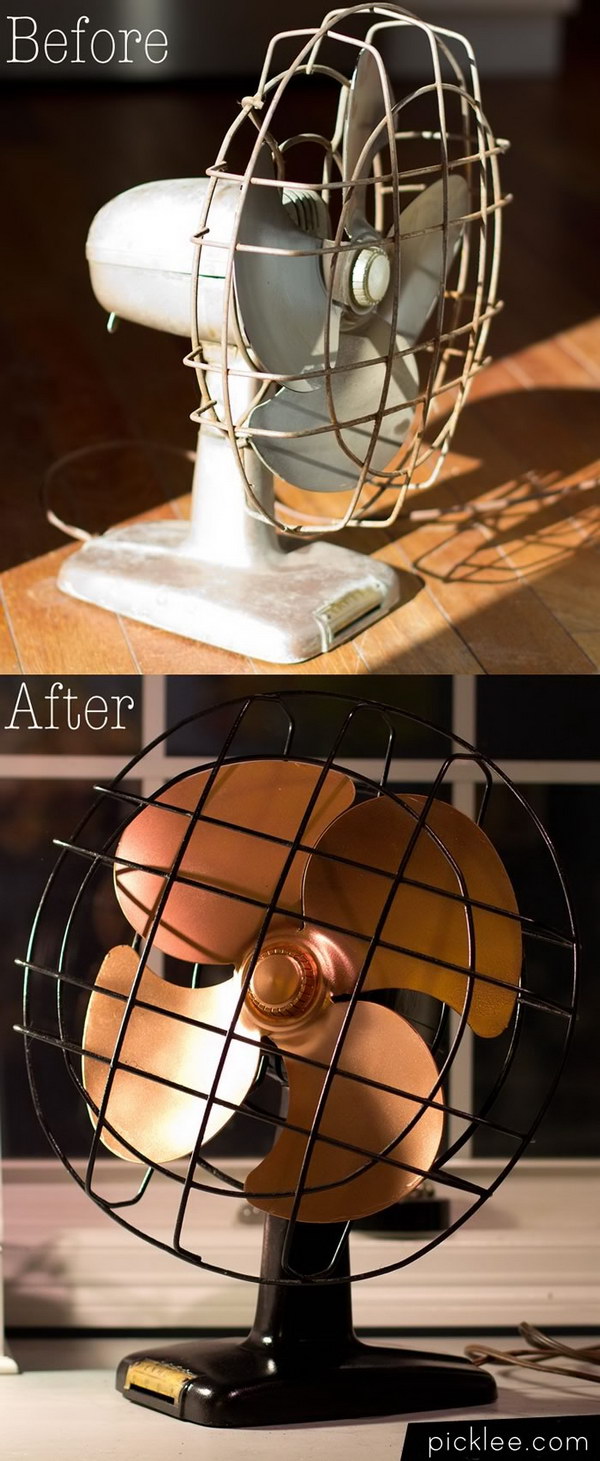 Use spray paint to update a vintage find and bring an old-school (yet on-trend) look to your workspace or home. Get the tutorial via picklee
Up-cycled & Brightened Vintage Metal Chairs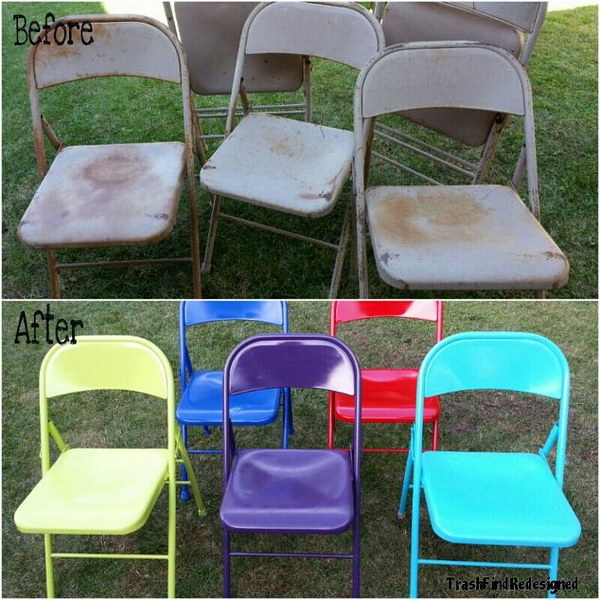 An easy way to give the old chairs a new life with those colorful spray paints and bring pop of colors to your home! See details via hometalk
DIY Spray Paint Flower Art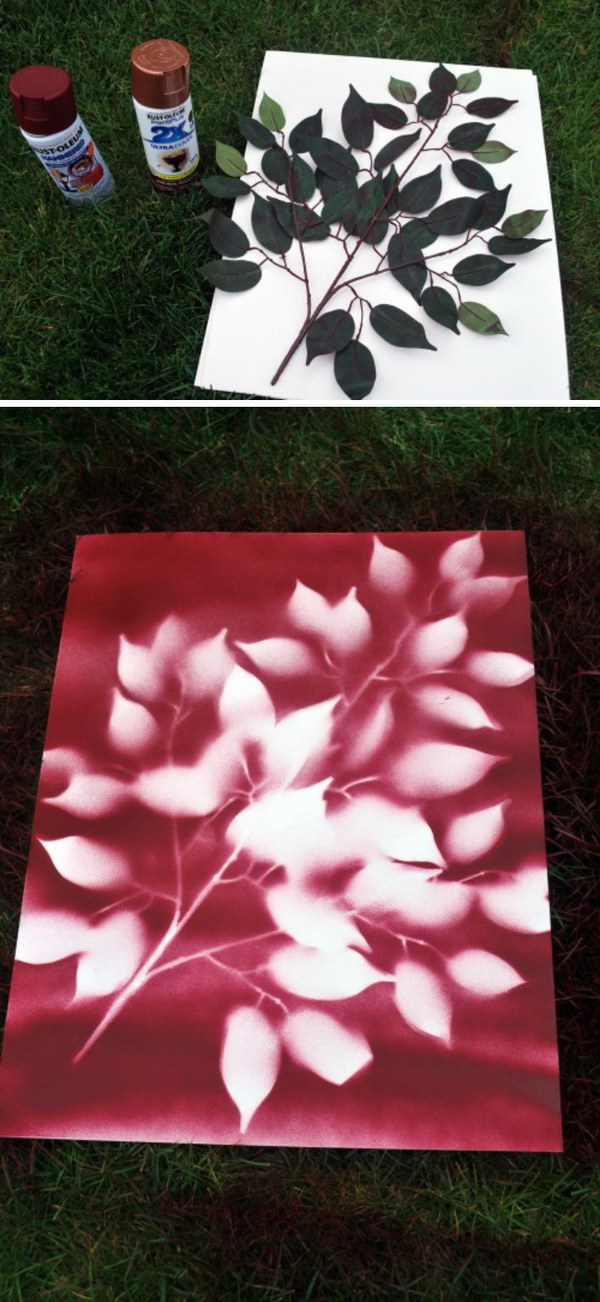 Easy and cheap to make these flower art with spray paint! It makes a great DIY home decor. View the DIY details via simplyrealmoms
Thrift Store Lantern Makeover with Gold Spray

Transfer the dollar store lantern into the gorgeous one with some spray paint with several steps! Easy, quik and fun to do! DIY instructions via kscraftshack
Painted Fake Flowers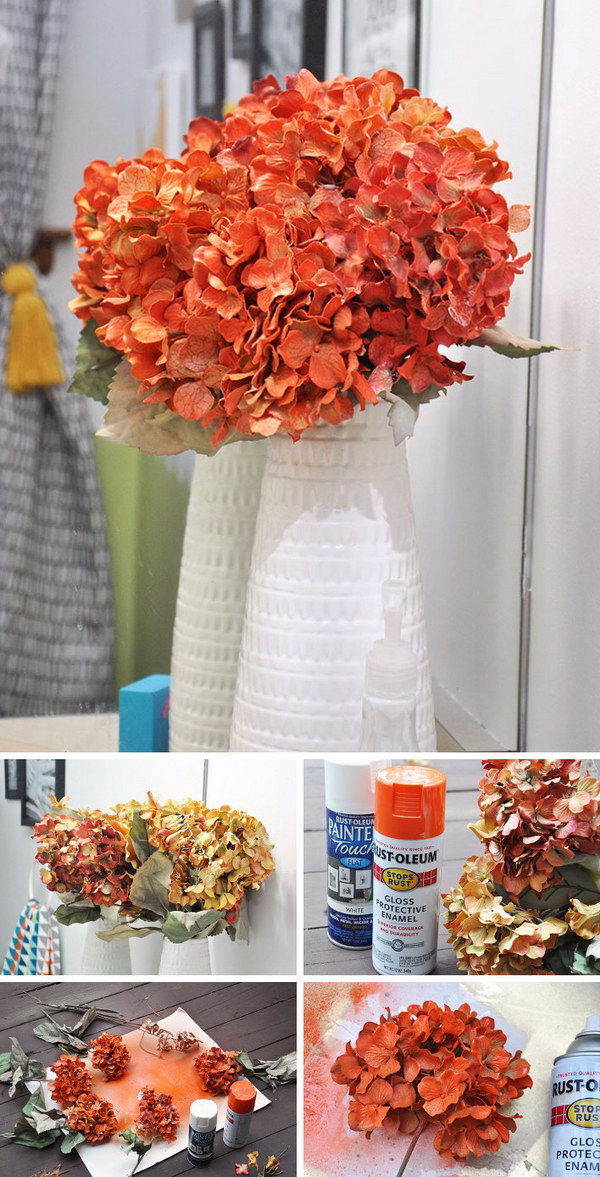 Paint fake flowers and make them be the color that you want with spray paint. Follow the tutorial and make some to spruce up your room via diycandy
Dated Metal Doorknobs Makeover with Paint

Get the tutorial via thesnug
DIY Beer Bottle Bud Vases

Make these great DIY home decor to brighten up any room with beer bottles and and some paint. Learn about the steps via brit
Gold Dipped Bar Stools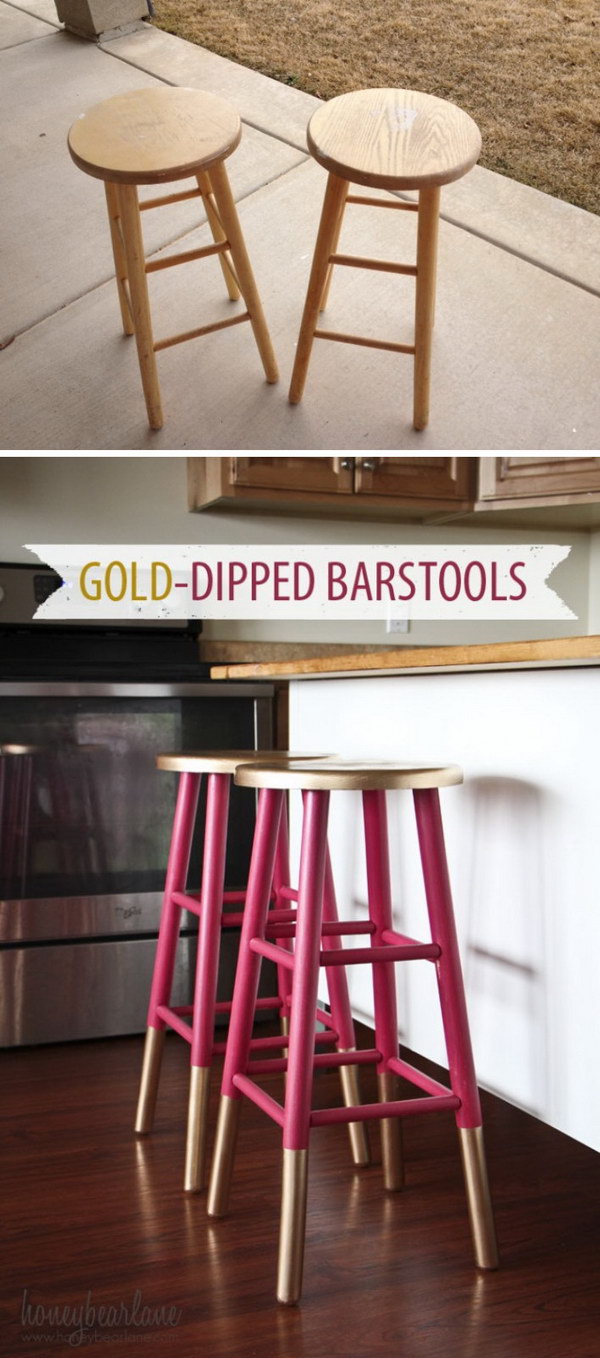 These kitchen seats are so chic you'll want to host a party just to show off your handiwork. honeybearlane
DIY Copper Tin Can Planters And Chalkboard Tags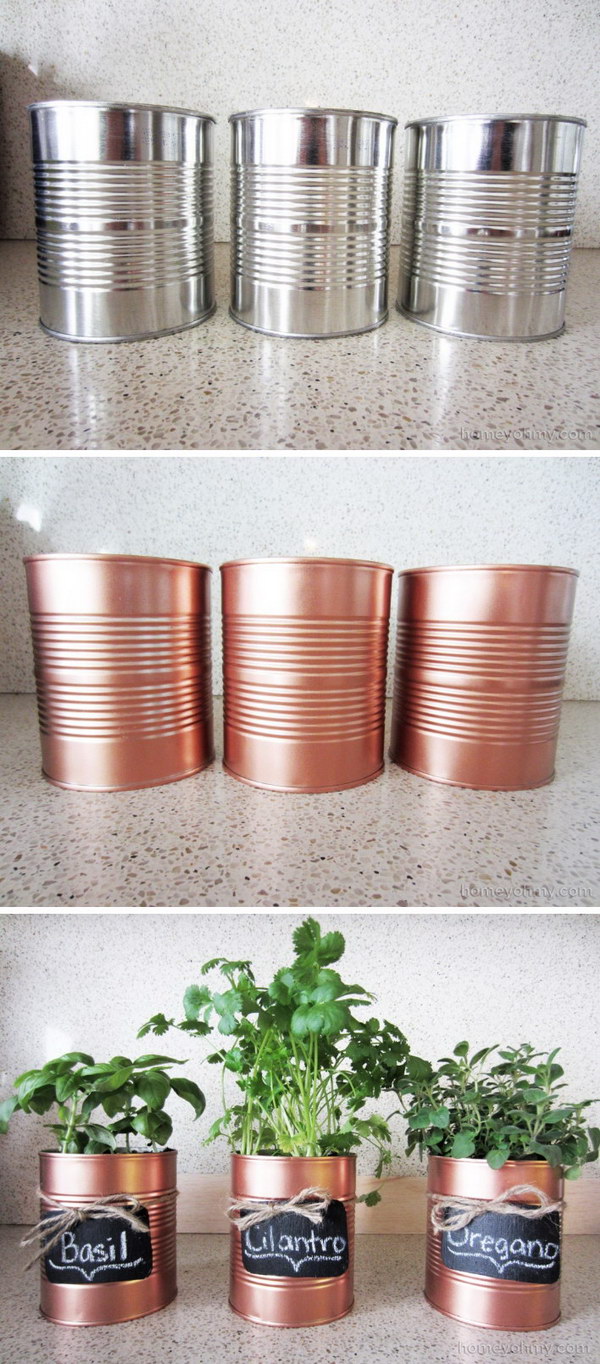 Coat tin cans with copper-colored spary paint like this. It will be a charing window-seal herb garden. homeyohmy
Painted Branch Decor

These gold spray painted branches are great for your holiday home decor and bring a little bit of nature indoors! Go for more details and instructions via popsugar
DIY Gold Dipped Vase

Update the boring vase into beautiful and modernistic home decor with just spray paint. Follow the DIY instructions via twotwentyone
DIY Foam Ball Garlands for Party Decoration

These foam ball party garlands are so quick and easy to make. You can make them in any colors with the spray paints. DIY steps via playpartyplan
Silver Spray Painted Wicker Baskets

Turn the plain baskets into these stylish ones with silver spray paint and the star design. Make a great DIY home storage solution and decor. Check out the tutorial via quecacoqueta
DIY Mercury Glass Pumpkin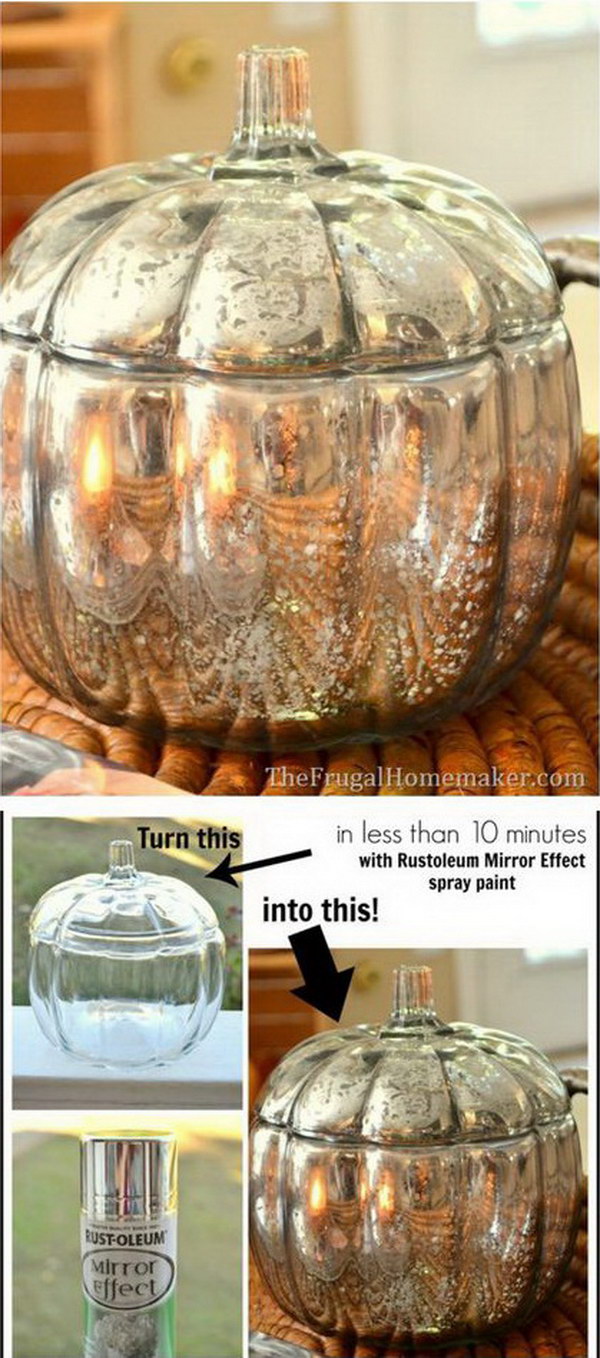 Transform any glass into this gorgeous looking glass with the mercury spray paint! Try this with thrift store glass pumpkins for your holiday decor with the instructions via . thefrugalhomemaker
DIY Mercury Glass Vase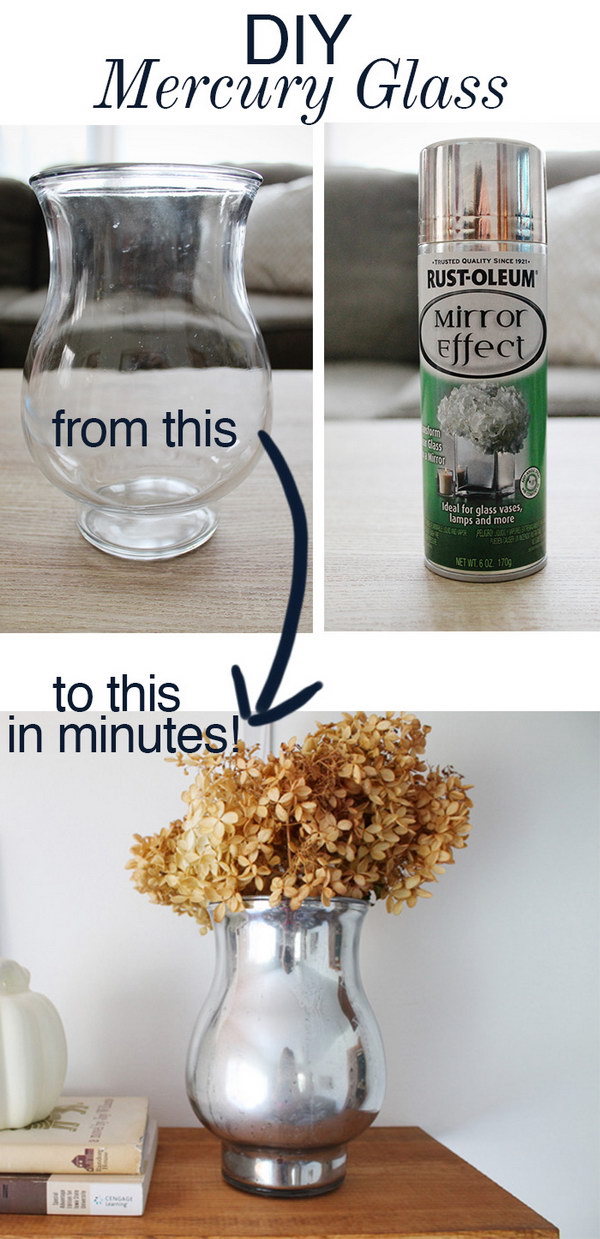 Give your plain glass vase a luxury mirror effect just with spray paint in minutes. DIY tutorial via hammerandheelsblog.
DIY Gold and White Bowls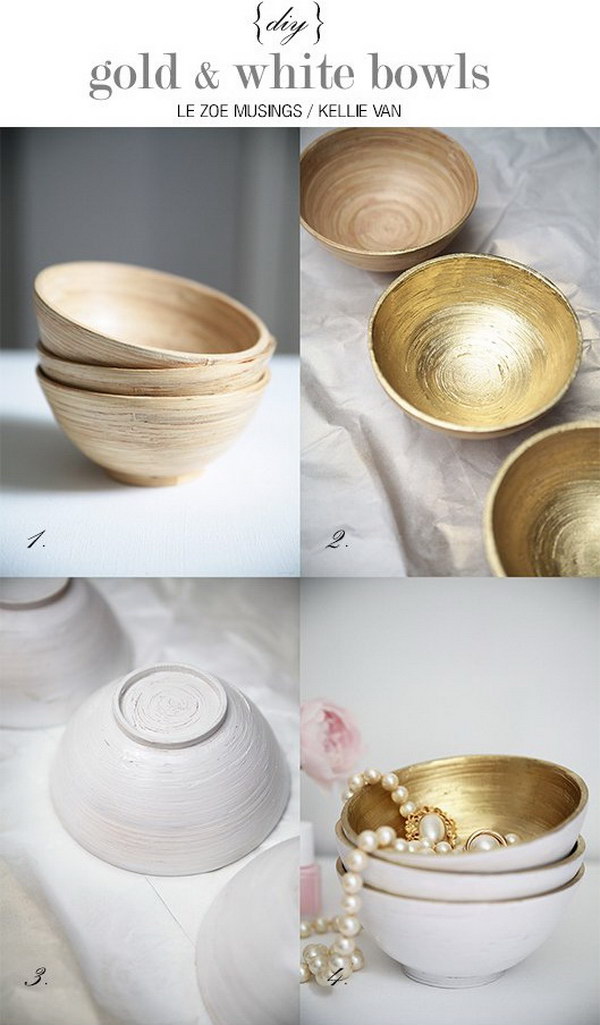 These spray painted gold and white bowls are perfect for storing your jewelry! DIY instructions via lezoemusings
DIY Mirrored Gazing Balls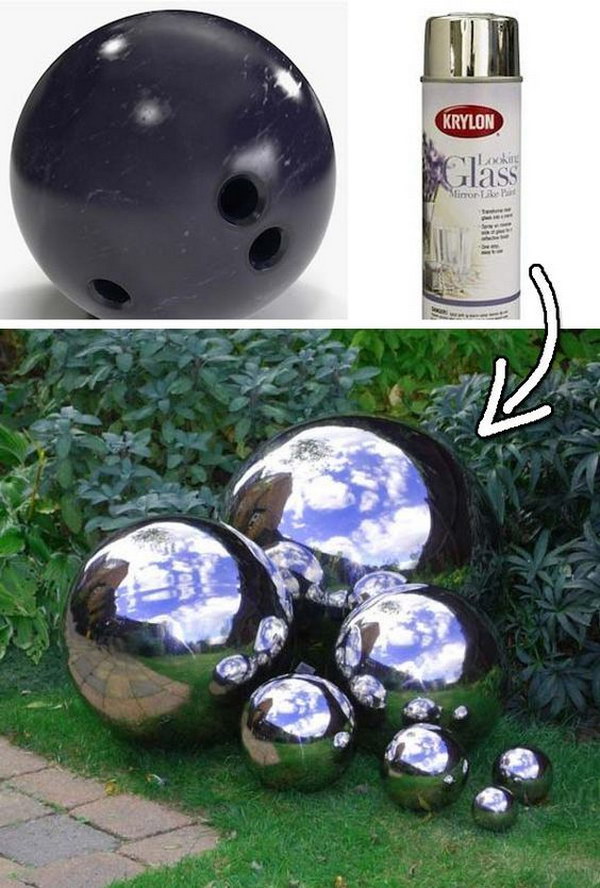 Easily spray a Metallic spray paint on several bowling balls to make these mirrored gazing balls for your garden! Super easy and creative way to decorate your garden. DIY steps via thegardenglove.
DIY Metallic Flower Pots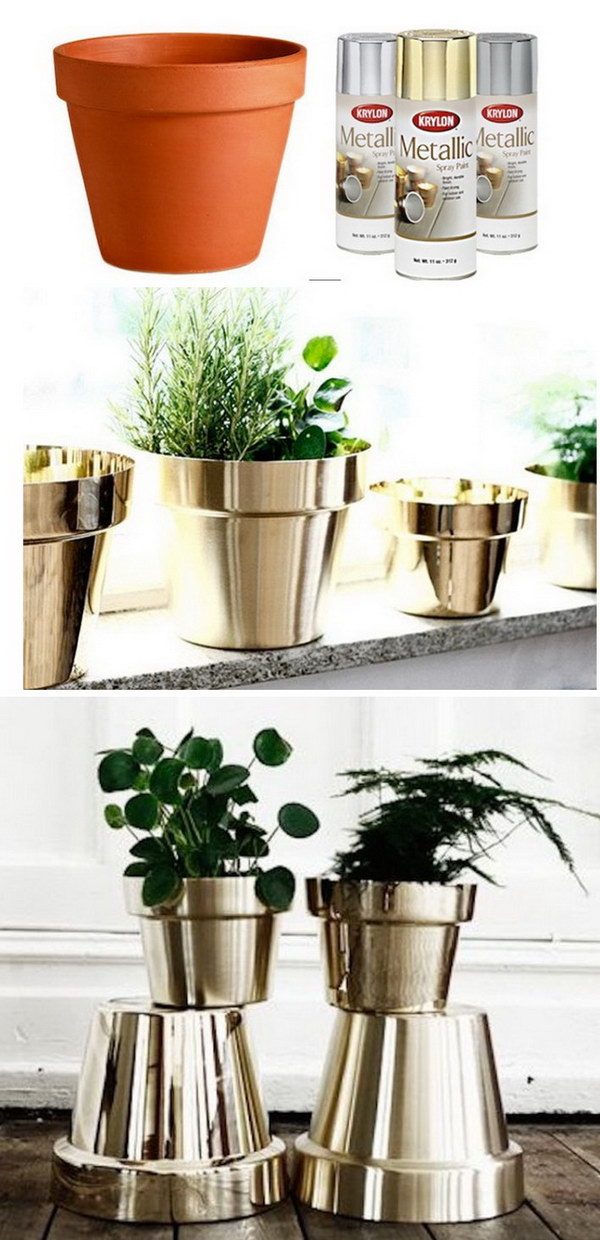 Spray paint the simple terracotta pots in metallic colors to get an expensive look! Love the simple but creative spray paint project!
DIY Gold Magnetic Letters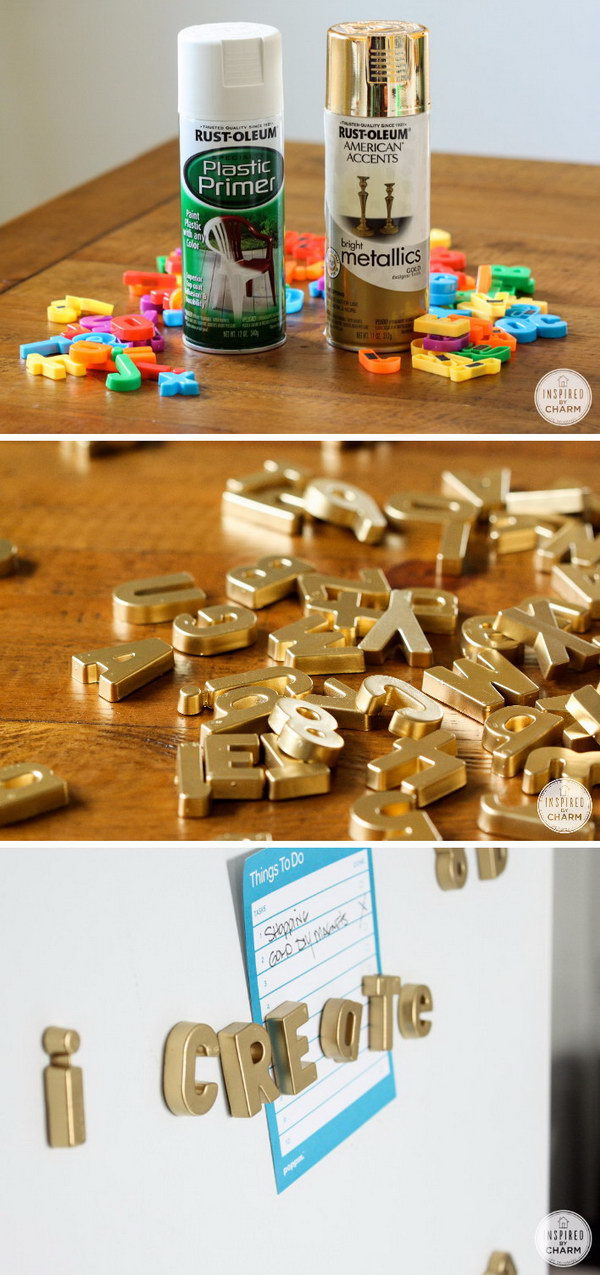 Spray Paint Magnetic Letters so they look like GOLD! (Or blue and red) #kinderchat. Way cheaper than buying the kits!inspiredbycharm
DIY Gold Plastic Hangers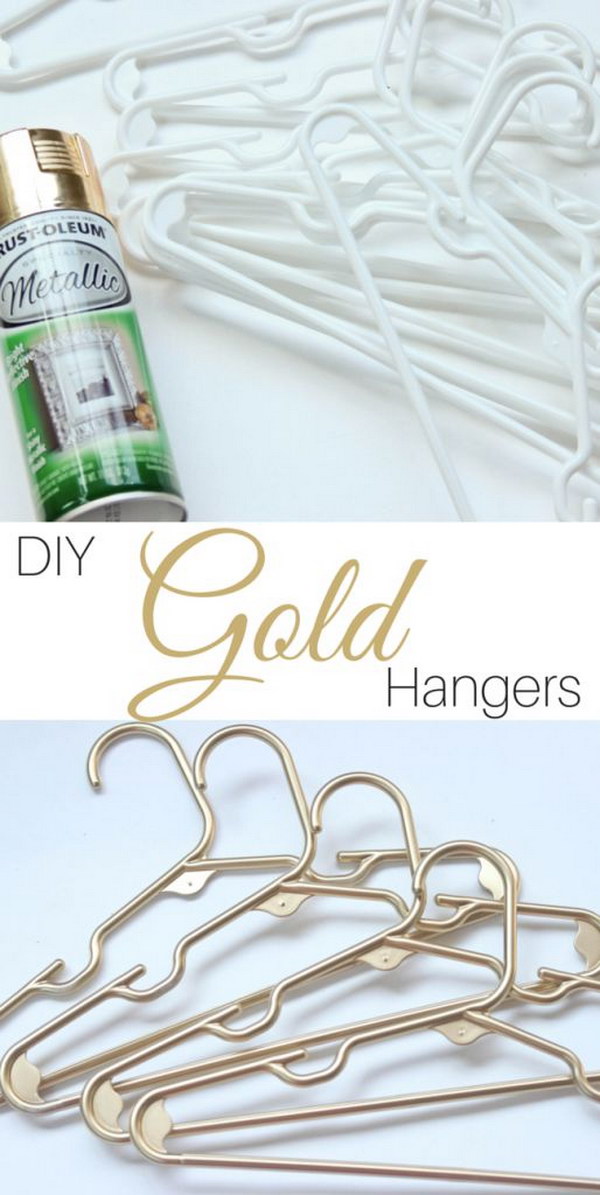 Super easy and quick way to get an inexpensive look with spray look! Love these gold painted hangers! See DIY steps via unlikelymartha
Easy Exterior Light Update with Spray Paint

What a great before and after! For the cost of two cans of spray paint, I have four new exterior lights! thecraftpatchblog
DIY Water Lilies Plastic Spoon Candle Holder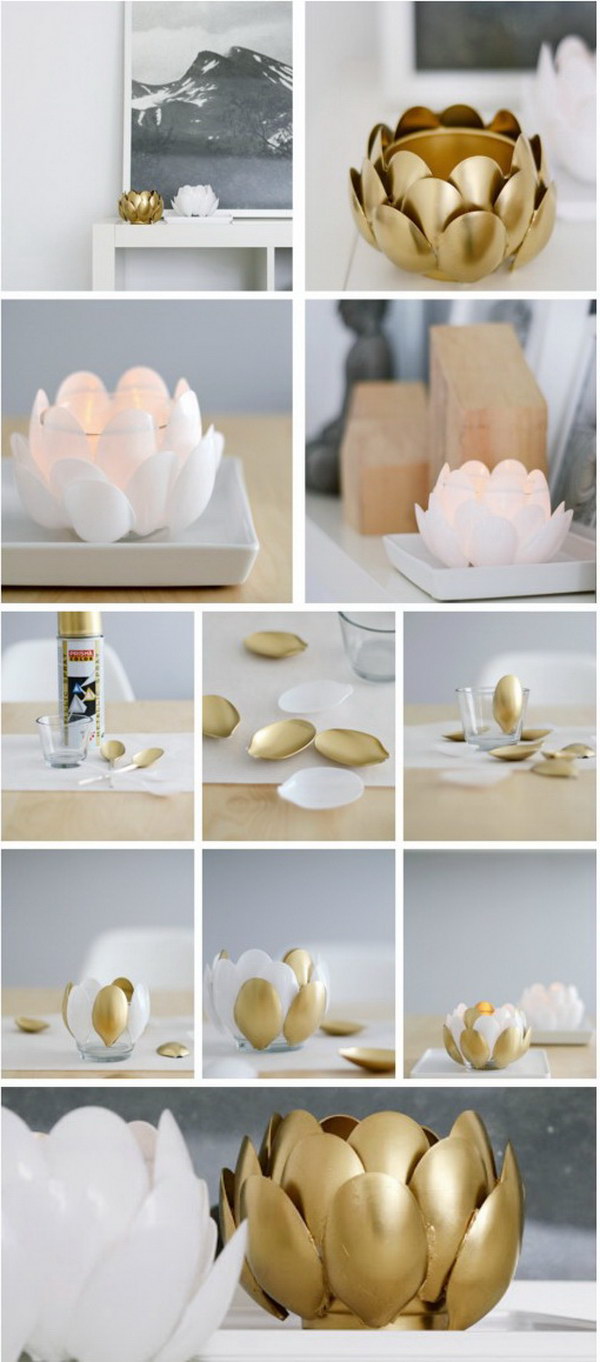 How cute are these water lilies plastic spoon candle holders! Perfect for your party decor! See DIY tutorials via diyfuntips
DIY Spray Painted and Frosted Glass Jars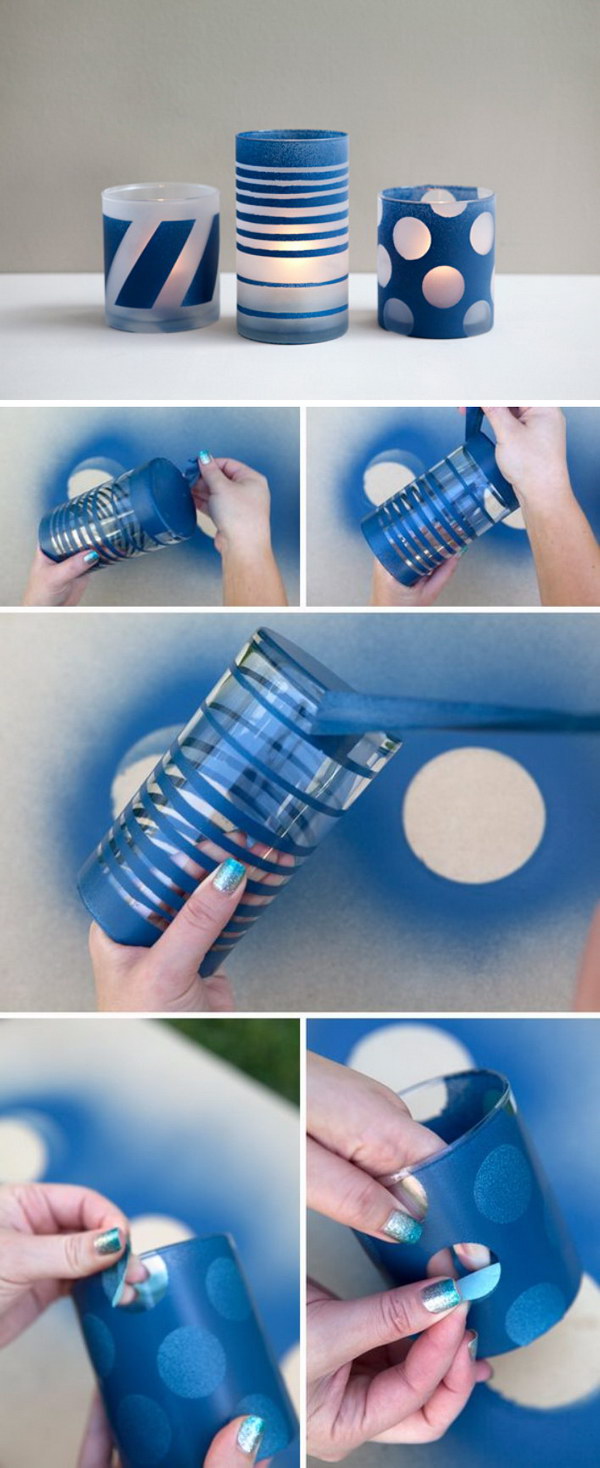 These painted and frosted glass jars are so cute and make great candle holders for holiday! Learn how to make them with the tutorial via somethingturquoise
DIY Industrial Wire Basket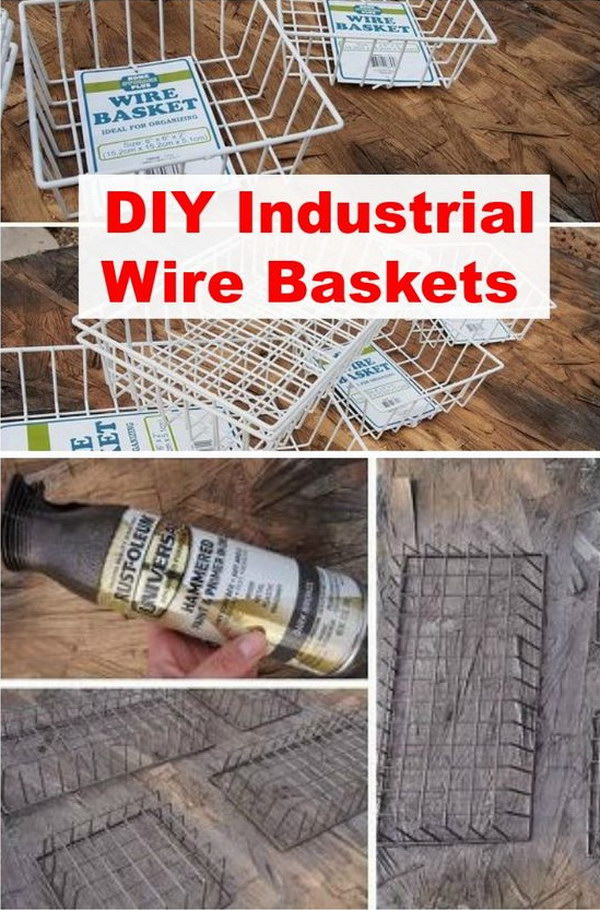 Get the Dollar store wire baskets look like the more expensive industrial wire baskets easily with spray paint! DIY steps via hometalk