Beach houses and nautical decorations are a perfect match, if there is ever one to be found. The colors of the ocean and sand set the mood for summer vacations and the little details inspire you to dream of sailing away or flying to distant and exotic locations.
Nautical remodels are very trendy, especially in the summer time, so giving your house an ocean-inspired makeover can easily get quite expensive. More than that, by hiring someone to redo your home you may end up with a result that doesn't really fit your style and lacks personality.
Luckily, nautical-inspired decorations aren't very hard to come by at all. Better yet, you can easily make and customize them yourself, so that you can save money and add your own personal touch to the decoration.
This article is meant to inspire you and show how you can make your own nautical decorations, even on a tight budget. Check out these Nautical Decoration DIY Ideas To Spruce Up Your Beach House.
Make a Capiz Shell Chandelier Without Breaking The Bank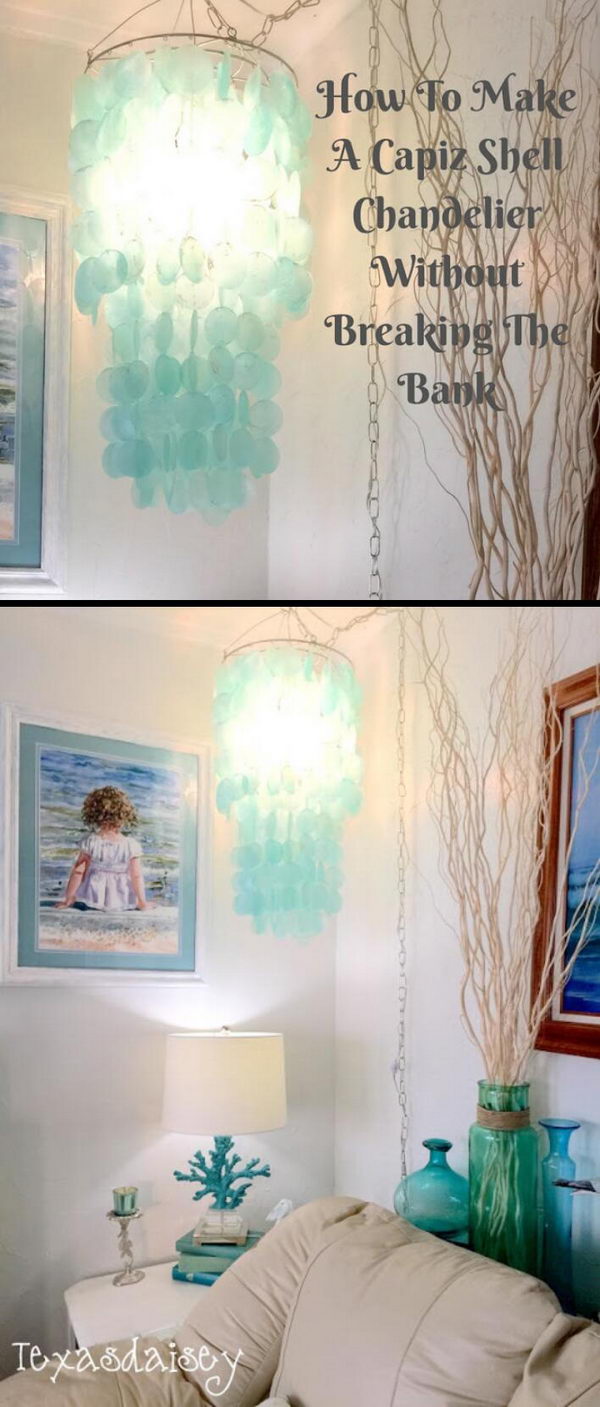 via texasdaisey
A Collection of Framed Starfish, Sand Dollars, Seashells And Sea Fans For Nautical Wall Art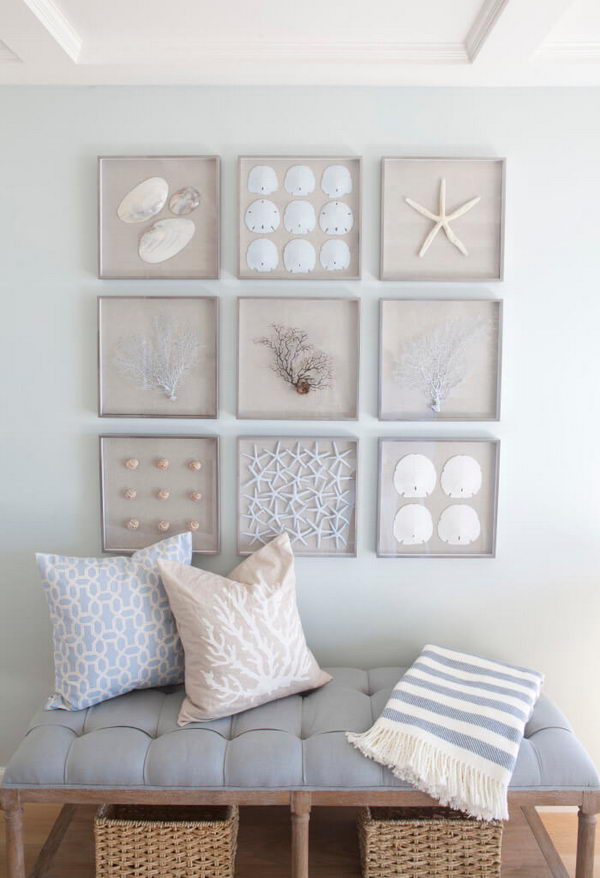 This beautiful wall art is very nautical yet elegant, as all the frames are identical and painted white, so that you only see the three dimensional outlines of the objects inside. You can make these using things you find at the beach or buy replicas for the project. via source
DIY Ocean Art Canvas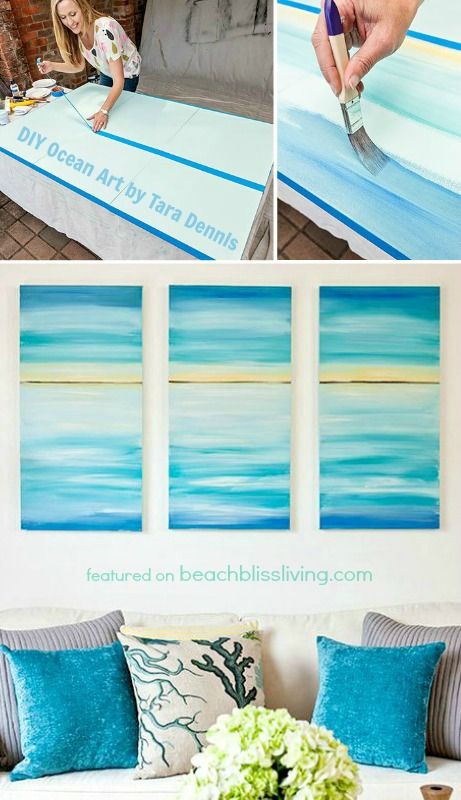 As simple as cutting a beach painting in three equal parts and hanging it leaving even spacing in between them, this one looks particularly nice as it pulls in the colors from the sofa's pillows. via beachblissliving
DIY Seashell Mirror

This gorgeous mirror is relatively easy and affordable to make, but it takes some work, as you need to get a simple mirror and glue tens of shells around its perimeter to achieve a similar effect. via nourishandnestle
Dollar Store Candle Vases

These vases are very easy to make and accessible to anyone. All you need are simple glass containers, some kind of material in ocean colors, candles and other decorations. Wrap the material on the outside of the glass to change its appearance, then fill it in with rocks and your candle and it will be ready to use. via creativemeinspiredyou
Displaying Seashells, Starfish and Coral in a Large Seashell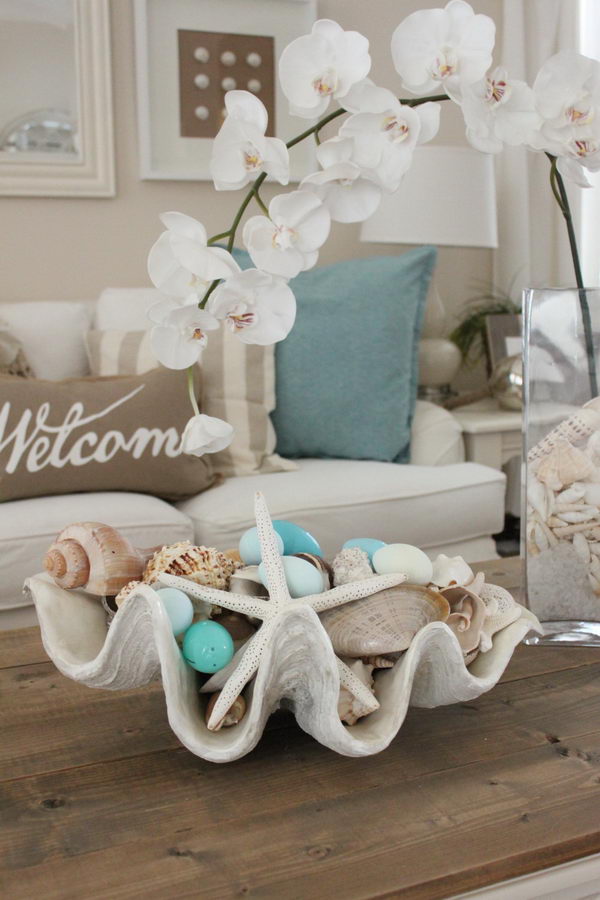 It is a fantastic way to display your beach finds and add that nautical feel to your house. All you need is a large – real or fake – seashell to lay them down and on display. via starfishcottageblog
DIY Distressed Nautical Crate Tutorial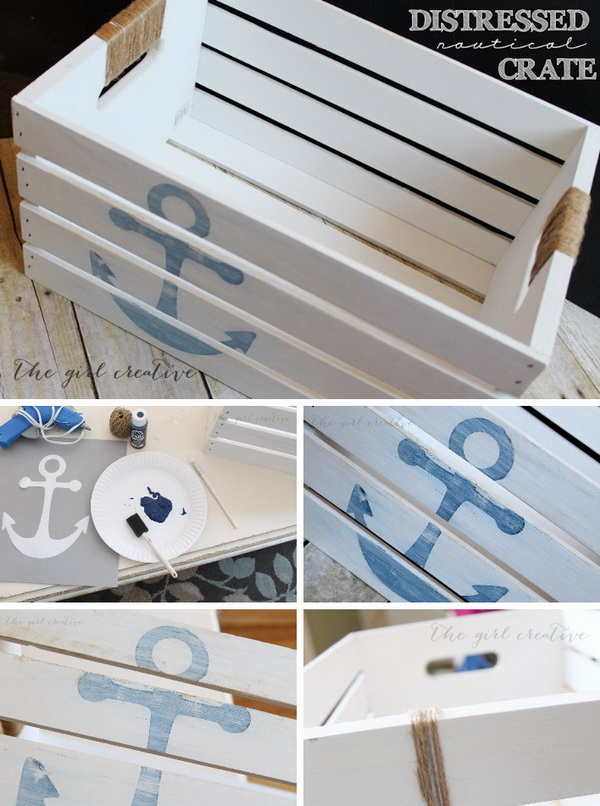 Make this easy cute nautical crate and add some nautical vibes to a space! All you need is a crate and blue paint. After painting the anchor or a similar design, you can make it look distressed, which enhances its beauty, and then use it for storage and
decoration. Get the tutorial via thegirlcreative
Seashell and Sand Wine Glass Candle Holders
These candle holders are gorgeous and can be made at home for a fraction of their retail cost. All you need are large tall glasses, blue sand and seashells to fill in the "sand globe" portion and twine to wrap around the base, neck and rim. via etsy
DIY Rustic Nautical Wall Hanging

Mixing the rustic and nautical styles is a great idea, as there is often a thin line separating them. Here, distressed wood planks were partially covered in smooth paint and serve as the base for industrial-style hooks meant to hang jars of little seashells and ocean rocks. via mountainmodernlife
DIY Easy Peasy Shell Art

This project is truly easy peasy to complete, as all you need to do is paint wood squares or boxes in vibrant blue and glue shells or starfish right in the center before placing them on tables or hanging from the walls. via thepartyteacher
Vintage Oars Turned Nautical Headboard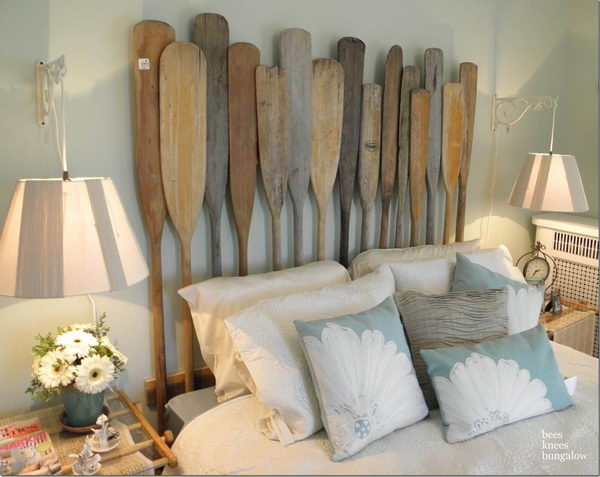 This nautical decoration project takes the theme to the next level, as the headboard is literally made using different vintage oars to create a visually appealing, dimensional piece that is truly unique. via beeskneesbungalow
DIY Tile Table With Glass Gems
Turn a boring old side table into something beautiful and seemingly expensive with a package of glass gems or stones at the Dollar Store. via rosyscription
Fishnet Wrapped Mason Blue Mason Jar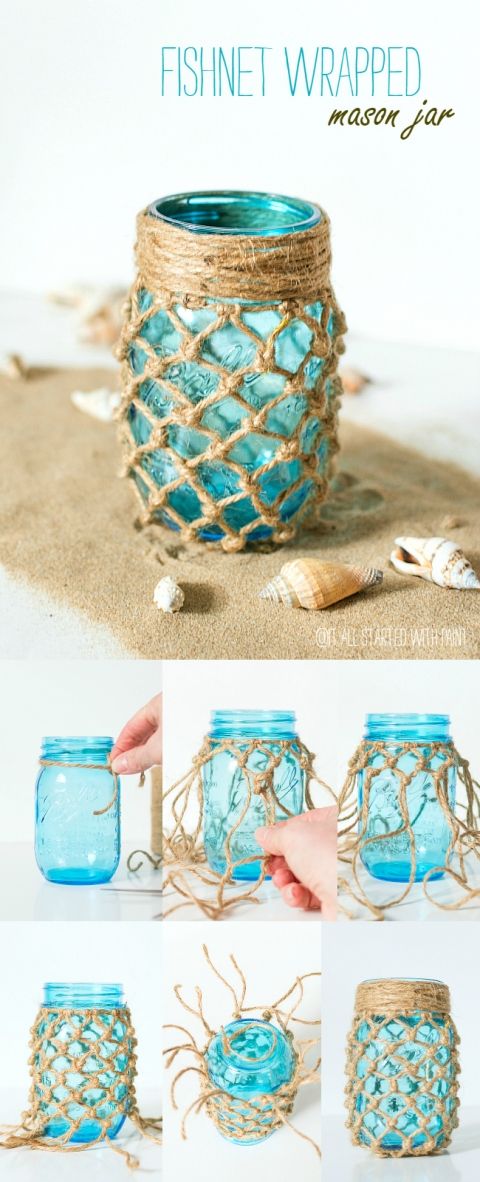 This little mason jar adds marine charm to your space, as it was painted blue and wrapped in a net of twine made to look like a fishnet. You can use it for decoration, cosmetics or even kitchen utensils. via itallstartedwithpaint
DIY Nautical Mirror from Scrap Wood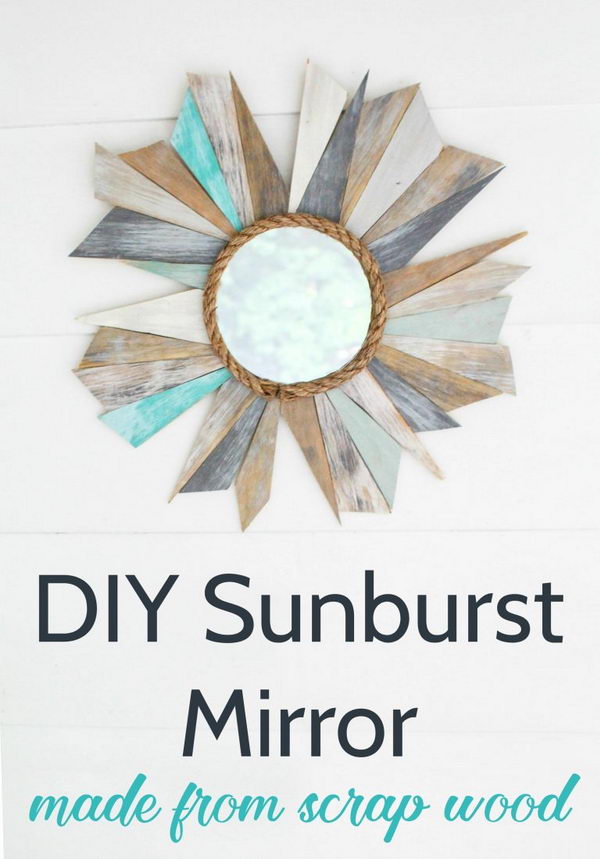 This mirror looks just like the sun with its braided trim and the various neutral colored scraps of wood that decorate its edge. via lovelyetc
DIY Shabby Beach Cottage Framed Seashells

This art looks really fun and original, as it is made using repainted wood frames without their backings. The shells are glued to the glass to create a dimensional end result. via trash2treasure
Starfish Anchor Wall Art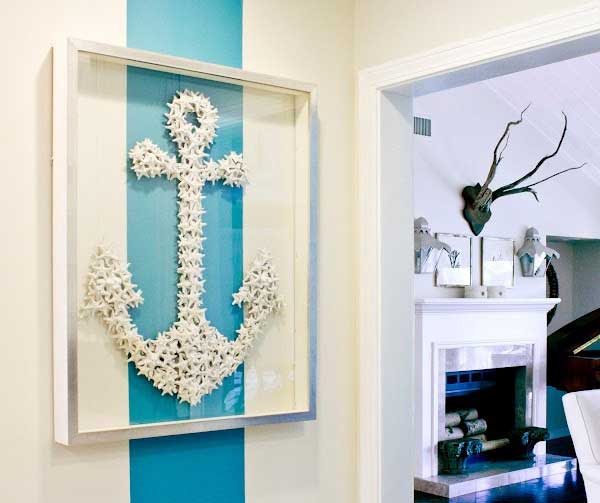 The wall art is also quite gorgeous, as several small starfish were glued inside of a simple, ombre hollow frame to create an anchor design which really stands out against the bright ocean blue stripe on the wall. via obxtradingroup
Under $12 DIY Nautical Spool Side Table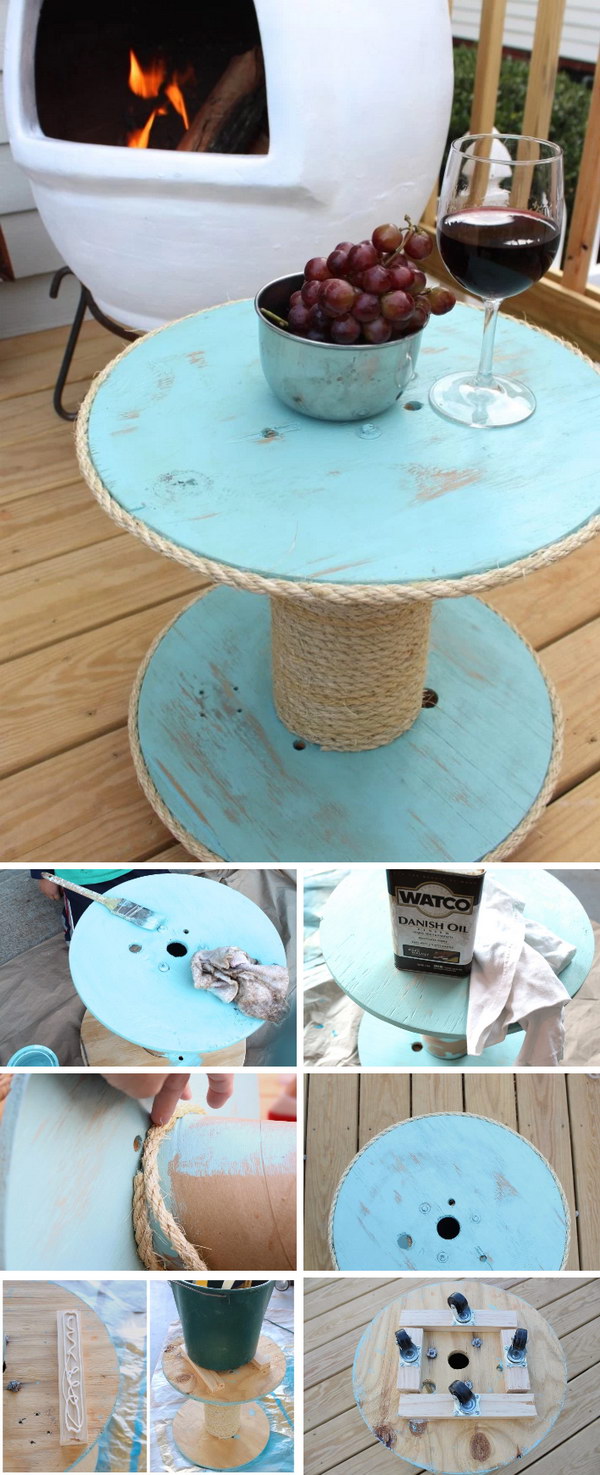 How beautiful is this wooden spool makeover using paint and rope, which give it that nautical vibe that looks perfect in a beach house living room or even patio. Get the tutorial via via simplestylings
DIY Large Green Glass Buoys

These green buoys are really easy to make, as all you need to do is to apply a sheer layer of paint and then weave twine over it to create the netting effect. via craftberrybush
DIY Driftwood Candle Holder
This is one of those really simple yet effective projects that look really cool. All you need is a piece of driftwood, which you will then drill and carve holes into. Place the piece where you'd like it to go and then add the candles to finish your unique decoration. via kimpowerstyle
DIY Coastal Bathroom Shelve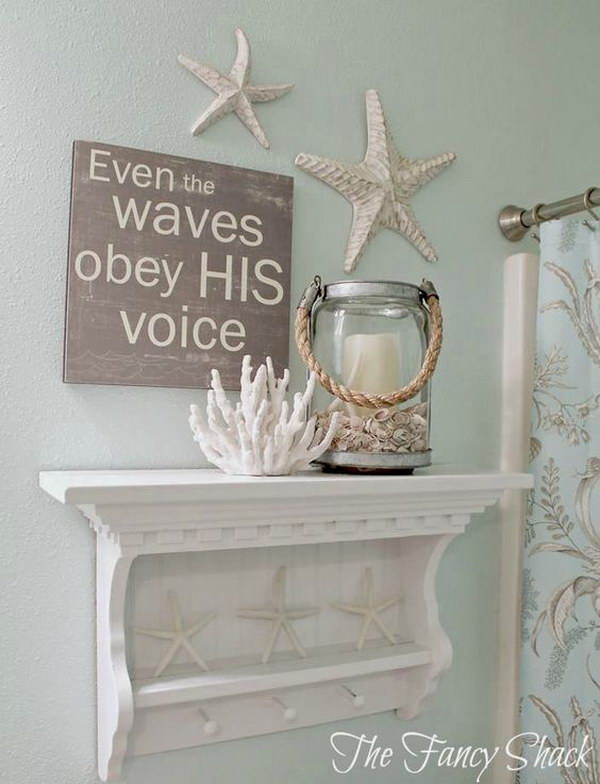 This shelf is fully nautical, from its own surface to the starfish hanging on the wall above it. The starfish on the shelf itself could be carved, but the same effect can be achieved by gluing the pieces together and then painting over them to hide the seams and make it all look like one piece. via thefancyshack
DIY Seashell Succulent Planter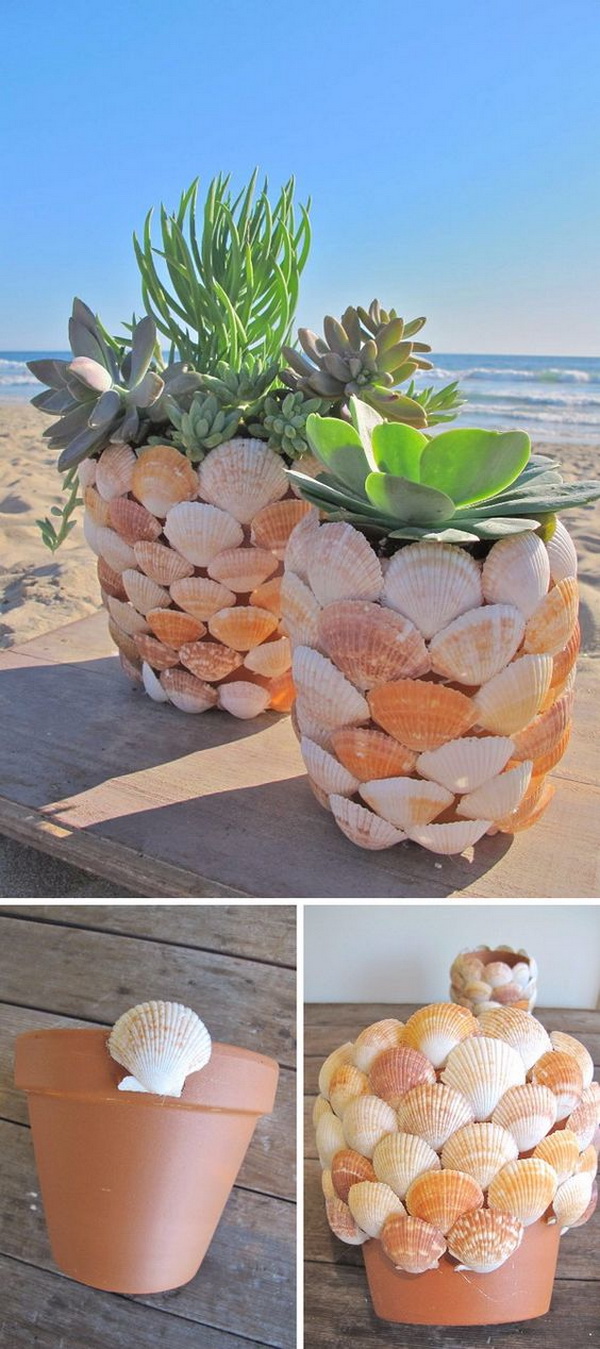 This planter is the perfect way to bring the nautical style into your garden area. It is very easy to make, as all there is to do is glue seashells all around a traditional clay planter so that its surface is fully covered. Get the tutorial via billabong
Sea Shell Display
This display is made from several frames, which were restyled and glued together so that they create the perfect background for all the beautiful seashells to be displayed on. via bellanest
Beach Theme Sea Glass Mason Jars

Bring the nautical vibes into your room with this mason jar, which was completely filled with blue-washed pieces of sea glass. via apumpkinandaprincess
DIY Ombre Wine Cork Monogram Letter

This decorative monogram letter has a very subtle nautical feel, as it has been covered with wine corks which were painted to create an ombre effect that goes from a sandy color into a bright turquoise hue. via natashalh
DIY Nautical Wreath With Cupcake Liners And Seashells

via iheartnaptime
Recycled Frosted Sea Glass Beachy Jars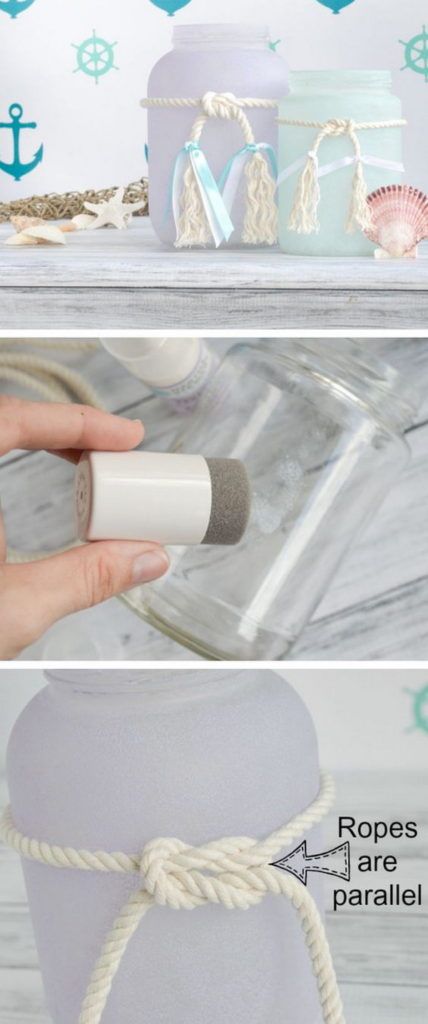 A little paint can do wonders, as you see in this example where ordinary mason jars were transformed into faux sea glass pieces. Nautical rope and shiny ribbon add the decorative finishing touches to this unique project. via natashalh
Nautical Candlelight Lanterns

Making these nautical lanterns is really easy. All you need is a tall jar, sand and pebbles for the base and a thick rope to hang them on. Add your candle in and you'll be all done. via betweennapsontheporch
DIY Rope Wrapped Candle Holder

It doesn't get much easier than making this candle holder, as far as nautical DIY projects go. Wrap some rope around the base of a glass and then finish it with a shell or starfish to achieve a similar effect to this. via stonegableblog
DIY Ombre Wood Shim Sign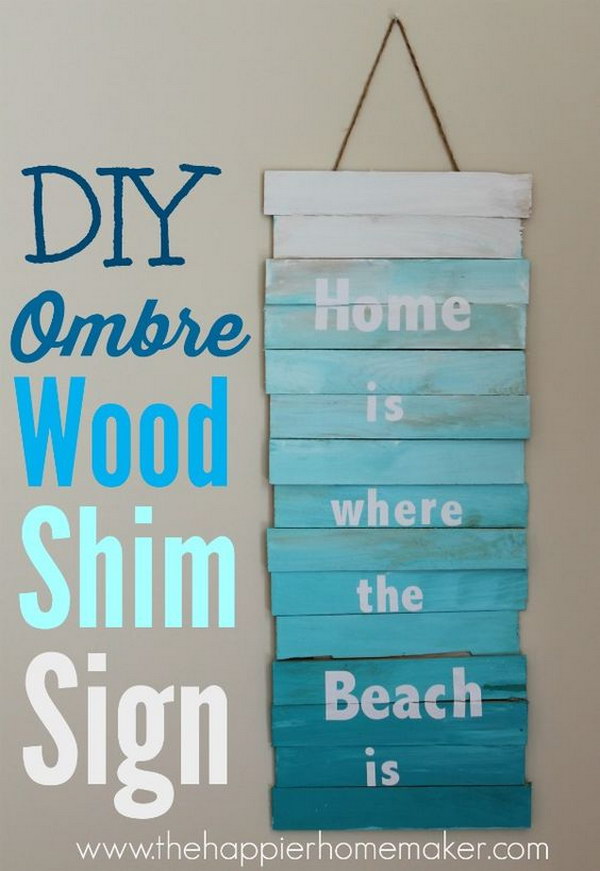 Add a beachy feel to any room with the shim sign in a sweet and modern way. All you need to do is build the actual sign with wood shims painted in different shades of blue, add your quote and then hang the finished piece up. via thehappierhomemaker
Decorative Mosaic Tray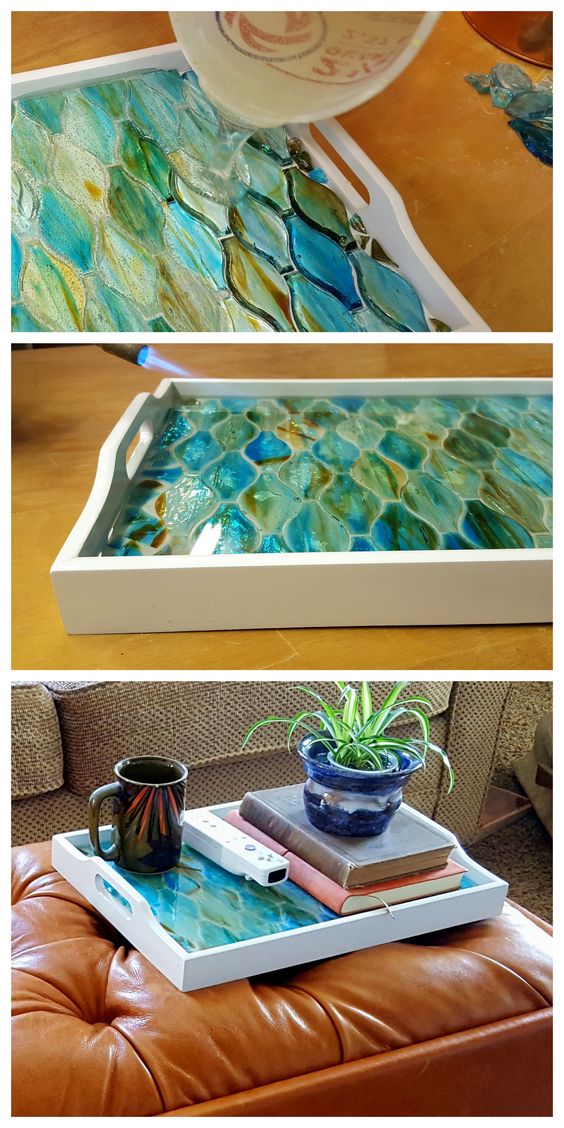 This beautiful sea inspired decorative tray is a great example of how you can repurpose any bits of tile, broken glass or china, as green and blue tiles were used to create the gorgeous sea mosaic. via realitydaydream
DIY Starfish Shadow Box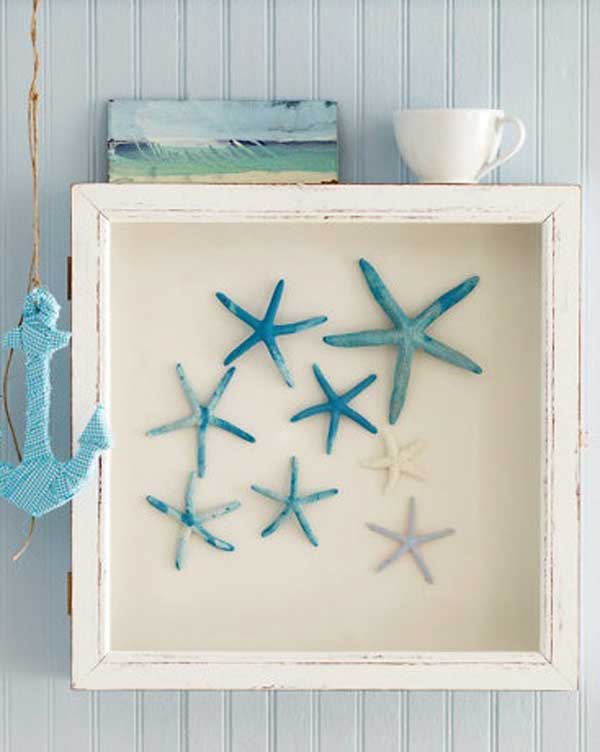 This simple yet beautiful shadow box was made using a light beige frame, inside of which were glued several starfish painted in different shades of blue. The two elements truly evoke the beach when combined. via catalogliving
DIY Knotted Jute Net Bottles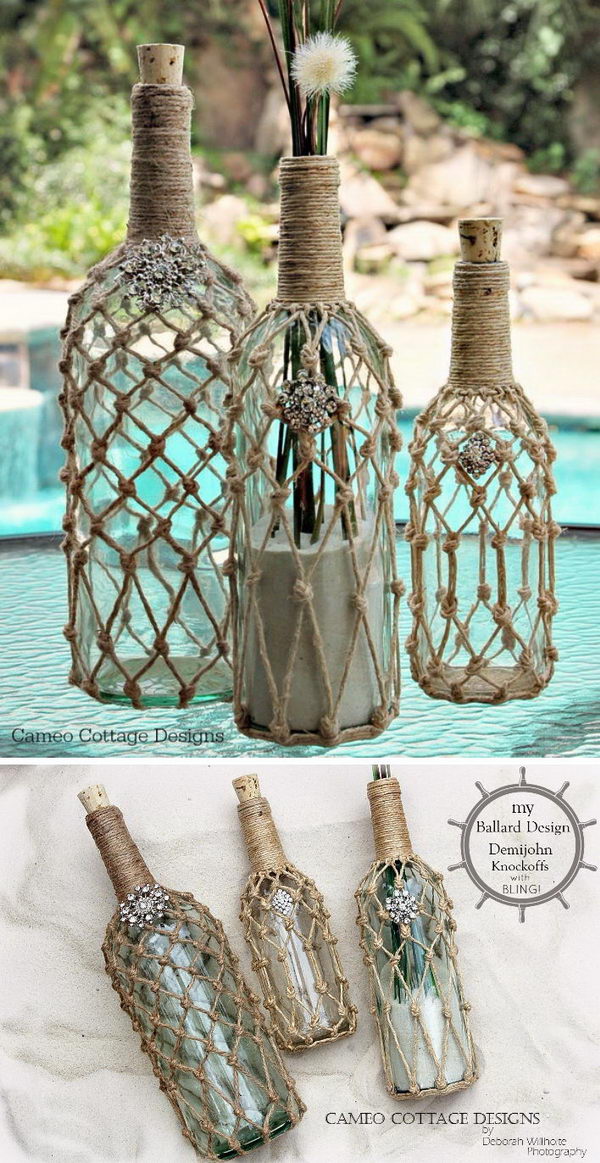 These bottles will wow guests at your summer BBQ table, and they aren't very difficult to make at all. They are put together using a thin rope, which is knotted over the entire surface to create the netting pattern and then wrapped tightly around the bottle's neck to create an elegant finishing touch. via cameocottagedesigns
DIY Shell Topped Bottles

This is yet another example of nautical inspired bottles. These ones were painted a milky white and topped with twine wrapped around the neck and shells where the cork should be. via sandandsisal
Displaying Beach Finds with Regular Lanterns

Here's a great way to display your unique beach finds. Take simple vintage looking lanterns and place your treasures inside so that they can hang on the wall, perhaps even illuminated. via boxerscleatsandme
Beach Theme Over the Bed Decoration with Starfish and String Lights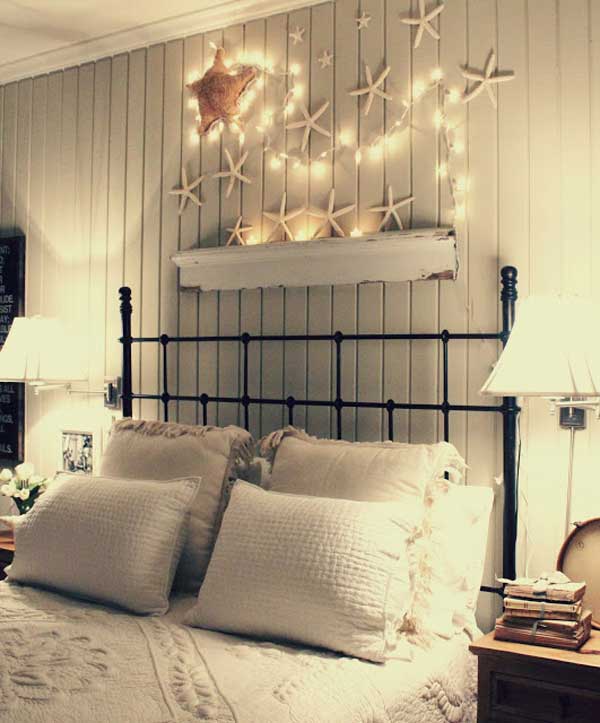 Bring the beach feel right to your bed by displaying shells and starfish on a floating shelf above the headboard. Add some fairy lights to the area and they will be sure to make your beach treasures glow. via beachblissliving
DIY Rustic Look Beach House Decor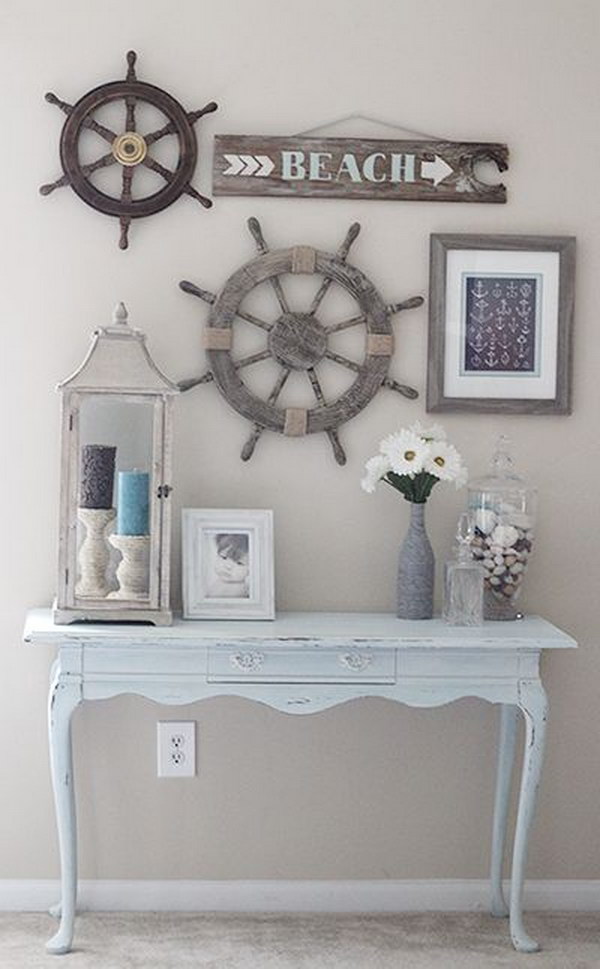 This beach house decoration has a vintage and rustic feel with its distressed wood sign, boat wheels, frame and little shabby chic lantern that almost resembles a lighthouse. via source
DIY Driftwood Round Mirror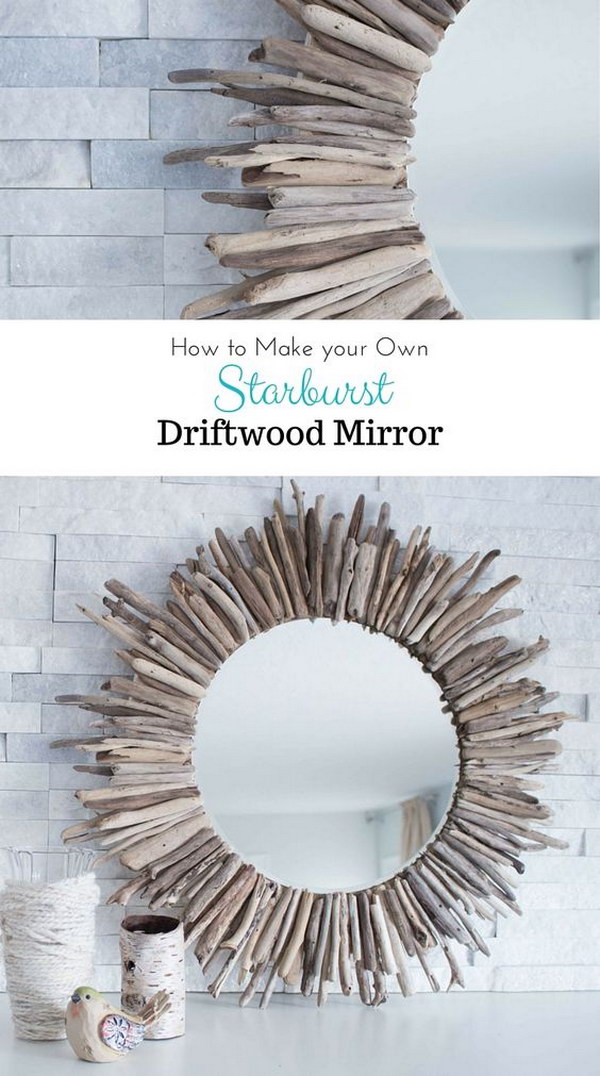 It is another sun inspired DIY mirror project, where small sticks of driftwood were glued unevenly along the round perimeter to create something that resembles sun rays. via sustainmycrafthabit
Nautical Knot Curtain Tieback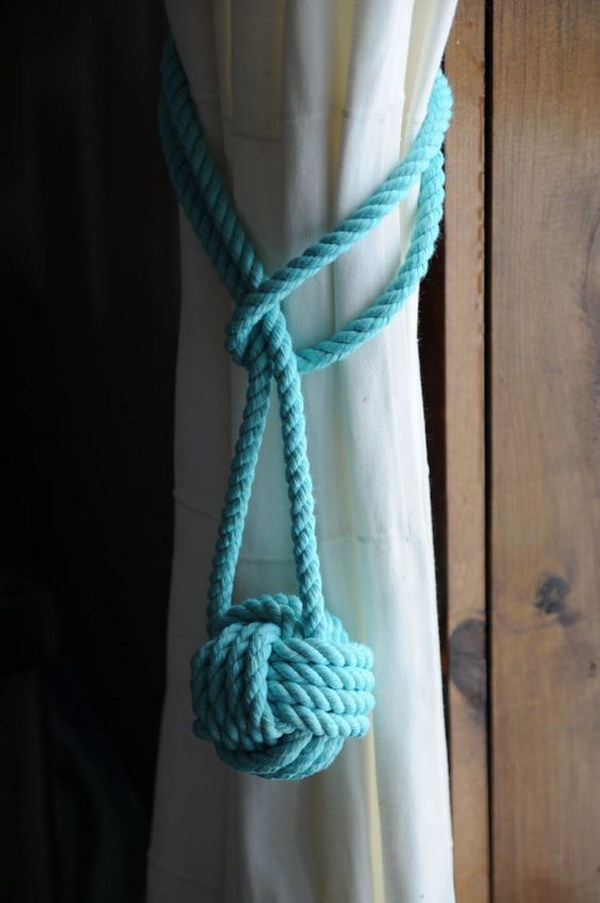 Blue, ropes and knots are all quintessentially nautical. Combine all three to create a curtain tieback that adds that nautical vibe to any space without going over the top. via etsy
DIY Coastal Starburst Mirror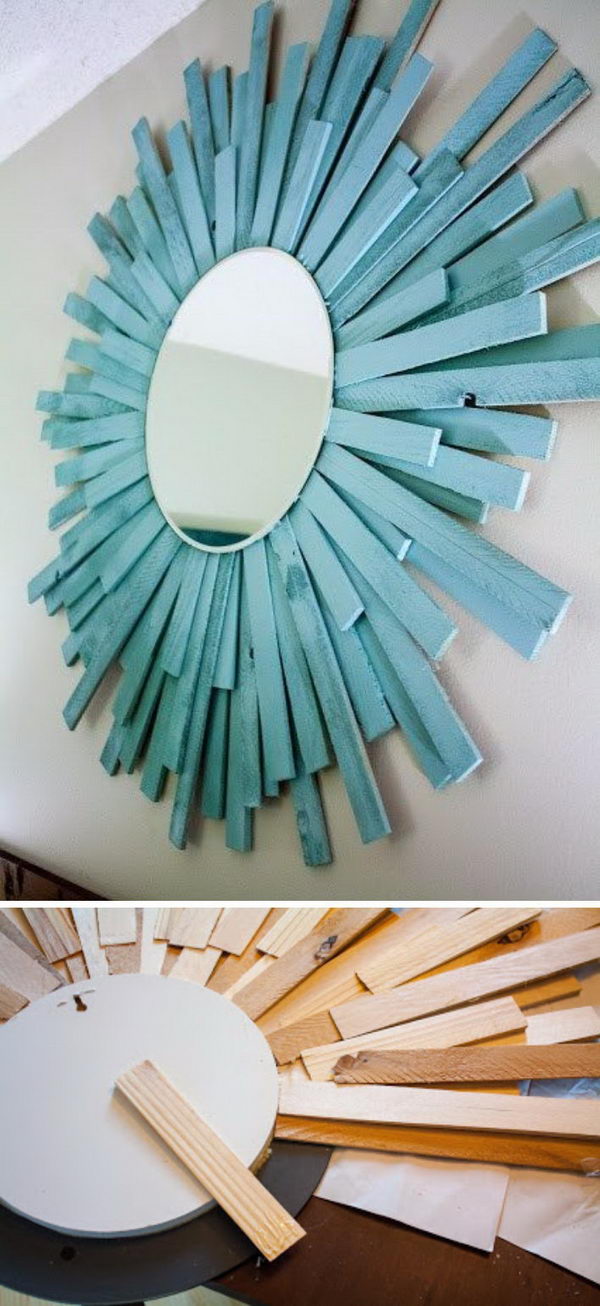 This starburst mirror is fairly easy to make, as thin painted strips of wood are glued around its round perimeter in layers to create the dimensional piece. via sgtpepperskitchen
Enamel Painted Vases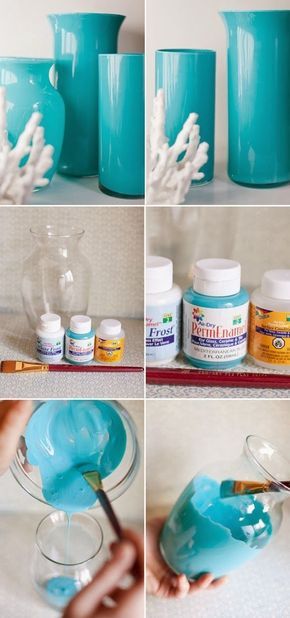 Add a gorgeous pop of blue to any neutral decoration with these painted enamel vases, which you can use for a number of purposes. via sugarandcharm
DIY Nautical Rope Towel Holder
Nautical decoration has never been easier to achieve than with this towel holder. Simply secure a piece of rope to the wall with knots at the ends and then hang your towels on it. via h2obungalow
DIY Old Shutter Nightstand For A Beach Bedroom

This is a genious idea with a gorgeous end result. Take a couple of old shutters, repaint them and add a table top in between to bring a seaside vibe into your room with this bedside table. via theraggedwren
Shell Jewelry Bowls & Glass Knob Pedestals
These stunning jewelry display holders are made from large seashells which are partially painted and propped on vintage glass door knobs for height and additional detail. via dandelionpatina
DIY Nautical Decor Shadowbox

This shadowbox was made using four different frames in similar styles, which were then decorated inside and out with colorful seashells and other knickknacks. via darice
Beachy Wall Craft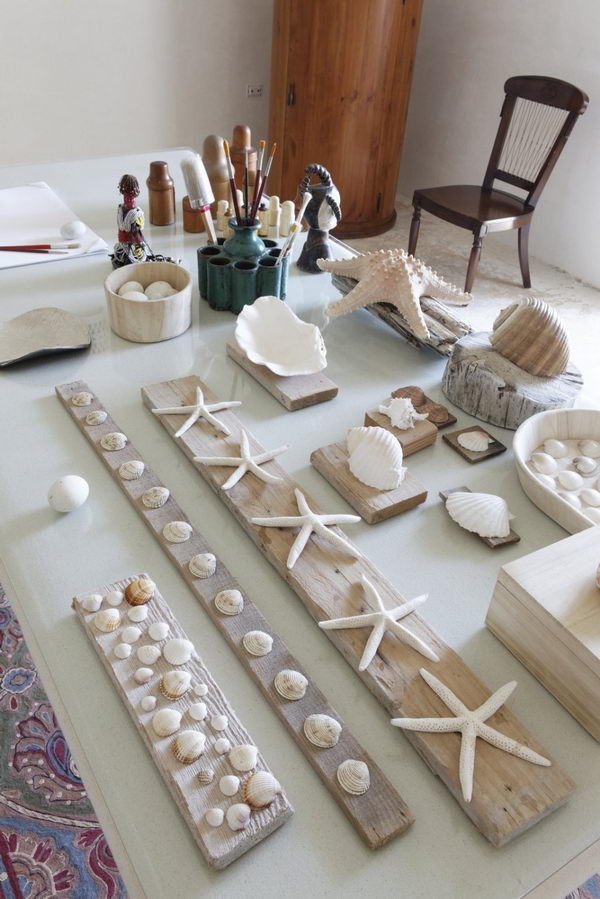 These wall crafts are fairly simple, but they make great impact. All you need are long pieces of wood which are decorated with starfish and seashells to bring the ocean into the indoor space.
Rope Nautical Wreath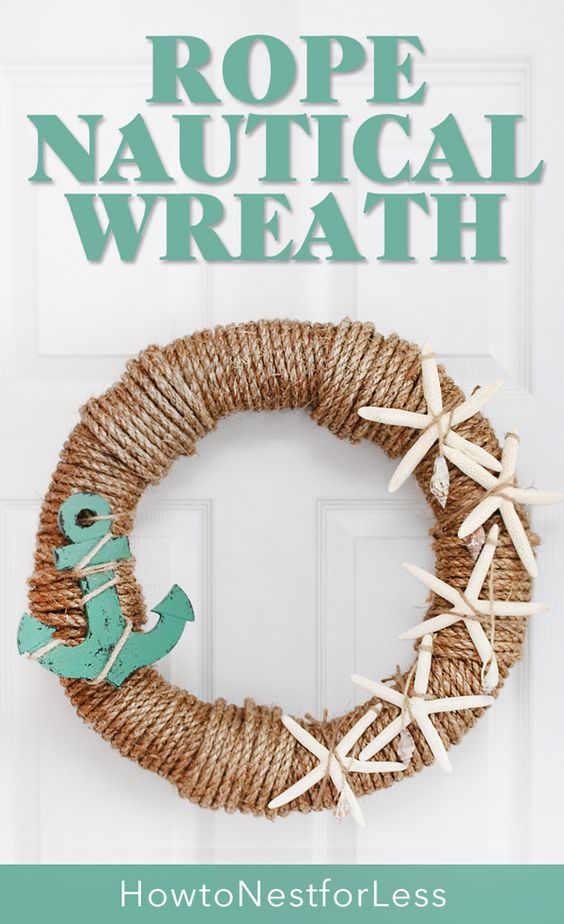 This wreath is exactly what it looks like – a wreath base with rope wrapped tightly around its whole surface. An anchor and some starfish add the nautical finishing touches to the piece. via howtonestforless
Nautical Fish Net Vase

This vase is yet another fishnet project, as the white container is covered in a thin woven net decorated with pebbles where the thread meets. via songbirdblog
Beach Rope Sign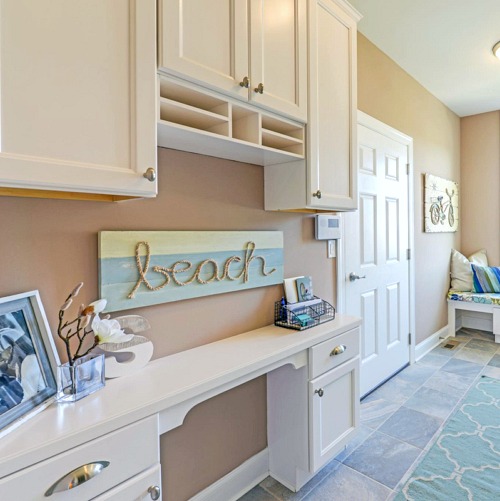 This sign is really beautiful, as the word was written with rope over an ocean themed canvas.via echeloninteriors
DIY Mounted Starfish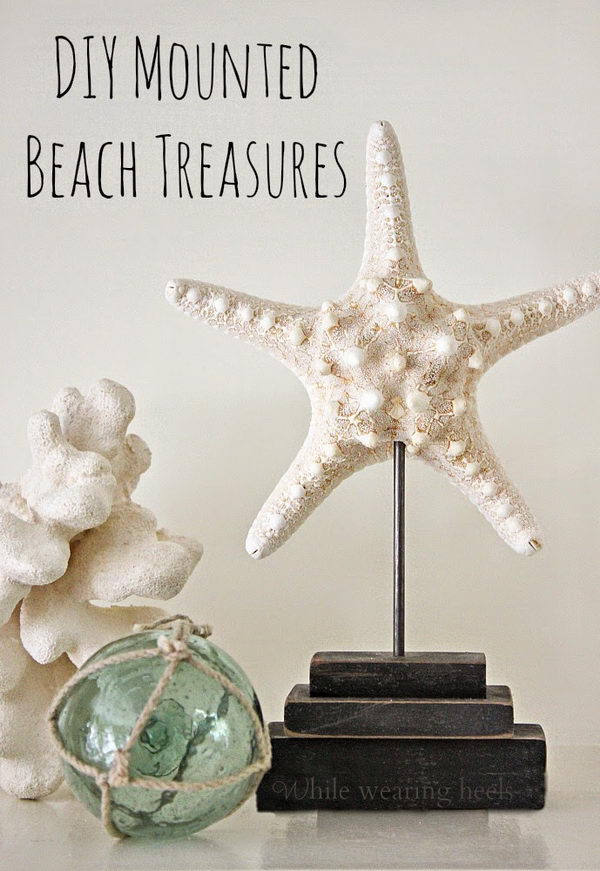 This is one of the more elegant projects, as a glittering starfish was mounted on a dark, slightly distressed custom base so that it can stand on the table or shelf. via whilewearingheels
Nautical Bathroom Shelf Using Anchor Bookends

This bathroom shelf is everything nautical, cute and unexpected, as anchors were added to the bookends. A rope sign and a propped gold fish were placed on the top to complete the theme. via horriblehousewife
Beachy Pallet and Starfish Wall Craft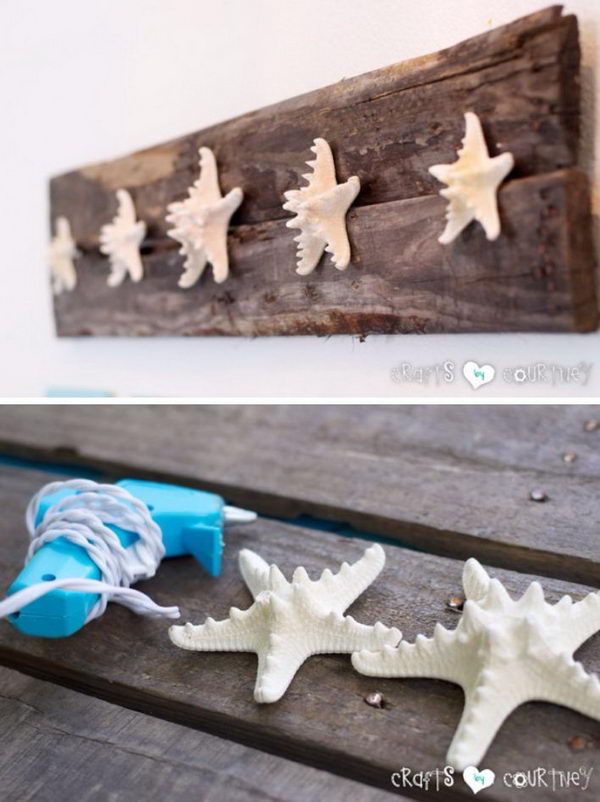 This cool beachy wall art features distressed dark pallet wood decorated with three dimensional starfish. via craftsbycourtney
Thrifted Vase Turned Nautical Lamp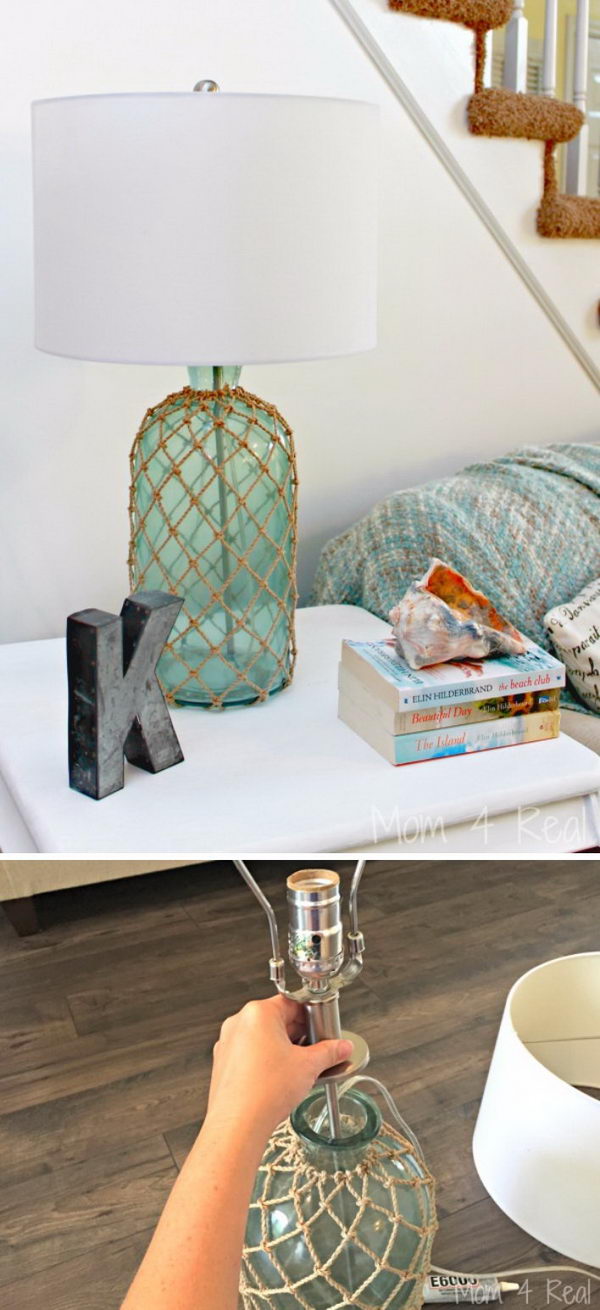 The vase became a beautiful nautical lamp with the addition of a fishnet outside, the electrical structure that was placed inside and a traditional lamp top. via mom4real
Upcycled Rowing Oars Coat Hangers

These oars were beautifully upcycled as coat hangers with the addition of metal hardware hooks, and they do really bring a nautical theme into the home. via cynthiaweber
DIY Decorative Fishnet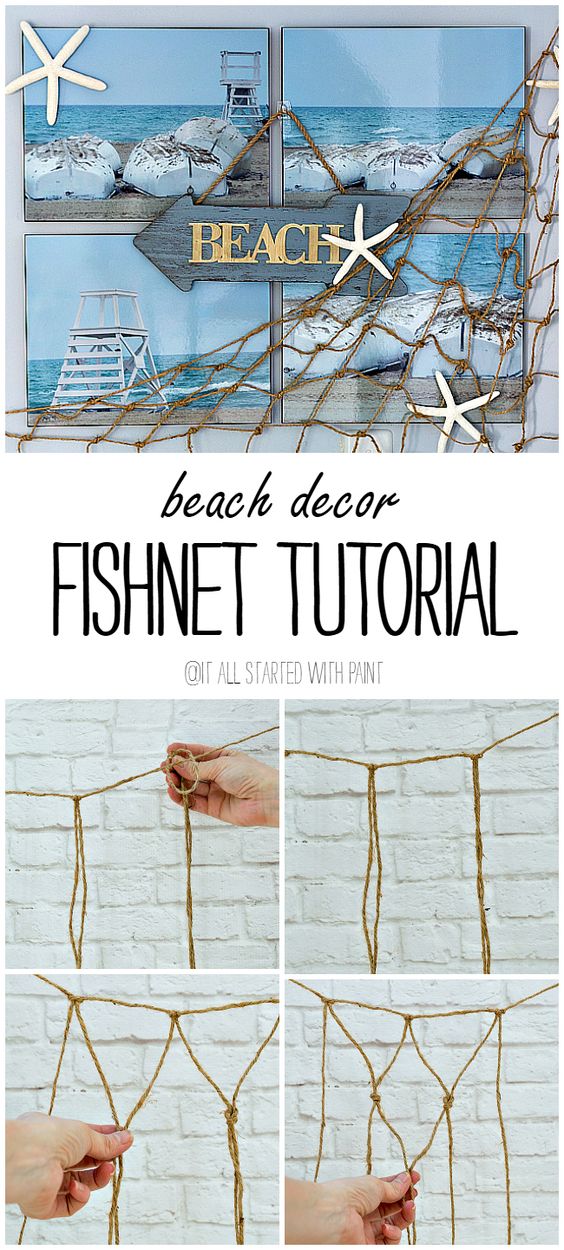 This beach picture frame got an upgrade with a fun hanging sign, a decorative twine fishnet and some starfish, all of which bring the pictures to life in a unique way. via itallstartedwithpaint
Driftwood with Nautical Stencils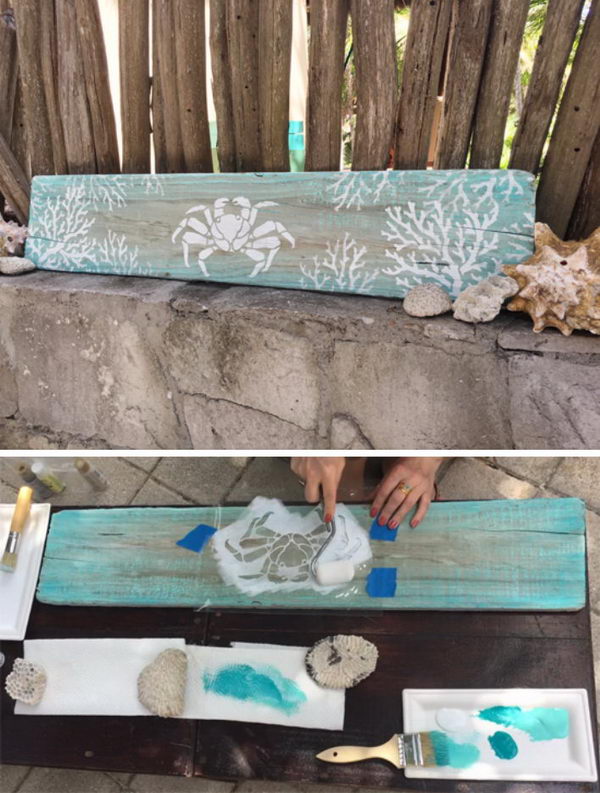 Stencils are always a fantastic way of adding details to any surfaces as you can see here, where the addition of white nautical designs turned a piece of driftwood into real art. via cuttingedgestencils
DIY Barn Wood Necklace Holder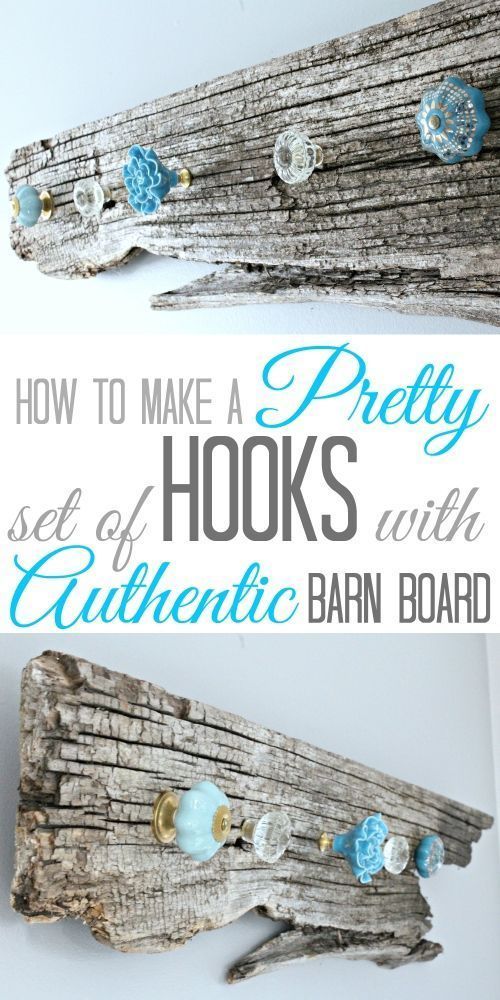 This necklace hanger is really beautiful as it is made from an authentic barn wood board and mismatched decorative knobs which give it that delicate seaside feel. via theprojectpile
DIY Seashell Art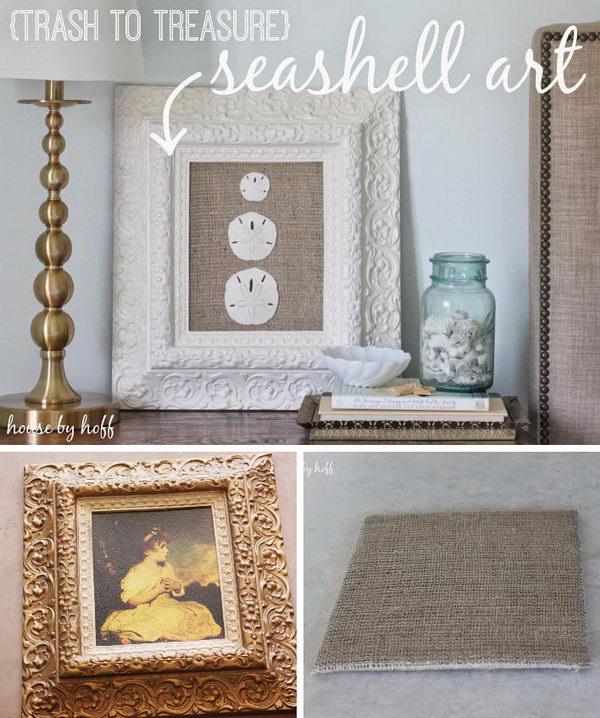 All you need to do if you want to replicate this shell art is to take an old photo frame and glue different sized seashells to the backing. Put it all back together and it will be ready to be displayed. via housebyhoff
DIY Seashell Plank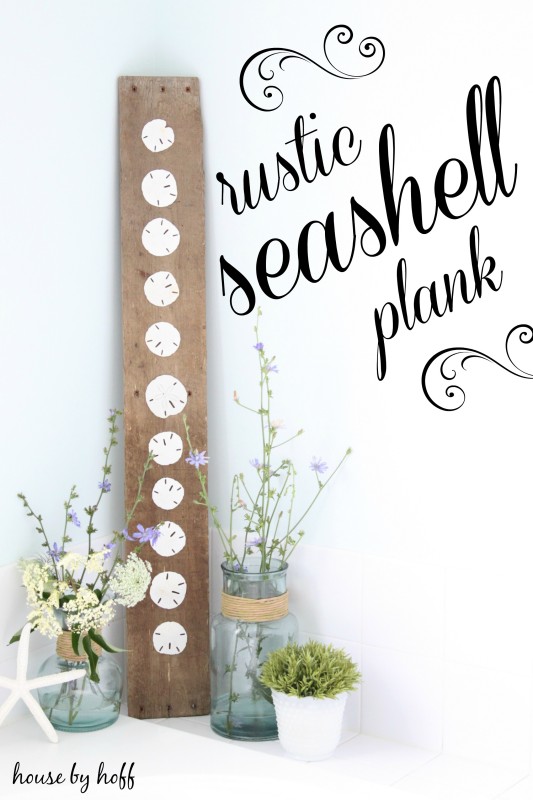 Yet another piece of seashell art. This one is a long wooden plank which was decorated with a perfect line of identical seashells along its surface before being displayed along with some flower pots and other decorations. via housebyhoff
DIY Ombre Painted Beachy Vase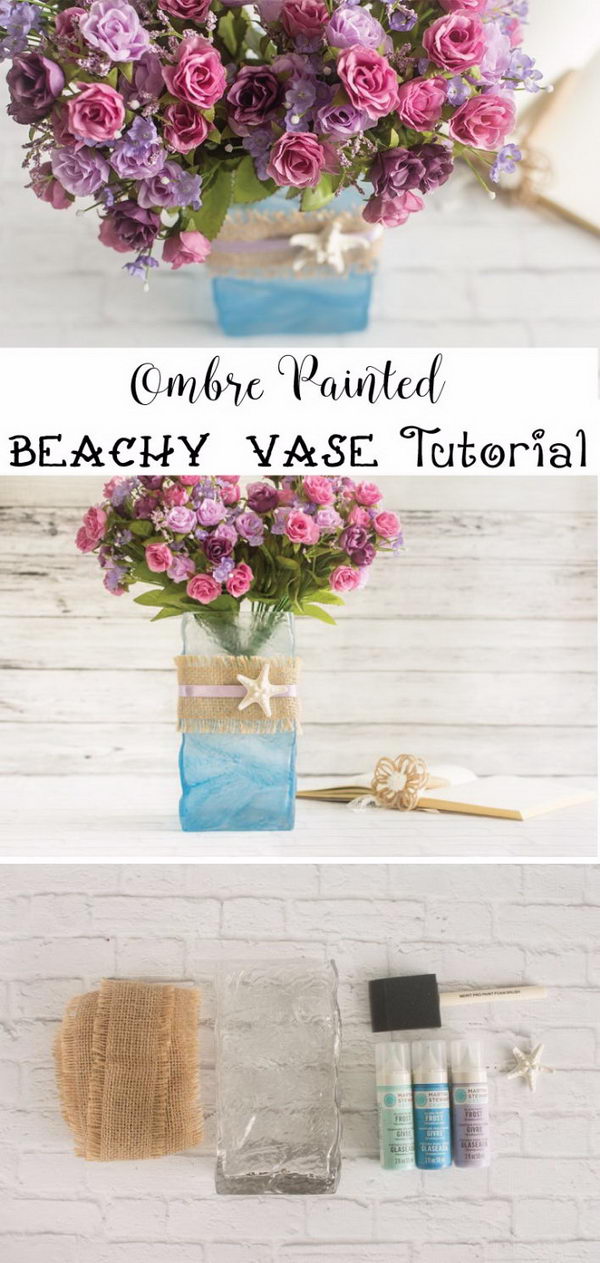 This vase looks just like the beach as it was painted in an ombre style featuring glittering blue and gold, then finished off with a soft ribbon and a starfish to the side. via natashalh
DIY Summer Beach Shadow Box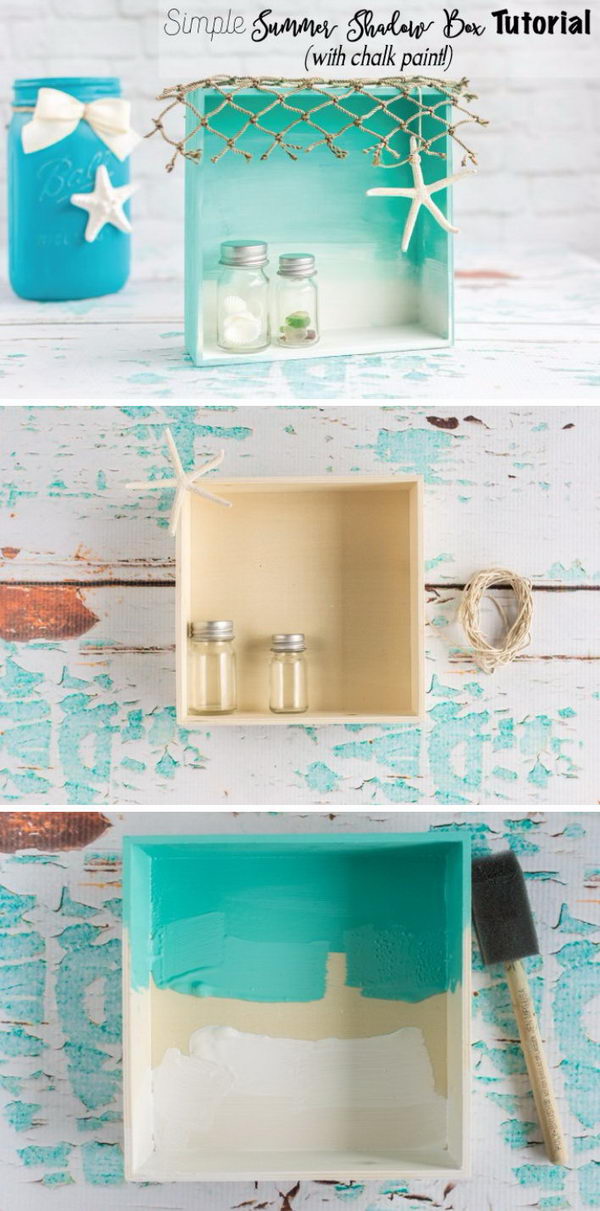 This wooden shadowbox is really gorgeous, as the inside was painted in ombre turquoise and beige, then decorated with a starfish as well as jars of sea treasures. The fishnet hanging over the top is a fantastic finishing touch. via natashalh
Upcycled Painted Glass Bottle Vase

This bottle was recycled as a gorgeous vase after being painted a milky white shade and decorated with rope accents and a starfish. via natashalh
DIY Painted Mermaid Vase (with Pattern!)

This vase turned into a mermaid as it was painted blue and then a green tail was drawn on top. The piece adds a really whimsical feel to your nautical decoration and is also great for children's rooms. via natashalh
DIY Mermaid Scale Frame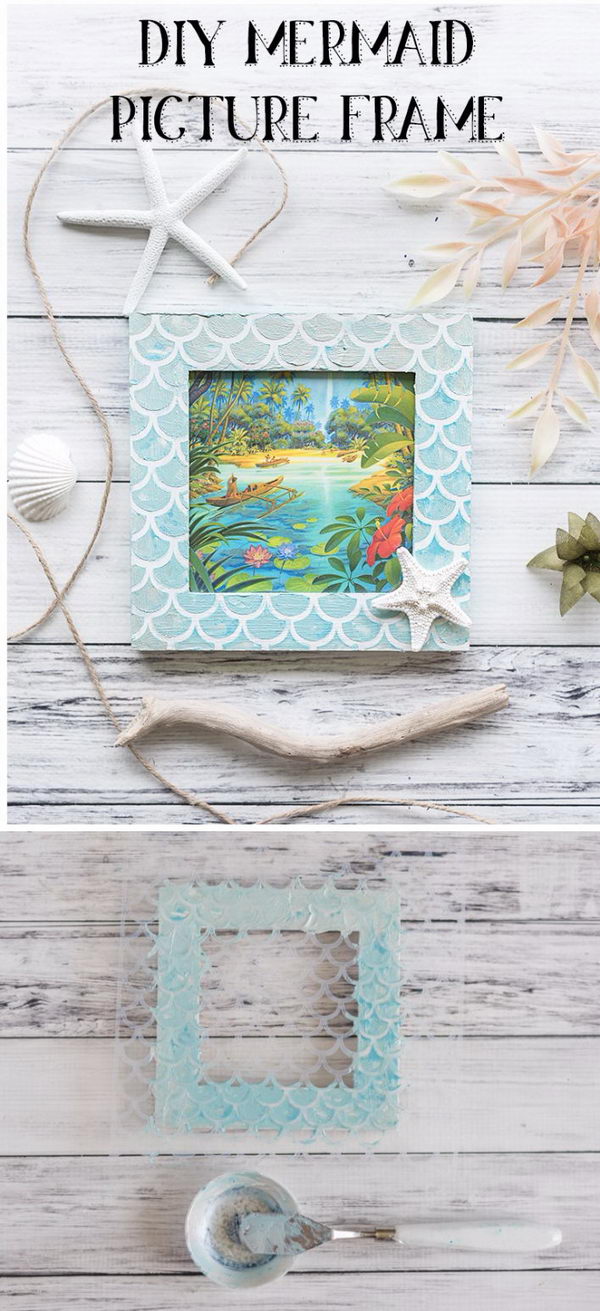 It is another fantastic whimsical project that is great for the kids in particular, as a turquoise and white scale pattern was created on this frame, evoking visions of the sea and beautiful mermaids. via natashalh
DIY Nautical Soap Dispenser

This soap dispenser is made using a mason jar, which was covered with a fishnet and seashell. A pump was also added to make this decoration actually functional. via oneartsymama
Nautical Rope Rug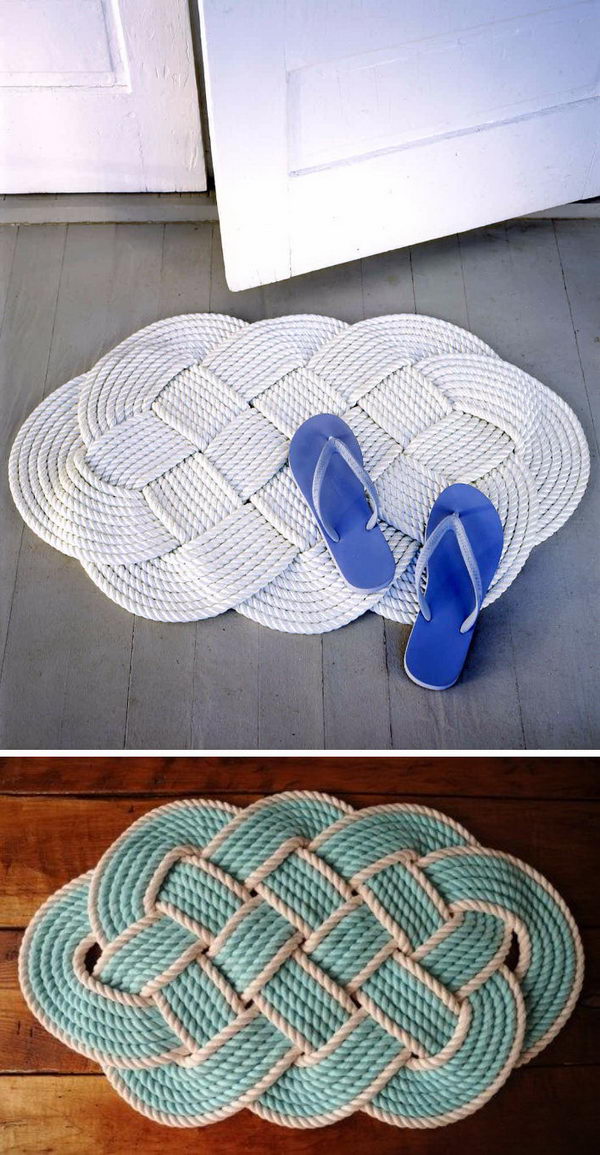 The rug is made of woven rope, as you can see, and it is really cool, but the project takes some patience and skill to complete. If you have those already, this piece should be right up your alley. via marthastewart