Flowers are a beautiful creation of nature. In fact, even when they're not real, they still add a touch of decoration, color, even elegance sometimes to a room or event's venue. They come in a lot of different varieties, shapes, sizes, and nowadays even some unusual colors. This allows for a lot of creativity when putting flower arrangements together for your home or an event.
We understand, however, that you might not know a lot about flowers, or might not have the passion needed to create beautiful and unique flower arrangements, which is why we put together this list of amazing flower arrangement ideas and tutorials to inspire you.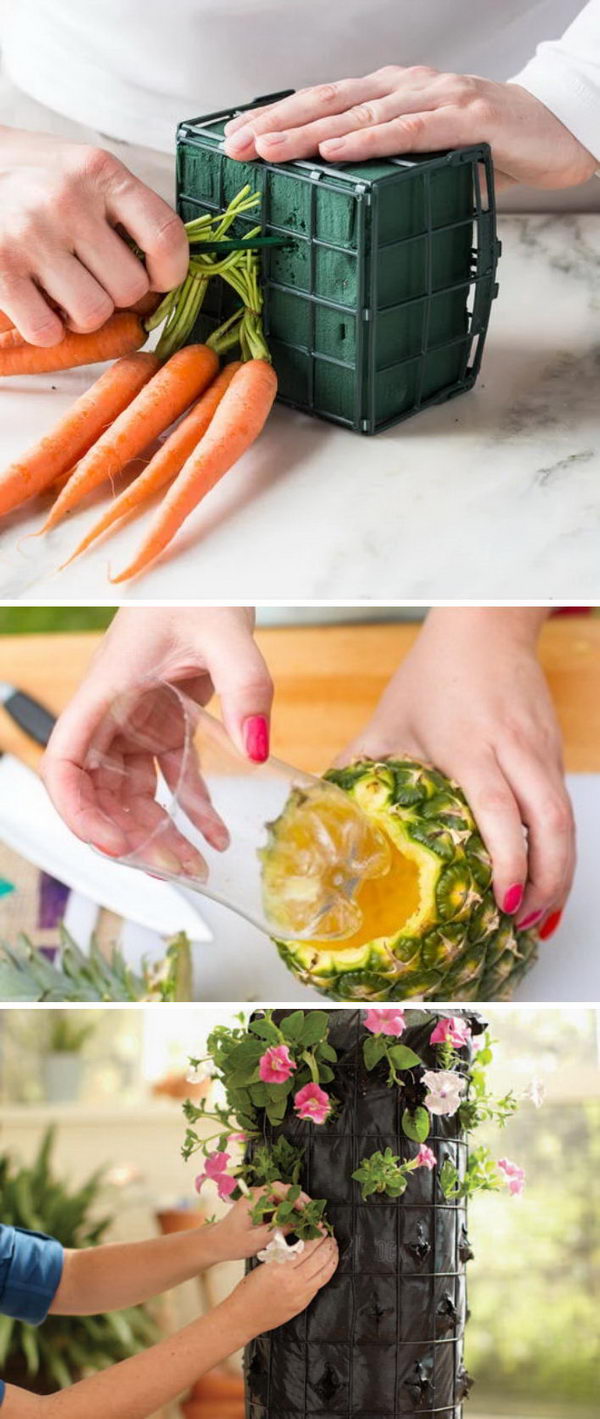 We can guarantee that you will love flower arrangements by the end of this gallery, if you didn't before. The hard part will be to choose which idea to recreate!
DIY Floating Floral Arrangement Using Bubble Wrap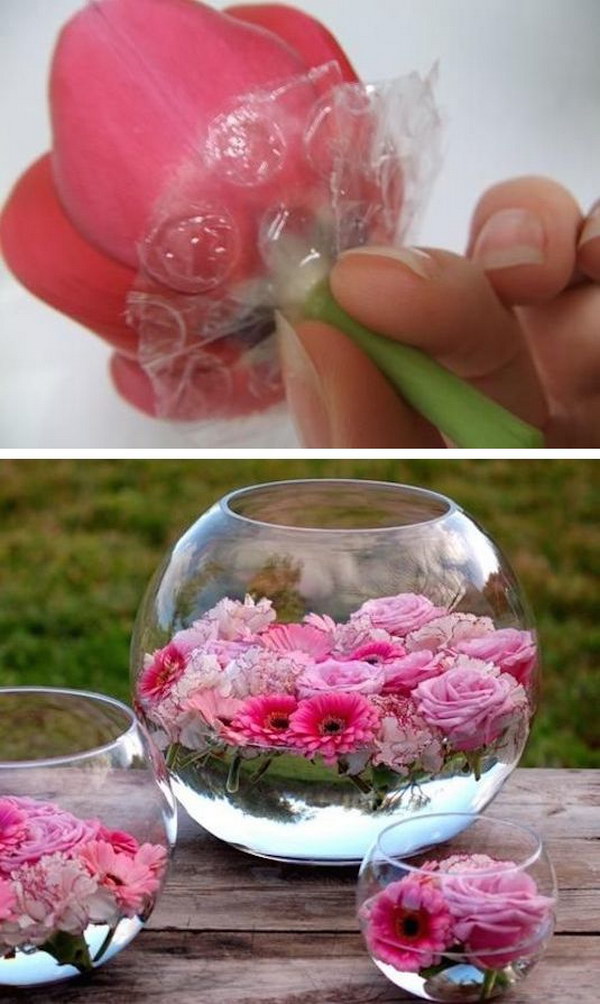 This floating arrangement is definitely an original and impressive idea. The pink roses really stand out, looking suspended inside the glass bowl like they do in this case. via christinedebeer.
Citrus And Floral Arrangement With Stacked Vase

Lemonade meets floral decoration in this colorful arrangement. Stack a vase within a vase in order to layer fruit slices along the inside. The contrast of the lemon slices' yellow, the green of the leaves and the purple flowers is really beautiful and dimensional. Via t.6park.
DIY Floral Arrangements With Wide Bowls

Use a grid of tape to keep your flowers in place in wide bowls. These wide, white bowls serve beautifully as improved vases when you add a lid with a grid, like the one from the photo. Tutorial via pinterest.
Rustic Woodland Arrangement With Bombastic Roses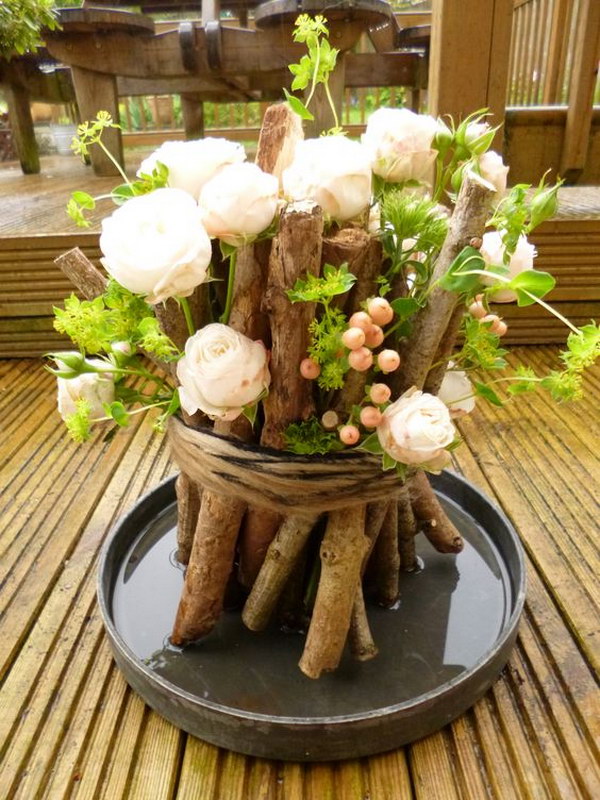 Pretty and wild, this arrangement of white roses, held by wooden stakes and twine looks like something made in the middle of the jungle, all the while managing to still look somewhat delicate.
DIY Submerged Flower Centerpiece

This submerged floral centerpiece, where the flowers are completely covered by water inside glass vases, looks really beautiful and dainty, and it is quite easy to make, no gimmicks needed. Brightly colored flowers like the ones in the picture work best, but any type should, so long as they're not overwhelmed by excessive water. via thechicsite.
Rainbow Centerpiece Using Food Coloring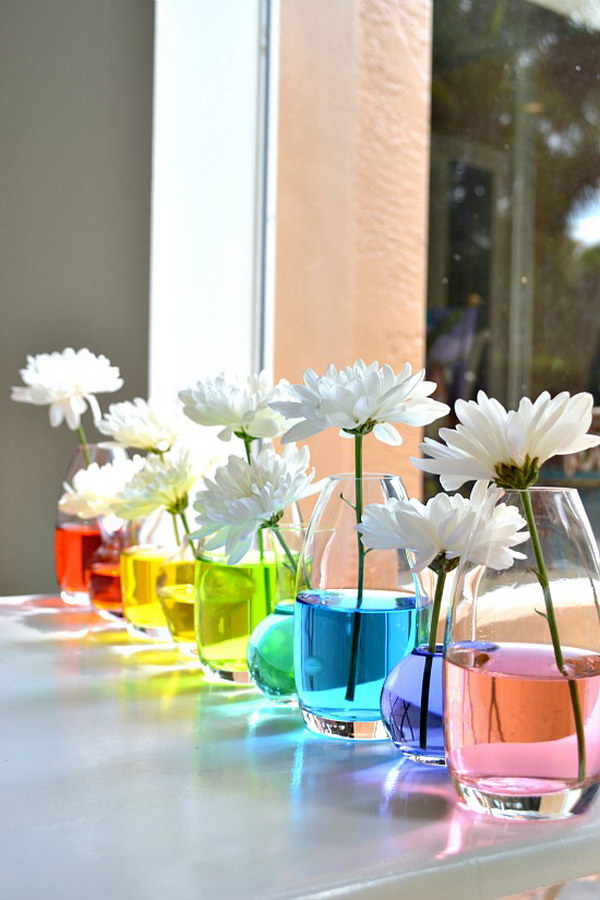 This rainbow centerpiece is a great idea if you're looking for something quite colorful. The colored water has a pretty, watercolor effect and it looks really cool against the white flowers. Since the colors are provided by food coloring, they won't hurt the flowers or the surrounding environment at all. via paperyandcakery.
Bunch Of Roses

via cupofjo.
DIY Flower Arrangement In A Basket

Flower baskets aren't exactly a new or revolutionary idea, we won't lie, but their quaint, rustic charm still remains untouched. This DIY arrangement looks really pretty, as the flowers – and parts of their wrapper – peek out from inside the light colored, tall wicker basket. Keep your fresh bouquet alive with a damp paper towel. via cupofjo.
DIY Colander Flower Arrangement

via diycraftyprojects.
DIY Vintage Flower Arrangement With An Old Book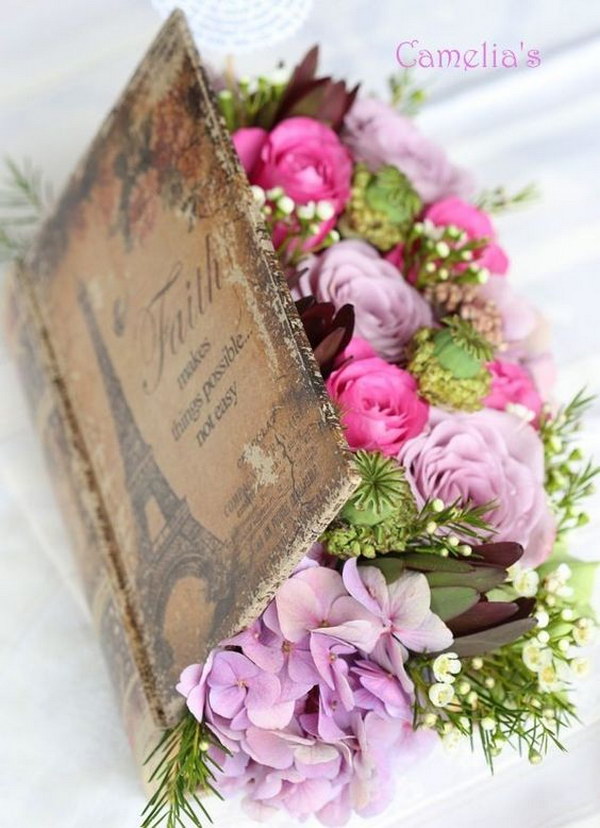 We'd bet most people never thought of using an old book as the base for a floral arrangement, but it really works well here, as the pink blossoms almost seem to be bursting from the opened, aged cover.
DIY Flower Arrangement Using Umbrella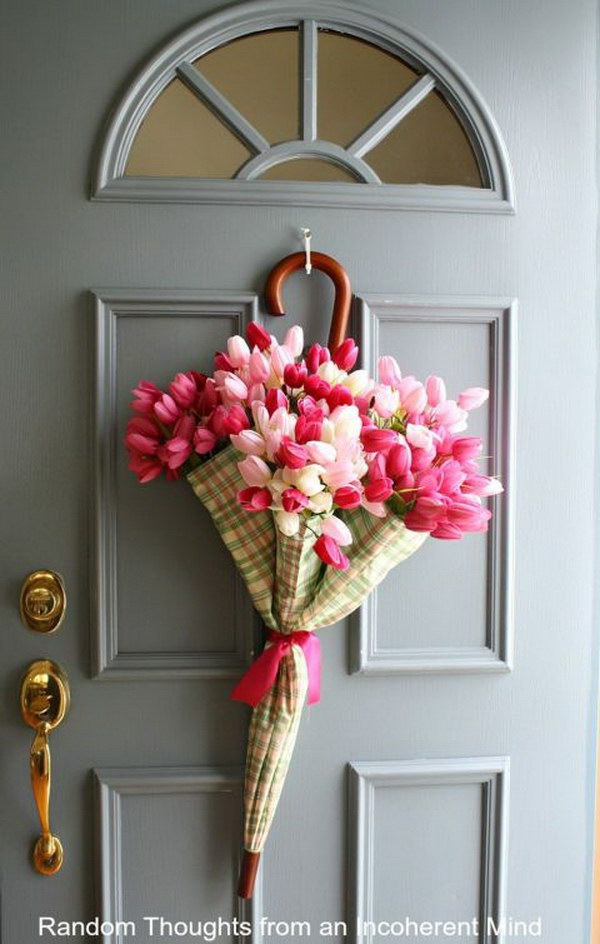 It takes real creativity to think of making a flower arrangement using an umbrella. However, it is a great idea, since it actually has the perfect shape for that effect and the handle can be quite useful if you want to hang it, like you can see in the picture. Fill an umbrella with your favorite blooms, then hang from a nail on your door for the prettiest and easiest springtime display. You can keep the tulip stem in a test tube filled with water, so they stay lively longer. via source.
Simple Yet Pretty Flower Arrangement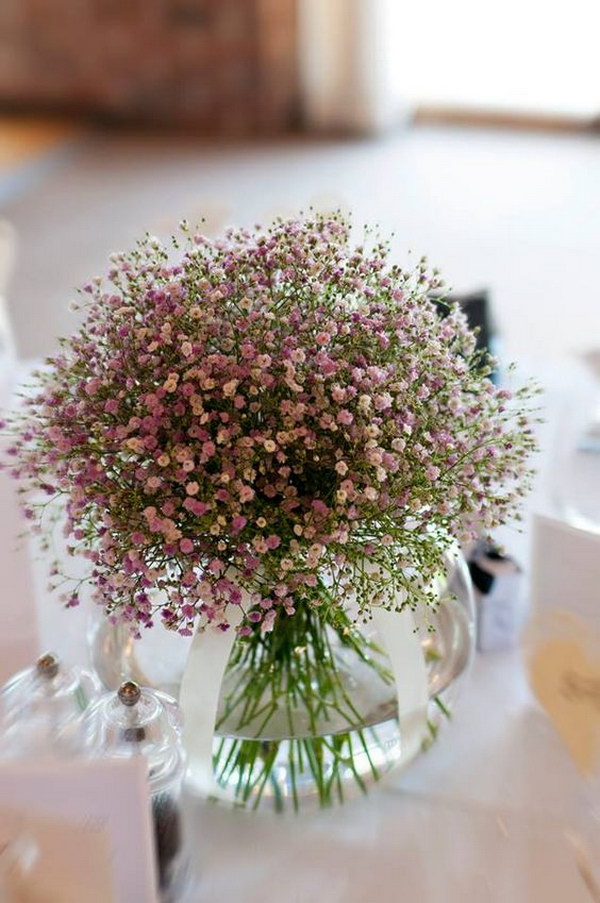 Crown Flowers Vase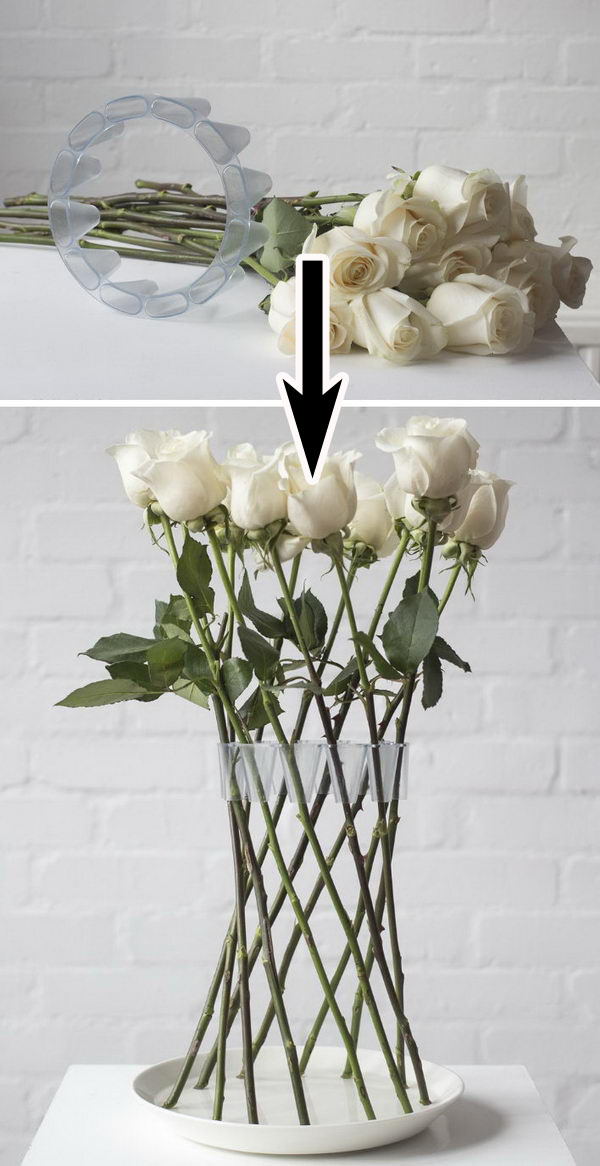 Keep your flowers in place and beautiful with this crown flower vase. This vase may look quite simple at first glance, but it really blows you away when you realize how it's made – the flowers' own stalks are crossed and secured to the base to create the beautiful crown structure. It's meticulous work for sure, but it looks truly beautiful as well. via mocoloco.
DIY Flower Arrangement With Candy Sticks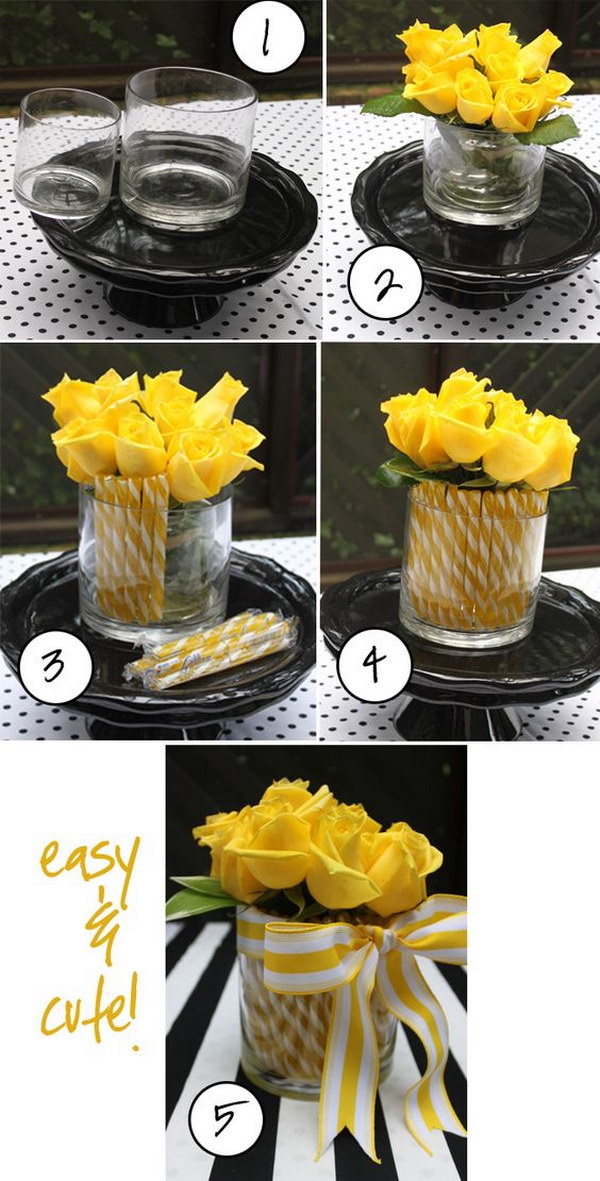 This DIY arrangement is really simple, but it adds a fun, unexpected decorative touch. The idea is quite simply to place colorful candy sticks around the inside of a glass vase or bowl to decorate and help secure the flowers. It looks particularly nice in this case because they've matched the yellow flowers and sticks so it all looks cohesive. via pizzazzerie.
DIY Flower Arrangement With Pearls In The Vase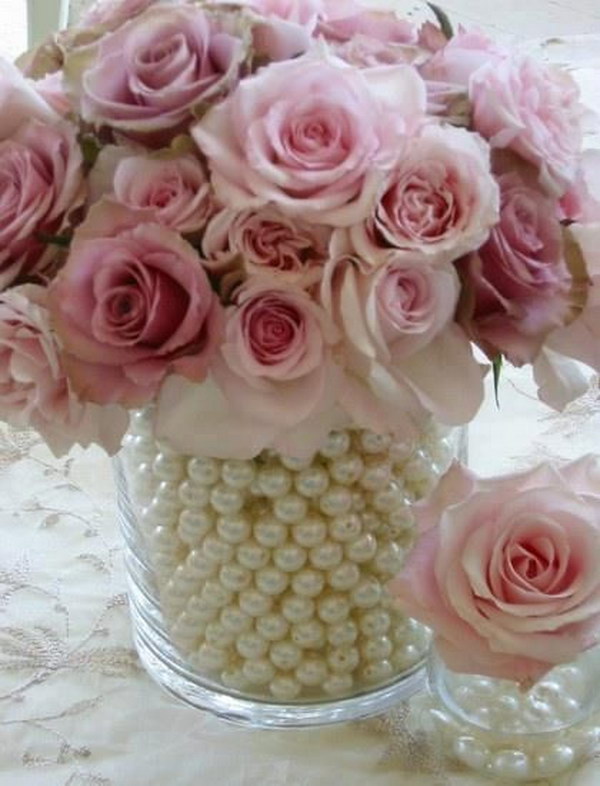 This idea is similar to the citrus one but with an elegant instead of tropical feel. The idea is to fill the vase with fake pearls to provide an elegant, decorative base and help support the flower arrangement on top. It looks really pretty with these pink blooms, but it will work nicely with flowers of most colors.
DIY Candy Filled Vase With Flowers

This DIY is a bit of a mash-up of the two previous ones. Like the pearls, the layers of contrasting colored candy are used for decoration as well as to fill the vase and support the flowers. The yellow layer in the middle pulls in the color of the flowers, but you can use your imagination to create other patterns with the candy. via getcreativejuice.
DIY Floral Arrangements With A Bouquet Of Bright Carrots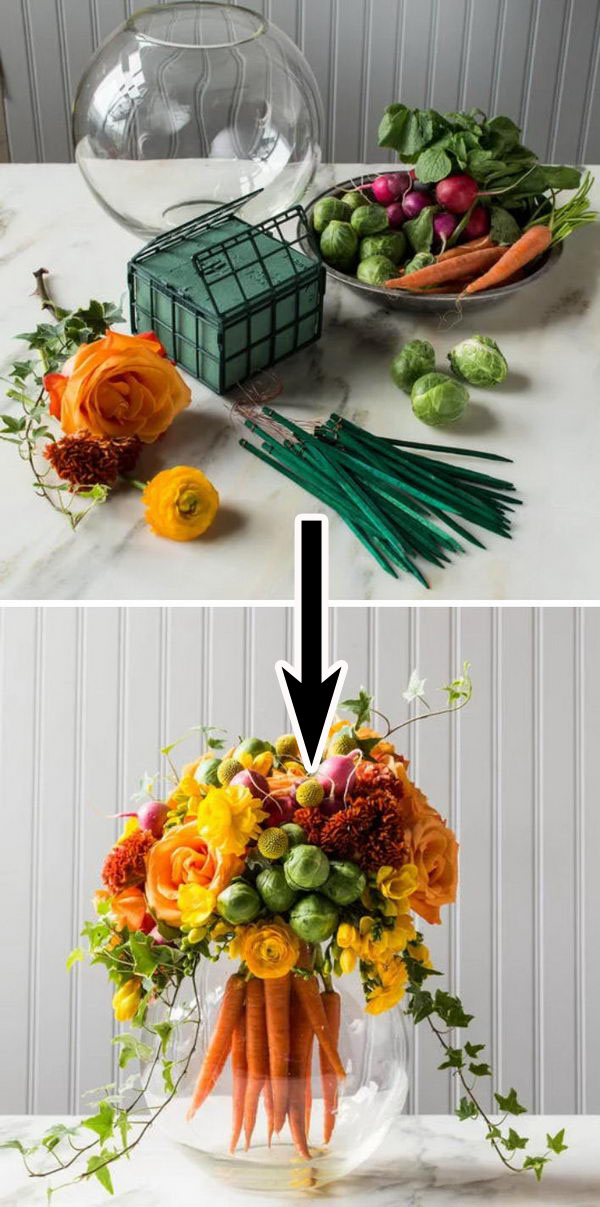 We've seen an arrangement with lemons, now we see one with carrots. They work really well in here because the flowers themselves have the colors of the sunset and thus match the carrot bouquet at the base. via southernliving.
DIY Pineapple Floral Arrangement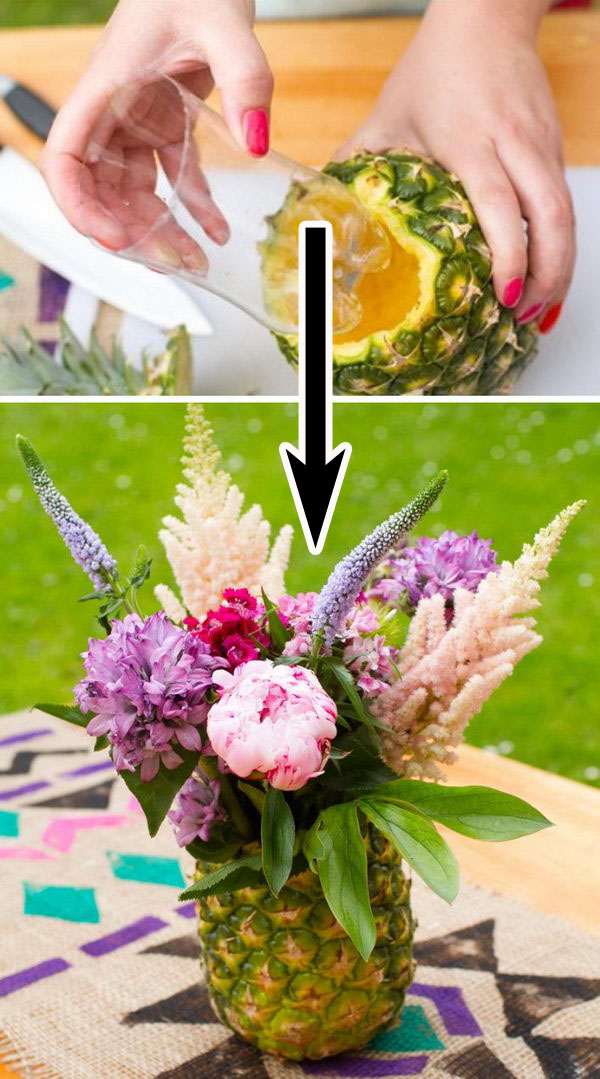 Pineapples are definitely trendy in home décor at the moment. In this case, you will empty the outer shell of one and use it as vase for an original, tropical themed arrangement. You can also do this with the shells of other fruit such as coconuts and perhaps even watermelons. via bespoke-bride.
DIY Brown-Bag Flower Arrangement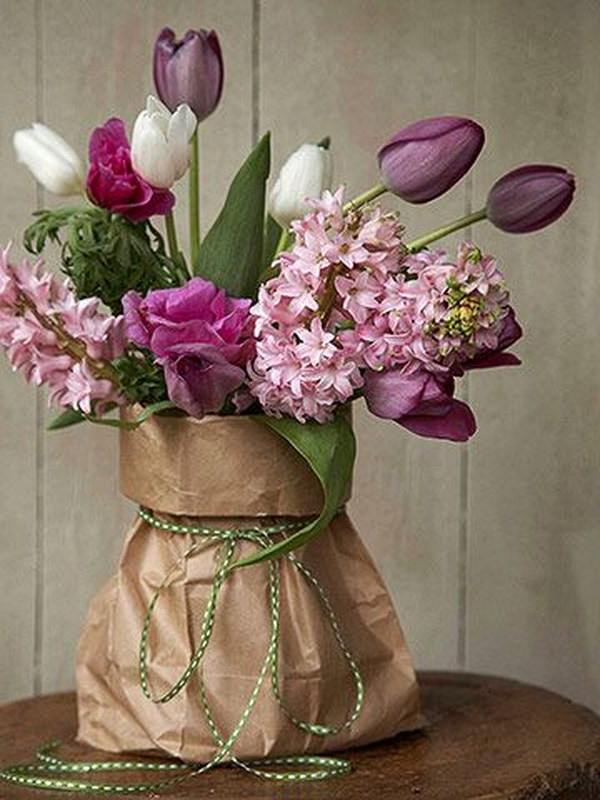 This arrangement is for nature-lovers. It has that obvious rustic/DIY feel with the brown bag and the twine securing it, but it still looks fairly polished and pretty as a present or a decorative piece. via bhg.
DIY Purple Cabbage Flower Arrangement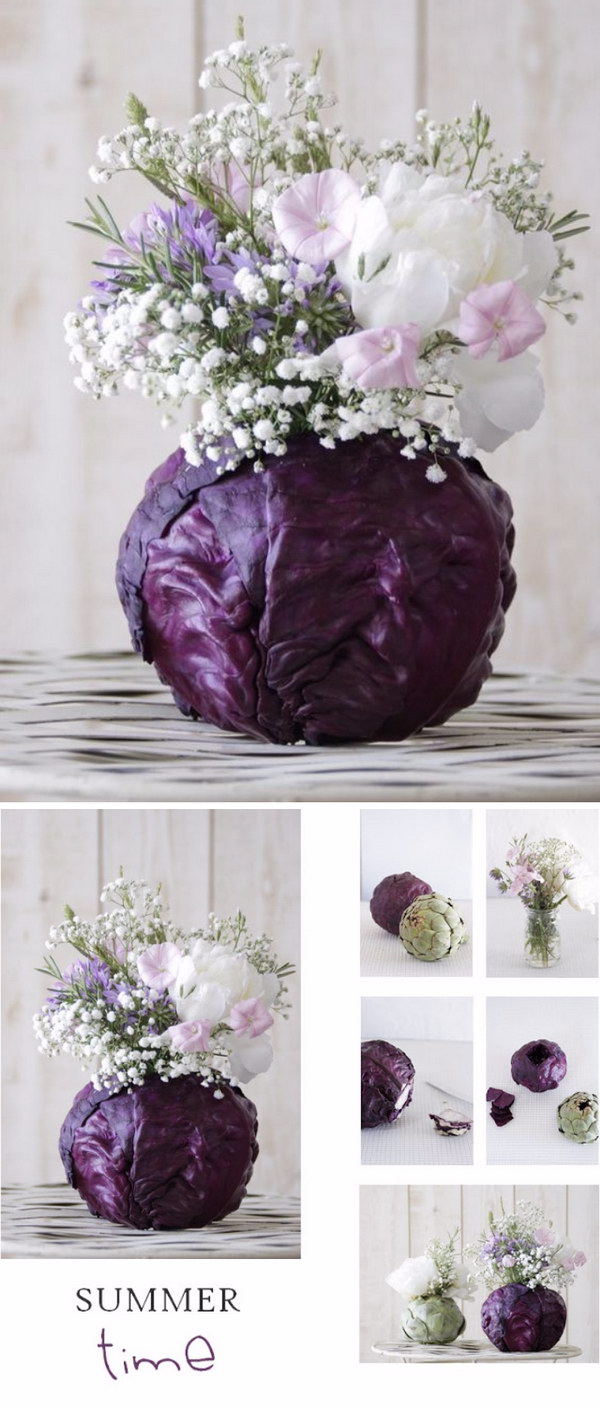 This is a really striking, all natural arrangement, as the vase is made from a dyed cabbage. It looks really beautiful, as the color is very rich and the vase full of beautiful, chic texture. via source.
DIY Flower Arrangement With Vase Made From Tin Can And Burlap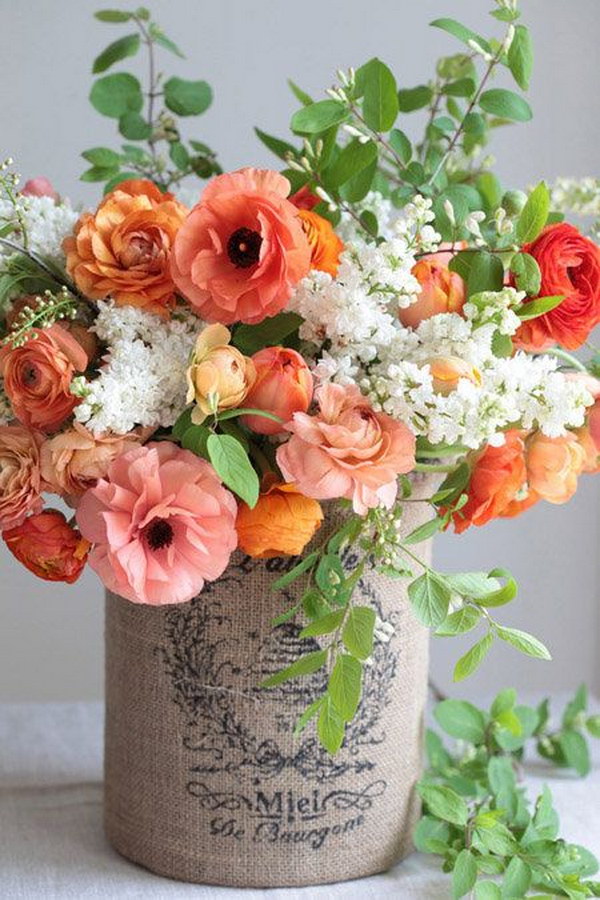 You'd never guess this vase was made from a can, once it was covered with burlap and filled with a bunch of flowers. An idea that is simple, yet effective.
Vintage Tin Can And Pink Roses Flower Arrangement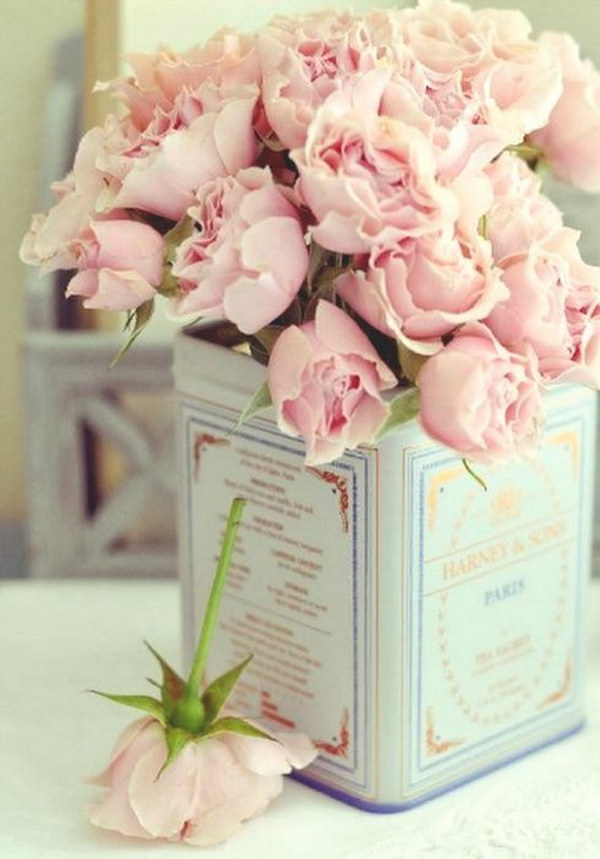 This vintage, cubic tin can works beautifully as an improvised vase for this arrangement, especially because the pastel colors of its design match the pale pink roses very well. Via jessicalaurenxo-blog.
Rustic Flower Arrangement With Vintage Milk Bottles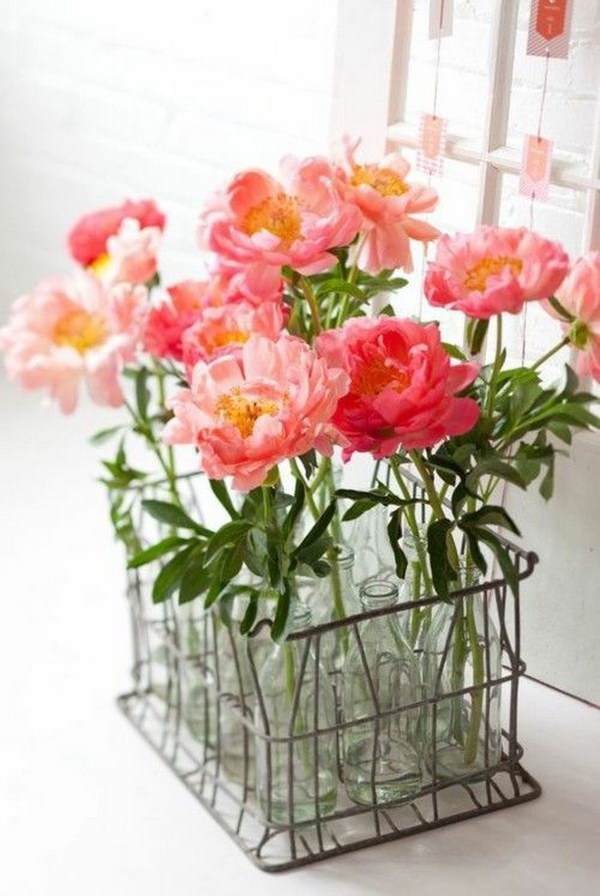 This arrangement is actually quite simple, but it looks really nice. The bunches of bright coral flowers were grouped inside vintage milk bottles in their original state and then arranged inside an equally vintage-looking wire crate – possibly the original one – to form the end product that you see.
Tree Stump Flower Arrangement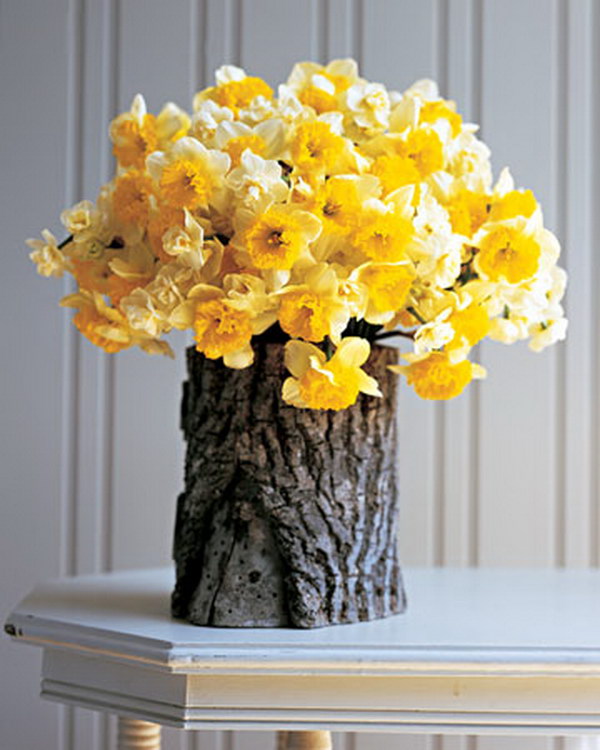 These beautiful yellow flowers are arranged inside a really dark tree stump vase which gives the arrangement an organic feel and lots of texture. You can use a real one or fashion your own from crafting materials to achieve the same look.
DIY Floral Topiary Flying Cup

via sadtohappyproject.
DIY Floral Letters Using Floral Foam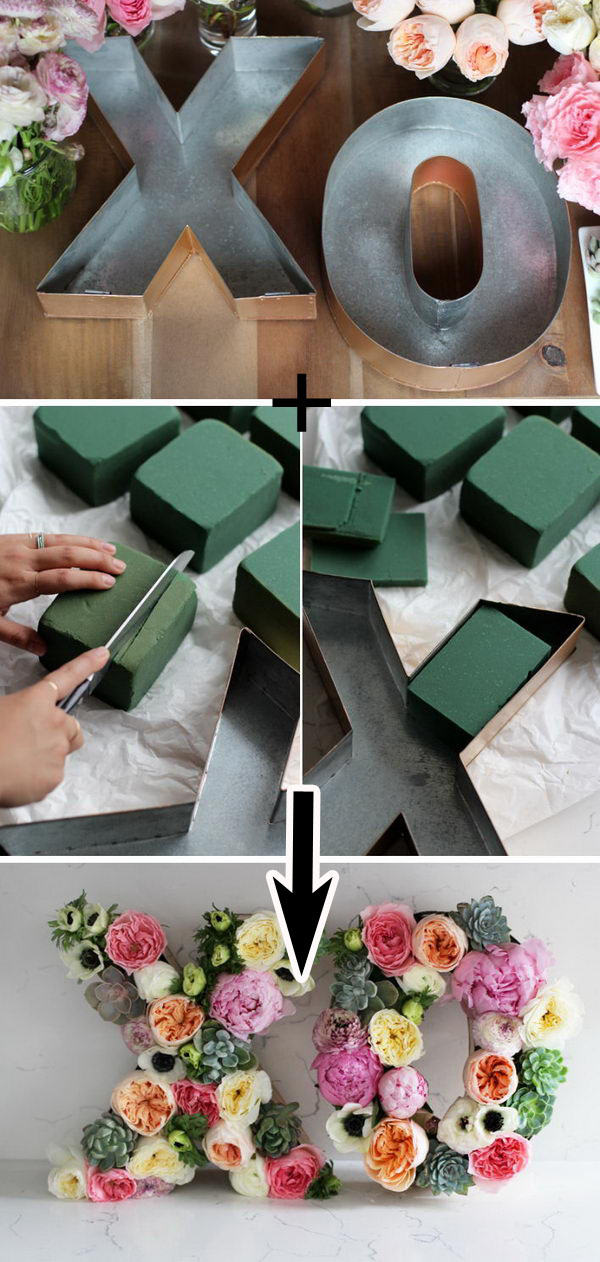 Big decorative letters have been an interior design trend for a while now. Instead of being painted on, however, these are decorated with beautiful flowers, which you can easily stick in the foam to make a bright decorative piece for spring and summer. via honestlyyum.
Simple Way To Revive Droopy Hydrangeas

This is more of a gardening trick than décor inspiration. The idea is to revive your dead-looking hydrangeas by cutting their stems and then proceeding to stick them in a vase or bowl of cold water, which should perk them back up again. via missfrugalfancypants.
Easy Trick To Stop Tulip From Drooping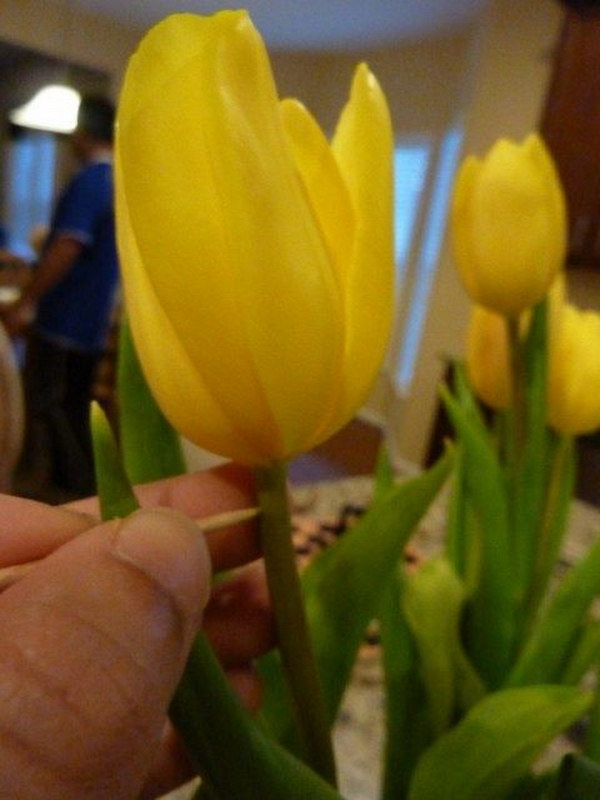 Just simply poke a small hole under the flower head. Air bubbles trapped in the stem keep water from going up to the flower head. The hole allows the air to escape and the water to come up. via whatsurhomestory.
Preserve Fresh Flowers With Wax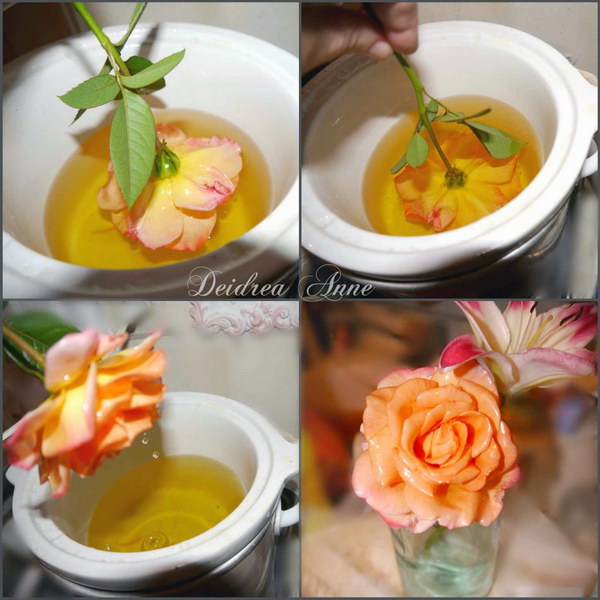 How do you preserve a fresh flower in its original, beautiful state? You stick it in warm wax and let it dry. It obviously won't really be a fresh flower anymore, but it will be preserved for decoration and crafting projects. Get the instructions via instructions.tips.
DIY Hydrangea Candle Ring Centerpiece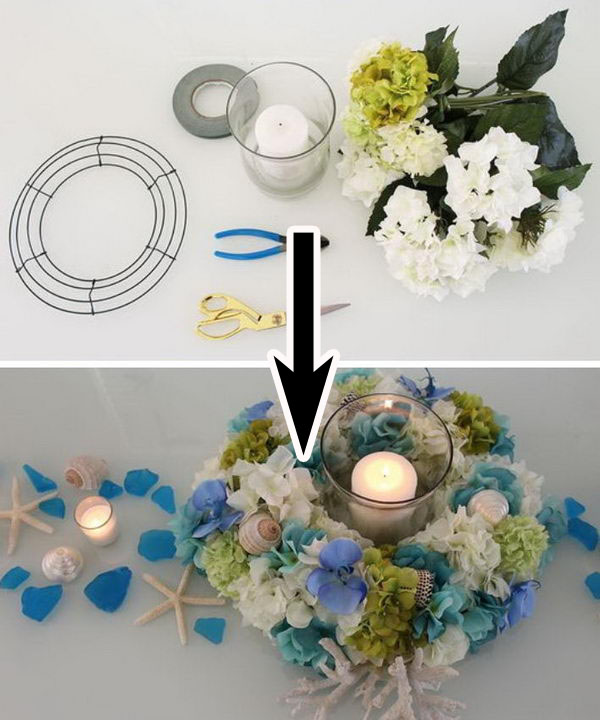 This floral candle ring center piece is a lot like those you usually see as Christmas decorations. In this case, though, it is made in pastel colors, which is perfect for spring and summer. What you need to do is fasten your flowers to a wire ring and then place your candle in the middle to complete the decorative piece. via afloral.
DIY Flower Arrangement In Twig Flower Pot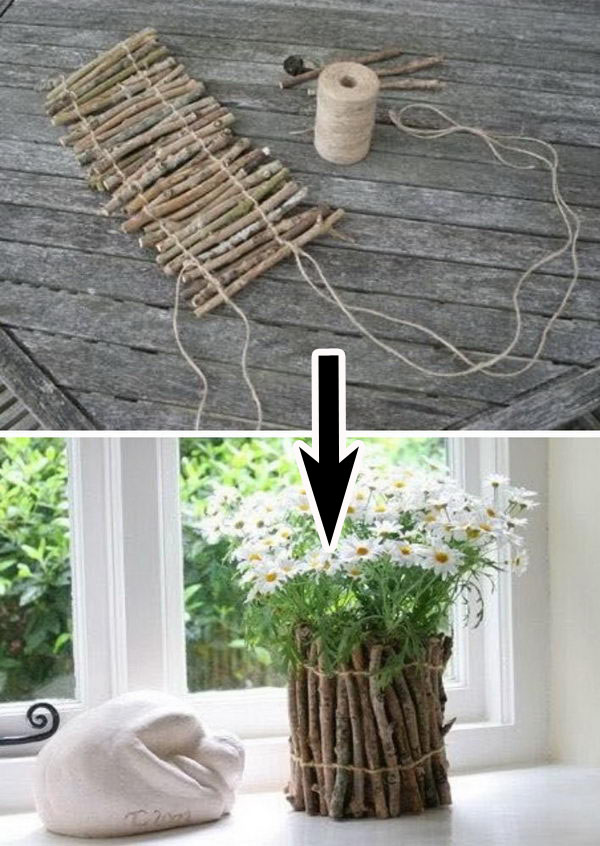 This twig flower pot is great if you want an organic, somewhat woodsy-looking piece. It is not hard to make either, as what you do is secure the twigs around a pre-existing vase or structure so you can see them and not what's inside.
DIY Flower Ball Using Styrofoam
via goodshomedesign.
Minted Bottle And Romantic Pink Florals Flower Arrangement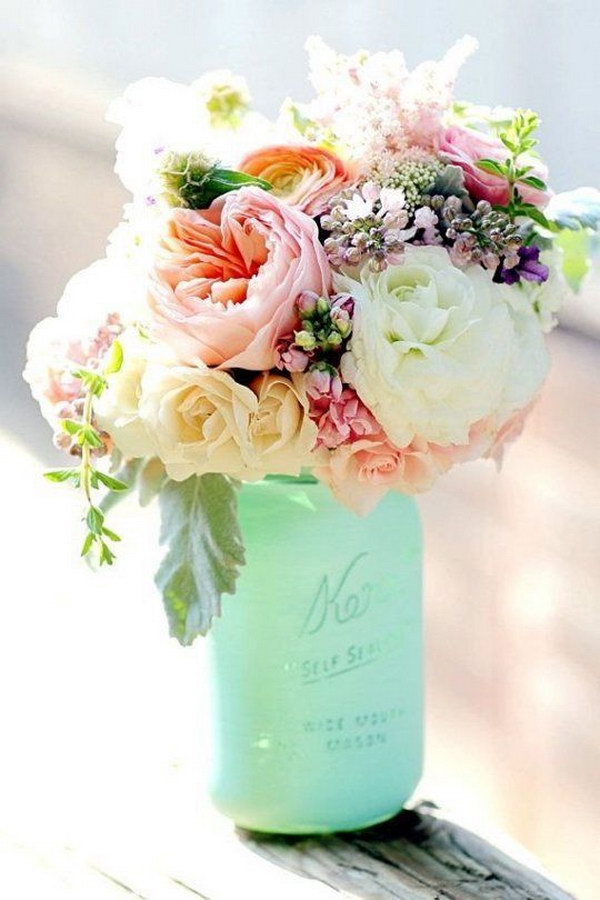 Via etsy.
DIY Pumpkin Flower Arrangements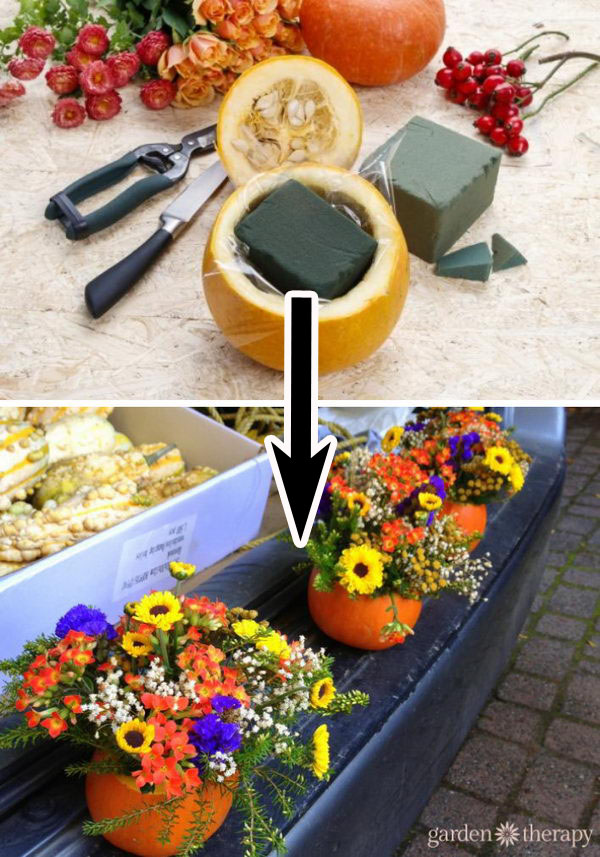 This DIY flower arrangement is a perfect idea for fall or even the Halloween season. What you need to do is carve the pumpkin out so that you can use it as a flower pot, and then simply arrange your flowers inside. via gardentherapy.
DIY Purple, Pink, And White Tulip Arrangement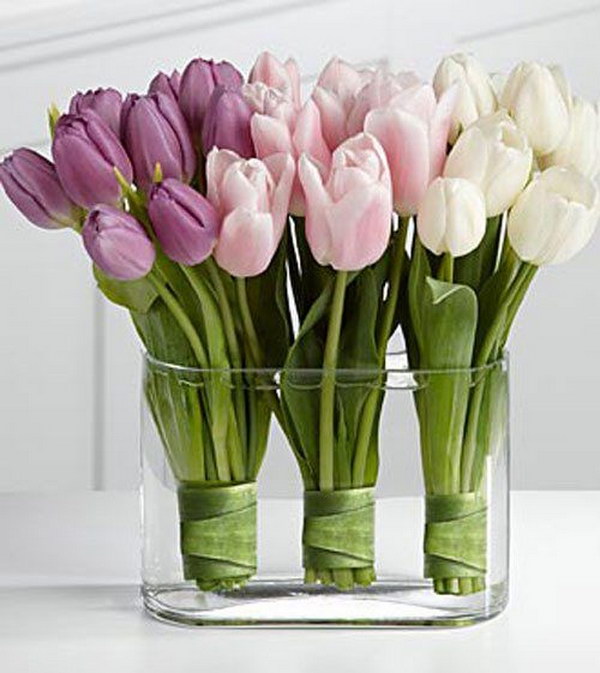 DIY Tea Cup Flower Arrangements

via projectwedding.
DIY Flower Tower Tutorial

via perkymommy.
Flower Arrangement With A DIY Stick Basket

via weddingchicks.
Simple Elegant Lush Pale Pink Peonies Arrangement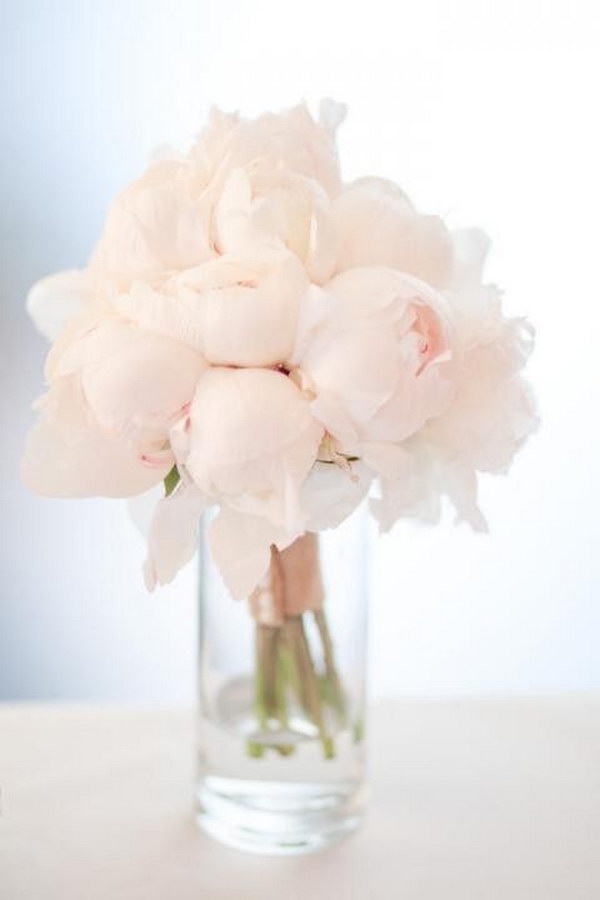 Via lextravagance.
Baby'S Breath In A Birdcage Flower Arrangement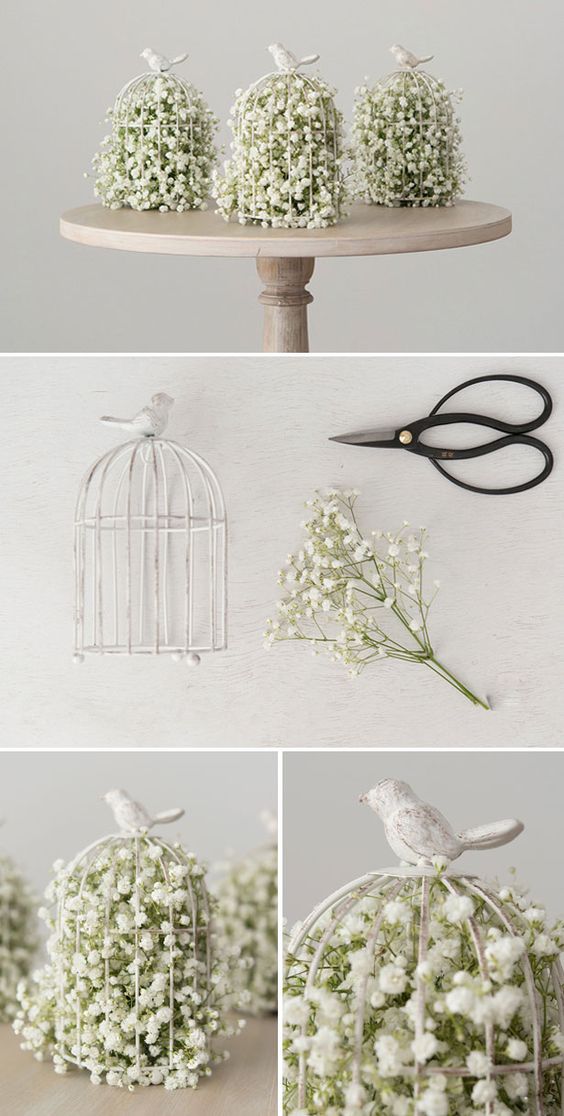 via confetti.
Beautiful Display Of Pink Tulips In Vase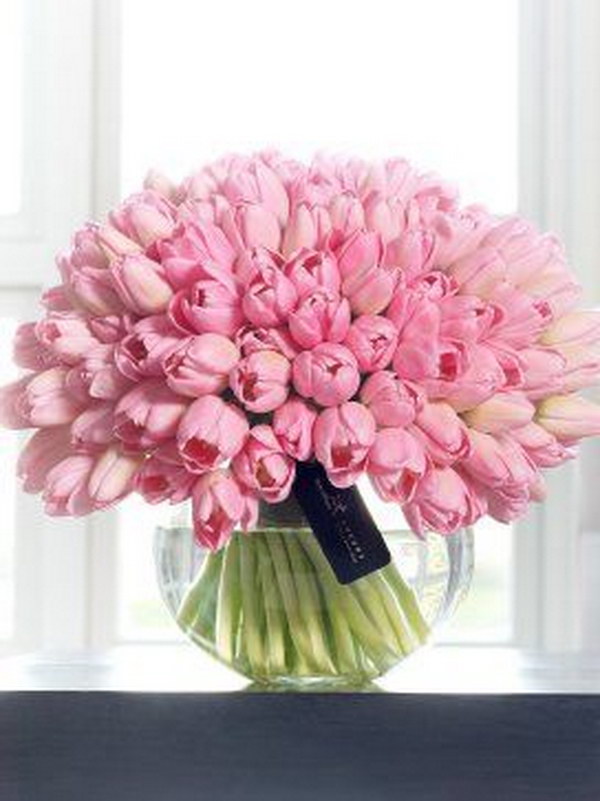 DIY Flower Centerpiece With Lemon And Tulips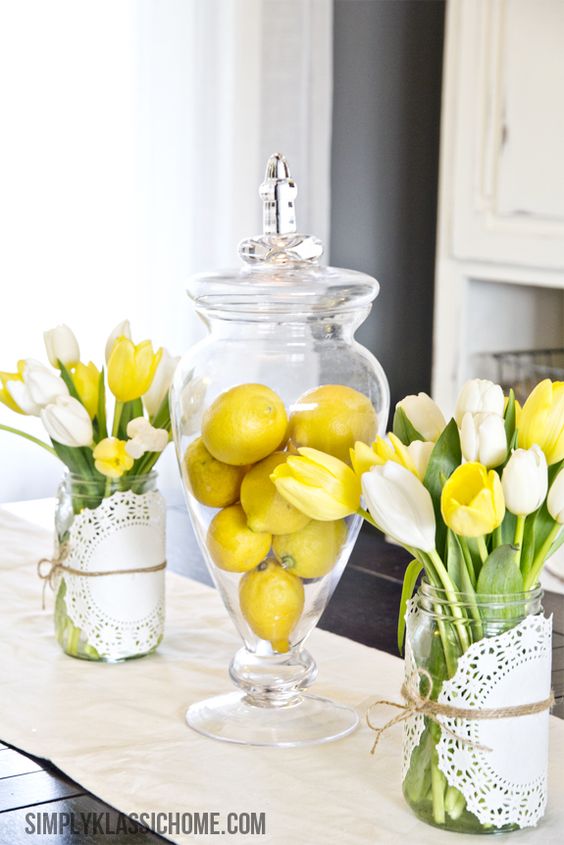 via yellowblissroad.
Candle Surrounded By Violas On Glass Cake Stand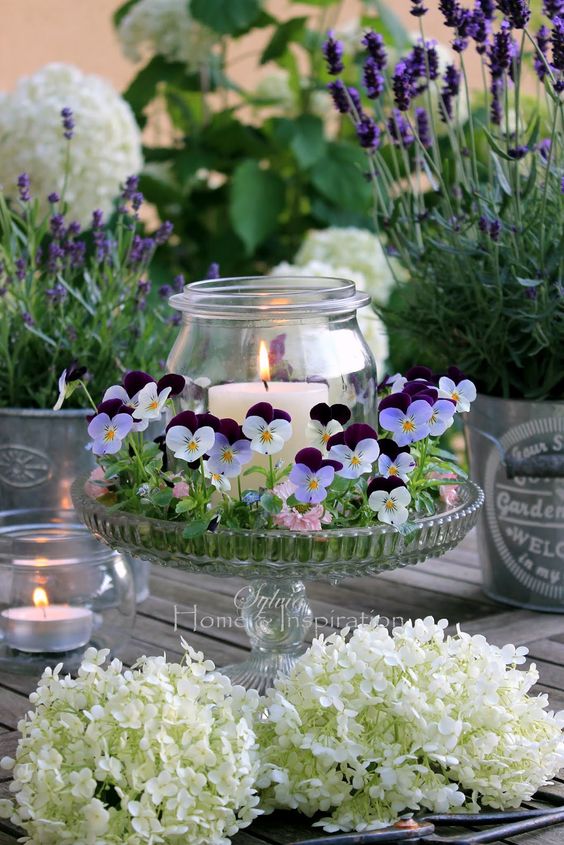 DIY Flower Arrangements in Eggshells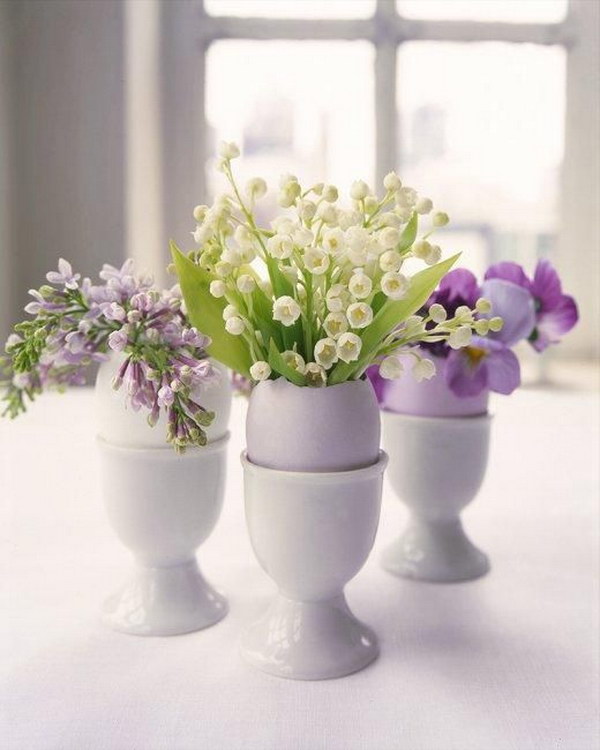 via marthastewart.