Succulents are definitely popular and trendy in gardening and decor at the moment. In fact, everyone loves the little plants right now, even the people who usually don't tend to like gardening or taking care of plants. More than just a plant, succulents have become a culture of sorts in their own way, and are now commonly seen as a print in clothing and decoration pieces or even as plush toys and cartoon characters.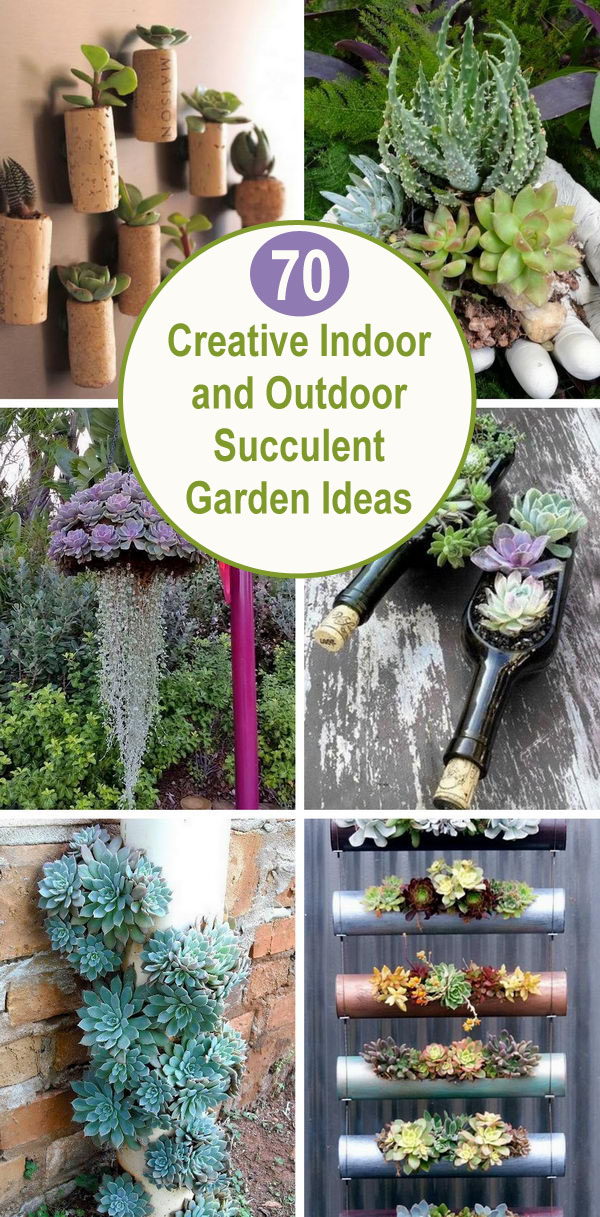 There aren't a lot of arguments against keeping succulents. These are the kind of plants which are perfect for small places and indoor decorating, as they don't grow much, which means they can easily sit on a desk or window sill, as they won't take up much space. However, they do have quite specific needs.
How to Grow Succulents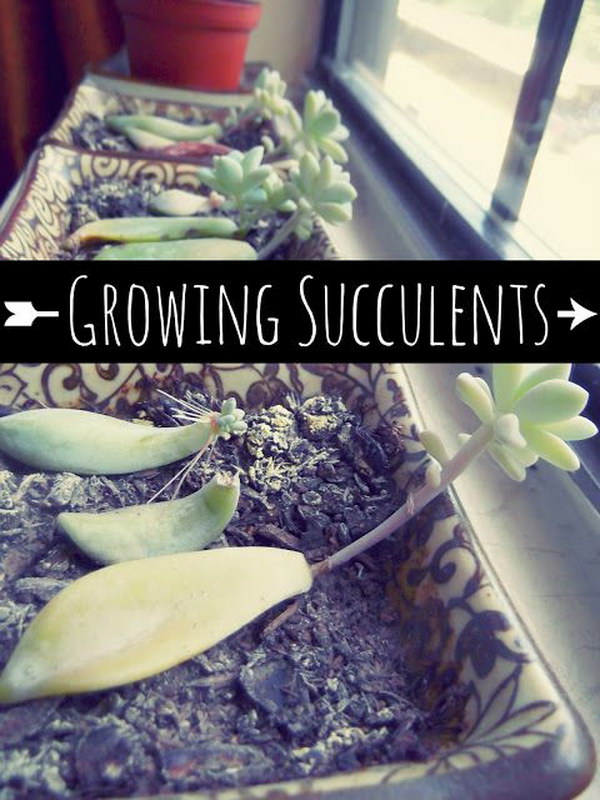 DIY Glass Globe Succulent Terrariums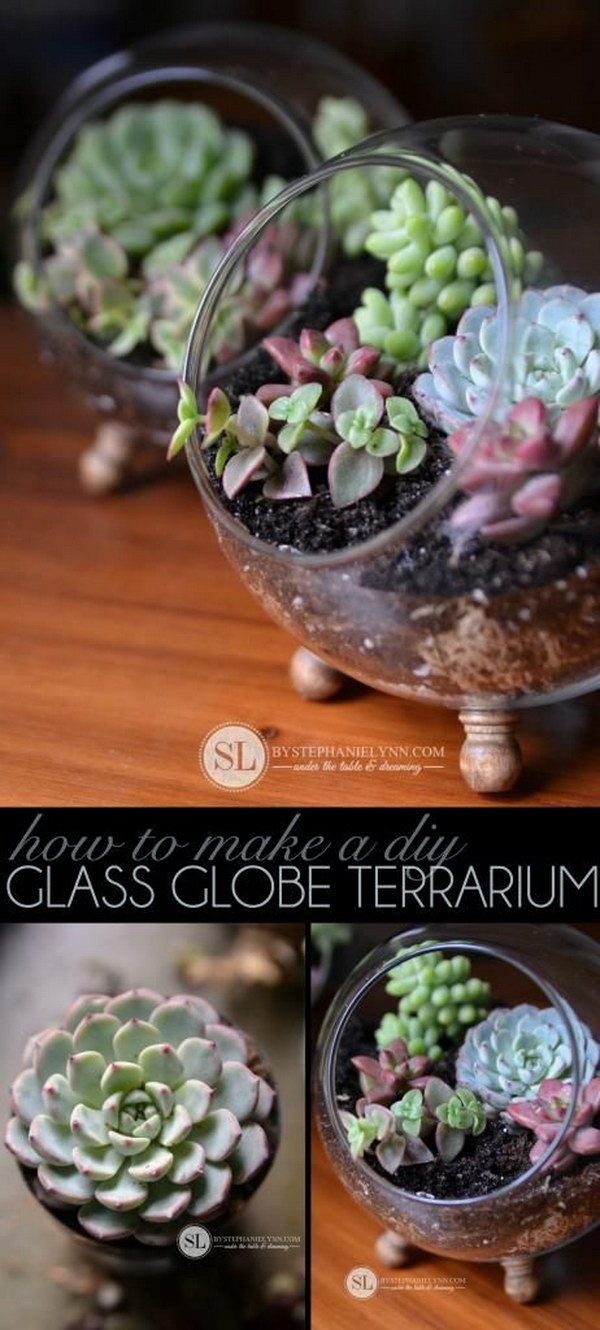 Spray Painted Succulent Arrangement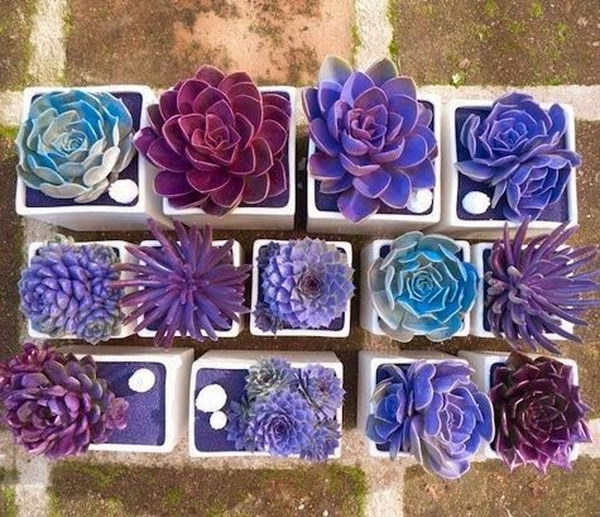 Hanging Succulent Basket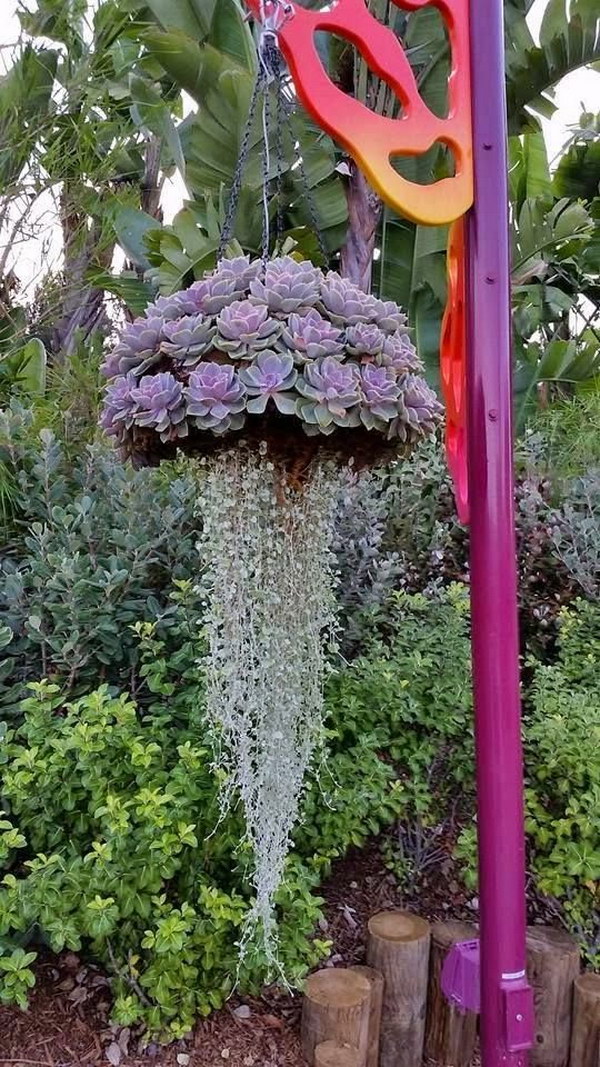 Succulent Gecko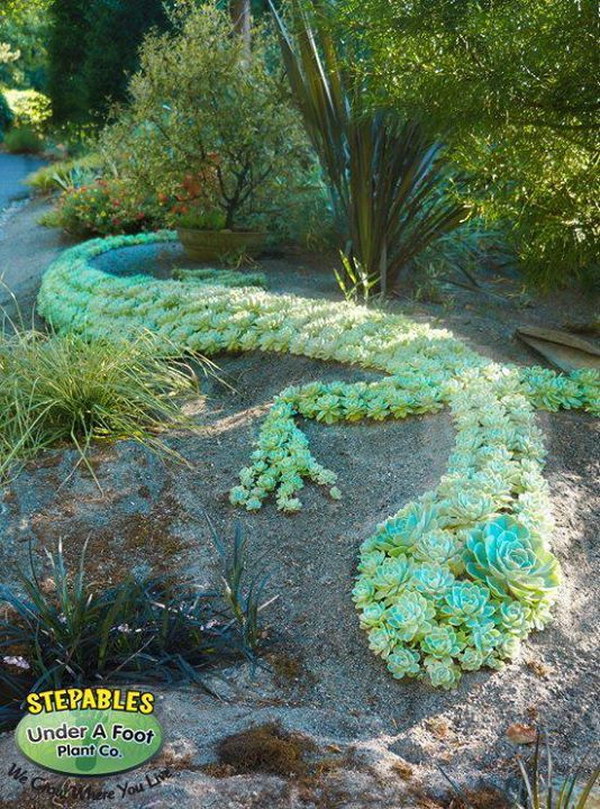 Vertical Hanging Succulents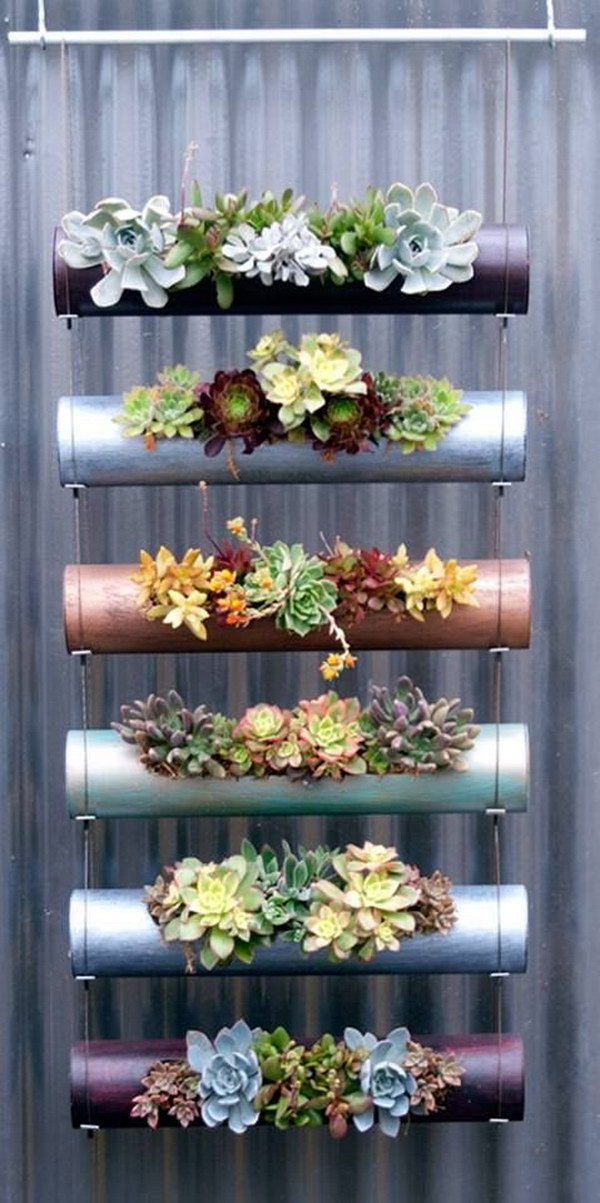 Hanging Terrariums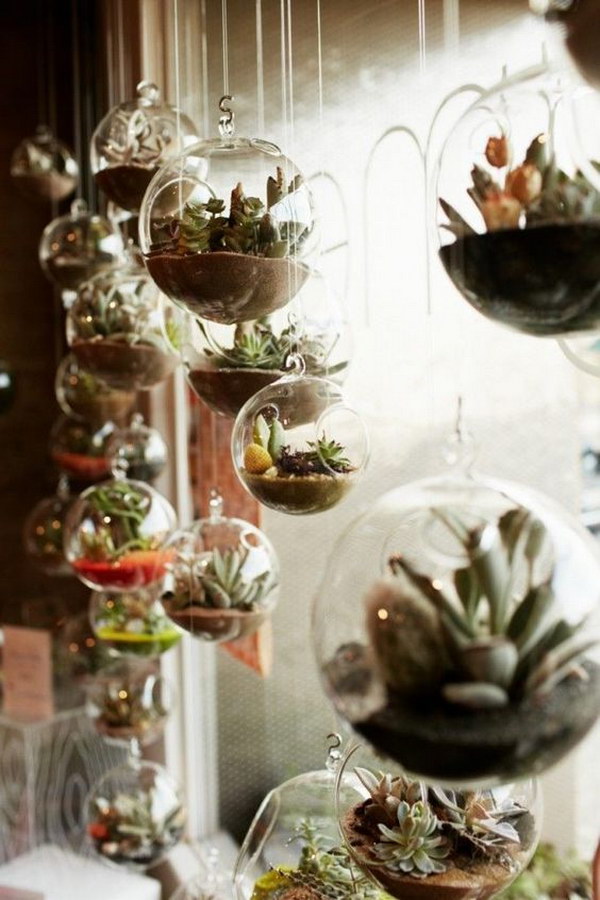 Colorful Succulents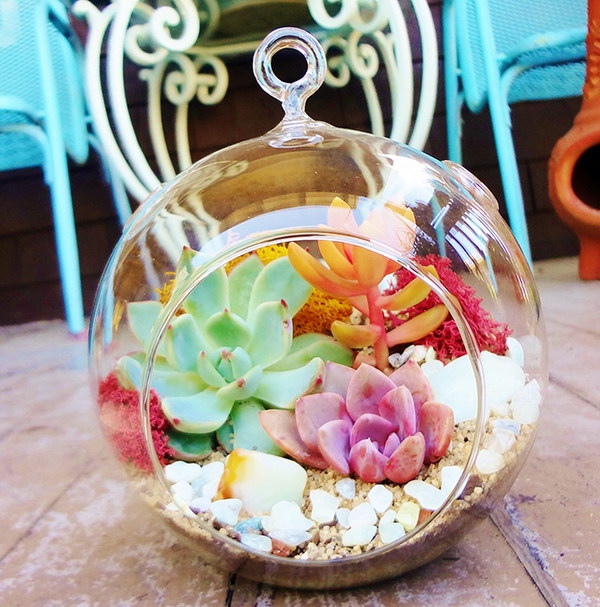 Living Succulent Wreath DIY

Succulent Monogram Wedding Decor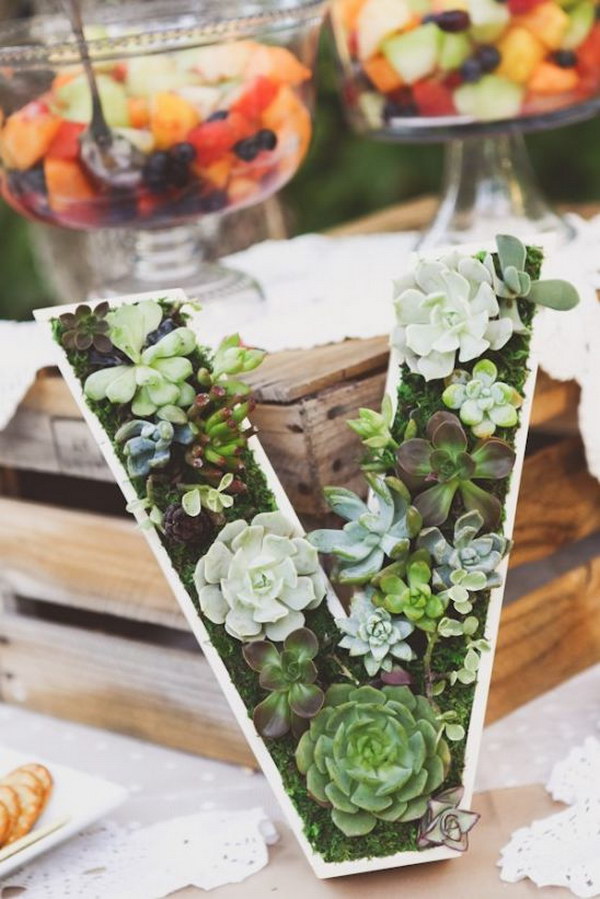 Succulents rarely need watering, which means they won't die easily if you're one of those people who only remembers to water their plants once every blue moon. On the other hand though, they will die if you water them too frequently, so it's probably best to keep them separate from other plants which need more water.
The only other thing succulents desperately need is a good amount of bright, natural light. This brings up another problem though, because while they do need a lot of light, they don't deal well with very high or low temperatures. What this means is that the best place for a succulent to be is indoors, but either in a room with large windows or right next to one.
DIY Book Succulent Planter

Truck Succulent Planter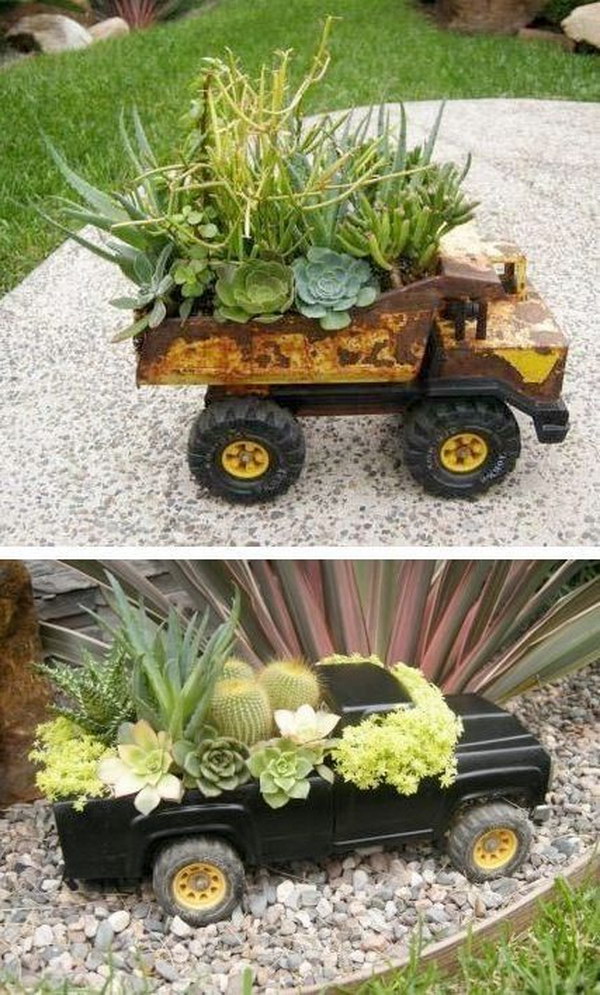 Succulent Eggshell Centerpiece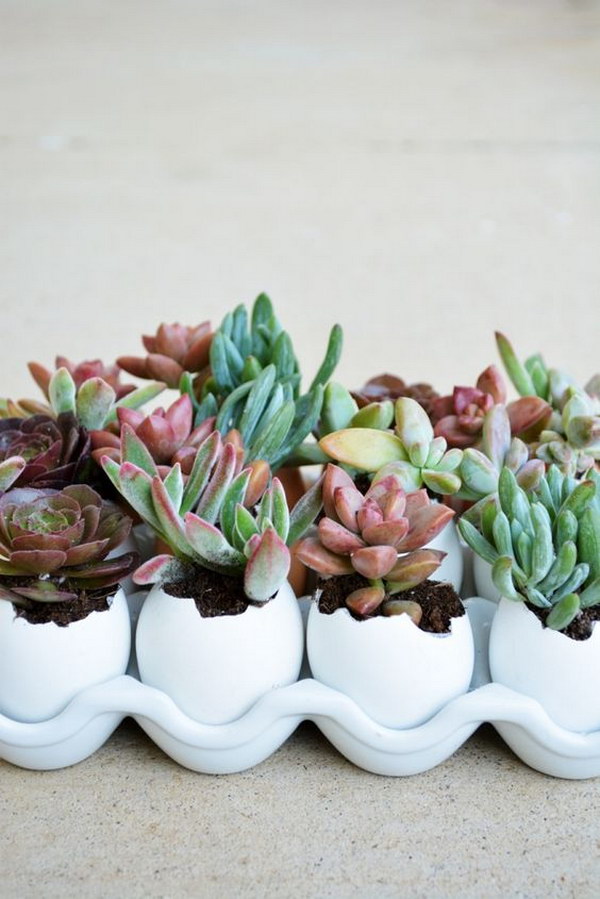 Eggshell Succulent Planter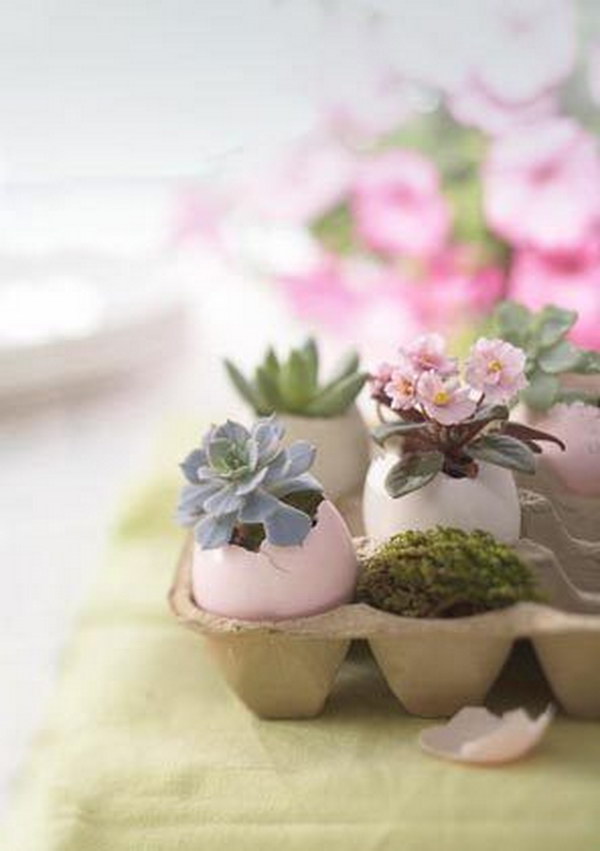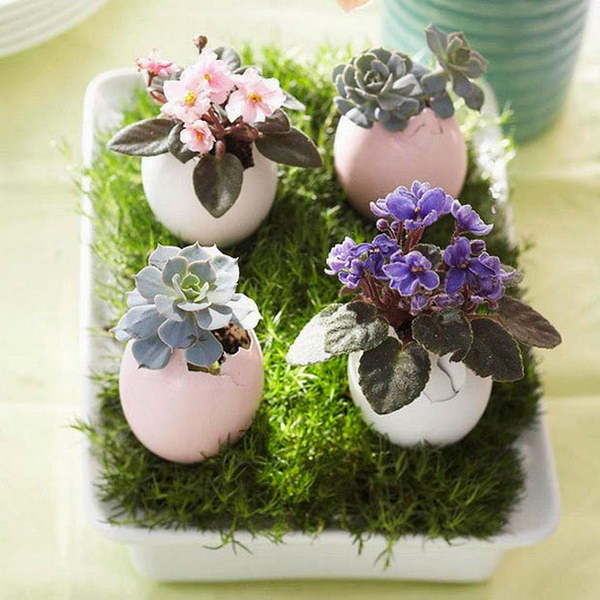 Mannequin Head Succulent Planter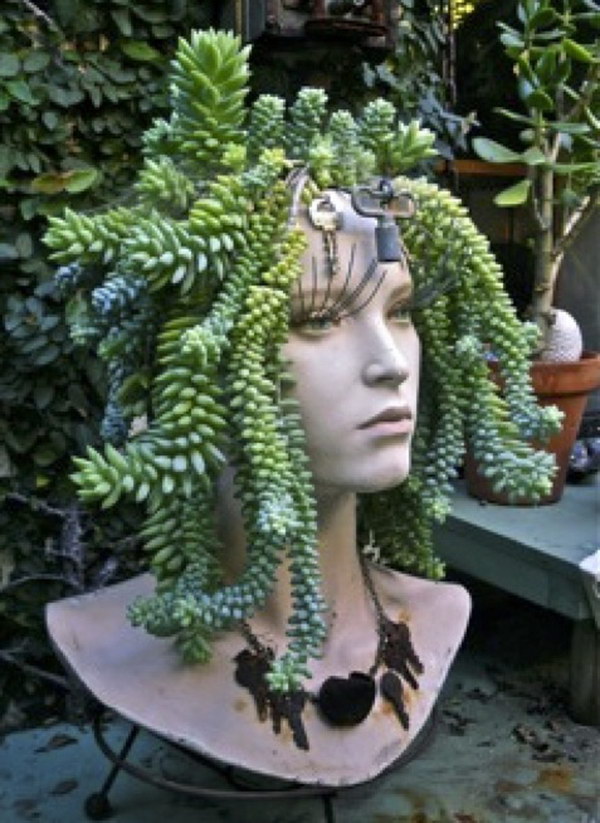 Succulent Wine Bottle Planters

Succulents in Cork Magnets

Pvc Pipe Succulents Planter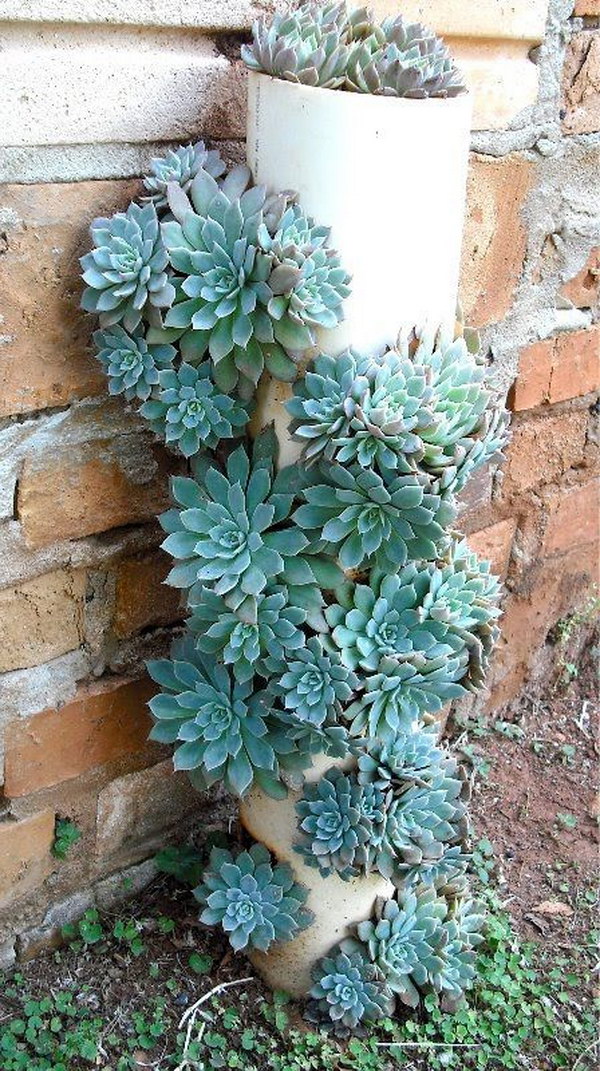 Display Succulents in Soup Ladels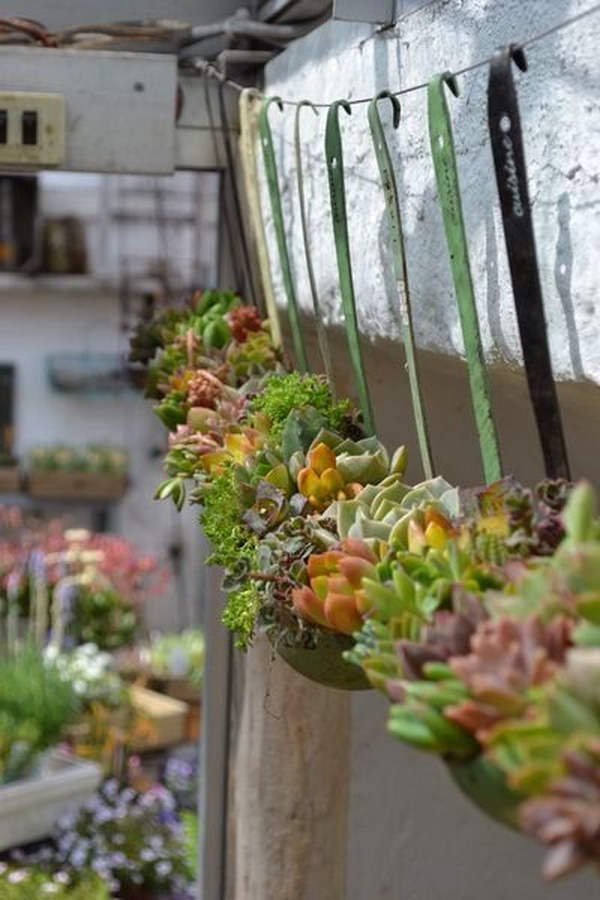 With all of that said, it would be understandable for you to get overwhelmed or discouraged by the thought of keeping succulents or trying to create a succulent garden. You shouldn't be, though, because there are, in fact, plenty of ways to plant and assemble succulents that are easy to accomplish, look cute and will keep them happy. In fact, that is exactly what we will be talking about here, as you should know already if you found this article all by yourself.
If you've bought or been given a succulent before – you're probably in the latter situation if you're looking for succulent garden ideas – you may or may not have noticed that succulents are sold in optimum packaging for keeping them, like when they come in small vases with an equally small amount of dirt at the base, or when they are sold in small glass bowls. Those are great ideas that can easily be replicated at home and multiplied if you want to keep a small garden, but they are not the only ways to do it.
Indoor Succulents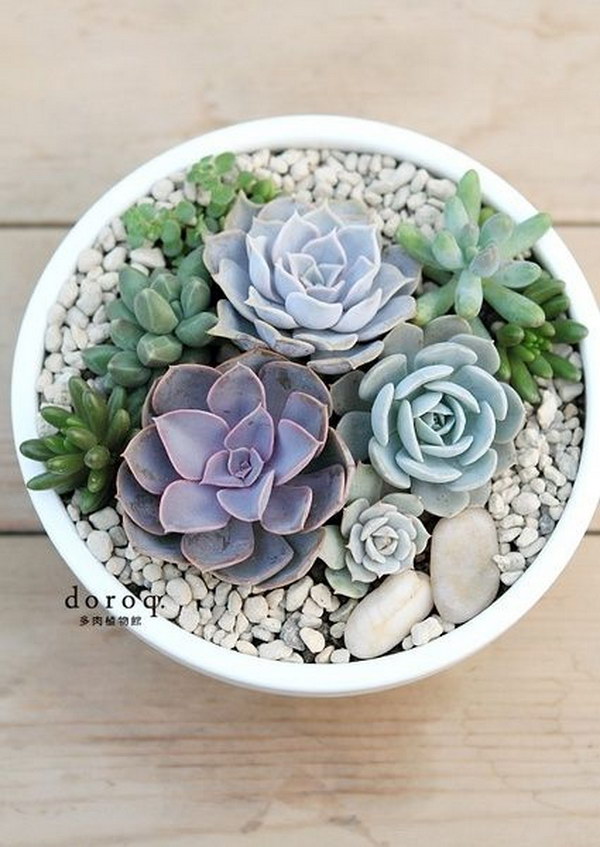 Framed Wall Hanging Succulent Arrangement
Succulent Frame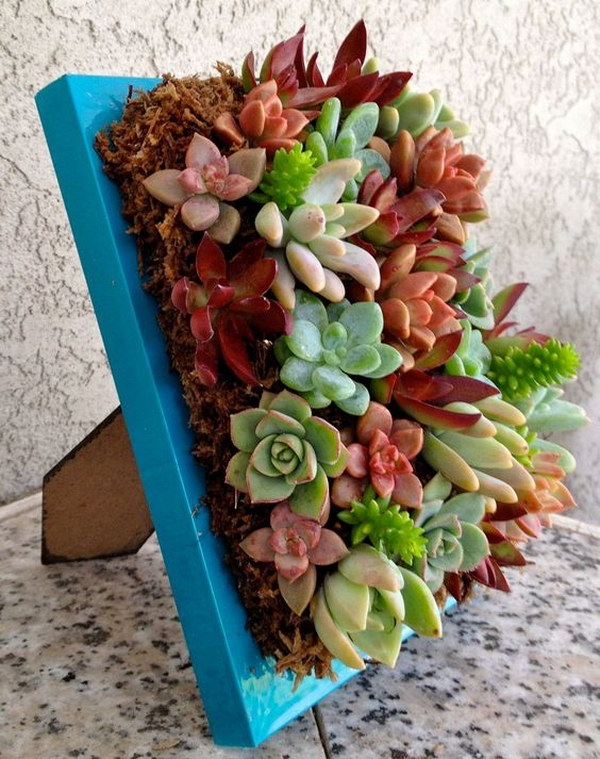 Heart Shape Succulent Wreath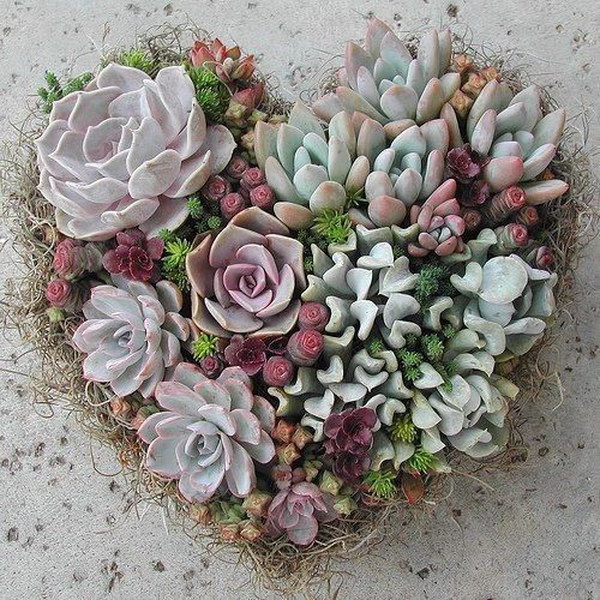 Succulent Love Letters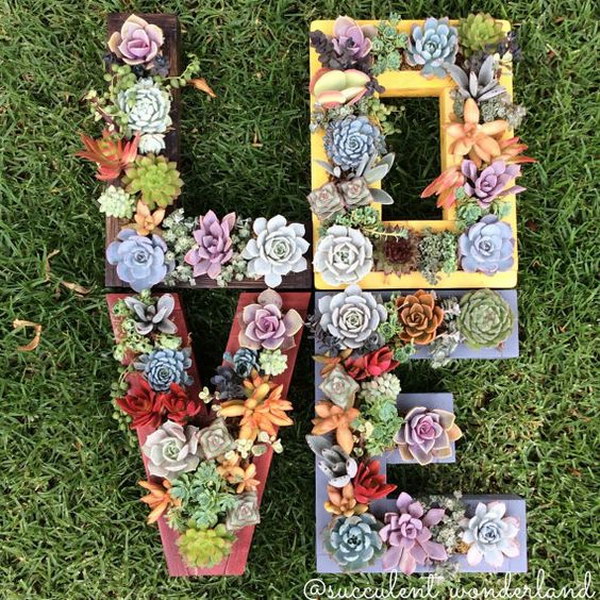 Pretty Succulents In Vintage Tin
Easy Succulent Garden Succulent Garden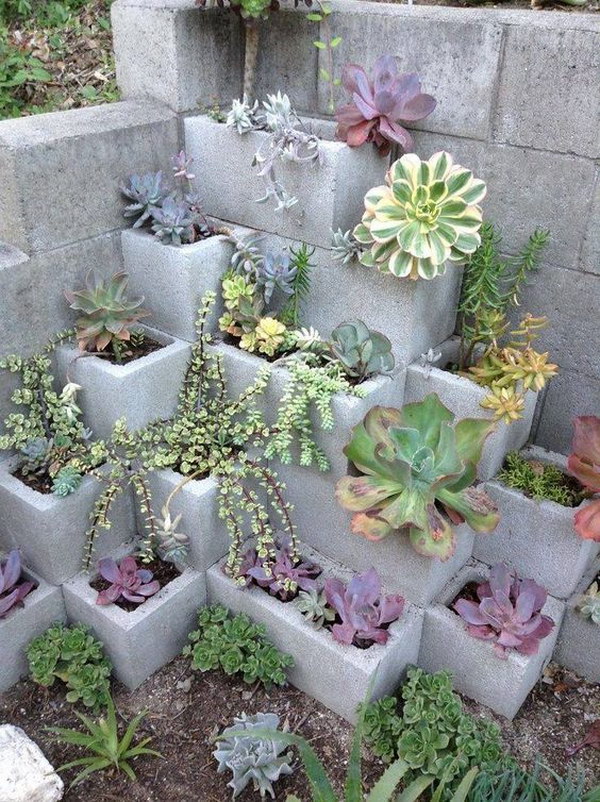 DIY Seashell Succulent Planter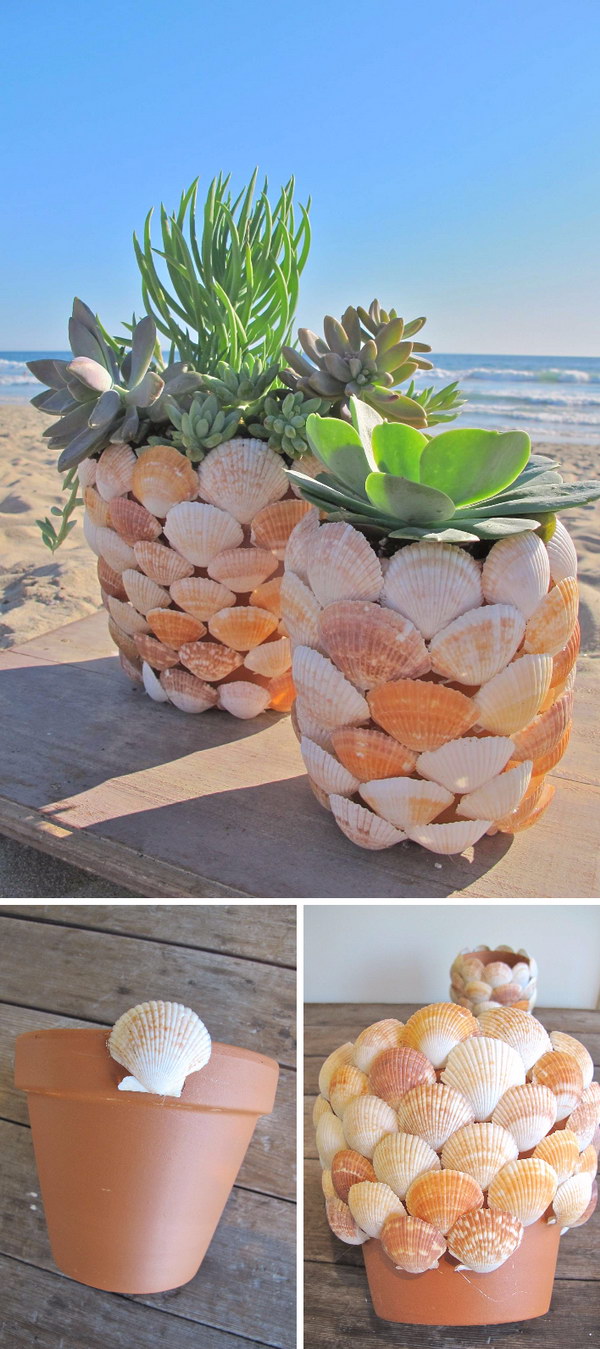 DIY Succulent Garden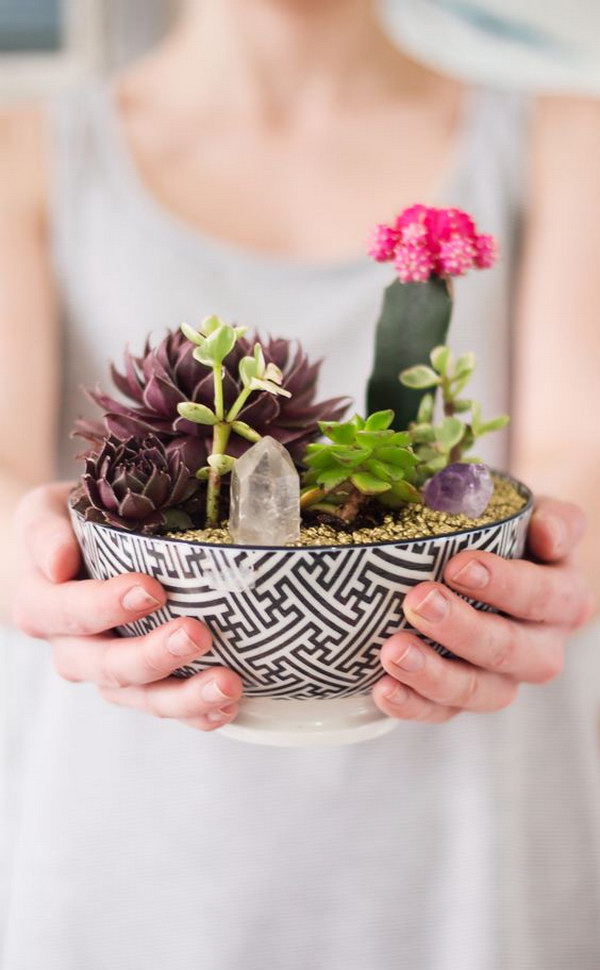 Buckets of Succulents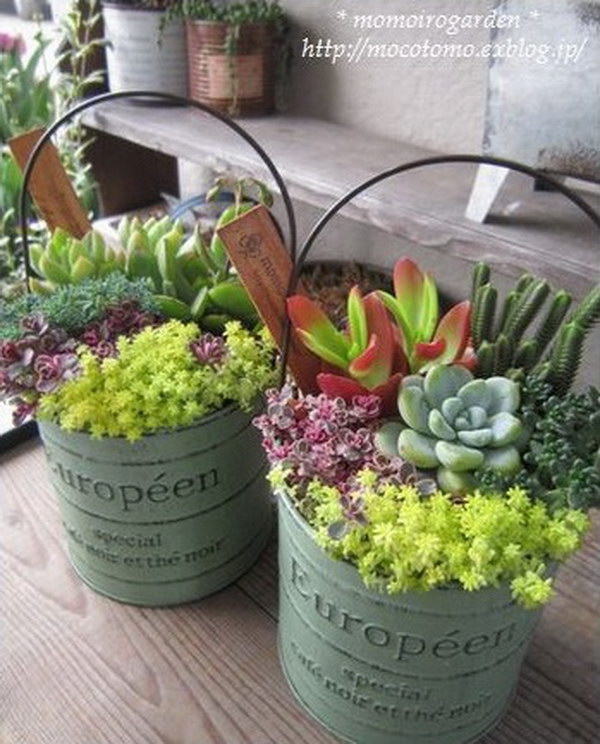 While they shouldn't be mixed with other plants, succulents can be arranged in almost all the same ways, if not more. You can have a few of them in a glass terrarium, line them up on your window sills or plant them in a small, slightly protected space in your outdoor garden, because they can as easily be kept in the outdoors as indoor if you find just the perfect setting.
The key to creating a perfect succulent garden or decor idea – they are great for party and holiday decorating, and they could even work nicely as wedding florals, in some cases – is to rely on their advantages instead of worrying about their drawbacks. In fact, the latter is largely outweighed by the former, as the fact that succulents need little water and dirt, combined with their smaller size, means that they easily fit anywhere.
Succulents In An Old Floor Lamp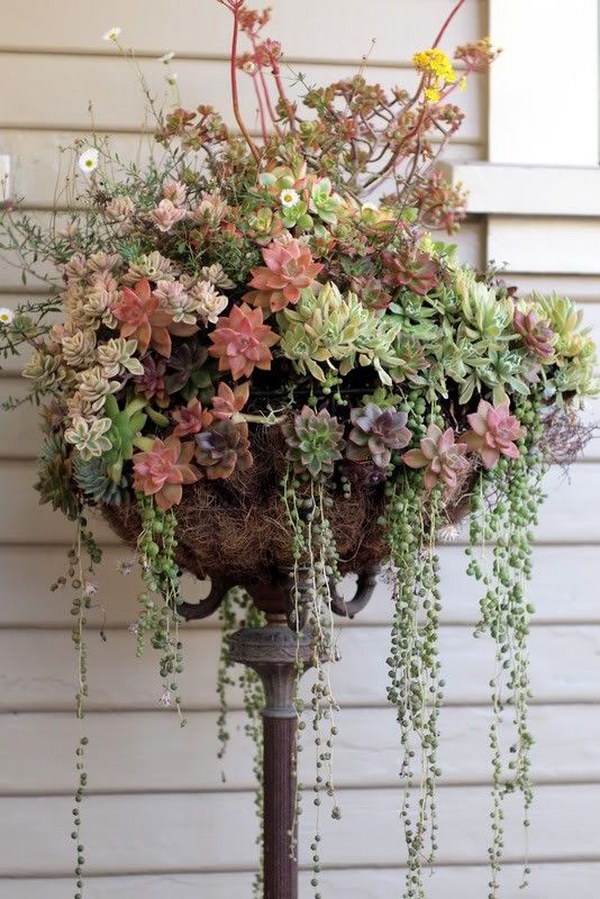 An old floor lamp turned into a planter pedestal.
Rooftop Succulent Garden Birdhouse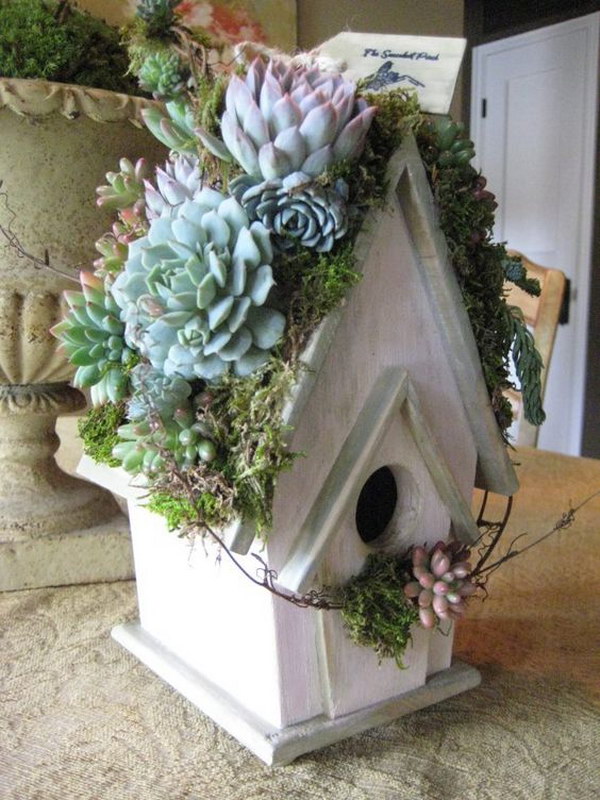 DIY Succulent Fairy Garden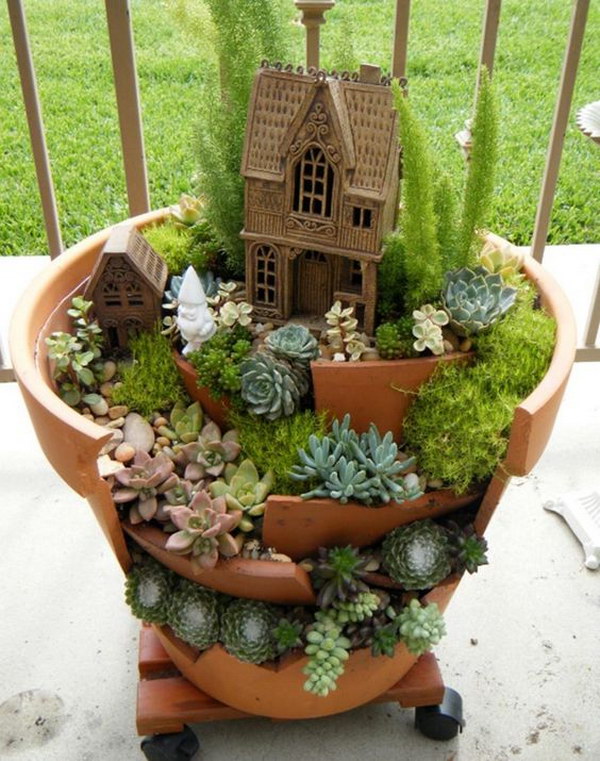 Add Some Sea Shells to Your Terrariums for a Nautical Vibe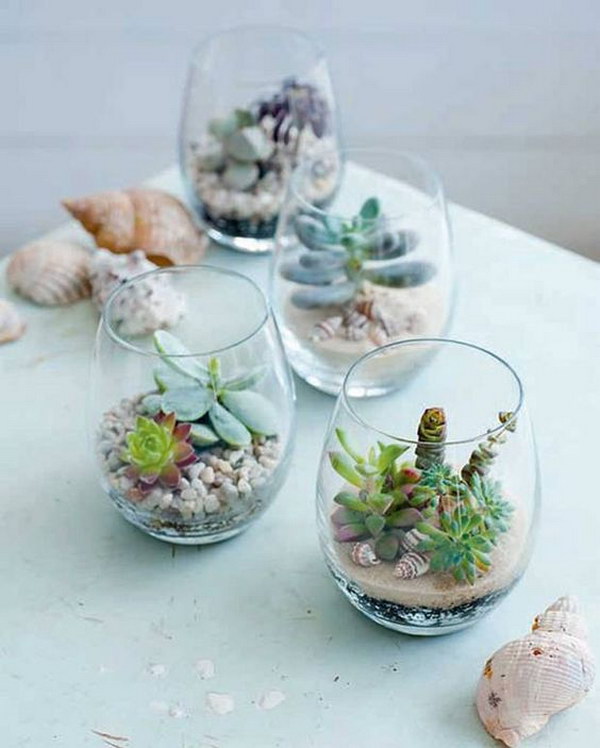 Teacup Succulent Planters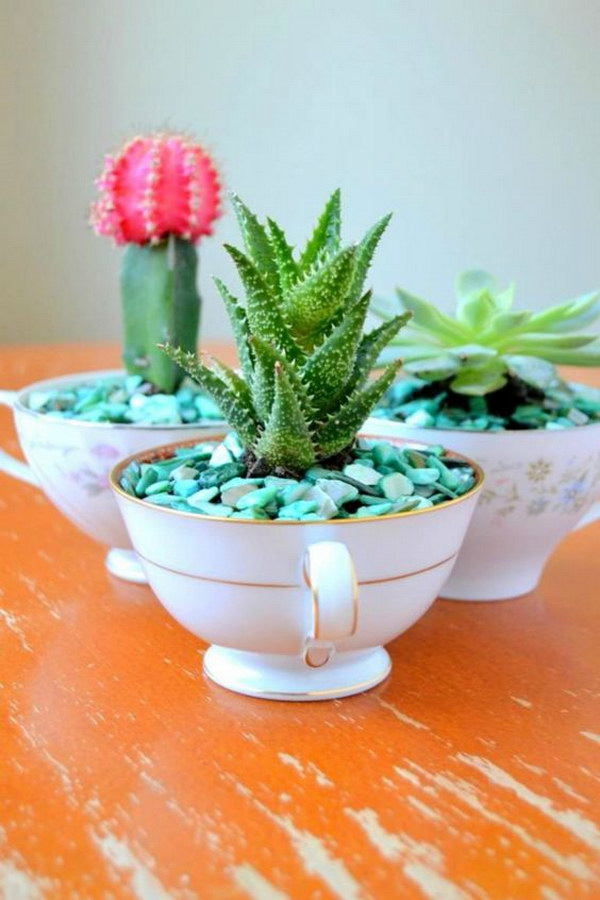 Succulent Boots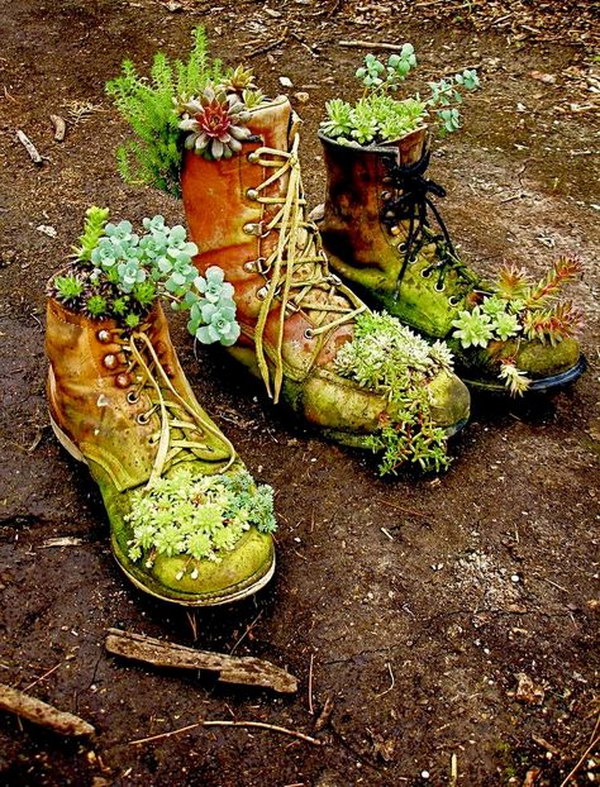 DIY Concrete Hand Planters & Bowls

Layered Effect Succulent Garden

Driftwood Succulent Planter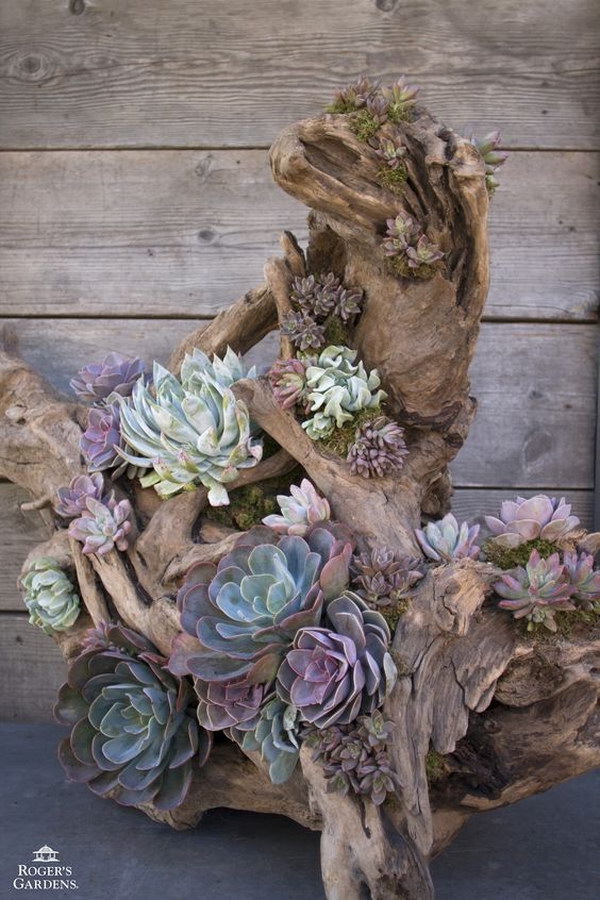 Old Tree Log Turned into a Succulent Garden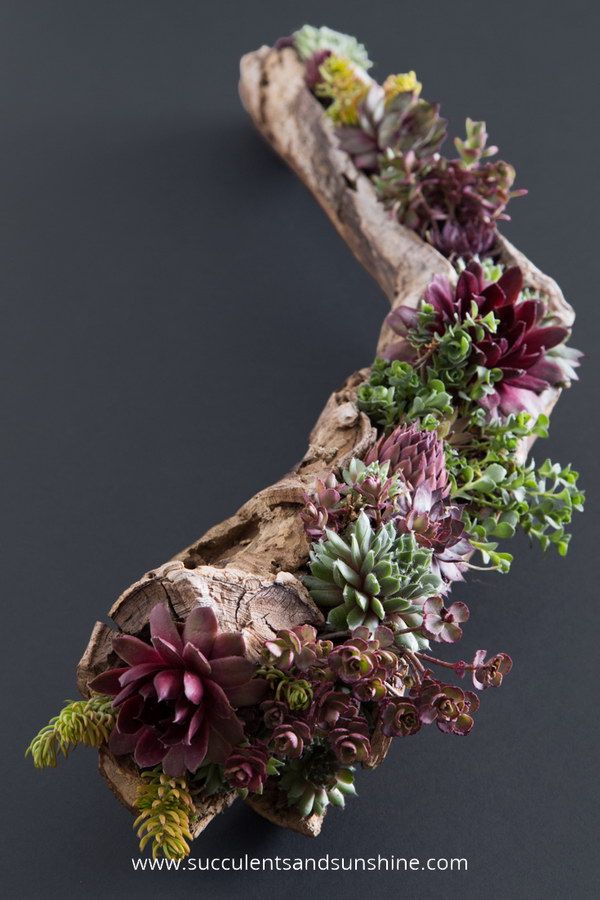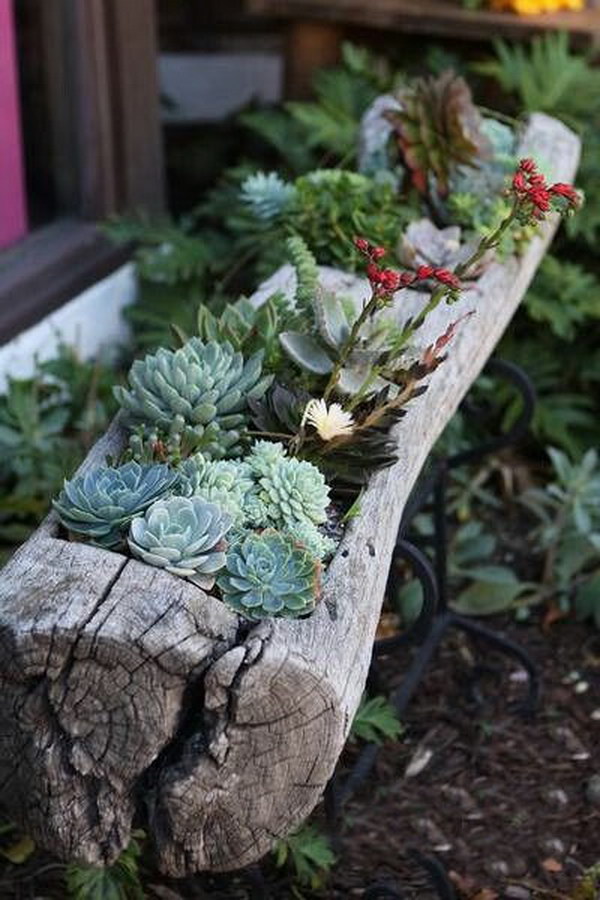 It may seem like a cliché, but the sky is literally the limit with succulents, as you can do everything from planting to hanging them like lanterns. The only things which aren't quite advisable are to float them, plant them in snow or leave them in direct sunlight. Aside from these three things, almost everything else your imagination can come up with is possible with succulents.
Rotary Phone Succulent Planter

DIY Crocodile Succulent Planter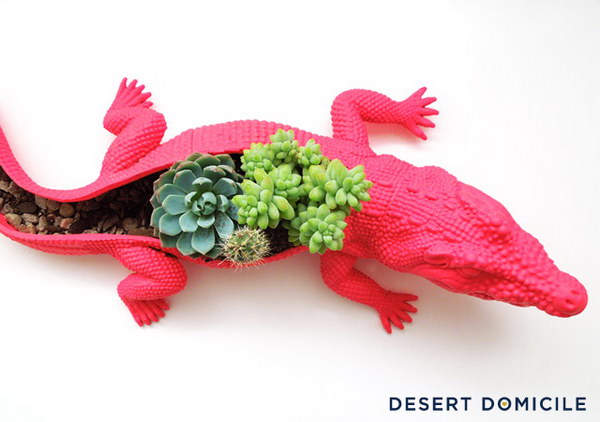 Succulent Chair
Fountain with Succulents Planted Instead of Water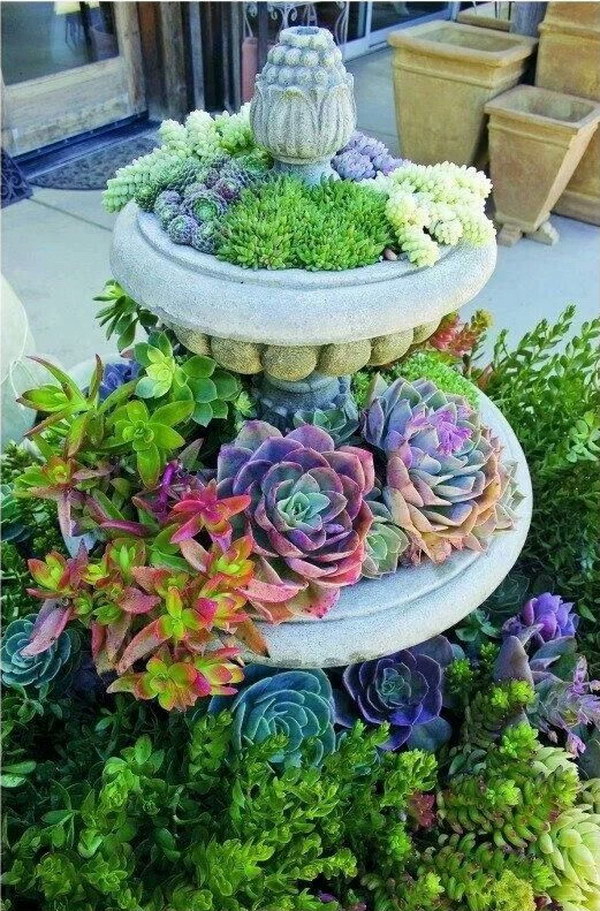 Wheelbarrow Planted With Succulents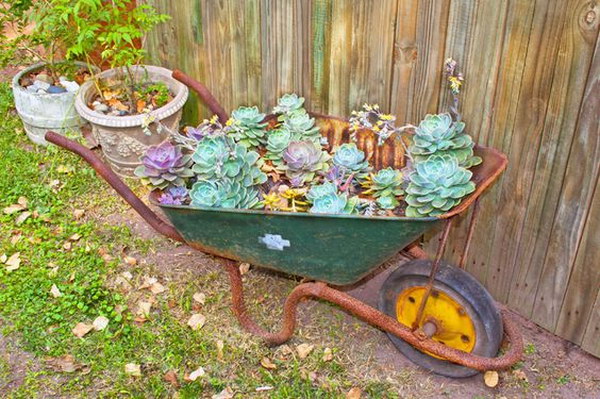 Old Birdcage Succulents Planter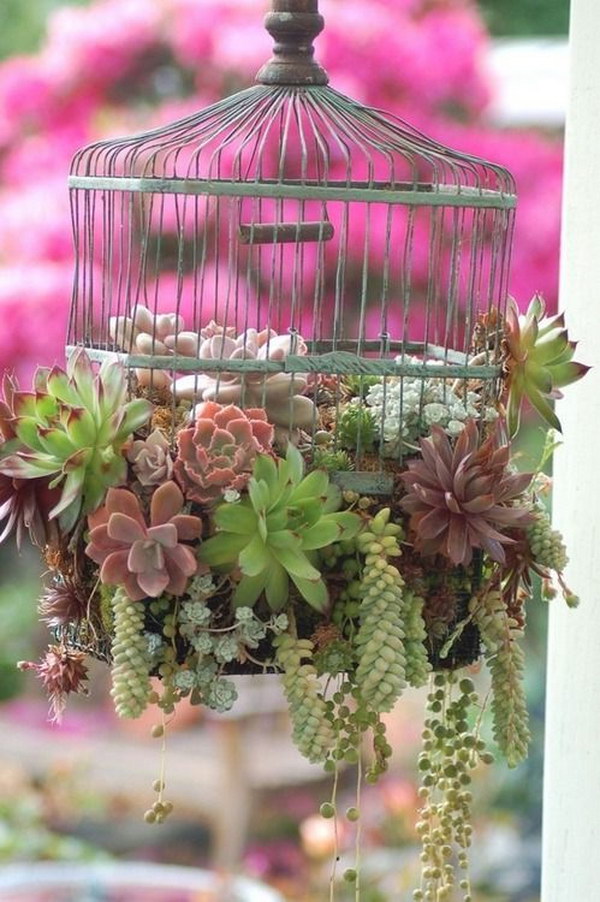 Succulents And Old Windows
Succulent Vertical Garden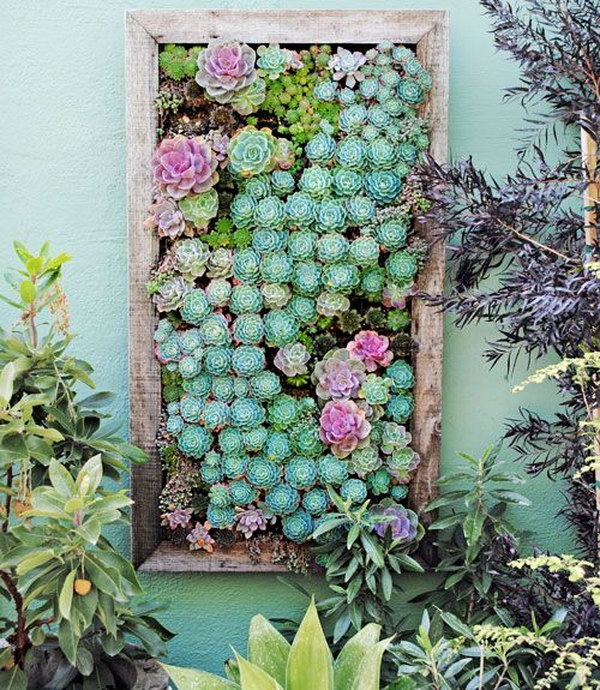 Hanging Succulent Ball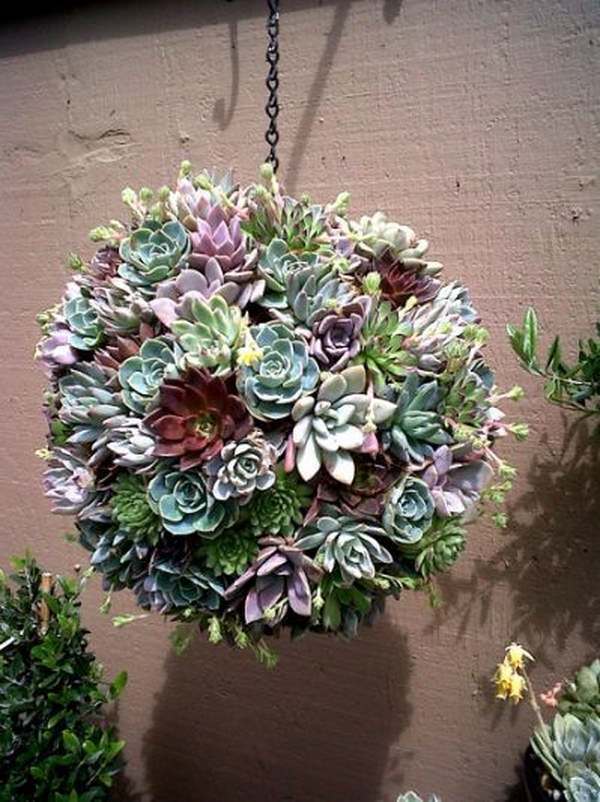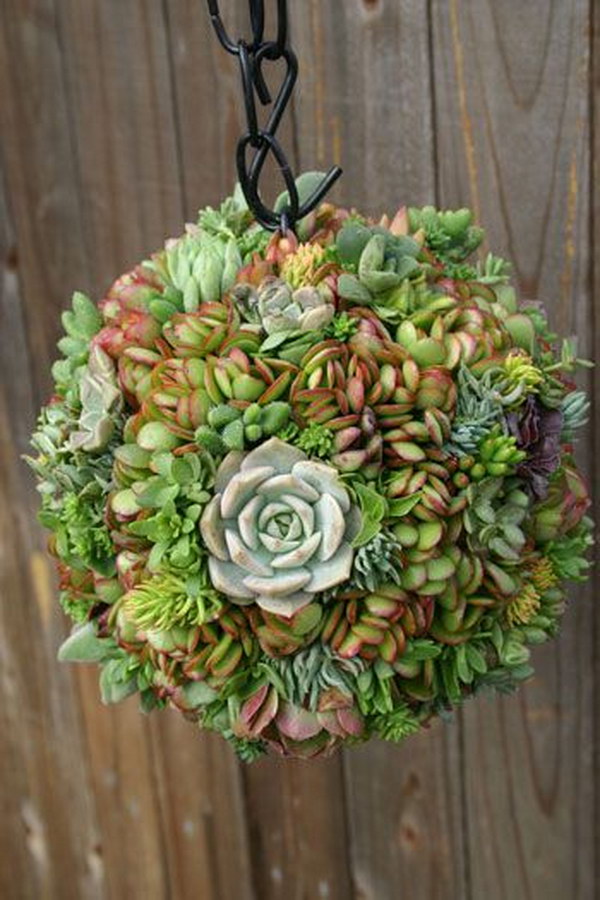 DIY Clay Pot Sphere for Stunning Succulents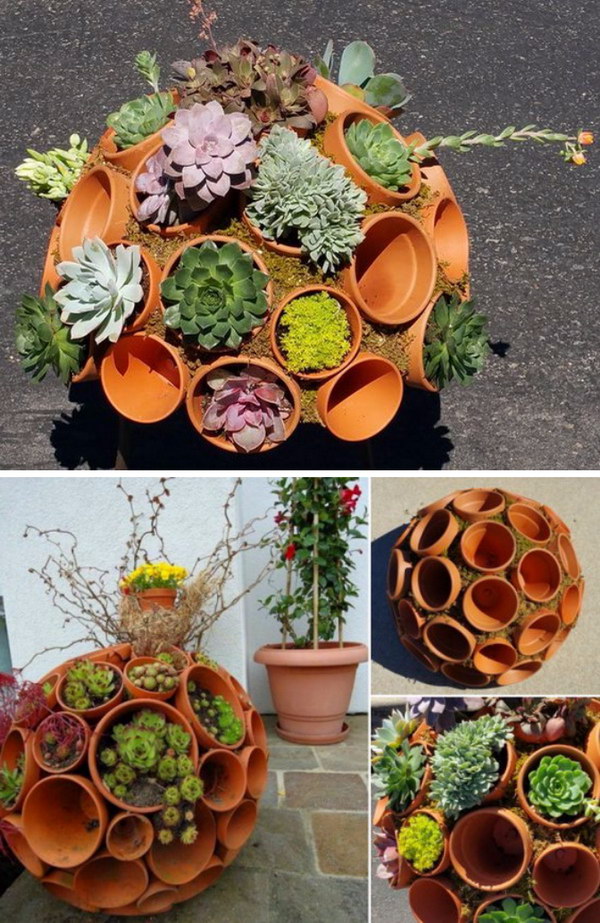 Spilling Pot Succulent Garden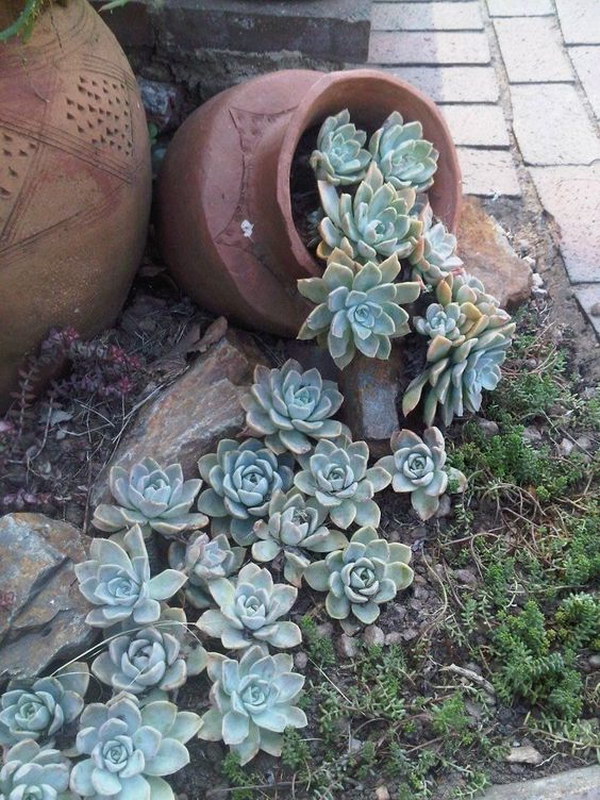 Purple Pavement Succulents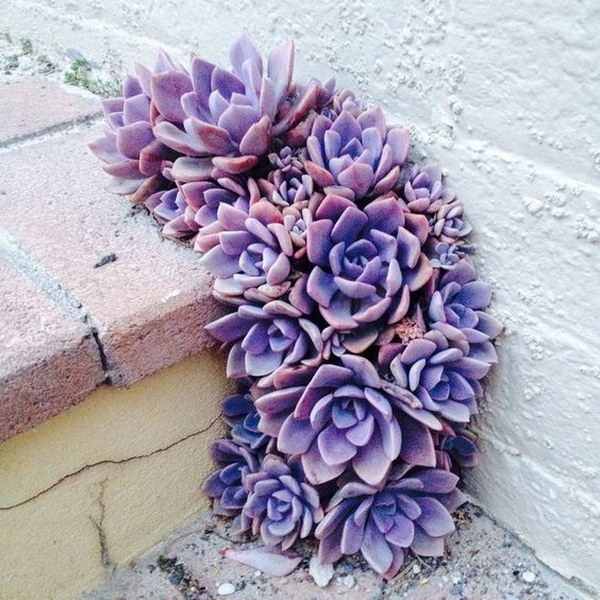 Outdoor Succulent Wall Accent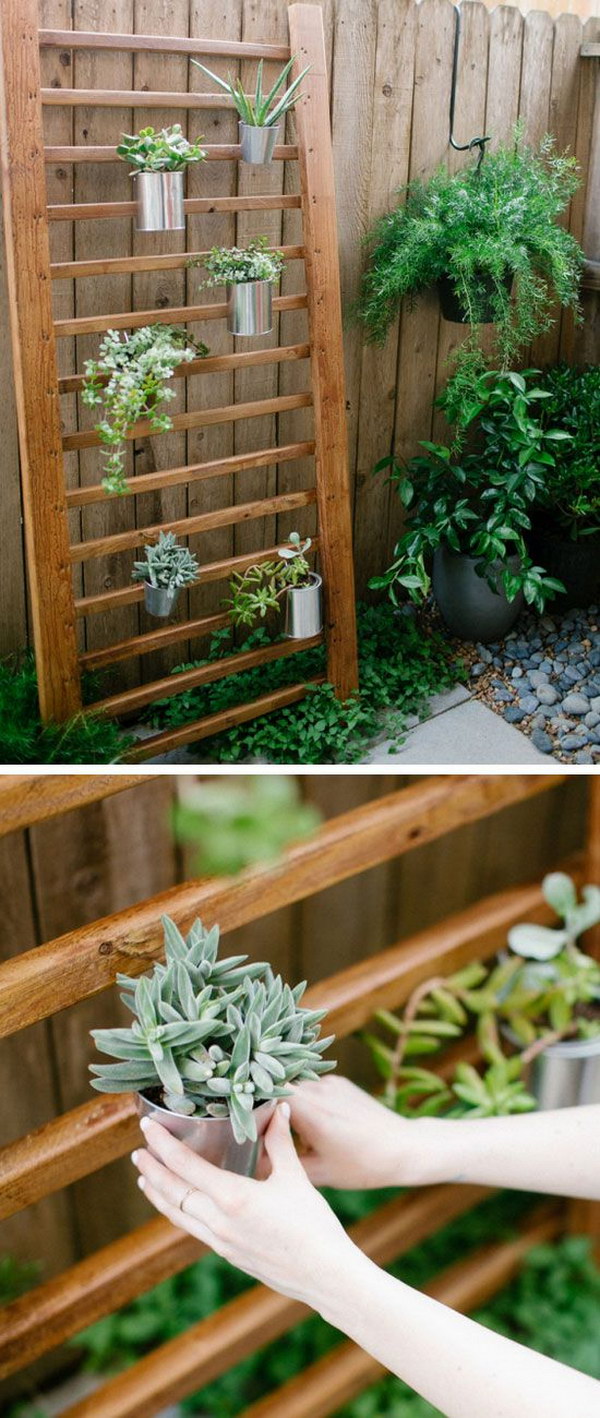 Create a mosaic made from succulents along side a pathway or for the planter under the a window Succulent edging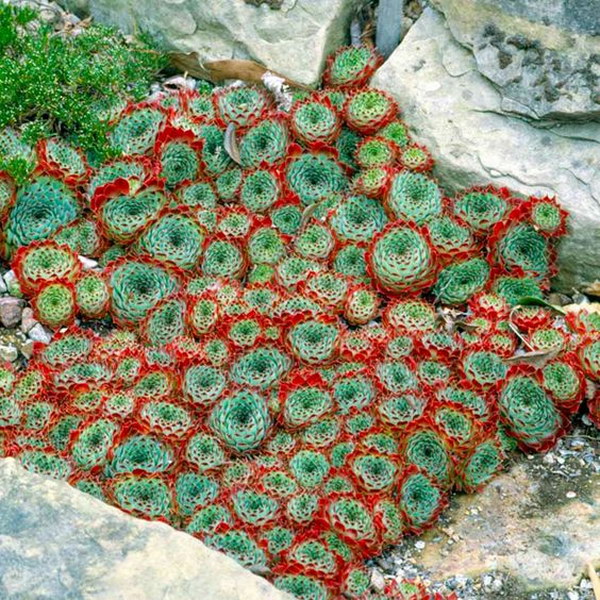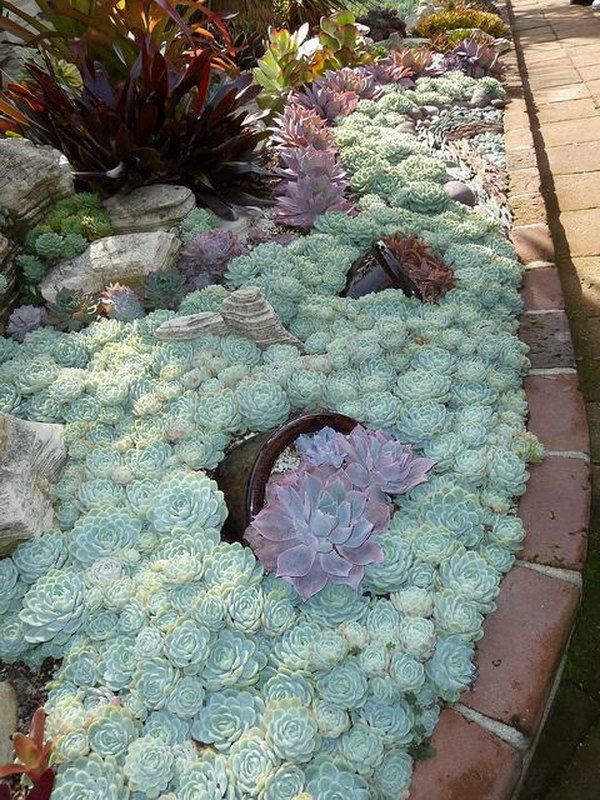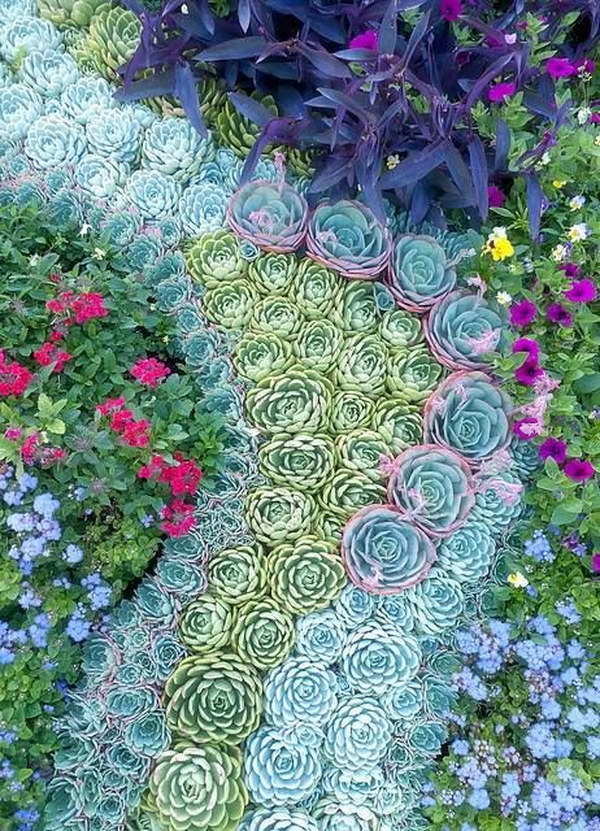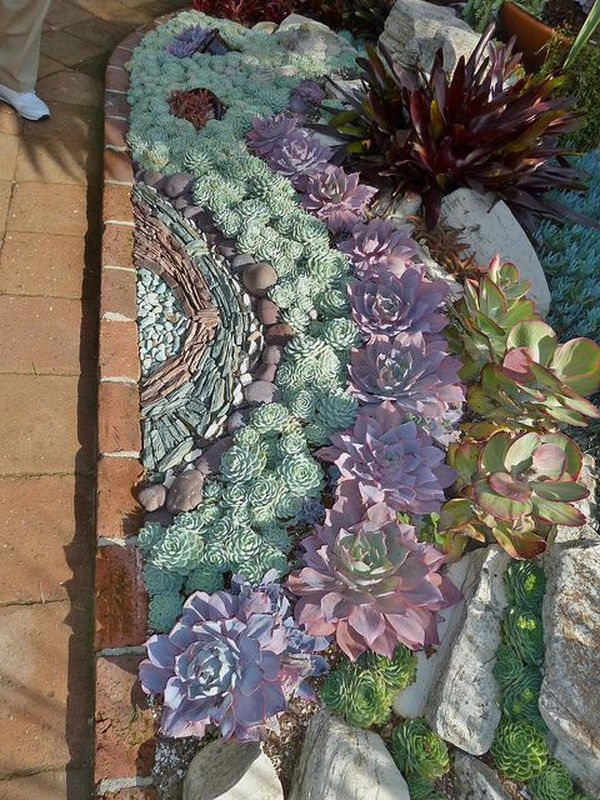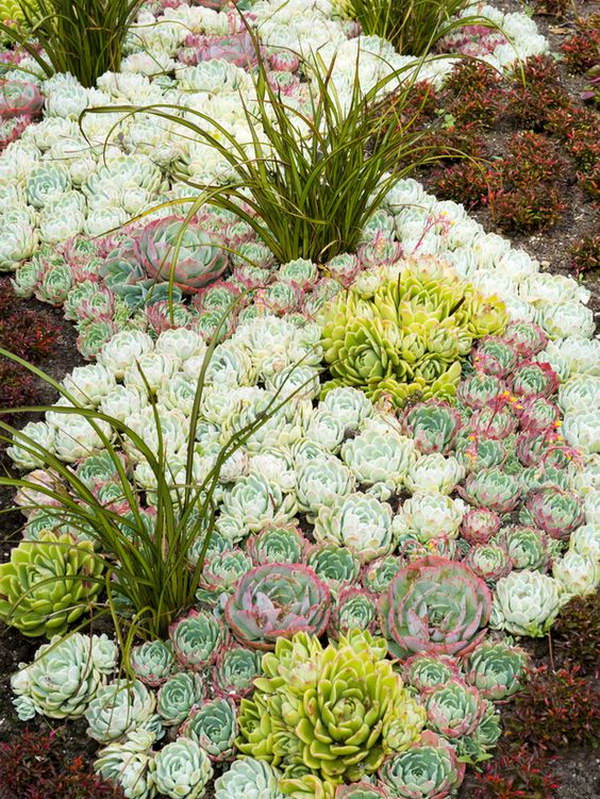 Small Rosette Succulents Geometric Arrangement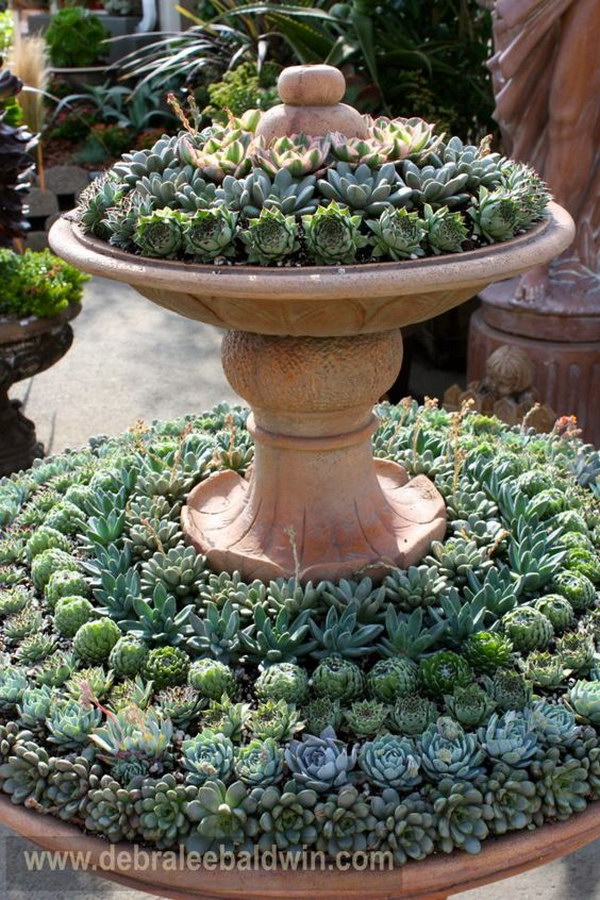 Tree Stump Succulent Planters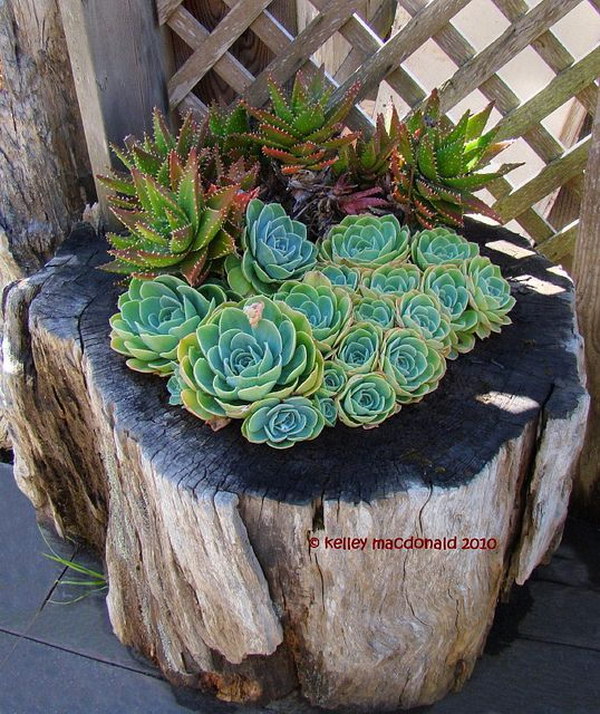 Recycled Fire Pit Succulent Planter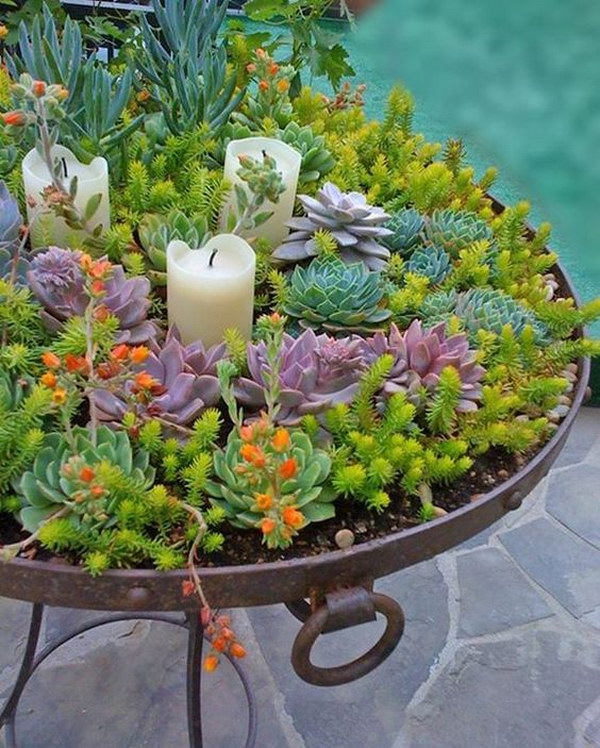 DIY Recycled Pallet Vertical Succulent Garden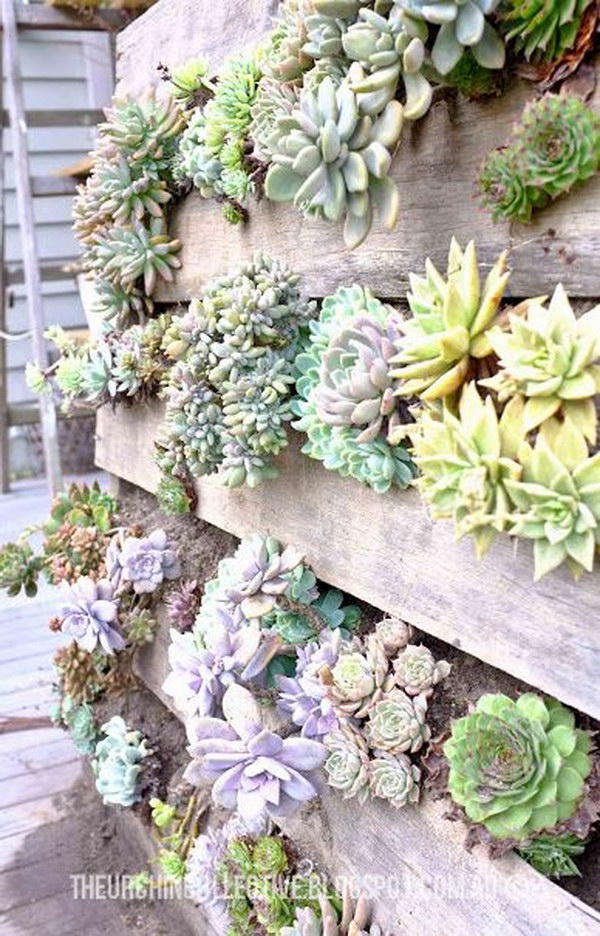 Recycled Wagon Wheel Succulent Garden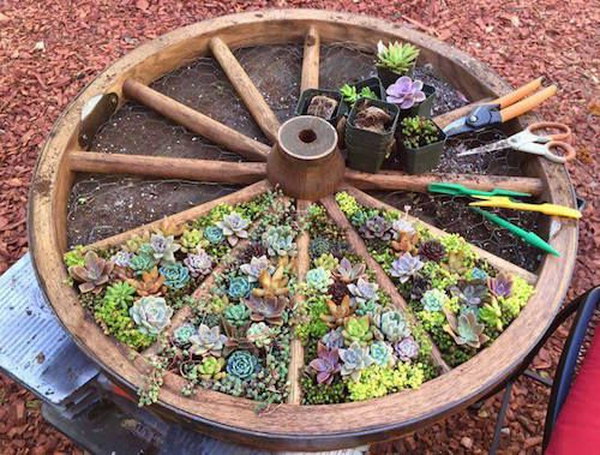 Plant Succulents In Old Shutter Door
Propagate Succulents From Leaf Cuttings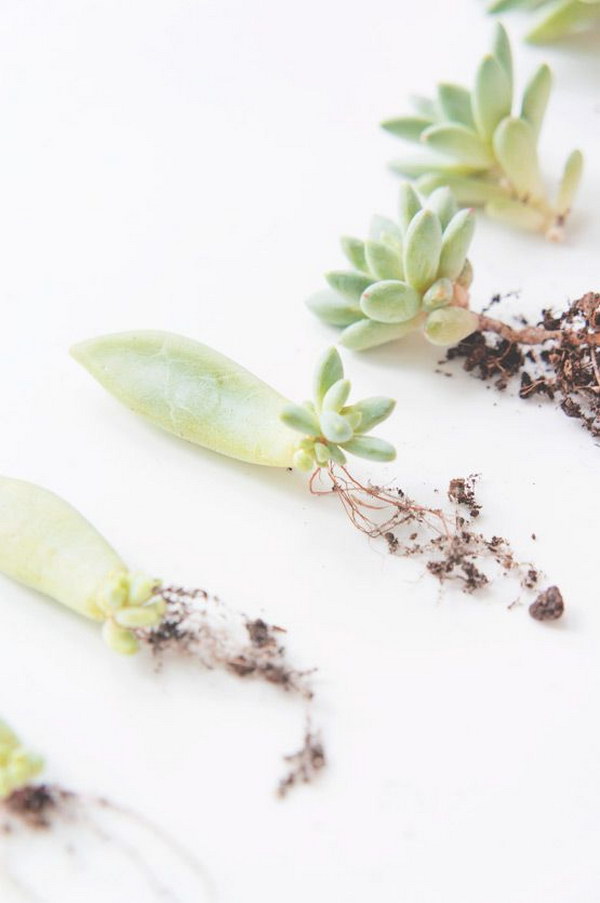 DIY Hanging Terrarium Succulent Garden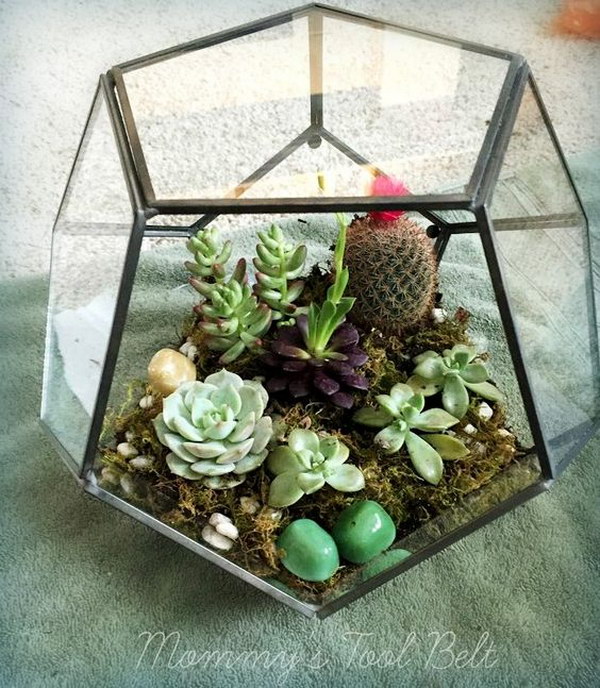 Succulents Centerpieces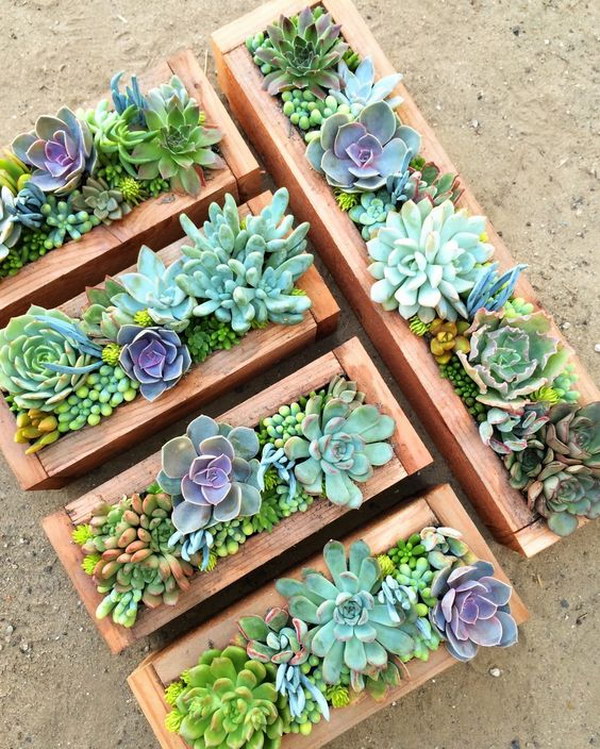 If you do lack imagination, decor or gardening skills though, don't worry. After all, this article is all about succulent keeping and succulent garden ideas, so you should be able to find plenty of material to get the creative juices flowing freely in no time.
After this, it will be quite surprising if you don't become a pro at succulent keeping – not that there is that much to it, in any case.