Valentine's Day is the most romantic day of the year. It is the one day in the calendar that celebrates the love of couples of all ages and status.
Valentine's Day decoration is all about showing your love for someone else and creating that romantic atmosphere in your house, whether you are planning a romantic day, a candlelit dinner or a night in bed – cuddling or otherwise.
Some might think Valentine's Day decorations – and the holiday itself – are quite cheesy, because they are all about hearts and kisses, as well as hues of pink and red.
In the end though, no one can deny that these decorations are quite adorable and help set the mood for romantic endeavors, as well as reminding your partner of the date, in case they had forgotten.
Valentine's Day is just one day, that's true, but it's definitely worth celebrating in creative and romantic ways. Plus, if you do it well, you can recycle these decorative items for the next year or a different occasion like an anniversary.
Still need help juggling your creativity? These Creative Valentine's Day Ideas should definitely impress your partner on the big day.
Personalized Valentine's Day Flowers
via ehow
Farmhouse Inspired Valentine's Decor

via refreshliving
DIY No Sew Garland

This fun love-inspired garland is really easy to make, as there is no sewing involved. All you need to do is cut triangles of patterned fabric, then glue some lace and a glittery heart in the center, as well as small tassels all around. String all of the triangles together and the garland is ready to hang. via dimplesandtangles
DIY Hanging Flower Heart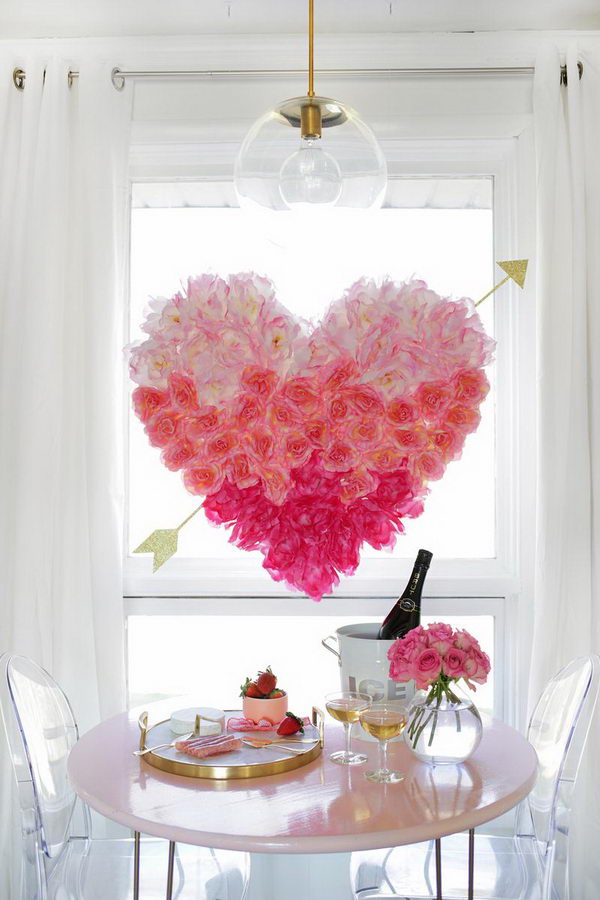 This piece is absolutely gorgeous. The flowers are mounted on a foam heart, so that they look suspended into shape. Their different colors add a beautiful gradient effect and a glittering cardboard arrow adds the glamorous finishing touch to the piece. via abeautifulmess
Stacked Ombre Heart Candles
Crafting these ombre heart candles isn't hard or expensive at all. What you need to do is make your own colored wax and then cut the heart shapes as it dries using cookie cutters. Mount the different colored hearts on top of each other asymmetrically and add a wick to turn the wax hearts into a functioning candle. via handsoccupied
Triple Heart Valentine Wreath

This wreath is super cute if you want to show your Valentine's spirit to your whole neighborhood. Putting all five felt and foam hearts together takes work, but it's certainly not difficult. Once that's done, all that is left to do is pin them to your ribbon and hang your Valentine's wreath up! via alittleofthis—alittleofthat
Lighted Hearts Photo Booth Prop

This is one of the best props you can make if you're hosting a Valentine's Day party. If is simply made using a large foam heart, which is then covered in velvet ribbon. The marquee lights are actually small ornaments that light up and come with wire, so all you need to do is stick them in and then leave the hearts by the photo area to be used. via hwtm
Wine Cork Heart Door Decoration

This one's quite perfect for a rustic or countryside decoration, as it features a hollow heart entirely made of wine corks stuck closely together. A festive wide ribbon secures the heart and allows it to be hung. via alwaystheholidays
DIY Valentine Heart Cone Tree

This project is very simple yet adorable, as the final product is trees covered in pink hearts. Making it is as easy as getting cardboard cones, cutting hearts out of pink paper and then layer the hearts upside down on the cone from the bottom to the up to create the 3D tree effect. via igottacreate
Valentine's Day Wrapped Letter Decoration

3D letters are perfect for every occasion, so you can definitely make or customize some for Valentine's Day. These ones were crafted using cardboard letters from the store which were then covered with fabric and yarn for decoration. via 5minutesformom
DIY Coffee Filter Rose Heart-Shaped Wreath

Who would have guessed that this elegant and romantic wreath was made from coffee filters? The roses are quite easy to make and dye, while the coffee filters are pretty affordable, so you can definitely attempt this project for yourself. via adelightsomelife
DIY Ombre Glitter LOVE Sign

Decorating a sign isn't hard, even when you need to deal with a glitter mess. This one was made using letters that spell the word "LOVE", which were first painted in a red and gold ombre effect, then further decorated with matching glitter covering each section. via campmakery
Valentines Day Heart Paintings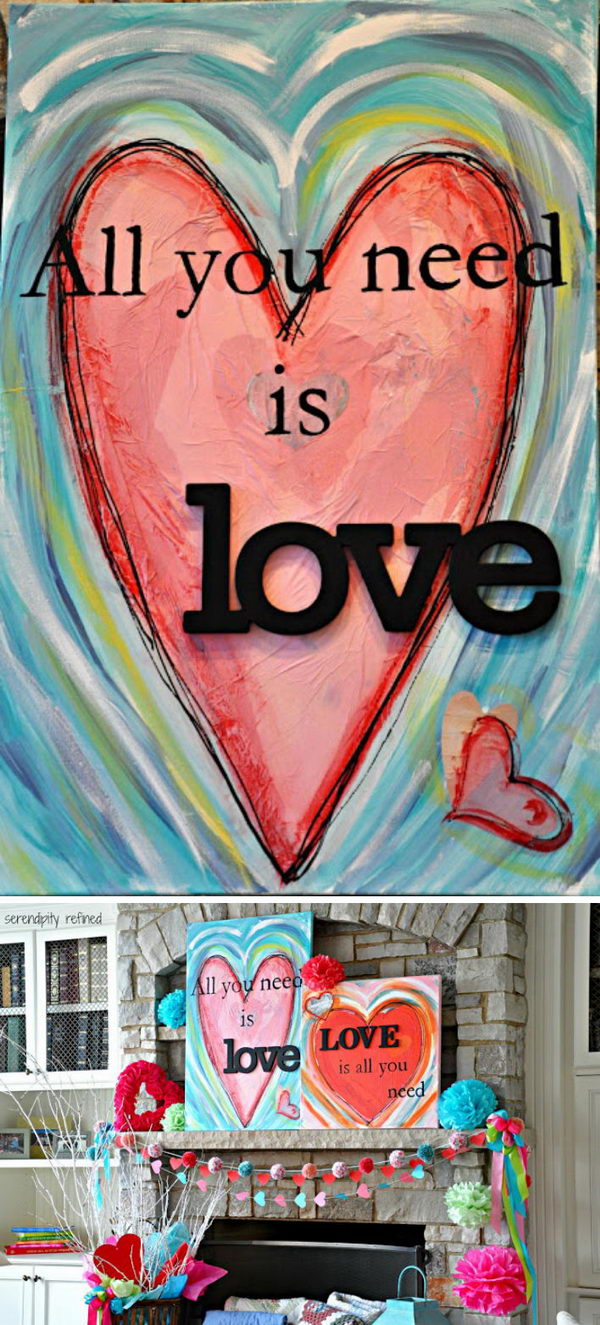 These paintings are definitely a mix of styles, as the backgrounds seem to be done by hand, using watercolors and markers, but then the messages are either stamped or stenciled. It is the handmade aspect of the pieces that makes them adorable and unique. via serendipityrefined
XOXO Painted Tablecloth
This project is as simple as they come. All you need to do is take a plain tablecloth and then paint your message repeatedly across the whole surface using fabric paint. Once it dries, you can set your table with it. via shopwalkinlove
Branches Decorated with Plaid Heart Ornaments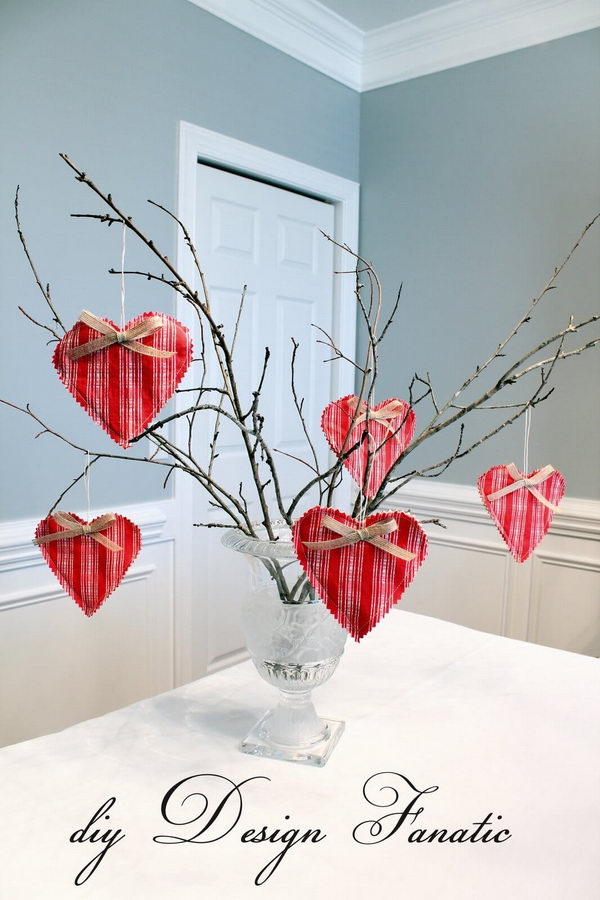 This could easily be a centerpiece or a side table decoration, as all there is to it is a glass vase, some fake empty branches and then plaid heart ornaments, which you can find cheaply at the store or even make yourself. via diydesignfanatic
DIY Valentines Wreath And Frame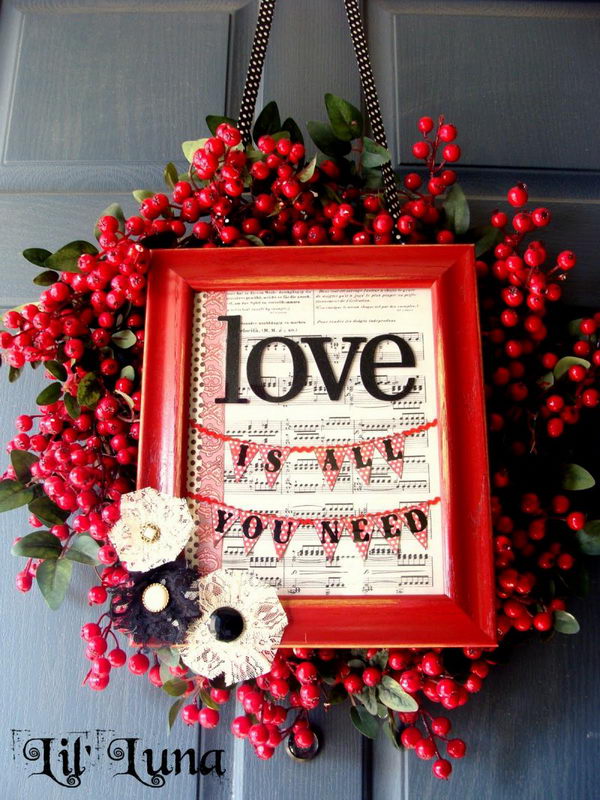 This romantic wreath is pretty much just like any other, as the background is a circle of mistletoe and red flowers hanging on a thin ribbon. The center, however, was decorated with a red frame featuring a message inside and some colorful flowers at the corner. via lilluna
Yarn And Mod Podge Hearts

These hearts are easier to make than you might imagine. All you need to do is create the hearts on wax paper using yarn and diluted glue. Once they dry, they will harden and you will be able to take them off to hang. via auntpeaches
Yarn Wrapped Styrofoam Hearts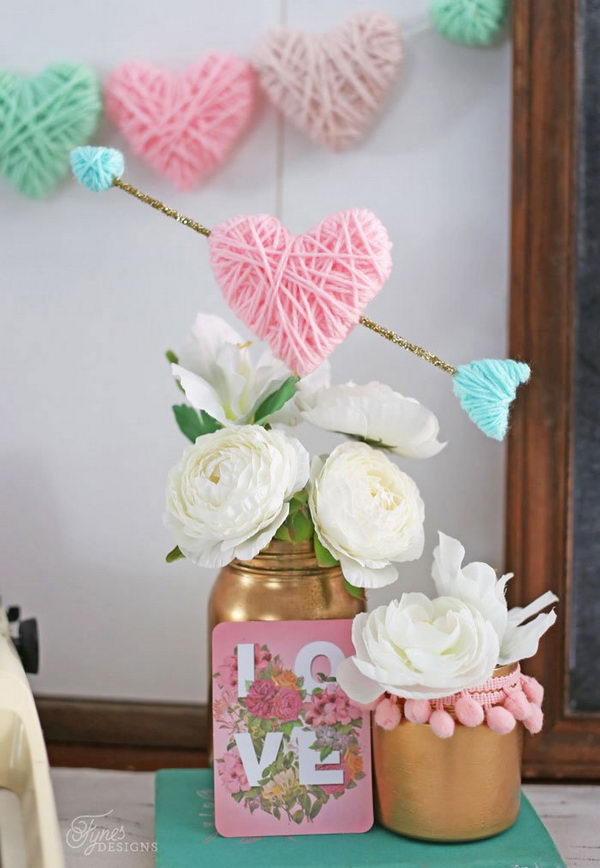 These hearts are pretty much balls of yarn, except you have foam inside to help shape them correctly. You can also poke a glittering arrow through like you see in the front heart, taking care to cover the ends as well so that it matches the hearts. via fynesdesigns
Pink Yarn Wrapped Heart Decoration

This decoration, which could also be a present, is nothing more than a colorful bucket filled with fluff which supports a pink yarn heart on a stick. Making the heart is as easy as cutting the shape on cardboard and then winding the yarn tightly around it before poking the stick in. via sixcleversisters
DIY Heart Shape Balloon Pop
This seems like a great activity for an anti-Valentine's party as it's made out of cardboard and small pink balloons, as well as some pink stick arrows, which you are meant to pop the balloons on the cardboard with. via diy360
DIY Tassel Garland

Tassel garlands are easy to make and appropriate for almost any occasion. All you need to do is create your tassels using yarn or fabric scraps of different colors, then string them all up, adding that festive touch to the room. via pizzazzerie
Heart Shape Doily Table Runner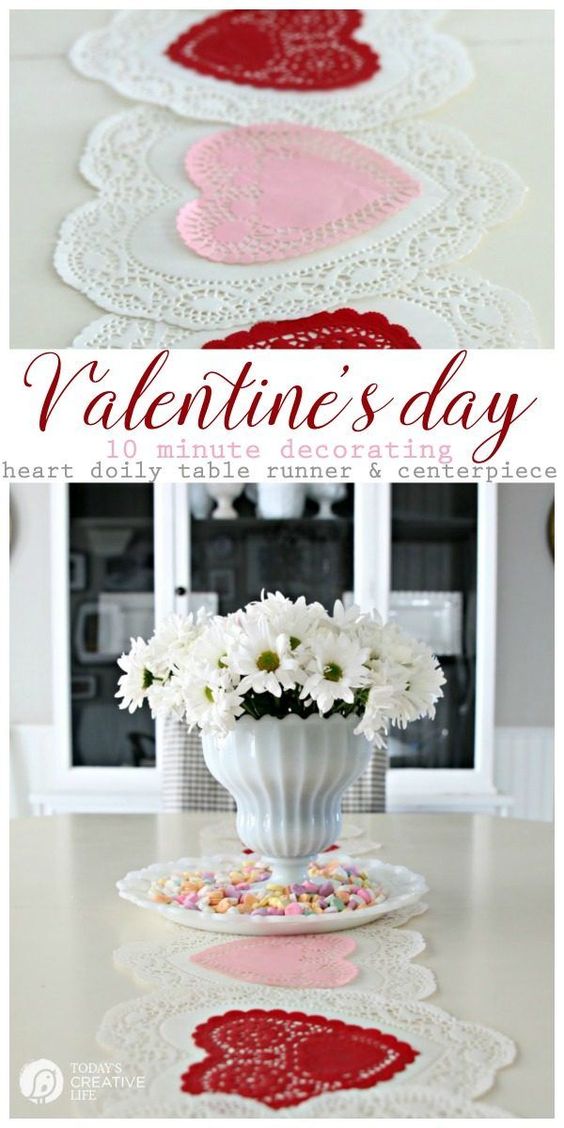 Making this table runner is pretty easy. All you need is a plain lace table runner and then some large colorful doilies, which you can cut your heart shapes from. Glue or sew your hearts to the table runner and your piece is finished. via todayscreativelife
Valentine's Day Heart Attack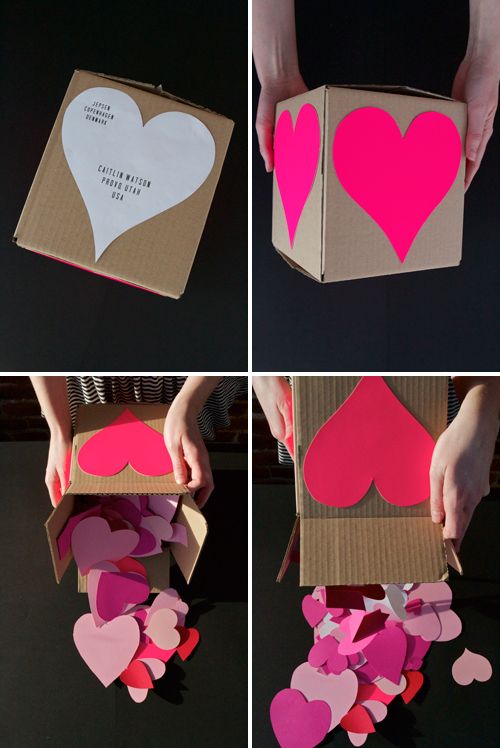 This is, once again, a decoration and present in one. It is quite simple to make, because it is just a cardboard box decorated with large hearts on the sides and then filled with smaller ones, so that the person who opens it is literally attacked by hearts as they do so. via thehousethatlarsbuilt
Valentine Heart + Faux Fur Topiaries Mantle Decor

This mantle decoration is all about Valentine's Day glamour with its huge pink fur heart propped on a pallet, the "LOVE" block letters covered in silver fringe and finally the topiaries at the ends, which feature velvety hearts instead of plants and flowers. via madeinaday
Glitter Mason Jar Votive

These votive candles are, once again, perfect for a romantic dinner or party. All you need are clean mason jars, which you will cover in glitter, leaving a heart shapes window for the candle to shine through. Place your candle inside, cover the lid as well and finish it all off with a pink bow for extra decoration. via masonjarcraftslove
DIY Love Banners in Pink Ombré and Gold Glitter

This banner is a real attention-grabber, as it features several elements, colors and glitter. The hearts and block-style letters are cut from cardboard, then painted and covered either in gold or an ombre pattern of red and pink glitters. The finished pieces are then hung separately against a dark wall using yarn or thin rope, so that they really stand out. via liagriffith
Paper Heart Backdrop

This backdrop is much like a curtain of pink and red hearts falling from the ceiling. Each one is created using two paper hearts of the same shade, which are mounted together to create the 3D shape. They are then strung together alternating the colors so that they can "rain" down from above. via missbizibee
DIY Floral Flowers

This romantic block letter sign is really easy to make – all you need are block letters and fake flowers. Cover the letters with the flowers either by poking them through or gluing them and your sign is ready. via honestlyyum
DIY Valentine's Day Floral Arrangement

The flower arrangements would be quite a simple and mundane decoration, if not for the hearts spelling "LOVE" glued to the side of the pots, which are covered in small rosettes which match the ones in the real arrangements. via crafts-for-all-seasons
Bathroom Mirror Love Notes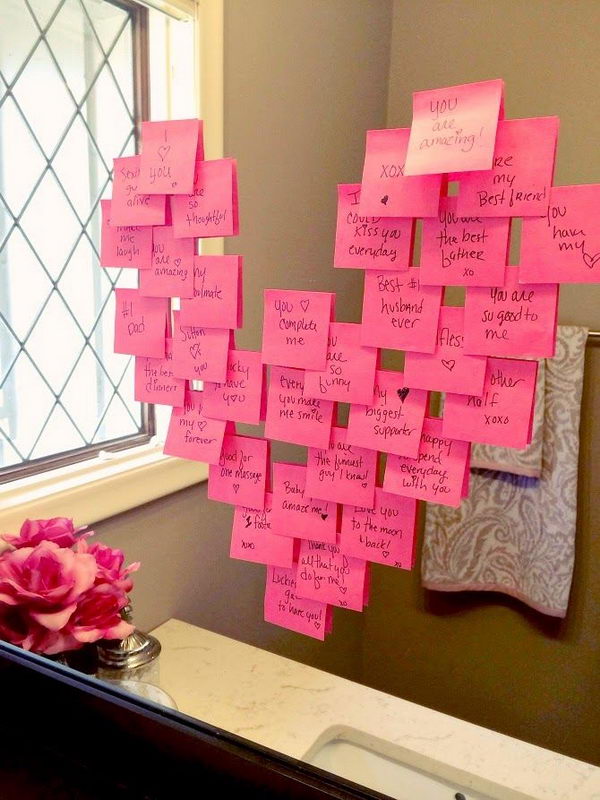 This is how you surprise your loved one on Valentine's Day without much effort. Get a pack of pink post-it notes, write messages in each one and then stick them to the mirror so that they are impossible for them to miss as they get ready in the morning or before bed.
Tulle Valentine's Day Wreath

This Valentine's wreath is undeniably adorable with all the pink and tulle going on. It is made from a foam hoop, which was covered in white ribbon, then decorated with pieces of hot pink tulle and matching rosettes as well as a more natural-looking arrangement of flowers. via aglimpseinsideblog
DIY Valentine's Day Heart Backdrop

This is the ideal backdrop for a Valentine's dinner. It features a giant red heart made of fake red petals which was created on a framed white board then hung on the wall. via littlepeanutmag
Valentine's Day Doily Garland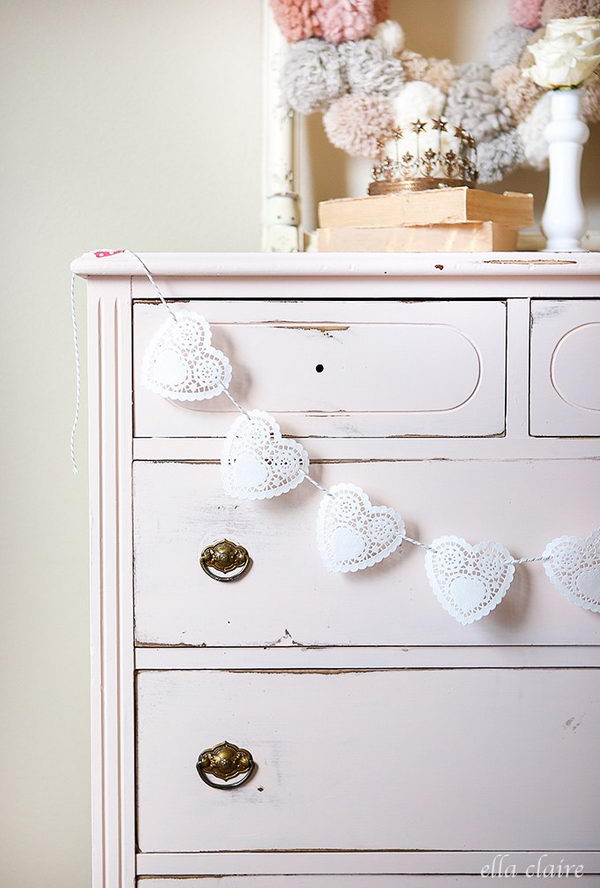 This decoration is also quite simple to make. All you need are white heart doilies, which you might be able to buy or make yourself, and some string. Attach your hearts to the string and your garland is ready for hanging. via ellaclaireinspired
Valentines Day Mini Pom Pom Garland

This red and white garland is perfect for small spaces and easy to make using the fork method to create the pompoms like you see here. String them all closely together and you have a garland ready to be used. via thehappierhomemaker
Branch Heart Wall Hanging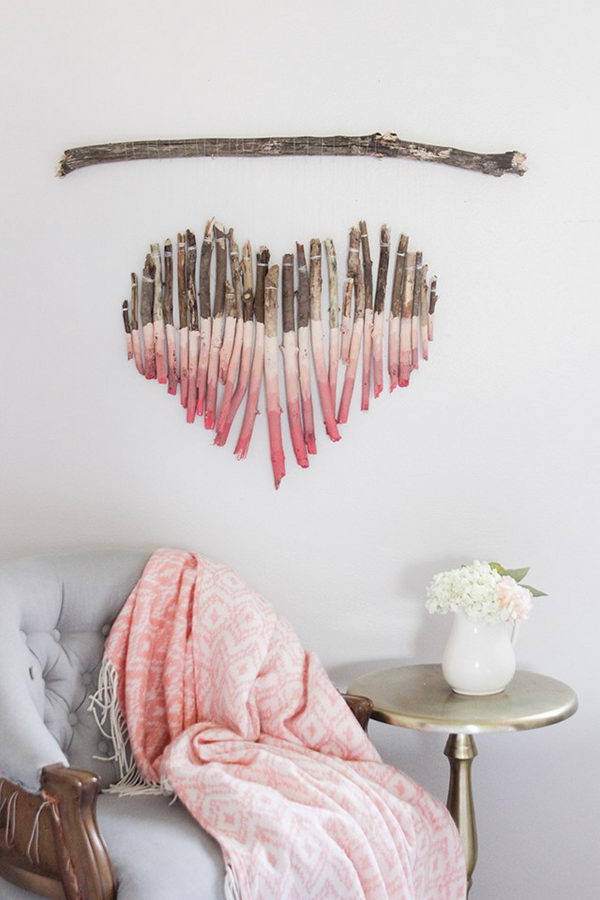 Creating this heart on the wall is quite simple. All you need are branches of different sizes, which you can shape yourself before creating a pink ombre and then affixing them into shape on the wall. via shadesofblueinteriors
Valentine's Day Topiary

This topiary is really cool because while the main flower is fake, you can actually use some plants in the vase for decoration and support. The big pink flower on a stick, however, is made from a foam ball which is then completely covered with pink rosettes so it looks like a real arrangement. via artesanatodecoreculinaria
DIY K-Cup Marquee Light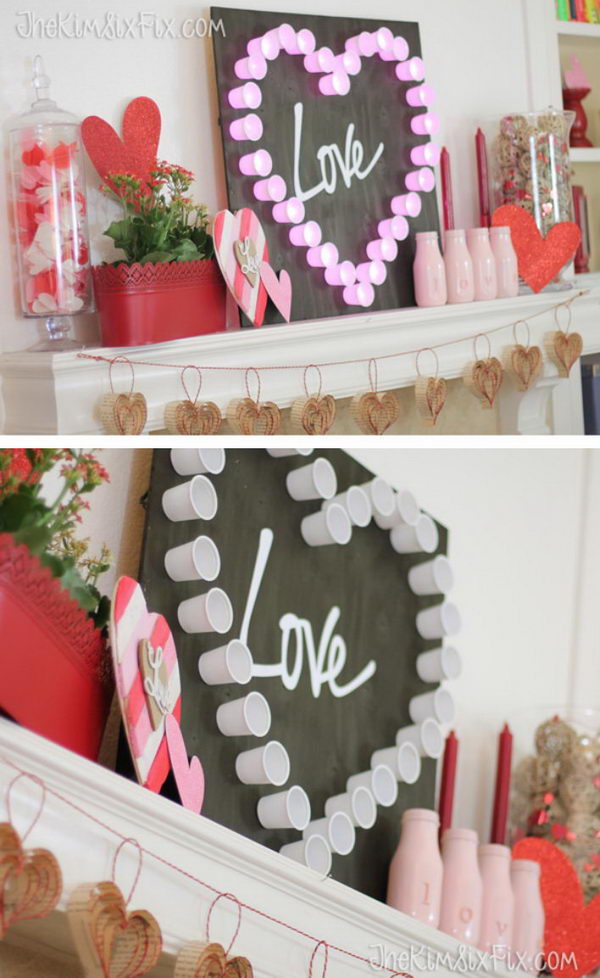 This chalkboard style marquee is quite unique, as it features K-cups positioned in a heart shape as holders for your light bulbs. The word love is written in the center and some watercolor-style pink hearts decorate the corner of the board. via thekimsixfix
DIY Gold Discs Love Sign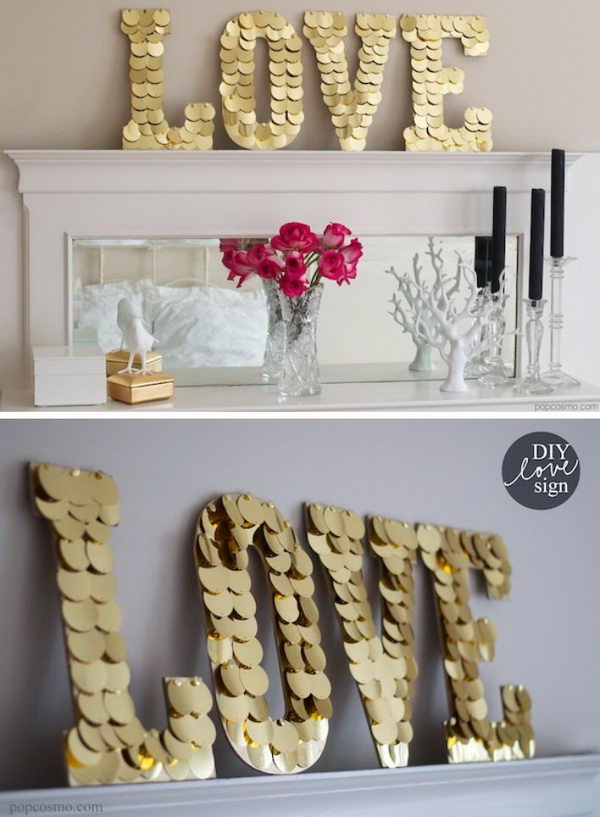 This sign proves love is truly golden, as the block letters spelling the word have been covered in gold colored discs, making them look like they were made using coins. via popcosmo
Valentine's Day Apothecary Jars With Dollar Store Doilies, Cupcake Liners And Sparkly Ribbons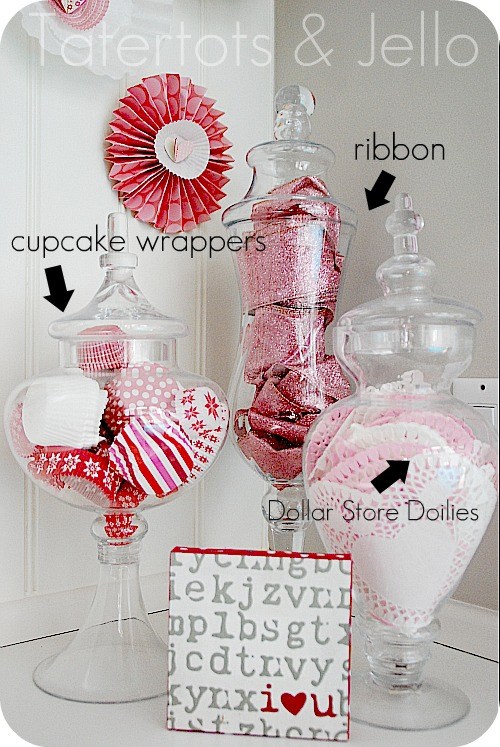 This solace is fully decorated for Valentine's Day: You have signs, decorative doilies, glittery jars, rosettes made from cupcake liners and even shiny ribbon accents adorning every available surface. via tatertotsandjello
DIY Love Sign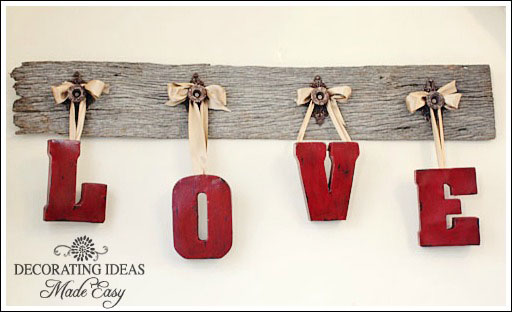 This is quite a cute and simple decoration for Valentine's Day. The sign itself is made from block letters covered in red velvet which have been tied to a rustic rack using thin rope, which allows the letters to hang at different heights. via jenniferdecorates
Cupid's Arrow Tree Stump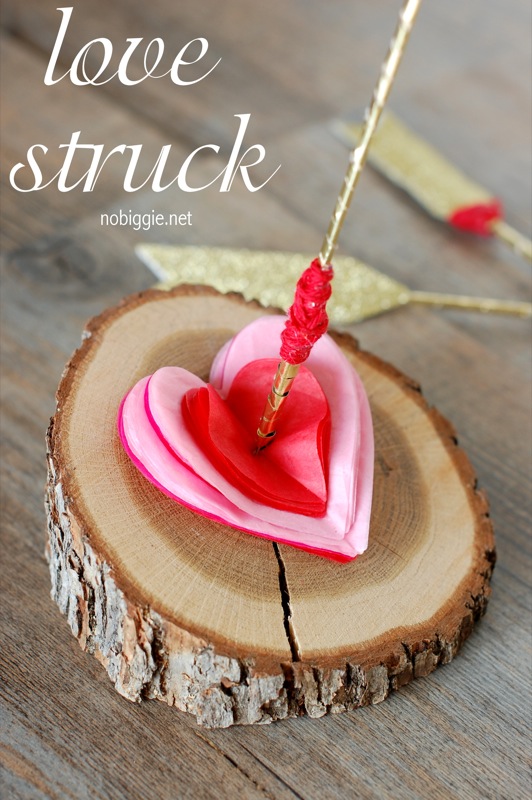 This is literally a tree stump, on which some pink and red paper or felt hearts have been placed and secured using a "Cupid's Arrow", which pokes through the center of the whole piece. via nobiggie
DIY Valentine's Carnation Wreath

Pink carnation flowers are some girls' favorites, so this is the perfect Valentine's wreath. It is made from a hollow foam heart, which is completely covered with the pink flowers that give it that beautifully romantic look. via notmerelyliving
DIY Crepe Paper Rose Heart

This heart is really beautiful and impressive-looking. The sign, which hangs from a decorative look, is made from wood covered in white fabric. The heart itself is then created using a ton of crepe paper roses to fill in the previously drawn template. via makeit-loveit
Reversible Winter And Valentine's DAY Sign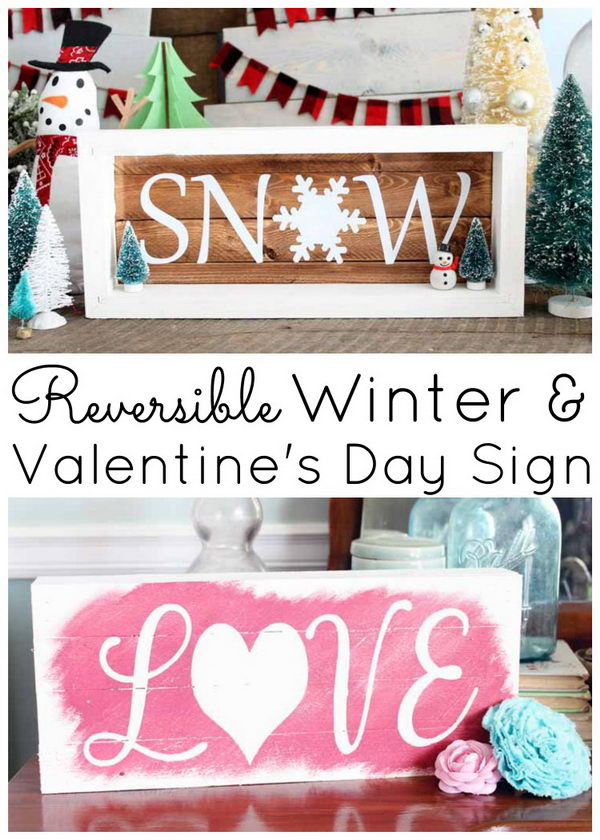 This sign has a modern, graffiti-style aesthetic, as it was made on a slim wooden board which looks like it was haphazardly spray painted pink over a white base coat. The word "LOVE" was then written in white paint at the center in a cursive style, in which a heart represents the "o". via darice
Dollar store Gorgeous Valentine's Day Flower Arrangement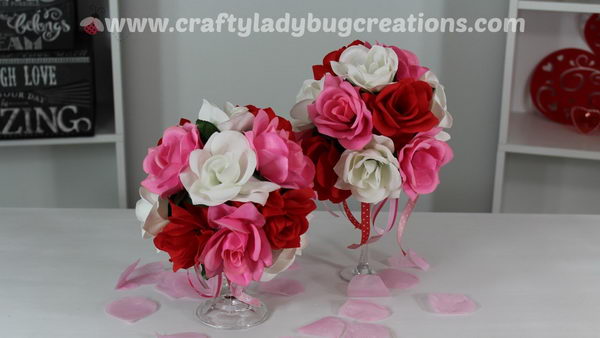 Here's a great example of something you can use as decoration or present. To make an arrangement like this you need to glue some ribbon to a cheap ball, then stick it to a candle holder or glass and poke your flowers all around until the ball is completely covered. The final product looks fantastic and will last you until long after the holiday. via Youtube