Every house has empty corners, especially if you opt for a decorative style that favors the center of the room.
Sometimes empty corners look just fine as they are, other times the emptiness can become glaring and make the room's décor look unbalanced.
There are many ways to fill in empty corners: you can build some corner shelves for extra storage, place a plant there to add life and color or add a corner desk, where you can set a lamp and books or papers, so you'll be ready to look at them when the time comes.
To sum up, there is definitely no reason to be worried if you have empty corners in your house that feel like they should be filled in somehow. We will show you some incredible ways to solve your aesthetic problem while making the area useful.
Here are 40+ Ways To Make Use Of Your Empty Home Corners.
Corner Desks Would Be Useful For Lamp Light & Simple Decor
A Small Functional And Stylish Corner Table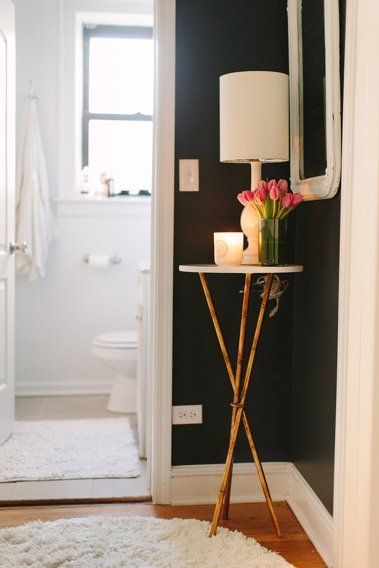 This corner table is indeed very compact and stylish, with its thin, crossed legs and round top. It has just enough space to hold a lamp, a candle and some flowers. via apartmenttherapy
Easy Corner Storage Table Using An Old Box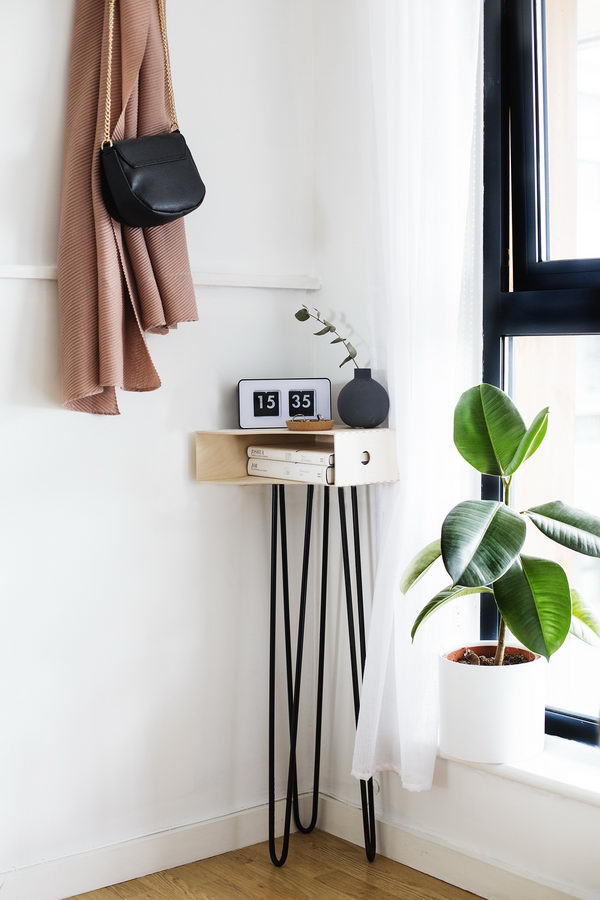 You could call this a box with legs, and you'd be right, because that's what we're looking at. The open box top provides some storage as well as a space for a clock and some decorations, while the tall legs add some style to the piece. via thelovelydrawer
Decorate The Empty Corner With Photos or Wall Art
Art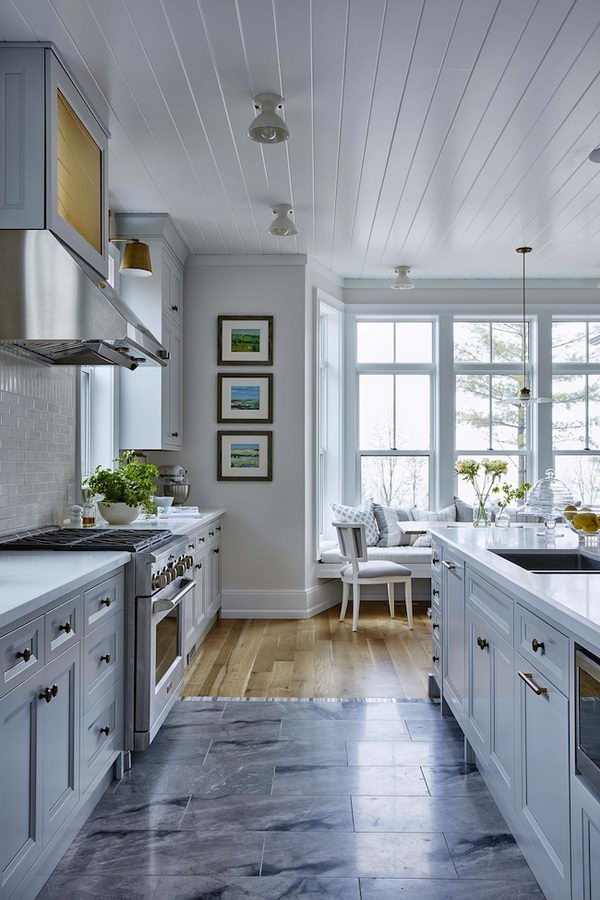 Adding some wall art is another obvious way to fill an empty corner. These pictures do make the space look less empty and work seamlessly with the decoration. via jacquelynclark
Gallery Wall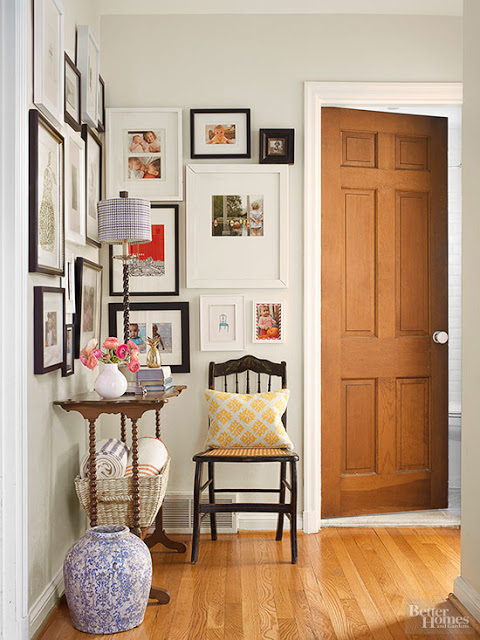 This corner next to the room's door is very much filled in, as there are pictures of all sizes on the two perpendicular walls, but there is also a corner table and chair next to the actual door.
DIY Rustic Corner Gallery Wall

This rustic gallery wall has its own unique style. It features rows of distressed wood, from which different objects are hung, including a deer head, bags, signs and even bunting banners. via lizmarieblog
Kid's Room Gallery Wall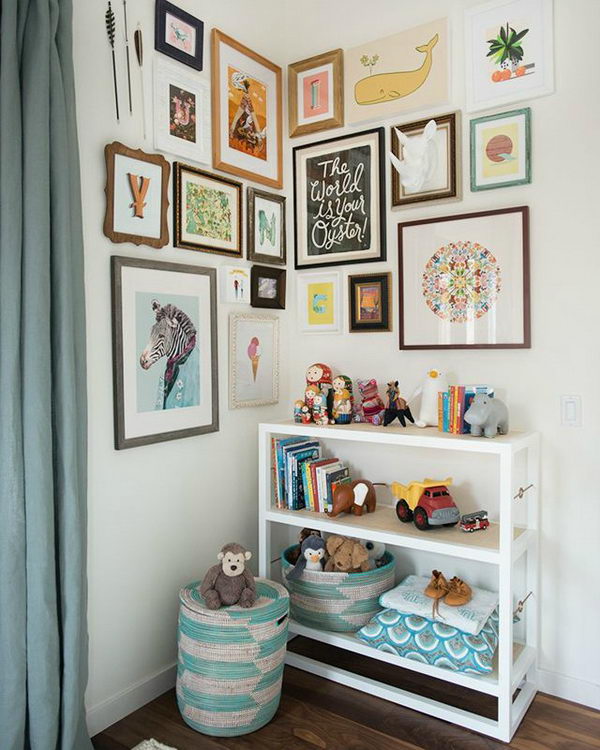 This is another corner that has been used to its fullest. The walls are completely filled in with colorful pictures of different sizes, while the actual floor space features a white dresser with open shelves as well as a small seat or bucket storage.
Family Photo Displaying Corner
This corner was made and decorated for reminiscing about old times. You have a couple of matching seats facing each other, with a small table in between, but also a full gallery of family photos displayed in wooden frames on the shelves as well as the wall above them, where they can be appreciated or pointed at during conversations. via thecrazycraftlady
Personal Photo Heart Layout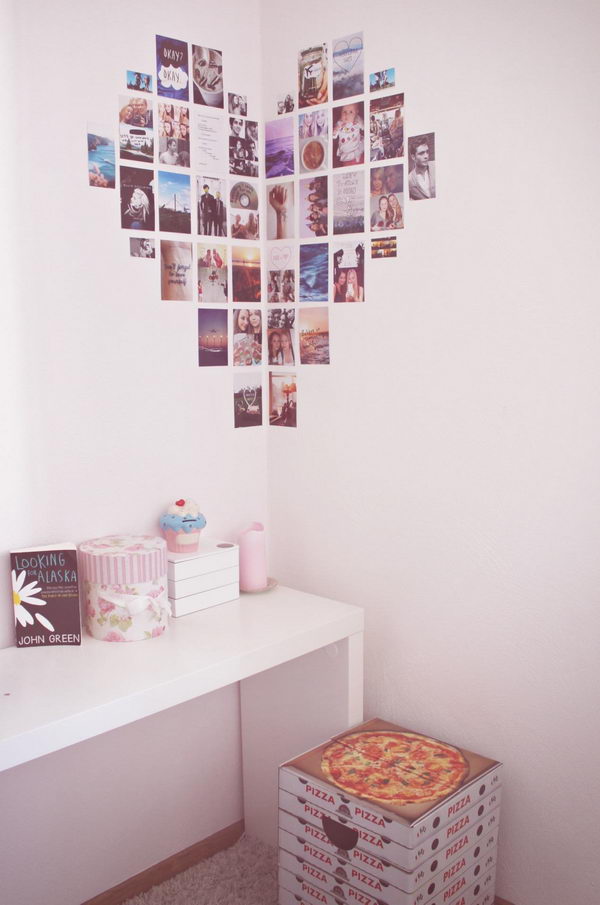 This is the kind of wall art you make when you need comfort and inspiration while working – you build a heart of family photos above your desk, using the corner as a guideline. It's guaranteed to work.
Brighten Up A Corner With Plants
In-House Plants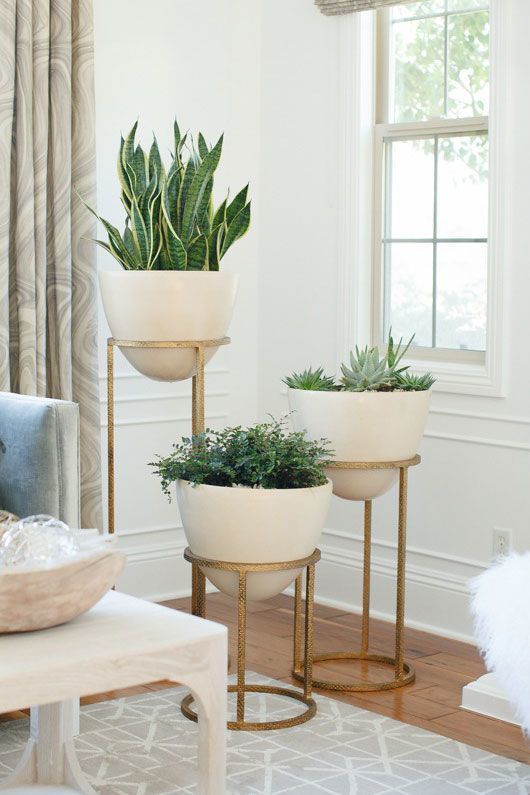 Plants are, as mentioned, another great option for filling up an empty corner and add some color. These three small ones are in white planters propped on gorgeous stands, which give them quite a sophisticated look.
Filling Corners With Plants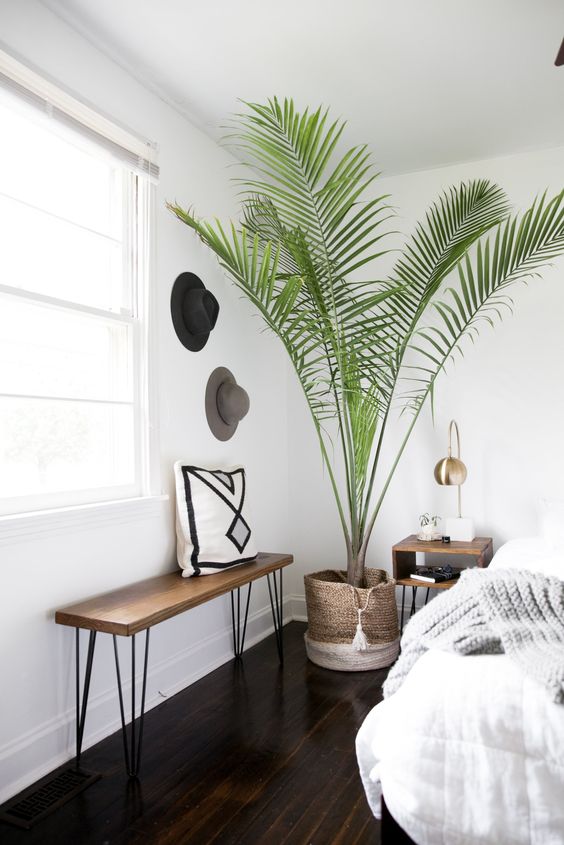 This isn't even a corner, but rather a tight space in between two pieces of furniture. The plant does fill up the space nicely, because it is so big it almost reaches the ceiling. The vase that was chosen is also quite decorative, and it complements the rest of the room. via apartmenttherapy
Hanging Plants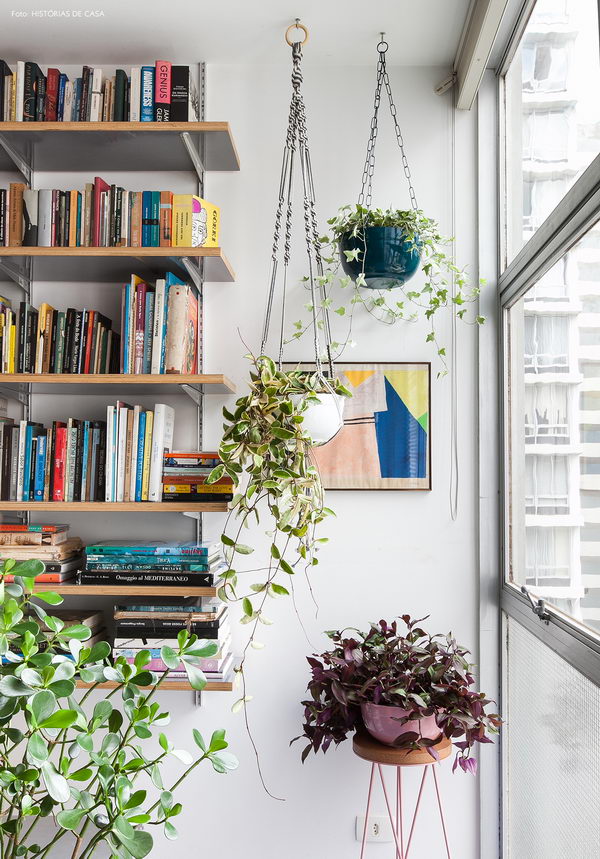 Hanging something from the ceiling is a fantastic way to fill in an empty corner without actually blocking out the space completely. These plants don't have much in common though, except for the fact that they hang from the ceiling using thick, industrial-style chains. via historiasdecasa
DIY Wooden Hanging Planter

This wooden planter isn't actually hanging in the traditional sense, but rather affixed at the corner of the room, with holders which feature a plant each. This is a great, compact solution for filling up a corner with several plants without taking too much space up. via thelovelydrawer
Get Organized With A DIY Corner Command Center
Command Center

This unused space was turned into an appointed spot to leave all kinds of things such as glasses, stationery and accessories. This saves you time, because you don't have to go around the house looking for such items, and helps keep your things organized, preventing you from creating a mess. via hisugarplum
Family Command Center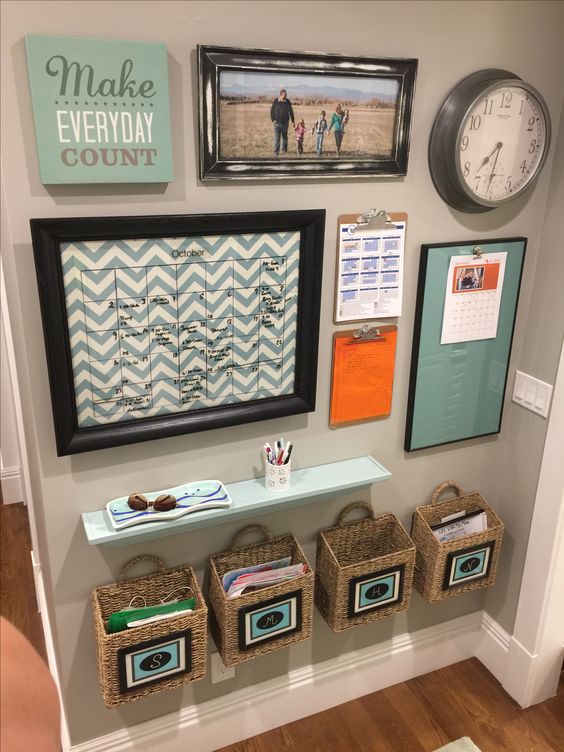 This is very similar to the previous example, but has more of a rustic vibe. There are wicker baskets on the wall for each member of the family to leave their things, as well a shelf for extra items. The wall is also fully decorated with pictures, a calendar and even a bulletin board.
DIY Family Command Center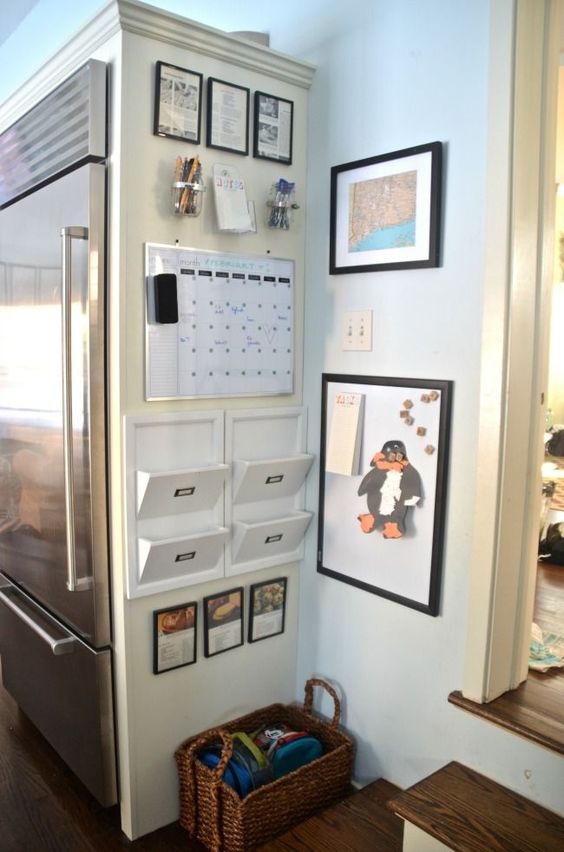 This command center is quite different, as the walls feature a mixture of picture frames and office-style holders. A wicker basket on the floor seems to hold more general items. via atcharlotteshouse
Get More Spaces In The Corner With Open Shelves For Storage Or Displaying
Open Shelves In The Corner For Storage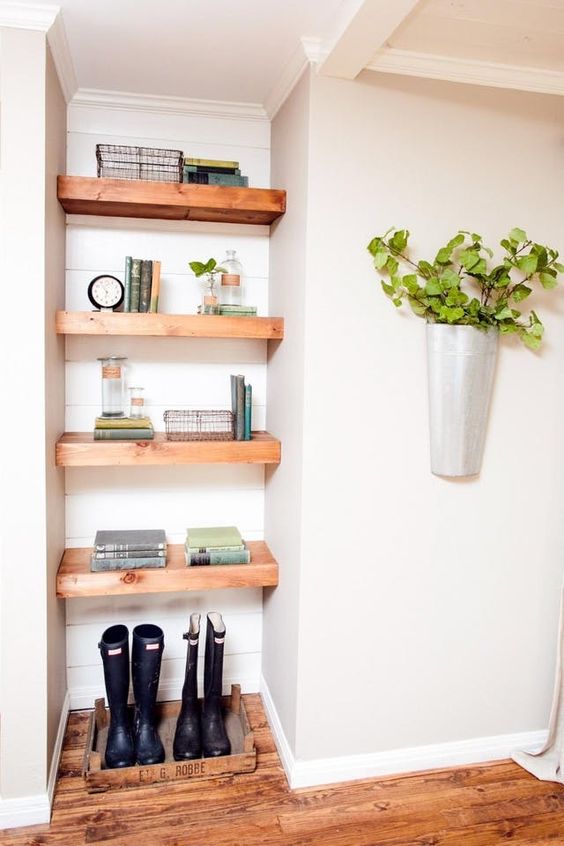 These open wooden shelves are quite perfect for that little awkward corner in between two walls and it is a great place to store items that are both functional and decorative like books and a clock. The basket on the floor, for its part, is the designated storage space for shoes and boots.
Floating Corner Shelves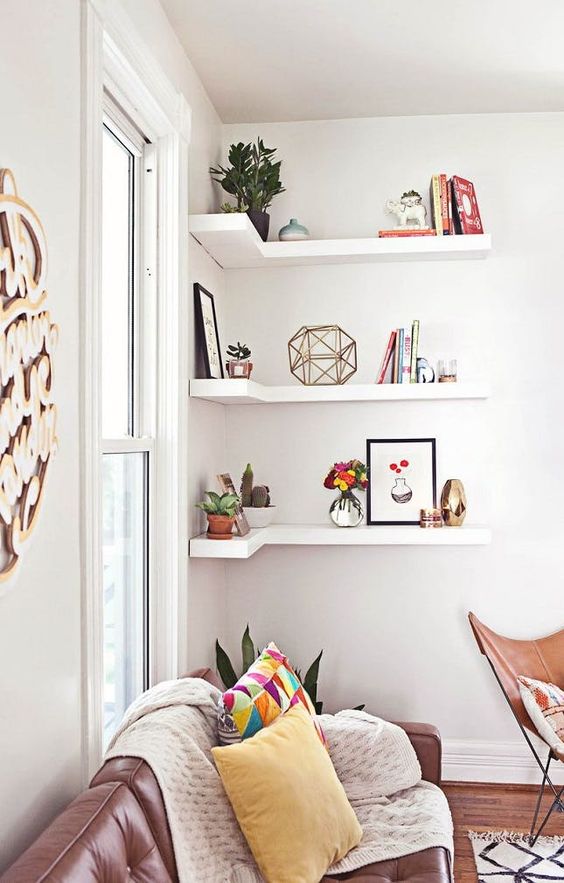 These floating corner shelves have an "L" shape and match the wall so perfectly that they blend in seamlessly. They mainly hold decorative items such as frames and plants.
Corner Floating Shelves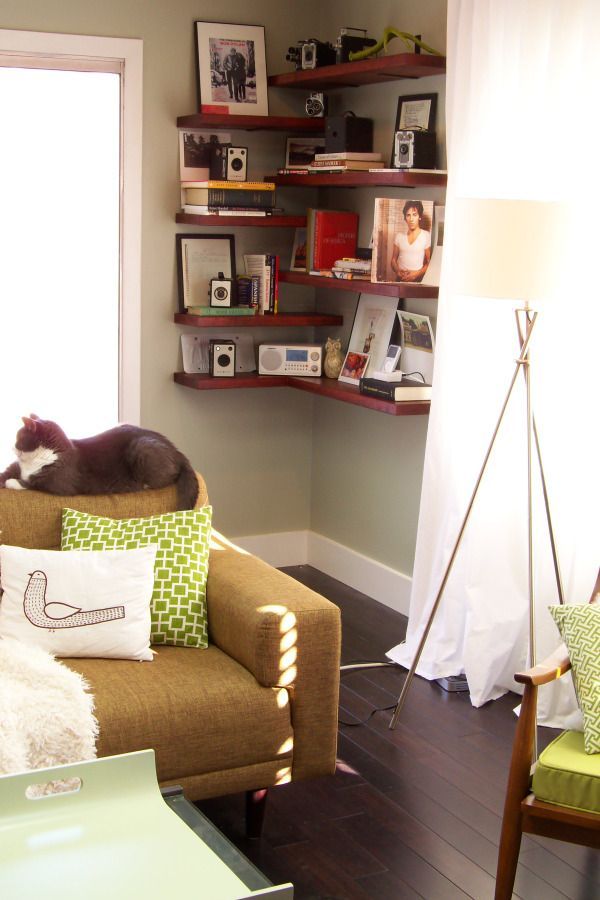 This set of wooden corner shelves is nice, but quite cramped. There is an assortment of items on display from corner to corner, but they appear to be books and pictures, for the most part.
DIY Work Space Using Open Shelves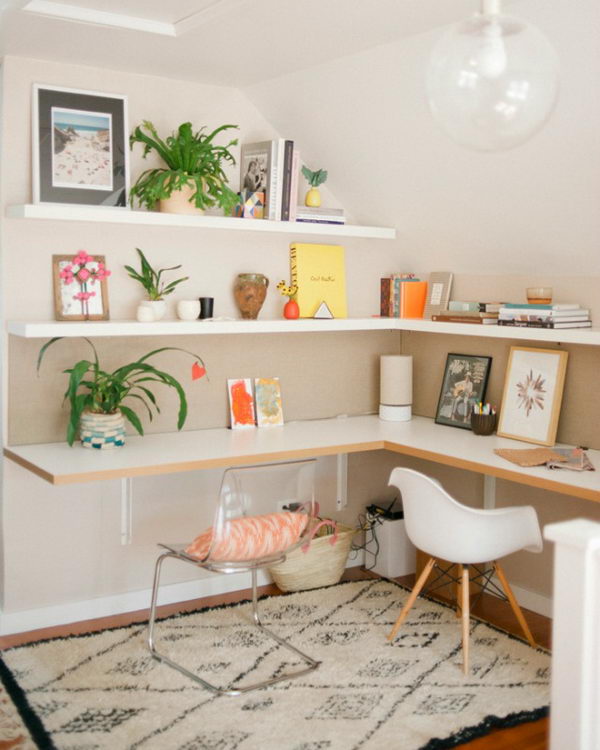 This corner is bigger than most companies' cubbies, so it was turned into a work space. The white shelves span both walls, holding both decorative and functional items. The lowest one has a chair in front so it can work like a desk.
Make Any Unused Corner In Your Home A Coffee Heaven
DIY Coffee Bar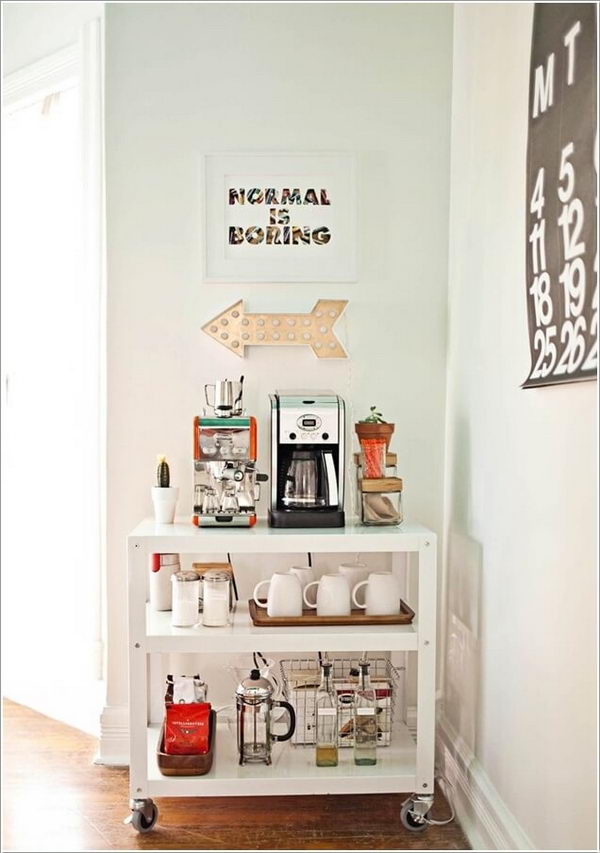 This is the corner that coffee lovers will never stay far from, as it features a cart holding all the necessary supplies to make the energizing drink: There's a coffee machine on top, as well as saucers and mugs on every shelf. via thesweetestoccasion
Coffee Corner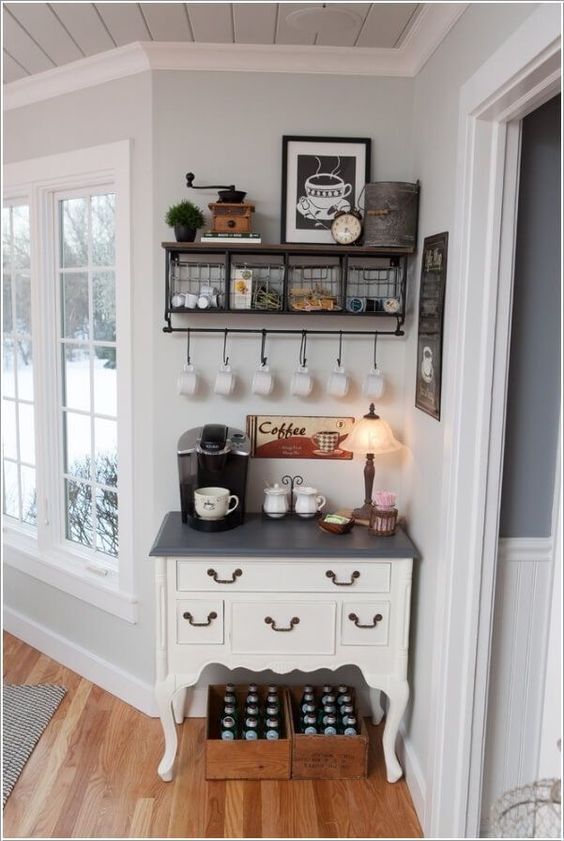 This corner looks and probably smells like rich coffee the whole time. A set of open shelves holds the different supplies and has large mugs hanging from the underside. A repurposed dresser sits under it, featuring the coffee machine, more mugs and a lamp on top, making this corner the perfect setting for a late night or early morning coffee.
Set Up A Cozy Reading Corner
Attic Book Nook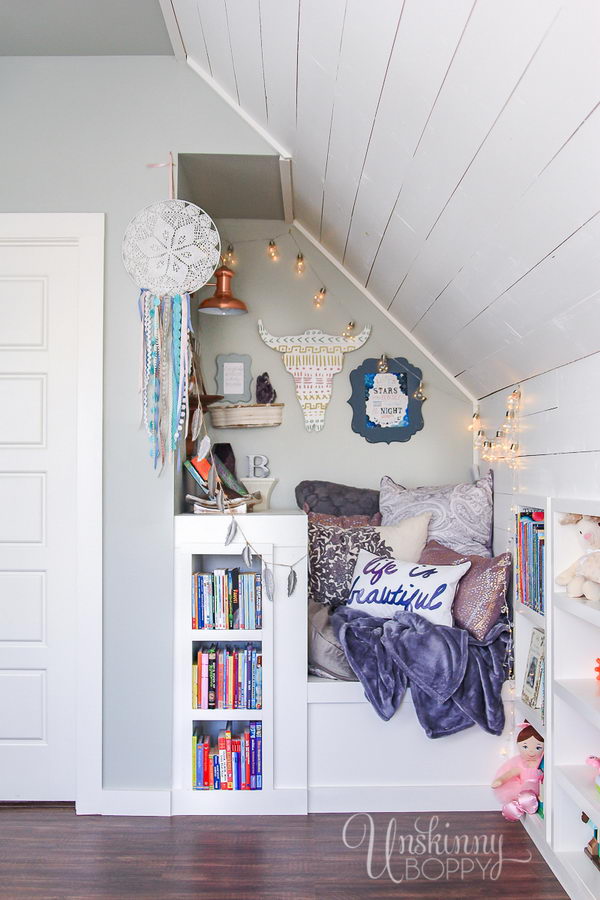 This attic corner is definitely an awkward space to fill, but it can be done. The little white book stand in the corner fits particularly well, and the ceiling lamp right on top can become very useful when looking for a specific book. via unskinnyboppy
Cozy Reading Nook With A Chair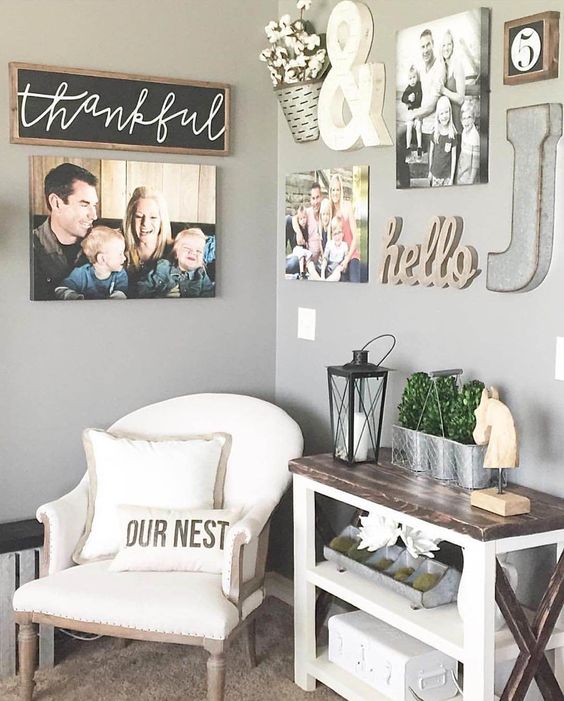 This corner is definitely quite cozy with its white corner chair and the mixture of pictures, signs and plants decorating the gray walls. The side table is also quite convenient, as you can set your book, glasses or a warm beverage there during a reading session. via instagram
Gorgeous Canopy Nook Or Reading Nook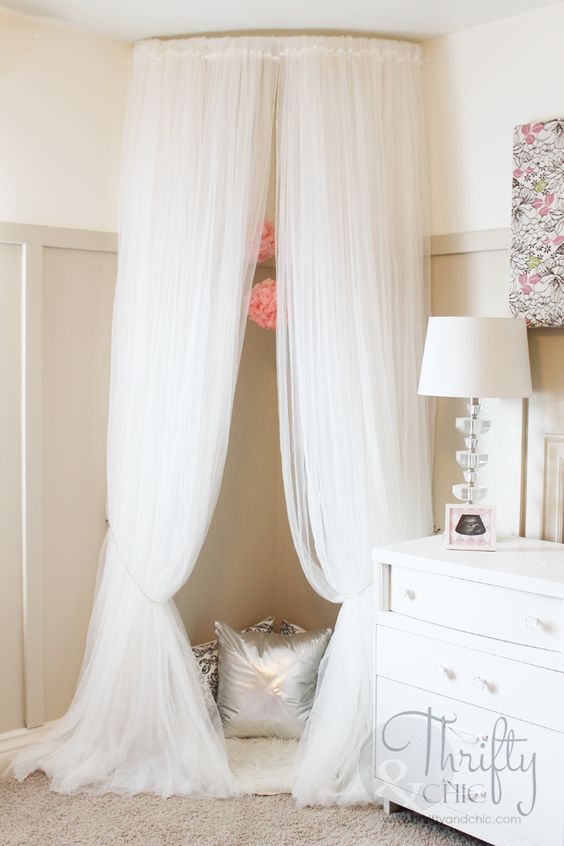 Canopies are not only gorgeous, but they also offer a kind of privacy open spaces don't. This corner features a rug and cushions inside the canopy, so it's a great place to read, meditate or listen to music in private, even if the dresser and lamp are actually placed on the outside. via thriftyandchic
DIY Reading Nook Using Rain Gutter Shelves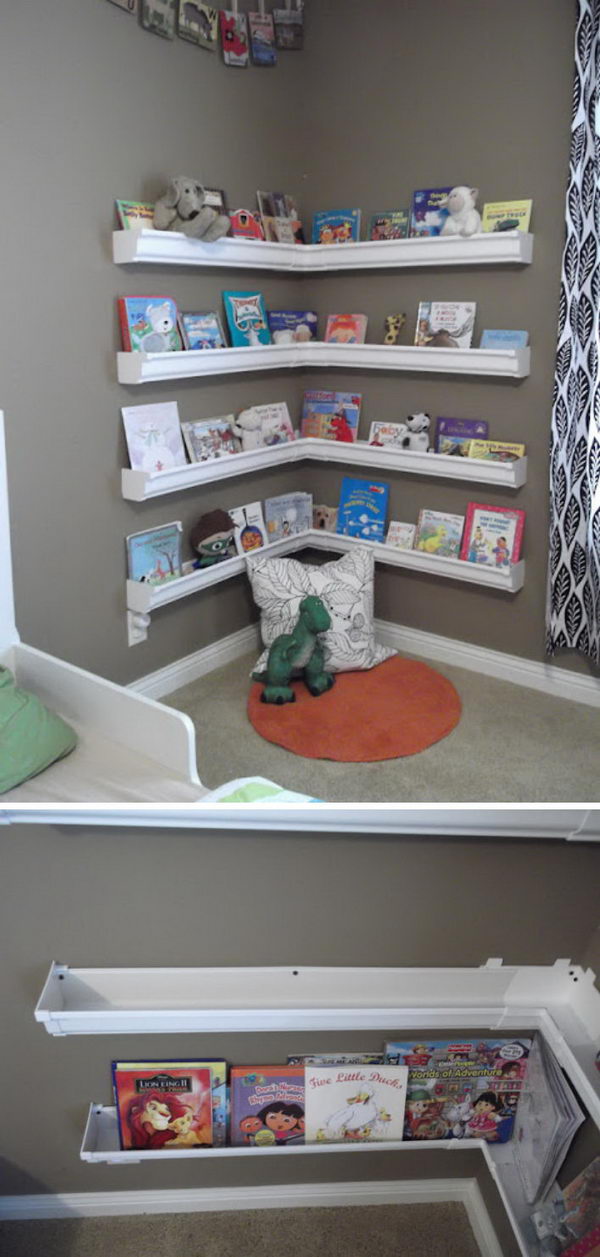 Rain gutter shelves work very well in spaces like this one, because they match the minimalist neutral decoration and also help hold books and pictures upright. A small round rug just below adds color and provides a place for the reader to sit cross-legged, resting their back on the pillow that is also there. via sunshineontheinside
Put A Ladder In Any Unused Corner
Learning Ladder Desk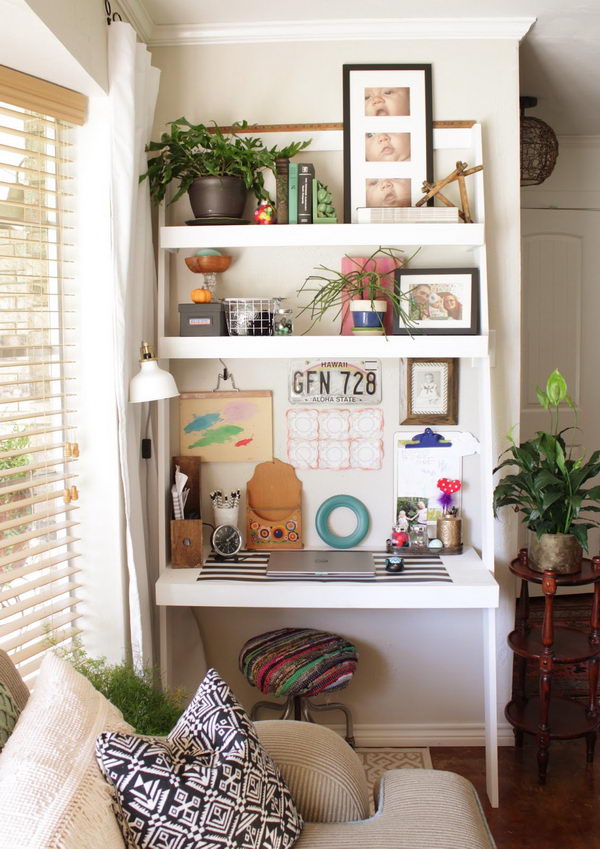 A ladder-style open storage unit is a fantastic option for tight spaces like corners. This white one features various decorative items on the upper shelves, while a table top was added to the lowest one and a stool underneath so it's used like a desk. via househomemade
Leaning Desk To Maximize Space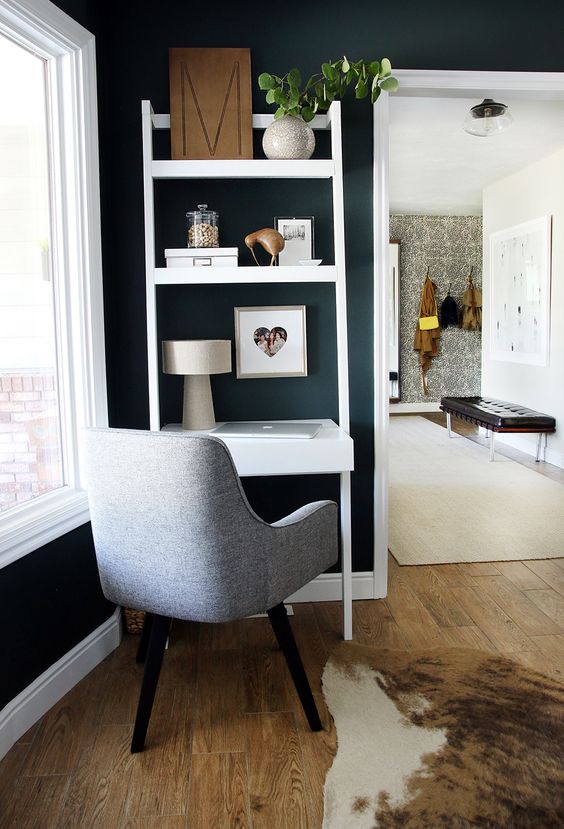 This leaning desk is very similar to the previous one, except for the background which is dark, thus creating great contrast and the cushioned office chair which is more comfortable than a stool. via chrislovesjulia
Ladder Storage Corner
This storage corner is literally made like a stepladder embedded into the wall. The various levels hold items like picture frames, plants and even some books. via elledecoration
Bring Style To Your Empty Corner Using Mirrors
DIY Framed Mirror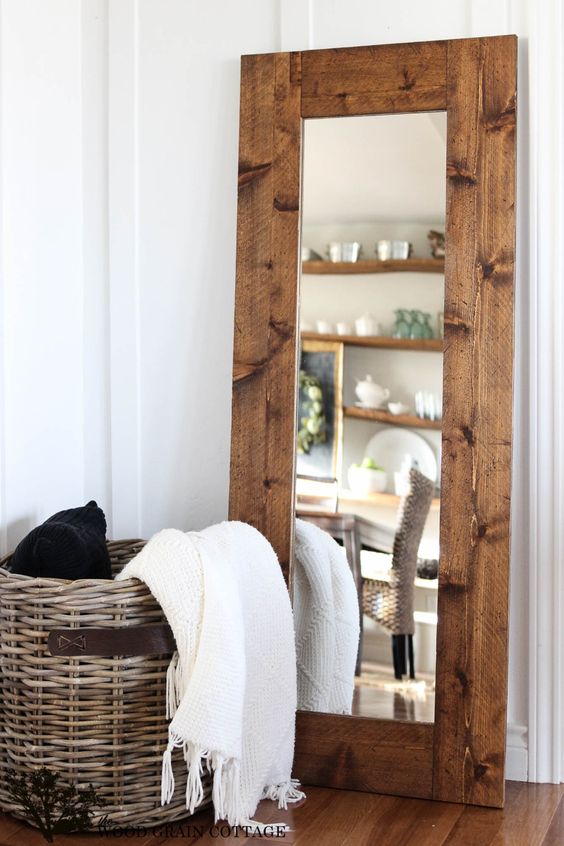 This full-length mirror, which is framed by rich, wide pieces of wood, is not only decorative, but it can also be used to check a full outfit. via thewoodgraincottage
A Full-Length Mirror In The Corner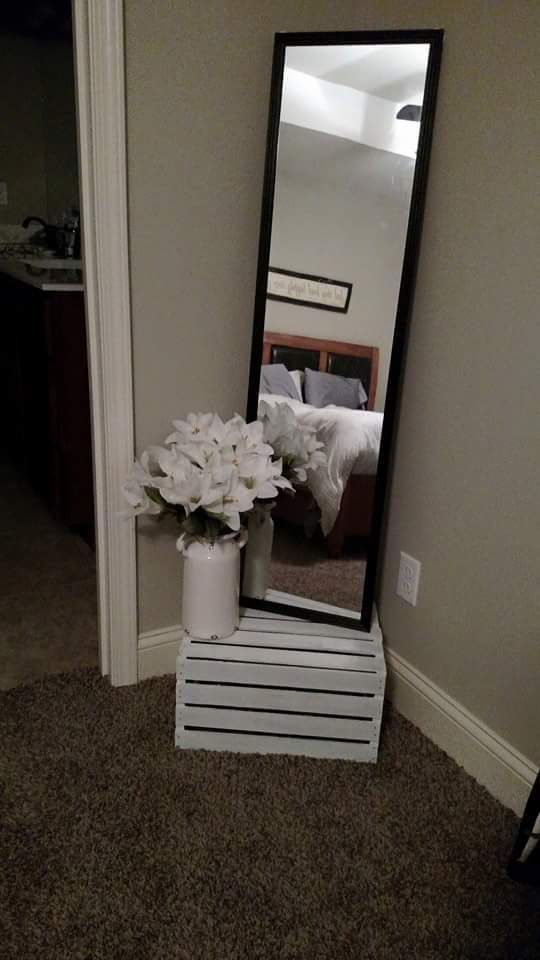 This elegant, full-length mirror has a great placement, as it is propped by the white crate-style box and leans against the wall. The flowers in front and the awkward angle may cause this piece to become more decorative than functional though.
Other Ways to Use an Awkward Corner
DIY Home Office With Shelves And Desk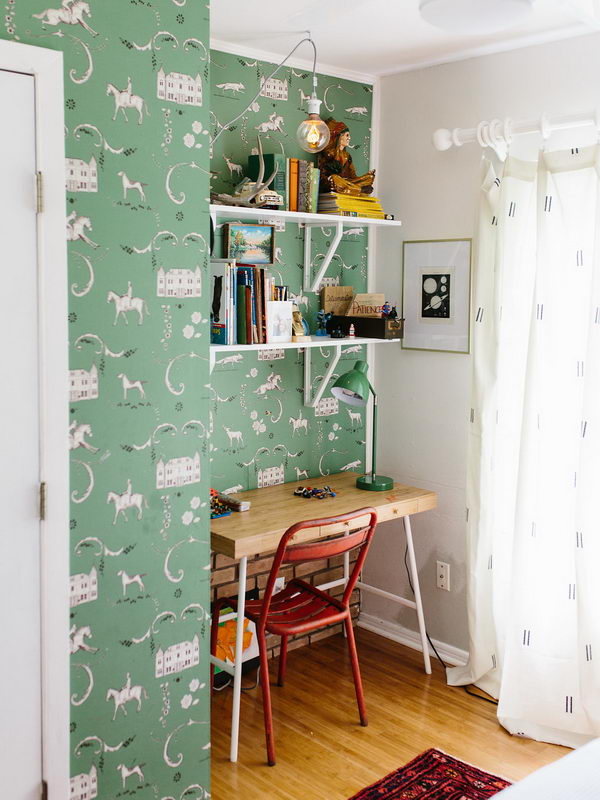 This little home office fits perfectly in that awkward corner, and it has all you need: a wooden desk with a matching chair for working, as well as white open shelves to store books and documents. It all looks gorgeous against the teal backdrop of the room. via theeffortlesschic
Small Chair With Books And Flowers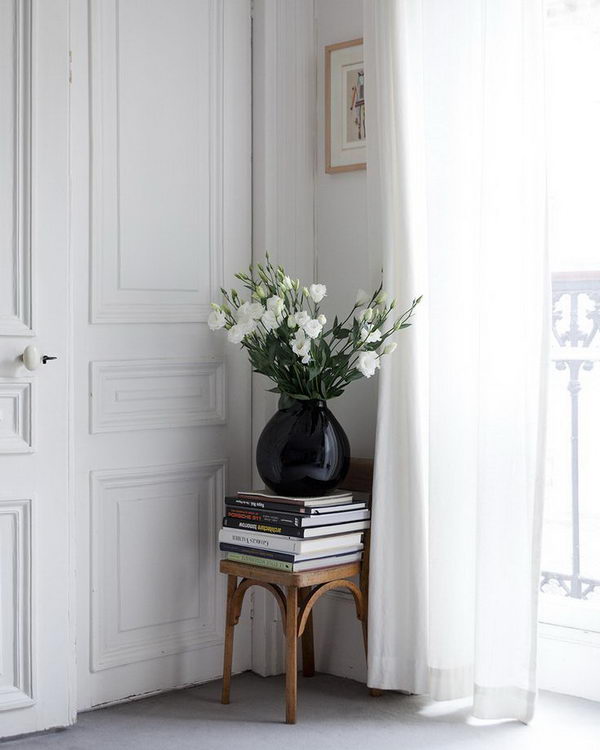 This decoration is definitely unusual as a vintage chair was placed in the corner and used as a stool or stand, holding a pile of books and a vase with flowers on the seat.
Music Nook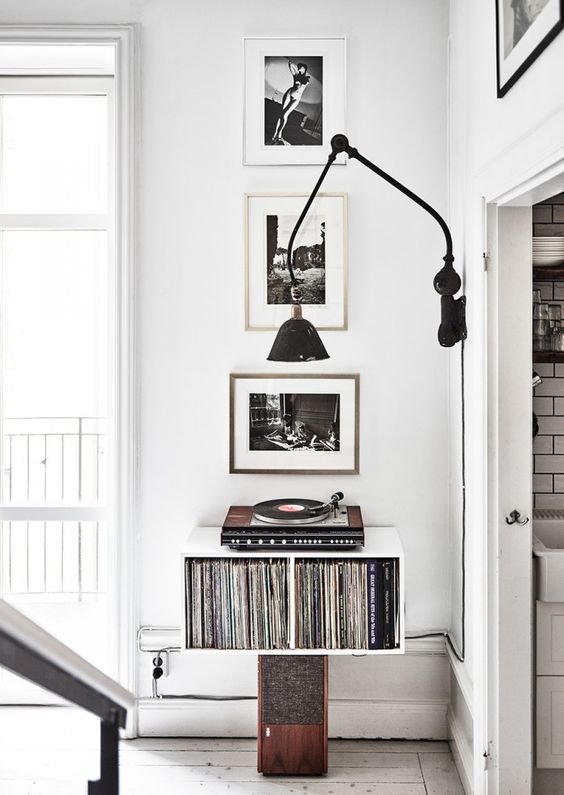 This nook is ideal for vintage music lovers. It features framed posters or pictures on the wall, as well as a table with a record holder and a vintage record player on top. A matching lamp was installed in the adjacent wall and shines over the turntable as records are played. via elledecoration
Breakfast Nook Using Ikea Benches

This is a very intelligent use of the corner space, as two cushioned benches with storage baskets were installed on either wall with a stand in the corner and a coffee table in the center, making this space perfect for a cozy breakfast, coffee or tea. via hometalk
Corner Hanging Chairs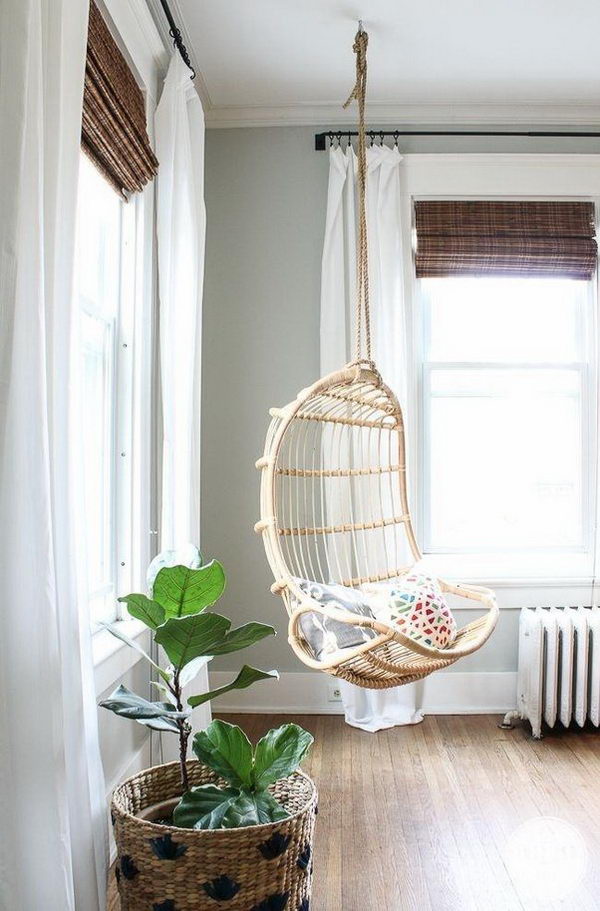 It is quite doubtful that anyone would ever use this half-sphere, cage-like swinging chair, but it is a beautiful conversational piece that fills the space, wows guests and might be fun for children to try once in a while.
DIY Hanging Table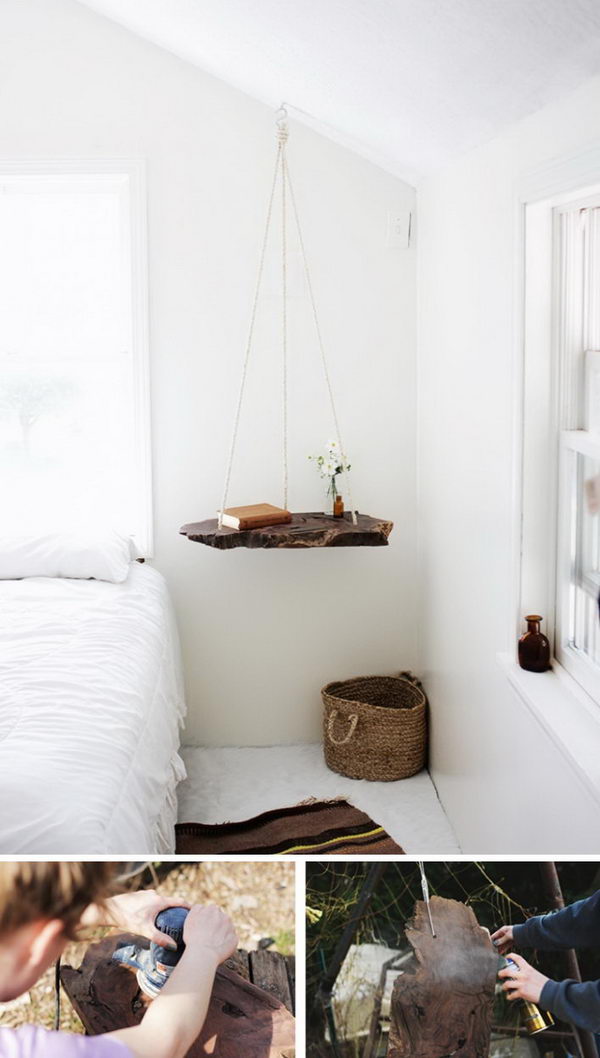 This little corner table is also quite unusual, as the table top is hanging by a thin chain, instead of being supported by traditional legs. It is a nice piece with its dark wooden top and thin gold chain, but not really stable enough for anyone to do any serious work or place fragile objects on. via themerrythought
Corner Bench with Seating and Storage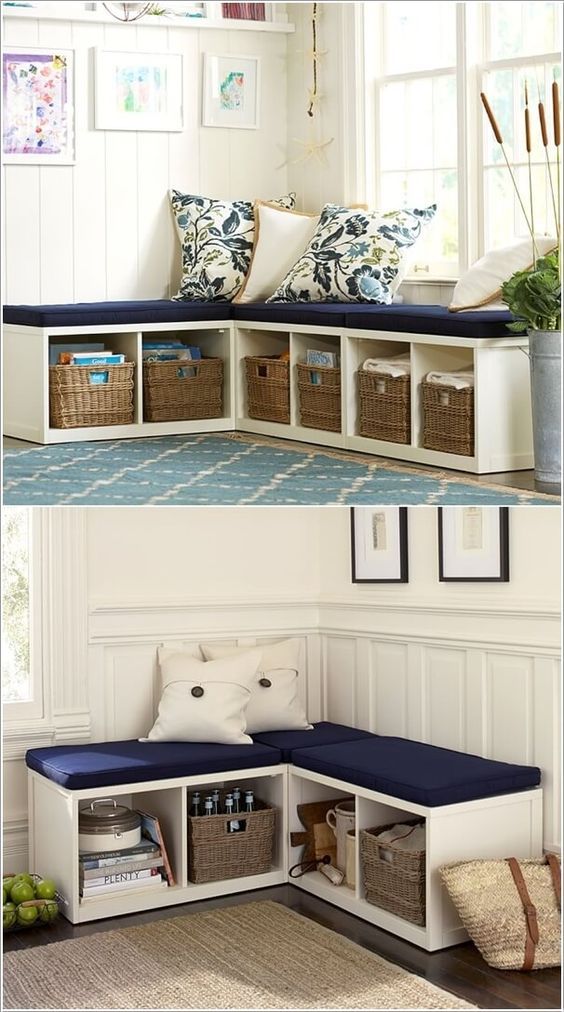 This "L" shaped, light wood cushioned bench is quite nice and versatile. You have the large decorative pillows for decoration and to lean on, as well as the storage space underneath that includes wicker buckets, which can be quite useful. via potterybarn
Superhero Dress Corner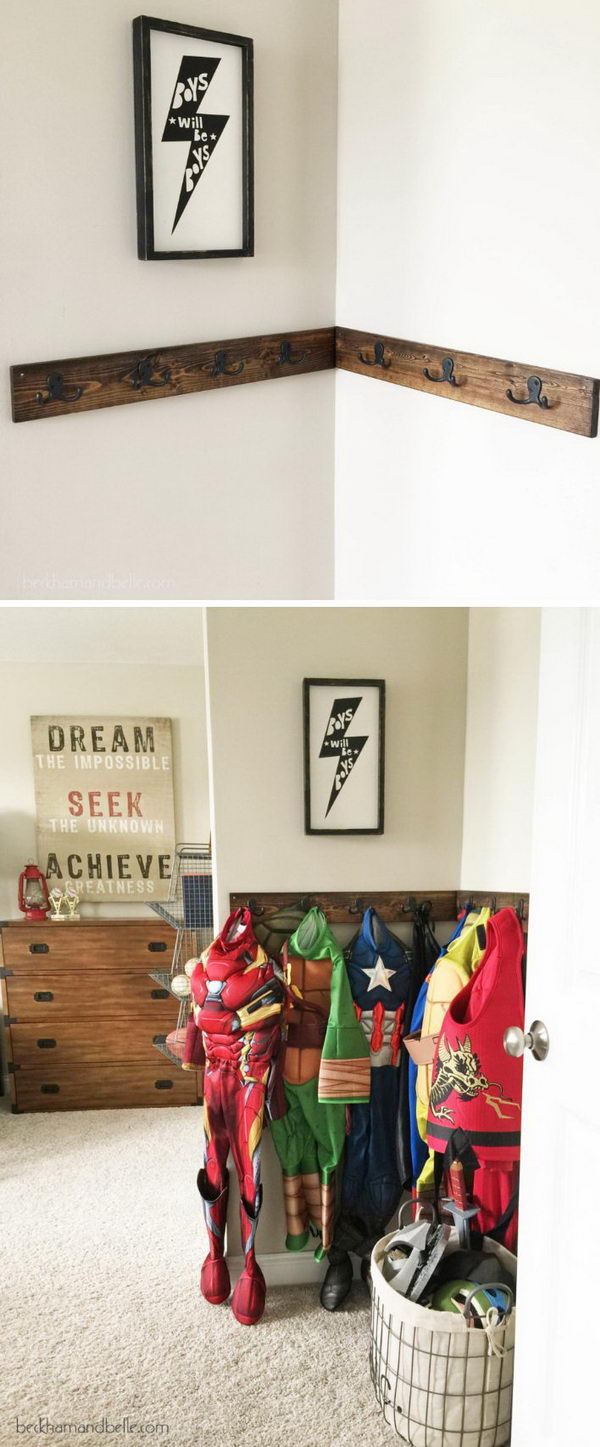 This corner is perfect for Halloween time or maybe drama club members. It has a nice black and while picture on the wall, under which a rich wood wall trim was turned into a costume rack meant for hanging superhero costumes and everyday clothes. via beckhamandbelle
Clothes Bar In The Corner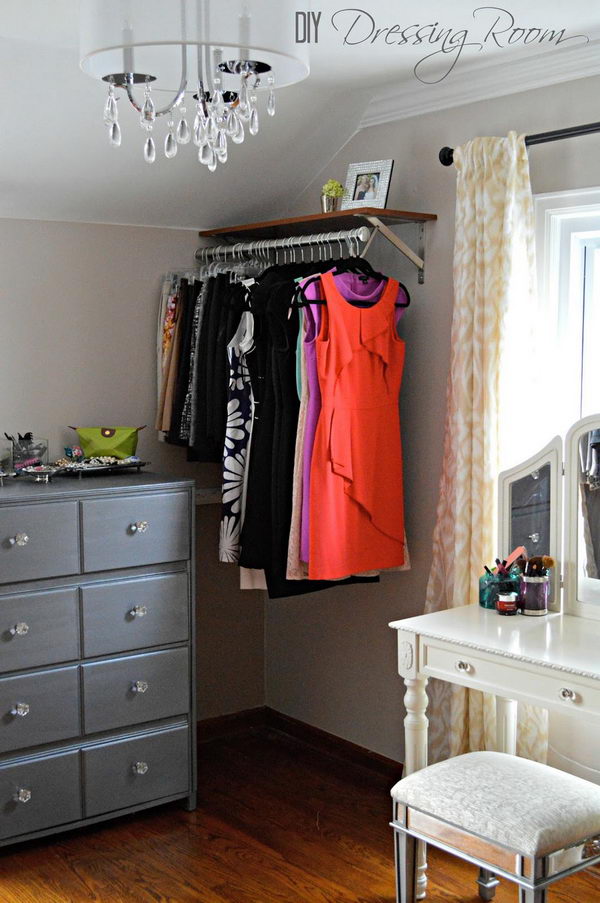 You don't need a full walk-in closet if you have an empty corner in your room. You can add a shelf with a clothing rack underneath to display your nicer clothes and keep them wrinkle-free.
DIY Corner Shoe Storage Shelves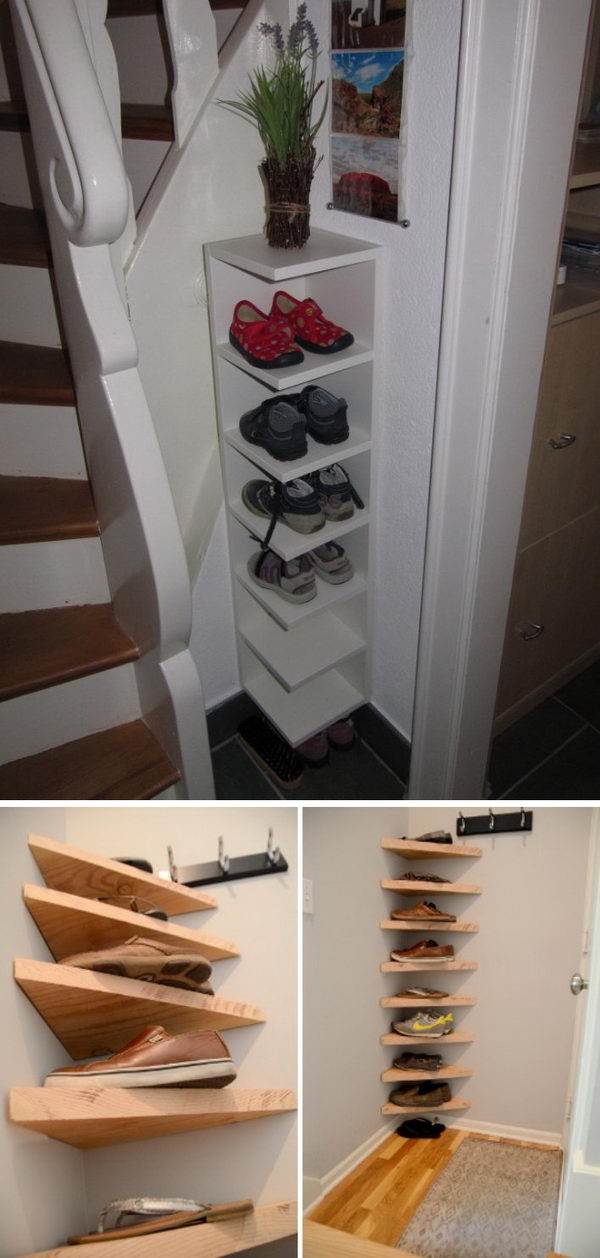 Here's another corner solution for your closet needs. You can build a tower of shelves and set your shoes there so they are displayed and easily accessible when needed. via ikeahackers and ramonfamily
DIY Shoe Storage Created from IKEA Lack Shelves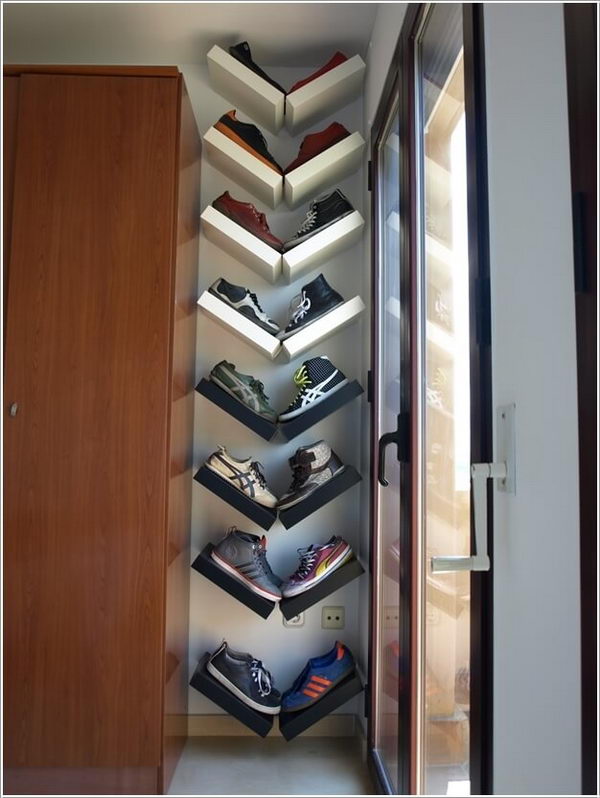 These "V" shaped shelves are actually easier to create than you might imagine. They are just a pair of identical shelves that are installed diagonally opposite one another and meet in the middle. Depending on their width, you might be able to place one or two pairs in each "V". via millaveallen
Industrial Pipe Bookshelf and Shoe Rack

These industrial pipe shelves, which snake outward from the wall and end back there, are quite ingenious. While the hold may look precarious, you can store and display many different things in them, especially high-heeled shoes. via instructables