Shelves are probably one of the most versatile pieces of furniture you can ever find. You can use them alone, but you can also use them to further organize the inside of a closet or cabinet – it's your choice.
It is true that most people could build and install a shelf on their own, especially if they bought pre-cut materials. However, stores like IKEA offer shelf systems that are pre-made and affordable, so all you need to do is install your shelves where you want them to go.
Just because your shelves come ready to install, however, that doesn't mean you can't customize them or use them differently. And that is what we hope you see today.
Here are 30 Ways to Hack Ikea Lack Shelves that you should consider the next time you need some shelves.
Plant Wall With White Pots And Ikea Lack Shelves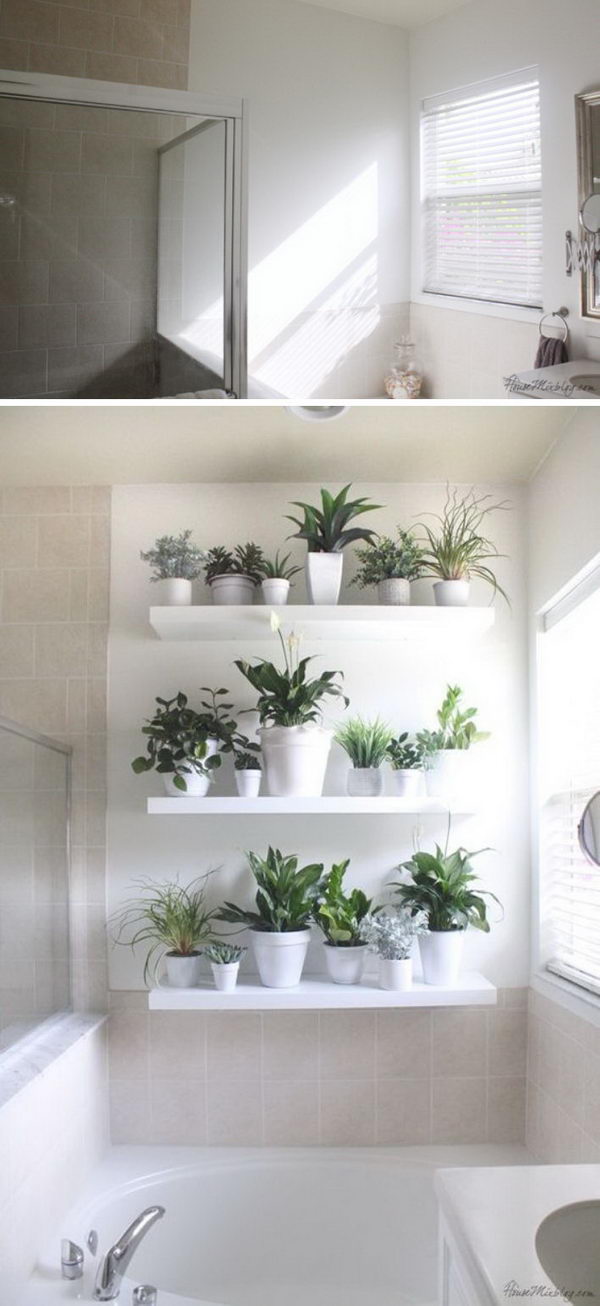 These three white shelves were built on the wall of this corner by the window, where plants get the most sunlight. Each shelf holds a similar array of different plants in matching white pots, which make it all look cohesive. via housemixblog
Ikea Lack Shelves Hacked Nightstand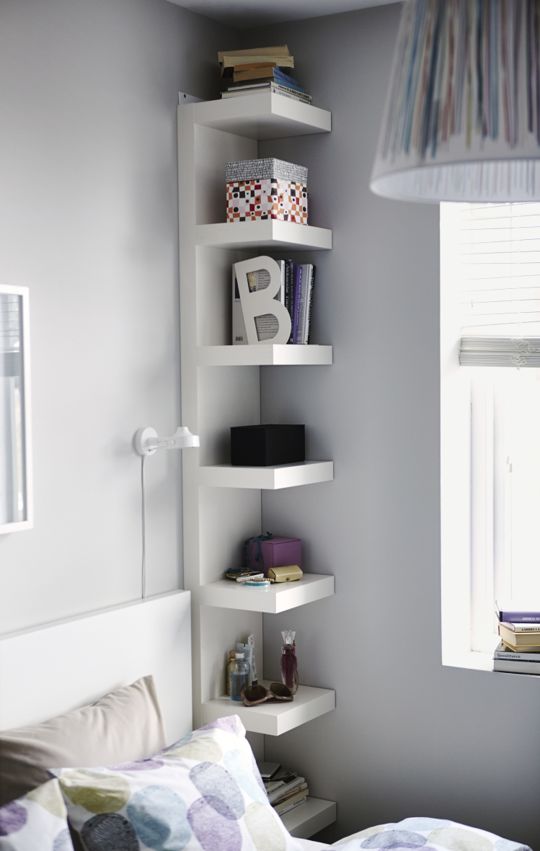 Having small shelves instead of a proper nightstand might seem odd but it works, especially in small rooms. These ones fit right in the corner and hold everything from books to decorative items and even bedtime essentials, which are right at bed level. via apartmenttherapy
DIY Sofa Table Using Ikea Lack Shelf And Nipen Legs

This table is another unexpected yet incredible way to build something using IKEA pieces. By combining the long shelf with the decorative legs you get a simply beautiful yet functional sofa table while saving time and money. via thehomesihavemade
Create Cubby Storage On An Upper Closet Shelf Using LACK shelf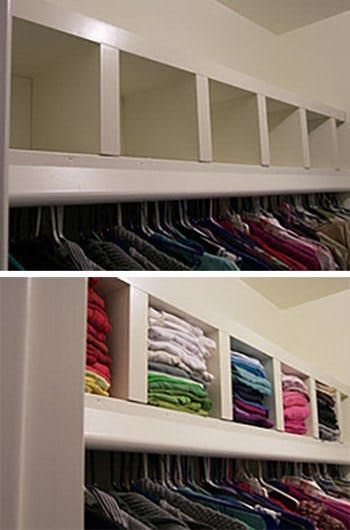 Here's what we were talking about when we mentioned using shelves to further organize a closet. In this case, the Lack shelves were cut and used vertically to create cubbies in the upper section of the closet. via lillamblost
Floating Ikea Lack Shelf And Wall Sconce Instead Of Nightstand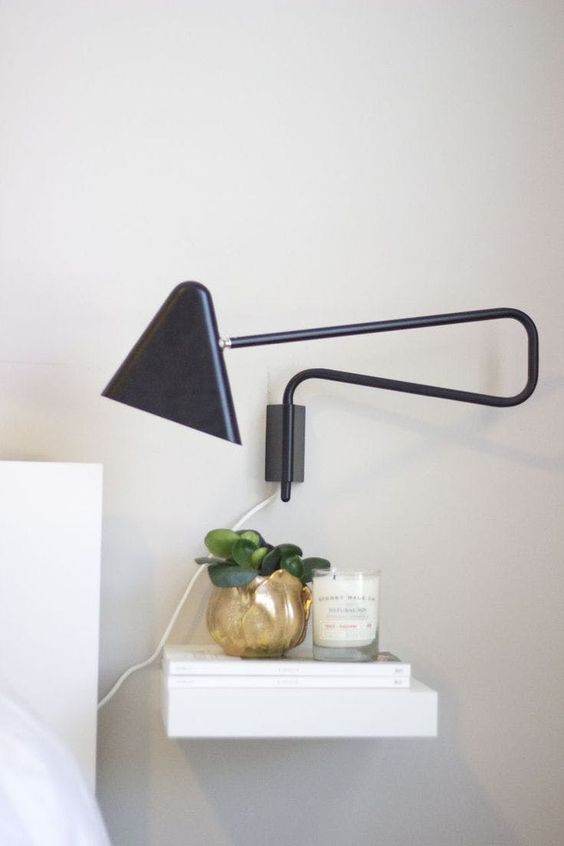 This is another option for those who have small rooms, as installing a floating shelf and a wall sconce at bed level allows them to have their nighttime essentials – light included – at an arm's reach without the need for a full table, which would take up floor space. via apartmenttherapy
Storage For Your Makeup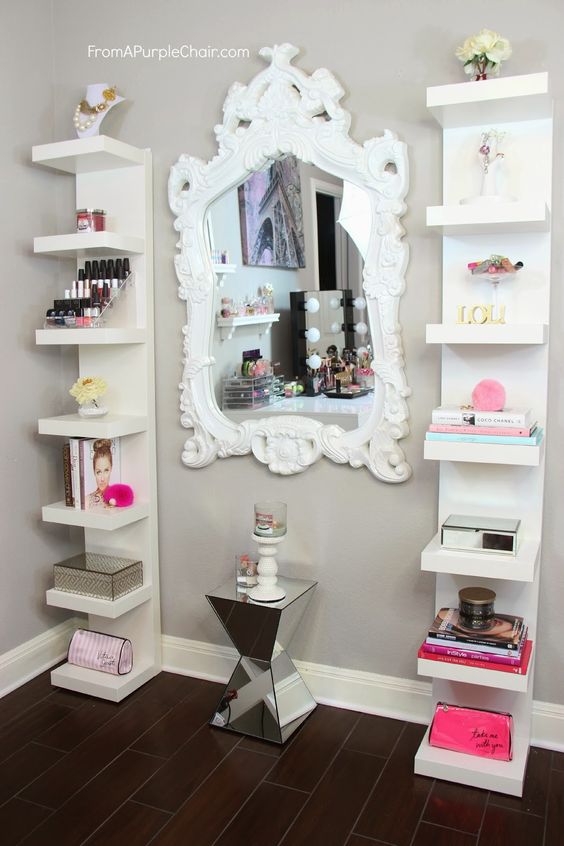 This should be called a "Princess Room on a Budget", as it features a decorative mirror for you to get ready in the morning but no actual vanity. The makeup is instead displayed on two open towers made using full and cut-up lack shelves, where it is easy to reach and be seen.
Makeup Studio Made With Ikea Lack Shelves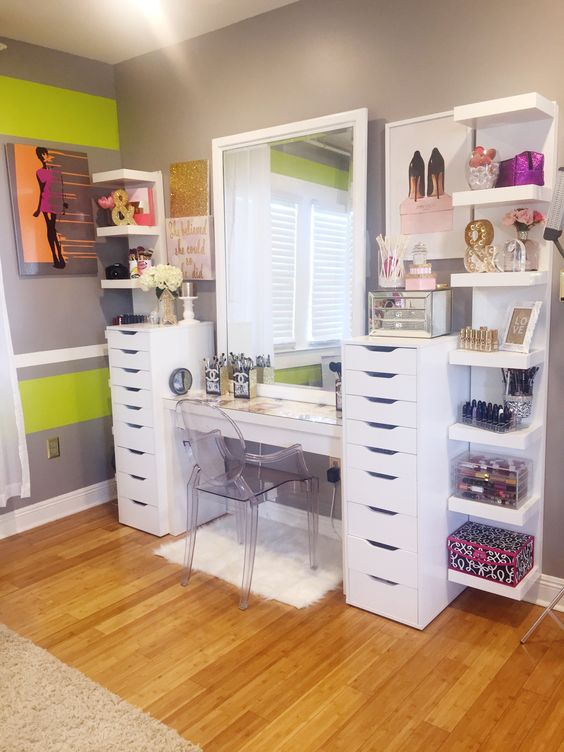 This is more of your traditional full makeup studio. It features a simple vanity with a large mirror, two storage units and then two open towers made from a combination of large and small Lack shelves. via itsallaboutmakeups
IKEA Lack Shelves For Book Storage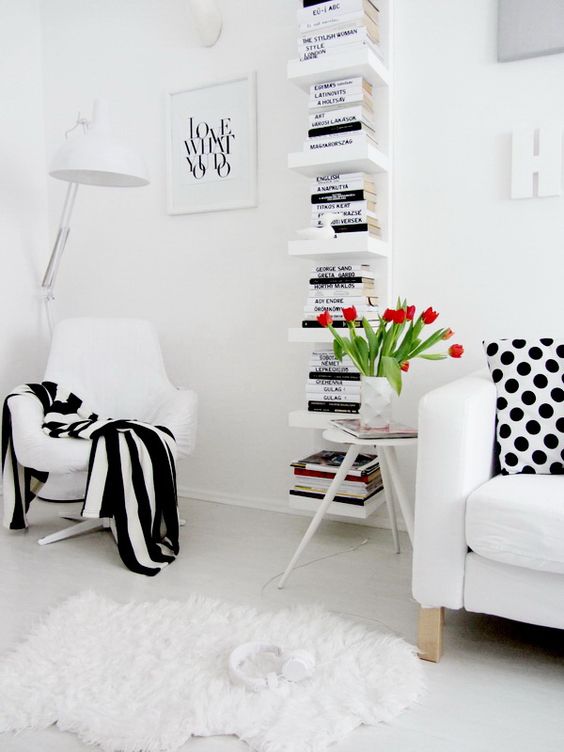 This project uses your shelves pretty much as they are intended to be used. The small squares have been installed along the whole height of the wall, and they hold books stored horizontally with their spines showing on the outside. via bestfriendsforfrosting
Create A Library Using Ikea Lack Shelves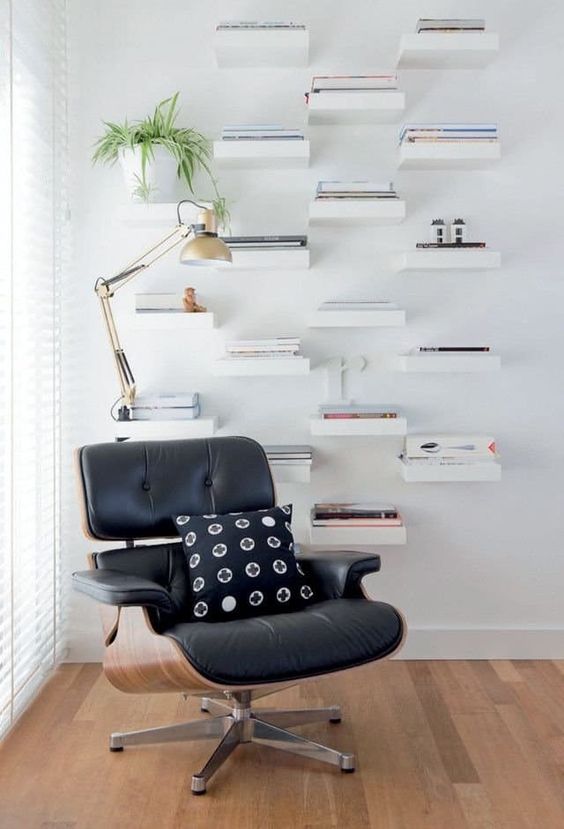 These unusually shaped Lack shelves have been installed in a very creative way, as they almost form a checkered pattern on the wall, with the last one pretty much resting on the recliner's arm. Each of them holds a large book, which you can easily pick up to read as you sit down.
Fit a Lot of Dinnerware And Drinkware Storage Into a Tiny Bit of Space with LACK Wall Shelf Unit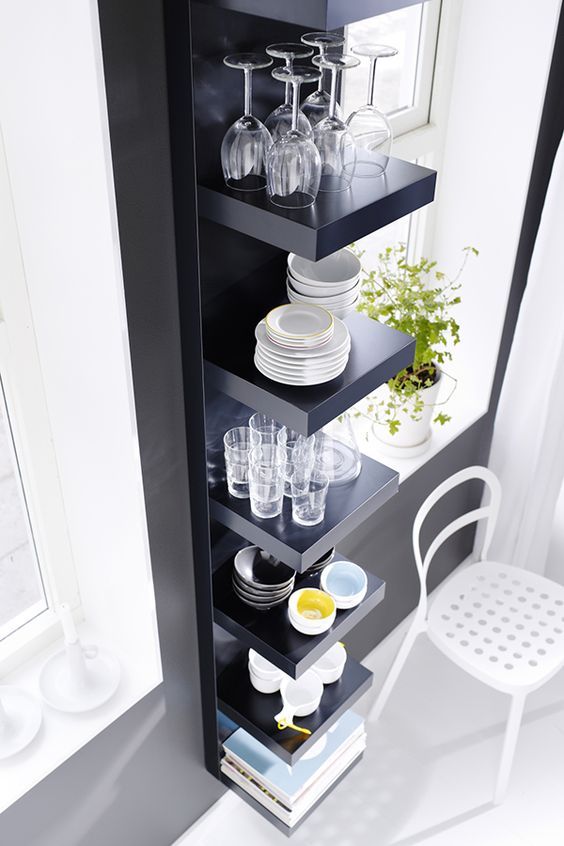 This is yet another example of how shelves can save you a lot of space, as this tower, which was built in a corner using Lack shelves only, holds all kinds of dinnerware in a beautiful and elegant way. Unlike most others, this tower was painted black to match the decoration, which makes it look entirely different. via ikea
Toy Shelves In The Corner

Children's rooms are usually cluttered with toys, clothes and necessities, to an extent that items eventually start spilling out. Building some shelves on the wall allows you to display some cute toys or shoes which they might not use yet or anymore. You can install the shelves as they come on a fun colored wall or create a fun pattern with an alternate placement. via projectnursery
Make a Nursery Wardrobe Shelf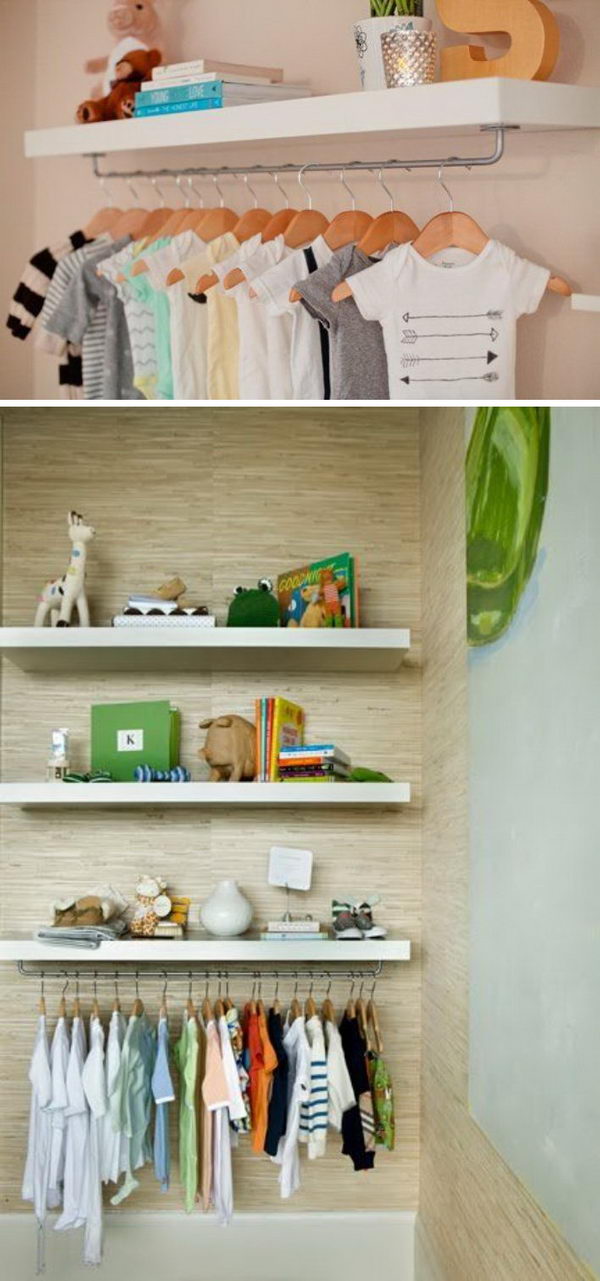 This rustic-looking room has a great organization system thanks to its shelves. The top ones have been used to display toys and decorations, while the bottom one supports a clothing rack, which displays the child's outfits like an open wardrobe. via apartmenttherapy
For Shoe Storage

This is a project for shoe collectors, as the whole wall was covered with evenly spaced shelves that hold a pair of shoes each. A second, longer shelf was also installed in the opposite wall as a hat rack. It would work as well with women's and child's items, as they would be proudly displayed and ready to wear.
Ikea Lack With Glass Storage Underneath For A Home Bar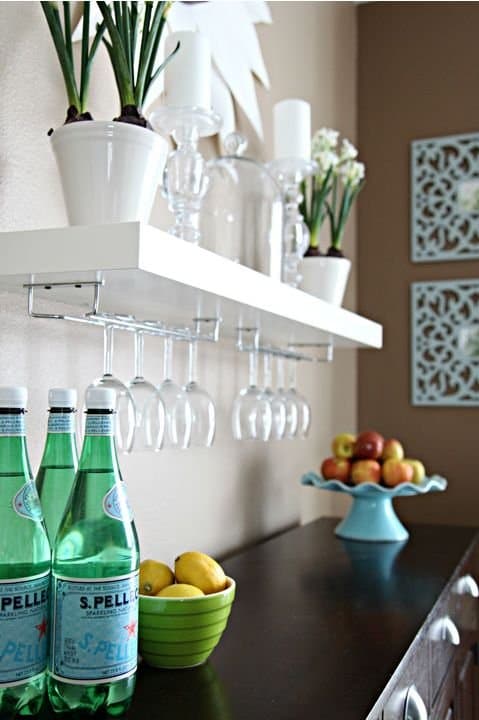 Home bars are quite trendy and stylish, and this one is no exception. The shelf atop the counter holds decorative plants and appliances, but it does more than that. A glass holder was fashioned at the bottom, so that there is always a glass within reach when it's time to serve a drink.
Ikea Lack Shelves Cut Down To Fit Storage Space

These shelves have been pretty much shoved in the corner for storage purposes, as they are wedged between a dresser and the wall. There is obviously a very tight space that has been assigned for this project, so the shelves had to be cut to size. via pepperdesignblog
Lovely Cat Shelves

These lovely, elegantly arranged shelves are perfect for cats to climb and perch on, creating beautiful pictures like the ones you see, but you could also do something similar for actual storage or even to hold statues. via pamperedpetz
Narrow and Vertical V- shape shoe storage using Ikea Lack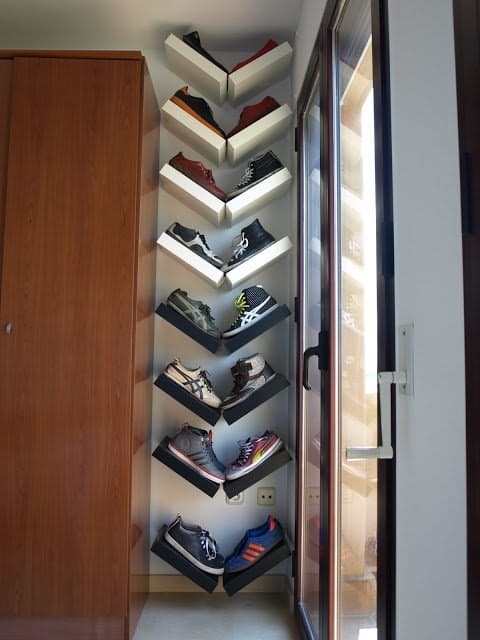 These vertical Vs are fantastic for storing and displaying shoes in a tight space. Each side of the V is made from a shelf and can hold its own pair of sneakers or flats, but this isn't ideal for heels or boots.
Storage In The Bathroom Using Ikea Lack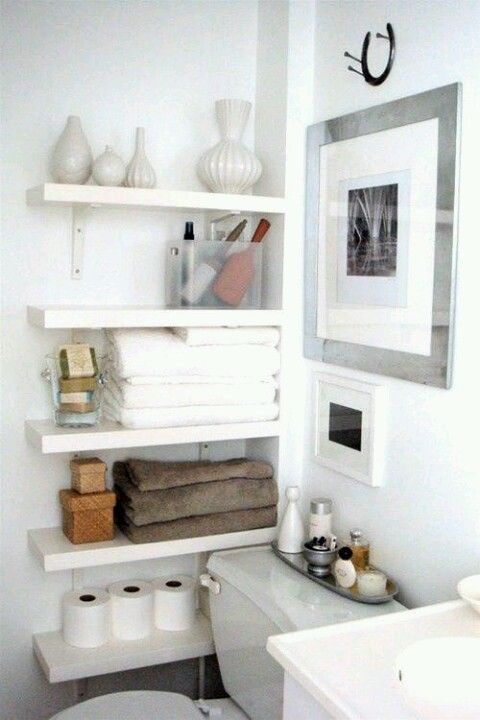 Here's another example where the Lack shelves made using a little corner for storage a possibility. These ones were embedded in the wall by the toilet and hold towels as well as hygiene products.
Ikea Lack Vanity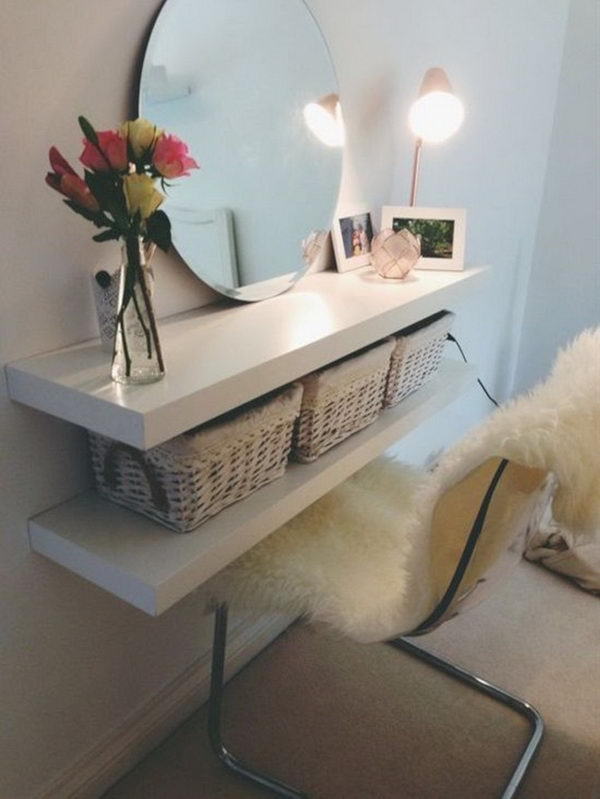 Having a vanity in your room has never been as easy, inexpensive and compact. The two lack shelves serve as a counter and a holder for the makeup baskets, while the additions of a table lamp, a round wall mirror and a desk chair make this place perfect for beauty routines.
Corner Shelves For Shoes And Baskets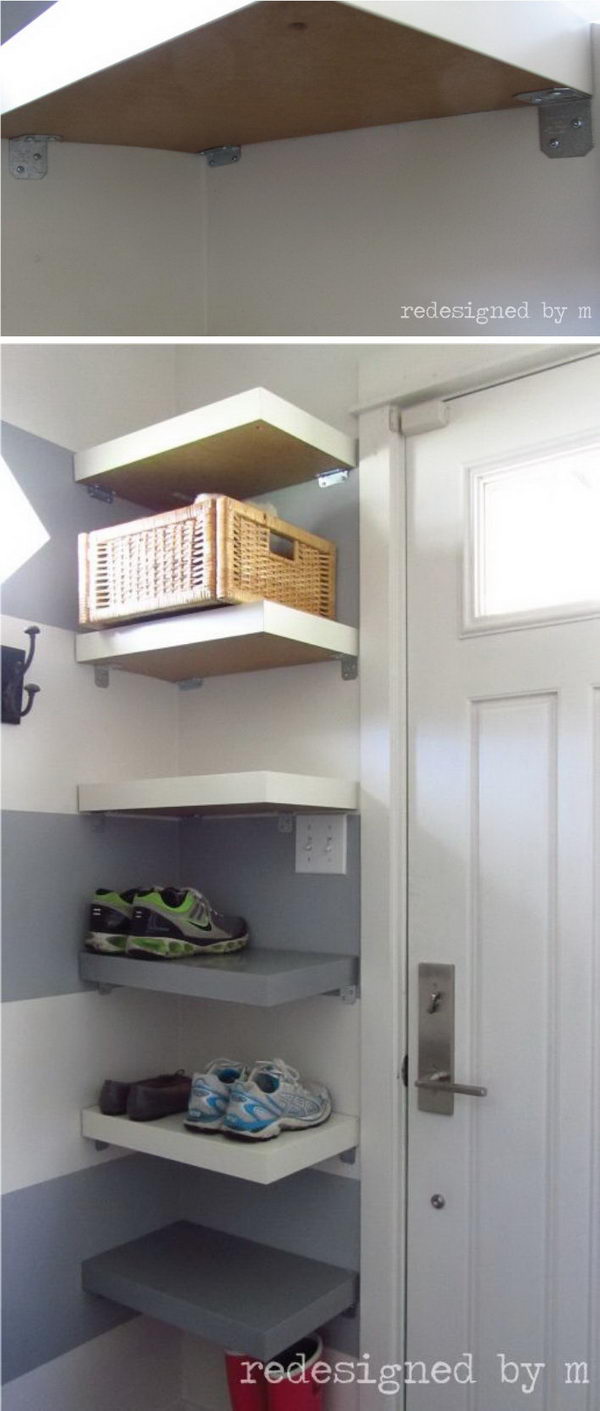 These corner shelves are perfect for your bedroom or closet, as you can place shoes, hats and baskets with small items like jewelry in them, keeping your accessories organized, accessible and out of the way. via planq-studio
Lack Ikea Shelf For Displaying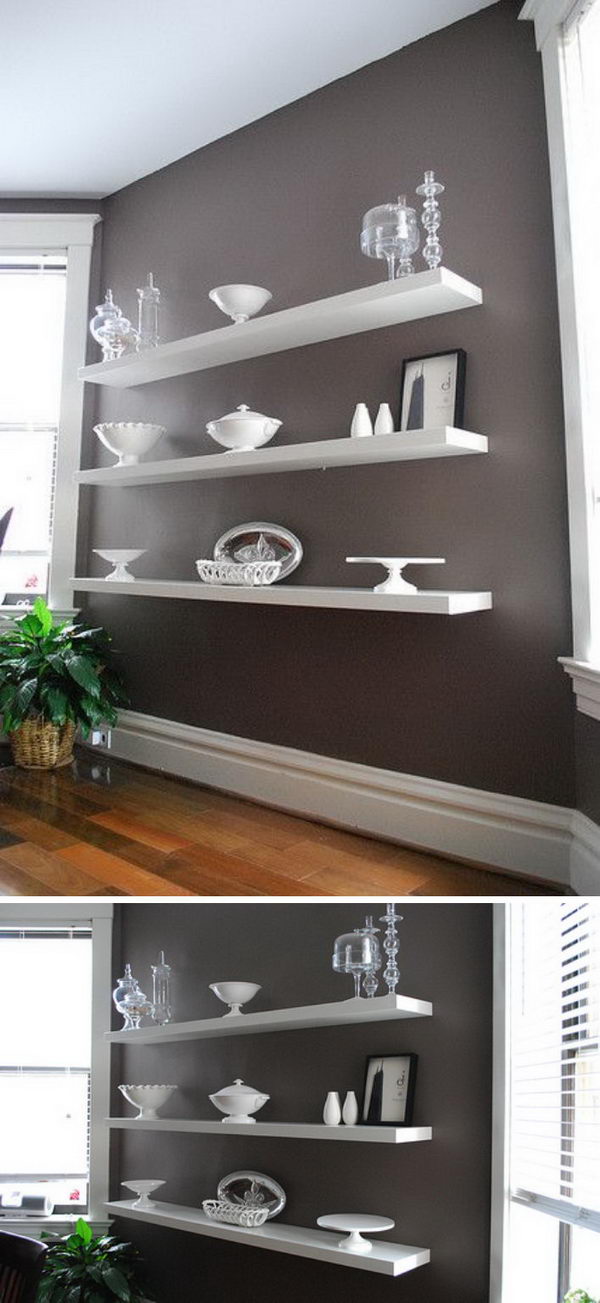 These long white shelves are purely meant for displaying the finest chine and glassware in the house, which means they need to be sturdy and very well installed. The white shelves on the black wall create stunning contrast and make the items stand out further. via exitpursuedbybear
Mix TV in with Lack Ikea Shelving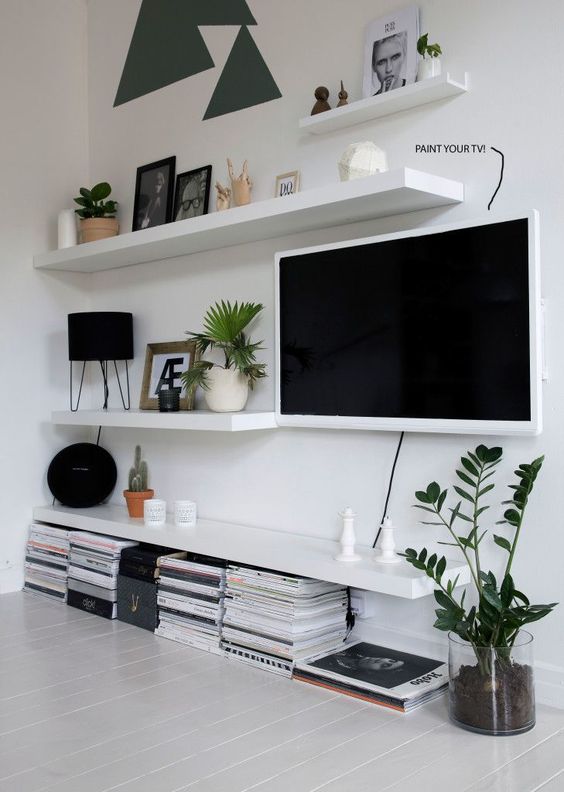 These shelves span the whole width of the living room wall and almost blend in, as they hold decorative items, for the most part. The flat screen TV was intentionally placed to look like it's part of the shelf, while the bottom space holds magazines, records and other physical copies of media.
Light Up Lack Shelves In The Kitchen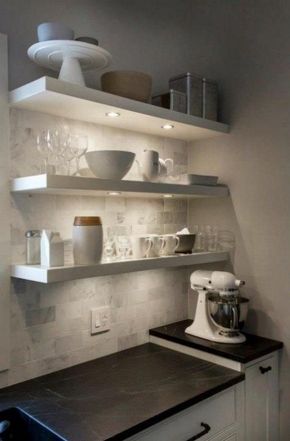 These kitchen shelves have been used very smartly, as they were placed over the counter holding china and other recipients. Since they feature embedded lights, they provide the perfect setting for a nighttime tea or snack.
Narrow Console Table From Ikea Lack Shelf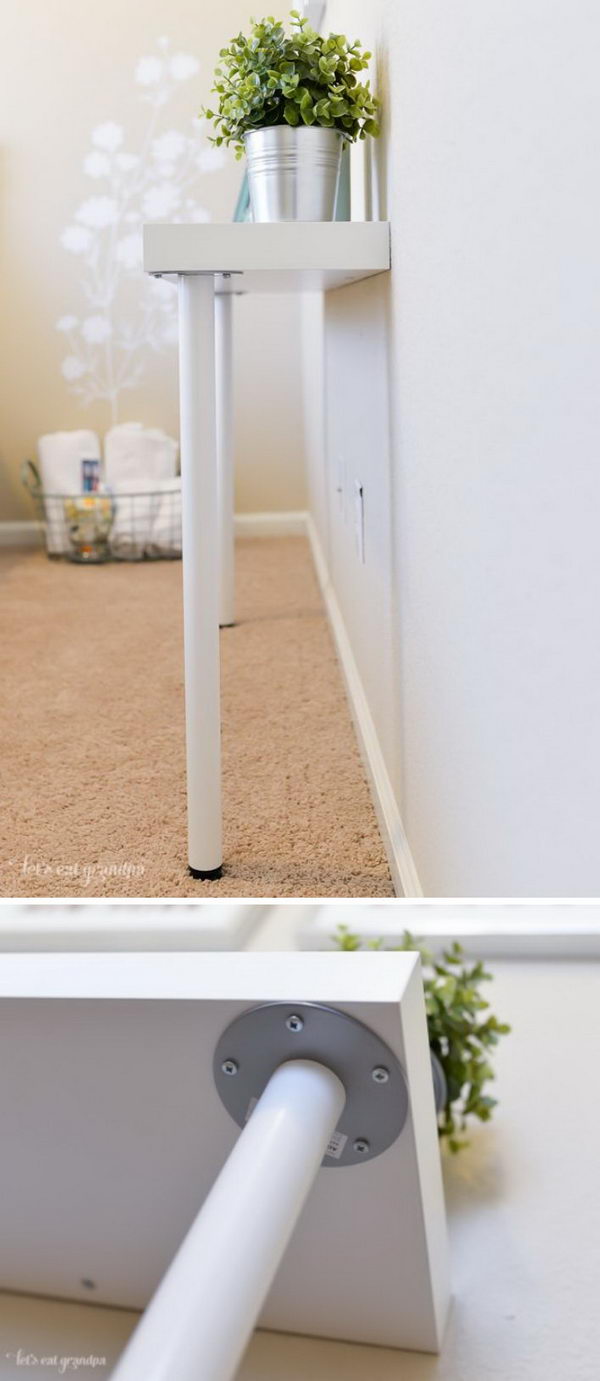 A console table like this one is nothing more than a shelf with legs, so all you need to do is buy the pieces, put them together and then decorate as you wish. These ones are reinforced, as you can see, so they are a great choice if you choose to display larger or heavier items. via shelterness
Bathroom Shelves From Ikea Lack Shelf
These tiny black bathroom shelves are quite cool as they hold decorative items and stacks of hand towels alternately, serving the purposes of decoration and function while taking little space. via stellalaneinteriors
Squeeze a Little Extra Storage Out of a Small Bathroom Using Ikea Lack Shelves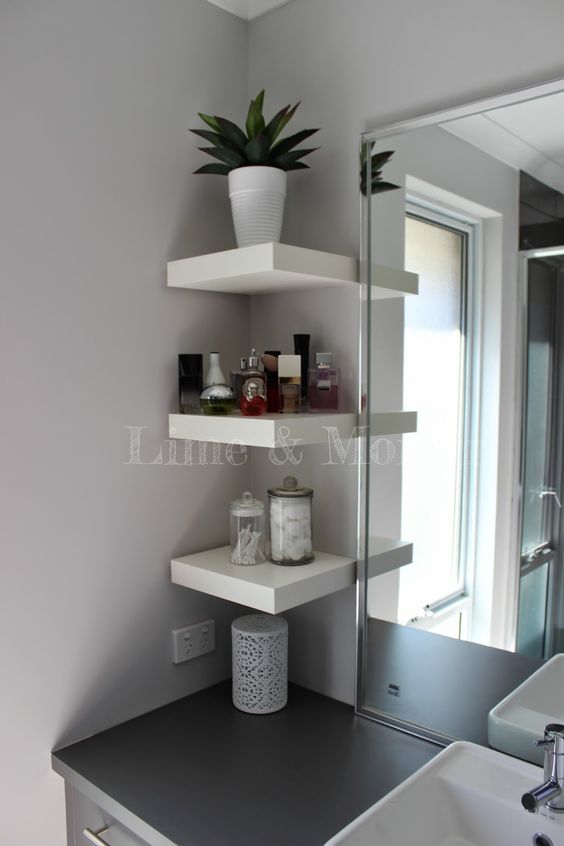 These little shelves have been installed in a corner atop the bathroom sink, where they fit perfectly, and they hold toiletries like perfume and Q-tips, which you might reach for when doing your morning hygiene. via pinterest
Ikea Lack Book Shelves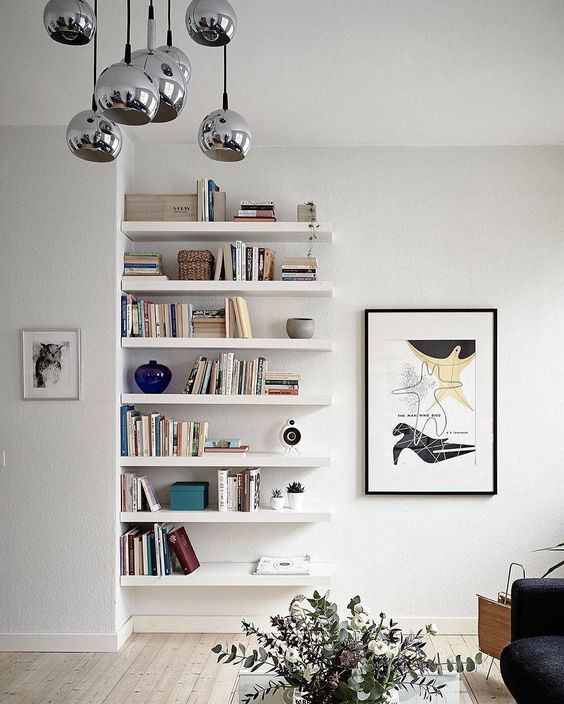 Book shelves aren't exactly a novel idea, but these work very well in the room they're in, which has quite an eclectic decoration. The shelves themselves have been built in the corner, only taking a small space from the back wall, and the books have been organized in different directions, which enhances the casualness of the shelves. via instagram
Using Ikea Lack Shelves To Make Zigzag Wine Storage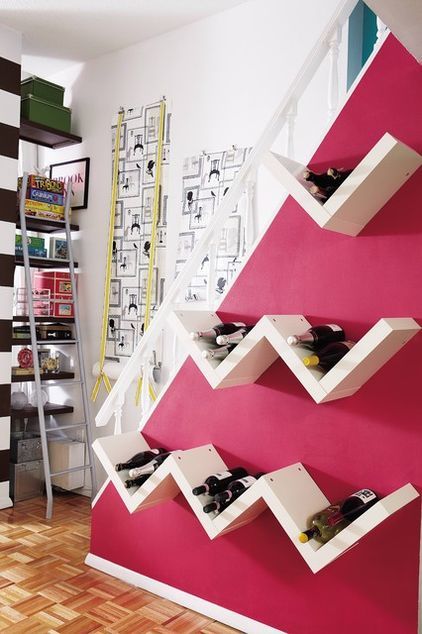 Wine is traditionally stored in specific racks or V-shaped holders like these. Instead of buying the pieces, this genius fashioned the white zigzag holders, which look gorgeous against the red wall, using a series of small lack shelves joined together to create the unique shape. via houzz
Kids' Room Zigzag Book Storage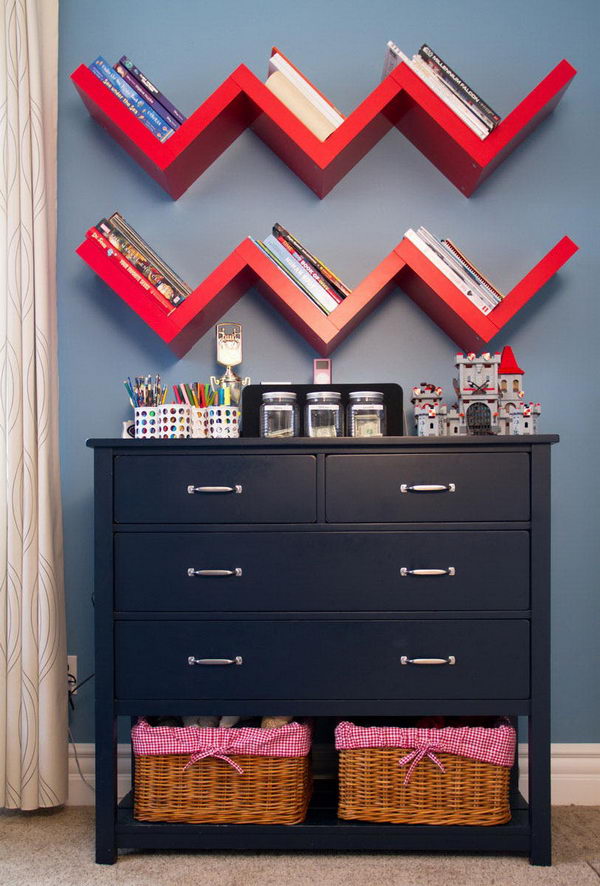 This is the same concept, but used in a different context. Here, the zigzag shelves have been painted red, creating a pop of color against the light blue wall and the dark dresser. Also unlike the previous project, the sides of the V-shapes have been used to hold books, and the joints are merely decorative. via apartmenttherapy