There's no Christmas or Holiday season without snowmen. They represent the fun that one can have alone or with others when the weather gets cold and snow abounds.
In fact, some people get so attached to their snow creations that they give snowmen names and whole personalities, turning them into imaginary friends.
Not everyone has the luxury of playing with real snow though, and even if they could, snow always melts sooner or later, so it would be impossible to build a snowman that lasts through the whole season or could be moved indoors.
The good news is that real snow is actually not necessary when building a snowman to decorate your house. In fact, there are plenty of ways to bring some chilly fun into your home at Christmas, and that is exactly what we are here to show you.
Do you wanna build a snowman? Then feel free to scroll through these Adorable Snowman DIY ideas for Christmas Decoration and get to work!
Cute Wood Slice Snowman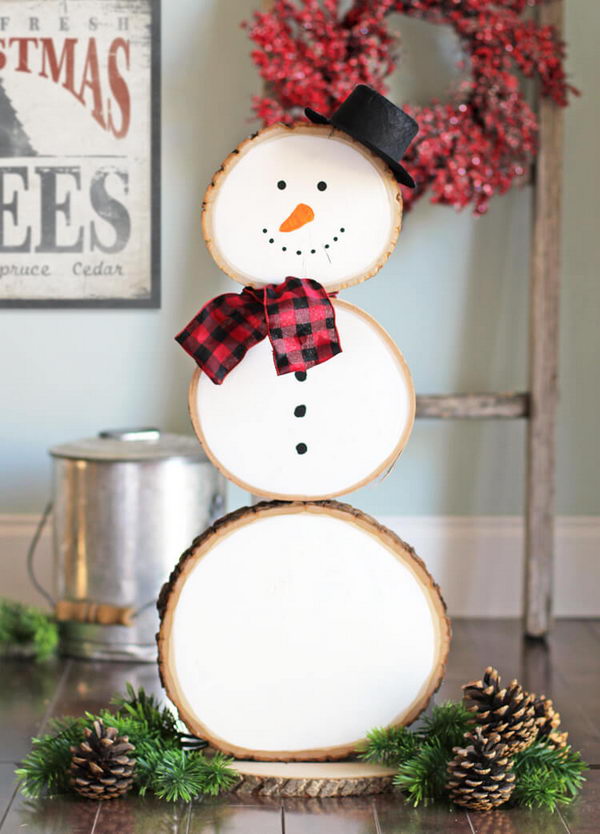 This snowman is actually quite easy to make. All you need are three round pieces of wood in different sizes, which you should paint completely white. Then you should draw his features, add some accessories and set him on a base to stand up. via thecraftpatchblog
Repurposed Wooden Shutter Snowman

Take some old shutters and create a holiday scene by painting a snowman in front of a red or green background. Add 3D elements like a scarf or snowflakes to finish the piece, which you can use in many ways for indoor as well as outdoor decoration. via craftsalamode
Snowman Table Setting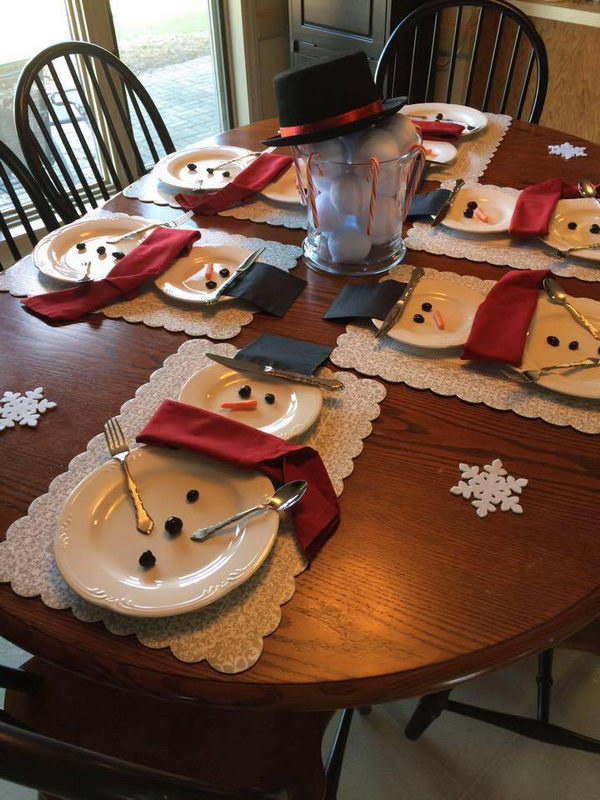 Now this table setting is quite a fun way to bring a snowman into the house for the Holidays. The plates are his head and body, while napkins serve as a makeshift scarf. The cutlery is its limbs and each snowman even has a tall hat which spans from the table's centerpiece. via stagerlinda
Snowman Christmas Stocking Holder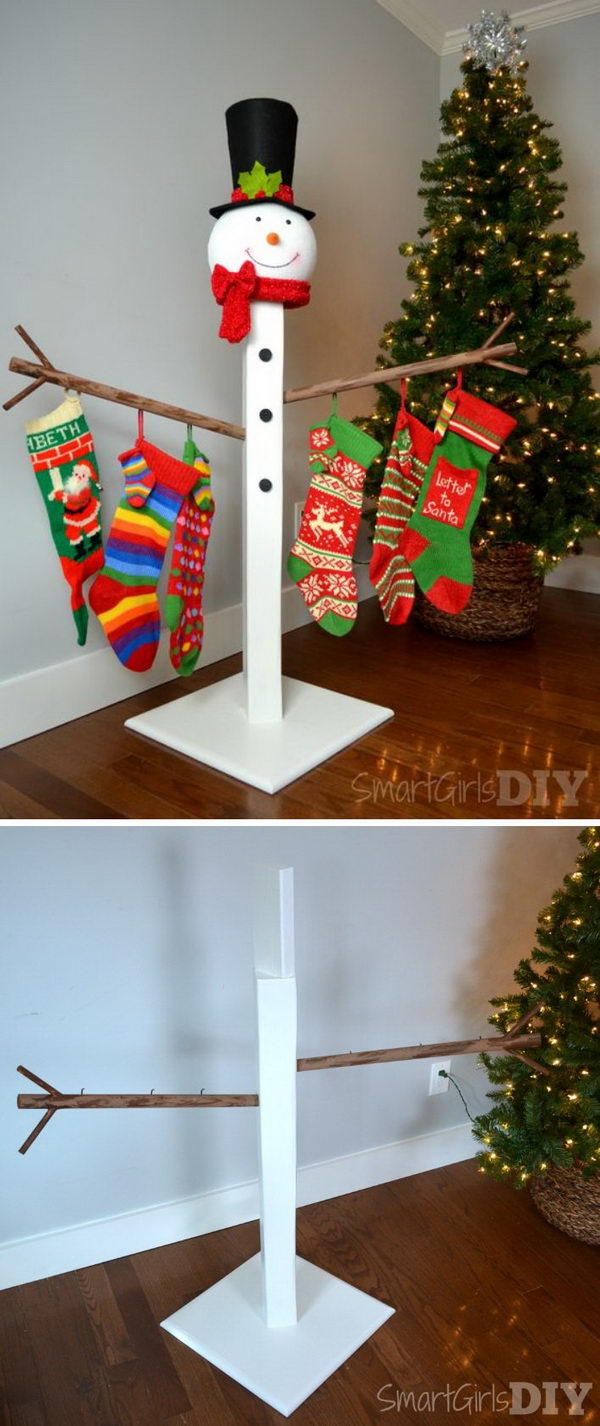 This is quite an unusual snowman, as its twig arms are meant for hanging stockings. The body is a skinny white pole set on a matching base, while the head is your usual ball. A red bow scarf and a top hat finish the piece. via smartgirlsdiy
Ice Box Cake Snow Globe Dessert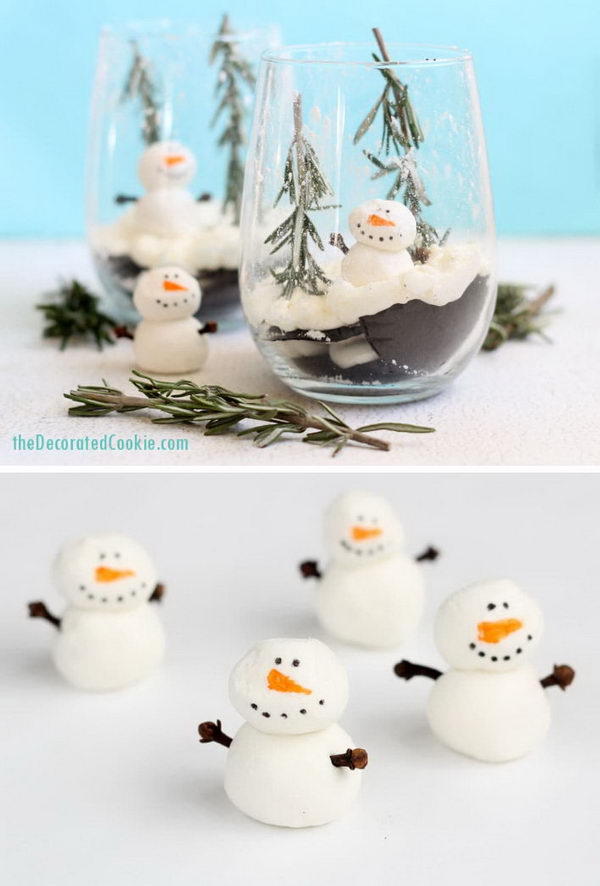 This project actually goes beyond decoration and into baking, as almost everything in and outside the wine glass snow globes is edible – snowmen included. Aside from edible clay or fondant, which you will need to make the snowmen, you should have all the necessary items like whipped cream and sugar in your kitchen already, if you ever bake at all. via thedecoratedcookie
DIY Lighted Glass Block Snowman

This snowman mixes the sophistication of glass cubes and lights with DIY aspects like button features and a flannel tied on top as a winter hat. via allparenting
Snowman Mugs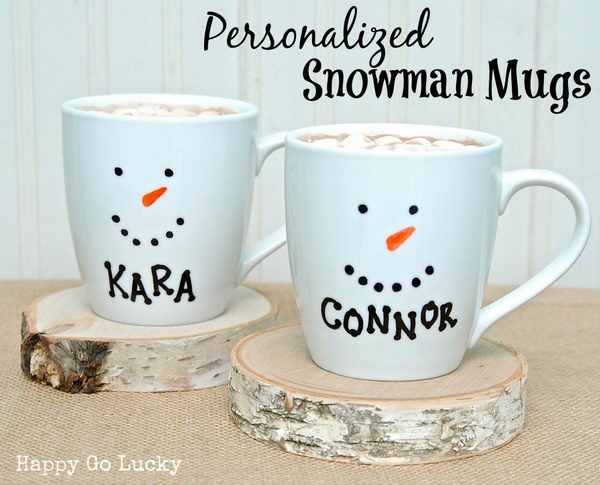 This is absolutely the best and easiest way to get or give a snowman for Christmas. All you need is a white mug, a couple of sharpies, an oven and some creativity. There's no excuse not to try this one. via happygoluckyblog
Magnetic Light-Up Snowman Crafts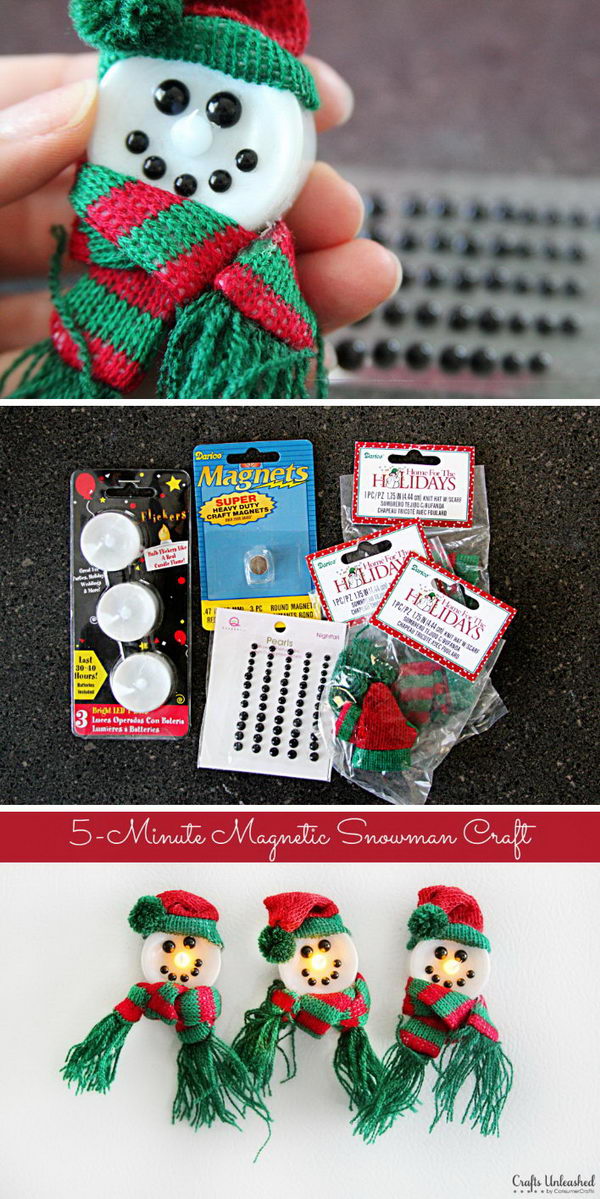 These snowmen head magnets can light up any surface, as they are made from and decorated with various craft materials as well as tea lights, which means you can stick a little festive light just about anywhere you can think of. via consumercrafts
DIY Melted Snowman Ornament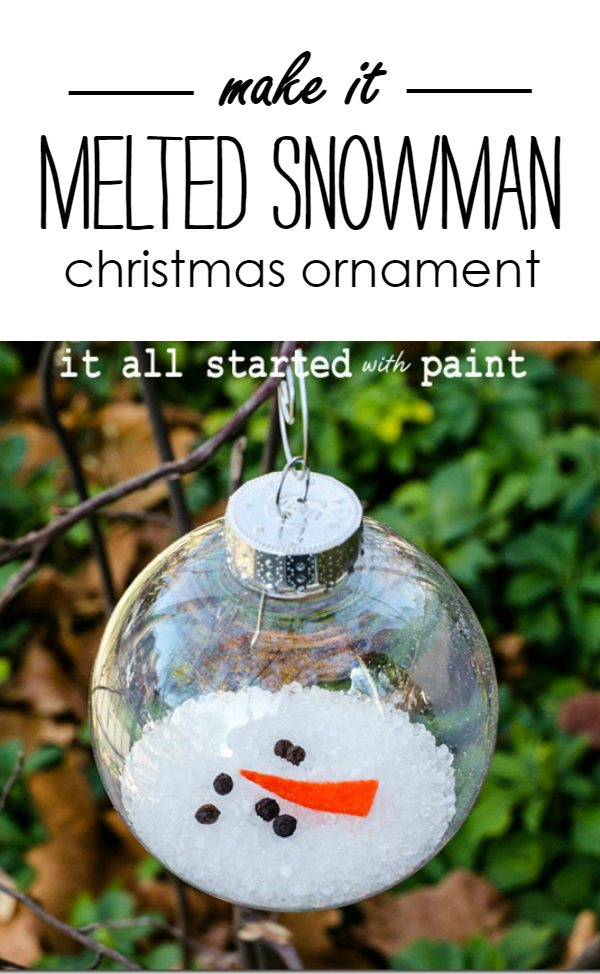 This ornament is fun yet sad to look at. It is obviously made using an empty transparent babble ornament, inside which were placed some salt, a triangle of red felt and peppercorns to make it look like a snowman had melted in it. via itallstartedwithpaint
Bottle Cap Snowman Ornaments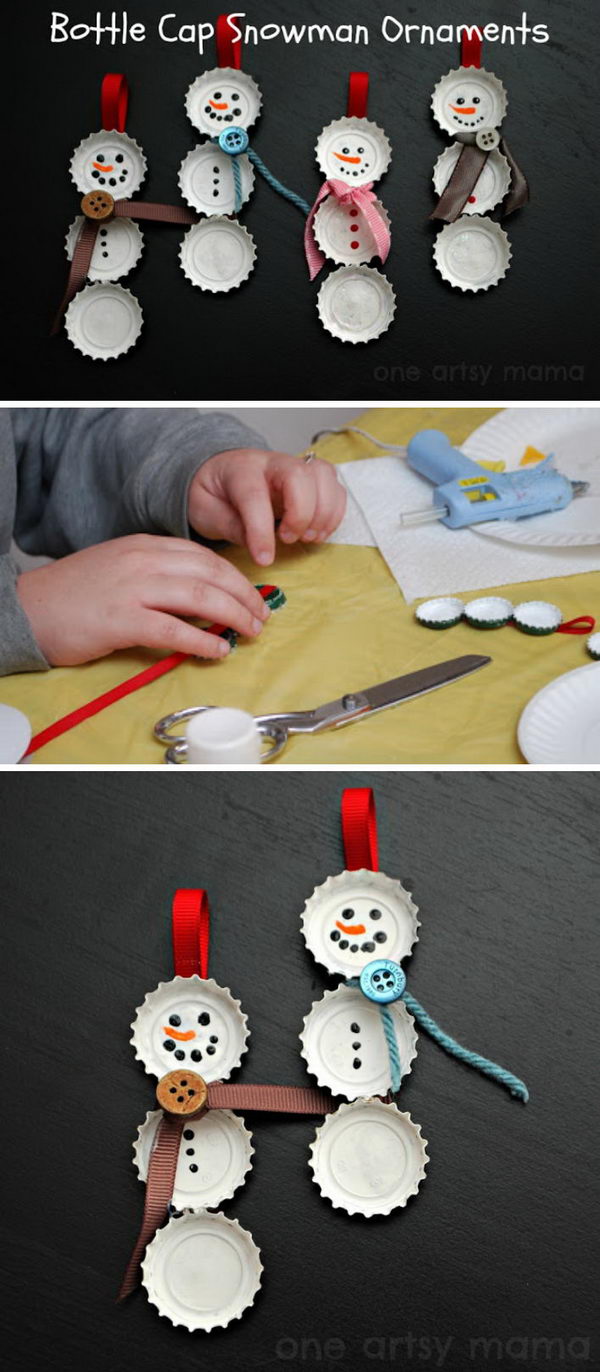 These scalloped snowmen are once again really easy to make, as they are crafted from upturned bottle caps. Ribbon, buttons and paint are used to add the accessories that finish the project off. via oneartsymama
DIY Dollar Store Fishbowls Snowman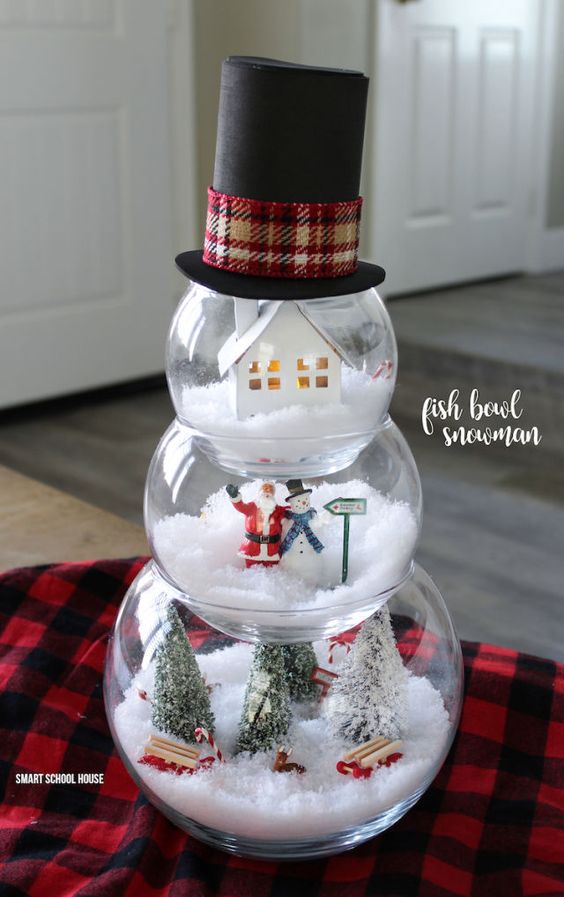 This snowman made from fishbowls is actually incredible, as each bowl is constructed like a snow globe with a scene inside. A top hat with a foiled band finishes the project. via smartschoolhouse
DIY Snowman Mason Jar Light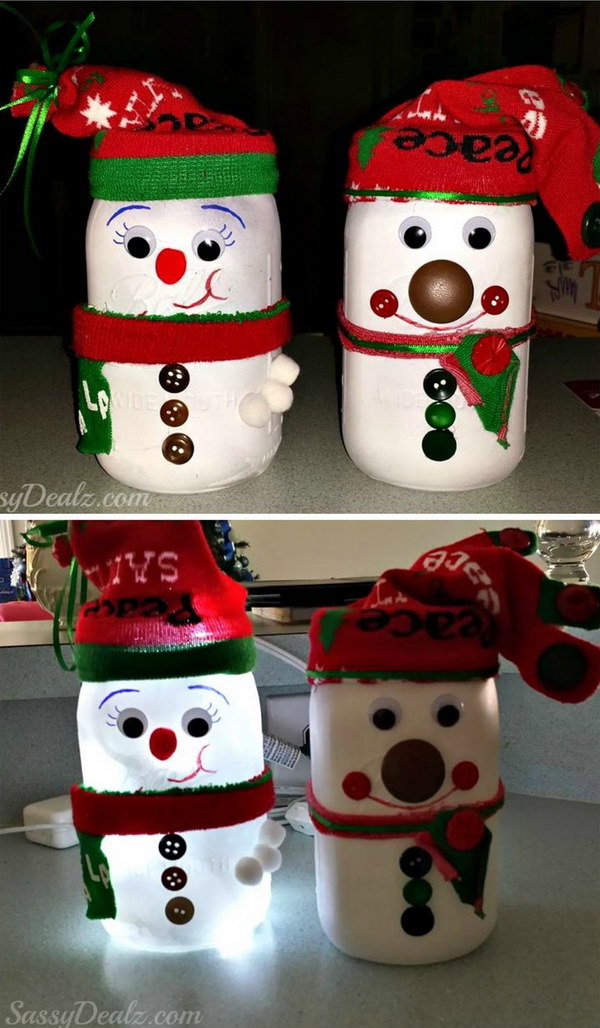 These little snowmen elves are made from mason jars which have been painted and decorated with felt, buttons and other craft materials. Ingeniously enough, a tea light was placed inside, which shines through the white paint and illuminates the dark spaces. via craftymorning
DIY Repurposed Sock Snowman Ornaments
This snowman has a knitted hat, and it's not hard to make. The hat is just a toddler sock, while the actual snowman is a clear babble ornament which was painted from the inside and then decorated with sharpies so it had the smiley face we all adore. via Youtube
Snowman Paper Lantern

This snowman is yet another crafty creation you can use to light up your house for the holidays. It is made from a mix of craft materials, including felt and construction paper as well as some lights, which were bought quite cheaply. via alittledelightful
DIY Stacked Clay Pot Snowman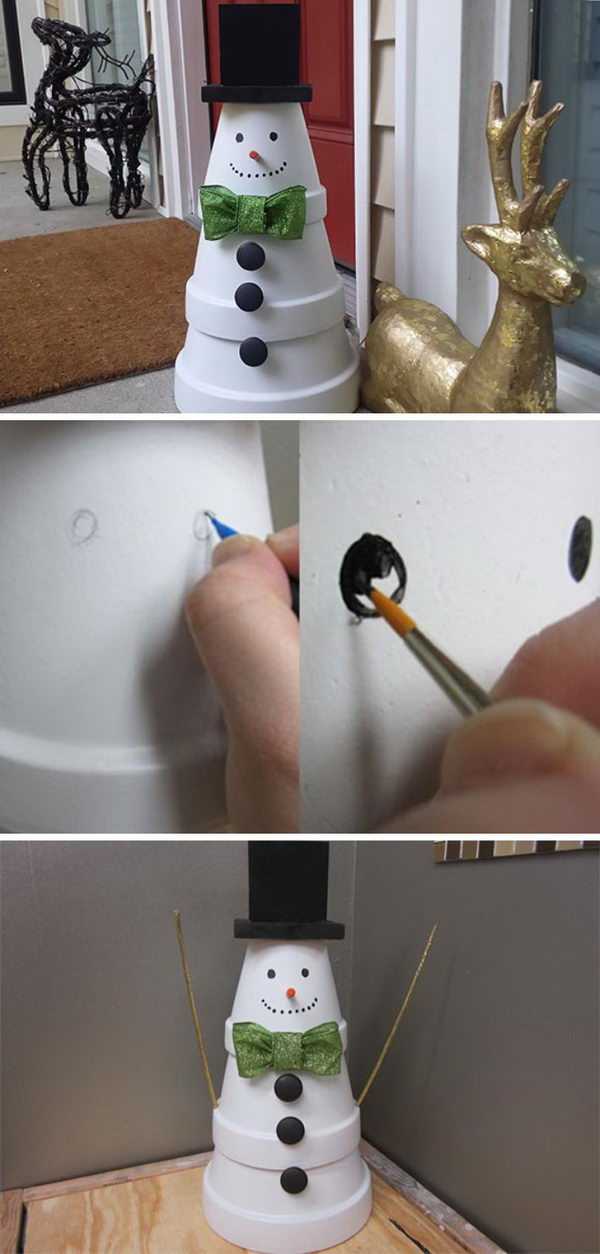 This cute tiered snowman was made using clay pots of different sizes, which were turned upside down and painted to achieve this look. Sticks, crafting materials and the mandatory top hat finish off the piece. via gardenclub
DIY Log Snowmen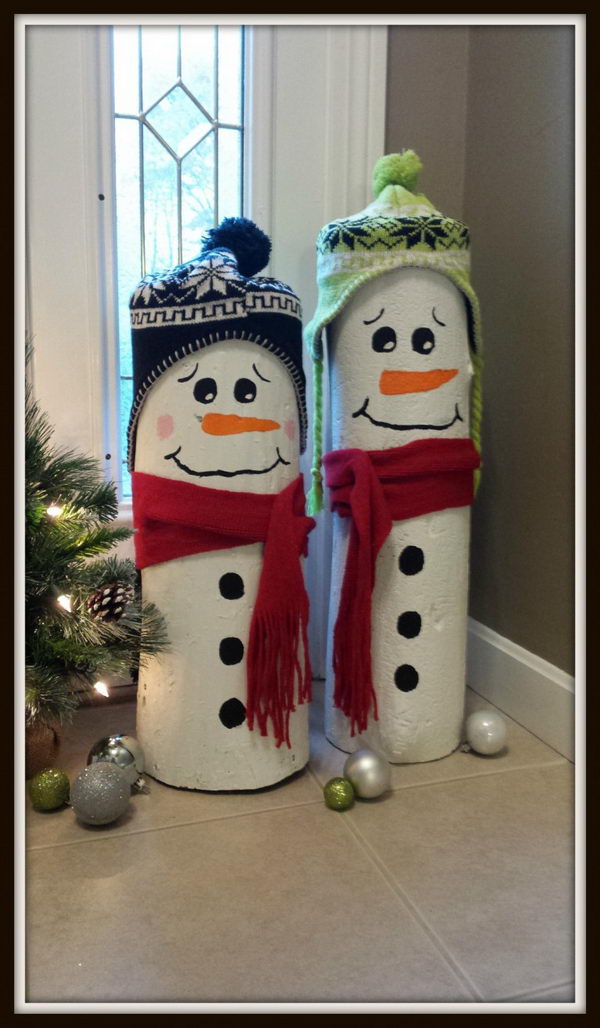 The pair of snowmen may be made of logs, but it was decorated in style. Not only do the two have all the typical snowman features, but they are also protected from the cold with beanies and scarves. via hip2save
DIY Wine Cock Snowmen

This is the coolest of snowmen. Its head is made from wine bottle corks and caps, features a felt nose and it even has a little beanie atop his head. via growingupgabel
Snowman Milk Jugs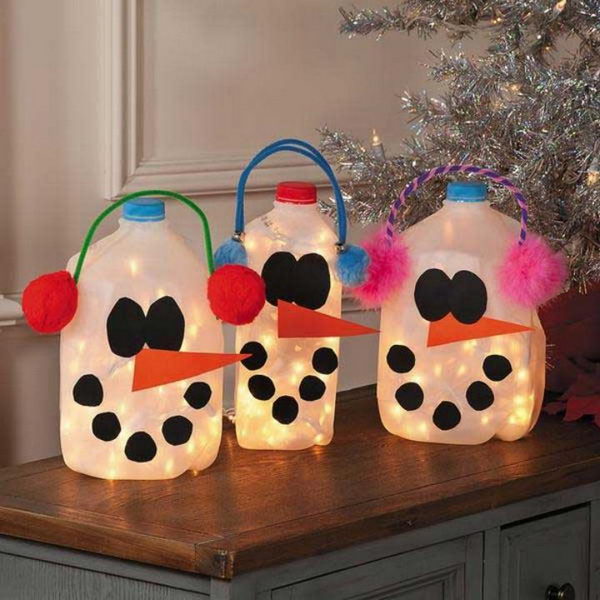 These milk jug snowmen lanterns are definitely cute and easy to put together. All you need to do is clean up your jug, place a light inside and then decorate the outside with big felt snowmen features. via freefunchristmas
Stairway Spindle Snowmen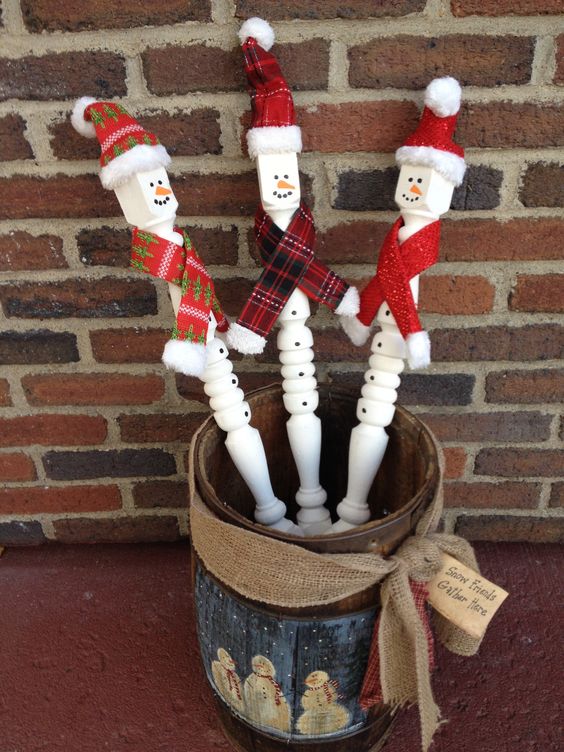 These little Santa snowmen are made from repurposed stairway spindles, whose tops have turned into their heads. Facial features have been drawn, while a matching scarf and Santa hat finish each piece, all of which are displayed in a decorated basket. via pinterest
DIY Wood Block Snowman Ornament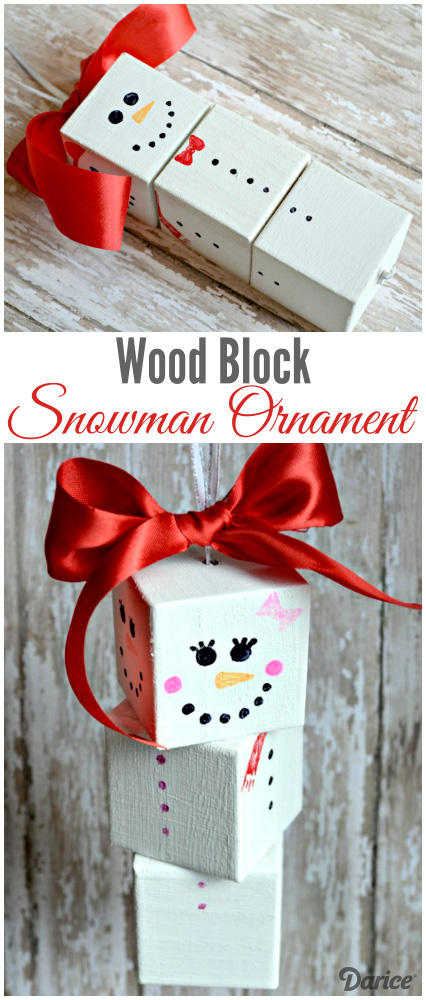 Here's a really cute and original snowman, which is made from painted wood blocks mounted facing different ways. All of the blocks have the snowman features on each of their sides, and the piece is topped off by a red bow. via darice
DIY Plastic Cups Snowman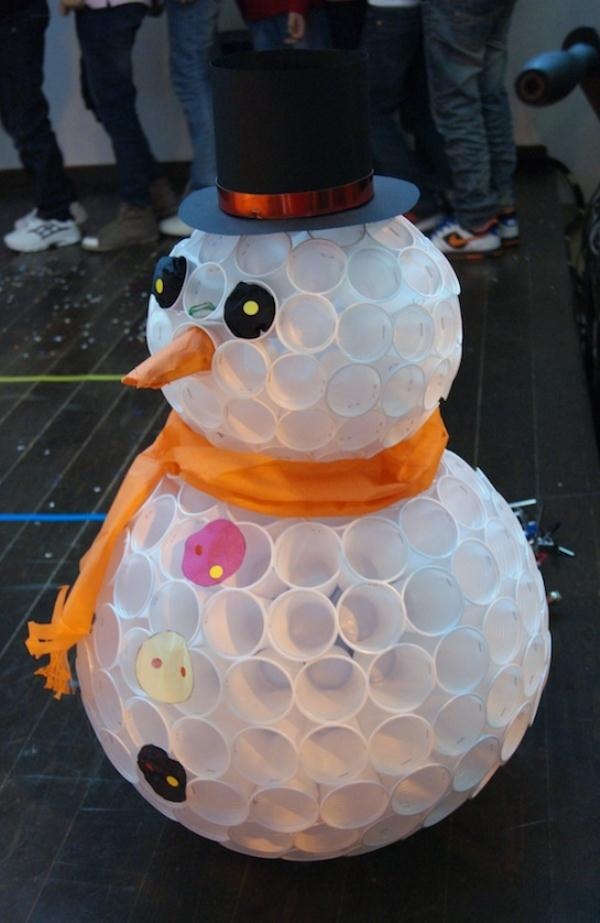 This snowman is really cool as well, because both his head and body were actually put together using plastic cups. All of its features are 3D, much like you'd see in a real snowman, and it shines from the inside, which means it has some kind of light source in its lower body. via goodshomedesign
DIY Snowman Lamp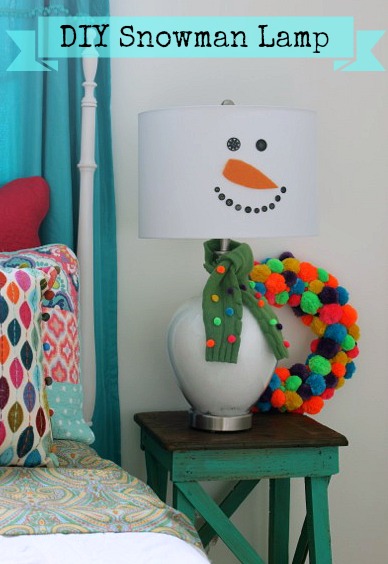 This lamp had a Holiday makeover when its top was turned into a snowman's head using fake snow, buttons and felt. A green scarf and a cascade of rainbow pompoms finish the festive makeover. via daisymaebelle
Light Up Snowman From Dollar Store Fish Bowls And Socks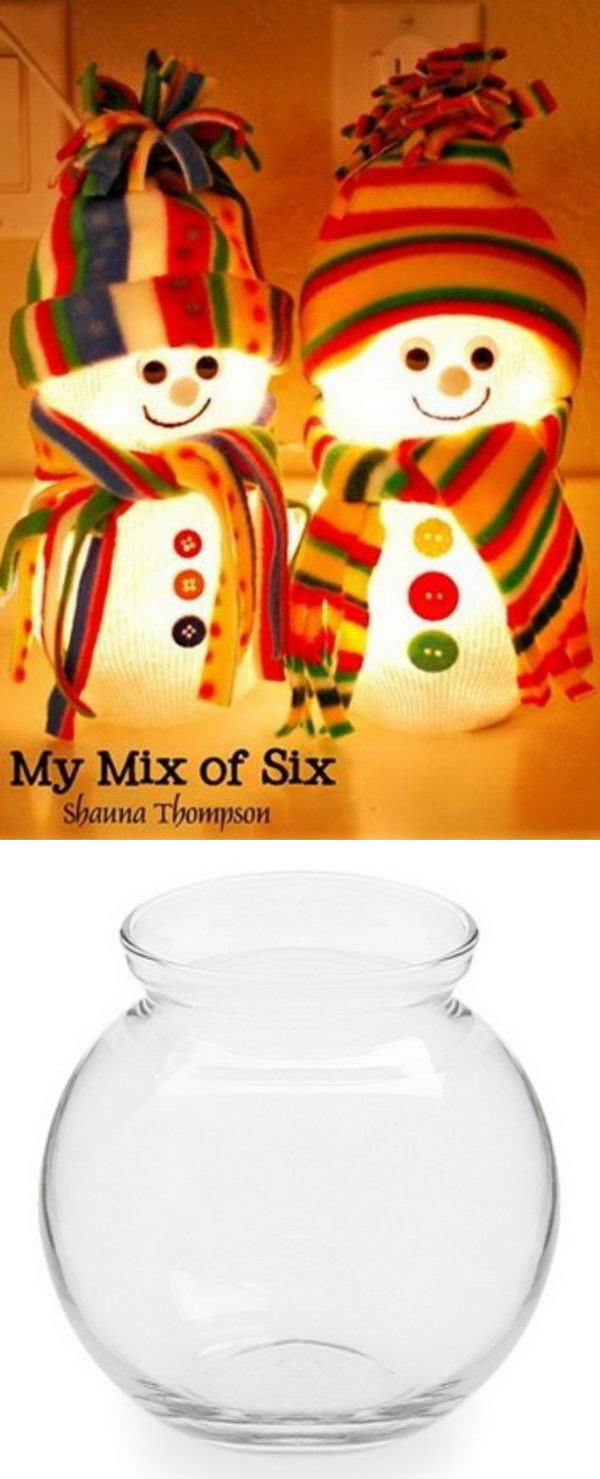 There's no doubt that fishbowls have the perfect shape for a snowman's body so it's no surprise that these ones were turned into little snow buddies using fake snow, buttons and socks. via mymixofsix
DIY Lighted Snowman Canvas

A lighted snowman canvas is a fairly easy project to achieve, which look cute and impressive. All you need to do is paint the snowman or find a canvas that already features a similar scene, cover it in glitter and then glue some snowflakes strategically. Feed the lights into the snowflakes' centers through the back of the canvas and you will have a beautiful final product. via madetobeamomma
Lighted Grapevine Snowman Wreath

This wall decoration is a very different kind of snowman. Two wreath bases were joined together and decorated with plants, a scarf and a top hat to resemble a snowman. A string of lights was also threaded through the wreath so that it lights up. via craftymorning
DIY Glittery Snowman Wreath

This wreath is a complete snow scene, with its white base, snowmen family and Christmas tree in the center. It hangs by a contrasting tartan bow. via fynesdesigns
DIY Snowman Candy Jars Made With Wine Glasses

Wine glasses have turned into snowmen candy jars as they were filled with fake snow and a snowman's face was created on the outside using craft materials. A top hat can also be created and added as a lid. via yesterdayontuesday
Snowman Refrigerator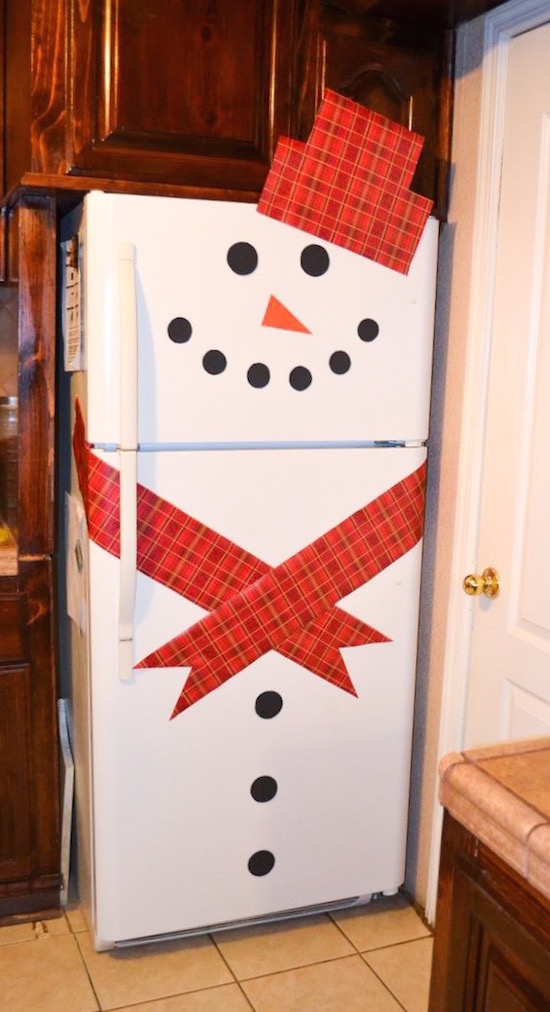 This snowman fridge shows that the sky is truly the limit to one's creativity. It was transformed using magnets or stickers to make the snowman's features, and then decorated with a matching hat and scarf made from tartan paper or cardboard.
DIY Light up Glitter Snowman

It doesn't get much more festive than this snowman, whose body is completely covered in glitter, matching its shiny top hat. The lights inside bring all the shine to life with its frosty glow. via leapoffaithcrafting
Snowman Garage Door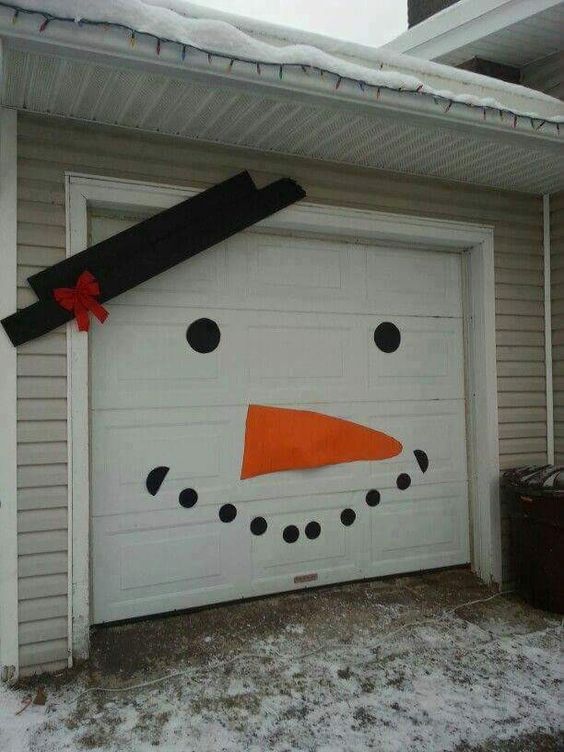 If you can turn a fridge into a snowman, a garage door is actually much easier. This only has the smiling face features, as well as an accent of fabric with a bow at one of the top corners serving as a makeshift hat brim. via pinterest
Old Snowman Shovel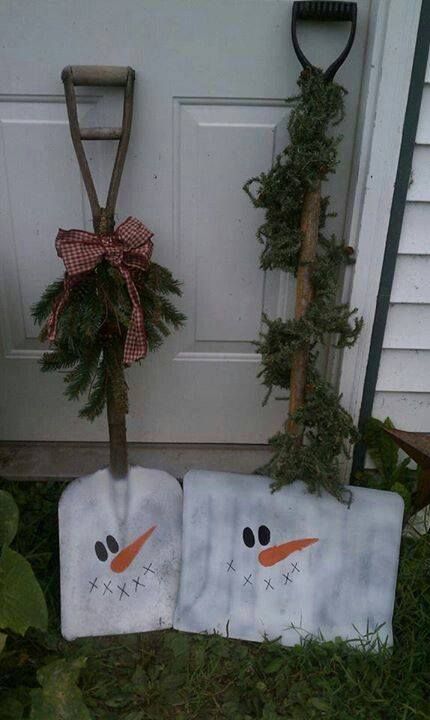 Here's a great way to repurpose an old shovel as a Holiday decoration. Paint the bottom white and draw a snowman's face on it, then add some greens and a bow to enhance the old handle.
Lovely Snowman Family Decoration Just Behind The Glass Gate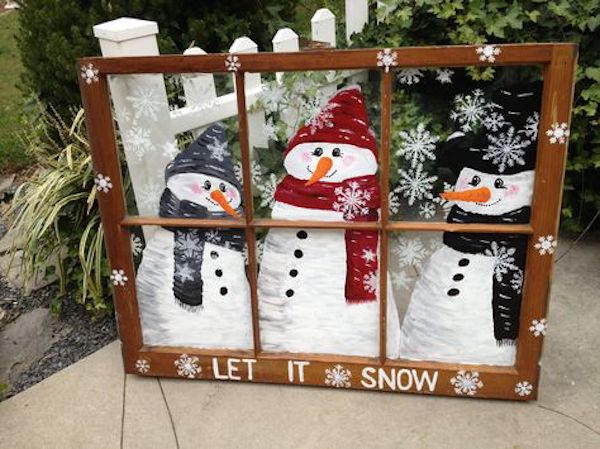 This glass gate might as well be a shop window, it is decorated so well and tastefully. A snowman family, complete with matching hats and scarves, is framed by a green and red structure, and embellished with painted snowflakes and words.
SNOWMAN Made From Old Tires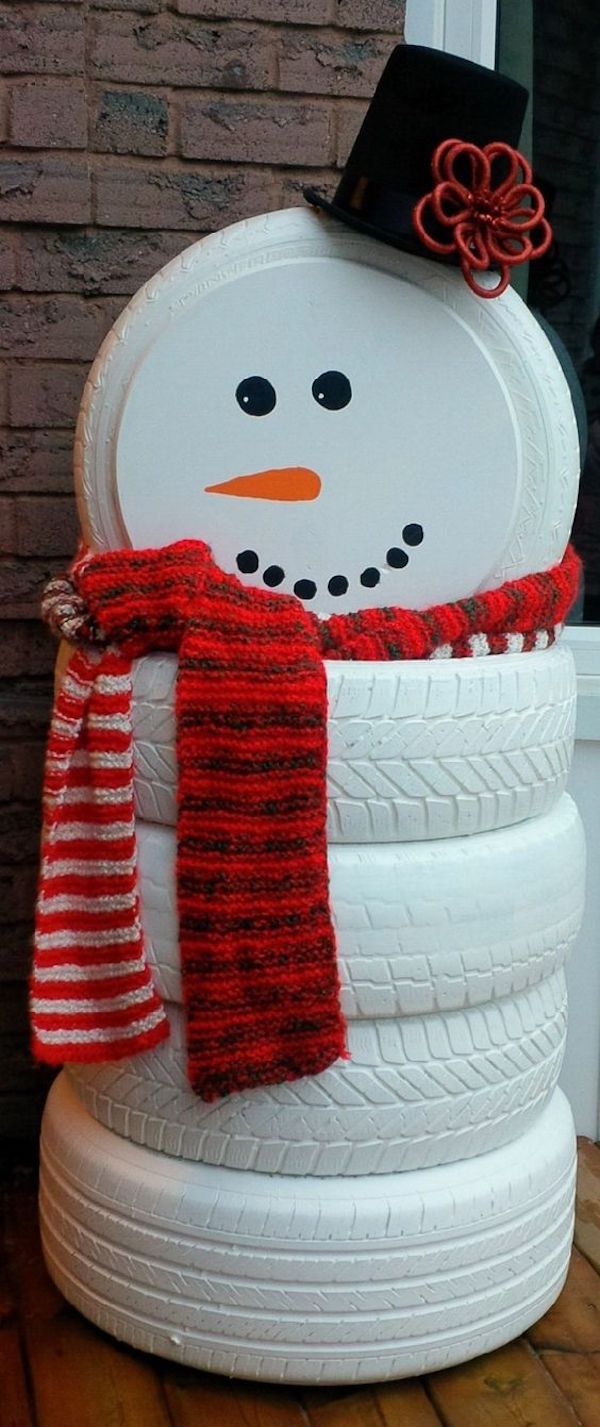 Take some old tires, cover the middle and then paint them all white, before installing three lying down and one on its side atop the others. Add some painted features, a scarf and a top hat to complete your snowman.
DIY Stacked Wood Santa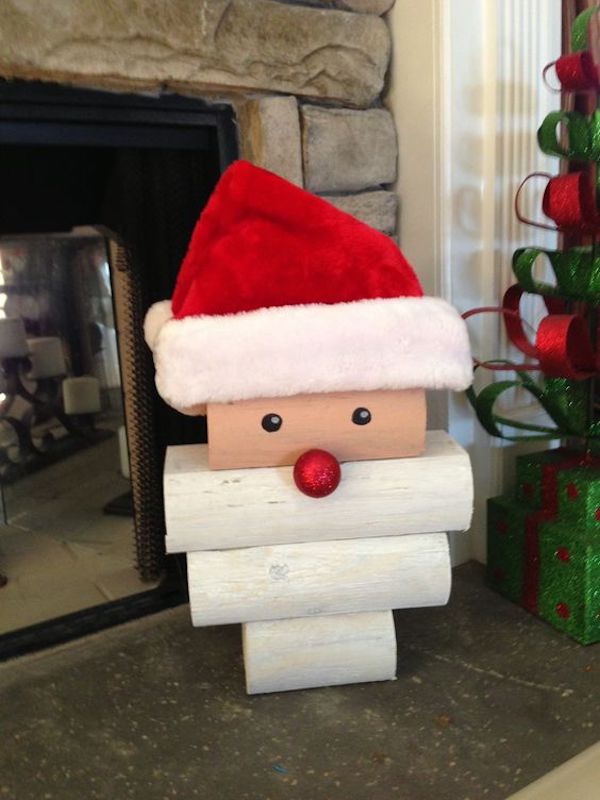 This is not a snowman but rather Santa, which doesn't make it any less cute. It is made from stacked wood planks shaped and painted to resemble Santa's head, and then topped with an actual hat.
Plastic Pumpkin Snowman

This is the project to make if you have Halloween leftovers. Stack three plastic pumpkins to create your snowman's body, then add a mixture of paint, accessories and crafts supplies to bring him to life. via craftymorning
DIY Balloon String Art Snowman

These snowmen look much more impressive than they are. In fact, the intricate webbing patterns are created by literally making webs of yarn over the surface of blown balloons. The finished orbs are then decorated with the usual features, a red scarf and a shiny top hat. via muyingenioso
DIY Plastic Spoon Snowman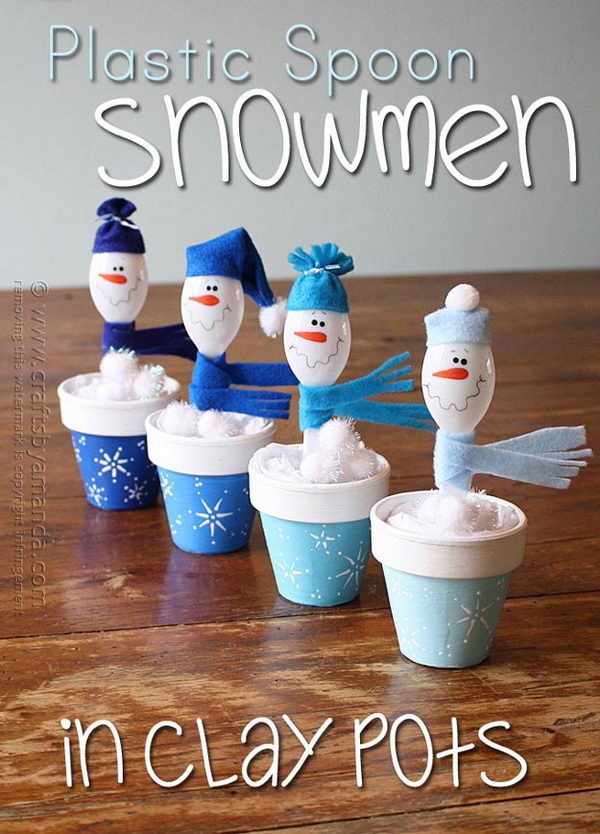 These little snowmen have been made by painting their faces on the backs of plastic spoon, which have then been enhanced with tiny hats and ribbon for scarves. They were then installed in matching cups filled with fake snow to build the chilly Holiday scene. via craftsbyamanda
Adorable Tin Can Snowman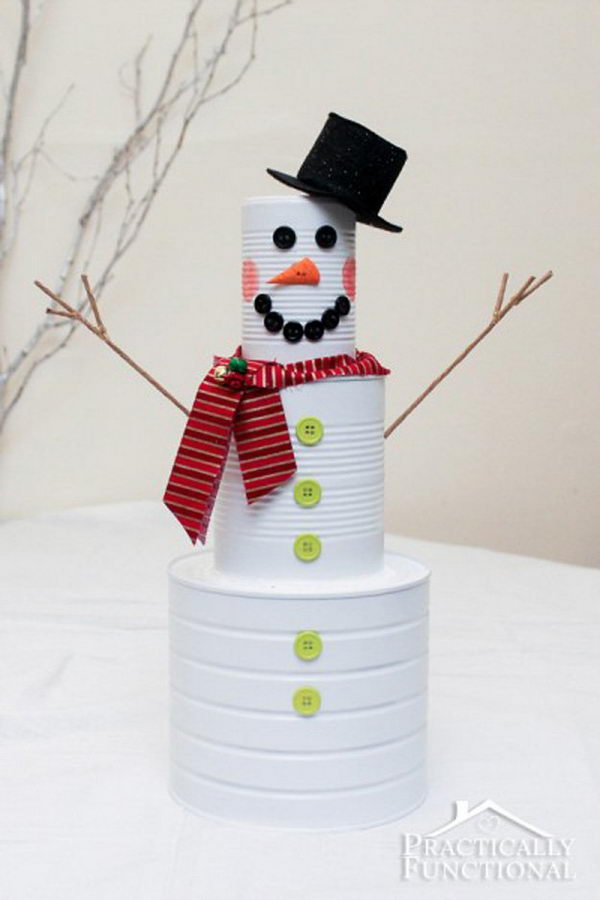 This snowman is in fact really adorable, and it was crafted from materials you probably have at home such as tin cans, small twigs and yellow buttons. via practicallyfunctional
DIY Snowman Mason Jar Luminary

This Mason jar luminary is simply adorable, as it was made into a 3D snowman, complete with ear warmers! The inside was filled with beads to look to like snow and a light was also installed, making it an actual lantern. via chicacircle
Tissue Box DIY Snowman Craft

Surprise anyone who happens to have winter sniffles with this white wooden tissue box, which has a snowman's face decorating the front to cheer up even sad or ill guests. via consumercrafts
Snowman Mason Jars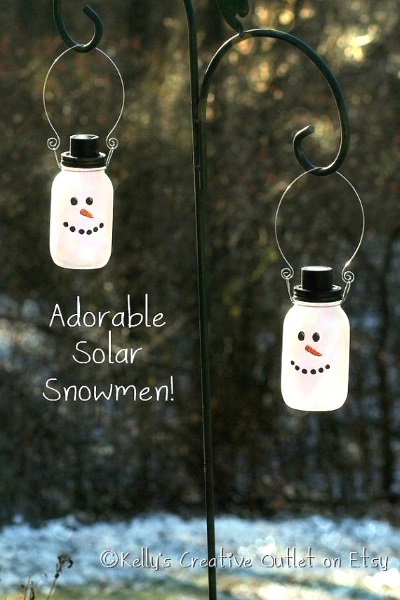 These snowmen solar lights are quite simple, as they are just mason jars which have been painted white and then decorated as snowmen. A solar light is likely hiding inside, while the lid has been turned into a top hat and some wire has been added to hang the pieces up.
Snowman Porch Decorations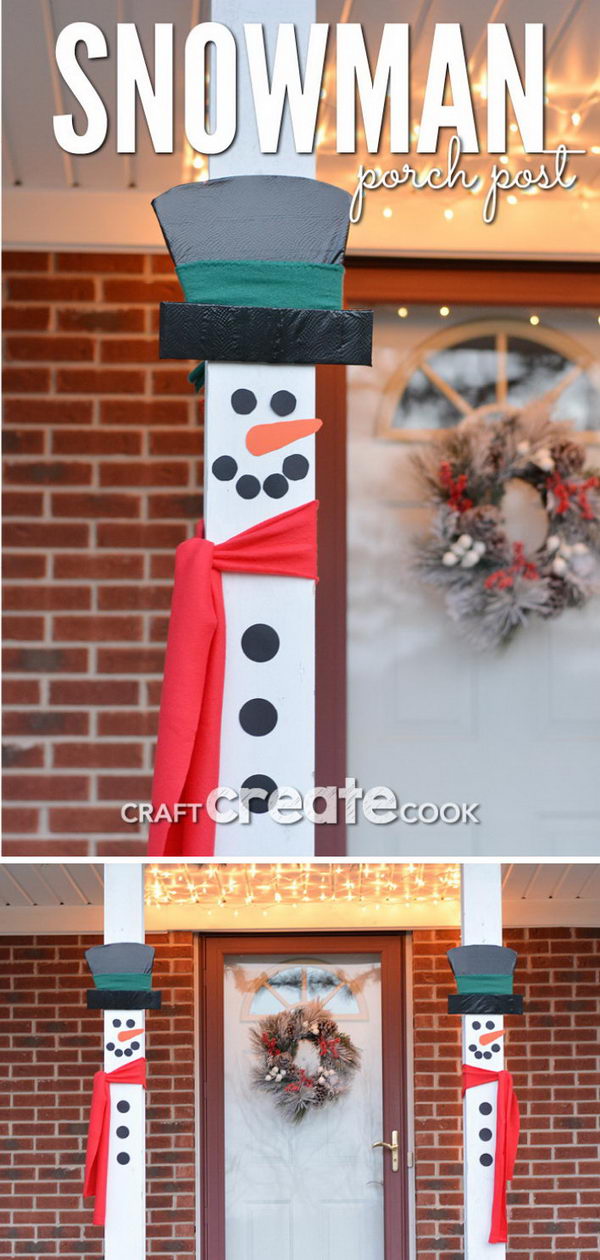 These porch columns have been turned into snowmen using felt to create the features and accessories. The finished product looks quite cute and festive. via craftcreatecook
Adorable Snowman Heads For Christmas Decorations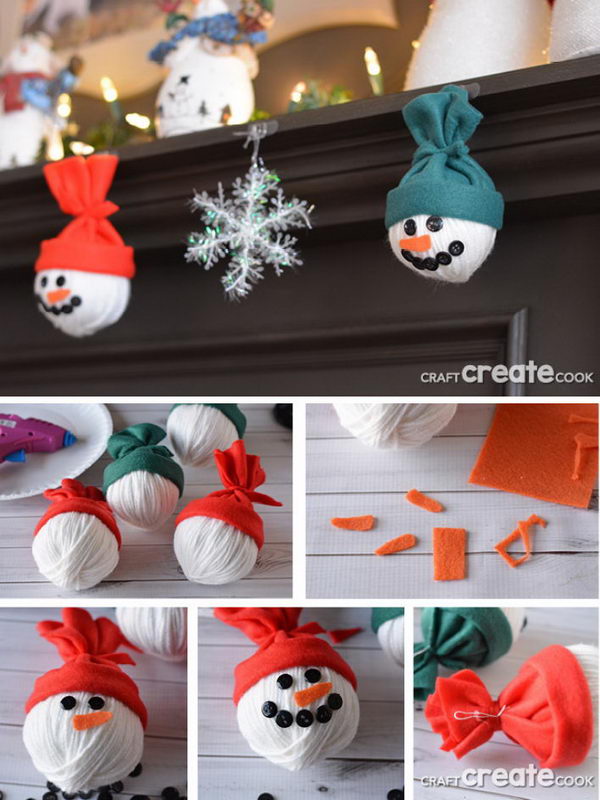 These little guys are quite an ingenious creation, as they were made from balls of plastic bags covered in white yarn. The decorative features are made of the usual materials: buttons, felt and even some fleece. via craftcreatecook
Recycled Plastic Shopping Bags Snowman Wall Art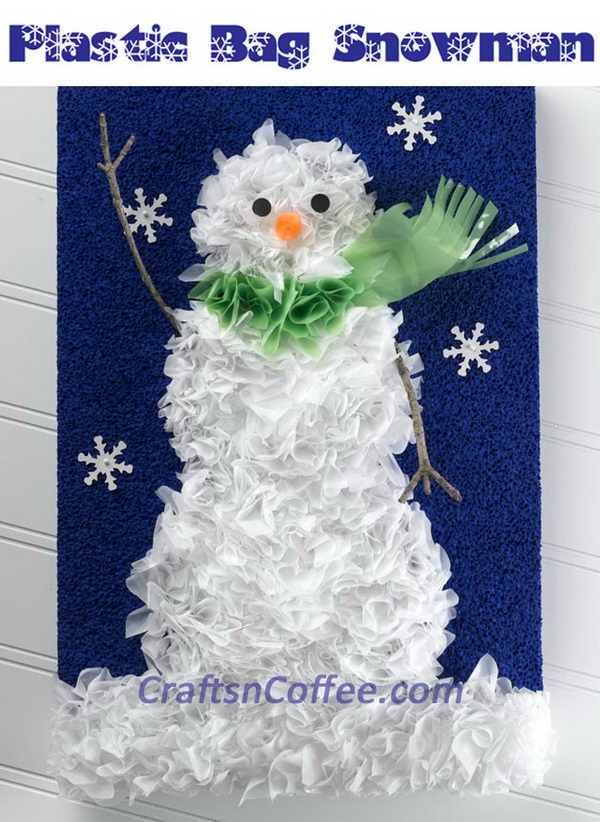 Here's what you do when you have tons of plastic bags lying around: you build a giant snowman. The usual twigs, felt and even what looks like a little tulle were used to make the snowman's features, helping him stand out against the dark blue background speckled with white snowflakes. via craftsncoffee
Olaf From Frozen Free Crochet Amigurumi Pattern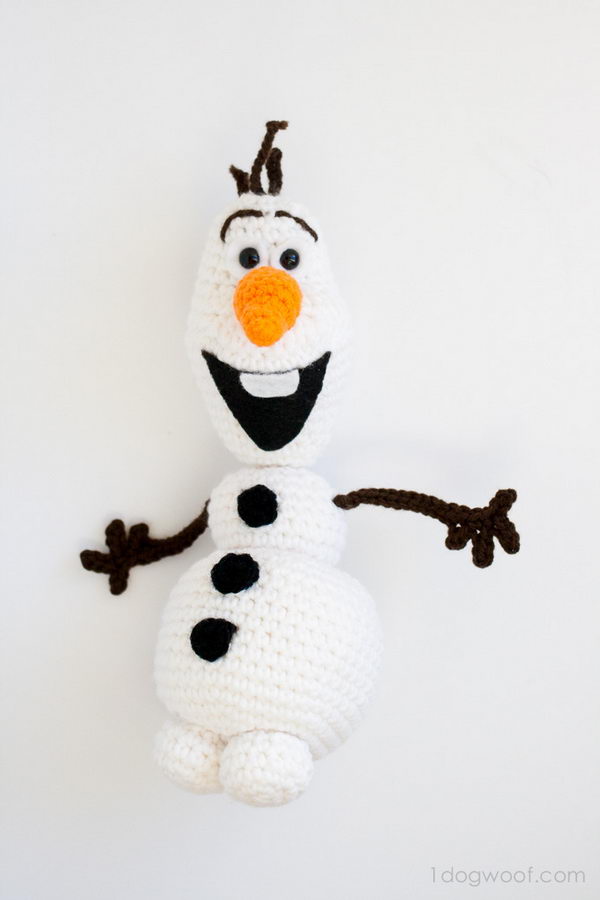 And finally, here's your Olaf, which everyone wants around for Christmas when they have children over. This one is a crochet project, so all you need to do is get the pattern, buy the yarn, bust the needles out and get to work if you want to finish him in time. via 1dogwoof