Looking for a delicious way to start your day? Look no further than these 10+ breakfast platter ideas! From Mediterranean-inspired spreads to mini muffin and cinnamon roll boards, there's something for everyone to enjoy.
With a variety of colors, shapes, and ingredients, these platters are not only delicious but also visually stunning. Whether you're hosting a weekend brunch or just looking for a fun way to mix up your breakfast routine, these ideas are sure to impress. So grab a plate and get ready to start your day off right!
Breakfast Platters Available For your Wedding Morning Brunch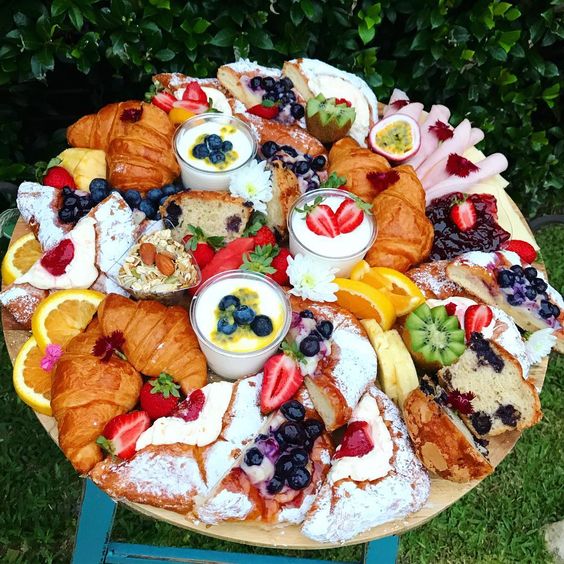 Elevate Your Wedding Brunch with The Scrumptious Breakfast Platters! Start your special day off right with a delectable and beautifully presented breakfast platter, perfect for sharing with your loved ones. via source
Get a Radiant Skin with This Nutritious Breakfast Platter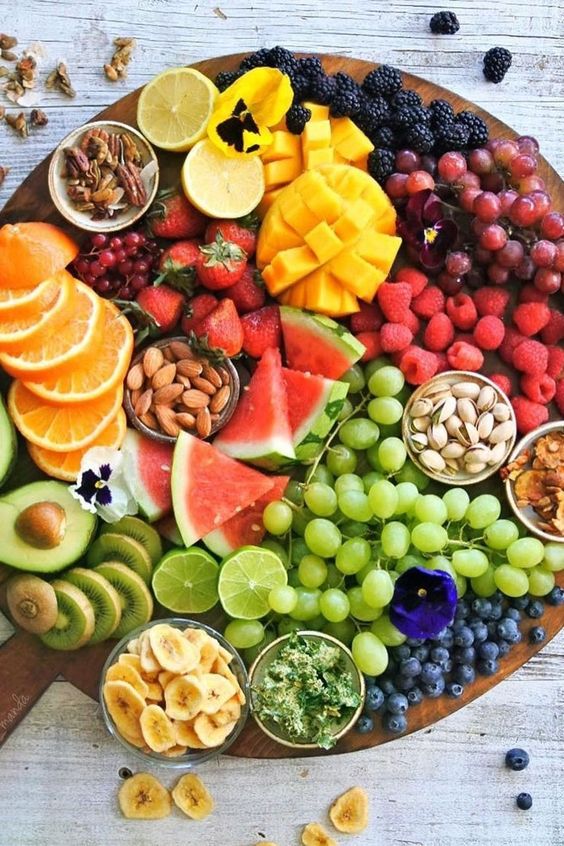 Unlock the Secret to Radiant Skin with This Nutritious Breakfast Platter! By incorporating a variety of skin-loving foods into your diet, you can nourish your body from the inside out, promoting a healthy and glowing complexion. via source
Ultimate Chocolate Brownies Platter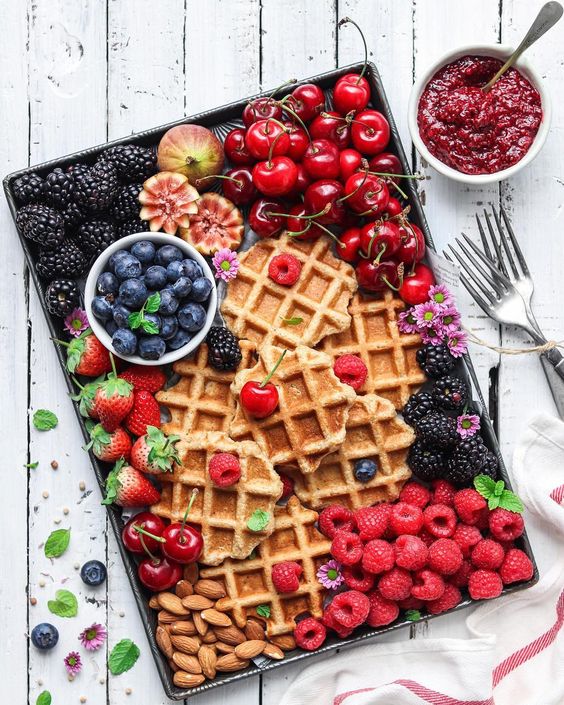 This mouth-watering display features a variety of decadent brownies, all packed with rich chocolate flavor and indulgent toppings. Perfect for sharing with friends or enjoying as a special treat all to yourself, the Ultimate Chocolate Brownies Platter is the ultimate dessert spread for any chocolate lover. via source
Beautiful and Delicious Breakfast Grazing Table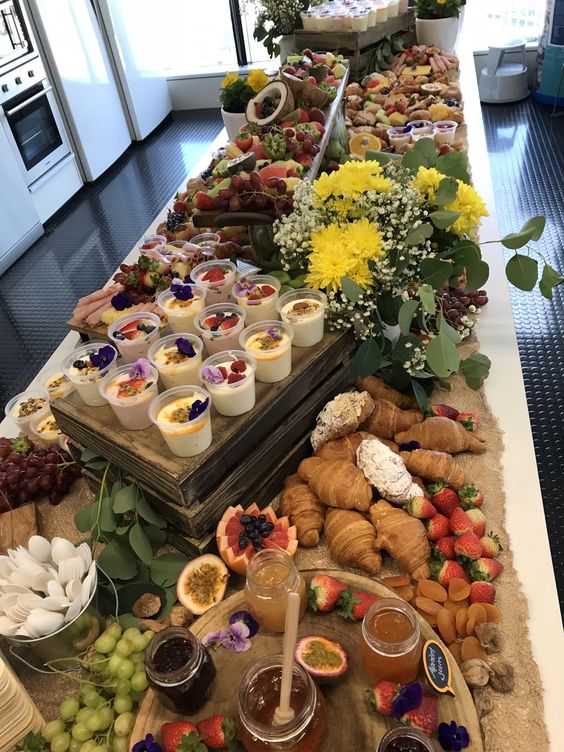 Start your day off right with a delightful Breakfast and Morning Tea Grazing Table! From savory bites like quiches and frittatas to sweet treats like scones and muffins, there's something for everyone to enjoy.
Breakfast Charcuterie Board with Burrata and More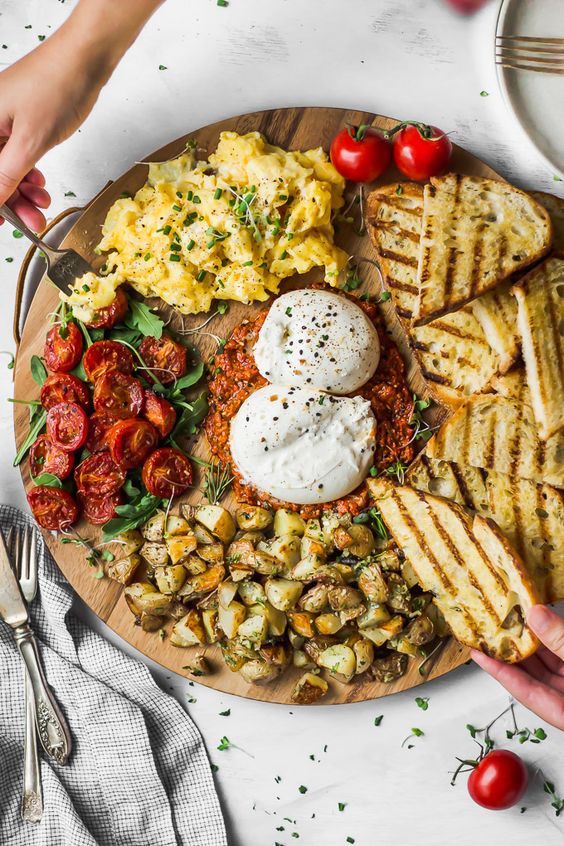 Treat yourself to a delicious breakfast with this mouth-watering charcuterie board. It is packed with a variety of tempting options like fresh fruit, savory meats, and artisanal cheeses, all arranged in an eye-catching and appetizing display. via source
Smoked Salmon Platter with Bagels, Soft Boiled Eggs and More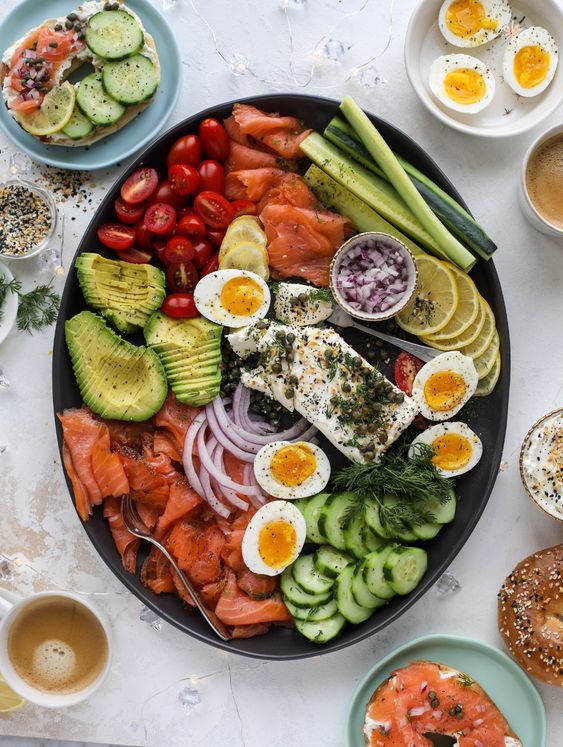 This delicious breakfast platter features fluffy bagels, perfectly soft-boiled eggs, rich cream cheese, and tangy capers, all paired with the star of the show – flavorful and savory smoked salmon. via source
Crepe Breakfast Board with all the toppings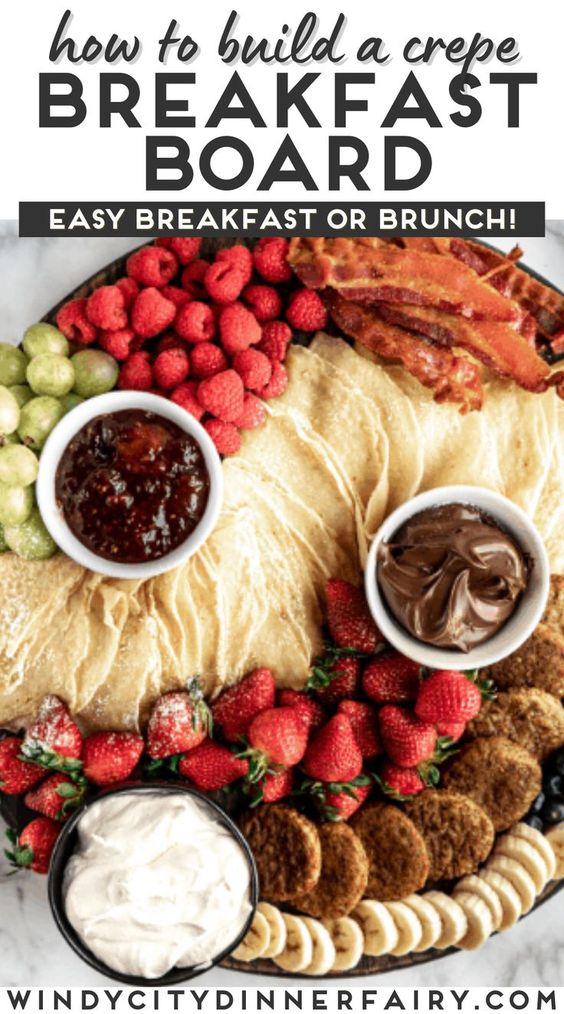 Get ready to wow your guests with a fun and interactive crepe breakfast platter! This board is a perfect way to entertain on the weekends, with a variety of delicious toppings to choose from. Whether you're hosting a bridal shower or just having friends over, this platter is sure to impress. via source
Low Carb Keto Breakfast Charcuterie Board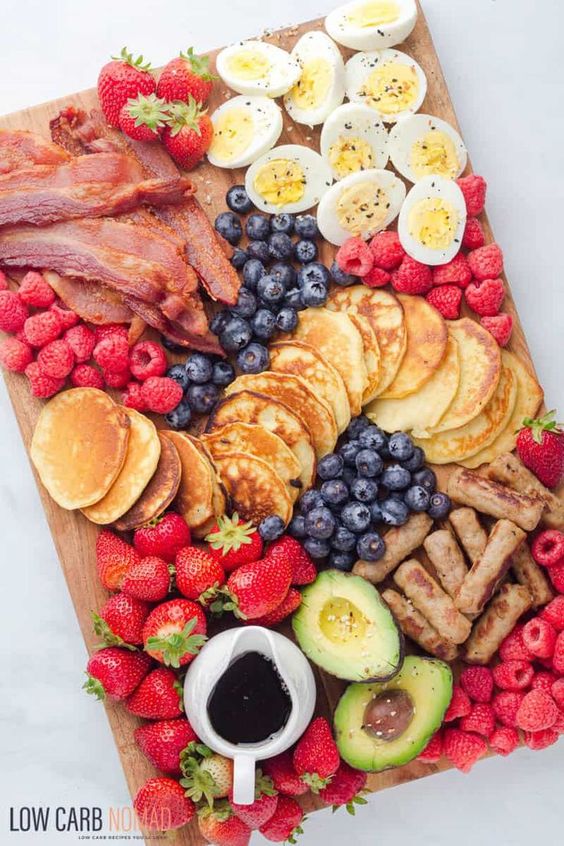 This board is packed with a variety of delicious and healthy options, such as sliced deli meats, hard-boiled eggs, fresh veggies like cucumber and cherry tomatoes, and some low-carb dips like guacamole or hummus. With its colorful and eye-catching presentation, it's a great way to stay on track with your low-carb or keto lifestyle without sacrificing flavor or satisfaction. via source
Easy Tomato Galette Breakfast Platter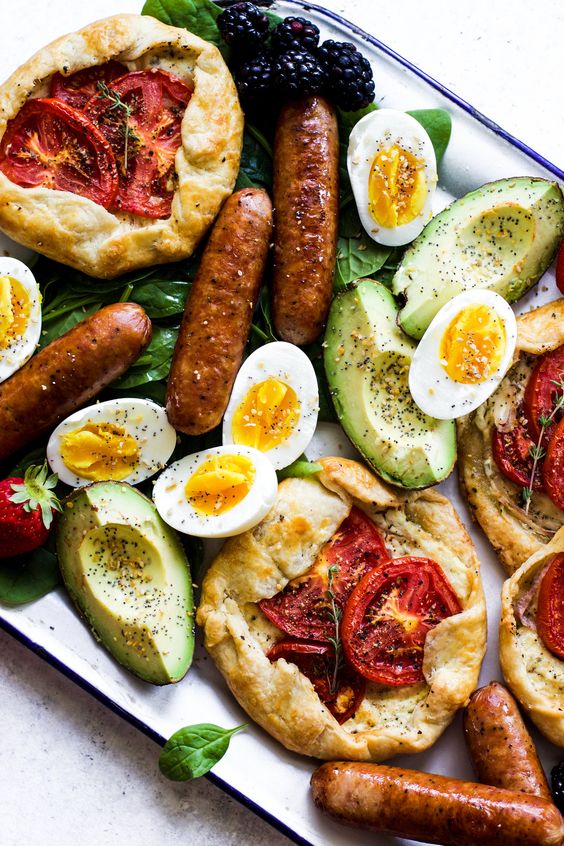 This delicious and savory breakfast option features a flaky pastry crust filled with juicy tomatoes, flavorful herbs, and creamy cheese. Served on a platter with some fresh greens and a cup of coffee, it's a perfect way to start your day off on a delicious note. via source
Mediterranean Breakfast Board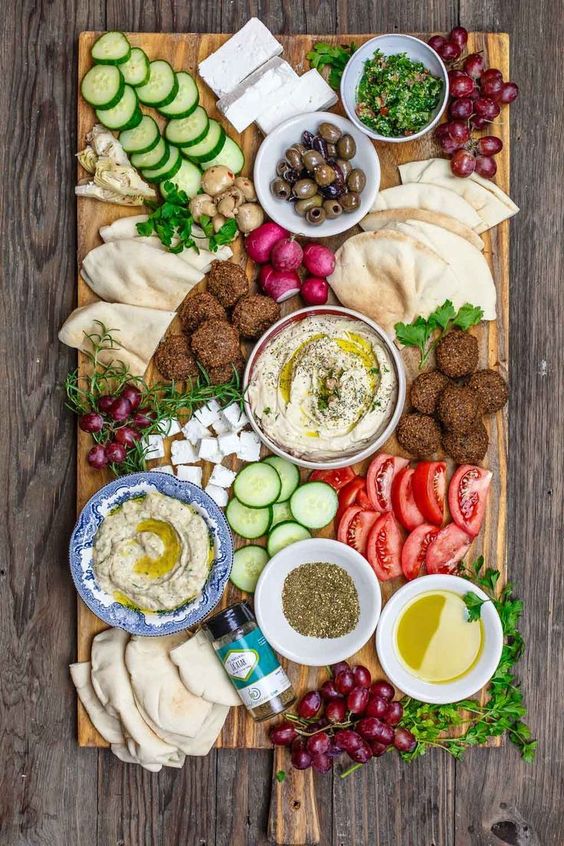 Start your day off right with a Mediterranean-inspired breakfast board! This tasty platter features crispy falafel, creamy hummus, briny black olives, tangy feta cheese, and a variety of fresh veggies, all arranged on a beautiful board for an eye-catching presentation. With a perfect balance of protein, healthy fats, and colorful veggies, this breakfast board is a delicious and nutritious way to fuel your day. So why settle for boring breakfast options when you can enjoy a tasty and satisfying Mediterranean feast to start your morning?
Fresh Fruit Yogurt Platter
This colorful platter features a variety of sliced fresh fruits like strawberries, kiwi, pineapple, and blueberries. Top it off with some granola or honey for some extra crunch and sweetness. Not only is it delicious and refreshing, but it's also a great way to start your day off on a healthy note. via source
Mini Muffin and Cinnamon Roll Breakfast Board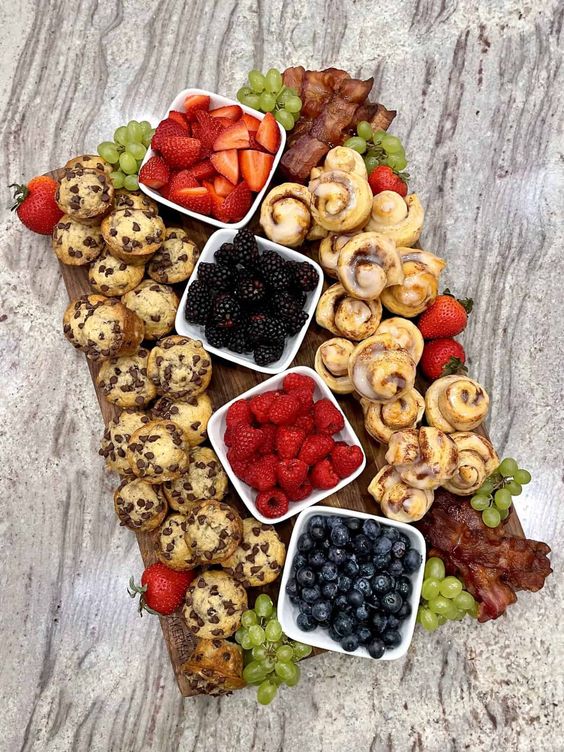 This board features bite-sized versions of your favorite breakfast treats, perfect for sharing with friends or family. The mini muffins can be customized with your favorite flavors, like blueberry, chocolate chip, or banana nut. And the cinnamon rolls can be topped with cream cheese frosting for an extra indulgent touch. via source