Looking for spooky and fun ideas to celebrate Halloween? Consider hosting a trunk or treat event! Trunk or treat is a popular Halloween activity where people decorate the trunks of their cars and park them in a designated area for children to visit and receive treats. Not only is it a safe and family-friendly alternative to traditional trick-or-treating, but it also allows for creativity in decorating your vehicle. In this article, we will share some of the scariest trunk or treat ideas that are sure to impress.
Ghostly Graveyard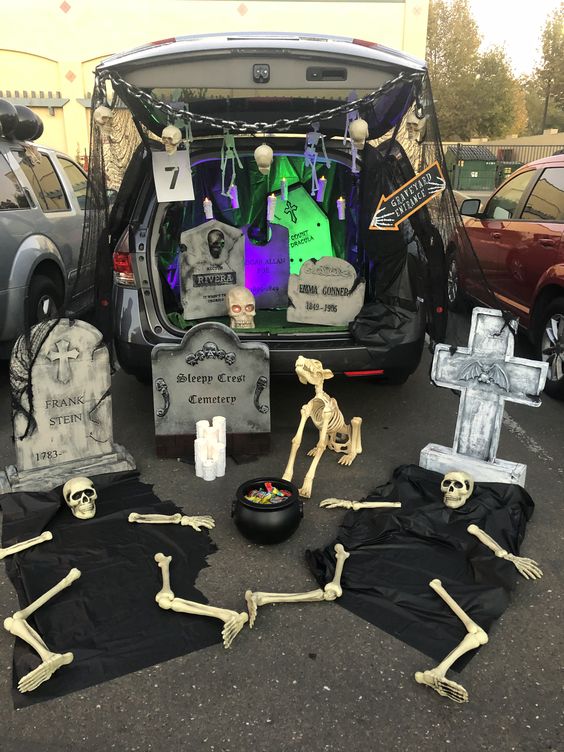 Create a spooky graveyard scene by adding tombstones, skeletons, and cobwebs to your car. Place a fog machine inside the car to give it a spooky effect. You can also add a skeleton driver to the front seat of the car for an added touch.
Witch's Brew
Transform your car into a witch's cauldron by placing a large black pot on top of the car. Add dry ice and green food coloring to create a bubbling potion effect. Place brooms and witch hats on the roof and windows of the car to complete the look.
Haunted House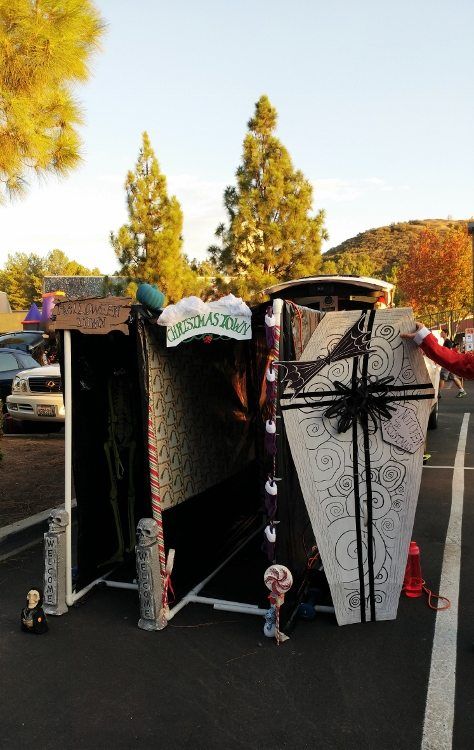 Create a mini haunted house on wheels by decorating your car with spider webs, ghosts, and skeletons. Add a small doorway with a black curtain for children to walk through and receive their treats. You can also add sound effects such as creaky doors and haunting music to make it more realistic.
Monster Mash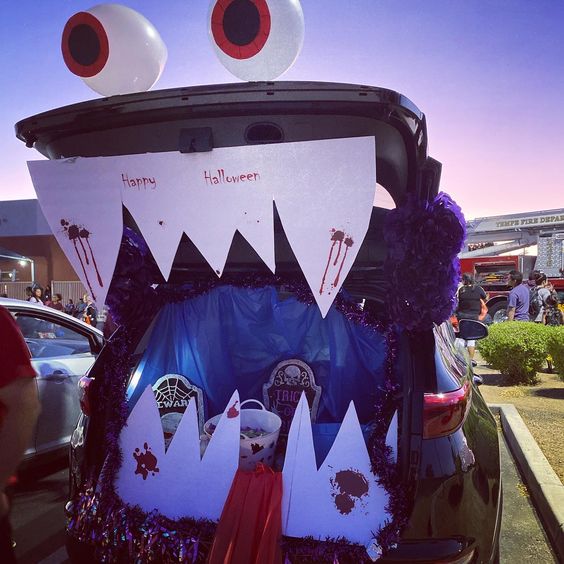 Transform your car into a monster with large googly eyes and furry arms. Add a tail and horns to complete the look. You can also play "Monster Mash" on a loop to add to the fun.
Black Cat Crossing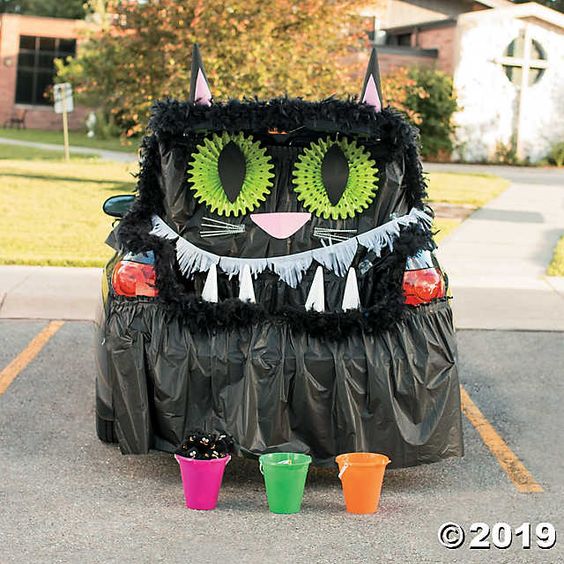 Create a black cat theme by adding cat ears and a tail to your car. Place a large black cat on top of the car and decorate the windows with paw prints. You can also add black cat balloons for an added touch.
Alien Invasion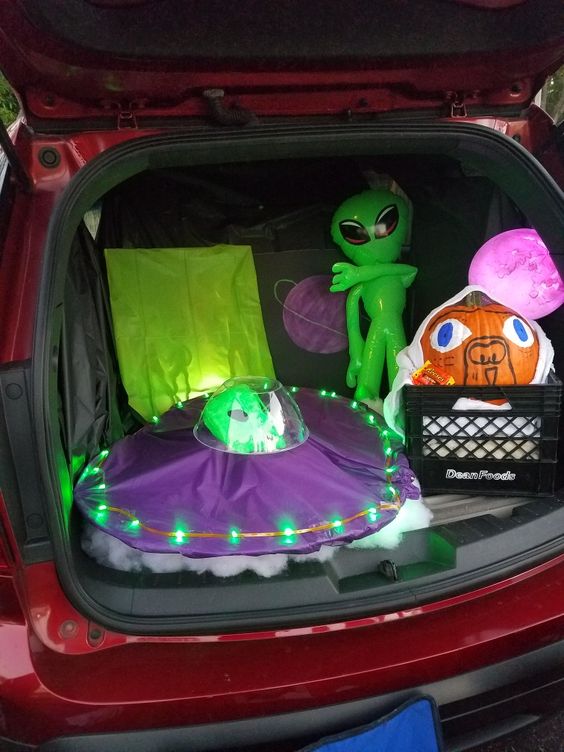 Transform your car into a UFO by adding silver foil and alien props. Place green lights on the car and add an alien figure to the roof. Use glow-in-the-dark paint to write "Alien Zone" on the side of the car.
Jack-O-Lantern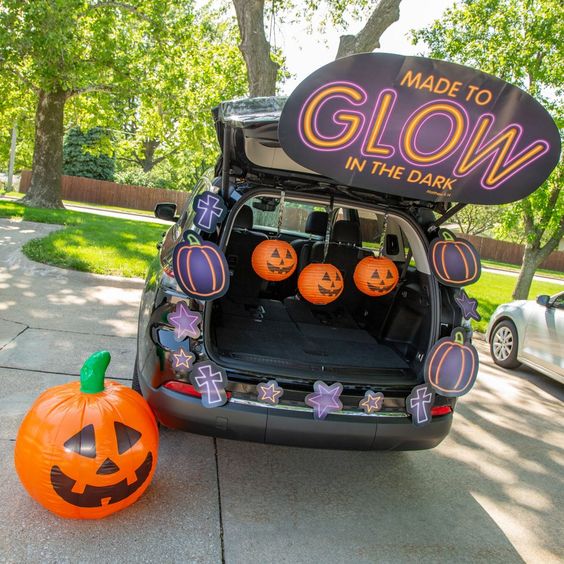 Transform your car into a giant Jack-O-Lantern by adding a pumpkin face to the front of the car. Use orange lights to illuminate the car and add pumpkin vines and leaves to complete the look.
Creepy Carnival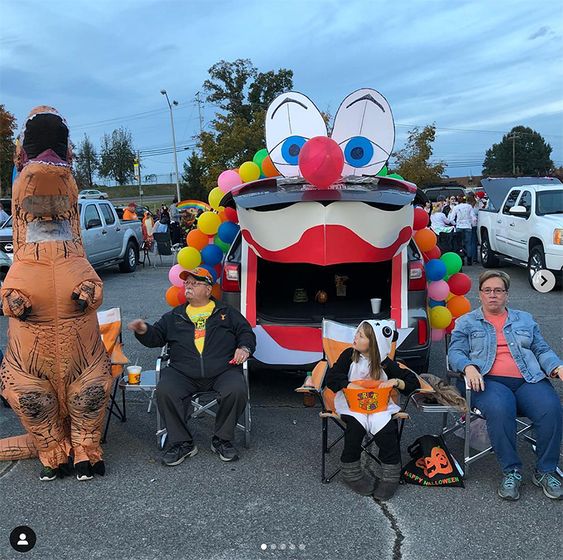 Create a creepy carnival theme by adding clown props, carnival lights, and a carnival tent to your car. You can also add a fortune-telling booth for an added touch.
Underwater Adventure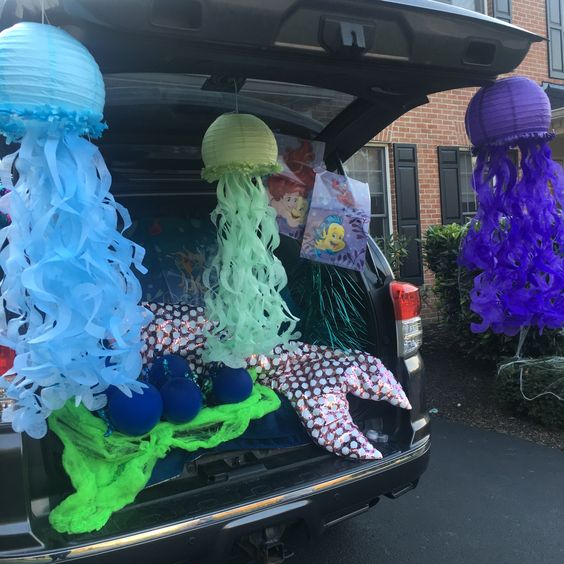 Transform your car into an underwater adventure by adding blue lights and sea creatures such as fish, octopuses, and mermaids. Use blue fabric to cover the car and add a sign that reads "Underwater Adventure".