Everyone's out in their gardens in the summer. From 4th of July events, to pool parties and barbecue dinners, people like to make the most of the good weather and enjoy the outdoors while they can.
If you are spending a lot of time in the garden or having people over more often than usual, you will need your garden to look polished and gorgeous. Achieving that goes way beyond simple weeding, grass cutting or landscaping.
You need your outdoors decoration to look nice, modern, match the style of your house and on trend, but also for it to be able to stay that way through any unexpected weather changes.
You don't need professional help or expensive pieces to make your garden look summer-ready, though. If you want to get your garden look fabulous while having some fun and without breaking the bank, then you have certainly come to the right place.
Feel free to scroll down if you'd like to have a look at these Fun and Whimsical DIY Garden Projects.
Make a Dragonfly from Chicken Wire

via ehow
Add a Flower-Top Roof to Mini Greenhouse

This mini greenhouse was already adorable by default, but it becomes even more so as some fake roses are added to the roof, because they look like they are in fact growing there. via empressofdirt
DIY Succulent Turtle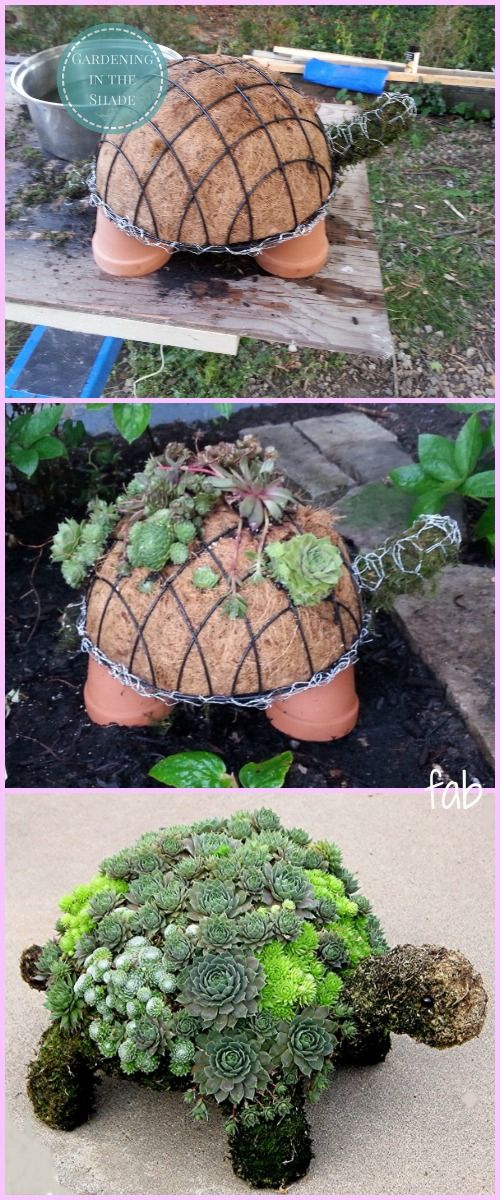 Succulents have been considered extremely cute and trendy for a while now, but this project takes them to the next level. Here, they are installed over a base in the shape of a turtle so that they collectively form a succulent turtle, in the most literal sense. via gardeningintheshade
Growing Grass Head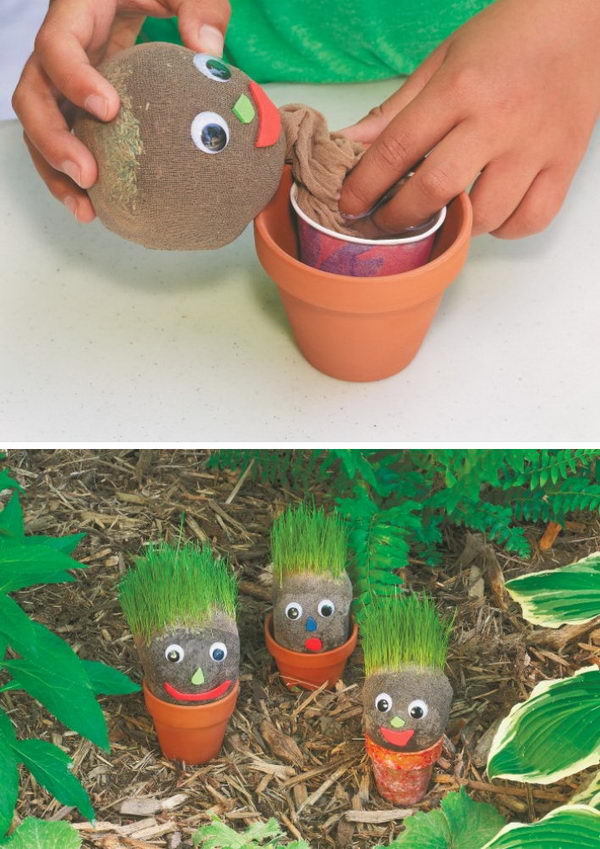 This is definitely a project for the younger ones, as plush heads are installed into planters with grass sprouting at the top, posing as their straight and vertical green hair. via gardentherapy
A Fairy Garden Brings Cheer into the Garden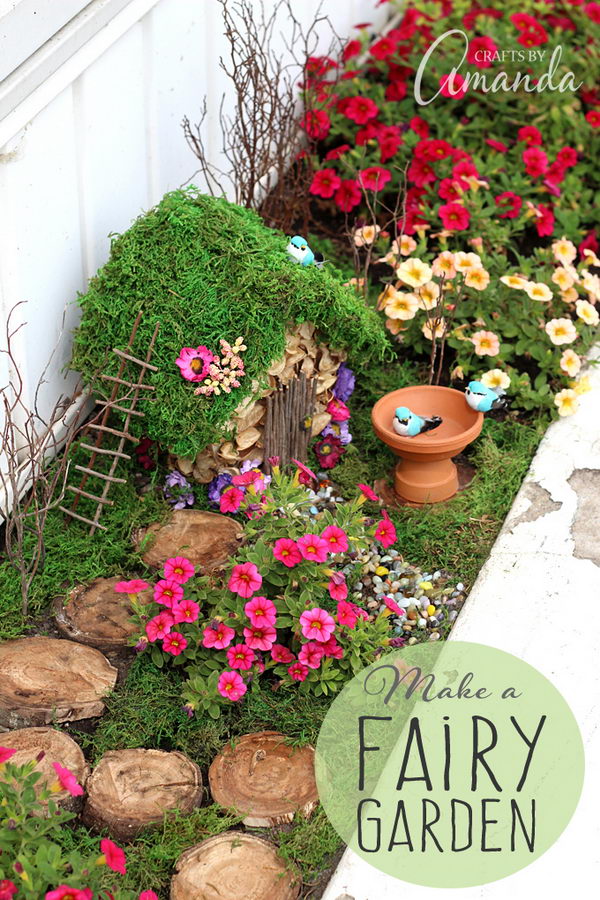 Fairy gardens are a traditional outdoor decoration piece that never truly goes out of style, as it brings color and fantasy into any space. This one does just that with its vibrant flower bushes as well as the mandatory little creatures scattered about. via craftsbyamanda
The Swan Pond with Swans Made out of Tires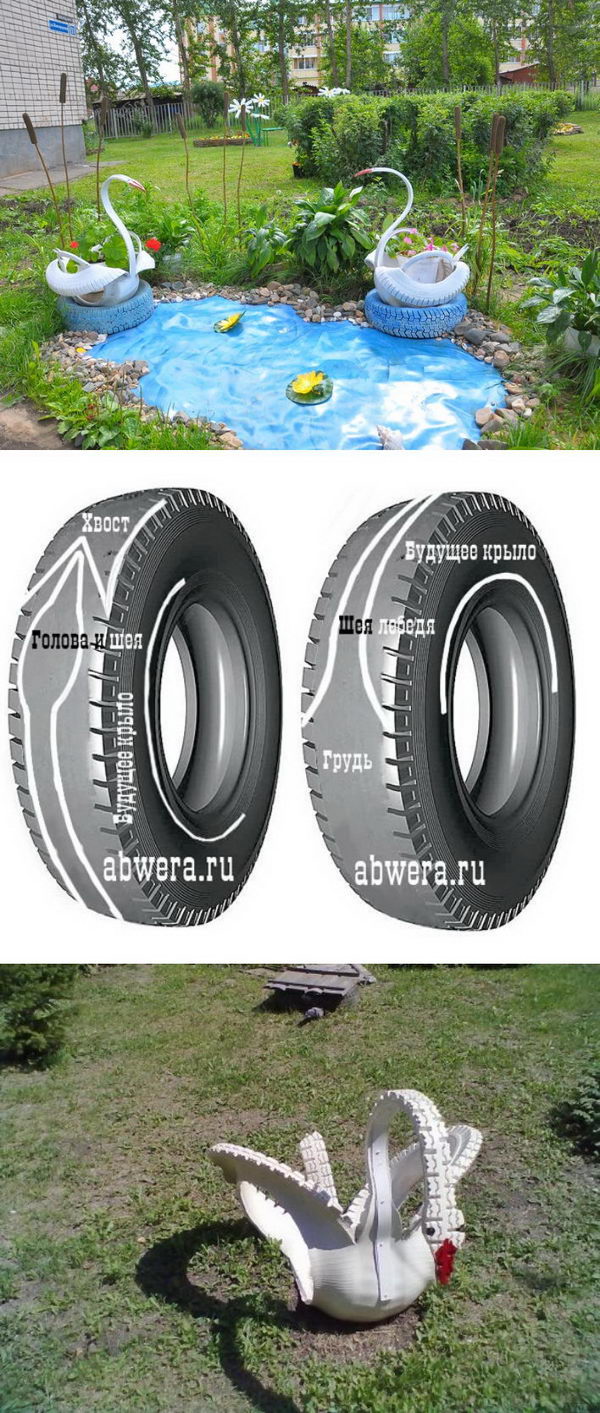 This idea is right on trend, as swans are particularly popular at the moment, especially as pool floats. For this fake Swan Lake, the swans' bodies are made out of repurposed old tires which are turned inside out so that they become delicate rather than tough-looking. Once the swans are ready, all there is to do is set them on the right surface to finish the picture. via vologda-portal and domosedy
A Watering Can That Pours Crystals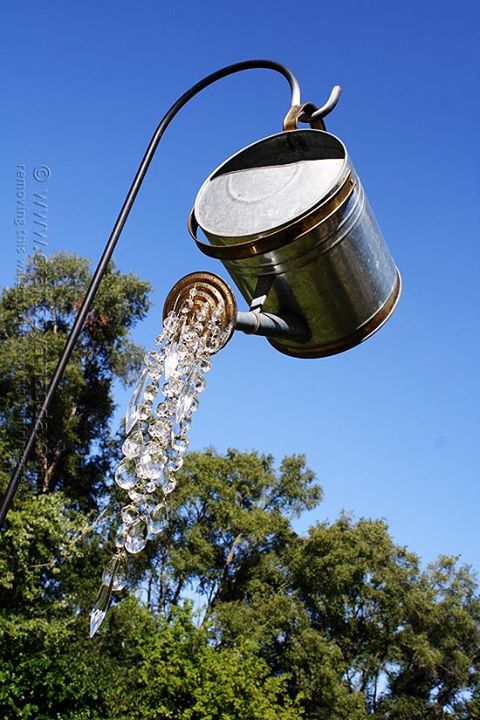 It is true that watering cans usually pour water, but you might want to make something different if the idea is to add some originality and shine to your garden. Here, some large chandelier crystals have been hung from the head of the watering can to look like large water drops are coming out. This is particularly beautiful as the crystals will reflect the sunlight beautifully and possibly even have a prismatic effect. via craftsbyamanda
Spilled Flower Pot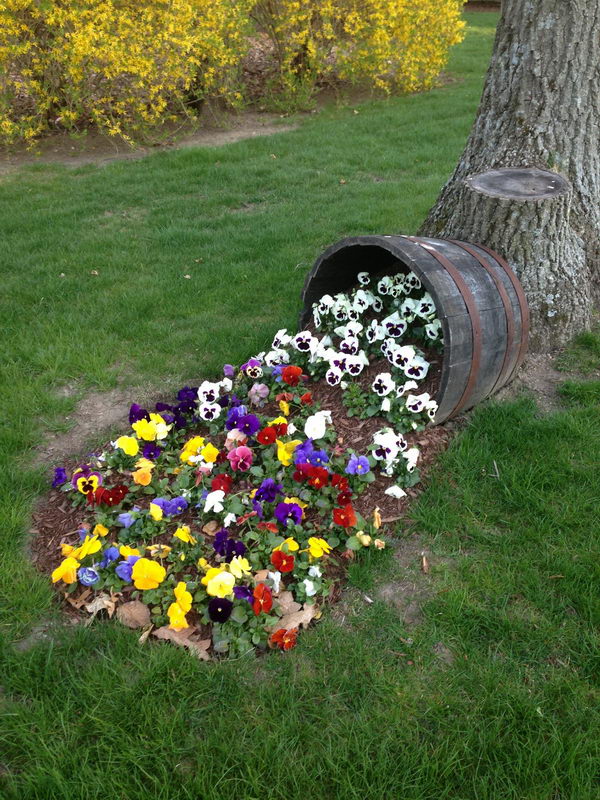 Spilled flower pots are somewhat trendy, as they add a twist to traditional flower plots. In this case, the colorful fake flowers are spilling out of a brown pot at the base of a tree, giving the impression that the tree is sprouting flowers from its roots. via source
DIY Tire Flower Planter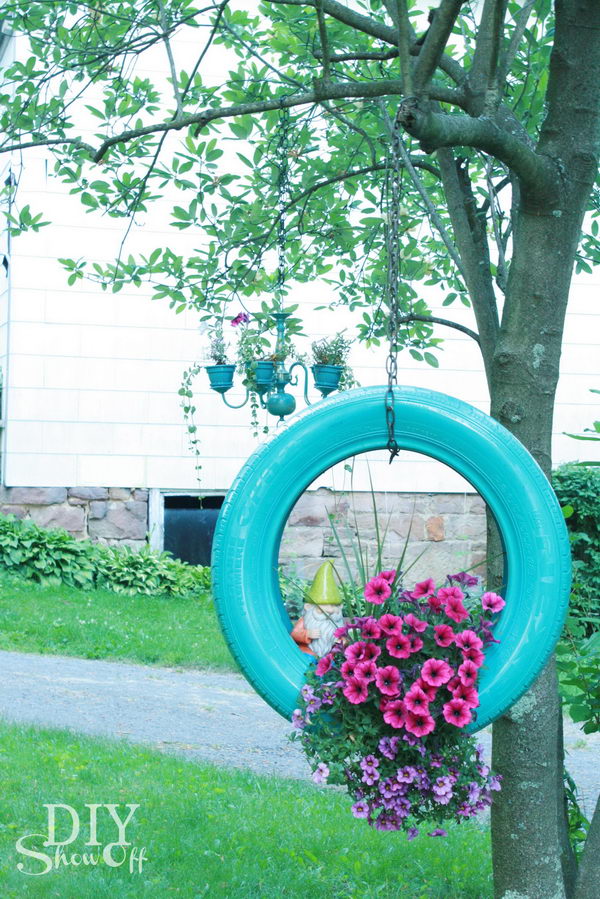 This project is similar to the previous one, but with a twist that is even more original. Here, the flowers are draped over a painted tire that hangs from a chain. It looks fairly adorable too. via diyshowoff
DIY Garden Stones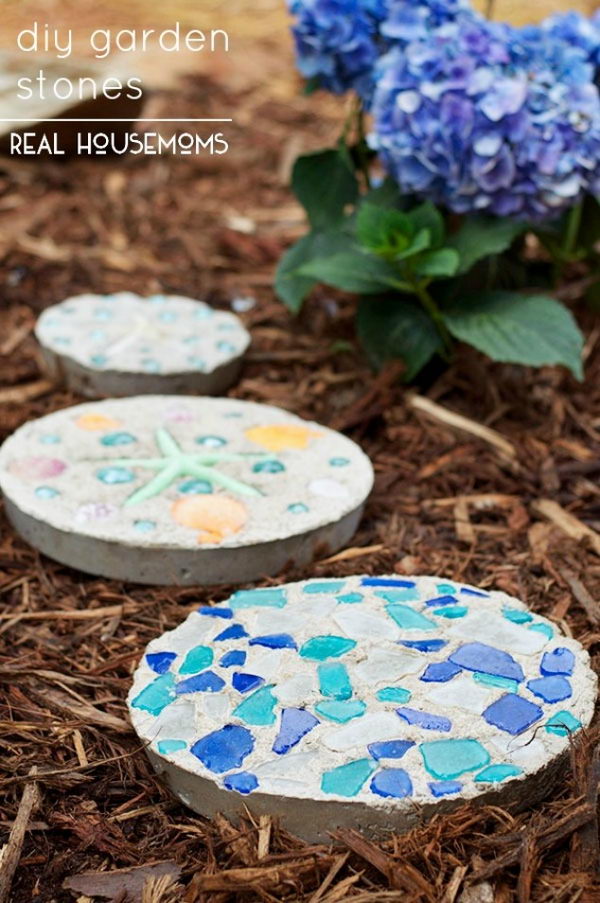 These garden stones are really gorgeous and fairly easy to make. They are put together using poured concrete, which is then decorated with painted glass, shells and other elements to create the colorful marbled effect. via realhousemoms
DIY Garden Art Hose Guards Made from Kitchen Drawer Pulls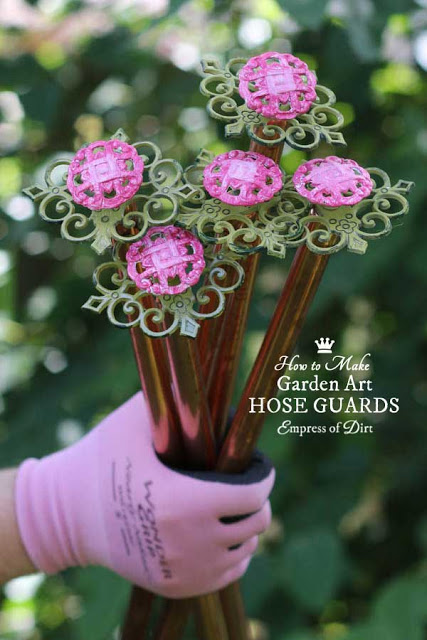 Here's a very ingenious visual effect. This flower bouquet you see here is in fact made of hoses whose guards were fashioned from kitchen drawer pulls. Once painted and finished, they really do look like flowers. via empressofdirt
Add Charm to Your Garden with Spilled Succulent Pots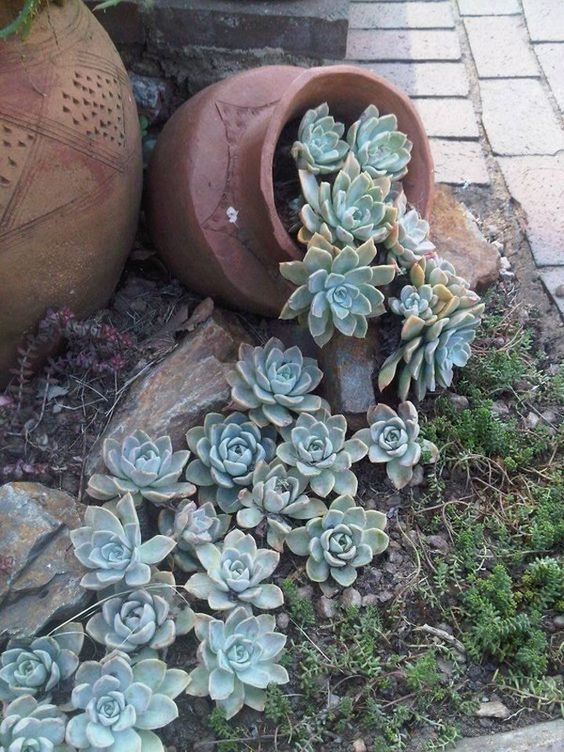 We've seen flowers spilling out of a pot, now it's time for succulents. This project is obviously cute, trendy, easy to make as well as care for, but lacks the explosion of color the flowers provide. via ideastand
Plant Waterers Using Glass or Wine Bottles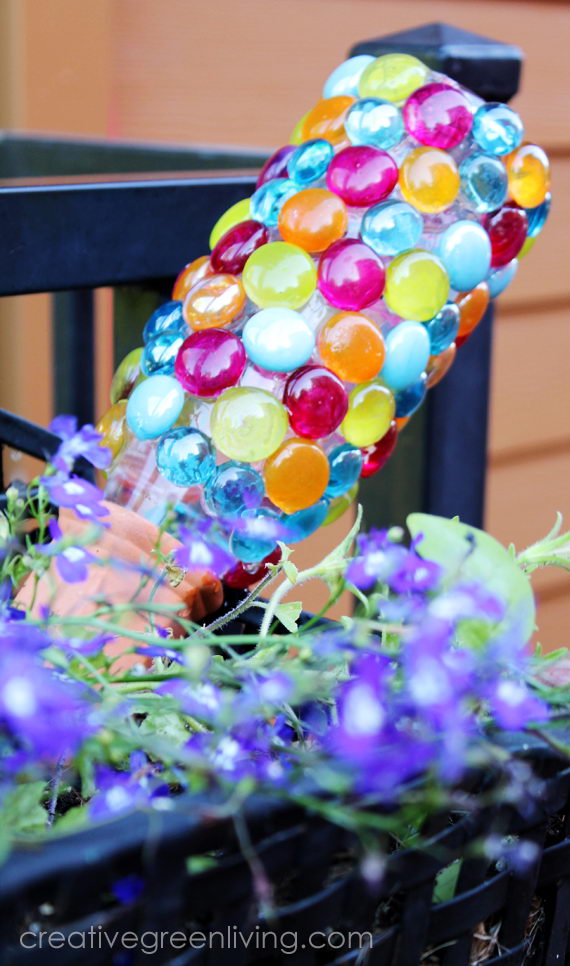 This project can be as simple or fancy as you'd like, and it can be more practical or cute too. The idea is to use a recycled bottle to provide a constant water supply to your plants. You can then decorate it with glass marbles for a more aesthetically pleasing look, as you see here. via creativegreenliving
DIY Tea Pot Garden Art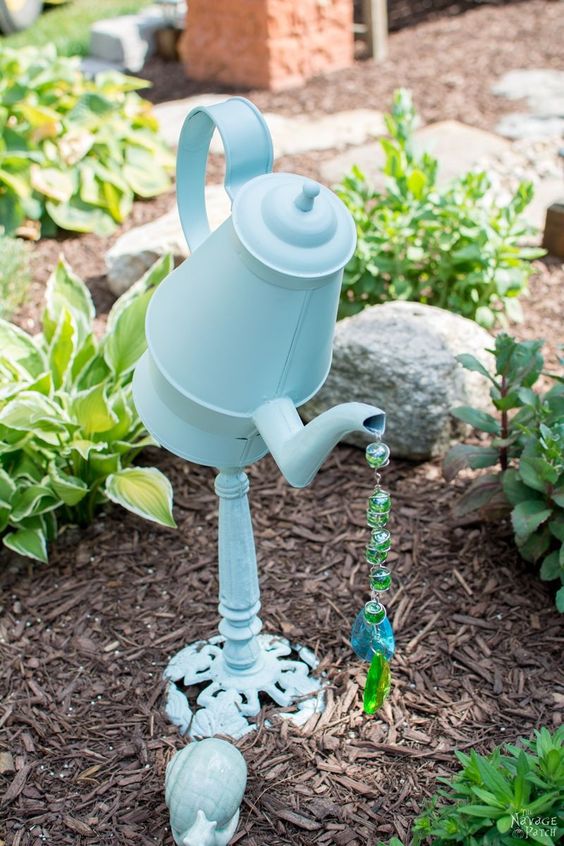 The concept of this project is actually very simple. Here, a tea pot was made to look like a watering can propped on a supporting structure. Glass crystals were hung from a wire or string to make it look like the pot is actually working when in reality it's just for show. via thenavagepatch
Old Bicycle Rims Painted Bright Colors Make "Flowers" in the Garden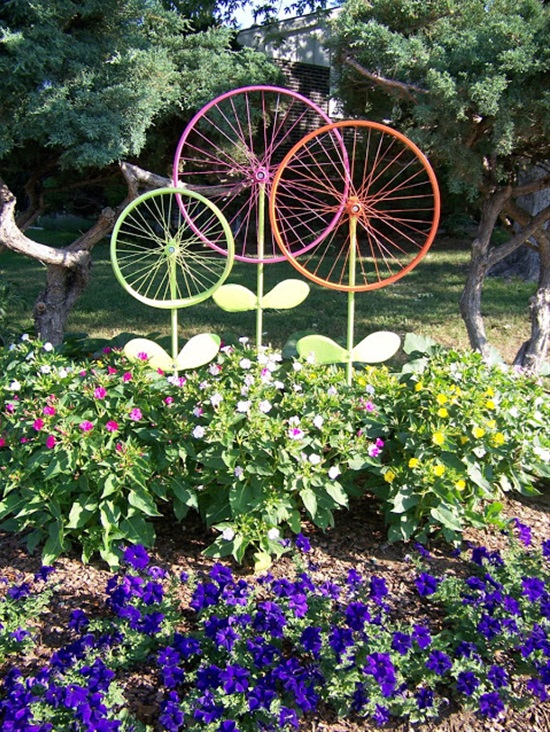 Here's the perfect way to recycle an old bicycle into an outdoor decoration. The wheel rims were painted neon colors and then installed on some type of stake with fake green petals to create giant "flowers" which serve as a background for the real ones. via source
DIY Garden Hose Wreath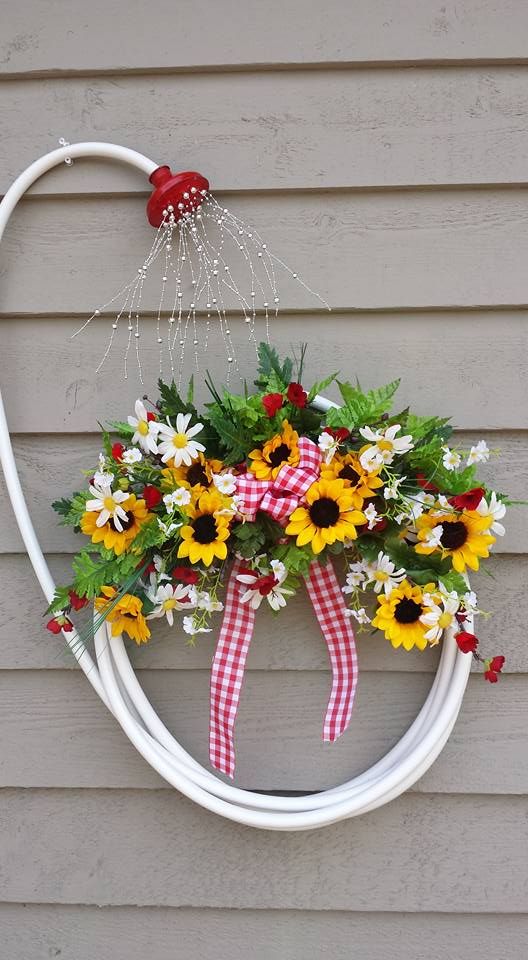 This is a project for those who are detail oriented. You can decorate your garden hose by installing a flower wreath on its holder with a matching ribbon to make it look cuter and less boring. via pinterest
DIY Waterdrop Solar Lights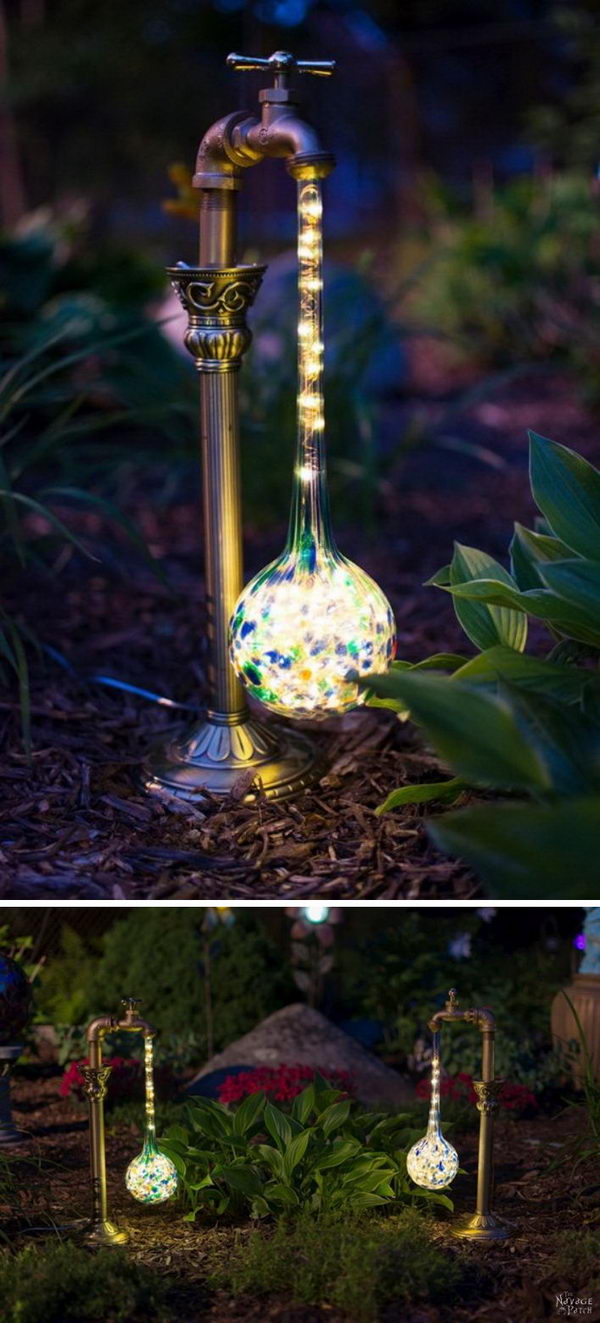 This is another one of those "fake water" projects, but with a different twist. Here, two vintage-looking stand faucets were used to dangle chains of crystals with solar lights at the end, which will provide a really beautiful decorative light to the garden. via thenavagepatch
DIY Butterfly Feeder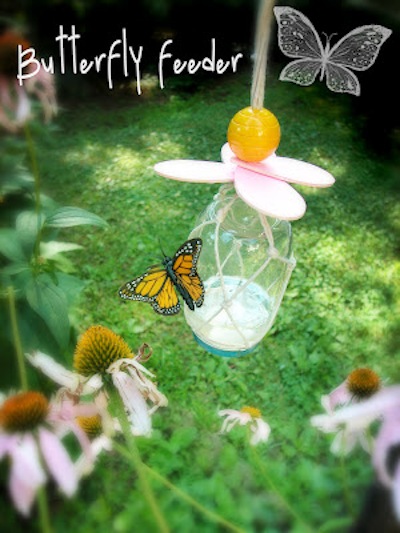 This butterfly feeder is really cute and it will bring them to your yard so they pollinate your flowers. Making it is a matter of filling a jar with water and sugar and then decorating its lid with a sponge and paper to look like a flower. via hometalk
Owl Wreaths Using Jar Lids and Zipper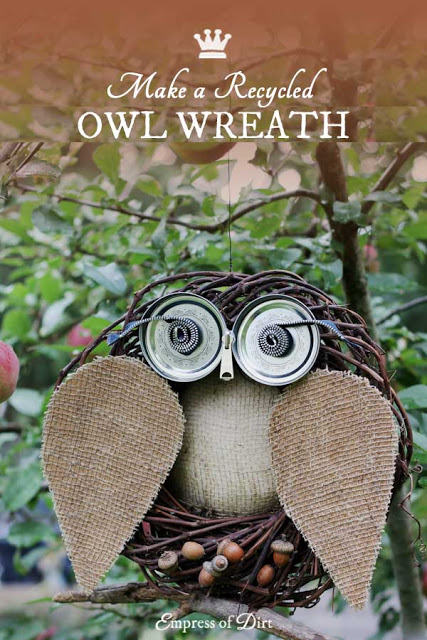 These owl wreaths are super adorable and easy too. The jar lids are the base of the eyes, while the zipper provides the contours and details. The body is made from cardboard, burlap, stuffing and, of course, the actual wreath. via empressofdirt
DIY Fairy Wind Chimes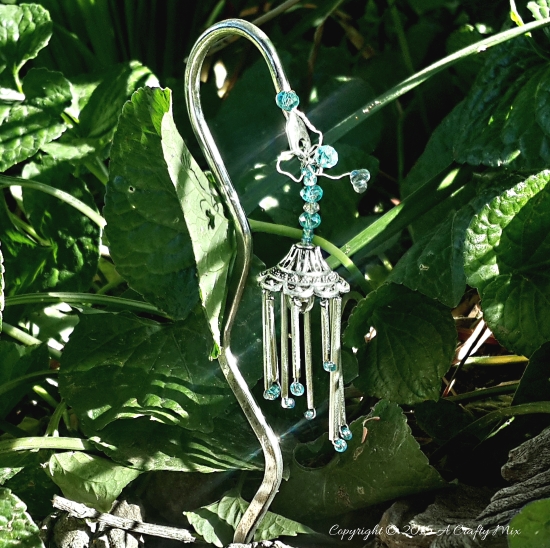 These wind chimes look and sound gorgeous in the garden during spring and summer days. You can easily make yours using different crystals, beads and jewelry materials. via acraftymix
Make Your Garden Playful with This DIY Living Willow Playhouse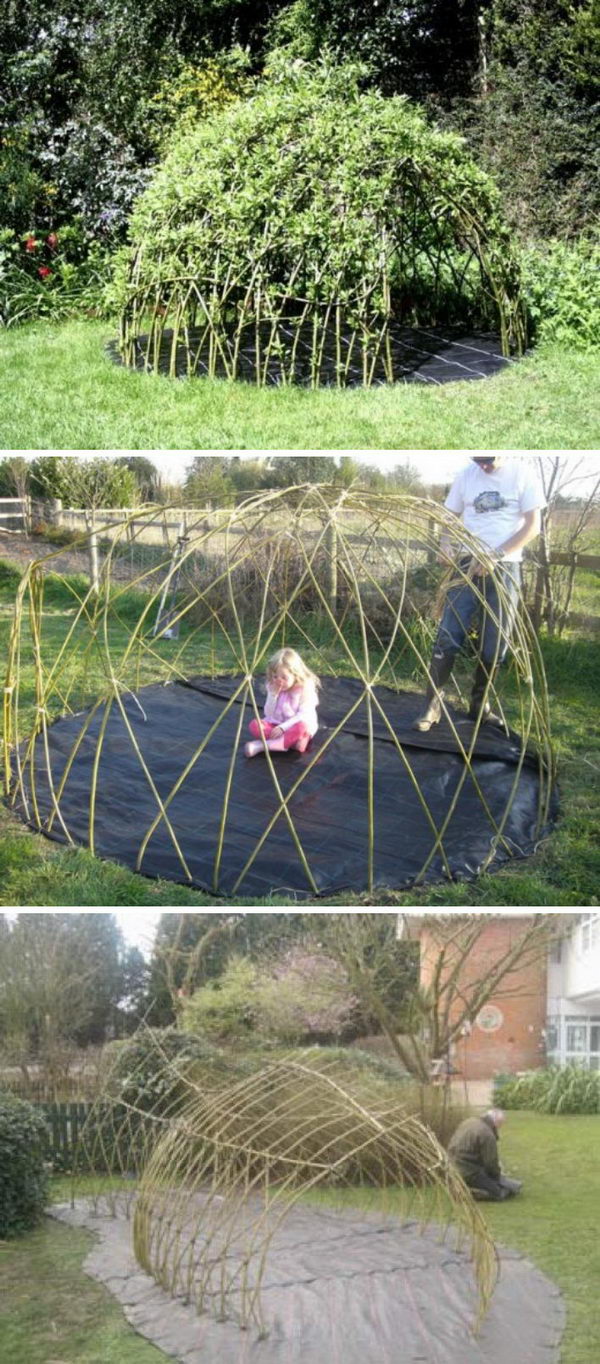 This is a great project for those who have babies and want something that they can grow along and play with. The idea is to build a playhouse structure with bamboo canes and then plant willow there so that it grows along. It won't happen overnight, but the experience of watching it grow and then having the kids play inside will certainly be worth it. via dengarden
DIY Garden Planter & Birds Bath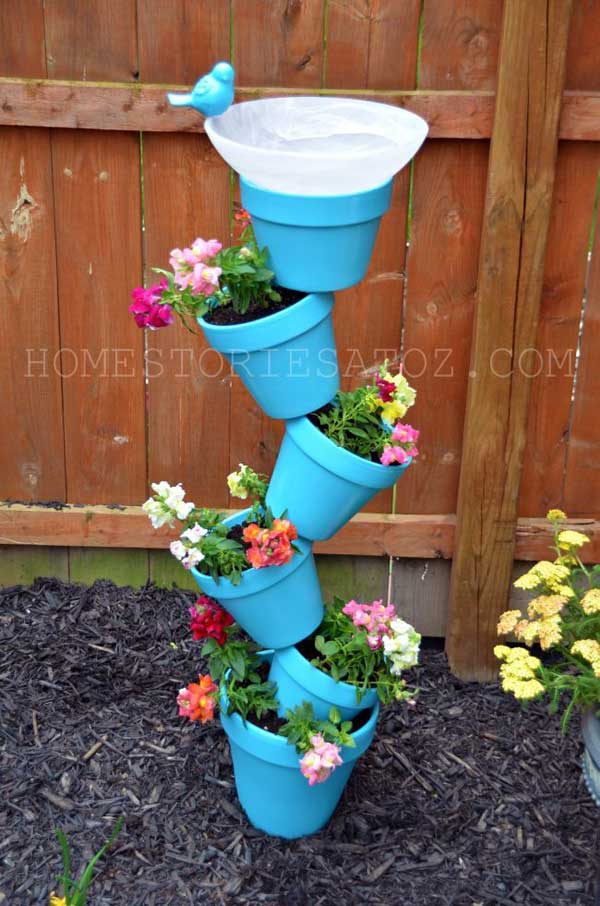 This uneven tower of pastel flower planters is really adorable with its shape and the flowers inside. The top planter was left empty and decorated with a bird though, as it is meant to be a place for birds to dive in and refresh themselves. via homestoriesatoz
Upcycled Glass Bottle Garden Art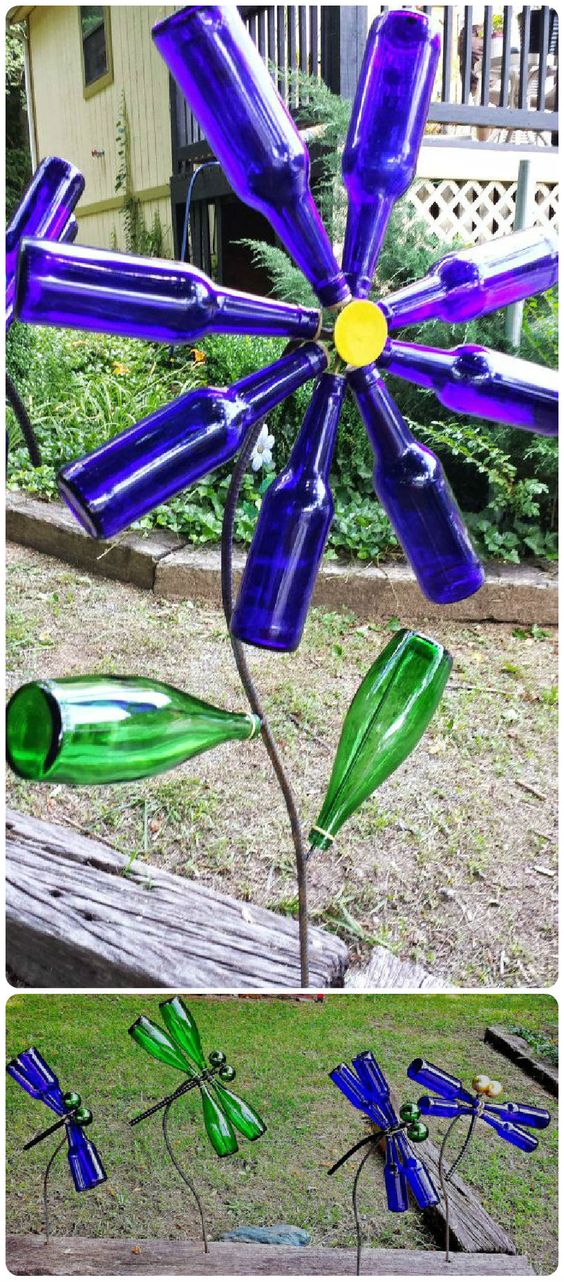 This project looks undeniably impressive, but it's actually quite simple to make. Glass bottles were painted and repurposed as flower petals and leaves. You can leave them semi-transparent like these or make them opaque, which is an easier look to achieve. Some beer and soda bottles are also colorful by default, so you may only need to peel the label, wash them and build your flowers. via 1001gardens
DIY Toadstools Made from Wood Salad Bowls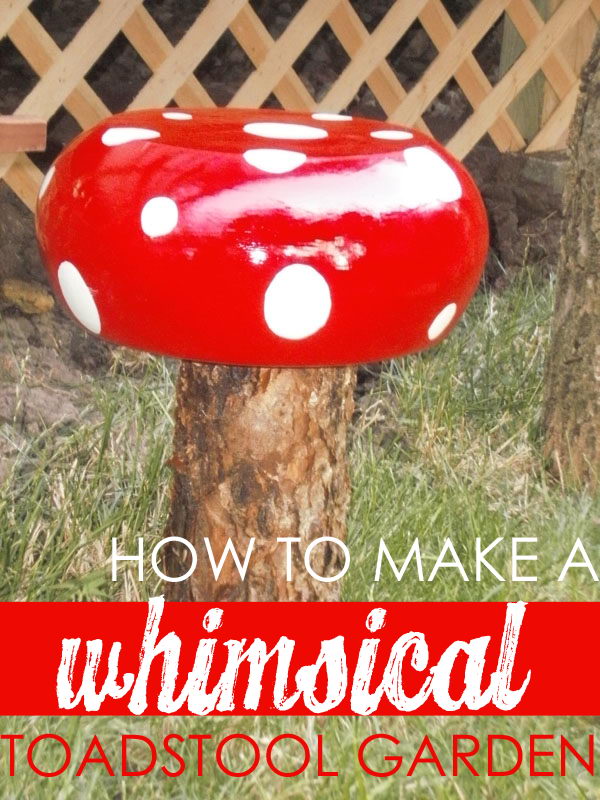 These adorable "Toadhead" stools are perfect for Mario fans and unbelievably easy to make. All you need to do is paint a large bowl to resemble the cartoon's head and then secure it to a log and sit! via craftaholicsanonymous
Frog With Flower Planter Tires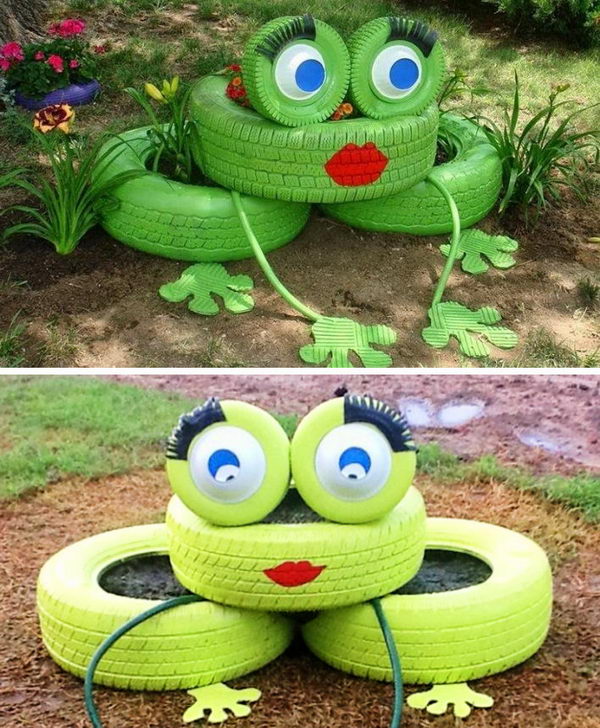 Here's a great way to bring children into gardening. Turn your old tires into little frogs using paint and craft materials and then use the space to plant beautiful, colorful flowers together. via corndodgersfarm
Old Boot Planters

Here's how to reuse your old rain boots: put flower planters inside them and then hang everything like you would a Christmas stocking. It will look fairly adorable and help protect your plants from the elements. via source
Golf Ball Ladybugs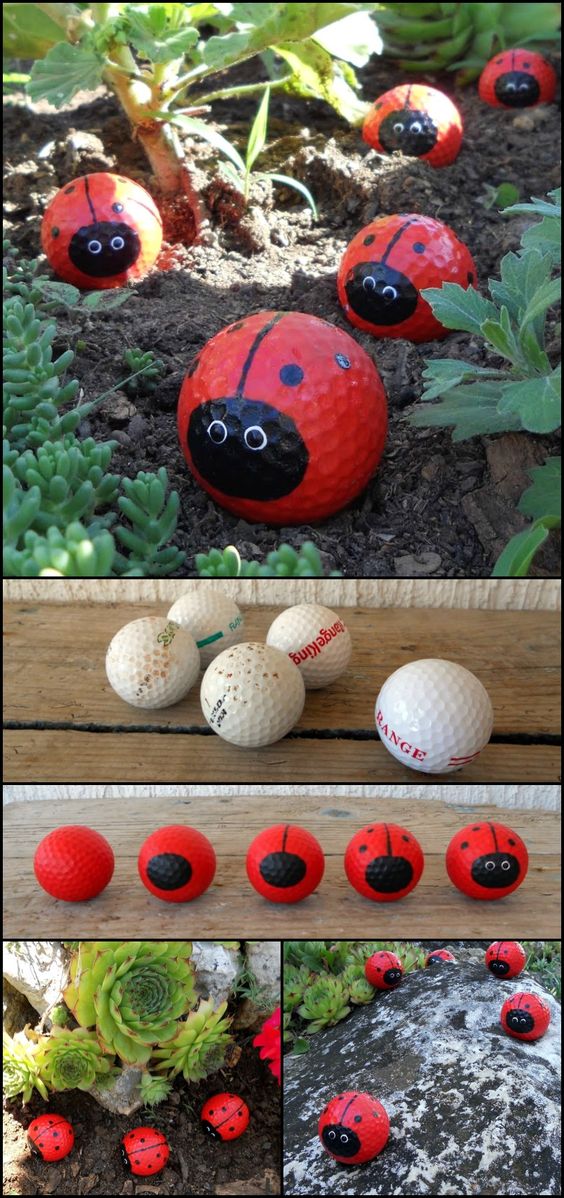 Want an affordable and easy way to make your walkways or plots look adorable and whimsical? Then take some golf balls and paint ladybugs – or any other similar creatures – on them. There's no excuse not to do it – if crafts and painting aren't your thing, you can get the kids involved and make a bonding activity out of it. Just remember to use water-resistant paint so your designs don't fade. via source
Clay Pot Solar Lights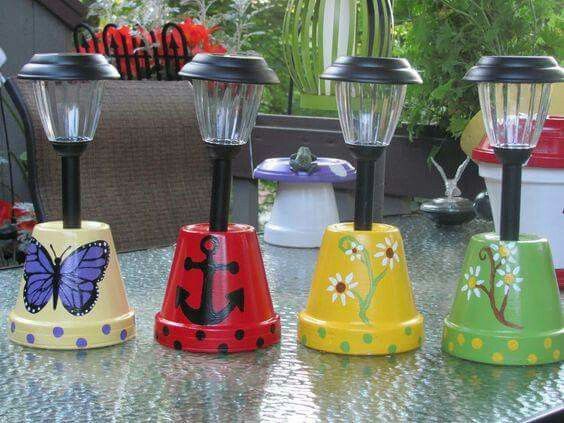 In this project, the traditional clay planters were painted in different patterns and then turned upside down. Vintage-looking solar lights, which are very trendy, were then installed on top with the planters as their decorative bases to help them stand up and stand out. via pinterest
DIY Flower Tower Combining Tipsy Planters and Garden Fountains
Here's how you make a flower tower: you glue some tipsy planters to a garden fountain, and then you actually plant something where you can. Letting some flowers spill along the sides will only add to the effect. via fleamarketgardening
DIY Pink Mosaic Flamingo Garden Art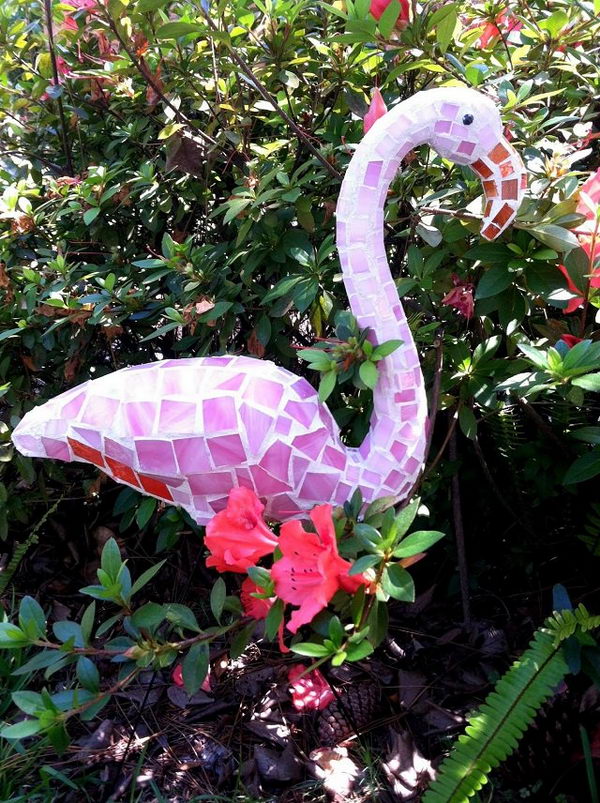 Like swans, pink flamingos have also been trendy lately, especially among the younger female crowd. This mosaic piece is not only really gorgeous, but it also pairs beautifully with the flower arrangement beside it. via lucydesignsonline
Garden Rock Caterpillar

This is another cute and whimsical garden project that can be done with the kids. All you have to do is find some small rocks and paint them like little caterpillars. You can also add more detail and features using craft materials or even smaller rocks. via nelliebellie
DIY Gazing Ball Using a Smoothfoam Ball and Pebbles from the Dollar Store

This project is quite simple, but it may take some time and patience. All you need to do is cover a foam ball with small pebbles in one or various colors and your project will be ready as soon as the glue dries. via smartfundiy
DIY Concrete Planter from an Old Towel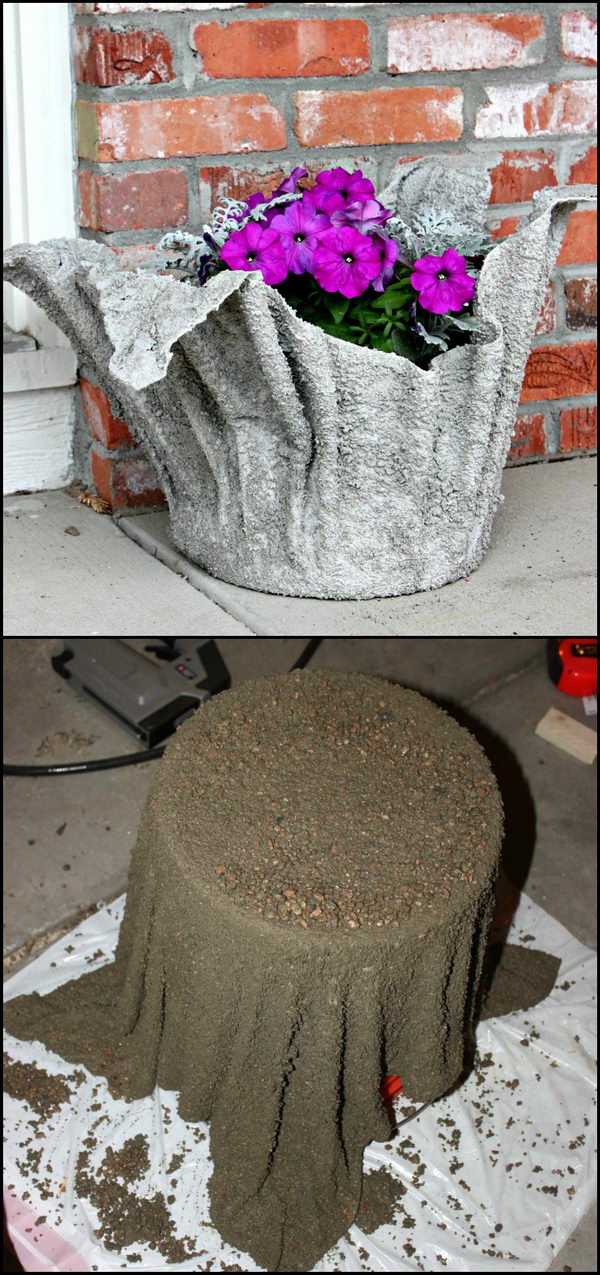 How do you create the illusion of a concrete planter? You drape an old grey towel over it. The effect really works well here, as the flowers look more vibrant against the neutral planter. via therusticwillow
Fantasy Wheelbarrow Planters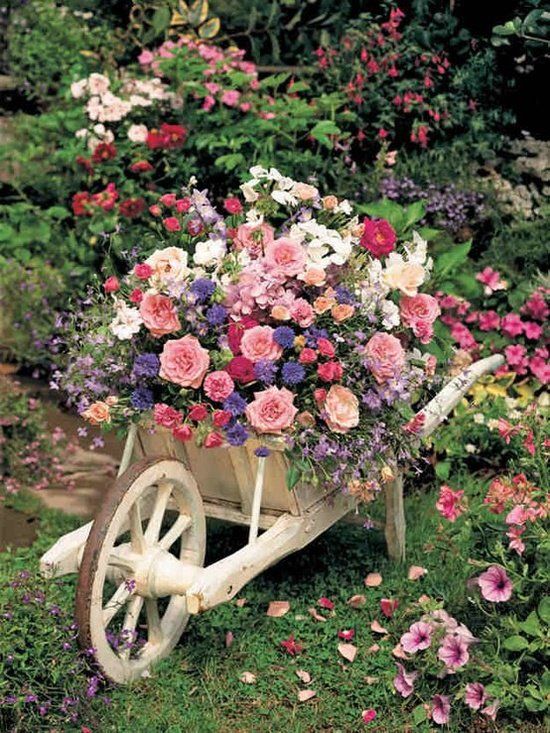 Now here's an impressive, Pinterest worthy flower bush. What was done here was simply plant – or fake plant – a big bunch of flowers in a vintage-looking wheelbarrow. The result is really beautiful, almost picture-perfect. via source
DIY Concrete Hand Planters

You may not be able to grow flowers from your hands, but you can definitely plant them in these. They were made using cement and plastic garden gloves. Once they are set, all you have to do is plant your flowers where you see fit. via diyfunideas
DIY Tea Pot Fountain

We've already seen a project with a teapot passing as a watering can, but this one is for real. The tea pot was installed at the end of a hose like a watering can and then placed over a large bucket to create a very unique fountain. via hometalk
Brighten Up a Garden with Painted and Personalized Pavers

A cute walkway can really change the look of your garden. This one was really customized using colorful pavers, small marbles and even a little bush planted in the middle of the path. With all these elements combined, the path looks really cheerful. via hometalk
Decorative Stones Dragonfly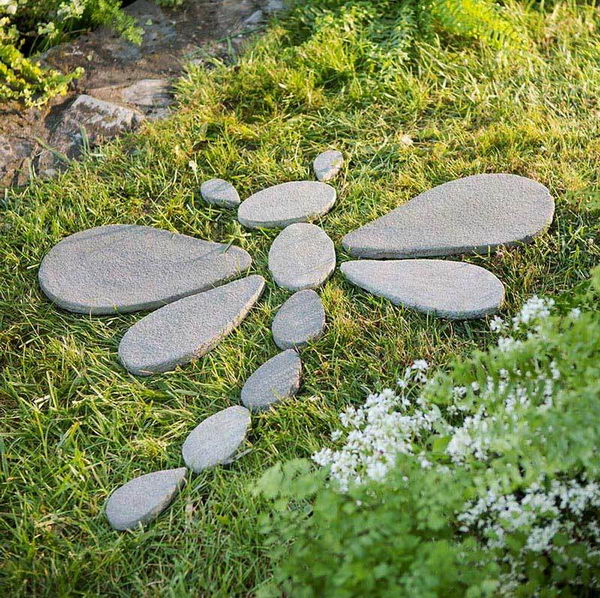 This cute dragonfly is a fun detail that you can easily put together and replicate along your garden. You can use small, smooth concrete stones or make your own using templates to achieve the exact shapes you need. via windandweather
Giant Allium Flowers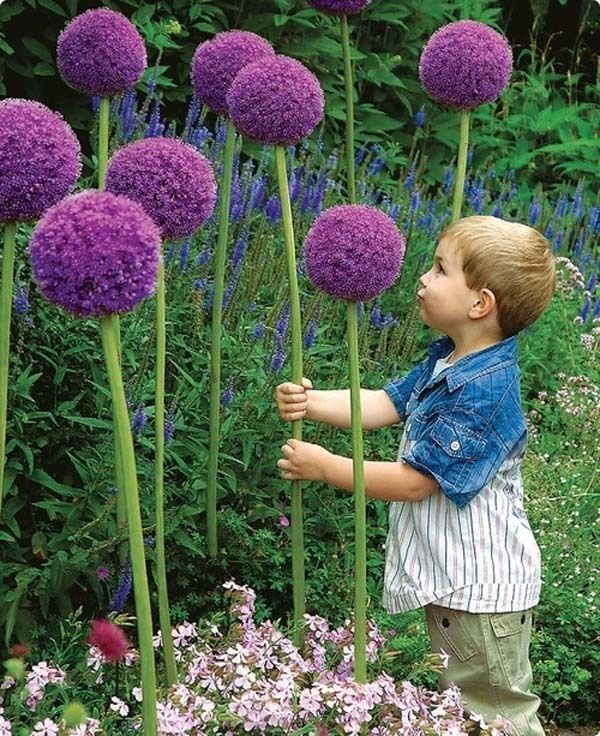 These giant flowers look really lovely and they are fun for everyone, from the children who will play among them to the adults who will appreciate their simple beauty. via pinterest
DIY Adorable and Whimsical Toadstools from Wood Bowls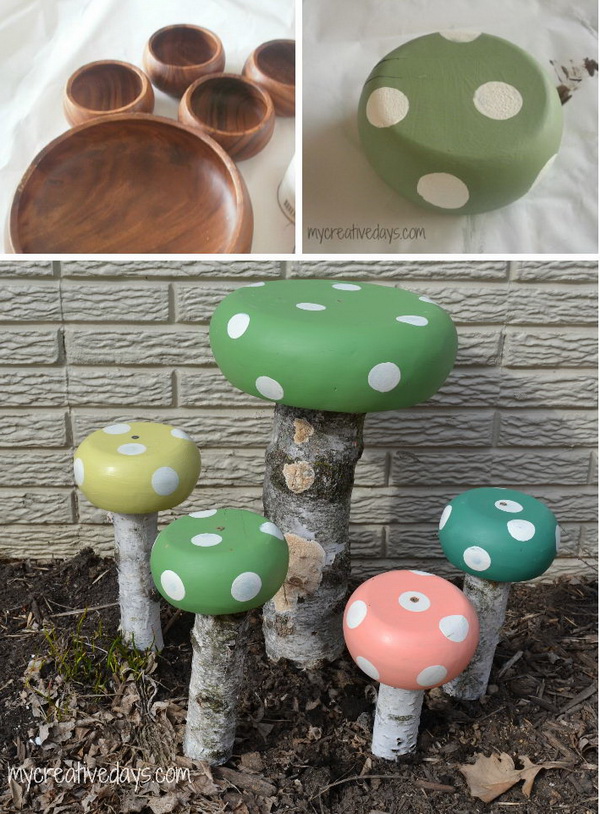 via mycreativedays