The arrival of a new baby is always a happy and emotional time for the new parents. It can also be overwhelming though, especially for dads, who get much less attention and a lot of work.
Men aren't really equipped to deal with babies and children in general, and so they need a little encouragement and incentive before and right after the baby first arrives. A good way to give them that push that they need is by offering them a thoughtful and possibly humorous gift that shows them you recognize their effort and helps take the edge off slightly.
In this gallery you will find some really cool ideas of gifts to offer to a new dad, from the realty funny, often odd presents to the useful items and some that even tick both boxes as well.
Daddy Survival Kit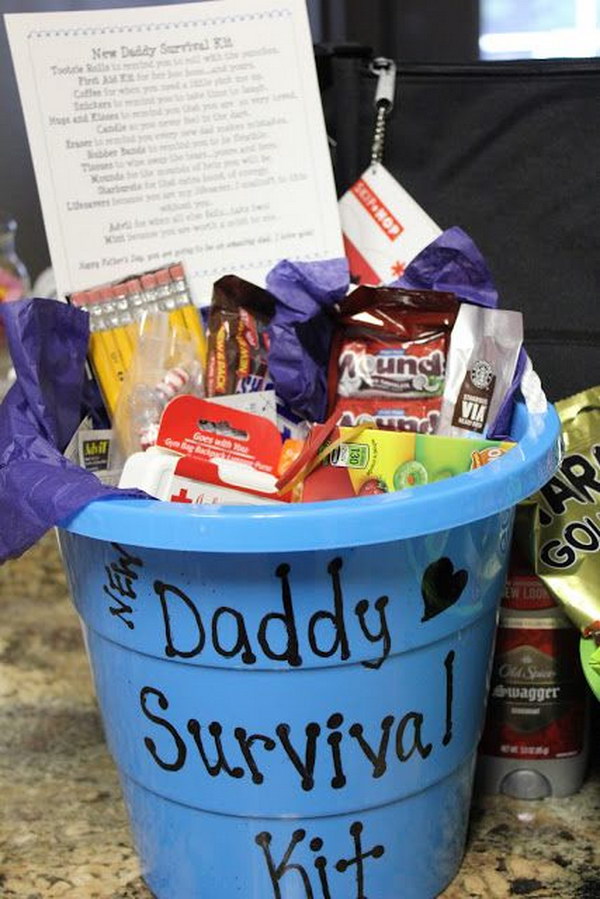 This basket is called the Daddy Survival Kit with very good reason, as it includes all kinds of essentials, from food and snacks, to coffee, useful items and even some joke presents. You can customize yours by changing the items inside, writing a different note to explain the items or choosing another presentation. Get the tutorial via simplymadewithlove.
Daddy Diaper Duty Apron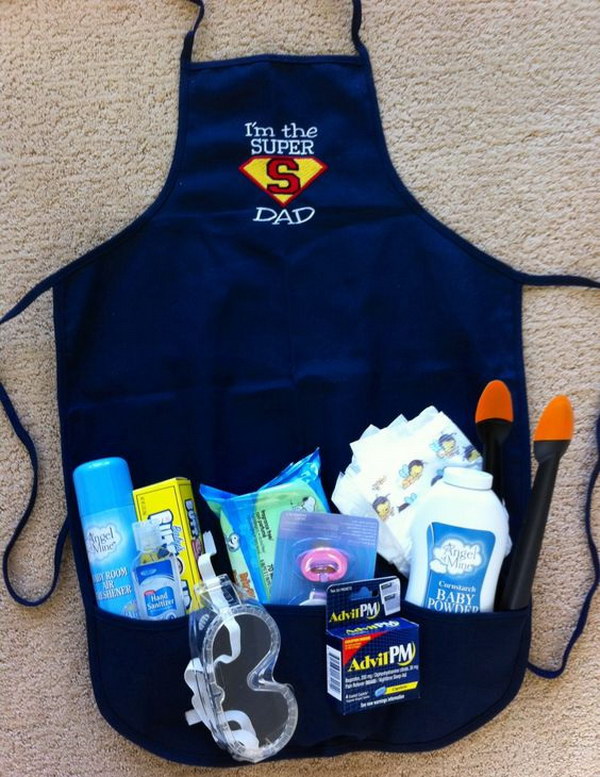 This apron can quite basically be considered a wearable diaper bag. The Super Dad apron itself you can buy or have made. Then all you need to do is stuff the pockets with diaper changing items such as diapers, wipes, rash cream and the like. Fun gift that dad can enjoy and laugh at.
New Daddy's Toolbox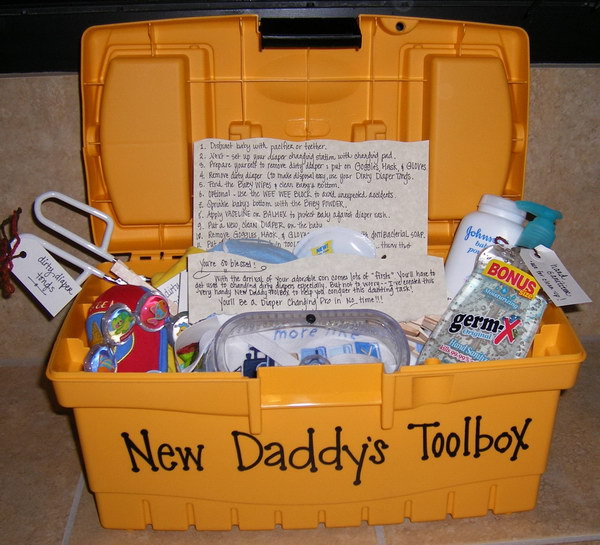 This toolbox is similar to the Survival Kit. All you need is a toolbox – you can get one and decorate it or even make one – and a lot of baby, household and hygiene products. Stuff it all in there, add a cute note and your gift is ready for the new dad in the house. Get the tutorial via lesliecruiz.
Daddy Keep Calm Baby Clothes Onesies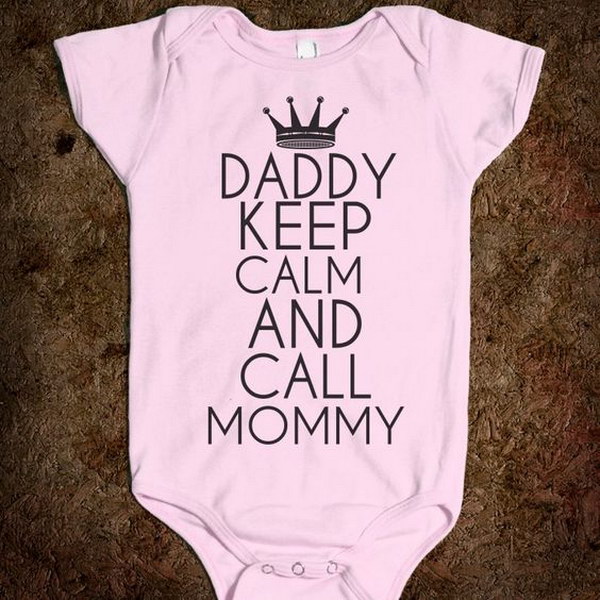 This onesie is obviously not a gift for the dad himself to use, but it is quite cute and somewhat original. It is also a gift for the family to share and laugh together about. You can personalize it with all kinds of colors and 'Keep Calm' messages too, so the possibilities are endless. Buyable via skreened.
Daddy Books for the New Dad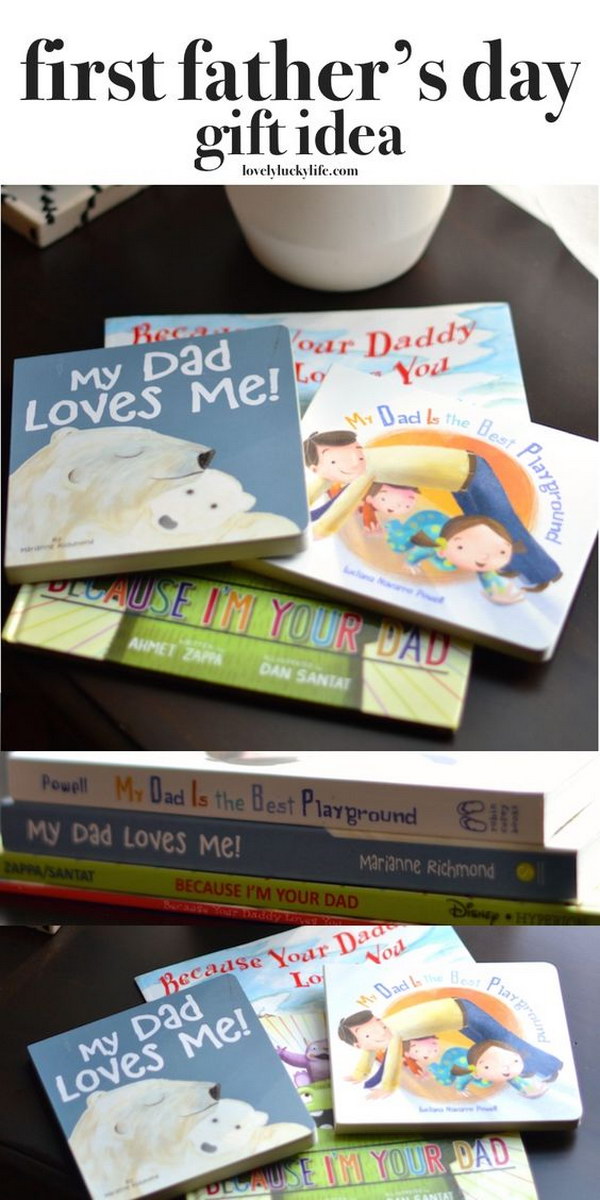 This is a gift for fathers and children to share. The 'Dad Book' is a cute idea because it is about the dad, but it is something he can read to the baby, for instance, and that they can both look back on when the baby becomes a child or even an adult. This is thus basically a memory making gift to be passed on. Get the tutorial via lovelyluckylife.
Cute Gift for the New Dad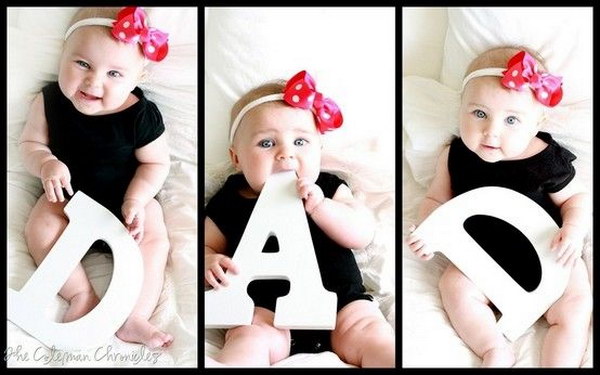 What an awesome gift for new Dads or old Dads! This gift is one of those that is more about the moment and the memory than the gift itself. The letters spelling DAD you can buy at the craft's store or make at home. Then all you have to do is let the baby play with them and capture the fun with a camera. You can keep the letters as decoration or save them for another project. Via indulgy.
Daddy Diaper Toolbox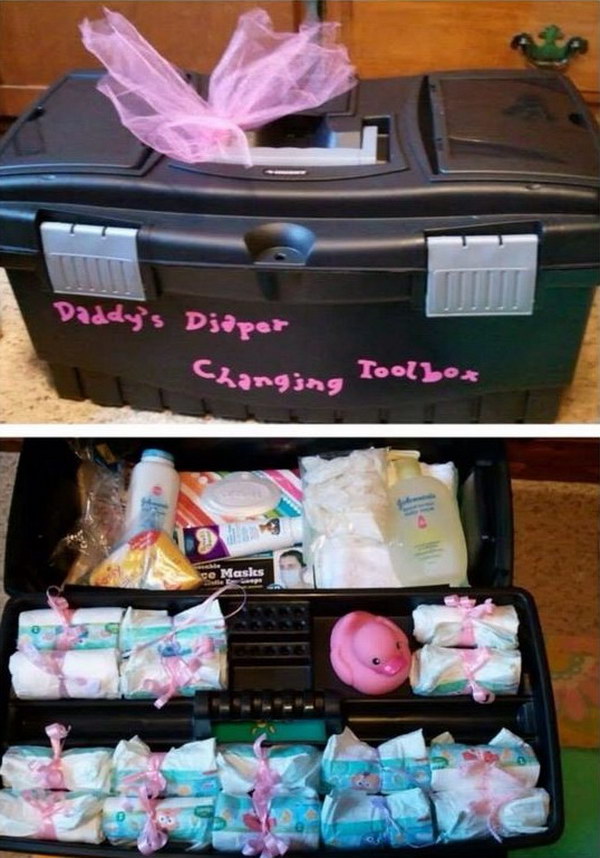 This Diaper Toolbox is quite basically a combination of two projects we've already seen here. All you need is a real toolbox, which you should decorate to the best of your abilities and then fill with all kinds of diaper changing products. We'd say this is a 'manly' or 'glorified' diaper bag, but it will very much depend on the direction you take the box decorations into.
Daddy Hospital Survival Kit
Again, this project comes in the same vein as the Daddy Survival Kit and other gifts we've already seen. The appropriately labeled basket should be filled with essentials to take to the hospital such as water, food and snacks, as well as hygiene products to tie the Dad over while waiting for the new arrival. You can also throw in more funny items like a vomit bag, for if they feel sick during labor or the something along those lines. Get the tutorial via unoriginalmom.
New "Pop" Gift Basket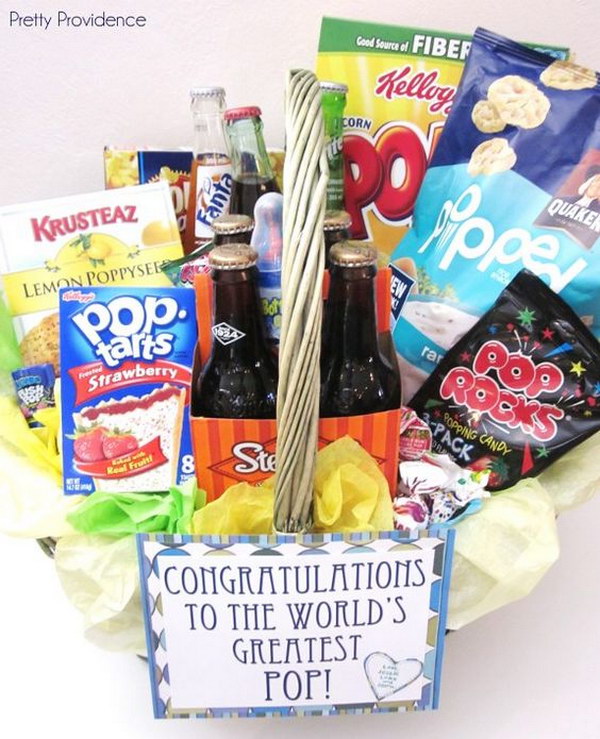 Here's the idea behind this gift: you – or the pregnant woman in this man's life – are about to pop, he is about to become a Pop, so there is no better way to celebrate the occasion than with a feast of Pop food items, from Cake Pops to Pop Tarts and everything in between. Get the tutorial via prettyprovidence.
Baby's Footprints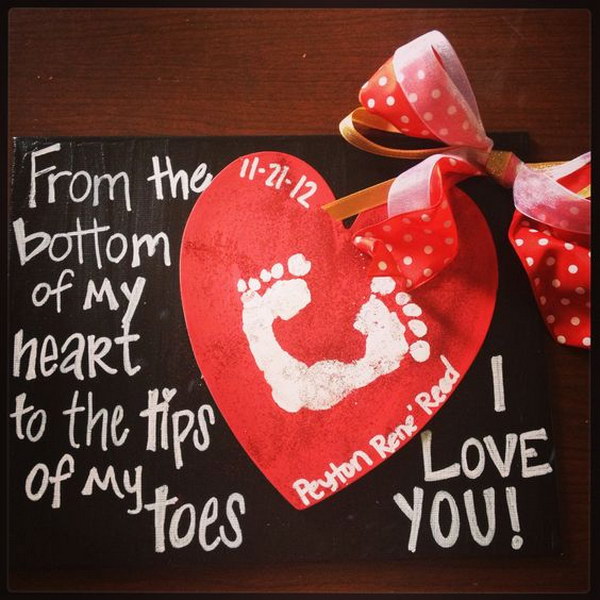 This last gift is a heart-melter, for sure. All you need to do is make the card and then hold the new baby still long enough to get his or her first footprints on it. Not an easy task, but something to be cherished it you can actually make it. Via indulgy.