Floors aren't just surfaces to walk on. That is, of course, their main function, but they also contribute to the larger picture that is the decoration of the space they are in.
There is a lot to consider when choosing a floor, even if you're just looking at it from a practical perspective. It might need to be sturdy and reliable if you're using it in the yard or easy to clean if it is to go in the bathroom or kitchen.
Bedroom and living room floors are to be sophisticated while matching the overall decoration perfectly, but you might prefer something long-lasting rather than overly elegant for your porch or hallway.
In short, different rooms need different types of floors, and that is why we've put this article together.
Please scroll down if you'd like to look at these awesome flooring ideas for every room.
Desert Haze Color Floor For White Living Room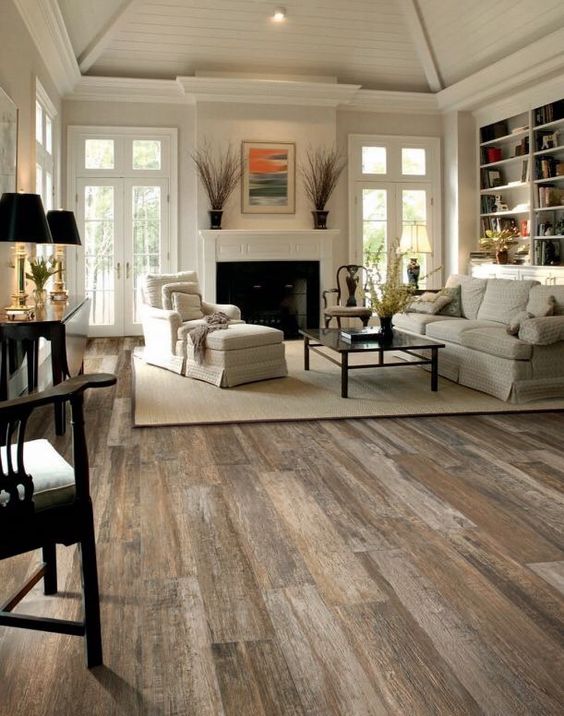 This distressed, sandy colored floor provides great grounding contrast to the otherwise predominantly white living room. The plank flooring is wire brushed, hand distressed and scraped, and further finished with smoking and carbonizing and then UV oil cured to achieve this gorgeous weathered look.via zillow
Flooring For Cozy Living Room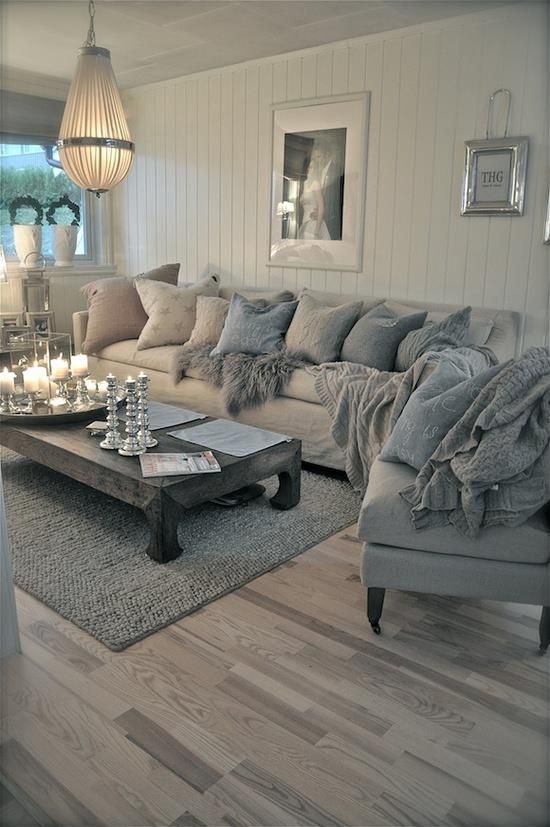 The living room has a very cozy, rustic vibe to it, which makes the flooring choice quite obvious. The natural wooden slabs in different tones of brown add to the relaxed aesthetic of the space. via lizmarieblog
Rustic Stone Tile Flooring With Wood Look Tile Inlays
Using the rustic stone which combines the sleekness of rustic wood look tile with the shine of Bartello Shimmer Stone, you can experience a complex look with just one installation. Rather than intricately grouting small pieces of multiple styles, you now have the option of reenergizing your home with a single tile style that brings together the best of both looks. via homedepot
Pebble Shower Floor

The shower floor, which was built using pebbles of different sizes, is truly reminiscent of an outdoor shower or a natural pool side. via source
From Plain Concrete to Stained Concrete Floor Makeover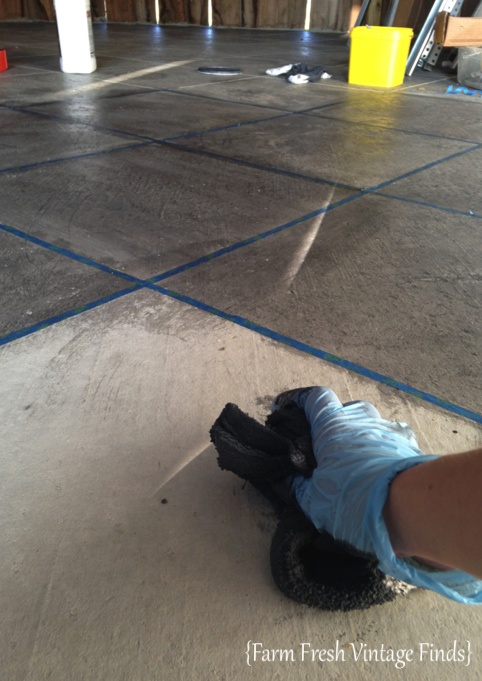 Stained concrete may not sound very appealing, but it's definitely a stylish look in its own right. More than that, it is an affordable and easy way to turn your boring concrete floor into something else entirely. It's guaranteed to be a hit. via farmfreshvintagefinds
Foam Flooring That Looks Like Wood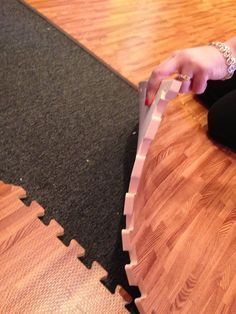 Now this is quite the ingenious idea. The actual flooring here is boring ugly foam, but it was made to look like wood before being installed on the ground. It is not the most resistant floor, but it is very comfortable and forgiving, especially for children. via rubberflooringinc
Wood Block Floor Showing End Grain Like An Old Factory Floor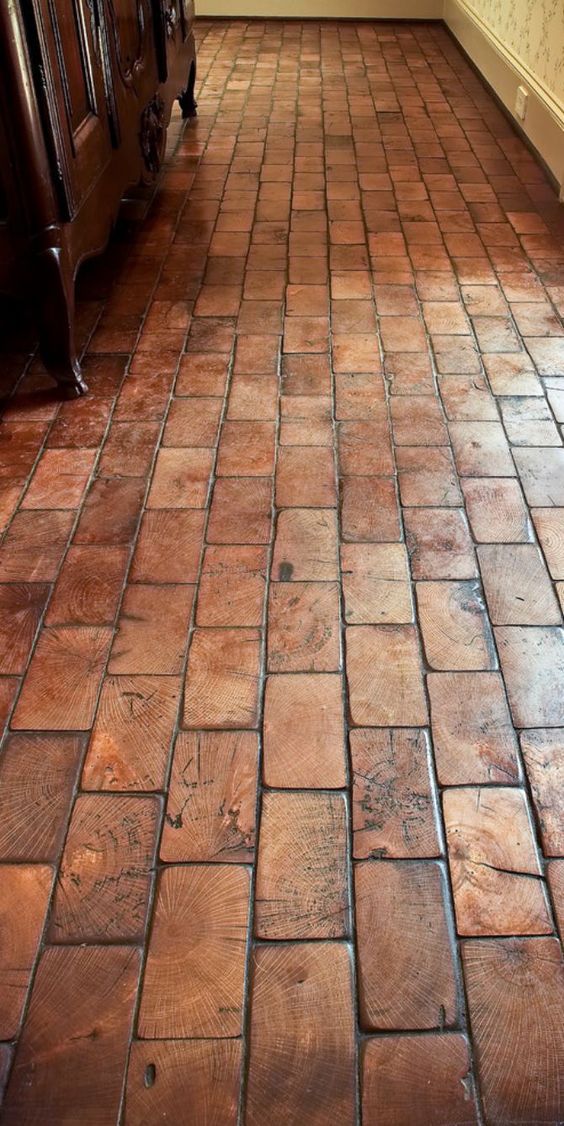 This floor is made of dark, distressed wood blocks placed evenly. While it may not be to everyone's taste, the aesthetic here is meant to look like an old factory floor. And it does the job very well. via remodelaholic
Stenciled Floor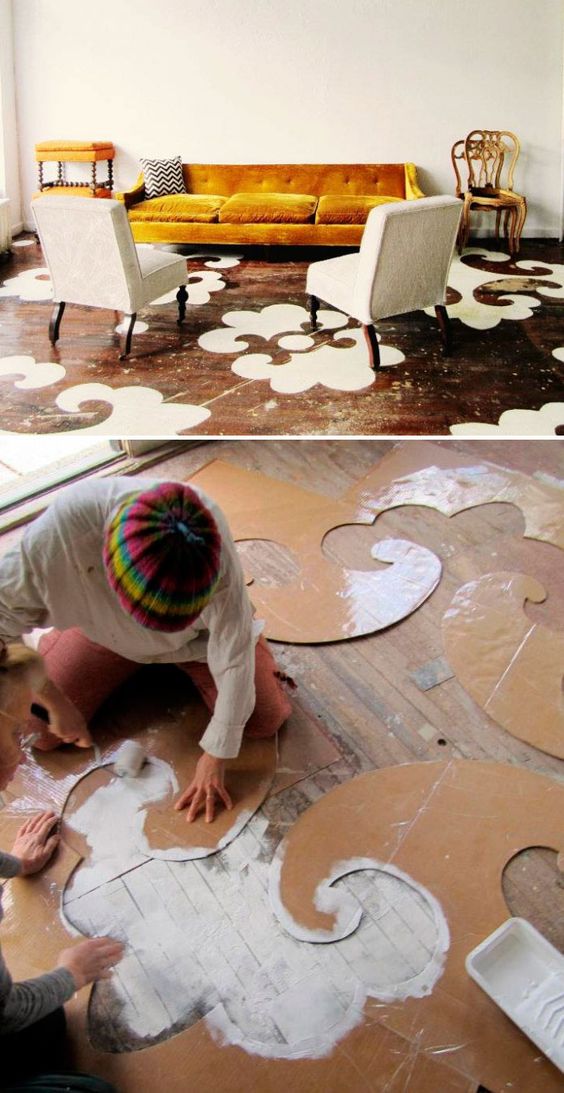 Stenciling is always one of the best and easiest ways to give the floor a makeover while adding some character to it. In this case, white flowers were painted sporadically on what appears to be natural wood tiles. The finished project ties in with the room's decoration beautifully, since there are white and more natural colored pieces of furniture in it. via remodelista
Natural Grey Oak Wooden Floor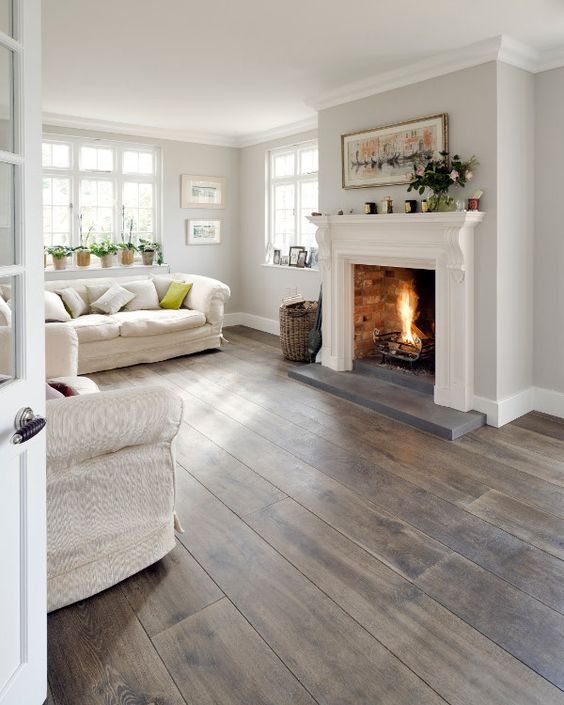 The polished, yet imperfect slabs of this natural oak floor are in perfect synergy with the living room decoration that features a cozy fireplace and wood accents. The soft gray color really complements the light walls and furniture to complete the elegant look. via periodideas
Natural White And Black Tile Floor For Laundry Room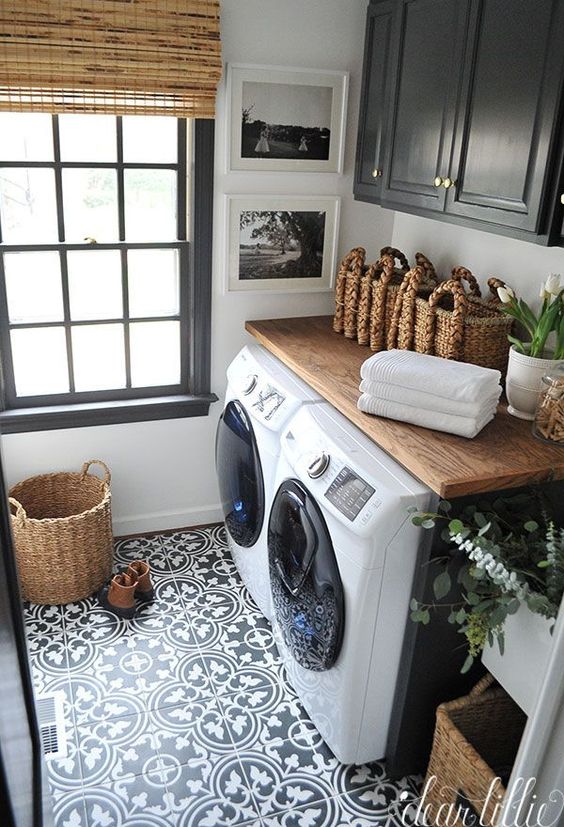 Tile is a classic choice for areas like this laundry room, as it is usually easier to clean than other materials. The black and white pattern is quite beautiful. via source
Wood Tile In A Herringbone Pattern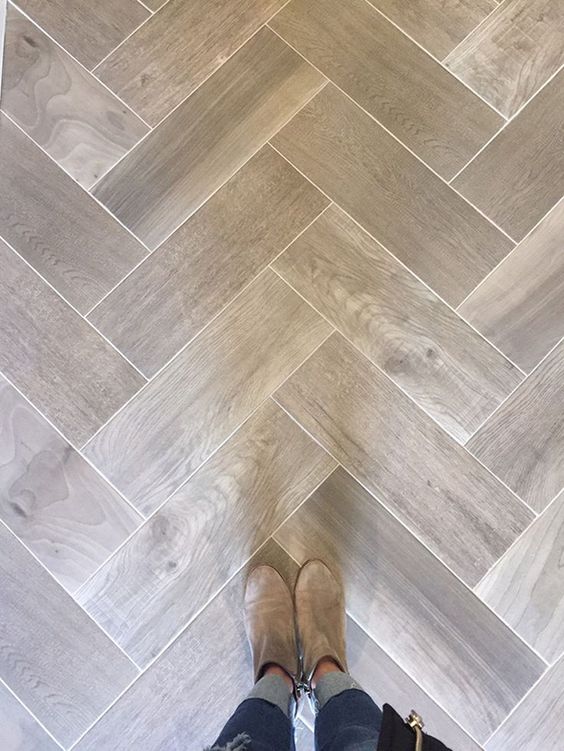 This type of wood tile floor is another classic that looks and works nicely in every room. The pattern is really easy to create and the natural wood adds a kind of rustic charm to the space. In this case, a small border was left between the tiles to further enhance the pattern. via greigedesign
Bathroom Floor With Mosaic Inlays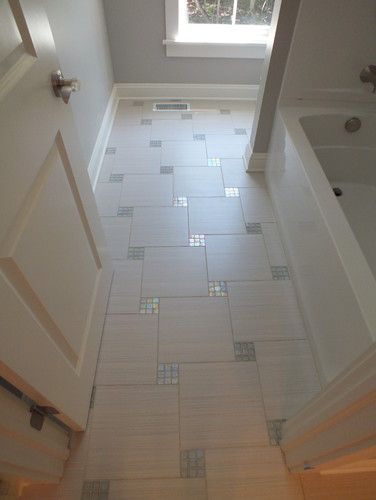 This is a great example of a classic bathroom floor with a twist. The main flooring is made of white tile squares, but beautiful mosaic squares were added at the corners to create beautiful and somewhat unexpected detail. via houzz
Herringbone Pattern Wood Tile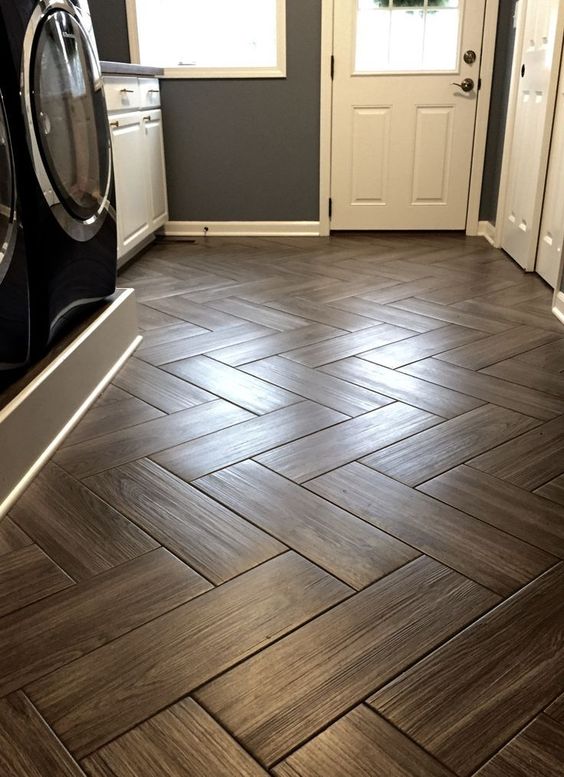 This is another herringbone floor made with faux wood. These tiles are darker and more polished than the ones that we've seen before, which adds a more elegant look. Using wood tiles instead of actual natural wood allows the flooring to stay in good shape for a much longer time. via asugaredlife
DIY Penny Floor

Now this is a very original flooring idea. Here, pennies were painstakingly put on the ground to create a shiny copper floor that you definitely do not see every day. via handimania
Use Smaller Tiles as a Threshold to Transition From Tile to Wood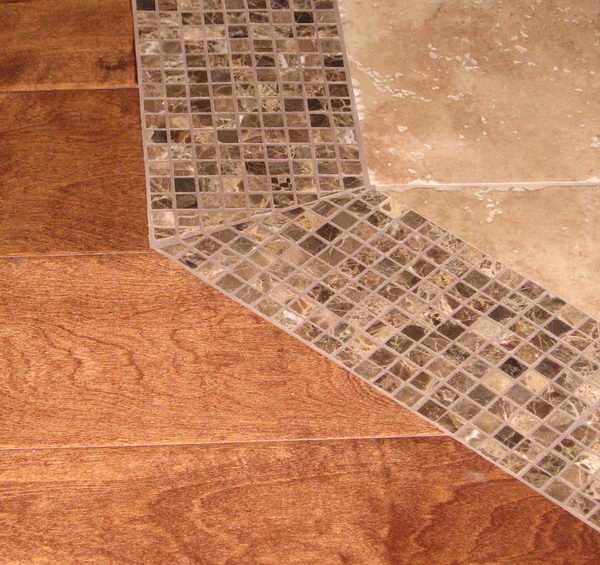 This isn't an actual flooring idea, but rather more of a decorative transition. Here, small tile squares of different warm hues were used to create a border and enhance the otherwise unnatural transition between tile and wooden floors. via source
Barn Wood Flooring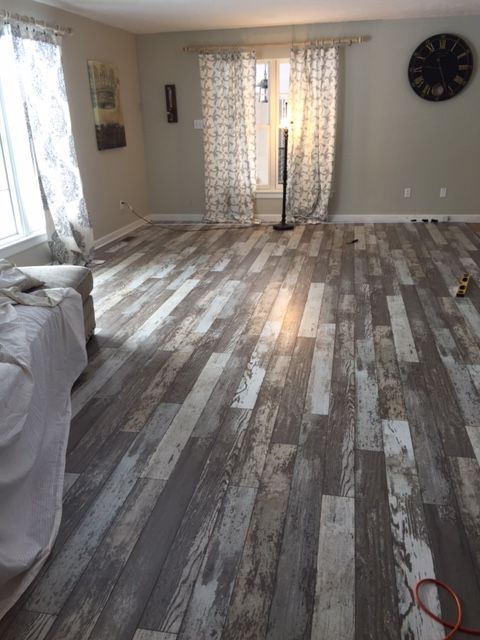 The barn wood flooring is perfect for a cottage bedroom decoration, as you see here. The different wood textures and colors provide the rustic appeal that contrasts but also complements the feminine bed and curtains. via pinterest
Hexagon Tiles to Hardwood Floor Transition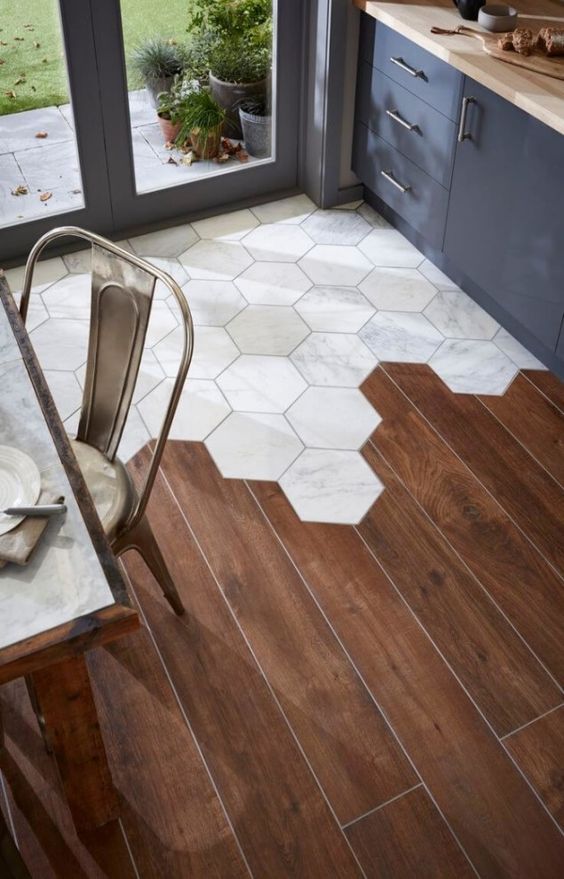 The room has two different flooring types, and the transition between the two is quite eye-catching. The white hexagon tiles were left with an uneven edge to create a transition into the dark wood that looks somewhat unfinished, but in a very artistic way. via toppstiles
Black Hexagon Tiles Transition Into Wood Flooring
This is a very similar project to the previous one, except the colors. Here, the transition is from black hexagon tiles into light wood flooring. The transition is still uneven, but there is more of a pattern in this case. The wood slabs themselves are quite natural and have different hues and textures. via contemporist
Amazing Distressed Wood Looking Tile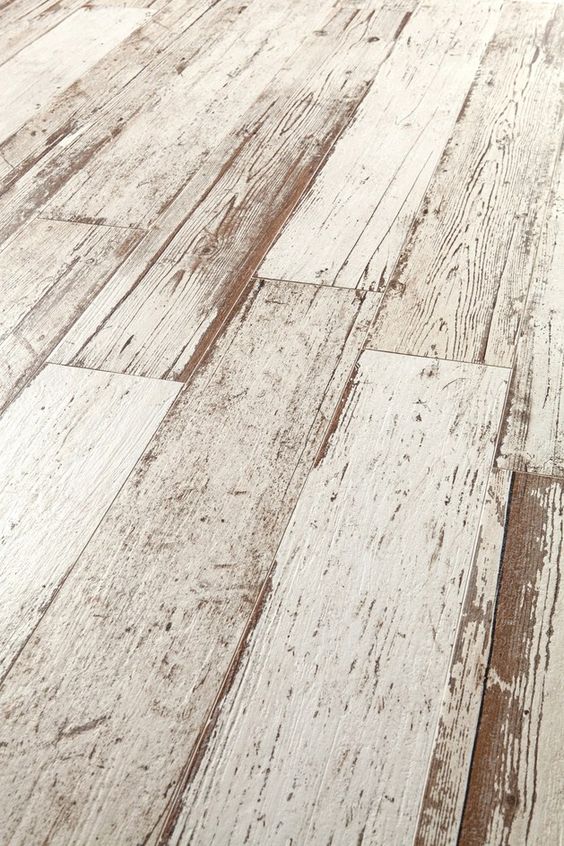 This flooring is really amazing because it looks like distressed light wood, but it's in fact made of tile. The illusion is actually quite perfectly achieved via trendir
DIY Painted and Stenciled Ceramic Tile Floor

The ceramic tile floor was quite ugly and looked somewhat dirty to begin with, so it desperately needed a makeover. To achieve that, the tiles were painted white and then decorated with a beautiful black stenciled pattern. The result is very elegant. via cuttingedgestencils
Faux Brick Tile Flooring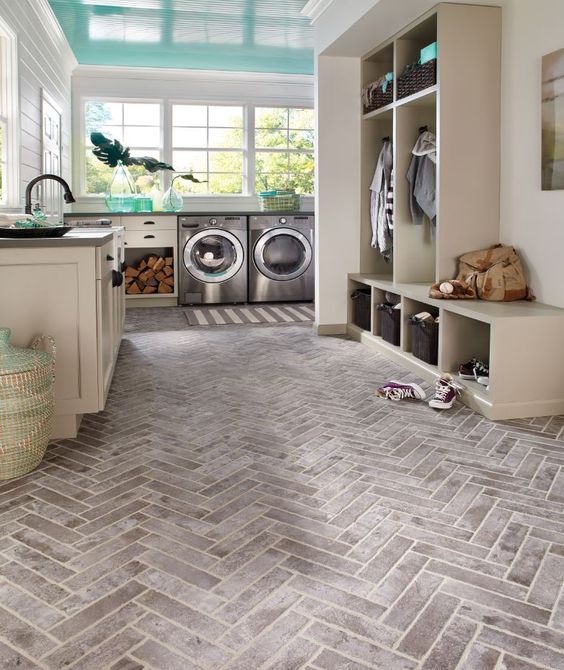 This beautiful distressed herringbone flooring may seem like it's made from brick, but it is actually tile. The illusion is quite well-achieved, and the gray floors look beautiful with the room's decoration. via designmeetstyle
Distressed Bamboo Flooring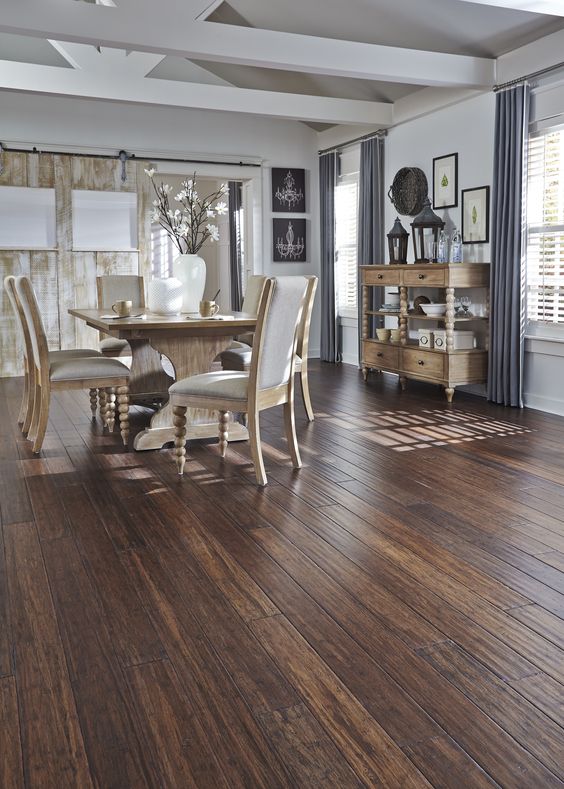 Bamboo always has a lightness and elegance to it. This rich flooring, however, has a slightly distressed look which allows it to complement the room decoration nicely and wear well over time. via pinterest
Cordwood Flooring

The cordwood flooring has a very unique look, which is more usual in outdoor spaces. After all the pieces were laid down, it was covered with a substance to seal it, make the surface more even to walk on and enhance the look with a warm burnished tone. via source
Peel and Stick Wood Look Vinyl Flooring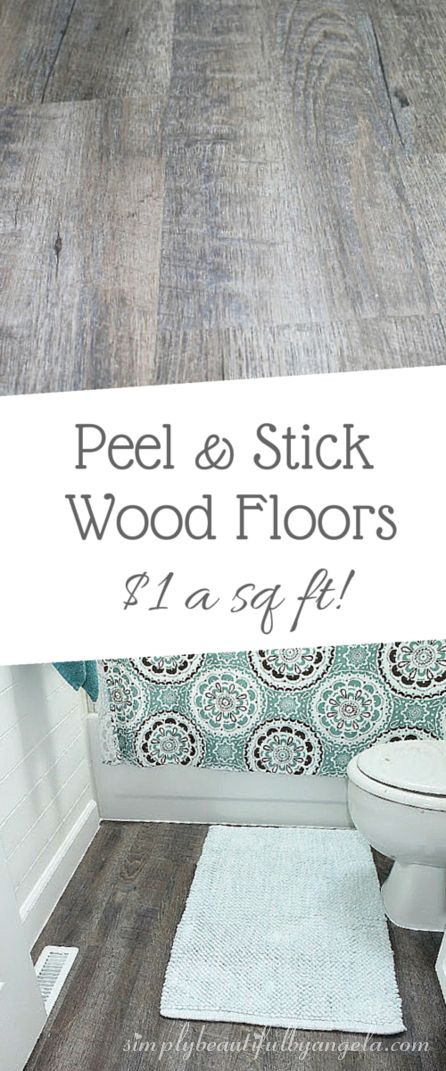 The funny thing about floorings is that they are rarely exactly what they seem. This one, for instance, looks like it may be made from a combination of peel and stick wood in gray tones. In reality, the beautiful texture conceals a vinyl surface, which may not look as interesting but is in fact much sturdier. via simplybeautifulbyangela
Grey Maple Flooring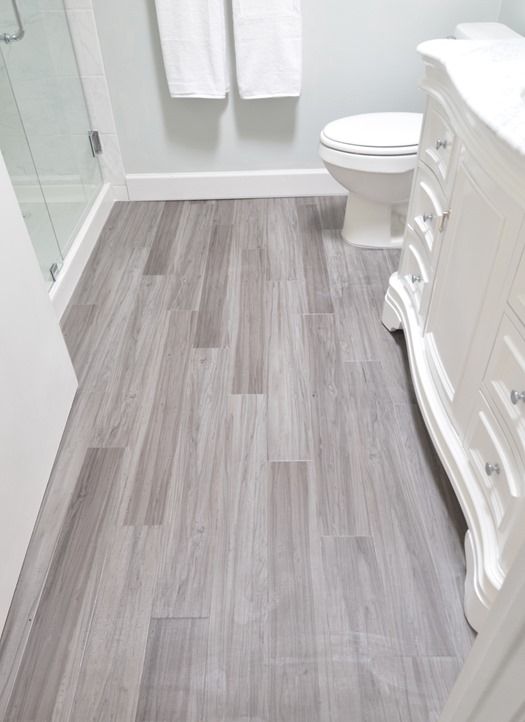 This is exactly what it looks like: a beautiful gray maple wood floor. The wood has plenty of texture and nuance, while its gray colors really enhance this bathroom space with subtle contrast. via centsationalgirl
Colored Tiles Flooring Coordinating Wall Color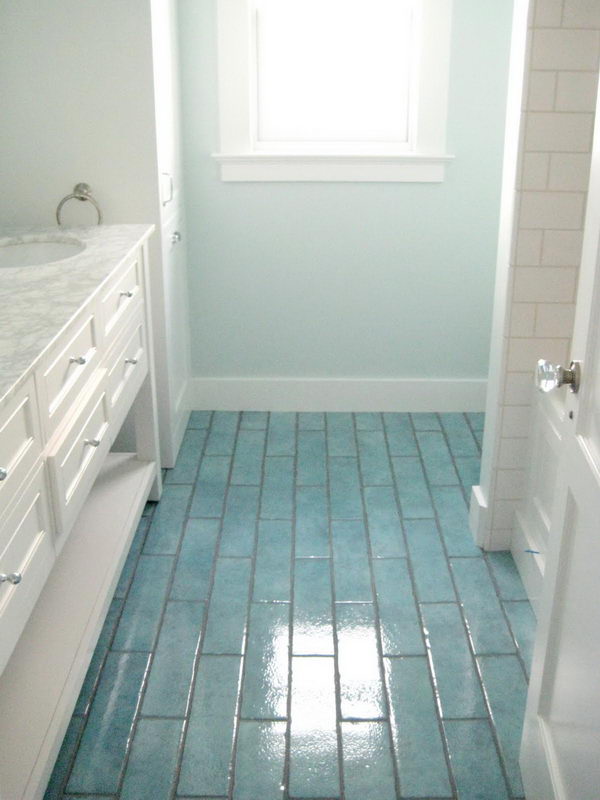 This is very traditional, shiny rectangular tile, the kind that is often used for bathroom and shower flooring. This one seems to be a shade of gray-toned light blue, meant to match the room's walls. via tarpapercrane
Heart Patterned Floor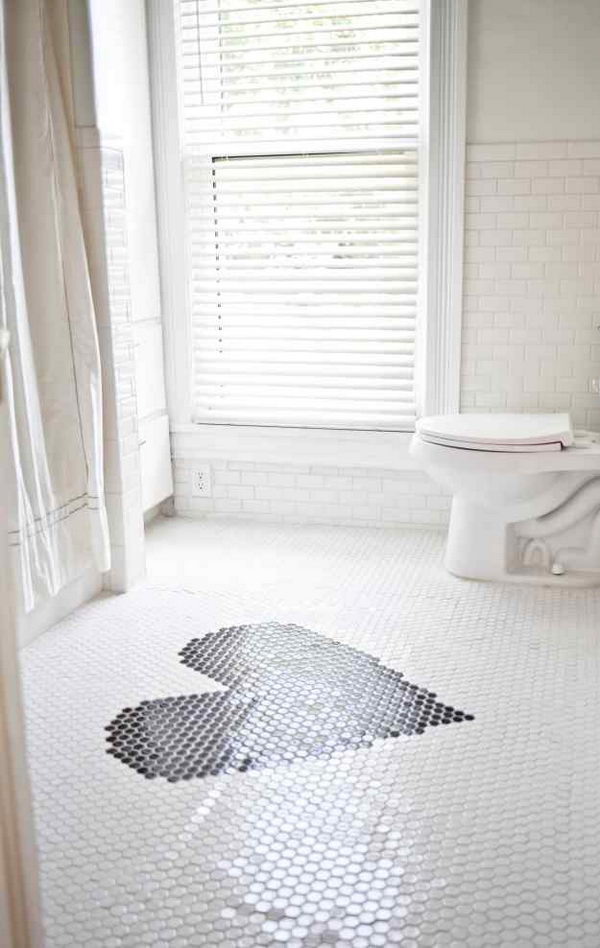 What an interesting pattern choice for the bathroom floor. This particular floor is made from small white tiles with a fairly large black heart in the middle. via abeautifulmess
DIY Geometric Wood Flooring for $80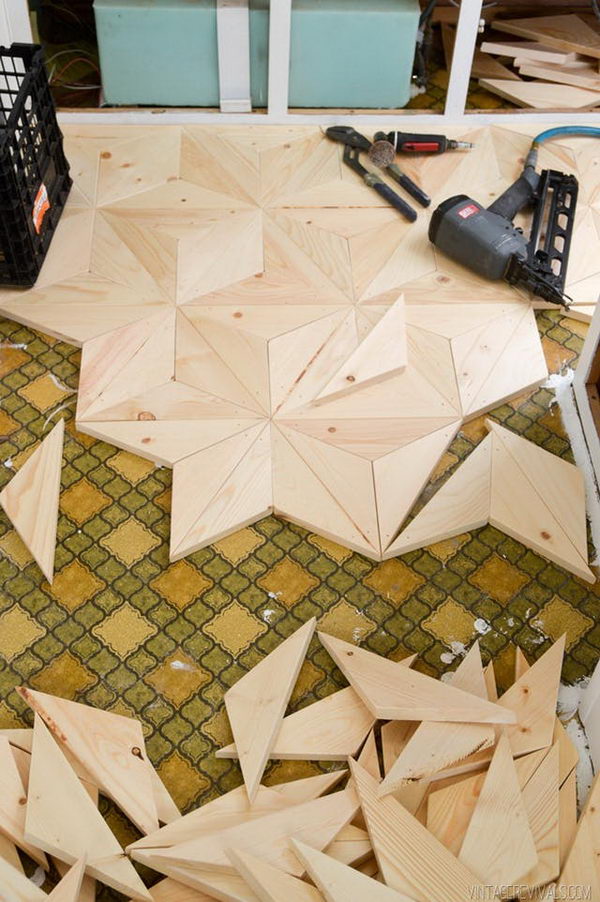 This is, once again, quite a unique flooring design. Here, triangles of light, polished wood were installed somewhat unevenly to create a kind of geometric, star-shaped floor. via vintagerevivals
Bottle Cap Flooring

There's no better way to create a unique and colorful floor than using recycled bottle caps, as you see here. One must be aware, however, that a lot of bottle caps and patience are needed in order to achieve this psychedelic look. via hometalk
Repurposed Leather Belt Floors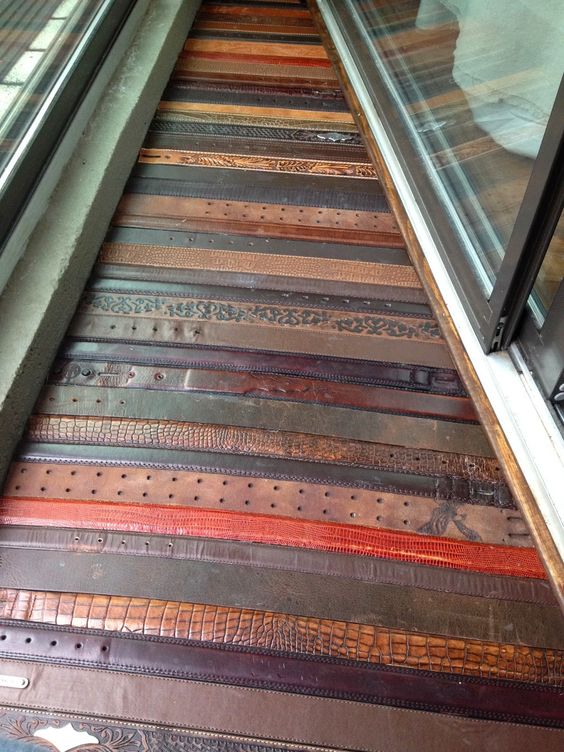 This is another incredible upcycling idea for flooring. Here, the narrow walkway was lined with old leather belts of many colors and styles to create a sturdy and unusual looking floor. via source
Wood Floors Made From Old Pallets

Reclaimed wood is usually the best option for any project. This floor, in particular, is made using slabs from older pallets which were cut to size and then polished. The finished floor itself looks good as new. via source
DIY Wood And Brick Floor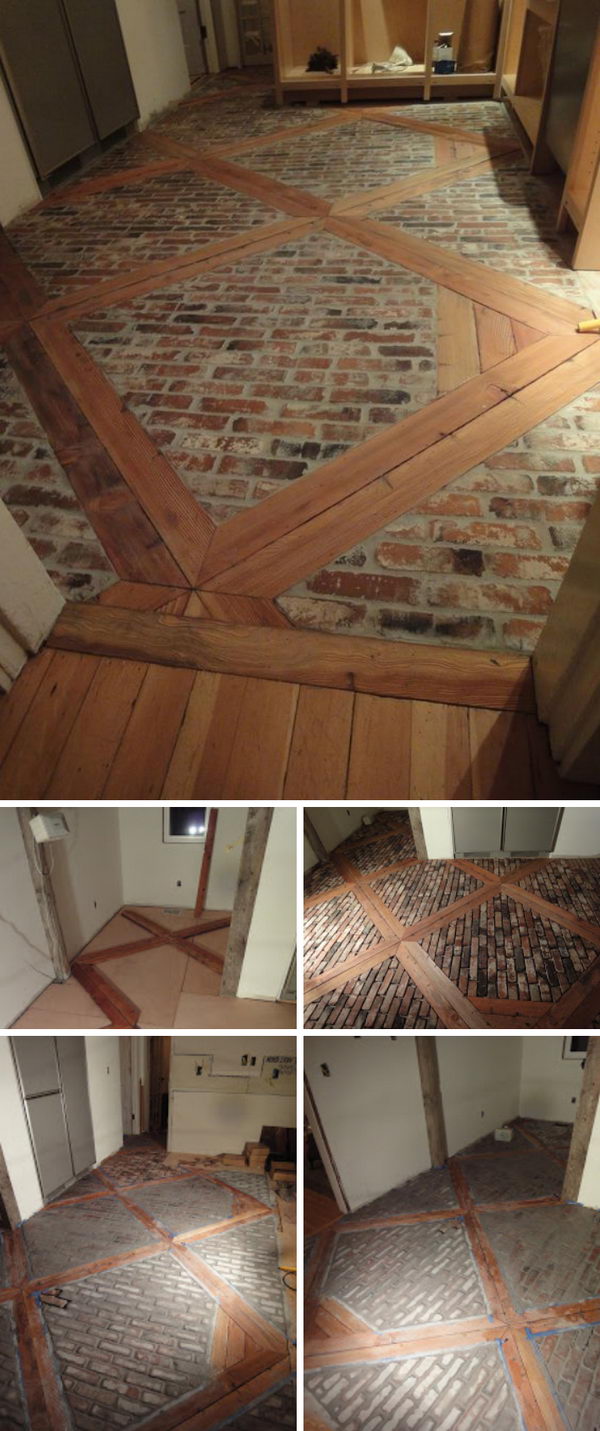 Neat idea using salvaged 2x4s and slices of old bricks for a floor. via 1900farmhouse.blogspot.sg
Wood Look Tiles In Herringbone Pattern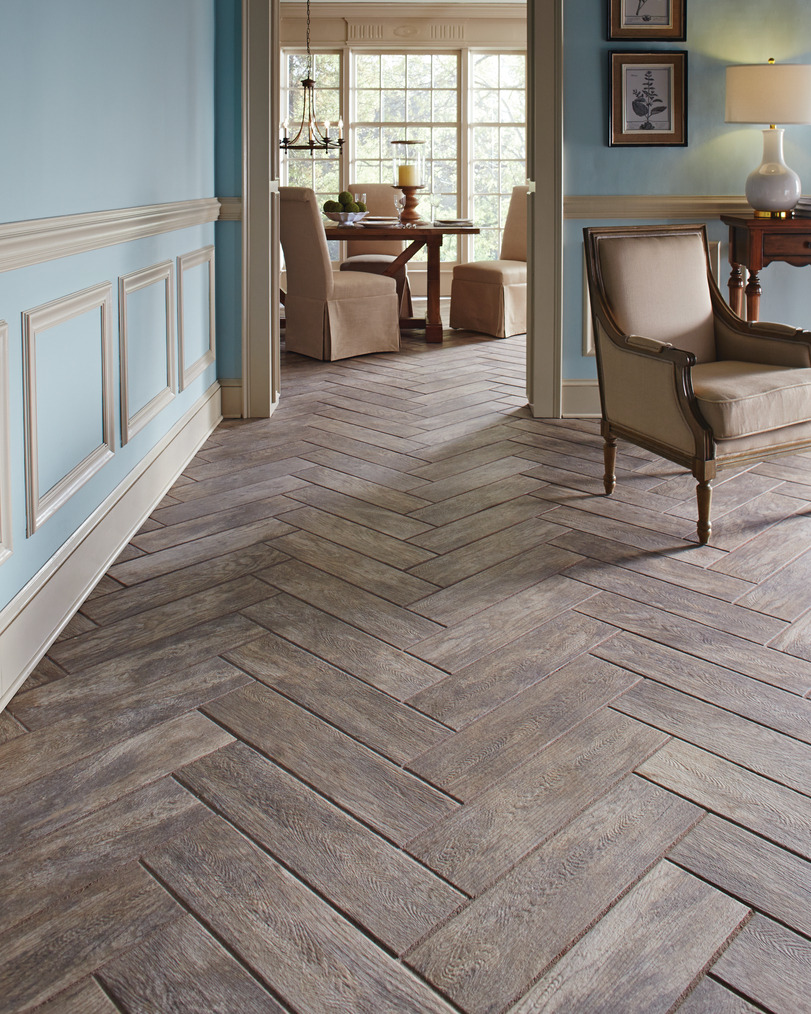 A real wood look without the wood worry. Wood plank tiles make the perfect alternative for wood floors. Create interest by laying your tile in a timeless herringbone pattern, giving your space elegant design presence with an even bigger wow. via designmeetstyle
Herringbone Floors With Vinyl Stick Down Planks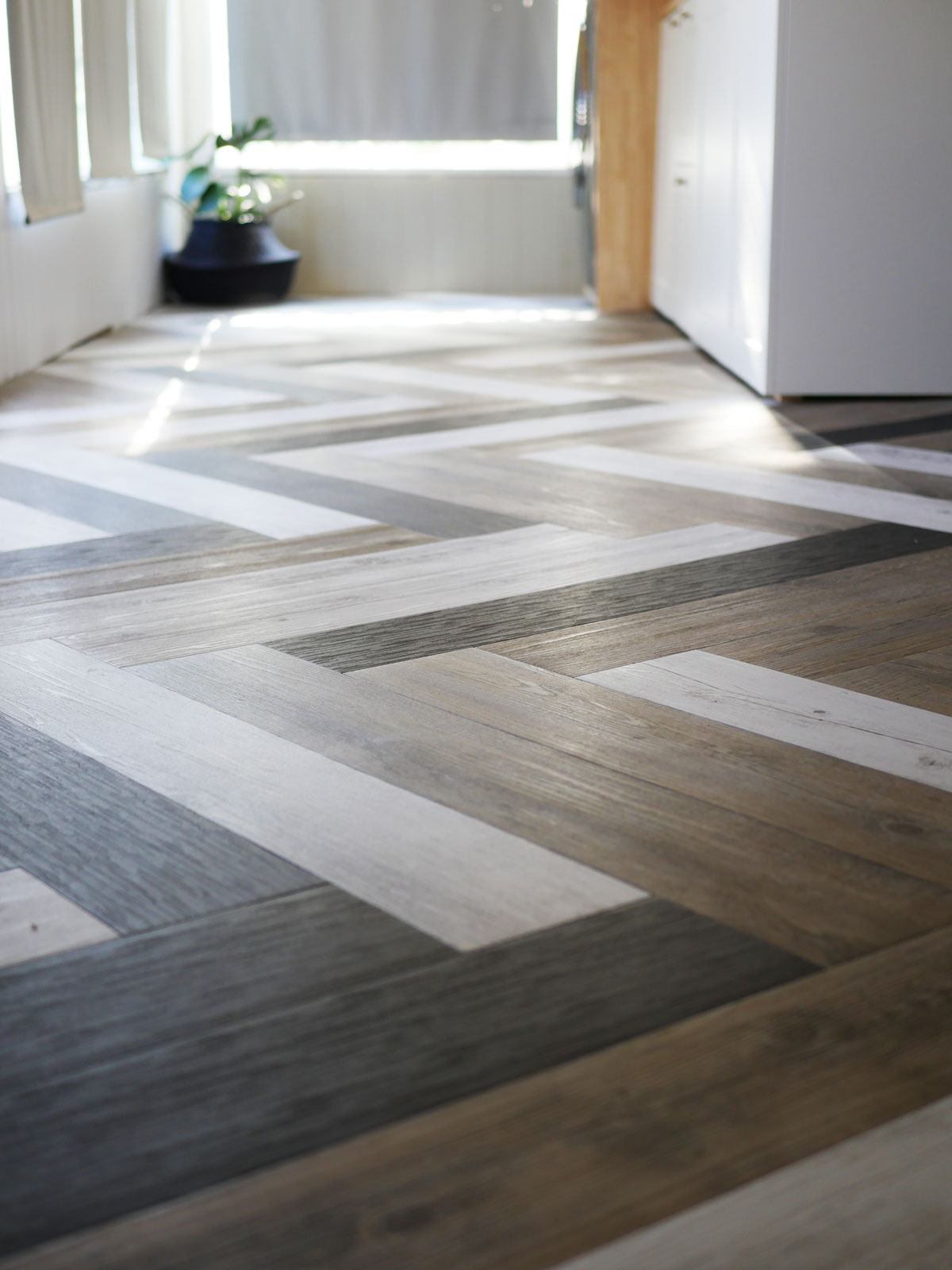 via lilawolff
Wood And Tile Basket Weave Floor

via johnbridge