If your creative hands are itching to make super easy and fast craft projects, then this list of easy crafts to make and sell with lots of DIY Tutorials will surely tickle your fancy. From mason jars to mason jar lids to simple popsicle sticks, this list has got everything covered.
Turn an old pair of socks into a cute, furry animal or make a lantern out of picture frames – the possibilities are endless if you have the imagination, the time, and the craft tools to make mundane, ordinary things into awesome works of art.
Crafts aren't just to pass the time, but they can make for beautiful presents, and can even become great handmade products for some extra cash.
So without further ado, here are some great crafts to make, sell, or give out as perfect presents to loved ones:
Farmhouse Kitchen Canister Made Out Of Old Mason Jars

These vintage French bakery-inspired jars were actually made of peanut butter glass jars! Oh yes, you can turn any old mason jar into these sophisticated canisters that look like porcelain – just perfect for some kitchen countertop decoration. via housefulofhandmade
Wall-Hanging Organizers Made From IKEA Bed Slats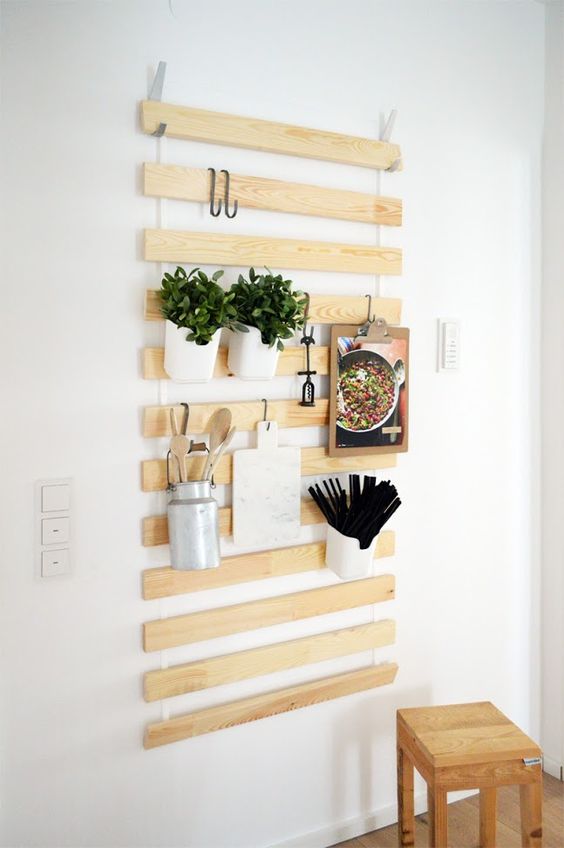 These IKEA bed slats make for a beautiful wall hanging organizer that doubles as a creative wall decor and a place to hang every thing you can imagine: potted plants, magazines, tools, towels, whatever. Place it in a kitchen and hang your pots and pans; place them in an office and hang your corkboard and white board; place it in your workshop and hang your craft supplies – pretty and functional, now you can't anything better than that. via ichdesigner
Mason Jar Lid Wreath Ornaments

If you use your mason jars as canisters, pencil holders, or as drinking glasses, then you know those lids are of no use. But you can actually use them for a number of different craft projects, such as mason jar lid wreath ornaments. You just have to wrap them in twine or cord and embellish them with anything you like. via sadieseasongoods
Upcycled Mason Jar Lid Magnets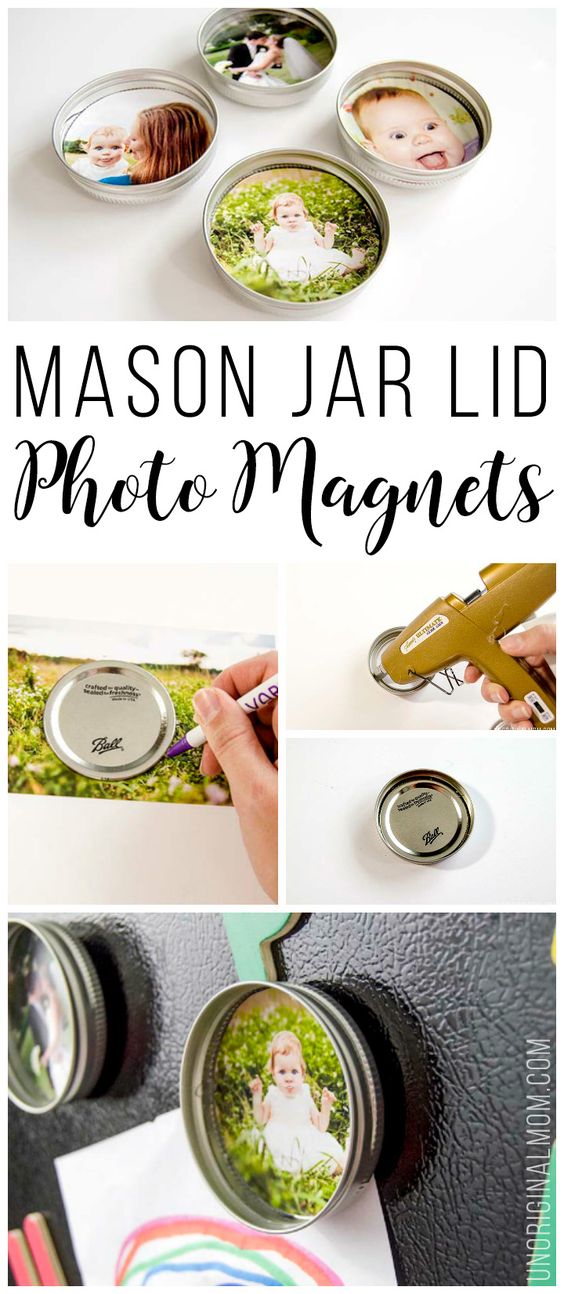 If you have several mason jar lids lying around, you can make them into these super cool personalized magnets. You can place pictures in them or even pictures of objects or places that you like. Attach a magnet to the back and place it on your refrigerator or anywhere where it sticks. via unoriginalmom
DIY Watercolor Coaters Made From Ceramic Tiles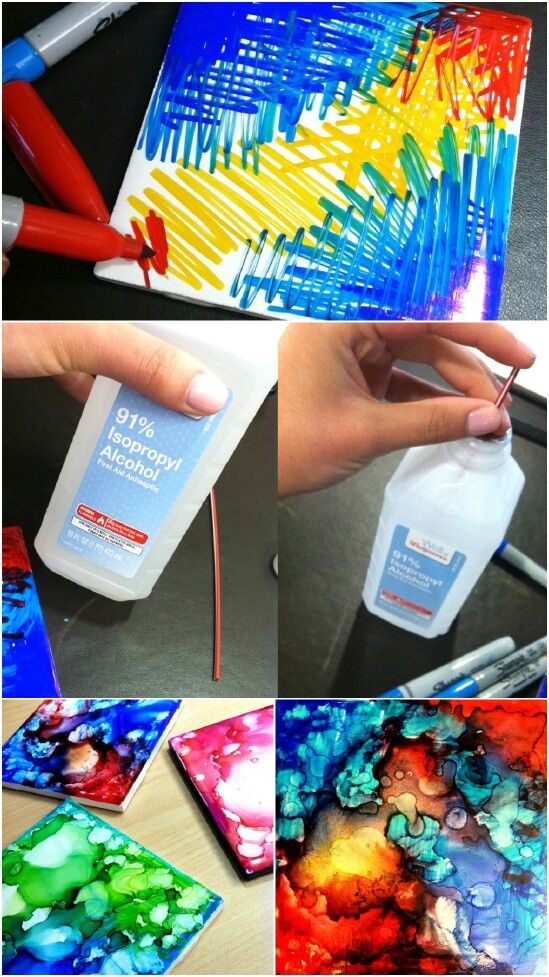 If you happen to have white ceramic tiles from a bathroom project, you don't have to throw them away. You can actually make them into colorful coasters that you can give as gifts or even sell! Create these artistic watercolor coasters in just minutes and you'll have a set of beautiful coasters that bring some pop of color to your table. via sharpie
Painted Rock Photo Holders

Planning on giving someone a photo of yourself or the two of you together? You don't have to reach deep in your pocket to buy a picture frame as you can make this easy and fast painted rock photo holder. All you need is a good-sized rock, some paint, and copper wire – oh, and the picture, of course! via onelittleproject
DIY Pocket Tic Tac Toe Made With Altoids Tin

Road trips, visits to the dentists, and even waiting for church to start can test kids' patience. But when their gadgets and electronics are out of sight, they would need some serious distraction to make them sit still. This ingenious DIY tic tac toe made with altoids tin will do the job, and the best thing about it? It fits right in your pocket. via craftaholicsanonymous
Valentine's Day DIY Pom Pom Pillow

Customize an ordinary plain pillow by embellishing it with words spelled out in pom poms. You can buy different sizes of pom poms at any craft store. You can use either glue stick to attach the pom poms to the pillow, or you can also sew them on to make them more secure. Use pretty colors like pink or red for Valentine's Day. via consumercrafts
Heart Shaped Quilling Paper Craft

What do you give someone who already has everything? Why a DIY gift, of course! Whether it's your mom's birthday, Valentine's day, or your wedding anniversary, this heart-shaped quilling paper craft will show the recipient all the effort and time you put to make them feel special. via paperchase
DIY Donut Pillows

You can make this super cute donut pillow with felt fabric and filling material. It's super cute, funny, quirky, and perfect to give out as gifts. Heck, you can make a few and sell them – your friends will surely snatch them up as they're absolutely cute and pretty. via madmoisell
DIY Wood Slice Photo Transfer

Picture frames are too ordinary – why not give out a unique DIY wood slice photo as a gift? Or better yet, make a small business out of it? All you need is a silhouette temporary tattoo paper, a wood slice, and a washcloth and you're good to go – you can make an ordinary photo extraordinary in minutes. via parentalperspective
Easy DIY Marble Pencil Holder

Looking for an easy and fast DIY craft to make? Then this super easy marble pencil holder is perfect for you. Simply wrap an unused can with marble-adhesive foil and you've got a cool-looking pencil holder in seconds. via craftsonfire
Easy DIY Flower Deco Mesh Wreath

Wreaths are beautiful decors to put on your door to welcome the holidays. This beautiful mesh wreath is easy to make and takes only a few minutes and a small list of materials to complete. Choose any color combination you like and simply tie mesh or tulle ribbon around a wreath frame. You can even reuse it by taking out the mesh and placing other colors for another holiday. via grillo-designs
DIY Cute Sock Kitten

Sock animals are too cute – they're fluffy and they're simply adorable. If you think making one is too complicated, then think again. Sock animals are easy to make – all you need are old socks, filling material, and needle and thread. Oh, and some googly eyes, too. via goodshomedesign
Easy DIY Gemstones Christmas Card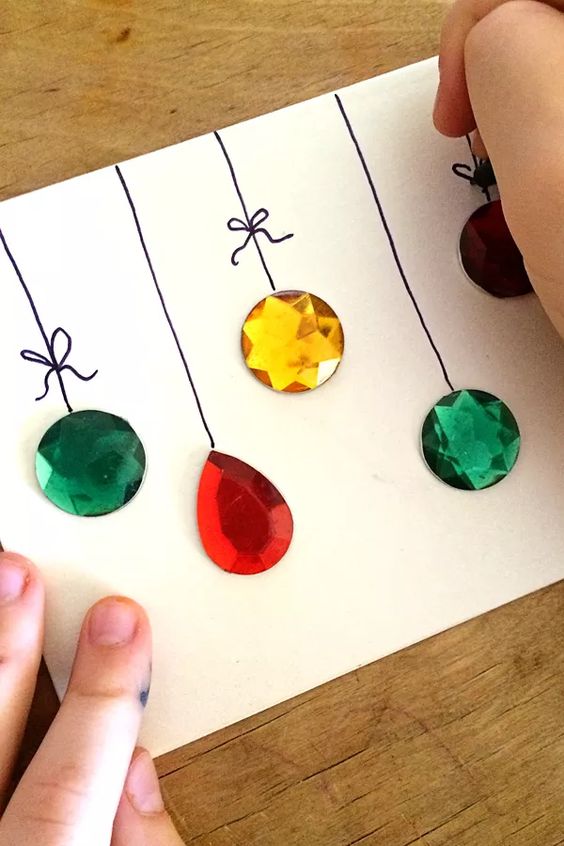 Christmas cards aren't just for giving but they can make for pretty decor, too. Simply glue some gemstones to a plain white card, draw some strings over the gemstones, and you've got a pretty and easy DIY gemstone Xmas card that not only can you give out, you can use it to decorate an office table or bookshelf, too. via childhood101
Valentine Yarn Heart

Do you want to add some Valentine's decor without spending too much? You can make these pretty valentine heart yarns with cardboard paper, yarn, and glue. Simply cut the cardboards into heart shapes, wrap them in yarn dipped in glue, and hang them wherever you like. via tidbits-cami
DIY French Macaron Ornaments Made Out Of Old Bottle Caps
These adorable bottle cap macarons will make you want to bite into them – they're that cute. If you have a number of bottle caps lying around, some pastel spray paint and glitter, you can absolutely make these ornaments and use them on a Christmas tree or even give them away as key chains. via iamahomemaker
Easy Popsicle Stick Hexagon Shelf

Popsicle sticks are some of the most versatile craft materials around. And it's a super proud moment when you can make an awesome piece of art like this hexagon shelf from a seemingly ordinary everyday object. Glue about a 100 popsicle sticks to create this shelf and paint it whatever color you like for this super cool wall decor/shelf. via makeanddocrew
We're Nuts About You Photo Frame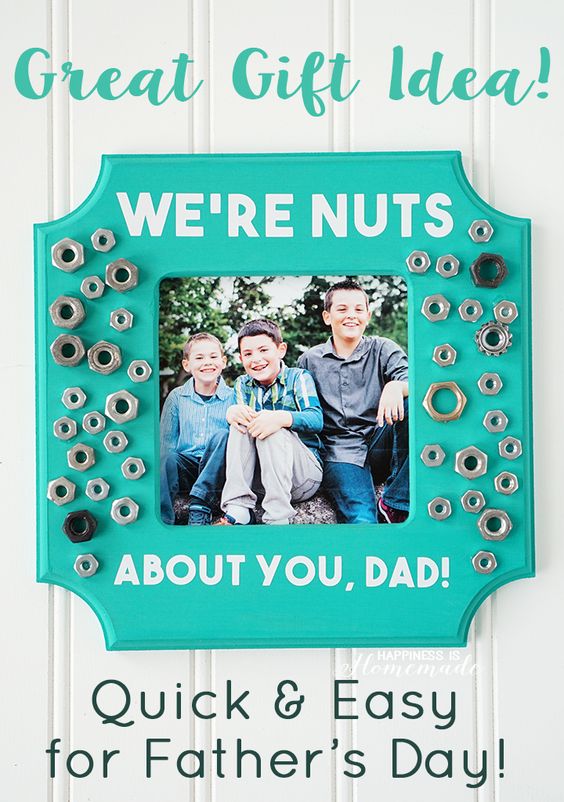 A funny and cute way to say, "We're nuts about you, Dad," this DIY photo frame is so easy to make. All you need is a frame, alphabet stickers, your favorite photo, and some bolts and nuts lying around. Give it to your dad on Father's Day or his birthday and make him laugh and smile on his special day. via happinessishomemade
Frame Lanterns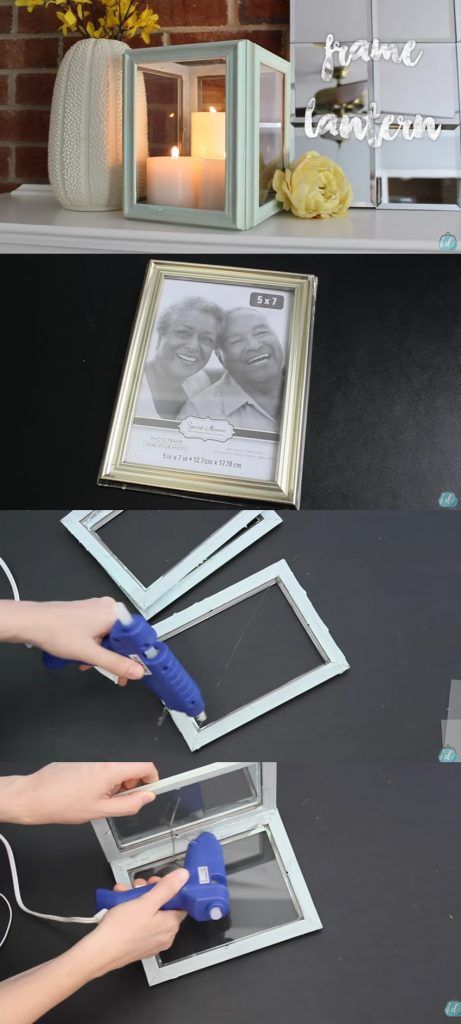 This will make for the most sophisticated lantern your house guests will surely adore. If you have a few picture frames lying around, simply glue four pieces of frames together to create a glass box that make for a beautiful lantern.
Easy DIY Marbled Paper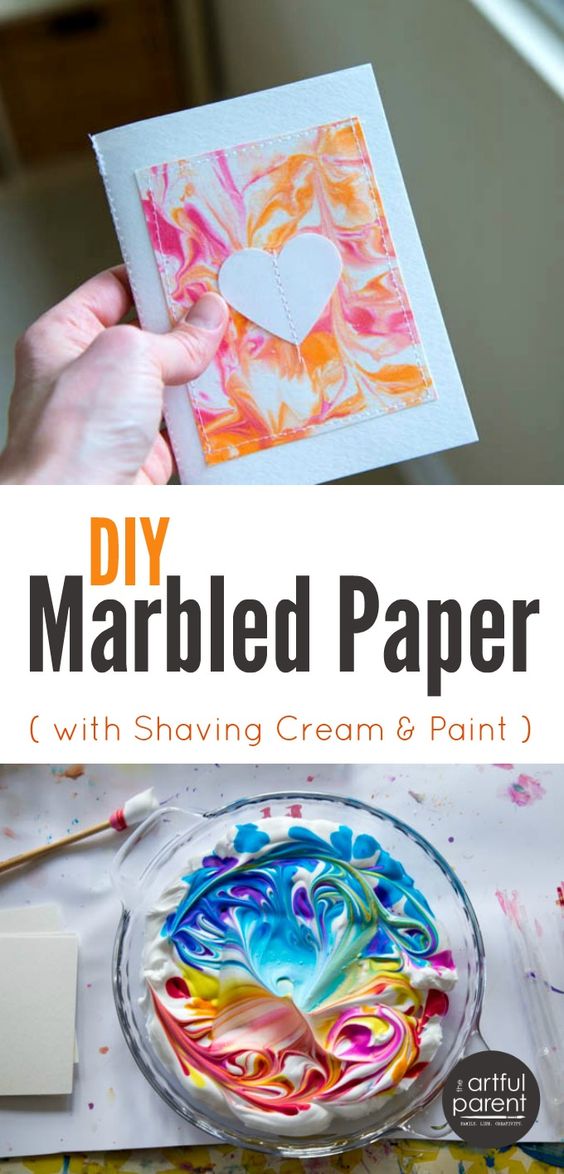 There are many ways to make marbled paper, but did you know the easiest and fastest way is with the use of shaving cream? Yep, that's right -shaving cream. Simply drop different colors of paint over the cream, swirl it around, and press one side of your paper over it – simple and easy. via artfulparent
Collage Color Fruit Wall Art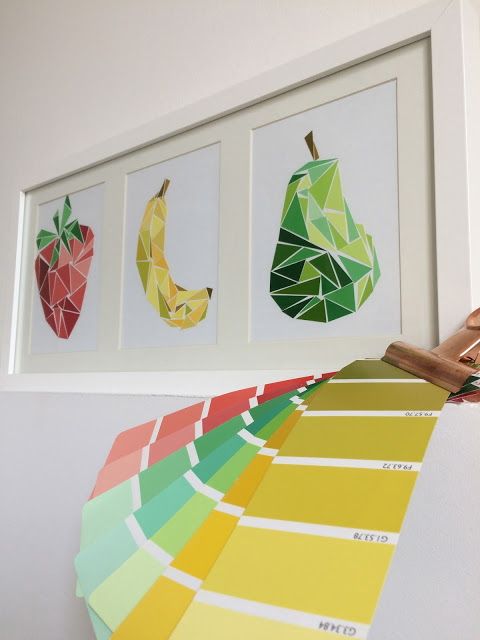 You don't have to study fine art to make super cool wall art. With a few pieces of colored paper and the right patterns, you can totally make these colorful fruit wall art in a jiffy. Frame your artwork and it will make for an interesting wall decor – or lean it against a wall on a side table. Voila! Instant artwork that doesn't cost an arm and a leg. via tadaam
DIY Painted Feathers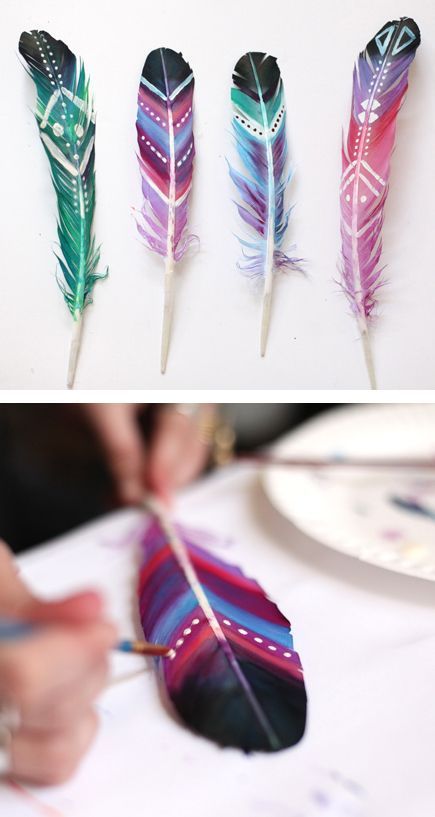 Add some beautiful touches to your outfit and accessories with these beautifully painted feathers. You can buy the feathers at any craft store, as well as different colors of acrylic paint. Once they dry, attach them to a hat, a bag, or some hair accessories for that boho look. via freepeople
Easy Beaded Rainbow Wind Chime

Other than swimming this summer, keep your kids busy with super easy and fun craft projects to die down the summer boredom. These colorful wind chimes are great to add some color to your home or your kids' rooms. All you need are some popsicle sticks, some paint, glue, beads, and some strings and your kids are good to go. via howtothisandthat
Flying Butterfly Surprise Card

Having a boring time at work? Bring in the laughs and make this super simple flying butterfly card to wake everyone up. And yes, it actually does fly! Place it inside a book and ask your colleague to open it and off it goes – flapping its wings and making the room come alive! via buzzfeed
Painted Cactus Rocks

Small cactus plants are great coffee table ornaments but if you can't take care of one, these painted cactus rocks will do just fine. Paint some rocks to look like different cactus plants and place them in a small pot. Add some rocks and there you have it, your super cute painted cactus rocks that add some beautiful touches to a drab coffee or office table.
Ladybug Painted Rocks

Add some cuteness to your garden by painting a few rocks like ladybugs. Make them as colorful as you want and place them all over your yard for a cute and pretty garden vibe. via craftsbyamanda
String Heart Yarn Cards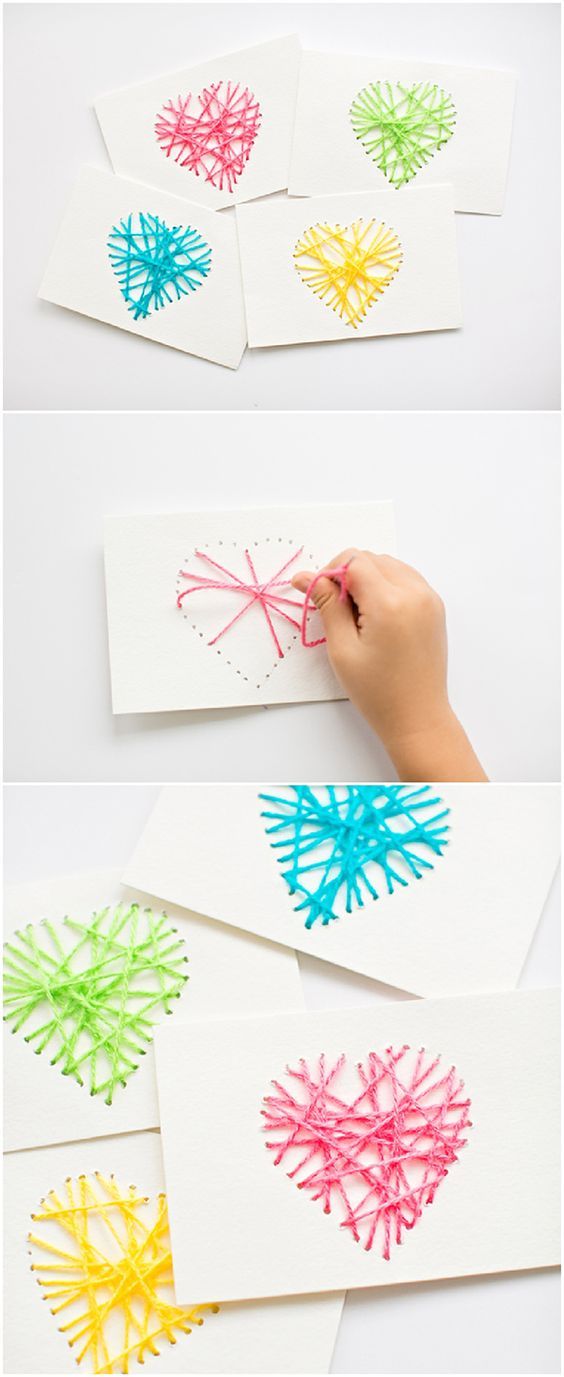 Valentine's day shouldn't just be about romantic couples. Teach your child that this beautiful day is all about love by making a DIY craft project involving hearts. This project will help to teach sewing and fine motor skills to your little one, and teach him or her that special occasions are best spent with people you love. via hellowonderful
Denim Pocket Organizers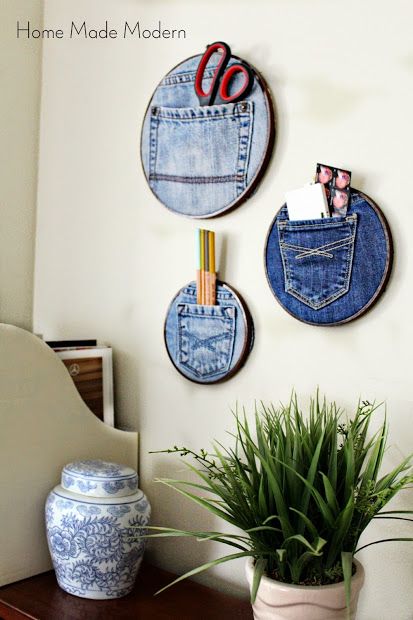 Old jeans don't have to be thrown away. You can use the back pockets of these jeans to make for super crafty and creative pocket organizers that you can hang on a wall. Frame them in embroidery hoops and hang them on your wall to hold pencils, knick knacks, and whatever object they can hold. via homemademodernblog
Ribbon Bookmarks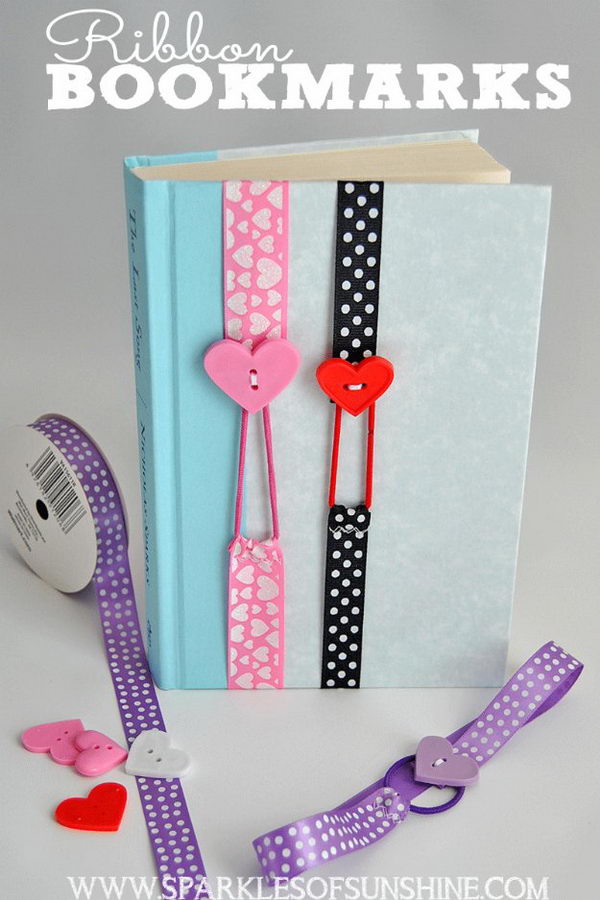 If you lose your page in a book, chances are, you'll lose a cardboard bookmark just as easily. Why not make a secure bookmark with ribbon, elastic hairband, and a decorative button? It secures your page in place, and since it's elastic, you can securely place it on the cover of your book as you read. via sparklesofsunshine
DIY Yarn Balls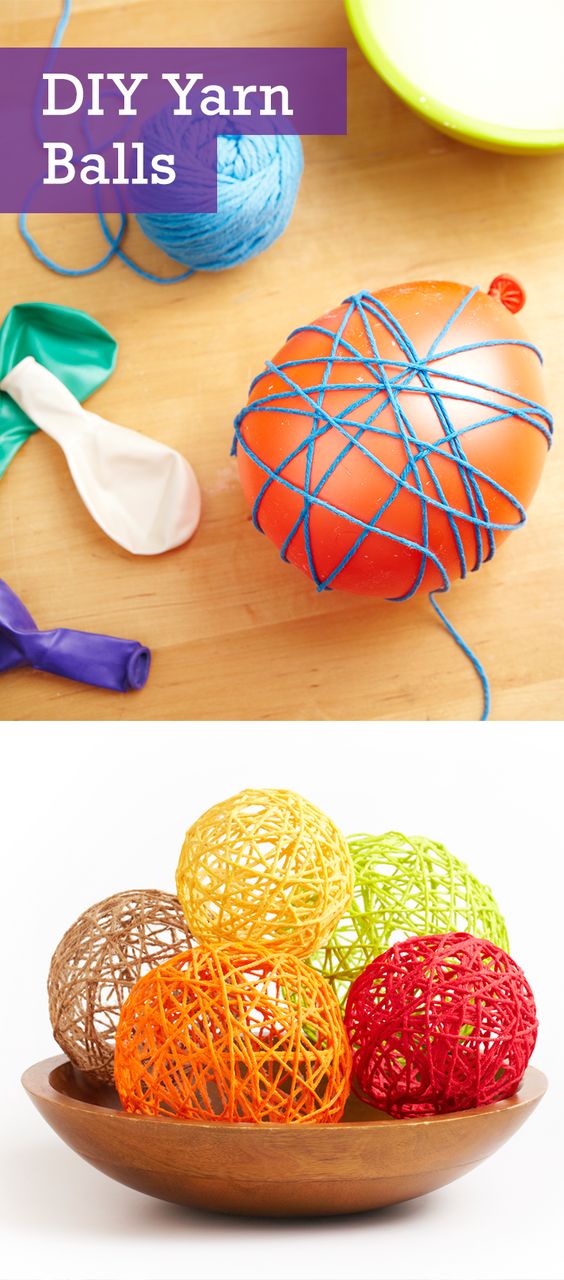 Yarn balls are great party decorations. You can also make a few to spice up your home, creating a colorful festive touch without spending so much. All you need are some balloons blown up to different sizes, different colors of yarn, oil, glue, and cornstarch. via pgeveryday