There are times when you see some furniture or decorating projects which you think would suit your house but could never replicate. This could be because you think you don't have the money, skills or resources to put such projects into practice. The thing is, sometimes looks can are deceiving, and a lot of those incredibly fancy- and impressive-looking projects are actually quite a lot easier than you thought to bring to life.

In this article you will see a lot of different and stunning furniture makeover ideas that may look super impressive and stylish but are definitely doable for most people. Let's take a look at them.
Easy DIY Corbel Foyer Table From IKEA Wall Shelf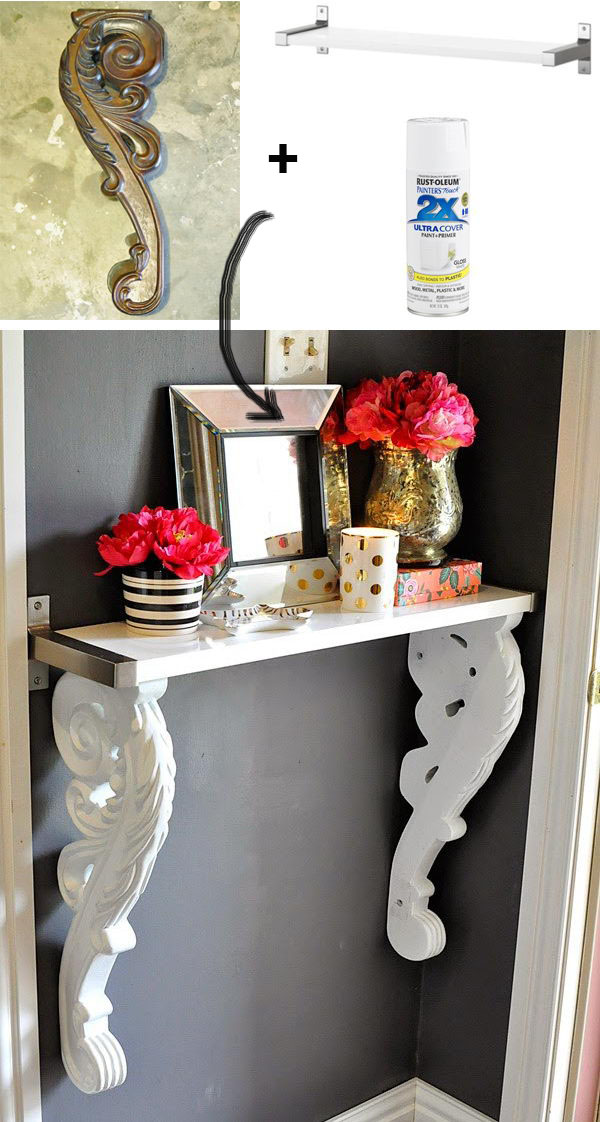 via monicawantsit
DIY Kid's Bookshelves Made from Old Drawers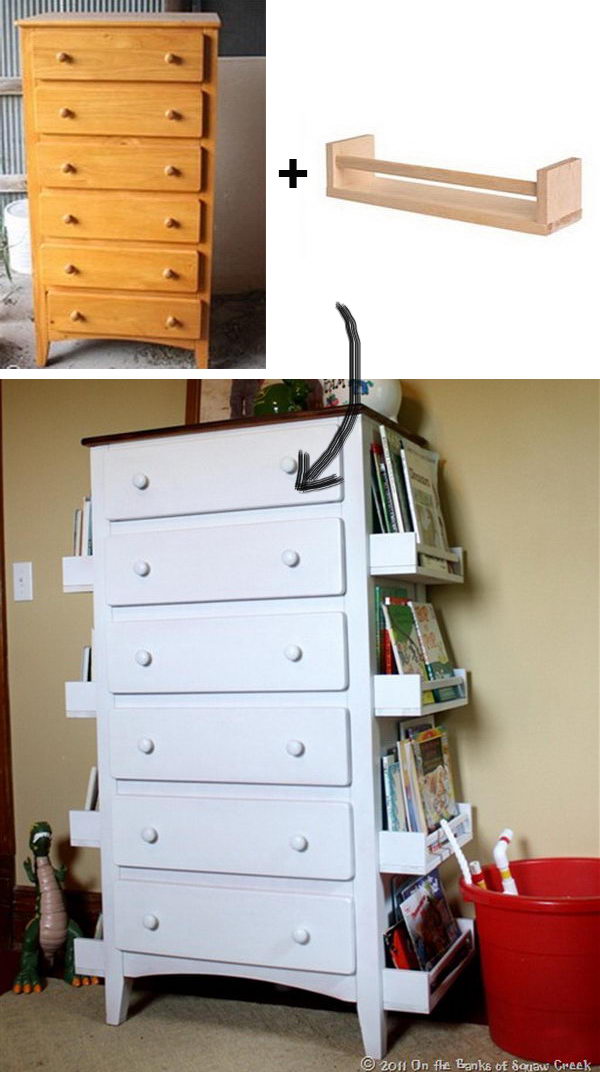 It is quite simple to make a cute, space-saving dresser with bookshelves from an old chest of drawers and some racks. All you need to do is polish and paint your drawers and racks to match and then trim the racks to size before installing them on the sides of your drawers as a small, combined bookshelf. onthebanksofsquawcreek source
Easy Way to Add Storage to Your Kitchen cabinets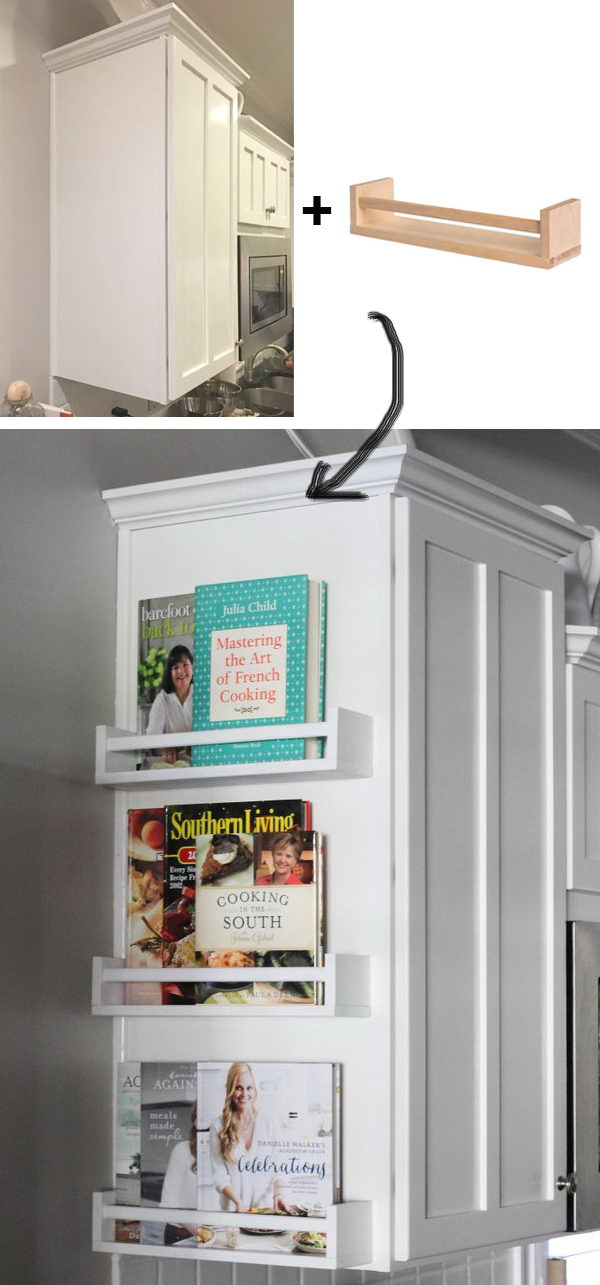 via the2seasons
Dresser Drawer to Storage Box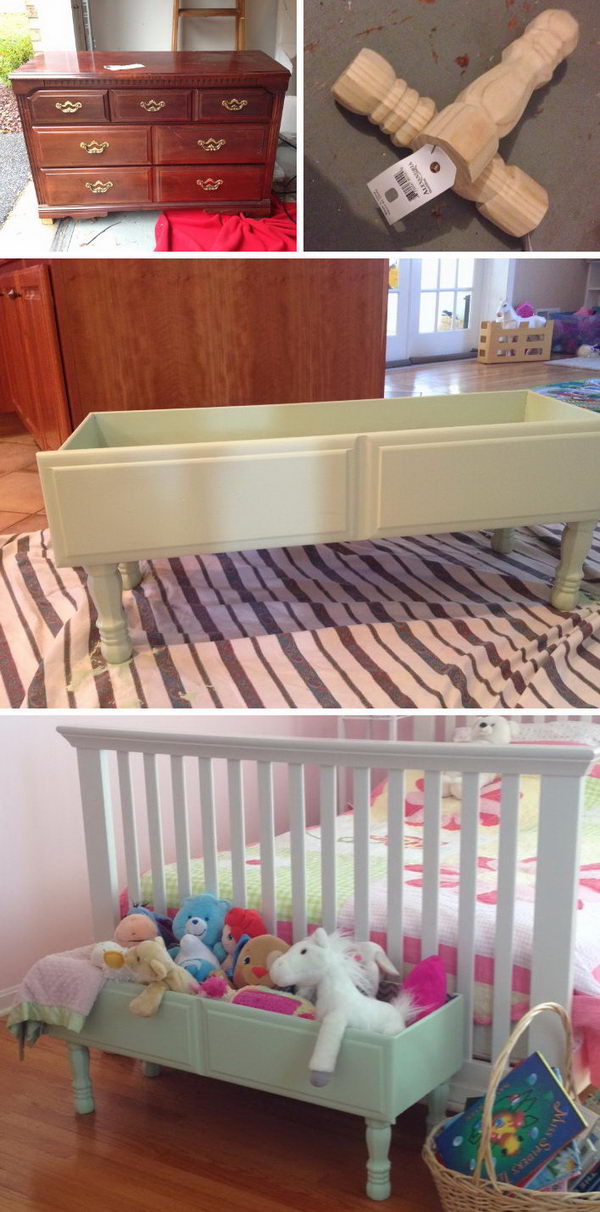 via twoityourself
DIY Lego Table Made out of an Old Table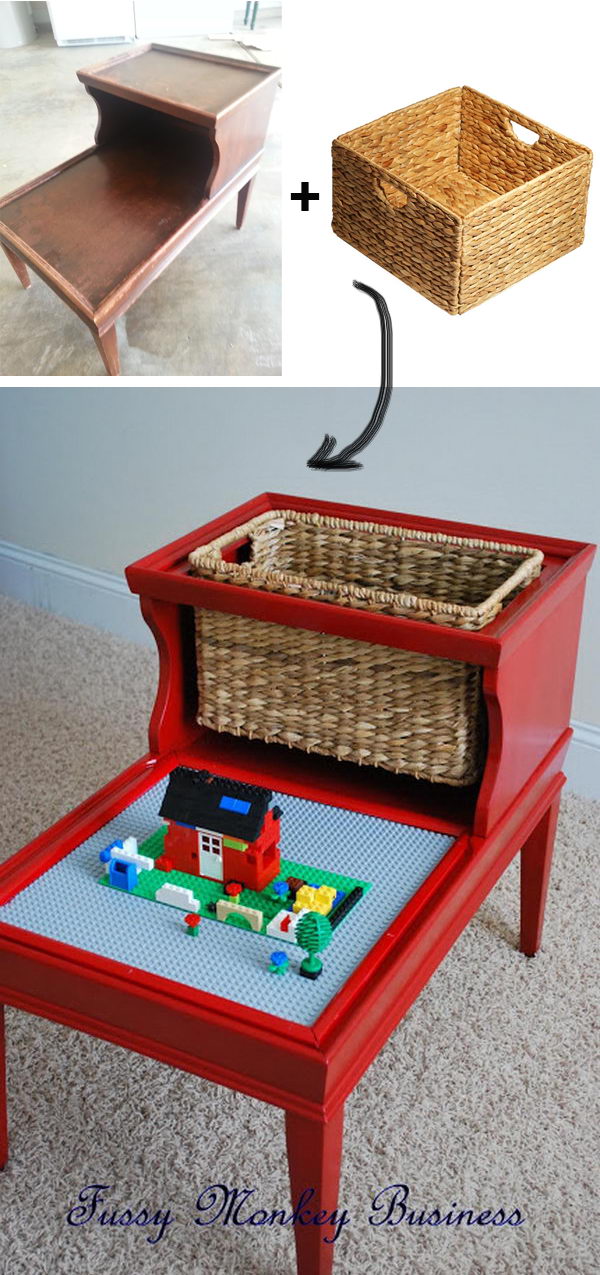 This dark, wooden table has a very unique look, but it's hard to find a real purpose for such unique furniture. The makeover into a Lego construction station included a good polishing, as well as the installation of a wicker basket for pieces in the top space and a fixed playing top in the bottom area. via fussymonkeybiz
DIY Mudroom Bench from an Old Coffee Table

This is what you could do when you have a beautiful, wooden coffee table but need a mudroom bench instead. The table was cut in half to make the long bench, then painted white to match the room. A soft cushioned top was added as a finishing touch before both halves were installed against the wall, under the coat hangers. via 320sycamoreblog
DIY Funny Functional Storage or Craft Supplies from a $9.50 Thrift Store Drawer

The boring, old cabinet storage was completely converted into a modern-rustic storage unit. The base unit was repainted and most of the drawers were replaced by open storage with fun and trendy wicker baskets. Several decorations and a dark, wooden storage board were added on top to complete the makeover. via alovelyplacetoland
DIY TV Stand Makeover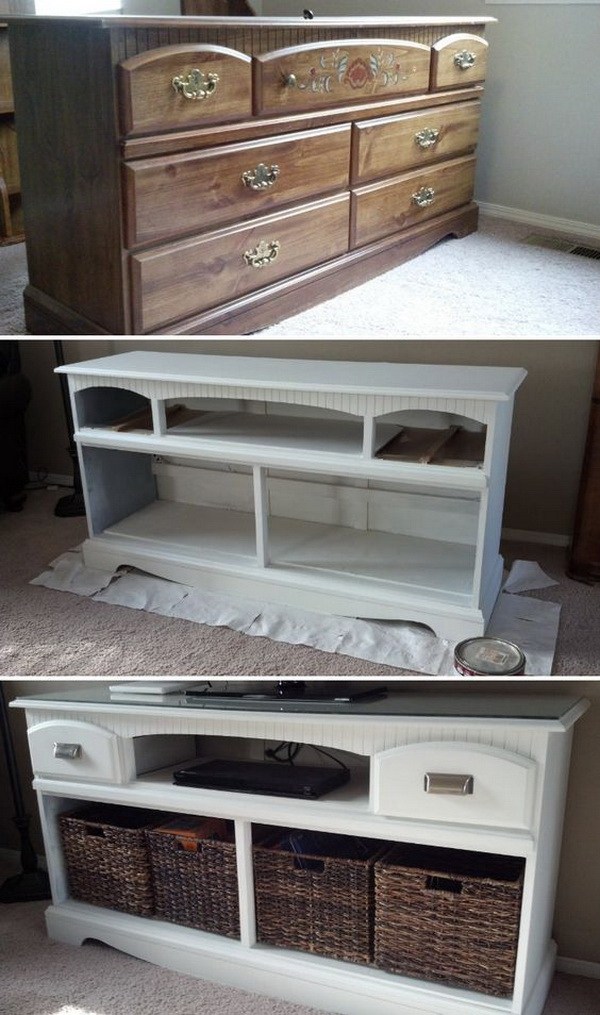 This dark wood TV stand was great, but also old-fashioned. To give it an update, these crafty owners took out most drawers and painted it white, giving it a lighter look. The bottom was also carved into a stand as a finishing touch. via handimania
Transform A Dresser Into A Vanity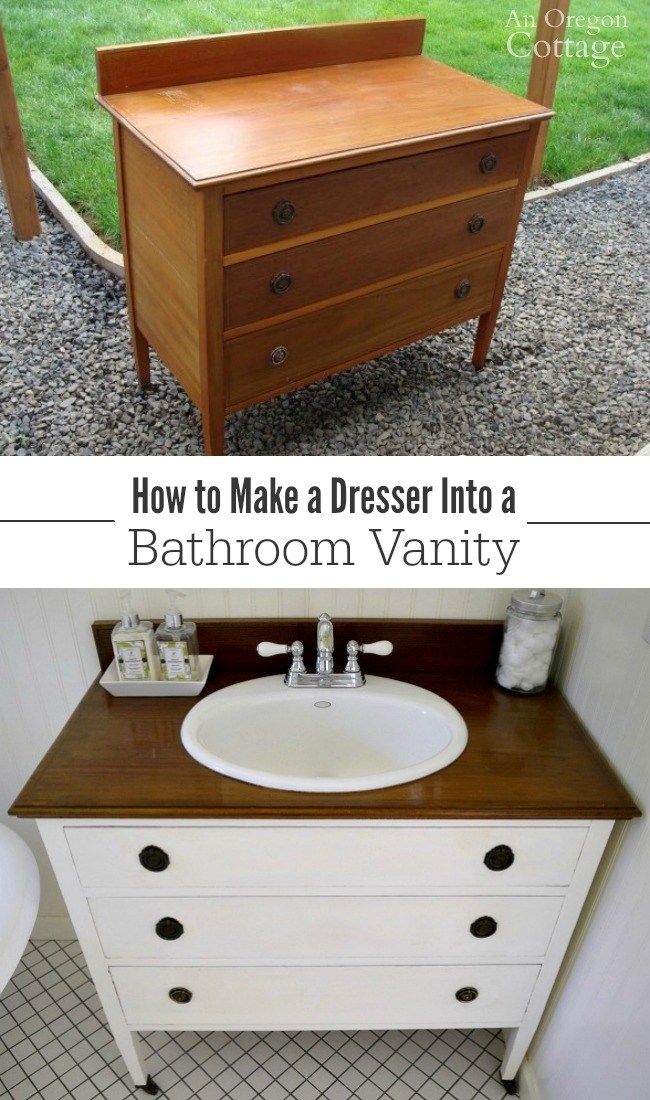 Dressers naturally lend themselves to become vanities, and this one is a good example of that. The main change is the installation of a sink in the counter and top drawer space. An actual counter was added and the whole piece repainted before it was installed in the bathroom along with a large mirror. via anoregoncottage
DIY French Book Shelf From A Frightening Dresser

This black and white flower print storage dresser may have been beautiful once, but certainly needed an update to become current. A good polishing, wood-carving and a coating of solid color converted it into a charming, vintage-style French bookshelf. via 4theloveofwood
DIY Craft Station from an Old Dresser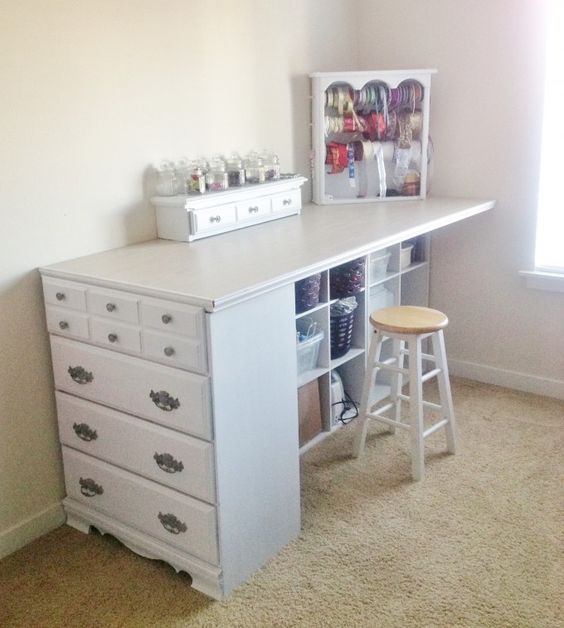 There are several ways to repurpose old dressers, but only a creative mind would think of creating a crafts station with it. The dresser itself was mostly kept intact aside from being painted, but a long matching counter, as well wall storage, a bench and smaller table top units were added to create a perfect workspace.
Dresser Hutch Turned Shelf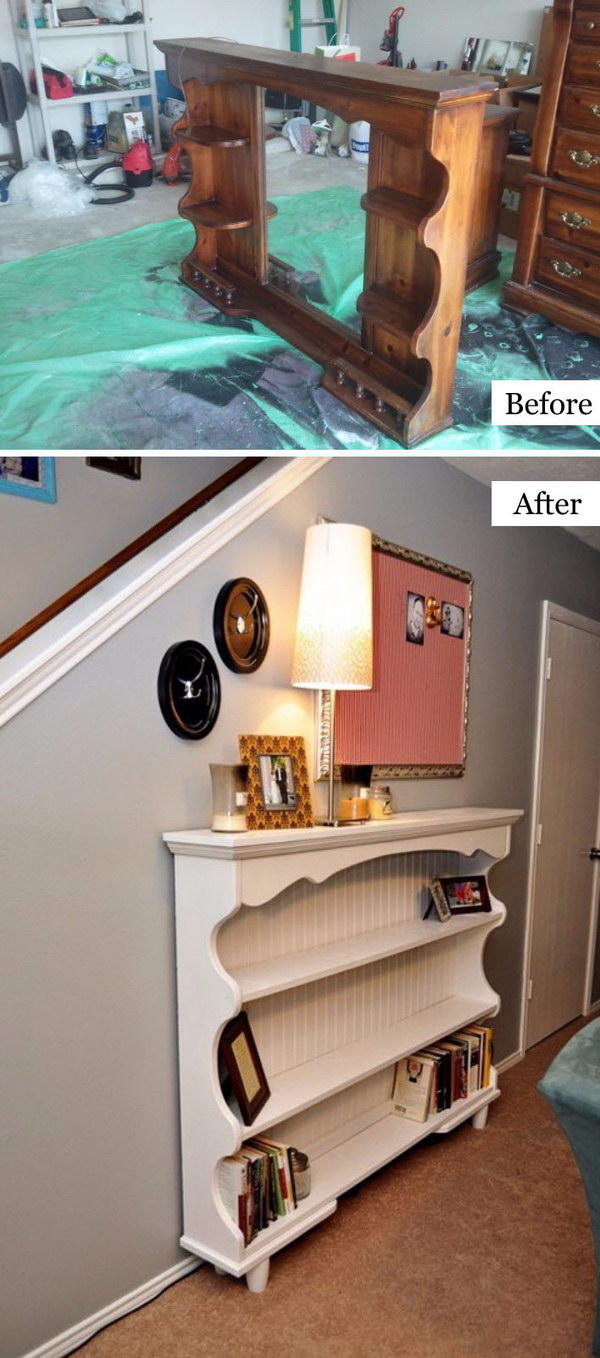 No one would have guessed what this beautiful, cream, vintage-style bookshelf looked like as a traditional dresser hatch. A change of position, color and texture gave it a new life as a stunningly elegant open shelf. via hannahbunker
Upcycled Beverage Station from an Old Thrift Store Door

Great things can be found at thrift stores, and this door-turned-beverage stand is a great example of that. Other pieces, such as the beverage table and sign had to be built from scratch, but once it was polished and painted, the door made for a great background and frame. via oursouthernhomesc
Kitchen Cabinet Into a Child's Desk
This little project is an undeniable stroke of genius. The main frame and door of an old kitchen cabinet were purposed into a child's desk with small feet, a blackboard top and an opaque coat of white paint. via ehow
Old Headboard Repurposed Into A Bench

Have you ever noticed that a headboard can be quite similar to a bench? Whoever did this obviously had. Not a lot of changes were needed to achieve this shabby chic piece, except for painting it a soft mint and adding some throw pillows for comfort and decoration. via confessionsofaserialdiyer
DIY Bench from an Old Dresser

This dresser looks much different as a shabby chic bench with storage underneath, but the transformation is actually pretty simple. The three upper layers of drawers were replaced by a floral cushion and pillows, and the whole structure was painted in smooth light blue to complete the makeover. via createinspireme
DIY Rustic Bench From an Old Shutter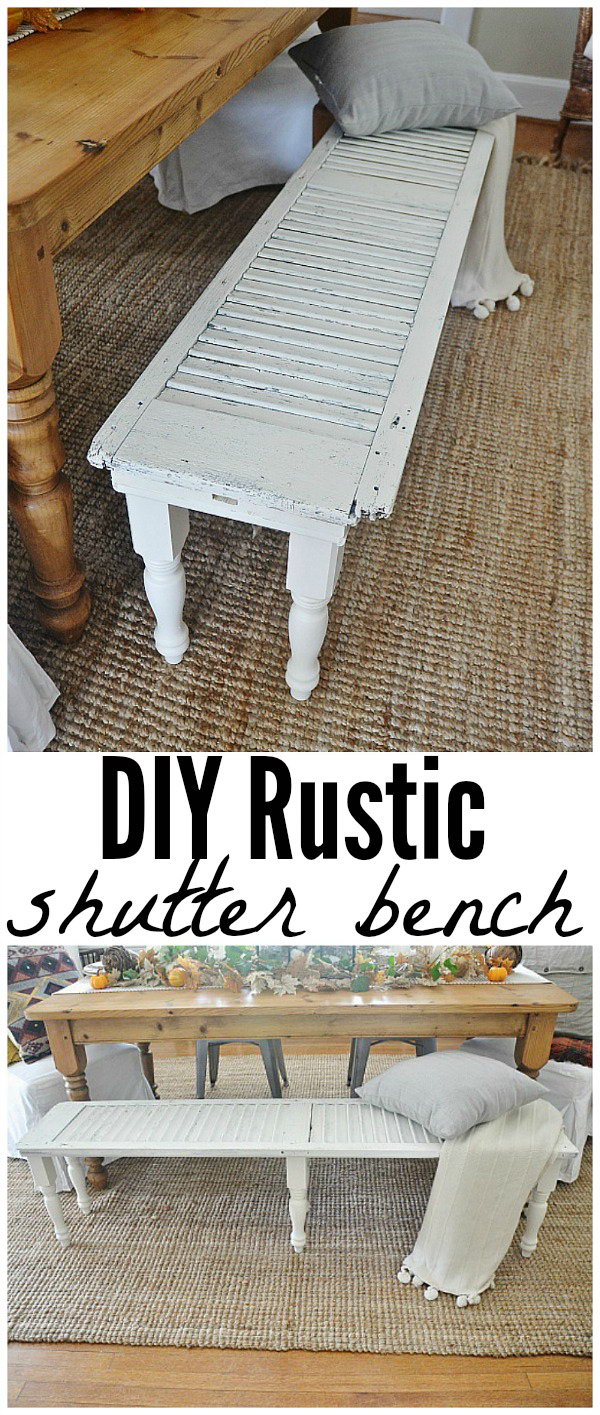 Using an old shutter as a rustic porch bench was a great idea in this case, as all that was done was install some feet to support the bench, add some pillows and drape a light, neutral throw blanket over the top to finish the makeover. via lizmarieblog
DIY Old Door Repurposed Headboard

Headboards can be quite versatile, but so can repurposed doors. This one made for a perfect and original headboard once it was polished and repainted. via infarrantlycreative
Spray Painted Silver over Lace to Get the Shaby Chic Effect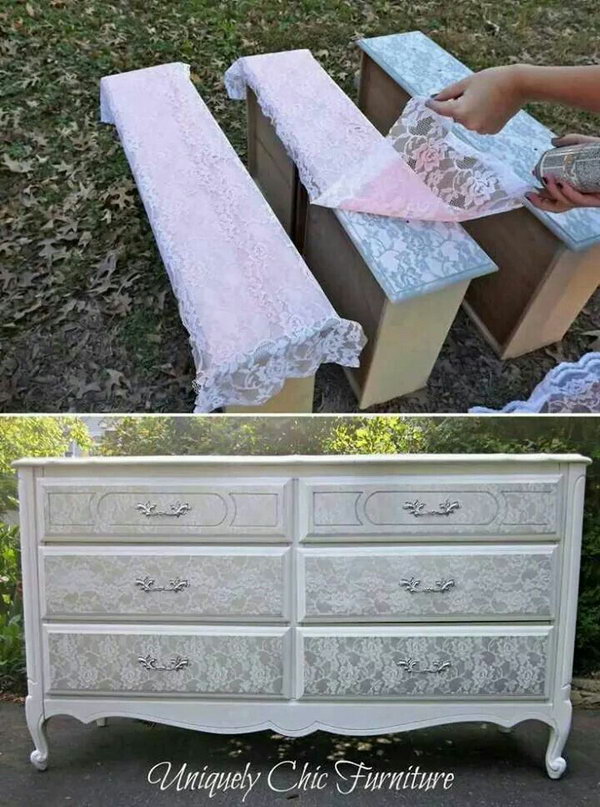 This is a great way to update your cabinets to the shabby chic style – by using lace to create a patterned paint job. Spray paint is really affordable and easy to use, and you can do this with any pastel or metallic color you like to achieve a similar effect. via uniquelychicmosaics
Rustic Dining Table and Chairs Makeover Using Paint And Plank Wood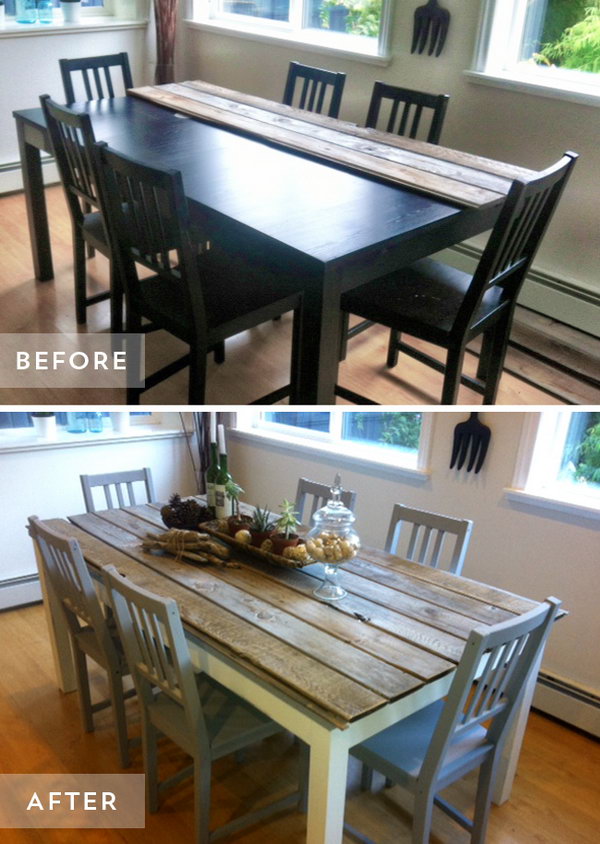 This set of table and chairs was gorgeous and in great condition, but its polished dark surface didn't match the room so it was painted a lighter wood color and distressed planks were used to cover the top for a rustic look and feel. via flutterflutter
Shabby Chic Drop Cloth Rosette Stool Makeover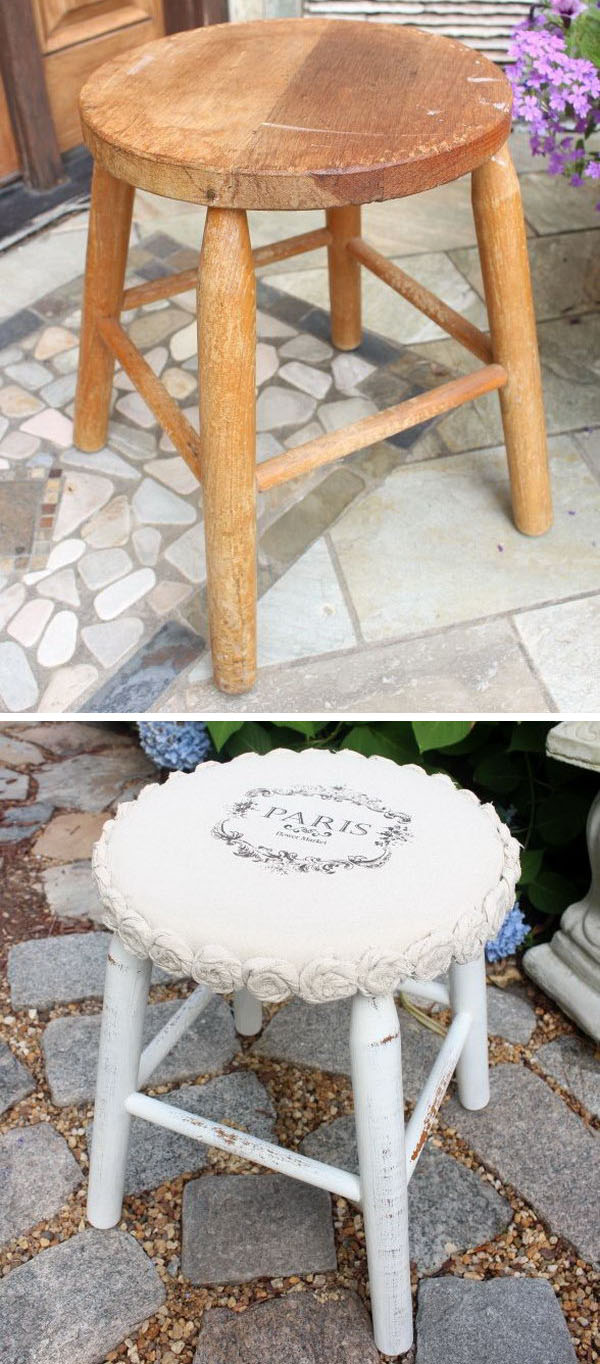 This old, simple wooden bench got a full shabby chic makeover, complete with distressed pink paint and a lacy, drop cloth rosette over the seat. via confessionsofaserialdiyer
DIY Beautiful Mudroom Bench from an Old Dresser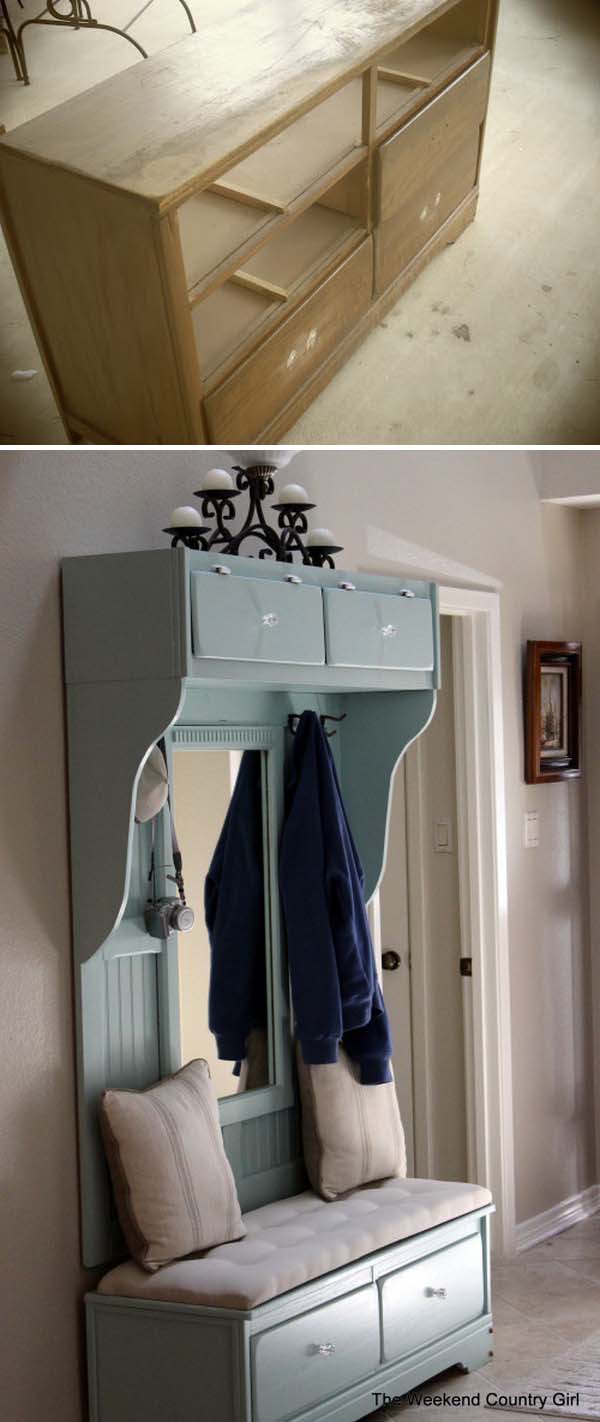 This dresser was a great starting piece for building a gorgeous periwinkle shabby chic mudroom bench, complete with a coat rack and overhead storage. via theweekendcountrygirl
DIY Wonderful Benches from Old Beds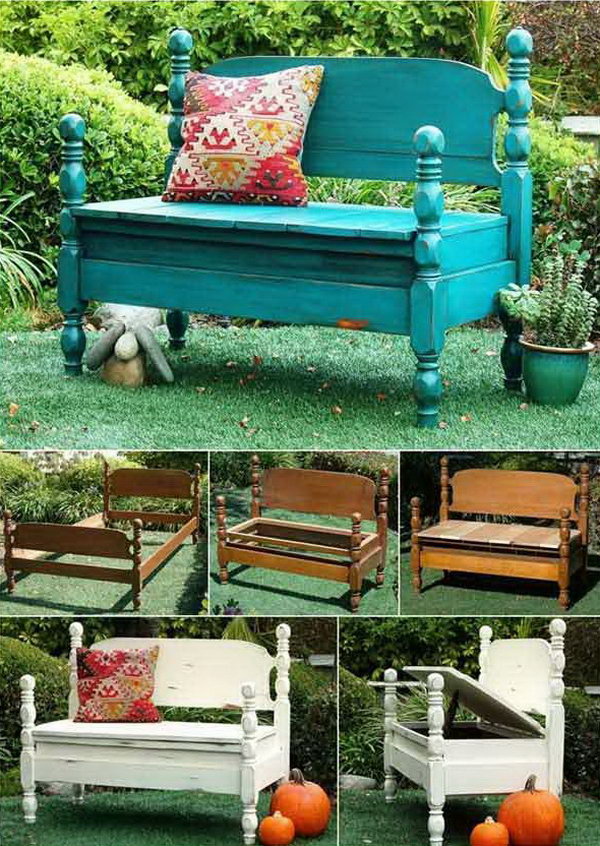 Turning beds into garden benches is quite an ingenious and unexpected idea, but it is also undeniable that it works, as the headboards make for a beautiful and highly functional backing. via jillsabode
Turn an Unused Table into a Pair of Stylish and Useful Nightstands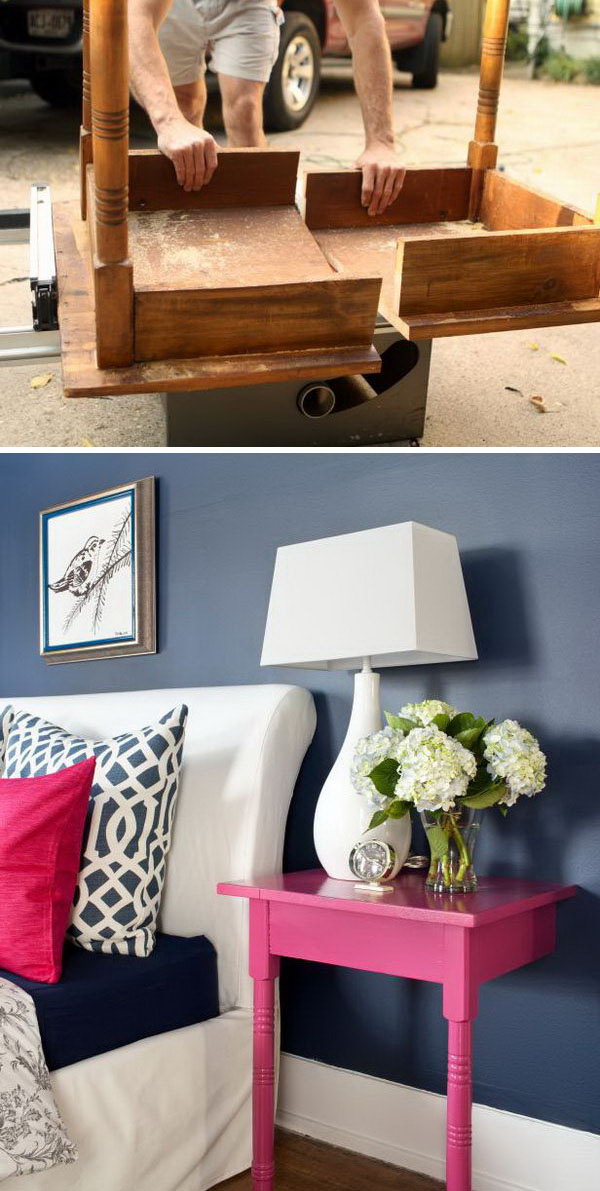 This is another "divide and conquer" style coffee table makeover. By diving the table in half and painting both halves a rich pink, the owner got two gorgeous and functional wall-supported bedside tables while saving good money. via hgtv
DIY Expensive Looking Night Stand from a Filing Cabinet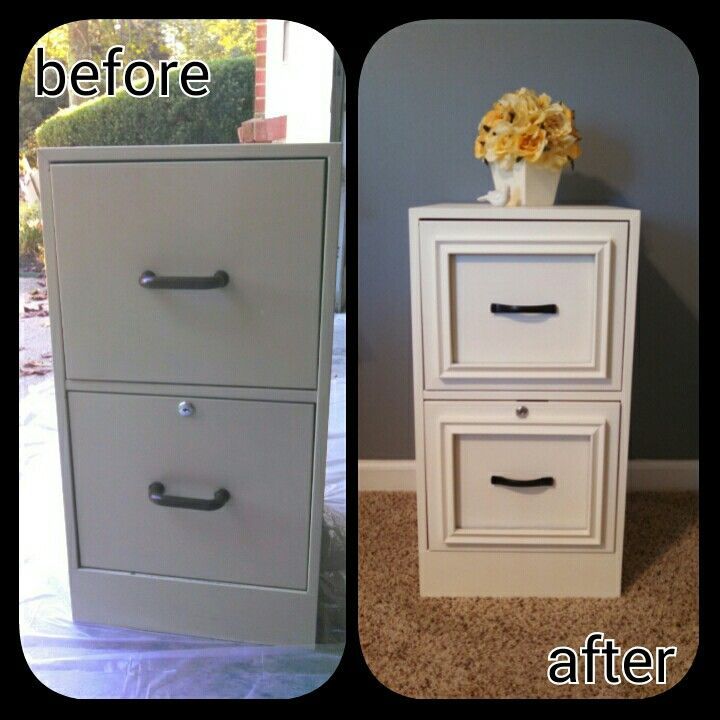 This is a great example of how to make something quite impressive from a very inexpensive piece. Cheap frames and cream colored paint turned this filling cabinet into a unique, intricate looking nightstand that could fool even trained eyes.
DIY Useful Kitchen Island from an Old Cabinet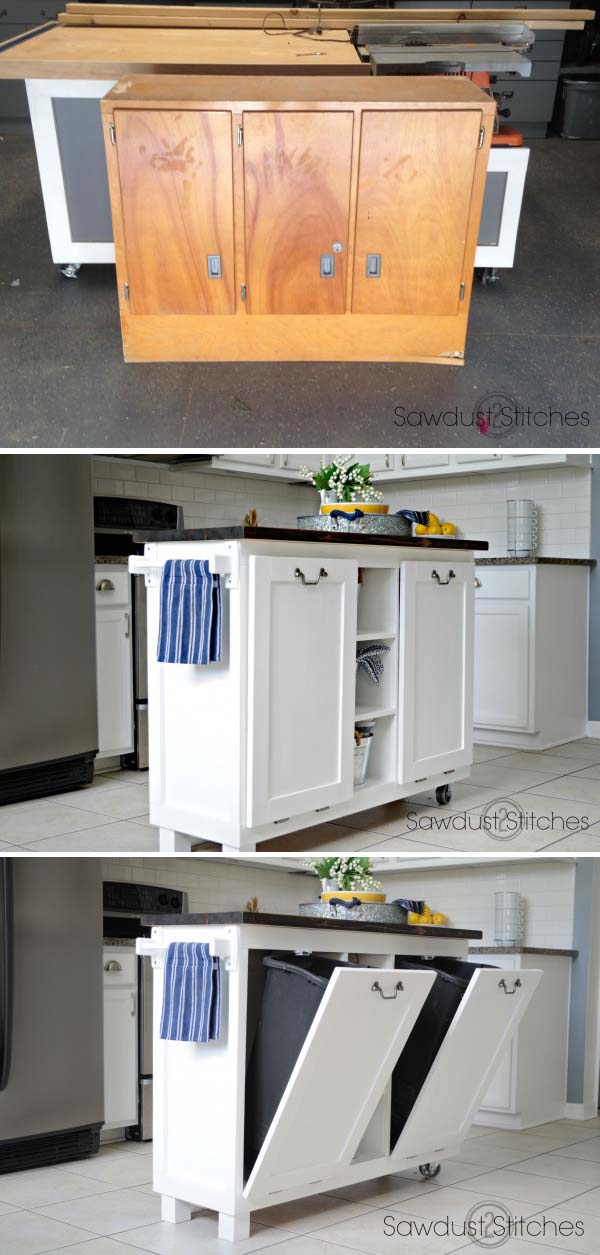 This is a very impressive project, as the cabinet was transformed into a unique kitchen island with open shelves and pull-out doors, which can be used as trash containers, for instance. via sawdust2stitches
Turn Your Kitchen from Boring Builder Basic to Beautiful With a DIY Planked Peninsula With Corbels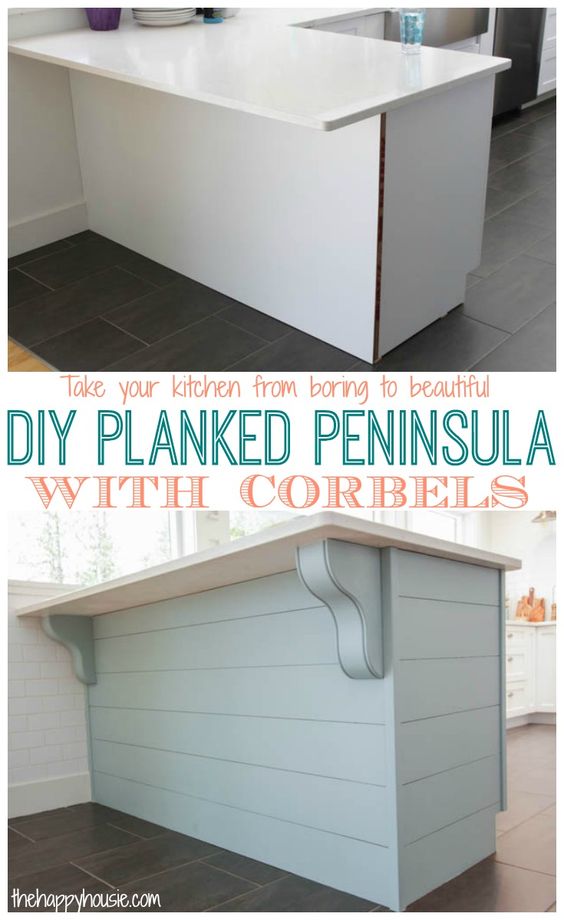 Making this peninsula is one of the easiest projects here. All that was done was add the planks along the previously boring smooth sides and then install the corbels on the counter's underside. It makes all the difference though. via thehappyhousie
Repurpose Vintage Suitcase into Comfortable Chair

via seekatesew
Repurposed Headboard Bench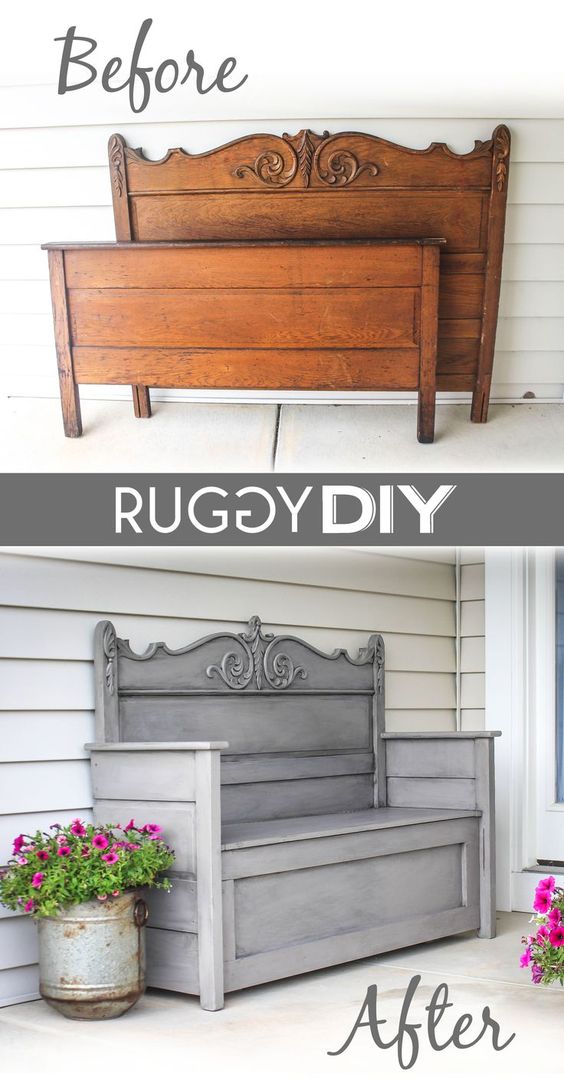 via ruggydiy
Trash To Treasure Curb Side TV Transformation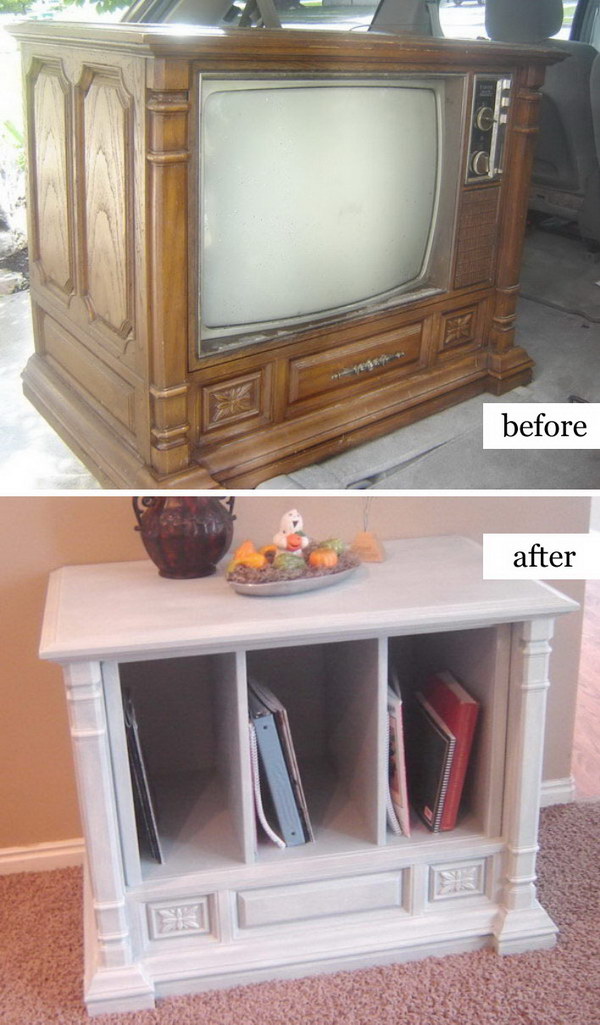 via homehinges