Are you a die-hard bookworm with many old books in your house? When your bookshelf has reached maximum capacity, you probably are wondering what to do with your old and unwanted books. Instead of just throwing them away you can recycle your old books into some creative and useful items. From DIY vintage book planter or recycled book paper roses bouquet to romantic music sheet covered mason jar or folded book pages cake, there ae so many cool things to do with old books!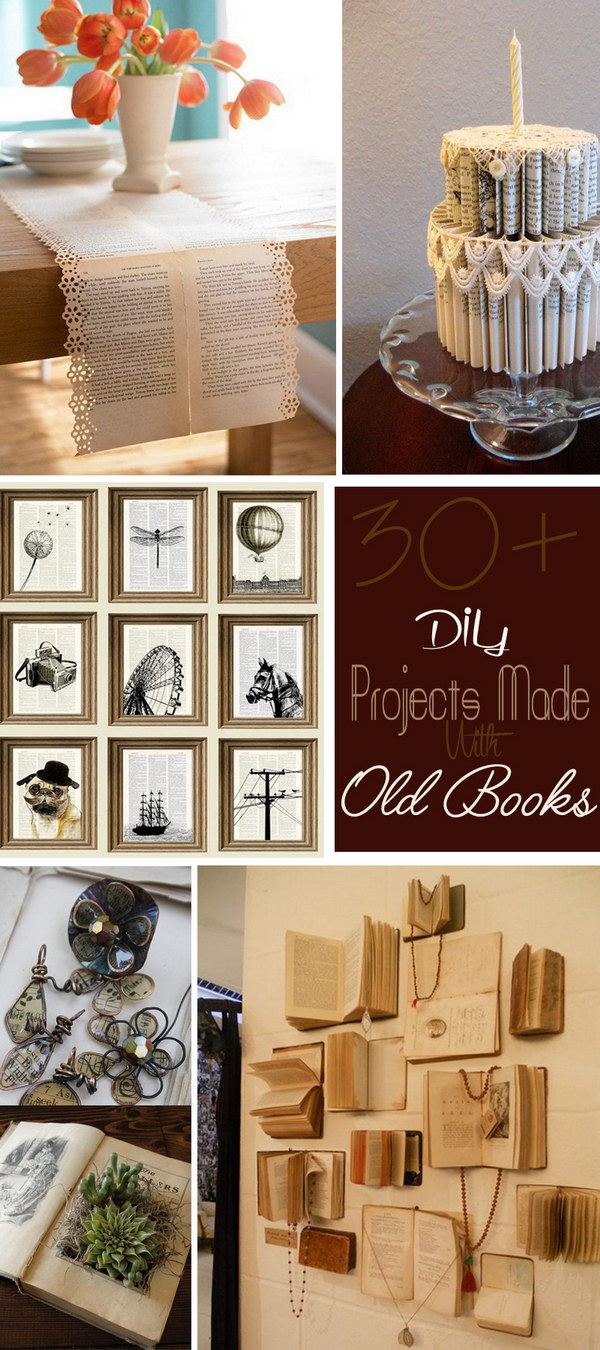 Recycled Books Resin Paper Wire Forms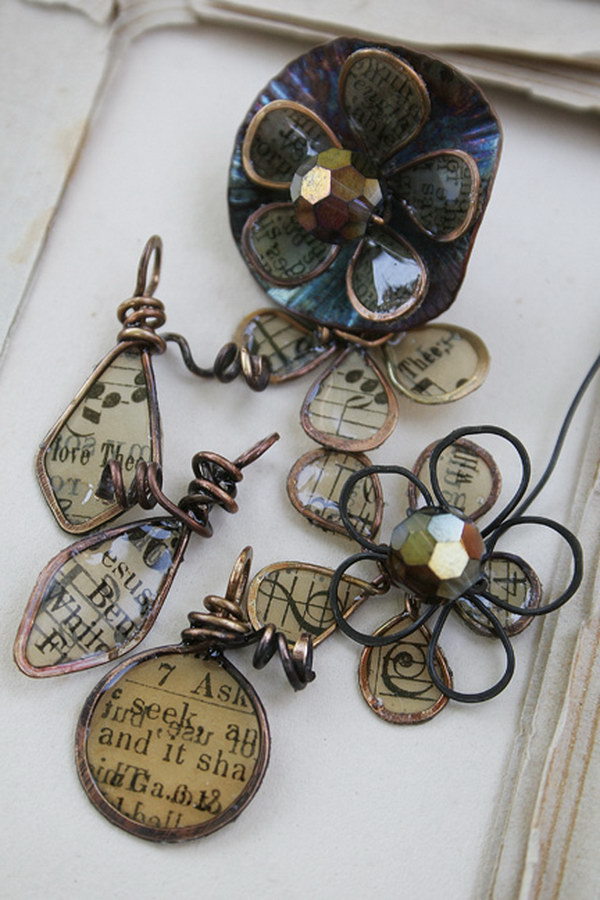 Create these recycled books resin paper wire forms with old books, toothpicks, resin glass, and some glitter. Get the tutorial via artunraveled.
DIY Vintage French Old Book Pages Wreath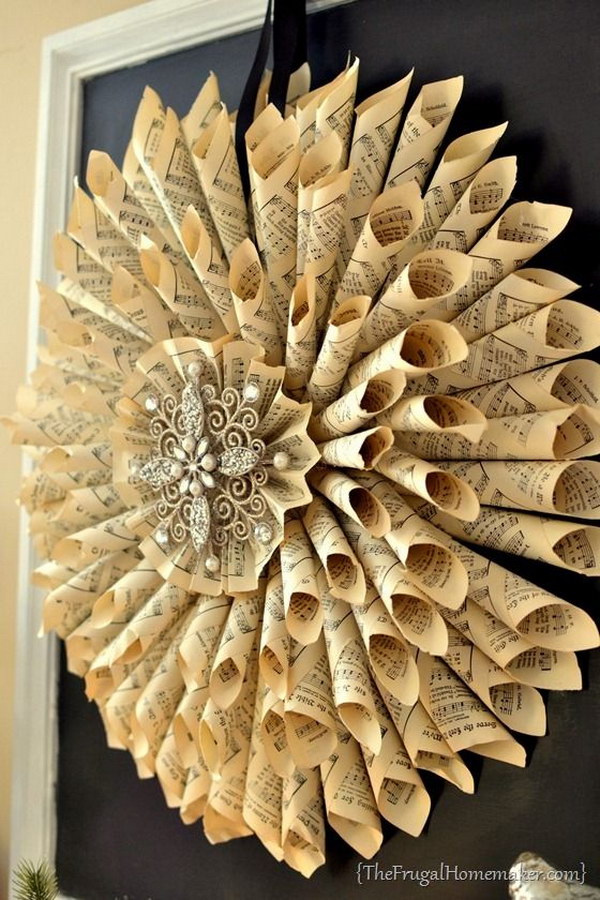 Love the vintage decor fashioned from old books. The pretty snowflake ornament is great for a bow source.
DIY Vintage Book Planter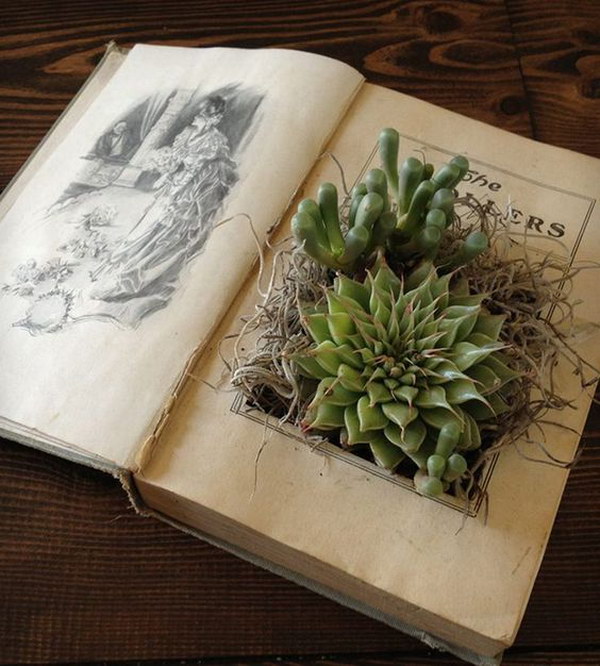 Make a planter from a recycled book old book. It was carved from a hardcover book and waterproofed making it a cozy home for plants. Get the tutorial via scoutmob.
Upcycled Old Pages Gift Bags with Black Embellishments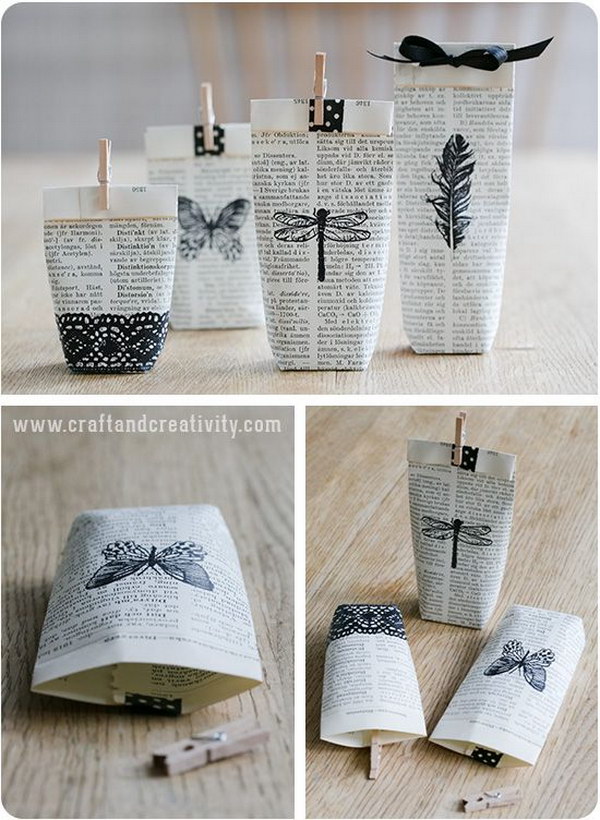 What a great idea to decorate a special gift with a creative flair! Get the tutorial via craftandcreativity.
Black Ink Book Page Art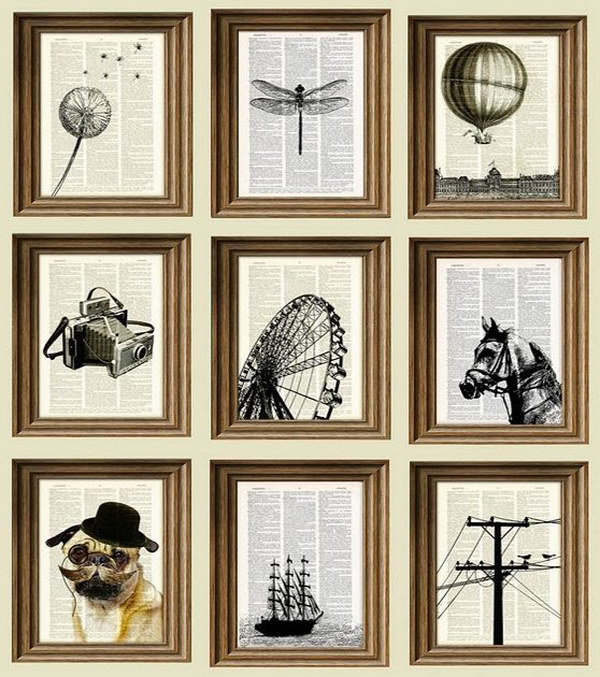 Feed old book pages through a printer to make fun and fabulous silhouette art. And it's also a smart idea to create very cheap wall art that looks like a million. Get the tutorial via rufflesandstuff.
Cute Old Book Page Bunny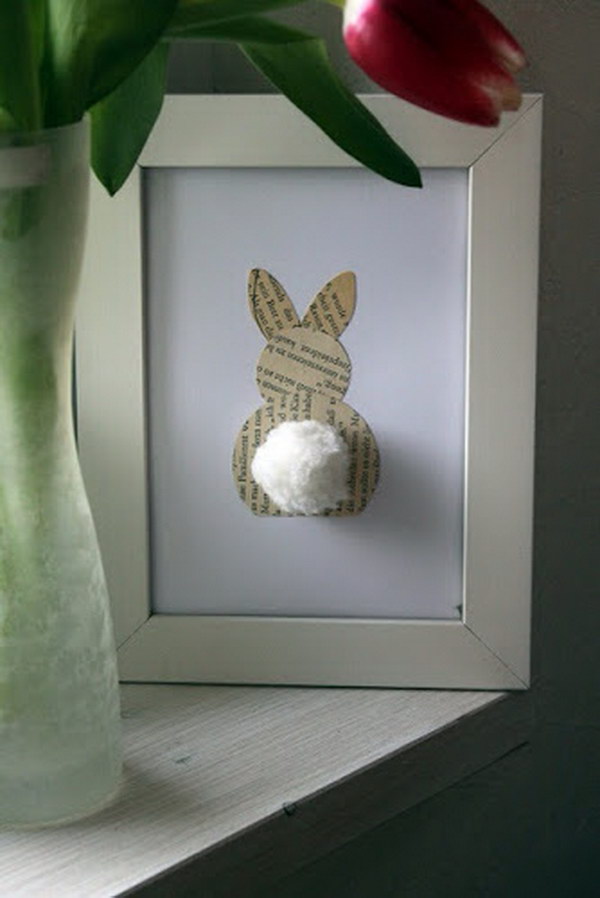 What a cute spring or Easter decorating idea. And easy to make. Get the tutorial via homemademodern.
Christmas Trees Made with Old Music Paper and Vintage Tart Tins and Glitter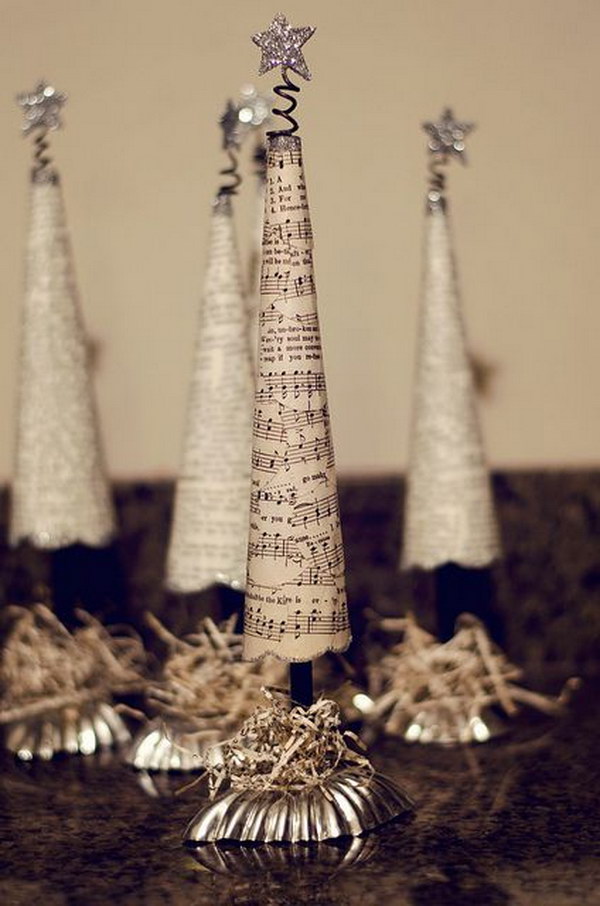 Use your old sheet music books to create these Christmas trees that are sitting on tart tins and add to vintage charm. What a great idea! Via flickr.
Recycled Book Paper Roses Bouquet

Use old book pages to create roses for décor for centerpieces, bouquets, head table, etc. Get the tutorial via 100layercake.
Romantic Music Sheet Covered Mason Jar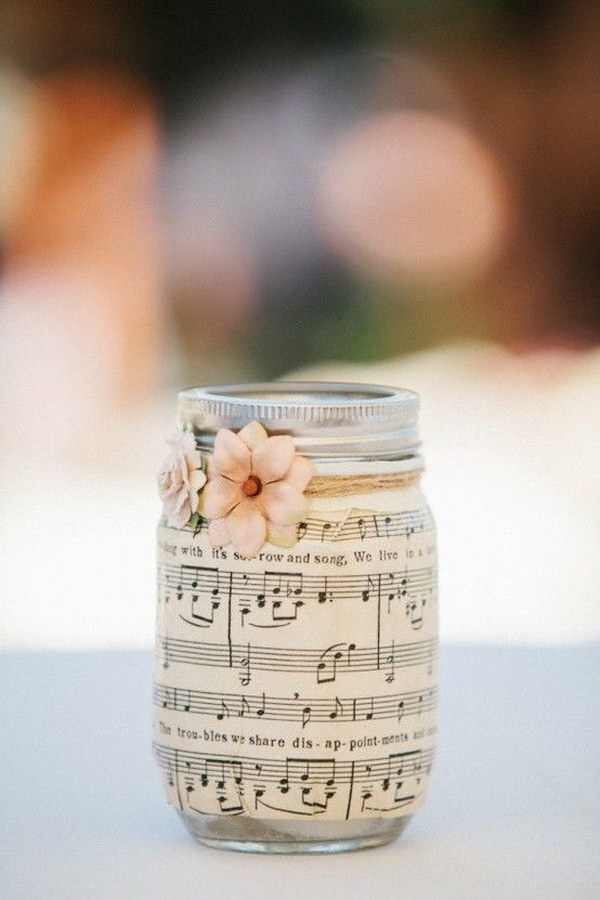 Try with music sheets or old book pages for a vintage affair! Light a candle inside at night, and the music glows! Get the tutorial via belleoftheballdesigns.
Hidden Book Storage Bin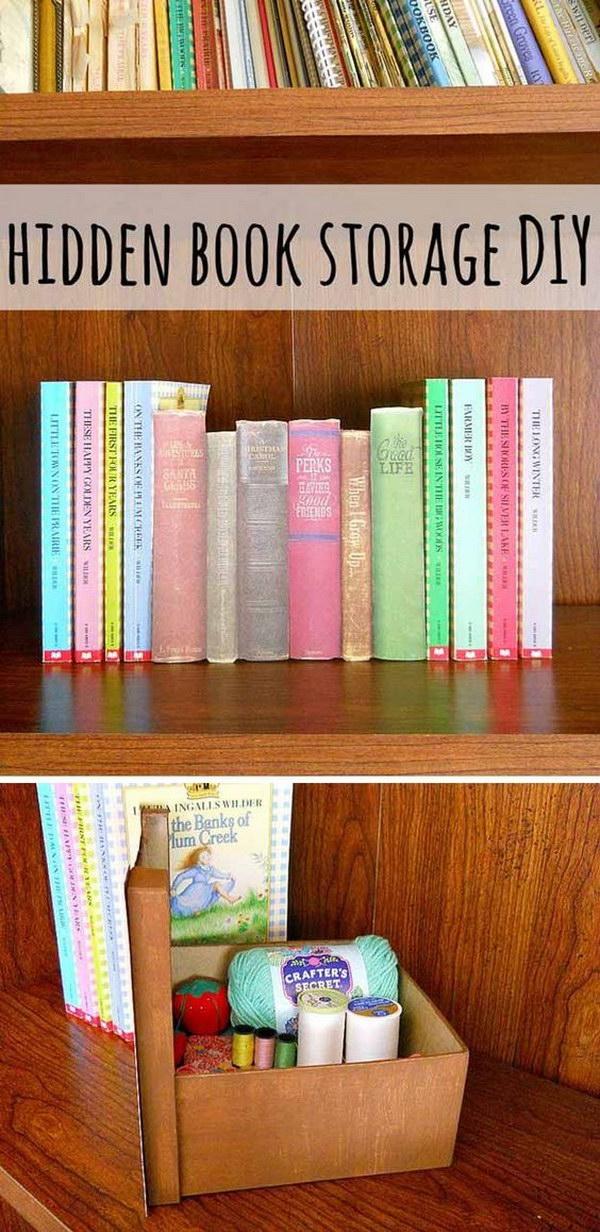 Assemble book spines into a stealthy box for secret storage. What a neat idea for hiding the ugly little router into a shelf. Get the tutorial via blitsy.
Rolled Book Paper Monograms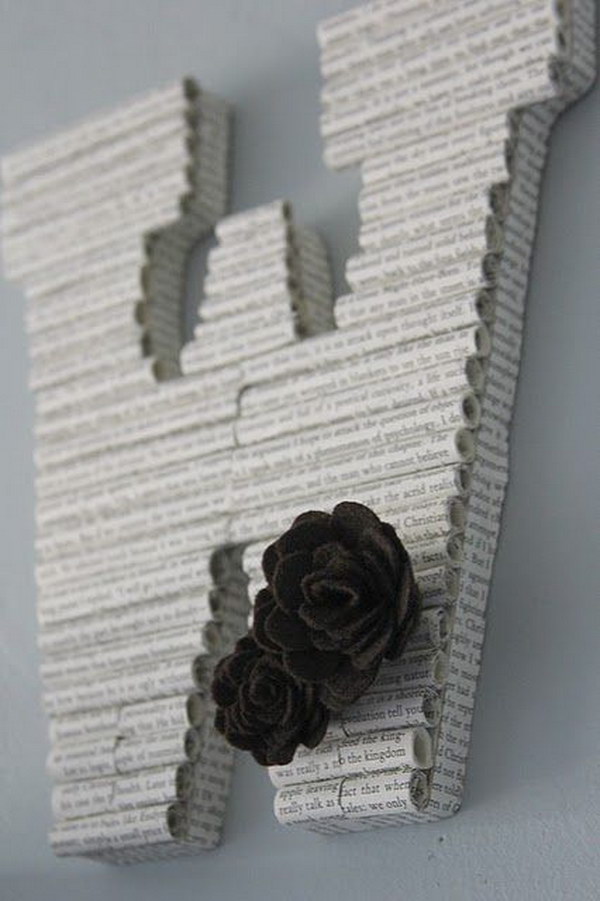 Letters made from rolled up book pages, pretty cool looking and simple. Get the tutorial via littlethingsbringsmiles.
Upcycled Old Book Page Heart Garland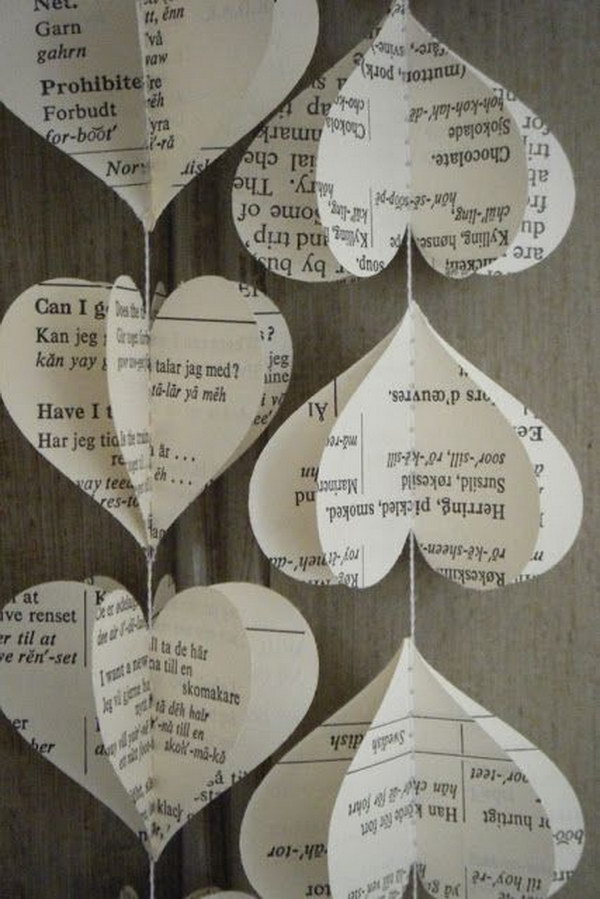 Make a vintage heart garland from paper – great for Valentines day. Buyable at etsy.
Folded Book Pages Cake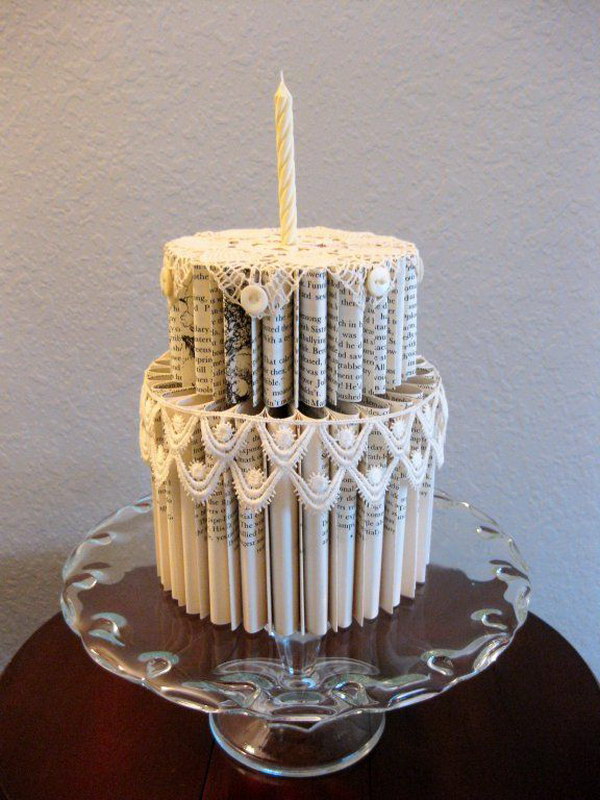 It's a cake…it's a tower…it's Folded Book Art! source.
Book Shelves made from Old Books

Add some cool to your home office on the cheap with this DIY project. Via boredpandashop.
Recycling Old Book Paper Necklace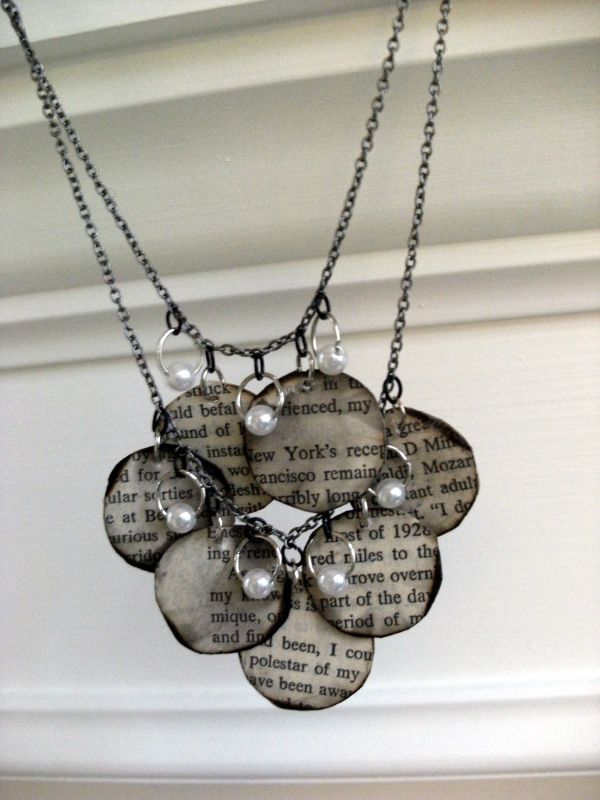 Make this crafty jewelry with whatever favorite book text gifts for book lovers. They also make cute gifts for book lovers. Get the tutorial via zg1.zeroredirect2.
Drawing on Text Paper and Outlining in White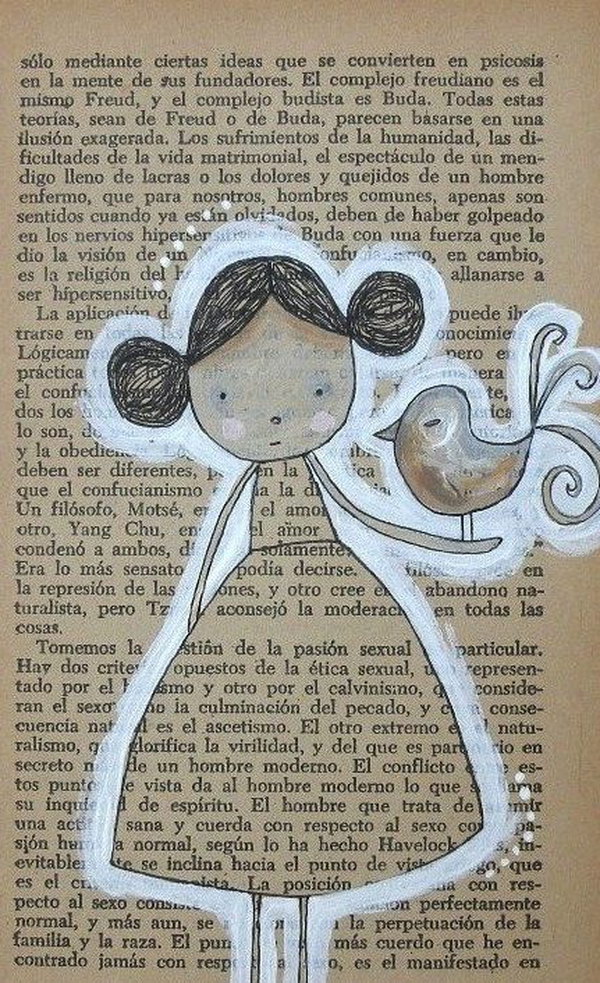 Could be an interesting project for a little girl's room decor. Via pinterest.
Jewelry Book Display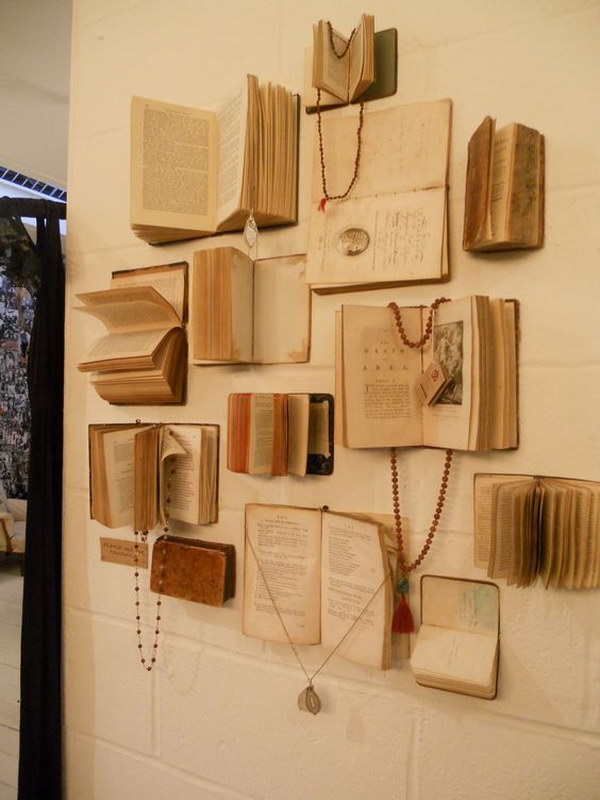 Would make a great and unique jewelry display for your space. source.
Recycled Vintage Book Pages Butterflies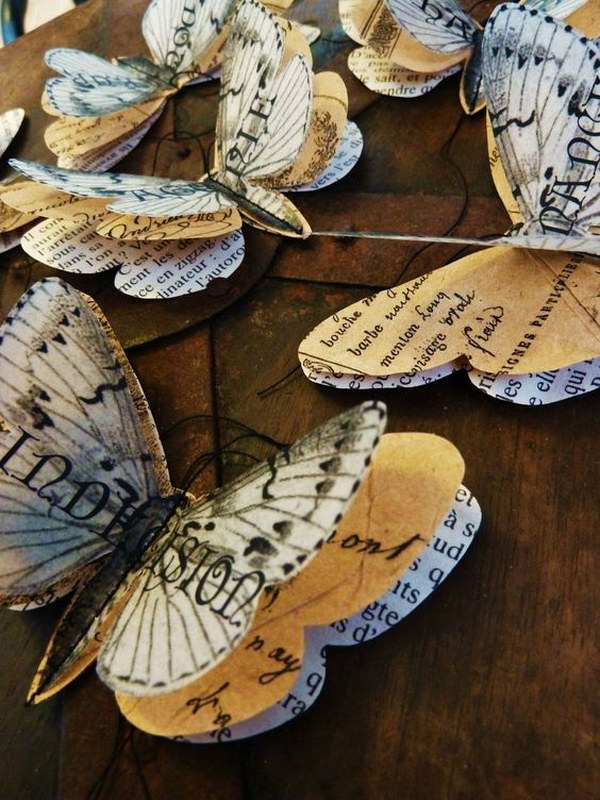 Make 3-D paper butterflies with old book pages. They are great for decorating, scrapbooking, and package trim. See more pictures via atelierdedrine.
Hurricane Vase with Rolled Music Sheet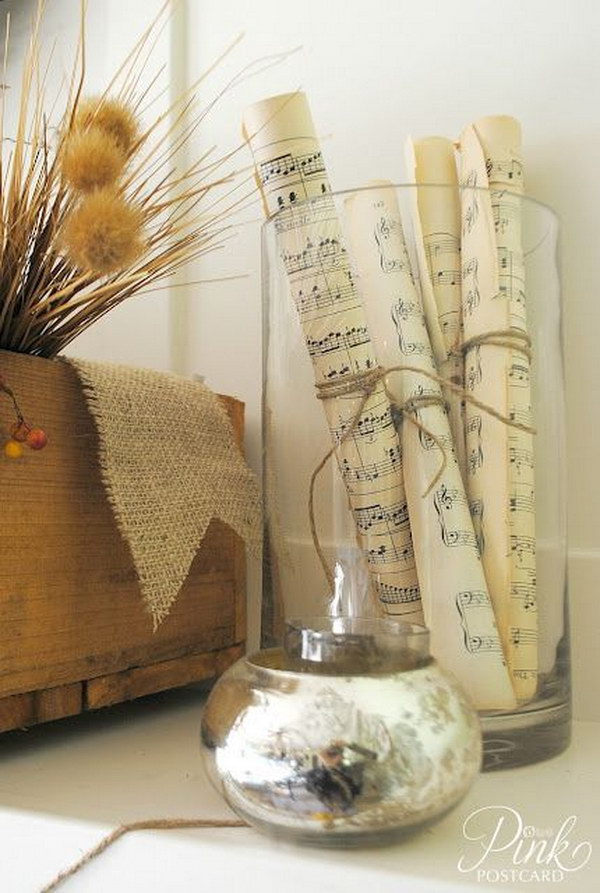 Pages from old hymn books rolled and ties with twin and placed in a vase, to create a unique home decor. Via pink-postcard.
Folded Book Page Heart Art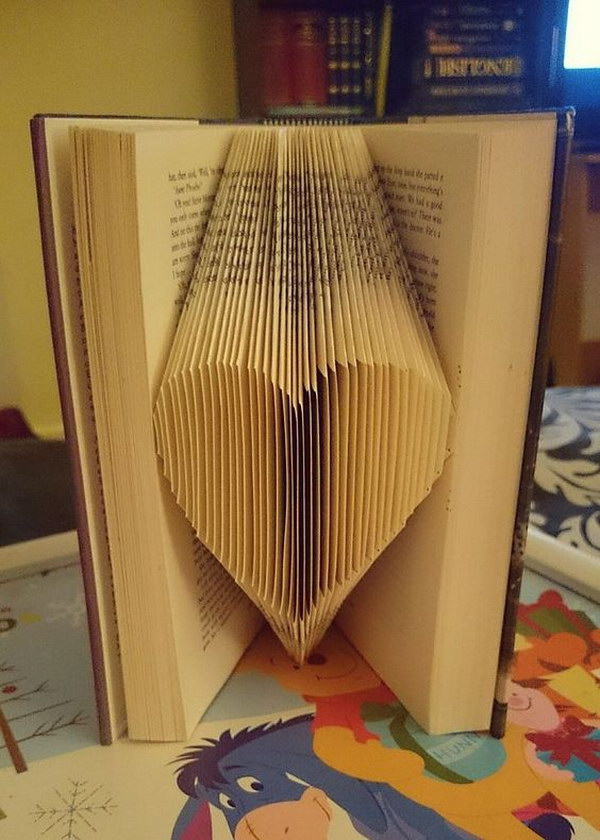 Fold a heart into a book and make a perfect gift to give for Valentine's Day! Get the tutorial via instructables.
Vintage Old Book Pages Table Runners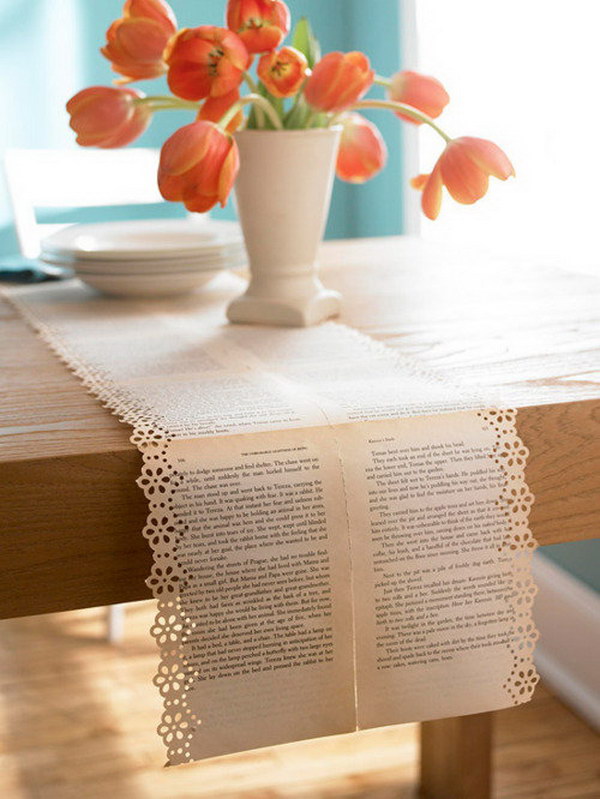 Bring a book to the dinner table with this simple table runner. What a unique decoration! Get the tutorial via Better Homes and Gardens.
Recycled Book Keepsake Box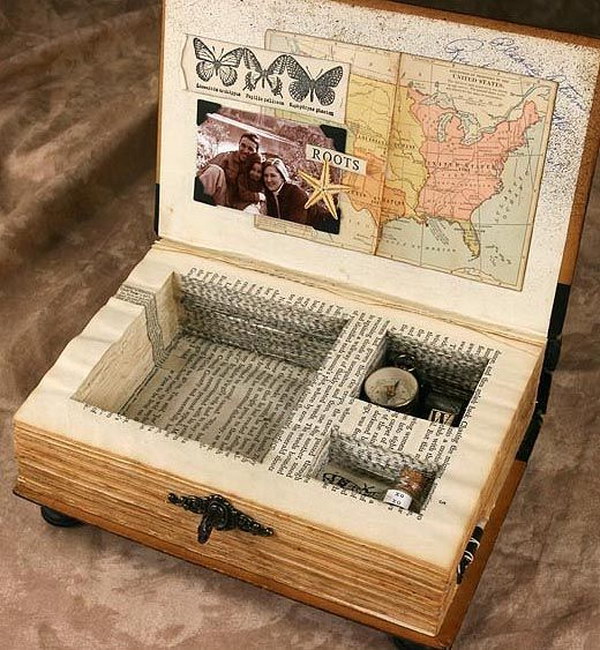 Hollow out an old book to to stash stuff in. It's a cool DIY. Get the tutorial via kayskeepsakes.
Sheet Music Side Table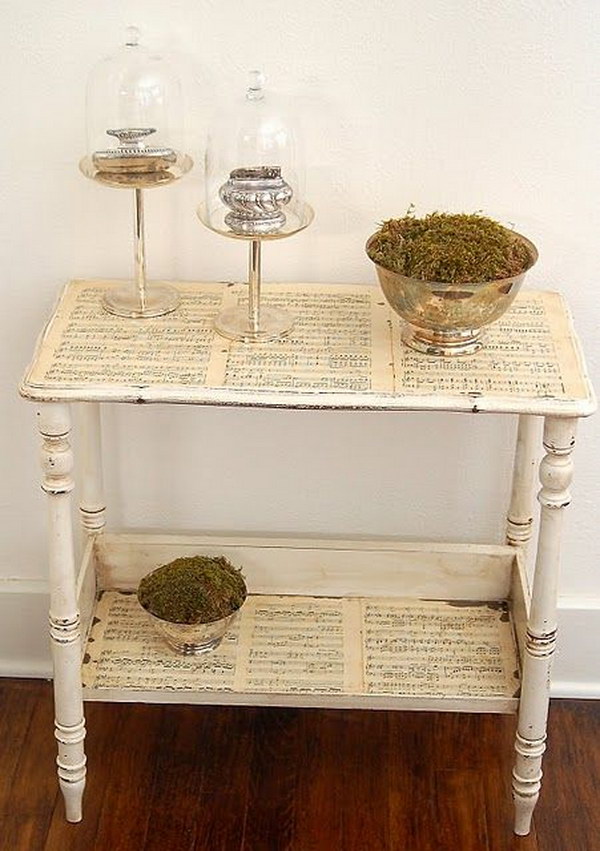 Get crafty with sheet music if you're into diy projects and make a sheet music side table easily! Get the tutorial via missmustardseed.
Upcycled Old Book O'Clock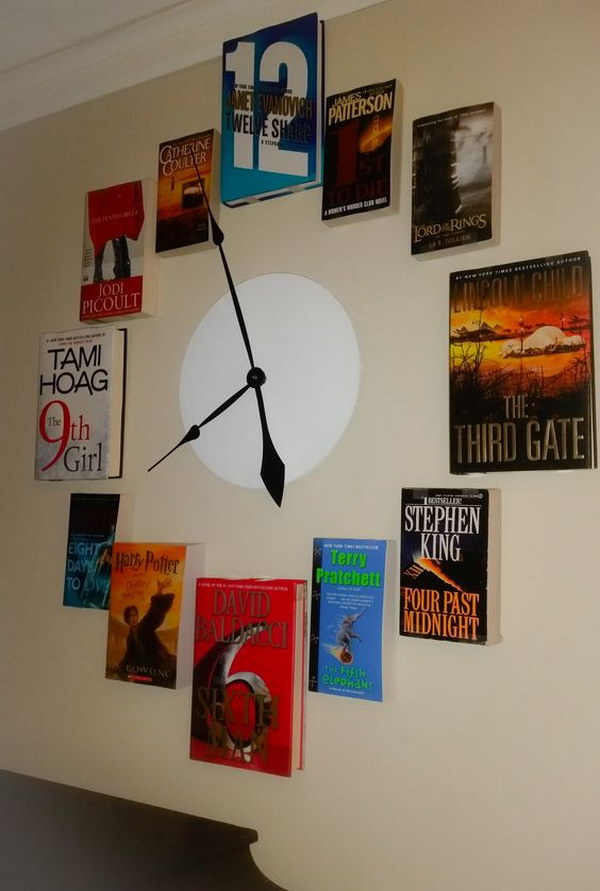 Clever use of number in title of book on wall clock. Get the tutorial via imgur.
Upcycled Books Lamp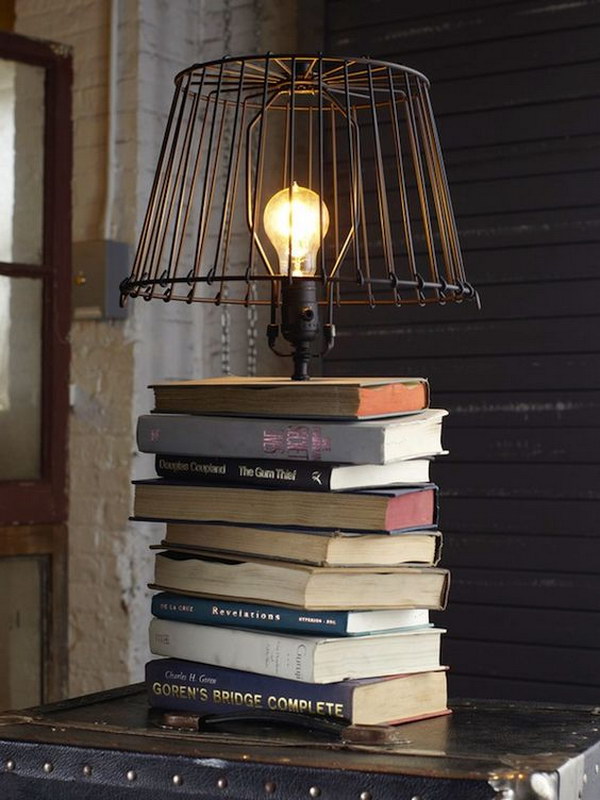 Lamp made from a stack of books. Not only do the books that make up the base look perfect, the wire shade is beyond fantastic, too. Get the tutorial via hgtv.
Shabby Chic Book Folding Bird Cage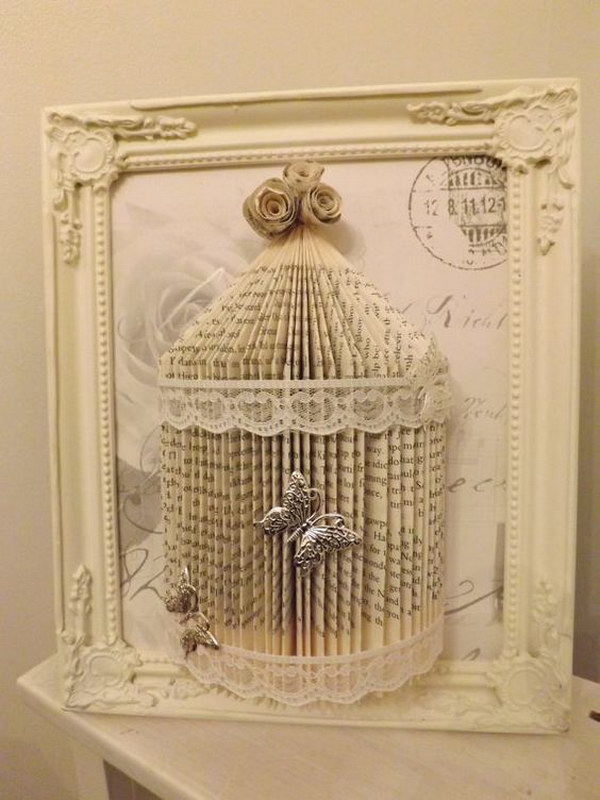 This shabby chic framed book folding bird cage could make a unique keepsake gift. Buyable via etsy. Get the tutorial of the Book folding birdcage via youtube.
DIY Old Book Pages Lampshade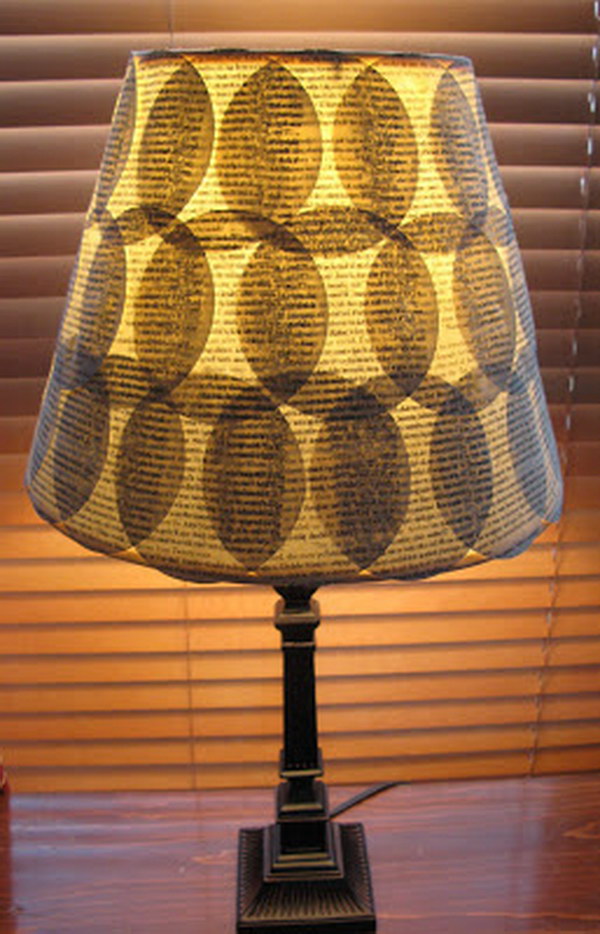 Decorate the plain lampshade with old book pages. This project is cute for home office or library! Get the tutorial via roundaboutshop.
Old Book Heart Punch Art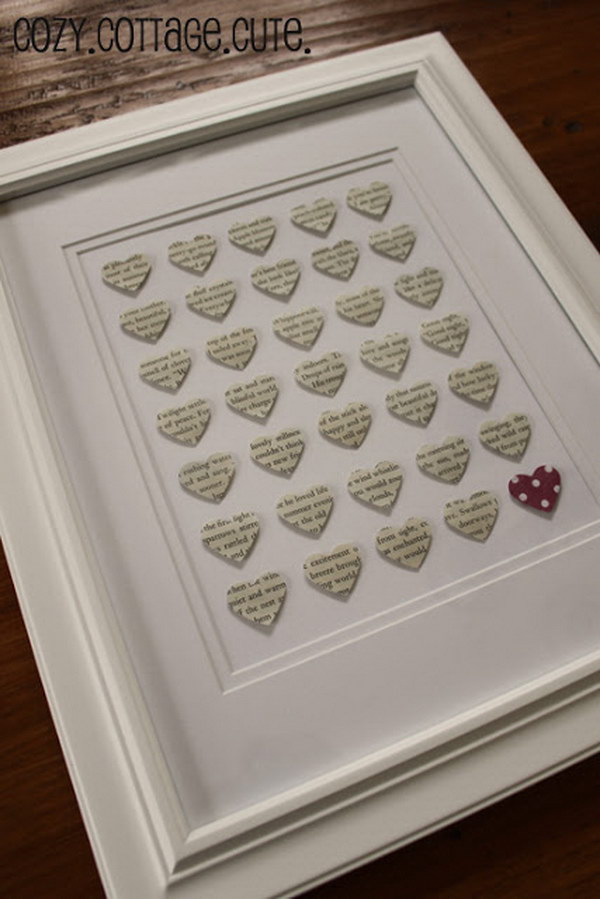 Take an old book, cut out small hearts and arrang them on a background of white scrapbook paper, then frame. This could make a gorgeous wall-hanging valentine. Get the tutorial via cozycottagecute.
Vintage Book Page Bottles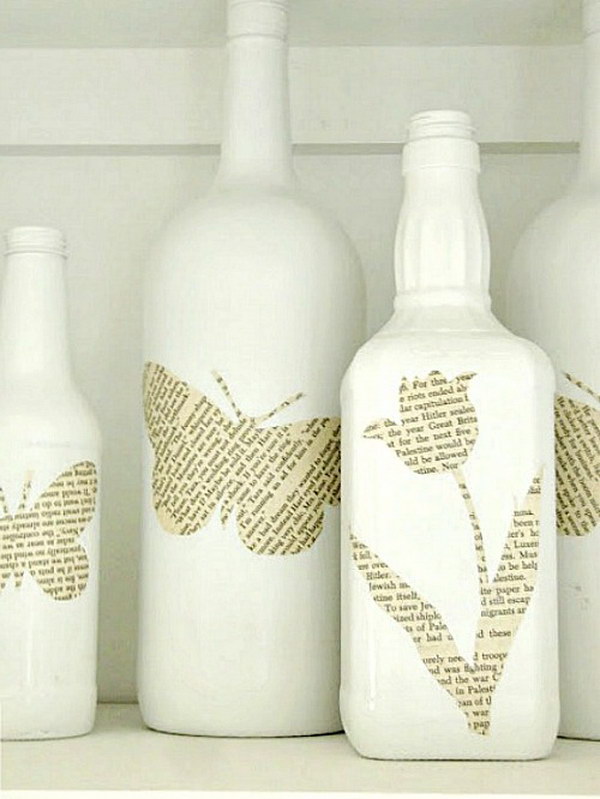 Find an old book, cut out some flower and butterfly shapes and mod podge them to the bottles. Get the tutorial via thewickerhouse.
DIY Tiny Paper Star Ornaments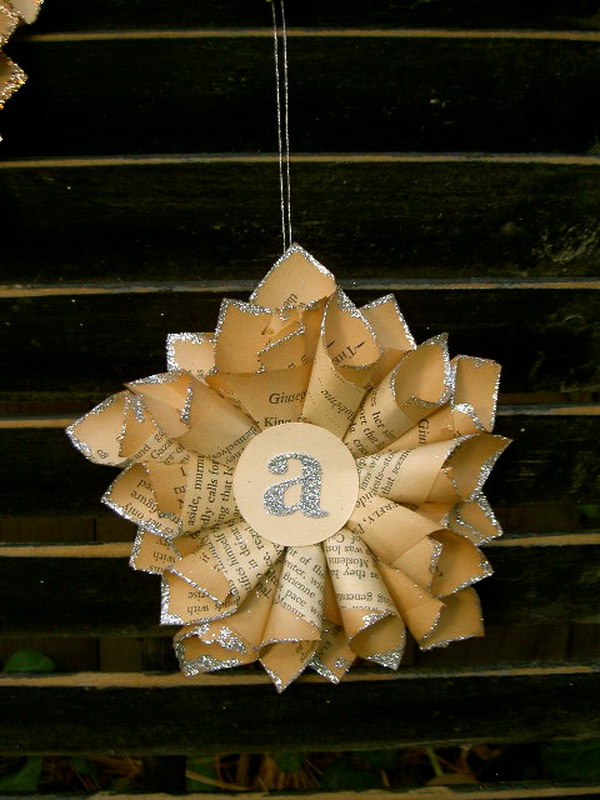 Grab an old book, roll the pages into paper rolls, then hot glue them onto the star cardboard. Finish by adding glitter to the edges and the glitter monogram to the middle. Get the tutorial via thatsmyletter.
DIY Upcycled Book Page Rosettes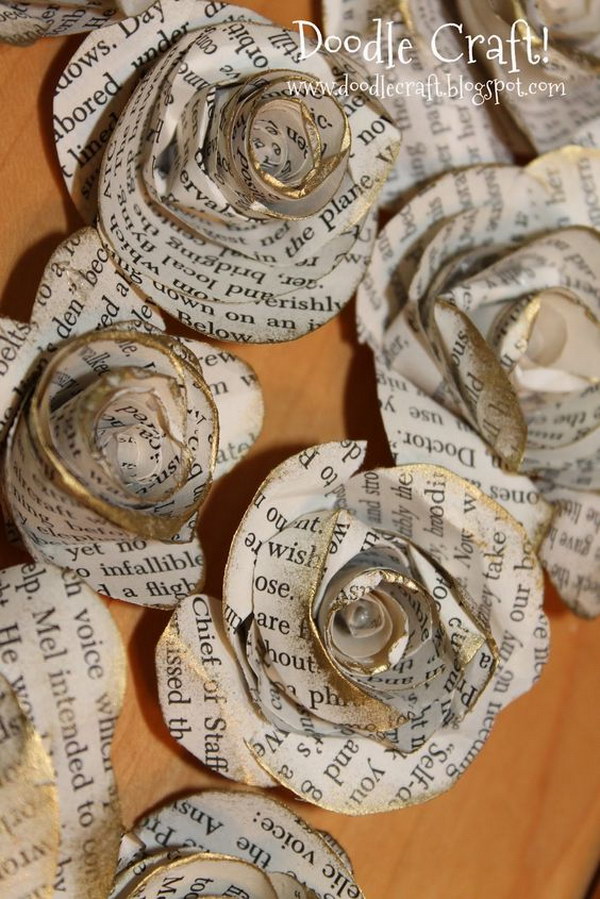 Turn pages of old books and paperbacks into paper roses with gold edges. doodlecraftblog
DIY Upcycled Book Page Star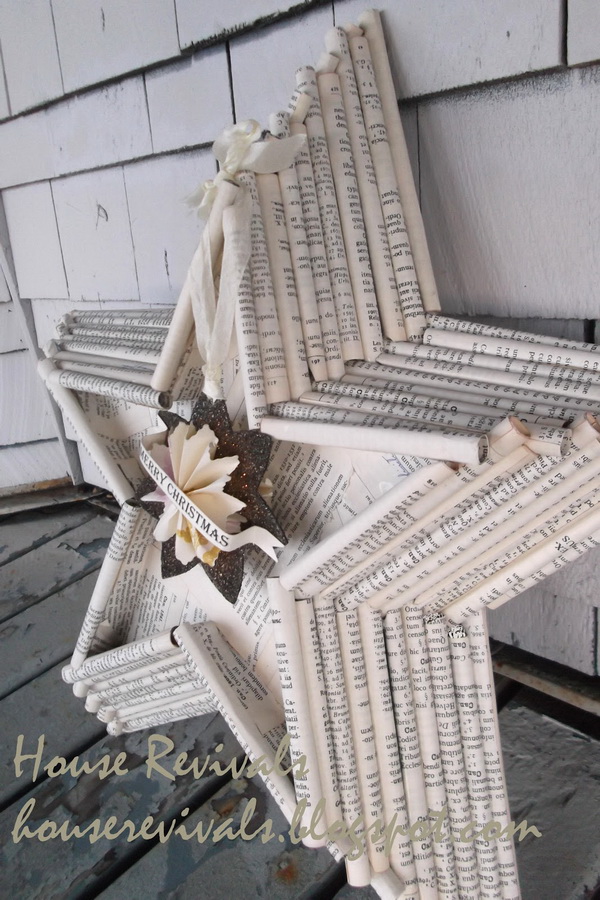 Get the tutorial via houserevivals