With autumn around the corner, it's time you give your home a fall-ready makeover to engage in this festive season. Fall stands for all things natural and organic. And when it comes to fall decor, you can make use of seasonal blooms, foliage, pumpkins, gourds and even some thrifty shop finds from the local dollar store.
Varieties of natural elements lend themselves to centerpieces, fall arrangements, as well as home decor. The best part about fall decor is that they last for weeks, taking you all through the autumn, the Halloween holiday and right up to Thanksgiving.

Here is a collection of 30+ beautiful rustic decorations for fall that are easy to DIY. Get inspired from these ideas and celebrate the festive season by adding some cozy autumnal touches around your home.
Shabby Chic Fall Wreath Tutorial

A shabby chic wreath in traditional harvest color is a great decor piece to hang on the door, especially when it spells "FALL" in big bold letters. The wooden frame in white chalk paint gives a shabby chic style, while the silk potpourri overlapping with the sunflower adds a touch of elegance to the whole art piece. However, the real attention-grabber is the set of four letter chalkboards arranged neatly in the center that take away all the guesswork! via thepaintedhinge.
DIY Brown Paper Pumpkin

Flower pumpkins are too mainstream, and reminiscent of spring. With the advent of autumn, you need to give a fresh makeover to your home decor. And this gorgeous paper pumpkin assembled with nothing more than a few rolls of brown paper, hot glue and a foam ball, makes for an eye-catchy addition to the fall mantle. via placeofmytaste.
Pumpkin Vase Tutorial from Michaels

Show some "pumpkin love" this fall and ditch your boring flower vase for a decorative pumpkin centerpiece. This faux white pumpkin vase makes for a seasonal showpiece–one that could be repurposed easily for years to come. via apumpkinandaprincess.
DIY White Washed Pumpkins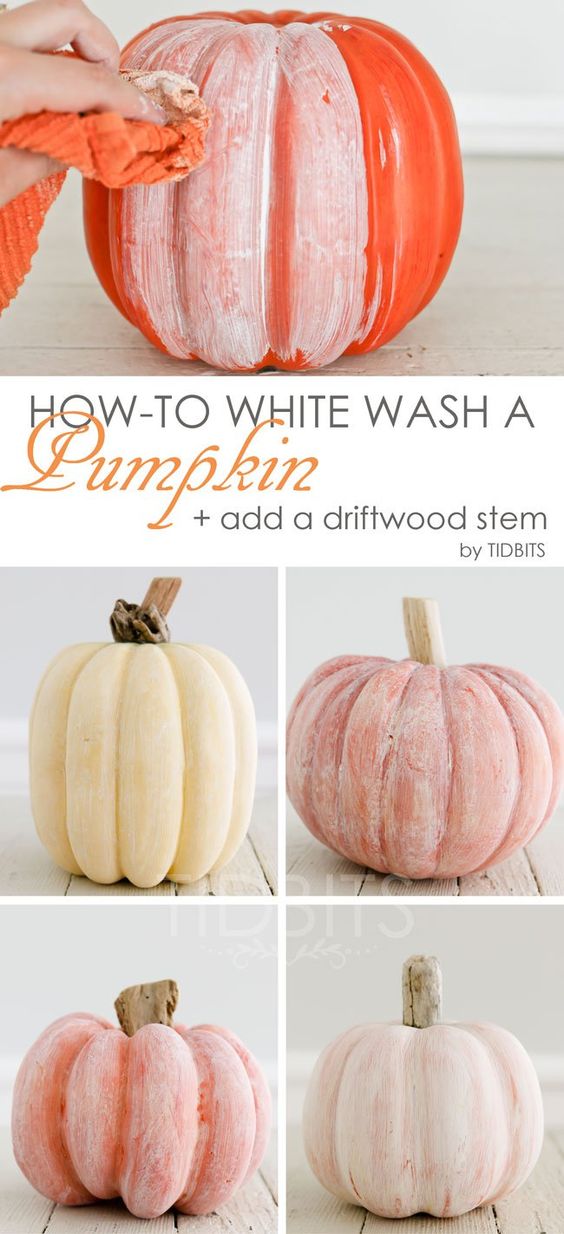 You can't really embrace fall this year without including the color orange in at least one segment of your home decor. And if this color makes you anxious, you can always use it in a subdued shade, like this white-washed pumpkin here. Applying white paint on a pumpkin is a novel way to create a creative table decor. via tidbits-cami.
Sunflower Mason Jar Centerpieces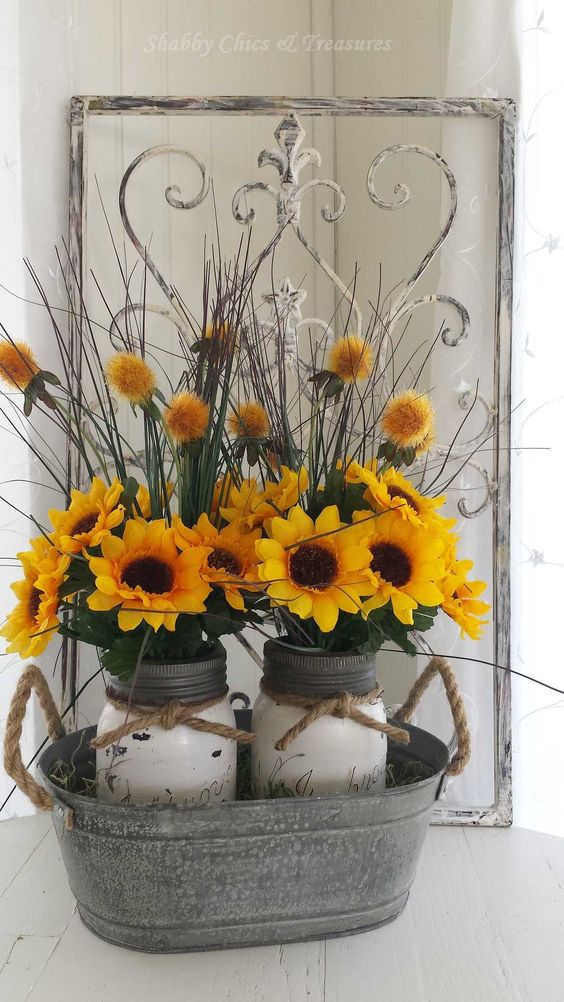 Fall doesn't have to symbolize all things gloomy and chippy. A heavy-duty work basket with mason jars as a substitute for flower vase is a great way to make your mantel fall-ready. via 2decor8.
Birch Logs Help Warm The Space Up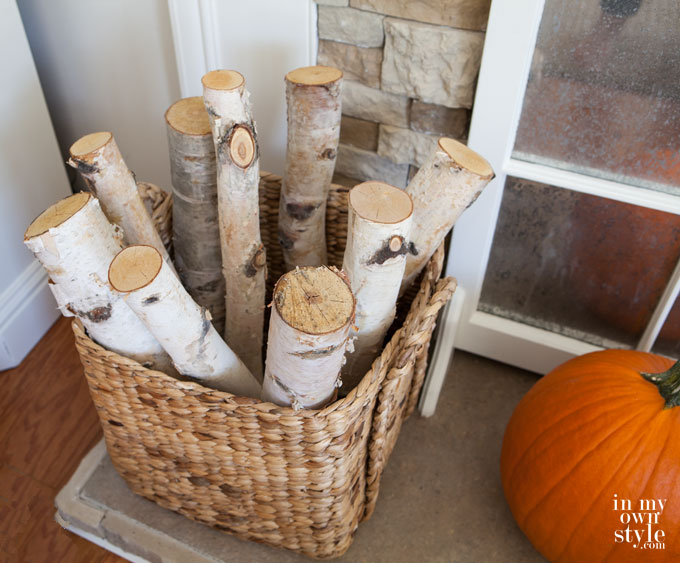 What better way to bring in the touches of nature in your home than by using birch logs for seasonal display! Birch logs help warm up the space and add a layer of texture to the living room. This is one of those few decor pieces that lend a snug feel when the days get shorter and the air gets chilly. via inmyownstyle.
Fall Mums In Olive Buckets

Autumn may be a gloomy time for people who love tending to their garden in summer. However, thanks to the late growing season, mums form the ideal floral for the fall. So, to enhance your curb appeal, flank the entrance door with terracotta pots or oversized planters stuffed with these chirpy, bright flowers. via onsuttonplace.
Fall Log Candle-holder Centerpiece

An ingenious example of a DIY fall decor, this log-turned candle holder is a unique way to jazz up a dull dining table. The birch log drilled with holes for tealights serves as a quaint backdrop for an array of seasonal fall embellishments, like sugar pumpkins, artificial maple leaves, berries and pine cones. The decor pieces flanking the log compensate for it understated charm and make for a lovely conversation-starter. via jennaburger.
Pinecones Centerpiece
A cluster of elegant pinecones arranged around a bright orange candle makes for a charming interplay of light and dark hues. A sugar pumpkin or two scattered here and there breaks the monotony of colors, while the glass flask helps to create a serene aura that's ideal for churning up spells this Halloween. via ritamay-days.
Tree Branch Vase with Sunflower Arrangement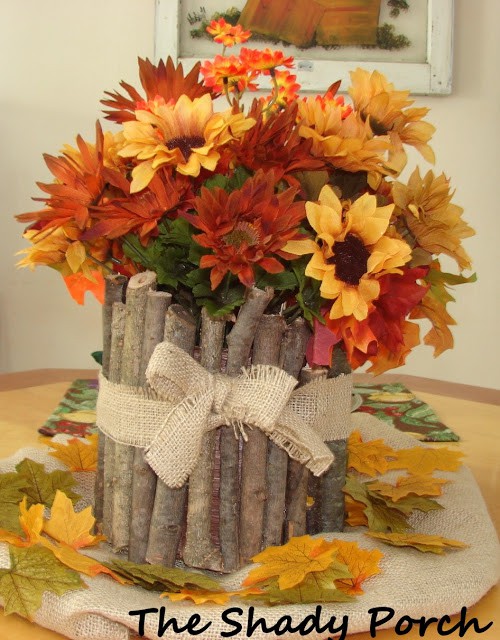 This quaint tree branch vase with a colorful assortment of flowers and foliage is an example of ingenuity at its best. The reclaimed branches from the backyard serve as a great contrast for the bold and bright flowers, while the burlap ribbon serves to hold up the piece together while looking delightfully rustic in the process. via theshadyporch.
DIY Pumpkin Jars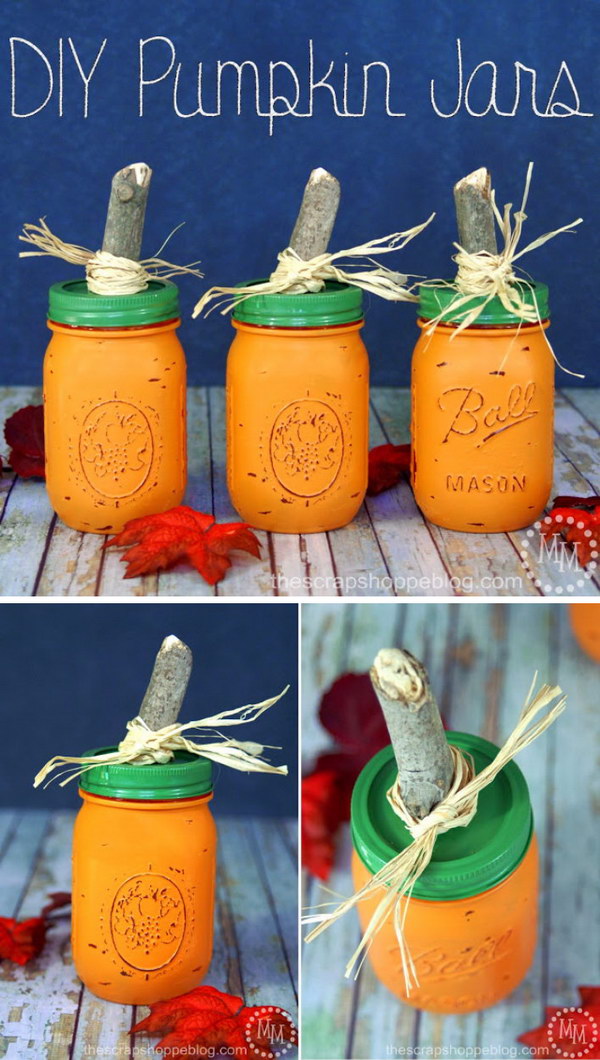 You never know the power of paint until you use it to transform something dull to something stunning- like this repurposed Mason jar here. These bright orange Mason jars with green lids are reminiscent of those lantern treat jars, and can be hung on the entrance door for some curb appeal. And for the typical fall feel, pumpkin stems have been adhered to the lids with raffia to exude a shabby chic effect. via thescrapshoppeblog.
DIY Reclaimed Wood Pumpkins

When it comes to decorating your home for fall, pumpkins are your best go-to accessory. This season, ditch the jazzy and artsy pumpkin pieces for the rustic ones made from reclaimed wooden palettes. Your porch will invariably stand out in a charming interplay of black and orange tones. via findinghomefarms.
Fall Mason Jar Vases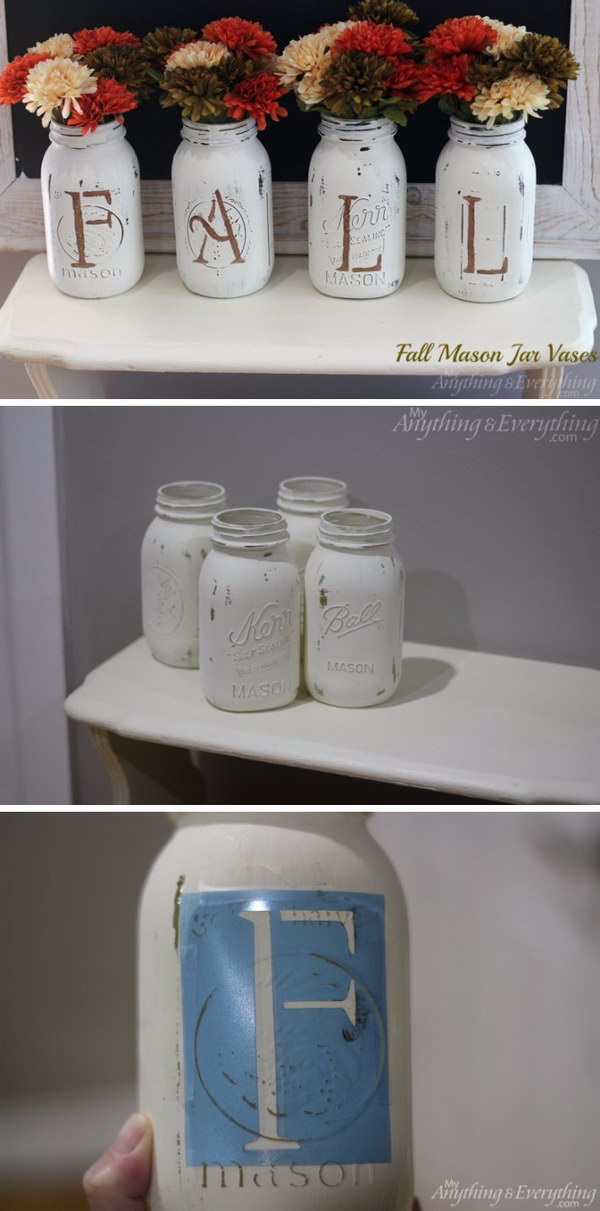 An arrangement cute mason jar vases done up in white chalkpaint and imprinted with letters is a unique add-on to the front porch, and complements the existing decor of your home beautifully well. Being easy and cost-effective to make, they add just the right amount of "autumn" to your home! via myanythingandeverything.
DIY Marquee Light Fall + Halloween Pumpkin Letters

These glittery little pumpkins were made for the spotlight! Spell out "fall" with big bold Marquee light letters on understated pumpkins displayed near your front door. An oversized planter of attractive mums is a great choice for the backdrop as it adds a wee amount of country charm while setting in an inviting atmosphere for your guests. via karaspartyideas.
Rustic Pumpkin Stand for Fall Flowers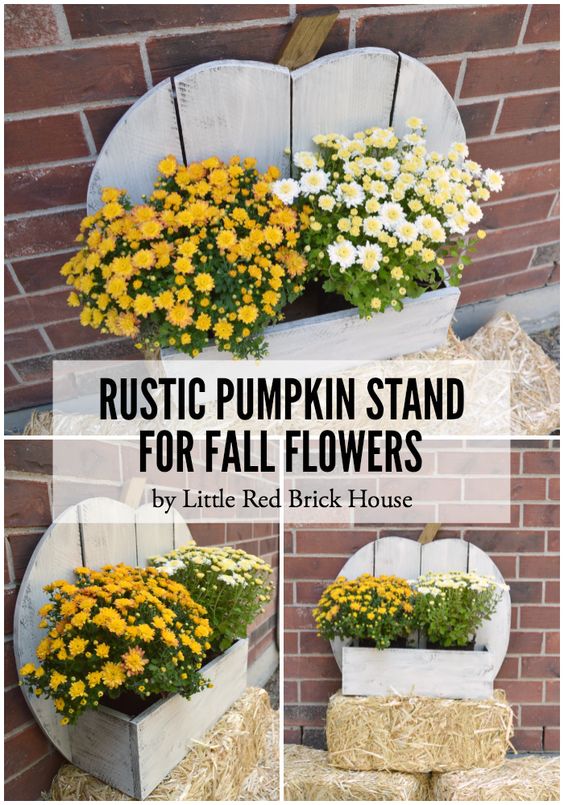 Fall decorations are incomplete without a pumpkin "feel". If you wish to go the unconventional way this year, substitute the pumpkin with a reclaimed wood palette lathered up in white chalkpaint and crafted to mimic the shape of a pumpkin. A flower box coupled to the palette makes for a novel art piece that doubles up well as a purposeful floral bed. via littleredbrickhouse.
Vintage Inspired Chalky Paint Pumpkins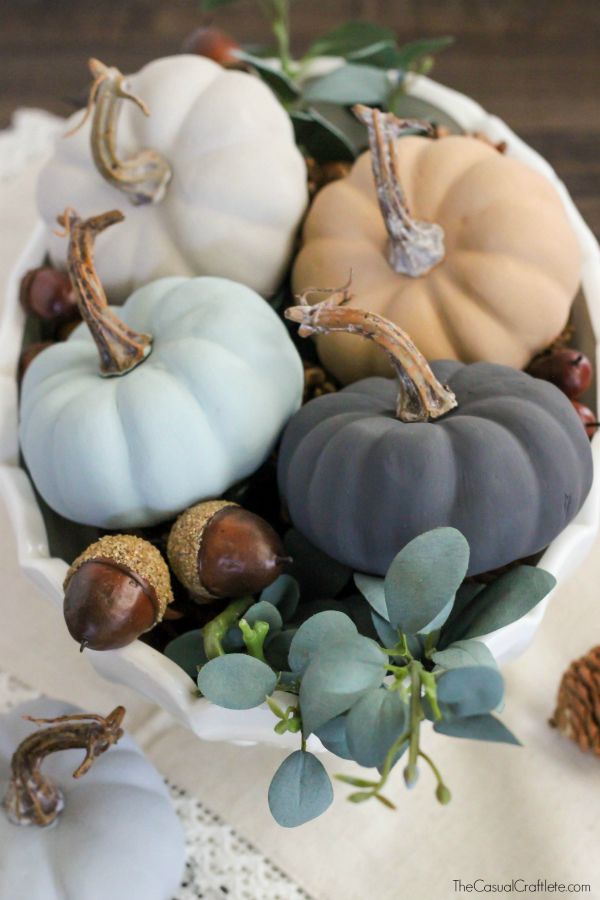 This vintage-inspired piece of fall decor represents simplicity at its best. The real prize-winner is the assortment of chalk-painted pumpkins that contrast beautifully with acorns, pine cones and foliage sprinkled around the sides of the bowl. All in all, this piece sure has the potential to act as a real ice-breaker during awkward family gatherings this Thanksgiving! via thecasualcraftlete.
Fancy Faux Pumpkins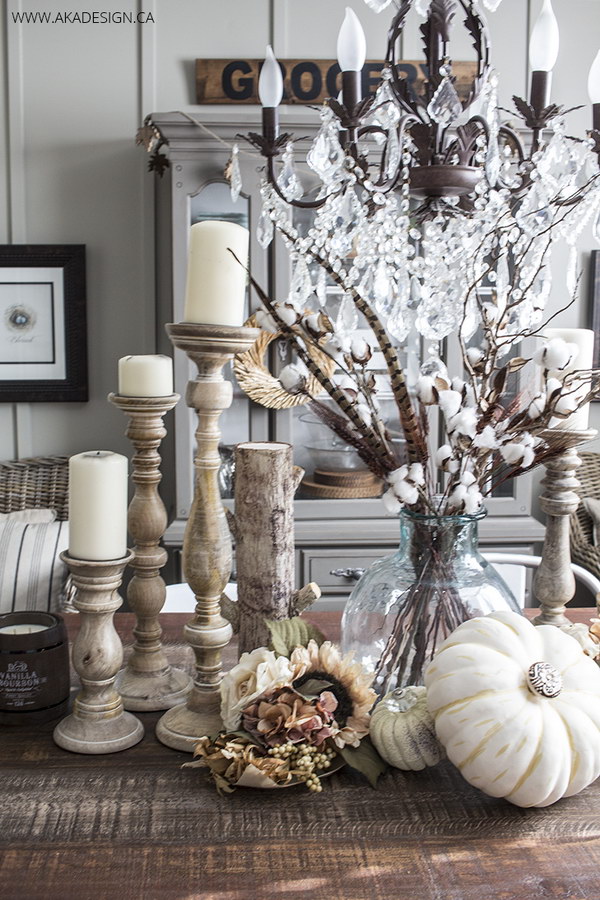 Add a touch of glamour to your dining table by forgoing the bright pieces of decor for elegant faux white pumpkins, vintage-inspired candle-holders and an oversized Fall foliage vase. A cohesive color scheme ties up your decorations together and accentuates the drama. via akadesign.
"Thankful" Sign Decor
A "thankful" sign decor is a great way to remind your guests what the Fall season is really about, while adding warmth to a basic mantle. Flank the sign board with fancy faux pumpkins for a wee bit of seasonal flair. source.
Dropcloth and Moss DIY Pumpkins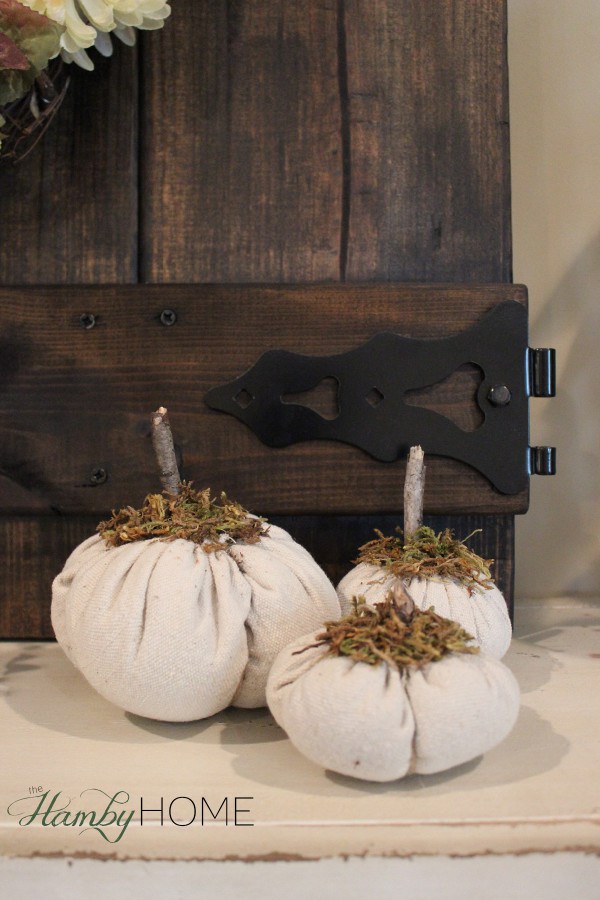 These DIY fabric pumpkins unsheathed in drop cloth and polyfill add a warm and comforting feel to the living room. The brown twine stems contrast beautifully with the plain pumpkins and the assortment of moss scatter underneath secures the art piece together into a cohesive whole. via thehambyhome.
Neutral Fall Mantel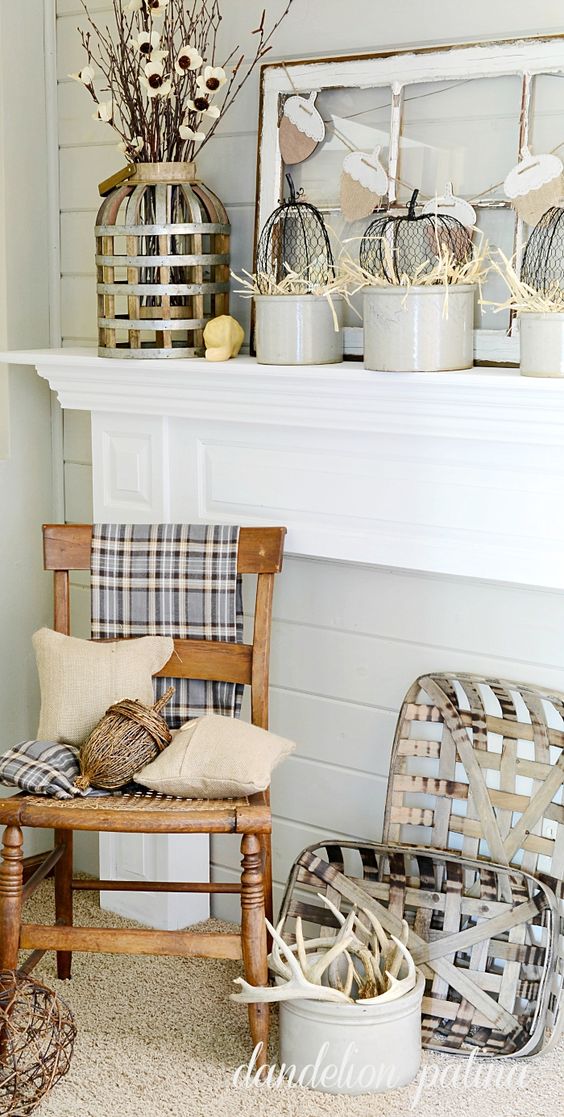 This fall, add a fresh and snug feel to your home by forgoing vibrant orange and green decorations for neutral pieces of art. This neutral fall mantel here incorporates a blend of individual decor pieces, that coordinate with each to other to exude an asymmetric yet tasteful look. The acorn garland across the window form a unique backdrop for the cute chicken wire pumpkins set on vintage crocks, while the straws contrast nicely with the burlap pillows for a unique farmhouse feel. via dandelionpatina.
DIY Gorgeous Pumpkin Centerpieces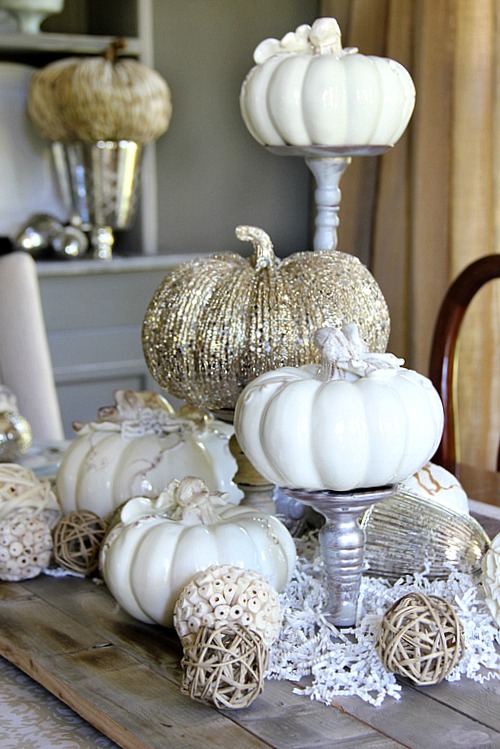 There is a wealth of star potential in a blank pumpkin. Jazz up your centerpiece with a stunning display of bedazzled pumpkins and white faux pumpkins for a beautiful contrast. Shy away from bold bright shades and keep the overall color scheme gold and white for glittery take on fall! via thistlewoodfarms.
DIY Burlap Runner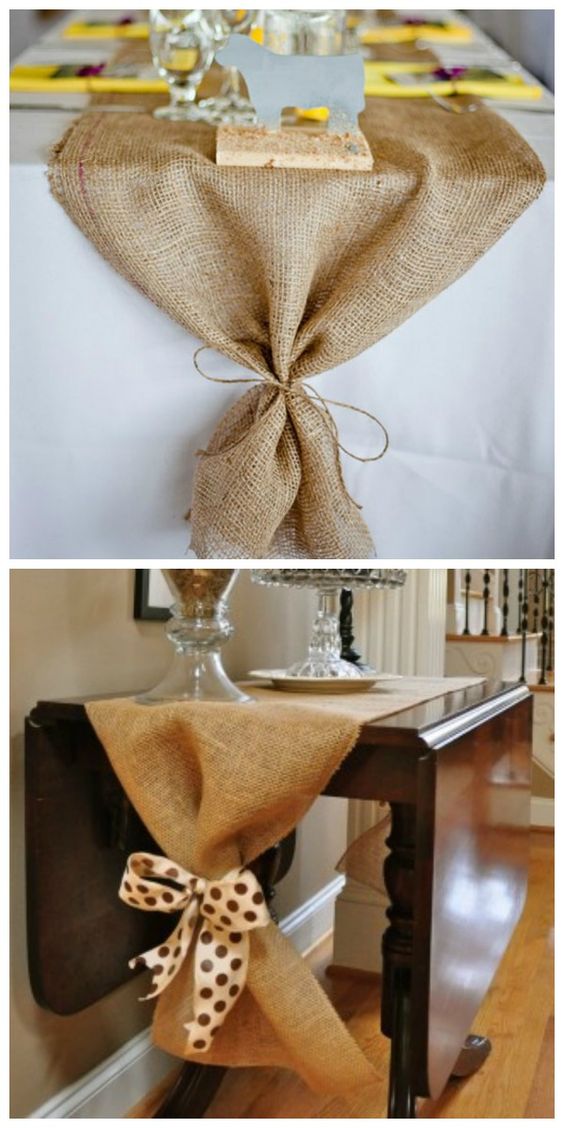 This DIY table runner is a novel way of transforming an ordinary burlap cloth into a purposeful yet decorative piece for the upcoming entertaining season. Who knew that a combination of burlap, twine and some scrap ribbon would turn out to be so fancy! The best part about this decor is that it can be used at virtually any time of the year. via thekitchn.
DIY Pumpkin From A Book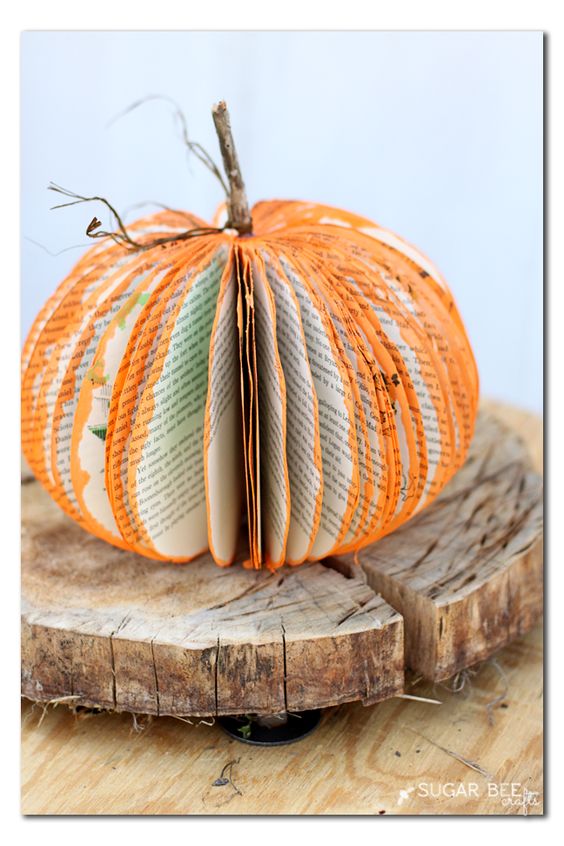 A worn-out paperback-turned-pumpkin is a million-dollar idea for every bookworm looking to incorporate bits of her personality in fall decorations. All you need is a well-read book, some orange paint, a craft knife and you're good to go! via sugarbeecrafts.
Vintage Farmhouse Pumpkin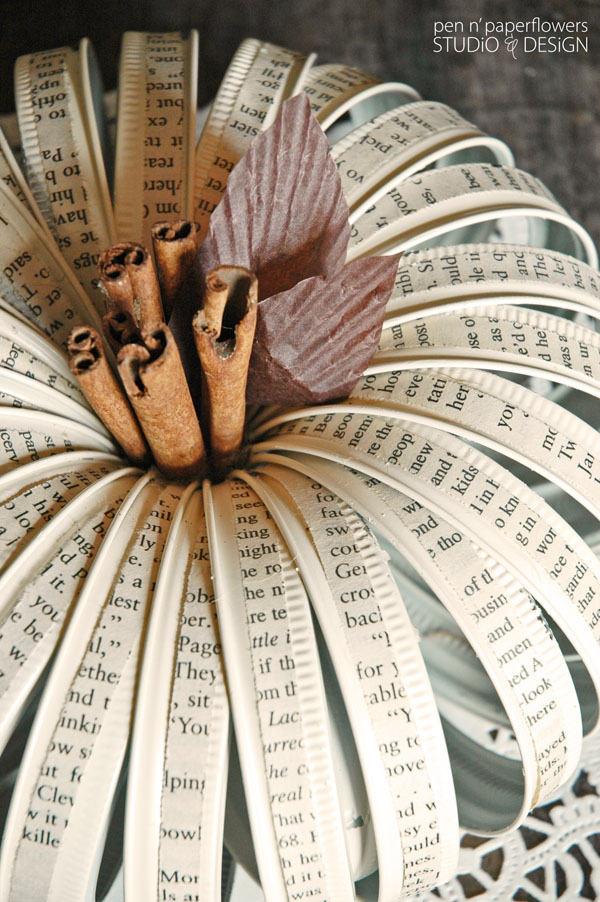 A three-dimensional paper pumpkin created with vintage paper and paperback pages is a great way to liven up a boringly conventional home decor. An array of cinnamon sticks nestled on the top tie up the structure together and create a beautiful contrast in the process. via pnpflowersinc.
Fall Porch Decoration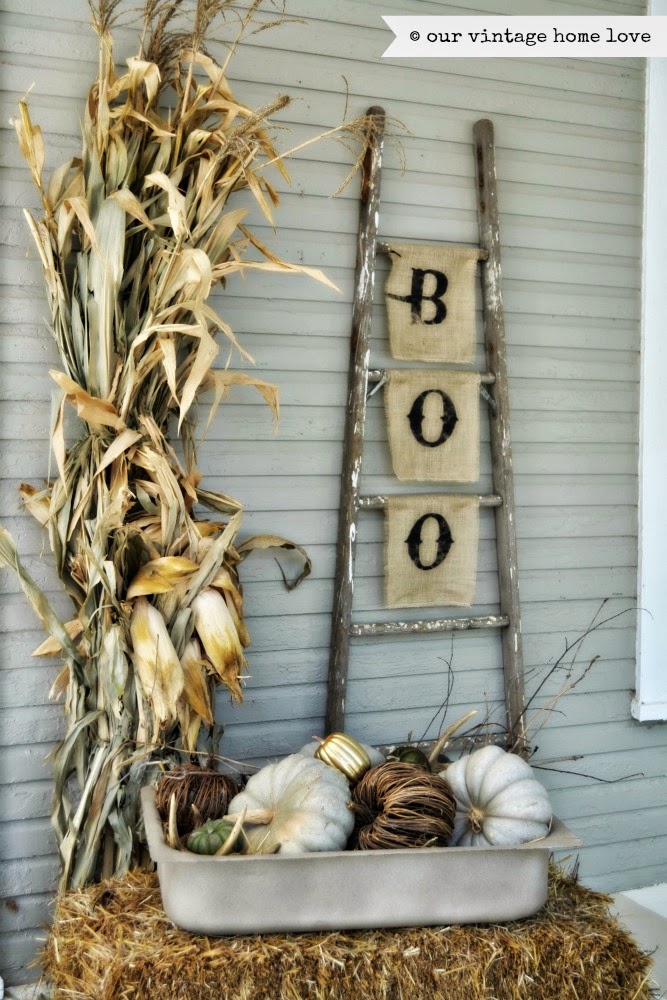 Fall decorations are all things natural and organic, right from the hay bales and corn stalks to the mums and pumpkins. This porch decor comprising of a refurbished porcelain sink filled with a random selection of antlers, twigs and pumpkins, as well as a ladder adorned with imprinted burlaps, add a warm seasonal glow to an other dull porch. source.
DIY Wood Pumpkins & DIY Barn Wood Shutters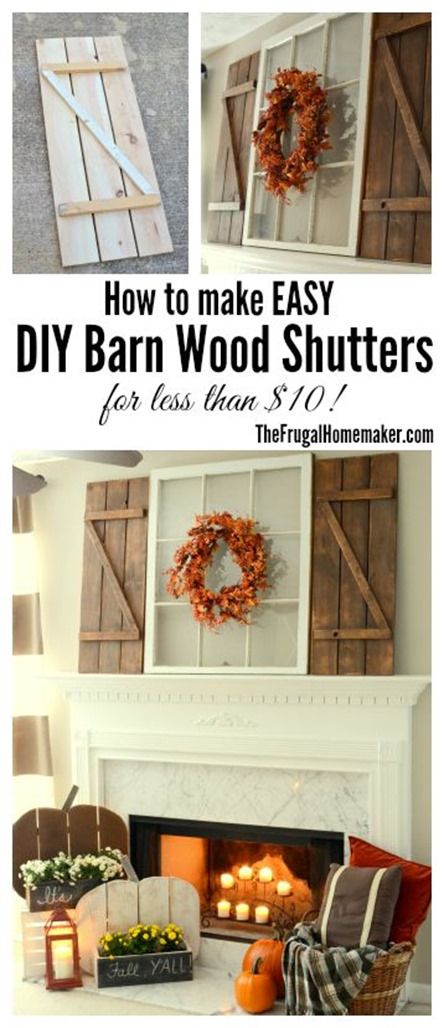 Accentuate the cheer of your fireplace with an arrangement of mums planters and pumpkins-the classic fall combination. Throw in a rustic wooden pumpkin or two as the backdrop. This kind of a coordinate color scheme adds character to the otherwise lonely fireplace. via thefrugalhomemaker.
DIY Fall Mason Jar Centerpiece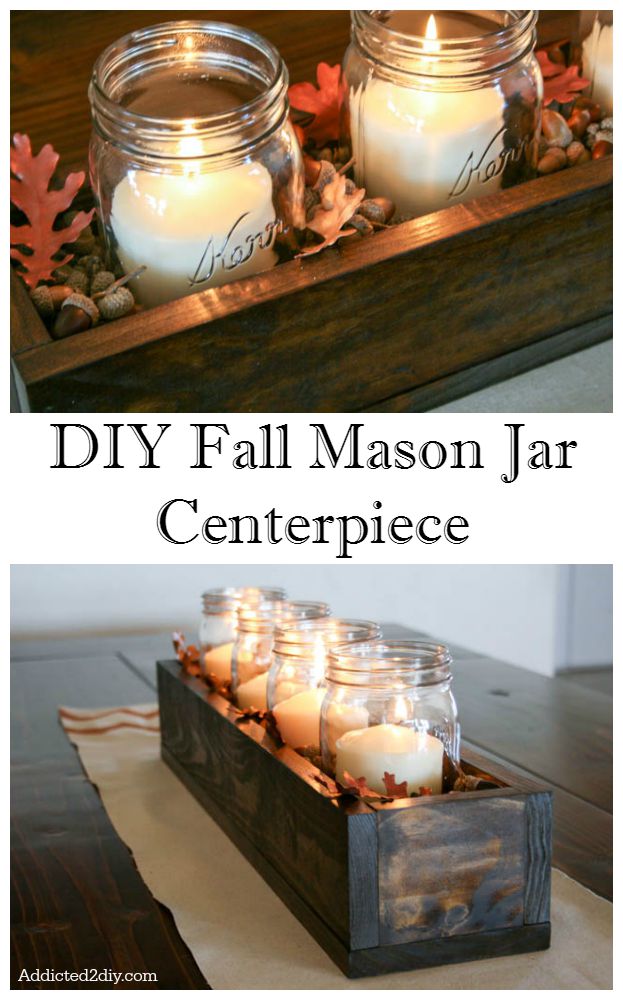 Elaborate centerpieces are meant for spacious dining tables, while a practical mason jar centerpiece like this is well-suited for adorning small tables. The chevron-patterned wooden box stashed up with quart-sized mason jars has the potential to brighten up an unimpressive dining table like never before. The fall-reminiscent acorns and golden leaves stashed in along the sides add a metallic flair to the monochrome color scheme. via addicted2diy.
Rustic Lanterns with Pumpkins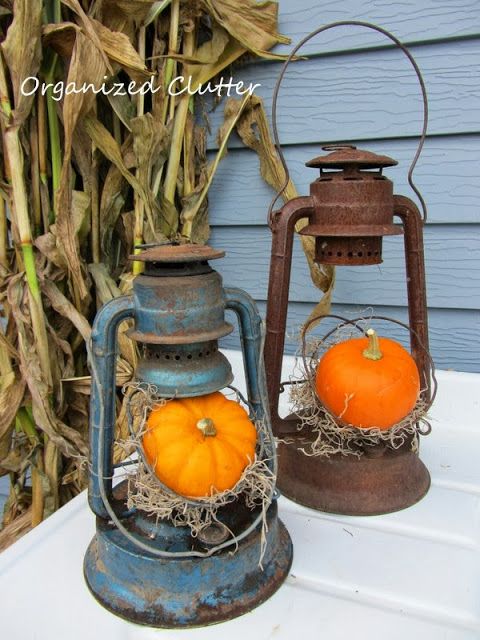 You know what's a quick way to brighten up your outdoor space for a Fall party? Just salvage some cheap kerosene lamps from your local antique store, stack them up with mid-sized pumpkins and a dash of Spanish moss all around for a rustic feel. After all, nothing spells "Fall" more than rust and orange! via organizedclutter.
Vintage Doorknob Pumpkins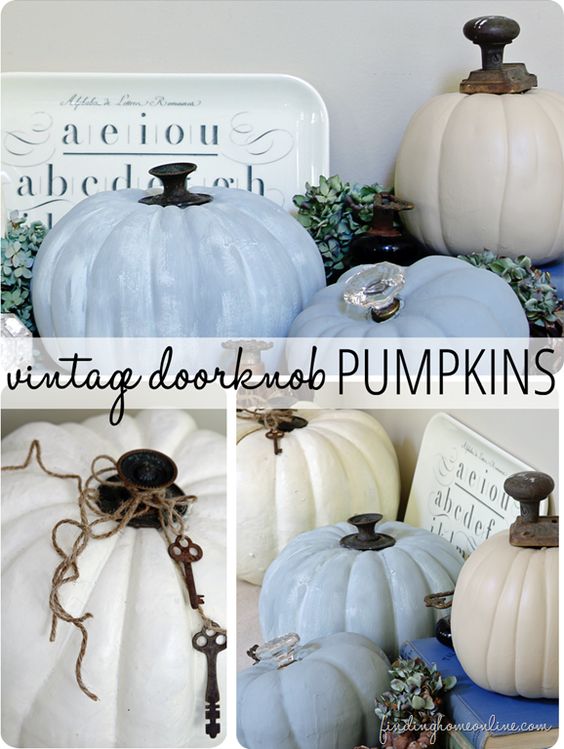 A great way to beautify ugly fake pumpkins is by painting them in neutral shades and using old doorknobs in place of their stems. A random assortment of such stylized pumpkins is a unique way to add a hint of charm to a dull work desk. via findinghomefarms.
Transitioning The Porch From Fall To Halloween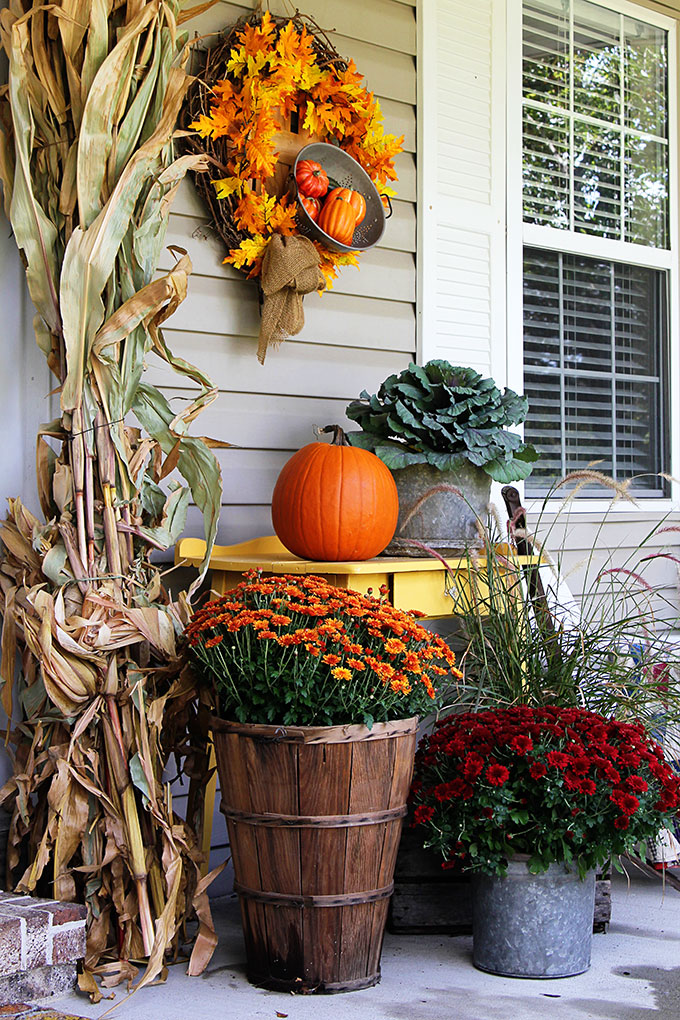 When in doubt, rely on salvaged pieces of home decor, such as a floral sheath of maple leaves, oversized pots of mums and pumpkins, both small and large for a dramatic effect. An organized clutter of artsy stuff will make your porch fall-ready and enhance your curb appeal significantly! via houseofhawthornes.
Fall Banner with Book Page Leaves
Add an extra dimension to your dull mantel with a fall banner, or in other words, a banner that's reminiscent of fall, replete with crepe maple leaves, twine and antique clothespins for a secure fit. And if you wish to lend a fresh twist to this banner, use page leaf cutouts as an additional layer above the maple leaf. This will make for an interesting look. via sondralynathome.
Fall Burlap Bubble Wreath

A welcome change from the big, bold and sparkly wreaths, this burlap bubble wreath exudes a typical Fall feel. The neat array of maple leaves at one corner adds a snazzy pop of color, while the pale hues set in a warm and comforting atmosphere to your entrance. via sobremesastories.
Use Faux Pumpkins to Create Stunning (and Long Lasting!) Centerpiece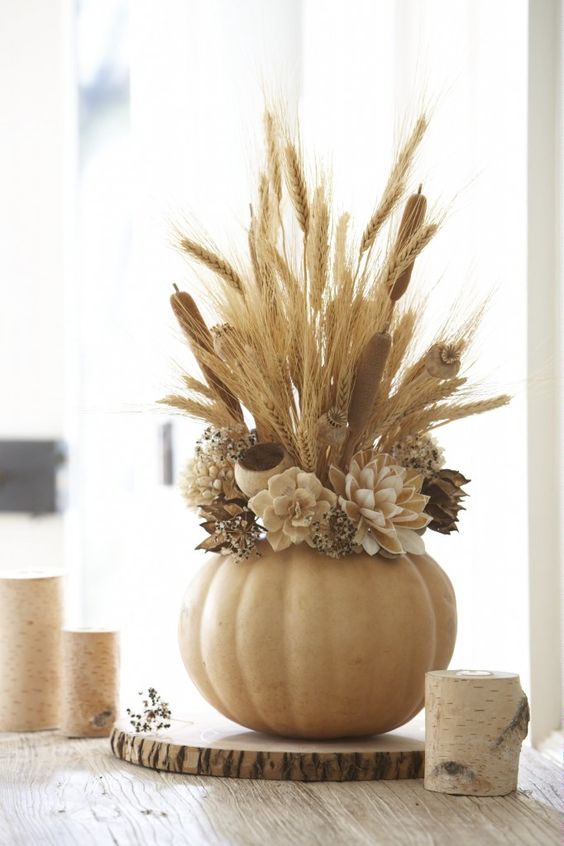 Faux white pumpkins give you the freedom to experiment in diverse ways to bring in the touches of autumn to your home. One versatile way is to combine a faux pumpkin with dried foliage and flowers. Indeed, this shabby chic pumpkin vase filled with a selective set of dried flowers, pods and wheat create a cozy "farmhouse" feel that warms up interiors while the mercury dips outside. via thedailybasics.
Easy DIY Decorative Letters With Twigs

Give you front door a personalized fall update with a wooden monogram made by attaching similar-sized wooden twigs salvaged from a camping trip. Use a wooden template for the base and a glue gun to ensure a reliable assembly. Use this decor as a substitute for artsy pieces for a rustic yet contemporary effect. source.
DIY Rustic Fall Acorns Made Out Of Easter Eggs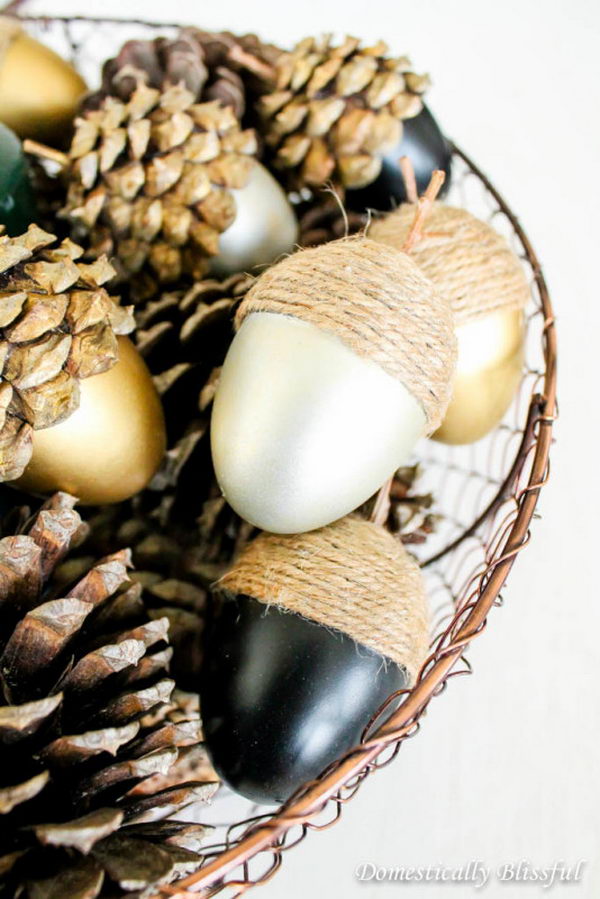 This adorable fall decor is a unique way to re-purpose cheap plastic Easter eggs to create an stunning centerpiece. The gold-and-black color scheme of eggs adds a hint of glam while contrasting wonderfully with the understated harvest hues of the acorns. This gorgeous centerpiece assembled with festive finds doubles up as a party decor quite well. via domesticallyblissful.