With summer ending and fall coming, leaves turn brown and temperatures go down. Add some seasonal flair to your home inside and out with fall's most iconic symbols, such as pumpkins, leaves, pine cones, and other natural elements that signal the coming of the holidays.
You can easily buy your fall decorations at any supply store, but for a more unique or special touch, you can make your very own fall decorations that are sure to turn your home into a harvest-inspired sanctuary.
With a few materials that you can buy and some flotsam and jetsam, you can make these easy and gorgeous fall decorations to bring in the season's festivities. Here are some awesome DIY projects for a more festive home this fall.
Painted Wood Slice Pumpkins

If you have some pieces of wood lying around, cut some slices and paint them orange. Add a bark to the top of the wood slice, wrap it with ribbon, and place them by your doorway for your all-natural and DIY pumpkin decoration. source
Easy No Sew Pumpkins from Old Sweaters

If you have old sweaters you don't wear anymore, you can use them to make small fluffy pumpkins. Cut out a small circle of your sweater, make a tube, and fill it up with poly-fil. Seal one end of the sweater tube and tie the other end to make your ball. Sew the creases of the pumpkin, then cut out a leaf from felt fabric, and sew it onto the "stem." Make as many as you want and place them everywhere in the house. source
Watercolor Paper Leaf & Branch Mobile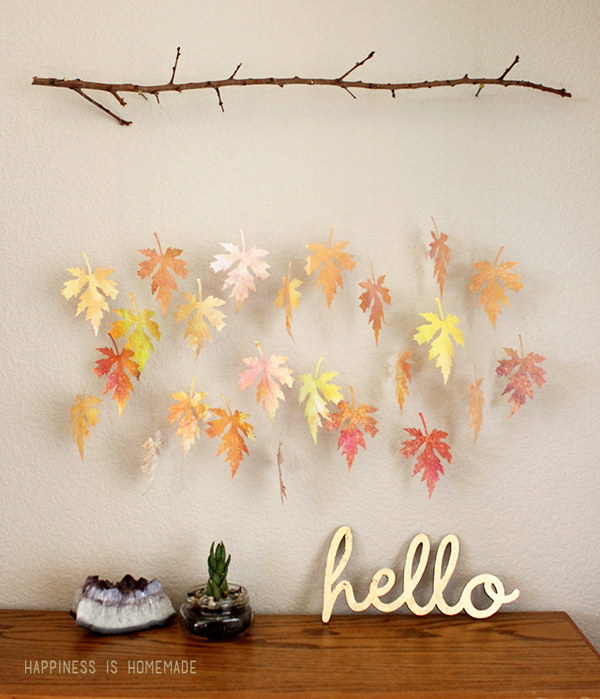 Pick up a twig from your yard, hang paper leaves to make your fall mobile, and hang it on an empty wall. source
Stunning Fall Centerpiece with Antlers, Pumpkins, and Hydrangeas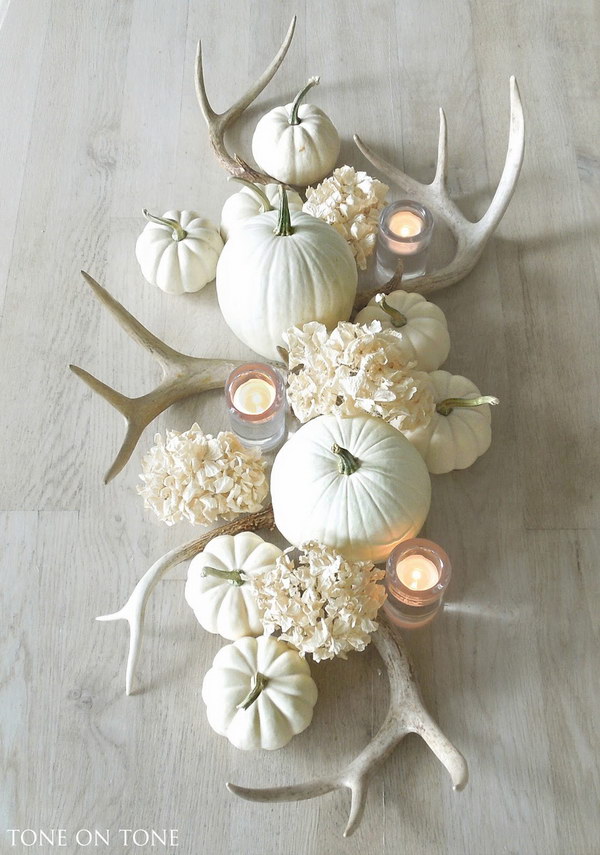 Collect different sizes of pumpkins, antlers, and hydrangeas, and paint them white. Once dry, arrange them on your coffee table and add some candles for that uber-cool fall centerpiece. source
Book Page Pumpkin Craft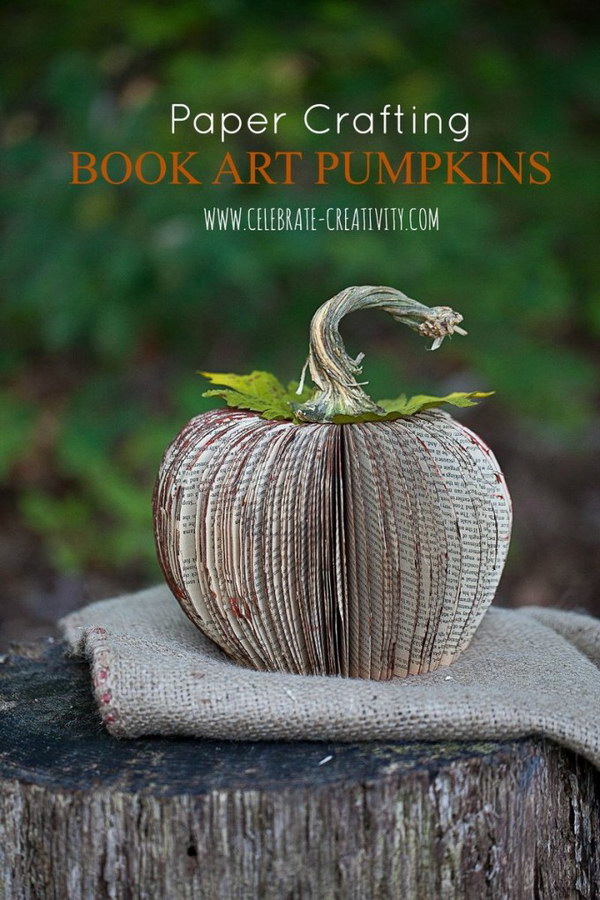 Old books or magazines don't have to end up in the trash. Cut out large circles from the pages, sew the center together, and form a pumpkin! source
Adorable Wood Slice Owl Ornaments

Use some wood slices to make your super cute owl charm. Place some old buttons for its eyes, paint some feathers on its body, add a yellow felt for its beak, and super cute feet for the cutest little owls you've ever seen. Make a twig tree and hang them for your super adorable owl tree. source
DIY Wood Slice Owl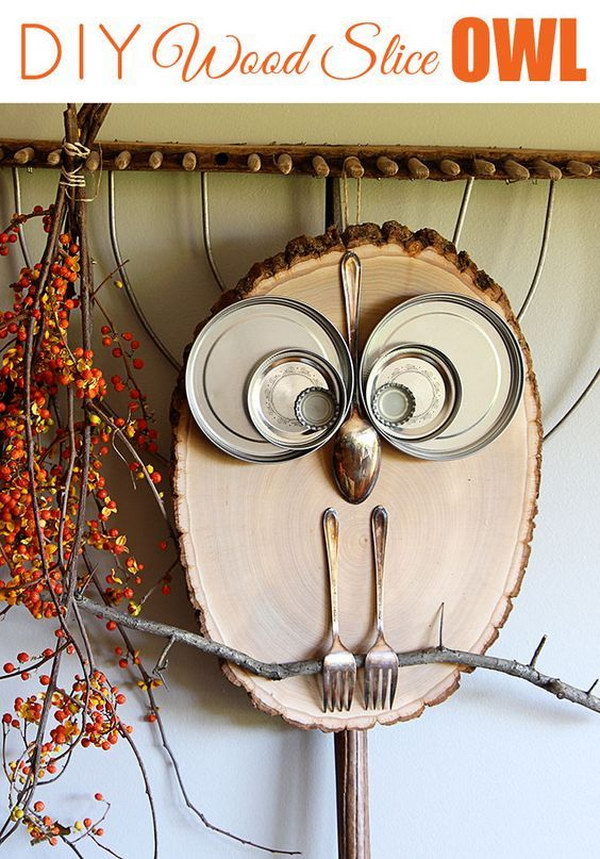 If you've got a big wood slice, why not make one big owl and lean it on your door or bookshelf for a super cute own decor. source
Easy DIY Fall Leaves Potted Topiary Tree From a Tomato Cage

Using a tomato cage, collect some plastic or fabric autumn leaves and wrap it around the cage. Place it on your doorway or living room for your very own autumn tree. Place some Christmas lights inside for a glowing tree at night. source
Drab to Fab DIY Mum Holders for Fall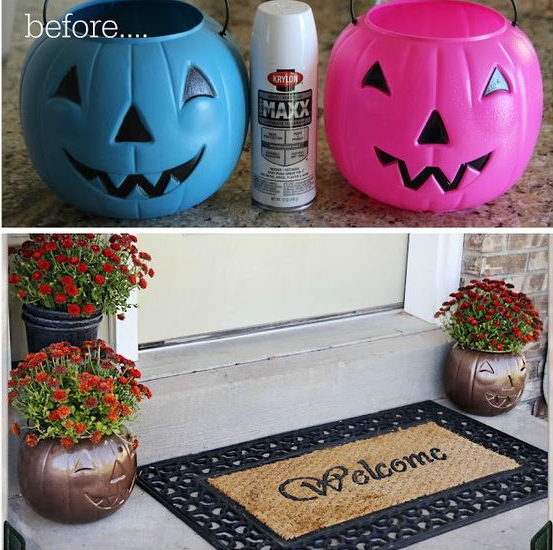 If you've got extra plastic pumpkins for Halloween, why not paint them brown and use them as pots? Functional and decorative at the same time! source
Easy Tissue Paper Pumpkin Favours

Using orange Japanese paper or any orange tissue paper, you can make your super simple party favours. Cut out circles and wrap different kinds of candies in them. Tie the wrap with green tape and you've got a pumpkin party favour for guests or for trick or treat. source
Dryer Vent Pumpkin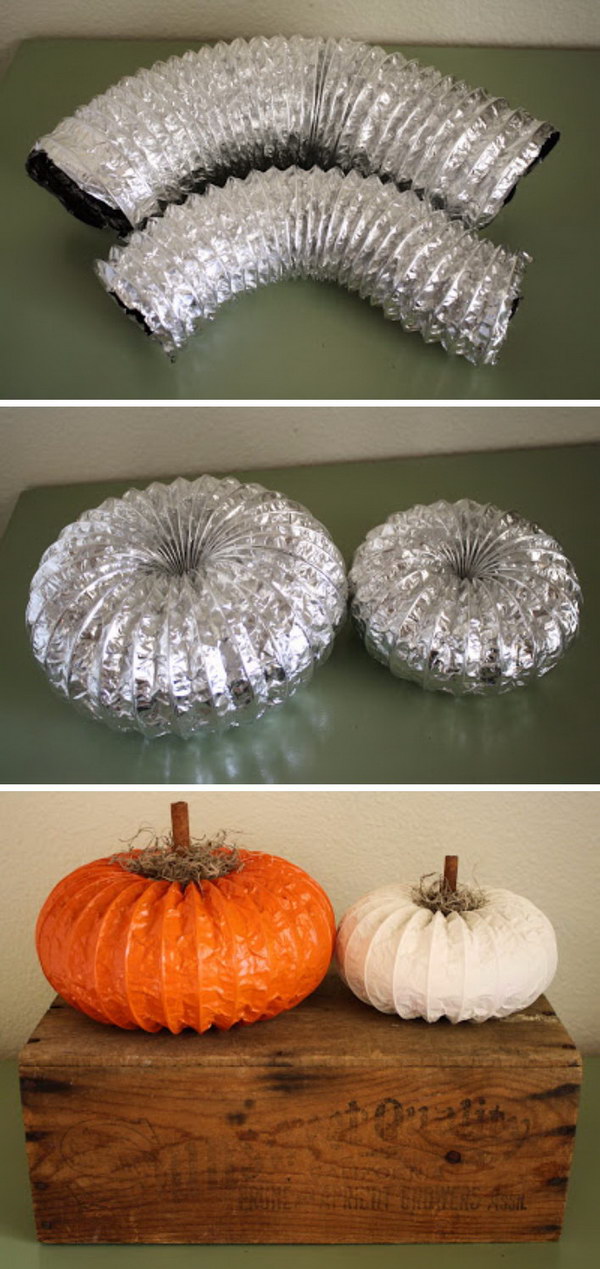 Pain your dryer vents in orange or white, and make them into super cool pumpkins! source
Beach Pumpkins: Carved With Coastal Motif And Covered With Sand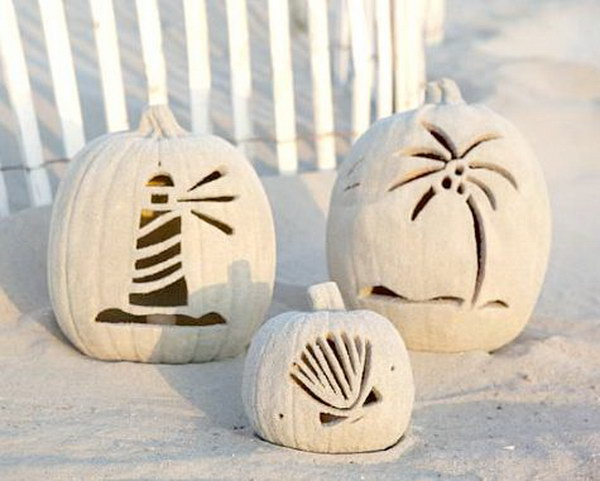 Who said you can't bring fall to the beach? Carve out beach-inspired images on your pumpkins and bring them to the beach! Cover them up with sand to keep beachgoers guessing what they're made of! source
DIY Rustic Pumpkin Stand

Using some pieces of wood, create your very own pumpkin stand and paint it the color orange. Decorate it with a scarecrow and some pine cones for that ultimate festive feel. source
Fall Banner With Book Page Leaves for Mantel Decoration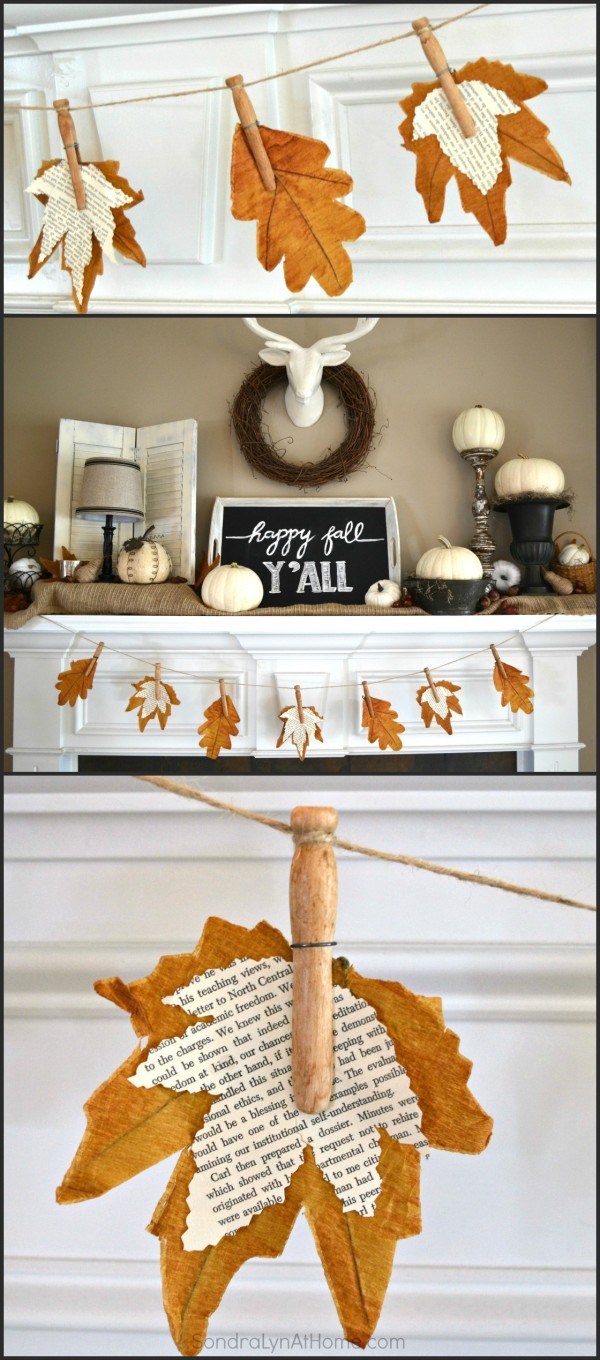 Using brown-colored paper and some paper from an old book, cut out leaves, hang them using some wooden clothespin, and decorate your fireplace for your fall mantel decoration. source
Fall Leaf Pillows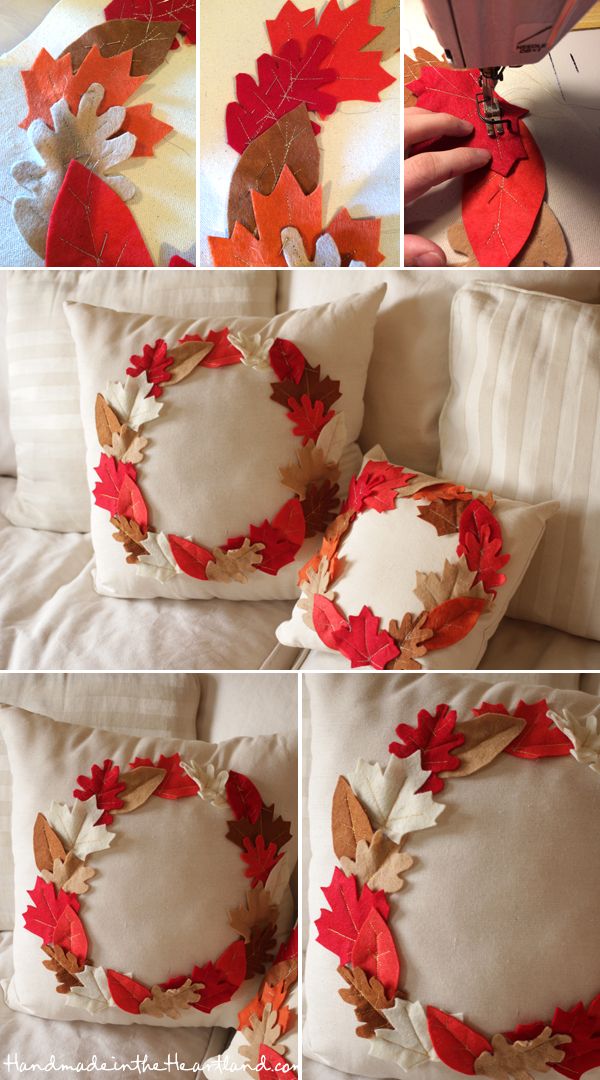 Make your old and dull white cushions ready for fall by sewing-on orange and brown felt leaves shaped into a wreath – super simple yet classy to the bone. source
Rainbow Stick Heart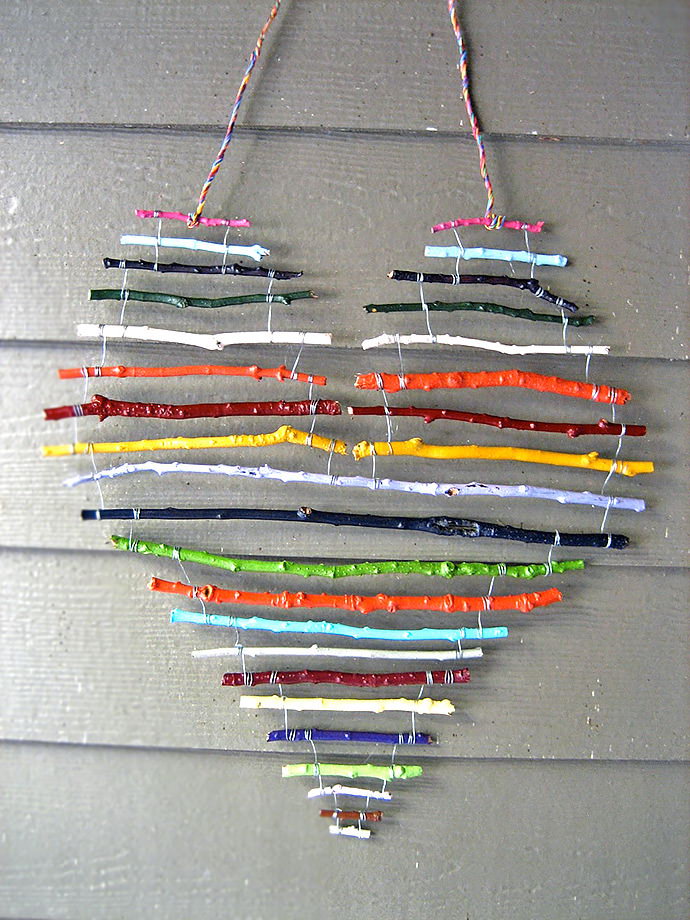 Collect some twigs and paint them in any color you want. Form a heart and tie them with wire to hang on a wall. source
DIY Decorative Leaf Bowl for Fall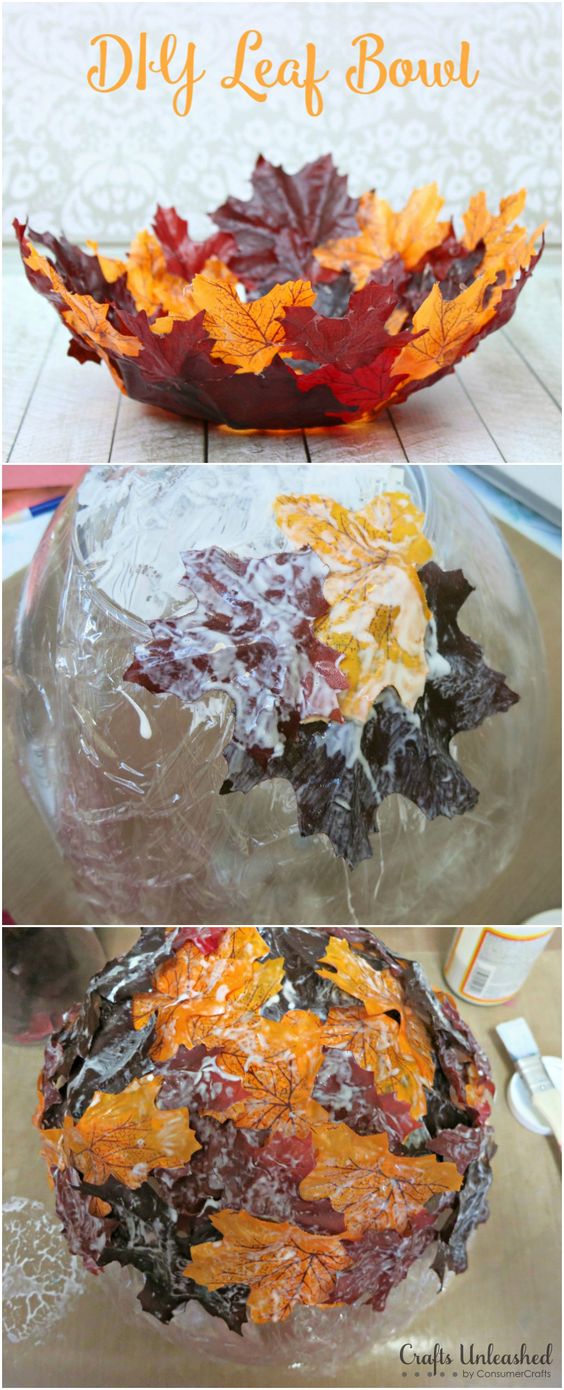 Using a glass bowl as mold, cover the bowl with paper autumn leaves and glue them together with a mixture of white glue and water. Wait to dry and pull out of the bowl – voila!! Your elegant autumn leaf bowl is ready to use on your coffee table. source
Easy DIY Pine Cone Wreath
Collect a number of pine cones, create a wreathe with glue stick, and hang it on your door – classic and simple. source
Painted Wine Bottles Fall Decoration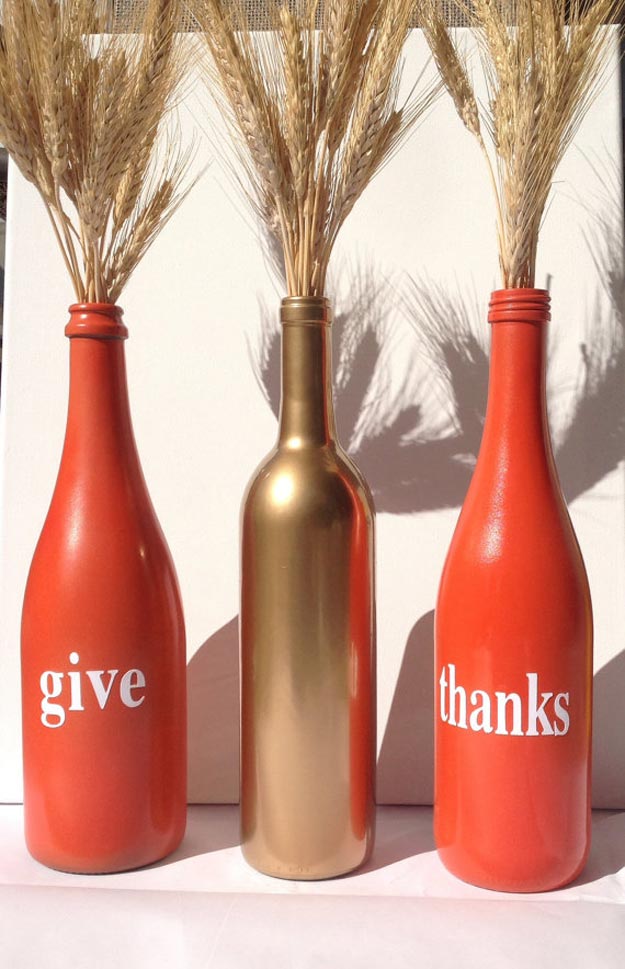 Turn your discarded wine bottles into beautiful vases for fall. Paint them in autumn colors and place them anywhere in and out your home. source
DIY Painted Fall Pallet Decoration

If you've got a piece of rectangular or square wood lying around, paint it in grey and write your autumn season greeting. Arrange a few pumpkins and flowers on its base and you've got your welcome sign at your doorway. source
DIY Candy Corn Pine Cones

Paint some pine cones in uniform colors, place in a basket, add a tiny scarecrow, and you've got an autumn centerpiece perfect for your coffee table or bookshelf. source
DIY Tree Stump Candle Holders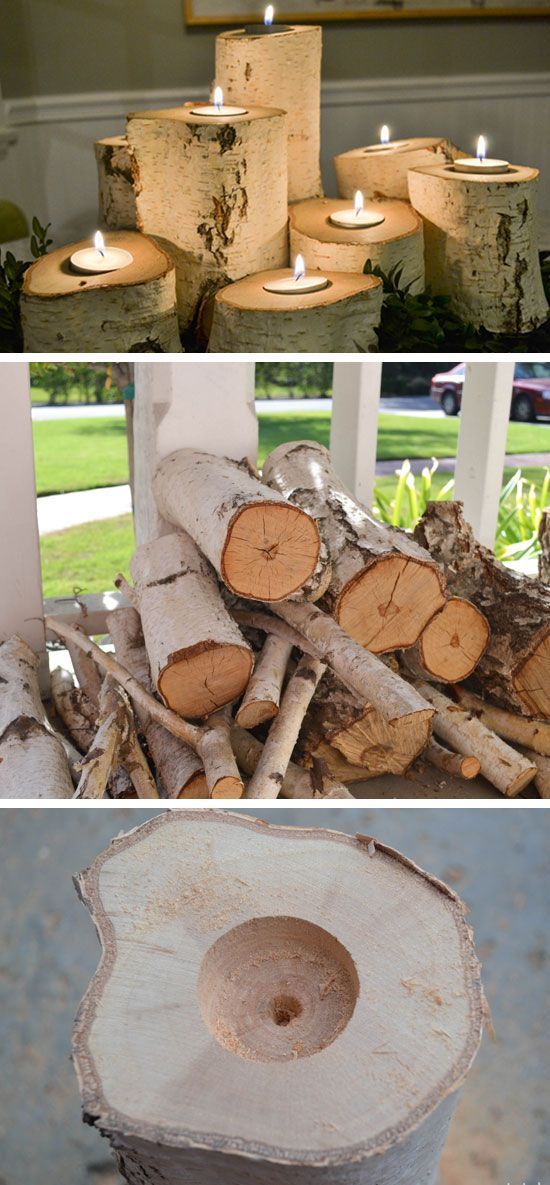 Collect different heights of tree stumps, carve out the center big enough to place a candle, arrange together in one spot, place your candles in the holes, and light them up for a whimsical corner decor that'll sure to turn heads. source
Wooden Trunks and Candles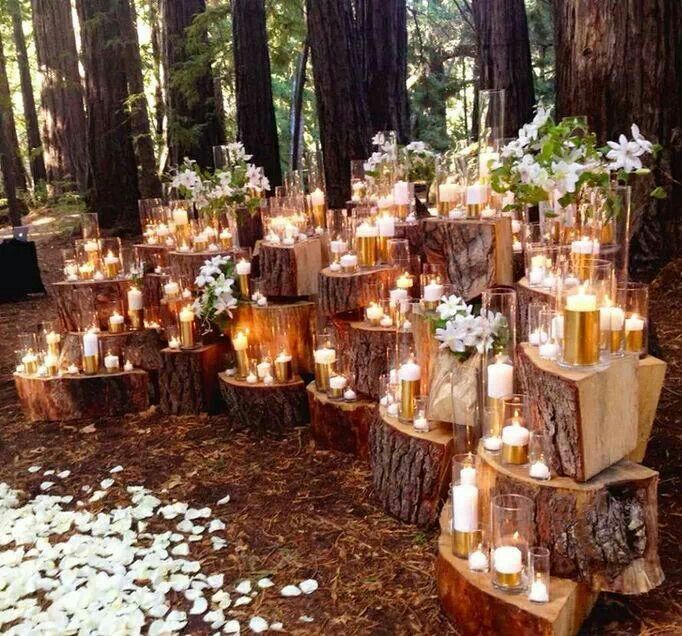 If you can't carve out holes on your tree stumps, simply place some candle holders on top of the wood and decorate as you please. source
DIY Cinnamon Candle in a Jar

Using glass candle holders, simple place a few cinnamon sticks inside and around the candle for that super fast and easy fall decor. source
$6 Popcorn-filled Vases for Fall or Thanksgiving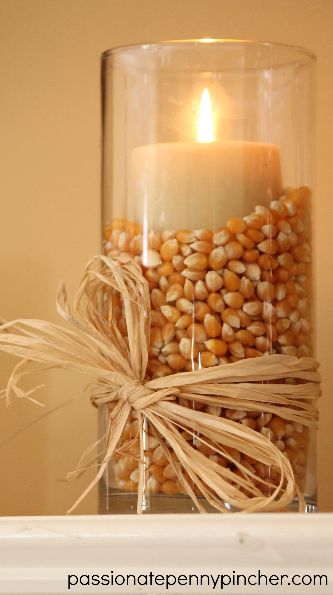 If you don't like the idea of cinnamon sticks, you can simply use corn. Place them inside the glass candle holder and tie your holder with twine to add some creativity. source
DIY Leaf Mason Jar Candle Holder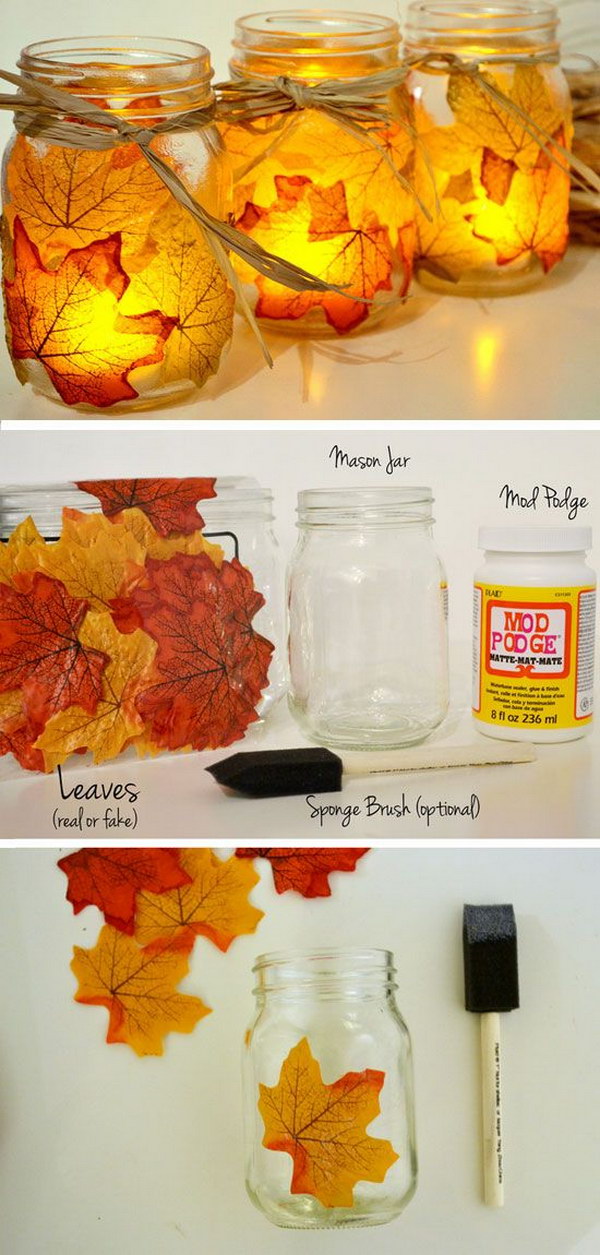 Cover your mason jars with paper or actual autumn leaves and place a candle inside. Light them up and decorate around your home. source
Fall Mason Jar Craft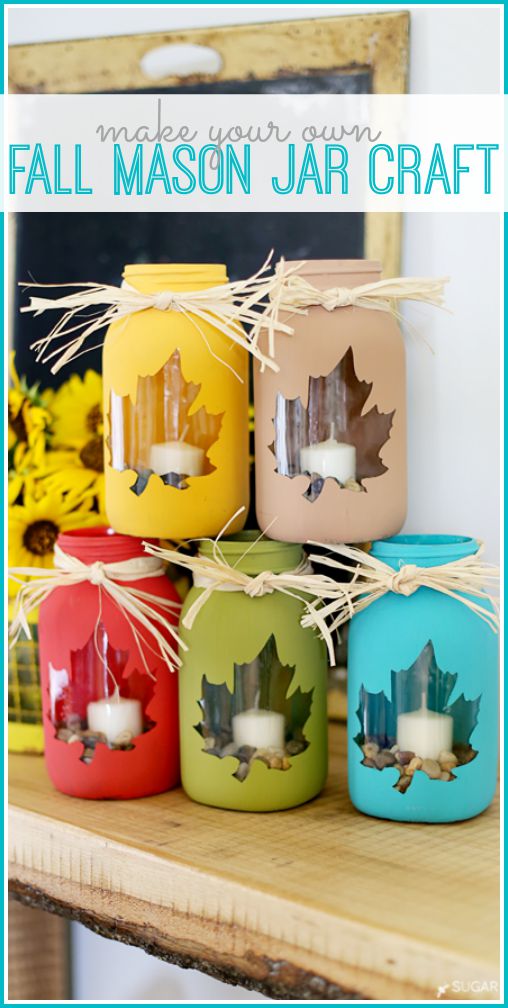 You can also paint your mason jars in different colors. Stick a stencil of an autumn leaf on the body of the jar before you paint so the shape is retained one you remove it. Add some raffia twine and they're good to go. source
Burlap Mason Jar Decoration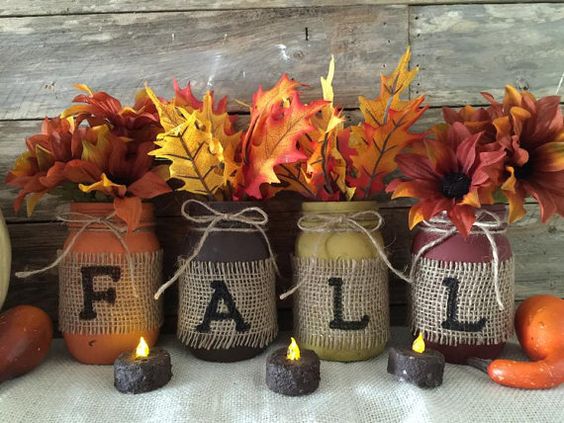 You can also wrap your jars with burlap for a more rustic vibe. source
Popsicle Stick Scarecrow Magnet

Make a scarecrow face with popsicle sticks, some raffia twine, and orange paint. Add a magnet to the back and place it on your refrigerator door. source
Turn Flower Pots Into Scarecrows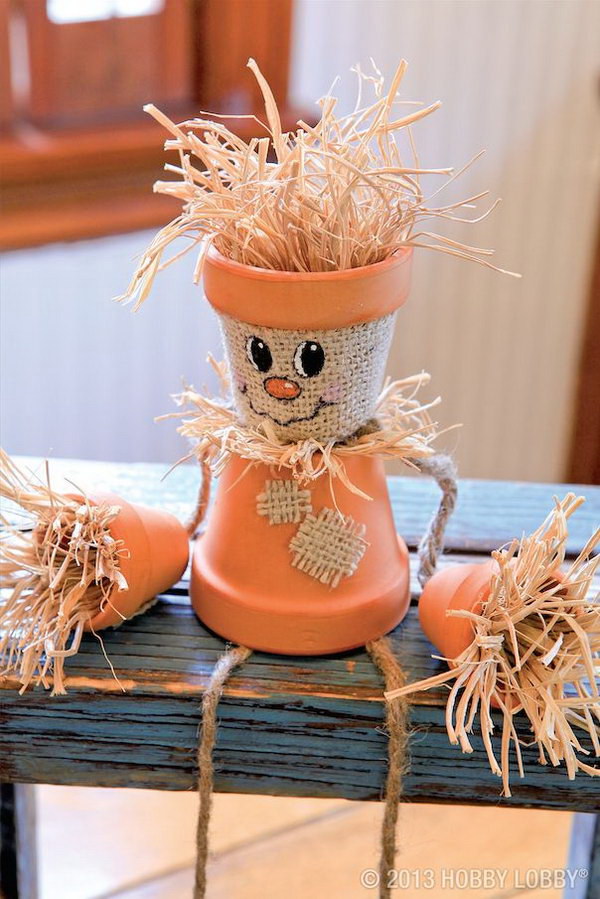 Assemble some orange flower pots in such a way that it forms a scarecrow. Paint one pot with the face of the scarecrow, and decorate the rest with burlap and hay. source