Everyone has a different view of Christmas. While most people love the Holiday season, some of the older ones, which have seen many Christmases and can't get over the mess, have definitely lost the magical spirit of Christmastime.
Christmas doesn't have to be a mess, even if you have little kids goofing around or a large group of people to entertain, though.
That is what hacks have been invented for: to make your life easier and more enjoyable during difficult and stressful times. Christmas is an excellent occasion to put some handy ideas and shortcuts to good use.
So if you're stressing about the arrival of Christmas, fret not. We've got every single situation you may find yourself in covered in this article.
Here's your guide to some Easy And Inexpensive DIY Christmas Hacks For A More Liveable Holiday.
DIY Hot Glue Snowflakes

Window decorations like snowflakes can sometimes be unfairly expensive, so making your own is a great idea. These ones are made by tracing the shapes on wax paper with hot glue, which then hardens and turns white. They are resistant, reusable and mess free if you install them using glue sticks or double sided tape. via littlecraftcorner
DIY Giant Holiday Bells With Plastic Planters and Large Plastic Ornaments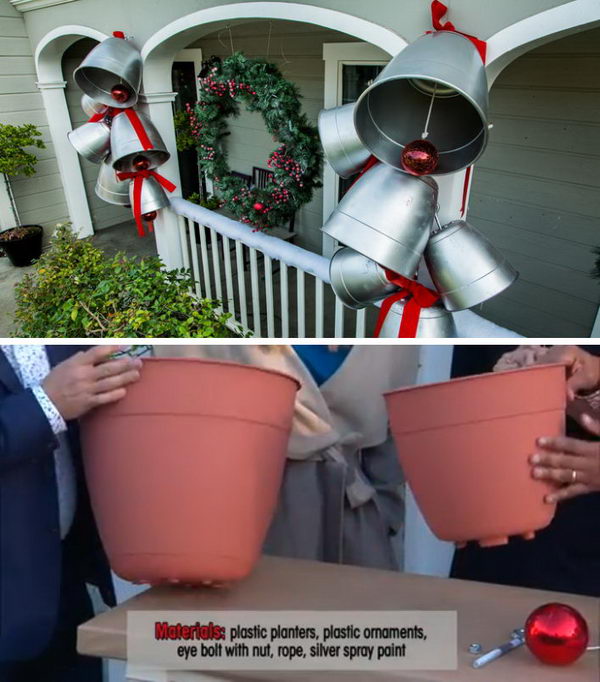 These giant plastic bells are a genius outdoor Holiday decoration. All you need to do is paint a plastic planter and then hang it with a string featuring a nice ornament at the end to achieve this unique look. via hallmarkchannel
Turn Old Tires Into Christmas Ornaments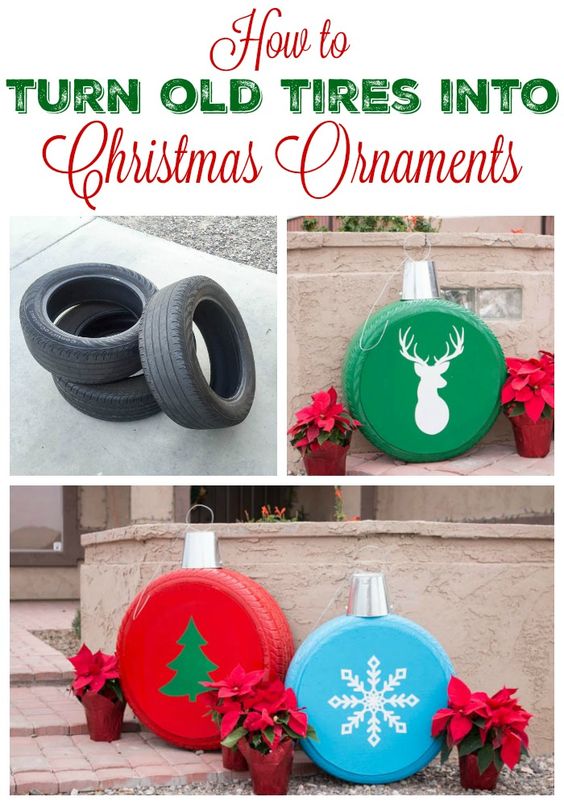 Using tires to make outdoor Christmas decorations is a bold idea, but one that definitely works. These ones have been partially covered with plywood to create a smoother surface, and then completely painted in bright colors. A stenciled figure and a tin cup at the top finish the giant ornament. via addicted2diy
Make Your Own Christmas Ornament Topiary

Topiaries are always a beautiful idea, and this red one is no exception. It is made from several, different-sized ornaments, which have been installed on a matching red skewer of sorts to create the stunning festive piece. via celebrateanddecorate
Hang Wreaths On Windows

Christmas wreaths are quite traditional, but they are normally hung at the door. These ones, which have fairy lights threaded through them, have been hung on windows instead using red drapes or giant red bows, creating a great twist for this Christmas classic. via tellittoyourneighbor
DIY Lighted Snowman Canvas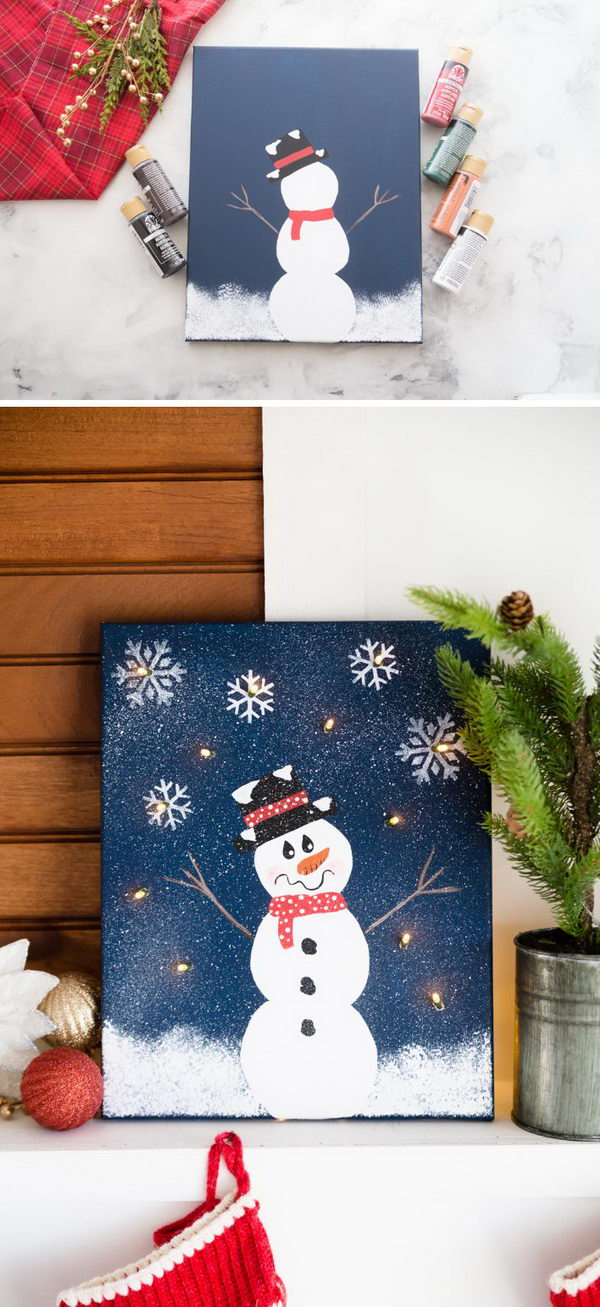 How do you light a canvas up at Christmastime? You thread fairy lights through small holes made in your picture and then add a ton of glitter to accentuate the effect. In this case, the snowman was actually made from scratch, and the lights have been installed in the little snowflakes, which helps blend them in. via madetobeamomma
Make Large, Faux Christmas Candy Decorations Using Pool Noodles

Making giant Christmas candy themed decorations is really easy. All you need to do is find some pool noodles and cover them in appropriately patterned wrapping paper before covering everything in plastic wrap for the finishing touch. via theseasonalhome
Make Big Peppermints From Styrofoam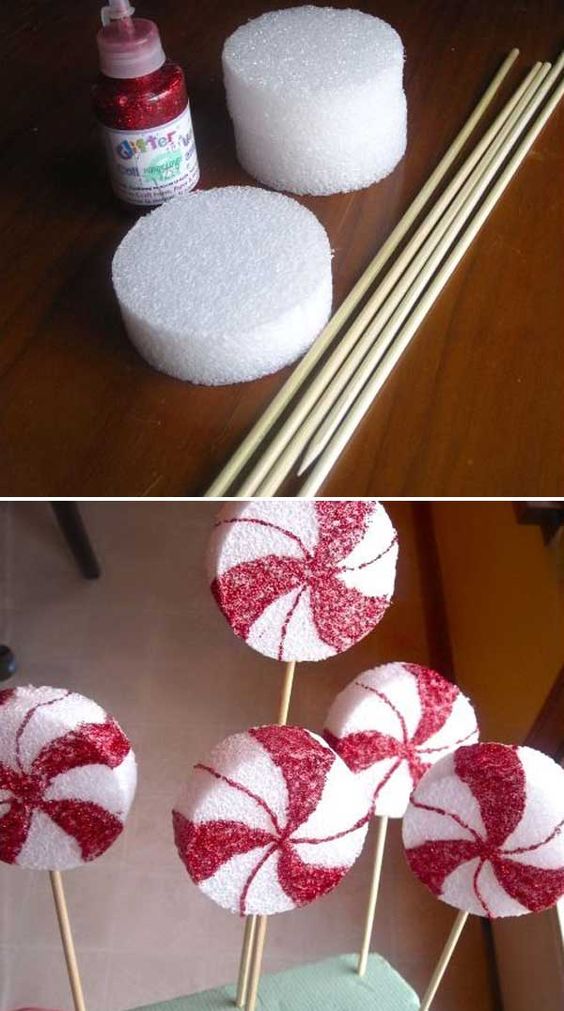 Making big fake peppermint lollies is actually not hard at all. Take some Styrofoam rounds and paint them partially red to look like peppermint candy then add a stick at the bottom. Be careful after you set them up though, because you never know who might want to try and eat them.
Hang A Christmas Wreath And A Solar Lantern On A Shepherd's Hook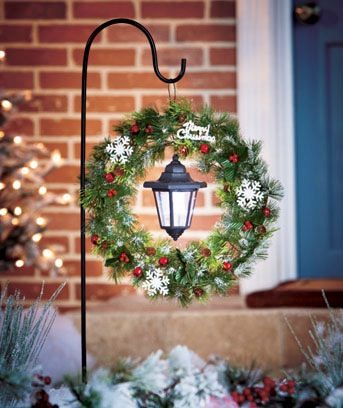 This decoration is really beautiful. Using a shepherd hook to hang a wreath is a very unique idea, and it really matches the vintage feel of the solar light at the center.
Make Giant Lollipops from Pool Noodle

Pool noodles are great for making candy decorations, as you can tell. This one was wrapped diagonally with a contrasting piece of paper or ribbon to create the candy pattern, then rolled onto itself to make the lollipop shape. Large beams were inserted through the noodle to create the stick. via Youtube
Use A Block Of Foam To Make Christmas Porch Light Decoration

This porch light is quite special, as it uses a foam block to create a base for the beautiful arrangement hanging below the light. It was decorated with festive red ribbons among the stunning greens, creating the traditional color scheme. via inmyownstyle
Paint Santas From Logs

These decorations are very unique as the logs, which are tied with a bow at the base, have been turned into Santa Claus heads at their upper edges through some simple yet skillful painting. via smartgirlsdiy
Make Festive Holiday Gift Boxs From Concrete Bricks

This present probably weighs a ton, but it certainly looks gorgeous. To make one you will need to spray paint a concrete box using two colors of glitter paint and then add a bow at the top. You can use it as decoration or try to actually hand the gift out as a joke. via chicacircle
Make Awesome Christmas Light Balls From Chicken Wire
Chicken wire is quite pliable and has a honeycomb shape, so it's ideal for any decoration projects, as it can be easily shaped and decorated. Here, it was made into light balls using strings of Christmas lights. via christmaslightsetc
Attach Bright Red Joy Letters To Flower Pots For Holiday Outdoor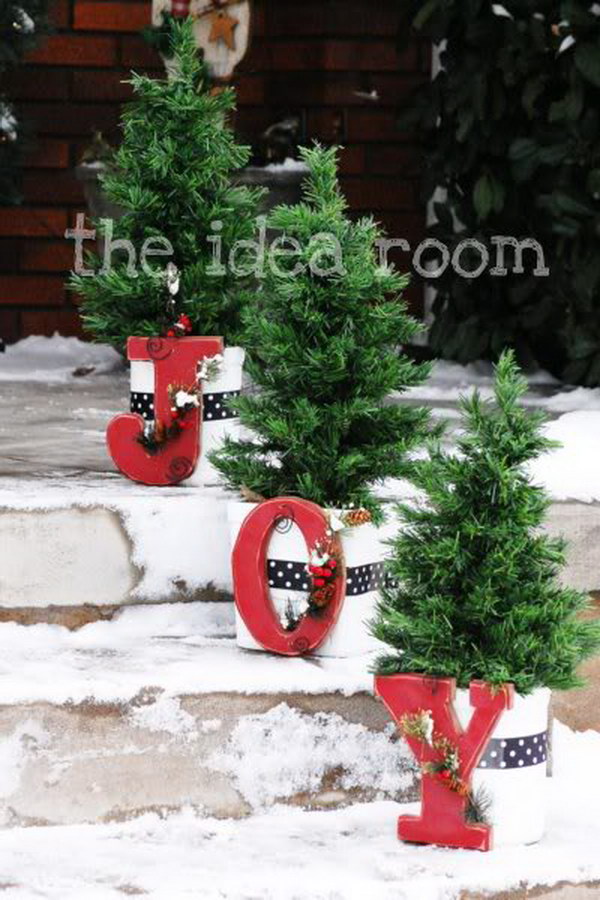 Letters and marquees have been a decorative trend for a while, so it's no surprise to see them at Christmas too. These ones, in particular, spell the word "JOY" and feature small decorations at one side. You can use different letters or spell another word if you have more plants to decorate, though. via theidearoom
Hang Lighting Christmas Wreaths The Bautiful Way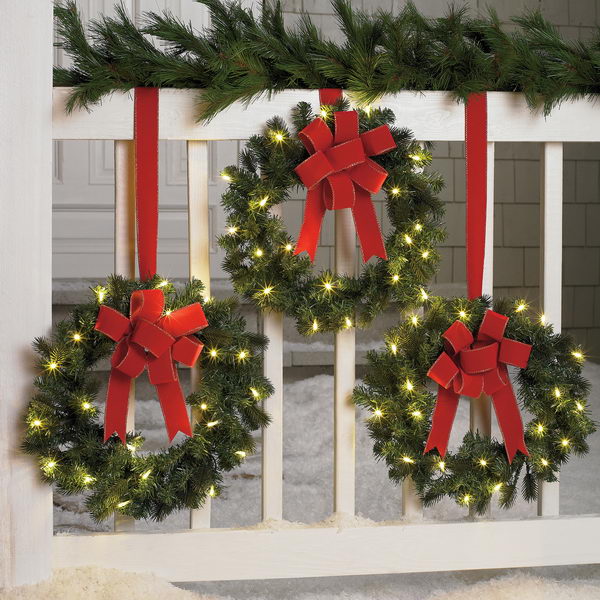 These wreaths, which feature fairy lights, were hung from a railing using festive red bows, which makes them look very different and unique.
Make Starburst Ornaments From Spray Painted Straws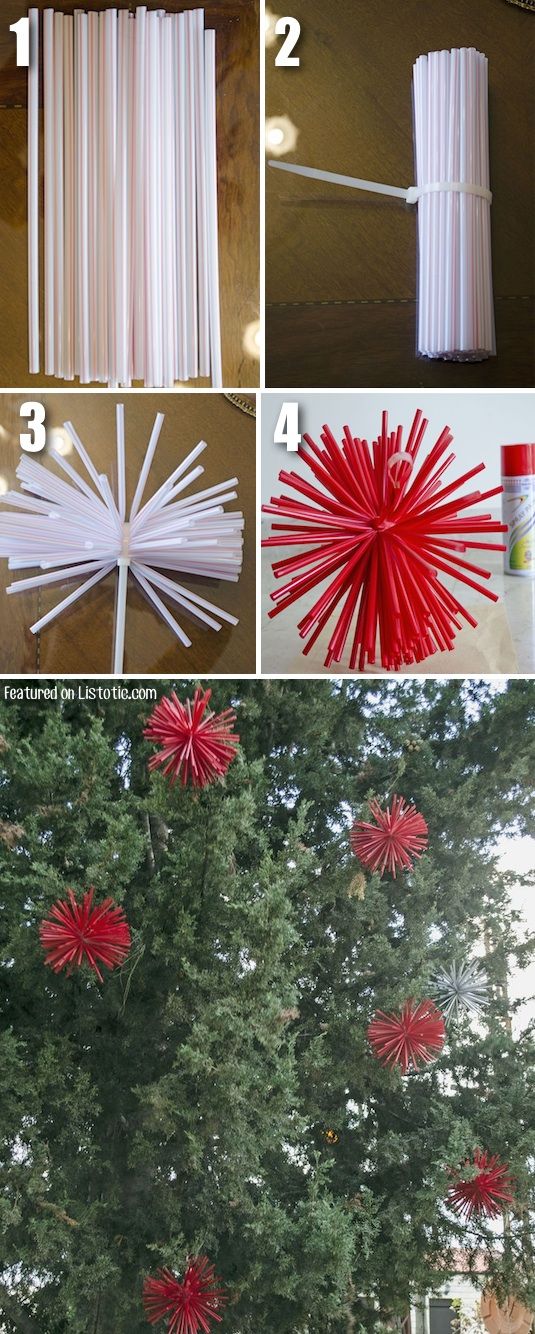 Making starburst ornaments has never been as easy as gluing painted straws together in every which way to form a ball shape and then hanging them using some string.
Make Giant Lollipops From Paper Plates

Here's an alternate way to make fake lollipops using household items. Paint some paper plates in the peppermint pattern, then glue in a stick. Add some plastic over the top and tie it with a bow to finish the decoration off nice and realistically. via smartschoolhouse
DIY Wooden Stars Christmas Decoration

Want to light up the outside of your house without spending a fortune? This is how you make these three giant lighted stars. You need to build the stars using thin pieces of plywood constructed in crossed triangles, then thread your lights through like in a marquee. Once that's done, all you need to do is hang the stars and light up the night. via dukemanorfarm
Creative Ping Pong Ball Christmas Lights
Here's how you make your fairy lights look completely unique – you stick them inside ping-pong balls. The balls amplify the lights and make the rainbow of colors stand out much better than the tiny bulbs would alone. via instructables
Wrap The Front Door For Holidays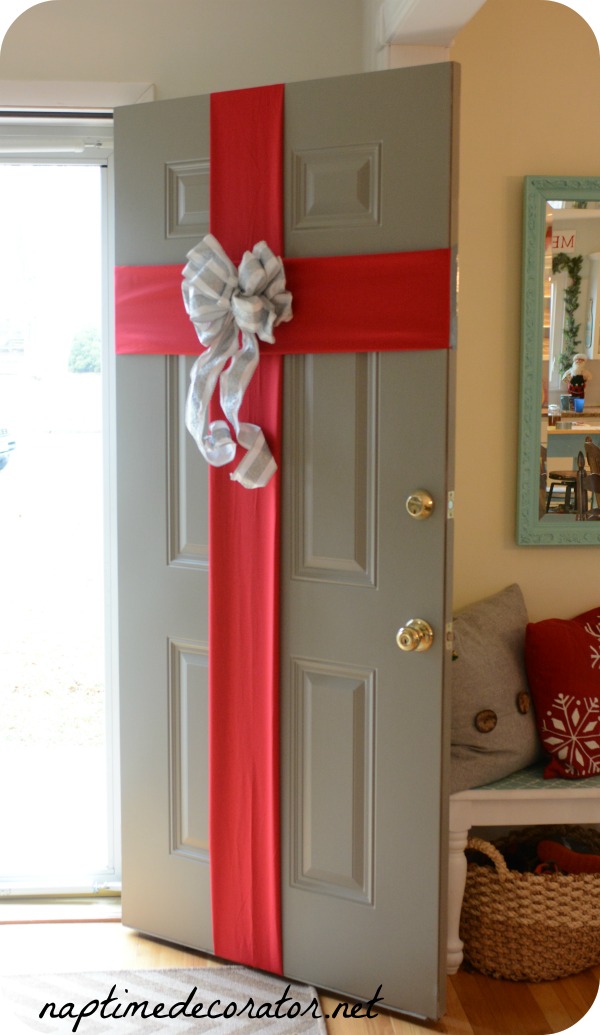 This decoration is quite simple, but it makes a huge impact. All you need to do is get two wide and long pieces of red fabric to make the fake ribbon on your door and create that "wrapped" effect. You can then add a bow or any other decoration you like in the interception as a finishing touch. via naptimedecorator
Make Glitter Candles For Holiday Table Decoration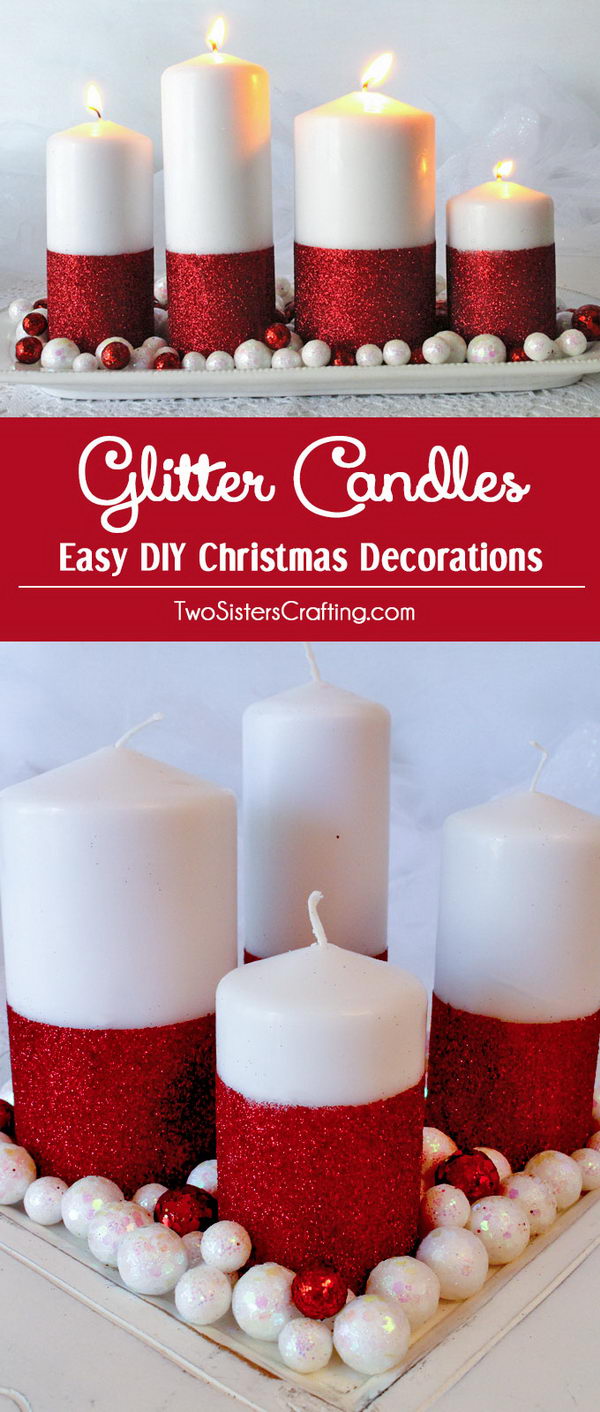 This project takes almost no effort to make. All you need to do is spray the bottoms of your candles with glitter paint following a previously marked guide, then seal everything in and let it dry before use. via twosisterscrafting
DIY Candy Cane Stripe Christmas Marquee Letters

All marquee letters are made the same: they are cut from a hard material like cardboard or wood, have holes drilled in to thread the lights through from behind and are painted. These feature a candy cane pattern made using diagonal red and white stripes and they have been decorated with mistletoe at the bottom corners for an extra festive touch. via polkadotchair
DIY Let it Snow Christmas Wreath

Here's a really different and cute winter wreath. Part of it is covered in a plaid pattern, while the bottom represents a snow covered scene, complete with winter trees. It was finished off with round wood pieces spelling "Let It Snow" and hung using a wide piece of beige fabric. via thehappyhousie
Make Trees From Old Sweaters

This is the project to make if you want to give new life to your old Christmas sweaters. Create a standing cardboard tree and then cover it with your sweater to make it look beautiful, cozy and festive for the Holidays. via finditmakeitloveit
Add Ornaments To Your Window Boxes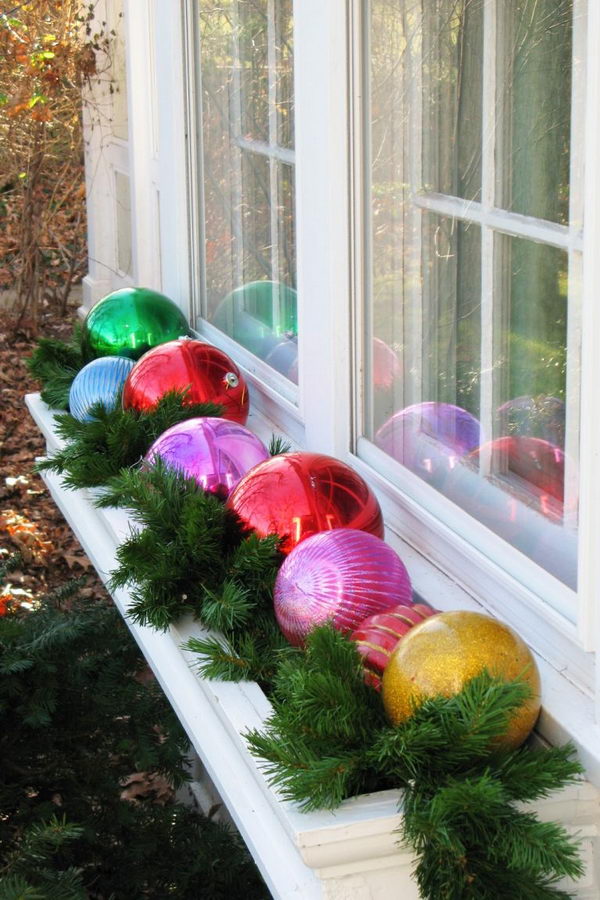 Add festive color to your window boxes by nesting a rainbow of babble ornaments among your greens for the season. via justgrandeko
Santa Pants Flower Pots

Turning a pair of red clay planters into Santa pants is quite easy. All you need to do is paint their dishes black, then add a white trim In between. Join the two pots using stitched black ribbon and then finish everything by adding a hollow gold foil rectangle for the buckle and placing your plants inside each pot. via chicacircle
Hang Candy Canes On Your Windows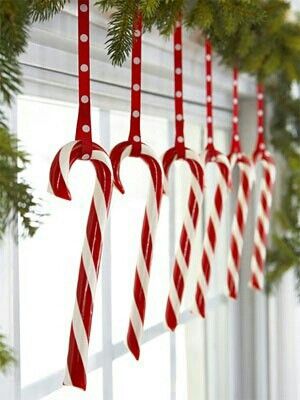 Get some big fake candy canes and hang them from your window using some red ribbon or something similar to spread the holiday joy outside your home.
Hang Colorful Ornaments On The Stair Banister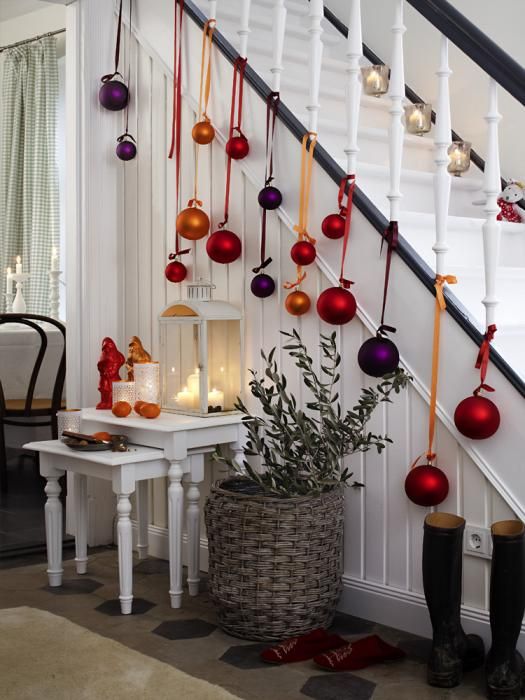 Ornaments aren't just meant for Christmas trees, and they can add life and color to any space, so take advantage of the banister from your stairs and hang some ornaments in an uneven pattern to decorate the area.
DIY Festive Outdoor Holiday Garland From Foam Spheres And Dishs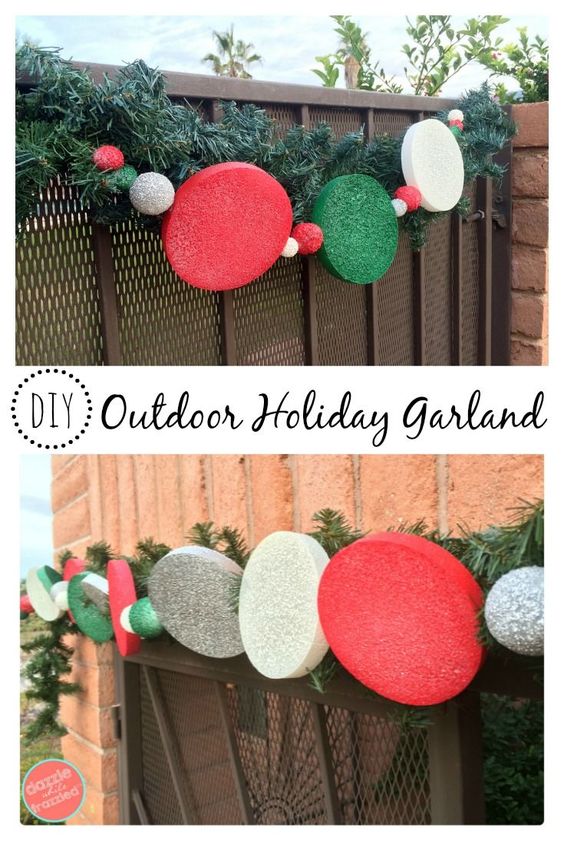 This outdoors garland has definitely got that DIY, rustic feel, with the greens at the back and the painted foam and plates as decoration, adding color and life to the fence. via dazzlewhilefrazzled
DIY Snow Vases From Wine Bottles

These glitzy vases are perfect for Winter parties and they are incredibly easy to make. All you need to do is save wine bottles, clean and paint them white and then fully cover the inside in white glitter to create the fake snow effect that will dazzle your dinner guests. via cleverlyinspired and hallmarkchannel
DIY Peppermint Monogram Wreath

Now this is definitely a unique decoration. A monogram letter was turned into a wreath of sorts by being covered in little peppermints and then hung using a large red bow as a topper. via twotwentyone
DIY Christmas Present Stack

If you want to have a big stack of presents decorating your house even before you buy any, you need to take several cardboard boxes, mount them high on a long wooden stick and then wrap them all up to look the part. via thekeeperofcheerios
DIY Candy Lights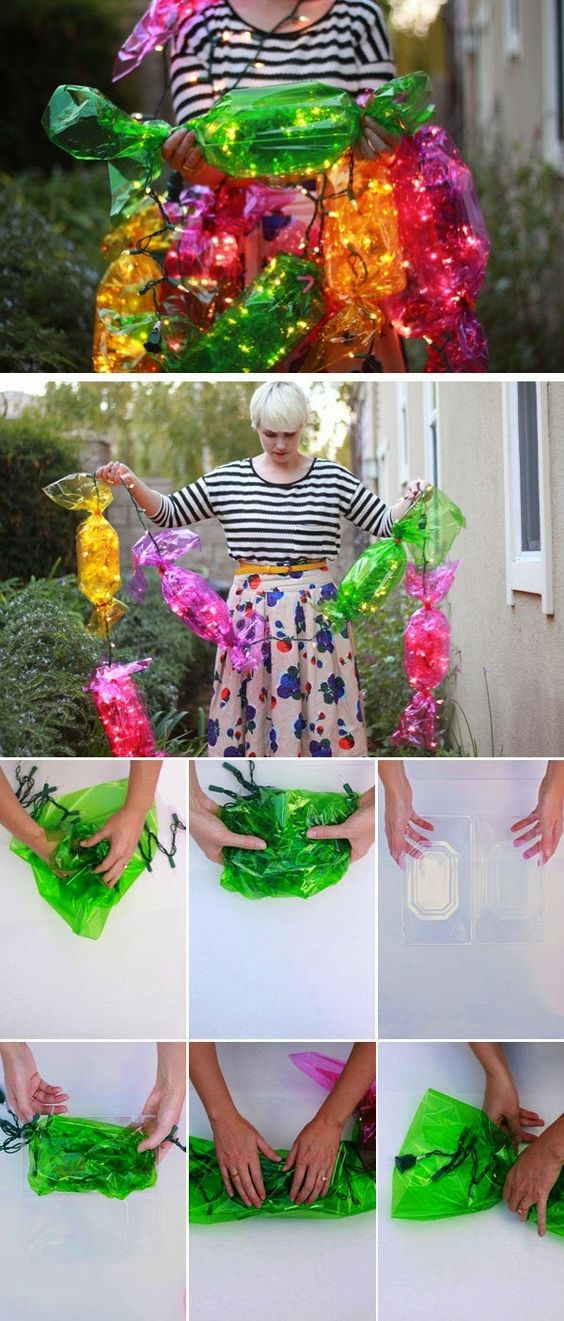 This is arguably the sweetest way to light up your house for the holidays. To make these you need to find clear plastic boxes, then place string lights inside and wrap everything in colored cellophane paper. You can use them as standalone pieces or make a garland to frame your door, for instance. via ohhappyday
DIY Lighted Candy Canes from PVC Pipe and Christmas Lights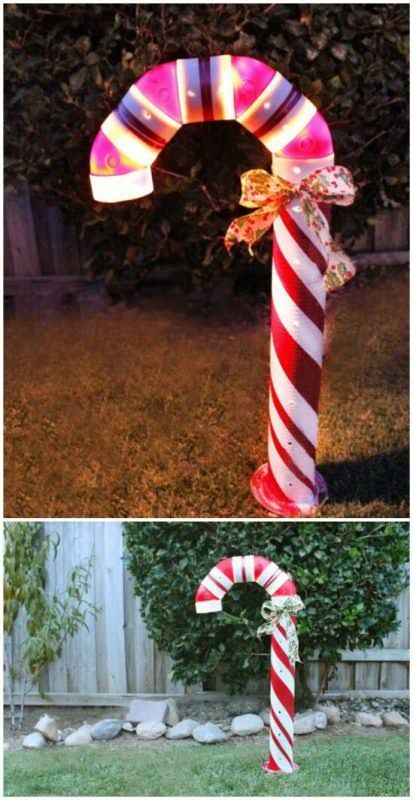 This sweet DIY candy cane decoration was made from a PVC pipe, which is easy to mold into shape, then painted red and covered diagonally with white fabric to create the famous pattern. String lights make the piece shine while a red bow adds the finishing touch. via ehow
Wrapped Pizza Boxes For Christmas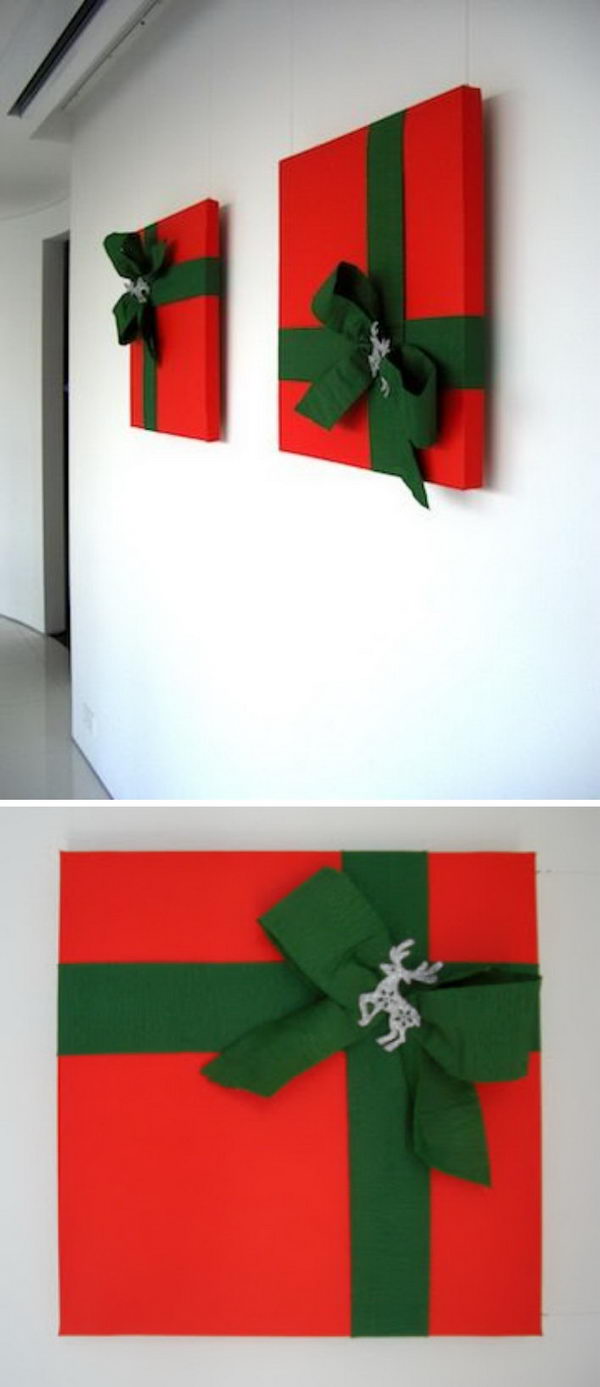 No one who sees these beautiful presents on the wall will guess what they really are. In fact, these are just pizza boxes covered with red fabric and then strips of green tied into a bow to serve as a fake ribbon. A little reindeer figurine tops them off. via prettyjoys
DIY Holiday Star Luminary Craft

These luminaries are simply beautiful and incredibly easy to make. They are round jars with a snowy white bottom and gold foiled stars glued around on the inside. The tea light in the jar turns it into a luminary. via petscribbles
DIY Paper Snowflake Table Runner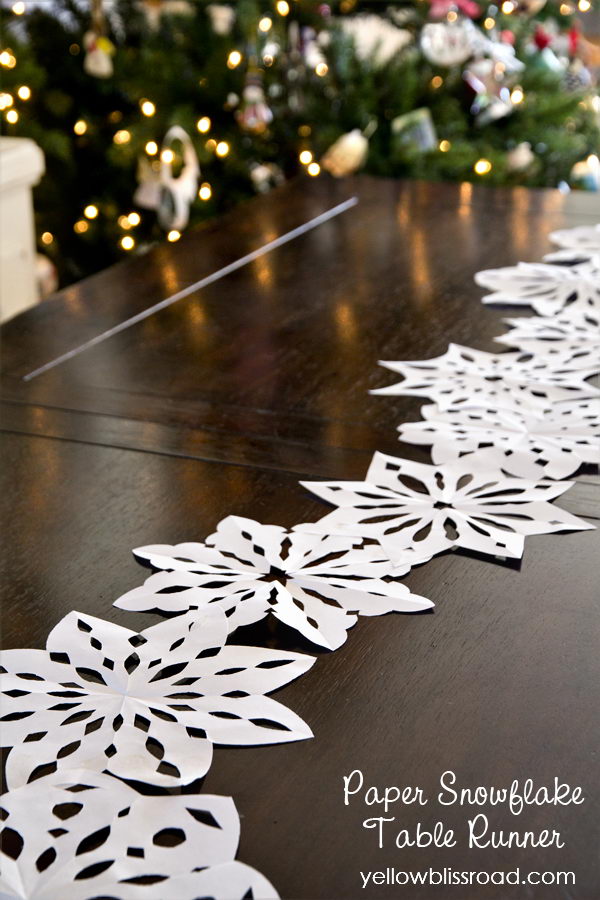 This is quite an easy and inexpensive Holiday decoration to make, and it looks really classy. All you need to do is buy or cut some paper snowflakes from a template, then join them all together at the edge until they make a gorgeously dainty table runner. via yellowblissroad
Decorate Your Christmas Window with Paper Snowflakes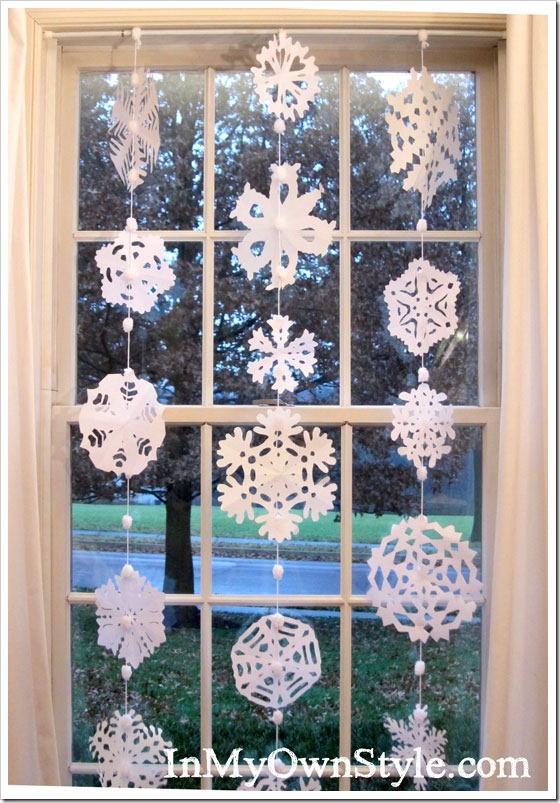 Paper snowflakes are a really cool Holiday decoration because you can buy or make them cheaply, and then use them for a number of things. In this case, several of them, which feature different designs, were strung along with large beads and hung to decorate the windows. via inmyownstyle
Make Popsicle Snowflakes

This is the ideal project for those who collected tons of Popsicle sticks through the summer. Glue them together in geometric shapes then paint them in festive colors to create beautiful snowflake pendant which you can hang in many ways to cheer up your home. via craftynest
DIY Beaded Pickle Jar For Christmas

Cover a pickle jar in red beads, create a gold edge and finish it off with a matching pendant so you have a gorgeously festive vase to display your holiday flowers. via hometalk