You love your house; that we can bet on. Everything in it is purposeful and helps make your life that much easier. However, some items are just not that pleasing to look at. Your friends might call some clutter, but you know you still have a need of them. Wi-Fi routers, scattered jewelry, toys and appliances are just some of the belongings we all have but would rather hide away from plain sight. Worry not though; all you need is extra and discreet storage space.
Looking around your home, you might discover certain corners and items have the potential to be modified and re-purposed into extra storage. What's even better is in some, you will only carry out slight modifications. You can totally do it yourself and produce stylish storage spaces that will also add to your home décor. To help you in your quest also, I have compiled some creative ideas you can implement to keep "eye-sores" away from sight.
DIY Kitty Litter Cabinet With a Hidden Litter Box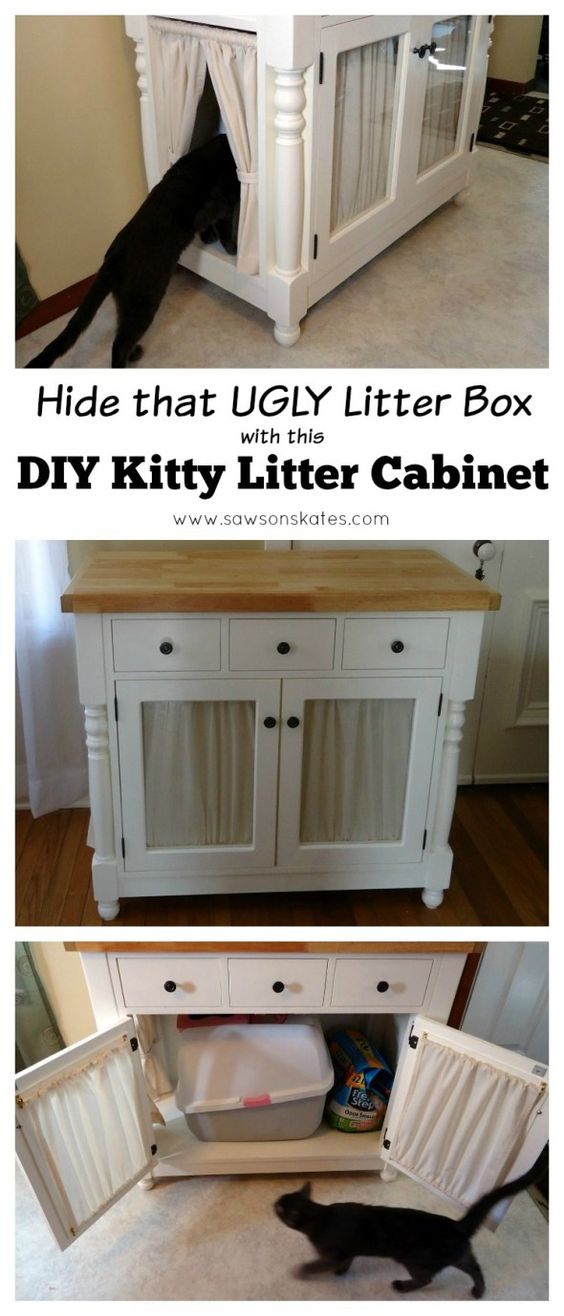 For all the love you show your cat, I am sure you would rather not deal with that kitty litter box. Rather than hide it away, there's a better way to handle it. That cabinet that you do not use anymore can be re-purposed to accommodate an attractive kitty litter cabinet complete with curtains and a resting place for your cat. via sawsonskates
DIY Wireless Router Disguise

Wi-Fi is a blessing; that router isn't though. Many people struggle with where to put it. It should be just as invisible as the Wi-Fi, right? With a document box, or an old book cut out, this can totally happen. A small hole at the back for the cords and you are done. via feministdrilljoy
Hideaway for Appliances

Your kitchen has many appliances. You know your counters would look better if they were clear of them. Good news though, your cabinets can be modified to accommodate them. An extra cabinet can also be made from the longer cabinets, and doors with lift up mechanism installed. Such spaces would be perfect for your coffee maker, mixer and toaster. via designdazzle
Hidden Play Area in Your Living Room

Children are a blessing, but as they grow up, so do the heaps of toys. Soon, the living room can be overrun and made a play area, leaving behind a huge mess that's ugly and embarrassing to your friends. With an old chest, hidden in one of the living room corners, your kids' toys can be quickly be stored without escaping from the space. via thriftyandchic
Shoe Storage Closet Behind a Curtain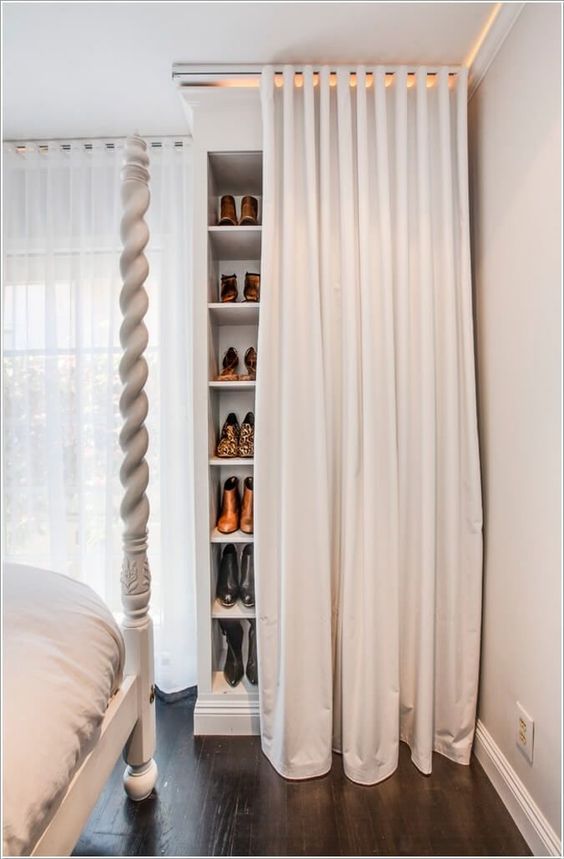 You already have the shoe closet, but all the shoe colors make for some serious clutter. You can easily fix this by hanging a curtain over the shelf. A drapery would be an excellent solution. Using fabric that also matches the wall paint adds to the clean and cohesive bedroom setting. via houzz
Hidden Printer in a Basket

You can discretely store your printer using only a basket that fits your printer and no garage tools at all. With a marker to know exactly where to cut openings, for the paper to exit and cords to emerge from, plus scissors to cut, you will have your basket ready in no time. via thediyplaybook
Chic Storage Ottomans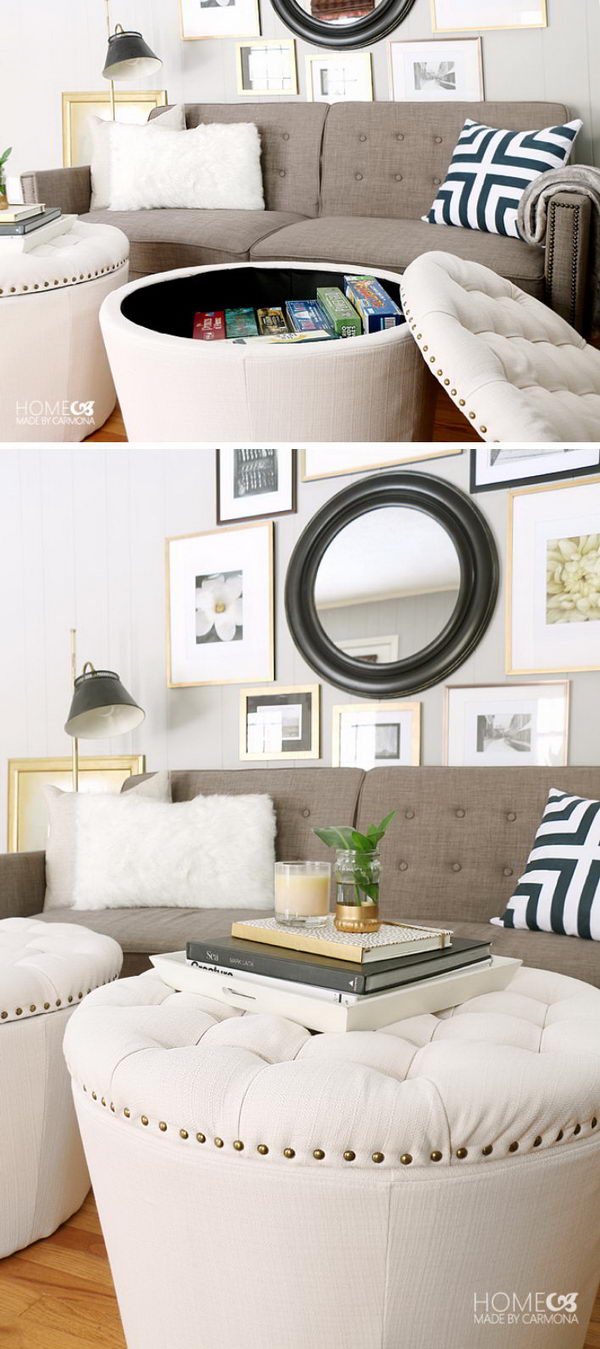 Storage ottomans are also a great option for additional storage. Their price and design flexibility makes them a great alternative to building extra shelves. Easily found on e-commerce platforms, they come in a variety of sizes, shapes and fabric. Consequently, you can pick out one or two that not only complement your living space, but also increase storage space for toys and other goods. via homemadebycarmona
Window Sill Hidden Drawer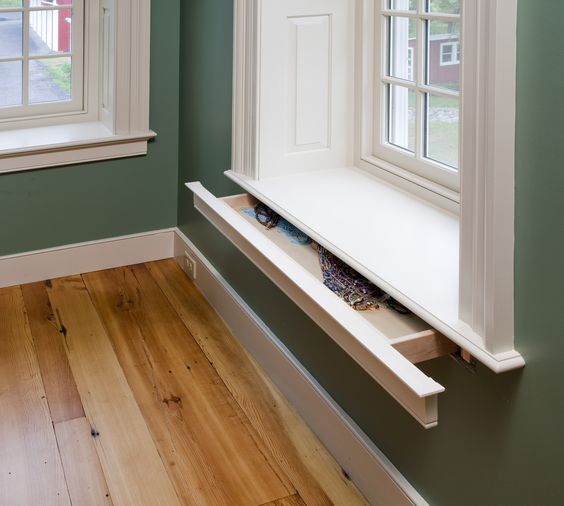 Window sills that extend to the outside are perfect candidates for hidden drawers. With a little modification, the lower part of the frame can house a drawer from beneath making it the perfect space to store your jewelry. A few wood planks and carpentry equipment is all you need to do it yourself. via pinterest
Use Faux Giant Stone to Hide The Ugly Stuff in The Garden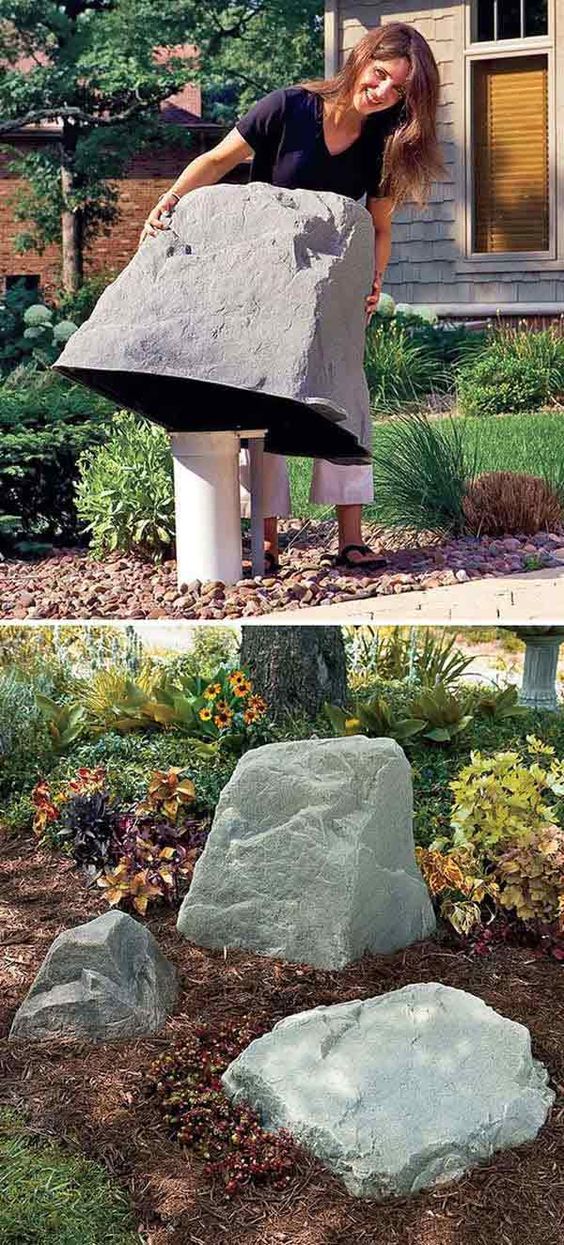 A giant faux stone is perfect for items in your garden that seem out of place. An old fire hydrant that's not in use anymore is a prime example. The giant "stone" can cover it up nicely and blend with the surrounding garden. via plowhearth
Pull Out Drawer for Dog Food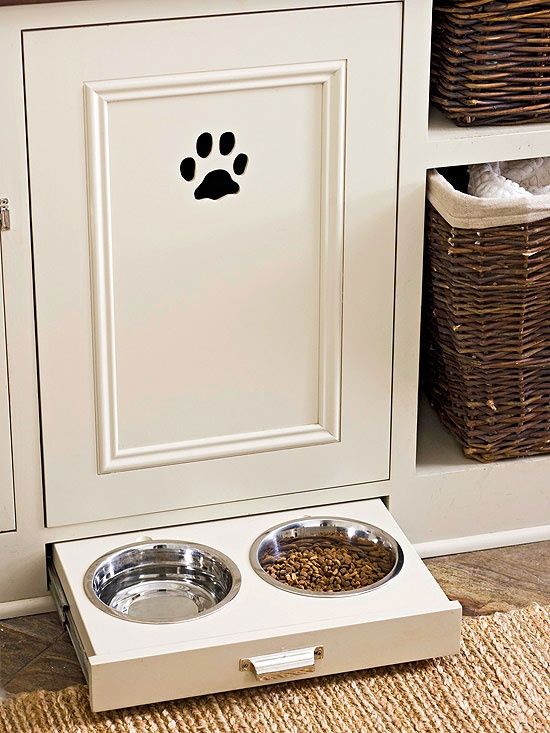 There is an easy way to contain your pet areas by converting one of your kitchen cabinets into a pet station. A pull-out drawer at the bottom can be fitted with the feeding bowls, while the top space stores the food. via pinterest
DIY Faux Fireplace Mantle with Hidden Storage Cabinets

One way of utilizing your faux fireplace, other than hanging stockings over Christmas, is adding additional closets to it. Lumber, Screws and hardware all under $200 is all it will take to repurpose your fireplace. Once finished, it's a perfect resting place for your entertainment system. via woodshopdiaries
DIY Bathroom Mirror Storage Case
This is an easy way of turning the frame behind your bathroom mirror into extra storage space. For the project, you will need; lumber for the shelves, hinges and a handle to turn the mirror into a door, and power tools to bring it all together. via shanty-2-chic
DIY Garden Hose Holder With Planter Using Recycled Pallet Wood

With some pallet wood from previous works, you can build an impressive hose holder for your garden. Some power tools for cutting and fixing nails as well as glue is all you will need for the project. Thus, get designing, and build it yourself when you can. via diycandy
Wood Tilt Out Trash Can Cabinet

An aging cabinet can be a perfect place to hide away your recycle bin. The tilt-out door enables easy use while also locking out any smells once it closes. The cabinet can also be painted with a color that complements the kitchen space. via tonyastaab
DIY Laundry Basket Dresser

That old dresser, no-one ever uses, is perfect for housing laundry baskets. The box of dressers is made by re-attaching the drawer fronts to plywood. Hinges are then used at the bottom to create tilt-doors. On completion you will have a better, more fun way, to manage dirty laundry. via shanty-2-chic
DIY Wall Canvas with Hidden Jewelry Storage

All it takes to have new storage for your jewelry is a canvas of your desired size. Using a piano hinge and some screws, you can attach it to a wall fast and easy. Cup hooks are the last puzzle piece after which your jewelry will have a new space free of dust. via teenyideas
There you have it. These wonderful tips are all simple to implement and will not cost you a fortune. The results however are worth the time you spend as they will help add to your home's comfort and organization.