Christmas tree decoration can be quite a personal ritual, as every family seems to have their own traditions, whether they've been created recently or passed on through generations.
Real trees remain popular, but some are opting for mess-free, long-lasting and ecologic fake ones. Ornaments, however, are never optional.
Christmas tree skirts are a whole other story. While it does provide a decorative finishing touch, serves as a base for ground decoration and of course helps catch fallen needles, not everyone feels like they need a skirt at the base of their Christmas tree.
If you are one of those people who think Christmas trees look incomplete without a skirt, then this gallery is absolutely perfect for you.
Start getting into the Christmas Spirit now with these DIY Christmas Tree Skirt Ideas!
Glitter Snowflake Tree Skirt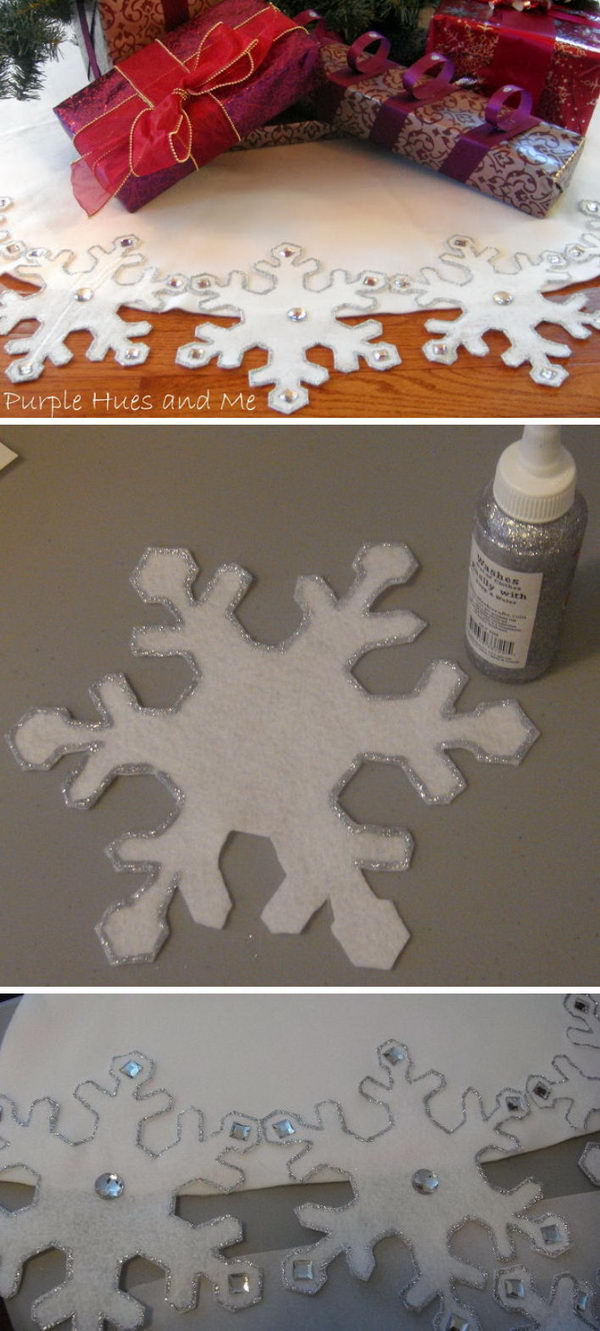 This skirt is the very picture of a White Christmas. The skirt itself is quite simple, but then it is edged by white homemade fabric or felt snowflakes covered in glitter, which give it a special sparkle. via purplehuesandme
Handprint Christmas Tree Skirt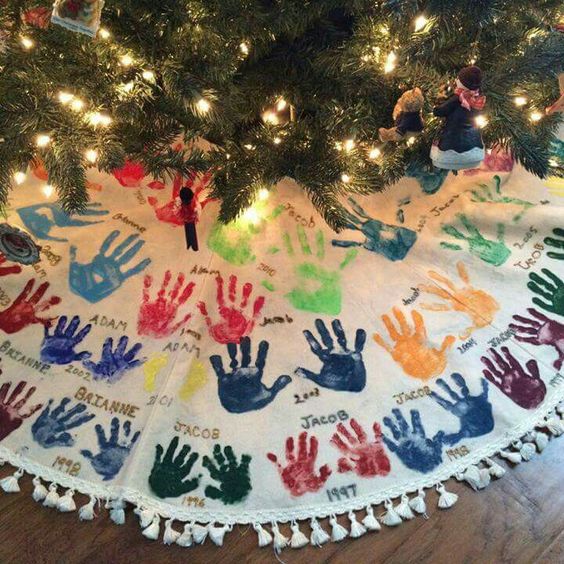 This skirt is definitely non-traditional, as it was covered with handprints in different colors and has small tassels at the edge. via pinterest
Easy Dresden Tree Skirt

This one, on the other hand, is fairly traditional, as it is made from folds of glittering red and green fabric that come out to points at the outer edges. via nancyzieman
DIY No-Sew Ruffle Christmas Tree Skirt

Now the red and white creation is truly impressive, but don't get scared by it. Ruffles are usually quite simply folds of fabric, so while it may take a while to complete and join all the layers, it will certainly be easier than you think. In any case, the result is certainly worth the work. via thinkingcloset
DIY No-Sew Christmas Tree Skirt

This three-colored and three-tiered skirt is easy to make because you only need to create three pieces of scalloped fabric and center them under the tree. It doesn't even require any sewing if you use a tree support to secure the layers. via dreamalittlebigger
DIY Felt Leaves Tree Skirt

The skirt is a little more intricate, as some leaves were cut in the same fabric and strung through some yarn. The yarn was tied on the inside of the scalloped edge to decorate and add detail. via thewickerhouse
No-Sew Sunburst Christmas Tree Skirt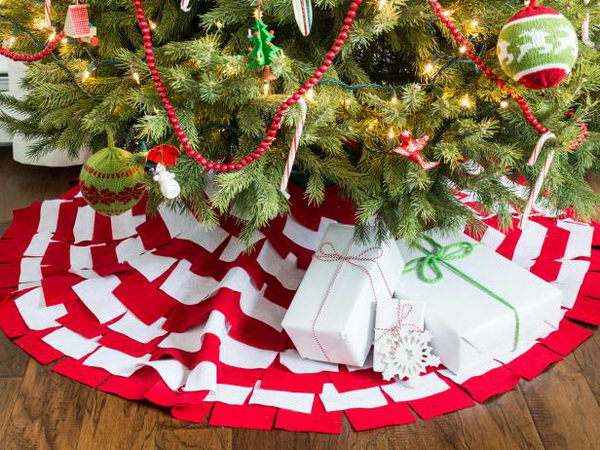 This white and red striped skirt has a candy cane look to it, and plenty of Holiday Cheer as well. It requires no sewing, so it's a perfect project for beginners. via hgtv
DIY Felt Flower Tree Skirt

The red skirt could be quite simple, but the flowers that decorate the edge make all the difference. They are fashioned from fabric petals which are then joined and pinched at the center before being decorated and attached to create the beautifully detailed piece. via sugarbeecrafts
Easy Ornament-Trimmed Tree Skirt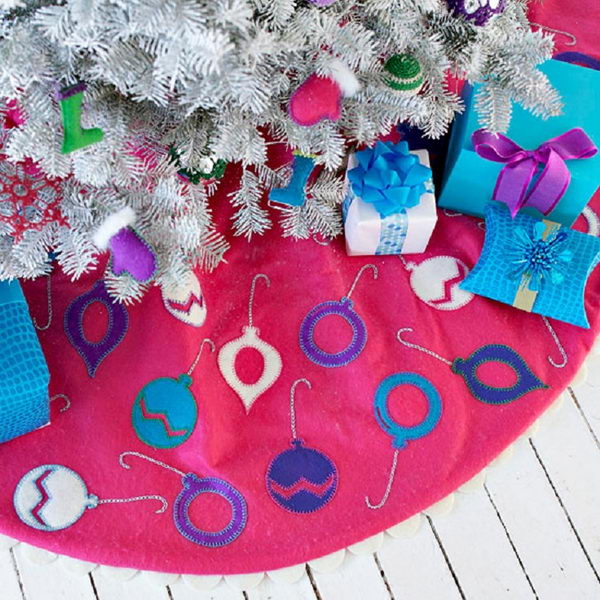 It is yet another incredibly original idea, as the red partial tree skirt was decorated with several contrasting ornaments towards the outer edge. via bhg
DIY No-Sew Faux Fur Christmas Tree Skirt

This is another White Christmas type of tree skirt, as it is simply made of a circle of faux fur fabric draped at the base of the actual tree. via thediymommy
No-Sew Snowflake Christmas Tree Skirt Tutorial

The traditional red and white skirt is perfect for those who have cutting skills but aren't handy with needles. The skirt itself is just a round piece of fabric, which is then edged with white fabric or felt snowflakes at the inner and outer edges. The snowflakes can be attached with fabric glue, so you definitely don't need to worry about sewing. via simplesimonandco
DIY Doughnut Tree Skirt

This may just be the cutest and most original tree skirt ever – a glazed doughnut with sprinkles. You need to make a nice brown base, then cut a second, uneven layer for your glaze and finally add many colorful small pieces of material to create the sprinkles if you want to recreate this look. via thepapermama
DIY No-Sew Snowflake Tree Skirt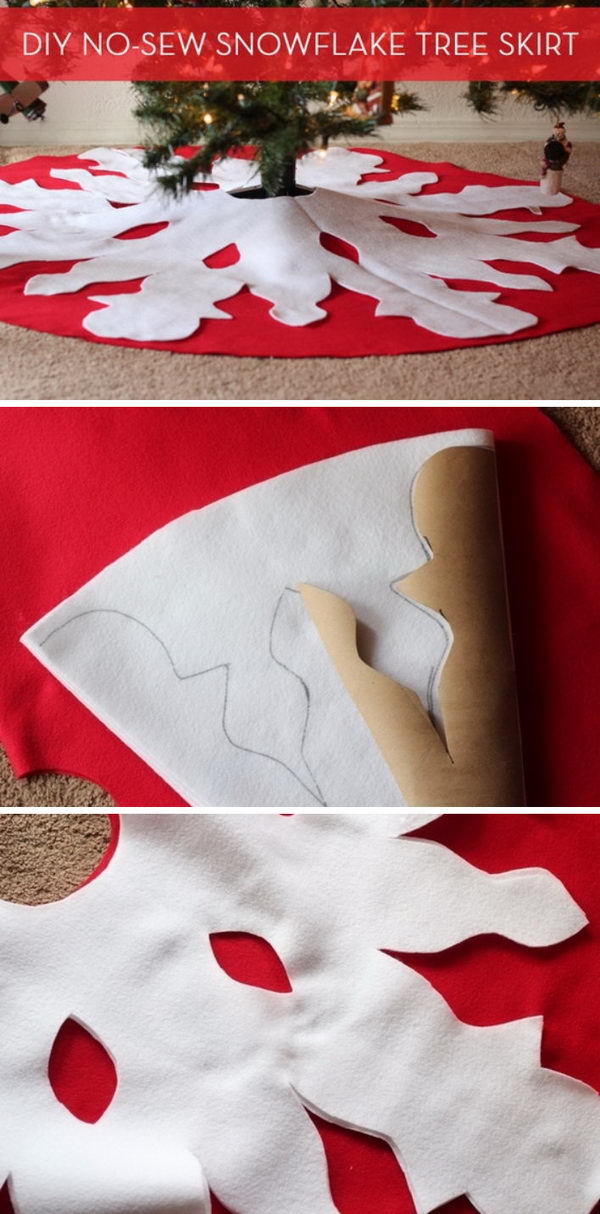 This one is quite interesting because it is only a giant white snowflake over a fully rounded red base. You can simply layer the two pieces or glue them together to avoid sewing nightmares. via curbly
Easy Felt FLower Tree Skirt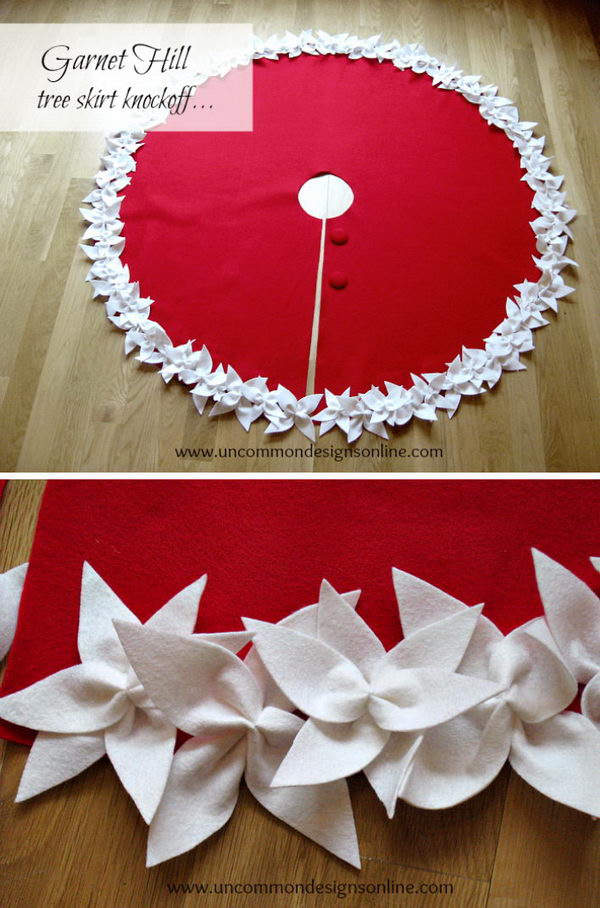 Now the skirt is very impressive because of its dimensional outer edge. The base is simple, smooth red fabric, but the skirt is trimmed with white flowers which are layered close together to create the 3D effect. via uncommondesignsonline
DIY Pompom Tree Skirt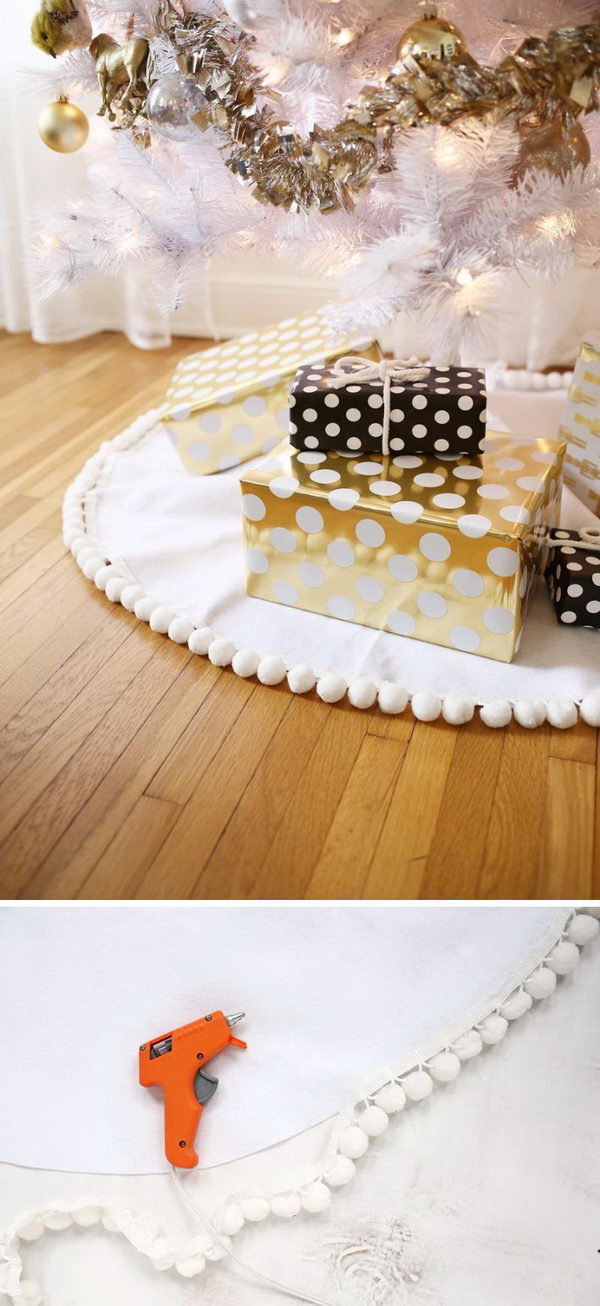 It could be just any simple white tree skirt, except there are pompoms all around the outer edge. via abeautifulmess
DIY Red And White Ruffled Christmas Tree Skirt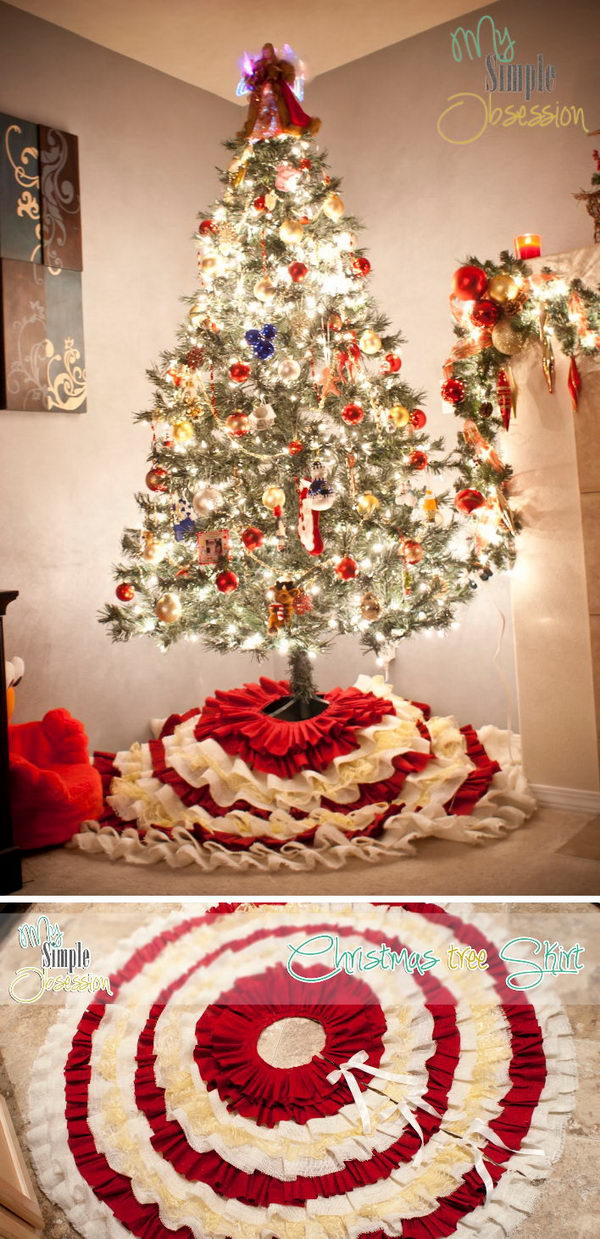 This is another take on the red and white ruffled look, except this one has a lot more decoration, such as little silky bows and golden overlays on the white layers. It shouldn't be that more difficult to make than others though. via mysimpleobsession
Teal, Red And White Ruffled Christmas Tree Skirt

The ruffled skirt is as easy to make as the first one we looked at. It does pack a bigger punch though, because there are teal and patterned layers in this one, instead of plain red and white. via thecraftedsparrow
White Christmas Tree Skirt with Fabric Circles

This is definitely a great white Christmas tree skirt, as the white circles or balls of fabric add a dimensional snowball effect to the piece, which looks just gorgeous. via thedecorfix
Large Colorful Circle Felt Tree Skirt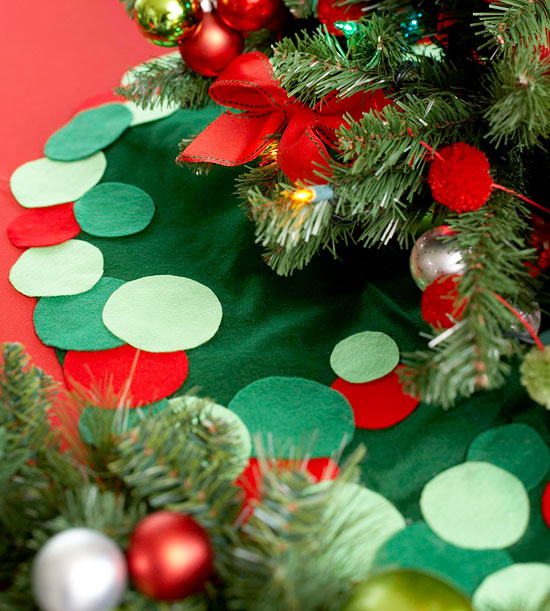 The green tree skirt has a very fun look, as it is decorated with colorful felt circles towards the edge, a look that is truly easy to achieve and adds a different touch to the piece. via bhg
Easy DIY Felt Ruffle Tree Skirt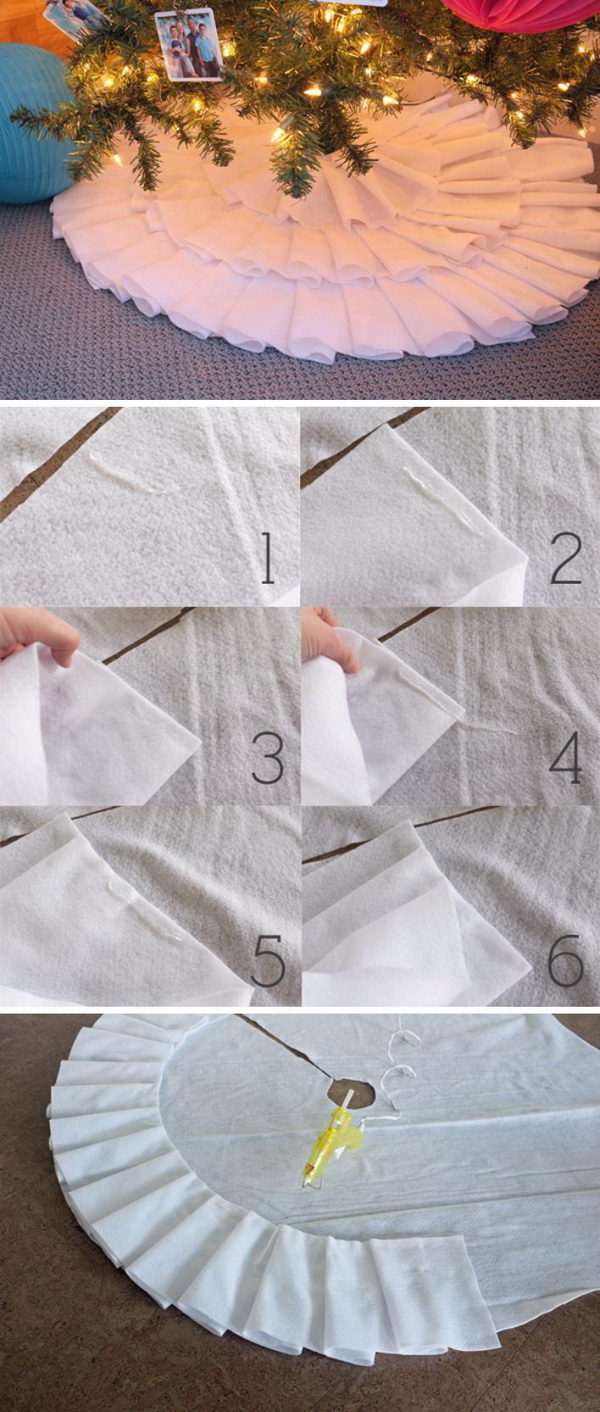 This angelical tree skirt is one of the most professional-looking pieces you'll find here, but while the decorative trim is made of felt instead pf fabric, what you need to keep in mind is that ruffles are simply folds, so they are very easy to make. via schoolofdecorating
Felt Holly Tree Skirt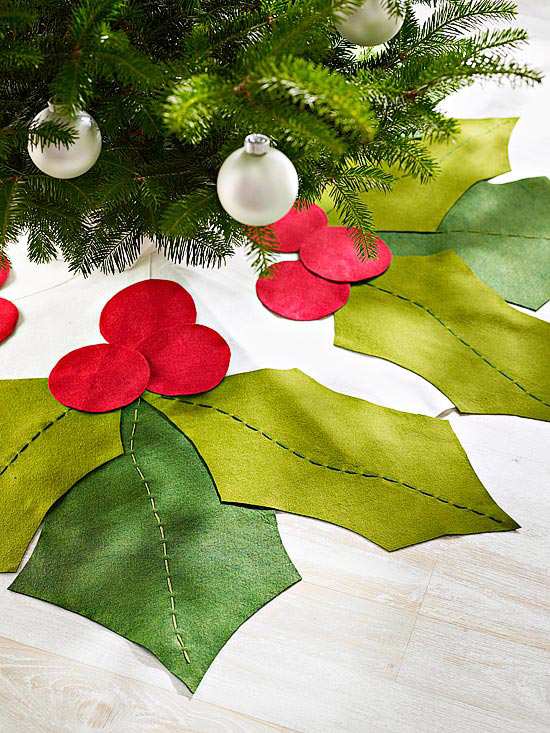 The white tree skirt is decorated with large pieces of holly crafted from red and green felt, which add some color to the piece in a very traditional way. via bhg
DIY Scalloped Felt Tree Skirt

This blue and white felt skirt is definitely unusual, but you can recreate it quite easily. All you need to do is cut your scalloped layers like you see in the images and then center them in alternate layers to finish the piece. via centsationalstyle
DIY Painter's Drop Cloth And Burlap Ruffled Tree Skirt

This project definitely stands on the more advanced side of ruffled skirts. The silky ruffles are made like any other, but the addition of burlap and all of the detailing make it more complicated and impressive. via thepinningmama
No Sew Ruffled Ombre Tree Skirt
This one has somewhat of an edgy vibe, as the blue and green ombre combination is definitely unusual. The ruffles themselves are also quite square off, adding to the unusual effect. via diyshowoff
Pom Pom Christmas Tree Skirt

The red scalloped tree skirt, which is trimmed and sprinkled with colorful pom poms, is certainly a perfect match for the technicolor tree above it. via craftyladyabby
DIY Christmas Tree Skirt
This burgundy layered and scalloped skirt has a very classic look, as it features small white rosettes scattered along every other of its outer scallops. via littlebitsofhome
DIY Moroccan Wedding Blanket Tree Skirt

The tree skirt is very detailed, as it is not only tiered, but also ruffled and decorated with strings of beading, all of which create a stunning effect. via designsponge
DIY Simple Ruched Tree Skirt

Ruching is another stunning yet easy fabric effect to create. Here, it adds a layered scalloped effect to the upper part of the skirt. via schoolofdecorating
DIY No-Sew Burlap and Lace Christmas Tree Skirt

Making burlap ruffles is very similar to making the felt equivalent. These ruffled burlap layers are edged by dainty lace and tied off with a bow for easy installion. The finished piece is perfect for a rustic or countryside Christmas. via myloveofstyle
DIY Ruffle Felt Christmas Tree Skirt

This tree skirt is mainly made of a dark forest green felt, but then a white ruffle with red flowers sprinkled throughout was added to the trim to make it look prettier. via viewfromthefridge
Simple Tree Skirt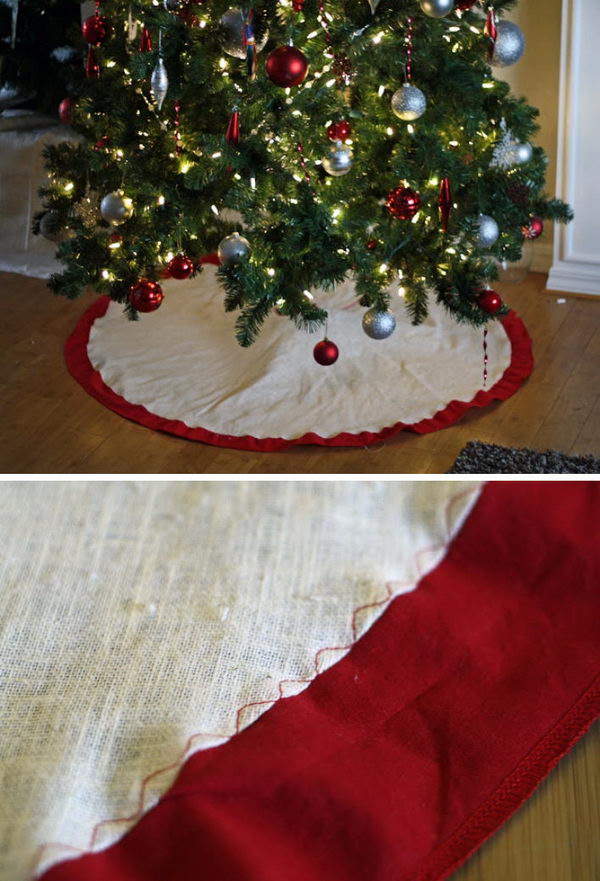 This one is certainly simply beautiful, as it is made from a velvety red base that peeks out from under an embroidered white overlay. via running-w-scissors
No-Sew Tree Skirt Using A Basic Scalloped Tree Skirt And Felt Tree Ornaments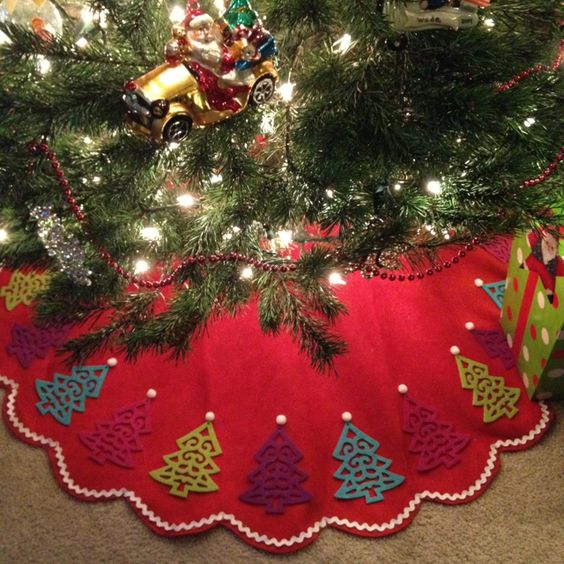 This fun tree skirt has a simple scalloped red base with a white chevron trim. Colorful felt tree ornaments were added along the inside of the edge to make it look fun and special. via pinterest
DIY NO-SEW Christmas Tree Skirt With Felt Flowers

It is yet another simple white skirt with a decorative edge. In this case, flowers were added daintly around the skirt to make a beautiful trim. via livelovediy
DIY No Sew Ruffle Tree Skirt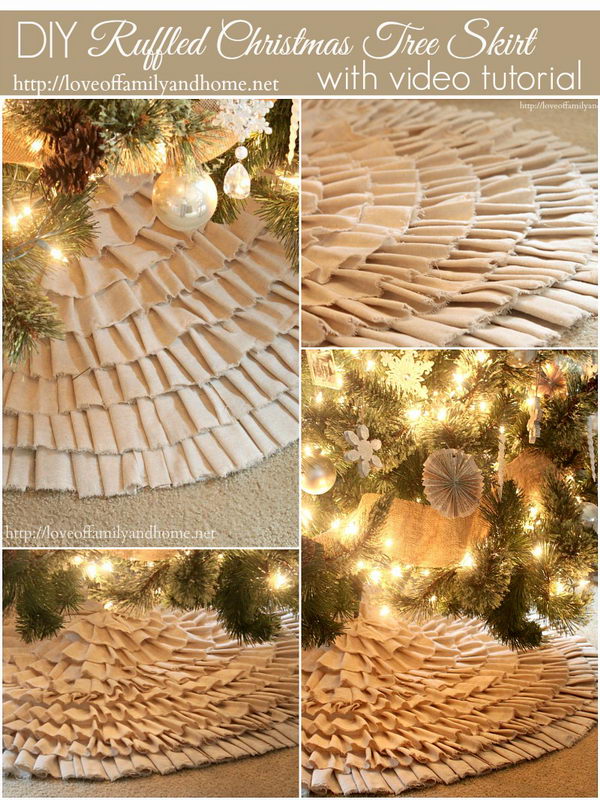 This silky tree skirt with golden ruffles looks very impressive and takes quite a lot of work to complete. Be prepared to spend hours folding and gluing fabric if you want to replicate it. via loveoffamilyandhome
DIY Ruffled Christmas Tree Skirt

The silky white ruffled skirt is just like the previous one. It is absolutely beautiful, but making this many ruffles does take time. The good news is that these pieces are pretty often reusable, unless you change your tree theme every year. via thebewitchinkitchen